March 2 - 9, 2013: Issue 100
Welcome to Issue 100
Pittwater Online News was officially launched on April Fools Day 2011. One hundred issues on it seems creating a weekly community news magazine is not such a foolish idea. What may seem a simple electronic Community Noticeboard is also a common ground with a capacity to create and store records that are permanently accessible. These records are not curtailed or limited by needing to fit in around an advertisement for something you don't want or need. An overview of the whole can be produced that can then be referred to long after its week of Issue. Every page here takes months and then hours to photograph, research, write, load and set…not minutes.
We are determined to bring you quality, local news with an emphasis on integrity… there's no stretching of truths to fit in with other's agendas here. We will continue to resist all attempts to use this platform for what we deem are 'word skirmishes' or private causes that do not contribute to and build community spirit. We will continue to publish what is sent in as it is sent unless it is maligning others.
In abiding by this Pittwater Online News has given all a voice, not just those deemed "important enough" in other mediums. An ONLINE medium gives all inclusiveness as an antidote to excluding any. We do not need anyone's permission to speak to, for or about ourselves. We do not need to be told how to think, we can think for ourselves and will, ultimately, make up our own minds about anything. There is no need to add sensational threads through anything…everything already has its own breath shaping a whole voice…why detract from that with an opinionated stance…surely it is the essence, the essential in
anything, we would rather visit for moments and get to know. In contributing, in reading, in sharing news or events we have all empowered ourselves and our community. We will continue to do so… just watch this space!
One of our first Profiles was Shane Withington who was 'messing about on my boat' when called to have a chat to about the saving of Currawong Beach and reserve from developers and keeping this pristine offshore part of Pittwater as a 'people's park'. Shane was then President of the Friends of Currawong, a community minded group of individuals who battled for 12 years to ensure NSW's newest State Park became a reality. The ethos behind the saving Currawong is also one of the key principles of Pittwater Online News: it is pretty obvious that we live here because we love saltwater, salt air and the beauty of our surrounds in all seasons.
June 2011's opening Issue (No: 9) was a celebration of Currawong Day, which in itself was a celebration by Pittwater Council and the Friends of Currawong of a definitive win for all, especially the generations that come after us. At this wonderful day spirits were high, the will of the people had prevailed and those who had battled long and hard could have their hands shaked and their backs slapped. It was on this day that Michael Mannington was met for the first time.
As a committee member of the Friends of Currawong, Michael Mannington documented in photos the several years of the campaign to save Currawong from development. Michael has also joined in in bringing you great photographs in subsequent Issues through his Volunteer Photography and whole heartedly supported our determination to put the 'free' back into Free Press. When we attended the 2012 WPYC Putt Putt Regatta his smile of enjoyment and quip of "here we are again, pretending to work…" in some way encompasses what we are trying to do and how much we enjoy doing it. It is hard work but none of us are going back to our day jobs! For our hundredth Issue Michael chose to share a few of his images from the years leading up to the decision of the NSW Government to purchase Currawong. Thank you MicHALE for our 100th Pictorial.
And a huge thank you to all of you who continue to support us, send in tips, contribute news snippets or whole articles… not only are we sharing exclusives that don't appear elsewhere for a few days afterwards, they are also being brought to you by people who have or are building Australia itself and would not publish material elsewhere. Together we are reinstating our sense of all being one family. We may not be related by blood but we know we are all interlinked and generating a sense of belonging, of being welcome, where each and every member of this family must be looked after, listened to, respected and yes, loved, is re-establishing the world we'd rather be living in and stating without shouting that we shall have it so. Older, younger and all in between are welcome here because everyone belongs. Together we are all For, About and BY Pittwater!
Enough waffling… enjoy the 100th issue…thank you all. AJG, Ed.
March 10 - 16, 2013: Issue 101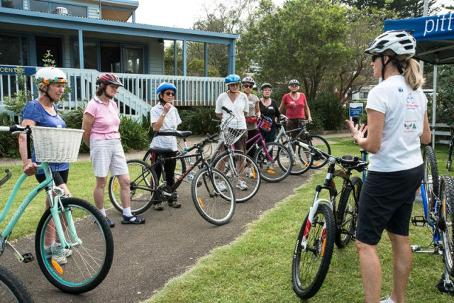 Summer Cycling by the Lake for Seniors
By Michael Mannington
In a one day workshop Pittwater Council in conjunction with Austcycle asked Sydney Bike Skills to teach cycling skills for Seniors Week. Organiser Michelle Carson of Pittwater Council said the course was Ideal for seniors wanting to improve their cycling skills and confidence.
AustCycle in a program funded by the Australian Government and run by Sydney Bike Skills offered free cycling skills and bike maintenance workshops on the Pelican Path beside Narrabeen Lake. Pittwater local Lisa McHarg of Sydney Bikes Skills ran the training session and participants were shown a range of topics such as helmet fit, bike safety inspection, correct riding positions, bike maintenance, road rules and the do's and don't of using shared paths. "Its fun teaching people who may not have ridden for many years" explains Lisa who teaches cyclists of all ages from children to serious mountain bikers.
Lisa started the workshop with the necessary basics such as adjusting the bike to suit your height so that you use the maximum efficiency and feel comfortable. Safety is an important issue and the correct use of the front and rear brakes was explained. The practical riding sessions along the picturesque Pelican shared cycle/pedestrian path put the riders to the test with riding past cones whilst performing safety manoeuvres such as avoiding other people sharing the path.
Many riders were a little out of practice and appreciated the supervision of an expert. One participant Janet gave up riding around six years of age, then recently went to Bali and tried to bike ride on her holiday. "It was a frightening experience" recalled Janet, so now I have purchased a new bike and with the benefit of this course I am looking forward to making bike riding around Pittwater fun"
Photos by Michael Mannington, 2013.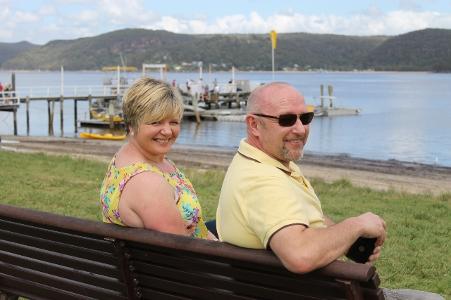 Summer Bay - Eternal Palm Beach
We met two lovely people out from Wales for a wedding during the week who also visited Palm Beach in the hope of seeing some of Home and Away being filmed. To one of our visitors this was pretty important and shows the ongoing attraction seeing this popular television show being created holds. The gentlemen who frequent the boat shed at Palm Beach tell us they frequently have people coming to the Pittwater side of Palm Beach simply to watch or, hopefully, be photographed with the thespians who are part of this show. Many of these, in between takes, are happy to oblige if time permits. Above is Alison Jones and Malcolm Sannell from Wales, enjoying watching filming of Home and Away during the week. Pic by AJG.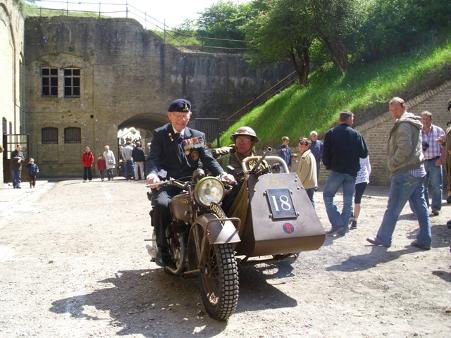 Netherlands Email This Week
Very much enjoyed the story of Les Ball, Issue 80, as I stumbled across it, looking for Norton Big 4 Sidecar pictures. As I have 2 of these combinations in Europe and had the pleasure of letting a Dunkirk veteran ride me around on one, see picture. Hope Les is doing well, and pass on this message please! (we have). Tell him there are about 50 Nortons of that particular type (Norton Big 4) left in the whole world, maybe 3 or 4 in Australia. Isn't it amazing what this technology brings! If any more info or pictures are needed, please let me know. Best Regards, Alex Schmidt, Netherlands
March 10 - 16, 2013: Issue 101
The winning image for the Pittwater Camera Club, Jim Mullens award for Landscape photography.
Jim Mullens was a local photographer renowned for his outstanding landscape photography. As a member of Pittwater Camera Club, Jim is remembered for his beautiful Australian landscapes. The club has honored him by holding the annual Jim Mullens trophy in his memory.
This hotly contested competition was won this year by Sue Kleverlaan with her beautiful monochrome print, taken near Mt Buller during the snow season.