Community News Snippets - October, 2013
October 20 - 26, 2013: Issue 133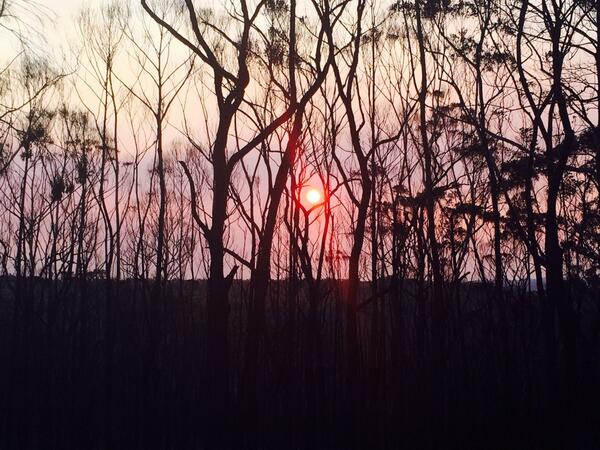 Pittwater RFS Volunteers Attending Bushfires
Updated house loss figures across firegrounds is now 208 destroyed and 122 damaged. - 10:00 p.m. Sat, Oct 19
Below: 19.10.2013: Task force forming up at Bilpin fire station.Crews from The Hills, Warringah/Pittwater and FRNSW. Image courtesy Glenorie Rural Fire Brigade
Above: The sun setting on a blackened landscape this evening at Winmalee in the Blue Mountains. Image courtesy Alex Chesser.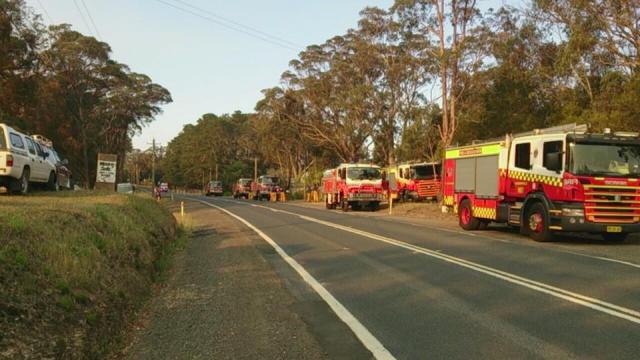 The 'Gypsy Lady' and 'Ichabod' Erickson Air-Cranes have arrived in NSW to help the RFS this bush fire season. Earlier this week the 'Gypsy Lady' Air Crane was being welcomed into service by NSWRFS at Terrey Hills. A few hours later she went to work.
You can do your bit by completing a Bush Fire Survival Plan
To help those who have lost everything - from Media Release: Salvos say "Cash, not goods, needed most for bushfire response"
The Salvation Army is asking the Australian public to please donate cash, rather than goods, to their Bushfire Appeal for people affected by fires in NSW.
Major Jeff Winterburn from The Salvation Army has thanked Australians for their tremendous generosity and offers of support and reminded people that cash donations are needed most.
"We've been overwhelmed by the level of support for The Salvation Army Bushfire Appeal, which has already raised more than $300,000, and we'd like to say a heartfelt thanks to everyone who's donated.
"At this stage we are only accepting cash donations as this allows us to aid the community immediately. This also allows the people affected to recover with dignity by purchasing items they need most which, in turn, also injects much needed funds into the local economy", says Major Winterburn.
Those wishing to support to The Salvation Army Bushfire Appeal can donate to our Australian Disaster Relief Fund by calling 13 SALVOS (13 72 58), visiting www.salvos.org.au or in person at any Westpac branch or Woolworths store across the country. Donations are tax deductible. Woolworths will be matching public donations dollar for dollar for the next two weeks.
Members of the public wanting to help with providing emergency housing, please call the Disaster Welfare Hotline 1800 018 444 in office hours.
Members of the public should contact their insurance companies if their properties have sustained damage or have been destroyed. The Insurance Council can be contacted on 1800 734 621. For further details visit www.insurancecouncil.com.au
Members of the public in the bushfire affected areas who need immediate assistance should attend an evacuation centre in their area, or contact the Disaster Welfare Assistance Line on 1800 018 444.
The Disaster Welfare Assistance Line can be contacted if you are uninsured and have sustained loss or damage to your home.
Below: The 'Gypsy Lady' at Terrey Hills on Tuesday this week - image courtesy Alex Chesser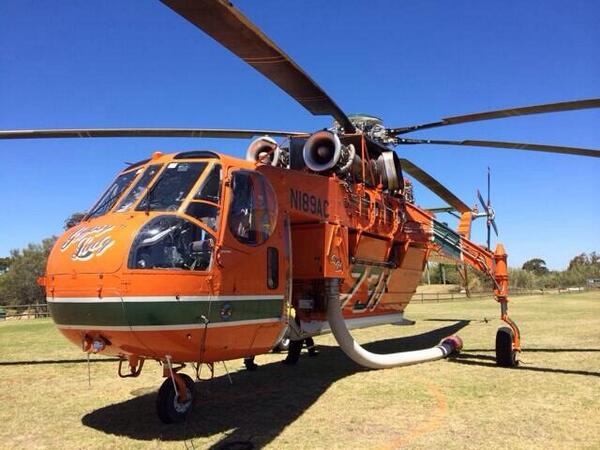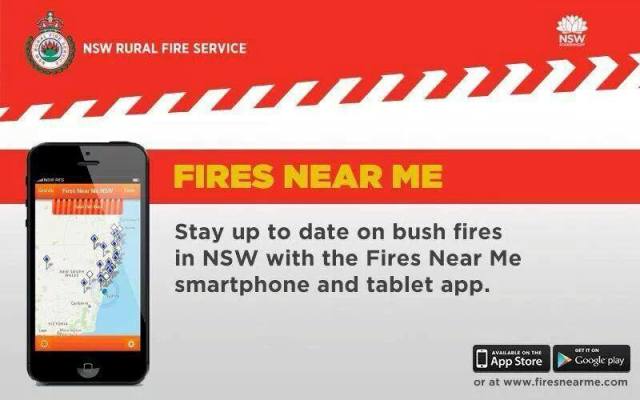 _________________________________________________________
One-stop shop approved by Government - Media release - 16 October 2013 - The Hon. Greg Hunt MP, Minister for the Environment
The Government has approved the framework for achieving a one-stop shop to streamline environmental approvals.
The one-stop-shop will slash red tape and increase jobs and investment, whilst maintaining environmental standards.
The Government will achieve the one-stop-shop through a three stage process:
Signing a Memorandum of Understanding with each of the willing states on the key principles and confirming co-operation on achieving a single process
Agreement on bilateral assessments and updating those which have already been in place with willing states
Agreement on bilateral approvals within 12 months with willing states
Significant work has already been undertaken with the states in drafting the first Memorandum of Understanding. Each will be signed by the Prime Minister and the respective Premier.
We expect that the first will be signed shortly as we implement our commitment to cut red tape.
This is about setting the highest standards, making swift decisions and delivering certain outcomes.
The Government will also continue working with the states on approving strategic assessments which provide a further simplification of the process for project approvals.
To assist the process, the Federal Government is also offering to place staff in the state offices to ensure the implementation occurs as smoothly and as quickly as possible.
___________________________________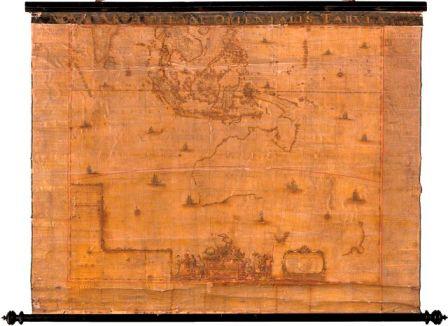 Rare map to star in National Library's summer blockbuster – 9th of October, 2013
One of the rarest maps in the world, the first large-scale map of New Holland, has been acquired by the National Library of Australia and will take centre stage in the Library's summer blockbuster exhibition, Mapping Our World: Terra Incognita to Australia.
The map, Archipelagus Orientalis, sive Asiaticus (the Eastern and Asian archipelago), created in 1663 by master cartographer for the Dutch East India Company, Joan Blaeu, was found in a storage facility in Sweden in 2010. A few examples of the map were known worldwide – but none had come to light since the 17thcentury.
Chair of the National Library of Australia Council, Mr Ryan Stokes, described the Blaeu as the most important map documenting Australia's presence prior to the arrival of the British.
'It is the map on which all subsequent maps of New Holland are based, the primary source for the mapping that Cook had to complete the picture in 1770. It also has the distinction of including, for the first time on a map, details of the sighting of Tasmania by Tasman's crew aboard the Zeehaen on 24 November 1642,' Mr Stokes said.
'The fact it survived at all is remarkable, and probably owes much to the fact no-one knew it existed for about a century.'
Mr Stokes said expert National Library Preservation staff had examined the map, which is in a very fragile state, and had begun specialised conservation work to stabilise it.
'Four conservators are working on it full-time so it can safely be displayed in Mapping Our World when it opens on 7 November.'
Many of the other greatest maps in the world will be on show in the exhibition, including treasures which have never before been allowed out of their European vaults.
Maps from the British Library, the Vatican, the Bibliotheque Nationale de France as well as from Australia's leading institutions will go on show in Mapping Our World.
'It will be the first time many of these maps have been seen in the southern hemisphere,' Mr Stokes said.
Mapping Our World: Terra Incognita to Australia, opens at the National Library of Australia, Canberra on 7 November 2013 and runs until 10 March 2014.
Free exhibition but bookings essential.
___________________________
Proposed Reforms to the Home Building Act
Fair Trading Minister, the Hon Anthony Roberts MP recently released a position paper setting out reforms to the Home Building Act 1989. The paper provides a preview of the reforms before they are introduced to Parliament later this year.
The Home Building Act is the principal piece of legislation regulating the home building industry in NSW. It provides homeowners with a level of protection from the risks associated with building or renovating a home, which represents a substantial investment for most homeowners.
A position paper was released in September 2013 setting out the NSW Government's key proposals for reform to the Home Building Act. The reforms have been informed by a review and consultation process that took place from July 2012 and included a broad range of stakeholders. There are 50 proposed reforms and the position paper outlines all the reforms, providing additional information about the key proposals. These include:
• Clarifying the definition for structural or major defects.
• Consolidating licensing provisions to provide for consistent considerations.
• Amending requirements to streamline and rationalise home building contract requirements
• Establishing a public register of home warranty insurance certificates.
• Renaming the home warranty insurance scheme to better reflect its purpose and how it operates.
• Introducing an expert determination model, which will aim to identify the technical issues in dispute early in the process.
The NSW Government anticipates that a Bill implementing many of the reforms contained in the Paper will be introduced into Parliament later in 2013. The remainder of the reforms are likely to be implemented through a remake of the Home Building Regulation 2004. It is expected that the whole package of reforms will then commence together in 2014.
More information about the progress of the review can be found on NSW Fair Trading's website; HERE
October 6 - 12, 2013: Issue 131
ARTISTS & CRAFTSMEN OF PITTWATER - Mona Vale Exhibition and Sale
The Artists & Craftsmen of Pittwater (Bringing Art & Craft to Pittwater for past 40yrs.) had a wonderful display and sale this week. This year a segment of this show was dedicated to presenting Paintings and hand made craft and homewares with that vintage touch.
Pictured here are Jos McFall and Kathy Dall'Amico with some of the beautiful creations that filled Mona Vale Memorial Hall on Thursday, Friday and Saturday.
Photos by A J Guesdon.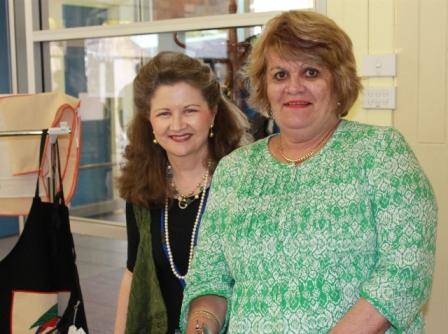 ___________________________________________________________
DEC Reunion.
Six veterans of the Australian computer industry gathered together at t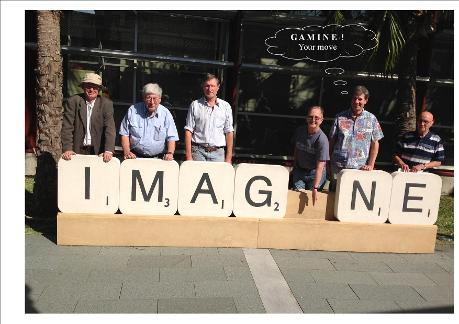 he Mona Vale "Technology Discovery Shed" on Wedneday the 2nd October 2013. All six started working with computers in the 1960's and 70's. They spent most of their careers working with computers from DEC (Digital Equipment Corp), being the famous PDP-8's, PDP-11's and VAX computer lines. When returning from a re-union lunch, they were impressed by the sculpture outside the Mona Vale library.
One can only I M A G N E the advances in computing that they have seen over the last 40 plus years. Bob Moran, manager of the "Discovery Shed", said that it had many examples of early computers on show and undergoing restoration.
One of the veterans used his smart phone to suggest that "gamine" was the best possible Scrabble score. Yes, it is a word in the Oxford Australian dictionary.
Words by Max Burnet.
Photo (left to right): Peter Palethorpe - Max Burnet - Ray Robinson - Peter Watt - Bill Fulton - Ken Hungerford.
___________________________________________________________
Whales off Warriewood
On Thursday this week we were lucky to spot a mothjer and baby off Warriewood Beach - although a fair way out, their leaps and the flock of birds following them seemed to indicate a fair amount of other fish were fleeing before these giants.
Larraine Hall, past President of the Rotary Club of Pittwater, related at the Palliative Care upgrades Offocial Opening how while having lunch at Long Reef Golf Club earlier in the week a whale stayed and played in the bay beneath this promontory.
With more of these magnificent creatures migrating south at present you are sure to spot one if you keep your eyes open and on the sea while enjoying our beaches.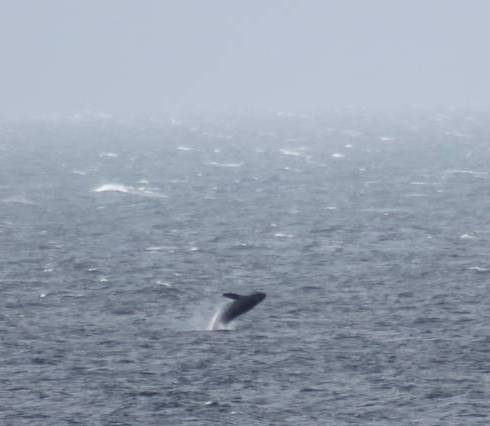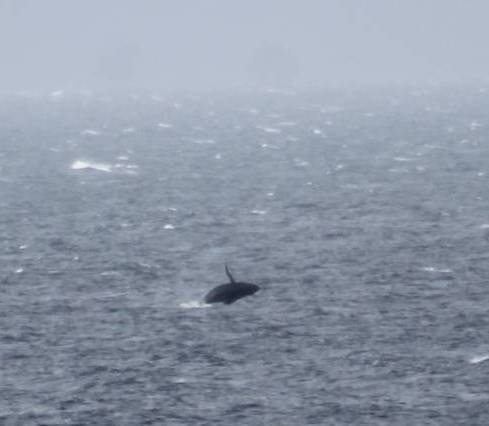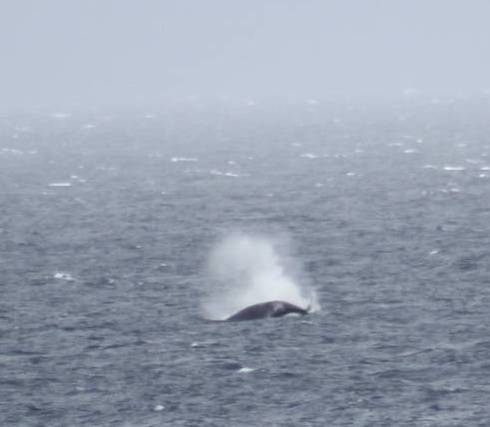 Photos here by A J Guesdon
_______________________________________________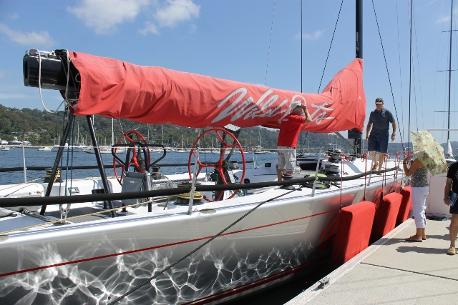 Australia's Hamilton Island Yacht Club confirmed as Challenger of Record
The following statement was issued by the Golden Gate Yacht Club (GGYC), the defender and trustee of the America's Cup, on Monday, September 30:
Hamilton Island Yacht Club (HIYC), located on the edge of the Great Barrier Reef in Queensland, Australia, has challenged for the 35th America's Cup. HIYC's challenge has been accepted by the Golden Gate Yacht Club, which remains the Defender and Trustee of the world's oldest international sporting trophy after its team, ORACLE TEAM USA owned by Larry Ellison, won the 34th America's Cup in San Francisco last Wednesday.
For the past three decades HIYC has run Audi Hamilton Island Race Week, which has become the largest annual regatta in Australia with some 200 offshore yachts competing in recent years.
HIYC is led by Australian winemaker and sailing legend Bob Oatley, whose succession of yachts named Wild Oats have dominated ocean racing in Australia for years, including having won six of the last eight Sydney-Hobart races. An Australian team led by Mr. Oatley won the last Admiral's Cup, widely regarded as the world's top prize in ocean racing.
The challenge was filed by Mr. Oatley and his son, Sandy, on behalf of HIYC shortly after ORACLE TEAM USA won the thrilling deciding final race in the 34th America's Cup against Emirates Team New Zealand on San Francisco Bay on September 25th.
"We are delighted to have Hamilton Island Yacht Club and the Oatley's leading Australia back into the America's Cup for the first time since 2000," said GGYC Vice Commodore and America's Cup liaison Tom Ehman. "Hamilton Island's challenge was filed on the day Australia was celebrating the 30th anniversary of Australia II's historic win in the 1983 America's Cup off Newport, RI, which ended New York Yacht Club's 132-year reign as the Cup's defender."
"Given Australia's previous success in the America's Cup, the Admiral's Cup and Olympic yachting, and as proud Australians, we think it is time for our nation to be back in our sport's pinnacle event," Mr. Oatley said. "The recently completed America's Cup in San Francisco has revolutionized the sport for sailors and fans, and we were excited to see how many Australians played key roles on the teams and in the regatta organization."
Vice Commodore Ehman added, "The dates, type of boat, format and rules are subject to negotiation between the Challenger of Record and Defender following consultation with prospective challengers, venues, sponsors and other stakeholders. Both Clubs are keen to have multiple challengers, as has been the norm since 1970, and to cut campaign costs for all teams. But first we must determine the venue, which, under the America's Cup Deed of Gift, is decided by the Defender."
GGYC and HIYC expect to have a Protocol Governing the 35th America's Cup, including dates, venue, boats and other details, agreed and published in the first few months of 2014.
Wild Oats X at RPAYC photo by A J Guesdon.
________________________________________________
Multihulls added to the 33rd Club Marine Pittwater & Coffs Harbour Regatta 2014 - 30 September 2013

In the year of the super catamaran, Sydney's Royal Prince Alfred Yacht Club has announced it has opened the doors of its premier event to multihulls. The home club of the two-time winning America's Cup skipper, James Spithill, has declared that after 32 years of conducting the Club Marine Pittwater to Coffs Harbour ocean race and regatta for monohulls, the event now welcomes eligible multihulls.
The RPAYC at Newport has recognised the multihull market's potential and development in terms of the technology race, and believes their inclusion will inject the Category 2 bluewater race and regatta with a new energy while creating an opportunity to bring the two fleets together.
Within days of the Notice of Race being amended, Paul Nudd from Wangi Sailing Club at Lake Macquarie had signed up for the 226 nautical mile coastal classic starting January 2, 2014 from Broken Bay.
Sean Langman's radical Orma 60 trimaran, Team Australia, currently the fastest multihull in the Southern Hemisphere, was the second multihull entry immediately following.
"Inviting multihull competitors to contest the Pittwater to Coffs race for the first time in more than three decades is a great opportunity to extend the event," said the organising club's committee chairman, Richard Hudson. "Given the awesome action we've just witnessed in the America's Cup in San Francisco, we feel it's the perfect time to give multihulls this opening.
"Multihulls have limited opportunities in Australia to race offshore with keelboat fleets; welcoming them within the Coffs fleet is very exciting," Hudson added.
The response to the club's move was swift and positive.
"Team Australia's crew is excited to have officially entered the 2014 Pittwater Coffs race," said Sean Langman. "RPAYC is to be applauded for including a multihull division. The decision to invite Cat 2 offshore racing multihulls to race is an historic Australian yachting initiative," he added.
Paul Nudd was the first multihull entry in the event's history with his Brendan Egan designed 30-foot (9.1m) catamaran Two Tribes, which was primarily built for inshore racing but also has offshore capabilities.
"This decision has been a long time coming," said Nudd. "I've been lobbying the mainstream yacht clubs since 1990, dropped out of the scene in 2000 and have just come back into the sport.
"This past America's Cup and Sean Langman trying to get races going with Team Australia I think has made the difference. Sean has been working hard; he's got a lot more clout that I ever had."
Nudd last competed in the Pittwater Coffs race in the 1990s short-handed on a keel boat. This time he'll be racing a slippery minimalist catamaran with the required crew of five and in the right conditions sees the potential for a 24 hour record run to the mid north NSW coast.
'If we get ideal conditions, in our case that's a 15 knot sou'easter, we will be racing at speeds in the mid-20s and could do it in 24hrs."
The multihulls will battle it out for handicap honours in a separate division under the Offshore Multihull Rating Rule (OMR) and vie for their own line honours trophy and race record. This will preserve the 10 year monohull race record set by Bob Oatley's Wild Oats IX in a time of 18 hours 29 minutes and 14 seconds.
"A lot of people are talking about the RPAYC's announcement and there is quite a bit of interest. I'll certainly be lobbying the guys at our next regatta," promised Nudd.
Double the size of Two Tribes will be Langman's high profile trimaran, which made the news earlier in the year for setting a new World Sailing Speed Council passage record from Sydney to Hobart.
"To have a boat the calibre of Sean's Team Australia is great for this race and will be a spectacle at the start line and in Coffs Harbour for the finish," said Hudson.
The warning signal for the Club Marine Pittwater & Coffs Harbour fleet will be 1300hrs on January 2, 2014, after the multihulls have led the way off the same start line. Their start time will depend on the number of entries in this new division.
The multihull finish will be the outside finishing line off the entrance to the main harbour formed by the Coffs Harbour Blue Lead Lights in transit.
Due to the layout of the Coffs Harbour marina unfortunately multihulls can't be accommodated in the harbour. Instead they will be provided with moorings in the outer harbour. Prior to the start multihulls will be accommodated at RPAYC on Sydney's Northern Beaches.
The closing date for entries is Friday 6 December, 2013.
The 2014 Club Marine Pittwater & Coffs Harbour Regatta Notice of Race and online entry is available from the event website at www.pittwatertocoffs.com.au
For race enquiries and documentation please contact the RPAYC Sailing Office on (02) 9998 3771 or yachting@rpayc.com.au
By Lisa Ratcliff / Club Marine Pittwater & Coffs Harbour Regatta media. Photo of Team Australia by Andrea Francolini.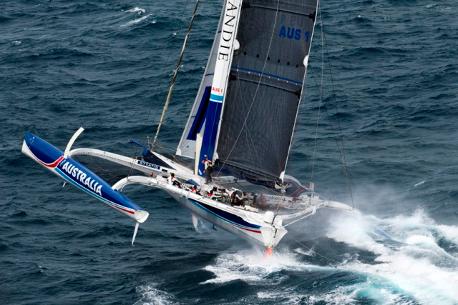 ________________________________________________________________
Southern Cross Wildlife Care - Critter of the Month - October 2013
Rescue of a hit and run victim
Late one night a swamp wallaby was bounding through the bush alongside Mona Vale Rd. Wishng to cross to the other side, he jumped into the road and collided with the side of a car. Sadly, the driver of that car did not stop. Thankfully, however, a kind man by the name of Matt saw the poor animal get hit and stopped immediately. He picked up the adult wallaby, wrapped it in a drop-sheet and drove all the way to SASH animal hospital in Ryde to get veterinary attention for the animal.
The wallaby was x-rayed and had a full examination. He was found to have head trauma, nystagmus (vision impairment – possibly as a result of the head trauma) and was poorly ambulatory. He was treated with the necessary medication and allowed to rest.
The next morning he was very quiet but did respond slowly to noise. He still had minimal response to light, indicating possible blindness.
The vets wanted the wallaby to have a few days' rest to ascertain whether or not the blindness was a temporary symptom of the concussion. A volunteer carer from Sydney Wildlife collected him that night and transferred him to their Macropod Rehabilitation Facility in Duffy's Forest. The wallaby was set up in the quarantine room. The poor thing just sat in the corner of the room with his head bowed.
The next morning, however, he seemed able to hop around, unsteadily, and his sight appeared to be slowly returning. Over the next few days, he began to hop around in the outside enclosure without bumping into obstacles.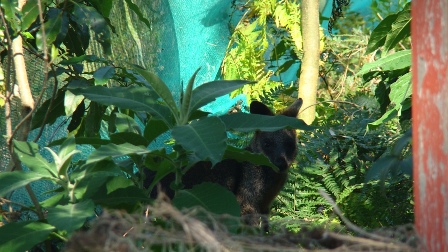 Within one week he was back to being a normal wild swamp wallaby - thumping his feet on the ground as a warning if your approach was too close before taking off at great speed around the enclosure.
It was decided that he could now be released back into the wild and hopefully would go on to live a long and carefree life.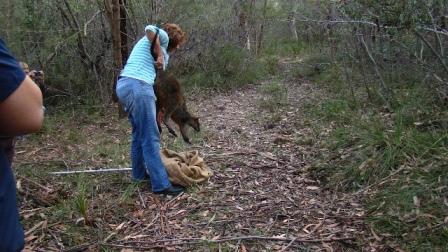 On the Northern Beaches we are very lucky to have these magnificent creatures at our doorstep. Please drive carefully and if you do accidentally hit an animal on the road, please stop and check if it requires help. If the animal is a marsupial (an animal with a pouch) and is dead, it's really important to check the pouch for live young. If you cannot take the animal to a vet please ring Sydney Wildlife on 9413 4300.
Story by Joan Reid
September 29 - October 5, 2013: Issue 130

PITTWATER WINS STORMWATER EXCELLENCE AWARD
Pittwater Council has won an Award for Excellence from Stormwater NSW for its management of local stormwater pollution traps. The project, which took around two years to complete, means that the efficiency of the 52 pollution traps in Pittwater's drainage system has improved by up to 90%.
Gross pollutant traps – or GPTs as they are usually known – are located throughout the stormwater system. They are metal grids that sit at the opening of stormwater drains and collect debris and litter before it enters the beaches, Narrabeen Lagoon and the Pittwater estuary.
The GPTs require regular cleaning and maintenance to ensure they function correctly.
Dr Melanie Schwecke from the Council's water management team said the project had been a successful partnership between the Council, cleaning contractors and Optimal Stormwater, the company that carried out an initial audit of GPTs.
"The audit identified that many were not operating efficiently due to various issues."
Dr Schwecke said the issues ranged from corrosion, poorly located GPTs, incorrect cleaning methods and missing equipment.
"We worked closely with our contractors to come up with a cleaning and maintenance system that would improve efficiency."
"We now have the knowledge and control of GPTs at a level unlikely to be matched by any other council in NSW."
Dr Schwecke said the results had exceeded even the most optimistic calculations. "Around 90% of Pittwater's GPTs are now operating at maximum capacity, which is a huge turnaround."
Mayor Jacqui Townsend said the project meant Pittwater's waterways were much better protected from debris that could be washed into the drainage system following heavy rain or storms.
"The follow-on from this is that our downstream and wetland areas are looking much cleaner and healthier."
Mayor Townsend added that Pittwater's collaborative approach was one that could be readily adapted by other councils.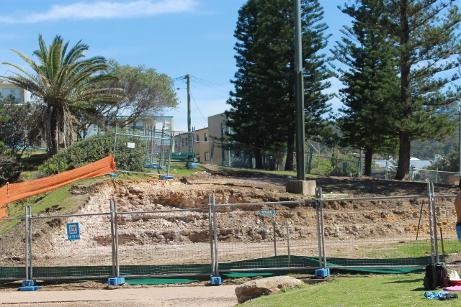 BEACHFRONT UPGRADES IN TIME FOR SUMMER
Major upgrades of beachfront areas at Avalon and Palm Beach are underway and will be completed by December.
At South Palm Beach the amenities block near the rock pool is being refurbished with the walkway behind the block also being partially upgraded.
The upgraded amenities block is due to open in early November. During construction toilets and showers at the nearby Pavilion building will be open to the public.
At North Avalon beach work is progressing on dune shaping to prevent further coastal erosion. The dunes will be planted with a combination of native shrubs and grasses to strengthen the newly shaped dunes.
At South Avalon Beach work has begun on creating a series of sandstone tiered terraces near the playground area which will give additional seating and improved views to the beach. A new access path for pedestrians will also be installed leading from the beach to the bus stop. The beach reserve will also be landscaped and new turf laid.
Work is proceeding to plan on the construction of the new Avalon Beach Surf Club, with the first level of the building framework completed.
Avalon surf club members will have access to a portable change room and toilets while work continues on building the new clubhouse.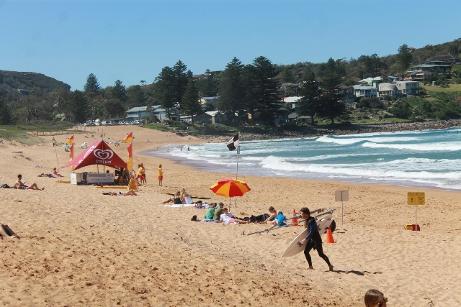 __________________________________________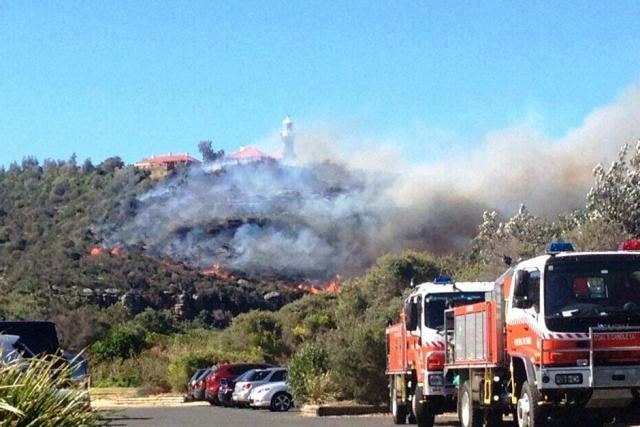 Fire at Barrenjoey Headland - Lighthouse and Cottages Saved
Saturday afternoon (28.9.2013) RFS trucks from everywhere in Pittwater raced to Barrenjoey to put out a grassfire that was being helped by winds running hot and strong. Up to 80 firefighters and three helicopters saved Pittwater's iconic lighthouse and cottages but all flora on the eastern rock shelf is burnt black. We have no word on the fate of all the native animals living on the headland as we go to press but a neighbour reports the heqdland was still burning at 8.30pm.
Photo courtesy Ingleside RFS.
____________________________________________________
Inclusive 'Integrated disAbled Sailing' Program to launched at the RPAYC this weekend - Island Race on Today
The Royal Prince Alfred Yacht Club is hosting the Islands Race (and navigational challenge for cruising boats) today, commencing with a handicap start at 10am after a skipper / crew briefing and BIG breakfast. The race will take in the two major landmarks in Pittwater, Scotland and Lion Islands. Festivities will continue back at the club, when the boats return no later than 1pm, with an "Islands Feast", entertainment and presentations. The focus will be on fun, family, friends and fundraising. All visitors are welcome to participate in the race and the onshore festivities.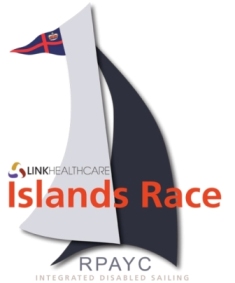 The Link Healthcare Islands weekend will become the Royal Prince Alfred Yacht Club's annual fundraising event. LINK Healthcare is the major sponsor of the Islands Race and is collaborating with RPAYC on the launch of the new "Integrated disAbled Sailing" (IdS) program, destined to be a landmark initiative for the sport.
IdS is a new initiative that gives sailors of ALL ages and abilities the opportunity to participate in the Club's sailing activities. The program will promote and support inclusivity for all keen sailors, by integrating sailors with disability in the regular RPAYC racing fleets as well as providing support for the not for profit, volunteer based Sailability organisation.
RPAYC members and their guests are raising funds for Integrated disAbled Sailing (IdS). More HERE
_____________________________________________________________
2014 Calendar is a life saver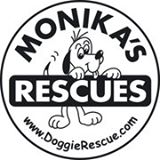 DoggieRescue has released its 2014 Calendar. As the organisation's major fundraiser for the year the goal is to raise $75,000 to support its work in rescuing and re-homing abandoned dogs from death row in Sydney's pounds.
"Every single calendar sold helps us to save lives" explained DoggieRescue founder, Monika Biernacki. "Just recently the pound alerted us to the case of a 12 month old Pomeranian-cross with a shocking eye condition that needed urgent treatment. We were fortunate to be in a position where we could just jump in and get the surgery done without thinking twice."
The vet who operated on the dog, now named Captain Jack, said that he must have been left suffering in agony for at least two weeks. The eye was damaged beyond repair and had to be removed but he is recovering well and is pain free.
"He was a very sacred little boy when he came to us but every day he is becoming more confident and we now see his tail wagging. He has a twinkle in his eye and there is lightness in his step. He is so relieved that the suffering is behind him." said Monika.
Since 2001, the largely volunteer-run charity has saved over 10,000 dogs from death row and does not turn away from difficult cases or those in need of what can be very expensive veterinary care.
"That's why the calendar is so important – without fundraising we would not be able to help dogs like Captain Jack. All the dogs sitting on death row have nowhere else to turn to we simply are their last chance. And regardless of their age or medical needs, they all deserve the opportunity of a safe and happy life."
The 2014 DoggieRescue calendar costs just $15 and makes the perfect Christmas gift for friends and family. It is available online atwww.DoggieRescue.com.au or can be purchased by calling 9486 3133 or by visiting the shelter at Ingleside.
Background
DoggieRescue.com is Australia's largest No-kill charity, in operation since 2001 with the primary objective of saving dogs from death row from council pounds. DoggieRescue has saved almost 10,600 dogs and has more than 200 dogs looking for homes. It relies on dog lovers to keep its doors open and is largely a volunteer run organisation. Visit www.DoggieRescue.com or call 9486 3133 for details.
________________________________________________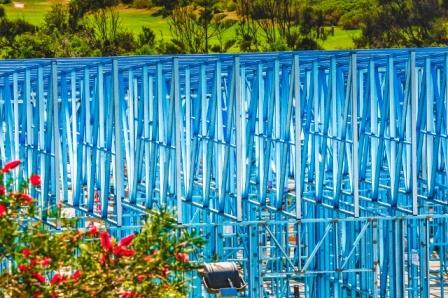 Mona Vale Hospital Construction - September 2013
Michael Mannington of Volunteer Photography sent these pictures in during the week, stating they are images of;
"Symmetrical patterns soon to be buried inside the building and never seen again."
The framings shown are part of the new major works currently underway on the eastern side of the hospital as part of a $12m expansion of Mona Vale Hospital's rehabilitation unit.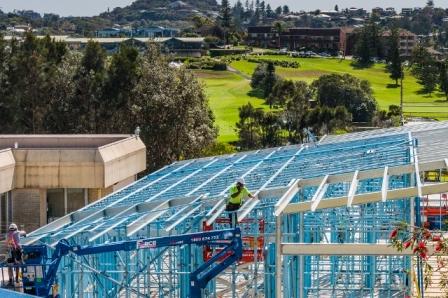 __________________________________________________________________________

PITTWATER BEACHES SET TO BE SMOKE-FREE
The Council has signalled its intention to make Pittwater beaches smoke-free, following a decision at its meeting last week.
The Council's smoke-free policy in public buildings is set to be extended to include all nine of Pittwater's beaches. The amended policy is now on public exhibition for comment until 6 October.
Pittwater's public playgrounds, spectator areas at sportsgrounds, public transport stops including ferry wharves and outdoor dining areas are already smoke-free.
If adopted by the Council, the amended policy will mean no smoking signage will be placed at all beaches advising the public that smoking is banned.
Mayor Jacqueline Townsend said the Council had been commended by the Heart Foundation for its move.
"Passive smoking is directly linked to a range of diseases and we believe we need to take a leadership role on this issue," she said. "The other concern is the damage to the environment that cigarette butts cause. Clean Up Australia estimate that 50% of litter is made up of discarded butts."
Mayor Townsend said she believed community sentiment would be strong enough to discourage people from lighting up at beaches, but added that if the policy came into effect Council rangers could be given the power to issue on-the-spot fines.
To view the draft policy visit www.pittwater.nsw.gov.au/exhibition
____________________________________________________________________