April 7 - 13, 2013: Issue 105
Turkish Rotarians Visit Discovery Shed at Mona Vale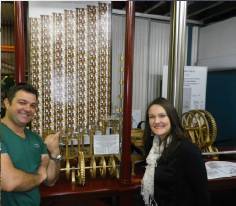 The visiting Turkish Group Study Exchange Team of Rotary District 2440 had a special morning at the Discovery Shed at Mona Vale on Tuesday this week. all marvelled at the large range of models and working computers as well as other great old machines being restored or already completed in restoration by an enthusiastic group of resident gentlemen who have among their midst men like Max Burnet, one of Australia's foremost fonts of knowledge on computers and John Gibson, president of the Warringah Model Engineers.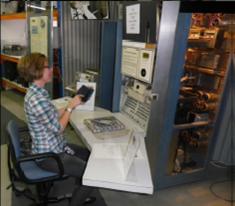 The event was a get together hosted by The Rotary Club of Pittwater and Rotarian member Bob Moran. How do you prepare for a group of young business people and professionals coming from a country with such different language and social backgrounds? What is the catalyst?
Bob said;
"It seems in the case of the Discovery Shed, it was the fact that everyone instantly discovered something to talk about. The atmosphere was so relaxed, providing a unique opportunity for us to engage with the finest ambassadors that we could have imagined."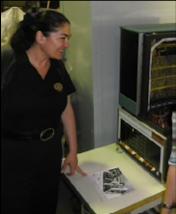 The Rotary Foundation's Group Study Exchange (GSE) program is a unique cultural and vocational exchange opportunity for business people and professionals between the ages of 25 and 40 who are in the early stages of their careers. This program provides travel grants for teams to exchange visits in paired areas of different countries. From four to six weeks, team members experience the host countries culture and institutions, observe how their vocations are practiced abroad, develop personal and professional relationships, and exchange ideas. Source: The Rotary Club of Belrose 'The Bulletin' 12.3.13
_____________________________________________________________________________________________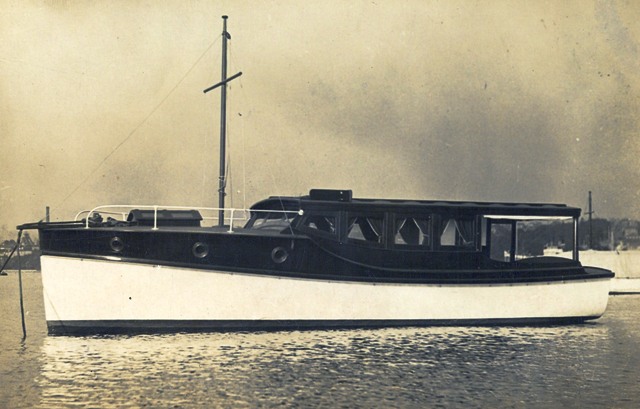 Cruiser Mystery - Help Please
During the week we received an email query which we hope some of you may be able to help us with;
My maternal grandfather, Charles Hearn Christmas kept a motor cruiser, Lolita, at Pittwater in the 1930's and I'm trying to find out if it still exists. I've attached a photo. If any of your readers may suggest where I can make further enquiries, I'd appreciate their help. Regards,
Philip Brown.
If you do know her whereabouts please
contact us
and we'll forward the Information to Mr Brown.
______________________________________________________________________________________________
Maureen Le Blanc Phone Rights Smartphone Application
Courtesy Australian Seniors Computer Clubs Association April 2013 Newsletter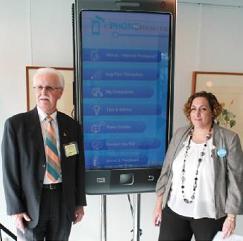 The launch of the Maureen Le Blanc Phone Rights Smartphone Application for iPhone and Android was celebrated on Wednesday 20th March at Parliament House in Canberra. The launch of this app which was funded by a bequest from Maureen Le Blanc was performed by Dr. Andrew Leigh MP (ALP member for the ACT Electorate). Ian Butterworth, the chair of the Telecommunications Consumer Group South Australia and Teresa Cobin, CEO of The Australian Communications Consumer Action Network (ACCAN), are shown in the photo which was taken at the launch. Many of our ASCCA members will remember Maureen and Teresa as presenters at some of our ASCCA events.
In the first 48 hours following the launch, the new App was downloaded by 7,000 consumers. This would seem to be a fitting tribute to a consumer advocate who worked tirelessly to improve access, affordability and availability to telecommunications services for all Australian consumers. Maureen was also committed to consumer driven telecommunications research.
Phone Rights App
www.accan.org.au/phonerights
ACCAN has launched Australia's first Phone Rights app to help resolve problems with your phone or internet service. The Phone Rights app will help you:
•test and log mobile reception issues
•record and track complaints
•find answers to common problems
•contact your service provider directly
•watch video guides
•learn how to avoid bill shock, compare products, understand billing and usage alerts
Free download: iPhone (iTunes store)
Free download: Android (Google Play store)
All Medicare Centres Now Cashless
All Medicare Service Centres are now cashless and benefits are paid directly into your bank account. Although we are assured that electronic payment methods are secure and fast there are some important steps you will need to follow.
You'll need to register your bank account details (BSB and account number) with Medicare. To register your bank details online go to humanservices.gov.au/medicare or phone 132 011 or visit your local Medicare Service Centre. Once you've registered your bank account details, you can choose from a range of payment options to have Medicare benefits paid securely into your bank account.
At many doctors' offices you can have your claim submitted electronically at the time of your consultation when you pay the account. Customers who have registered their bank account details with Medicare usually have their benefits paid into their account overnight.
You can lodge claims for some consultations and receive your Medicare benefits online without having to visit a service centre. You can submit claims for anyone listed on your Medicare card and your refund will be transferred into your registered account, usually the next working day.
You can still go to a Medicare Service Centre where your benefits will be paid by an electronic funds transfer into your bank account and be available by the next working day. For immediate payment, you can swipe your debit card and payment will be instantly deposited into your bank account via credit EFTPOS at Medicare Service Centres which previously offered cash refunds.
You can also claim Medicare benefits by phoning 132 011 24 hours a day, seven days a week if you can't claim at the doctor's office or online.
_________________________________________________________________________

The Newport Breakers Rugby Club is calling out to former players, supporters and community members to come forward with photos of Porters Reserve as they prepare to celebrate the clubs 50th birthday. The club has come a long way from its humble beginnings in 1963, when a former cow paddock turned rubbish tip was bulldozed to make way for a rugby field. Few of those early pioneers would have envisaged the legacy that they were creating for the northern beaches community. The Newport Junior Rugby club today is one of the largest in the Southern Hemisphere and comprises over 600 players with teams from U6's to U17's. The Newport Senior club, 'The Breakers" compete in Suburban Rugby's 2nd Division and field 5 senior sides including colts U21's team and have over 120 registered players.
To celebrate this important milestone, Newport plans to celebrate its 50th year in style with a full calendar of events locked in throughout the season. Activities such as Back to Newport Day, the ever popular Ladies Day and Family days including children's rides are all pencilled in to the celebrations.
Newport Breakers President Steve Hansen says "this year is obviously an important year for the club as we celebrate the big 50; we have focussed strongly on off season player recruitment which has resulted in swag of exciting new talent to the club". Hansen said the club goals were "to better the 2 premierships achieved last year by our Colts and 4th grade sides, with a particular focus on achieving higher grade silverware".
As for Porters Reserve, it starts the 50th year celebrations in tremendous condition. Newport have just completed upgrades to the ground with a complete resurface of Porters Reserve, new lights for training and continuing upgrading of the clubhouse and the change sheds will ensure the local players have the best facilities . Mr Hansen concludes "we'd particularly like to acknowledge the financial efforts of both Pittwater Council and the Newport Junior Rugby Club who have joined with us to achieve what is arguably the best rugby oval in Sydney".
Anyone with photos from the 60's and 70's of Porters Reserve or old Newport rugby photos is kindly asked to email them to secretary@newportrugby.com.au
__________________________________________________________________________________________________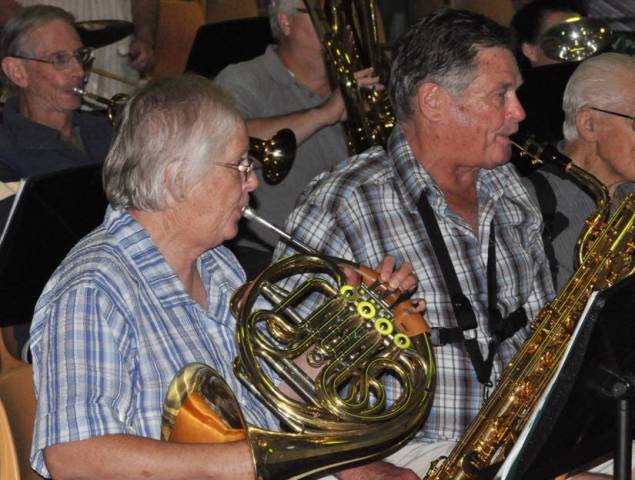 DO YOU HAVE A CLARINET OR TROMBONE IN YOUR CUPBOARD?
- Monatones is calling on all adults who have a clarinet or trombone tucked away in a cupboard somewhere to come and join the band. Dust it off, give it a blow and come and join in the fun, making music together.
Monatones,
a community concert band, based on Sydney's northern beaches, kicked off its first rehearsal last Wednesday night with Disco Lives and Towards a New Horizon. Despite having over 35 active members, this year however we have a shortage of clarinets and trombones. The band plans a number of performances throughout 2013 and has a wide repertoire of music to choose from. Monatones fits within a Northern beaches trio of community bands that ranges from adult beginner, intermediate to adult advanced. Monatones is an intermediate band. Adults who have played in the past or who are currently learning an instrument, are very welcome to come along to rehearsal and try us out! Concert band members enjoy regular rehearsals at Pittwater High School, 7.30pm, Mona Street, Mona Vale, every Wednesday night during school term times. The band usually has a weekend workshop away sometime during the year and members get a great kick out of playing in small groups as well as the whole ensemble. Last year's workshop was held in Katoomba and members and partners and friends all combined to have a really great weekend. So why not grab that instrument pining away in the cupboard and come and see what you and the band can do. Details 9999 0655 or 0414 560 263.
The photo above features Lorraine Rein and John McRae, longstanding members of Monatones.
__________________________________________________________________________________
Like some good news?
Well, I have found a drop off spot for the many people who have asked where they may leave scarves for "look good, feel better" for cancer (Particularly for people who are having chemotherapy treatment, with hair loss). The support comes from Di and Jim Langford of OneAgency Langford Property, Real Estate. The Address: 4/55 Old Barrenjoey Road , Avalon Beach (The office is located in the Angophora Arcade, next to the Avalon Recreation Centre). Phone: 9918 7888.
The Langfords are long time supporters for many years of our local community organisations. "
Once a boy scout, always a scout
." - Thank you Jim, Di, and Family.
Scarves may be pre-loved or new, bandana, square or rectangle. Ask friends and neighbours that are moving or downsizing also. The scarves can be delivered to Jim and Di's office at the above address.
Some donations of scarves have come from RSL Clubs, Girl Guides, Women of the Year, Zonta, Schools, Students, Strangers and Children. Making in total, from this area, more than 1200 scarves for about 150 centres that help people to 'look good and feel better' and have a change of headwear.

Watch this space for more details of this mainly voluntary organisation, that have lifted the spirits of thousands of women (mainly). Thank you, Doreen Cherry
(PO Box 369 , Avalon Beach NSW 2107)
A letter from Joanne Meehan, State Program Manager of 'Look Good…Feel Better' says it all:

"On behalf of the 'Look good… Feel Better' program and the many women cancer patients we help, I wish to extend this huge thank you to you and your members for the scarves you sent. I will distribute them to the NSW workshops; I know the feedback will be one of appreciation and gratitude. I'm sure you would understand the monotony of wearing the same head dress day in and day out, receiving the scarves from your ladies will be a very welcome change for the patients.
Thank you so much for your generosity of spirit and time, it is much appreciated."
Picture at top is of Doreen (front) with Stephanie, Lola and Di Langford.
Pittwater Cammera Club - Reg Angus Nature Award 2013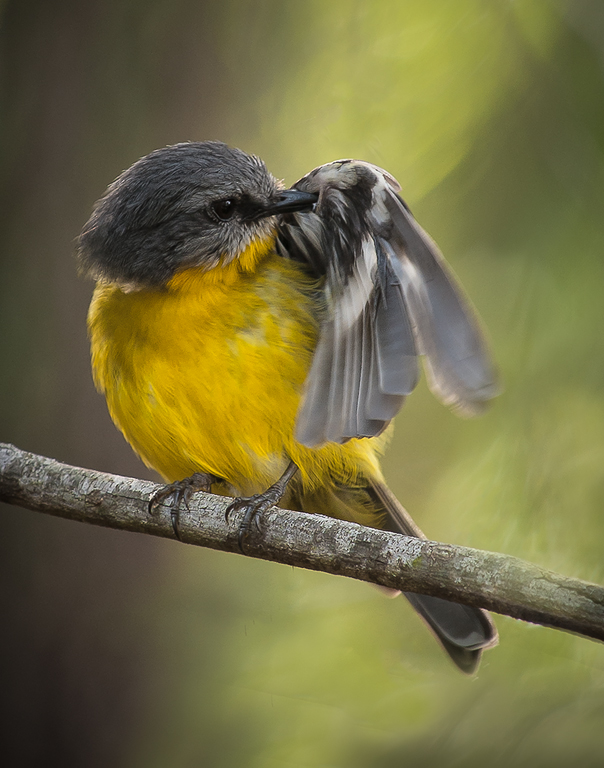 On April the 8th Pittwater Camera Club held The Reg Angus Nature Award Night in which club members put their best 6 nature shots up for judging. The hotly contested annual event was judged by Dennis Jones, a professional nature photographer, international judge and photographic guide. Dennis provided feedback on all images, many of which were taken in exotic locations, from Africa to "Narrabeen."
The winning image was taken by local Cromer photographer, John Taylor while walking his Staffie around the Narrabeen Lakes track. John's photo is of a Yellow Breasted Robin preening in the early morning light.
John puts his winning image down to the great learning experience gained at Pittwater Camera Club, listening to experienced judges (like Dennis Jones) and his fellow club members sharing their skills and knowledge. Visitors are always welcome. Check web site pittwatercameraclub.org for details.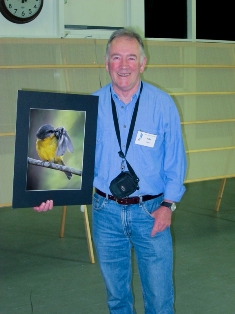 April 21 - 27, 2013: Issue 107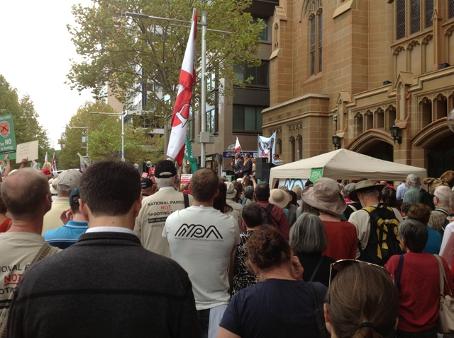 Pittwater Residents Attend No Shooting in National Parks Rally - 18 April, 2013.
About 3000 people attended this rally. We assembled at the Archibald Fountain in Hyde Park and walked down Macquarie St to Parliament House.
Speakers spoke of the risks to national parks visitors and NPWS staff, the threats to native animals and, the ineffectiveness of such shooting in feral animal control. Bob Debus, Bob Brown , a representative from WIRES speaker and a Public Service Association representative were the speakers.
While the Pittwater area and other urban national parks will not be opened to shooters several people from this area were at the rally. We were keen to uphold the principle that parks are for conservation of our natural areas and for quiet and safe recreation for people.