Community News - April 2014
April 20 - 26, 2014: Issue 159
Rosemary Cuttings Sought For ANZAC Day
April 13 - 19, 2014: Issue 158
Rosemary Cuttings Sought For ANZAC Day
April 6 - 12, 2014: Issue 157
WILDLIFE HIGH TEA FUNDRAISER
March 30 - April 5, 2014: Issue 156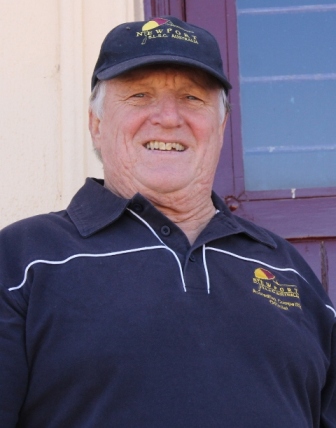 SLSA's President's Medal Awarded to Gary Cook - courtesy SLSA
Gary Cook [pictured] has achieved a lot in surf lifesaving but he rates his latest award - SLSA's President's Medal - as very, very special.
"It's something I am quite chuffed about and it is a great honour,'' says 'Mr Newport'.
There were only three President's Medals advised for the whole of Australia and there are approximately 167,000 SLSA members.
Gary has been a member of his beloved Newport since 1961. And, during those 53 years, he served as President and naturally became a Life Member of the club. He's also a life member of Sydney Northern Beaches Branch and SLSNSW.
Gary is best known these days as a carnival referee and march past coach. Along with Collaroy stalwart Ray Isaacs, they have been coaching Queenscliff's march past team for the past five years.
Gary was seen wearing a Queensie top at a function given for Paul Hammond. "Ray and I were made honorary members,'' Gary explains.
Gary also coaches the Warriewood ladies march past team and helps out with the Mona Vale Juniors. And, of course, he's off to officiate at another Aussies in Scarborough. He'll referee the Masters beach events, be the chief judge for the open sprint and relays and will coordinate the march past event.
That should keep him busy.
Picture by AJG - 2013. Gary Cook Profile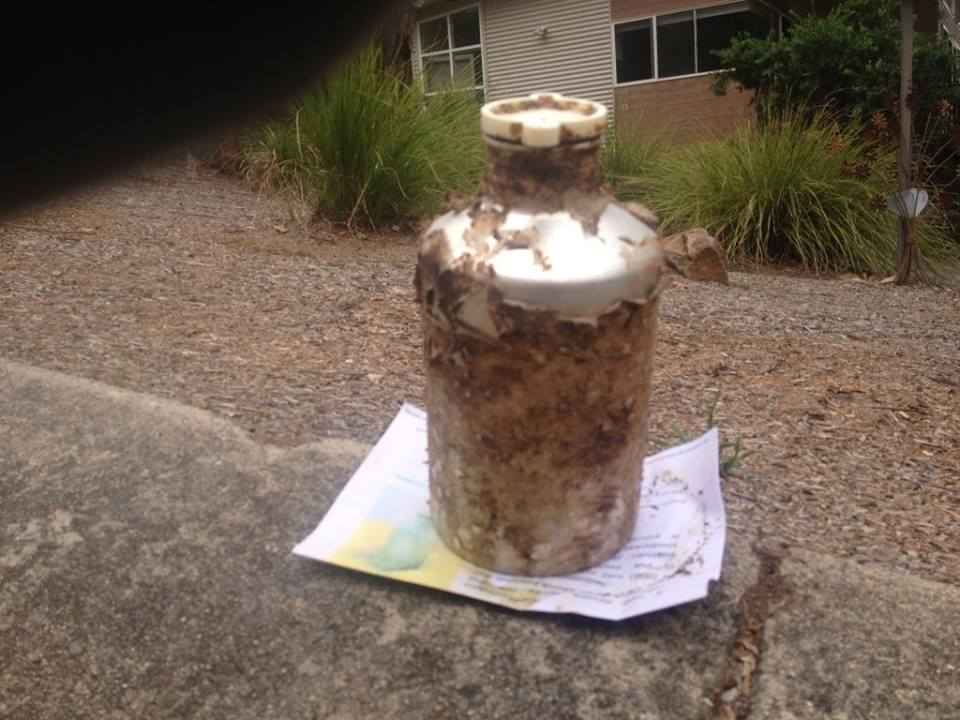 WARNING AGAIN OF TOXIC CANISTERS ON BEACHES
Please be advised of the significant risk that is posed by canisters of Aluminium Phosphide that are washing ashore along the East Coast of Australia. To date canisters have been located in Queensland, Batemans Bay and as of this afternoon (27.3.2014) on Cronulla Beach.
There is a real risk, due to the extent of the Northern Region Coastline, that these items may be located on Beaches & in Waterways.
If located the item; Should NOT BE HANDLED
Contact NSW FIRE & RESCUE immediately.
The substance is very TOXIC - Can produce PHOSPHINE GAS and CAN BE LETHAL.
Concern Building Over Spot Rezonings - 28 March 2014
Member for Pittwater Rob Stokes has used a Private Members Statement in the NSW Parliament to call for an overhaul the assessment process for spot rezoning applications. Mr Stokes' comments follow the rejection of a controversial rezoning application for two key areas of the Warriewood Valley which sought to override the community's newly established planning controls and see densities permitted more than 300% greater than the agreed limit.
"Spot rezonings erode public confidence and permit an unwelcome element of surprise into our planning system," Rob Stokes said today. "Planning should involve as little uncertainty and unpredictability as possible.
"The entire Gateway process has becoming enormously controversial and is widely viewed as an avenue through which developers can have multiple attempts to progress their proposals.
"If a rezoning proposal is rejected as completely inconsistent with up to date rules then it shouldn't have multiple lives or multiple attempts at revival.
"Spot rezonings should only be used in rare cases where there are unique circumstances or clear community support.
"The Warriewood Valley Strategic Review provides a textbook example of upfront community engagement and forward planning and there shouldn't be multiple opportunities for developers to ride roughshod over its controls and limitations.
"This is yet another example why Labor and the Greens should stop blocking reforms to our State's planning system," Rob Stokes said.
Read HANSARD - Rob Stokes Spot Rezoning HERE
EASTER BY THE SEA AT MONA VALE
Artists & Craftsmen of Pittwater are returning to Mona Vale to hold their first show for 2014, to be held in the Mona Vale Memorial Hall.
This time we will be featuring Modern Abstract Art in line with the current trends in interior design. Modern streamlined interiors today often only require statements of colour and harmony in Art to complete the decor. Our Artists are working on pieces to suite apartment living and contemporary interiors.
We will also have something for the children this time . Kids Corner. We will have an activity table with drawings and coloured pencils where the children can choose a design and colour it in to take home for Easter, or keep for Mum or Nanna as a Mothers Day present. This activity is free.
Our Craftsmen have lots to choose from. Hand made jewellery, paper tole, hand knitted scarves and toys, patchwork quilts and cushions, hand made dresses for little girls, mosaics, silk scarves, hand made cards, decorative art, folk art designs painted on wood, fabric toys, embroidery, appliqué, painted porcelain, cushions, screen printing, Pet Portraits, quilling,embroidered & hand knitted baby clothes.
Great choices for Easter and Mothers Day. As well as our feature of Modern Abstracts there will also be Water Colours, Oils and Acrylic Paintings for Sale.
We also have an opening for a Ceramic Artist to join our group and exhibit at future shows. Enquires welcome during the show.
ARTISTS & CRAFTSMEN OF PITTWATER EASTER SALE - Mona Vale Memorial Hall (next to library) Park Street, Mona Vale. - Thurs. 17th Good Friday 18th Easter Saturday 19th. April. 9am-4pm

SHOROC Shortlisted for Local Government Award for Advocacy and Planning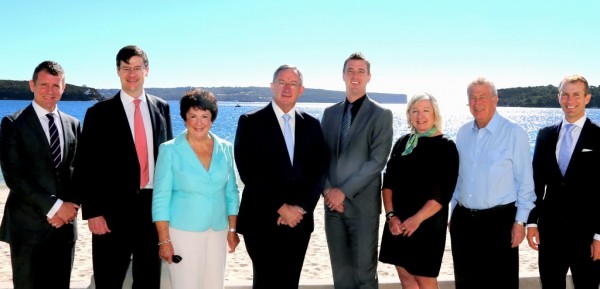 SHOROC Mayors & local NSW MPs working together for our region. L-R: The Hon. Mike Baird MP, The Hon. Jonathan O'Dea MP, Manly Mayor Jean Hay AM, The Hon. Brad Hazzard MP, Warringah Mayor Michael Regan, Pittwater Mayor and SHOROC President Jacqueline Townsend, Mosman Mayor Peter Abelson, The Hon. Rob Stokes MP
SHOROC and its partner councils – Manly, Mosman, Pittwater and Warringah – have been shortlisted as a finalist in the Local Government Managers Australia, NSW 2013 Management Excellence Awards in the Category 'Partnerships for Growth' Award.
Titled Stronger region – a united voice getting results: Regional plan and advocacy campaign for transport and health infrastructure, the SHOROC submission was based around the Shaping Our Future strategy and the associated advocacy campaign.
SHOROC President and Pittwater Mayor, Cr Jacqueline Townsend says to be shortlisted is testament to the hard work and collaborative efforts of the partner councils for improved transport and health infrastructure for the Northern Beaches and Mosman.
"In 2010 we developed Shaping Our Future as the first ever integrated region strategy to improve public transport, roads and health infrastructure for the Northern Beaches and Mosman.
"We're getting results and it is great to see that the collaboration, hard work and commitment by our four partner councils being recognised.
Based on this strategy SHOROC worked with our local MPs and coordinated an advocacy campaign for investment in a regional Bus Rapid Transit system, major road upgrades, and improved health services including a new Northern Beaches Hospital while upgrading Mona Vale Hospital.
"The cornerstone of SHOROC's advocacy campaign has been collaboration across the councils, other levels of government, business and the community.
"We are now realising significant results and thanks to our local MPs and this partnership for the first time in decades major infrastructure funding is being directed at this region including:
$7.5 million allocated for road upgrades in past year, with major works foreshadowed
Bus Rapid Transit system in planning
$29 million initial funding for the Northern Beaches Hospital and construction tender underway
"We have provided leadership, a united voice and worked in partnership with the NSW and Commonwealth governments, community and business. I'm proud and excited about what we are achieving for our region and congratulate everyone involved in bringing the strategy to fruition," said Cr Townsend.
Easter on the water: Operation Lights On - March 27, 2014
Roads and Maritime Services will conduct a safety campaign on vessel navigation lights over the Easter long weekend.
The campaign – Operation Lights On – aimed to improve safety on the water by ensuring boaters were aware of night lighting requirements on vessels.
Maritime Boating Safety Officers will conduct random checks of recreational vessels – powered, sail and paddle craft– which are being operated at night from Good Friday up to and including Easter Monday.
When night falls it is a completely different world on the water and while cars have headlights to light up the way ahead, vessels use a system of lights to show others their location and direction.
Vessels that operate from sunset to sunrise, whether at anchor or underway, must carry and exhibit the correct lights.
When fog, glare, smoke or darkness restrict your visibility, you must slow down to keep a safe speed. A safe speed is one at which you can stop and avoid a collision, while taking into account the circumstances and conditions at the time.
You wouldn't drive on a dark road without headlights. The same applies to dark waterways - be bright.
Every type of craft – dependent on vessel size and class – needs lights in order to be visible at night.
If you anchor at night, you need to display an 'all round white light' where it can be seen. You should go slowly and look and listen at all times for unlit hazards such as logs, moored boats and sand banks.
Navigation lights should be positioned so they are not obscured by the vessel's superstructure or interfered with by the deck lights. The masthead or all round white light must be fitted, if practical, on the centre line – bow to stern – of the vessel.
Lifejacket legislation compliance as well as ensuring vessels are navigating on the correct side of the channel – the right side – will also be monitored by BSO during the campaign.
For more information on night navigation lighting, go towww.maritime.nsw.gov.au
Hesperbot malware targets Australian banking customers with mobile app: SSO Alert Priority High - 27 Mar 2014
People should be aware that Hesperbot, a type of malware (Trojan) is being used to steal banking details of Australians following similar campaigns in 2013 that targeted banking and financial institutions in Turkey, the Czech Republic, Portugal and the UK. Security vendor Eset suggests Australia is currently one of the top three countries targeted.
The malware has capabilities that include joining your computer to a botnet, key logging, capturing screenshots, capturing video, setting up a remote proxy, and attempting to lure Android, Blackberry and Symbian device users to download a fake banking app designed to steal your banking credentials.
Hesperbot malware is also capable of updating itself, downloading additional malicious modules from its command and control server (which controls the botnet) and sending any data it has stolen back to the controllers.
In Australia the malicious banking app component (or 'security update') is currently being presented as 'NetCode Smartphone Security'. You might mistakenly download this after seeing a pop up notification, caused by the malware, advising that you need to install this 'security update' or 'app', in order to use your online banking.
Hesperbot is spread by phishing emails. Previous Hesperbot phishing campaigns have used fake postal tracking notification emails and invoices—both scammer favourites—to distribute the malware as an attachment.
What should you do?
Do not install this app or 'security update'.
Make sure your genuine security software is up to date on your computer.
Only download security software from a reputable source that you know and trust.
Be suspicious of unsolicited emails. Do not open suspicious emails, or click their links or attachments. Simply delete the message.
Banks do not issue 'security updates' that need to be installed on your computer to use their online banking services.
Most banks will redirect to you the relevant mobile app store for any updates for their apps.
Only download security updates for your computer directly from the software manufacturer's website or via your computer's existing software update options.
Only download apps for your mobile devices from a reputable source, such as the device's app store or the software manufacturer's website.
More information
You can read a recent news report about Hesperbot malware, and a more technical white paper (PDF) describing the Hesperbot malware in detail is available from ESET, the security company who first identified it.
More information on avoiding scams and hoaxes and managing spam.
Northern Beaches Mums Easter Marketour Profile of the Week

Following the great success of their first market at the end of last year, three Northern Beaches Mums are going bigger and better this time.
Last year Karen, Julie & Beth launched their first 'Northern Beaches Mums Market' aimed at supporting local mums in business whilst entertaining the kids and raising funds for a local charity.
The event showcased 27 stall holders plus camel rides, bouncy castle & crocodile encounters to name but a few. $750 was raised for Ingleside Rural Fire Service following the devastating fires through a sausage sizzle and small silent auction.
This year, their 'Easter' Market has moved to the bigger venue at Avalon Recreation Centre which will accommodate at least a further 10 stalls (as they had a long wait list of stall holders last year!).
There is an outdoor courtyard area where children will once again be able to hold a baby crocodile, have their face painted, do craft activities, take part in an Easter colouring competition and Easter egg hunt, whilst parents can shop or enjoy a hot dog whilst listening to some live acoustic music.
There will even be some guest appearances from The Easter Bunny and Dora the Explorer!
The fundraising focus at this market will be a local cause to many people's hearts. Money will be raised for 'Rallying for Ruby', a local toddler battling an aggressive brain tumour. There will be a sausage sizzle plus silent auction with an amazing range of prizes donated from a generous selection of local businesses. The mums fundraising aim is to at least double the amount from the last market, so why not join them, have some fun, support local mums and 'Rallying for Ruby', and maybe bring home a prize or bargain at Avalon Recreation Centre, Sunday 6th April, 10am-3pm.
ROW ROW ROW YOUR BOAT SAFELY DOWN THE STREAM– March 27th, 2014
Transport for NSW today announced the release of a new safety video to encourage rowers and ferry masters to use shared waterways safely.
Maritime Management Centre General Manager, Howard Glenn said the aim of the Row Safe video is to educate rowing crews and avoid taking unnecessary risks making waterways safer for everyone.
"It's great to see people active and out on the water, but it's important to be aware of the etiquette and laws so that vessels of all sizes can share the waterways safely," Mr Glenn said.
"For rowers, the essential rules are to be seen, keep a proper look out and keep to the right."
The need for the video stems from ongoing compliance issues with rowers on the Parramatta River and in Port Jackson. Boating Safety Officers have reported the cause of issues is often the newer or inexperienced members of the rowing community.
"Most of the issues that occur on the water can easily be avoided with some basic courtesy and an understanding of the rules," Mr Glenn said. "Through discussions with the Rowing Steering Committee within Roads and Maritime Services (RMS), members wanted an instructional video for all new school and rowing club members to watch.
"Rowing is a sport with a rich history that demands fitness and coordination, but like all other vessels on the waterways, the crew on a rowing vessel must obey some fundamental rules for safe navigation," Mr Glenn said.
The video, called Row Safe, has been developed with consultation between boating safety officers, RMS, the Maritime Management Centre and other key stakeholders, and focuses on:
•Rowing safety
•Rules of the waterways
•Waterway courtesy
•Keeping to the right
•What to do when a ferry is approaching or departing a wharf
•Appropriate lighting and visibility of rowing vessels
•Rower's and ferry aspect (what a real time view looks like)
The video also focuses on the responsibilities and guidelines for support and coaching boats that operate adjacent to rowing crews.
"At the recent NSW Schoolboy Head of the River event held on Sunday 9 March, the video was promoted to students, highlighting the importance of the safety initiative to these young rowers," Mr Glenn said.
The video will be available through the NSW Maritime YouTube channel and a copy of the DVD will be sent to Sydney schools involved in rowing as well as Sydney rowing clubs.
Row Safe is an extension of a broader Maritime Policy Agenda campaign to promote safe and responsible use of non-powered craft such as paddle and oared vessels.
For further information or to obtain a copy of the video please contact the Maritime Management Centre via email onmmc@transport.nsw.gov.au
Petitioning The Minister for Roads the Hon. Duncan Gay - Install fauna protection devices when widening Mona Vale Road and whenever major highways are upgraded - Petition by Roadkill Prevention Committee
This petition will be delivered to: Minister for Roads and Maritime Services, The Minister for Roads the Hon. Duncan Gay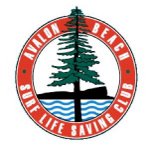 Help Build Avalon Beach SLSC - Buy A Brick
If you would like to donate to the Avalon Beach SLSC building fund please go to the Building Tab on their website menu above, click Donate Now and select "Avalon Beach" and "Donation" in the drop down menus displayed. All donors who "Buy a brick" will be acknowledged by the club in a number of ways. We thank you for contributing to our future.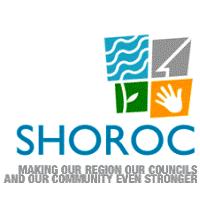 SHOROC Welcomes Major Roadwork Planning for Northern Beaches
The SHOROC Mayors of Manly, Mosman, Pittwater and Warringah councils have welcomed the NSW Government's announcement that it is planning major road infrastructure upgrades around the site of the soon-to-be-constructed Northern Beaches Hospital.
SHOROC President and Pittwater Mayor, Cr Jacqueline Townsend says the works being planned for the hospital precinct including for Warringah Road, Wakehurst Parkway, Forest Way and Frenchs Forest Road are vital for the future of the region.
"This is wonderful news. Congratulations to our local MPs in recognising the importance of delivering this road infrastructure for our community," said Cr Townsend.
In 2013 the NSW Government announced the plans to construct a 'world-class hospital on Sydney's Northern Beaches'.
Now the much needed major road works required to address the congestion on Warringah Road and Wakehurst Parkway, plus to enable efficient access to the hospital, are being planned.
"We are working closely with the NSW Government on these major infrastructure projects and these plans demonstrate the benefits that a regional collaborative approach between councils and the state government can bring."
The road works being planned are major regional infrastructure priorities identified in SHOROC's regional strategy Shaping Our Future. Priorities identified in the strategy for the east-west Warringah Road corridor are:
grade separation at the intersections of Warringah Road with Wakehurst Parkway and Forest Way, together with upgrades to Wakehurst Parkway to provide flood-free access
Fast public transport links from Dee Why to Chatswood together with park and rides to maximise patronage of public transport.
"We look forward to working with the NSW Government to deliver the road and public transport upgrades this precinct and the whole region needs," said Mayor Townsend.
For more information:
Roads and Martitime website for more on the proposals
Planning & Infrstructure for maps and details on the concepts being considered and to have your say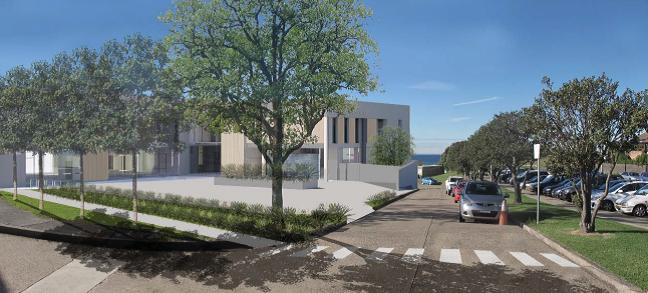 WILDLIFE HIGH TEA FUNDRAISER
SOUTHERN CROSS WILDLIFE CARE
Sunday 6th April 2 pm.
8 Lentara Rd Bayview.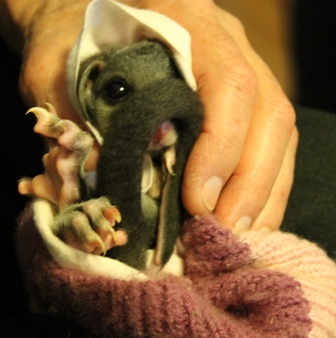 Come along to Coomalong(where possums meet) enjoy the exotic surroundings overlooking Pittwater, whilst helping our native animals.

All funds raised go directly towards treating and rehabilitating our precious wildlife. Our resident veterinarian Dr Howard Ralph will give a brief presentation highlighting the many various species he treats with varying problems. We can assure you Howard's images are touching and inspirational.

ALL WELCOME ADMISSION $30 adults - Kids Free
Yummy cakes & afternoon tea / Coffee / Juice for the kids included.
Contact Lindy 0409 404570

See Issue 155: Champion of All Australian Wildlife Dr Howard Ralph Supported by Annual SCWC High Tea, Sunday April 6th at Coomalong by Lindy Stacker and Lynleigh Grieg
PUBLIC INVITED TO COMMENT ON NORTHERN COMMUNITY HEALTH CENTRE AT MONA VALE HOSPITAL

Today the Northern Beaches Health Service / Hornsby Ku-ring-gai Health Service General Manager, Frank Bazik invited the public to comment on the Environmental Impact Statement for the Northern Community Health Centre.
The construction of the new Northern Community Health Centre will be assessed under a State Significant Development Planning Application and will replace the existing Mona Vale Community Health Centre. The Planning Application seeks approval for the construction of a new purpose-built three storey Community Health Centre and car parking for 45 vehicles.
The new Northern Community Health Centre will provide a range of community health services including:
• Rehabilitation and Aged Care Community Services
• Musculoskeletal Physiotherapy
• Chronic Disease Clinical Rehabilitation Services (CDCRS)
• Rapid Access Services
• Community Nursing
• Acute Post-Acute Care (APAC)
• Paediatric Occupational Therapy
• Paediatric Speech Pathology
• Child and Family Health Services
• Adult Mental Health Services
• Child and Adolescent Mental Health Services
• Community Drug and Alcohol Services
• Adult and Paediatric Oral Health Services.
The planning assessment process for this State Significant Development project gives the local community the opportunity to provide feedback via formal submissions to the Department of Planning and Infrastructure.
The Department of Planning and Infrastructure will manage the formal consultation process with information displayed on their website at
http://majorprojects.planning.nsw.gov.au/index.pl?action=view_job&job_id=6160
and at Pittwater Council's office in Mona Vale. The public exhibition period is open
between 5th March and 4th April 2014
. Any responses received during the public exhibition period will be taken into consideration.
Reports assessing built form, transport, parking and access, construction noise and vibration and the visual amenity of the new Northern Community Health Centre have also been included in the Environmental Impact Statement to manage and minimise potential impacts arising from the development.
For more information about the new Northern Community Health Centre please visit our project website at
www.nbhsredev.health.nsw.gov.au
. You can email us at
northernbeaches.enquiries@hinfra.health.nsw.gov.au
or call on 9978 5410.

Northern Beaches Health Service Redevelopment Project Team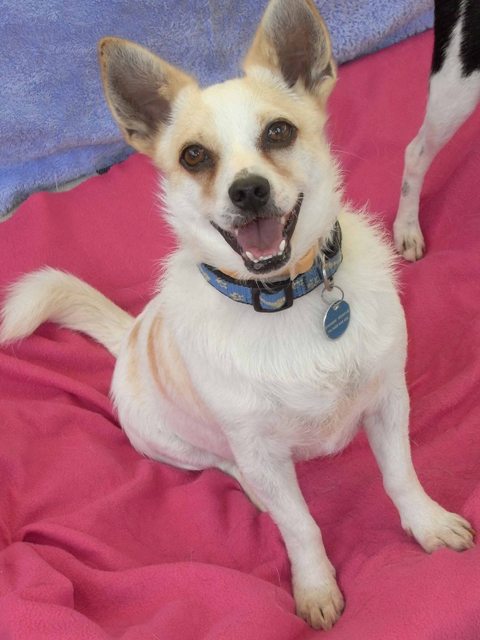 Pet of the Week
BREED: Chihuahua x Pug
NUMBER: 9486 3133
Pugsley is a sweet attentive dog who gets on well with other dogs. He loves playing ball. He is still puppyish in his manner and enjoys the company of children. Pugsley is easy to handle. He has a short coat and weighs 5.3kg. He comes desexed, C5 vaccinated, heartworm free and microchipped. His adoption cost is $350.
To meet all dogs at call DoggieRescue on 9486 3133 or emailmonika@DoggieRescue.com. Visit www.DoggieRescue.com to see all our dogs. www.facebook.com/doggierescue
Print Post changes - effective 2 June 2014
From 2 June 2014, we will introduce a second delivery timetable for Print Post.
Print Post is one of our bulk mail services that offers a discount to businesses that send a high volume of catalogues, newsletters and similar items, if specific criteria are met.
The current Print Post delivery timetable remains and will be renamed Print Post Priority. A second delivery timetable will be added, called Print Post Regular.
You will need to change the way you prepare and present your Print Post articles when changes come into effect from 2 June 2014.
The timetable you choose will determine the changes you need to make. If you choose the Print Post Priority timetable, your flysheets/envelopes will need a 'Priority' indicator added to the postage paid imprint, and you will need to have the correct Priority tray and ULD labels. There will also be changes to lodgement documentation and lodgement times.
From 2 June 2014, there will also be price changes for both timetables.
Pittwater Offshore Newsletter Update 1/4/2014: click on Logo. Also has an Extensive Local Directory.
To contact Julian: editor@scotlandisland.org.au
World Environment Day Awards – Entries Open
To celebrate the United Nations World Environment Day (Thursday 5 June), the United Nations Association of Australia is inviting Award nominations from Local Government, individuals, organisations and community groups whose work serves to protect, manage or restore our natural heritage.
The prestigious national World Environment Day Awards recognise innovative and outstanding environmental programs and initiatives from across Australia, and the important work of Australian environmental leaders.
Category details, entry criteria and the nomination information are available on the UNAA website (see fact box).
There are two Local Government Awards:
• Best Specific Environmental Initiative
• Excellence in Overall Environmental Management.
These two Awards seek to recognise the work of Local Government organisations that have implemented outstanding specific conservation initiatives, or are leaders in overall environmental management. These
Awards recognise the essential role that councils play in sustainable development, particularly in regards to local action for environmental sustainability and collaboration with local businesses and community groups to achieve positive outcomes for the environment. Nominations for the UNAA World Environment Day Awards are NOW OPEN. Entries close AT 5pm Thursday, 17 April.
See categories and entry forms at HERE:
Pittwater Artists Trail - 2014 Artists Open Studios
We've received a copy of the new Artists Trail Open Studios Brochure this week - Great News. This lists all the open times you may view an artists works during the year outside of the Artist Trail weekends.
The 2014 Brochures are available at Mona Vale & Avalon libraries, Pittwater Council, Pittwater Community Centres as well as a variety of cafes and businesses throughout Pittwater.
See: www.pittwaterartiststrail.com.au
Southern Cross Wildlife Care - Critter of the Month - April 2014 - curated by Lynleigh Greig
Hook, Line, but Luckily no Sinker...!

Nobody knows how long poor little Nelson the Seagull had been suffering with a fishing hook inside him.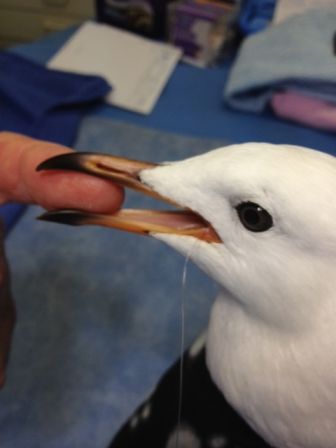 He arrived at the surgery with his rescuer on a rainy Wednesday morning, seeming reasonably alert. During his initial examination, Nelson entertained himself with pecking at Dr Ralph's fingers. Having been unable to ingest solid food for a while, we think he was feeling rather 'peckish'...!
This X-ray clearly shows the fishing hook in his digestive tract.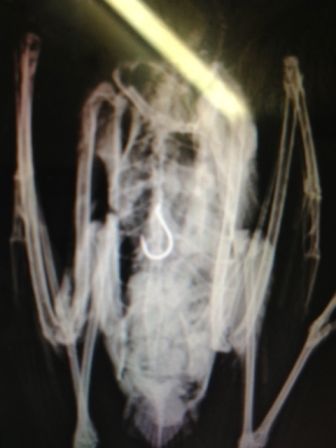 Nelson was anaesthetised and an endoscopy undertaken to ascertain the exact location of the hook. The operation to extract the hook from inside Nelson took at least an hour and he required about 30 sutures internally and externally.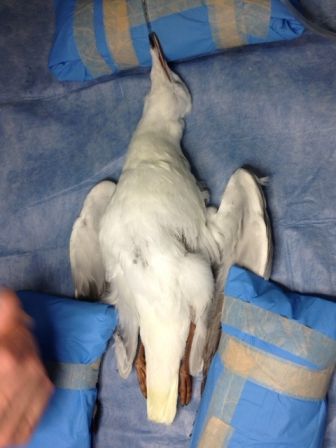 He was given subcutaneous fluids, B-complex and some long-acting antibiotics.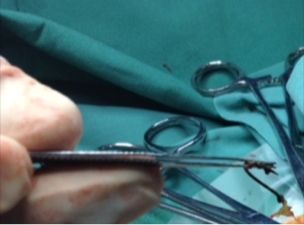 This is the moment the hook was extracted. This really is not an object you'd want to have lodged inside your body!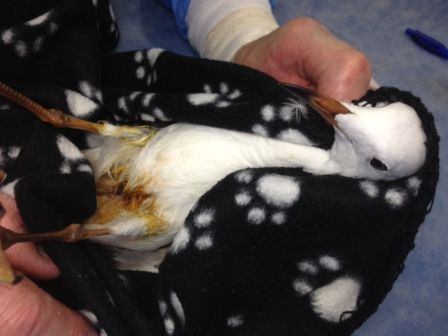 Little Nelson in recovery with Dr Ralph. He has iodine around the operation site, to prevent infection.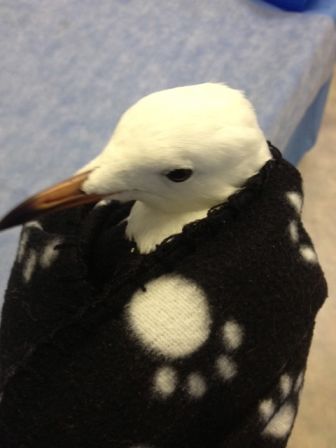 Much of our wildlife suffer horrific injuries as a result of being caught in fishing lines, ingesting fishing hooks or being trapped in netting. Please be a responsible fisherman and adhere to these easy tips:
Responsible Fishing to Reduce Wildlife Injuries (extract from
NSW Department of Industries
):
1. Avoid using unattended lines and check your crab traps and nets regularly.
2. Using crab traps and nets when fishing towards an estuary's headwaters has a higher risk of interacting with platypus. Consider moving gear further downstream.
3. Avoid bird feeding and nesting areas.
4. Avoid using stainless steel hooks which take years to break down in the environment.
5. Collect and dispose of any discarded fishing line, hooks, other gear or rubbish.
6. Cut discarded fishing line into small pieces to avoid entanglement in case birds and other animals scavenge rubbish bins.
7. Don't leave ANYTHING behind. Even plastic bags can prove fatal when sea turtles mistake them for natural jellyfish prey.
Turimetta to Warriewood Ocean Swim - May 4th, 2014

It's a beautiful swim south-north around Turimetta Headland, between North Narrabeen and Warriewood. A top time of year to do this kind of swim, too. Fall-back course is a triangular circuit off Warriewood beach, if conditions force a change.
More information...
Organiser - Warriewood SLSC. Distance - 2.2km + 200m Sprint/Dash (You can enter the Dash only if you also complete the main swim). Venue - Warriewood Beach, Sydney northern beaches, registration and swim HQ at surf club, main swim start at Turimetta Beach, just over the hill. Come to the surf club first.
Time/Date - Sunday, May 4, 2014, 10am race start. Registration - race day - 8:30am-9:45am. Entry fee - $30 ($40 on race day), or both swim and Dash $40 ($50 on race day)
Online entries close - 3pm, Saturday, May 3, 2014
Conditions - Warriewood is best known as the temperamental starting beach of the Mona Vale Mighty Marathon. It can be tempestuous, indeed, often offering a difficult break. Planned course starts at Turimetta, around the headland from Warriewood, which also could be bumpy if conditions come from the south. But in that case, it will be a fun ride with the swell around the headland and into the beach. It's a majestic bluff, that headland, and swimming beneath it is an experience. Coming in at Warriewood also will be fun.
Mimimum age - 15. Categories - 10 year age groups, Male and Female
More info - Download hard copy entry form HERE
Waratah Park Working Bee - 27th Apr 2014, 9am - 1pm
Waratah Park, "Home of Skippy the Bush Kanagaroo" TV series represents an important part of history of our local area. It is 12 hectares of bushland, environment culture and rare flora and fauna species. Currently the park is closed to the public and all animals have been removed from the park.
Waratah Park has no help whatsoever other than the small group from a small group from Duffy's Forest Residence Association, who go into the park one Sunday a month to clean-up, remove weeds, bush regenerate and remove green waste.
We are looking for volunteers to come to the park and assist. Any help whether large or small would be appreciated!
The park is still a great place but we need to take care of it. If we don't, this historical Australian icon could be lost to the people of Pittwater and Sydney.
What to bring: A hat, a pair of Gloves, a bottle of Water, your Gardening Tools, Mowers, Whipper Snippers, BushSaws, ChainSaws and pruning cutters.
What to wear: Protective Clothing that covers your arms and legs and a strong pair of Shoes/Boots.If using mechanical equipment the usual protective equipment must be worn!
Venue: Waratah Park, 13 Namba Road, Duffy's Forest
Contact: Peter Staff email pstaff@hotkey.net.au or Ph:9487 1471 or DFRA Jenny Harris Ph: 9450 1206 or Mob: 0408 512 060
Website: All details are on DFRA website: www.duffysforest.com/
NSW Government News This Week
Child protection reforms passed - 27th March 2014
NSW Parliament has passed child protection legislation to help provide vulnerable children with more stable homes. Minister for Family and Community Services and Minister for Women Pru Goward said the new legislation provided for earlier intervention to keep families together with support.
"It also means courts will have new powers to order parents to undergo treatment or attend services to deal with the issues putting their children at risk," she said.
The Department of Family and Community Services will also need to consider adoption for children where the court has ordered that the child cannot return to its parents or family until the age of 18.
"Tonight's passing of the legislation is a step in the right direction for at-risk children and their families across this state," Ms Goward said.
"The new laws create more tools for courts and caseworkers to provide children with a safe and stable home for life."
Petroleum Exploration Licence applications frozen – March 26th, 2014
The NSW Government has frozen new Petroleum Exploration Licence Applications (PELAs) until 26 September 2014 to help establish a more comprehensive process. To explore for Coal Seam Gas, a proponent must apply for a Petroleum Exploration Licence.
The government will also audit existing Petroleum Exploration Licences (PELs).
Minister for Resources and Energy Anthony Roberts said the government had already refused five PELAs lodged by Grainger Energy which covered 43,100 square kilometres of the Riverina.
"Grainger Energy has one owner/director, was formed just six days prior to lodging its application, has no history of conducting petroleum exploration activities and has submitted a manifestly deficient application," he said.
"We have also issued a 'Show Cause' notice to Leichhardt Resources as to why its three PELs near Moree, across Nowra and between Bylong and Denham, should not be cancelled."
Mr Roberts said under the Petroleum (Onshore) Act 1991, a petroleum title may be cancelled on a number of grounds, including contravention of conditions, failure to use the title area in good faith for the purpose for which the title was granted and for contraventions of the Act.
"The NSW Government will not rule out rejecting further PELAs or cancelling PELs," he said.
Drama at Manly Dam - courtesy Warringah Council
The BBC want you (aged 15-65) to appear as extras (marines/convicts) in their new series Banished along side Australian superstar David Wenham at ManlyDam. Emailmanly@gmail.com
Beautiful Manly Dam will be the backdrop for a major BBC drama loosely inspired by events in the 18th century when Britain established a penal colony in Australia.
According to the BBC, the series Banished "charts the lives, loves, relationships and battle for survival of a group of convicts, the soldiers who guard them and the men who govern them in the early days of this settlement."
"We are thrilled to have Banished being filmed at Manly Dam. I hope the cast and crew take the opportunity to visit wonderful Warringah while they're here. This is also a great opportunity for our community, with local trades people being called upon to help out with site and set maintenance and, locals being given the opportunity to work as extras throughout the filming," said Warringah Mayor, Michael Regan
Access to picnic areas 3 and 4 will be restricted during the filming.
Read about filming in Warringah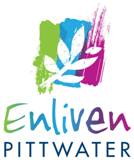 ARTIVITY WEEK COMES TO NEWPORT
Newport Recreation Centre will come alive with artistic exhibitions, demonstrations holiday workshops and talks during April. Pittwater Council is hosting two exhibitions from Friday 11 April until Thursday 17 April, as an Enliven Pittwater initiative.
Local artist and recipient of the Pittwater Community Arts Young Emerging Artist Grant, Henry Curchod presents a new body of work depicting the life cycle of flowers. The opening night of the exhibition will be on Friday 11 April from 6pm to 9pm.
Also opening on Friday 11 April at the Newport Community Centre is an exhibition of works from 19 members of the Pittwater Artists Trail.
Pittwater Council's Mayor Jacqui Townsend said it was exciting to see the collaboration between Enliven Pittwater, local artists and arts organisation coming together to offer a variety of events.
"The objective of ARTivity Week is to offer an engaging art experience to our community and at the same time provide development opportunities for local artists.
"As well as providing an exhibition space, there will be workshops and professional development talks by Arts Law. Participants will learn about artist's rights and gain practical insight into copyright and contracts," said Cr Townsend.
"Families can join in with the Be Centre holding creative workshops on Tuesday 15 April. The workshops are a supportive and playful environment where children can roll up their sleeves and get creative," she said.
For detailed information on the program during ARTivity week and Enliven Pittwater, www.pittwater.nsw.gov.au/enliven
Artivity is a series of art events happening in April at Newport Community Centre. From Friday 11–Thursday 17 April Henry Curchod, named Pittwater's Young Emerging Artist, presents his work on the life cycle of flowers. Also on at the centre is the Pittwater Artist Trail exhibition with 19 artists exhibiting. The opening night for both events is Friday 11 April from 6-9pm.
Ms Hewitt said all the activities on offer could be found on the free Enliven Pittwater app or at www.pittwater.nsw.gov.au/enliven
Bushcare Dates - April 2014
Bushcare at W

arriewood - The Warriewood bushcare group managed by Pittwater Council needs more volunteers on 4th Wednesday morning of the month – Can you help? Please contact Mary Johnsen at 9999 2020.
Fri April 4
Norma Pk 9-12pm
Sat April 5
Algona Res 9-12pm
Plateau Pk 8:30-11:30am
Elizabeth Pk 9-12pm
Sun April 6
Avalon Dunes 8:30-11:30am
W'wood Wetlands 8-11am
Mon April 7
Rocky Pt 9-12pm
Browns Bay Res 9-12pm
Fri April 11
Bilgola Beach 8-11am
Sat April 12
Mona Vale Dunes 8:30-11:30am
Coopers Pt 10-1pm
Woodlands Res 9-12pm
Sun April 13
Bangalley Head 9-12pm
Catherine Pk 10-12:30pm
Thu April 17
Mona Vale Dunes 8:30-11:30am
Sat April 19
Toongari Res 8-11am
Old Wharf Res 8-11am
Nth Palm Beach 9-12pm
Pathilda Res 9-12pm
Irrawong Res 1-4pm
Sun April 20
Angophora Res 8:30-11:30am
Crescent Res 9-12pm
Elanora Rd 8:30-11:30am
Wed April 23
W'wood Bch 8-11am
Sat April 26
Pindari Res 8-11am
Nth Newport Beach 8:30-11:30am
Careel Creek 8:30-11:30am
Kywong Res 8:30-11:30am
Sun April 27
Bungan Beach 8-11am
Winnererremy Bay 9-12pm

For further information on bushcare and/or to confirm if your group is working please contact Pittwater Council's Bushcare Officer. Bushcare is a great way to help your local bushland and make new friends! Bushcare Officer: Helena Dewis 9970 1367
Pittwater Council's COOEE Newsletter April - 2014
The Australian National Maritime Museum now has a speakers program - March News from ANMM
The Australian National Maritime Museum (ANMM) at Darling Harbour now has a speakers program where volunteer guides are available to speak to clubs.
The presentations available cover some important events in Australian Maritime history including
- the collision of the Voyager and the Melbourne
- the successful raid by the Krait on Japanese shipping in Singapore
- the first Australian naval victory of the Sydney and the Emden
- the story of the AE2 submarine in the Dardenelles
- an interesting story about alcohol at sea
We also have available an overview of the ANMM and a virtual tour of the destroyer Vampire where photos and video clips will bring the ship to life and explain what life was like aboard an Australian warship.
Please contact Ron Ray or Noel Phelan if you would like a speaker at your club.
For more information: www.anmm.gov.au or email:therays@aapt.net.au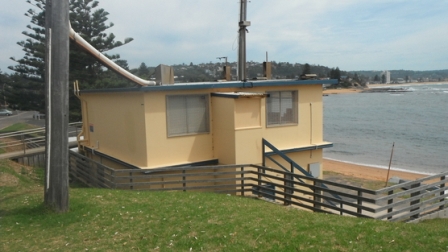 WARRINGAH SURF RESCUE BUILDING - Fisherman's Beach
Petitioning The Hon. Andrew Stoner M.P.
Approve and sign a 21-year lease on the Warringah Surf Rescue (Surfcom ) Building to Surf Life Saving Sydney Northern Beaches Inc.

The Warringah Surf Rescue Building houses our Communications Centre (Surfcom). Our Surfcom provides support to volunteer lifesavers patrolling beaches between North Palm Beach (Sydney) and Pambula ( Far South Coast) especially during emergency situations and rescues. We are the back-up for the SLSNSW State Operations Centre which can communicate with all 129 Surf Life Saving Clubs throughout NSW.
Our ongoing operations from the Warringah Surf Rescue Building is of State-wide significance and importance.
Volunteer lifesavers built the Warringah Surf Rescue building and have occupied it continuously as a rescue base for the past 45 year. Our primary role is helping save lives along our coastline.
Warringah Council is seeking commercial use of the building due to its location and had developed plans for a 60 seat cafe/restaurant.
We seek the Deputy Premier's support by signing our lease to secure our future within the building.
SIGN PETITION HERE
For more information:
http://surflifesaving.net.au/pages/about-us/warringah-surf-rescue-building.php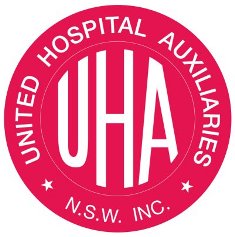 FUND RAISING STALLS FOR MONA VALE HOSPITAL AUXILIARY FOR THE FIRST HALF OF 2014
April 5th: Stall, Pittwater Place, knitting, craft, Bric-a-brac, books 9am – 3pm
April 11th: Stall, hospital foyer, knitting, craft, baking Bric-a-brac 9am – 3pm
April 12th: Sausage sizzle, Bunnings Narrabeen 8am – 4pm.
May 3rd: Pittwater Place, knitting, craft, Bric-a-brac, books 9am – 3pm
May 9th: Stall, ANZ Avalon Parade, Avalon. Baking, craft, knitting, Bric-a-brac 9am – 3pm
May 10th: Sausage sizzle, Bunnings Narrabeen 8am – 4pm
May 16th: Stall, hospital foyer, knitting, craft, baking, Bric-a-brac 9am – 3pm
June 7th: Stall, Pittwater Place, Knitting, craft, Bric-a-brac, books 9am – 3pm
June 14th: Sausage sizzle, Bunnings Narrabeen 8am – 4pm
June 20th: Stall, hospital foyer, knitting, craft, baking, Bric-a-brac 9am – 3pm

Swimming History in Pictures
Head to Mona Vale Library during April and step back in time as you view a pictorial history of the Narrabeen Lakes Amateur Swimming Club.
The club, formerly known as Narrabeen Ladies Amateur Swimming Club, celebrates 80 years this April and will have a host of photos and memorabilia available for viewing at the library.
Formed in 1933, members of the ladies club swam in Narrabeen Lake until the opening of Narrabeen Rock pool in 1934.
Events Librarian Catherine Buddin said the celebrations fall at the same time as the Heritage Festival, with the theme this year being "Journeys".
"The swimming club has certainly had an interesting 'journey', morphing from an all-women's club in the early 30s to include men and boys from 1987.
"In 2011 the club formally changed their name to the Narrabeen Lakes Amateur Swimming Club to reflect the changing nature of their members and to promote themselves as a fun family club," said Ms Buddin.
"The club has gathered a vast array of images that depict the journey of swimming over the last 80 years.
"During the exhibition there will be members of the swimming club available to chat to residents about the history of the club and how to become involved.
Mona Vale Library's local studies librarian will also be on hand to talk about the local studies unit at the library, which can assist students and researchers with many aspects of local history.
The exhibition will be open from 10am to 6 pm on week days; 10am to 2pm on Saturdays; and 1pm to 5pm on Sundays during April. Mona Vale Library is located at 1 Park Street, Mona Vale.
An evening with Bettina Arndt - on Tuesday 22 April, from 6.30pm at Newport Community Centre
Bettina Arndt is one of Australia's first sex therapists, a social commentator and has been working in the media most of her life. Bettina now spends most of her time on the speaking circuit, travelling across the country keeping audiences enthralled with her stories. She writes for many of Australia's leading newspapers and magazines and appears regularly on television and radio.
She's also involved in an exciting new venture, working as a dating coach providing advice to men and women about online dating. As part of her coaching role, Bettina helps with writing profiles which in-turn increases the chances of meeting the right match.
Her books include:
The Sex Diaries: Why Women Go Off Sex and Other Bedroom Battles
Taking Sides: Men, Women and the Shifting Social Agenda
What Men Want in Bed.
Bettina will have books available for sale at the event.
Cost - $10, no concession. Bookings essential, call 9970 1600, payment required within three days of booking.
Royal Flying Doctor Service (RFDS) FREE Community Talk,MONDAY 19 May, 2.30pm
Bookings essential 9970 1600
The Royal Flying Doctor Service of Australia (RFDS) is one of the largest and most comprehensive aero-medical organisations in the world. Using the latest in aviation, medical and communications technology, it delivers extensive primary health care and 24-hour emergency service to those who live, work and travel throughout Australia.
The RFDS is a not-for-profit organisation. Today, the RFDS has a fleet of 60 aircraft operating from 21 bases located across the nation and provides medical assistance to over 270,000 people every year – that's one patient every two minutes in remote and rural Australia! Covering 90% of Australia - no patient is more than two hours away from the help of the Flying Doctor.
Big discussion on "Jasper Jones" by Craig Silvey, as part of a Writers' Day on Wednesday 21 May
People are encouraged to read the book beforehand, there are various copies in the library and come and discuss it. More details of the day's program to follow and bookings will be essential.
LEGO AT THE LIBRARY
Local children will have the chance to join a club specialising in one of the most enduring playthings of childhood. Mona Vale Library has started a Lego club on the first Sunday of each month from 2pm to 4pm. Next is April 6th, 2014.
The club is open to children aged between seven and twelve years of age, with younger children welcome with parental supervision. If you are interested in attending a Lego at the Library session contact the library on 9970 1622 or book in person at the library, 1 Park Street, Mona Vale.

Pittwater Food and Wine Fair 2014
Sunday 4 May 2014, 10am to 4pm
Pittwater Council is hosting our fifth Food and Wine Fair at Winnererremy Bay. Bring your picnic rug and enjoy the live music at the beautiful scenic setting adjacent to the waterways of Pittwater.
There will be wine tastings and wine sales together with a wide variety of hot food available on the day. There will be general stallholders selling picnic wares, jams, olive oils, breads and confectionary.
Parking will be available for a small fee at Pittwater High School or ride your bike and use our free bike racks.
Venue: Winnererremy Bay Foreshore Reserve - Mona Street, Mona Vale Enquiries: Please call Nikki Griffith 9970 1355 or 0417 426 925 or email nikki_griffith@pittwater.nsw.gov.au
________________________________________
FREE COMPETITION - WIN GREAT PRIZES ENTER NOW!
First Prize - Degustation lunch experience for 4 people at Elizabeth's Restaurant at Mount Pleasant in the Hunter Valley with a private winery tour and tastings (value of $400);
Second Prize - 2 night stay at Currawong in a cabin for up to 4 people (conditions apply - valid May to October 2014 excluding school holidays);
Third Prize - Hamper of Cooks Lot wines and goodies including Lizottes vouchers - 2 free show only vouchers;
Fourth Prize - Lizottes Dinner show for 2 people + Cooks Lot wines.
Fifth Prize - Facepainting Birthday package to the value of $280 provided by Karen Langlands Face Painting
________________________________________
Stallholder expressions of interest
Expressions of interest are now open for wineries, hot food and general (food only) stallholders. Provision of your current Public Liability Insurance is mandatory
- Only hot food stallholders will have access to power ($50 extra charge)
- Site allocations are space only - you are required to provide your own equipment
- costs and inclusions are detailed on the form
See all forms and more information at: HERE

Feedback Sought on Careel Bay Masterplan
An updated masterplan for Careel Bay is on public exhibition for comment until Wednesday 21 May.
The masterplan is aimed at improving access and recreational space as well as stabilising and protecting the Careel Bay foreshore.
Reserves & Recreation Manager Les Munn said the masterplan would be open for comments from the public from Saturday 22 March to Wednesday 21 May.
"We are keen to hear from local residents and people who use the area for recreation, such as boat owners."
Among the improvements suggested are:
• Stabilising the foreshore by creating a seawall that blends into the surrounding area.
• Creating access onto the beach and surrounding waterway
• Infilling of land to provide space for recreation and dinghy storage, including ramp access for dinghies
• Separate pedestrian access via a footpath to George Street and improved pedestrian safety. The masterplan will allow two-way vehicle access.
Mr Munn said the Council would write to local residents in the area explaining the proposed improvements and inviting them to a meeting to discuss the masterplan.
The community meeting will be held on Wednesday 9 April in Room 2, Avalon Recreation Centre, 59 Old Barrenjoey Road Avalon between 6pm and 7.30pm. No RSVP is needed to attend this meeting.
The draft masterplan can be viewed online and at Pittwater Council customer service centres and libraries at Avalon and Mona Vale.
Mr Munn said once the masterplan was adopted by the Council, work was expected to take place in two stages.
"Stage 1 will be the construction of a dinghy storage facility and associated landscaping through a Better Boating Program grant from the state government. The remainder of the work will be subject to future funding."
LGNSW call on Australian Government to guarantee regional airline access to Sydney Airport: it's vital for country communities
Local Government NSW (LGNSW) has written to the Minister for Infrastructure and Regional Development, the Hon Warren Truss MP, calling on the Australian Government to guarantee continued equitable access for regional airlines to Sydney Kingsford Smith Airport, should a second Sydney airport be built.
President of LGNSW, Cr Keith Rhoades AFSM, said Sydney Airport Corporation Limited (SACL) has previously attempted to restrict the access of regional airlines to key arrival and departure slots, departure gates, and lounge and maintenance facilities, despite protection measures put in place specifically to ensure their continued use during the airport's privatisation process.
"Discussions about a second Sydney airport are now heating up and we are extremely concerned that regional airlines will be forced out of Kingsford Smith Airport and have written to all Federal and State rural and regional Members of Parliament calling on their support for access to be maintained.
"Country communities and businesses rely on regional airlines having direct access to the main domestic airport in Sydney, particularly as a wide range of services are no longer available outside the capital of NSW.
"Many regional and rural residents travel to Sydney for educational purposes, health and medical services that are dwindling or are no longer available in their communities, and for essential business which support the local economies of townships across the state.
"Sydney Airport access decisions should not be based solely on economics. To reduce this debate down to dollars and cents is a slap in the face of the millions of people that live in country NSW.
"Access to Sydney's key domestic airport is about equity for country commuters, equity to services their metropolitan counterparts take for granted, and equity to an airport that is situated close to Sydney's centre.
"Local Government NSW, our members and the communities they represent will not accept the backhanded solution of forcing regional airlines to land at other airport facilities like Bankstown, Newcastle, Canberra or the prospective second airport in Sydney.
"Many rural and regional commuters already have to travel long distances to get to airports in their region. It's unreasonable and impractical to expect them to disembark at facilities which would require further travel time.
"Even if transport infrastructure were provided, there would still be extra time and costs for country people travelling to Sydney for business, international flight transfers or services that are non-existent in their communities.
"Ensuring a viable, competitive and accessible regional aviation sector also provides Sydney-based professionals, businesses and investors with responsibilities and interests in rural and regional NSW with efficient and readily available flight services.
"Removing regional airline access to Sydney's prime airport facility will ultimately impact country businesses, employment and the social well-being of our regional and rural communities who deserve our support," said President Rhoades.
To view LGNSW's submission to the Legislative Council of NSW State Development Committee regional Aviation Services Inquiry, visit: lgnsw.org.au/policy/roads-and-transport/aviation-policy