November 13 - 19, 2022: Issue 562

The Women's Resilience Centre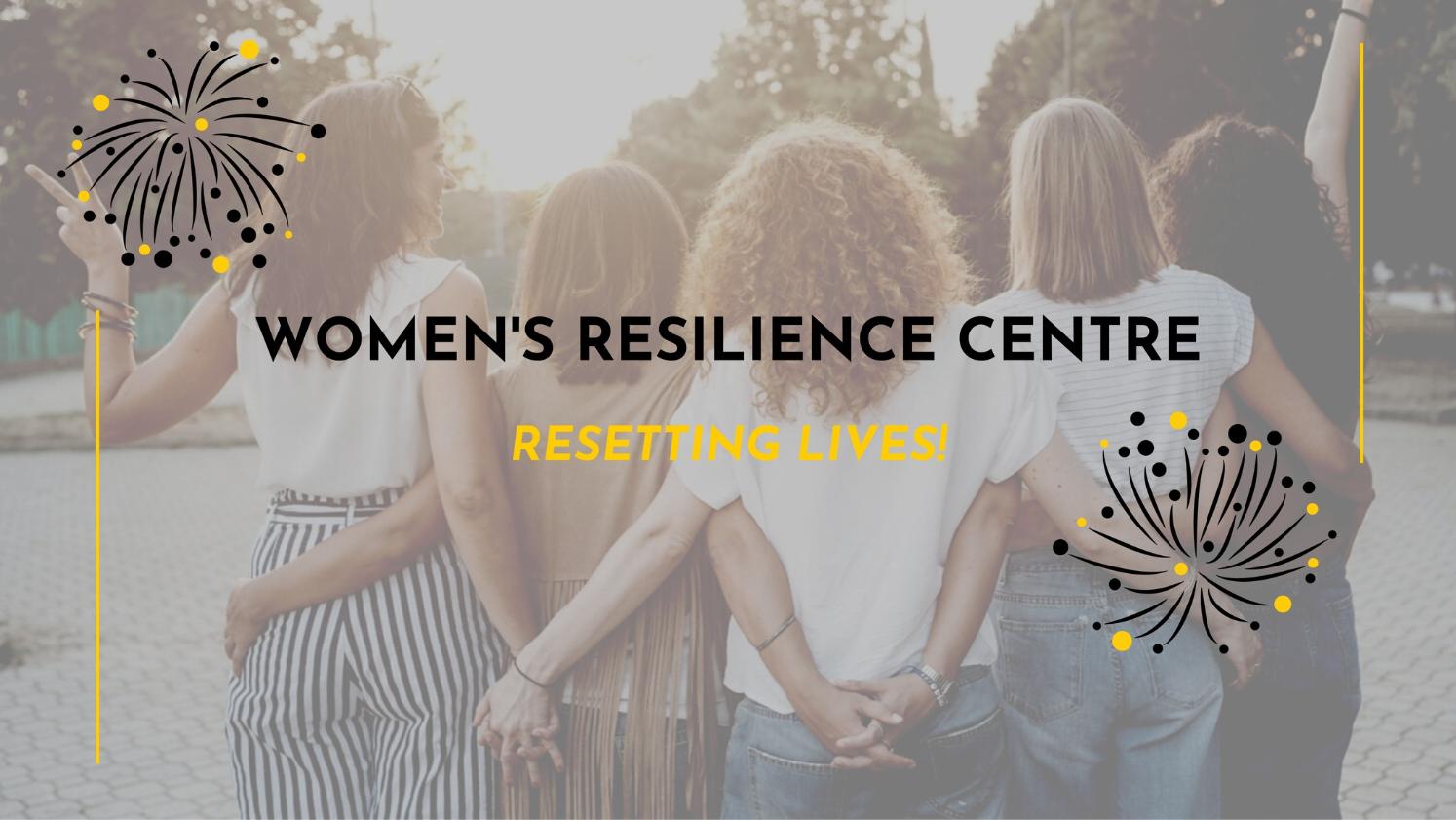 Phone: 1300 737 983
Email: contact@wresilience.com.au
Website: womensresiliencecentre.com.au
Level 1, Suite 1, 1761 Pittwater Road, Mona Vale

On Facebook: www.facebook.com/womensresiliencecentre
The Women's Resilience Centre, a new centre on Sydney's northern beaches that will provide support for women who have experienced domestic abuse and trauma, was officially opened on Friday November 4th by The Hon. Rob Stokes MP, Northern Beaches Mayor, Cr Michael Regan, the Labor Federal Representative for Mackellar, Paula Goodman, and Dr Maree Gosper, Chair of the Women's Resilience Centre.
The Women's Resilience Centre in Mona Vale will provide the missing link between short-term crisis care and longer-term recovery for women who have experienced domestic abuse or other trauma.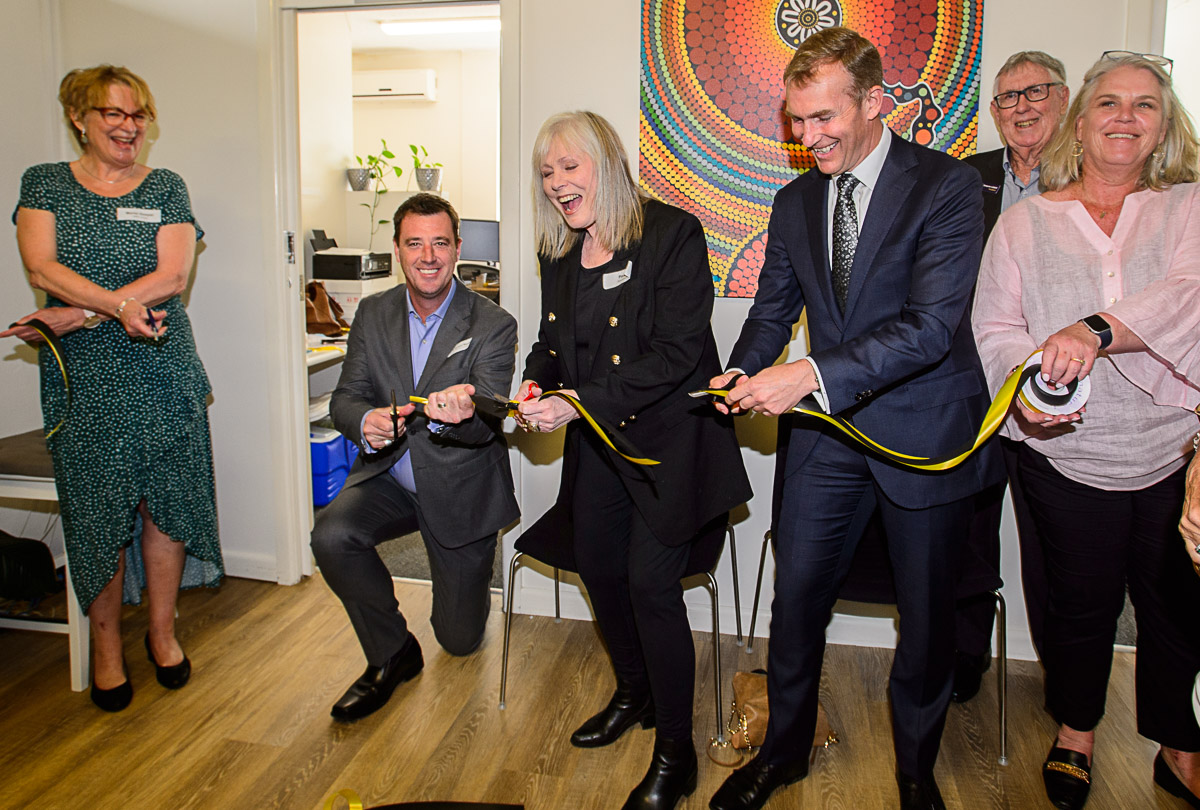 Photo: Michael Mannington OAM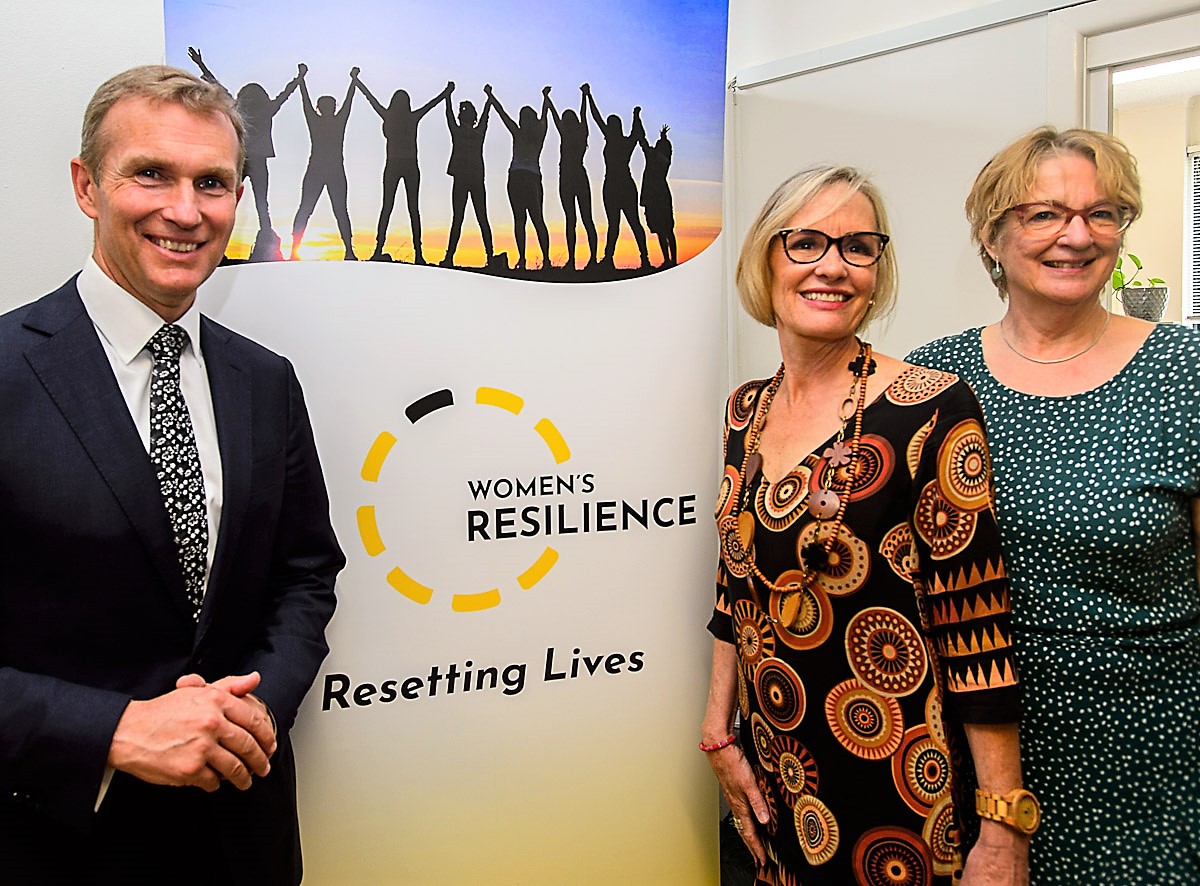 Dr Maree Gosper, Chair of Women's Resilience Centre and Simone Allan, Director and Founder, Women's Resilience Centre with Patron, The Hon. Rob Stokes, MP for Pittwater

"Our aim is to provide a community for women where they can feel safe, heal and reset their lives," said Simone Allan, founder, Women's Resilience Centre. "We know there are many women in the community who are suffering trauma and the Centre will be available for all women who need support around them.
"It is a warm welcoming environment where women can stop by, enjoy a cup of tea, talk with one of our trauma informed professionals and find the resources and support that they need."
The services available at the centre will help women build capability and resilience, assisting with job search and working collegially with real estate agents and housing providers to step ahead in a positive direction. The Centre's programs will have a trauma-sensitive lens and counselling, group therapy and mentors will be available.
The Women's Resilience Centre is the bridge between short-term support and longer-term recovery pathways. The Centre will help provide women with the support and capability they need to move on when the crisis housing is no longer available, or they simply need a place to drop in and breathe.
The Centre currently offers online and now face-to-face financial management programs, legal support, a trauma-sensitive and supportive community plus mentoring to assist with job seeking, housing, parenting and trauma support.
Simone Allan continued: "The relationships and skills developed at the Centre will help to open new positive pathways for women and their families to move forward with their lives."
Within the Northern Beaches local area, on average, over 150 domestic violence incidents are reported each month. The Australian Institute of Health and Welfare reports that 57-75% of Australians will experience a traumatic event in their lifetime.
"We see a real need for a service that helps women break the cycle of domestic abuse and the impacts of trauma and be able to step forward in a positive way to improve their lives and the lives of their children," said Maree Gosper, Chair of the Women's Resilience Centre.
"The Centre will provide a caring non-judgmental community and also offer practical tools and capability programs to enable women to move forward.
"We are grateful for the huge amount of support we have received from the community to enable us to open this facility. In the future, we hope to prove the impact of this centre and replicate this service across regional Australia."
On Saturday the 5th of November the Women's Resilience Centre held its 'Elegant Afternoon Tea by the Sea" event at the Warriewood Surf Life Saving Club. It was a beautiful afternoon with champagne on arrival, a stunning view, a gorgeous location, inspiring speakers, a silent auction and a raffle.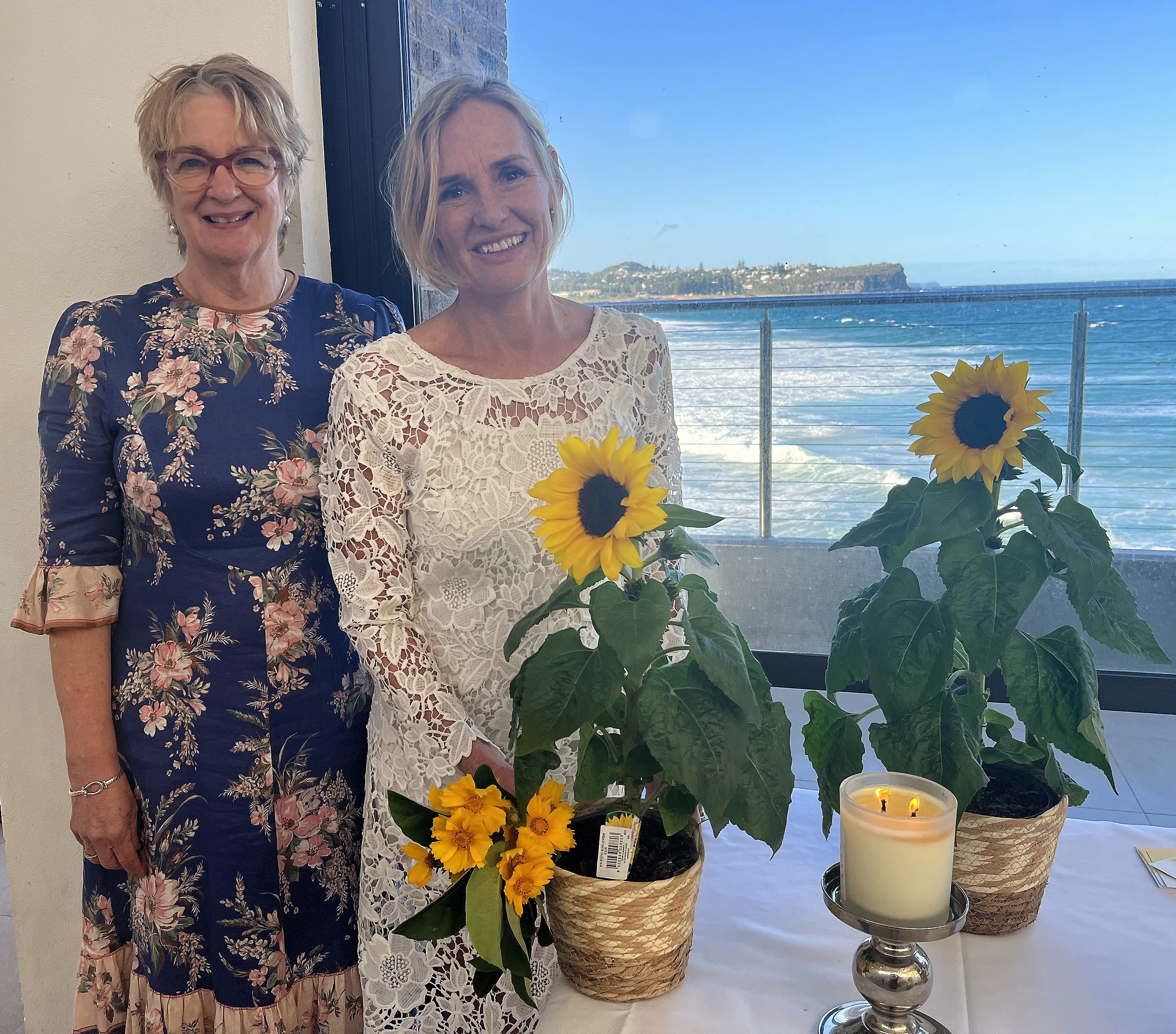 Dr Maree Gosper, Chair of Women's Resilience Centre and Simone Allan, Director and Founder, Women's Resilience Centre, at the WRC Elegant Afternoon Tea by the Sea

The event was a glorious celebration of the opening of the Women's Resilience Centre, a place that will provide hope, support and mentoring for long-term recovery from domestic abuse and trauma.
The event was a great success and demonstrated the abundant support that the Women's Resilience Centre has behind them already with an amazing turnout and lots of generous donations.
To support the work of the Women's Resilience Centre, a Gala Luncheon, hosted by Patron, The Hon. Rob Stokes, will be held on Friday November 18th at Parliament House, Sydney, with some tickets still available here: www.womens-resilience-centre-annual-gala-luncheon-tickets

Details below - but first, a look into how the WRC can help you.
How The Women's Resilience Centre Can Help
Mentoring Program
We're Here For You
We're a community of people who understand, who can relate, and who know that recovery and resilience can be found through judgement free, peer-to-peer support.
Guided by the lived experience of many, we know that a safe and secure environment is paramount to enabling women to reset their lives and move forward with confidence.
People feel like they can move mountains if they feel supported. Mentoring from someone who has lived a similar journey can be one of the most powerful supports that you will find.
Mentorship builds a strong sense of belonging, non-judgemental guidance, understanding and peer to peer live experience support. Speaking about past experiences can be cathartic, enabling survivors to feel truly heard. Group mentoring can also create a safe outlet to discuss and build a network of support amongst peers and a huge sense of belonging.
Critical to the Women's Resilience program is a peer-to-peer mentoring service, cross-border, face to face and online. Our primary focus is long-term sustainable recovery, utilising the power of mentoring, following an effective trauma-sensitive, evidence grounded clinical & capacity building resilience program.
The Women's Resilience Centre has researched with UTS and our Lived Experience Advisory and has identified the best practices for our service:
We carefully screen to ensure mentors are skilled and can offer an empathetic lived experience, demonstrate a strong road to recovery and living a positive life.
Mentors and mentees are effectively matched using Mentor Evolution Technology and an intake assessment.
Ongoing training and professional development is provided to ensure safety and insights.
Participation will bring benefits to individuals and the community. Individually, women will be introduced to the tools to resist returning to a violent environment from which they have escaped thus, preventing a continuation of the shocking cycle of abuse.
To register your interest in Mentoring, please contact our Mentoring Coordinator at mentoring@wresilience.com.au
Resilience Program
Building resilience – resetting lives
Resilience best describes the inner strength required to survive domestic violence, as it encapsulates what is needed to heal and recover in order to come out the other side and be able to live a life of peace, love and joy.
Our resilience programs are:
Trauma-sensitive, person-centred and strength-based
Designed to build capability in the skills for everyday life, promote wellbeing, self-awareness and understanding
Delivered face-to-face and online
Capability Program
Build skills for everyday life
The Capability series addresses the knowledge and skills necessary for everyday life including job readiness, money management, budgeting, legal, technology safety and other life skills
Currently on Offer. Visit here to view the current programs https://womensresiliencecentre.com.au/events/
The Financial Wellbeing Series covers control of your everyday finances and confidence in making decisions about money. Discover your money mindset, strengths opportunities, and strategies to improve your mental fitness.
Wellbeing Program
Live and enjoy life
The Wellbeing series encompasses:
Wellness activities for fun: art & craft, music, dance, exercise, gardening
Wellbeing for recovery support: evidence-based activities to promote healing and recovery e.g. yoga therapy and art therapy
Wellbeing life skills training: resilience skills training, mental health, mindfulness, meditation
Therapeutic Program
Understand and repair
The Therapeutic Program is currently under development.
The Program will draw on evidence-based modalities such as Schema Therapy, Cognitive Therapy (CT), Cognitive Behaviour Therapy (CBT), Acceptance and Commitment Therapy (ACT), Emotionally Focused Therapy (EFT) and Interpersonal Psychotherapy (IPT).
For further information: Contact Us
Interim Accommodation
A safe environment to heal
Guided by the lived experience of many, we know that a safe and secure environment is paramount to enabling women to reset their lives and move forward with confidence.
We are planning to work with providers of social housing to build a national network of residential accommodation for up to 12 months.
Multiple investment avenues are available to corporations, businesses, philanthropic foundations and individuals who would like to contribute and invest in our network including full or partial property investment and sponsoring a room.
Please reach out to us to discuss options. Contact Us: contact@wresilience.com.au, Phone: 1300 737 983, Level 1, Suite 1, 1761 Pittwater Road, Mona Vale.
National Resilience Report to be presented at Women's Resilience Centre Gala Luncheon
Parliament House, Sydney, Friday 18 November, 12pm-2:30pm
The National Resilience Report shows only 1 in 10 Australians have resilience
Women's Resilience Centre calls for action to close the gap in recovery services for women
'Building Community Resilience' is the theme at this year's Gala Fundraising event for The Women's Resilience Centre at Parliament House, Sydney, Friday 18 November, 12pm-2:30pm.
The 2022 National Resilience Index Report, presented at the event by Kylee Stone, Ambassador for Driven, the global leaders in the neuroscience of resilience and psychometric assessments, highlights Australia's erosion of resilience through the ongoing challenges of the pandemic, global wars, fires and flooding.
The Women's Resilience Centre is a not-for-profit organisation addressing the missing link between short-term crisis care and long-term trauma-sensitive recovery, supporting women to rebuild their lives after experiencing domestic violence, abuse and/or trauma.
Mentoring programs, wellbeing, job ready programs and group therapy sessions with a trauma-sensitive lens are amongst the services provided (both online and face-to-face) at the organisation's new community centre on Sydney's Northern Beaches, which opened on 4th November, 2022.
"During COVID our online programs have touched the lives of women all over Australia and we have now opened the doors to our first community centre," says Women's Resilience Centre Founder, Simone Allan. "The services and support available at the Women's Resilience Centre will help women gain confidence, build capability and resilience and help move their families towards positive generational change."
The keynote speaker at the Women's Resilience Centre gala luncheon on Friday 18th November will be TEDx speaker and Founder of WanderSafe, Stephenie Rodriguez.
"Stephenie Rodriguez, our keynote TEDx speaker and Founder of WanderSafe, has an incredible humanitarian story that is guaranteed to ignite inspiration and action," says Simone Allan.
"Many people are struggling to cope with the challenges of the turbulent events of the last two years," stated Ms. Allan. "Our aim is to provide women with a place to feel safe and access the resources to rebuild supportive community connections and reset their lives."
While building awareness and creating a collaborative approach to building resilience is a key theme of the 18th November event, the aim is to help the Women's Resilience Centre raise much needed funds for the resources to help women reset their lives.
"We are grateful for the outstanding amount of support we've received from the community to date. With your continuing support we will be able to expand, prove impact and replicate the model of recovery across regional Australia." stated Ms Allan.
For more information or to purchase tickets, head to womensresiliencecentre.com.au.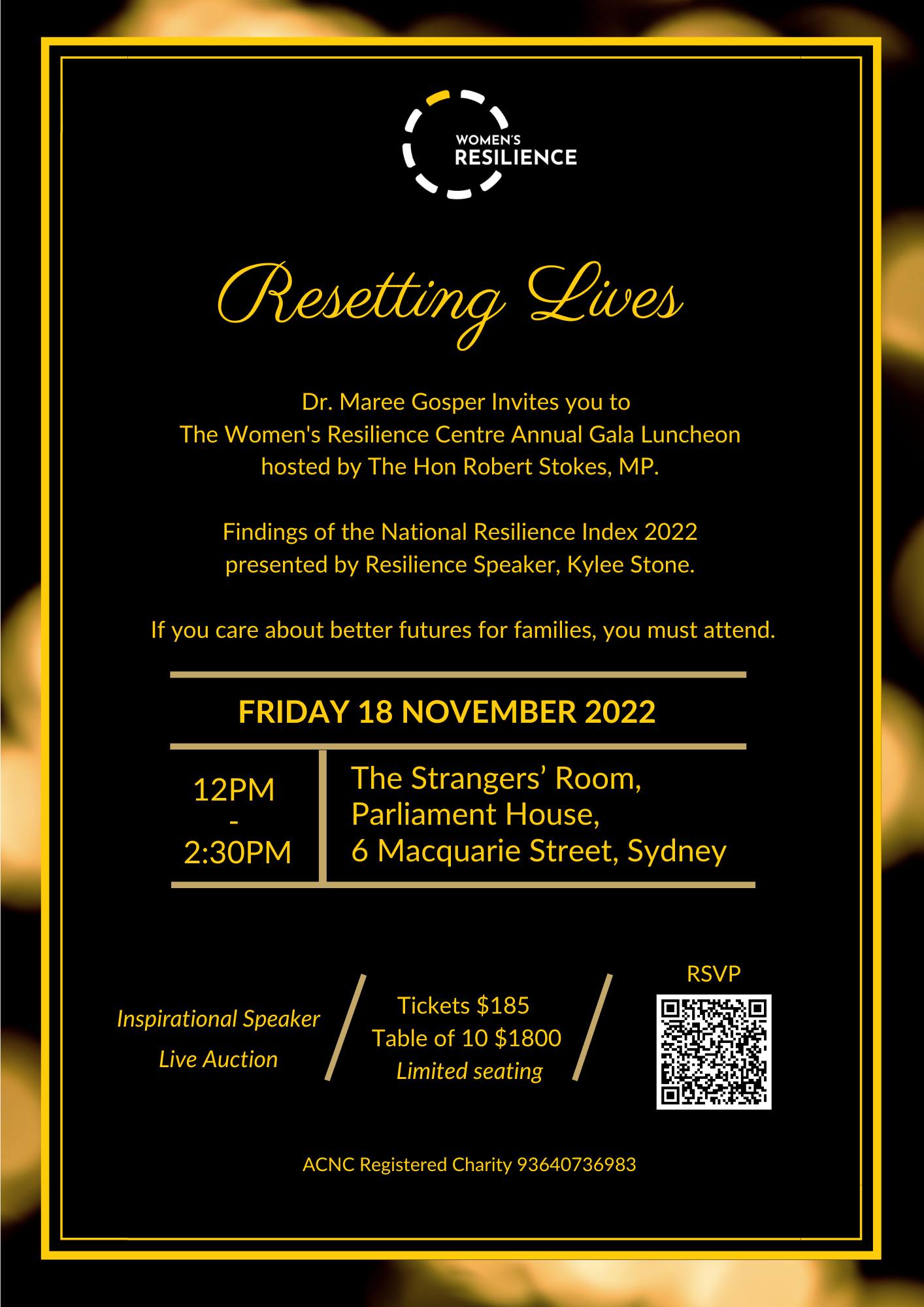 Stephenie Rodriguez
A serial tech start-up founder, TEDX speaker, and advocate for people living with disability, Stephenie is on a mission to impact a billion lives by 2025 and democratize safety in support of the United Nations Sustainable Development Goals. To deliver on this mission, she is the Founder of Jozu for Women Inc, and developed and launched the WanderSafe personal safety ecosystem to empower women, girls, and vulnerable workers to travel and commute better and safer. She is a social justice warrior, advocating against GBV and the co-author of The WanderSafe Accord, a cross-collaboration by social enterprises, NGOs, governments, and private citizens to actively take a stand against violence.
Stephenie is also a Board Director for Zonta Club of Sydney Breakfast, and will spearhead the WanderSafe Sisters Walk on 4 Dec as part of Zonta International's #16DaysofActivism campaign to Eliminate Violence Against Women. The WanderSafe Sisters Walk will raise funds to support the work of Zonta Foundation for Women.
Zonta is a leading global organisation empowering women and girls worldwide through service and advocacy. Zonta envisions a world in which women's rights are recognised as human rights and every woman is able to achieve her full potential, have access to all resources and are represented in decision-making positions on an equal basis with men. In such a world, no woman lives in fear of violence."
Kylee Stone
Kylee Stone is the Founder and CEO of The Performance Code, a coaching consultancy specialising in human-centred design thinking methodologies to help organisations create an environment where everyone thrives.
With an international reputation as an expert on transformation, Kylee works with the world's leading organisations and high-performance entrepreneurs on building resilience and connecting with purpose to accelerate growth while taking care of their own and others' wellbeing.
While navigating her own journey as a leader with three young children, Kylee co-founded a not-for-profit organisation to help women advance in leadership despite the obstacles of flexibility, unconscious bias, imposter syndrome and parity in pay.
In 2018 she was one of 13 indigenous leaders in business acknowledged by the Queensland Government Office for Women for her contribution to advancing women in leadership. During the peak of the pandemic, she worked with Qantas on a global wellbeing program and was awarded LinkedIn's Top Voices on leadership resilience.
Kylee is a descendant of the stolen generation of the Wakka Wakk and Kulluli First Nations People, born on Cabrogal land of the Dhurag Nation. She's a consummate storyteller, host of The Uncharted Leader podcast, a keynote speaker and regular commentator on leadership transformation, resilience and wellbeing.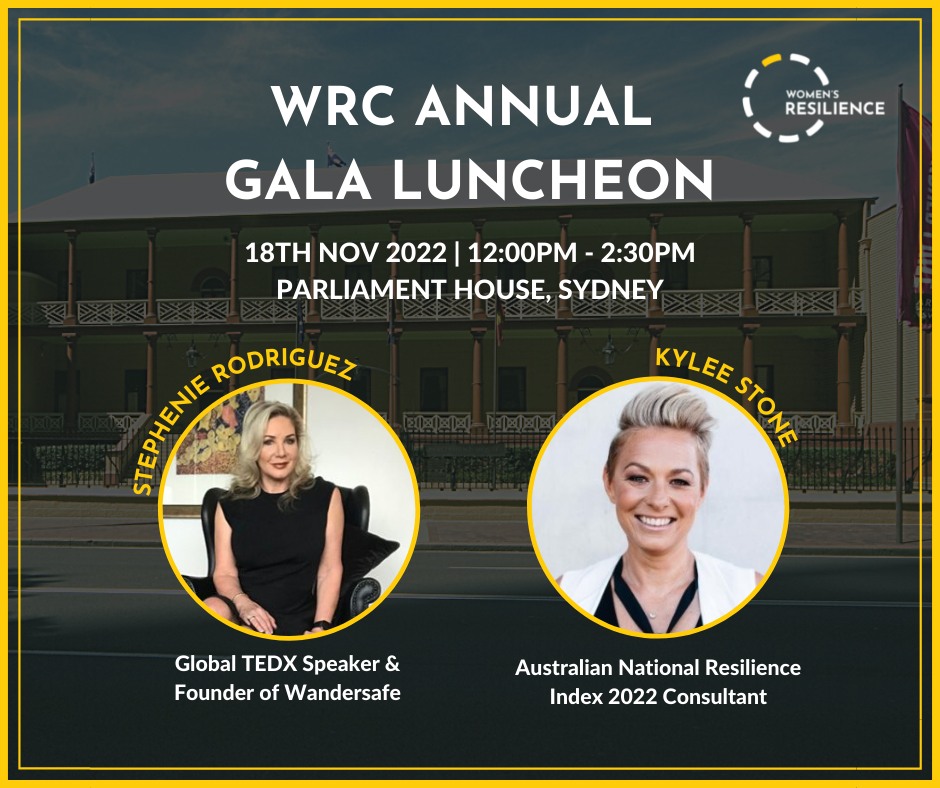 Simone Allan - Founder
In 1998, Simone founded Mondo Search & the Mentor Evolution, placing over 2800 business leaders and connecting schools and corporations through mentoring. In 2011, Simone hit burnout and embarked on a journey of recovery. She discovered the power of good recovery programs to support people with trauma histories, especially aided by mentors. Her background and experience came together with the founding of the Women's Resilience Centre in 2020, her "True North", bringing together her charter of Women's health, mentoring, practical job readiness, skills & sustainable recovery programs.
Dr. Maree Gosper - Chairperson
Dr Maree Gosper is the Chair of the Women's Resilience Centre Advisory Board. She has over thirty years of experience in the University sector as a researcher, teacher and organisational developer with expertise in cognition and learning, e-learning, leadership and management. She has worked in several universities culminating in senior positions at Macquarie University as an Associate Professor, Director of Technologies in Learning and Teaching and Head of Academic Development. Her experience in policy, planning and quality enhancement has lead to a governance pathway, chairing and serving on numerous academic boards in the higher education sector.
Growing up in central-west NSW and witnessing the vulnerability of women in rural and remote communities, combined with an understanding of the power of education as a means to achieving generational change, underpins her passion for the Women's Resilience Centre.
Women's Resilience Centre
Phone: 1300 737 983
Email: contact@wresilience.com.au
Website: womensresiliencecentre.com.au
Level 1, Suite 1, 1761 Pittwater Road, Mona Vale