Community News - May 2014
May 25 - 31, 2014: Issue 164
May 11 - 17, 2014: Issue 162
May 4 - 10, 2014: Issue 161
April 27 - May 3, 2014: Issue 160
National Trust Heritage Festival
Migration, immigration, travel stories, cultural studies, Journeys can be interpreted in all different ways. The Theme of this year's National Trust Heritage Festival is "Journeys" – a celebration of our passage from various points of origin to the Australia of today.
Events on the Northern Beaches include:
ALL IN A DAY'S JOURNEY
Join Northern Beaches Creative Leisure & Learning as we access various modes of transport for a fun day, travelling from the northern beaches. After a journey by bus, ferry, train & light rail, we will then walk around Pyrmont Bay, Darling Harbour & Walsh Bay. Along the way, we will view the Welcome Wall which stands in honour of all those who have migrated from countries around the world to live in Australia. Another highlight will be the Walsh Bay Sculpture Walk.
Date: Monday 26th May.
Cost: $10. Bookings essential. Phone 9913 1474
PLANES & BOATS, BUT NO TRAINS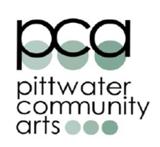 Join Pittwater Community Arts for a fun evening of song, verse, photography, film and historic footage as we take a light-hearted look at transport around Pittwater. From the explorations of Governor Philip in the early days of the colony to the present day, the fascinating history of Pittwater is revealed in the stories of its people, places & pastimes. Listen to stories about the journeys made by people who have made Pittwater their home and hear from some who provide a means of transport around Pittwater.
Venue: Loquat Valley School, 1977 Pittwater Rd. Bayview.
Date: Saturday 31st May, 7pm for 7.30pm
Cost: $10. Bookings essential. Phone 9913 1474

2014 Blues Hogs for Homeless Raffle
In 2012, rugby league legend and NSW Blues warrior Brad Fittler said that as a father it made him feel sick to his core that there were nearly 4000 homeless children under the age of 12 in the state of his origin, the state that he loves so much, the state that he has shed blood for; NSW.
This prompted 'Freddy' to contact Father Chris Riley and his 'Youth off the Streets' team to say that he wanted to create a fundraising event to help such a worthwhile organisation.
Drawn at the announcement of the VB NSW Blues Team, Tuesday May 20, 2014.
See more at HERE
Privacy Awareness Week 2014 – mobilise your privacy - 24 April 2014
Privacy Awareness Week, an annual initiative of the Asia Pacific Privacy Authorities (APPA), will commence in the first week of May (4 – 10 May 2014).
It is an opportunity to highlight the importance of privacy, a hot topic that affects individuals, communities and governments throughout Australia and around the world.
This year the Information and Privacy Commission NSW (IPC) will celebrate Privacy Awareness Week under the theme "Mobilise your privacy, stay safe online".
"Now, more than ever, it is vital that both organisations and individuals are vigilant when it comes to privacy protection, particularly with the increasing use of the internet and smartphones," said Dr Elizabeth Coombs, NSW Privacy Commissioner. "Many people are also using mobile apps to receive and provide information and services, and there can be privacy implications for both the users and the providers."
This theme encourages all of us to consider such questions as:
What are my responsibilities when using mobile apps?
Have I checked my privacy settings lately?
What are my rights under NSW privacy law?
Who can help me with this process?
The IPC has released a range of new resources to help protect our privacy, including two fact sheets on mobile apps and understanding the risks.
"Mobile apps: The ABCs of privacy protection encourages us to think before we download apps, and Mobile apps: know the risks is a simple checklist for organisations that use apps to deliver services to the NSW public. It is important to understand what information is collected and how it will be used," said Dr Coombs.
Other resources cover tips for children's online safety, and A Guide to privacy laws in NSW offers simple facts about privacy legislation in NSW, how it protects your privacy and what you can do if you think your privacy has been breached.
Dr Coombs is available for interviews during Privacy Awareness Week 2014 to discuss privacy issues including online safety. Please contact Kate Jobling on 0435 961 691 or emailipcinfo@ipc.nsw.gov.au to make your request.
For more information on the IPC and Privacy Awareness Week activities in NSW, visit www.ipc.nsw.gov.au
From: Information and Privacy Commission New South Wales
Club Palm Beach (Palm Beach RSL) – Drop Off Old Mobile phones Please
Sarah-Jayne is a year 11 student at Barrenjoey high, and as part of her biology assignment, has been given the opportunity to meet Jane Goodall at Taronga Zoo in May this year. BUT to be a part of this experience, she has to collect old mobile phones that will be recycled, helping to save the gorillas environment by stopping mining for Coltan, a metallic ore used in mobile phones.
Help Sarah Jayne and this amazing cause by dropping your old, unwanted mobile phones into the club.
Thank you for your help.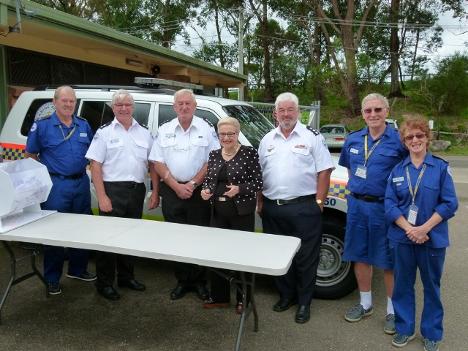 Marine Rescue Sydney – Boat Raffle Drawn by Hon. Bishop
Marine Rescue Sydney, based at Terrey Hills were fortunate to have the Hon. Bronwyn Bishop to draw the winning tickets in our fundraising raffle. Volunteers have been selling tickets for many months and are pleased to announce that we exceeded our target of $12,000 which will go towards much needed upgrading of our radio equipment. Many thanks to Mrs Bishop for her time and interest in Marine Rescue. Winner of the boat is Andrew Montague
Also, needless to say we were extremely busy over the Easter holiday with boating high on many people's agenda.
Thanks again to our volunteers who give up their time and expertise to operate the radio base at Terrey Hills 24/7.
Above: Roger Holt, Andrew Topp, Hon. Bronwyn Bishop, Chris Gillett (Sydney regional controller), Ken Iverson and Marguerite Mason.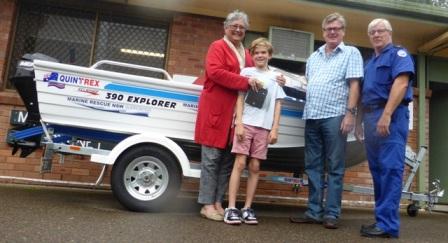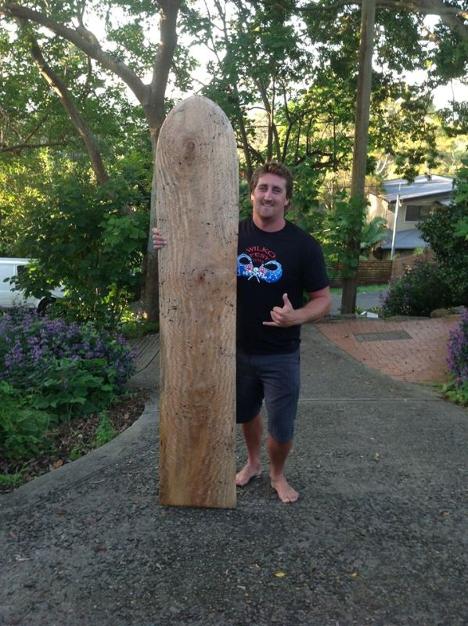 Community Supports Big Wave Surfer
Firstly I'd like to say a huge thank you to all my friends and family that made it to my fundraiser! The night went off !! Mainly due to Froggy Freudenstein; you are the man mate !!
I am and have always been a proud Narrabeen boy I can't begin to express my gratitude to what went down last night !!! I want to present this aliaia as a token of my appreciation to Narrabeen.
Pono is a Hawaiian word meaning being in positive alignment and in balance in all things in life, having respect, being respectful, caring about others and being the best you can be.
I want the elder group of Narrabeen board riders and sharks award this as an award to the young person that best displays these traits. Being awarded the Pono award will mean that I will fly you out to Hawaii for a week to share with you my life in Hawaii !!
I learnt and was taught the traits from growing up here in Narrabeen , and have been accepted and become part of the community in haleiwa Hawaii . I want people to dream big, follow their dreams and goals whatever they may be!!
Once again thanks to all ! Bands, Narrabeen Rsl, North Narrabeen Sharks, Narrabeen Boardriders Club so stoked on the turn out, froth and catching up with all the crew.
Ben Wilkinson - April 20
NSW Govt. Reintroducing locally extinct mammals
The NSW Government has announced an innovative new project under Saving our Species to reintroduce at least eight mammal species that are currently extinct in NSW to the State's national parks. Under the project, locally extinct mammal species could once again call NSW home, including the bilby, numbat and golden bandicoot.
The project will feature new partnerships between conservation organisations and the Office of Environment and Heritage, including the NSW National Parks and Wildlife Service. Conservation organisations will establish and manage predator-free areas covering thousands of hectares in national parks to give the selected species the best chance of re-establishing viable populations in the wild.
The Office of Environment and Heritage is calling for potential partners to officially register their interest before 10:00 am on Thursday 15 May 2014.
Potential partners will need an established track record in conservation work, extensive experience in threatened species management, scientific credibility and experience in conservation management activities in regional Australia.
Registration of interest
Experienced conservation organisations that wish to enter into a partnership with OEH to reintroduce mammal species that are currently extinct in NSW and manage the species through maintaining predator-free areas in national parks should complete a registration of interest.
NSW Regions: Far North Coast, Mid North Coast, New England,Central Coast, Hunter, Cumberland/Prospect, Nepean, Northern Sydney, Inner West, South East Sydney, South West Sydney, Central West, Orana/Far West, Riverina/Murray, Illawarra, Southern Highlands
See HERE for more details.
Citizen scientists match research tool when counting sharks: Dive guides monitoring sharks on coral reef at similar level to telemetry
Shark data collected by citizen scientists may be as reliable as data collected using automated tools, according to results published April 23, 2014, in the open access journal PLOS ONE by Gabriel Vianna from The University of Western Australia and colleagues.
Shark populations are declining globally, and scientists lack data to estimate the conservation status of populations for many shark species. Citizen science may be a useful and cost-effective means to increase knowledge of shark populations on coral reefs, but scientists do not yet know enough about how data collected by untrained observers compares to results from traditional research methods. To better understand the reliability of datasets collected by citizen science initiatives, researchers in this study compared reef shark sightings counted by experienced dive guides (citizen scientists), with data collected from tagged reef sharks by an automated tracking tool (acoustic telemetry). 62 dive guides collected data during over 2,300 dives using standardized research protocols, including reporting on the dive site, date, species, counts, estimated depth, current, visibility, and number of tourist divers in the group. Both data sets were collected at coral reefs on the Pacific island of Palau over a period of five years.
Scientists found a strong correlation between the number of grey reef sharks observed by dive guides and those identified by telemetry at both daily and monthly intervals. The authors suggest that the same variation in shark abundance was detectable by both citizen scientists and telemetry. Furthermore, the presence of tourist divers didn't correlate with the number or average depth of reef sharks recorded by telemetry, indicating that shark behavior was unaffected by the divers' presence during the study. The guides' data also suggests that the water's current strength and temperature may have impacted the relative abundance of sharks at the monitored sites, which corroborates previous telemetry data. The authors posit that the correlated results demonstrate the potential role citizen science may play in shark conservation in coral reef ecosystems.
Gabriel added, "Our study shows that with a little bit of training and a good sampling design, recreational divers collect very useful data that can be used to monitor shark populations over long periods of time and across large spatial areas. Such programs have relatively small costs when compared with other methods currently used."
1. Gabriel M. S. Vianna, Mark G. Meekan, Tova H. Bornovski, Jessica J. Meeuwig. Acoustic Telemetry Validates a Citizen Science Approach for Monitoring Sharks on Coral Reefs.PLoS ONE, 2014; 9 (4): e95565 DOI:10.1371/journal.pone.0095565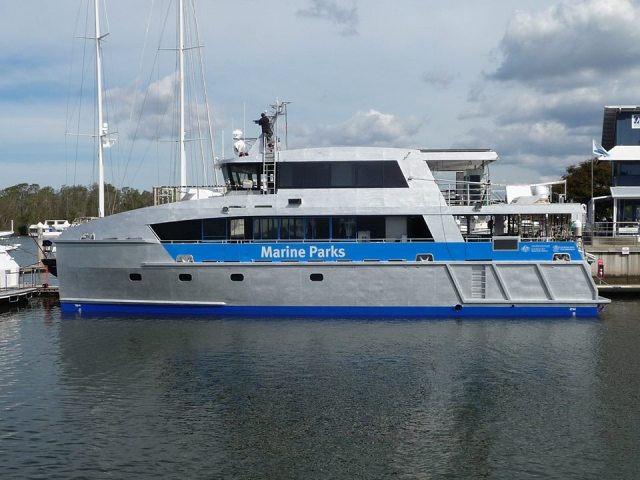 Great Barrier Reef Marine Park – New Patrol Vessel
Ship ahoy! A new patrol vessel is set to join the fleet of vessels used by our dedicated field staff to monitor and protect the Great Barrier Reef. The Reef Ranger will be based in Cairns but service all parts of the 344,000 square kilometre Marine Park. The maiden voyage will take place in May.