Community News August 2017
August 27 - September 2, 2017: Issue 327
August 20 - 26, 2017: Issue 326
Articles This Week
On-Demand Public Transport Trial In Pittwater

Funds For Pittwater Foreshore And Pedestrian Improvements: Palm Beach (South) Landscape Masterplan, Careel Bay Foreshore Masterplan (Stage 2) and extension of the Hudson Parade Footpath Project between Clareville Beach and Taylors Point

Pictures: Mermaids Of Palm Beach Pictures From The 2017 Variety The Children's Charity B To B - Report and Photos by Viktorija McDonell
Vietnam Veterans Day (Northern) 2017 Commemorative Service

NSW To Stage The First-Ever Couta Boat Nationals Outside Victoria by Lisa Ratcliff

Waratah And Flint & Steel Track Problems Quickly Addressed by NPWS

Melinda Schneider Joins Northern Beaches Orchestra For Rotary 2017 Spring Concert: Wednesday, September 20th

Step Two For Kialoa II by Lisa Ratcliff & Marina Johnson

Reflections by George Repin: AUTUMN IN NEW ENGLAND USA
Whale Beach SLSC AGM 2017 - held August 13th, 2017

Aquatics: Freemantle To Pittwater And On To Paradise With Stealth by Lisa Ratcliff
Pittwater Greens Candidate Urges Rethink On Ingleside Plans, Calls for Council to Sign Climate Action Pledge - from Northern Beaches Greens

Local Government Election 2017 Candidates pages: Issue 326

Friends Of Pittwater- Local Government Election 2017: Peter Bosley, Jenny Stone and John Lettoof

Group B Independent Team Narrabeen Ward -Local Government Election 2017: Vincent De Luca OAM, Tammy Cook and Tony Biasi
Independents For Pittwater- Local Government Election 2017: Selena Griffith, Dr Suzanne Daly, Peter Middleton, Marcia Rackham and Lorrie Morgan

Your Northern Beaches Independent Team - Local Government Election 2017: Ian White, Katinga Schroeder and Bill Gye OAM

Local Government Election 2017 Candidates: Disclaimer: The content of Editorials in this Publication have been provided by a number of independent sources. Any opinions expressed are not necessarily those of Pittwater Online News, and no responsibility is taken for the accuracy of the information, or any factual errors contained within items published. Readers should make their own enquiries directly to any organisation prior to making any plans or taking any action.
Profile: Roland Luke

Roland Luke, winner of the NSW Premier's award in 2011 for Community Service, is really really great at looking out for and doing for others, and is known for getting on with it. There is so much this gentleman has done for our community and continues to do, and he keeps it so quiet, that many don't realise this humble man is that bloke behind a lot of great things that have happened here - not that he's scared to tell you off if he thinks you're acting up!
He's a straight talker who clearly believes actions speak louder than words, generous with his time and knowledge but still, is just getting on with it.
For all those who think they know this gentle giant, and have requested this small insight, a slightly deeper look
History: Early Pittwater Surfers – Palm Beach I: John (Jack) Ralston and Nora McAuliffe - the man who went out to try and save people in 1920, the incident that led to the formation of PBSLSC, and the man who is said to be the first to bring a surfboard to Palmy, was a good wave rider too. He married a Manly born girl who had a passion for the waves and surfing on a board in Nora...
Artist of the Month: August 2017: Adriaan van der Wallen Most people know Adriaan as a great surfer on short or long boards or logs, or even one of his numerous collectors boards inherited from legends such as Midget Farrelly or Jack McCoy, or as the gentleman who teaches their Nippers as a Member of Avalon Beach SLSC or a part of the Masters Team at Palm Beach SLSC, or as the teacher who educates their children. Others will have seen his great photographic skills featured here as one of our regular contributors.

Warringah Rats Into Shute Shield Final
August 19, 2017: Warringah Rugby
The RATS have booked a date in the Shute Shield Grand Final next Saturday after defeating Manly 27-17
in blustery conditions at RAT PARK. The win in front of record crowds this afternoon marks the first time since 2005 that the RATS will contest the ultimate prize in Club Rugby. Today's victory is also the second of three against their northern beaches rivals. The RATS will face the winner of the second semi final between reigning premiers Northern Suburbs and experienced campaigners and former premiers Eastwood.
WELL DONE RATS!
In a replay if last year's 3rd grade grand final this time it was the RATS who came out the victors, downing Sydney University 25-10
in the 3rd Grade Semi Final. While The Students season has reached a conclusion the RATS now progress through to the Grand Final next week for another shot at the title.
WELL DONE RATS!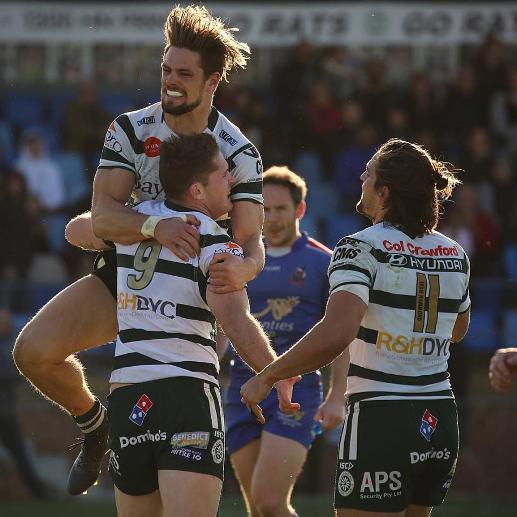 That winning feeling -
Shute Shield Grand Final next!
Photo by Red Bandana/ Karen Watson
Candidates To Speak To Electors
Media Release – Pittwater Forever
Community umbrella group Pittwater Forever, representing 18 community groups and their members, today confirmed details of two public information sessions for the local government elections being held in the northern beaches on 9 September.
Chairman Craig Boaden confirmed that:
"Pittwater Forever will host an evening session at which candidates in the
Pittwater Ward
can address electors directly. This session will take place
from 6.30pm on Tuesday 29 August in the Mona Vale Memorial Hall
."
"This will be followed by a session for candidates in the
Narrabeen Ward
on
Tuesday 5 September, again from 6.30pm in the Mona Vale Memorial Hall.
"
Pittwater Forever will invite all candidates seeking election to council from these two Wards to make brief presentations of their policies, and to answer questions from the floor.
"These two public information sessions will give candidates an opportunity to inform electors about their policies, and electors a chance to hear from candidates before polling day on 9 September", said Mr Boaden.
"It's one of Pittwater Forever's contributions to local democracy. "
"Through our member community groups, we will also facilitate recruiting volunteers to help independent candidates with things like leafletting, and handing out How to Vote cards at pre-poll and polling stations".
Mona Vale SLSC AGM

Rhonda Lycett was made a Life member at the recent Mona Vale AGM held on the 30th of July.
Skye Rose spoke to her nomination – "Rhonda's has an extensive list of achievements and contributions at the club, branch and state levels. It is truly inspirational and demonstrates to all our members of the many varied roles that we can aspire to within the Surf Lifesaving movement.
Whilst Rhonda has for filled many important roles at the club, it is her Carnival Official role at branch and state that has enabled us to participate in carnivals. She quietly been a carnival official for decades, not seeking any kudos or praise with many of our competitors unaware of her essential role.
With nearly 40 years of service to lifesaving, Rhonda is one of our most knowledgeable members when it comes to award training and technical competition. She has achieved all this after having 4 children and then accumulating 9 grandchildren, demonstrating it is never too late to get your bronze or find another area in the club to excel. She is a brilliant role model to women.
Things you may not know include, her taking up the 14km jog 3 times a week to Narrabeen fire station and back when I was in my late 20s and she wasn't. She still holds her competition rights with Fingal beach and this is akin to the jewel citizenship of some of our senators and I trust she will address this oversight as a matter of haste!
Rhonda is a life member at branch only one of two Mona Vale life members, at state, and a thoroughly deserving life member at club level for nearly 40 years of contribution to Mona Vale."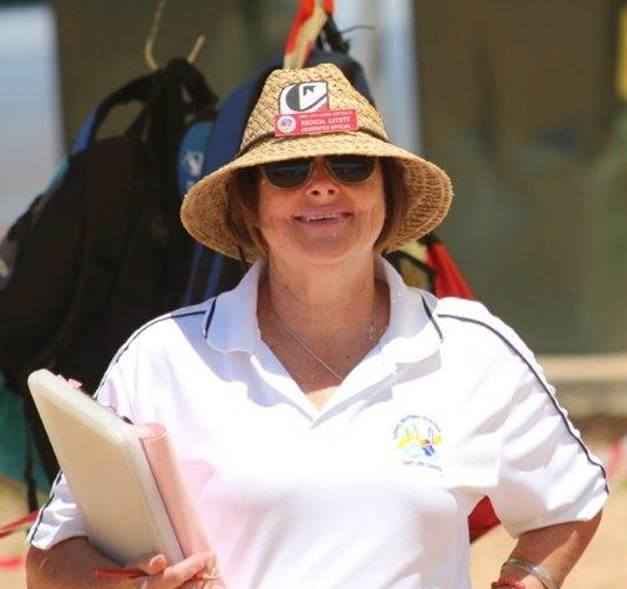 The following members were awarded Distinguished service award -
Wesley Dose

Gavin Smee

Greg Hyde

Peter Lever
We remembered the passing of club members - Ken Barker, David Nugent, Fred Murray and Peter Clarkson.
Principality Of Pittwater
The wonderful Lorrie Morgan has bequeathed the patch below to us earlier this week and we would like to clarify where it came from - is it this?:
Peter Bensley has been dubbed Prince Peter of Pittwater by the Avalon Lions Club which has organised a Pittwater Principality Secession Week from September 25 to October 5 to raise funds for disabled and disadvantaged people in the Manly Waringah area. In return for his crown Peter will be handing out knighthoods and attending fund-raising functions beginning with a Royal Chinese Banquet.
Appeared in The Sydney Morning Herald Page 80. September 13, 1981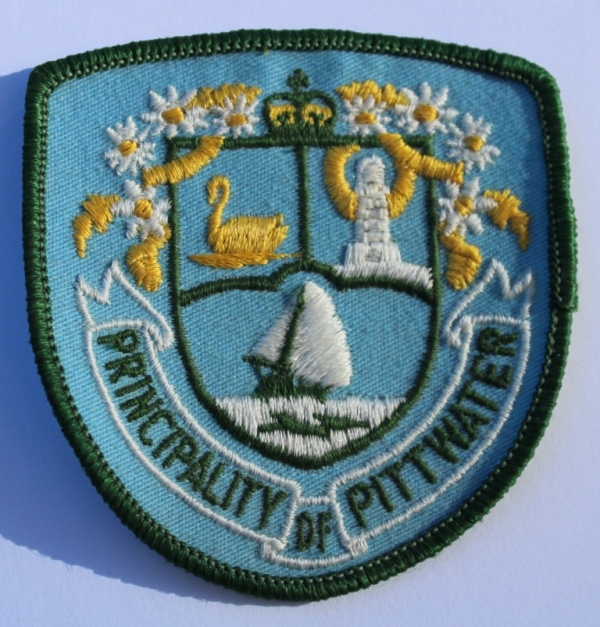 Newport Surf Life Saving Club - Building Extensions
The Newport Surf Life Saving Club has developed a concept plan for proposed extensions to the existing building and are now seeking owners consent to lodge a Development Application (DA).
The DA is for an extension to the existing building to provide additional storage areas, improve accessibility and provide additional amenity and community space.
A drop in session at the Newport Surf Life Saving Club, where community members can share their thoughts on this project with one of the project team, is being held:
Saturday 26 August – 10am - 12noon
In writing 'Newport SLSC Extension' to Northern Beaches Council, 725 Pittwater Road, Dee Why, 2099
For further information contact Bernard Koon, Senior Project Officer on 9942 2535.
Comments close Sunday 10 September 2017
Pittwater Greens Invitation
Are you concerned about development in Pittwater?
Do you want our council back?
Come along and have a chat to:
Local Government and Planning spokesman for the Greens David Shoebridge

Pittwater Greens for Northern Beaches Council candidates Miranda Korzy, Pru Wawn and Andy McIntosh
Clareville Beach (at the BBQ area)
Thursday August 24 at 10am
Morning tea provided
Please RSVP by email or Miranda on 0416 192 602
(In case of bad weather please call for alternative location).
Candidates In Pittwater And Narrabeen
We are running information on candidates who send it in to this News Service
1. Bio's on you and who is standing with you
2. What your objectives are (why should people vote for you)
3. High Res photos of you/your supporting standees - if you don't have these we can help you out - email -
pittwateronlinenews@live.com.au
or phone the office
4. How people may contact you or where you may be speaking at upcoming community functions.
This information will run Issues 326, 327 and 328 - published 20th and 27th of August and September 3rd 2017 - you will need to have everything to us by the Wednesday prior to publication.
ALL those sent in will run in that final September 3rd Issue.
Local Government Election 2017 Candidates Pages
Disclaimer: The content of Editorials in this Publication have been provided by a number of independent sources. Any opinions expressed are not necessarily those of Pittwater Online News, and no responsibility is taken for the accuracy of the information, or any factual errors contained within items published.
The Informal Limerick Vote
Community members have communicated their intention to make an informal vote at these upcoming Local Government Elections to simply avoid a fine or express their rebuttal of these scheduled elections validating the forced amalgamation of Pittwater through defacing the ballot papers with stylish sketches or humorous limericks.
On the opposite side of the same coin, others wish us to point out that doing so may see representatives who do not reflect your own views being in charge of your immediate future.
In scrutinising the background of all those who seek to represent you, and reading their proposals and aims, a clearer picture of what you don't want may point to what you will tolerate in the meantime while actions to restore the council you preferred, along its original boundaries, is taking place.
Along with what Candidates have written for their pages run here, Pittwater and Narrabeen Candidates Information Sheets provided to the Electoral Commission, although sparse in detail, can provide further insights.
Visit candidates.elections.nsw.gov.au and click on 'Local Government Area Councillor Candidates by Area' then visit the Electoral Commission Page on Pittwater Ward: Councillor Candidates or the Electoral Commission Page on Narrabeen Ward: Councillor Candidates.
A Blast from the Recent Past
COUNCIL INTEGRITY LEGISLATION PASSED
Wednesday, 22 June 2016: Media Release - The Hon. Paul Toole, Minister for Local Government
Legislation to stop dishonest councillors from misusing their position for personal benefit and impose caps on donations to local government elections has been passed, Minister for Local Government Paul Toole said today.
"These tough new laws will crack down on dishonest councillors and restore the community's confidence in local government," Mr Toole said.
"Local councillors make a very important contribution to our local communities. Unfortunately this has been overshadowed by scandals involving a small number of dishonest councillors."
Mr Toole said the Local Government and Elections Legislation Amendment (Integrity) Act 2016 would:
prevent councillors from making decisions on planning matters in which they or a

relative have a pecuniary interest, where the permissible use of land is not being

altered;

force councillors to hand over any financial benefit they have received if they voted in

a matter in which they had a pecuniary interest;

require candidates at Local Government elections to disclose that they are a property

developer or associate of a property developer;

ban people convicted of a crime within the past seven years from standing for council

if that crime carries a potential jail term of five years or more;

restrict people convicted of a court offence under the Election Funding Act from

standing for council for two years; and

impose caps on donations to local government elections.
Under the legislation, councillors, candidates and third-party campaigners will not be able to accept more than $2,500 per year from the same donor. Registered parties and groups will not be able to accept more than $5,800 per year from the same donor.
Local government expenditure caps will be implemented as part of a broader review of the State's election funding laws once the Joint Standing Committee on Electoral Matters delivers its review of the Schott report on political donations.
The NSW Electoral Commission has advised that it would not be possible to implement expenditure caps in time for the September 2016 elections.
2017 Pantaenius Newport To Coffs Coast Yacht Race Update
Royal Motor Yacht Club Broken Bay announced today that yacht owners who are intending to compete in this year's Pantaenius Newport to Coffs Coast Yacht Race can enter now and pay later… by October 31st 2017.
Rob Brown Race Director for the race said, "In an effort to provide the best possible event, getting early intention to race will assist in our preparations both here at RMYC in Newport and also up at Coffs Harbour.
We have already had contact by 26 yacht owners from around the country who have indicated that they are going to compete. What I would like to offer to all those people and other keen yacht owners to enter now and pay later.
We all know that there is a fair bit of administration work associated with compliance for a race of this nature. That can be done over time. What we would appreciate is go online
www.royalmotor.com.au
and enter early.
The other point also is if yacht owners have accommodation requirements in Coffs Harbour, you may need to get moving to secure the appropriate accommodation over the Xmas New Year Period.
We are expecting around 40 to 50 boats to do the race, but it could increase to more than 50 the way things are travelling."
NBI Carers Cafe: 2 Years Young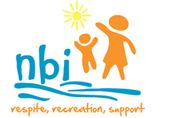 Happy birthday to our Carers Cafe, 2 years old this month.
The Carers Cafe provides valuable support to Carers in a relaxed and informal environment.
The Cafe is held once a month on a Friday morning, for more information please contact louise@nbi.org.au
This year's Team NBI T-shirts are on their way!
If you register for the Pub2Pub, join Team NBI and fundraise $100 or more for NBI, we'll give you one to wear on the day, FOR FREE.
Register today. Go to
www.pub2pub.com.au
, click register, in Step 3 select "Join an existing team", then search and select "Team NBI".
Let's paint the place in orange, blue and white!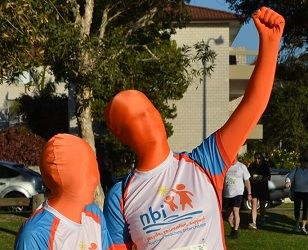 Nippers Registration Days 2017-2018 Season
Manly - 3rd & 10th September
North Steyne - 3rd & 10th September
Queenscliff- 3rd & 10th September
Freshwater - 10th September
South Curl Curl - 17th September
North Curl Curl
Dee Why - 10th & 17th September
Long Reef
Collaroy; 3rd & 17th September
South Narrabeen 10th & 17th September
Narrabeen Beach 10th & 17th September
North Narrabeen - 10th & 17th September
Warriewood - 10th & 17th September
Mona Vale - 10th September
Newport -
Bilgola 2nd & 10th September;
Avalon Beach- 3rd, 8th, 10th September
Please note Bungan Beach, Whale Beach, Palm Beach and North Palm Beach do not run Nipper Programs.
Book A Mini-Bus On Demand
August 16, 2017: NSW Government
A trial of On Demand Transport services will start in October 2017.
Public transport trials in parts of Sydney and the Central Coast will allow customers to book transport from or near their home to a local transport hub or landmark.
Areas included in the first series of trials
Bankstown: An on demand bus service for visitors, patients and employees of Bankstown Hospital that operates 18 hours a day.




Edmondson Park: A service to pick customers up from home or nearby location and drop them at the train station.




Manly:

A service to pick customers up at home or a nearby location and take them to ferries at Manly.


Northern Beaches:

A service that connects customers from Palm Beach to North Narrabeen to bus stops on the Northern Beaches B-Line.


Sutherland Shire: A service to pick customers up from home or a nearby location in Jannali West, Sylvania, Caringbah and Gymea and take them to transport hubs or local shops.




Eastern Suburbs: A service to pick customers up at home or a nearby location and take them to Edgecliff and Bondi Junction stations or Rose Bay wharves.




Wetherill Park and Greystanes: A service to connect employment precincts to T-Way interchanges.




Central Coast: A service to take customers to Woy Woy station from locations on the Woy Woy peninsula.




Macquarie Park will use mini-buses and mini-vans during the trial to transport workers living within 15 kilometres of the precinct from early 2018.



Standard trips for the on-demand service will range from $2.60 to $5.60, and customers will be able to book online, by phone or via an app.
Minister for Transport and Infrastructure Andrew Constance said the trials would transform the daily commute for people across Sydney.
"We have on-demand movies, on-demand food, and finally – NSW will have on-demand transport," Mr Constance said
Transport for NSW will use data from the trials to plan future public transport improvements across all areas of Sydney.
Submariner Memorial Dedication And 50 Years Of Submarines
Minister for Defence, Senator the Hon Marise Payne, joined Rear Admiral Mike Noonan, Deputy Chief of the Navy, and veterans to dedicate a memorial on the site of ex-HMAS Platypus, Australia's decommissioned east coast submarine base, honouring all who have died while serving in Australian submarines.
The ceremony also marked 50 years since the re-establishment of the Australian submarine capability in 1967.
"For the past 50 years, since we re-established the Australian Submarine Squadron, the silent service has been dedicated to duty," Minister Payne said.
"Australia's submariners who served in the Oberon class of boats and at Platypus contributed greatly to Australia's defence and national security."
"The new memorial reminds all Australians of the unique and dangerous nature of the work submariners undertake for our nation."
Minister Payne said submarines play a key role in protecting Australia's prosperity and in ensuring maritime security.
"Our entire economy is dependent on secure and open sea lanes, and submarines are critical in keeping these lanes available for all nations to freely navigate the oceans and conduct maritime trade," Minister Payne said.
"Submarines are a key asset in our efforts to enhance the stability and reinforce the rules-based order in our region; as well as reducing the risk of regional disputes or armed conflict.
"Our submariners' legacy continues with the Collins class submarine capability and into the future as we design and build a new class of 12 regionally superior submarines."
The Submariners' Memorial is part of an urban renewal project at the Platypus site. HMAS Platypus and the Torpedo workshops were closed in 1999 and are being transformed into a public space following $20 million in funding from the Commonwealth Government and $3.8 million from the Sydney Harbour Trust Fund.
The site will have improved access, new open spaces, and the former workshops will be adapted for a range of recreational, community, and commercial activities. For more information on the Platypus Renewal Project and to view the Platypus Management Plan, visit
www.harbourtrust.gov.au
.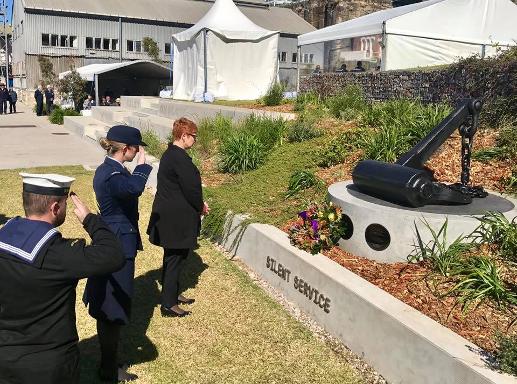 Minister for Defence, Senator the Hon Marise Payne at
Submariners' Memorial on Friday.
Rotary Spring Concert Tickets Now On Sale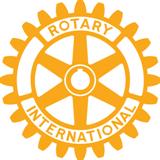 Rotary Club of Upper Northern Beaches
Tickets are now on sale for the Northern Beaches concert of the year!
In this, our eighth annual Northern Beaches Spring Concert, Wednesday 20 September in the Grand Theatre at United Cinemas Warriewood, we bring back the popular local symphony, The Northern Beaches Orchestra, playing for the first time with the acclaimed Australian singer/songwriter Melinda Schneider.
Presented in partnership with United Cinemas, this live show -- Melinda Schneider Sings with Strings -- is a sparkling program of enduring songs made popular by Doris Day, Dolly Parton, Linda Ronstadt, Dusty Springfield and many more, plus Melinda's own award-winning hits.
Proceeds go to the projects of Upper Northern Beaches Rotary, including the Palliative Care Centre at Mona Vale Hospital. Special thanks to our generous sponsors, including Ann Wilson Funerals, Johnson Bros Mitre 10 and LJ Hooker Real Estate Newport & Collaroy.
Melinda Schneider has forged a brilliant career as country singer/songwriter, earning six CMAA Golden Guitar awards and two ARIA nominations. Her sparkling live show Melinda Does Doris -- A Tribute to Doris Day, is a hit cross Australia.
Turimetta Headland, Warriewood Proposed New Walkway
Comments close Sun 20 Aug 2017
NBC are seeking feedback on the preliminary design plans for a new footpath at Turimetta Headland.
Mona Vale Cemetery Conservation Management Plan
Submissions close 27 Aug 2017
NBC are seeking feedback on the Draft Conservation Management Plan for Mona Vale Cemetery.
Residents are welcome to attend an information session:
Tues 15 Aug, 10am-12pm – Mona Vale Cemetery Site Office
SNB Interbranch Golf Day
Hosted by Surf Life Saving Sydney Northern Beaches
Friday, September 22 at 7 AM - 3 PM
1825 Pittwater Rd, Mona Vale
Raising funds for our Interbranch Team to compete in the State Interbranch Championships.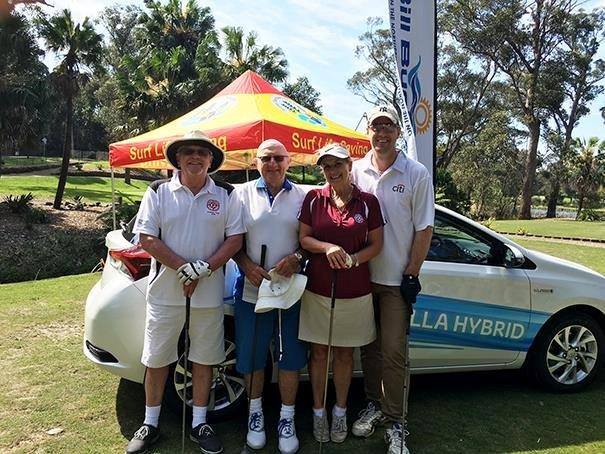 Avalon Beach Market Day 2017
Sunday, November 19 at 9 AM - 4 PM
The main streets of Avalon Beach village and Dunbar Park come alive with amazing music, a fantastic array of market stalls selling fashion, jewellery and crafts as well as gourmet food stalls. For the kids there is face painting and carnival rides
STALLHOLDER APPLICATIONS ARE NOW OPEN - APPLY HERE!!!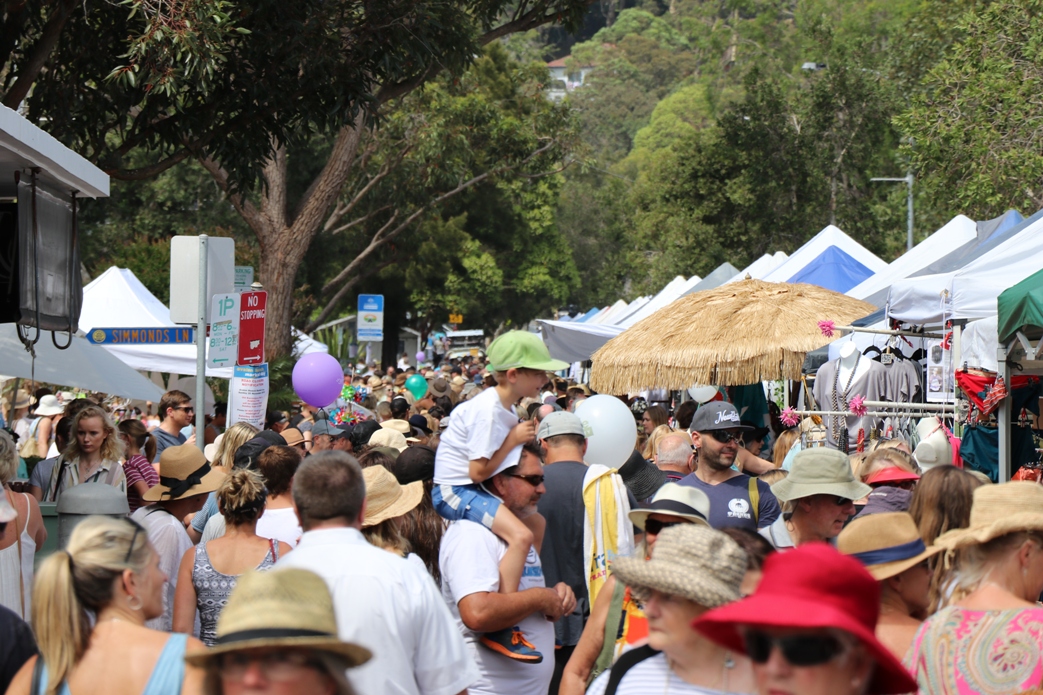 Apology: Alrema Becke Is Next
For those waiting on the next page in our series of Early Pittwater Surfers: apologies, we ran out of time to load/set it this week - AGAIN - there's some great pictures and insights into Avalon Beach, Bayview, Church Point, Narrabeen and Collaroy courtesy of Roland Luke in his Profile page.
Alrema was the second daughter of famous Australian writer Louis Becke (George Lewis Becke) and we've tracked down material not seen before we'd like to try and get right for you all. Presently whittling 250+ pages down to 100 - will be up Issue 327, without fail.
In the meantime; this lass was a Commercial Artist and can be seen here with her initials, designed by her, on one of her surfboards on Palm Beach - we'll get to some other lady surfers too as the series unfolds: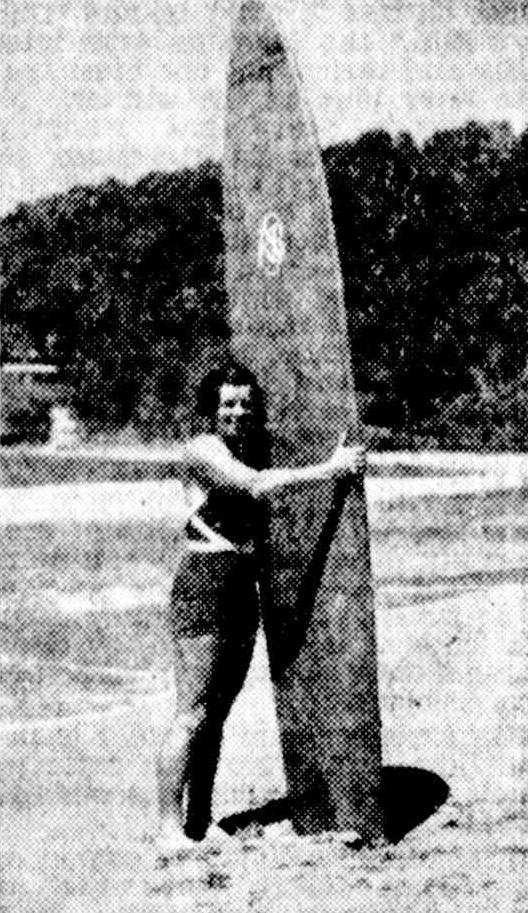 Above : Mrs. Alrema Samuels champion woman surfboard rider of the State, who is an all-timer at Palm Beach. She will entertain her sister, Miss Niya Beck, and others over the Week-end. Palm Beach Season Opens (
1935, October 6
).
The Sun
(Sydney, NSW : 1910 - 1954), p. 34. Retrieved from
http://nla.gov.au/nla.news-article231183089
Pittwater Offshore Newsletter Update 9/8/2017
click on Logo:

To contact Julian: editor@scotlandisland.org.au
Record Funding Available For Surf Club Upgrades
Member for Pittwater Rob Stokes is encouraging local surf clubs to apply for funds under the NSW Government's Surf Club Facility Program.
This year the NSW Government has doubled the amount of infrastructure funding available to surf clubs to $4 million in order to help support their invaluable contribution to communities throughout the State.
Applications are now open for infrastructure grants between $30,000 and $350,000 and will be accepted until 31 August 2017.
Pittwater's surf clubs have had great success with this program over recent years – including funds to assist with the major redevelopment of Avalon Beach Surf Club.
"This is a fantastic opportunity for our local surf clubs to receive a financial boost," Rob Stokes said today.
"Surf clubs are much more than just a base for the amazing volunteers who patrol our beaches – they're also essential community facilities used by countless local groups and associations.
"This initiative aims to support their efforts to upgrade their facilities and deliver even greater opportunities and services.
"Many local surf clubs have plans and projects in the pipeline but require financial assistance to help them progress.
"I encourage all our local surf clubs to explore this important opportunity," Rob Stokes said.
CCNB Is On The Move!!
Please be advised that after nearly 12 years in Mona Vale, CCNB Limited will be relocating to Frenchs Forest
on 14 August 2017.
Our phone numbers and email will all remain the same.
Details:
Street address: Pharmaxis building, 20 Rodborough Road, Frenchs Forest NSW 2086
Mailing address: PO Box 195, Frenchs Forest NSW 1640
Phone: 02 9998 2900
Freecall: 1300 002 262
Fax: 02 9979 7611
Petition: Save Ingleside From Over-Development
PROPOSED INGLESIDE DEVELOPMENT
We the undersigned, write in connection with the above proposal and wish to object strongly and respectfully to the development of the area in the proposed manner.
Ingleside is a dispersed settlement where development proposals should be considered very carefully: infilling could ruin the character of the area but estate development will not only overwhelm it but also overwhelm the vast majority of residents living from Narrabeen to Palm Beach who will travel through or near Ingleside every day.
Naturally, we understand that the State Government has a determined growth strategy. However, the overwhelming increase in immediate population and thoroughfare traffic will have a devastating effect upon the existing population who live here and contribute to Sydney as a city and as a defined demographic already.
Pressure for the development in the region is considerable, mainly for housing city commuters, but has been successfully resisted for more than 30 years for the same reasons as now. The infrastructure was not in place and as can be seen by the impact of development in Warriewood, remains at an unsupportive level. The reasons for rejecting those schemes also included the inadequacy of the minor roads apart from Mona Vale Road to accommodate even small increases in traffic.
Reference is made to the over one thousand comments on the supporting website, mostly by residents of Pittwater external to the immediate area of Ingleside who have failed to have a voice but as your constituents have equal right to be represented as bearing the impact of the development.
With the above in mind, we request that the development be reviewed to take into account the residents of Pittwater, whom you represent. Rather than telling them why it will be good for them, consider the voice of the residents and understand why it will be bad for them.
Planning Alerts
Find out what's happening in your area. Get alerts of new applications near here straight in your email. It's free!
Heritage Grants Program
The Heritage Grants program is one of the Community, Youth and Senior heritage projects funded by NSW Office of Environment and Heritage, and provides funding to individuals and community groups for local historical research. The program is designed to facilitate the dissemination of local Australian stories, expression of the diversity of Australian culture as it impacts on communities, and to highlight and localise pivotal Australian historical events and issues. Please subscribe to our eNewsletter or blog for the latest news on this program.
Please note:
The 2017 Heritage Grant round will close at 5pm Wednesday 6 September 2017
For applicants guidelines, to read before submitting an application, for the application form and/or for more information, please visit our
website
If you have any queries, please
email us
or phone 02 9247 8001. We recommend that you read previous years' assessment reports, which are available on our website, as they provide insights into why projects are chosen for grant funding.
Breakwater Ball 2017
Hosted by Lifeline Northern Beaches
Saturday, October 14 at 6 PM - 11 PM
International College of Management, Sydney (ICMS)
On Saturday 14 October 2017, we are holding an event to support two much-loved community groups: Lifeline Northern Beaches and Queenscliff Surf Life Saving Club. United by their commitment to supporting the people of the Northern Beaches, these two organisations provide safety, strength and protection – just like the breakwater provides a safe harbour from the waves.
Join us for a night to remember, and help these organisations do what they do best: change lives for the better.

Sing it loud, sing it clear! The Avalon Public School P&C Association is celebrating our biennial Avalon Public School Fete!
Our primary school is a huge part of the region and services most of the local families. Parents and staff work tirelessly to support classroom learning in a friendly and caring environment with the P&C fundraising activities providing vital funds for the school.
Our major fundraising event for the next two years, the Avalon Public School Fete, is scheduled for the Sunday, 10 September 2017, 9 am – 3 pm!
We have a bumper fete planned with visitor numbers expected in the thousands!
There will be over a dozen amusement rides for all ages, pony rides, face painting, games alley, tie dying, gourmet food, cakes, showbags, cosmic dance party and silent disco, DJ, pre-loved books and clothes, raffles, silent auction and artisan markets.
Come along, bring all your friends (unfortunately not your four-legged friends - no dogs allowed on school grounds) and invite everyone to follow
this page
for the latest news!
Pet of the Week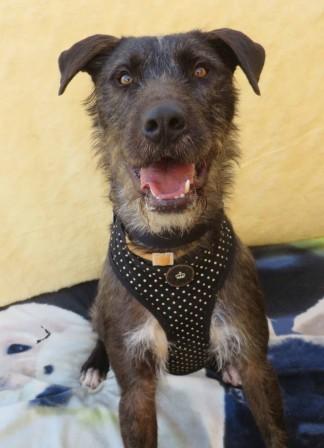 AGE/SEX: 4 years / M
BREED: Wolfhound X
Onyx is a sweet happy dog who is very social with other dogs. He is easy to handle and affectionate with people, though he prefers women and he just loves kids! He has a scruffy coat and weighs 28.8kg. He comes desexed, C5 vaccinated, heartworm free and microchipped. Also included for the love and health of our dogs is a free Health and Wellness Voucher with our DR Vet. His adoption cost is $400.
$65 Million To Champion Community Cohesion
Community organisations will benefit from more than $65 million in funding to help build inclusive and resilient communities.
The Minister for Social Services Christian Porter opened the Strong and Resilient Communities (SARC) grants round today to help local organisations overcome disadvantage and build strong and safe communities and increase national security.
"These grants will provide organisations working in disadvantaged areas with $45million to help increase social cohesion in areas of high cultural diversity where there is risk of racial, religious or cultural intolerance developing," Minister Porter said.
"Through this grants round, community organisations can benefit from up to $500,000 in funding for each project they deliver over the life of the program to 2021.
Minister Porter said funded projects may include:
the development of online platforms for marginalised youth to challenge ideas and concepts online and create forums to counter negativity and feelings of isolation;




training or volunteering opportunities for humanitarian entrants or newly arrived migrants; and




cultural or sporting activities that bring people of different cultures or faiths together.



"This is an important grassroots approach to bring people in from the margins, establish social harmony and help strengthen resilience across communities," Minister Porter said.
A further $19.95 million will fund Volunteer Management Activity until 2021 to encourage and increase volunteering in communities across Australia.
"Evidence shows that well integrated and cohesive communities are underpinned by high-levels of volunteering and community participation, a strong sense of community belonging, local leadership and engagement," Minister Porter said.
Applications for SARC's Inclusive Communities Grants and Community Resilience Grants are
open until 23 August 2017.
For more information or to apply for a grant, go to the GrantConnect website at www.grants.gov.au.
2017 Mosman Art Prize
Saturday 23 September - Sunday 29 October
REGISTRATION DAY - MONDAY 11 SEPTEMBER 2017
Mosman Art Gallery is thrilled to announce that in 2017 the Mosman Art Prize will celebrate its 70th year!
Established in 1947, the Mosman Art Prize is Australia's oldest and most prestigious local government art award. It was founded by the artist, architect and arts advocate, Alderman Allan Gamble, at a time when only a small handful of art prizes were in existence in Australia and the community had very little support and few opportunities to exhibit their work.
Over the past seventy years the Mosman Art Prize has developed in stature to become Australia's most prestigious municipally funded art prize with a national profile. It regularly attracts over 900 entries annually and currently offers over $40,000 in prizes.
As an acquisitive art award for painting, the winning artworks collected since 1947 form a splendid collection of modern and contemporary Australian art, reflecting all the developments in Australian art practice since 1947.
The inaugural winner in 1947 was a young Margaret Olley. Since the prize has been won by scores of artists including Guy Warren, Grace Cossington Smith, Weaver Hawkins, Nancy Borlase, Lloyd Rees, Anthony Galbraith, Elisabeth Cummings, Tim Johnson, Guan Wei and Michael Zavros among many others. Past adjudicators also include notable Australian art figures such as Margaret Preston, John Olsen, Tim Storrier, Jenny Sages and Edmund Capon.
Now in its 70th year the Mosman Art Prize is more relevant than ever before and continues to sit at the centre of contemporary painting practice and is a not to be missed event on the nation's cultural agenda.
Mosman Art Prize (major acquisitive prize) sponsored by Mosman Council - $50,000




Allan Gamble Memorial Art Prize sponsored by Mosman Council - $3,000




Commendation Prize sponsored by Mosman Council - $2,000




Fourth Village Providore Emerging Artists' Prize (under 35) - $2,000




Mosman Art Society Viewers' Choice Prize - $1,000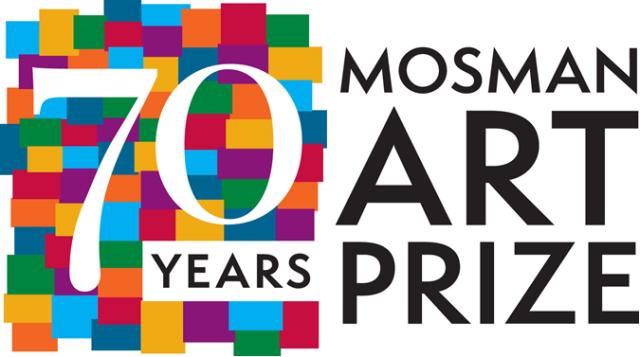 Mona Vale Hospital Auxiliary Stalls 2017
September 1st:
9am to 4pm
Stall, outside ANZ Bank, Avalon Parade
Knitting, sewing, craft, jam
September 2nd:
9am to 3pm
Stall, Pittwater Place, Mona Vale
Sewing, knitting, craft, books
September 9th:
8am to 3pm
Bunnings, Narrabeen
Sausage sizzle
September 15th:
9am to 3pm
Stall, foyer Mona Vale Hospital
Baking, knitting, craft, books, sewing
October 7th:
9am to 3pm
Stall, Pittwater Place, Mona Vale
Sewing, knitting, craft, books
October 14th:
8am to 3pm
Bunnings, Narrabeen
Sausage sizzle
October 20th:
9am to 3pm
Stall, foyer Mona Vale Hospital
Baking, knitting, craft, books, sewing
October 24th: 10.30 am Fashion Parade, Newport Bowling Club,
Palm Road, Newport
November 4th:
9am to 3pm
Stall, Pittwater Place, Mona Vale
Knitting, sewing, craft
November 11th:
9am to 3pm
Bunnings, Narrabeen
Sausage sizzle
August 13 - 19, 2017: Issue 325
August 6 - 12, 2017: Issue 324
July 30 - August 5, 2017: Issue 323