August 7 - 13, 2022: Issue 549

Pittwater Motor Enthusiasts Association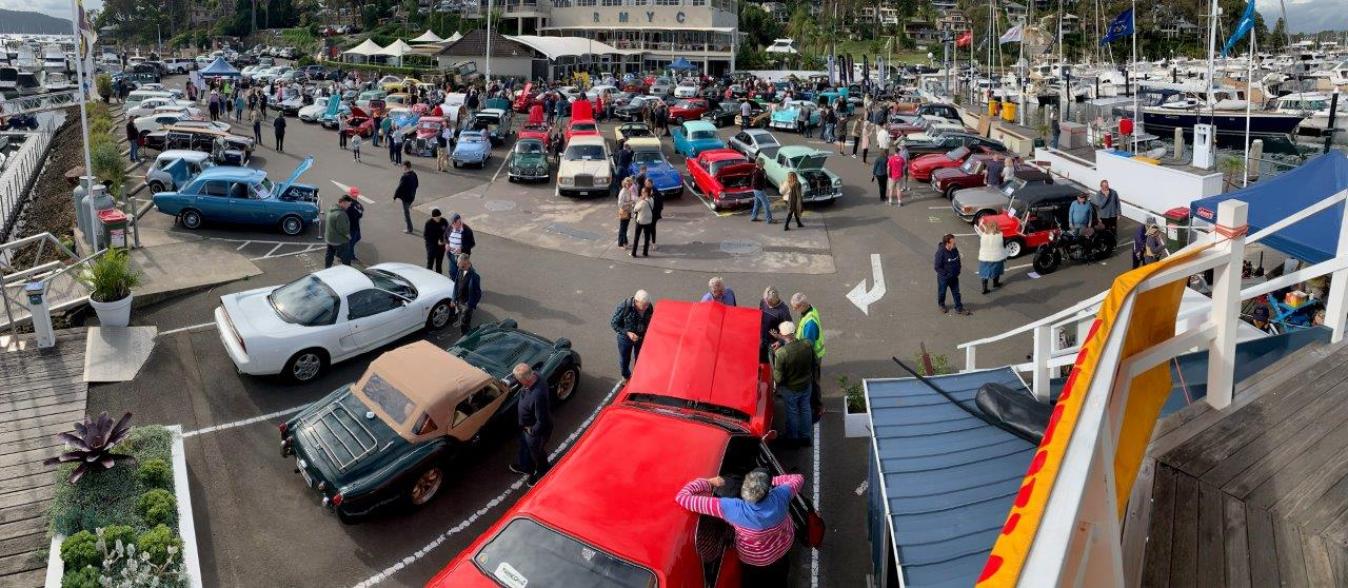 Annual Unique Car Show at Royal Motor Yacht Club, Newport
Website: www.pittwatermotorclub.org.au


Pittwater Motoring Enthusiasts Association (PMEA or the Club) was founded in 1994 in the Pittwater region of Sydney. The Club fosters a friendship among people with a shared interest in vehicles of all types both old and new, including cars, motorcycles and other types of machinery and equipment.
The Club encourages the preservation, restoration, maintenance, use and display of historic vehicles and machinery.
Members and guests can attend fortnightly Wednesday meetings held at the Royal Motor Yacht Club, 46 Prince Alfred Parade, Newport NSW, starting at 7.30pm.
Members meet socially in a range of regular events from our Events Calendar. The Club is very proud of its support, via donations, to charitable organisations each year. A Club magazine 'STAY TUNED' is published online every two months.
Most importantly, the Club encourages members to be active participants, not just joining the Club for the 'cheap rego.'
The Royal Motor Yacht Club has a Bistro if you want to arrive early for dinner or a light snack, full bar facilities and plenty of off-street parking.
If you would like to become a member please Click HERE to view.
This Issue a few insights into another great Pittwater club and organisation. Our thanks to Graeme Smith for his great help in putting this Profile together.
When and why was the Pittwater Motor Enthusiasts Association formed?
PMEA started in 1994 as group of friends of which Bob Radnidge was the leader and Dick Britain his 2IC, all of whom were interested in Motorcycles and automobiles, decided to form a club based in the Manly/Pittwater area to pursue their joint motoring interests.
Bob phoned many people, including still current member David Rundle to garner interest in a first meeting to be held in the Mona Vale Hall opposite the Pittwater Council Chambers. Bob Radnidge worked for the Mona Vale Golf Club as a groundsman.
David Rundle and his wife Diane attended and joined on the first night, Diane was member #9, & David #13 and both are still very active members of the club.
Bob Radnidge was a good-hearted gentleman who could out work & out last any other member. It was his tenacity that allowed the club to grow and blossom into a friendly voluntary association that benefited our community via its donations to various charities, e.g., Prostate cancer, CareFlight, Bear cottage, Maritime Rescue to mention a few.
The nominated clubhouse was the old Girl Guides Hall opposite the tennis courts in Mona Vale It was hot and cold depending on the season, but boy, if the walls could tell a few stories of humour, laughter and fellowship could be told.
What does the Pittwater Motor Enthusiasts Association do?
PMEA is purposely named a Motor Enthusiasts Association. Whilst primarily now know as a club for Cars and Motorcycles, it is open to and embraces people with anything to do with motors. We have members with hundreds of lawn mowers and others who are passionate about stationary engines.
PMEA is as in its name, a club for like minded motor enthusiasts to associate. We meet every two weeks at the Royal Motor Yacht Club in Newport and have a drive/event every two weeks. All events are well patronised by partners of both our male and female members and are wide and varied and listed on the PMEA website. The website is always up to date and allows members to RSVP online and download venue maps and event details…very hi-tech.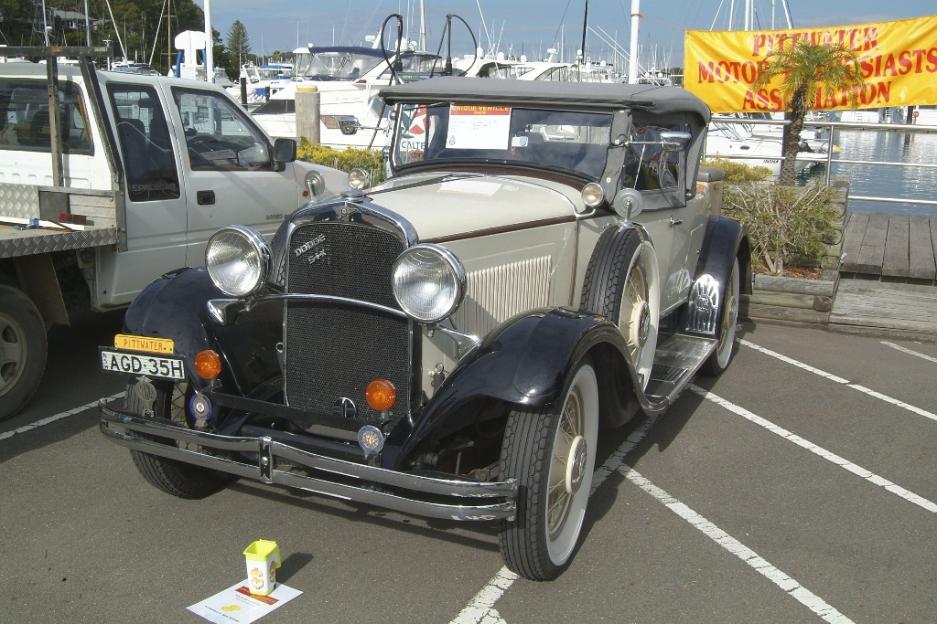 PMEA also actively participates in a wide variety of annual events
UNIQUE CAR SHOW - Royal Motor Yacht Club
ALL BRITISH DAY – The Kings School
ALL FRENCH CAR DAY – Silverwater
SHANNONS SYDNEY CLASSIC – Sydney Motorsport Park (Eastern Creek)
RYLSTONE CLASSIC – Sydney to Rylstone for Minis
To list just a few
What range of vehicles are represented?
With over 400 members there would be over a 1000 vehicle and motorcycles. The range of marques is vast…. you name it and it is likely someone in the club has got or had it. Mainly classic vehicles over 30 years old.
A popular event are the Sunday morning BBQs at McCarrs Creek (4-5 times a years) which focus on countries e.g., American Vehicle Day, European Vehicle Day etc. These are popular and well patronised events.
Does the Pittwater Motor Enthusiasts Association engage in local events?
In addition to the Unique Car Show at the Royal Motor Yacht Club, PMEA is a regular and major participant in the following:
The Northern Beaches Car & Bike Fest at Pittwater Rugby (RAT) Park.
The Dee Why Beach Australia Day Car & Bike Show.
Machines and Macchiatos at Terry Hills
North Shore Sporting Car Club Auto Brunch at St Ives Showground
Is there a social aspect to the Pittwater Motor Enthusiasts Association? – please share examples.

Is there a social aspect!!!!! Is there ever. As noted above there is a huge social aspect to PMEA with fortnightly events and longer weekends away. Covid curtailed a few things in the last few years however we managed a great Southern Highlands 3 day trip in April and have another 3 day trip to the Orange region in the new year.
PMEAs Christmas Party is major annual event held at the Royal Prince Alfred Yacht Club where we manage to incorporate a car display.
As part of PMEA'S charter, it donates 20% of its subscription fees to local charities with the following groups been this year's recipients:
Mona Vale Girl Guides
Men's Kitchen Northern Beaches
Marine Rescue Broken Bay
Lifeline Northern Beaches
Northern Beaches Community Donation
Prostate Cancer Support Group Northern Beaches
Belrose Rotary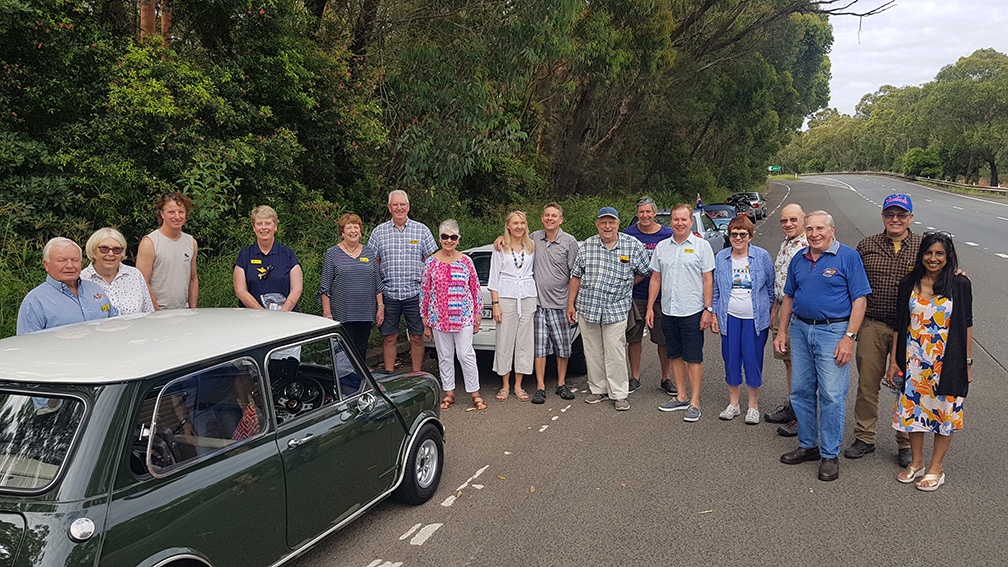 ON ROUTE TO A SUNDAY OUTING

How can locals support the Pittwater Motor Enthusiasts Association?
Local residents are always welcome to view the cars and chat with members at any our local display days, the Northern Beaches Car & Bike Festival at Warriewood, Dee Why Beach Australia Day, make a donation at the Unique Vehicle Show Charity Day held every May at the RMYC Newport, or attend any of the major NSW car shows where you will always find a member to talk 'cars and bikes'.
How can people become members of the Pittwater Motor Enthusiasts Association?

PMEA is open to anyone on the Northern Beaches and encourages people to be active members and not just join to get discounted registration on their classic cars. Details of other requirements and How to Join are on the website.
Who are the current executive committee members?

President – David Cawthorn
Vice President – Barry Ahearn
Secretary – Gavin Rea
Assistant Secretary – Rose Fuller
Treasurer – Graeme Smith
Membership – Dave Coupland
Editor – Andrew Willoughby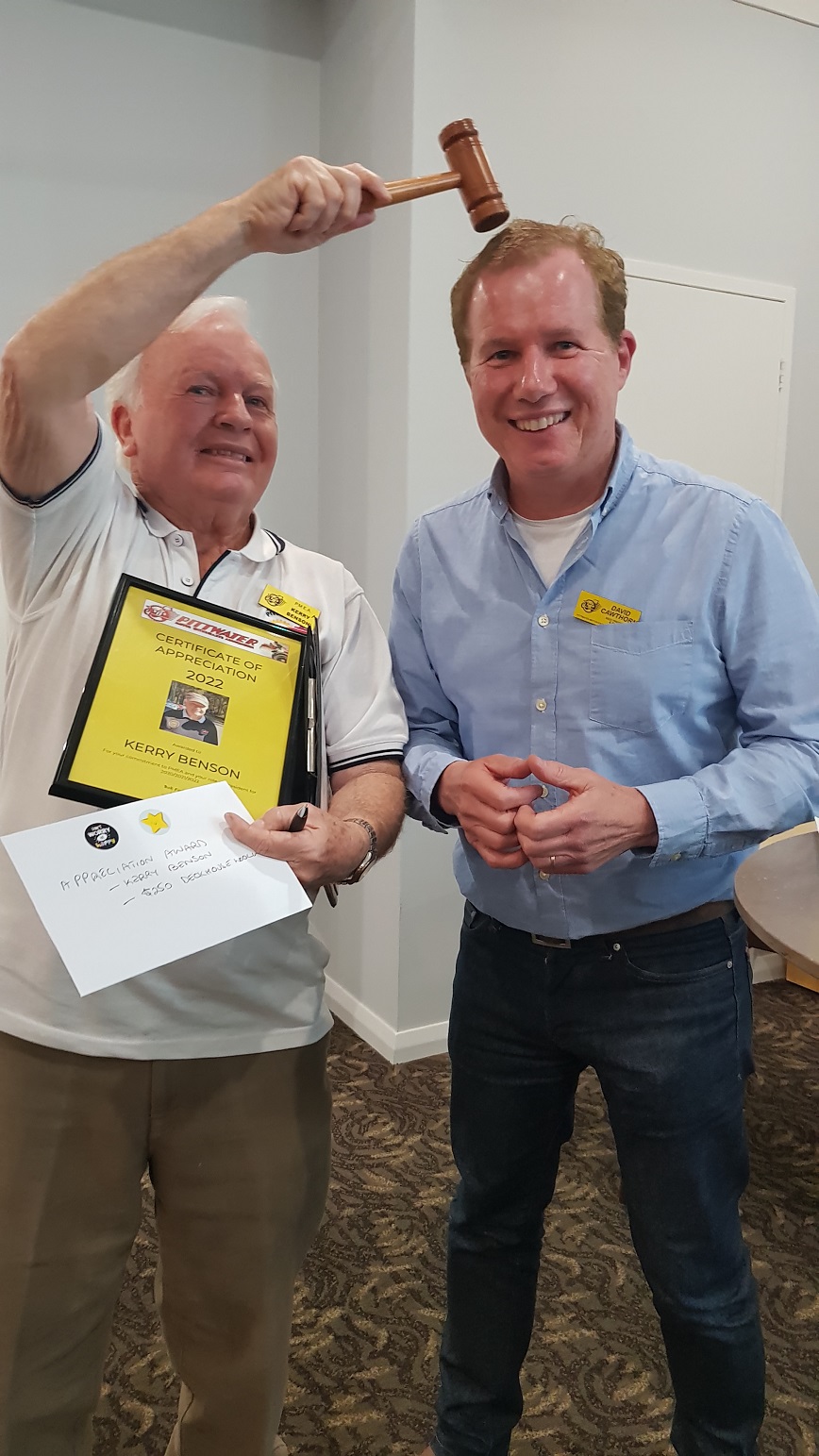 RETIRING PRESIDENT KERRY BENSON PASSING THE GAVEL TO NEW PRESIDENT DAVID CAWTHORN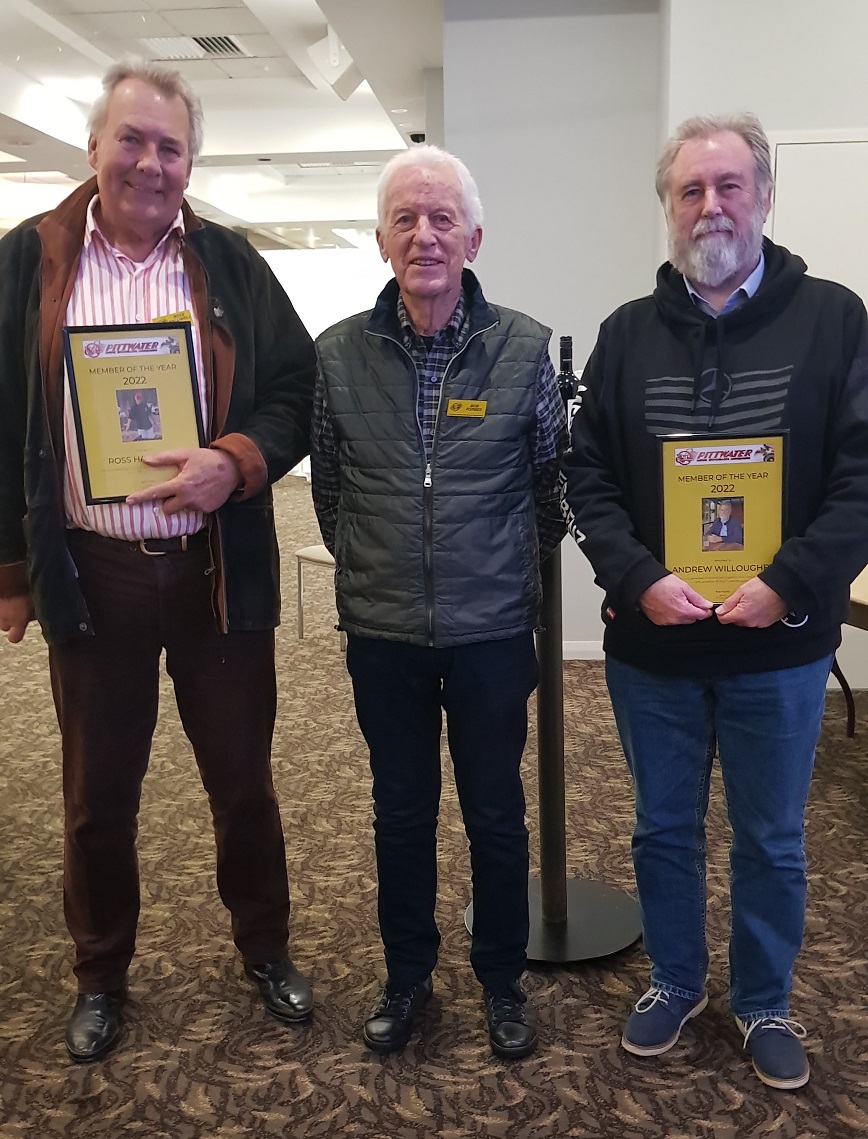 BOB FORBES (CLUB PATRON) PRESENTING ROSS HALLIWELL (LEFT) & ANDREW WILLOUGHBY (RIGHT) WITH JOINT MEMBERS OF THE YEAR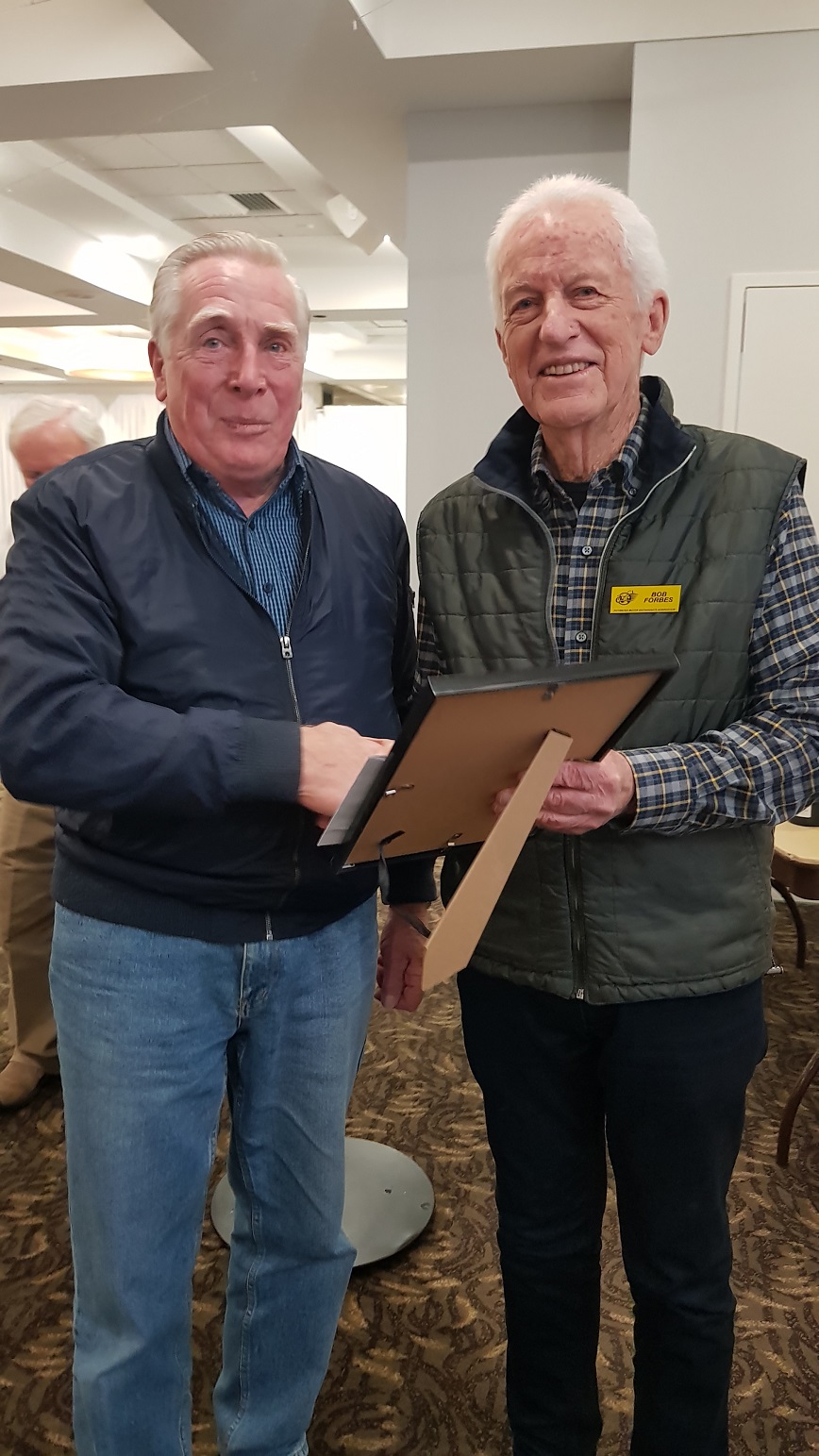 BOB FORBES (CLUB PATRON) PRESENTING DAVID PRYCE-JONES WITH LIFE MEMBERSHIP OF PMEA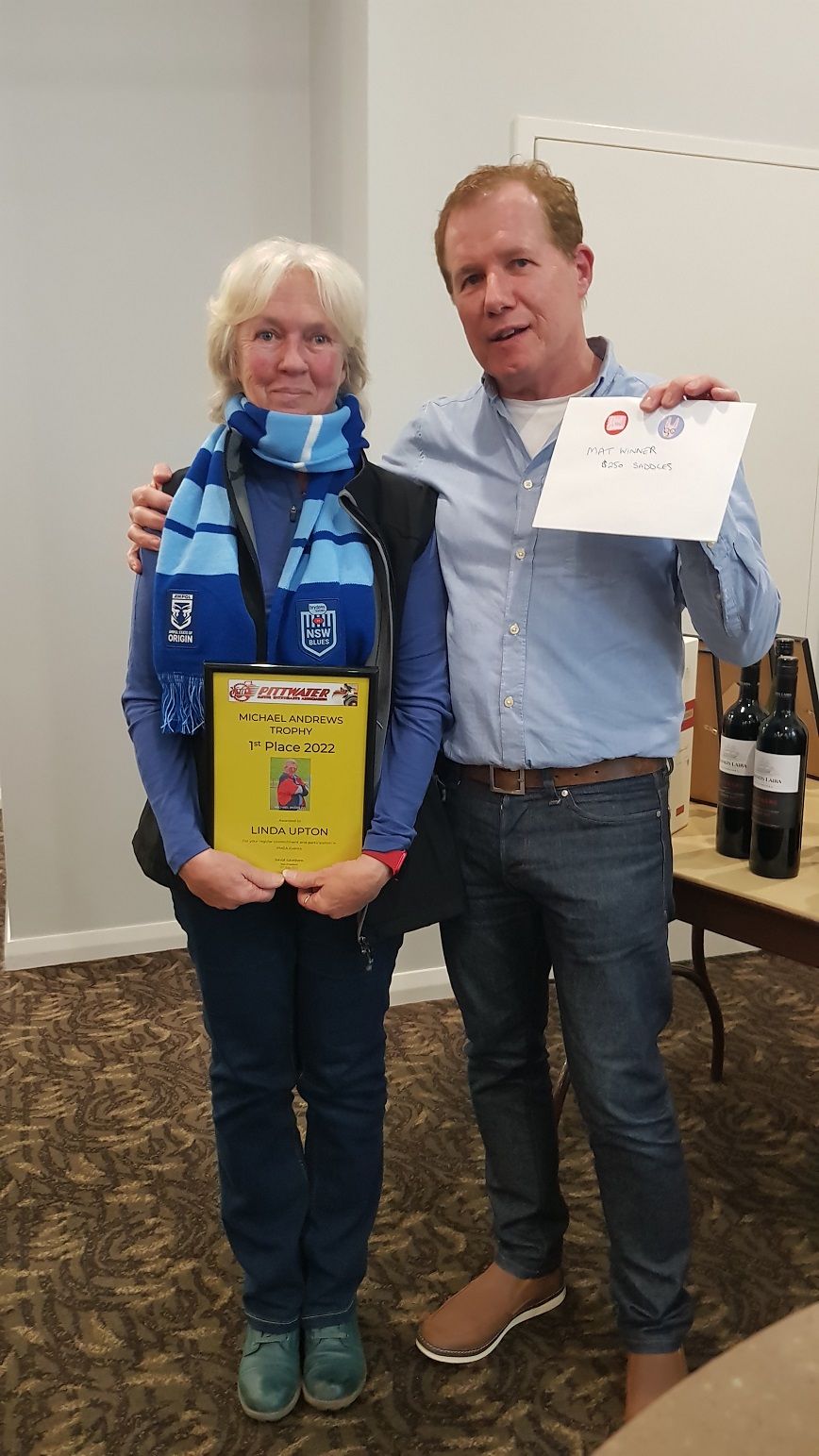 DAVID CAWTHORN (PRESIDENT) PRESENTING LINDA UPTON WITH 1ST PLACE IN MICHAEL ANDREWS TROPHY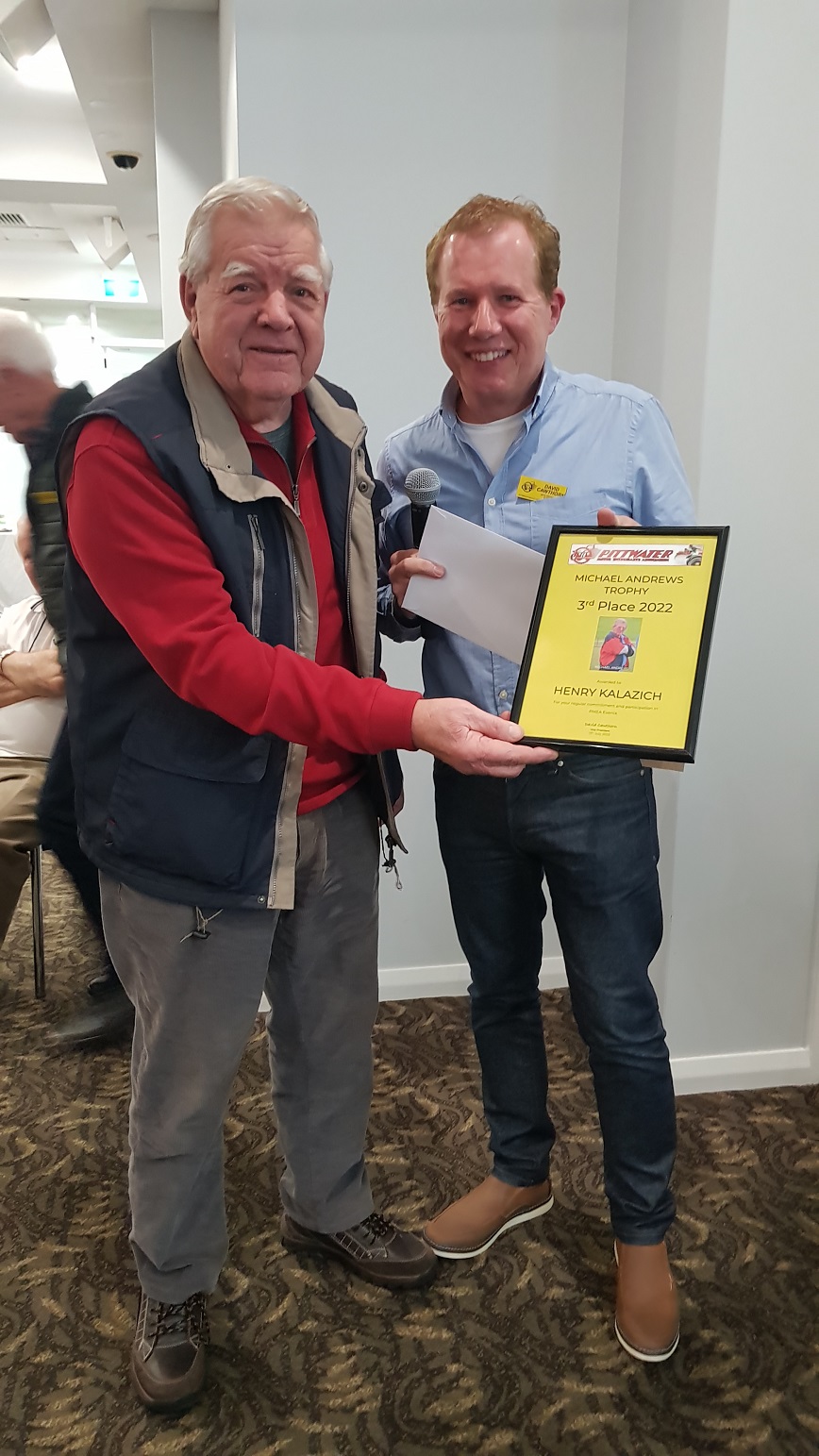 DAVID CAWTHORN (PRESIDENT) PRESENTING HENRY KALAZICH WITH 3RD PLACE IN MICHAEL ANDREWS TROPHY - PORTRAIT

Michael Andrews was a highly regarded member of PMEA. The Michael Andrews Trophy (MAT) is an annual award dedicated to his service and memory. It is presented at each AGM to the member with the most points accumulated in the past year for participation in activities listed on the Club Events Calendar.

What are the Pittwater Motor Enthusiasts Association favourite places in Pittwater and why?

PMEA is spoiled for choice in Pittwater. Whether it is a "leisurely drive out to West Head, a coffee drive to Akuna Bay or Palm Beach, breakfast at North Head or our favourite regular BBQs at McCarrs Creek. Wherever we go we have spectacular scenery, never too crowded, great service by the various establishments we patronise and the interest our cars generate with the local community.
Does the Pittwater Motor Enthusiasts Association have a 'Motto' or favourite phrase which it runs under?
Not really official but……RUN 'EM, DRIVE 'EM, RIDE 'EM, DON'T HIDE 'EM!
Website: www.pittwatermotorclub.org.au
Enquiries: President – David Cawthorn – president2022pmea@gmail.com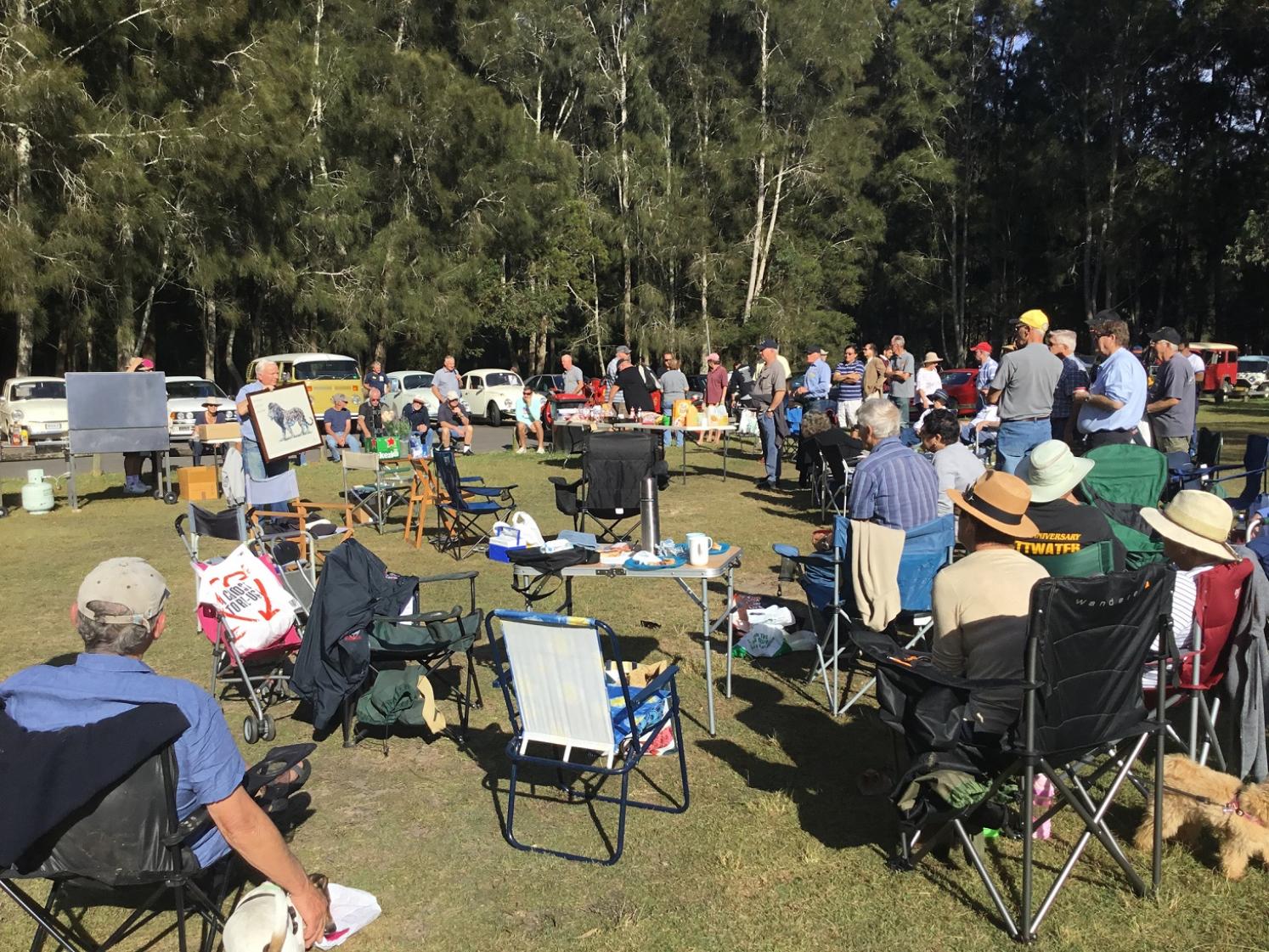 Pittwater Motor Enthusiasts - McCARRS CREEK BBQ