Community News Snippets June 2013
June 23 - 29, 2013: Issue 116
Pittwater Amalgamation Recommendation Totally Misguided - By Professor Brian Dollery
The Independent Local Government Review Panel charged with formulating reform proposals for NSW local government launched its long-awaited Future Directions for NSW Local Government report on 24 April 2013.
In this report, the Panel set out a multitude of recommendations for enhancing NSW local government. Some proposals were sensible, like improving the rating system and rationalising rate-pegging so that NSW councils can secure additional income to tackle the formidable local infrastructure shortfall.
However, much of Future Directions for NSW Local Government is not only half-baked, but also completely neglects the empirical evidence on local government reform. The report has almost entirely ignored early promises by the Panel that it would pursue 'evidence-based' policy. It has been greeted with dismay by NSW local government.
The most controversial recommendations in the report call for a radical program of council amalgamations, centred largely in Greater Sydney, but including the Greater Newcastle metropolitan region and some regional and rural councils. Amongst a host of proposed mergers, the Panel has recommended Pittwater be forcibly amalgamated with Manly and Warringah.
No analysis of any kind is presented in support of this recommendation. Nor does the Panel show any awareness at all of the fact that Pittwater Council was established in 1992 after two decades of campaigning to separate from Warringah Shire Council. Since 1992 Pittwater has demonstrated that it is a viable well-run Council enjoying the support of its local community.
An independent report prepared by Professor Brian Dollery and his colleagues undertook a comprehensive statistical analysis of the proposed forced merger of Manly, Pittwater and Warringah. The report found that the recommended a merger would not improve the financial sustainability of the new merged council. The report further established that since no economies of scale were present, cost reductions would not occur as a consequence of amalgamation. It also found that the ill-matched socioeconomic profiles of Manly, Pittwater and Warringah meant that no strong joint 'community of interest' existed, which is an essential prerequisite for successful mergers.
Finally, the report considered the financial dimensions of the proposed
Manly/Pittwater/Warringah merger, examining estimated indicators for an 'amalgamated case' and an 'unmerged case' for Manly/Pittwater/Warringah using NSW Treasury Corporation benchmarks. It found that no improvement in financial performance indicators would result from forced amalgamation.
It is thus clear that claims by the Review Panel that the amalgamation of Pittwater with Manly and Warringah would somehow improve efficiency and financial viability are without factual foundation of any kind.
This raises the broader question of why the NSW Government would spend large sums of money to support an inquiry by a Panel which presents radical recommendations for forced amalgamations without even undertaking rudimentary empirical research of the specific councils involved. Ratepayers across NSW have every right to expect much better than this.
Professor Brian Dollery is Director of the Centre for Local Government at the University of New England.
____________________________________________________________________________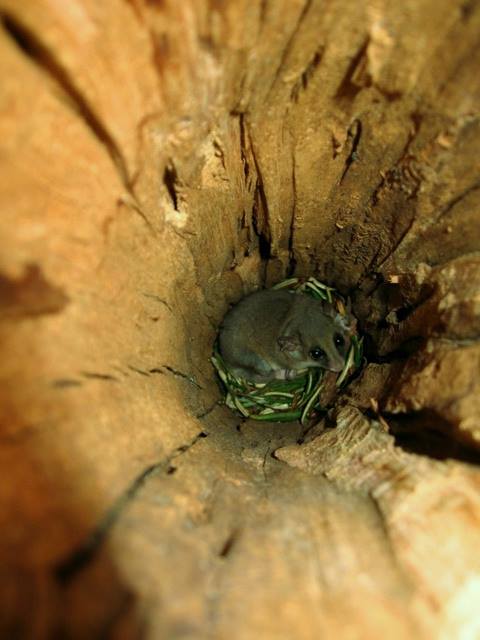 Eastern Pygmy Possums In Pittwater
Pittwater Council engaged Dr Brad Law (expert forest ecologist and specialist in microbats and eastern pygmy possums) last October to look for Pygmy Possums in Ingleside-Chase Escarpment. 5 transect lines with 5 custom made nest boxes were set up in 5 locations in or near the escarpment through woodland and heath habitat.
Monthly monitoring commenced last October, and one pygmy was found in a nestbox in first check. Over the months all lines have shown pygmy's present or pygmy activity (nest building in boxes). Last months check has shown breeding (as you can see by this photo). Eastern Pygmy Possums are a listed threatened species in NSW that have not been recorded in Pittwater before. They've obviously always been here but not sighted as they are so small, nomadic, and very cryptic.
____________________________________________________________________________
State Budget Continues To Drive Mona Vale Road Project – June 18th, 2013
Member for Pittwater Rob Stokes today said he is delighted necessary funding has been provided in the NSW State Budget to complete the planning phase for the proposed upgrade and widening of Mona Vale Road between Ingleside and Terrey Hills. An additional $1 million has been provided in the 2013-14 budget, on top of the $2.3 million allocated over the past two years, to enable the final project application and approvals stage to be completed.
"This funding is essential to ensure the planning phase for this widely anticipated project is completed," Rob Stokes said today. "With a project of this scale there's a complexity of detailed assessments and legislative requirements to be completed.
"The positioning of the Mona Vale Road corridor alongside the Ku-ring-gai Chase National Park means all necessary boxes must be ticked before we can progress towards construction.
"This work was never completed by the former government so I'm delighted that during our first term we will have detailed, costed and finalised plans for this essential project.
"Together with planning funds for upgrades to the Wakehurst Parkway this represents a positive step towards improved state roads linking Pittwater to the rest of Sydney," Rob Stokes said.
Local Roads Sealed As Winners In State Budget
Member for Pittwater Rob Stokes today said local roads have received welcome funding allocations in the NSW Government's responsible and visionary State Budget.
Key road announcements in the 2013-14 Budget include:
• An additional $1 million (on top of the previously allocated $2.3 million) provided to complete the planning process for the proposed upgrade of Mona Vale Road.
• $6.5 million provided to introduce improvements and progress planning proposals for key road upgrades associated with construction of the Northern Beaches Hospital.
• Annual funding for improvements to local state roads increased by over $1.5 million to $7.3 million.
• Annual funding to assist local councils maintain and improve regional roads increased from $148,000 to $925,000.
"This funding is essential for current and future improvements to our local road network," Rob Stokes said today. "It's fantastic to see our community's major road projects firmly on the government's agenda and extra financial assistance being provided to local councils.
"Improvements to road infrastructure around the future northern beaches hospital and the upgrade of Mona Vale Road have long been projects at the top of our community's priority list.
"This funding directly assists with the maintenance and improvement of our existing roads and helps progress key projects which are increasingly important to our community," Rob Stokes said.
June 2 - 8, 2013: Issue 113
Doug Taylor wins Australian Marina Employee of the Year!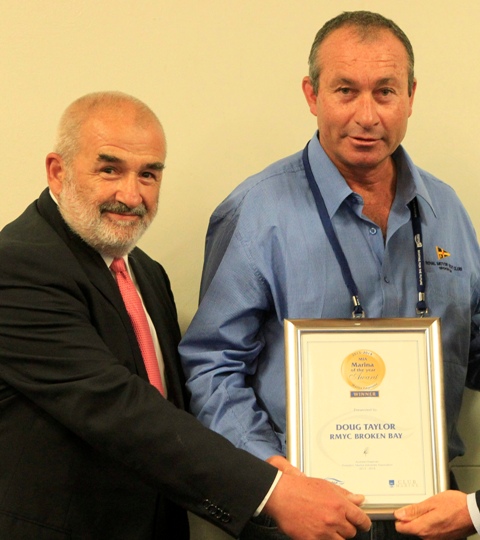 Marine13 was the recent "all industry" conference held in Sydney at the Darling Harbour Conference & Exhibition Centre – a combined effort from the Department of Roads & Maritime Safety, Boating Industry Association (BIA) and Marina Industry Association (MIA).
The conference attracted more than 450 delegates from around Australia, Asia, the Pacific, USA, UK, Dubai and Abu Dhabi. RMYC General Manager Karen Baldwin was on the Organising Committee and chaired two of the key conference sessions on Customer Service in Marinas and a session dedicated specifically to Club Marinas.
RMYC Marina Manager Peter Moxham and Dockmaster Doug Taylor also attended the event which included an exhibition area of the newest marina products and services. At the Opening Night Cocktail Party on Sunday, 29th April, the announcement of several Marina Industry Awards were made by President of the MIA, Andrew Chapman and one of these was for the "People's Choice Award" of Marina Employee of the Year! Mr Chapman commented that there had been 31 nominations received, and the winner received hundreds more votes than any of the other nominees. To see the look of surprise on Doug's face when his name was called out was supreme! Firstly, Doug had no idea he had even been nominated and for him to receive this outstanding accolade in front of so many industry colleagues and peers was just the best. He kept saying "what's going on?" and still appeared very shocked when standing on the stage to receive his award.
We were fortunate to also have our Commodore Peter Haig and wife Denise, Vice Commodore Ted Breukel & wife Jo, Rear Commodore Chris Lee and partner Marian, Director Gordon Cockley & wife Eileen attending this event to witness the announcement first-hand.

Congratulations to Doug on a very well-deserved award – "Australian Marina Employee of the Year"!
Photo: Doug Taylor, Royal Motor Yacht Club Broken Bay, being presented with Best Marina Employee- People's Choice award by Oscar Siches, Director, Global Marina Industries
New Community Health Hub For Mona Vale Hospital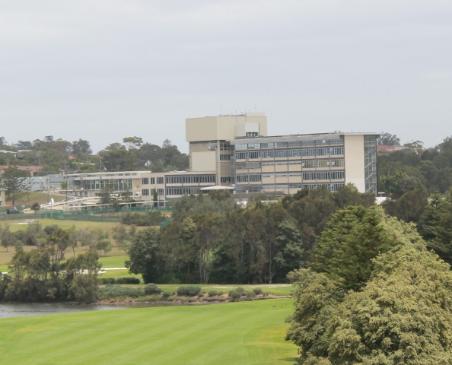 Member for Pittwater Rob Stokes today announced details of a new community health facility to be constructed at Mona Vale Hospital as part of the major expansion of northern beaches health services.
Construction of the new facility is planned for the eastern side of the hospital and will accommodate over 14 essential community health services including occupational therapy, post-acute care services, paediatric speech pathology, rapid access aged care services, paediatric occupational therapy, home nursing services, chronic care health services, musculoskeletal physiotherapy services, aged care assessment services, adult mental health services, child and adolescent mental health services, drug and alcohol services, carer support services and a midwifery clinic.
These services will be in addition to the provision of other essential inpatient care including a new 24-hour, seven-days a week Urgent Care Centre, diagnostic services including pathology and radiography, state-of-the art rehabilitation and palliative care services and specialist geriatric and dementia care services.
Other health services may also be considered in consultation with the private and not-for-profit sectors.
"From the uncertain situation we faced a few years ago - this is a positive vision for Mona Vale Hospital's long-term future," Rob Stokes said today.
"Mona Vale Hospital will be closely integrated with the new level-5 Northern Beaches Hospital and together they will provide a range and level of services never before available on the northern beaches.
"This new community health building will complement the range of other major infrastructure projects currently underway on the eastern side of Mona Vale Hospital and help bring our local health services up to a modern standard.
"Our community is now starting to see major capital improvements at Mona Vale Hospital and we must ensure this continues," Rob Stokes said.
Upgrade for Mona Vale Hospital's Palliative Care Building - 7 June 2013
Member for Pittwater Rob Stokes today welcomed news that construction will begin next week on the upgrade and expansion of Mona Vale Hospital's palliative care building. The $600,000 project is a joint partnership between the NSW Government and a coalition of local community groups including the Mona Vale Hospital Auxiliary, Terrey Hills and Pittwater Rotary Clubs and the Friends of Northern Beaches Palliative Care.
The expanded building, on the far eastern side of Mona Vale Hospital, will provide purposely designed consultation and treatment rooms offering medical, physiotherapy, occupational therapy and social support services. Facilities within the existing palliative care building will also be upgraded following an additional NSW Government grant of $33,000 earlier this year.
"This is a vital upgrade to one of our community's most important health facilities," Rob Stokes said today. "There's no better location anywhere in Sydney for the provision of palliative care services than Mona Vale Hospital.
"Plans to expand Palliative care services at Mona Vale Hospital have existed for years but adequate funding has never before been available. Unfortunately our ageing and growing community dictates that improvements in the availability of local palliative care services are increasingly important.
"This project joins other major infrastructure works currently underway on the eastern side of Mona Vale Hospital and provides a great example of how the NSW Government and local community groups can work together to help deliver positive outcomes.
"There's an immeasurable number of local families that will benefit from this project so I look forward to the works getting underway," Rob Stokes said.