February 18 - 24, 2018: Issue 348

Pittwater Fishermen: Great Mackerel and Little Mackerel (Wilson's Beach -Currawong)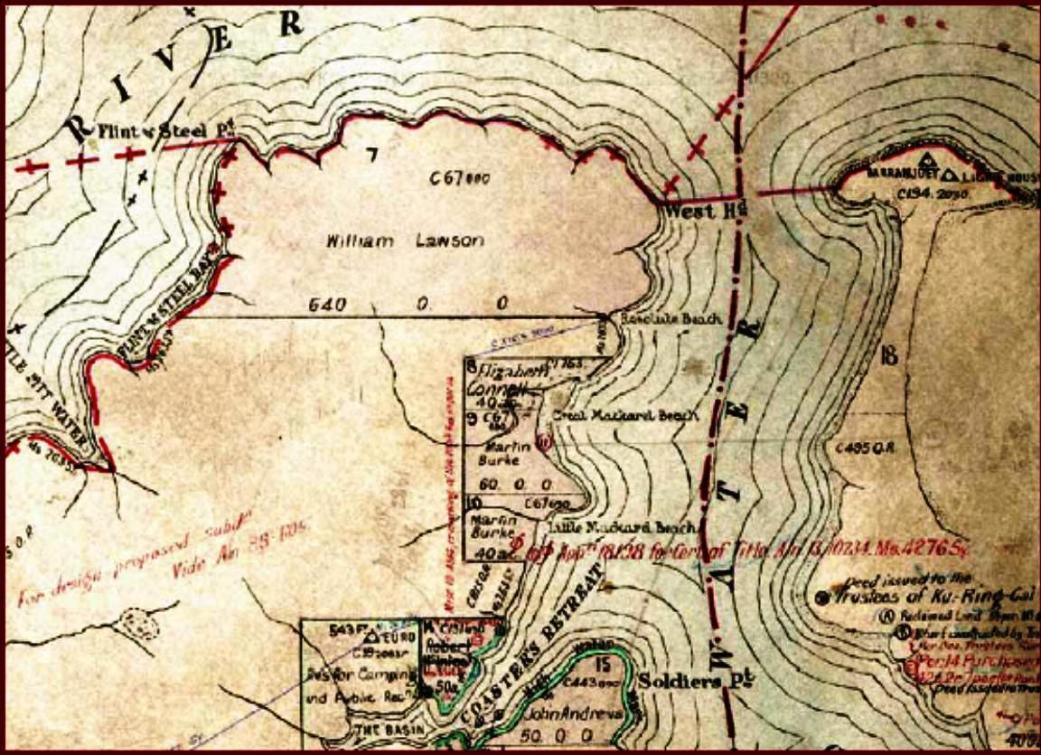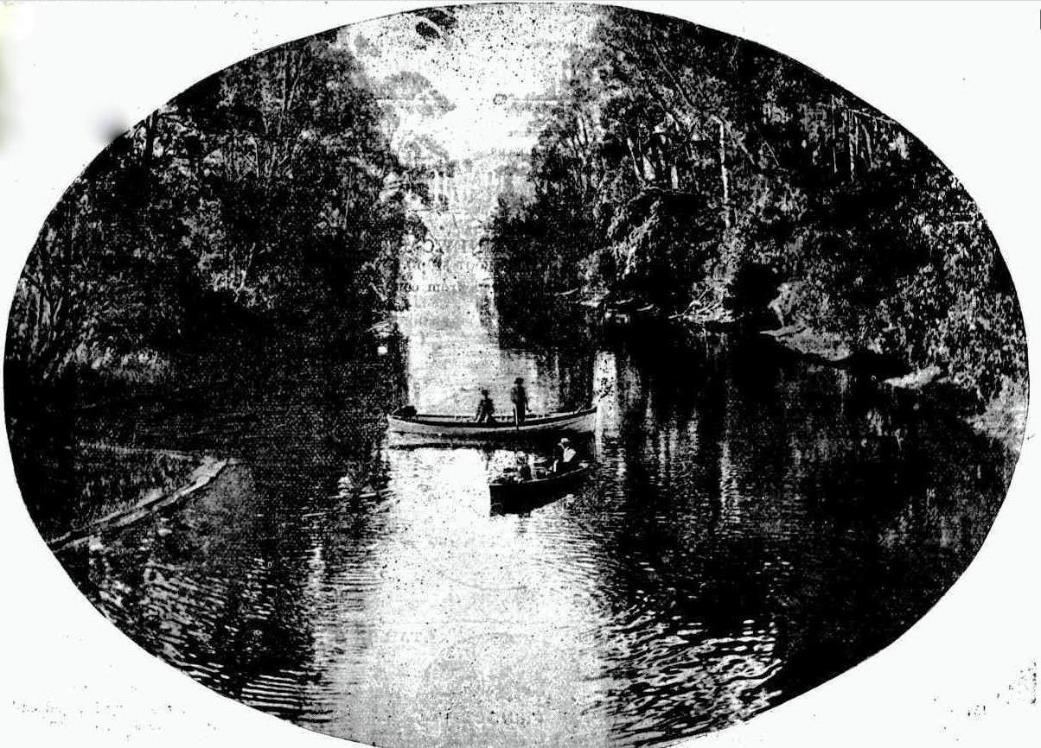 Photo: A FISHERMAN'S CORNER ON PITTWATER.
Wilson's Beach - Little Mackeral
The western foreshores of Pittwater are synonymous with early fishing days on the estuary with one beach named, alike Mullet island on the Hawkesbury for the abundance of fish that once ran in season here. Great Mackeral Beach and Little Mackeral Beach, called 'Wilson's Beach' during that family's decades long ownership of the place we now call Currawong, was a place where fishermen resided and early European residents made small farms.
Little Mackaral Beach, was settled by John Clarke in 1823, a NSW Military Veteran of the 102nd regiment whom Martin Burke had met aboard the ship Tellicherry in 1806. The land was purchased by Martin Burke in 1824. John Clarke moved to Launceston, Tasmania, on retirement. Governor Thomas Brisbane formally granted the land to Burke on 16 January 1835.
Martin Burke was one of the five 'Wicklow Martyrs'. This description of Burke is one of a list of about
45 men who the government had published in Irish newspapers on 26th & 31st July 1799 and on 13th & 16th December 1799. Number 1 on the list was Michael Dwyer:
"The following ROBBERS, MURDERERS and DESERTERS are now wandering about, and are occasionally concealed by disaffected persons in the Counties of Wicklow, Wexford, Carlow, Kildare, Dublin &tc and Rewards will be paid for securing such of them as are first mentioned agreeably to a Proclamation dated the 8th day of June last:
....
"MARTIN BURKE, five feet eleven inches high, dark hair, rather fair complexion, long nose bending downwards at the point, uneven teeth, long face, straight in the back, xat? Stoops in the shoulders down from his neck, strong legs and thighs, a little bowed at the knees, walks very upright, [blank] years old, born at or near Imale."
The July notices did not list a reward, however the December notices included a reward of "Two Hundred Guineas for taking him."
Freemans Journal Tuesday 30 July 1805 page 2:
"Thursday evening, Michael Dwyer, Martin Burke, Arthur Develin, Hugh Byrne and John Mernagh [sic], were conveyed from Kilmainham prison, by the Circular-road in carriages, and put on board an armed cutter in the river, which is to carry them to Cove, where a transport destined for Botany Bay, is ready to receive them."
He was transported on the Tellicherry, arriving here on the 15th of February, 1806. By the end of 1806 Burke had formed a liaison with Phoebe Tunstall, a thirty nine year old convict who had arrived on the Nile from England in 1801 to serve a seven year sentence. Phoebe had been assigned to a small holder, Thomas Andrews, and she had a child by him in 1803. Her husband had operated a shop in Pitt Street in leased premises and, following his death in 1806, Phoebe and her young daughter Sarah, moved to Cabramatta to live with Martin Burke where he had a land grant.
In late 1806 Martin Burke was arrested and charged with, "an attempt to disturb the good order and discipline of the colony". It is not known who had brought the charges but in any event they were
disproved and Burke was later released.
Michael O'Dwyre, Hugh Byrne, Martin Burke, John Morner, Thomas

McCann, William Morris, Arthur Deve

lyn and Walter Clare, were put to the bar and indicted for conniving and in
tending to disturb the peace of this colony

, by undergoing many persons to revolt from their allegiance, and to rise in open rebellion, which meant to overthrow His Majesty's Government therein, as well upon the 27th day of August last as at
other subsequent periods, prior to the prisoners being taken into custody.
The evidence on the part of the
Crown was clear and connected. It appeared upon the most respectable testimony, that the conduct of many of that defendants or prisoners who had been
exiled for treasonable and seditious practices, had been untoward and highly disrepectful to their masters, at and about the above stated period; and that from this sudden change of conduct, in addition to the various informations that were communicated by persons whose veracity was to be depended on, no other inference was deducible than that the projected insurrection was upon the very point of bursting forth, and that the
devoted victims to delusion and artifice were confident of a successful issue.
The prisoners were allowed every assistance requisite to their defence; which after some exculpatory argument, concluded generally with a point blank
denial of the charge.
The Court was then cleared; and after a minute revision of the evidence, re-opened; when
Thomas McCann and William Morris were found guilty, and the others acquitted
.—The prisoners were taken from the bar, and ordered to be brought up to receive their sentences the following day; when
Mr. James Ceroni, chief officer, and
Mr. James Jeffries, purser of the
General Wellesley, were then put to the
bar and indicted on a charge of having seduced from their duty two seamen belonging to His Majesty's ship Porpoise,
and encouraged them to desertion by permitting and contriving their secretion on board the ship General Wellesley and elswhere. After a clear and minute
investigation, Mr. Jeffries was acquitted, and Mr. Ceroni being found guilty, was fined 20£ and sentenced to be imprisoned six months in His Majesty's gaol at Syd
ney.
Thomas McCann and William Morris were again brought forward, and ad-dressed by the Judge Advocate; who
remarked to them, that notwithstanding t
he malignity of the crime they were
convicted of upon, testimony clear and incontrovertible, yet the penalty incurred thereby did not extend to the lives of the. delinquents ; but the security of society
from such foul, sanguinary, and abominable devices, rendered necessary the most exemplary punishment : " The Court did therefore adjudge and sentence them to receive one thousand lashes each; the Court recommending further, that as delinquents of the most dangerous principles and character, be removed by the most speedy conveyance to some re
mote place, where the baneful influence of their detestible principles might not be disseminated among other ignorant & credulous persons."
In pursuance of their sentence, the prisoners having received a part of their corporal punishment, have been sent away to different settlements, where the remainder will be inflicted.
May this example have a due impression upon the unwary mind, and guard it against the evil counsel of the villain, whose schemes are impotent, & whose presumption can alone be equalled by the rain which must inevitably fall upon himself and his coadjutors.
The odious project which has thus happily been laid open, had been in agi-tation for upwards of a twelvemonth; the secret informations received by Go-vernment rendered vigilance necessary, and every precaution that had been adopted was immediately succeeded by a
change of measures among the principal agents in the work of intended massacre —and had their plots succeeded to their wish, dreadful indeed had been the fate of all, whom reason, loyalty, and humanity must inspire with sentiments of abhorrence and disgust at their intended plan of operations. COURT OF CRIMINAL JURISDICTION. (

1807, June 7

). The Sydney Gazette and New South Wales Advertiser (NSW : 1803 - 1842), p. 2. Retrieved from http://nla.gov.au/nla.news-article627444
William Bligh directed that Martin Burke, should go to Port Dalrymple (Launceston) in Van Diemen's Land.
While awaiting transportation on board the vessel
Porpoise
in Sydney Harbour Burke arranged for Father James Harold to conduct a secret marriage service on the ship so that he was legally united with Phoebe Tunstall. While he was away Phoebe bigamously married a soldier, John Butler, at St Phillips Church in Sydney, ignoring the fact that her legal spouse was in exile in Tasmania. When Burke returned to Sydney early in 1809 Phoebe left her new soldier husband and returned with her young daughter, Sarah, to resume her life with Martin Burke.
The reunion of the couple was marked by ill fortune since the house in which the pair were living caught fire and they were lucky to escape with their lives. Phoebe, Martin and young Sarah were left without any possessions or clothing and were reduced to a state of "extreme distress". It appears that the other Irish families in the area came to the assistance of Burke and his small family and their house was rebuilt within a short period.
Late on Tuesday night or early on Wednesday morning,
a fire broke out in the farm house of Martin Burke, at George's River; which owing to the roof being thatched, scarce gave the persons, consisting of Burke, his wife, and child, time to escape
; but not a single article of wearing apparel or other property could be saved, by which the sufferers are reduced to extreme distress. SYDNEY. (
1809, January 15)
.
The Sydney Gazette and New South Wales Advertiser
(NSW : 1803 - 1842), p. 1. Retrieved from
http://nla.gov.au/nla.news-article627663
In 1809 Burke, along with those he had been transported with, was given a 100 acre land grant at Cabramatta.
By 1810 Governor Lachlan Macquarie had arrived in the colony and the State Prisoners presented a joint petition to have their pardons and land grants reconfirmed by the new governor. The five Wicklow men received their pardons in July 1811 and at the same time their finances were given a
boost since they received stock from the government herd. In 1812 Martin Burke, at the prompting of Phoebe Tunstall, took the decision to give up farming and leased a tavern in Pitt Street. In that year he sold his Cabramatta farm to an Irishman, Bernard Burn, for the sum of 190 pounds. Burke appears to have succeeded in his new career and in 1813 he took over the lease of another Pitt Street hotel, The Hope and Anchor, paying seventy pounds per annum for the property.
By 1816 Burke had decided to return to farming and he leased 500 acres at Bringelly from the surveyor, John Oxley, at a fee of thirty pounds per annum. Phoebe Tunstall remained the licensee at the Hope and Anchor but it seems that the hotel was by that time less profitable than it had been, mainly because of the fierce competition in the Pitt Street quarter of Sydney. It was at this time that Martin Burke agreed to become a police constable in the Bringelly area which at that time had a reputation for lawlessness and bushranging. It is evident that Burke needed the pay and provisions which came with the job since by 1820 he was unable to pay the arrears in his lease and John Oxley took him to court for the sum of ninety pounds.
In July of that year he resigned from his post as Constable at Bringelly but not long after he commenced a similar position at Pittwater. To settle his affairs Burke admitted his debt but as a consequence was forced to default on repayment of the debt and as a result thirty acres of land which he had purchased at Pittwater in 1813 were forfeited.
GOVERNMENT AND GENERAL ORDERS.
SECRETARY'S OFFICE, 30th SEPT. 1820.
CIVIL DEPARTMENT.
HIS EXCELLENCY the GOVERNOR,
on the Recommendation of WILLIAM MINCHIN, Esquire, Superin-tendent of Police, has been pleased to appoint Martin Burke to be a Constable at Pittwater, Broken Bay.
By His Excellency's Command,
J. T. CAMPBELL, Secretary.
Martin Burke received another grant of fifty acres at Pittwater and later bought another thirty acres to add to his holding. In 1821 Martin Burke, Phoebe Tunstall and her two daughters (the second girl probably being the child of the soldier, John Butler) moved to Pittwater.
He then leased 700 acres from d'Arcy Wentworth and once again began farming. It was presumably to provide himself with an additional income that Burke had accepted an appointment as a police constable in the Pittwater region. Like his fellow Irish police officers Burke must have been aware of the irony of the situation which saw a one time bandit chief appointed as an officer of the law but, unlike Dwyer, Burke appears to have been a conscientious, if not very effective, policeman. However there were other colonial citizens who were less assured about the suitability of such an appointment and in 1823 Martin Burke's private affairs came under scrutiny when his marital status was questioned after an allegation had been made that an officer of the law was openly. "living in sin". Martin Burke replied to this questioning with a letter to d'Arcy Wentworth in which he explained that he had been," Married in Sydney in 1807 by the Reverent W. (J.) Harold, Catholic clergyman. By this marriage I have no children - but my wife's two. I have always supported and was allowed their rations at Government store......"
Having at last admitted his secret marriage felt more secure in his official position and he proceeded to build a farmhouse near Mona Vale where he established a large garden and soon after he set about purchasing additional cattle.
In 1818 his step daughter, Sarah, had married an Irish wheelwright,
David Foley
per
Guilford
in 1818 and the couple now moved to Pittwater to help Martin and Phoebe run the property. This is the David Foley who was later murdered near his home in 1839.
In 1819 Martin Burke leased an additional 200 acres at Bayview and by 1822 he had 34 head of cattle on the farm. The property had thirty four cleared acres of which three acres were under maize, one acre was producing potatoes and another acre was devoted to a fruit orchard.
In 1822 Martin Burke was accused of dealing in the "slop" clothing which was issued to prisoners.
It appears that he was buying the official clothing which was issued free to convicts, probably in return for liquor, and then selling the garments for profit. It was a cheap and miserable trade since the garments were issued on a yearly basis and, once a convict had parted with his clothing, the winter months would see him ragged and shivering with insufficient protection from the chilly winter days.
In 1823 John Clark, a Veteran soldier of the 102 Regiment who had come free to the colony per Tellicherry, was granted land about Great and Little Mackerel Beaches (so named for the abundant supplies of this fish caught off the beaches in the early days of settlement). Together with Martin Burke the two men began farming and grazing cattle in the area in a partnership which lasted for a number of years.
In 1825 Martin Burke subleased his 700 acres to David Foley but he retained the right to graze his cattle on the land as well as to retain one room in the dwelling house and half an acre for a garden. By this time Martin Burke was again the subject of a complaint, the basis of which was that he grazed cattle in the area but had no stockyards or stockmen so that his animals frequently were grazing on the properties of others.
As Martin Burke was the district pound-keeper the local residents had no means of seeking to have the Burke cattle impounded since Burke would immediately release his own animals while keeping other "stays" firmly under lock and key until hefty pound fees were paid. In 1826 the Superintendent of Police, Captain Rossi, reported on the situation when he wrote, " the man's interest is certainly at variance with his public duty". Rossi recommended that the next constable and pound keeper should be someone who held no land in the area and he went so far to say that, given that Burke had made very few arrests in his six years as a police officer, he did not appear to be very diligent in the execution of his duties. Martin Burke was now in his mid fifties and, as his suitability for the role of officer of the law had been called into question, he may have been ready to give up the role of policeman. He continued to work on the property which he had leased until the acreage was sold in 1829.
By 1824 Burke was the sole owner of the land at Little Mackeral and Great Mackeral. In the 1830s he continued to buy and sell land in the Pittwater area.
By this time Phoebe Tunstall had died and Martin Burke began to prepare for retirement, gradually disposing of his holdings but he retained the house, outhouses and enough land to support himself with hens and vegetables.
In 1832 William Booth also claimed he had been promised the land, which he was farming, but possibly because Booth had made no improvements the first Crown grant was given to Martin Burke in 1835. Burke's final years were spent in a wooden cottage near Mackerel Beach where he was close to old friends, the Sheehan and Flynn families. Martin was still living at Mackerel Beach at the time of the 1841 census but he became ill in 1842 and then moved to the Sydney Asylum, a home for old men, where he died peacefully at the age of 79.
109.
Robert Mackintosh, senior,
200, Two hundred Acres, Parish of Narrabeen, commencing at the North-east corner of Robert Mackintosh, junior, forty acres, and bounded onthe west by that farm by a line South thirty-fit e degrees West thirty-two chains; on the South by a line South tifty-five degrees East fifty-twochains fifty links to Jeremiah Bryant's eightyacres ; on the East by Bryant's eighty acresand Peter Patillo'i» eighty acres by a line Norththirty-five degrees East thirty-nine chains toPitt Water; and on the North by the watersof Pitt Water to the commencwg co-Aer.
Promised by Governor Macquarie on 1stOctobevr, 1017.' Quit-rent 4s. sterling perannum, commencing 1st January, 1827.
110.
Peter Patillo
, 80, Eighty Acres,Parish of Narrabeen, commencing at the North-east corner of Robert Mackintosh's two hundred acres, and bounded on the West by that farm by a line South thirty-five degrees West twenty sixchains fifty links to the North corner of Jeremiah Bryant's eighty acres ; on the South by Bryant by a line South seventy-four and a-half degrees
East thirty-eight chains fifty links to a swamp called " Winne Jeramy
;" and on the East and North by that Swamp and Pitt Water to the
commencing corner,
Promised by Governor Macquarie on 10th January, 1810. Quit-rent 1s. sterling per annum, commencing 1st January, 1827.
111.
Jeremiah Bryant,
80, Eighty Acres
,Parish of Narrabeen, commencing at the South-east corner of Peter Patillo's eighty acres, and bounded on the North by that farm by a line. North seventy-four and "a-half degrees West thirty-eight chains fifty links to Robert Mackintosh's two hundred acres'; on the West by that farm by a line South thirty-five degrees West twenty-three chains; on the West by a line South thirty-five degrees East twenty-five chainsto a swamp ; and on the East by the swamp to the commencing corner.
Promised by Governor Macquarie on 12th March, 1821. Quit-rent Is. sterling per annum,commencing 1st January, 1827.
112.
John Taylor, 30, Thirty Acres,
Parishof Narrabeen, commencing at the South-westcorner of John Williams' sixty acres, and bounded on the East by J. J. Therry's twelvehundred acres by a lire South twenty-threechains to a small Bay ; and on the South-west and North by the waters of Pitt Water to the
commencing corner.
Promised by Governor Macquarie on 16th January, 1316. Quit-rent Is. sterling per annum,commencing 1st January, 1827.
113.
Thomas Warner
, 50, Fifty Acres,Parish of Narrabeen, commencing at the Northcast corner, and bounded on the East by a sideHue of twenty-five chains; on the South by aWest line of twenty-five chains to Pitt Water;and on the West and North by the waters ofPitt Water to the commencing corner.
Promised by Governor Macquarie on 31stMarch, 1821. Quit-rent Is. sterling per annum,commencing 1st January, 1827.
114.
Henry Gaskin,
50, Fifty Acres, Parish of Narrabeen, commencing at the North-east corner of Warner's fifty acres, and bounded on the West by a South line of twenty-nine chains; on the South by an East line of twenty chains ; on the East by a North line of twenty four chains to Pitt Water ; and on the North by the waters of Pitt Water to the commencing corner. Promised by Governor Macquarie on 31st March, 1821. Quit-rent Is. sterling per tan-num, commencing 1st January, 1827.
115.
John Joseph Therry, 1200, One thousand two hundred Acres,
Parish of Narrabeen, commencing at the South-east comer of the Government Reserve of two hundred and eighty acres, and bounded on the North by that Reserve by a line West twenty-five chains to a Stream ; on the North by that Stream and Ca-reel Bay to the North-east corner of Henry Gaskin's fifty acres; on the West by Gaskin's by a line South twenty-four chains ; on the South by a line West twenty chains, and again by a line North four chains to the South-east corner of. Warner's fifty acres; on the North by Warner by a line West twenty-five chains to Pitt Water; on the West by the waters of Pitt Water to the North-west coiner of John William's sixty acres ; on the South by that farm by a line South fifty degrees East 38 chains ; on the West by a line South forty decrees West sixteen chains ; on the North by a line North fifty degrees West thirty-nine chains to the North corner of John Taylor's thirty acres ; on the West by Taylor by a line South twenty three chains to Pitt Water ; on the West by the waters of Pitt Water to the North-west corner of James M'Donald's thirty acres ; on the South by that farm by a line East eleven chains ; on the West by a line South twenty-three chains to Robert Melvyn's sixty acres; on the South by part of Melvyn's farm,
and by Porter's and Anderson's farms by a line East fifty chains to
Martin Burke's fifty acres

; on the East by that farm by a line North six chains to a Stream ; on the East by that Stream, which is the Western boundary of John Farrell's sixty acres; on the South by that farm by a line East twenty-eight chains to the Village Reserve of one hundred acres ; on the East by part of the Village Reserve by a line North seven chains to a Stream ; on the South by that Stream, which is the North boundary of the Village Reserve to the Sea; and on the East by
the Sea to the commencing comer.
Promised by Sir Thomas Brisbane, 200 acres, on 23d July, 1824 ; 500 acres on 1st September,1824; and 500 acres on the 19th December,1825. Quit-rent £9 8s. 4d. sterling per annum, commencing 1st January, 1829.
116.
John Farrell, 60, Sixty Acres
, Parish of Narrabeen, commencing at the North corner of Martin Burke's fifty acres and James M'Nally's thirty acres, and bounded on the South by M'Nally by a line East ten chains; on the East by the Village Reserve by a line North twenty-eight chains ; on the North by aline West twenty-eight chains to a Stream; on the West by that Stream to Martin Burke's fifty acres ; and on the East by that farm by a line North three chains to the commencing corner.
Promised by Governor Macquarie on 31st March, 1821. Quit-rent Is. sterling per annum, commencing 1st January, 1827.
117. Martin Burke, 50, Fifty Acres, Parish of Narrabeen, commencing at the South-east corner of Robert Anderson's sixty acres,
and bounded on the West by that farm, by a line North thirty-six chains; on the East by James M'Nally's thirty acres, by a line South forty four degrees East twenty-nine chains, to the entrance of a salt water creek; and on the South by that creek to the commencing corner.
Promised by Governor Macquarie on 31st March, 1821. Quit-rent Is. sterling per annum, commencing 1st January, 1827.
9. Cumberland,
fifty acres
, parish of Broken Bay,
situated at the basin at Pitt-water,
commencing at a marked tree in a small bay, and bounded on the west by a line north 22 chains ; on the north by a line east 25 chains to Pitt-water; and on the south east and all other sides by that water to the marked tree.
Applied
for by Martin Burke.

Price five shillings per acre.
Colonial Secretary's Office, Sydney, 5th Nov. 1833. SALE OF LAND. (

1833, November 11

). The Sydney Herald (NSW : 1831 - 1842), p. 4. Retrieved from http://nla.gov.au/nla.news-article12848144
CUMBERLAND-
50 Acres Parish of Broken Bay
, and
at the Basin at Pittwater; applied for by Martin Burke ; price 5s. per Acre
No Title. (
1834, January 14
).
The Sydney Monitor
(NSW : 1828 - 1838), p. 3 Edition: MORNING. Retrieved from
http://nla.gov.au/nla.news-article32145420
No. 188.
By Martin Burke, of Pitt Water, to 100 acres of land, promised by Sir Thomas Brisbane to John Clarke, now of Launceston, a pensioner of the 102 ½ regiment, described as follows:
situate in the county of Cumberland, parish of Broken Bay,
60 acres at Great Mackerel Beach,
(in the western shore of Pitt Water,
and 40 acres adjoining and extending towards an inlet called the Basin, bounded on the north by James Retbey's 40 acres, on the west by a line south 46 chains, in the south by a line east 18 chains, and on the east by the Little Mackerel Beach, Pitt Water, and The Great Mackerel Bench.
CLAIMS TO LAND. (

1834, April 28

). The Sydney Herald (NSW : 1831 - 1842), p. 4. Retrieved from http://nla.gov.au/nla.news-article12849194
Burke leased the 40 acres (16 hectares) that included Little Mackerel Beach to Patrick Flynn or Flinn. According to Honorah Collins, a long-term resident of the area in the 1880s, Patrick Flynn lived at Little Mackerel Beach between 1850 and 1854. Flynn/Flinn also leased Nappers Grant (Barrenjoey) from 1844 until 1850/51 and was known for his excellent vegetables and
beautiful
garden.
Patrick Flinn was listed in Low's 1847 directory as landholder, Pitt Water. Patrick Flinn or Flynn arrived in Sydney by the
Southworth
on 9 March 1822. A ploughman and soldier, he had been convicted and sentenced to life transportation at Wexford County in March 1821, at the age of 30. His birth place was Limerick, and his native place Cork.
Patrick was already living at Pittwater in September 1830, when the Sydney Bench
recommended he be given his Ticket of Leave. He was allowed to remain in the District of Pittwater.
Colonial Secretary's Office,
Sydney, 29th November, 1830.
HIS Excellency the Governor will hold His ANNUAL CONFERENCE with the CHIEFS and TRIBES of the NATIVES on Wednesday, the 5th of January next, at the Hour of Eleven in the Forenoon, at the Market-place, Parramatta.
By His Excellency's Command,
ALEXANDER McLEAY._
Public Notice.
Colonial Secretary's Office,
Sydney, 22d Dec. 1830.
THE following Prisoners of the Crown have obtained
Tickets of Leave
since the last day of Publication; viz:—
Flynn Patrick, Southworth
Just prior to his wife's passing another man's name appears, indicating the Flinns may have left their Barrenjoey farm prior to this:
NOTICE.-All Cattle and Horse's found trespassing
on the lands of Barranjoey, Broken Bay
, will be either impounded
or the owners thereof sued for such trespasses.
DEATHS.
At her residence, Parramatta-street, on Thursday, the 11th instant,
after a protracted illness, Honora, the wife of Mr. Patrick Flinn, late of Pittwater, aged 60.
Family Notices (
1852, June 19
).
Empire
(Sydney, NSW : 1850 - 1875), p. 2. Retrieved from
http://nla.gov.au/nla.news-article60136311
Patrick passed away a decade later:
DEATHS.
FLINN—At the residence of Mr. James Powell, Datchett-street, Balmain, Mr. Patrick Flinn, late of Pitt Water, aged 84 years. Family Notices (
1862, May 22
).
Empire
(Sydney, NSW : 1850 - 1875), p. 1. Retrieved from
http://nla.gov.au/nla.news-article60475764
The section then passed to Cornelius Sheehan who leased it to various people.
Cornelius Sheehan was tried at Cork City Court in 1823 and sentenced to 7 years. He sailed from
Cork Ireland on 28 September 1823 on the transport ship Castle Forbes and arrived in Port
Jackson on 15 January 1824. He was 44 years old, 5ft 7¼, brown eyes, bald-headed, brown
complexion.
He was assigned at first to the Minto Road Party. By 1828 he was an assigned servant to Mr.
James Jenkins at Long Reef when the following event was reported in the Monitor 19 March
1828:-
"SUPREME CRIMINAL COURT, SATURDAY 8th. – John Naturau and William Rose, were
indicted for stealing twelve bags, containing twelve bushels of maize, value £6 from the store of
Mr. Jenkins, at Long-reef on the eleventh day of February last. Cornelius Sheehan, an assigned
servant to Mr. Jenkins, deposed, that on the day in question, he left his master's house to get
some bullocks. On his approaching the creek, he saw a boat lying in the basin. There was no
person in the boat. Three or four minutes after, he saw two men come out of his master's
paddock, and upon asking them who or what they wanted? was answered, they came on shore to
look for fresh water. They enquired if his master wanted to purchase any oil, as they had some in
the boat? Witness replied no; his master bought his oil in Sydney. They then went to their boat,
and put away from the shore. Witness observed then put in again about 20 or 30 rods further up
the creek, and having left their boat some time, he further saw them return with four bags,
containing something, and put them into the boat. Witness then ran to the store, and missing four
bags of maize, proceeded on to his master's residence, which was about a mile distant, keeping
the men in sight the whole of the time. Witness, by his master's desire, procured a boat and a
man named Hill, also in Mr. Jenkins's service, and pursued the prisoners, who were making off.
He captured them. Witness remained on shore, and on searching more closely, discovered there
were six bags gone from the store, when the boat was brought back. He saw six bags in the boat,
which he swears were his master's property. Mr. Justice Dowling – Was the store always kept
locked? Witness – It was; ....
Cornelius married Isabella Hindson on 22 October 1832. Their abode was Pittwater. They were
living at Mackerel Bay in a wooden house at the time of the 1841 census, with Martin Burke and
Patrick Flinn living in houses nearby.
On 19 December 1854 Patrick Flinn, his daughter Ellen and her husband Henry Merritt assigned
their lease of Little Mackerel Beach to Cornelius Sheehan for £45. [LTO Book 40 No.52]
Cornelius is invariably described in records as being a farmer at Pittwater, but whether he lived
at Little Mackerel Beach or elsewhere is difficult to ascertain.
The Sheehans appear to have been very quiet people. Isabella died in 1859, aged 84, and
Cornelius died at Pittwater in September 1864. Jane Boxwell, known also as Jane Sheehan
(Cornelius' de facto wife?), married Thomas Cooper in 1865.
On the 14th of January 1871 Thomas and
Jane Cooper conveyed the land at Little Mackerel Beach to Joseph Starr, who was already living
there, for £45. [LTO Book 128 No.186]
On 4 June 1872 Joseph Starr of Sydney, mariner, conveyed to Thomas and Sarah Wilson of Pittwater
the 40 acre land grant at Little Mackerel Beach, for £60. The property was in Sarah's
name, with her son-in-law, James Tobin of Manly Beach as trustee.
The Wilson family owned Little Mackarel until 1908, when the property was known as "Wilsons Beach". They, too, had previously been on the acreage named 'Monvale' by David Foley and they too were subjected tot he Farrells
tendency
to try and rule other neighbours or drive them out.
Thomas Wilson arrived in Sydney on the
Lady Nugent
from England, on 6 April 1835. He was
aged 21, single, a Protestant who could read and write. He came from Kent, and was a skinner
and poulterer. With no former conviction, he was found guilty of assault and robbery at
Montgomery quarter sessions on 17 October 1833, and sentenced to seven years.
He was 5 feet
4¾ inches tall, with a ruddy and freckled complexion, brown hair and grey eyes, his eyebrows
partially meeting. Among various marks and scars, he had (presumably
tattooed
) a sun, half
moon, seven stars and a crucifix inside his lower left arm. In 1837 he was assigned to William
George at Long Reef Farm, and was still there in January 1839. (See story under William
George.)
He received his Ticket of Leave on 29 May 1839, "allowed to remain in the District of
Pitt Water". He was living at Pittwater in a wooden house with another single male at the time of
the 1841 census. With his wife, sometimes known as Priscilla and sometimes as Sarah, he had
many children: Mary Jane (b.1843, married James Tobin 1861), Emily (b.1845, married James
Warren 1870), Thomas (b.1847, married Frances Oliver 1870), Alfred (b.1849), Nancy (b.1852,
married Albert H. Turner 1872), Pauline (b.1854), Priscilla (b.1859), Bertha (b.1866), Blanche
(born 1868, died 11 November 1870), and Edgar Rock (b.1873). A marriage between Thomas
Wilson I and [Sarah] Priscilla Cundah in 1870 is recorded in the N.S.W. Births, Deaths and
Marriages, suggesting that until this date it was a de facto marriage.
At a sale of land held at Sydney on 15 December 1853, Thomas Wilson and William Mildwater
as tenants in common purchased Lot 33 at Curl Curl Creek (now Manly Creek), to the east of
John Wheeler's 100 acres. They paid £80 for 80 acres, and the deed of grant was issued on 13
February 1855. [LTO SN99/243] Wilson may have lived on this land for some years, as he had a
house and land, freehold, in 1859, and Sand's Directory listed him as gardener, Lagoon, in 1863,
and farmer, Pittwater-road from 1865 to 1869, while William Mildwater was a grocer in Whistler
Street, Manly.
The Wilsons were tenants of "Mona Vale" during the years 1869 to 1872. On 4 August 1870
Wilson saw John Farrell III driving some of his (Wilson's) cattle on the side of a hill
(Bushranger's Hill) towards Farrell's farm. A three-year-old heifer who was within six weeks of
calving was missed, and after investigating, the police arrested Farrell and charged him with
having portion of a stolen carcase in his possession. The legal proceedings were protracted, and
while at the Central Criminal Court, Thomas Wilson received the shocking news that his
daughter Blanche, aged 2 years and 2 months, had drowned at Mona Vale in a shallow pond
about eighteen inches deep, on 11 November 1870.
During the months this trial went on one report refers to where the family must have wanted to move, after the loss of their little daughter, soon after its conclusion, and tells of one who was based nearby, fishing, in the years prior to moving closer to what is now called Newport. The testimomny of one mr. Driver also seems to point to a community fear of the Farrells - no one gets over someone killing their dog with an axe:
WATER POLICE COURT.-WEDNESDAY.
(Before the "Water Police Magistrate and Mr. Kettle.)
John Farrell, junior, on remand, was charged with having a portion of a carcase of a stolen beast in his possession, the property of Thomas Wilson. Senior-constable Carton, stationed at Manly Beach, gave evidence corroborative of sergeant Bloomfield :
By Mr. Driver: Wilson complained of losing cattle. He also complained of losing a horse by shooting through the head. The horse reported to witness as being shot, he saw dead. Has had many conversations with prisoner's father. The beef was taken out of the cask and put in again. Witness wished to have it weighed. The steelyards wore there, but prisoner said the pea was lost. Defendant did not get the pea and give it to him. Bloomfield did not say ho could not weigh with steelyards. Witness would swear he did not see the pen. Could not say that prisoner appeared reluctant in answering questions. He did not say that he was going to wash him-self. He was shaking very much. He said it was from the cold. He did not hesitate to answer any questions. Did not say anything to him about answering questions. Witness did not say, "If you don't answer my questions and mind what you are about, in half-on-hour I'll have you by the wool." He was on the road all that night. He left Manly after twelve o'olock at night. He had a glass of grog before he left home, another at Wilson's, and some from a Husk that Wilson had with him. He was perfectly sober when he went to ' Farrell's. He may have smelt of liquor. He took sundry glasses before he commenced to search. He may have staggered when walking through Farrell's house. He saw Farréll's brothers and sisters, and they had a good opportunity of seeing him. Witness does not drink much, he can't afford it. He does not take drink for nothing, although he took it from Wilson. Swears he did not take the branding-iron in his hand and place it on the safe, and ask, "If that is the way it is you put oaf" The steelyards were hanging; in the skillion. The pig that he saw was divided into two parts. He saw it in the barn on the Monday night. He has been engaged in garden work for a couple of years, but not in farming pursuits. He could not swear that the calf he saw had not been slipped. Could not swear that the paunch he saw was not that of a pig. He only judges from the masticated food in it. He has talked about the case very often. Knows another Farrell, a farmer. There is an old man in charge of the farm. He went there to search for prisoner. He also went to Mr. Hellery's, at Middle Harbour, to execute a search warrant, but did not execute it. The only search they made there was to look into the beef cask. The search warrant was obtained on his (witness's) information.
He has the warrant in court. It is granted the 9th of August, 1870. Mr. Smithers granted it. Does not know where the information is. On leaving the house, he did not hear Bloomfield call out to prisoner don't shoot any more cattle. Heard Bloomfield ask Farrell when ho killed the last beast, He replied. "Three or four weeks." Can't say that Bloomfield asked him if he could not say exactly. Bloomfield did not ask him if he killed a cow at Narrabeen.
Thomas Wilson, a farmer, residing at Monavale, Pitt Water, deposed that he saw prisoner on the fourth of this month, on horseback. Witness was in the road walking homo. He saw prisoner riding round some cattle of his and heading them up. Prisoner was on his (witness's) farm then. Witness was talking to a man named Leek, and observed prisoner driving the cattle over the hill towards his" (prisoner's) place. Witness just came from the herd, and noticed the cattle. He did not notice' any particular one more than another. He noticed them all. The heifer in question was about four years old, and was red and white. He missed her the next day. She was heavy in calf, and was "ear marked," and no other brand. She was amongst the mob prisoner was driving. Have not seen her since, but looked for her the next day (Friday) in the same place that he saw her the previous day, but did not find her. He saw all the others there, and on Saturday morning he went out with his son and searched from nine o'clock until dark. He saw where the cattle had been driven over the bridge that separates the two farms. It rained on the Wednesday and he tracked where they were driven buck. Followed the tracks to within three or four hundred yards of prisoner's house. He also saw a horse track going and returning, following the cattle tracks. After making these searches he applied for a search warrant, and obtained one on his sworn information. The following Sunday he accompanied sergeant Bloomfield and constable Carton to prisoner's house. He heard the constable caution him, and asked him if he had any fresh moat about the house. After-wards found some meat in a cask. Prisoner said he got it from Wilson, the butcher, at Manly. Whilst the constables were searching, witness saw prisoner shake his head at a little boy, and he went out to the stock-yard as hard as he could go. Witness ran after him and saw him covering over something with cornstalks. Witness pulled the cornstalks from off the things, and found a young calf, and portions of the inside, under them. They seemed to be quite fresh. The calf was within six weeks of maturity. He has had thirty-five yours' experience amongst cattle. The appearance of the calf showed that it had been taken from the cow.
Had cautioned prisoner scores of times not to go on his run shooting and hunting, and went to his father's house five or six week ago to complain of him. Never saw him on the run without a waddy, toma-hawk, or gun. He went to prisoner about cattle that he had lost before. Prisoner was never employed by witness. They did not visit each others places.
By Mr. Driver : Had experience in cattle at Kent, England. Knew about cows before he went to "Wheeler's. From there he went to the bason. He was occupied there in fishing, for about six or seven years. He devoted his time there to breeding of cattle. He is rather hard of hearing. His sight is very good, considering his age. He is forty-six. Has not been mistaken on any occasion the last two or three months. Don't recollect the 2nd of April last. Don't remember reporting that he lost a black heifer on that day. His memory is pretty good. He told constable Carton then that young Farrell had been seen the previous day trespassing and dodging round his cows, but won't swear it. Might have told his father so, and if he did, he told the truth. He made a complaint to Cherry that had lost a red bullock that he purchased at Lane Cove. He never told anybody that it was killed at Pitt Water. Cherry sent him word that it had strayed back. Farrell, senior, was the first man to inform him where the bullock was.
-The court adjourned for lunch, and on its resumption, Mr. Driver continued the cross-examination : He saw young Farrell on the Little Reef Hill. He saw Leek working on the road when he spoke to him. It might be 600 or 700 yards away. It was from there he saw young Farrell. Cannot recollect whether there was any rain on the Thursday. It is not generally a sandy country. Sometimes large mobs of cattle run on his farm. As near, as he could guess, there was about thirty head of his cattle there. Did not go on his land. The bridge that he tracked the cattle across is about twelve or fourteen feet wide. He tracked them on the soft country. Constable Carton culled at his house towards Sunday morning.' Witness put a bottle containing brandy on the table. Can't say if Carton drank any. He took about three nobblers in a Husk to Farrell's. Carton drank some of that. Prisoner denied having fresh meat when asked by Sergeant Bloomfield, but afterwards showed the police some meat in a cask. Saw steelyards there. Bloomfield asked if anybody could weigh with the steelyards. Did not hear Farrell say that he could. Bloomfield asked witness if he could weigh with steelyards. They were got, but the pea was not an them ; it was produced after-wards ; young Farrell threw it, and said, " Here it is." On being questioned by the police, Farrell said he got it all from the butcher at Manly. He has no ill-feeling towards the Farrells. After they killed his dog with an axe he shook hands with them and made it up.
To the Bench : The farms are not fenced in. Prisoner's house is about a mile and a half from witness's ; there is no boundary fence.
-James Wilson, butcher at Manly Beach, stated : Remembers sergeant Bloomfield going to him und inquiring about some meat; it was on a Sunday early in this month. He never sold prisoner any meat ; his shopman sold fifty pounds of salt meat to prisoner's father and mother. Can't say if it was sent to Pitt Water. The sale was effected on the 29th of July. Bloomfield showed him some meat at the watch-house ; they were rounds, and briskets It was neither fresh nor salt ; it appeared to him to have been put in pickle. One piece looked like his beef. It was not cut up as butchers usually cut up meat. It did not appear to have been put in good pickle. It would have kept as well without the pickle as with it in the same state as he saw it. Prisoner sent him a hide on the 15th of July. He sent up some before, but none since. Witness got the last hide from his (prisoner's) mother.
-By Mr. Driver : Has had experience in the butchering.' Farrell's family occasionally dealt with him. They have bought both fresh and salt meat in largo quantities. Beef would keep a long time in this weather. Persons unacquainted with the process of curing meat, and taking up a piece of it, would say it was corn beef. Beef taken out of pickle and placed in bags, and conveyed some distance,' would, by knocking about, probably look fresher than it was. He saw some pork amongst it.
-By the Bench : The meat that Bloomfield showed him was leaner than what the fifty pounds was that he sold to Farrell's mother. It takes three or four days to properly corn and press beef.
By Mr. Driver : He did not see the beef weighed and sent away.
-George Marshall: Sold fifty pounds of salt beef on the 29th July to prisoner's father. Has seen the meat that was seized at prisoner's place (at Manly Beach police-station). He could pick out a piece or two that he sold ; it did not all look alike. He saw about 1001b of meat. Does not believe that the rest of the beef, with the exception of one or two pieces, was that sold by him. The mass of beef that he saw differed very much ; it was-not so salt; it was differently cut up, that is another reason why he thinks it is not the same, The meat he saw was the meat of a small beast. He never bought beef from prisoner.' At the time he saw the meat he believed it had been in pickle for twenty four hours.
-By Mr. Driver : He could not tell how long it had been killed. Very likely it might keep a month this weather. Would sworn that he has not been speaking to Mr. Bloomfield outside the court. Has been butchering about thirteen years. Some of the meat he saw was sold to Farrell's people. Carrying meat out of pickle would alter its appearance materially.
-To the Bench : The meat he saw was lean, and did not correspond with the meat he sold.
- Charles Leek, a roadmaker at Pitt Water, knows the prisoner; also knows Wilson. Recollects being with him on the 4th of this month. Saw prisoner on horseback driving cattle. He went out of witness's sight. Does not know what direction he was going. He was on the top of the hill, a good distance from where he was at work.
-By. Mr." Driver : It was between four and five o'clock in the afternoon. He was about a quarter of a mile away. Can't tell how ho was dressed. He was riding a bay horse Don't know how it was branded. Swear point blank it was him. If he saw Mr. Driver as many times at he has seen prisoner he could toll him. He may have been a mile away, from Wilson's house. He was more than three hundred yards away from Wilson's house. It might be three-quarters of a mile He was working alongside the telegraph line. Swears there was more than ten posts between where he was working and Wilson's house.
-To Mr Windeyer : He is positive it was prisoner. He is not mistaken about him at all. He was with him the night before. The court adjourned at four o'clock until Monday next, at eleven o'clock. Bail extended.
In February 1871 John Farrell III was
sentenced to three years' imprisonment with hard labour in Parramatta gaol, but was transferred
to Port Macquarie penal settlement.
While Thomas Wilson was at "Mona Vale", his North Manly farm was let to Charles Brady, a
silk grower, and his wife. In June 1870 there was a distress for rent, and Wilson sold Brady's
furniture, silkworms, etc. Wilson was present at the sale on 22 June, and purchased some goods
himself. When he proceeded to take the goods away, Brady saw that the silkworms were being
destroyed and remonstrated with Wilson, who agreed to leave them on payment of £1 to bind the
bargain. Brady stated that he had agreed to make up the deficiency in rent, and Wilson had
agreed to bring the furniture back for the price he had paid for it. About a month later Brady was
ready to pay, but there was disagreement between the two, resulting in court cases in 1872. The
court held that the goods belonged to Wilson. [SMH 12 June 1872] A perjury case brought by
Brady against Wilson was dismissed. [SMH 17 June 1872]
STARR-April 21,1887, accidentally drowned, off ketch Agnes Rose, whilst on her voyage to Port Stephens, Captain Joseph Starr, an old resident of Pyrmont. R. I. P.
Family Notices (
1887, May 17
).
The Sydney Morning Herald
(NSW : 1842 - 1954), p. 1. Retrieved from
http://nla.gov.au/nla.news-article13651804
STARR.— April 21, 1887, accidentally drowned, off ketch Agnes Rose, Captain Joseph Starr.
Family Notices (
1887, May 21
).
The Sydney Mail and New South Wales Advertiser
(NSW : 1871 - 1912), p. 1088. Retrieved from
http://nla.gov.au/nla.news-article163280249
In the Supreme Court of New South Wales.
ECCLESIASTICAL JURISDICTION.
In the estate, goods, chattels, credits, and effects of
Joseph Starr, late of Pyrmont
, in the Colony of New South Wales,
master mariner,
deceased, intestate.
NOTICE is hereby given that after the expiration of fourteen days from the publication hereof, application will be made to the Supreme Court of New South Wales, in its Ecclesiastical Jurisdiction, that letters of administration of all and singular the ate, good*, chattels, credits, and effects of Joseph Starr, late of Pyrmont, in the Colony of New South Wales, master mariner, deceased, who departed this life on the 21st day of April last, intestate, may be granted
to Mary Ann Starr, of Pyrmont, in the Colony aforesaid, the widow of the said deceased.
—Dated at Sydney, this 7th day of May, a.d. 1887.
WILLIAM ROBERTS,
Proctor for Administratrix,
165, York-street, Sydney.
3361 6s. 6d.
In October 1880 Thomas
nominated his youngest son, Edgar Rock, aged 7, as a pupil in the school which was being
established at Church Point. He would be attending the school in company with his nieces and
nephews, the children of his brother Thomas, who lived at Church Point, and the children of his
sister Nancy, married to Albert Turner, who lived at Bayview.
ECCLESIASTICAL JURISDICTION. (
1887, May 10
).
New South Wales Government Gazette
(Sydney, NSW : 1832 - 1900), p. 3146. Retrieved from
http://nla.gov.au/nla.news-article224296296
In the Supreme Court of New South Wales.
ECCLESIASTICAL JURISDICTION.
In the goods, chattels, credits, and effects of
Joseph Starr, late
of Pyrmont,

in the City of Sidney, master mariner, deceased, intestate.
NOTICE is hereby given, that the accounts of Mary Am Starr, the administratrix in the above estate, have this day been filed in the proper office of this Honorable Court; and all persons having claims on the slid estate, or being otherwise interested therein, may come in before me, at my office, at the Supreme Court-house, King-street, in Sydney, on or before Friday, the 22nd day of March instant, at 11 o'clock in (he forenoon, and inspect the said accounts, and if they shall think fit object thereto.—Dated at Sydney, this 7th day of March, a.d. 1889.
(L.S.) T. W. GARRETT,
Registrar of Probates of the Supreme Court. William Roberts,
Proctor for the said Administratrix,
165, York-street, Sydney.
Wilson and Mildwater offered the western half of their North Manly grant for sale in 1877. It
was described thus:
"Manly Beach - Valuable block of land, in all about forty acres on the North Bank of Curl Curl
Lagoon, about 1½ mile from the Pier at Manly, being the western half of Mildwater's and
Wilson's grant, adjoining Wheeler's 100 acre grant. It has been in cultivation, was formerly
fenced, and otherwise improved. The greater portion of the land is rich alluvial soil, in every
respect admirably adapted for Market Gardens, and the elevated parts are suitable as good
Building Sites.
The attention of Capitalists, Speculators, Builders, and others is directed to the sale, as it is now
but seldom that so large a block of land, within such easy distance of the steamers' wharf at
Manly is offered in one lot." [SMH 10 Oct 1877; ML Subdivision map M5/205] -
[1.]
By 1912 Little Mackerel Beach came into the possession of Pink Marie Stiles, who was married to Dr. Bernard Tarlton Stiles, a physician.
Primary Application - Pink Marie Stiles 48 acres at Little Mackerel Beach Pittwater Shire Warringah Parish Broken Bay Volume 2442 Folio 224
Date range:
18/10/1912 to 03/01/1914 - NSW State Records
EXTRAORDINARY STORY
New Zealander Committed for Trial.
SYDNEY, June 28
Norman Edwin Keals, 27 years of age, a native of New Zealand, was before Mr. Smithers, SJM., at the Manly Police Court this morning on several charges of breaking-and entering, and stealing. Constable Jones, watch house keeper at Manly stated that on June 17 accused voluntarily made the fallowing statement and signed it:— 'In November last I was in Glenbrook looking for work. I came' across a tent in an Emu Waitts camp belonging to Arthur Thompson. I went into the tent, and stole a bicycle from there, I rode the bicycle to ijawsott, and exchanged it for another which I found leaning up against a church. I afterwards saw in the papers that a … man, named Ellis was, fined £10 at the Penrith Court for stealing a bicycle from Thompson's tent. I did not know Ellis, and he had no part or share in the stealing of the bicycle. Afterwards I obtained a job on the railway; at Glenbrook till February, when I left. When... the' Salvation Army Industrial Farm at Deewhy. I entered the dining room, where I obtained some food. I afterwards stole a bicycle from there. I rode to Pittwater that evening,
I entered Simpson's store at Bayview, and stole some tinned fish, biscuits, post cards, and about 2/0 in silver, also some bottles of soft drinks. These things I put in a boat there, and sailed down the bay. I got into broken water and the boat, capsized, I got ashore on to the rocks, where I spent the night. Next day I took a boat belonging to Dr. Stiles, in front of his house, which I entered, and from which I stole some food at Mackerel Beach, Broken Bay. I pulled to Careel Bay. I stole two coats, trousers, and shirts from a tent there. I went to Manly that night, and from there to Sydney, where I pawned my watch.
I went to Taree and stole some clothes and money. Then I boarded a steamer at Newcastle and returned to Sydney. After working at Balmain for a while I went to Seven Hills with the intention of leasing a farm there. I failed to get a .farm, and on, my, return to Sydney I bought a revolver, with which I intended to commit suicide, I went to Manly and to the Salvation Army farm at Dee Why, where I stayed for a few days in a hayloft. From there I went to Newport, and after a few days I broke into Scott Fell's house at Mona Vale, and stayed there for a few days, and lived on food that I found in the house. I left Scott Fell's house and went to another furnished cottage owned by Edward Scott, where I broke in and remained until I was surprised by a party of week-end campers. I jumped out of a window and ran a-way, but they caught me and seat for a constable and gave me in charge. ...REMARKABLE CONFESSION. (
1912, June 28
). T
he Sun
(Sydney, NSW : 1910 - 1954), p. 8 (FINAL EXTRA). Retrieved from
http://nla.gov.au/nla.news-article228856742
The Wilson house, occupied by the Stiles family, was destroyed by fire before 1915. Between 1916 and 1917 a house named "Africa" was built by the Stiles family. This house survives today, albeit renamed "Midholme".
Constructed in 1915 a little to the northeast of where the original Wilson family farmhouse was, (which burnt down) the Stiles family built 'Africa', later renamed 'Midholme' as a Federation style hobby farm from weatherboards and Fibro sheeting, a product used in many holiday homes during that period. Some sources state it was renamed Midholme due to being midway between the Northend and Southend homes. The house stands on sandstone piers for ventilation and to avoid flooding in king tides or when the creek overflows. Originally the veranda was enclosed and these areas were traditionally used as sleeping places during days when the house was full or it was too hot to sleep indoors. The Stiles also used this front veranda as a school area, which other children from nearby bays would attend, when they were in residence with their governess or a tutor. Bernard and Pink Stiles (better known as Peggy) and their children - Bernard Jnr, Nora, Pat and Joy spent many happy years at Little Mackeral, fitting in well with the local close-knit community and participating in Pittwater Regattas.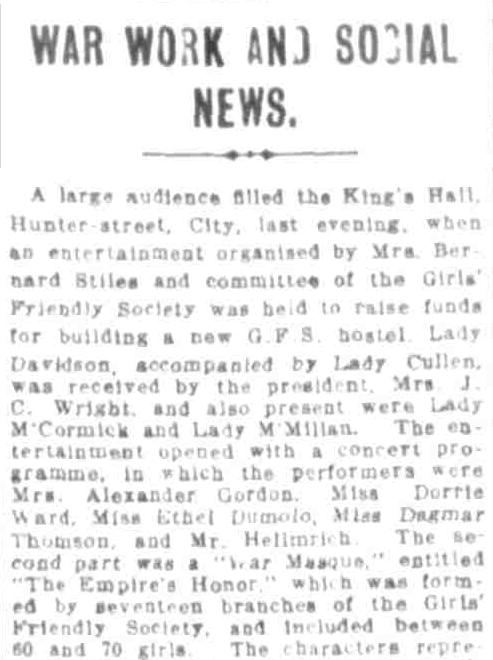 Bernard Stiles, who was raised at Currawong in the early 1910s recalled the natural beauties of the place:
'Regarding the flora and fauna I feel I should mention one bird, namely the Lyre Bird at Little Mackerel. These glorious birds were sheer delight to listen to in the morning, imitating every other bird in the bush, even the putt-putt of a motor boat or a man chopping wood was quite distinct. Koala bears and wallabies were also plentiful. Some of the wildflowers that grew on Little Mackerel and up on the Kuringai Plateau where the West Head Road now carries many sightseers are the many species of boronia, Christmas bush, flannel flowers, waratahs, Christmas bells and in one particular spot is a swampy patch that grows a very rare miniature native rose. Near this spot is the high knob where one can look west and see the Hawkesbury ridge and from the same spot look in the opposite direction and see the whole of Pittwater, Barrenjoey, Lion Island and Palm Beach, truly a unique view.' (quoted in Macken, 2003, 47-48)
Bernard Stiles jnr. in 1944:
PROPOSED FROM
PRISON CAMP
War-time Romance
The engagement announced to-day of Miss Helen Hollis and Sergeant Bernard Stiles, A.I.F., only son Of Dr. and Mrs. B Stiles, of Manly, is of special interest, as the proposal was made by letter from a prison camp in
Germany.
Sergeant Stiles is a prisoner of war in Stalag 344, in Germany. He was With the 8th Division, and was captured In Crete, three and a half years ago. At the camp, he is the Red Cross representative, and supervises
the distribution of the parcels. which, he says, arrive regularly, and help considerably to supplement, the food supplied to the prisoners of war.
Photo: MISS HELEN HOLLIS
When his proposal was accepted by Miss Hollis, he wrote and requested
his mother to buy an engagement ring on his behalf. Mrs. Stiles selected a single-stone diamond ring, which Miss Hollis is now wearing.
Miss Hollis is the youngest daughter of the late Mr. and Mrs. Samuel Hollis, of New Zealand, and lives with her sister. Mrs. Harold Warner, at Talwood Station, Talwood, Queensland.
PROPOSED FROM PRISON CAMP (
1944, December 16
).
The Sydney Morning Herald
(NSW : 1842 - 1954), p. 7. Retrieved from
http://nla.gov.au/nla.news-article17931939
During their occupation of the property the Stiles also constructed a house and garden later known as Wilderness or Southend. Southend was constructed prior to 1937. The building was constructed in a Federation style, however it was destroyed by fire sometime between 1946 and 1949. The site contained gardens which were reportedly quite extensive and included vegetables and fruit trees to the northwest of the house. Bernard Stiles junior recalls that this building [Southend] replaced an earlier structure which also had gardens containing jonquils and geraniums. Southend was also used as a general store by the Stiles family and for a brief period as a guest house.

Other features noted as being present or built during the time of the Stiles family include post and rail fencing, a jetty at the northern end of the beach and extending northwest following the tidal flat and south creek; tennis courts, flower gardens, a windmill, a dairy/stables and a well. The structure located just northwest of the farmhouse may have been the site of the kitchen for the homestead, later known as Canning Cottage, were the telephone was installed in the 1930s.
Mrs. Stiles subdivided Portion 10 into a further 3 allotments during the Stiles family ownership of the property. These included the sale of lot 4/DP 978424 to Isaac Barry Evans and Harriet May (32 ¾ perches) in August 1918; Lot 1/DP 166328(1acre, 1 rod and 36 perches) to Hector Henry Forsayth in June 192038 and Lot 1/DP 337208 (29 ½ perches) to Sophie Rock in 193739.
Forsayth and his wife constructed a house known as Northend within their allotment which fronted the beach in the 1920s. They also constructed a boatshed, a flagpole and a concrete retaining wall in an effort to obstruct the tide which was undermining the foundations of Northend (Figure 7). The concrete wall constructed to assist the retention of the Northend house did not stop the erosion of Northend's foundations and it was demolished in the 1970s. A pine tree is shown in an old photograph of the house.
Little Mackarel Beach was purchased by the Port Jackson & Manly Steamship Company in 1942. The Company planned to construct a picnic ground and shark-proof enclosure at Little Mackerel Beach as part of its larger tourism ventures. Those plans were never carried out (National Trust listing card, 2000). By the late 1940s the Port Jackson and Manly Steamship Company had suffered an economic downturn and was forced to sell off many of its assets, including its holding at Little Mackerel Beach. The company's legacy there was modest and included the construction of a timber sea wall to mitigate beach erosion, and the erection of a small cottage near Midholme. This is now called Canning Cottage after Charles Canning, the company's caretaker who came to live there after initially supervising maintenance from Great Mackerel Beach. An undated plan of Little Mackerel Beach, probably from the late 1940s, shows the four residences, some outbuildings, a tennis court and a cultivation paddock on the banks of the creek. Photographs in the company's archives from about the same time show fencing and a row of small sheds, possibly chicken coops (Musecape & Beaver, 1999).
In 1949 the Port Jackson & Manly Steamship Company sold the Beach to the New South Wales Trades and Labour Council for £10,000, including 4 cottages. Following on from the legislated 40-hour working week, and two weeks of paid annual leave, the Labour Council proceeded to use the site for holiday accommodation. Eight cabins were constructed between 1949 and 1952 and an additional "Vandyke" style cabins between 1950–1953 and in 1990 a managers house was constructed.
UNION CAMP TO SEEK LICENCE
SYDNEY, Friday.
The N.S.W Trades and Labour Council,' at the Licensing Court on January 28, will seek a spirit merchant's licence for the general store at its holiday camp at Little Mackerel Beach, Pittwater. The Councils' camp provides' cheap holiday accommodation for unionists' and their families.
The Assistant Secretary of .the Council, Mr. J. D. Kenny, said to-day that the licence would be sought because the camp was isolated from" the nearest hotel at Newport. He said the licence, if granted, would enable the general store to sell wine, spirits and bottled beer in two-dozen lots.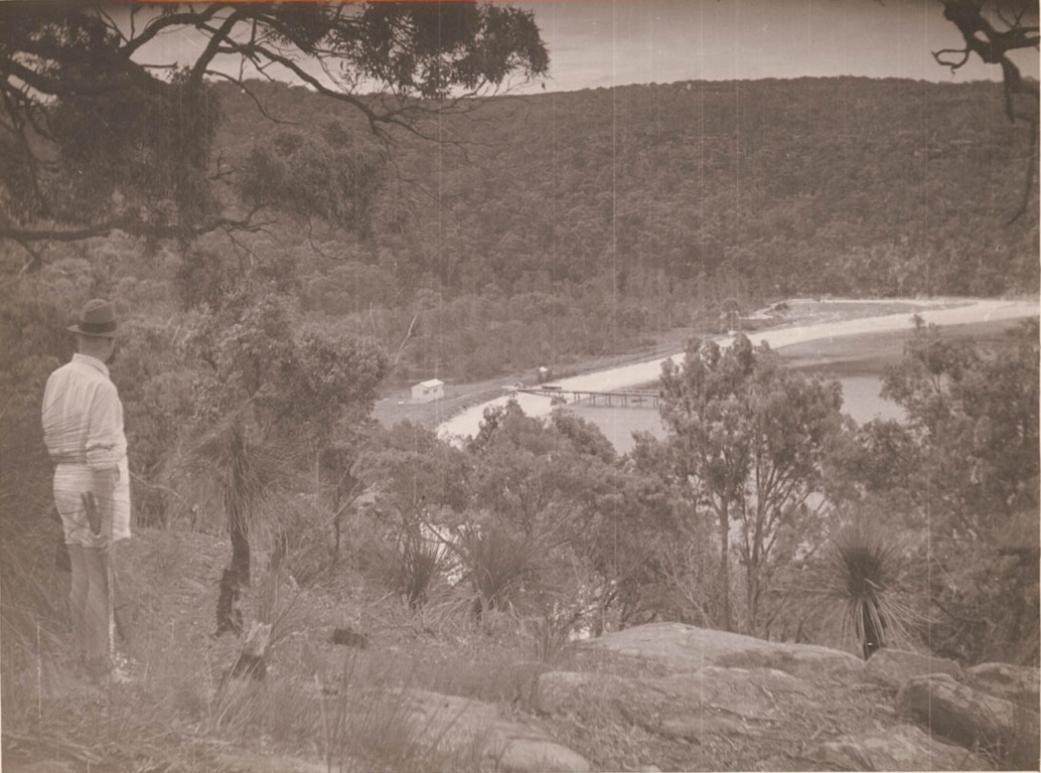 from Album Hood Collection part II : [Foreshores: Sydney Harbour, rivers, lakes and waterways; beaches] Circa 1920 - 1950 Photos 25-28. [Beach scenes, Pittwater ?] Images No.: a230022h, a230023h (under New Approach Dedicated article of 1920 below) and a230024h, Courtesy The Mitchell Library, State Library of NSW.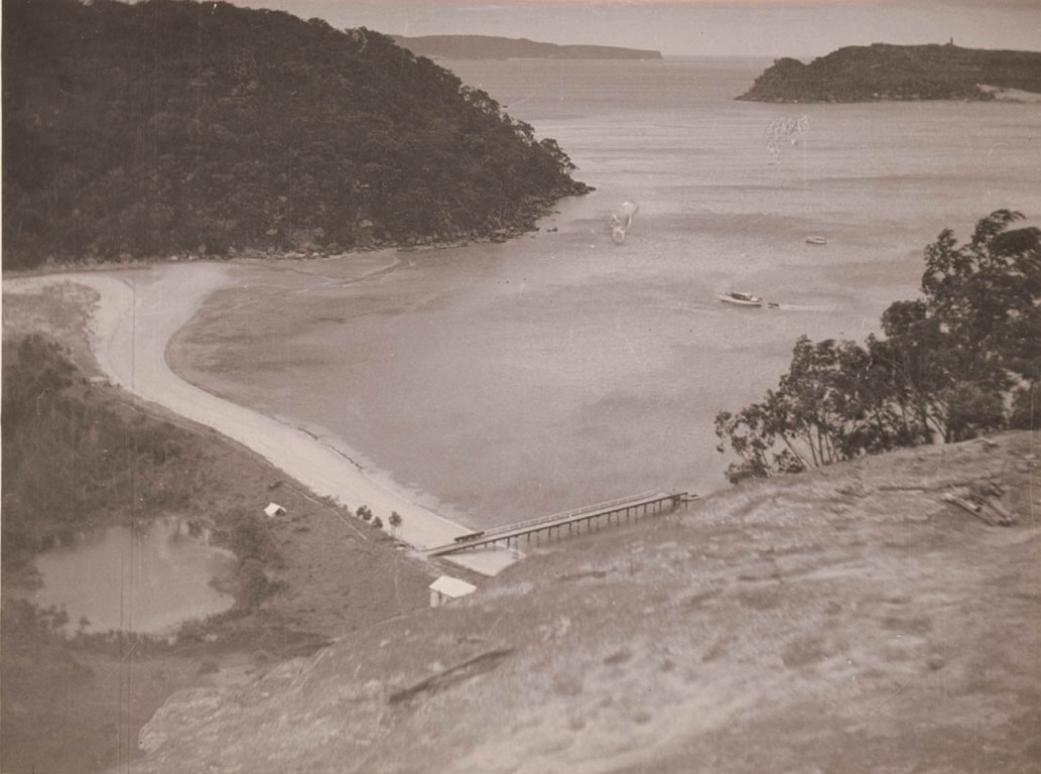 Great Mackerel Beach
Primary Application - Elizabeth Connell 100 acres at Pitt Water in Parish Broken Bay County Cumberland
Date Range: 1863-01-01 to 1886-05-27
Great Mackerel Beach Wharf dedicated on Saturday January 3rd, 1920:
KURING-GAI CHASE
New Approach Dedicated
On Saturday the residents of the locality assembled on Great Mackerel Beach, Kuring-gal Chase, Pittwater, to take part in the dedication of the new wharf and adjacent foreshore to the public.
The occasion was one of much rejoicing in the district. Not only has the entire foreshore been made available to residents and to the community generally, but access has been afforded where previously there was none to one of the most delightful gorges of Kuring-gai Chase. KURING-GAI CHASE (
1920, January 5 - Monday
).
The Sun
(Sydney, NSW : 1910 - 1954), p. 4 (CABLE EDITION). Retrieved from
http://nla.gov.au/nla.news-article221385001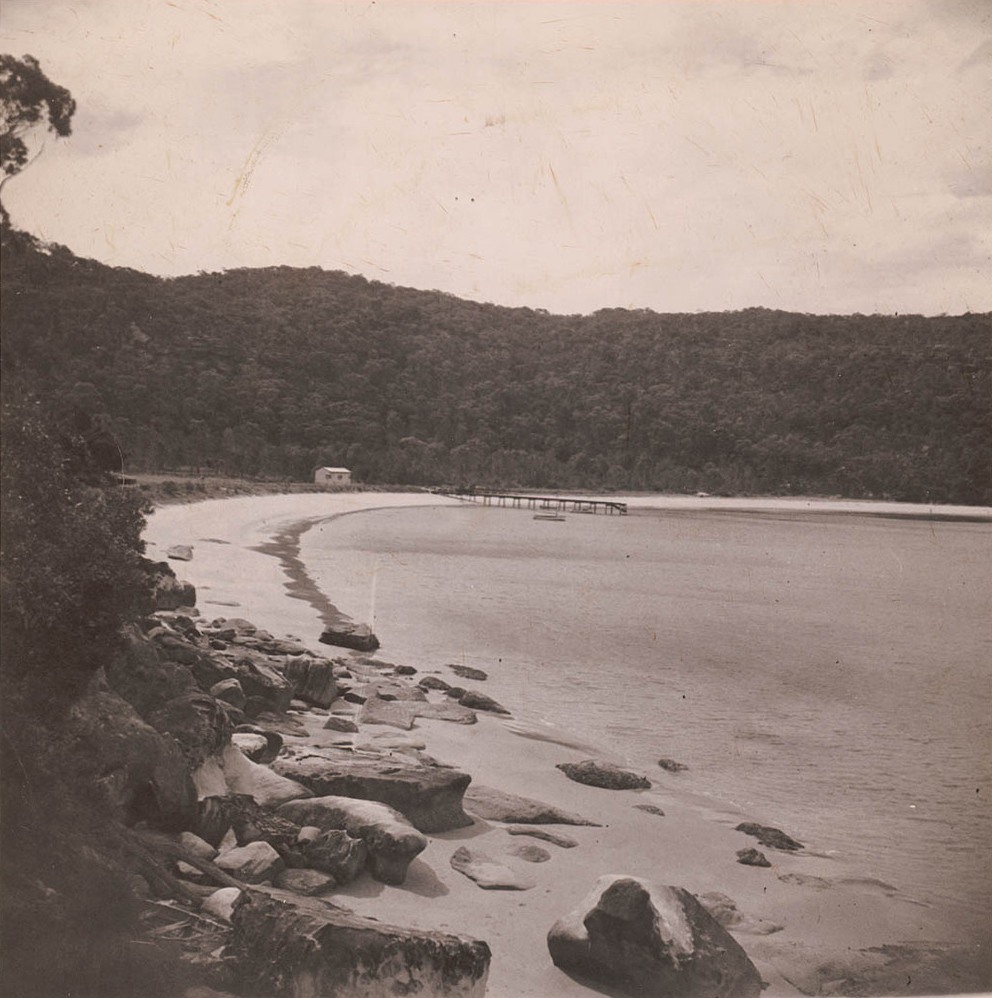 This wharf was installed to allow access as parcels of land were to be offered for sale:
OLD COINS FOUND
On Great Mackerel Beach
Shortly before the Christina holidays, When Mr. James Curdy, a surveyor, was engaged in the work of subdividing Great Mackerel Beach, Kuring-gai Chase, Pittwater, he stumbled upon some copper coins of the reign of George III, intrinsically, of course, they are worthless enough, as the gigantic pennies of those days can hardly be said to have attained "a collector's value." But on the other hand their presence on Great Mackerel Beach is a matter of some Interest. Until the construction of the wharf, a few weeks ago, the spot was not easy of access, and it is hardly likely that the occasional visitor who found his way ashore from an open boat would drop them from the pocket of a pair of "shorts" as he wandered Inland in search of drinking water. Of course the coins may be part of the "treasure" that, according to local tradition lies buried with the bones of an early settler. Or again, they may have been carried there by a convict.
George III (George William Frederick; 4 June 1738 – 29 January 1820) was King of Great Britain and King of Ireland from 25 October 1760 until the union of the two countries on 1 January 1801, after which he was King of the United Kingdom of Great Britain and Ireland until his death.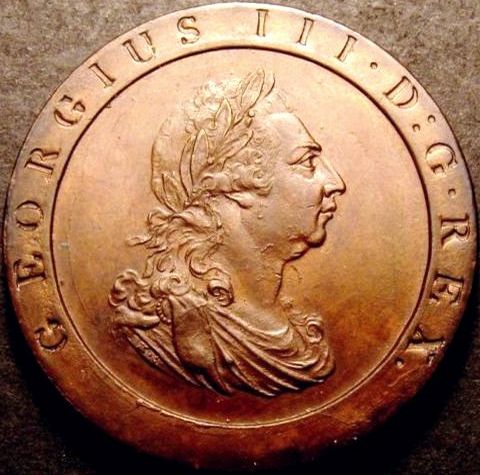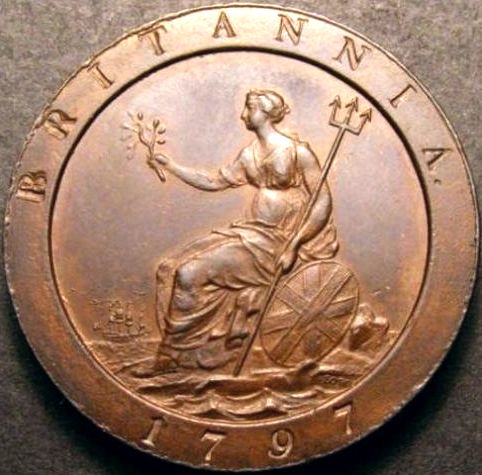 1797 British Penny Specifications: Weight; 28.3 g, Diameter; 36 mm Composition;
copper.
Minted;
Soho, Handsworth, England. Mintage; approx. 8,601,600 (inc varieties).
1797 British Penny Design - Obverse and Reverse;
Conrad Kuchler. Now semi-rare and have collector's value.
Notes: laurel has 11 leaves, SOHO mintmark below shield, first British or English copper penny. Images courtesy of Gold Guinea.
The first copper penny to be circulated in Britain, the
cartwheel penny was designed to combat counterfeiting.
Designed to weigh its exact value in copper, (one ounce),
the 1797 penny was very large.
The 1797 British penny obverse features the robed
laureate bust of King George III facing right. The legend
reads: 'GEORGIUS III-D:G-REX.'
The reverse shows Britannia seated facing left, holding an
olive branch and a trident with a shield resting beside, with
a ship in the distance. The legend reads 'BRITANNIA.'
above, with the date below.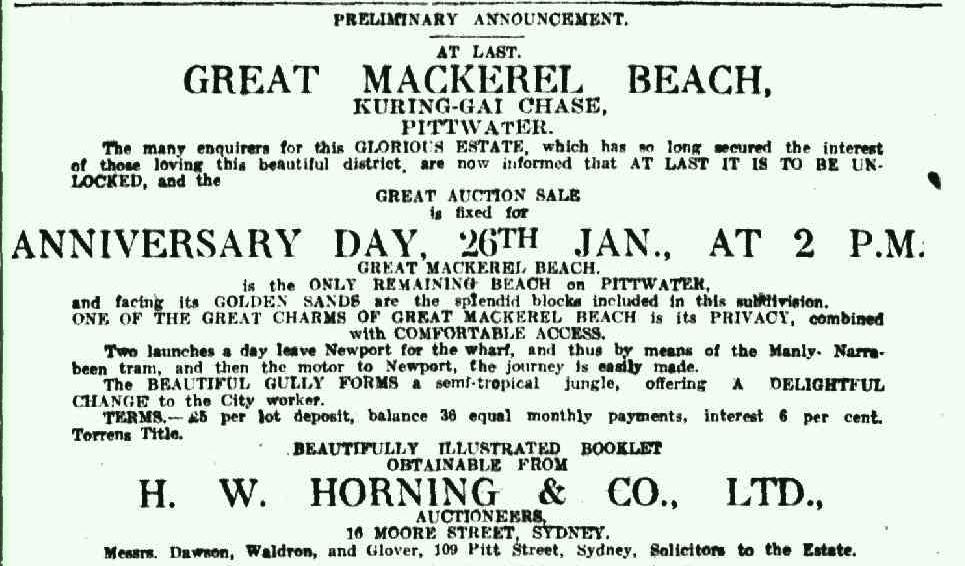 In 1934 the site was used as a camp for a Chauvel film with the Chauvels staying on site - the image below looks similar to Little Mackerel's open flats:
"HERITAGE." Plans for Crowd Scenes. GOVERNOR PHILLIP'S LANDING.
More than a hundred men. most, of them unemployed, have been given work for to-day as "extras" in the Australian picture, "Heritage."' which Mr. Charles Chauvel is producing for Expeditionary Films. Ltd. Seventy of the men were selected in Sydney, and a large number in the district about Pittwater. To-day, all these will be transported to Great Mackerel Beach, where they are to take part in scenes depicting the landing of Governor Phillip.
The settings for Governor Phillip's camp have been faithfully reproduced from sketches prepared by Mr. Ray Lindsay from original sources in the Mitchell Library and elsewhere. Much difficulty has been experienced, however, in damming the small stream which flows from the hills to the beach, and which is Intended to represent the historic Tank Stream of Circular Quay. Several hundred bags, to be filled with sand for that purpose, were sent from Sydney yesterday. Hitherto, the tides have moved all the sandbags available at Pittwater.
It is hoped to make a start with the crowd scenes at Pittwater this morning. The film should be sufficiently advanced by the end of the week to be taken to Melbourne by Mr.Chauvel for "cutting." RE-ENACTING SCENES FROM THE FIRST SETTLEMENT. (1934, October 25). The Sydney Morning Herald (NSW : 1842 - 1954), p. 16. Retrieved from http://nla.gov.au/nla.news-article28021154
THAT enterprising couple, the Charles Chauvels, have found the quaintest little beach. In among the rocks and tea-tree, high above Mackerel Beach, near Pittwater, from which they will be able to keep an eye on the extras to be utilised in finishing their film, "Heritage," and, incidentally, the social-lights across the bay at Palm Beach. And what do you think they found there? Pasted on the front verandah was a large photograph of a group of those luscious Mack Sennett bathing girls, just too, too Mae Westy for words. It quite brought Charles' 'Hollywood days back to him when ho used to scamper round as one of Douglas Fairbanks' publicity men. Incidentally, this week Pittwater will resound to the commands of Governor Phillip's military, and the curses of his convict men. Nevertheless, Mrs. Chauvel thinks her little pill-box on the hill is the most restful spot since she left the Blue Lagoon in Tahiti. Catty Communications (1934, October 27). Smith's Weekly (Sydney, NSW : 1919 - 1950), p. 21. Retrieved from http://nla.gov.au/nla.news-article235490112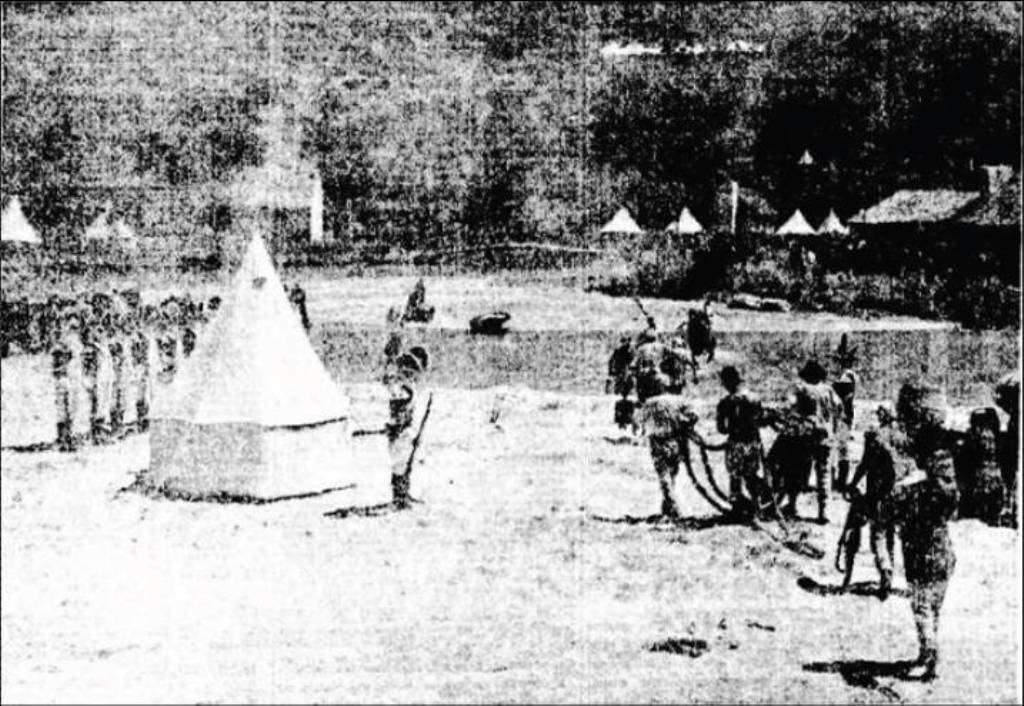 Photograph: RE-ENACTING SCENES FROM THE FIRST SETTLEMENT. (1934, October 25). The Sydney Morning Herald (NSW : 1842 - 1954), p. 16. Retrieved from http://nla.gov.au/nla.news-article28021154

Visit: Filmed in Pittwater
BOY DROWNED NEAR PALM BEACH
Frank Barnett, 3, was drowned at Great Mackerel Beach, near Palm Beach, on Saturday. The boy, who was holidaying at the beach with members of the family, who live in Grafton Avenue, Naremburn, fell into the water from a jetty. BOY DROWNED NEAR PALM BEACH(
1945, April 23
).
The Sydney Morning Herald
(NSW : 1842 - 1954), p. 3. Retrieved from
http://nla.gov.au/nla.news-article17936624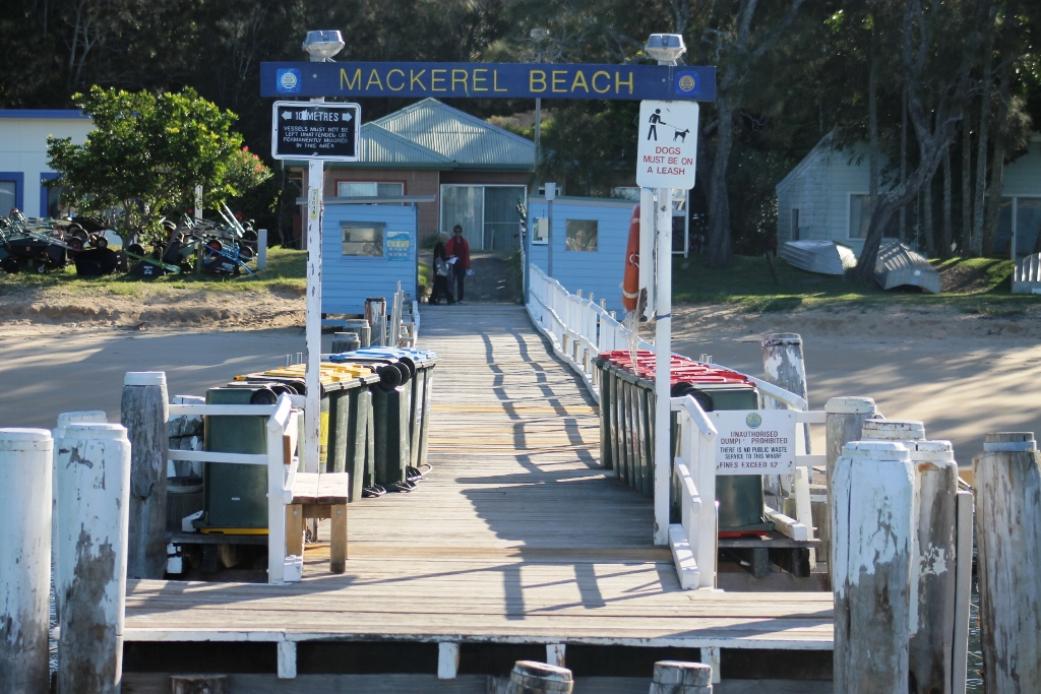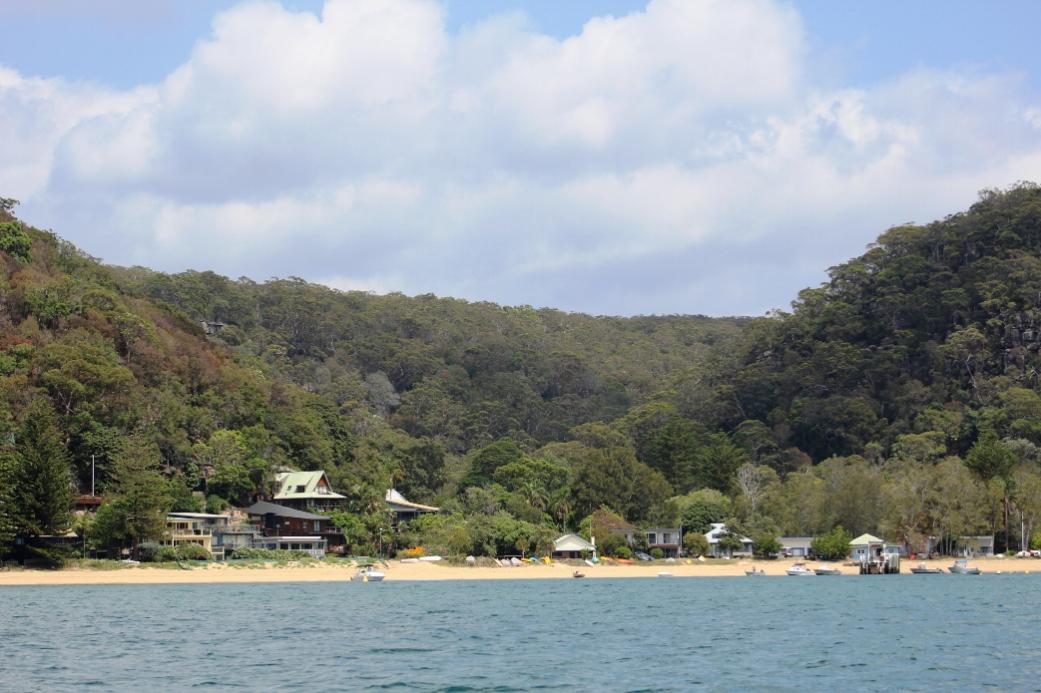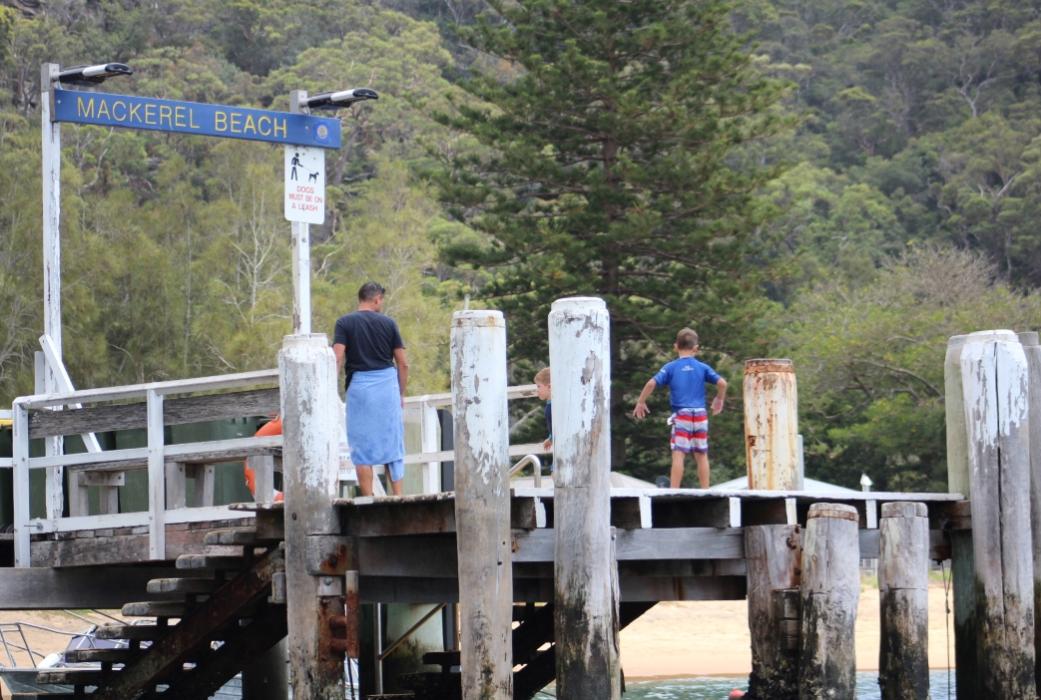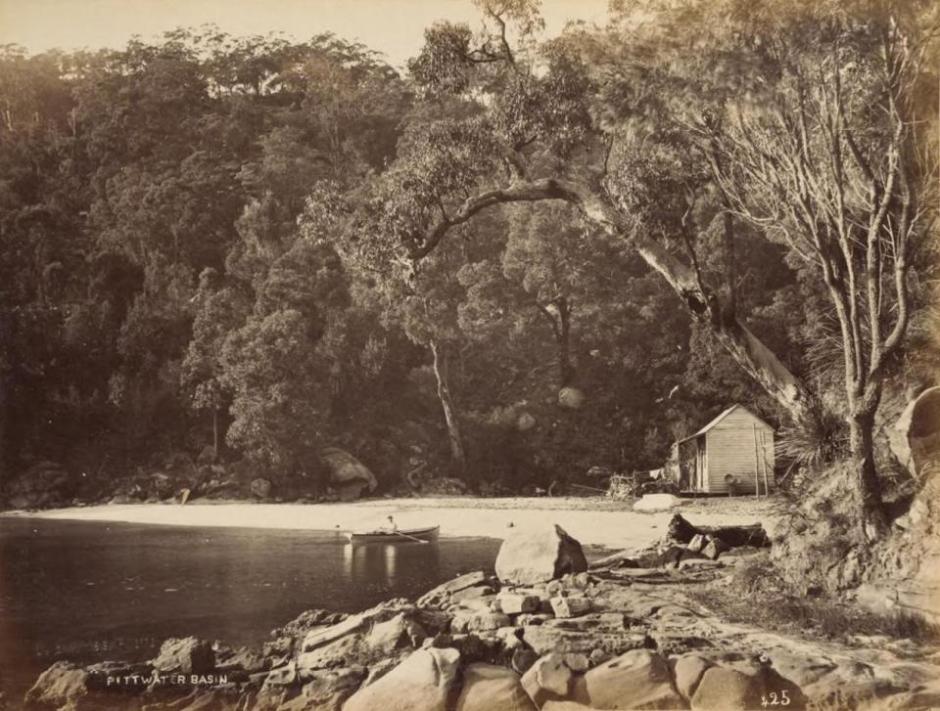 Pittwater Basin, New South Wales - by Charles Bayliss circa 1880, Image No.: PIC/11549/1-60 LOC PIC Album 85, courtesy National Library of Australia.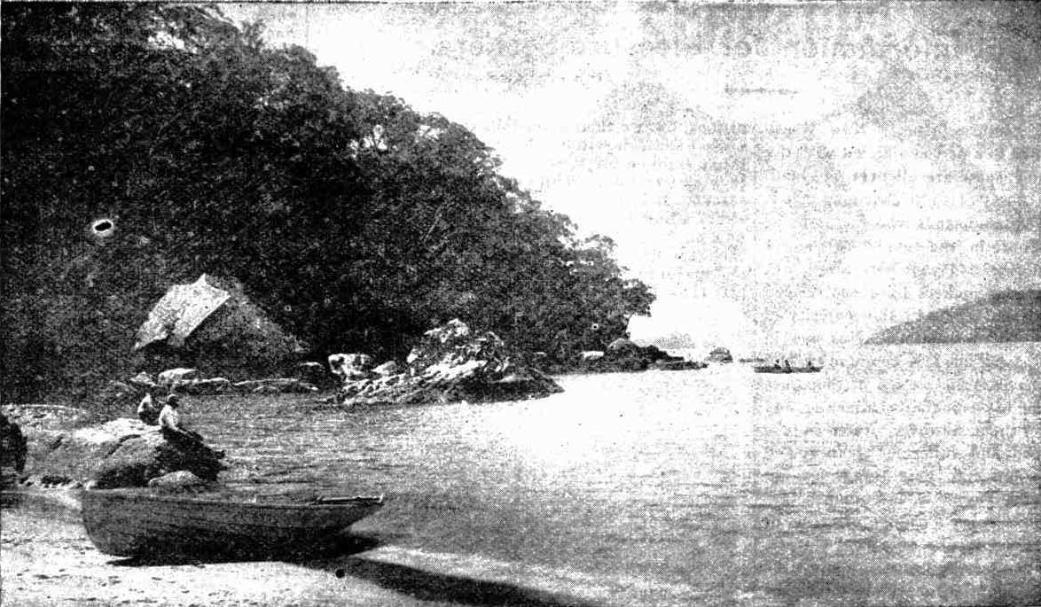 OTHER RESORTS NEAR THE CITY.
… After leaving Manly, a most interesting drive can be made to Pittwater, near Narrabeen. There is good accommodation at Rock Lily, as well us at Newport, which stands at the head of Pittwater. Barranjoey Lighthouse and the entrance to Broken Bay are not far distant, and some excellent fishing can be obtained in the bays adjacent to Newport.
Above:'Entrance to the Hawkesbury'
THE BASIN. PITTWATER.
Net fishermen long ago killed the Basin as a whiting and bream haunt of repute, but outside it the fish are still occasionally caught. This is one of the first places near Sydney whence the whiting used to be reported, and it is still possible before the netters get to. work, and in the deep water beyond their limit, to snare a few of the tasty fish. At the entrance to the Basin in times gene by splendid hauls used to be. caught. . . THE BASIN, PITTWATER. (1906, August 29). Referee (Sydney, NSW : 1886 - 1939), , p. 11. Retrieved from http://nla.gov.au/nla.news-article120326946
Messrs. Fraser, McKeown, Long and Goodwin, during a ten days' camp near the Basin (Pittwater) struck a rich variety of fish, including red bread of takeable size, black bream, flathead and a 71b black rock cod. During one heavy thunderstorm a flock of terns was killed, probably by hail, and their bodies were washed up on the beach. ROD AND LINE (1922, December 17). Sunday Times (Sydney, NSW : 1895 - 1930), p. 13. Retrieved from http://nla.gov.au/nla.news-article128220598
THE BASIN
MAN INTERFERES WITH NATURE TRUST INVITES SUGGESTIONS
Nature unadorned and unaided by her highest animal development sometimes blunders, and humanity sometimes blunders in trying to help her. In most of her domains Nature discords symmetry and arranges her beauties in orderly confusion, but when man tries to help her to readjust her boundaries, he unfortunately generally thinks and plans in straight lines — harsh utilitarian contours— that rob her of her pristine loveliness. At the basin in the Pittwater Arm of Broken Bay Nature has given humanity a rich inheritance, and, because one of her elements has been breaking the bounds of others, mankind, as represented by the Kuring-gai Park Trust, has come to her assistance, with success in some respects, and with artistic failure in others. The Basin has been misbehaving itself. Ordinarily it is a delectable lake-like expanse of deep marine water, nestled in a huge amphitheatre clothed with eucalypts and other rich forest growths, -situated - near the mouth of the Pittwater Arm of Broken Bay, on the Kuring-gai Chase. During many years, however, it has been quietly eating into part of the peninsula that nearly encloses it, and the trust has felt called upon to protest. In doing this the Trust has done well, but its aid has been chiefly solid and mathematical, rather than artistic. When it builds a retaining wall it forgets that exactly the same rigidity may be achieved by curves and irregularities of upper structure as by lines of block masonry. The artistic conception is dwarfed by the useful and '; possibly the expedient. Much splendid work has been done, and is still being done, under the direction of the trust in and outside the. Basin. The channel entrance, which was threatened with shoaling by the sand from a little outer bay, is now protected, and. probably something more will be done to pro-vent tile Basin from cutting further into the peninsula from inside. Across the outer Inlet a retaining wall of sandstone blocks has been constructed, but provision has not been made for the scour from the hills to get rapidly away, and the consequence is that the reclaimed land is often a knee-deep bog. A channel to let the water away is needed, and the lines of the wall itself should be in keeping with nature's beautiful outlines round the Basin. Only in basalt country does one see squares and oblongs, and' the country round this attractive spot is not basalt, but irregular sandstone, with intrusions of other rooks. To relieve the 'uncouth symmetry -of the retaining wall, natural rock buttresses might have been substituted for the top ungraceful oblongs.
ALRIGHT IN TIME.
Mr. Harrison, secretary of the trust, maintains that the wall has improved one of tho . camping 'grounds just outside the channel entrance, and that in time the land at present boggy just inside the wall will drain and give more well-grassed camping space. He says that most of the yachtsmen and motor-boat owners who frequently visit the Basin are pleased with a newly-erected wharf and shelter-shed near the littlo southern outer beach, even if it has spoiled a fisherman's hauling ground. The main outer beach is not being touched.
RUSTICITY SACRIFICED.
The red-roofed shelter is certainly a pleasant color relief to the rest of the structures, and on the whole the artistic sense of visitors is not outraged by that improvement. - Inside the' basin a wharf has -been completed. It, too, is needed, but it is at present ..devoid of grace. It is not perhaps too late for the suggestion of some regular visitors to be acted, upon, that it be given a rustic finish. Utility may be combined with grace by the utilisation of natural timber shapes, instead of sawn rectangular timbers. Even sawn triangles look better than quadrilaterals in certain places.
SWIMMERS' WANTS.
Another Improvement meditated is an enclosure for swimmers in. the basin near the new wharf. This is necessary; but again, the wall proposed to be erected is to be topped by quadrilaterals, and be an evidence of the acquaintance of mankind with Euclid's squares, instead of Nature's harmonious irregularities. It is not too late for the trust to instruct its workmen to construct the wall so that its top, at least, may be rocks from the hillside, and not a footworn horizontal pathway. It is not necessary for anyone to walk along it, but if of squared masonry It will invite wandering feet. .
DIFFERING OPINIONS.
At the seaward end of the outer beach, where parties find safe swimming water, the trustees are proposing to place another wharf of stone, and to run from it a netting to prevent sharks entering a bathing enclosure. Opinions amongst yachters and motor-boaters vary respecting this. Some condemn the proposals entirely; preferring the natural surroundings. Others say the idea is good, as they have always felt they would like to swim in a bit deeper water, but they feared the huge sea-sharks that swim around Barranjoey and West Head and chase whiting and red-bream up into the Basin. The trustees are not obstinately wedded to any proposal. Inquiry shows that they welcome ideas, especially artistic ones allied with practicability, but they do not have them given to them often. They find critics wait till something is done, and then fall upon it with scorn. Any yachtsman, therefore, who has a thorough appreciation of the necessities of the Basin and puts his ideas into writing, will receive attention. For instance, another improvement meditated is the planting of trees about tho 20 acres surrounding Peggy's house. The trees on the camping area are not as beautiful as they might be. One proposal before the trustees was to plant an avenue of pines along tho outer edge of the camping ground — the straight line business again— and another to plant here and there a few silverbark tea trees, Port Jackson fig trees, and flame trees. The latter proposal seems to find the greater favor amongst those who visit the Basin oftenest.
WATER FOR CAMPERS.
One thing needed greatly has apparently not yet been authorised by the trustees, and that is a cement water well, . as Irregular in shape as may be possible, on' the line of the little creek at the northern end of the peninsula. Once the old users of the place had a cask there to hold the water, but it has fallen to pieces, and in dry weather campers have to pull a long way across the Basin to a spring up the hill-side. No doubt the trustees will see to this. They are anxious to please and anxious to adorn, not to disfigure nature. By the way, nobody wants to shift Peggy, who has a life tenancy of part of the peninsula at 1s a year rental, and who is one of the picturesque identities of the place. She is Mrs. Mary Ann Morris, and she has lived , there for 47 years. THE BASIN (1915, May 30). The Sun (Sydney, NSW : 1910 - 1954), p. 23. Retrieved from http://nla.gov.au/nla.news-article229334724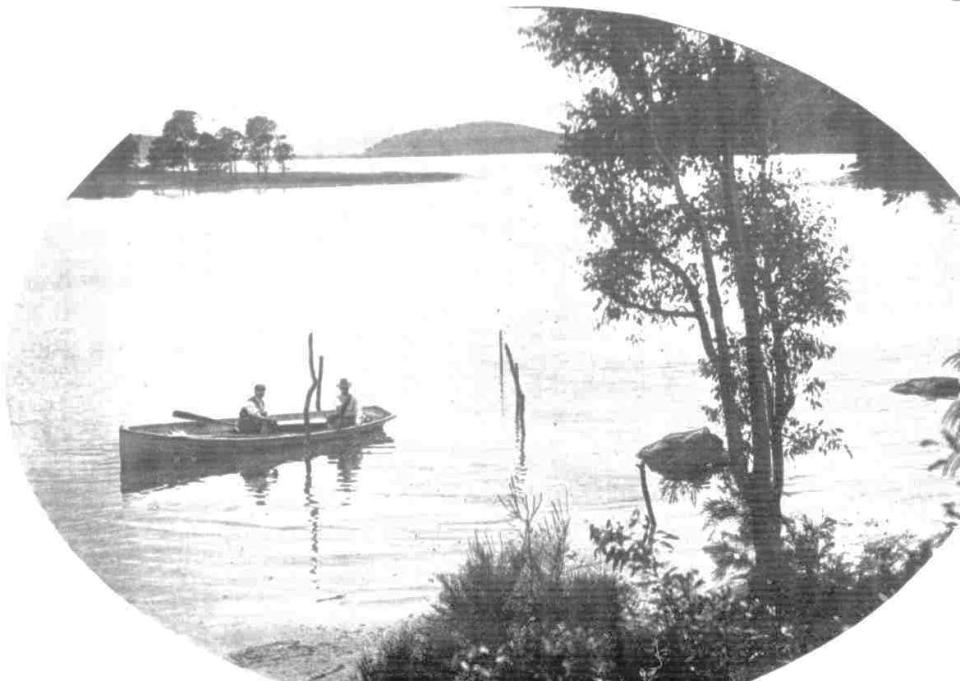 THE BASIN, BARRANJOEY. 1903 The Sydney Mail and New South Wales Advertiser
This shows how wide the entrance to The Basin was and why steamers may have been able to access the 'Inner Basin' or 'Blind Cove' as shown in the 1883 sketch above.
A FAVOURITE HOLIDAY RESORT
THE BASIN, BROKEN BAY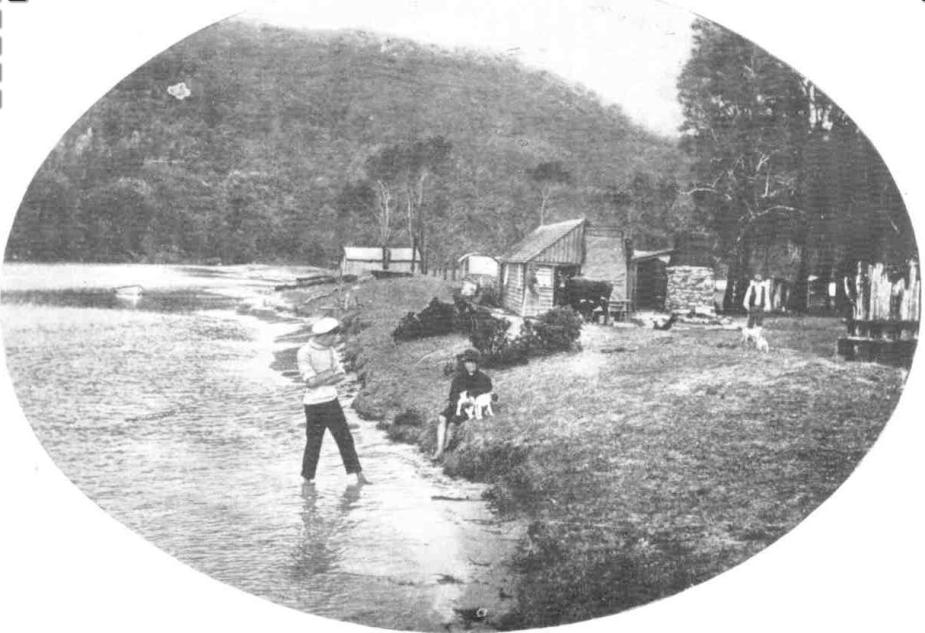 A FISHERMAN'S HOME AT THE BASIN, WHERE MRS. MORRIS HAS RESIDED FOR 37 YEARS.
MRS. MORRIS AND HER PETS.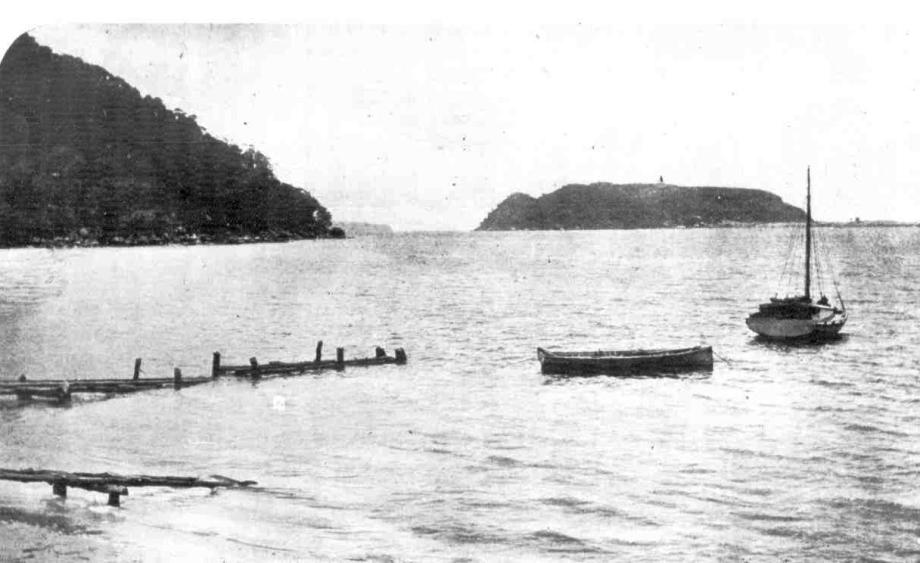 ENTRANCE TO THE HAWKESBURY RIVER. -THE BARRANJOEY LIGHTHOUSE.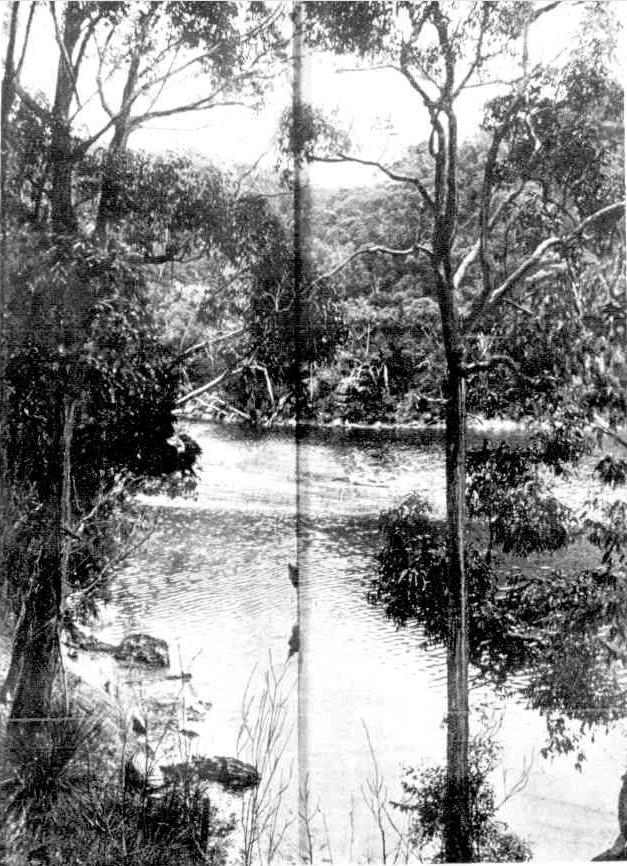 HEAD OF THE BASIN. THE BASIN, BROKEN BAY, NEW SOUTH WALES.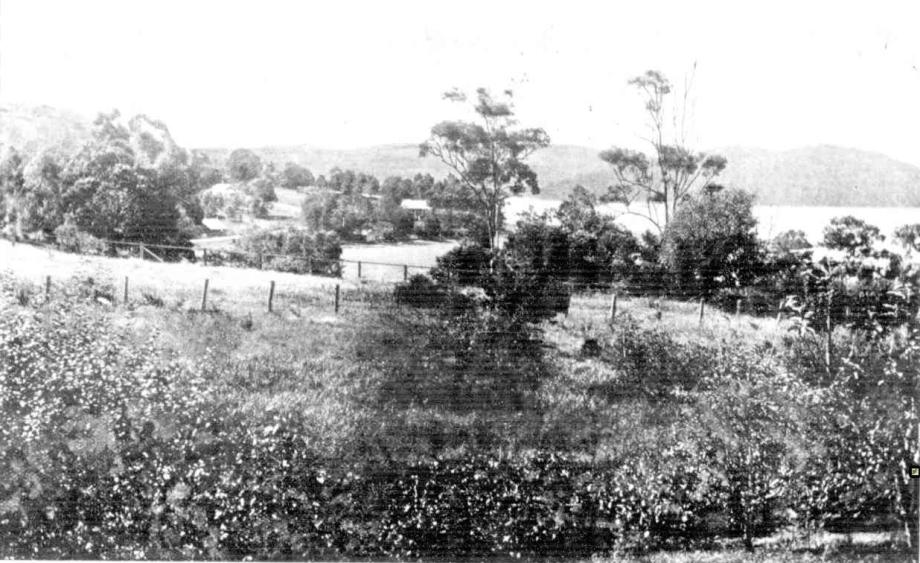 BAY VIEW, PITTWATER. (possibly included here as the photographer was transported to The Basin from the Bayview Wharf)
AN IDEAL CAMPING GROUND, HAWKESBURY RIVER.
A FAVOURITE HOLIDAY RESORT. (1903, December 30). The Sydney Mail and New South Wales Advertiser (NSW : 1871 - 1912), , p. 1706. Retrieved from http://nla.gov.au/nla.news-article164902107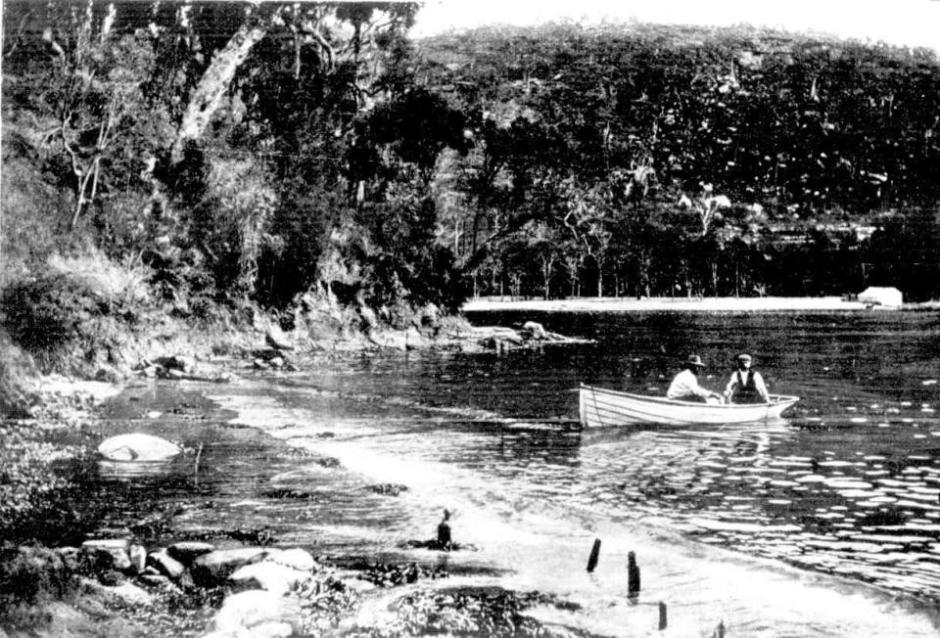 Above: "AN IDEAL CAMPING GROUND, HAWKESBURY RIVER. "1903 The Sydney Mail and New South Wales Advertiser article
Below: "GRILLED FISH FOR BREAKFAST." 1903 The Sydney Mail and New South Wales Advertiser article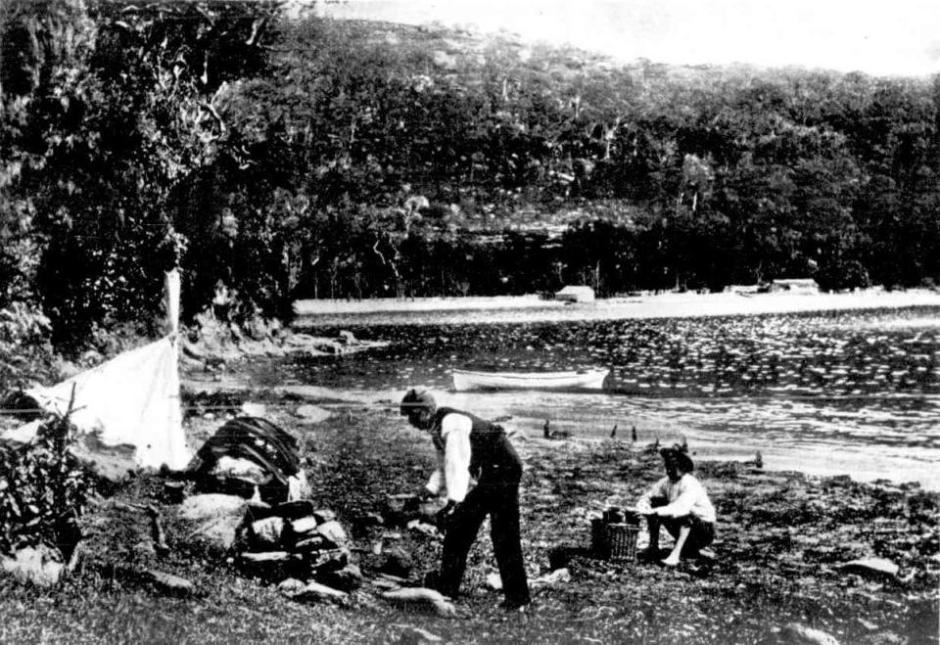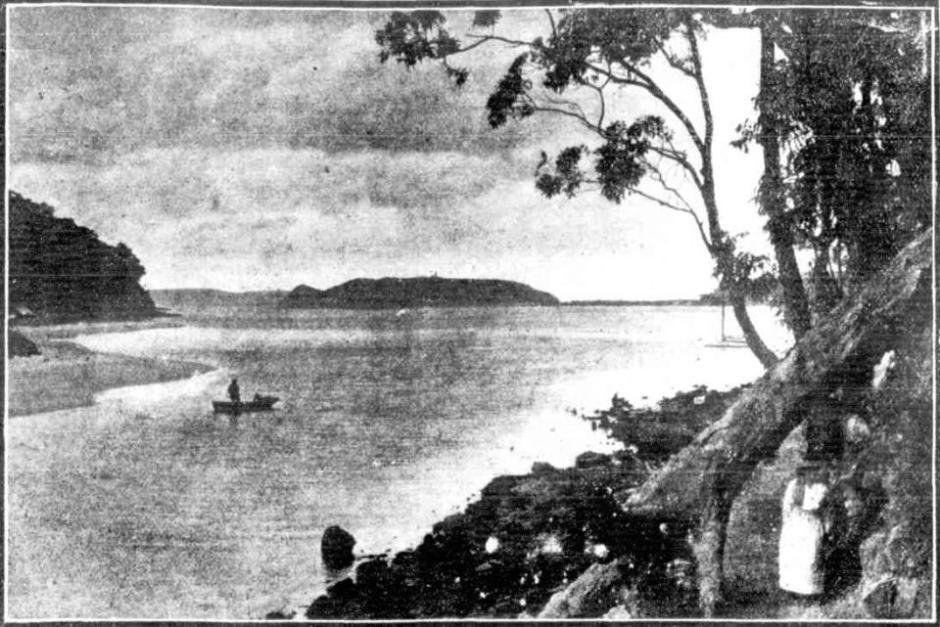 Barrenjoey, the Southern Sentinel Headland of Broken Bay.
The photograph was taken from The Basin, an inlet of Pittwater, where for years the various yachting clubs of Sydney used to rendezvous at Easter. Around The Basin; a path has been cut, leading- zig-zag fashion through a wealth of tropical foliage to the Flagstaff -Lookout at Lovett's Bay, whence a beautiful panoramic view is obtained to .the southwards. . Around the foreshores there are a .number of caves', .while the Kuring-gai Chase trustees have built fireplaces and provided shelter-sheds with tables and watertanks, making the region a delightful one for the holiday-maker..There are several ways of reaching The Basin and the surrounding' country, but the easiest from Sydney is by way of Manly and Newport. A good service of motor boats, several .of them run by returned soldiers, make regular trips.CALL OF THE AIR AND THE SEA. (1920, April 28). Sydney Mail (NSW : 1912 - 1938), , p. 9. Retrieved from http://nla.gov.au/nla.news-article159028149
YACHTSMEN'S FRIEND. THE LATE MRS. MORRIS.
Mrs. Mary Ann Morris, better known to Sydney yachtsmen as "Sally" or "Peggy," died on Monday last at her home at the Basin, Broken Bay, where she had resided for the past 63 years. Her death will be regretted by the yachting fraternity of Sydney, as her hut was a port of call for yachtsmen, when visiting Broken Bay, and they obtained from her supplies of fresh milk and eggs.
Mrs. Morris was the wife of the late Dicey Morris, and, prior to 1867, resided with her husband at Balmoral Beach. About that time her husband sold wood to Admiral Hornby's Flying Squadron during its visit to Sydney, and, with the money thus made, he built the hut at the Basin, Broken Bay, in which Mrs. Morris lived. The couple went to live in this hut at the Basin In 1868, and the husband engaged in fishing there. He did not live long after settling at Broken Bay, and his boat was acquired by a fisherman named Sam Strongman, who also lived at the Basin.
Mrs. Morris kept a few cows and fowls, and was always ready to supply visiting yachts-men with milk and eggs. She also often baked a very welcome damper for them. She adopted three lads at different times, one of whom was with her up to the time of her death. She possessed a good collection of yachting pictures, and recognised every yacht as it dropped anchor In the Basin. Her memory for faces was also very good, and she never forgot the owner of a yacht which had visited the Basin.
She was known to many as "Peggy," while to others she was better known as "Sally." Amongst the oldest members of the yachting fraternity who were well acquainted with Mrs. Morris were the late Mr. H. C. Dangar, the late Mr. James Milson, the late Mr. Grafton Ross, the late Mr. Jack Want, and the late Sir James Fairfax and their various successors, including Mr. F. J. Jackson, who owned the property at the back of the reservation which was subsequently resumed by the Kuringgai Chase Trust.YACHTSMEN'S FRIEND. (1921, June 9 - Thursday).The Sydney Morning Herald (NSW : 1842 - 1954), , p. 9. Retrieved fromhttp://nla.gov.au/nla.news-article15960831
"PEGGY' MEMORIAL
The memorial. In the form of a sundial, erected by Sydney yachtsmen- at "The Basin," Pittwater, to the late Mrs. Morris, well known to all visitors to Broken Bay as "Peggy" will be unveiled at noon tomorrow (Easter Sunday) by Mr. Alfred G. Milson. A large fleet of yachts and cruising craft journeyed to tho Bay for tho Easter holidays, and a good muster of yachtsman is expected at the function. Mr. Paul Ross, commodore R.P.A. Y.C.. is hon, treasurer to the fund, and will be pleased to receive further contributions, as the amount already subscribed Is far from sufficient to cover expenses. "PEGGY' MEMORIAL (1922, April 16). The Sun (Sydney, NSW : 1910 - 1954), , p. 7. Retrieved from http://nla.gov.au/nla.news-article223948591
PEGGY OF THE BASIN.
A sundial mounted on a trachyte pedestal was unveiled as a memorial to the late Mrs. Morris at The Basin, Pittwater, Broken Bay, on Easter Sunday by Mr. Arthur Milson, of the Royal Sydney Yacht Squadron, in the presence of a number of yachtsmen, by whom the funds for its erection were subscribed. Mrs. Morris, who was known to and respected by sailing men as Peggy, lived at The Basin for many years, and was a general favorite. She made it her business and pleasure in life to see to. the comfort of the campers at that favored spot, and her death last year was a great loss to frequenters of the place. PEGGY OF THE BASIN. (1922, April 26).Referee (Sydney, NSW : 1886 - 1939), , p. 5. Retrieved from http://nla.gov.au/nla.news-article127924554
IN HONOUR OF 'SALLY.'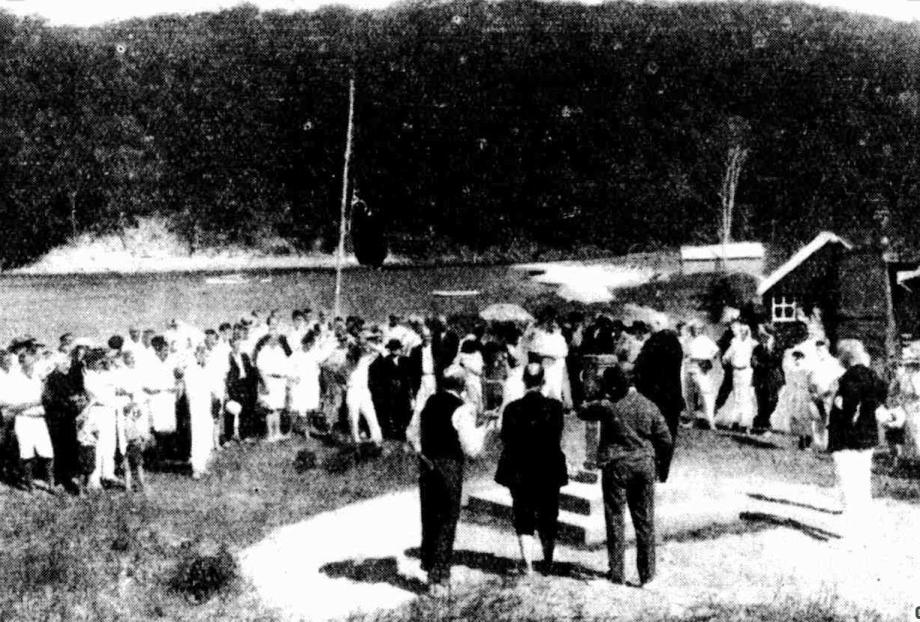 At the Basin, Broken Bay, recently, a sun-dial was unveiled by Mr. A. G. Milson in the presence of a large number of boating men in honour of the late Mrs. Morris ('Sally'), who for: very many years was a friend of the yachtsmen who visited that beautiful spot-. No title (1922, May 10). Sydney Mail (NSW : 1912 - 1938), , p. 32. Retrieved from http://nla.gov.au/nla.news-article169770154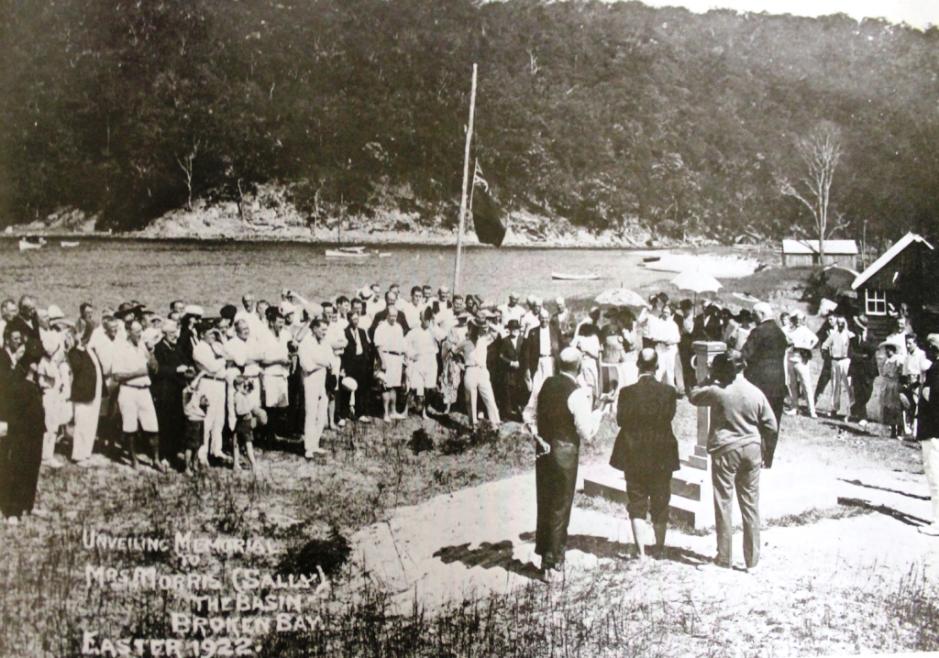 Unveiling Memorial to Mrs. Morris (Sally) - The Basin, Broken Bay - Easter 1922.
SCENES AT THE MOUTH OF THE HAWKESBURY RIVER (N.S.W.).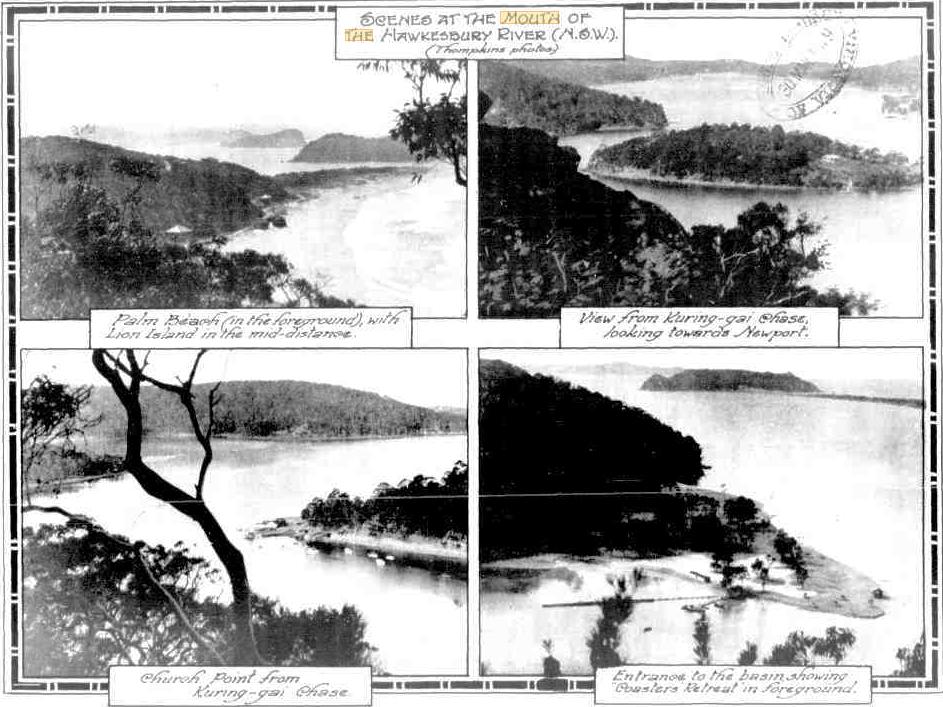 (1929, March 30). The Australasian (Melbourne, Vic. : 1864 - 1946), p. 66 (METROPOLITAN EDITION). Retrieved from http://nla.gov.au/nla.news-article140820173

INNER BASIN, PITTWATER.
The objection raised by yachtsmen to the Kuring-gai Chase Trust's proposal to close the Inner Basin, Pittwater, against yachts and launches, and to reserve it for the exclusive Use of bathers, evoked the reply from the trustees that they had been driven reluctantly to consider such a proposal by the action of yachtsmen themselves. The basin is almost entirely enclosed, and there is practically no scour by the tides. Sanitary conveniences have been provided on shore by the trustees, but, it is stated, the obvious requirements of the situation have been ignored by most owners of craft using the basin. The result has been to create within the pool so serious a nuisance that the only alternative appears to be the closing of the basin altogether. Before reaching a final decision, the trustees intend to confer with the committee of the Pittwater Yacht Club. INNER BASIN, PITTWATER. (1934, November 12). The Sydney Morning Herald (NSW : 1842 - 1954), p. 4. Retrieved from http://nla.gov.au/nla.news-article17138900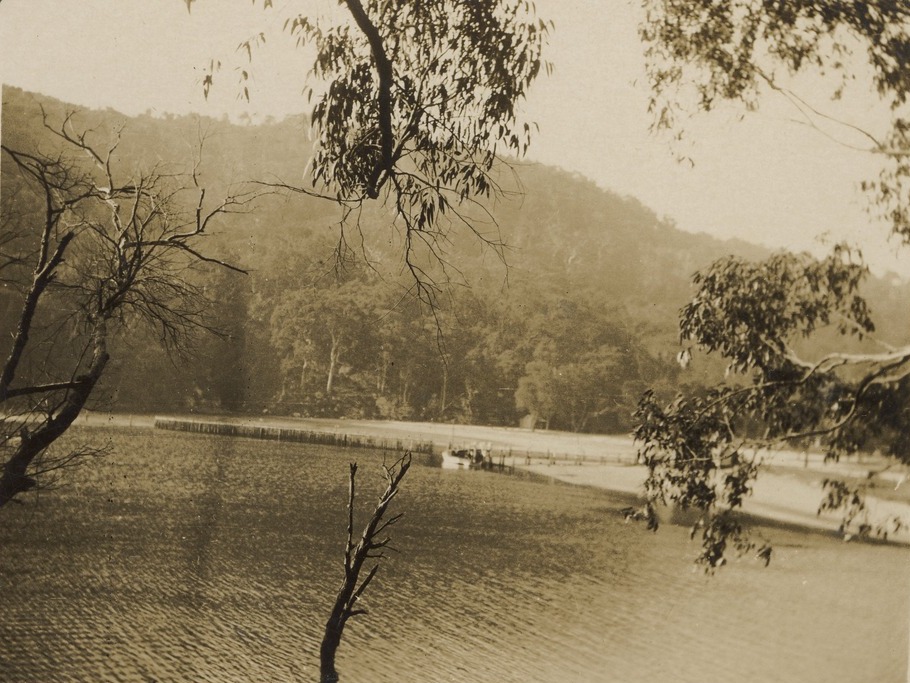 "The Basin Swimming pool Pittwater" - "Looking across water towards bushland rising in background, fence visible across surface of water." Title continues: "The fence is to keep the sharks out." [ca. 1926-ca. 1928].by Gladys E. Moss, 1900-1950, photographer. "The Basin; Pittwater" - Title inscribed on album page beneath image.- Courtesy State Library of Victori, Image No. :701711210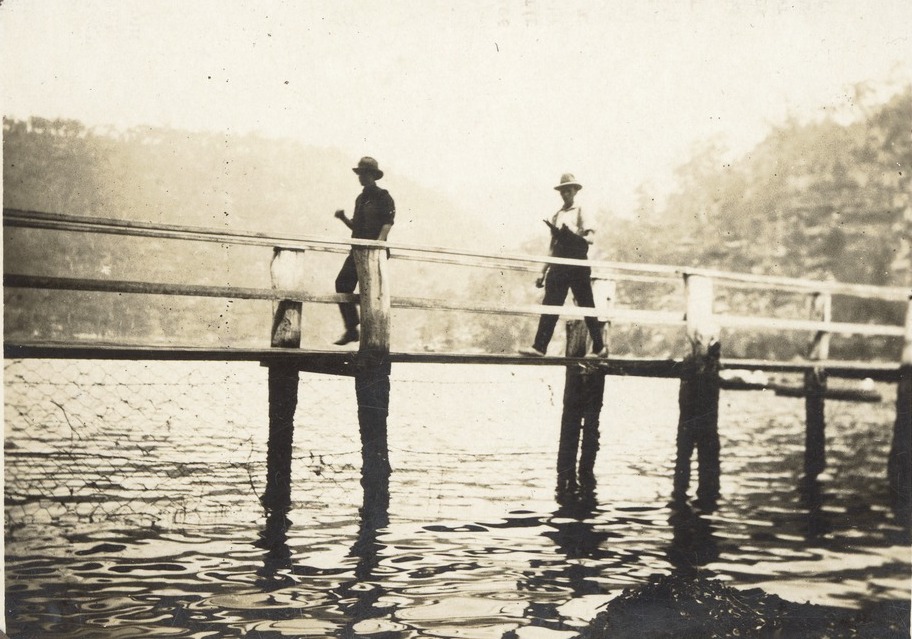 "Looking along water towards two men walking across wooden bridge". Inscribed on album page next to image: "The netting under the footbridge keeps the sharks from the bathing-pool on this side. The rock in the foreground is jagged with oysters." [ca. 1926-ca. 1928].by Gladys E. Moss, 1900-1950, photographer. "The Basin; Pittwater" - Title inscribed on album page beneath image. Courtesy State Library of Victoria - also described as 'an inlet of Cowan creek' for Image No.: 701711211
THE BASIN, PITTWATER.
Mr. A. D. Walker, commodore of the Royal Motor Yacht Club, Broken Bay branch, said yesterday that opposition was being expressed to the proposed closing, by the Kuring-gai Chase Trust, of the Basin, Pittwater. More than 200 yachtsmen and their crews attended a meeting of protest, and a petition had been sent .to the Minister for Lands. Many public bodies, and aquatic clubs had expressed opposition. He had received copies of many letters sent to the Minister, objecting to the trust's proposed action.
Mr. Walker said that during the Christmas holidays his club appointed a committee to investigate statements made by Mr. Orchard, chairman of the trust, about yachtsmen polluting the Basin. It found that the allegations were Incorrect, and that large parties were swimming in the baths without complaints of any kind. The committee discovered that the trust granted permits for a number of .well-conducted camps on the flat, for which It charged 5/ a tent a week. THE BASIN, PITTWATER. (1935, January 8). The Sydney Morning Herald (NSW : 1842 - 1954), p. 10. Retrieved from http://nla.gov.au/nla.news-article17137390
TO CONFER - Pittwater Closure
The honorary secretary of the Parks and Playgrounds Movement (Mr. C. E. W. Bean), said to-day that the Minister for Lands had informed him that he was calling a conference of the trustees of Kuring-gai chase, and three representatives of yacht clubs and other objectors to the proposed closing of the Inner basin at Pittwater. Pollution of the water is the reason for proposing to close the basin. Yachting bodies, supported by the movement, have asked the trustees to keep the basin open In the Interests of the boating public. TO CONFER (1935, February 8). The Sun (Sydney, NSW : 1910 - 1954), p. 11 (FINAL EXTRA). Retrieved from http://nla.gov.au/nla.news-article230271797
The Thomas Wilson Family
CATTLE STEALING.

John Farrell (the younger) appeared to answer a charge for that he did, on the 4th day of August, 1870, at Pittwater, feloniously steal, take, and carry away a cow, the property of Thomas Wilson.
The prisoner, who pleaded "not guilty," was defended by Mr. D. Buchanan, instructed by the prisoner's attorney,Mr. Richard Driver. Mr. G. F. Davis conducted the case for the Crown.
This case was a charge of cattle stealing at Pittwater, previously tried, at the end of which the jury seised of the case did not agree, and were eventually discharged. The particulars were, for the most part, the very same as those of the former trial, which, it will be remembered, was very fully reported in this newspaper. The witnesses for the Crown were Thomas Wilson, William B. Hassard, Çharles Leek, senior, John Leek, Charles Leek, junior, senior-constable Bromfield, senior-constable John Carton, Alfred Wilson, George Marshall, James Wilson, Thomas Playfair, and Mr. W. M. Brownrigg. The evidence for the defence was John Farrell (the father of the prisoner), James Farrell (the prisoner's brother), Sarah Anne Farrell (the prisoner's sister), John Boyle, James Wheeler, James Wheeler, jun., John Murray, William Murray, and Thomas James Foley. The evidence of the first threeof these witnesses went to contradict the statement of the Leeks, and to account for the meat found by the police, and relied upon as proof of the charge brought. The rest of the witnesses gave evidence as to character.
Mr. BUCHANAN addressed the Court for the defence at some considerable length.
Mr. DAVIS replied.
His HONOR summed up.
The jury retired to deliberate at 9.20 p.m.
The jury reappeared in Court at half-past 9, and re-turned a verdict of guilty.
The counsel for the Crown prayed judgment.
His HONOR said that before he proceeded to pass a sentence on the prisoner he desired to look into his notes respecting a case tried by him in 1865, in which the prisoner's name appeared.
Remanded for sentence.
CONDUIT Priscilla Sarah
1824 - 1915
NSW BDM Register deciphered the surname incorrectly as Cundah.
Priscilla arrived here on November 9th, 1840 at age 16yrs as a bounty immigrant aboard "Royal Consort".
Bounty immigrants were free immigrants whose passage was paid by the colonial government under the `bounty scheme'. Under this scheme, an incentive or reward (i.e. bounty) was paid to recruiting agents in Britain to find suitable skilled labour and tradespeople, then ship them out to the new colony.
Although the NSW BDM marriage year is recorded as 1870, well after all their children were born, Thomas and Priscilla officially married at this time.
1. WILSON Mary Jane, b. 1843, d. 12 Jul 1924, Manly Cottage Hospital, North Head, Sydney, NSW, Australia
2. WILSON Emily L, b. 25 Jan 1845, Lane Cove, NSW. Australia , d. 31 Aug 1927, Mount Morgan, Qld.Australia
3. WILSON Thomas, b. 1847, d. Yes, date unknown
4. WILSON Alfred, b. 1849, d. 6 Jul 1910, 15 Wilson Lane, Redfern, NSW.Australia
5. WILSON Nancy Nelson, b. 8 May 1852, Pittwater, New South Wales , Australia , d. 7 Mar 1934, Gladesville, New South Wales, Australia
6. WILSON Pauline, b. 1854, Broken Bay, New South Wales, Australia , d. 1941, Chatswood, New South Wales, Australia
7. WILSON Edward, b. 1857, d. 1935
8. WILSON Priscilla, b. 1859, St Leonards, New South Wales , Australia. , d. 1944, Manly, New South Wales, Australia
9. WILSON Clara Matilda, b. 1862, d. 1901, Vaucluse, NSW.Australia
10. WILSON Richard William Henry, b. 1864, d. 1945, Sydney, New South Wales, Australia
11. WILSON Bertha Rowena, b. 1866, St Leonards, New South Wales , Australia. , d. 24 May 1944, Woy Woy, New South Wales, Australia
12. WILSON Blanche A, b. 1868, St Leonards, New South Wales , Australia. , d. 1870, St Leonards, New South Wales , Australia.
13. WILSON Edgar Rock, b. 1873, d. 1944, Gosford, New South Wales, Australia
Thomas Wilson was tried at Montgomery Road on 17 October 1833 and was sentenced to seven years. Convicted for Assault & Robbery.
He sailed on the convict ship Lady Nugent and arrived in the colony in 1835. The Lady Nugent sailed from Sheerness (a port in the Thames River, London) on 4 December 1834, with 286 male passengers on board, and arrived in Sydney on 9 April 1835. He was sent to Prospect to work for William Lawson, one of the explorers of the Blue Mountains. On 29th May 1839 he was granted a ticket of leave, six months before his sentence was completed. He served this final part of his seven year sentence with the one master, who probably resided in the Pittwater District, where his ticket-of-leave was permitted to be served.
He may be the same Thomas Wilson who signed his name to the Petition for the formation of Manly as a Municipality. The family was living in Lane Cove in 1842 and in 1854 in Pittwater. They were living in Manly in 1861 when daughter Mary Jane married.
WILSON Mary Jane
... was also fined 5s., with costs, for using abusive language to the same complainant. Mary Wilson, ... Pittwater, was charged with stealing and driving away fourteen cows and three calves, the property of James Therry, of the same place, and John Farrell, Thomas Collins, Mary Ann Farrell, and Lavinia ... 233 words
WILSON Mary Jane
1843 - 1924
1. TOBIN Mary P, b. 1862, St Leonards, New South Wales , Australia. , d. Yes, date unknown
2. TOBIN William Thomas, b. 1864, St Leonards, New South Wales , Australia. , d. 1936, Manly, New South Wales, Australia
3. TOBIN Catherine, b. 1867, St Leonards, New South Wales , Australia. , d. 5 Apr 1951, Rockdale, New South Wales, Australia
4. TOBIN John S, b. 1869, St Leonards, New South Wales , Australia. , d. 1911, Braidwood, New South Wales, Australia
5. TOBIN Ellen Faith, b. 1871, St Leonards, New South Wales , Australia. , d. Yes, date unknown
6. TOBIN Ellen Prudence, b. 1871, St Leonards, New South Wales , Australia. , d. Yes, date unknown
7. TOBIN Jane Clarissa, b. 1873, St Leonards, New South Wales , Australia. , d. 1891, Manly, New South Wales, Australia
8. TOBIN Margaret Caroline, b. 1875, St Leonards, New South Wales , Australia. , d. 1944, Hornsby, New South Wales, Australia
9. TOBIN Rose A, b. 1877, Manly, New South Wales, Australia , d. Yes, date unknown
10. TOBIN James, b. 1880, Manly, New South Wales, Australia , d. Yes, date unknown
11. TOBIN May Agatha, b. 1882, Manly, New South Wales, Australia , d. 1968, Ryde, New South Wales, Australia
12. TOBIN Emily G, b. 1886, Manly, New South Wales, Australia , d. Yes, date unknown
Child 2 | Female
WILSON Emily L
1. WARREN William, b. 15 Dec 1870, Paddington, New South Wales, Australia , d. 21 Mar 1958, Murgon, Qld.Australia
WILSON Thomas
NSW Births, Deaths and Marriages records of the children with parents named Thomas and Frances Wilson - those in bold are likely to be the offspring of the children - the others listed are not confirmed:
Ernest Edgar Wilson, who passed away in 1964, death recorded at Manly,
Child 4 | Male
WILSON Alfred
1. WILSON Alfred, b. 1876, d. 1876
WILSON Nancy Nelson
Full Name Albert Henry Turner
Place of Birth Unknown but arrived in Australia in 1865 as a cabin passenger on the 'Norfolk' with his brother, Philip.
Lucy
Grandparents
Religious Denomination Protestant Church of England
Marriage 1872 16 September marries Nancy Wilson District Registered: Sydney, Reg. No: 791/1872.
Nancy Wilson was born in 1852, the daughter of Thomas and Priscilla (Sarah) Wilson.
Date of Death 6 May 1892
Age at Death 45 years
Place of Death Marine Death. Drowned in Pittwater/ Broken Bay whilst returning home to Stokes Point from Bayview.
Notice/Report of
Death/Funeral
Nothing more was heard of him until his boat was found ashore on the rocks by a person named Henry Ball, with the sails set, but unoccupied. On this news reaching Turner's friends they immediately went in search of him.
His body was found by Thomas Oliver in the water, about a quarter of a mile from where the boat was discovered. It is surmised that deceased must have fallen out of the boat. Turner leaves a widow and seven children."
(SMH Monday 9 May 1892 P.5)
"A magisterial inquiry was held by the city Coroner at Pittwater, on Monday, on the body of the man Albert Turner, who was found drowned on the rocks at Broken Bay on Sunday morning. No fresh particulars were elicited, and a finding of accidentally drowned was recorded." (SMH Wednesday 11 May 1892 P.7)
Children
1. TURNER Amy Louisa, b. 1873, Sydney, New South Wales, Australia , d. 17 Jun 1939, a private hospital, Sydney, New South Wales, Australia
2. TURNER Mary Blanche, b. 1875, St Leonards, New South Wales , Australia. , d. 5 May 1965, St Peters, New South Wales, Australia
3. TURNER Ella Clara, b. 1877, St Leonards, New South Wales , Australia. , d. 1969, Sydney, New South Wales, Australia
4. TURNER Harry Martin, b. 1879, Manly, New South Wales, Australia , d. 1953, North Sydney, New South Wales, Australia
5. TURNER Albert E., d. 1888, St Leonards, New South Wales , Australia.
6. TURNER Stephen Hugh, b. 1883, Manly, New South Wales, Australia , d. 1887, Manly, New South Wales, Australia
7. TURNER Emily Louise, b. 1885, Manly, New South Wales, Australia , d. 27 Dec 1959, Wentworth Falls, New South Wales, Australia
8. TURNER Emma Annie, b. 1887, Manly, New South Wales, Australia , d. 18 Sep 1971, Waverley, New South Wales, Australia
9. TURNER Pauline Cecilia, b. 1889, Manly, New South Wales, Australia , d. 1947, Waverley, New South Wales, Australia
10. TURNER Jessie Annie, b. 1891, Manly, New South Wales, Australia , d. 14 Jun 1926, Mater Misericordia Hospital , North Sydney, New South Wales, Australia
1. MULFORD Castile M., b. 2 Feb 1896, Mackeral Beach, Pittwater , New South Wales, Australia , d. 16 Nov 1965, San Francisco, California.USA
Child 6 | Female
WILSON Pauline
1. GOULDING Eugene Thomas, b. 4 Dec 1875, Milsons Point, NSW.Australia , d. 14 Jan 1948, Ettalong Beach, New South Wales, Australia
WILSON Edward
Child 8 | Female
WILSON Priscilla
1. SANDERSON Carl Alber, b. 1885, St Leonards, New South Wales , Australia. , d. Yes, date unknown
Child 9 | Female
WILSON Clara Matilda
1. NEWTON Pearl Victoria, b. 1884, Redfern , New South Wales, Australia , d. 1970, Sydney, New South Wales, Australia
Child 10 | Male
WILSON Richard William Henry
Child 11 | Female
WILSON Bertha Rowena
Child 12 | Female
WILSON Blanche A
While all this was going on, and Blanche drowned, the Farrells were doing their utmost to cause more distress:
Child 13 | Male
WILSON Edgar Rock
BARKER Mary Eleanor, b. 1872, Wollongong, New South Wales, Australia , d. 1905, Gosford, New South Wales, Australia
1. WILSON Edgar Roy, b. 1896, St Leonards, New South Wales , Australia. , d. 16 Aug 1916, the vicinity of Pozieres, France during the battle of The Somme
2. WILSON Dorothy I, b. 1898, St Leonards, New South Wales , Australia. , d. Yes, date unknown
3. WILSON Ruth, b. 1900, St Leonards, New South Wales , Australia. , d. 1900, St Leonards, New South Wales , Australia.
4. WILSON Esther M, b. 1902, St Leonards, New South Wales , Australia. , d. Yes, date unknown
5. WILSON John Cuthbert, b. 1904, St Leonards, New South Wales , Australia. , d. 1950, Chatswood, New South Wales, Australia
Although the NSW BDM marriage year is recorded as 1870, well after all their children were born, Thomas and Priscilla officially married at this time.
CENTRAL CRIMINAL COURT. (Abridged from the S. M. Herald.) WEDNESDAY, FEBRUARY 15. (Before his Honor the Chief Justice.)
The Maitland Mercury & Hunter River General Advertiser (NSW : 1843 - 1893) Tuesday 21 February 1871 p 4 Article
... CENTRAL CRIMINAL COURT (Abridged from the S. M. Herald.) Wednesday, FEBRUARY 15. (Before his Honor the Chief Justice.) John Farrell the younger appeared to answer a charge of stealing a cow, the property of Thomas Wilson, at Pittwater, on the 4th August last. The case was tried and reported at the ... 240 words
Advertising. (1919, January 22). The Sydney Morning Herald(NSW : 1842 - 1954), p. 16. Retrieved April 26, 2012, from http://nla.gov.au/nla.news-article15821205
Wilson- CONDUIT Priscilla Sarah,
Manager's Cottage, 1990
The manager's cottage stands on the site of Southend. It replaced the earlier cottage that was burnt down in 1954. The Manager's cottage is a timber framed building clad in fibrous cement sheeting with a corrugated steel gabled roof. It has casement windows on the front (eastern) elevation which are probably recycled (National Trust Listing Card).
TUTA Building, 1997
This conference facility was built on the elevated land behind the north cabins in a style reminiscent of Midholme.
Natural heritage description and values
The Escarpment and steep slopes
The rocky escarpment surrounding the holiday resort is in the Watagan Colluvial Soil Landscape Grouping which is characterised by rolling to very steep hills on fine-grained Narrabeen Group sediments. Local relief is 60-120 metres with slopes greater than 25%. There are narrow convex crests and ridges, steep colluvial side slopes, occasional sandstone boulders and benches. Vegetation typically comprises tall open-forest with closed-forest in sheltered positions. Soils are typically shallow to deep (30-200 cm) Lithosols/Siliceous Sands (Uc1.24) and Yellow Podzolic Soils (Dy3.21, Dy3.41, Dy4.11) on sandstones; moderately deep (100-200 cm) Brown Podzolic Soils (Db1.11), Red Podzolic Soils (Dr2.21) and Gleyed Podzolic Soils (Dg2.21) on shales. Land in the Watagan Soil Landscape Grouping is generally not capable of urban development, regular cultivation or grazing. Soils on sandstone crests and very steep side slopes in these areas are likely to have moderate erodibility but an extreme erosion hazard for both non-concentrated and concentrated flows. Topsoil and subsoil losses arising from urban development are likely to be high. Large variations in soil properties occur over short distances, requiring detailed assessment of surface movement potential (Musecape & Beaver, 1999).
The Flats
The flatter area on which Midholme, the manager's cottage and the sporting facilities are located has been classified in the Warriewood Swamp Soil Landscape Grouping. This is characterised by level to gently undulating swales, depressions and infilled lagoons on Quaternary sands. Local relief is less than 10 metres and slopes are less than 3%. The water table is at less than 200 cm. The area is mostly cleared of native vegetation. Soils are typically deep (greater than 150 cm), well sorted, sandy Humus Podzois (Uc2.32) and dark, mottled Siliceous Sands (Uc1.21) overlying buried Acid Peats (0) in depressions, deep (greater than 200 cm) Podzois (Uc2.12, Uc2.32) and pale Siliceous Sands (Uc1.2) on sandy rises. Limitations for this soil landscape grouping are given as localised flooding and run-on, high water tables and highly permeable soil. Land in these areas has a generally low to moderate capability for urban development, with localised swampy areas not capable of urban development. The photographic record and site investigations for Currawong indicate frequent swampy areas on the flats. Drier areas are generally capable of regular cultivation and grazing. The historic record for Currawong suggests that in the 19th century and during the Stiles period of occupation the flats area was used for grazing of dairy cattle and growing of some food crops for domestic consumption. Soils on the flats are likely to have low erodibility and a low erosion hazard for non-concentrated flows, moderate to high erosion hazard for concentrated flows and low to moderate hazard for wind erosion (Musecape & Beaver, 1999).
The Beach
Although not shown on the Sydney 1:100,000 Soil Landscape map, the beach and foredune areas at Currawong are likely to have similar soil landscape characteristics to those at Great Mackerel Beach. These have been mapped as Narrabeen/Marine which has beaches and coastal foredunes on marine sands. Beach plains with relief to 6 metres, slopes less than 3%, foredunes with relief less than 20 metres and slope gradients up to 45%. Spinifex grassland/herbland to closed-scrub on foredunes. Soils are deep (greater than 200 cm) Calcareous sands (Uc1.11, Uc1.12) on beaches, Siliceous Sands (Uc1.21, Uc1.22) and occasional compressed sands on foredunes. Limitations include extreme wind and wave erosion hazard, non-cohesive soil, very low soil fertility and high soil permeability (Musecape & Beaver, 1999).
Vegetation and escarpment
The study of the Currawong site by Macquarie University students carried out in 1978 provides a detailed analysis of the vegetation (Musecape & Beaver, 1999). A visual study by Craig Burton, in the Barrenjoey Peninsula and Pittwater Heritage Study, 1989, analysed the spatial and visual structure of Pittwater and mapped areas considered to have a high degree of visibility and considered essential to conserve the environmental heritage and scenery of the place. Burton has mapped visually significant areas based upon historic viewing points, steep slopes and visibility from public areas. The slopes and escarpment at Currawong are ranked as visually significant by Musescape and Beaver (Musecape & Beaver, 1999).
Physical Condition and/or
Archaeological Potential:
The physical condition of the buildings and facilities of the holiday camp are generally good. The site is still operational, providing holiday accommodation and is maintained by Unions NSW. Most of the holiday cabins date back to the 1950s and have been well maintained. The heritage listed homestead Midholme was in poor condition in the late 1980s but was restored in 1993. Three of the other original farm buildings (Southend, Northend & Canning's Cottage) no longer exist, however, some archaeological potential should exist. In relation to indigenous occupation of the site, it is considered that there is high archaeological potential, as yet not explored. Other archaeological potential may exist in relation to the early use of the site as a working farm. (Pittwater City Council SHI, 2005)
JOAN WILSON (Careel Bay) recently helped her father rescue a sheep that had strayed into the water. "It floundered around In the bay, about 200 yards out from an
old jetty. Joan writes. "When we succeeded in bringing it to safety, we discovered that it was completely exhausted. When It recovered, we gave it some water and led it to some green grass." News from the LETTER BOX (1940, January 14). The Sun (Sydney, NSW : 1910 - 1954), p. 2 (SUPPLEMENT TO THE SUNDAY SUN AND GUARDIAN SUNBEAMS). Retrieved from http://nla.gov.au/nla.news-article231234511
WILSON nn -Tn loving memory of Private Edgar Roy Wilson eldest son of Mr and Mrs. E. R Wilson, Careel Jenskins strect. North Sydney killed in action at
Poxieres, August 16. 1916 Greater love hath no man than this. Family Notices (1921, August 16). The Sydney Morning Herald (NSW : 1842 - 1954), p. 8. Retrieved January 24, 2018, from http://nla.gov.au/nla.news-article15942347
ALLEN—WILSON - The Engagement Is announced of Betty, third daughter of Mr and Mrs. F. J Wilson of Careel Bay, Newport and Raymond Joseph youngest son of the late Mr and Mrs Harry Allen, late 18 Farnham Street Leicester England. Family Notices (1946, February 16). The Sydney Morning Herald (NSW : 1842 - 1954), p. 30. Retrieved from http://nla.gov.au/nla.news-article17970685
KERANS-WILSON.- The Engagement is announced of Jean youngest daughter of Mr and Mrs F J Wilson of Careel Bay to Hugh youngest son of Mr and Mrs C W Kerrans of Croydon. Family Notices (1951, May 26). The Sydney Morning Herald (NSW : 1842 - 1954), p. 36. Retrieved from http://nla.gov.au/nla.news-article18213077
References and Extras
1. 1996.
PROFILES OF THE PIONEERS IN MANLY, WARRINGAH AND PITTWATER
by Shelagh Champion, OAM, B.A.(Lib.Sc.) and George Champion, OAM, Dip.Ed.Admin. Revised 2013.
Available online
A TRIP OVERLAND TO BROKEN BAY, THE
THE distance from Sydney to the above unfrequented spot is about thirty miles-easy of access, although, perhaps, less visited than any part of the environs of the metropolis, simply because people are not aware of such an excursion being possible ; and also because of the necessity of a guide, or minute description of the route, to supply Which I have undertaken to describe my last journey on Easter Monday, two days being sufficient to accomplish it on horseback, the only conveyance it admits of.
We started from the North Shore Ferry in Windmill-street at noon, and ascending the road leading from the ferry to the top of the hill, turned to the right, opposite the chapel, and took the excellent road to Middle Harbour, about three miles of which are in good condition. Turning then to the left we enter the scrub, when a bridle-path is seen with a belt of trees, a hundred yards from the main road, this being the only guide to turn off to Middle Harbour. A mile through this path leads to a somewhat rugged descent to the sandy spit, projecting half way across, where Mr. Ellery, on being hailed, brings the punt across to fetch both cattle and men. The charge for this service is half-a-crown each way, and if the horses are swam across, sixpence less.
The punt being under repair, we had to swim the horses-a very safe proceeding, which they appeared to enjoy amazingly ; although at first I was not over-confident in the propriety of tumbling my favourite steed to so very unceremonious an immersion. The distance is about a quarter of a mile, and free from sharks. The scenery of this inland bay is very fine; and I may as well mention en pono»« that a small boat can be had to row two miles further up the harbour to its extremity, into which the Willoughby Falls discharge
from the North Shore, which everybody ought to make a point of seeing.
On landing from the punt we looked in at Ellery's, where everything reminds you of a neat English farm ; and the oude wife having regaled us with plenty of new milk, we ascended the zigzag path, cut in the solid rock at least 200 feet high, and reached the path leading to Manly Beach on the right, distant only three miles ; and to Pitt Water and Broken Bay on the left, distant about twenty-four miles from the punt. To a stranger, a little difficulty exists in taking the right path for each place ; but Mr. Ellery never fails to explain the proper direction, and often accompanies a stranger to the top of the hill to see them right.
The first landmark is a log-bridge over a wide creek, which leads through two or three small farms adjoining each other ; then a very good bridle road continues through thickly-timbered forest, when suddenly the sea is heard to break, and then immediately appears in an opening on the right, between two heads forming a large lagoon, running inland, called the Deewi lagoon, which is crossed in its narrow part by a wooden log-bridge. A sandy bar keeps out the water from the lagoon, except when the sea breaks in and then fills it, from which it again gradually drains out. A wild duck suddenly arose, disturbed by our noise, which gave an indication of work for the gun in this locality.
The road from here to Pitt Water follows immediately the line of the coast northward, which makes it easy without a guide as you cannot go wrong, and a small farm every two or three miles also enables milk to be had, and perhaps a crust ; but no other accommodation in the commissariat is to be expected unless, as in our case, you have friends on the road.
Passing Jenkins' farm there is a level piece of beautiful turf nearly two miles long, and a quarter of a mile broad, quite fitted for a racecourse ; forming the finest gallop anywhere near Sydney, and almost of it-self worth the trouble of riding out to. After this, bush occurs again, and then the Narrobin lagoon is reached, half a mile wide-sometimes nearly dry, sometimes up to the horses' knees or girths, and at times impassable. "We found it very low, but filled with fish of various sizes, darting in all directions. This back water extends inland quite out of sight, but is a perfect level sand all over, and, if not fordable, can he crossed by the bar of sand which shuts it out from the sea.
The road continues alternating with fine galloping ground over the downs, on the sand-hills and through the bush ; every now and then magnificent headlands appearing suddenly as you emerge from the bush, generally enclosing between them a fine sandy bay, upon which the ocean rolls in with a most majestic appearance from the heights above.
Near Mr. Farrell's farm are cliffs at least 100 feet high, from which a man fell, whilst shooting birds, from the rock giving way ; and, strange to say, he was not much hurt, as he walked out a few days afterwards. The beach underneath is covered with debris of trees and timber, driven down the Hawkesbury by the recent floods, and drifted about here into the bays. The road from Farrell's to the flagstaff has not the sea in view, being amongst bush and steep gullies, over picturesque murmuring creeks. We crossed a tent, where men were boring for coals on the Rev. Mr. Therry's land they have reached 150 feet without success ; but it appears that the cognoscenti have pronounced the seam to be deep but certain.
That it is hard stuff in some strata, is seen by four inches only having been gained in the last two weeks. If coal is found, a tramway to Manly will save a sea voyage to Newcastle, and open a great traffic.
Suddenly, after emerging from a tortuous mountain track, we come in full view of the magnificent estuary of Broken Bay or Pitt Water, running nine miles inland, with water enough for the largest man of war : here the Juno formerly went for gunnery practice, and ascended five miles up.
The middle water is the mouth of the Hawkesbury, several miles in extent, and beyond it is the bar of Brisbane Water, known by the surf beating over it, and difficult of access for any but coasters and steamers, the deep channel being narrow with less than two fathoms of water This runs inland sixteen miles ; East Gosford, a rising township, being at the head of the head of the navigation.
Thus the Hawkesbury has Brisbane Water on the north, and Pitt Water on the south of its embouchure , all three compused between the North and South heads, and about ten miles across. The appearance is not unlike Sydney Harbour near Middle and North Harbours, with the exception of more width, and heavier timber all around.
The first thing that met our eyes on the shores of Pitt Water, was a small colony of Chinamen, who live in tents, and are engaged in curing fish caught there, for the Melbourne and Sydney markets a dozen small boats are engaged in the trade, which I hear has been a good hit, although, just now, there are no fish, which is attributed to the great floods having driven them all out to sea
. Another mile along a level piece of turf by the water side, brings us to the coast-guard station, where Mr Ross has for several years been in charge. He very politely led us to the too of the lock, where the flagstaff is placed commanding a splendid view of all the surrounding scenery for many milts in nil directions.
This is Barenjo
on the south Head, and is about 100 feet high. Several soldiers, made out of trees, as large as life, and painted, are placed about, and might actually serve as landmarks to vessels entering these complicated waters they would be more useful several miles up the mer, where steamers have often taken the wrong channel, owing to the numerous wide branches on either side, rendering the proper channel difficult to recognise.
Thus ends the trip to Broken Bay, which, for diversity of scenery of entirely an opposite nature, constantly' recurring, forming a succession of panoramas of forest, lagoon, green turf, sand hills, mountains, gullies, creeks, precipices, and (few and far between) settlers farms, I will venture to affirm, cannot be equalled in so short a distance of thirty miles in any part of Australia, and will much repay the trouble of the journey and somewhat plain fare attendant upon it, as, after Manly, there is no accommodation for travellers, and supplies should be carried with them from there from Manly, the distance to Barenjo is twenty-one miles, and can be performed, starting early in the morning, there and back the same day, half the road being a splendid turf, which part of the ground can be got over quickly, and the remainder offering no difficulties to the rider.
This trip can only be performed on horseback, but you can avoid taking a horse across Middle Harbour by hiring one at Manly Beach, and going from there to Broken Bay, the road, after crossing the Manly Lagoon, being the same as I have attempted to describe.
Pittwater: Lovely Arm of the Hawkesbury
By NOEL GRIFFITHS
I HAVE before me a map of Pittwater, showing every bay and point, every beach and wharf and creek. This much-used map is not crowded with detail, but is just sufficiently complete to satisfy all the requirements of an imaginative mind. There is, in fact, all the material for the background of a novel— aboriginal lore, tales of pioneers, of piracy and smuggling, hidden treasure, shipyards and sailing races.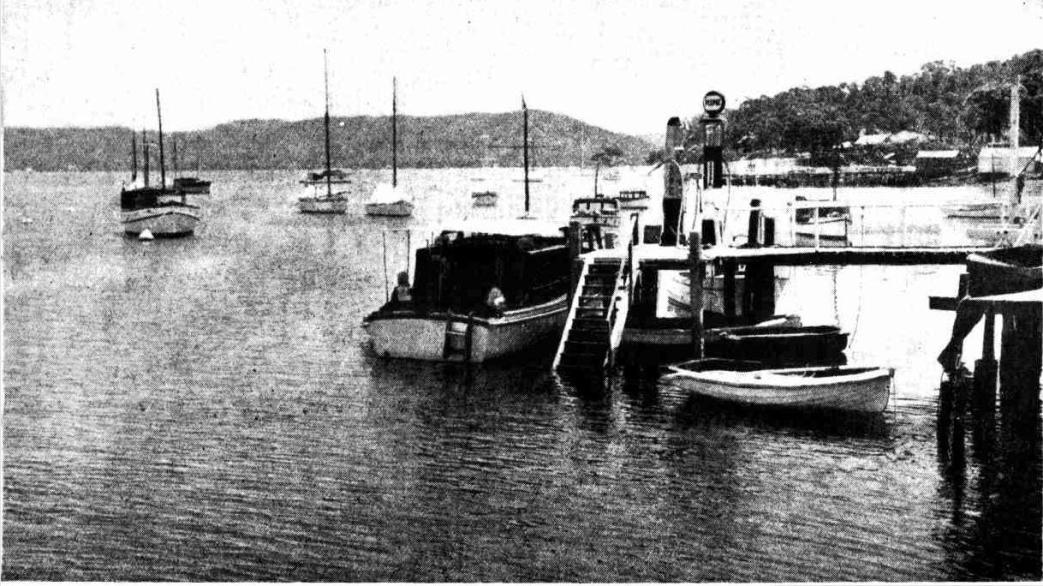 The pier at Pittwater, local 'headquarters' of the yachting and sailing fraternity.

SEE, here at the mouth of Broken Bay, is Lion Island, officially known as 'Mount Elliott,' but its more popular name will live after the other is forgotten because of the island's amazing resemblance to a lion couchant. And here is Barrenjoey. Where the well constructed lighthouse now stands with its fixed white light, visible for fifteen miles, there was once only afire basket and a tall white pillar.' At that time smugglers crept round into Pittwater, for it was easy to discharge contraband there and send it to Sydney without paying duty. So serious did this illegal traffic become that, after the detection of a vessel aptly named the Fair Barbarian engaged in, this illicit trade, a Customs officer was stationed on the .inner beach near the headland to report suspicious happenings. To bluff intending smugglers, this ingenious officer constructed a tall wooden soldier equipped with a drawn sword, to suggest, armed vigilance, but, alas, an irate skipper mistook the intention and hurriedly put ashore to 'rescue' the redcoat who was signalling in distress.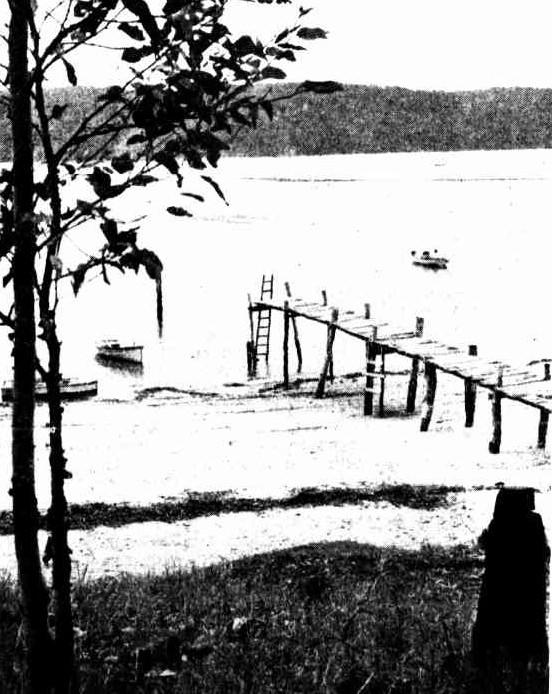 IT is hard to believe that in this serenely beautiful spot piracy preceded smuggling, yet we are told by Collins in his 'Account of the English Colony at –Port Jackson' that in September, 1797 —'A boat, the largest and best in the Colony, belonging to the government, was, on her passage to the Hawkesbury, whither she was carrying a few stores, taken possession of by a part of the boat's crew, being at the same time boarded by a small boat from the shore, the people in which seized her and put off to sea, first landing the coxswain and three others, who were unwilling to accompany them, in Pitt Water in Broken Bay. These men proceeded overland to Port Jackson, where they gave the first information of this daring and 'piratical transaction.' But there are earlier historical references to Pittwater even than that. In fact, in Governor Phillip's first despatch from the settlement at Port Jackson to Lord Sydney he recounts how on 2nd March, 1788, he set off to explore Broken Bay, about twenty miles north, in an urgent search for land suitable for cultivation, and came across: '. . . . the finest piece of water I ever saw and ' which I honoured with the name of Pitt Water.* Wm. Pitt the younger was at that time Prime Minister of England. It would contain the navy of Great ' Britain'.
RIGHT: A Paradise for the boating man and the fisherman, yet near enough to the city to be easily accessible, Pittwater is a much frequented resort in holiday-time.
Phillip described in this despatch his encounters with the natives, one of whom proved friendly and helpful, .. but when Phillip chided him with the theft of a spade 'this destroyed our friendship in a moment and seizing a spear he came close up to me, poised it and appeared determined to strike.' But Phillip fixed him firmly with his gaze, for he chose 'rather to risk the spear than fire on him,' so that at last the native capitulated and, dropping his spear, left.
When the natives discovered that Phillip was minus a top tooth there was a great clamour, and the loss gave him some merit in their eyes, because the forcible removal of one of their own front teeth was an indication that they had attained manhood and the status of warrior.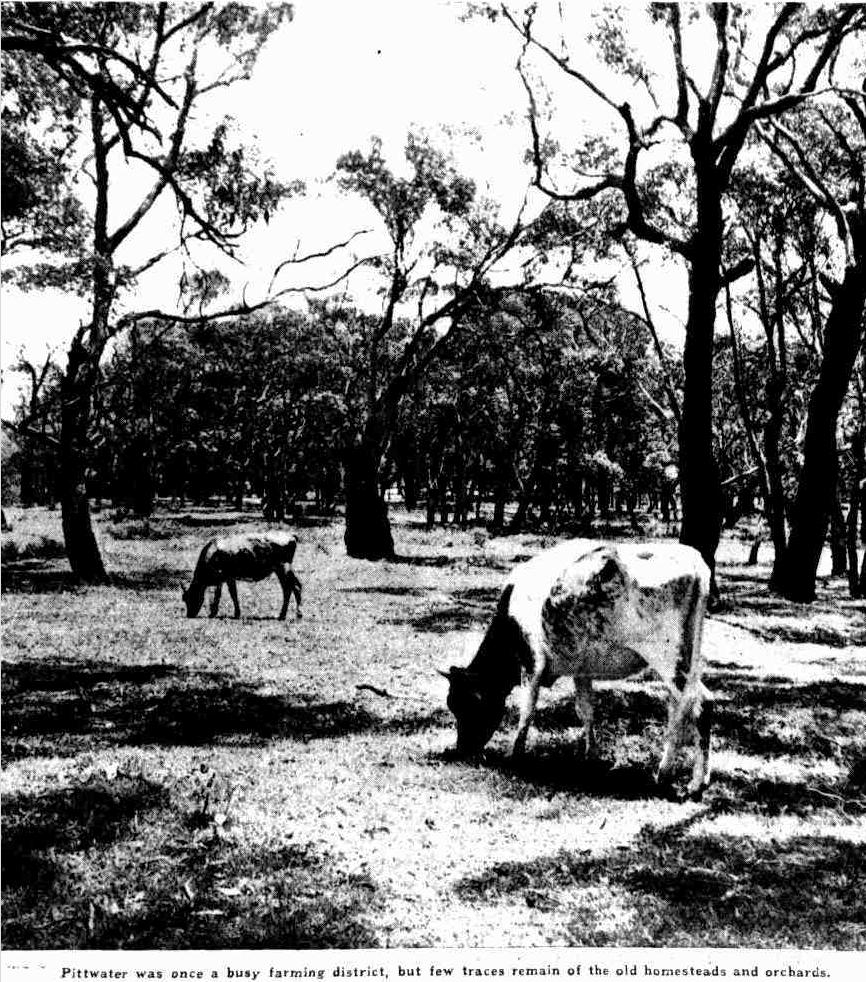 Pittwater was once a busy farming district, but few traces remain of the old homesteads and orchards.
LONG after the district was settled the aborigines proved troublesome, and present-day residents whose grandparents pioneered it describe how the 'Barrenjuee' tribe roamed the bush by day, calling at lonely bark and split-log shanties when the husband was away, demanding flour and tobacco of some lonely girl-mother who kept a musket near the door for her protection. At night these black marauders 'bandicooted' the crops of potatoes and stole the settlers 'maize. Slowly vanishing memorials to this large and troublesome tribe are their rock carvings on the headlands of Kuring-gai Chase and their middens, great heaps of oyster, whelk and cockle shells.
As the settlements on the Hawkesbury flourished, so Pittwater grew in importance. It was a port of call for vessels bound for Sydney. Mails came from the north, via Gosford and Brisbane Water, to the wharf at Newport. Farms on the foreshores produced grain, vegetables, and butter. Shipbuilding began to rival farming in importance. There were shipyards at Stoke 's Point, Scotland Island and McCarr's Creek. On Scotland Island, so it is recorded, is buried a three-legged pot full of 'holey' dollars, hidden by two men who came down the river in a stolen boat, laden with booty. These men, it is said, were arrested at Pittwater and sent back to confinement, never to return to retrieve their loot.*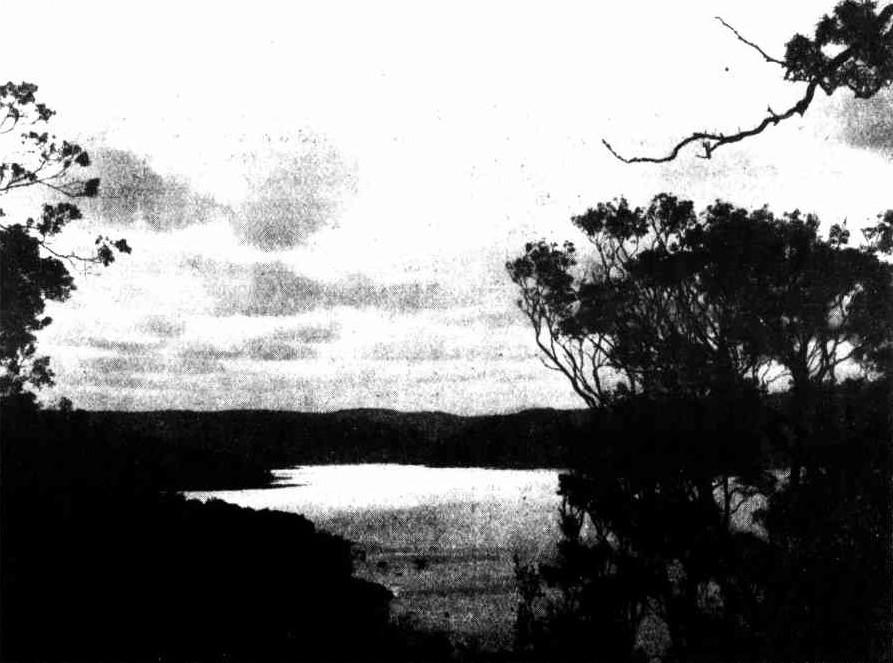 When the sun is setting behind Pittwater Nature is seen in one of her most peaceful moods.
PITTWATER has lost most of its economic importance since those stern days when sloops were tediously built on the different points and great logs of timber were hauled from the nearby woods, when there was a salt works on 'Salt Pan' Creek and Ah Chuey ran a flourishing fish-drying business near Careel Bay. But it has gained a new importance. Boats are still built on its foreshores — luxurious pleasure craft in sheds crammed with a wonderful assortment of masts, chains, canvas, spars, paint, and cordage. And in those peaceful, secluded retreats boats are being scraped, cradles made, masts repaired, and sweet-running engines overhauled. Here are sunburnt men who carry on the traditions of a century and more who, if not lineal descendants, are worthy successors of the stout-hearted pioneers; men like Gus, the Swede, who lives on his launch and occasionally signs on for a cruise to the Barrier Reef — a man of Viking strain, holder of a mate's certificate, too old now for an active life, but who can't escape the lure of lapping water beside a boat or the tang of fresh salt breezes in his nostrils.
Then there's Billie ? , who has fished the length of Pittwater for forty years or more, who knows every bend and nook of it and can read its every mood. When a southerly blows and ruffles its surface he is dull and listless, but when a sharp 'nor'-easter' sweeps across the hills he is all activity — fish will be plentiful and in no time he'll be chugging past Great Mackerel Beach with its two uncharted graves, past the Basin, past Soldiers' Point. Soon the bucket in his launch will be filled with bream and leather-jacket, flounder, mackerel and whiting. He'll 'threadle' his hooks as he goes along, with juicy earthworms from near the mangrove swamps, for the fishing itch is in his makeup and will be till he dies.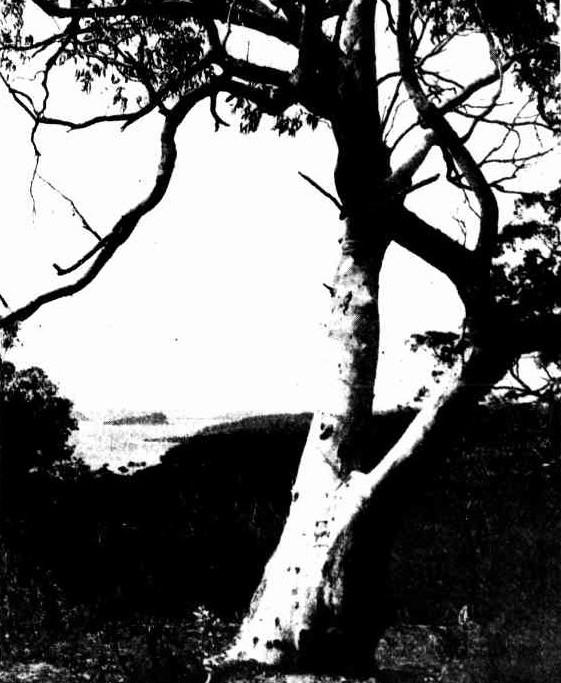 RIGHT : A view with a glimpse of Lion Island (officially known as Mount Elliott). This is one of the most beautiful vistas on the coast.
THE great occasion of the year at Pittwater is the annual regatta, when the week-end cottages nestling cosily at the water's brink all spring to life. The hundreds of neat white craft, riding at their moorings, assume a new activity. Boats are pushed out and sails unfurled, hydroplane engines 'rev.' and roar, and soon the blue stretch is graced with gleaming sails which sweep majestically past while luxurious cruisers plough importantly towards the club house. On them will be seen happy, charming girls and sun-bronzed men and older men with grizzled hair and keen blue eyes, and robust, clean-limbed youngsters growing up in the best traditions of yachting and cruising and a glorious outdoor life. Aye, it is a kind retreat, this beautifully clothed arm of the Hawkesbury. It is good to tramp its shores, to penetrate the almost virgin bush where wattle, waratahs, Christmas bells and flannel flowers luxuriate ;to lie on some green, shady slope and watch the sun scintillating on its broad expanse the while large white clouds float majestically high above tall and stately trees. It is the peaceful playground of a busy city; meet place to retire to adjust one's perspective when work grows wearisome and details assume quite wrong proportions.
A sunset behind Church Point, the vicious tug and flurry of a fish on the end of a well-baited line, the strong caress of wind against a sail, the tense moment after the skipper's curt 'prepare to go about,' bump and scrape of fender against wharf — and life resumes its zest again.*
AS I have said, it is an ideal background for a book... if you can resist the lure of it and settle down to work.
The serene appearance of Pittwater to-day conveys no suggestion of its turbulent past, though visitors blessed with imagination do not find it difficult to conjure up visions of long - dead smugglers, pirates, and revenue, officers. Some bad men plied these waters in the 'good old days,' and the local bushland was peopled by warlike blacks, who harried the settlers and stole everything they could lay hands on.
*See Vol. VI. (1920) Inl. and Proceedings of the Royal Australian Historical Society.
Pittwater:. (1938, December 28). Sydney Mail (NSW : 1912 - 1938), p. 12. Retrieved from http://nla.gov.au/nla.news-article166525296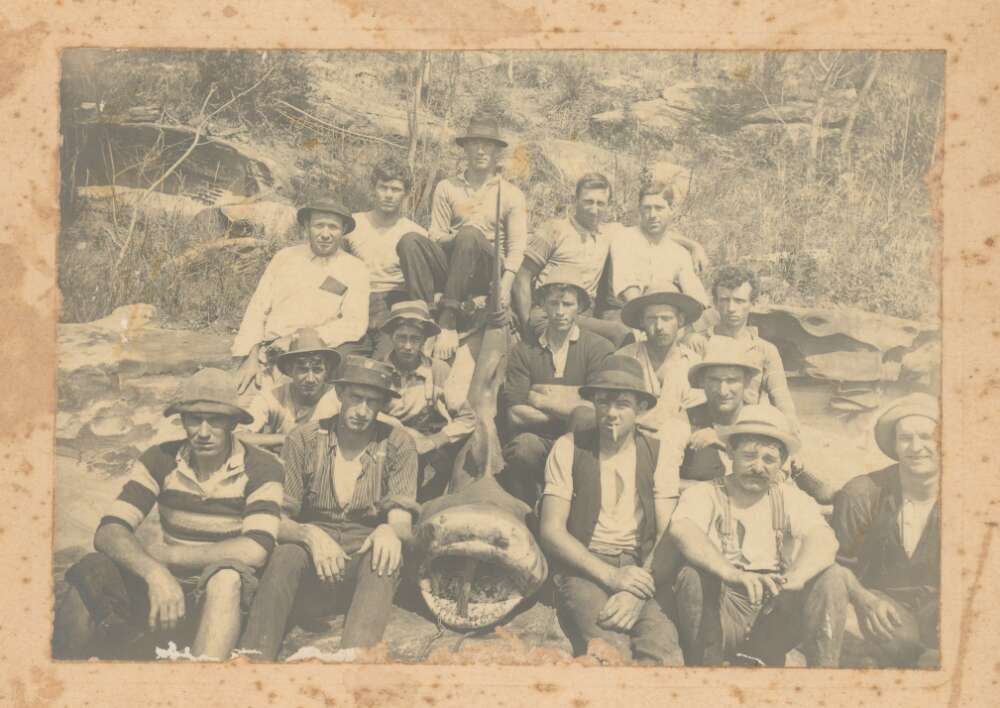 Hawksbury [i.e. Hawkesbury] River fishermen with shark, N.S.W., 1914, nla.obj-136548260-1, courtesy National Library of Australia
Pittwater Fishermen - Great Mackerel - threads collected and collated by
A J Guesdon