February 2 - 8, 2014: Issue 148
Frank Hurley photo showing pier and Barrenjoey Boat House at right - circa 1947-1954, courtesy National Library of Australia.
Barrenjoey Boat House – Station Beach
Please note that Warringah Council records of Minutes from Council Meetings name this beach as 'Barrenjoey Beach'. This record names it as 'Station Beach' as per original Barrenjoey Customs House records and current Pittwater Council records.
What is unique about the final boathouse and boatshed of this first round of boatsheds and boathouses – those that are still open and operating, is that it was, on occasion, also a hangar or pontoon of sorts for Aquatic Airways. Opposite the original Barrenjoey Boathouse was a fibro, some state, untidy structure, known as 'the Beacon store'. These buildings, among and on the fringe of the camping represent in a way our crossover from the times when you could pitch your tent and perhaps even build a shelter on the edge of the estuary if you decided you like the place and would stay. The Beacon Store was a lot older then the original Barrenjoey Boat House but both were constructed from simple materials, the boathouse raised in post-WWII scarcity.
The jetty was built towards the end of 1946, the structure built as the Barrenjoey Boathouse in 1947. Australians were determined to make a return to normality as quickly as possible:
FERRY FOR BROKEN BAY The Port Jackson and Manly Steamship Company announced yesterday that the Rover is expected to sail tomorrow from Circular Quay to begin a ferry-boat service at Broken Bay. The vessel will join the three other ferries operating in the Palm Beach, Hawkesbury River, and Pittwater-area. During the war the Rover was used as a patrol boat by the R.A.N. FERRY FOR BROKEN BAY. (1946, May 3). The Sydney Morning Herald (NSW : 1842 - 1954), p. 10. Retrieved from http://nla.gov.au/nla.news-article17992931
Post World War II scarcity may point to a reason for the 'untidy' description ascribed to many of the simple structures that rose around Pittwater in the late 1940's and early 1950's. Stated in some records to have been constructed by Aub Allen, the jetty and structure we still call the Barrenjoey Boat House, and the boating services at the north end of this building was then, as now, called 'Barrenjoey Boating Services'. Warringah Council records of 1948 name a J W M and Kelynack as the proprietors:
July 28th 1948: J W M and & Kelynack, 7/7/48 re Barrenjoey Boating Services Pty. Ltd. (Carr & Mcllwraith) forwarding lease for completion under Council's Seal. Resolved - That the lease be completed under Seal of the Council. (crs. Butcher Kent).
Barrenjoey Boating Services Pty. Ltd., 15/11/1948, giving further charges for the hiring of their existing fleet of canoes and pulling boats, as requested. Referred to the Parks & Reserves Manager to obtain information as to charges made elsewhere.
Besides the above on hire aquatic fun vessels, these gentlemen also advertised boats for sale, the variety of which increased:
CABIN CRUISER IDLE HOUR …. 4lt loaded Powered by new 6 cylinder Chrysler Royal Marine Engine Installed end 1947 two bunks two settees wc wash basin sink etc This magnificent craft in first-class condition is Ideal for big game fishing or ocean cruising Inspection at Barrenjoey Boatshed through Golf Links, Palm Beach Barrenjoey Boating Services Pty Ltd Palm Beach. Advertising. (1948, January 31). The Sydney Morning Herald(NSW : 1842 - 1954), p. 11. Retrieved from http://nla.gov.au/nla.news-article18059510
BARRENJOEY BOATING SERVICES have One 36 foot Ocean Going Cabin Cruiser fitted with new Chrysler Crown Engine. for Sale at £ 400 Vessel is on slip until 14th June for Inspection BARRENJOEY BOATING SERVICES Governor Phillip Park Palm Beach Tele. Palm Beach 261. Advertising. (1948, June 9). The Sydney Morning Herald (NSW : 1842 - 1954), p. 9. Retrieved from http://nla.gov.au/nla.news-article18073977
Barrenjoey Boating Services Pty Limited v Peattie. LAW NOTICES FOR TO-DAY. (1950, November 16). The Sydney Morning Herald (NSW : 1842 - 1954), p. 9. Retrieved from http://nla.gov.au/nla.news-article18186718
FOR SALE. 21ft CABIN LAUNCH. 4-cylinder Chev. motor, lust over-hauled 2 bunks £210. 16ft OPEN LAUNCH. Chapman. Good condition. £85 NEW 16ft CEDAR HULL. £120 12ft DOUBLE-ENDED DINGHY, excellent condition. £25 13ft REDWOOD FLAT-BOTTOMED DINGHY, £30 8ft FOLDING DINGHY. Plywood and Canvas. £15 10ft PLYWOOD SURFBOARD £5.INDIAN CANOE. £ 12. BARRENJOEY BOATING SERVICES. Governor Phillip Park. Palm Beach. Open every day Phone. Palm Beach 4261 SAILING DINGHY. 8ft. fair cond. complete with good sail XW7427. Advertising. (1951, March 26). The Sydney Morning Herald(NSW : 1842 - 1954), p. 8. Retrieved from http://nla.gov.au/nla.news-article18205661
FOR SALE Cabin Cruiser 24ft x 10ft 6 n 4 berth W C sink stove radio c1 light Vortex pump 12 li p Simplex motor full headroom throughout Only built 2 years ago. Condition as new Dinghy£ 7- BARRENJOEY BOATING SERVICES Governor Phillip Park, Palm Beach Phone Palm Beach. 42bl. Advertising. (1951, September 13). The Sydney Morning Herald (NSW : 1842 - 1954), p. 15. Retrieved from http://nla.gov.au/nla.news-article18230259
BARRENJOEY BOATING SERVICES, Governor Phillip Park Palm Beach have the following for sale: ROOMY Twin-screw Vi-cabin launch about I8ft x 7ft 8in 2 built and mattresses 6 H P CLAR motor th reverse and 3 H P HALL about 4 years old little used In first class condition. CABIN Cruiser about 24It x 10ftSleep 4 Completely fitted 10 H P SIMPLEX. HALF-CABIN Launch about 16It6 H P CLAE with reverse Exceptionally strongly built in excellent condition. CABIN Launch about 21 x 8 ft5 H P CHAPMAN Phone Palm Beach 4261 Open week-ends Advertising. (1952, March 8). The Sydney Morning Herald(NSW : 1842 - 1954), p. 11. Retrieved from http://nla.gov.au/nla.news-article18248479
In 1923 10 acres of Lighthouse Reserve (southern portion) was be set aside as a recreational reserve named Governor Phillip Park. The middle portion of the reserve was set aside for public recreation purposes on May 17 1929, and the northern portion set aside on the March 1934 as a reserve for public recreation purposes to be managed by the Warringah Shire Council. This included all structures within, the maintenance of them but not the upkeep of those who camped in this reserve at that time: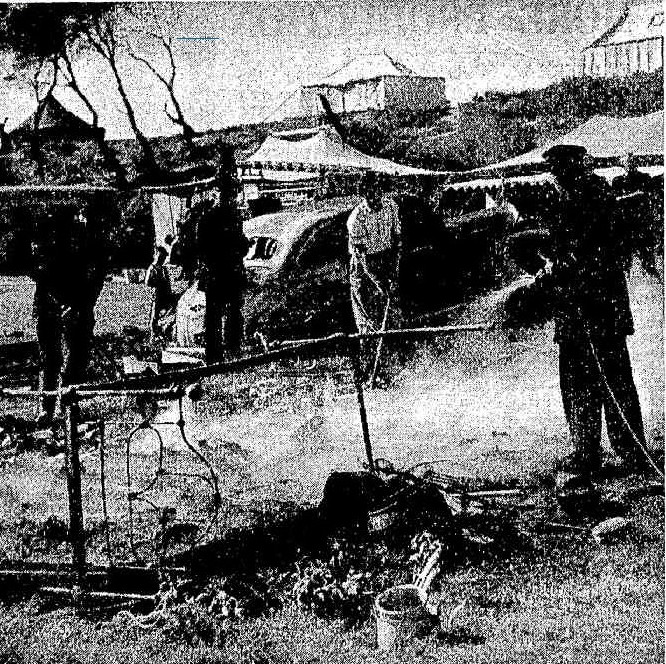 FOUR CAMPS DESTROYED AT PALM BEACH - Fire destroyed four camps and a large motor car at Palm Beach yesterday. It is believed to have been caused by a spark from an open fireplace. The car was owned by Mrs. A. Sunderland, Bondi Road, Bellevue Hill, who narrowly escaped being trapped in her tent with her six-month-old baby, Sandra. She lost all her clothing as well as the furniture and fittings. FOUR CAMPS DESTROYED AT PALM BEACH. (1946, July 25).The Sydney Morning Herald (NSW : 1842 - 1954), p. 3. Retrieved from http://nla.gov.au/nla.news-article29766949
The Beacon Store had been constructed a fair while prior to 1947. From Warringah Shire Council minutes of meetings:
Claude Neon Ltd., 30/3/40, applying for permission to erect at H.F. Gonsavles' "The Beacon Store", Palm Beach, a single-faced horizontal box sign bearing the words "TIM'S CAFE" on both sides, 16 ft. long and 2 ft. high. Resolved, - That approval be granted. The 18th Battalion which were stationed on Barrenjoey Headland during WWII used to report in to headquarters at from a telephone at the Beacon Store.
A few examples of works required at the Boat House courtesy of Warringah Shire Council minutes:
12/12/1960: Mr. Warwick Kells, c/- Post Office, Palm Beach, 29/11/60 - requesting permission for the P.M.G's Department to run a telephone cable from the Beacon Store in Governor Phillip Park to the beach on the Pittwater side, where a submarine cable will then be buried in the sand below water level; adding that the request is in connection with a telephone service at Barrenjoey Lighthouse. Also stating that the application was recommended by the Police Department, and has been approved by the P.M.G. subject to Council's written concurrence. 46.Resolved - That this matter be referred to the next meeting of the Works Committee with a report thereon from the Engineer. (Crs. Fisher/Bertram.)
23/10/1967 North Palm Beach Boathouse. Repairs to doors completed, other repairs in hand.
REPORT OF THE SHIRE ENGINEER SUBMITTED TO THE ORDINARY MEETING OF WARRINGAH SHIRE COUNCIL HELD ON 5th DECEMBER, 1968. W6. North Palm Beach Boathouse. Rusted iron on roof replaced, glass in windows repaired and wire screens fitted to deter further breakage. Louvres replaced in bunk room and new work painted. North Palm Beach Surf Clubhouse. Repairs and repainting of roof completed. Palm Beach Dressing Sheds. Minor repairs to interior and posts erected at both ends of promenade to prevent vehicle access. Palm Beach Wharf (Pittwater Park). Waiting shed on wharf repaired and repainted and decking respiked where necessary. Numerous bolts under steps and wharf tightened. Broken pile removed. Rotted kerbing on south side of jetty in course of replacement.
A few insights on the Barrenjoey Boatshed courtesy of Russell Walton, son of Captain Victor Walton, who has provided the photographs of the changing Barrenjoey Boat House pictures below:
My father purchased the boatshed lease off Aub Allen in 1975. My father passed away about 20 years ago and then myself and my mum, Carmel Walton, ran it up until about six years ago when Greg Freemore bought it. My father also started Aquatic Airways back in 1975. I started my business up there, Barrenjoey Boating Services, which was hire boats and barges, and almost 19 years ago now. He also had the Beacon Store – the shop across the road from the boatshed. Tom Preisovich had this originally.
We would like to run Aquatic Airways in the future as a stand alone page as there is a lot of material involved. Aircraft on the estuary has a history that stretches back to Sir Patrick Gordon Taylor of Bayview and landing these craft at Palm Beach had some momentum during the early phases of WWII:
C. H. Gillham, Surveyor, 19/9/41, submitting plan of proposed subdivision of Mrs. Gonsalves land, part Lot 13, Do. D.P. 7656, Waratah Road and Barrenjoey Road, Palm Beach. Approved, as recommended by Engineer. 30/9/1941: Palm Beach Aircraft Observation Point: An amendment proposed by Cr. Nidiolas, seconded by Cr. Langdale, that the request be sent on to the Minister for Defence for consideration was defeated.
In 1989 the Barrenjoey Boat House again needed repairs and was on the list for demolition as costs were anticipated to be too high. Channel 7's Home and Away program was using the site as an iconic part of their popular series. They offered to renovate and repair the building and pay a lease for access to the premises when required for filming episodes. Maintaining the continuity of a storyline and its setting in this case, with perhaps a large dash of altruism, kept for the community and its visitors a boathouse more in keeping with Pittwater then cheek by jowl concrete.
The people that own the lease of the Boat House now, and for the past six years, are Greg Barrymore and Nick Burton-Taylor and Rick Hutchens. Their food and service have made the Boat House one of Pittwater's most popular places to eat.
Barrenjoey Boating Services, now run by Adam Hillier is still in operation too, and still offering traditional Hire and Boating services.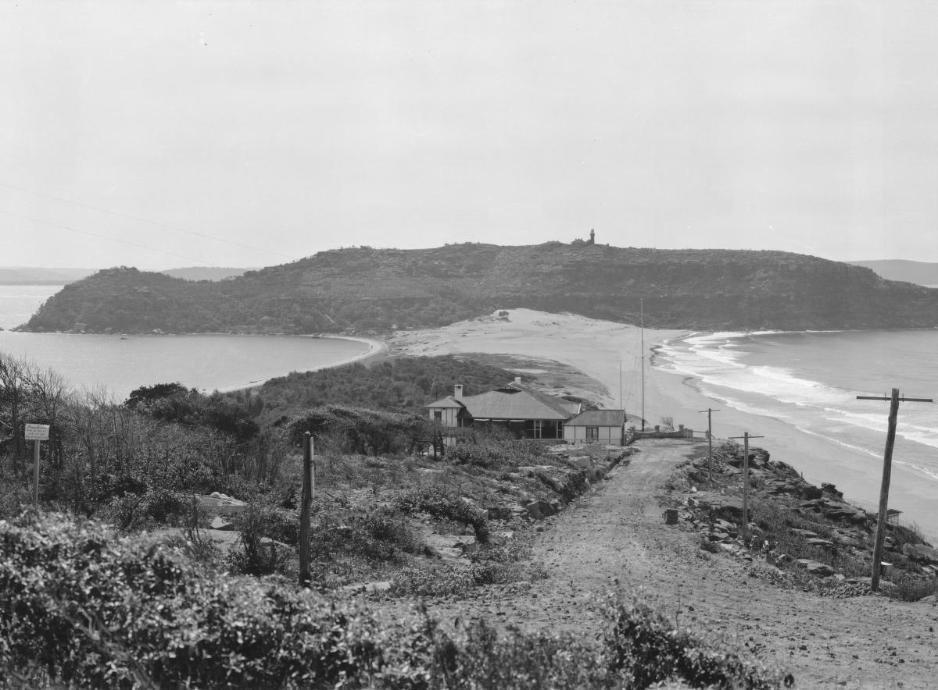 Enlargement from Palm Beach Panorama by E B Studios pre-pier and camping, courtesy National Library of Australia.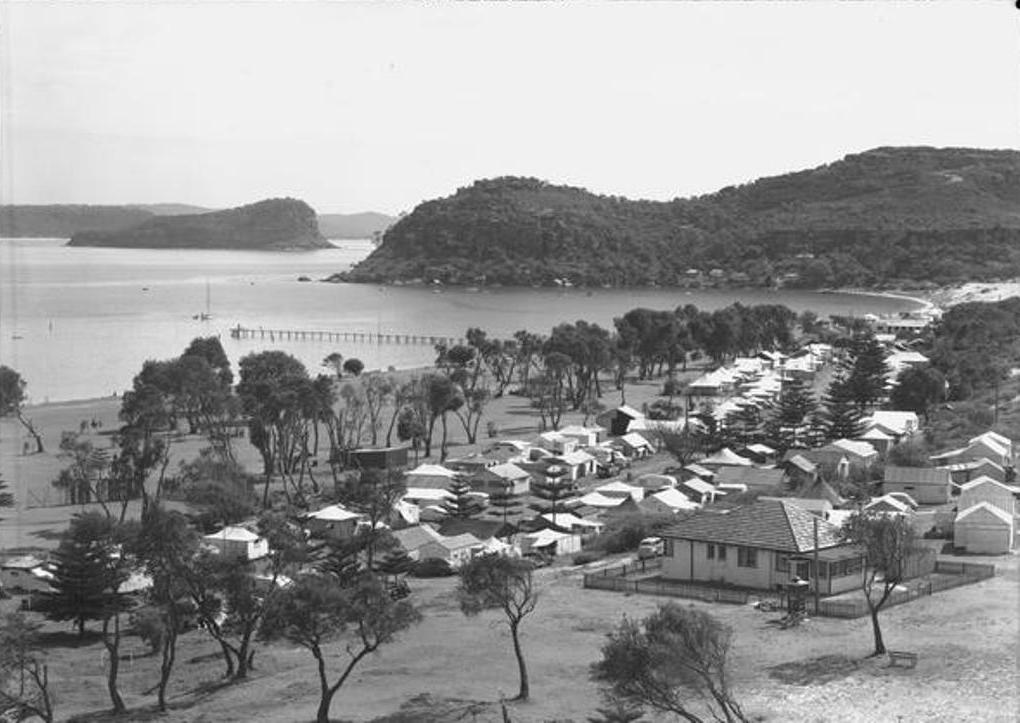 Pictorial Chart of changes to the Boat House - Station Beach - courtesy Russell Walton
Capt. Victor Walton and wife Carmel at front of picture.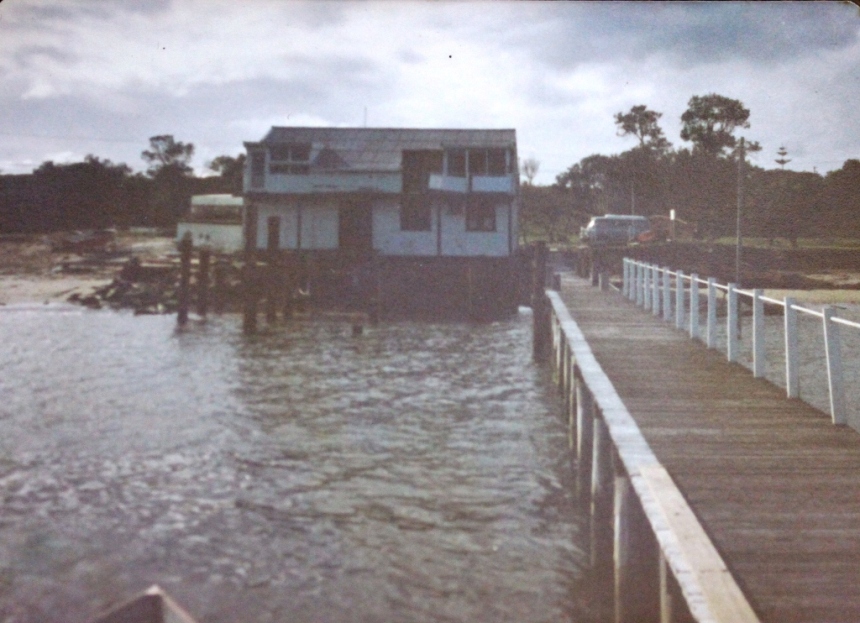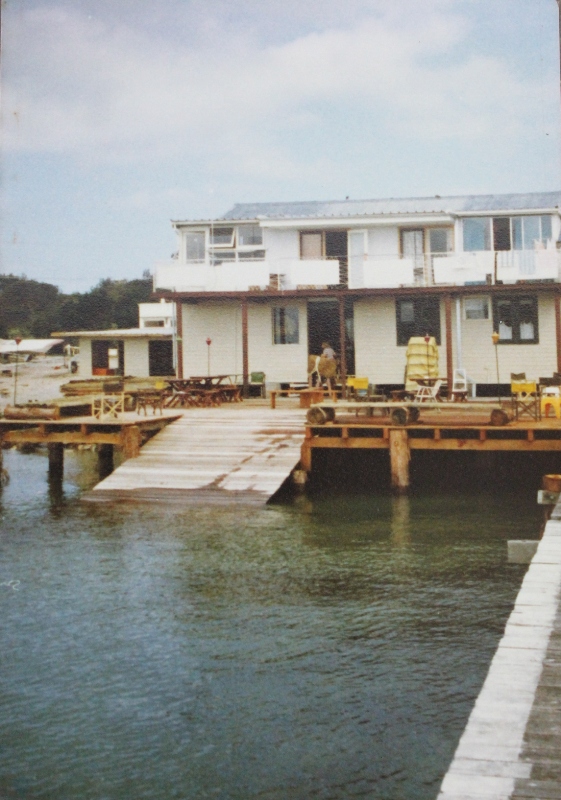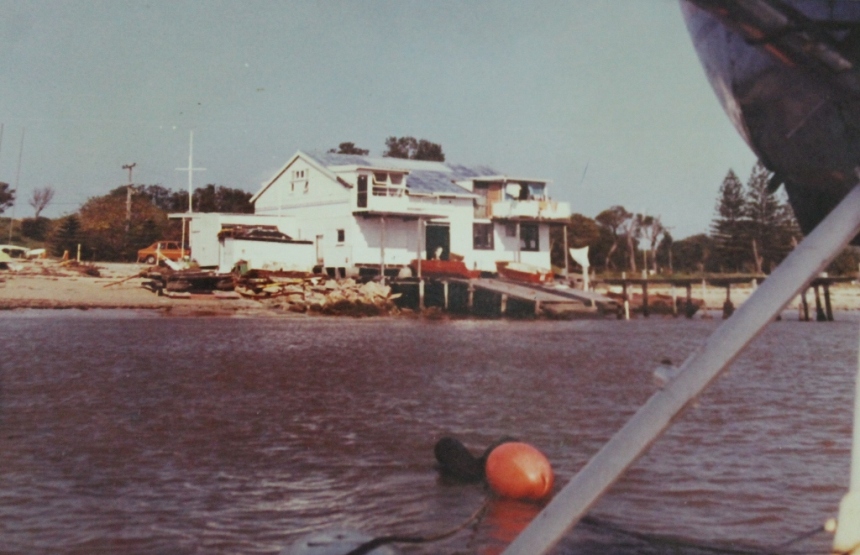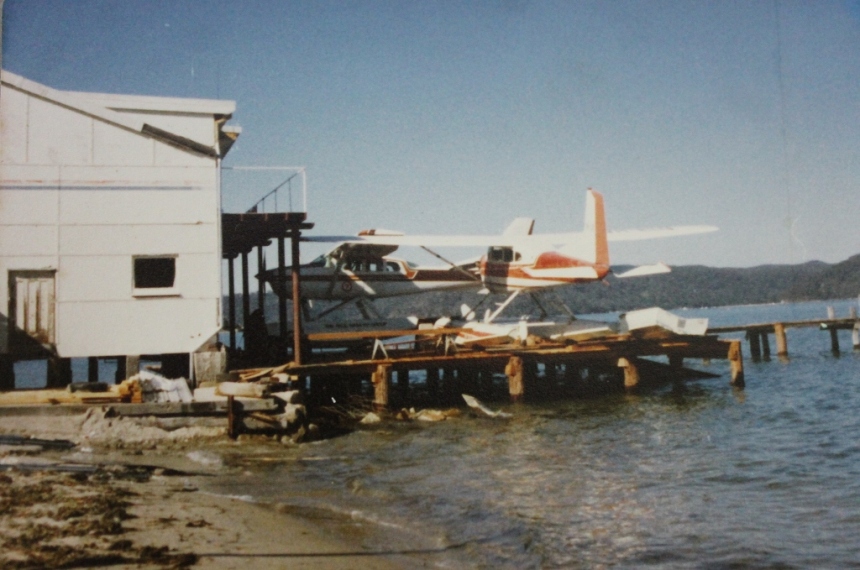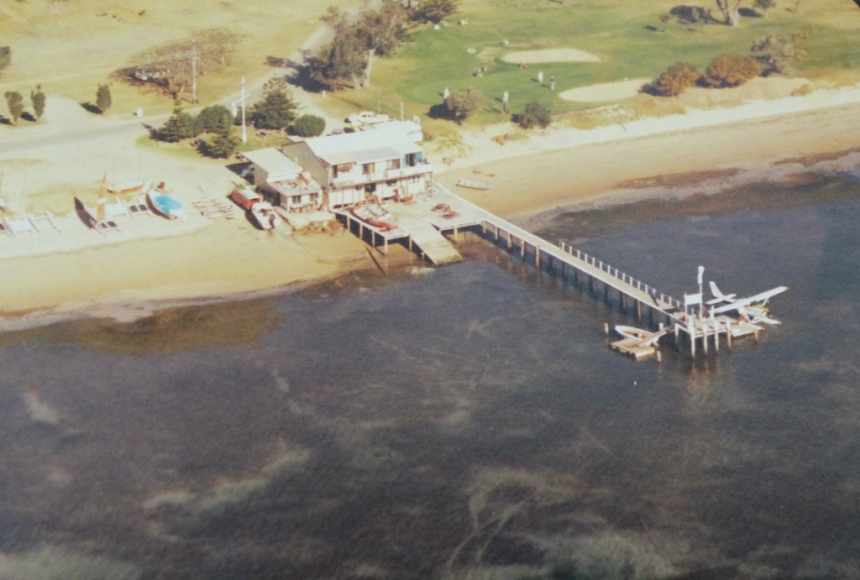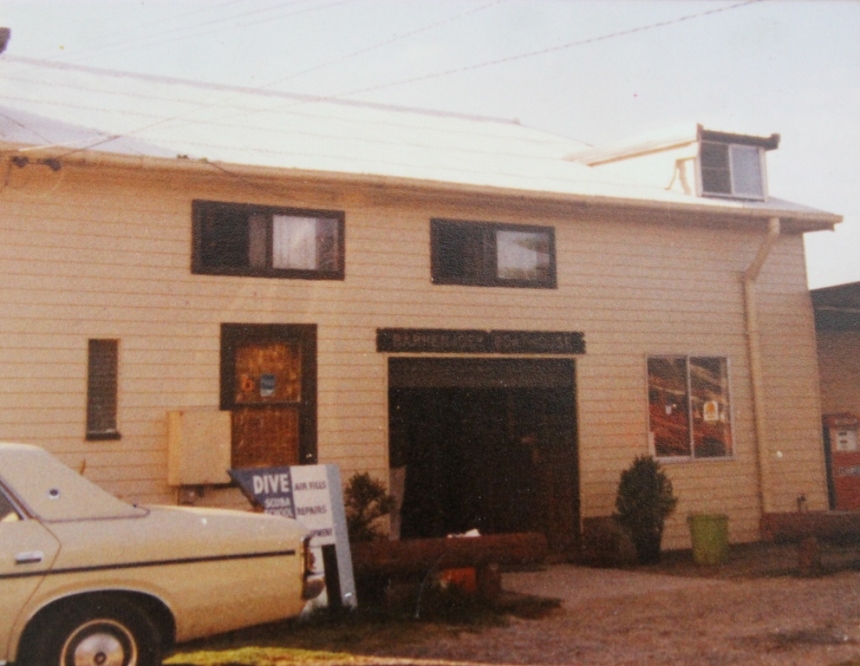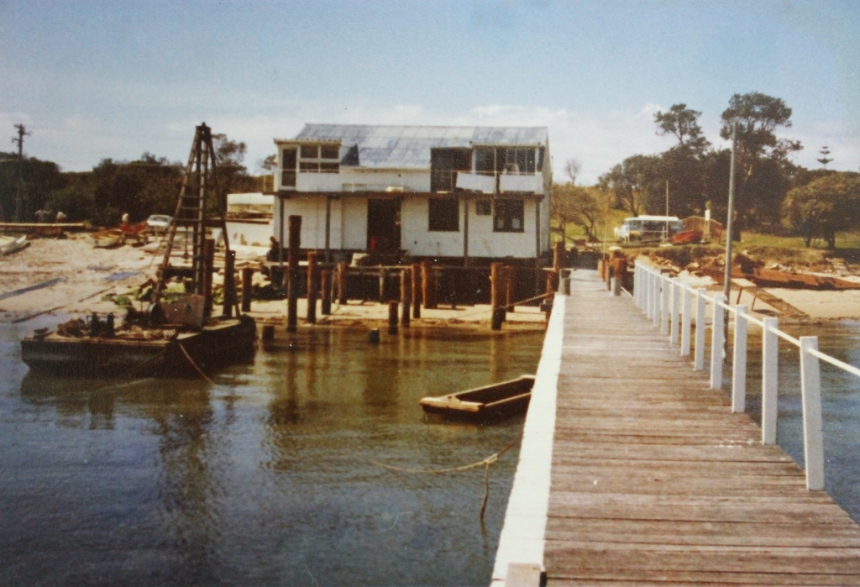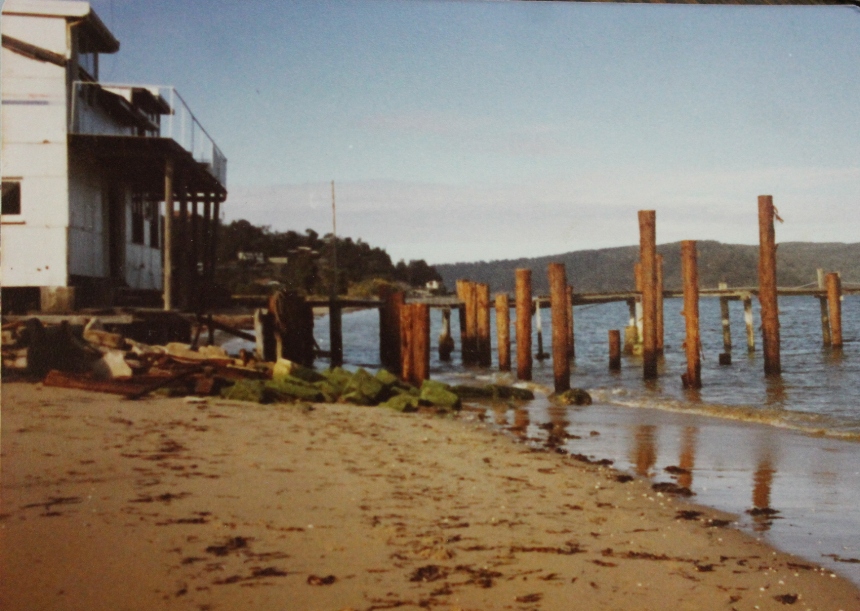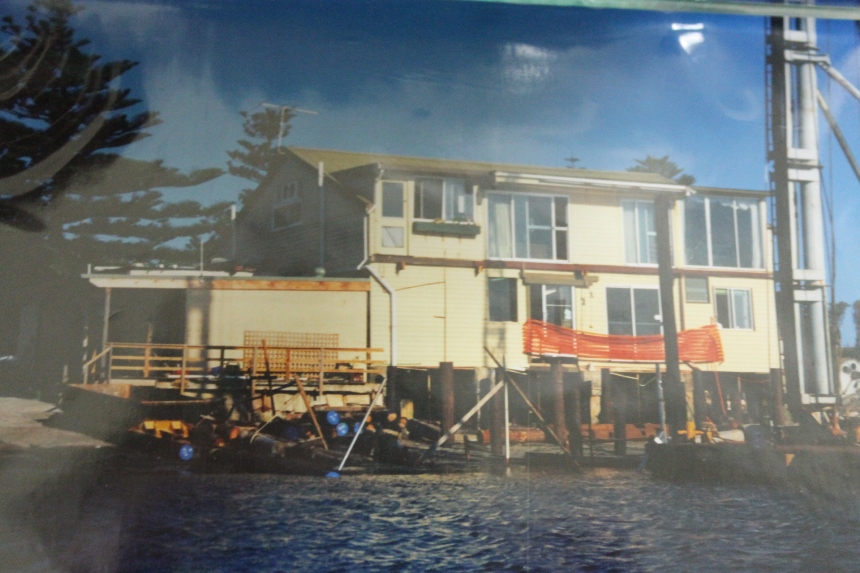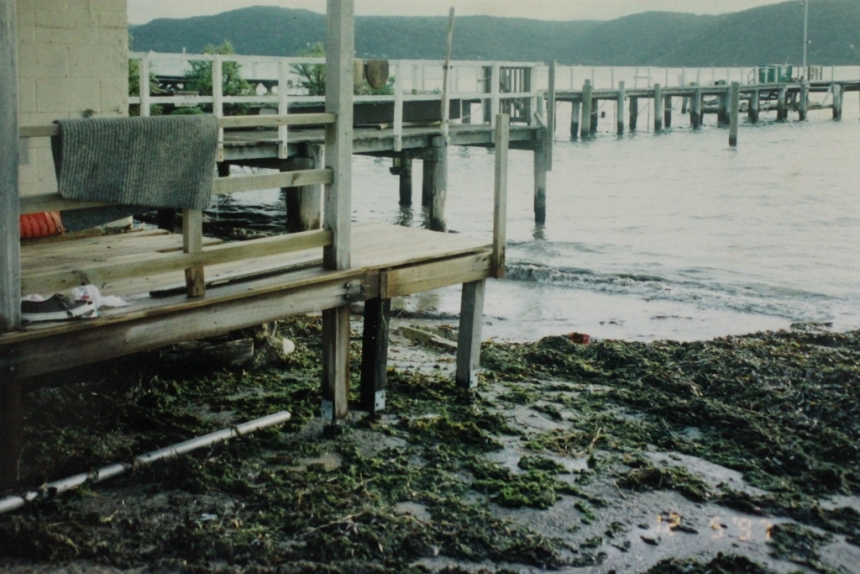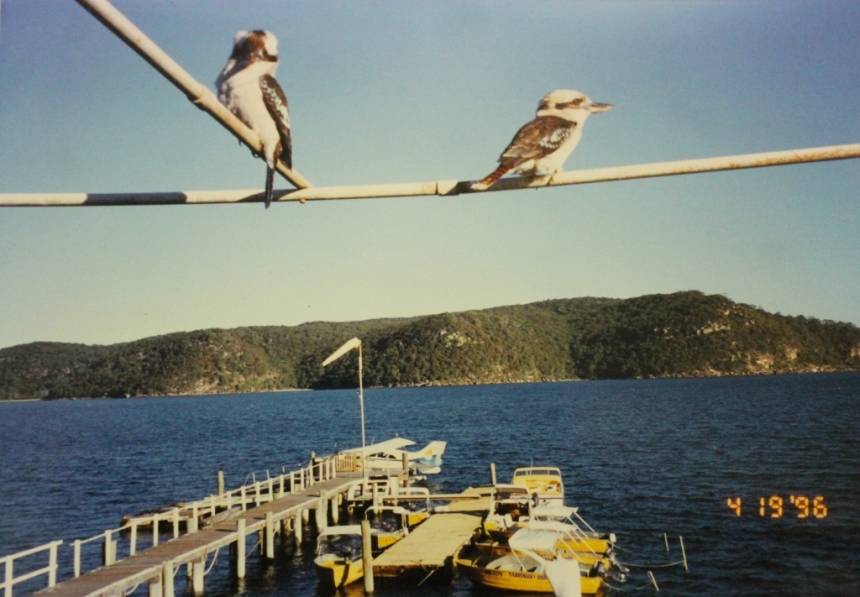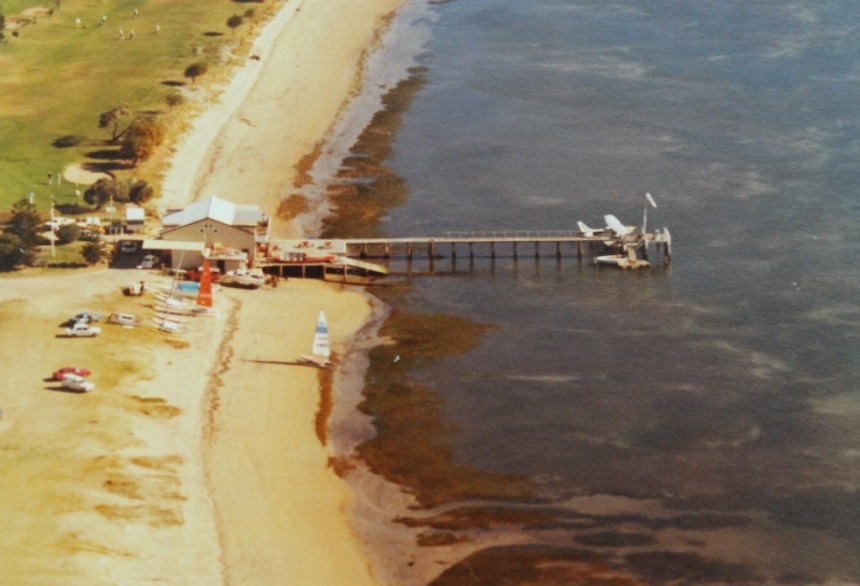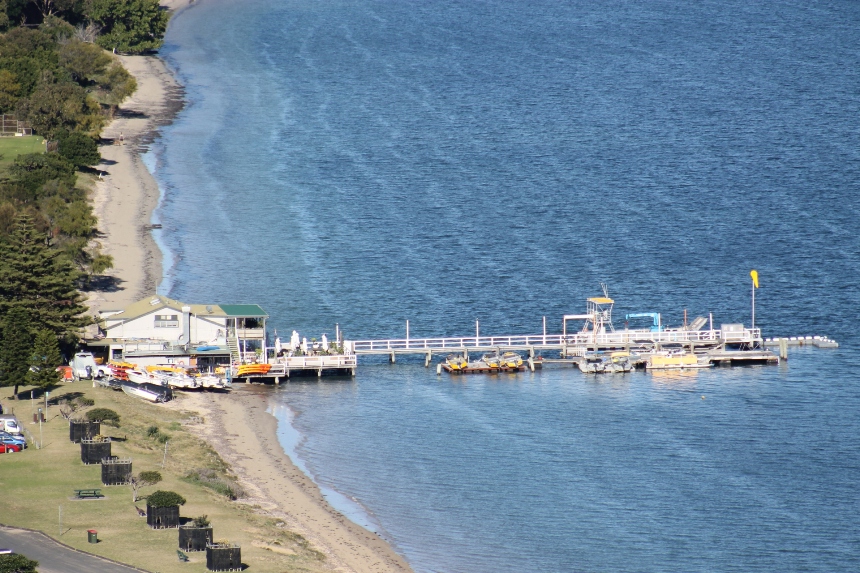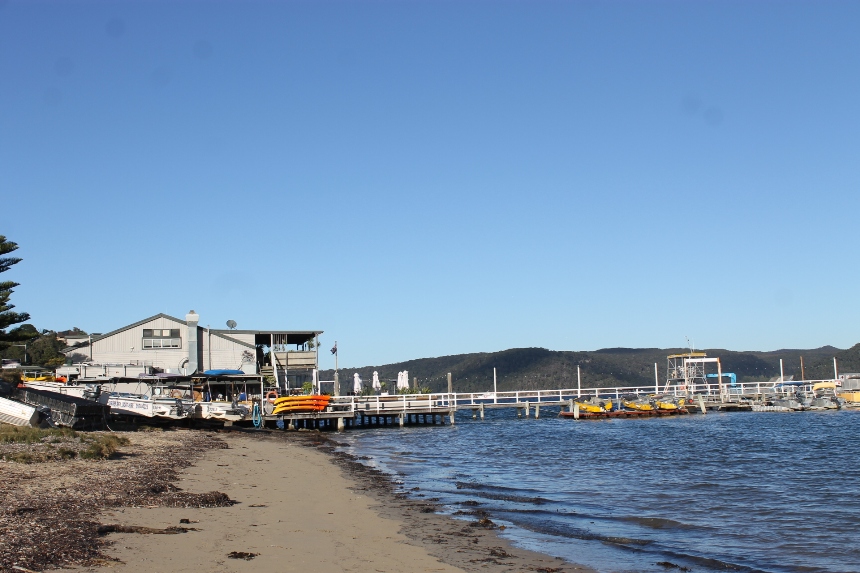 Today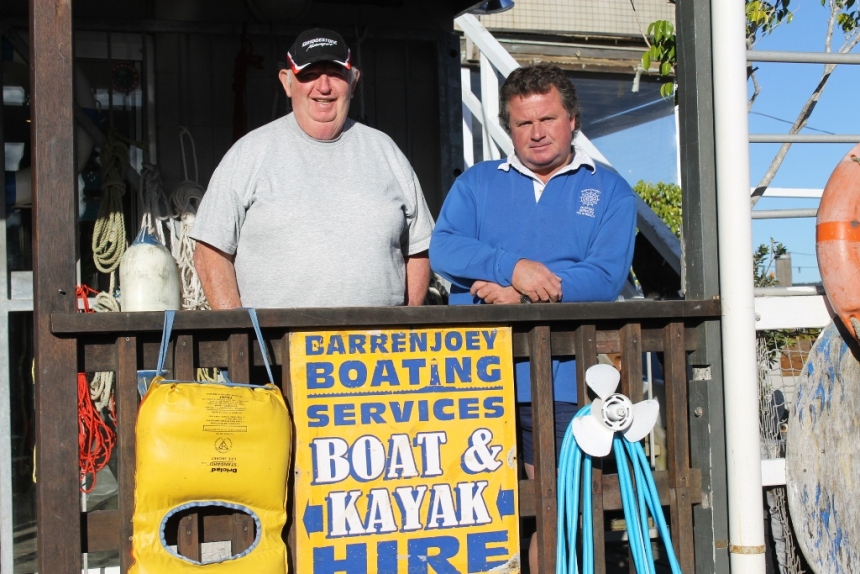 Adam Hillier with Tom Gilbert.
Many thanks to Russel Walton for sharing Barrenjoey Boat House pictures - threads collected and collated by A J Guesdon, 2014.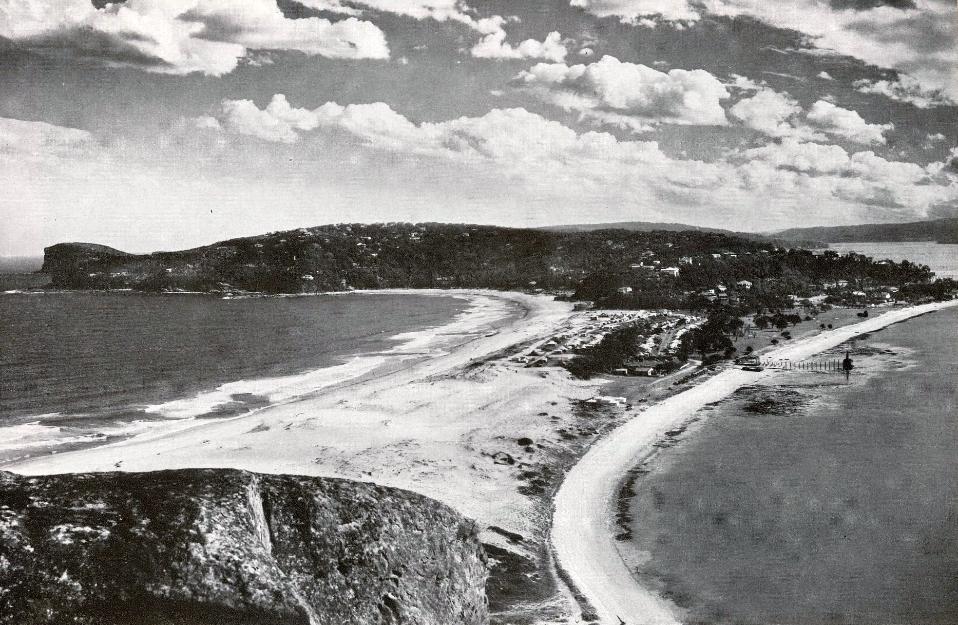 Palm Beach, taken from Barrenjoey Head, looking across to the camping area at Governor Phillip Park. Frank Hurley Photograph, circa 1940's, courtesy National Library of Australia