March 4 - 10, 2018: Issue 350

Manly's Early Sand Sculptors: How Pennies Can Become Pounds And Found A New Art
It's finals day at the Vissla Sydney Pro in Manly today, Sunday March 4th - to celebrate all things surfing and getting on the sand, a look into what else has happened with the sands of Manly - and Palm Beach!
A few years ago Pittwater Online News ran a page on the annual
Palm Beach Castles in the Sand event
which would raise funds for Cure Cancer Australia Foundation.
Always held in the second or third week of January the competition culminated in what became known as the Opening Party for the Sydney Social Calender in the Barefoot and Blacktie Cocktail Party held in a large marquee erected beside North Palm Beach SLSC. At this 'Ball' the chic would bid for items in order to raise more money for this worthwhile charity. In 2003 the Castles in the Sand and Party raised $250,000 for the charity. Subsequent years saw this sum rise and rise and rise.
Visitors to Palm Beach, drawn by the spectacle and bringing their children to see the sandcastle sculptures, also rose. One report states that by 2005 20, 000 people were coming to have a look. As Pittwater had only around 35,000 residents, you can imagine how crowded it was getting on the beach and roads leading to and from Palm Beach. The event ended and with it the extra thousands driving to and from Palm Beach to marvel over the works.
Australia, by dint of being an island with lots and lots of sand, and trucking it to places where it's needed if absent; hosts one of the healthiest sand sculptor calendars in the world - we love our sand sculptures and sculptors and we love our Art - we love making Castles in the sand, and have for a while now;
CASTLES IN THE SAND - DREAMS OF THE YOUNG IDEA 'EVENING NEWS' COMPETITION GREAT DAY AT BONDI BEACH
Every child is a born artist. Proof of this was found on Bondl Beach yesterday, when the largest crowd of school children that that popular seaside has witness all applied their inherent talent to the task of winning the cash prizes given by the 'Evening News' for the best designs worked in sand, shells, pebbles and seaweed. ... CASTLES IN THE SAND (1923, January 9). Evening News (Sydney, NSW : 1869 - 1931), p. 9. Retrieved fromhttp://nla.gov.au/nla.news-article118807152
Manly's Jubilee
Manly's Diamond Jubilee celebrations will continue to-day with a children's sand-modelling competition. However eager the young competitors may be, there is a proviso that modelling must not commence until after school. At night, a sneclal entertainment, arranged by the -Manly, Warrlngah and Pittwater Historical Society, will be held at West Esplanade reserve. There, was an official jubilee luncheon yesterday, followed by a Scotch night on the Manly Oval. MANLY'S JUBILEE (1937, March 9). The Labor Daily (Sydney, NSW : 1924 - 1938), p. 5. Retrieved fromhttp://nla.gov.au/nla.news-article237448263
The Sand Sculpting Australia festival has been held annually in Frankston, Victoria since 2008, and was held for seven years prior to this on the foreshore at Rye, Victoria. This event features a different theme each year, with the 2008–2009 theme being dinosaurs in an exhibit called "Dinostory".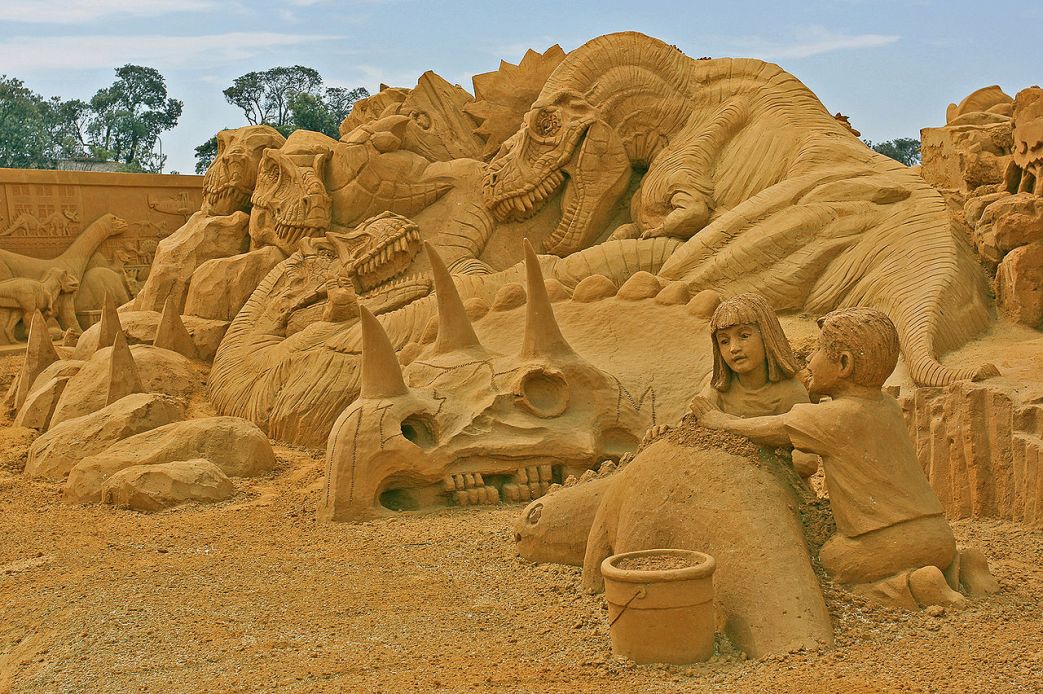 Dinosaur sand sculptures at the Sand Sculpting Australia "Dinostory" exhibit held at Frankston, Victoria, Australia 2008/2009. The sculpture was the created with the combined efforts of an international team of sand sculpting artists: Karen Fralich (Canada) - children playing in foreground; Peter Bignell (Tasmania, Australia) - Triceratops skull and logo; Martijn Rijerse (Netherlands) - Tyrannosaurus rex scene; Jino van Bruissenen and Christina Mija (NSW, Australia) - background panel. Photo by and courtesy John O'Neill
We love telling stories through the medium of sand sculptures whether as observations of recent events or recalling past wonderlands. Only weeks ago Blacktown Showground hosted a Sydney Festival event celebrating Alice's Adventures in Wonderland - all in sand!
In June 2017 1,387 people broke the Guinness World Record for most simultaneous sand angels at Stearns Park Beach along Lake Michigan - which is a simple sand sculpture to make; simply lie in the sand where it's flat and smooth and wave your arms up and down through the grains to form 'wings'.
Most of us recall building sandcastles as one part of our childhood, but who was Australia's first Sand Sculptor artiste? and were they inspired with the idea by this gentleman's works appearing in a Sydney newspaper?:
Modeling in Beach Sand.
According to the ' lllustiiiie Zoituug,' Fugen Boermel, a well-known sculptor of Berlin, created something of a sensation one summer in the little seaside resort of Nordeney. The sculptor modelled in the sand of the beach a number of figures which have aroused the admiration of the hotel habitues. It is I difficult enough to infuse life into dead marble, and it may, indeed, be considered still more difficult, from a technical standpoint, to give shape to so refractory a medium as crumbling sand.
Two years ago Boermel made a few experiments along the shores of the Baltic in order to determine the practicability of the use of white beach sand for modelling. The experience which he gathered in these early endeavours culminated in his Nordeney work. He was primarily actuated by charitable considerations, for he was interested in a plan tor providing for a family of a fishermen who had lost his life. Surrounded by a crowd of curious and admiring spectators, Boemel modelled, without any design and without any preparation, the forms which we have reproduced in the accompanying illustrations.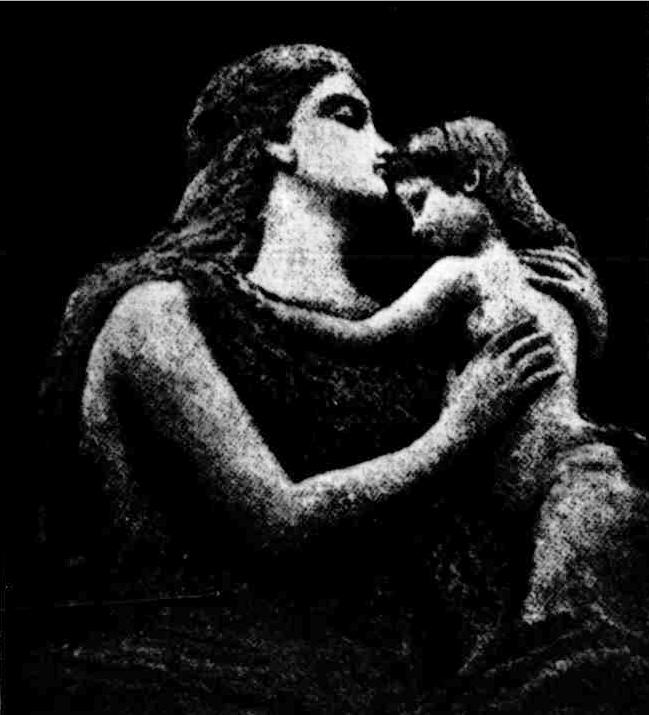 MOTHER AND CHILD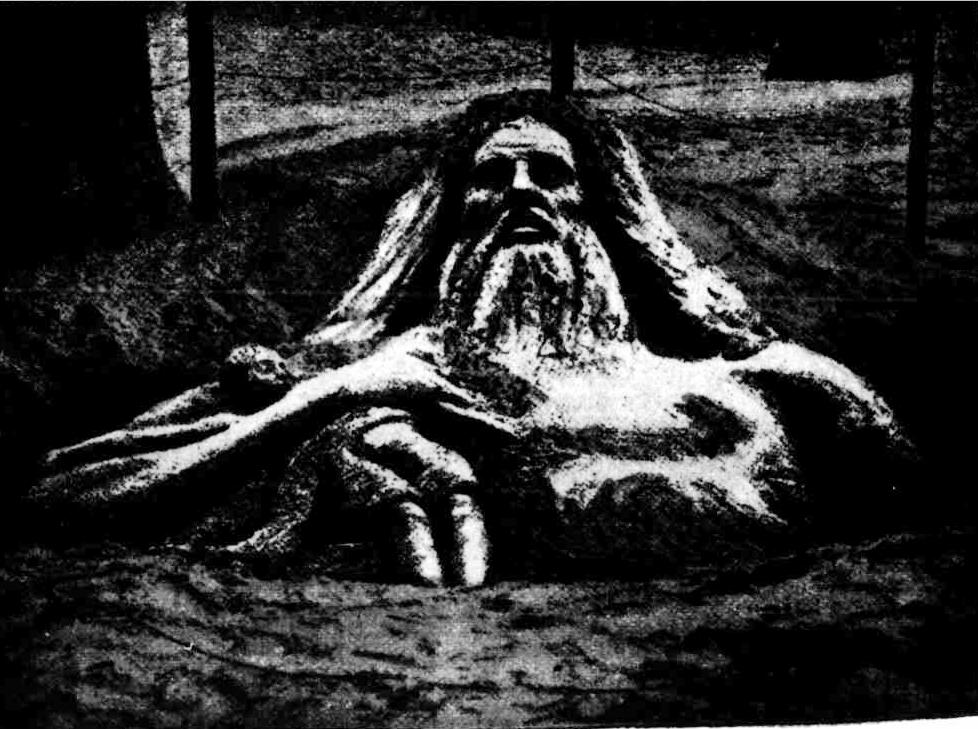 AEGIR AND SACRIFICIAL OFFERING
Modeling in Beach Sand. (1902, December 10). The Sydney Mail and New South Wales Advertiser (NSW : 1871 - 1912), p. 1510. Retrieved fromhttp://nla.gov.au/nla.news-article165383471
One of the earlier exponents was definitely this gentleman photographed here at manly by a Mosman photographer, Charles Kerry. He is surrounded by little boys in school uniforms or their Sunday best clearly fascinated by what he's doing and possibly waiting to demolish his work if the tide coming in doesn't get there first!
SAND SCULPTOR, OCEAN BEACH, MANLY.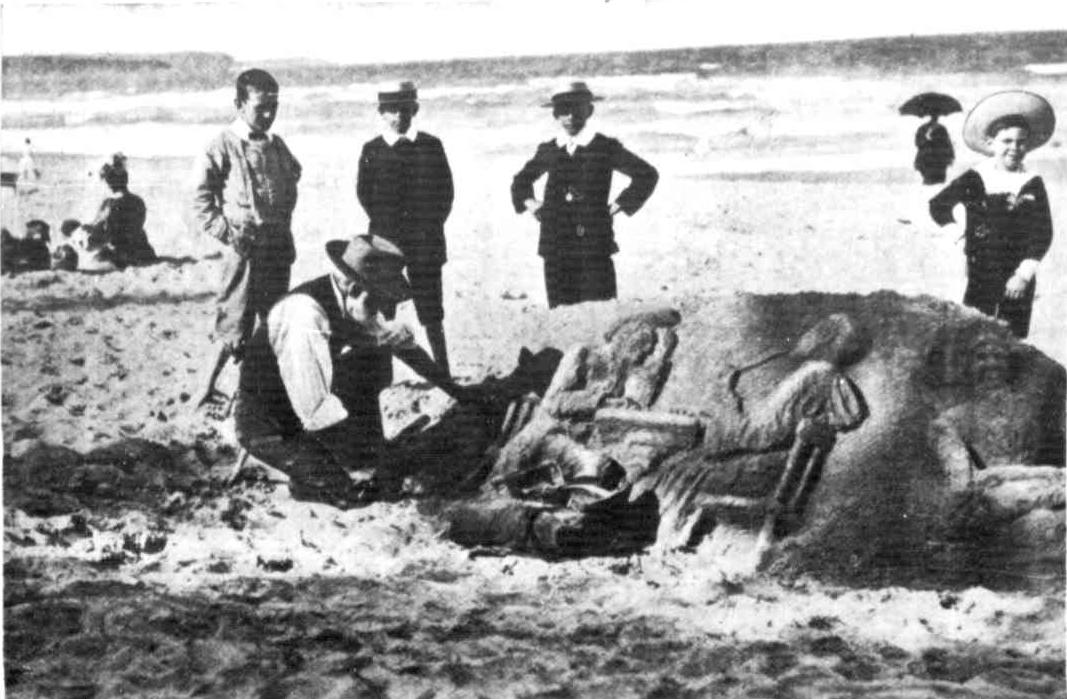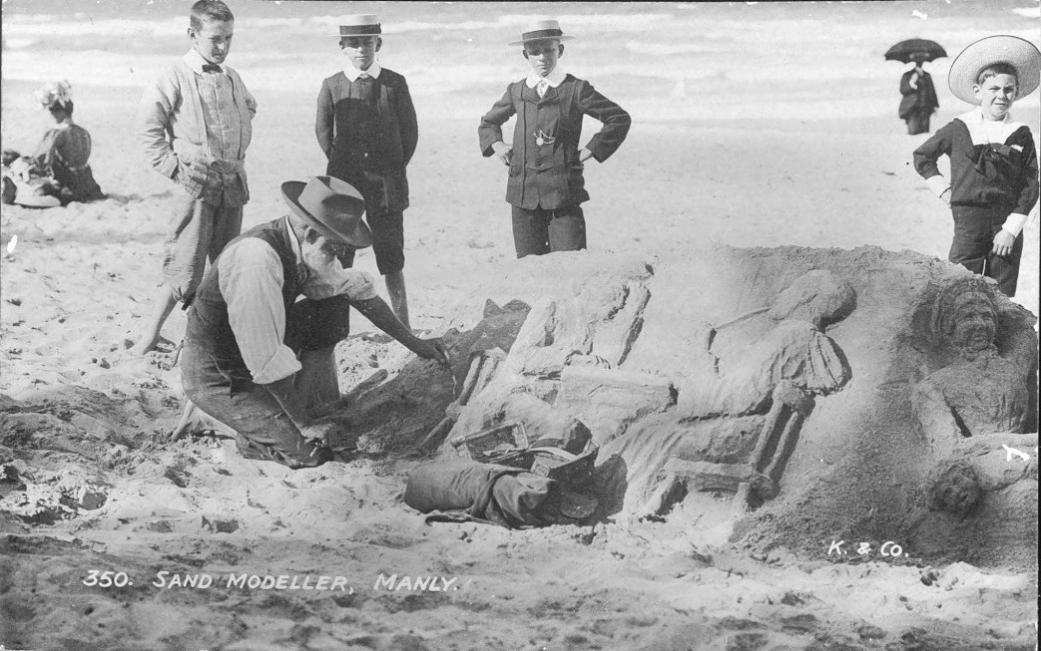 Walter Page
MANLY'S BEACH ARTIST FOUGHT CHINESE PIRATES Old Sea Captain's Adventures
When Captain William Page, the old sculptor of the sands, made his appearance on Manly Beach a dozen years ago, he soon became an institution.
His photo cards were bought in thousands by the visiting public, and he enjoyed local celebrity surpassing that of "Sovereign Lord" Smith, of the Merry-go-round, and "Happy" Eyre, the famous life-saver.
The old artist has had la varied and adventurous-career. In his 77 years of life he has known many ups and downs. Born in England, he received a good education, after which he went to sea in the mercantile service. This was nearly 60 years ago, and for 35 years he had an interesting and successful life trading in the South and China Seas. He, with his lifelong partner, an English comrade of his boyhood, had many encounters with the South Sea natives, marks of which, in the shape of spear wounds, are still to be seen on Captain Page's body.
He speaks with fond recollection of the glamor of the Island life, and the money he made in trading. Of the blackbirding and bad days of the South Seas he has many exciting reminiscences. As a testimony of the truthfulness of the old Captain's stories, it may be mentioned that he is the only old-time South Sea trader in existence who doesn't boast of having personally known the celebrated "Bully Hayes." Captain Page says that Hayes's name and evil reputation were well known to him, but he never actually came into contact with that daredevil desperado.
While at sea Captain Page made a study of wood-carving, and became an expert. When misfortune came upon him 12 years ago he tried it for a living, but there was no market for that kind of work.
The financial tragedy that overtook the old veteran makes a rather pathetic story. Captain Page, along with his partner of 30 years in South Sea trading, had amassed a competence of over £15,000, and he was settled in Sydney. In 1904 he went for a two years' trip round the world, leaving full power of attorney to his old partner and chum. Their Investments were mutual. After 18 months sojourning in America and Europe he received a cable to come back to Sydney, as his partner had died. On his arrival in Sydney he found to his dismay that through bad investments by his partner the whole of his savings, with the exception of about £100, had disappeared.
He had to face the world afresh, and the idea entered his head of trying his luck with raised figures on the sand. With what success the people of Manly and the visiting public are well acquainted. Every public topic of the day finds a place in his groups of sand sculpture. The Kaiser, and the long-nosed, inane-looking Crown Prince are a constant subject' for his satire, and his amazing and lifelike caricatures of the Blunderer of Verdun always attract attention.
"I was within five yards of the ugly duckling in England when he was a boy," says the veteran, "and he was a sneaky-looking lad. He had small, shifty eyes, and he couldn't look you in the face."
All the politicians and public men find life-like representation on Manly's sands, and every phase of the war has been illustrated. He has something quite new to exhibit every day.
Captain Page, despite his 77 years, is a wiry veteran, with the spring and jauntiness of a boy. Of his long career in the South Seas he has many interesting stories. His most exciting time, however, was spent in trading in the China Seas, where hr put in many years of adventurous and dangerous existence. In those days piracy was rampant everywhere in the China Seas, and his own steamer was several times attacked. On one occasion there was a desperate, hand-to-hand struggle on board the captain's. Vessel before the pirates were beaten off. Several of the captain's crew were killed or wounded, and Captain Page bears testimony on his body, arms, and legs of the part he himself took in the encounter. A glance at his body reveals an extraordinary array of wounds.
"We were attacked," said Captain Page, "by three pirate junks, and 'were boarded before we could get our four-pounders going. I shot fully half a dozen pirates myself, and when we cleared them off our deck the Junks bolted. We gave chase through the Amoy channels, sinking two of them, and driving the other ashore. While we were following them I had two men taking depths with the line, and I charted the channels. The pirates knew every inch of these dangerous waterways, and that was the difficulty the gunboats had previously experienced in following them to their hiding places. When we returned a British gunboat came up, and on learning that I had charted the channels the authorities asked me to pilot the British boats in a campaign of extermination that the British Government was carrying out against the pirates in these waters. This was in 1877 or 1878, I forget which year."
"We set out with three gunboats, and through my experience of the channels we were able to come upon them in their private lair, which they had evidently believed to be undiscoverable. Dozens of the pirate craft were destroyed or captured, and we had an exciting and bloody time. The pirates put up a good fight, and apparently didn't expect any mercy. That campaign killed the pirate industry as a going concern, and only occasional acts of piracy have since happened in these waters. The method adopted by the modern casual pirates has been to get aboard a vessel as passengers, and afterwards seize the ship. We took over 500 prisoners, and handed them over to the Chinese authorities at Shanghai. They were all executed, and their corpses hung up on the wails of the city, where they made a horrible and smell-ful display for some time, until the British Consul secured their removal for sanitary reasons."
For his services in this stirring undertaking Captain Page was rewarded by the British Government. He also took part with the British forces in the attack on the Taku Forts, where he had half his left hand knocked off by a blow from a ride butt as he was climbing over the walls, and received other wounds.
The old sea captain has terrible stories to tell of the fiendish cruelty of the pirates, who for centures had held sway in these parts. They lay about in their innocent-looking junks, and countless European trading vessels fell easy victims. A general massacre of the passengers and crew Invariably followed a successful boarding, and Captain Pago says he has seen pillaged vessels with the corpses of their hapless passengers lying about the decks in ghastly array. He tells of a derelict French schooner that he boarded, to find the captain and a young girl, evidently his daughter, crucified to the masts, and the murdered crew scattered about the ship, all bearing evidence of horrid torturing before their deaths.
"I always thought," said the old sea wayfarer, "that this Was the most awful sight the world had ever seen, and that these old Chinese pirates were the cruellest fiends on earth, but since the war broke out the Germans have committed equally horrible acts, and I'm puzzled whether to give the palm to my old Chinese enemies or the Huns for diabolical deeds!"
Wilhelm will now devote himself to writing an Easter address. — New York "Sun."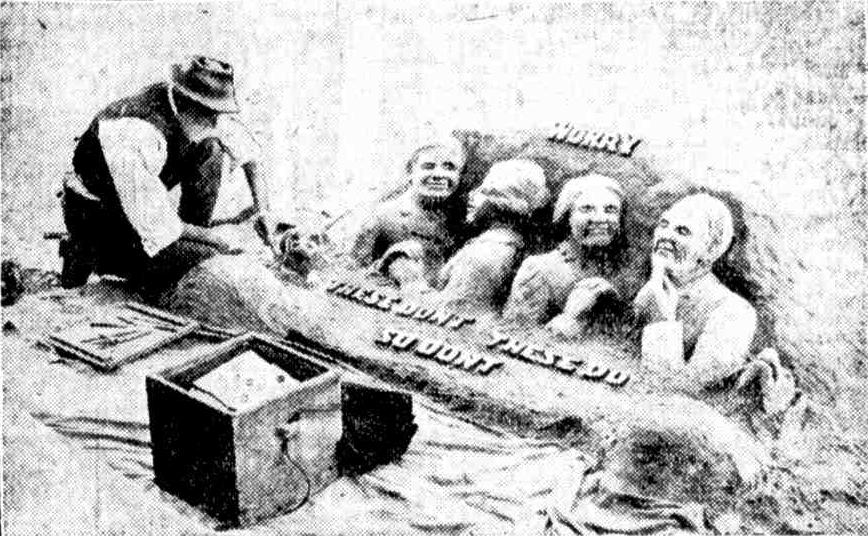 Photo Captain Page at Work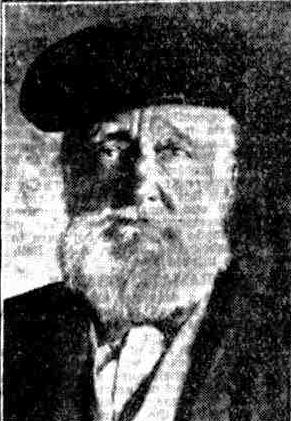 Hale and hearty, with all his faculties bright and alert is Captain Page, well known In Manly a few years back as a very clever sand modeller, who recently celebrated his 95th
birthday
Captain
Walter Sagon Page
, to give him his full title, has had such a colourful and stirring career, that he says he is never lonely, for he has enough memories of other lands and other days to keep his mind fully occupied.
Outside his door stands a model of an old time sailing ship, which he made himself. The sails look like canvas, but examination proves that they are made of wood, pared as thin as paper. As he eyes it with affection, he tells you it is a model of The York, an East Indiaman sailing ship, owned by John Allen and Son, London, and of which he was
mate in 1881.
It was a direct ancestor of his with the same christian and surname who commanded »he London Merchant, a warship fitted out by the merchants of London at the time of the Spanish Armada, Another ancestor was Lord. Chief Justice Sagon Page in the reign of Queen Anne, and his mother's father was Dr. Hall, one of Nelson's fleet surgeons, who fought at the battle of Trafalgar. His wife belonged to the family of the famous Richard Arkwright, inventor of the cotton-spinning machines, which revolutionised that Industry in Yorkshire and Lancashire, and
his twin sister, Amy Sagon Page was a writer of novels.
The old man emphasises the fact that members of his family have always been sailors and soldiers, and says that It was a great disappointment to him when the authorities
took up what he considered a ridiculous attitude when they ruled that he was too old to go to the war in 1914.
"I wanted to have a boat in the North Sea," he remarked, adding that few people living knew the North Sea as he did. However, he Joined the Red Cross Society, for which he did great service.
His son was captain of the Corromandel, and met his death when the ship was submarined while carrying supplies from America. Two grandsons were also victims of the war, and a granddaughter, who was nursing at a field hospital, and refused to leave her patients when the hospital was shelled also gave her life for her country.
Captain Page sometimes tells tales of adventures which would thrill the soul of any adventure-loving boy, of fights with river pirates, of ambushes when he served in the Ashanti War, and of sudden uprisings in China. Once, when near Aden, his ship struck an uncharted reef, and, to r.dd to the evil, plague broke out on board. When they reached land only seven of the crew remained.
As you can see from the above articles this gentleman is called William by one writer and Walter by another. There is also a discrepancy about his age as the 14 years that elapsed between 1918 and 1932 would have made him 91, not 95. NSW Births, Deaths and Marriage records state he was 97 when he passed away in 1938, his death registered at Manly, as William
Seddon
Page, which means he was born in 1840 or 1841. The same NSW Records has a William Page, whose birth was registered in NSW in 1842, his parents being John and Margaret.
Hundreds of Forbes people holidaying in the City have stood and admired the- old sand-modeller at work at Manly. It will be news to the
majority to know that the hardy old veteran is an
Australian
,

having seen the light of day for the first time down Windsor way, way back in the roaring 'forties

; where his dad was a soldier stationed at the old barracks of the historic town.
The modeller's name is Captain W. S. Page. Two years after his birth, he went to England with his parents and later went to sea, and from 1864 till 1870 was engaged in the South Sea Islands. Later he went to China, and on several occasions ran against the pirates who roved those seas then, and to this day he carries scars as a result of bullets wounds received from them.
Twenty years ago he forsook the seas and turned his attention to sand-modelling. He had never been taught the art, but his own natural ability helped him, and, to-day, at 86 years of age, he considers his work better than at any period of his bygone days.
Mr. W. S. Page, known as the Manly sand modeller, was knocked down today by a car at the Intersection of George and Jamieson streets, and conveyed by the Central District Ambulance to Sydney Hospital, where he was admitted suffering from Injuries to the head. SAND ARTIST HURT (
1926, March 24
).
Evening News
(Sydney, NSW : 1869 - 1931), p. 9. Retrieved from
http://nla.gov.au/nla.news-article117292099
Following in Mr. Page's footsteps was another gentleman whose origins and life prior to emerging as a sculptor in sand wree porbably only known in full to himself.
John Suchomlin (Russians state this would more correctly have been spelt '
Ivan Ivanovich Suhomlin') commenced making sand sculptures at Manly in 1926. Born on January
20th
1886 in a small village Kozeevka in Kharkovskaya gubernia, Imperial Russia (the Ukraine to us), to Ivan Suhomlin and Matryona Bolotnenko. He had at least one older brother - Stepan.
Various articles state he became involve din the 1905 Russian Revolution and had to
skedaddle, escaping to Germany where:
" over the next few years Suchomlin worked as a seaman on trips to Argentina and Africa, then in a leather work factory in Germany whilst undertaking art studies. Then the Russian authorities detained him and he served two years on a Russian Navy warship. He stowed away again, and returned to Germany. Eventually he worked his passage as a seaman on a German ship bound for Australia, arriving in Adelaide in 1911."
Ivan's own recollection of this time is described a The Mirror article dated March 1928:
"He served in the Russian Navy, and becoming associated with the revolutionary movement, was obliged to fly into France".
Ivan arrived to Adelaide, South Australia, per the SS Solinger in 1911 and jumped ship. His Naturalisation record states that he was at sea for 7 years, most likely hiding from Russian authorities.
He worked for a few months at Hope Valley and Port Pirie smelters and at Water Works Department in Adelaide.
By early 1920s he is known as John Suchomlin and is married to Elsie Daisy Matingley, a daughter of Norwood Council Mayor, and has two sons, born 1920 and 1923.
"'Early in his life, he says he felt the call of art. …..He went to Germany, and there studied as best he could, earning: the money for his tuition in any employment that offered. He studied clay modelling and portrait painting", The Mirror 17 March 1928.
He resumed his art studies and subsequently opened his own studio in Adelaide. His first attempt in showing of his art in Australia was in November 1922 in Annual Federal Art Exhibition in SA with a painting of the girl sitting in a chair.
His sand modelling/sculpting here began at Manly's Harbour Beach in 1926. He relocated to the more popular Ocean Beach in 1929. His first sand sculptures were made on the beach, however Suchomlin successfully petitioned Manly Council to erect a kiosk to house his sand sculptures. To support himself, he charged an admission fee to view the works and sold photographic postcards, just as Mr. Page had.
Alike Mr. Page he dabbled in contemporary themes and recreated scenes from the Bible featuring Nativity scenes at Christmas and others at Easter.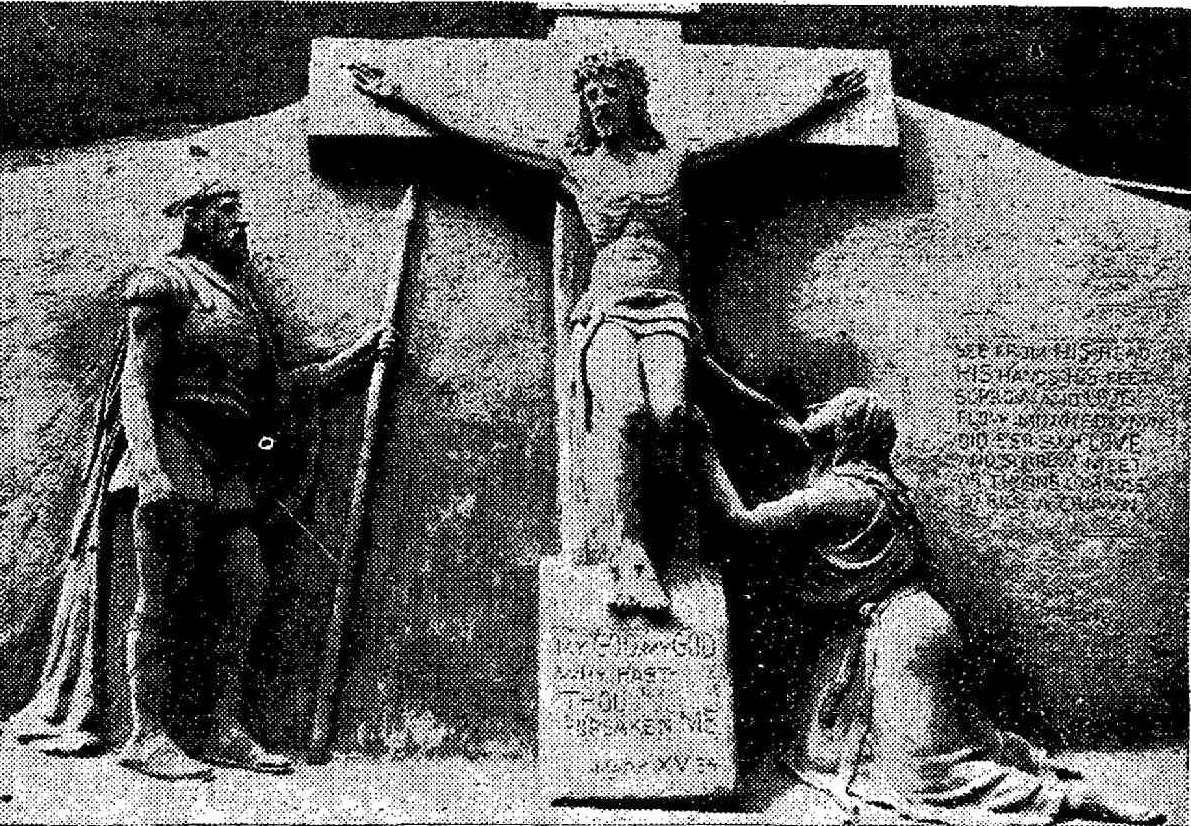 A fine example of beach sculpture by John Suchomlin, the Russian sand artist at Manly Beach, Sydney. Suchomlin is a son- n-law of the late J. H. Matingly, a former mayor of Norwood, S.A.
SAND SCULPTOR'S TOPICAL EFFORT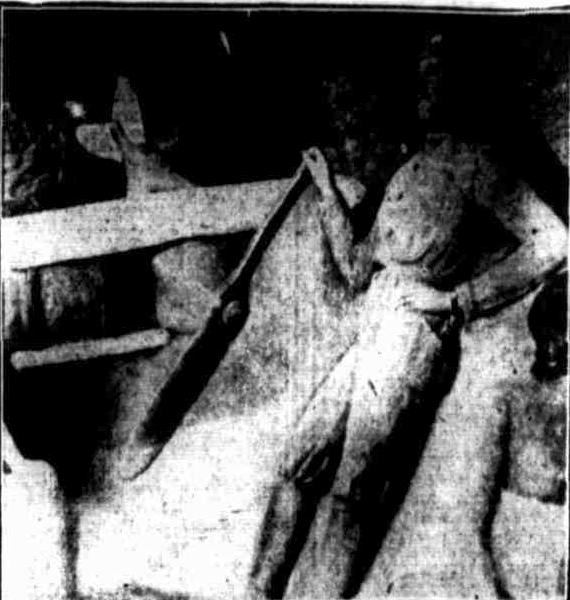 Miss Amy Johnton features in the gallery of the well-known sandmodeller at Manly
. SAND SCULPTOR'S TOPICAL EFFORT (1930, May 28). Evening News (Sydney, NSW : 1869 - 1931), p. 1. Retrieved from http://nla.gov.au/nla.news-article117472090
He also took his art abroad, hoping to earn enough during the Depression to support his family, an dtravelling when the cooler months meant not so many visitors to beaches here;
Thousands of visitors to the Bournemouth Beach have admired the lifelike coloured figures modelled in sand by John Suchomlin whose work was an attraction at Manly, Sydney. He went to England in the hope of earning a living by sand modelling at British seaside resorts. GENERAL CABLE NEWS. (
1931, July 28
).
The Argus
(Melbourne, Vic. : 1848 - 1957), p. 8. Retrieved from http://nla.gov.au/nla.news-article4380408
Australian Builds Fortunes in Sand
London, Sunday.- -Thousands of visitors at Bournemouth beach are daily admiring the lifelike colored figures modelled in sand by John Suchomlin, whose work was a well known attraction at Manly, Sydney. He came to England hoping to earn a living at his modelling, and showers of pennies seem to indicate that the venture is fortunate. Australian Builds Fortunes in Sand (
1931, July 30
).
The Uralla Times
(NSW : 1923 - 1954), p. 1. Retrieved from
http://nla.gov.au/nla.news-article175181549
ROMANTIC RISE OF -SAND GENIUS
Job in England for Beach Modeller
THE romantic rise of a down-and-out man who took up beach modelling with sand and water is behind the salaried appointment of Mr. Jack Suchomlin; formerly of ,Adeiaide, by the Bournemouth Council, England. He is now on his way to Bournemouth, where he will spend several months modelling figures on the beach there.
Years ago he started to model at Brighton with sand and water, and he soon became a great draw card. He made many models'at Brighton, and they attracted so much attention that he gave up oil painting in favor of this new art. His models are made with sand and water, and many of them aie.tinted. ANATOMICALLY PERFECT
His. models. are amazingly lifelike, and many of them are elaborate. University experts say that they are anatomically perfect. When he went to Sydney his models received, wide public .recognition.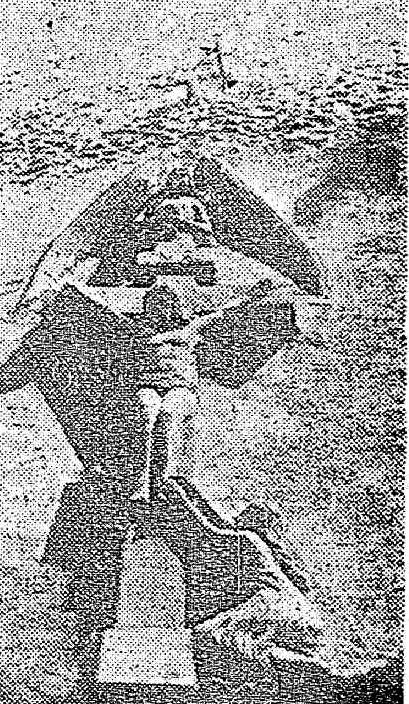 "The Crucifixion," one of Mr. Jack Suchomlin's sand and water beach models.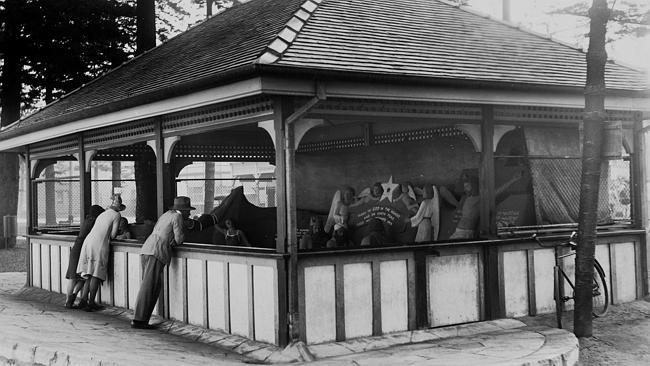 Manly Council erected a special kiosk to protect his bigger studies from the weather.
Several of his oil paintings are at the council chamber at the Norwood Town Hall. They are portraits of former mayors. Mr. Fred Charlick of Toorak, who has met the artist, said that on one occasion Mr. Suchomlin was
paid a retaining fee to model in America, but he did not stay there long because he wanted to get back to his wife and family in Manly.
The artist's first venture in sand-a mermaid-was modelled at Brighton. It was so highly appreciated that he concentrated on more elaborate studies.
BIBLE SUBJECTS BEST
Some of his best presentations were of Biblical subjects. They included "The Crucifixion," "The Sainaritari. Woman at the Well," "The Finding of Moses," "The Wise Man," "The First Christmas Morn." and "The Resurrection."
A modern touch was given to his works by a model of Amy Johnson, the famous airwoman. ·An amazing feature of some of the subjects is the realistic texture of bathing gowns and draperies. He specialises on little but important details, such as the puttees of soldiers' uniforms, bread on a tea table, creases on trousers, and pearls round a woman's neck.
One of his early works, "Love's Last Call" still weathers the elements on a secluded sandhill at Manly.
Having seen n fortnight's arduous work reduced to nothing by the wanton destructiveness of a gang of hoodlums, Mr Suchomlin, the St. Kilda sand sculptor, was back today working on the Centenary tableau which he hopes to exhibit. Recovered from the bitterness and exasperation which first assailed him, the artist now regards his loss with the philosophy that often comes easily to the native of the Russian steppes, where Mr Suchomlin was born 40 odd years ago.
"It is life— nothing more," said Mr Suchomlin resignedly, as he began to build up the figures which had been broken.
"It will take me another 10 days to complete the group. It is slow work. Sometimes I have a head finished Perfectly. Then the sand is too wet Poof! It falls down, and I start all over again.
"When I was a boy I studied painting, first at Kharkov, in the Ukraine, and later in Germany. I hoped to become a great artist.
"It was not to be. I came Australia in 1911, a young man full of hope. But work was scarce. I had to give up my portrait painting.
HOUSE PAINTING
"I had to take jobs painting houses— and worse still, hanging wallpaper. I could not have done this but for the fact I had married a girl in Adelaide. My wife and children had to be kept happy.
"I came to Melbourne, and one day on the bench at Brighton my little boy snid, 'Daddy, draw mo a mermaid.' I drew a mermaid in the sand. A crowd quickly j gathered. Some of them gave coins to my little boy to put in his money box. I saw that I could earn my living this way. My sand statues became well known at Adelaide, Melbourne and Manly. , .
"Recently I toured England and America. Several experts there said I was the only craftsman in the world capable of making deep relief figures in sand. "I do all my modelling from the imagination, which is very hard. And I use nothing but sand and water, and sometimes a little kalsomino to color and bind the surface.
"I am trying to get someone to guard my figures at night so they will not be smashed again. Until then I must sleep beside them." "Sand Man" Rebuilds (
1934, October 11
).
The Herald
(Melbourne, Vic. : 1861 - 1954), p. 16. Retrieved from
http://nla.gov.au/nla.news-article243067199
HONORARY secretary of the Society of Arts, Mr. H. E. Fuller, told me something interesting about John Suchomlin, sculptor in sand.
"For some time he was a member of The Society of Arts" Mr. Fuller said. "When the depression came along he left for one of the other States ; the charge for beach sites here was too excessive.
"Several years ago he went to England, and I had heard of his success there in this particular medium.
"I understand that his youthful son in Adelaide, has inherited his father's artistic talent." Out among the People (
1938, September 5
).
The Advertiser
(Adelaide, SA : 1931 - 1954), p. 25. Retrieved from
http://nla.gov.au/nla.news-article35611202
Attracting large crowds to his models on the sands at Burleigh Heads is Mr. J. Suchomlin, a Uk'ranian artist of Adelaide and Sydney. During the war he modelled on the Sydney beaches to aid Red Cross funds. The back-breaking task of making one of these models takes him about four or five hours. Pictures show: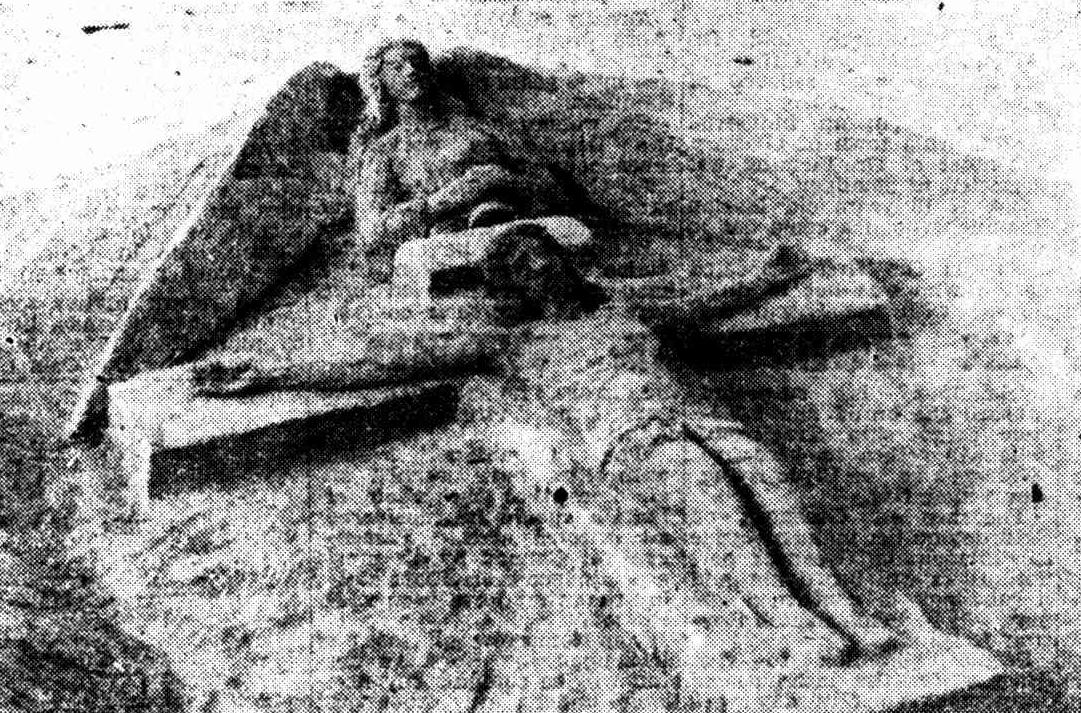 TOP: The figures of the Crucifixion.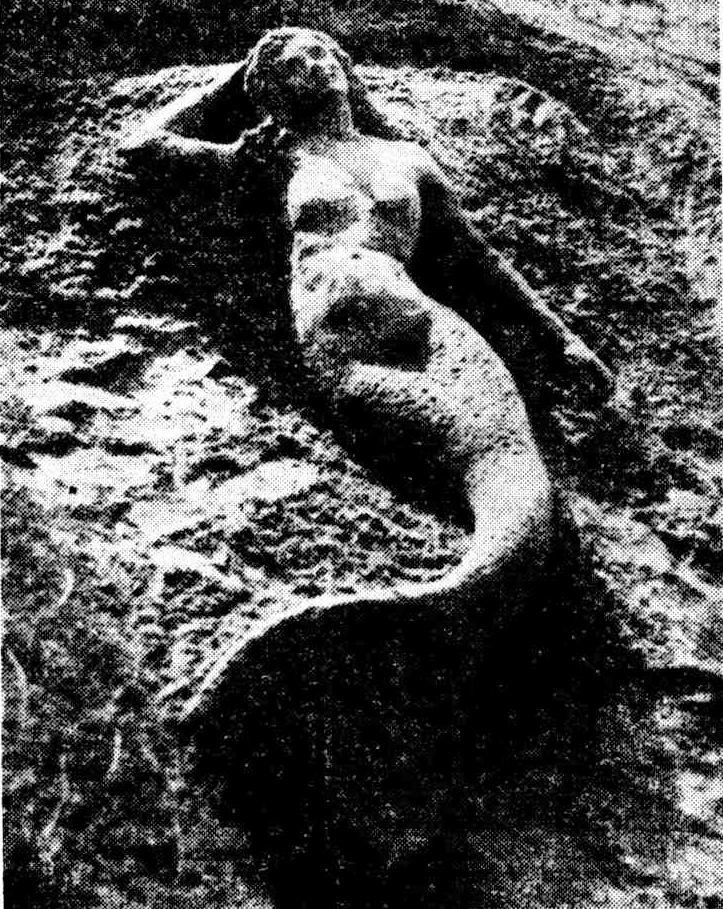 LOWER: A model of a Mermaid.
Ex-Russian sailor models with spade
SAND SCULPTOR WORKS AT REDCLIFFE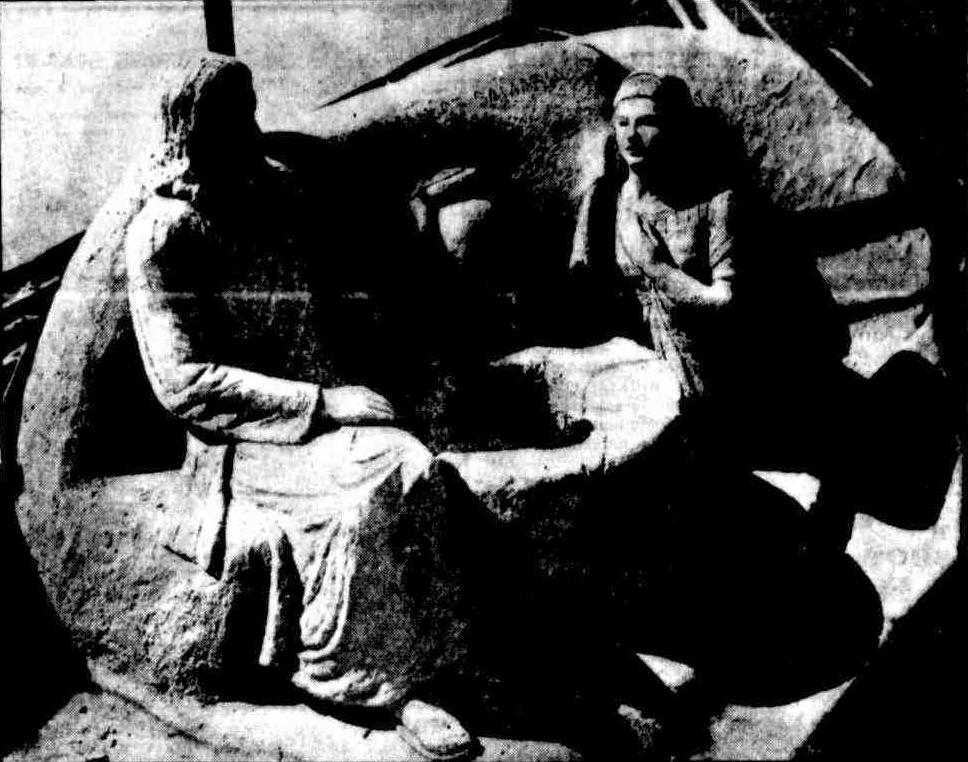 SAND SCULPTOR, John Suchomlin, completed this group of the 'Woman of Samaria' in less than three days on the beach at Scott's Point, Redcliffe. His tools were a shovel, a pencil, a piece of wood, and a small brush
FOR the last fortnight 64-year-old Ukrainianborn, John Suchomlin, has heen decorating the beach at Scott's Point, Redlcliffe, with his sand sculpture.
He has completed two groups of almost life-sized figures illustrating stories from the Gospels — one is the 'Woman of Samaria' and the other the 'Annunciation. Hard manual labour and crude home-made tools have been used by the sculptor whose work is well known on Sydney and Victorian beaches. The actual modelling work was done with a pencil, a wooden spade, and a small paint brush. The groups took three days to complete. To dampen the sand so it would hold the modelling, Mr. Suchomlin had to cart 150 buckets of water up the beach. To give the groups
some protection from the wind he dug a pit four feet deep. Since 1927 Mr. Suchomlin has been modelling in sand. He worked at Manly Beach, Sydney, for nearly seven years and on Victorian beaches for 16 years. In between times he visited America and England. Now that he has reached Redcliffe he has decided to live there permanently. Before beginning his novel career of sand sculptor, Mr Suchomlin spent five years in the Russian Navy and mer-chant service before coming to Australia. Here he worked in a quarry with the Australian Water Board, and finally as an art teacher. He studied art in his spare time.
What this all shows us of course is that those who build Castles in the Sand can achieve greater works that can lead to them getting to do what they want to do - and this has been so for quite a while:
SAND MODELLER WHO BECAME A SCULPTOR
Modest Beginning of Designer of Brisbane Memorial
Mr. E. F. Kohler, winner of the Commonwealth-wide competition for Brisbane's memorial equestrian statue to King George V., never attempted a piece of sculpture till he was 38 years of age.
In Sydney to-day, on the way to Brisbane for the unveiling of the memorial on Tuesday, he remarked that the journey from Perth where he lives was also a honeymoon trip.
He was born in Queensland and went to the war, where he was wounded. Later, till 1928, he was assistant records officer to the Imperial Graves Commission. It was at Malo-Les-Balns (Dunquerque) In 1929, while watching -a sand modeller at work that he was prompted to his first effort in the sculptor's art. Two children asked him to model something in the sand, "What?" he asked. "A soldier," they cried.
He began. A crowd gathered, the children clapped .approval, and an Interviewer came to ask about his career in art. He had none, said Mr. Kohler. Next day the local newspaper published an article about his skilful modelling, and soon there was another in an art magazine,"
"This opened the way for me to the Lille Academie des Beaux Arts," said Mr. Kohler.
Later he spent several months studying with and assisting the Belgian sculptor, Pierre de Socte. SAND MODELLER WHO BECAME A SCULPTOR (
1938, May 19
).
The Telegraph
(Brisbane, Qld. : 1872 - 1947), p. 1 (SECOND EDITION). Retrieved from
http://nla.gov.au/nla.news-article184133345
I saw a sculptor all intent
Upon his marble white,
And all his energies were bent
To mould it, day and night.
With mallet hard, and tools of strength,
And many strokes severe;
The block was made to feel at length
That skilful hands were near.
And I beheld a child look on,
And gaze with wondering eye;
She saw the splinters, one by one, .
-In all directions fly ;
The doubts that filled that simple mind
Were hard to understand,
Like curious things that children find
Upon the ocean's strand.
The marble chips, at every stroke,
Were scattered one by one,
When childish doubt broke out and spoke
"Father, why waste the stone?'' -
"It is," he said, in accents mild,
"By strokes and heavy blows,
That, as the marble' wastes, my child,
The more the statue grows."
Are we not all but children small,
In doubt and want of sight? .:.
And, like the little child, we call
In darkness for the light.
How many curious questions still
Are asked by children here,
As we behold a Father's skill
Excite our childish fear.
We see our dear ones pass away,
Whom we have loved so long; .
Our little ones who could not stay,
Whose life was rich in song;
We see our loved possessions fly,
And leave us with such haste;
Then ask in our simplicity, .:
"Oh, why is all this waste?"
And then, amidst our trembling fears,
A Father's voice is heard,
Who wipes away our falling tears.
By his most gentle word-
"It is," He says, in accents mild;
"By strokes and heavy blows,
Just as the marble wastes, my child
The more the statue grows.
In Australia today there are professional sand Sculptors - Artists who are called in in solo or groups to work together to create something wonderful, topical and communicating a message and sight all the more treasured because we know it will be a fleeting celebration.
"Sand In Your Eyes is the longest running Australian sand sculpting company. It was formed by Master sculptor Dennis Massoud more than 20 years ago. The Sand In Your Eyes team are all master sand sculptors and world champions in their field who have experience in a large number of events held across Australia and overseas.'

A recent project they did for Qantas - a life sized sand sculpture of the inside of an aircraft was located in Customs Square at Circular Quay in February 2013:
So
... if you think mucking around with your Play Doh is something you should grow out of, or find kneading that clay is now, for you, passe, get back onto the beach and play between where the tide runs out in between kissing the sand and play once more...
There may be great things in store for you and your hands in the sand...
And if not - it's great fun anyway - good for the lungs, the skin, the mind-heart and soul.