November 17 - 23, 2013: Issue 137
Pittwater Regatta Banishes Depression – 1933
The Depression in Australia is stated by some sources as being at its worse in 1933 and by others as the year the 'tide turned'. With pounds and pennies to be made at regattas, those with any kind of craft did their utmost to be amongst the action or if not participating, gaze at those who were, especially those beautiful yachts and motor boats. Many of these vessels and people were the crème de la crème of Sydney's yachting, rowing and motor boat world and then, as now, seeing them on Pittwater became an annual event, especially at this year-end regatta when people flocked to the area to join in seasonal gaiety and, in some tones, a frivolity more synonymous with the 1920's.
An advancement of each class of craft, of sport itself, and always Pittwater has by now become a constant thread and raison d'etre .What has always stood out about Pittwater residents and their visitors is a love of the area – some things are worth more than money and 1933 proves this has always been so:
PITTWATER REGATTA.
A vigorous effort to restore and even eclipse the greatest former glory of Pittwater Regatta was fore-shadowed by the president of the committee Mr Stuart Doyle, at an Informal luncheon tendered by him to Pressmen at Romano's yesterday It was announced that the TSS Gwydir one of the most suitable vessels for the purpose In Australia had been secured as flagship and will leave for Pittwater carrying officials and those spectators who care to make the voyage the night before the regatta. The return journey will be made after the regatta concludes.
Arrangements have been made for members of the Pittwater Rowing Club to compete In the professional events. It is anticipated that there will be between 400 and 500 people competing in the sailing, rowing and motor boating sections of the programme and the committee has accepted a liability for about £500 In regard to the general expenses of organising the carnival regatta and the provision of prize-money. PITTWATER REGATTA. (1933, November 29). The Sydney Morning Herald (NSW : 1842 - 1954), p. 18. Retrieved from http://nla.gov.au/nla.news-article17028193
PITTWATER REGATTA. Eight events for sailing craft have been included in the programme for the Pittwater Regatta which will be held on December 30. Races for 12ft cadet dinghies have been restored to the programme. The list is:
10.15am – F.S. Adams dinghy handicap; 10.35 John Roche yacht race (for nominated skippers); "Mischief" Memorial handicap for S.A.S.C boats (nominated skippers); 11.15 "Wanderer" handicap for cruisers (nominated skipper); 2pm Don Taylor Memorial race for S.A.S.C boats; 2.30pm Pittwater Regatta Cup for cruisers; 3pm Mr E G Grieg championship for cadet dinghies. Entries close with the honorary secretary (Mr. V.H. Moor), 97 Pitt-street on Wednesday next. The flagship will be the Newcastle and Hunter river Company's Gwydir, which will leave Sydney on the morning of the regatta. PITTWATER REGATTA. (1933, December 1). The Sydney Morning Herald (NSW : 1842 - 1954), p. 16. Retrieved from http://nla.gov.au/nla.news-article17028958
The Sydney Amateur Sailing Club is indicated with the initials S.A.S.C. The Mischief Memorial Cup sprang from:
AN OLD FAVORITE'S FATE. The loss of the 22-footer Mischief in last Sunday's, southerly gale whilst returning from the Pittwater regatta was a severe blow to Capt. Stanley Spain, particularly as he took a great pride in the boat. Mischief was one of the veterans of the harbor, and on three occasions she won the Kelly Cup and Championship of the Sydney Amateurs. Mischief was one of the best-kept boats on the harbor, and a favorite with all who had watched her performances among the Amateurs. Since the boat was smashed up, Capt. Spain has rot enjoyed the best of health. He received a severe shaking, but is expected to be about next week. Noel Toohey is none the worse for his wild experience on being landed on Lion Island. He has been inundated with congratulations on his good fortune in being rescued after spending a miserable time on a lonely, snake infested island. Captain Spain has for years been one of the hardest workers for the Pittwater Regatta, and, with Harold J. Fitzpatrick, had filled the post of assistant hon secretary to John Roche. AN OLD FAVORITE'S FATE. (1928, January 6). Arrow (Sydney, NSW : 1916 - 1933), p. 14. Retrieved from http://nla.gov.au/nla.news-article103457285
Harold J Fitzpatrick was the gentleman who initiated the Scotland Island Cup in 1922. Although it does not appear in the 1933 race programme, it was run throughout the 1920's and early 1930's and was for:
YACHTING. Pittwater Regatta. RACES FOR S.A.S.C. BOATS. At the Pittwater regatta on Saturday week December 27 there will be morning and afternoon races for the S A S C boats in the morning race for the Mischief Memorial Trophy the boats must be sailed by nominated or lady skippers and in addition to the trophies for the first three boats there is a special trophy for the first lady skipper to finish in the afternoon race for the Scotland Island Cup the usual skippers will be In charge
The course entries and handicaps are -
Mischief Memorial Trophy (for S A S C cruisers to be sailed by nominated or lady skippers) Time at start 11 15 n m Course From line between starter s boat and flagship round mark off Wood's Point Towler Bay thence round mark off Careel Bay Point and finish between mark and flagship YACHTING. (1930, December 18). The Sydney Morning Herald(NSW : 1842 - 1954), p. 17. Retrieved from http://nla.gov.au/nla.news-article16739777
A few insights into Mr. Fitzpatrick:
BONA CHANGES HANDS. The sale of the New Zealand-built yacht Bona was arranged on Saturday afternoon, the purchaser, being Mr. H. J. Fitzpatrick, of Pittwater. The Bona raced as far bark as 1904, when she represented New South Wales against the Victorian yacht Sayonara for the cup which is now the interstate trophy, Sayonara Cup, and it is Mr. Fitzpatrick's intention to continue to race this craft, which was built, by Bailey, of Auckland. BONA CHANGES HANDS. (1926, March 29). The Sydney Morning Herald (NSW : 1842 - 1954), p. 15. Retrieved November 12, 2013, from http://nla.gov.au/nla.news-article16281631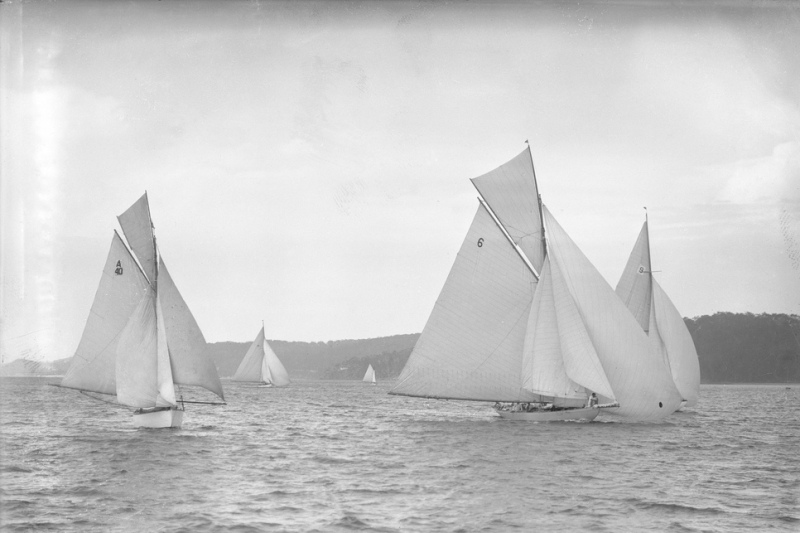 The vessel RAWHITI appears at the centre of this image with the number '6' on the mainsail. To the left is CUTTY SARK, displaying the text 'A 40' and the vessel to the far right with the number '19' on the mainsail is probably BONA, Image No: 11538, courtesy Australian National Maritime Musuem. This photo is likely to be from the 1926 Pittwater Regatta - PITTWATER CUP. The big yachts are to race for the Pittwater Cup; This handsome trophy has been presented by the treasurer, Mr. C. A. Le Maistre Walker, who is enjoying his first year of office. The course is 16 miles, and H. Nossiter's Utiekah II. is to be on the limit mark of 21min. N. L. II. Griffin's White Wings is oh 24, J. S. Palmer's Aoma 18 J, J. R. Palmer's Brand V.... H. J. Fitzpatrick's Bona 10, and Frank Albert's Rawhiti scr. Examining the handicaps, it certainlylooks as if the race is a gift for Rawhiti, as no penalty- has been imposed on the big green boat for her four recent wins. THE YACHTSMEN. (1926, December 24). Arrow (Sydney, NSW : 1916 - 1933), p. 16. Retrieved from http://nla.gov.au/nla.news-article103439200
Fair Helmswomen. THE Broken Bay Branch of the Royal Motor Yacht Club of New South Wales has decided to introduce lady members into the club, and this new method of membership was formally approved of during the week. This should bring the fair sex into the activities of the motor-boating world to a very much greater extent than previously, and there are indications that the social life of the Broken Bay Branch, with the beautiful club house on the picturesque shores of Pittwater, will become much more active, whilst fair helmswomen will be a common sight on the waters of Broken Bay.
Among those who have the distinction of being members of the first ladies' committee of the Royal Motor Yacht Club, Broken Bay Branch, are Mrs. H. J. Fitzpatrick (wife of the Branch Commodore), Mrs. W. H. Slade (wife of the Vice-Commodore), Mrs. S. E. Blundell (wife of the Rear-Commodore), Mrs. C. V. Witt, Mrs. A. C. Cooke. Mrs. A. D. Walker, Miss Beryl Aveling, and Miss Rose Thwaites. Fair Helmswomen. (1929, October 6). Sunday Times (Sydney, NSW : 1895 - 1930), p. 21. Retrieved from http://nla.gov.au/nla.news-article131630807
Since its early years the Pittwater Regatta had attracted the very best as Patrons and 1933's were no exception:
PITTWATER REGATTA. VICE-REGAL PATRONAGE. The Governor-General (Sir Isaac Isaacs) and the Governor (Sir Phillip Game) have extended their patronage to the 27th annual Pittwater regatta, which will be held at Pittwater on December 30. For the first time for five years an ocean-going steamer will act as flagship, the committee having arranged for the Gwydir to make the trip. She will leave Sydney with passengers at 7 30 on the morning of the regatta, and return the same day. PITTWATER REGATTA. (1933, December 8). The Sydney Morning Herald (NSW : 1842 - 1954), p. 17. Retrieved from http://nla.gov.au/nla.news-article17030674
Those who worked behind the scenes were year round residents of Pittwater who worked to ensure the success of the Regatta and the furthering of the area as a resort destination. Their names and those who undertook official duties illustrate how long the various yacht and motor boat clubs of Pittwater and Sydney, prior to the establishment of clubhouses on the estuary, have worked together to further the saltwater sports, particularly the RMYC and RPAYC, whose members are listed here:
PITTWATER REGATTA. FLAG OFFICERS. Commodore Stuart F. Doyle. Vice-commodore John Roche, and Rear-commodore Stanley Spain have been appointed flag officers for the day for the Pittwater regatta, which will be held on December 30. They will be in charge of the flagship, the T.S.S. Gwydir, that day. Eight sailing races have been Included on the aquatic programme at this regatta. One which should be of particular Interest to Palm Beach is an event for big class yachts which will carry prizes presented by Palm Beach residents. The course of this race has been so arranged that the competing yachts will pass Palm Beach on four occasions. PITTWATER REGATTA. (1933, December 14). The Sydney Morning Herald (NSW : 1842 - 1954), p. 16. Retrieved from http://nla.gov.au/nla.news-article17032313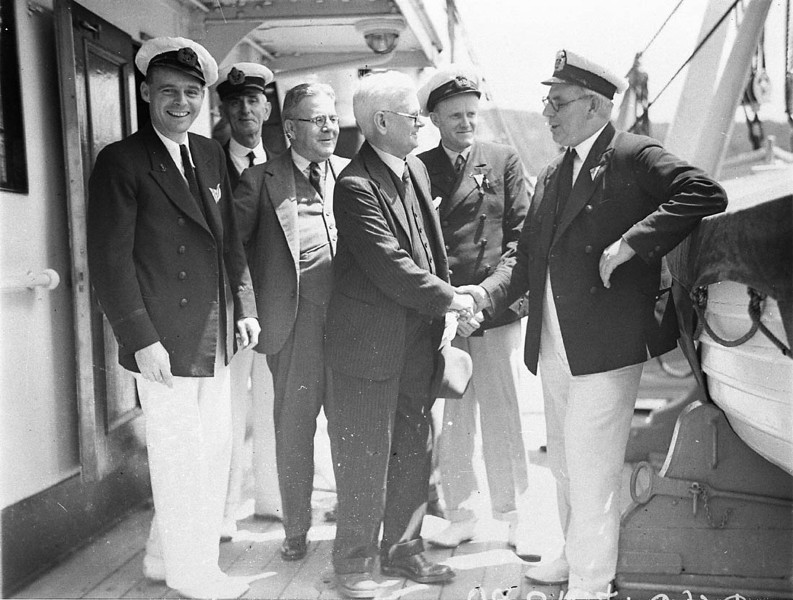 1933 Pittwater Regatta Commodore Stuart Frank Doyle aboard the S.S. Gwydir. Image Hood 06536h, courtesy State Library of NSW and taken by Sam Hood.
WELCOME TO PITTWATER! My Lord Mayor Parker arrives aboard the flagship at Pittwater and is given the hand of welcome by Mr. Stuart Doyle while a smiling group looks on. WATER SPORTSMEN'S GREAT DAY AT PITTWATER. (1934, December 30). Truth (Sydney, NSW : 1894 - 1954), p. 8. Retrieved from http://nla.gov.au/nla.news-article169336131
PITTWATER REGATTA. For some years the same courses have been adopted for the Pittwater Regatta, year after year. This year it is intended to slightly alter the courses, and new maps will be prepared which will be Incorporated In the programme showing the new courses. Some of the racing will take place near Palm Beach, at the special request of the Palm Beach Progress Committee, who have contributed to the prize fund. PITTWATER REGATTA. (1933, December 9). The Sydney Morning Herald (NSW : 1842 - 1954), p. 20. Retrieved from http://nla.gov.au/nla.news-article17031150
MOTOR BOATING. DISPLACEMENT CHAMPIONSHIP. The displacement speed boat championship of New South Wales carrying with it the Stuart Doyle gold cup will be decided at Rose Bay on Saturday The event has been sanctioned by the Australasian Power Boat Association and will be conducted under the auspices of the Royal Motor Yacht Club The following boats will contest the championship -Mr Harry McEvoy's Cettlen Mr Bernard Bayleys Greyhound Mr H Bunce's Playmate Mr C Can's Elsie Messrs Milburn and Warne's Julep Mr N P Hunt's Ronald and Mr C Longworth's Wakeful Too. Six of the seven boats will represent the Royal Motor Yacht Club, the other, Elsie is from St George. The four boats most fancied each of which has a speed of about 40 miles per hour are Cettlen, Greyhound Playmate and Elsie. It is expected that there will be very little between them if they can keep up the gruelling pace for the three heats of 10 miles each. The Julep Ronald and Wakeful Too can be depended upon for reliability although of a slower speed and as frequently these events are to the most reliable vessel rather than to the fastest they should each have a chance Members of the St George club arc confident that they will take the gold cup to George's River
PITTWATER REGATTA. Indications are that this year's Pittwater regatta to be held on December 31 will be on outstanding success. The committee is endeavoring to arrange for a passenger steamer to carry enthusiasts to the regatta and return the same evening. If this is possible the steamer will in all probability act as flagship. Nearly 200 boats will take part in the various events. MOTOR BOATING. (1933, November 23). The Sydney Morning Herald (NSW : 1842 - 1954), p. 13. Retrieved from http://nla.gov.au/nla.news-article17026554
AQUATIC GAIETY. Christmas Holidays Afloat. Christmas and New Year promise to be very bright socially at Palm Beach and on the luxurious homes afloat on Broken Bay and Pittwater. In the Basin adjacent to Palm Beach will be many luxury cruisers of all sizes and descriptions They will include the auxiliary schooner Boomerang of Mr and Mrs Frank Albert with Mr Lex Albert and a party on board and with Live Wire is a speed tender Mr and Mrs Stuart Doyle's motor yacht Mirimar the fifty foot cruiser Cynthia of Mr and Mrs H P Christmas Mr and Mrs Bernard Bayley in the Greyhound Mr and Mrs W Heinein Corsair Mr and Mrs W D Lawson in Sylph III Mr and Mrs A D Walker in Lolita Mr and Mrs P A Mcintosh in Opal with Silver Spray Mr and Mrs Bertie Horsfield in their cruiser Moth Mr and Mrs V Heine in Hoona Mr and Mrs Sid Blundell in Catherine Ellen Mr and Mrs Noel P Hunt in Ronald Mr and Mrs J A Barraclough In Corycia Mr and Mrs H W Bunce in Laloa Mr and Mrs A W Brown with Mr and Mrs Brownsen in Binghi Miss Mirle Doyle in Baby Miramar Dr C L S Mcintosh in Carinya Mr Keith Hamilton with Mr and Mrs Ken Wheeler and Mr John Milgrove aboard Ophir Mr and Mrs F Luks Hermina II Mr and Mrs Ron Shaftos Marcia Mr and Mrs P Dowling s Fairie Mr W Mantel's party In Air Wave Jack Copeland in the speedboat Idle a While Mr Jo Fallon with speedboat It Mr Ralph Doyle with his daughter Miss Robin Doyle in the Redwing Sir Clifton Love in Spindrift Mr and Mrs A G Wilson in Iolanthe.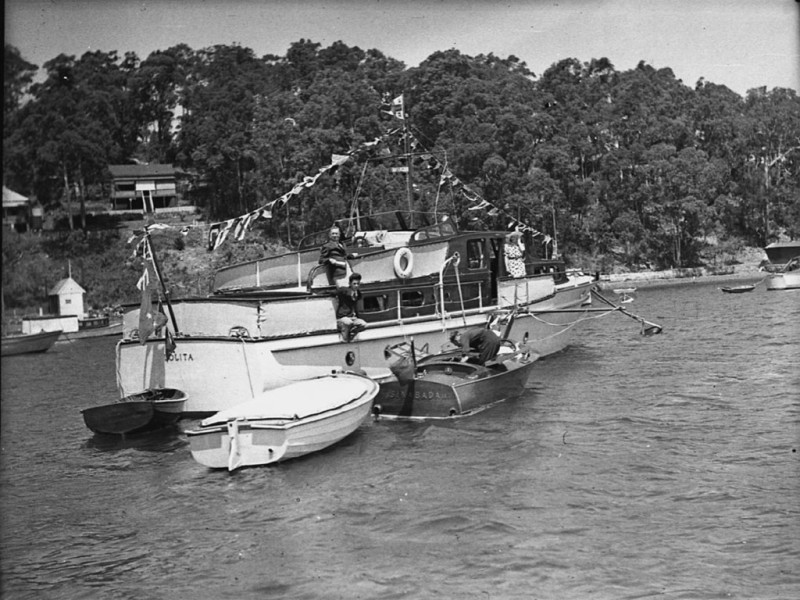 The Lolita and Sinabada, Image: hood_16608h, courtesy State Library of NSW.
Altogether more than £100 000 worth of luxury craft will grace the waters of Broken Bay this Christmas flying the famous burgee of the Royal Motor Yacht Club-blue with a yellow cross and Royal crown. Many and festive are the parties to be held on board the various yachts and smart dances, card parties and excursions daily and nightly will add to the gaieties of the season
Then comes the Pittwater regatta on December 30 which is the Cowes of Australia with its myriads of craft from big sailing yachts to tiny outboards splashing the azure waters of Pittwater and Palm Beach with flickering foam-speed boats luxury cruisers sailing boats and yachts and the T S S Gwydir the social centre of activity as the flagship of the Regatta. At night the Broken Bay branch of the Royal Motor Yacht Club will hold its annual New Years ball. AQUATIC GAIETY. (1933, December 16). The Sydney Morning Herald (NSW : 1842 - 1954), p. 7. Retrieved from http://nla.gov.au/nla.news-article17033201
PITTWATER REGATTA. Although Junior in years to other functions of a like nature the Pittwater Regatta which is always held on the last Saturday of the year, has established for Itself an important place of the yachting and motor boating section of the community The first of the line was held in 1906. This year's event will take place tomorrow when a programme of sailing, motor boating and rowing events will be decided over courses which extend over the length and breadth of this beautiful strip of water. A few years ago the regatta was a function of considerable magnitude the flagship being one of the Hunter River Company steamers, which made a weekend cruise from Sydney. In common with other sporting and business activities, the regatta has found the burden of the last few years pressing heavily upon it and of necessity the large ship was dispensed with. On this occasion however a return to the practice of former years has been made and the T S S Gwydir will act as flagship for the occasion. She will leave the Hunter River Company s wharf Darling Harbour at 7.30 am tomorrow so that visitors and officials may arrive in time for the first event, which is set down for 10.35 am. She will come to an anchorage off Salt Pan Point from whence communication will be effected with Newport and Bay View by launch service The Gwydir will leave for Sydney again at the conclusion of the last event.
The first of the sailing events will take place at 10 30 am while the motor boats will commence activities at 10 45 to be followed at 11 am by professional rowers. Entries and handicaps for the sailing events are -
No 1 10 35 a m John Roche Handicap for big class yachts nominated skippers distance 9 miles, flying start Norn (R A Denovan) light scr heavy in Morna (A Stevens) 3 scr Thetis(R W Furber) 79 Utiekah (H C Nossiter),89 Brand V (S Stevens) to be handicapped
No 2 11 a m Mischief Memorial Handicap for SASC A and B class yachts nominated skippers(ladies and gentlemen) time at start distance 5 miles Gwen (R White) 15m Tessie K (H M Kavanough) 13 Lena (S de Russet Jnr ) and Wanderer (W Merrington) 11, Snowdrop (R P R Drummond) and Wyuna (Miss M Robson) 10, Genestre (Stan Cork) Goora (J H Pritchett) and Mischief (P Baler). 9 Foam (H B Lloyd) and Riawena (Mrs Hamilton Kirkland), 8 Sapphire (GGolding) and Lady Luck (N Morrison) 7 Sampan(L Talbot) Niobe (J Carr) Epacris (S J Alderton) Stormbird (M Pearson) Koala (L A Esdaile) andAdina (S Peterson) 6 NSW II (E Andrew)and Caprice (H E Pfeiffer) 5 Koana (A Pratt),4 June Bird (J Best) 3 Culwulla (A Graham),2 Sea Rover (Peter Dawson) scr Nyrla (F B.Whiddon) and Olive (Miss Stevens) to be handicapped.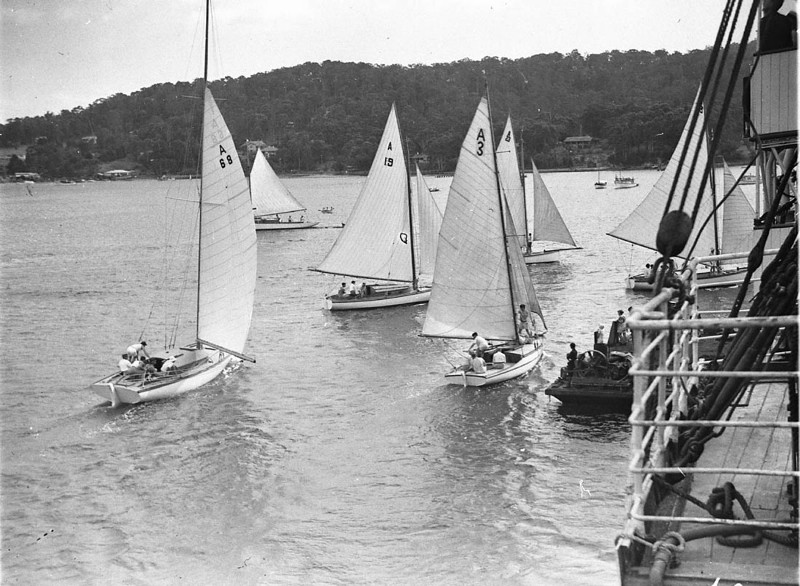 Yachts milling around the flagship - note sail numbers, Image hood_06540, by Sam Hood, courtesy State Library of NSW.
No 3 11.25 Wanderer Handicap for deep keel cruising yachts nominated skippers flying start distance 9 miles Titania (T Swinney) lightscr heavy scr Valiant (W C Taylor) 1 1,Wanderer (L H Martin) 4 2 Rondon (A Robertson) 6 4 Aoma (B Menzies) 6 5 Clutha (A.Clark) 15 9 Blue Bird (G H Robinson) 20 16
No 4 130 p m Palm Beach Trophy big class yachts handicap handicaps at start distance 16 miles Norn (A F Albert) light scr heavy 2m, Morna (F Packer) 8 scr. Thetis (Dr R Furber),13 17 Utiekah II (H Nossiter) 17 19 Windward (cutter) (A Muston) 26 23 Brand V,(J R Palmer) to be handicapped.
No 5 2.05 W D M (Don) Taylor Memorial Handicap (for A and B class yachts on register of the S A S C) Time at start distance 11 miles Gwen (H Middows) 30 Tessie K (H L Kavnnaugh) 22 Wanderer (A M Merrington) 201Merlin (C J Saunders) Lena (H R de Russet),Wyuna (C W Robson) and Snowdrop (V Rayment) 19 Genestre (N F Yule) and Mischief (S.Spain) 18 Ooora (W Pritchett) 17 Foam (G.A Lloyd) and Riawena (Dr Hamilton Kirkland),16 Lady Luck (J D Dunninrl) 15 Sapphire (T.M Weyland) Storm Bird (A P Anderson Stuart), Koala (L S Esdaile) and Adina (J D Borrowman) 14 NSW II (J Phelp-) 13 Epacris Jane Alderton I and Sampan (L Jonc), 12 Caprico (J. Pfeiffer) and Globe (G Carter) 10 Hoanai R Hurhes Jun- 17 June Bird (H M Aaplnall),5 Nyrla (R L Patrick) to be handlcrppcd Culliwalla (R r Graham) 3 Sea Rover (C Plowman),scr Olive (S Stevens) to be handicapped
No 6 2.35 Pittwater Regatta Cup deep keel cruising yachts handicap flying start distance 11miles Titania (G S Griffin) light scr heavyscr Valiant (E G Griffin) 2m 2m Wanderer II, N Wallis 6 4 Rondón (A Robertson) 10 5, Aoma (I L Menzies) 10 8 Clutha (J J Clark),20 14 Blue Bird (R Windeser) 28 22 Nanoya(S H Fairland) 30 24
For event No 4 for which the trophies have been presented by residents of Palm Beach a course, which is different from that of former years will be used. From the flagship the competitors will go round a mark off West Head thence round a mark on the entrance to Careel Bay returning again to the West Head mark and then to a mark off the flagship after which they will make a short journey to a buoy off Wood's Point, Towler Bay, and thence to the finishing line off the flagship. PITTWATER REGATTA. (1933, December 29). The Sydney Morning Herald (NSW : 1842 - 1954), p. 13. Retrieved from http://nla.gov.au/nla.news-article17036129
Pressmans Race. PITTWATER REGATTA. (1933, December 23). The Sydney Morning Herald (NSW : 1842 - 1954), p. 14. Retrieved from http://nla.gov.au/nla.news-article17035157
BY far the most humourous 'report' discovered so far on Pittwater Regattas, with its perhaps intentional mistakes, communicates a perpetual sense that translates into today's appreciation of Pittwater and all the yacht clubs, races and regattas that are still held here or launched from here and how good getting on the water is for anything that ails you:
Pittwater Regatta Banishes Depression.
When the Yachts Compete Midst Joyous REVELRY CARRIED FAR INTO NIGHT
IF you wish to taste the real wine of life, take a limousine, take a pair of sparkling eyes, and take a trip to Pittwater Regatta when the next occasion arises. As a gloom dispeller there is nothing to equal it. The management of no other sporting function known to this well-informed journal has so effectively specialised in the art of dispersing the accumulated doldrums of the previous twelvemonths of economic depression, financial stringency, and political chicanery and bungling. The atmosphere of Pittwater is exhilarating, the surroundings gorgeously picturesque and the regatta function must be experienced to be fully understood and appreciated.
We went to the regatta at Pittwater on Saturday last because it was the last Saturday in the year and we felt we should be where all the boat people are, at least one day in 364. Pittwater Regattta is held every12 months on some seawater near Tweed Heads. The actual locality is in Broken Bay close to Barrenjoey lighthouse. The regatta itself is more of a social function than an aquatic carnival, and as it is carried on far into the night the locality near the lighthouse was probably chosen so that the skippers and their crews afloat and ashore might not be bushed in the darkness.
The oldest inhabitant does not know who broke Broken Bay or how it was broken. It was broken when John Roche discovered it 26 years ago and became an accessory before the fact in the holding of a regatta on it. We broke a fine Christmas box briar pipe and dropped the pieces into the water in transferring from the regatta committee's launch to the flagship on Saturday, so now there is a broken pipe in Broken Bay. We marked the spot with the top off a beer bottle and we intend to send a trawler to rake the bed of the bay for it.
To get to Pittwater from Katoomba necessitates a lot of travelling. That is the reason why very few people go from the mountains to the regatta. It would have been useless to try and hold the Pittwater regatta in the Jamieson Valley, and as Centennial Park was not available and was considered to be too easily got at by Sydney Commission agents, the only thing left was to dump it down somewhere on the way to Cairns. Pittwater was discovered and thus John Roche became Vice-president of the Pittwater regatta.
It is a beautiful drive, ride or walk from Manly to Pittwater. The scenery is enthralling. All along the roadway are surf-sirens, mosquitoes, and beach pirates. Hundreds of city people make the journey in the dry season when the water nymphs are most plentiful, and particularly on Pittwater regatta day. Most of the travellers to Pittwater pull up at the Newport Hotel, forget all about the regatta and continue on to Palm Beach. Only the best people go down to the Pittwater regatta at the back of the hotel. That is why we went. Many notabilities were on the M.S. Gloria, the flagship for the occasion, one of the most entertaining was Mr.S. J. Keegan. He officiated as barman and it is safe to say that there is not a man around Sydney who can poise a bottle and tumbler more efficiently than he. No man could more accurately gauge the correct elevation of the bottle and the proper angle for the glass, and no one could be more persistent than he in stressing the opinion that everyone should call on him for a demonstration as often as possible. We have no intention of detracting from the interest and merit of the aquatic events when we say that he was the most entertaining part of the function.
Another striking figure was Mr. Charles Jacobs, president of the regatta, commodore of the Royal Motor Yacht Club, and director of sundry big city business concerns. On regatta days Mr. Jacobs discards his severe business aspect and becomes social in every sense of the word. He leaves nothing to chance unless the chance be John Roche, and then he knows it is safe. There were several ladies aboard the flagship, but most of the people concerned in the regatta have palatial motor yachts, luxurious launches or roomy sailing craft of their own. Those with festive parties aboard, either cruised around the flagship or were moored where they could be seen and where the clinking of glasses could not be heard. At brief intervals a gun was fired to remind all concerned that a race had either started or finished.
It was the sound of the gun that caused everybody to awake to the fact that the yacht Utiekah had beaten the eight metre boat Norn in two straight goes. Utiekah is a family affair. The whole crew from the for'ard hand, the man amidship to the skipper aft, is named Nossiter. A wily helmsman is Mr. H. Nossiter. What he does not know about sailing a yacht he has purposely ignored as being worthless, and when he is not racing his boat he spends his holidays and week-ends cruising in her. It was no matter for surprise when he won the John Roche big class yachts handicap and later the regatta cup for big yachts. In all there were five sailing, five motor boat and seven rowing events. The rowing included two four-oared championships for ladies. One was for lightweights and it was won by the Y.W.C.A. crew stroked by Miss T. Riley. The other, an unclassified event, was won by the Sydney crew with Miss A. Mann as stroke. The distance for each race was half-a-mile and the ladies made a fine spectacular splash.
The sun sank in its wonted west soon after the water programme had been disposed of and in an incredibly short space of time darkness set in. Time moves swiftly at a Pittwater regatta. Nobody knew or cared when it got dark because the gaily be-flagged yachts were illumined by artificial devices and were altogether independent of Barrenjoey lighthouse. As the night wore on the merrymakers went ashore and danced at the club house. It was a bright and joyous gathering. The conversation scintillated with brilliant bon mots and clever witticisms. Frequent outbursts of giggling were signs of something unusually smart having been perpetrated. One sweet young lady clapped her hands in ecstacy and exclaimed to her very attentive and highly-amusing partner, 'Isn't Pittwater gorgeous by night, Reginald? I'd love to have a Spanish gondola.' To this, Reggy replied, 'What about a Spanish onion?'
PHOTO: A happy, laughing group aboard Stuart Doyle's 'Miramar.' Mr. Doyle's party included the well-known N.S.W. Chief Secretary, Mr. Frank Chaffey, and Mr. and Mrs. Cressan Smith, of New York. The pleased expressions on the party's face proves our contention of the happy day.
Whereupon everybody within earshot giggled. A gushing lady sighed as she heaved her matronly bosom and said, 'This does remind me of Cowes.' An old sea dog sort of gentleman who had never been further than Gundagai mentioned that he had smelt some cows along the road between Collaroy and Narrabeen but had seen only a few paddies. This was the signal for further giggling. All the best people were at the dance and they all went on to the water at midnight to sail out the old and sail in the new year. We don't remember the names of many of the people. Our time and attention was mostly taken up by Mr. Keegan, who continued to give clever calesthenic displays with bottles and glasses. Pittwater regatta of 1932 will live long in the memory of those who took part in it. The day was glorious, but, oh boys, when the stars twinkled on water and broken bush land! Heaven send Pittwater such another night and send me there to see. Pittwater Regatta Banishes Depression. (1933, January 6).Arrow (Sydney, NSW : 1916 - 1933), p. 4. Retrieved from http://nla.gov.au/nla.news-article103346011
The ever reliant and sober record keeping of the Sydney Morning Herald provides the accurate results of this gloom banishing celebration of all vessels 'on the water' and of Pittwater itself: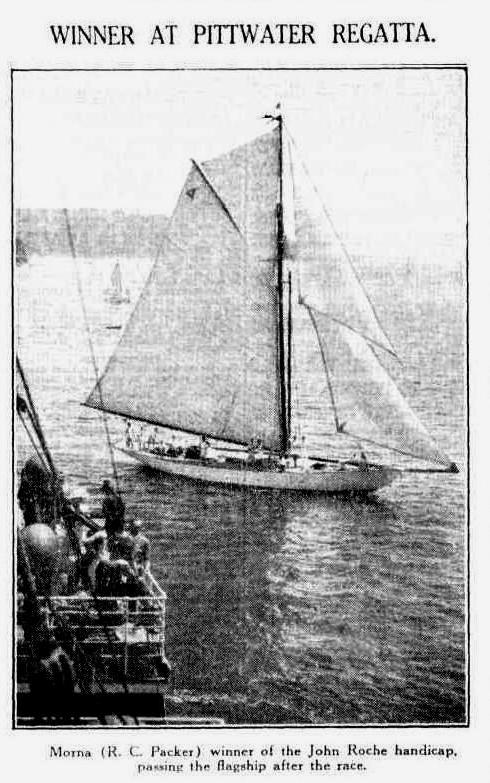 PITTWATER REGATTA. Successful Function.
The Pittwater regatta on Saturday was a marked success. The breeze frequently lacked sufficient strength and consistency to provide thoroughly good racing. It came in from the north-east late In the morning, and it was sometime before It settled down to a medium breeze, which, in the more open parts of the courses, provided good sailing conditions towards the close of the day.
Results.
John Roche Handicap for Big Class Yachts (nominated skippers). Distance 9 miles-Morna (K.Clayton), 3m. 12h 8m 31s. 1; Utietah (H O Nossiter), 8m, 12h 14m 16s. 2; Norn (R. A. Donovan),scr., 12h 23m 8s, 3. Won by 5m 45s.
Neither Brand V. nor Thetis faced tho starter in the first flying start of the day. Norn and Utiekah crossed the line together, the former being to windward, but Utlekah had not gone far before she had drawn clear. Morna was about half a minute behind the other two but she soon took the lead, the direction of the breeze being such that she could lay a course for the west head mark with a large Jib topsail set. She had an easy task rounding about five minutes ahead of Utiekah, which had about a minute In hand from Norn. On the way to the finish, the big boat doubled her advantage, and had an easy win.
Mischief Memorial Handicap, for S.A S C. A and B class boats sailed by nominated or lady skippers. Distance 5 ½ miles'-Caprice (H. K Pfeiffer), 5m.12h 23m 26s. 1; Stormbird (M. Pearson), 6m. 12h 24m 4s,2: Lady Luck (N. Morrison). 7m. 12h 24m22s," 3; followed by Genestro (Stan Cork). 9m.12h 24m 55s; Niobe (J. Carr), 6m, 12h 25m Os; Olive (Miss Stevens). 13m, 12h 25m 28s. Won by 38 seconds.
In the race the 23 boats were given their allowances at the start, but some of them found light and patchy conditions in the circuit of the Wood's Point-Careel Bay triangle. All but one of the starters completed the course, the first 13 finishing in the space of about four minutes. It was one of the liveliest sights of the day.
"Wanderer" Handicap, for deep-keel cruising yachts (nominated skippers).-Clutha (A. Clark),15m, 12h 57m 38s. 1: Aoma (B. Menzies), 6m. Ill2m 57s, 2; Blue Bird (G. H. Robinson), 20m, lh lh 8m 34s; Rondón (A, Robertson), 6m, lh 10m"s. Won by 5m 10s.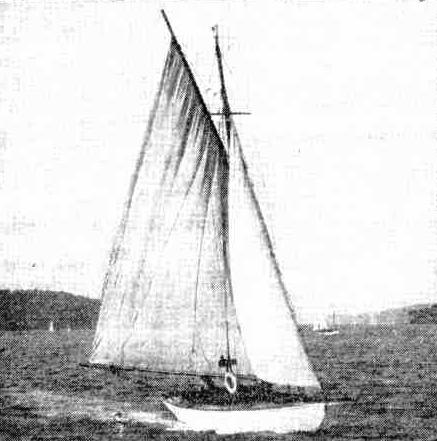 WINNER AT PITTWATER REGATTA. Clutha (A. Clark), winner of the Wanderer big class cruising yachts handicap on Saturday at the Pittwater regatta. WINNER AT PITTWATER REGATTA. (1933, January 2). The Sydney Morning Herald (NSW : 1842 - 1954), p. 8. Retrieved from http://nla.gov.au/nla.news-article16942481
This was the second flying start of the day, five of the competitors crossing the line within a minute.- Aoma had a slight advantage from Rondón, followed by Wanderer, Clutha, and Valiant. Blue Bird was about three minutes late, while Titania had not arrived from Sydney. Aoma held her advantage all the way round the course and finished37 seconds ahead of Valiant, but she could not allow Clutha her time.
"Palm Beach" Trophy (big class yachts handicap). Distance 16 miles: Morna (F. Packer). 8m, 3h 51m 10s, 1; Utlekah (H. Nossiter). 17m. 3h56m 42s. 2; Windward, cutter (A. Muston). 26m.4h Om 2s. 3; Brand V. (J. R Palmer). 2m, 4hDm 30s, 4; Norn (A. F. Albert), scr. 4h 11m 55s. Won by 5m 32s.
To a large extent this race was a replica of the first event, in that Morna raced away easily from her opponents, which were strengthened by the addition of Brand V. and the cutter Windward. She was in third place at West Head, about ten minutes behind the cutter. She continued in this position during the lead to Careel Bay and back, but was only about three minutes astern then. At the end of the long run to the flagship she was nearly six minutes ahead of Windward, which had also been displaced by Utiekah, who thus kept in second place. Both Norn and Brand V. could make no impression on the others, owing to the amount of lead in the course. Brand sailed the course in faster time than Norn.
W. D. M. Taylor Memorial Handicap (S A S C. boats). Distance. 11 miles.-Niobe (G. Cartel),10m, 4h 27m 45s, 1; Stormbird (A. P. Anderson Stuart). 14m. 4h 29m 28s, 2; Caprice (J. S. Pfeiffer), 10m. 4h 30m 39s. 3; followed by Riawena(Dr. H. S. Kirkland), 16m, 4h 31m 50s, NS.W. II. (J. Phelps), 13m, 4h 31m 54s. Won by 1m 43s.
The fleet of S A S.C. provided the best spectacle and race of the day. Twenty-five boats competed, their allowances being given at the start. At the end of the first round of the triangle Wanderer led from Olive by 55 seconds, with Niobe and Stormbird next. The two latter forged ahead on the second round, and Niobe, sporting a new sail, increased her lead of eight seconds from Stormbird to nearly two minutes '
Pittwater Regatta Cup (deep-keel cruising yachts handicapped). Distance, 11 miles-Clutha (J. J. Clark), 14m, 4h 26m 59s, 1; Blue Bird (R Windeyer). 28m. 4h 32m 39s, 2; Aoma (I. L Menzies I. Om. 4h 37m 31s, 3; Wanderer (N Wallis), 6m, 4h40m 4s, 4, Valiant (E. G Griffin), 2m, 4h 22m3K 5- Titania (G. S. Griffin), scr., 4h 48m 4s, 1. Won by 5m 40s.
Six of the starters got away well together, Clutha having a slight lead from the two staysail schooners, with Rondón. Wanderer, and Blue Bird next. Aoma was late, but soon made up a great deal of her loss On the way to West Head and back. Clutha gave nothing else a chance, and soon established an unassailable lead. Blue Bird found the fresher afternoon breeze more to her liking, and finished sufficiently within her time to gain second place easily.
SCULLING.
Chas. E Blanks' Men's Gladstone Skiff Handicap(3m).-First heat. F. Kerr. 16s, 1: J. Smith, 33s, 2.Won by half a length. Second heat H. Erickson, 6s. 1; C. Williams, scr, 2. Won by a length. Third heat: B. Paddon, 15s, 1. The other competitors finished on the wrong side of the judge's boat. Fourth heat: C. Mudie. 8s. 1 The other competitors finished on the wrong side of the Judge's boat. Final: B. Paddon. 1; H. Erickson. 2. C. Mudie and F. Kerr, dead heated for third place. Won by one length.
W. T. Paddon Women's Gladstone Skiff Handicap(3m).-First heat: J. Nilsen. 12s, 1; M. Shaw. 2Bs,2 Won by half a length. Second heat: M. Riddle,22s. l;. J. Gilroy, scr, 2 Final: 3. Nilsen, 1: M. Riddle, 2; J. Gilroy. 3.Won by a length and a half.
Archer Whitford Best and Best Outriggers' Handicap (5m).-C. Williams, scr, 1; B. Paddon. 17s, 2; F. Kerr, 20s. 3. Won by four lengths.
MOTOR BOATING.
The motor boating section of the programme consisted of six events, conducted under the rules of the Royal Motor Yacht Club of New South Wales. A course from a point off Horseshoe Cove to near Taylor's Point and back, a mile and a half in length, was used. Sydney boats did well, the speedboat Ronald, owned and driven by Mr. N P. Hunt, winning two races, while two cruisers, which are well known at Rose Bay, Mr. Bert Paul's Trixie and Mr. F. R. Luke's Hermina, also won races.
Results -
Dalgarno Memorial Handicap for cruisers, all-comers, distance 41 miles: Trixie (E. Paul), 1; Zelma (C. P. White), 2; Sylph II. (W. D. Lawson),3 Won by eight seconds, with seven seconds between next two.
Albert Trophy, General Handicap, 4Jm.-Koolaroo (D. A. Douglas), 1: Constance (A. E. Flecknoe), 2;Carina (R. G. Gale), 3.
A. D. Walker Trophy. 6m, handicap for speed-boats-Ronald (N. P. Hunt),1; Sinabada (A. D.Walker), 2. Won by 9s. Wyvern and Wingo did not complete the course.
Bernard Bayley General. Handicap, 41m Hermina (F. R. Luks). 1; Sylph TU (W. D. Lawson),2; Constance (A. E. Flecknoe), 3. Nine started. Won by 20s, with 10s between second and third.
President's Handicap, for speedboats, 6m.-Ronald (N. P. Hunt). 1; Wyvern (J. Webster), 2. Sinabada did not complete the course Won by 3s.
Proud Trophy, general handicap, 4m.-Kweena(C. Fairweather), 1; Sylph m. (W. D. Lawson).2; Constance (A. E. Flecknoe), 3. Eight started. Won by 6s, with 3s between second and third. PITTWATER REGATTA. (1934, January 1). The Sydney Morning Herald (NSW : 1842 - 1954), p. 5. Retrieved from http://nla.gov.au/nla.news-article17036938
Scenes from the Annual Pittwater Regatta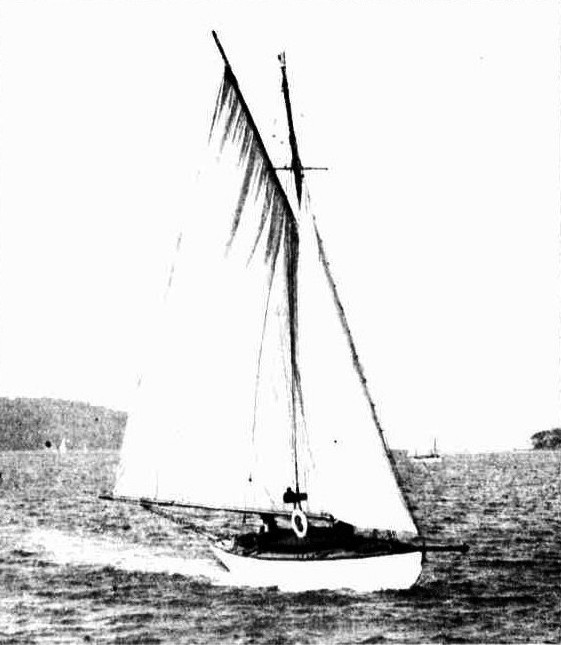 CLUTHA (A. CLARK), WINNER OF THE WANDERERS' BIG CLASS CRUISING YACHTS HANDICAP. Nanoya (S. H. Fairland ) was second and Kondon (D. R. Robertson) third.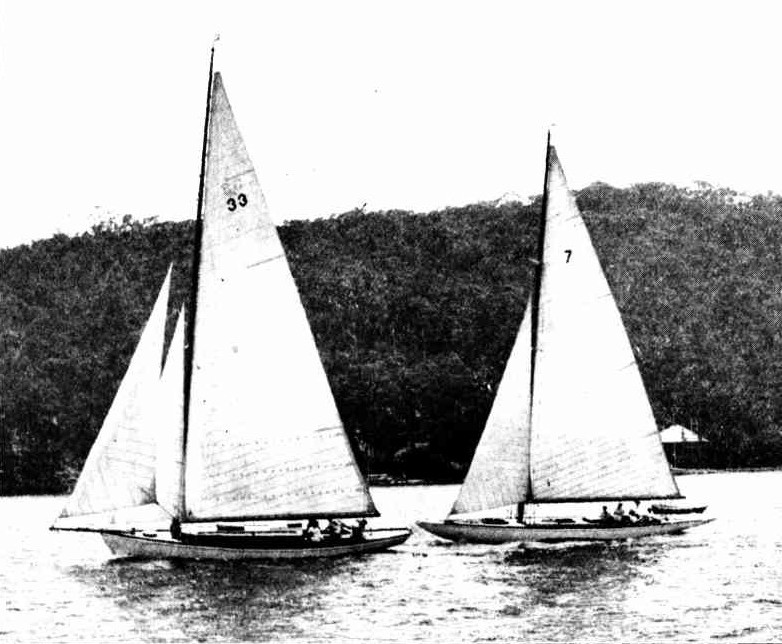 THE WINNER OF THE PRINCIPAL YACHTING RACES — UTIEKAH II. LEADING NORN. Mr. H. Nossiter's yacht won the Pittwater Regatta Cup and the John Roche Handicap Race. Mr. A. F. Albert's Norn was second. Only two yachts competed.
The Pittwater Regatta — the twenty-sixth annual event of the series — was held on Saturday. The number of races and the entries were not as large as two or three years ago. Nevertheless competitors and spectators entered into the spirit of the occasion in a manner which ensured the success of the regatta, and Saturday's fixture, with its sunshine and light breeze, must be added to the list of successful days which dale back to 1906.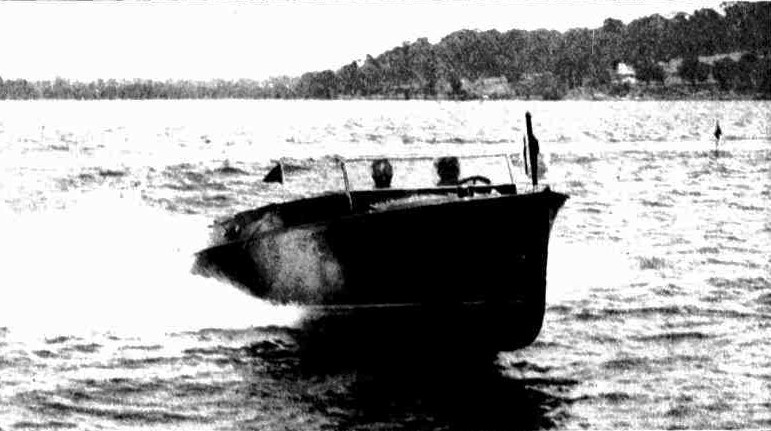 WON THE SPEEDBOAT DOUBLE — RONALD (N. P. HUNT).Ronald won the W. D. Lawson and Prouds, Ltd., handicaps.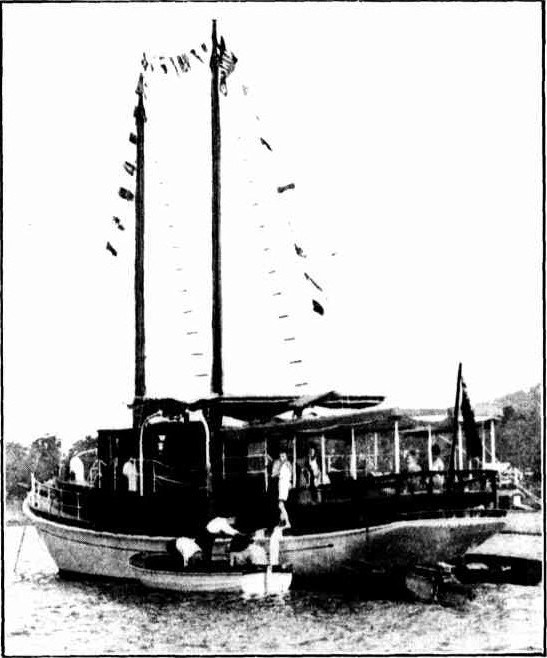 A VISITOR FROM QUEENSLAND — MR. E. R. WILLIAMS'S PATHFINDER. Pathfinder made the trip from Brisbane under its power and sail in 57 hours. Scenes from the Annual Pittwater Regatta. (1933, January 4).Sydney Mail (NSW : 1912 - 1938), p. 41. Retrieved from http://nla.gov.au/nla.news-article165959727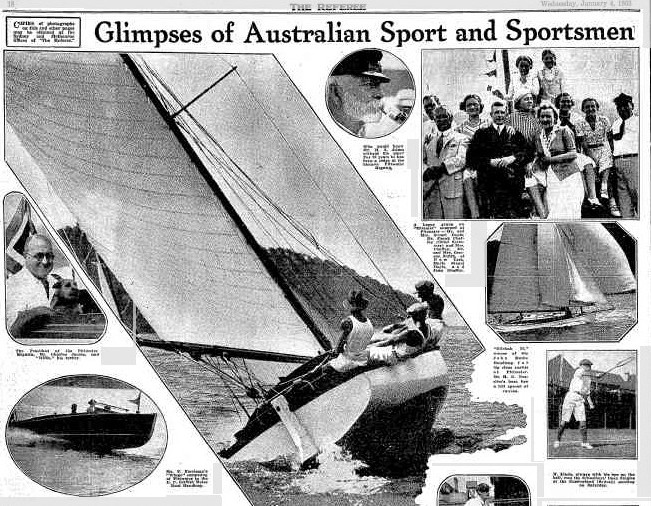 Mr. L. U. Buckinham's 'Foam'
competing in the White Horse'Whisky event for 'A' and 'B' class yachts at the Pitt water Regatta on Saturday. Glimpses of Australian Sport and Sportsmen Big Cricket Through "The Referee" Cameras. (
1933, January 4
).
Referee
(Sydney, NSW : 1886 - 1939), p. 18. Retrieved from
http://nla.gov.au/nla.news-article135323377
Flagship "Gwydir", showing boarding pontoon moored beside, Image hood_06537, taken by Sam Hood, courtesy State Library of NSW.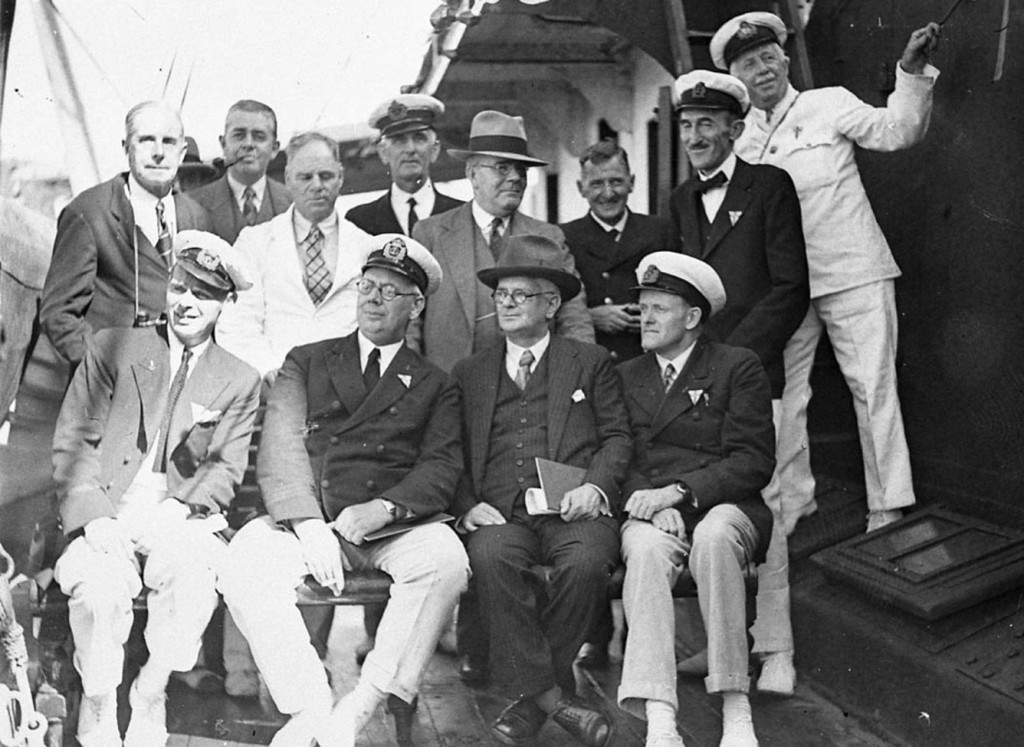 Group of regatta officials on the flagship. Stuart F Doyle, Managing Director of the Union Theatres and Commodore of Rose Bay Motor Yacht Club, 2nd from left front row, John Roche with moustache second from right, second row. Image hood_06532, by Ted Hood, courtesy State Library of NSW.
Incidentals:
AQUATICS. B. PADDON A COMING SCULLER.
At the Pittwater Club regatta recently B. Paddon, a son of Mr. W. Paddon, won his heat and final of the Gladstone Skiff Handicap, and won off the secs. mark (really scr.) in easy fashion. "The sculling of young Paddon," says that fine magazine 'The Power Boat and Aquatic Monthly,' "was flawless". He is destined to go far in the sport. In the series of heavy boat races which took place a fortnight later, an astonishing .happening took place in the mixed double sculls handicap final. Twoof tho pairs started off 8secs. and pulled stroke for stroke for the full course. The three heats in a final spurt passed the finishing post dead in a line. It was tho most remarkable finish over seen in Pittwater. The dead heaters were — Miss M. Marshall and B. Paddon 8secs., Miss M. Hand and C. Moodie 8secs. and Miss Q. Smith and F. Smith scr. AQUATICS. (1933, February 28). The Richmond River Herald and Northern Districts Advertiser (NSW : 1886 - 1942), p. 2. Retrieved from http://nla.gov.au/nla.news-article127179121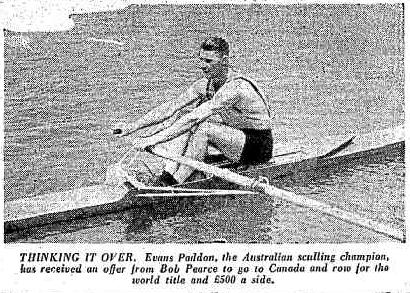 Right: Motor-Boating- Yachting - Aquatics.(1937, October 21).Referee(Sydney, NSW : 1886 - 1939), p. 24. Retrieved from http://nla.gov.au/nla.news-page14200643
The Paddons were a family of champion rowers. Brother of Jim Paddon, William (Bill) and their sons did well nationally and Internationally:
James Paddon, known as "Jim", was the second Australian after World War I to win the professional World Sculling Championship. Before the war seven other Australians had held the title. Harry Pearce had been the Australian Champion since 1909 and had challenged Ernest Barry for the world title. Not long before Pearce's departure for England, Alf Felton, Charles Towns, and Jim Paddon all challenged Pearce for his Australian Championship. The lateness of the challenges was intended to force Pearce to forfeit his domestic title so that the challengers could decide among themselves who should be the new champion. Rather than jeopardise his World Title chances Pearce forfeited his title which was then claimed by Felton. Felton and Towns raced in January 1913 and Felton won the race by four lengths. In a subsequent race held in February 1913 Paddon handsomely beat Felton by two minutes and thus became the Australian Champion; a title he held until 1926. See Also Australian Sculling Championship. Paddon was a professional sculler but unlike many of the earlier Champions he did not need to rely on sculling income to maintain his life-style. He was a successful Evans Head businessman who had interests in oyster leases, fishing, sub-leasing, farming, and tourism. Jim Paddon. (2013, June 21). In Wikipedia, The Free Encyclopedia. Retrieved from http://en.wikipedia.org/w/index.php?title=Jim_Paddon&oldid=560914684
ROWING. THE WORLD'S CHAMPIONSHIP. Sydney. February 3. J. Paddon will leave for England by the R.M.S. Mooltan on May 2 to meet Barry for the rowing championship. His brother, W. Paddon, his backer, G. Seifert, and a pacemaker will accompany him. ROWING. (1914, February 4). The Advertiser (Adelaide, SA : 1889 - 1931), p. 10. Retrieved from http://nla.gov.au/nla.news-article5410983
Sculling and rowing race on Pittwater earlier that year reinforced Pittwater's adaptability as a race course for Australia's best:
PITTWATER CLUB'S REGATTA. Pittwater Aquatic Club will hold a three days regatta on Thursday, Friday and Saturday next on Broken Bay This will be the most important function held by professional scullers since the war and in addition to three State championships many handicaps for all classes of boats will be decided. The championships will be controlled by the NSW Professional Rowing and Sculling League ex world 5 champion George Towns acting as starter and umpire These events consist of the open best and best championship of NSW river course of three miles oíd an eighth the open Gladstone skin championship of NSW course one mile and a quarter, and the open heavy boat championship of NSW one mile Among the competitors will be such well known scullers as Tom Saul of the Macleay River, the Regans of Shoalhaven, A J Fisher of Parramatta and the Ericksons and C Williams honorary secretary of the club of Pittwater Saul during the last two years his secured seven wins and four seconds out of 14 starts on the North Coast from scratch. The M S Gloria will follow all events and will call at Newport and Bayview each day.
Entries for the principal events are -
Thursday - 4 p m open championship of NSW best and best boats 3Jm J Erickson (Pittwater) A J Fisher (Parramatta) G Hanlen (Pittwater) T Saul (Macleay River) C Williams (Pittwater)
Friday -11 a m open championship of N S W(Gladstone skiffs J Erickson (Pittwater) C Mudie (Pittwater) M Regan (Shoalhaven) 3 pm open championship of NSW heav boats J Erickson (Pittwater) H Erickson (Pittwater) A J Fisher (Parramatta) W Hibbs (Hawkesbury) M Regan (Shoalhaven River) I Wilson (Pittwater). PITTWATER CLUB'S REGATTA. (1933, February 15). The Sydney Morning Herald (NSW : 1842 - 1954), p. 18. Retrieved from http://nla.gov.au/nla.news-article16953169
Results Pittwater Aquatic Club Feb regatta: SCULLING. (1933, February 18). The Sydney Morning Herald(NSW : 1842 - 1954), p. 16. Retrieved October 16, 2013, from http://nla.gov.au/nla.news-article28031466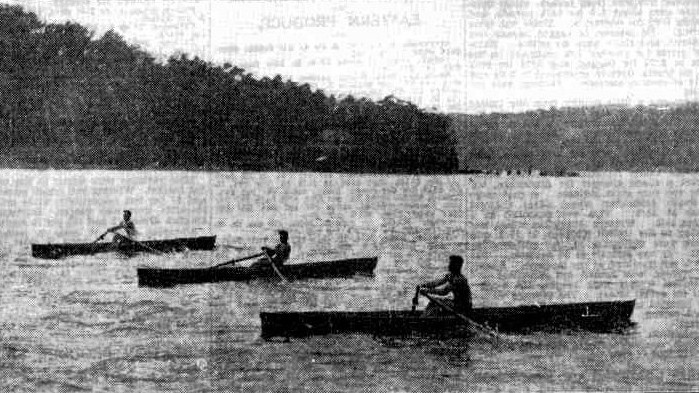 OPEN CHAMPIONSHIP FOR GLADSTONE SKIFFS. The start of the race to decide the New South Wales title at the Pittwater Aquatic Club's regatta. From left: M. Regan (2nd), C. Mudie (3rd), and J. Erickson (1st). OPEN CHAMPIONSHIP FOR GLADSTONE SKIFFS. (1933, February 18). The Sydney Morning Herald (NSW : 1842 - 1954), p. 16. Retrieved from http://nla.gov.au/nla.news-article28031440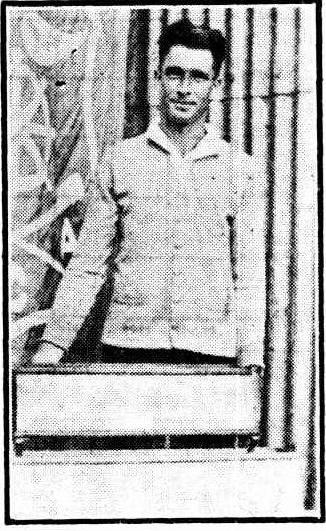 State Light Weight Champion. Cedric Williams, of Pittwater, who won the light weight championships in the Best and Best Boats also the Gladstone skiff races at Maclean on April 17 was a competitor at the Coraki regatta, and rowed second in the Beaten stakes handicap. The trophies shown are models, built to scale, one a Gladstone skiff, and the other an outrigger. Williams can hold the trophies won at Maclean for one year, after which, he has to compete again. State Light Weight Champion. (1933, April 29). Northern Star(Lismore, NSW : 1876 - 1954), p. 12. Retrieved from http://nla.gov.au/nla.news-article94213848
The noble Hawkesbury is particularly adapted for aquatic carnivals, and in the course of chatting with old residents I learned that regattas were held here annually over half a century ago, competitors coming from as far away at Maitland, on the Hunter, and even rivers much farther north. I feel confident that a really good programme for such an event would outrival the great Pittwater regatta of which the Sydney newspapers make so much every year. There is a stretch of water in the famous Hawkesbury on either side of the Windsor bridge which is unsurpassed for such a carnival, while the high ground on the reserve and the opposite banks, to say nothing of the bridge itself, would provide excellent points of vantage for thousands of sightseers. Wake up, young men of Windsor, and show the world that you can put up as brave a show as your forefathers did. SOME WINDSOR WANTS. (1933, January 6). Windsor and Richmond Gazette (NSW : 1888 - 1954), p. 7. Retrieved from http://nla.gov.au/nla.news-article86054303
REMARKABLE TROPHIES. Mr. K. Hanson, of Pittwater, manager of the visiting team of scullers and representatives of the N.S.W. Professional Sculling League, brought along with him for public display in Coraki two very remarkable models enclosed in handsome cases of polished wood and glass. It appears that there are five of these trophies which are to be competed for annually in the various regatta centres of .N.S.W.— one for the open Gladstone, another for heavy boats, a third for open best and best boats, a fourth for lightweight Gladstone, and the fifth lightweight best and best, and in each instance the model faithfully represents the type of boat used in the race for which the trophy is offered. The models are true to scale, and their construction evidently called for remarkable skill and the most meticulous care of an acknowledged master of the craft of boat building.
Mr. C. S. Murray, of Pittwater, designed and fashioned the whole of the models, and how he was able to give such an artistic finish while employing, timber of paper-like thinness baffles those able to realise the difficulties with which he was confronted. There is a 'fiver', we are informed, for anyone who can detect even one missing detail. The outriggers, swivels, sliding seats, knees, rivets, sculls and every possible feature of each craft represented has been faithfully reproduced and on a scale so small as to be almost unbelievable. Large numbers viewed their display in the windows of the Premier and Federal Stores with great interest. Those trophies have to be won three, times in succession before becoming the absolute property of the winner. Present holders are— J. Erickson, open Gladstone and heavy boats; A.J. Fisher, open and best boats; and C. Williams, lightweight Gladstone and lightweight best and best. Williams obtained possession of his trophy at Maclean regatta only last week. The venue for the races is to be changed each year, and it is quite on the cards, we are informed, that Coraki will be favoured with the right to one or two of the events at its next annual regatta. REMARKABLE TROPHIES. (1933, April 25). The Richmond River Herald and Northern Districts Advertiser (NSW : 1886 - 1942), p. 4. Retrieved from http://nla.gov.au/nla.news-article127170543
One of the original Trophies. Picture by Michael Mannington, 2012. See - www.pittwateronlinenews.com/pittwater-aquatic-club-history-i.php
CORAKI REGATTA DREW LARGE CROWD .SOME CLOSE FINISHES. CORAKI, Monday. Saturday's regatta, organised by the Richmond River Aquatic Club, attracted scullers from Pittwater, Abbotsford, Port Macquarie, and towns on the Clarence and Richmond. Events commenced at 10a.m., and continued till dusk.
The heats and the finals were well contested, and old followers of the sport stated that the Beaten Stakes Handicap was the finest race witnessed. In that event Casey, the first man,, was only a few feet in front of Williams, and at the line a boat's length would have covered the distance between the seven scullers. E. Hilan (Ballina) won the £17 All Comers' Best and Best Boats handicap. The Beaten Stakes Handicap was won by T. Casey (Swan Bay), with C. Williams (Pittwater) second. Messrs. Yeager Bros. (Coraki) annexed thetrophy for speed boats, and D. Mcpherson (Swan Bay) secured second place. The attendance of spectators, although nothing like the numbers of past years, was considered by the club officials as satisfactory for a first regatta after several years.
The judges were Messrs. F. Ford and J. Paddon. Messrs. J. Butler and H. C.McNamara attended to the handicapping, and W. Benaud, as secretary, withthe assistance of a strong committee,attended to the general management.
CORAKI REGATTA DREW LARGE CROWD. (1933, April 25).Northern Star (Lismore, NSW : 1876 - 1954), p. 6. Retrieved November 12, 2013, from http://nla.gov.au/nla.news-article94213431
Pittwater Regatta 1933 threads collected and collated by A J Guesdon, 2013.