March 11 -17, 2012: Issue 49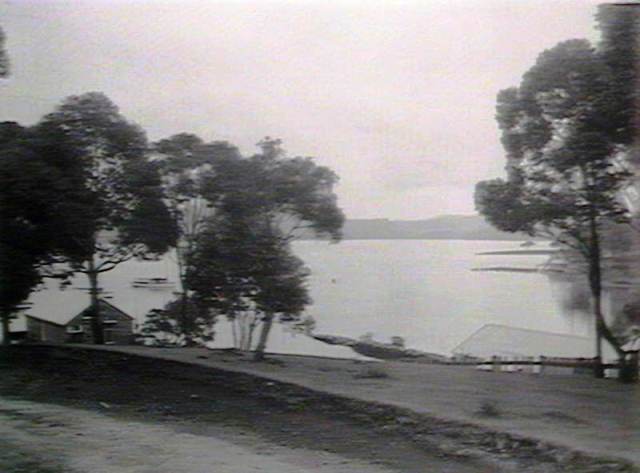 Bayview 1912, Image No d1-12324r, Courtesy State Librray of NSW.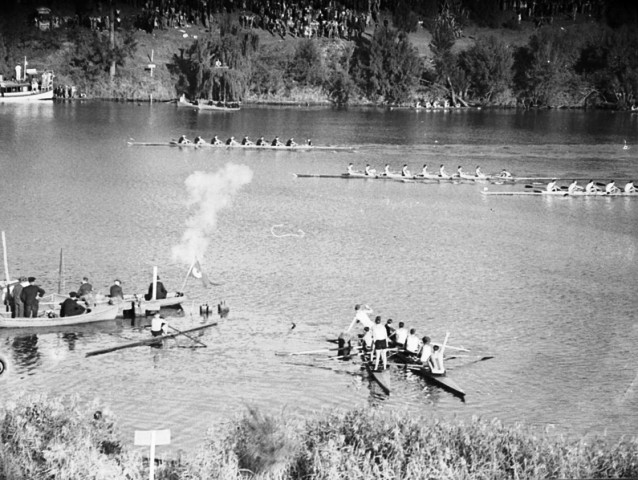 Regatta on Parramatta River, Hood Image 30438r, Courtesy State Library of NSW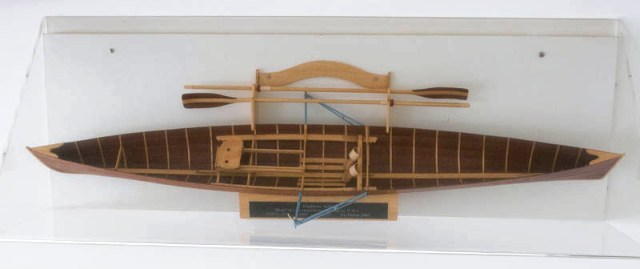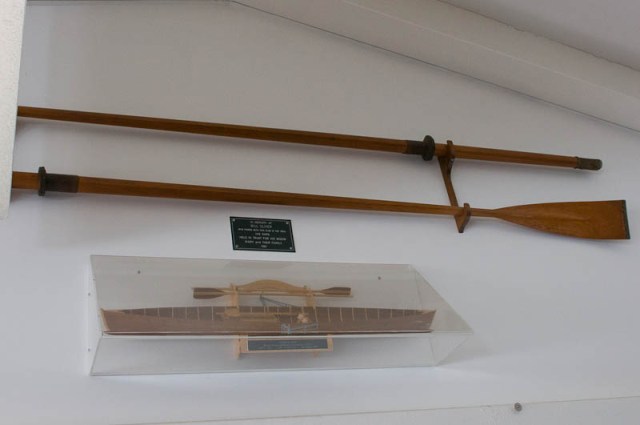 The Trophy now at 2012 Pitwtater Aquaitc Club, photographs by Michael Mannington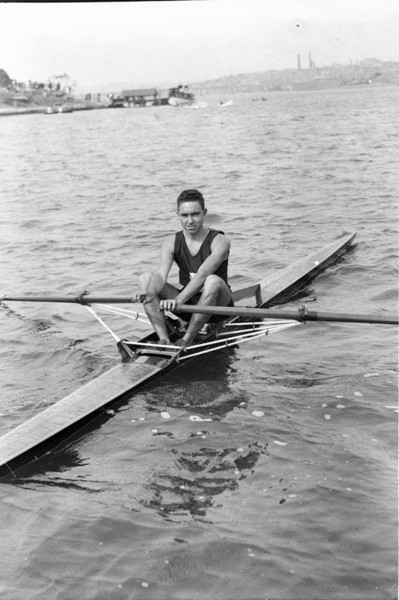 A Single Sculler. Hood image 02787r, Courtesy State Library of NSW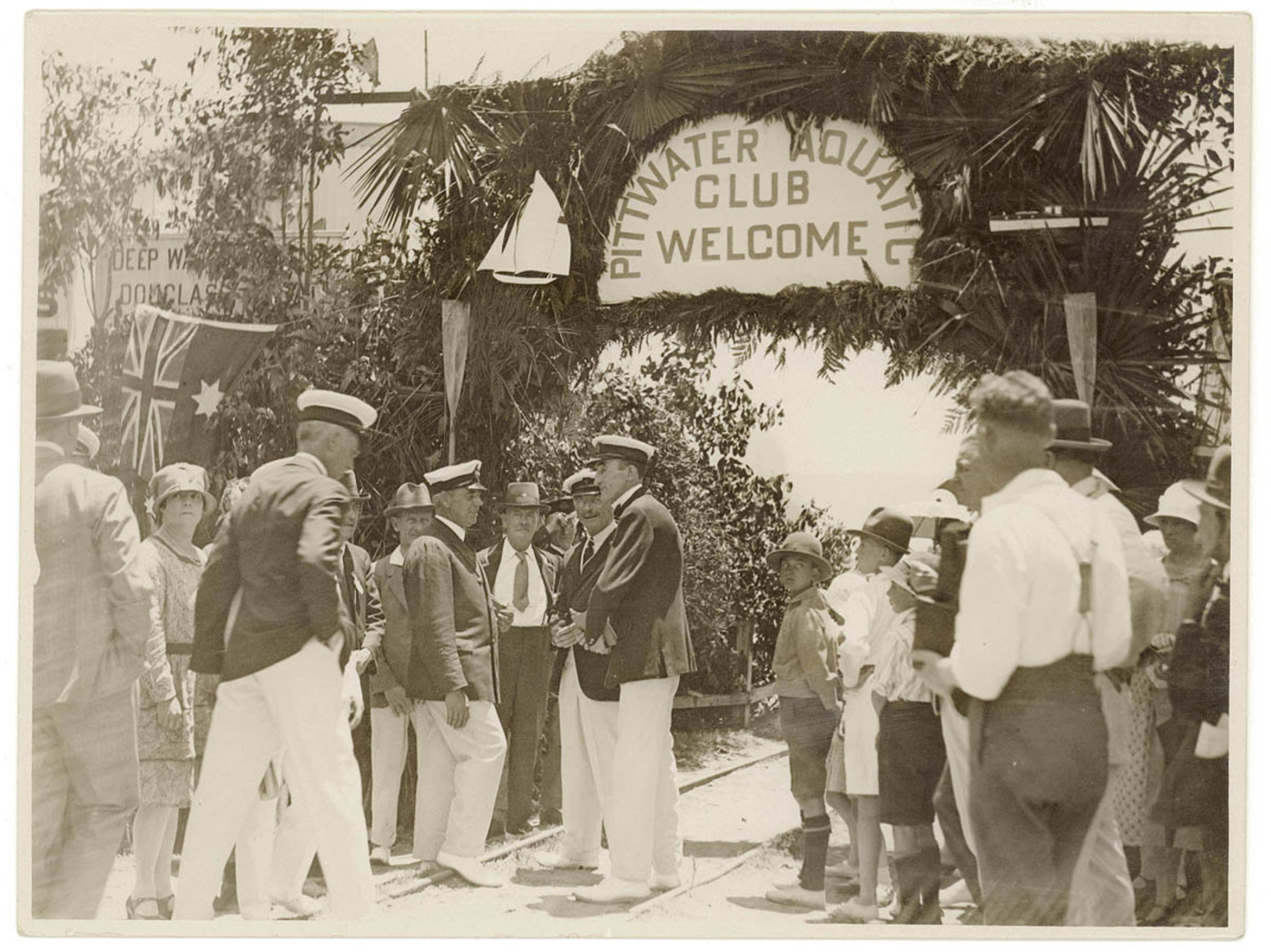 Event at Pittwater Aquatic Club image no: Digital Order No. a409025
Courtesy State Library of NSW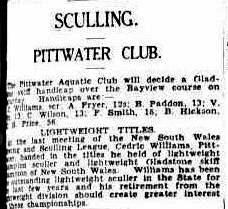 Sydney Morning Herald Snippet, 9th of April, 1935
Copyright Pittwater Online News, 2012. All Rights Reserved.
The Pittwater Aquatic Club
Pittwater has contributed to the historical development of many water sports, particularly yachting and sculling with a few champions amongst these ranks. Many of these local 'amateur' clubs were also community minded and contributed at every opportunity to the social development and welfare of others.
Beginning in 1922 in Bayview, with meetings originally held in the boatshed of local gent Cedric Williams and later in what is now the Scout Hall, was the original sculling club version of the Pittwater Aquatic club. Cedric Williams must have been a fit man as he regularly won PAC events and those run when competing with other NSW clubs:
SCULLING. Parramatta River Club. CHAMPIONSHIP REGATTA.
The Parramatta River Sculling Club held Its championship regatta over the Putney-Gladesville course on the Parramatta River on Saturday.
The main attraction on the programme, the light-weight Gladstone skiff championship of New South Wales, was won for the third successive year by Cedric Williams, of Pittwater, who defeated his clubmate, F. Kerr, by three lengths. SCULLING. (1935, March 11). The Sydney Morning Herald (NSW : 1842 - 1954), p. 13. Retrieved from http://nla.gov.au/nla.news-article17172714

The PAC also included ladies in its ranks who regularly competed with each other and at inter-club events. Their inclusion began in 1933 and they soon began winning inter-club races as well:
SCULLING. - Pittwater Aquatic Club.
Pittwater Aquatic Club closed Its 1932-33 sculling season and financial year on June 3. The membership was Increased during the year by 40. During the year a women's section was attached to the club, which now has a membership of 19 active competitors. The club has had a very successful season, and at present holds four of the five State championship titles allotted by the New South Wales Professional Sculling and Rowing League. On Broken Bay during the season 167 races were held.
SCULLING. (1933, June 29). The Sydney Morning Herald (NSW : 1842 - 1954), p. 14. Retrieved from http://nla.gov.au/nla.news-article16963459
The club had various cups and trophies to be competed for during the season, the Pittwater Cup, a Relay Race for the Parramatta Cup, the PAC Fox Trophy for Men's Best and Best Handicap, and the Penniman trophy and even one called the Giant Brand Paint trophy. In February of each year they held a two day Regatta to which competitors from Shoalhaven, Parramatta and Balmain would come. The most well known of all these trophies is one initiated by Cedric Williams Esq. to be raced for as a perpetual trophy between clubs. At the last race prior to the outbreak of war in 1939 this trophy, a model of a Racing Four complete with sculls, and mounted in a glass case made by then well known model maker Stuart Murray, was won by the Balmain club. It gathered dust at their club stuck atop a cupboard until 2009 when remodelling caused pause for thought and the return of this item to its home in the new Pittwater Aquatic Club.
The PAC original version also had a few controversies:
ROWING CHAMPION Refused an Injunction.DISQUALIFICATION STANDS. Mr. Justice Long Innes, in Chambers yesterday, refused an interim injunction to John William Erickson, holder of the rowing championship for Gladstone skiffs in New South Wales to restrain officials of the Pittwater Aquatic Club and the New South Wales Professional Sculling and Rowing League from disqualifying him as a member and from otherwise dealing with him except as a member of the club and of the league respectively.
The purpose of the application was to put Erickson In the position of being able to row at the Pittwater regatta today and to compete in the lace for the Gladstone skiff championship of New South Wales on the Shoalhaven River on New Years Day. The defendants to these proceedings were Sir Clifton Love and Cedric Williams, president and honorary manager respectively of the Pittwater Aquatic Club, and Mr George Towns and Cedric Williams, president and secretary and treasurer respectively of the New South Wales Professional Sculling and Rowing League.
An affidavit by Erickson stated that he last rowed on May 7, 1933, at Pittwater, competing in a race for Gladstone skiffs, and finishing in second place The defendant, Cedric Williams was also a competitor. After the race, they had a dispute of a personal nature on the finishing line. Subsequently, Williams handed Erickson his prize-money and said, "You are disqualified for the way in which you spoke to me out there " That day Williams put up a notice on the club's premises at Bayview in the following terms, "I, Cedric Williams, do hereby disqualify J Erickson from the Pittwater Aquatic Club for 12 months " Erickson said he asked Williams to take the notice down which he did, but he put it up again on the same day Erickson also said in his affidavit that Mr Williams said, "You have been disqualified because you have been abusive to officials of the club" Erickson said he denied this. The two bodies disqualified him at meetings held subsequently.
His Honor, in refusing the injunction, said that perhaps Erickson had a good case, but the application had been brought loo late, and he could not decide the matter ex parte The other side had been served very late on the previous afternoon
ROWING CHAMPION. (1934, December 29). The Sydney Morning Herald (NSW : 1842 - 1954), p. 12. Retrieved from http://nla.gov.au/nla.news-article17115574
Mostly the Pittwater Aquatic Club were about community and enjoying the estuary though.
PITTWATER AQUATIC CLUB.
The 13th annual ball of the Pittwater Aquatic Club will be held in the Pittwater Hall Mona Vale on Saturday. The proceeds will be presented to the William (Bill) Beach Memorial Fund. The club at the close of its season had 83 active members and during the season held 26 races in Gladstone skiffs and outriggers.
PITTWATER AQUATIC CLUB. (1935, July 12). The Sydney Morning Herald (NSW : 1842 - 1954), p. 15. Retrieved from http://nla.gov.au/nla.news-article17185820
During WWII the club lapsed (1939) and those who were members stayed on the water fulfilling roles in keeping Pittwater safe. Cedric Williams, along with older brother Jack, worked on Pittwater and became an Army Lieutenant in the small ships section. (see 1. )
Further:
1. From; Beau McFee of Bayview describes his role in Pittwater during World War II at http://www.pittwater.nsw.gov.au/library/local_history/Pittwaters_past/pittwater
Pittwater Aquatic Club 2012: http://users.tpg.com.au/paqclub/home-1.html
Cedric Williams Marine Pty Ltd 2183 Pittwater Road Church Point NSW 2105 9979 7317; Yes ! Still listed by BIA...
One Wednesday in 1949, K.C. Dalton Esq. Skipper of the "Owen Davern", and Cedric Williams Esq., Skipper of the "Christina", sailed a match race around Lion Island. The event aroused so much interest and enjoyment that it was decided to form a yachting association, and so BYRA was born. From; http://www.byra.org.au/history.php
Sir Clifton Love also spent Christmas Holidays in Pittwater aboard his luxury cruiser; Sir Clifton Love in Spindrift
AQUATIC GAIETY. (1933, December 16). The Sydney Morning Herald (NSW : 1842 - 1954), p. 7. Retrieved from http://nla.gov.au/nla.news-article17033201
Also see The First Pittwater Regatta
CLUB SAILING FIXTURES.
PITTWATER -Cedric M Williams trophy race Waterwitch 21m 19m Tug 14m 8m Wln^s 12m8m Mavis 12m fin Sunny 10m 8m Swastika Popeye 9m 8m Bunyip 6m 6m Ncmlsls 3!jmam Pandora 2m scr Cygnet set ser I roller 7m Swift scr set
CLUB SAILING FIXTURES. (1937, October 21). The Sydney Morning Herald (NSW : 1842 - 1954), p. 16. Retrieved from http://nla.gov.au/nla.news-article17407142
SCULLING. Parramatta River Club. CHAMPIONSHIP REGATTA.
The Parramatta River Sculling Club held Its championship regatta over the Putney-Gladesville course on the Parramatta River on Saturday. The main attraction on the programme, the light-weight Gladstone skiff championship of New South Wales, was won for the third successive year by Cedric Williams, of Pittwater, who defeated his clubmate, F. Kerr, by three lengths. J. Hanlan, Pittwater, won the outrigger handicap, and the skiff handicap,
Results:
Lightweight championship of New South Wales, In Gladstone skills, lm (holder, C. Williams); C.M. Williams (Pittwater), 1; F. Kerr (Pittwater), 2.Only starters. Won by three lengths.
Women's Gladstone skiff handicap, lm.: Miss D.Pamplin (Parramatta), 52s, 1; Miss D. Hammond(Parramatta), 38s, 2; Miss M. Hickson (Pittwater),16s, 3. Won by four lengths. SCULLING. (1935, March 11). The Sydney Morning Herald(NSW : 1842 - 1954), p. 13. Retrieved from http://nla.gov.au/nla.news-article17172714
Sir Clifton Love: http://adb.anu.edu.au/biography/love-sir-joseph-clifton-7243