December 15 - 21, 2013: Issue 141
Carl Gow and Frank Gonsalves Boatshed, Palm Beach
Any research into the life and times of the Gow and Gonsalves families of Palm Beach indicates a matter of fact down to earth honesty, a love of the simple things in life, and of serving others. Records indicated numerous rescues of vessels and people in peril, rescues that were carried out by younger and older generations in launches and even in surf boats. As year round permanent residents and founding members of Palm Beach SLSC, who were quite happy to row the surf boat to Newcastle for carnivals, a fishermen's legacy of knowing the seasons and their tides and weather, of being kept healthy while rowing open whalers to catch fish, or a heritage of lightkeepers who kept an open door, established this boatshed as yet another community meeting place long before the Palm Beach RSL eventuated. Anecdotes from relatives and scant reports found all point to a few handfuls of Palm Beach families looking out for each other and any visitors who came to the waters off Palm Beach or in its estuary.
Situated at the north end of Snapperman Beach, Carl Beeston Gow returned from WWI a quiet hero and was, as Peter Verrills described him, "a man full of knowledge". His father Robert, stationed at Barrenjoey Lighthouse as a relieving lightkeeper, welcomed home his son mid –winter 1919.
Carl Gow and a fellow veteran took over this property from a man named Ellis who in turn had taken it over from James Booth, Church Point gentleman who was a consummate builder employed by the Barrenjoey Company from the outset. Above this Jetty the first General Stores, known as 'Booth's Store'. A biography from a gentleman who once holidayed here in the summer of 1919/1920 points to Carl Gow having taken over the jetty and store by that season:
DISTRICT COURT. (Before Judge Backhouse.) CONTRACTOR'S CLAIM. Alfred Wrigley Ellis, of Palm Beach, near Barrenjoey, sued Bernard Stiles, of Yarrandi, Church-street, Newtown, medical practitioner, and P. M. Stiles, his wife, for money alleged to be due under a contract. The claim,£68 19s 1d, was for time and money lost owing to the stopping by the defendants of their contract with the plaintiff for the erection of a cottage at Palm Beach. The defendants paid £18 15s into court, and denied further liability. Mr. A. R. J. Watt, instructed by Messrs. John M'Laughlin and Son, appeared for the plaintiff, and Mr. Clive Teece, instructed by Mr. J. T. Ralston, for the defendants. His Honor returned a verdict for the plaintiff for the amount paid into court. DISTRICT COURT. (1918, March 13). The Sydney Morning Herald (NSW : 1842 - 1954), p. 9. Retrieved from http://nla.gov.au/nla.news-article15773331
"The Jetty, Palm Beach" places the spectator on a high grassy bank, with trees, below which stretches a sandy shore and a breadth of dimpling water. The warm, purplish haze which hangs over the further coast is very tenderly suggested, and the eye dwells upon it both with pleasure and instruction. THE LISTER EXHIBITION. (1917, May 8). The Sydney Morning Herald (NSW : 1842 - 1954), p. 5. Retrieved from http://nla.gov.au/nla.news-article15712131
HAWKESBURY RIVER, PITTWATER, NEWPORT, and PALM BEACH.-S.S. CHARLOTTE FENWICK leaves Macleay River Wharf, oil foot of Bathurst street, every MONDAY, 10 a.m.; and THURSDAY 5a.m. Cargo received daily. _Tel., Citv 1018. Advertising. (1918, November 22). The Sydney Morning Herald(NSW : 1842 - 1954), p. 1. Retrieved from http://nla.gov.au/nla.news-article15812038
The first general store was at Palm Beach, on the Pittwater side near the jetty, as early as 1914, and was known as Booth's store. Later it became Ellis' store, and then after the last war two returned Diggers, Mr. Fred Howlett and his partner, Gowe, took it over. Their general supplies came by ship from Sydney by the Erringhi and the Kallawatta, and meat and bread came by launch from Newport. They made their own ice-cream in those days, and froze it in old fashioned freezers with coarse salt. It was just as popular as the well known brands are today. It was not until 1929 that Howlett's store was established on the beachside of Palm Beach. Before that there was no road through from Pittwater, and the top road was used by residents. Palm Beach setting for smartest sea and sun togs. (1946, January 12). The Australian Women's Weekly (1933 - 1982), p. 22. Retrieved from http://nla.gov.au/nla.news-article47245736
PALM BEACH.-Furnished Cottages to Let and For Sale.- Gow and Howlett, Store. Phone. 24. Advertising. (1921, April 23). The Sydney Morning Herald (NSW : 1842 - 1954), p. 4. Retrieved from http://nla.gov.au/nla.news-article28086899
Prior to the first World War transport to the Peninsular and Palm Beach in particular was, to say the least, difficult. Proceeding from Circular Quay one took a ferry to Manly, then a horse-drawn streetcar to Narrabeen where a ferry crossing was made of the lake. A sulky continued the journey to Church Point and finally one took another row-boat ferry to Palm Beach.
At the time we were there, the Summer of 1919/20, transport had improved to the extent that we were able to travel by launch from Newport to Palm Beach where a small wharf had been built at Gow's boat-shed, immediately south of Observation Point. From there we proceeded by row-boat to the old Customs Jetty.
At that time Palm Beach Telephone Exchange had only 14 subscribers, and the Barrenjoey Lighthouse was still lit by a kerosene lamp consuming 4 gallons of kerosene each night.
I'm not sure how my parents came to choose a Barrenjoey custom house for a holiday but I have a vague recollection that it was through their friends Ma and Pa Shimmels who was superintendant of Prison Farm Homes for Juvenilles at Mittagong. Retrieved from; http://rus.shorter.net/a_life_enjoyed.txt and from: Woodley's Cottage
Henry Francis Gonsalves was born at Watsons Bay in 1868 to John Gonsalves (1843-1882) and Mary Barry. In 1894 Woollahra was seeking to become a separate shire. Amongst those recorded as signing a petition for this was one Henry Francis Gonsalves - Henry Gonsalves Toogood-st. Advertising. (1894, September 8). Freeman's Journal (Sydney, NSW : 1850 - 1932), p. 10. Retrieved from http://nla.gov.au/nla.news-article115547731
In 1896 he married Caroline Emily Walter, born at Waterloo, also in 1868. In 1900 the same gentleman applied was an assignee of an official bankrupt;
Re Henry Mealing and Henry Francis Gonsalves. The bankrupt Mealing was examined at some length by the official assignee, after which the matter was adjourned until September 5. BANKRUPTCY COURT. (1900, August 23). The Sydney Morning Herald (NSW : 1842 - 1954), p. 8. Retrieved from http://nla.gov.au/nla.news-article14332267
Three years later he had a new business with the same Henry Mealing, registered in NSW State Records as:
H MEALING & COMPANY - Eastern Markets Woolloomooloo; registered 26 Jun 1903; MEALING, Henry; GONSALVES, Henry Francis. Peter Verrills kindly fills in the gaps here:
I was born in Waratah street, Palm Beach. My granny Gonsalves delivered me. Dad was away in the Army and so mum lived with her parents in their home while he was away. When the Gonsalves first arrived they settled on what we call today 'Portuguese Beach'; they were coming here for around three years before they moved in permanently here. They'd row around every Summer because old Goni was a fisherman and Mrs Gonsalves was a Walter from the Newcastle ferry family from Stockton, how they met I don't know, but he probably went up and down the coast fishing, and they settled over on Portuguese Beach. They were a Portuguese family, the Gonsalves, and that's how it has got its name; Portuguese. The authorities eventually got them off out of there and they then bought land in Waratah street also. She set up a dairy there and grew veggies and everything to supply the weekenders with milk and veggies, and all the golf course here; they had that as agistment for their stock. In some of the old photos you'll see cows wandering around on it. The Gonsalves and Verrills have all inter-married, and then the Goddards.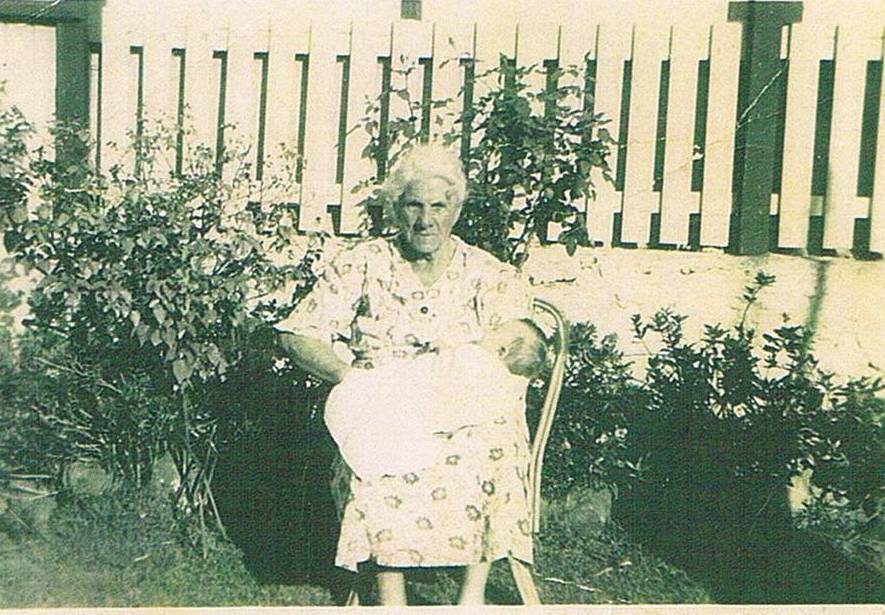 Caroline E Gonsalves (nee Walter) wife of Henry F Gonsalves, married 1896, holding Peter Verrills.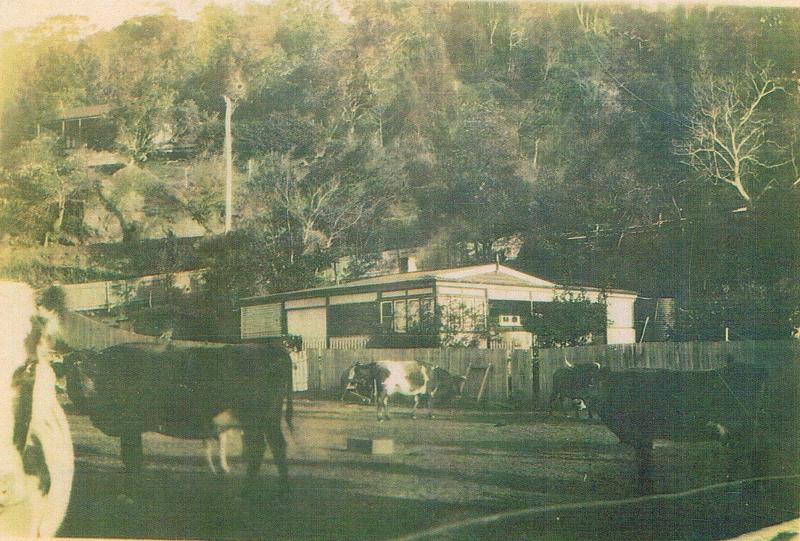 Gonsalves family home in Waratah Street, Palm Beach. From Verrills family album.
In 1908, at Woollahra, Francis Joseph Gonsalves was born. Francis J (Frank) was the sixth of seven sons and five daughters. Francis Joseph junior married Mary Jane Delaney in 1941. His sons were Frank and Carl. Of Frank seniors sons, Henry (Tim) and Sydney (Sid) Frederick, Harold (Midge) Edward appear with Carl among Palm Beach SLSC's earliest records: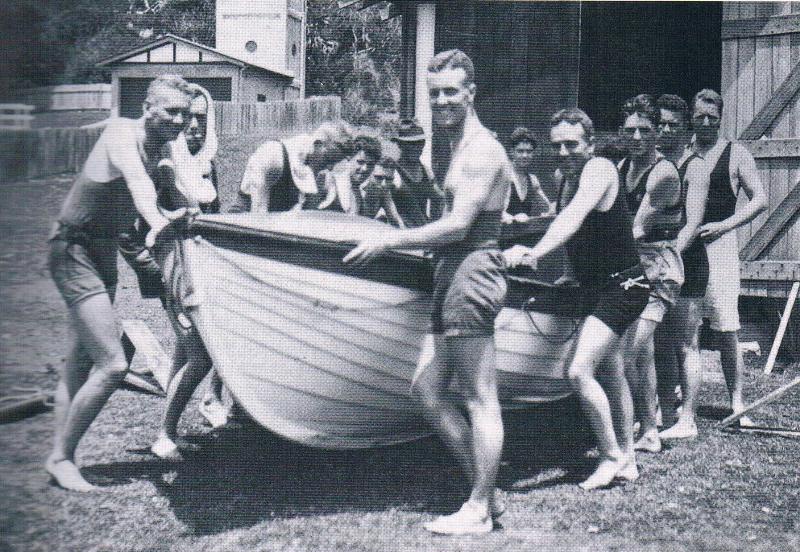 PBSLSC -The First Shed: Left; Merle Loxton,
Laurie Gallagher
, Tim Gonsalves and Sydney Gonsalves. H.R. Ayres and Harold 'Midge' Gonsalves. Right;
Adrian Curlewis
, Len Palmer, M Ormsby.
A few of their adventures as members of PBSLSC:
A GREAT PULL Palm Beach Surfers Reach Newcastle . NEWCASTLE, Saturday.— A feat probably unequalled in surfing annals was accomplished today by the Palm 'Beach Surf Life Saving Club boat crew, comprising A. Goddard (captain), the brothers H. S. and L. Gonsalves, and J. Coltman. The crew rowed from Palm Beach to Newcastle in order to take part in the club's surf carnival today. Starting from Palm Beach at 9 a.m. on Friday they rowed 30 miles, and were towed five miles from the Newcastle side of Norah Head by the steamer Currembene. There they were met by the Newcastle surf boat, and pulled ashore amid great enthusiasm. A GREAT PULL. (1924, February 17). Sunday Times (Sydney, NSW : 1895 - 1930), p. 7. Retrieved from http://nla.gov.au/nla.news-article128153132
Arthur Goddard, father of Jimmy Goddard, was the 'sweep' of this boat crew and boat captain of the club.
Surf Boat Race Newport (G D Banks, Robertson, A M Stainer, 0 Brennan, and G S Meillon), 1,Palm Beach (A Dellitt,
A Goddard, H Gonsalves, H.E. Gonsalves
and H T Holt), 2. SURF CARNIVALS. (
1925, January 2
).
The Sydney Morning Herald
(NSW : 1842 - 1954), p. 10. Retrieved from http://nla.gov.au/nla.news-article16194912
PALM BEACH OFFICIALS, The annual general meeting of the Palm Beach Club resulted in the following officials being elected for the present season : Patron, Mr. Thomas Peters; president, Mr. R T. McKay; captain, Mr. Adrian Curlewis; vice-captain, Mr. J. Ralston; hon. secretary, Mr. K. Scott; hon. treasurer, Mr. N. H. Erwin: hon solicitor, Mr. G. Reichenbach; hon instructor, Mr. A. Dellit; boat captain.
Mr. A. Goddard
; committee, Messrs. L. Gallagher, K. Hunter,
S. Gonsalves,
W. Rayner. H. T. Holt, and
H. E. Gonsalves
; delegates to Surf Life-saving Association, Messrs. Goddard and Scott. Palm Beach is the only life-saving club that pays a 'life-saver to guard the beach on week days, when members of the club are unable to be on duty. SURF BOAT RACING. (
1925, November 22
). Sunday Times(Sydney, NSW : 1895 - 1930), p. 10 Section: Social and Magazine Section. Retrieved from
http://nla.gov.au/nla.news-article128162738
PALM BEACH TO NEWCASTLE. SURFERS' EXPERIENCES. NEWCASTLE, Friday. The surf boat containing the members of the Palm Beach crew-the three Gonsalves brothers, Goddard, and Gow-who will compete at the surf carnival, arrived at Newcastle shortly after noon to-day, after an exciting trip up the coast. Leaving Palm Beach at 4 a.m. yesterday, they were expected, at Newcastle before dusk last night, but a message arrived later that they bad landed at Terrigal to spend the night. Upon landing, the captain (A. Goddard) said that soon after starting they had to face a strong nor'-'easter, and after a hard row they decided to land at McMaster's Beach. As they turned the boat shorewards he was knocked overboard by a huge wave, and the next wave washed him further from the boat. "I was very glad," he said, "when they turned towards me, and eventually hauled me aboard, as the place has a bad reputation for sharks."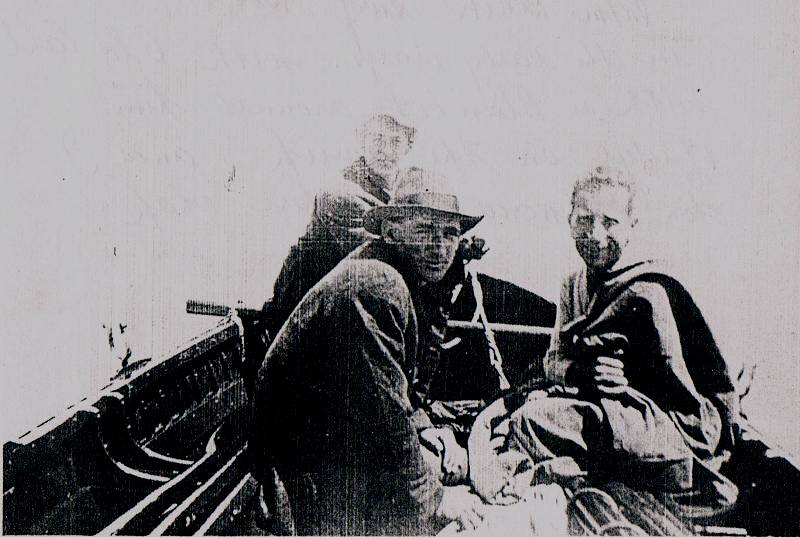 Later, on there appeared to be no chance of reaching Newcastle before dark, they decided to land at Terrigal. A start was again made at 6 o'clock this morning, and after rowing a few miles, they were picked up by the North Coast steamer Urana, and arrived off Newcastle about noon. The visitors wore welcomed by the president of the Newcastle Surf Club (Dr. Idris Morgan),and entertained at lunch In the Surf Club's pavilion. BOAT TRIP. (
1926, February 13
).
The Sydney Morning Herald
(NSW : 1842 - 1954), p. 15. Retrieved from
http://nla.gov.au/nla.news-article16264350
YACHT IN TROUBLE. Dismasted at Sea. SURF BOAT TO THE RESCUE.
A few minutes before 2 o'clock on Saturday afternoon the eight-metre yacht Brand V., owned and sailed by Mr. J. R. Palmer, was dismasted off Barrenjoey Beach. She was engaged In the Royal Prince Alfred Yacht Club's annual race for the Basin Cup, in which at the time of her mishap she had a good chance of success. Standing along the coast fairly well in-shore, close-hauled on the starboard tack in afresh north-easter, her topmast forestay or some other part of her for'ard gear carried away, and In an instant her mast snapped off short, just above the lower crosstrees. The upper part of her mainsail and mast, her jib, and most of her rigging, fell in a tangled mess to leeward, fortunately without injuring anyone, and she was left drifting helplessly on a lee shore.
Her ground tackle was not sufficiently good to enable her to anchor until assistance came, and her crew of five set a small Jib, Jury rigged on the 25ft stump of the mast, with a view to making for Barrenjoey and shelter. She was, however, unable to go about under this rig, and making considerable leeway she was In danger of going ashore.
The members of the Palm Beach Surf Club observed her plight, and about half an hour after the accident the surf boat, manned by Messrs. H. Hattersloy, Gonsalves, P. Tress, H. P. Tattersall, and A. Wolstenholme, put to sea, and taking her in tow, endeavoured to lift her up to windward, assisting her in going about.
Later she towed her towards the steamer Gosford when she came to assist.
Meanwhile the lighthouse-keeper at Barrenjoey had communicated with Goddard's boat-shed at Palm Beach, and a launch was despatched.
Her position was also observed by some of the other competitors, and Morna, returning to Sydney, made out of her course for the club steamer Gosford, which at the time was some two or three miles to the south-east. Hoisting an ensign upside down and the signal NC (want Immediate assistance), she conveyed the information that Brand was in sore straits. The Gosford immediately proceeded to the scene, and relieving the surf boat of its unwieldly burden, took the disabled yacht in tow about 80 minutes after the accident, finally dropping her at her moorings In Careening Cove. The launch from Palm Beach stood by until Brand was safely in tow. Included In Brand's crew was a 15-year-oldlad, Jack Morris, who took a prominent part in hauling the heavy tow-line aboard and making it fast. YACHT IN TROUBLE. (
1931, January 19
).
The Sydney Morning Herald
(NSW : 1842 - 1954), p. 11. Retrieved from
http://nla.gov.au/nla.news-article16746747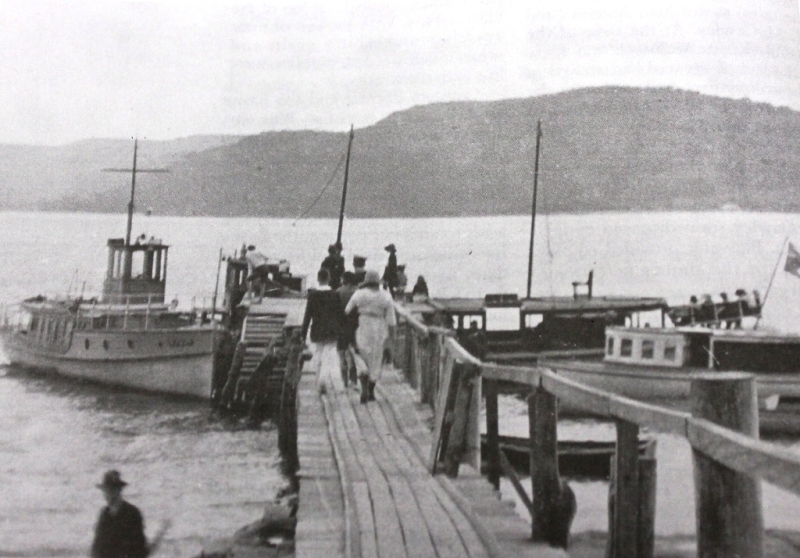 Palm Beach Wharf and Jetty, circa 1930's. Courtesy Peter Verrills
Under both Gow and the Gonsalves the boatshed and it's trawlers
came to the rescue of many on Pittwater and at sea. A sample of these:
Men's Struggle To Save Yachts. SYDNEY, Saturday.— In mountainous seas which raged off Palm Beach yesterday and last night gallant work was performed by W J and A Goddard and S. Gonsalves in rescuing two fine yachts which had broken adrift from their moorings. It was not until after midnight that they completed their job. According to eye witnesses it was often touch and go whether they would meet with disaster themselves. In addition to the two yachts a launch broke its moorings and eventually piled up on the sands. Several small boats were swamped in the storm. Men's Struggle To Save Yachts. (1934, February 3). The Mail(Adelaide, SA : 1912 - 1954), p. 5. Retrieved from http://nla.gov.au/nla.news-article58633285
Trawlers Rescue Disabled Tug In Heavy Seas. When heavy seas were tossing the disabled tug Kiola less than half a mile off Palm Beach yesterday, two motor trawlers went to her rescue and towed her to safety. The Kiola developed engine trouble while towing a punt from Brooklyn to Sydney and her crew flew a distress signal.
The trawlers Mary Jane, skippered by Mr. F. Gonsalve, and Caroline H., under Mr. B. Parker, passing nearby, went to her aid.
They took the Kiola in tow and after breaking two ropes brought her into the smooth water of Broken Bay. Trawlers Rescue Disabled Tug In Heavy Seas. (
1947, September 10
).
The Sydney Morning Herald
(NSW : 1842 - 1954), p. 10. Retrieved from
http://nla.gov.au/nla.news-article27896653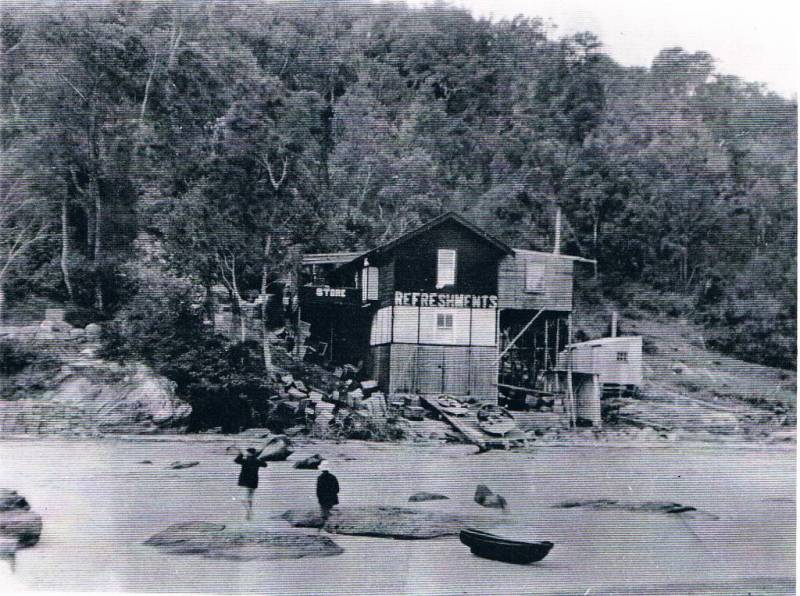 Above and Below: Gow's Store in its early days courtesy Peter Verrills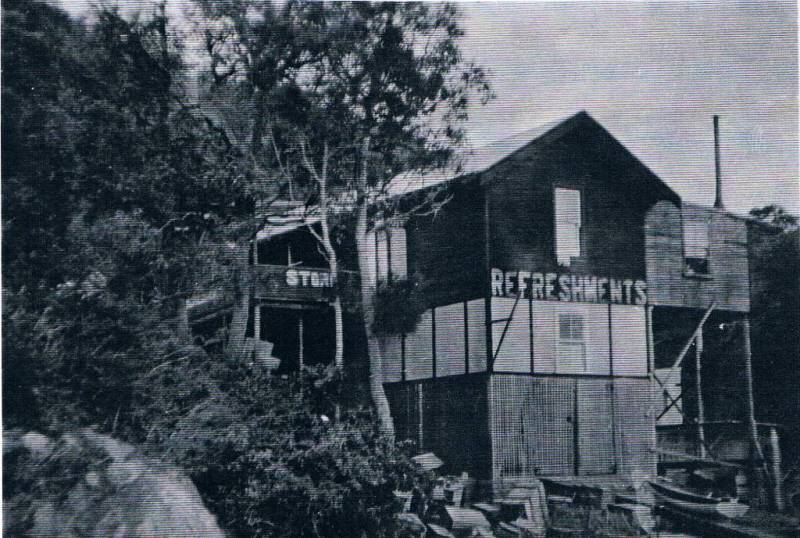 LAUNCH SAFE. The 38ft. Launch Christina, which reached Newcastle yesterday afternoon after having been missing for two days, was close to disaster off Norah Head.
One anchor failed to hold and she drifted towards the rocks. The launch was running before a strong southerly and the crew ran her under the headland and dropped anchor. The anchor dragged till the launch was within 800yards of the rocks. "It was an anxious time for both of-us," said William Jenkins, of Palm Beach, owner of Christina.
BARRY HEWLETT.
"One anchor had been lost and we were preparing to drop the large main anchor when the hook caught." Christina was running under jury rig towards Newcastle yesterday morning when Mr. F. Gonsalves, fisherman, of Palm Beach, took her in tow. She reached port yesterday afternoon. The launch left Palm Beach for Newcastle at 7 a.m. on Monday. Jenkins's companion was Barry Hewlett, also of Palm Beach. Jenkins said the timing chain of the magneto broke at 1.30 a.m on Monday, when the launch was off Tuggerah. A spare chain fitted was too large to be of any use.
WILLIAM JENKINS.
There was nothing to do then but rig a jury sail and run before a strong north-easterly back to Palm Beach. The wind held till the launch reached Cape Three Points. a few miles north of Palm Beach. 1tdropped suddenly and was replaced by a southerly which drove the launch north again. Jenkins said. he and Hewlett flashed signals night and day. A ship sent back an answering flash but nobody went to their assistance. A plane passed them on Monday night and they flashed Morse signals. The plane dropped low with its landing lights on, but kept on its way. Hewlett returned to Sydney by train yesterday afternoon. He said he would return in a few days to take up prawning off Stockton. LAUNCH SAFE, BUT WAS NEAR ROCKS. (
1950, July 13
).
Newcastle Morning Herald & Miners' Advocate
(NSW : 1876 - 1954) , p. 2. Retrieved from
http://nla.gov.au/nla.news-article135295009
Adelaide Answers Broken Bay SOS.
A man whose 22ftlaunch was drifting help-less on to a reef in Broken Bay near PalmBeach last night received aid when his radio SOS was picked up in Adelaide.
Mr. John Condie, 44, of Station Street, Beverley Park, was returning to Kogarah Bay, where he keeps the launch Pudaloo, when it broke down.
Mr. Condie said last night: "My launch broke down about 5.30 p.m., close inshore, opposite the Barranjoey Lighthouse.
"I was drifting towards a reef where the Maitland was wrecked. The sea was rough and was breaking on the reef.
"Another 100 yards and my launch would have been wrecked," Mr. Condie continued. ' ' !
"Luckily I have a two-way wireless. I tried to contact Sydney radio. While trying to do so I managed to pick up Adelaide radio. '
"Adelaide took the details and contacted Sydney for me."
Sydney water police communicated with a boatshed at Palm Beach, owned by Mr. C. B. Gow
, who sent out a 35ft fishing trawler to rescue the launch. The trawler towed the 'launch into Pittwater, Palm
Beach, at 8.20 p.m. The paddle steamer Maitland ran on the reef on the night of May 5, 1898, and 115 passengers and 11 of the crew were drowned. Adelaide Answers Broken Bay S O S. (1953, September 14).The Sydney Morning Herald (NSW : 1842 - 1954), p. 1. Retrieved from http://nla.gov.au/nla.news-article18378339
Then as now, Gows - Gonsalves boatshed hired boats - then they were Chapman launches
, moored and sold vessels, repaired vessels, and the men also fished. Advertisements from the time are under both names or separate listings.
Beryl Driver recalls a lobster tank in the refreshment rooms that were atop the boatshed. There was also an attempt by Carl Gow to get a licence to serve alcohol:
QUARTER SESSIONS APPEALS. (Before Judge Edwards.) HOTELS AT PALM BEACH.
Hearing was continued of the appeals of Carl Beeston Gow and Alfred Edward Cooper respectively against the adjudication of the Metropolitan Licensing Court refusing to grant their respective applications for publican's licenses for premises at Palm Beach.
Both appeals were dismissed, and the adjudications of the Licensing Court confirmed, with 20 guineas objectors' and £3/3/ Crown costs in each case. Mr. W. J. Bradley (instructed by Mr. W. H. Drew) appeared for appellant Gow; Mr. Clancy (instructed by Messrs. H. J. Aspinall and Son) for the appellant Cooper; Mr. V. H. Treatt
(Instructed by Miss M. B.Byles)
for certain objectors; and Mr. C. E. Weigall (Solicitor-General) for the police. QUARTER SESSIONS APPEALS. (
1927, February 15
).
The Sydney Morning Herald
(NSW : 1842 - 1954), p. 8. Retrieved from
http://nla.gov.au/nla.news-article16354861
Maintenance of their jetty and the area around it formed much of their correspondence with then Council Warringah, whose Council Minutes records also give an insight into some of the activities of other Gonsalves in Palm Beach, Careel Bay and Avalon areas:
C.B.Gow 20/12/29. Asking if Council has any, objection to the granting of a permissive occupancy to C.B. Gow for a business boatshed at Palm Beach. - Referred to Work's Committee (Crs.Parr,Austin.)
(b) that the carrying out of the drainage of Barrenjoey Road "between Milton's corner and Gow's Park be proceeded with; 27/3/1933
31. C.B. Gow, applying for permission to wall and fill in an area about 30' x 20' between his boat shed and garage on the foreshore at Palm Beach. Referred to Works Committee. 19/11/1934
A. Dangar-Browne & 9 others, 21/9/35, submitting an emphatic protest against the proposal to use Goddard's wharf Palm Beach at Palm Beach in lieu of the public wharf, and setting out reasons for the protest. 18a. C.B.Gow, 23/9/35, regarding condition of wharf, and stating he is prepared to repair and maintain it in a state of good repair for period of 12 months for the sum of £20, the money to be paid at the end of the 12 months. Resolved, - That the offer of Mr. C. B. Gow be accepted, (Crs. Austin, Hewitt) 1/10/1935
C.B. Gow, 25/3/38, requesting permission to take over the old wharf at Palm beach stating he is prepared to reconstruct it to the engineer's satisfaction and take over the lease from the Lands Department. 29a. A .Dangar Burne, suggesting that the old wharf be allowed to remain for the convenience of boating men. Resolved, - That Mr. Gow be informed the Council proposes to terminate the occupancy of the site of the wharf, and will Permit him to take it over provided that the public will have uninterrupted use of the wharf and he complies with whatever conditions the Lands Department may lay dowm. (Crs. Hitchcock, Savage)
"Received" 2. Lands Department, 7/12/38, replying that it offers no objection to the leasing of the old wharf at Palm Beach to Mr. C.B. Gow, provided he undertakes to repair and keep it in good order and allow the public free use of it at all times. Resolved, - That the Council agree to the lease to Mr. Gow, provided he first places the wharf in good order to the Shire Engineer's satisfaction. 20/12/1938
Reporting that the old structure of Palm Beach Wharf Beach should be demolished: Resolved - That Mr. C.B. Gow be given two months in which to complete the restoration work to the Shire engineer's satisfaction. (Crs. Latham, Savage) 24/1/1939
Reporting that Mr. Gow has ceased his improvement operations on the old public wharf at Palm Beach: Resolved, That Mr. Gow be required to finish the whole of the work within two months. (Crs. Butcher, Campbell) 11/7/1949
Gow & Gonsalves, 12/7/52, drawing attention to the state of the Council's wharf adjacent to Gow's boatshed and suggesting that it be repaired or demolished, but if the Council is not prepared to do this, stating that they are prepared to take over the structure. Resolved: that this wharf be demolished (Crs. McKay and Berry).
C. B. Gow, 18/9/52, regarding the old wharf at Palm Beach, contending that it would be more expedient to re-build the old wharf than to demolish it, pointing out that a wharf has been at this site for about 40 years, and is greatly used by local residents; and stating that he would be prepared to build and maintain a new wharf or pull the old one down. 22. Resolved, - That he be informed that Council adheres to its previous decision, and the Engineer be instructed to demolish this wharf at the earliest possible Opportunity.- (Crs. MCKay, Berry)
CARRIED. (b) Cr. Berry moved, Cr. McKay seconding, that the decision of 21/7/52 to demolish Mr. C.B. Gow's wharf at Palm Beach be rescinded, and he be allowed to rebuild the wharf at his own expense and that the Council be relieved of any legal responsibility as to the management of this wharf. Cr. Horn moved as an amendment, Cr. Quinlan seconding, that this matter be referred to the Finance & General Purposes Committee, with a report by the Shire Engineer and Legal Officer, and in the meantime Mr. Gow be asked to confer with the Engineer and submit a proposal as to what he is prepared to do to reinstate the wharf to good condition., and the terms under which he desires to be allowed to use the wharf. The amendment was carried, and on becoming the motion, was again carried. (c) Cr. McKay moved, Cr. Berry seconding 30/3/1953
Palm Beach Life Saving Club, 7/11/23, asking for four beach 'Beach inspectors' badges and nominating Austen Dellitt, Arthur William Goddard, Sidney Gonsalves, and Leonard Ellison Palmer as Beach Inspectors, and notifying that A. Dellitt has been engaged as Surf Life Saver and Caretaker on Beach for six months commenicing 7th November,1923.: .Resolved a (Crs. Hitchcock, Hewitt) That the appointments requested be made, under seal of Council. 26/11/1923
(Crs. Hitchcock, Hewitt) That J. H. Gonsalves proposal to subdivide Lot 13, Basset-Darley Estate Palm Beach be not approved. 10/11/1924
Resolved; (Crs. Hitchcock, Simpson) That the Contractor Gonsalves be-paid £50 in respect of his contract for the construction of sanitary conveniences on Governor Phillip Park. 27/4/1926
55. C L. Gonsalves . 4/6/28 Drawing attention to the spoiling of the access to his property in Barrenjoey Road Palm Beach, by the raising of the road about 2 feet above the original level. Referred to the Overseer. 11/6/1928
36. T. Gonsalves . 23.2.30. Requesting permission to erect six shelters on Governor Phillip Park in the vicinity of his Store. Referred to the Inspector for report. 10/2/1930
Page 6 of Minutes. of Meeting of Warringah Shire "Council held on Monday. 19th May, 1930 - 32. H. F. Gonsalves . 1/5/30. Requesting to be supplied "with four bags of cement for, concreting the floors of the two lavatories erected by him at the Barrenjoey end of Governor Governor Phillip Park, also requesting that a few loads of Phillip Park clay or ballast be put on the road in front of Mr. Tress' cottage. Resolved, - That the request for cement be not complied with, and that the road be attended to by the maintenance men: (Crs. Robertson, Austin)
Letter from E. & L.- The Sanitary Service Contractors, Prose cut tn 614/12/32, reporting that Miss M. Scott of Newport had not fulfilled her promise to reduce her debt for sanitary charges. That: legal Proceedings be taken against her for recovery of the debt.- Crs Barber, Storland) 2. Letter from The Sanitary Contractors, 8/12/32, reporting that H.F. Gonsalves of Palm Beach has not yet settled his debt for sanitary charges, as demanded by the Council. It was resolved that he Also be prosecuted. 19/12/1932
July 1933 reports has paid fees for 'refuse' removal
T. Gonsalves, 8/6/36, drawing attention to the bad condition of about 2 chains of the road from the Palm Beach Phillip golf links northwards. Referred to the Overseer for attention Park or report. (Crs. Hitchcock, Hewitt) 16/6/1936
19. H. Gonsalves, 5/10/38, requesting Council to withdraw its recently imposed charge for the parking of cars on the Palm Beach reserve at Barrenjoey. Resolved - That the letter be "received". (Crs. Hitchcock, Savage).
By Cr. Hitchcock – Mr. Gonsalves, of Governor Phillip Park, complains that the Council's man is not collecting the rubbish at Governor Phillip Park and looking after the lavatories. I understand there was some arrangement that Mr. Gonsalves should do this himself: Could the Inspector report on the matter to next meeting? 3/10/1939
Reporting that E.J. Ryan of Brookvale, and H.F. Gonsalves of Palm Beach, and Mrs. Johansson of North Curl Curl, have applied for refreshment room licenses; Resolved, - That the licenses be issued. (Crs. Campbell, Butcher) 31/10/1939
C. H. Gillham, Surveyor, 19/9/41, submitting plan of proposed subdivision of Mrs. Gonsalves land, part Lot 13, Do. D.P. 7656, Waratah Road and Barrenjoey Road, Palm Beach. Approved, as recommended by Engineer. 30/9/1941
COMMITTEE'S REPORTS on (a) Report by Chief Health Inspector relating to the depositing of bait and fish on Pittwater Reserve, Palm Beach, and on alterations by G. Stringer to a building in Nabilla Road, Palm Beach, without authority; (b) building applications and letters received since the compilation of the last report; and (c) chemical closets applications. The whole of, the recommendations in the Committee's report were adopted, viz - (i) that the Inspector's recommendation that Palm Bch. Messrs, Gow and Gonsalves, as representative fishermen, be warned regarding the unsatisfactory practices, and that the Council's Overseer and Wharfinger be directed to forthwith remove any such tine or receptacles for custody by the Council, and that any, owner claiming any such receptacle or article be required to pay all reasonable expenses incurred by the Council in the matter, be adopted; (ii) that the, Ceuncil require G. Stringer to demolish all:unauthorised-work 'Within 14 aaye,and that failing Building compliance with this requirement, legal proceedings be immediately 2/2/1943
Governor Phillip Park: Church of England Boys' Society, 13/4/43 stating they desire to hold a camp at Palm Beach from 7th to 12th May, and would grant permission for tents to be erected adjacent to the property of Mr. Gonsalves, as arrangements have been made to use Mr. Gonsalves' room as a dining and sleeping room; stating that the maximum number at the camp will be .in the vicinity of 100. Resolved - That the request be granted on the condition that sanitary and other arrangements are satisfactory to the Chief. Health Inspector. (Ors. Batho, Williams) 27/4/1943
Mrs. H.M. Gonsalves, 8/3/45, complaining of the bad condition of the road fronting her business premises at Palm Beach. Resolved, - That maintenance attention be given. 27/4/1945
H. Gonsalves, telegram, 28/8/45, to effect that owing to state of northern end of Barrenjoey Road tradesmen refuse to deliver goods and children play in the stagnant waters. Resolved, - That the Engineer submit a report and estimate for constructing a road right through to the jetty. (Crs. Batho, McLean) 28/8/1945
Governor Phillip Park: By Cr. Forster - Can any information be given me as to when the road outside Gonsalves Cafe and Store at the end of Palm Beach Park camping area will be attended to? The President replied that he would refer this request to the Engineer for report. 25/9/1945
Mrs. L. Gonsalves, 27/4/1948, requesting the lopping or removal of a big tree on the footpath in front of her house in Alexander Road, Careel Bay. Referred to the Works Committee, Roads and the Engineer to report on the request to the Committee. (Crs. Walsham Harris)
Gow & Gonsalves, 12/7/52, drawing attention to the state of the Council's wharf adjacent to Gow's boatshed and suggesting that it be repaired or demolished, but If the Council is not prepared to do this, stating that they are prepared to take over the structure. Resolved; - That this wharf be demolished. (Crs. McKay, Berry)
H. M. Gonsalves, 11/12/56, stating that owing to the illness of herself and her husband they desire to discontinue their catering business at Avalon Beach Reserve, and requesting permission to transfer the licence therefore. resolved - That this be referred to the Parks and Reserves Committee for consideration, and a recommendation as to a policy in such matters. (Crs. Berry, Job)
1.4
BARRENJOEY ROAD PALM BEACH - PROPOSED LEASE OF UNMADE ROAD RESERVE (File SF 360/1151) A request has been received from the owners of Gonsalves Boatshed Pty Ltd, 1151 Barrenjoey Road, Palm Beach for the closure and sale to them of an area of unformed road reserve adjoining their property. A plan of the area is attached and the hatched portion is the subject land. The land in question comprises road that gave access to the original Palm Beach Public Wharf. When the existing public wharf was built, the owners of the boatshed were given permissive occupancy over the old wharf. The boat repair/hire business is conducted from their land and the permissive occupancy. It can be seen from the plan that part of the unmade road dissects their land from the permissive occupancy. The matter has been considered at length by the Property Management Panel which also carried out a site inspection. Although there are no plans for the use of the unformed road area between lots lOA and 9A, the Panel feels that it would be unwise to dispose of valuable Pittwater foreshore land in any circumstances. It will be noted that the area of unformed road to the east is in fact inside the seawall and is actually beach. The boatshed owners are in fact, currently using this as part of their operation. It is felt that in this circumstance, it would be reasona6le to give them a lease for that particular section. RECOMMENDATION That the Property Management Panel's recommendation be adopted, viz:- "That the applicants be advised that Council does not favour the road closure, but is however, prepared to give them a five year lease over the foreshore section of unformed roadway at an annual rental of $10 per square metre." COMMITTEE'S RECOMMENDATION AND COUNCIL'S DECISION (12/6/1984) That this matter be referred back to the Property Management Panel in order that they may interview the applicant to discuss the future use of the land and that the 'A' Riding Councillors be notified when the interview will take place, and the matter then be referred back to Council. (Crs Beckman/Grace) 'PAGE Minutes Special Meeting - Warringah Shire A 89 12th June;1984 Shire Clerk President.
2)Rezoning of Gonsalves Boatshed (Palm Beach), Palm Beach Marine (Palm Beach), Careel Boat Services (Careel Bay), Princes Street Marina (Newport), Blue Binds Marine (Newport), Newport Anchorage (Newport), Anderson's Boatshed (Newport), and Sirsi Marina (Newport) to 3(b3)(Waterfront Business "B3"). 13/2/1990
Gows-Gonsalves boatshed was the meeting place for the local community residents. People recall Melbourne Cup day, Christmas drinks and annual fundraisers: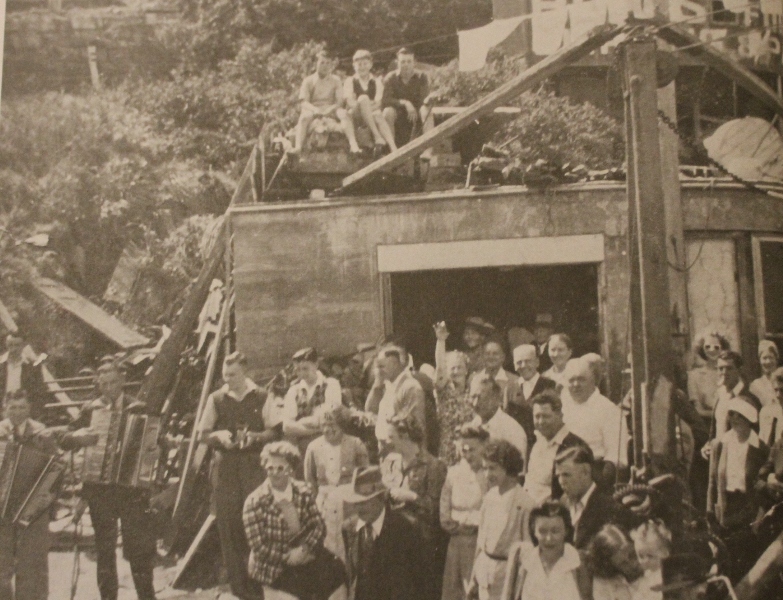 Tom Gilbert (in middle) atop Carl Gow's/Gonsalves Boatshed, 1949. Annual fundraisers were held in the park near the ferry wharf to raise funds to support the Randwick Hospital with the Carl Gow/Gonsalves Boatshed put into use as the 'Beer House'. This became an annual event: HOSPITAL BENEFIT AT PALM BEACH. The Randwick Auxiliary Hospital will benefit from a deep sea fishing and sporting day at Palm Beach tomorrow. Professional fishermen operating from Palm Beach and private owners are providing the trawlers. HOSPITAL BENEFIT AT PALM BEACH. (1950, March 18). The Sydney Morning Herald (NSW : 1842 - 1954), p. 5. Retrieved from http://nla.gov.au/nla.news-article27575067
Carl Gonsalves, son of Frank J (Jnr.) passed away in 2009. A very popular Palm Beach gentleman and founding member of the Palm Beach Yacht Club, owner of the ketch 'Van Dieman', he too was known for making his boatshed available for gatherings after sailing with PBYC. His children Carl and Caressa still live at Palm Beach and Carl now runs the boatshed.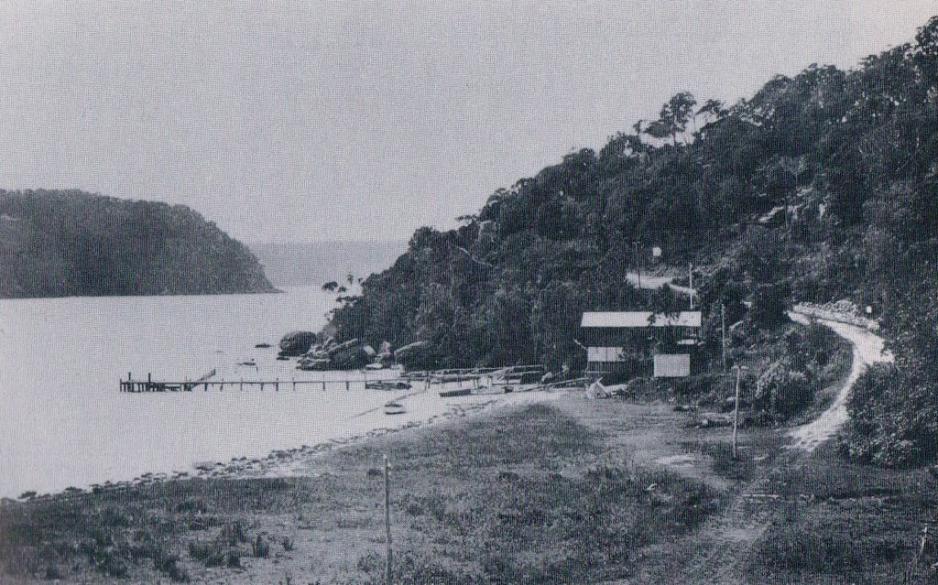 Gow's jetty was link with the outside world for visitors to Palm Beach - this image circa 1920-21. Courtesy Peter Verrills.
Snapperman Beach and Gow-Gonsalve Boatshed and Wharf, circa 1923.
Panorama of Palm Beach and Pittwater, New South Wales, panorama by E B Studios circa 1917 -1946. (Must be pre-1928 as original home of Albert Verrills in this picture burnt down prior to then)Image: nla.pic-vn6195128, courtesy National Library of Australia. This is all same photograph - we have enlarged it in portions to show details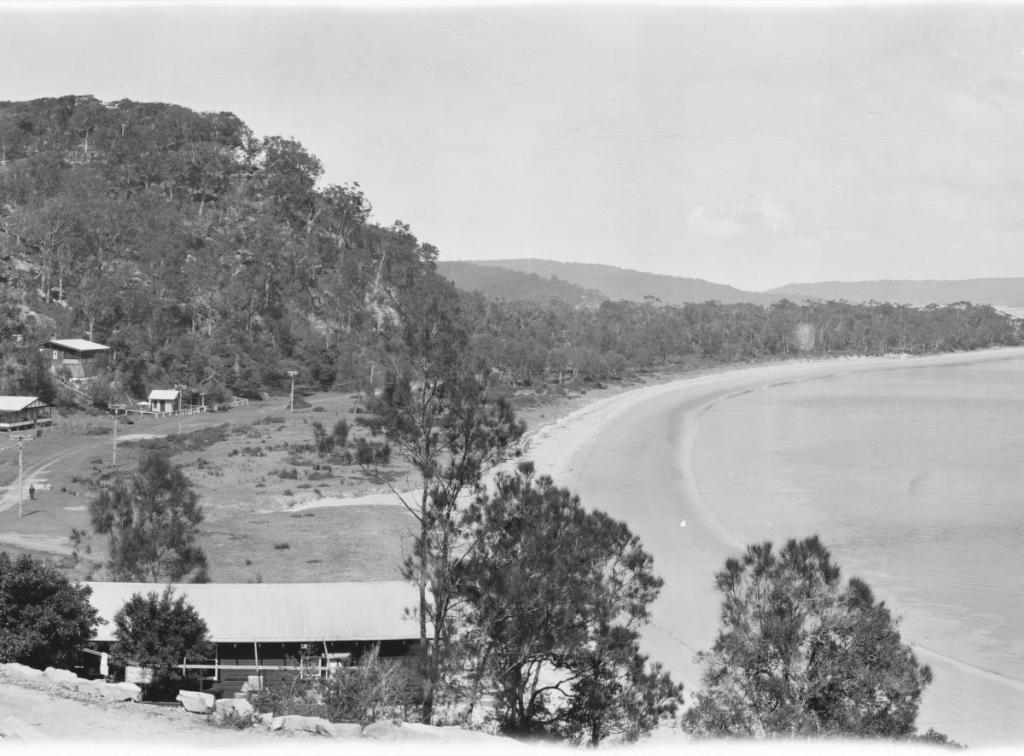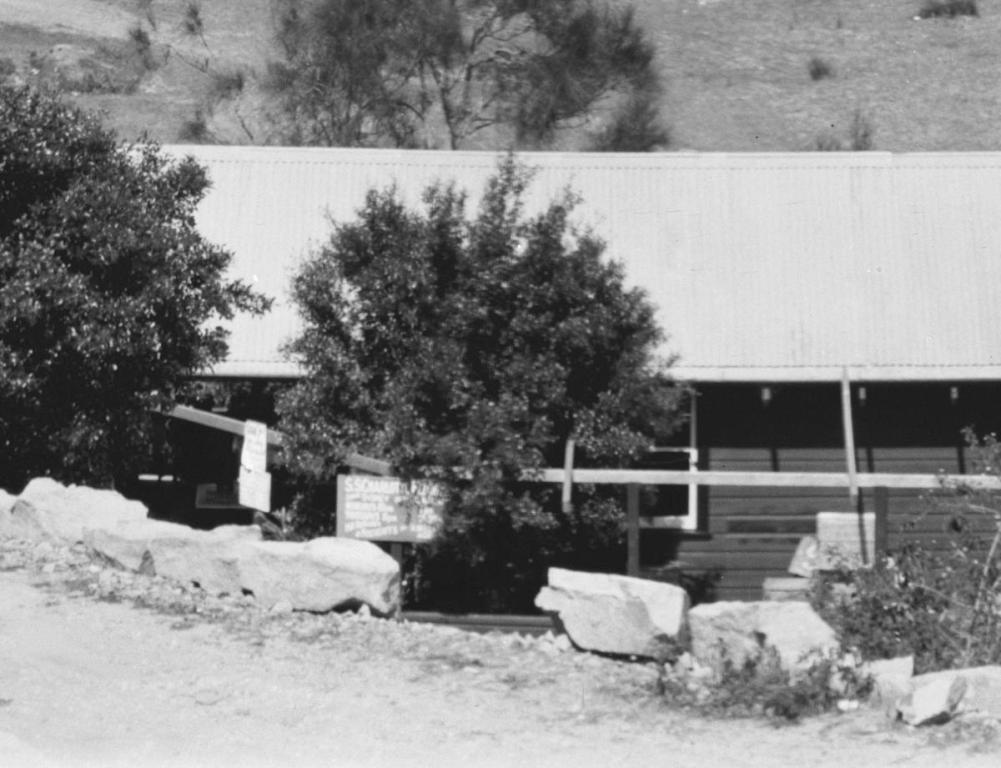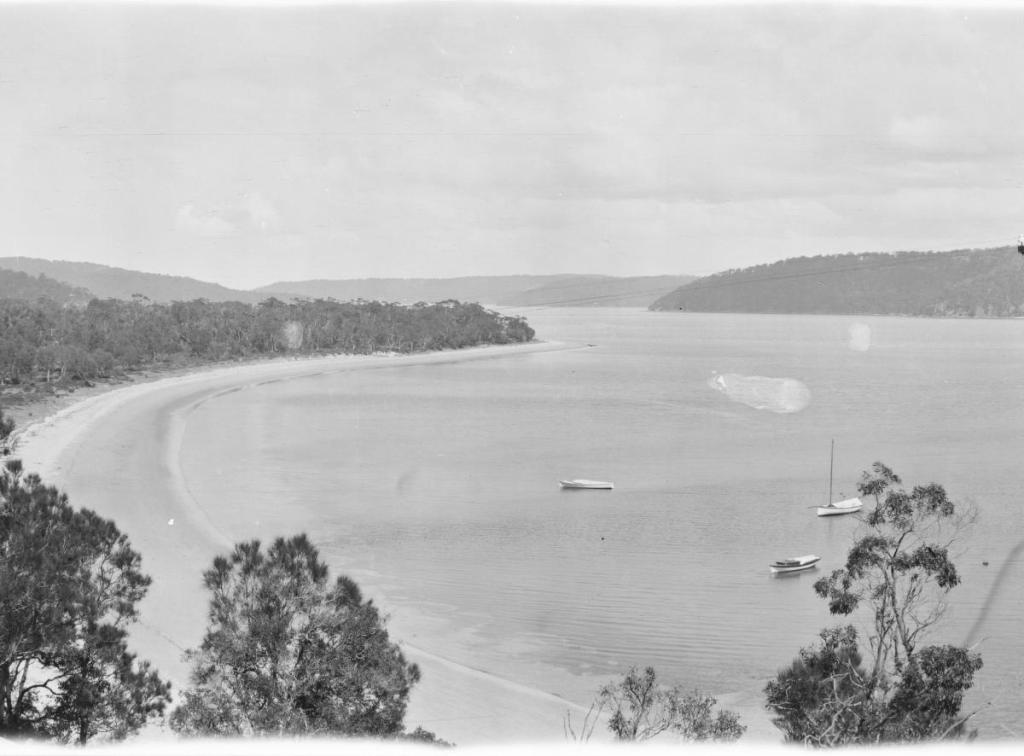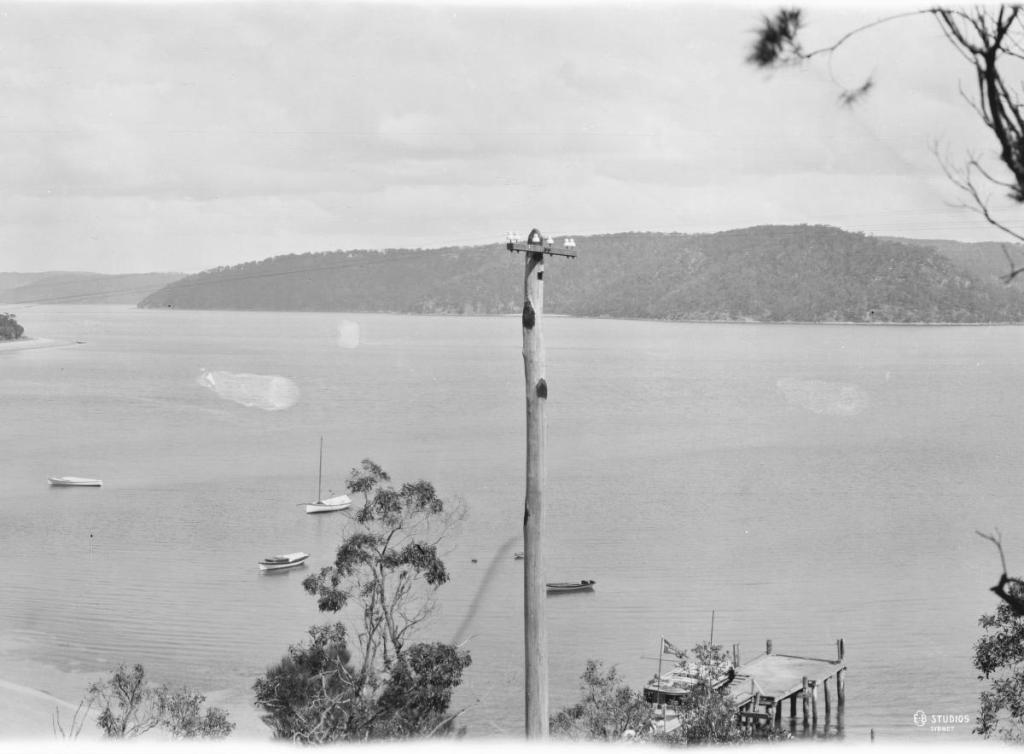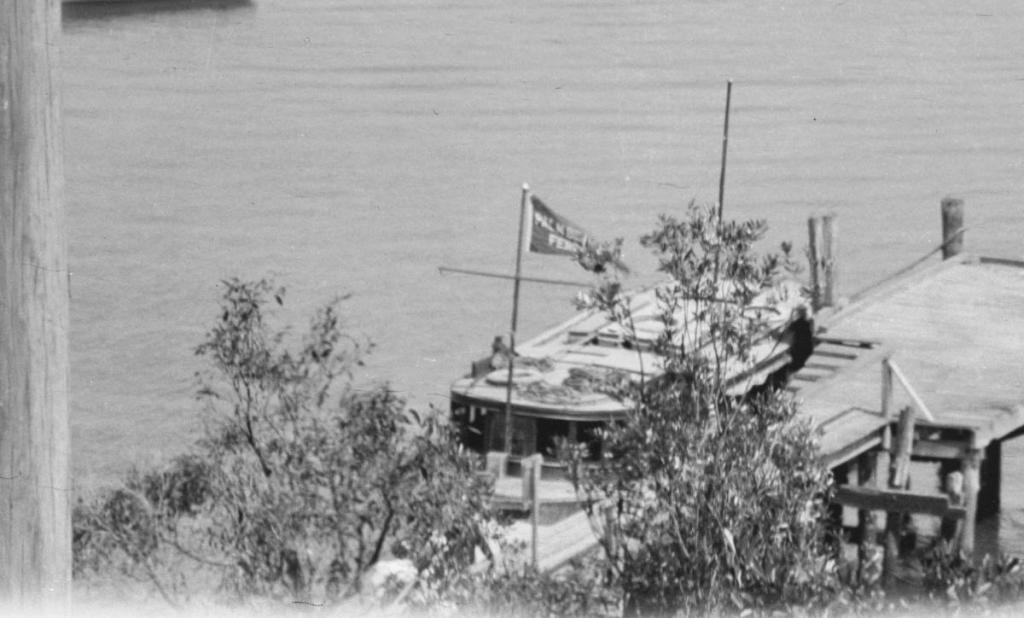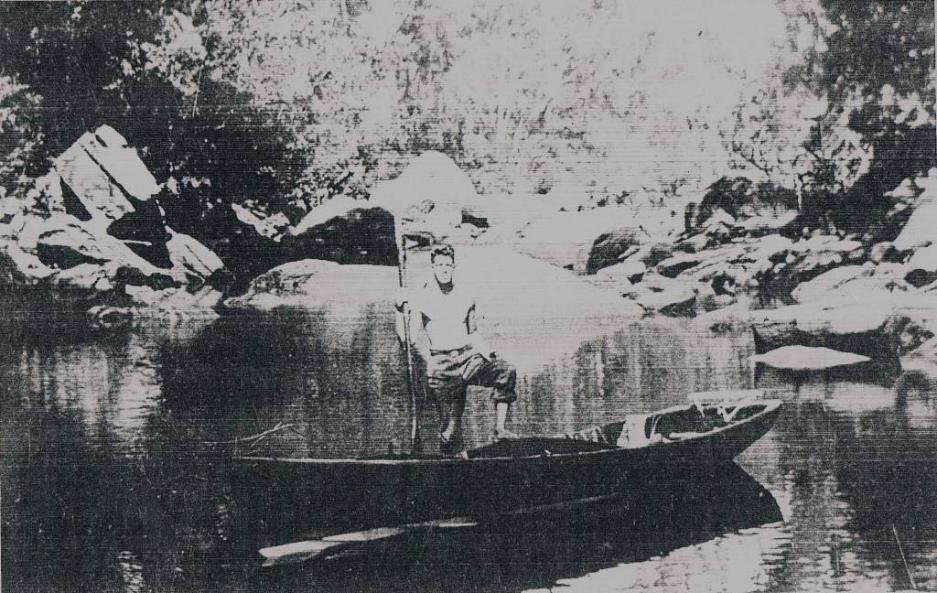 Above: Frank J Jnr. in his early 20's. Below Frank Gonsalves. Courtesy Peter Verrils.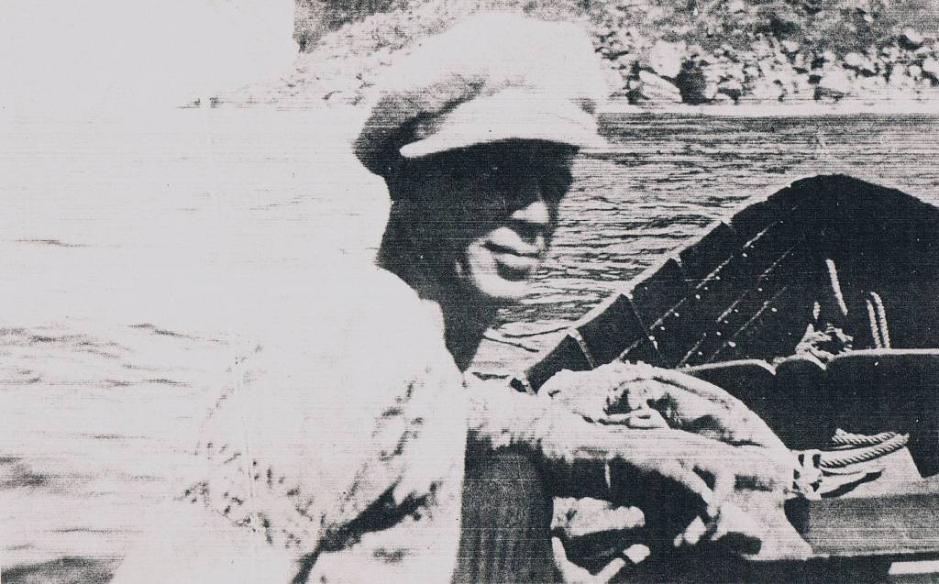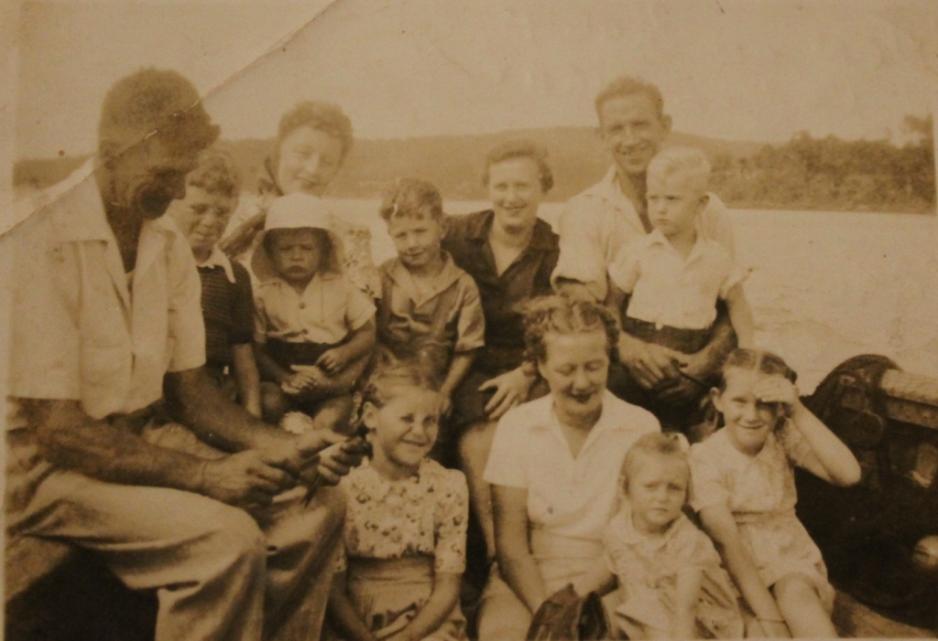 Carl Gow at far right, back row. Image Courtesy Tom Gilbert who is wearing the white hat, pictured with members of Lipscombe, Gilbert and Gonsalves families.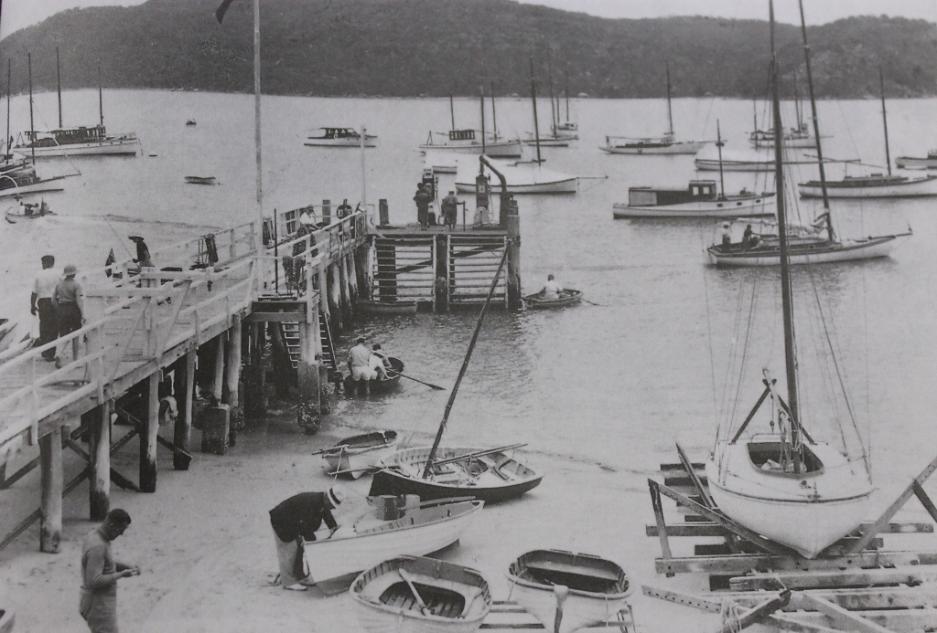 Activity around Gonsalves - 1940's. Picture Courtesy Peter Verrills.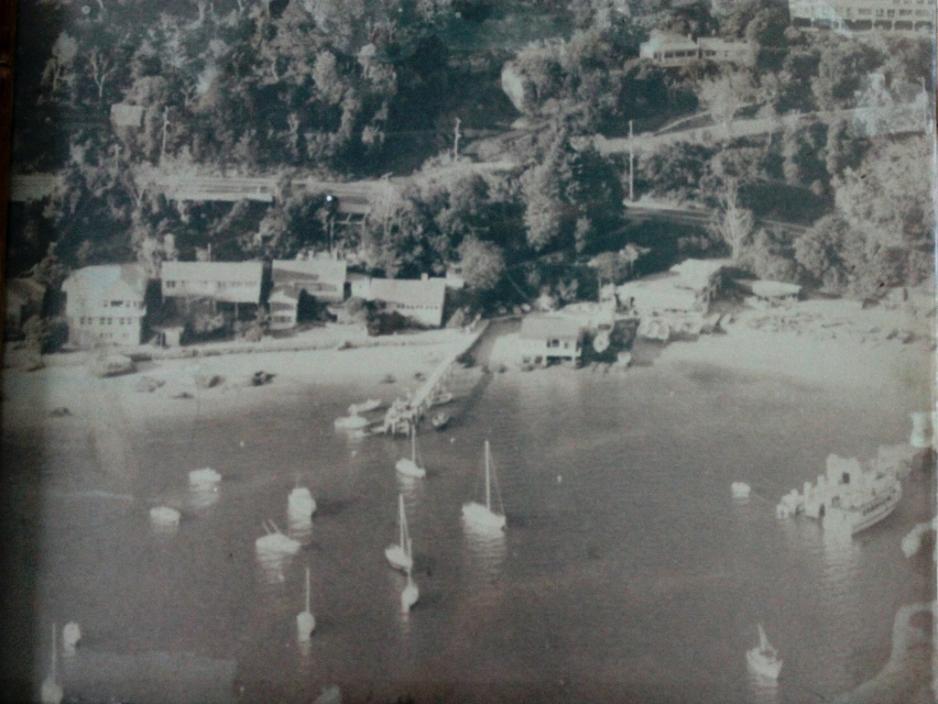 Gonsalves, circa 1980, courtesy Beryl Driver.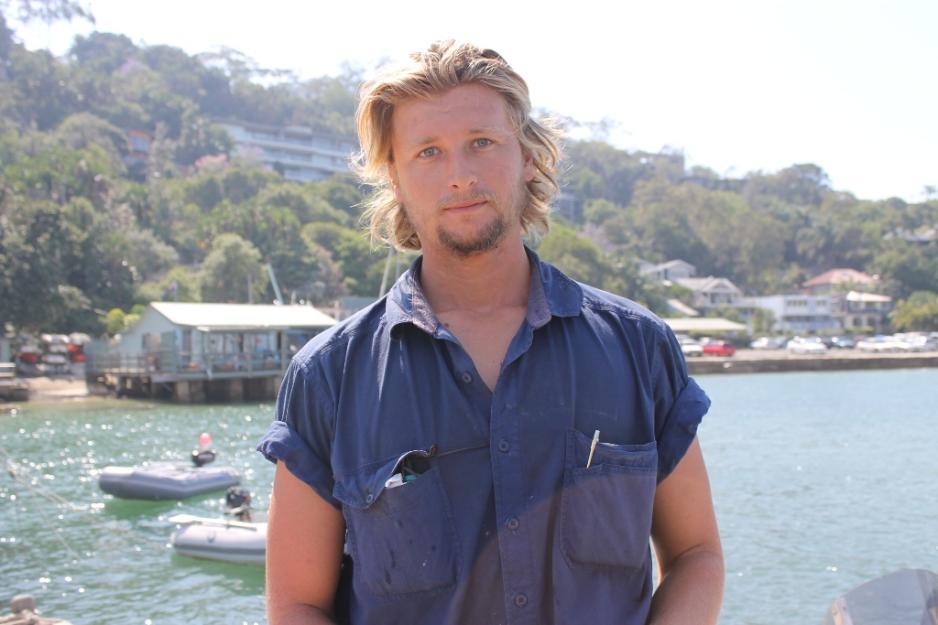 Carl Gonsalves, son of Carl and Caressa Gonsalves, current proprietor. 2013.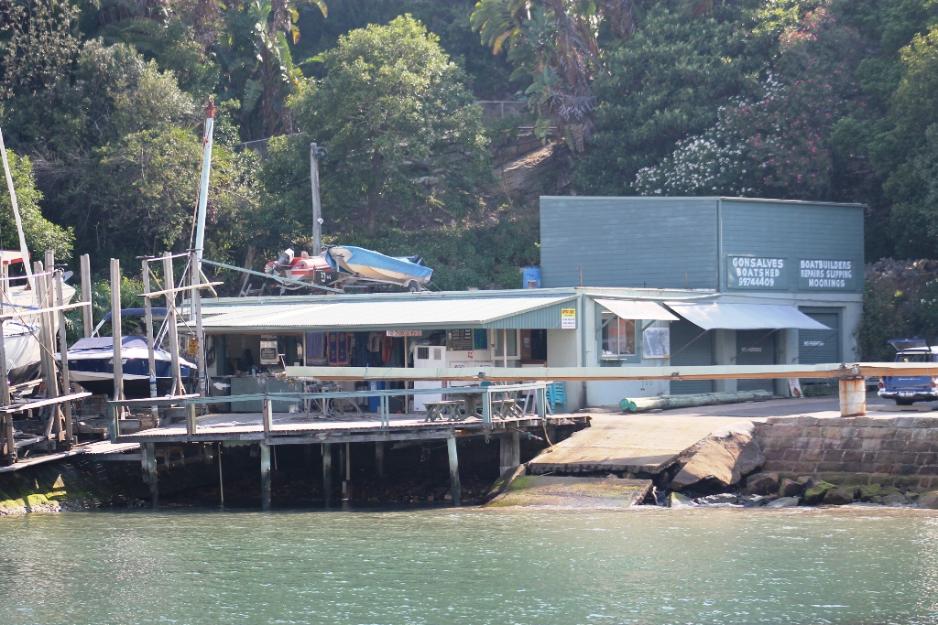 Gonsalves Boatshed 2013 - 1151 Barrenjoey Rd, Palm Beach NSW 2108. (02) 9974 4409.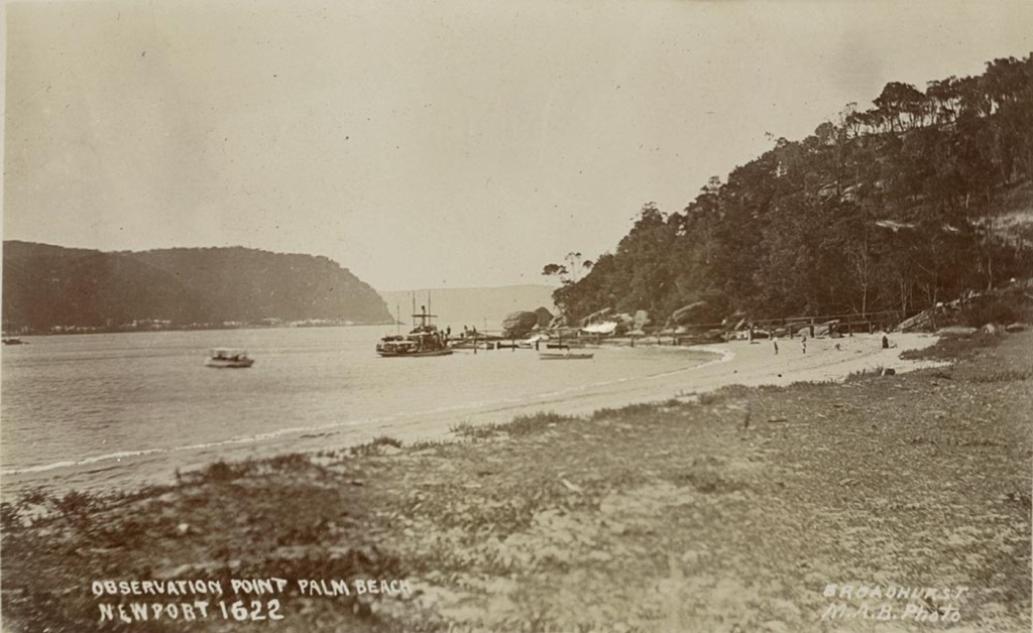 Observation Point, Palm Beach, Newport Digital Order Number: a106120 circa 1912, Broadhurst Image, courtesy State Library of NSW.