July 12 - 18, 2015: Issue 222
Boat Builders of Pittwater II: from cargo schooners and coasters to sailing skiffs and motorised launches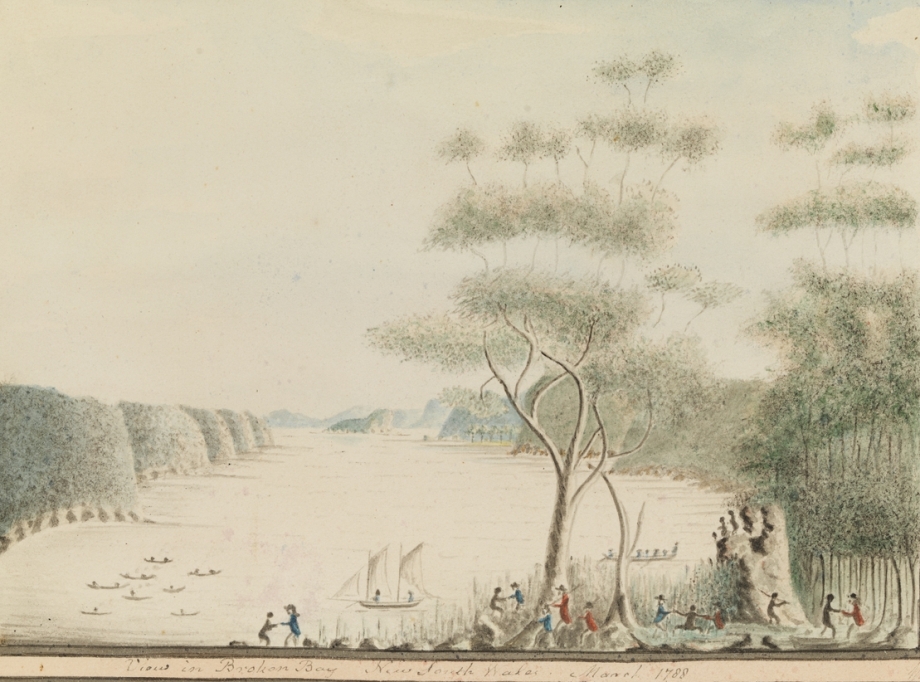 'View in Broken Bay New South Wales. March 1788' by William Bradley - Drawings from his journal `A Voyage to New South Wales',1802+ Image No.: a3461013, courtesy State Library of New South Wales.
Boat Builders of Pittwater II: from cargo schooners and coasters to sailing skiffs and motorised launches
Pioneer watermen of Broken Bay and Pittwater series - May to July 2015
When John Roche and Don Taylor challenged the Crouch boys to a sailing race around Lion Island in the Summer of 1906 in a 16 foot skiff they had built themselves, thereby giving birth to the longest running phase of the Pittwater Regatta, William Holmes, of Neutral Bay, had just previously been busy launching a …well, a launch, a motorised launch, thereby giving birth to the next phase of the motor yacht whereby man who had no predilection for hoisting sail could, as long as he didn't run out of fuel, hoist away anyway, and cruise the deep blue oceans, calm inlets, creeks rivers and estuaries alike…Pittwater….a little over one hundred years after the launch of the Geordy.
Johnny Roche may have learnt of boatbuilding from his Careel Bay and Customs Station uncles, the Collins, (his uncle Charles Swanson was a shipwright although he passed away decades before John Roche was born). His uncles, brothers to his mother Katherine and the 'Patriarch of Pittwater' – John Collins, as well as many of the residents he was surrounded by, all had recourse to use the Pittwater as a place to fish, or to transport their goods to Sydney Town, and so the procuring of vessels, and the building of vessels, was a practice based in practical needs prior to those built merely for pleasure and racing. The Estuary was well suited for the building of boats, it had timbers of the kind needed, sheltered coves in which to lay keels, and sandbanks which would allow the launching.
There are tales and records of vessels changing hands and of sloops and cargo schooners and coasters bringing oats and maize and shells and fruit to the wharves of Sydney. There are jetties as part of lands advertised when properties are leased, boats stolen, probably small whalers and open dinghies, when bushrangers came through the district, but these don't tell us who the shipwrights were, or whose hands were joining those planks between when the Geordy slid into the waters and when the Bayview, Church Point and Newport boatbuilders specialising in cruisers and skiffs rose through the ranks.
Barrenjoey brought shipwrights to Pittwater, the Customs Station had to be self reliant and open whalers repairable. Farmers had sons who were fishermen during cold seasons. It could be fair to suppose that everyone who actually resided here, not just had land while they stayed in town, had some idea how to repair a boat, hoist a sail or even build something that would float. A small line here and there in records of everyone who was here indicate everyone had a boat or an assigned convict who knew how to operate one, perhaps for when it was time to bring the crops in to the wharves a little further south:
RETURN of Male Prisoners assigned during the month of July, 1836. Foley David, Pittwater, 1 sweep and seaman. Government Gazette. (1836, August 23). The Sydney Gazette and New South Wales Advertiser (NSW : 1803 - 1842), p. 4. Retrieved fromhttp://nla.gov.au/nla.news-article2206175
There were certainly some formative mariners and shipwrights here after Andrew Thompson passed away so young, Andrew Jackson and Charles Jenkins (Scotland Island) are both listed as 'Mariner' under occupation, while Jospeh Beno was a Master Mariner. The aforementioned Charles Swanson, listed as at 'Barrenjoey' also had a William Macauley at Barrenjoey with a 'Shipwright' occupation as well - they both being here so early, and being connected to Careel Bay through the Collins family and church service attendance in the Collins home prior to a small shed of worship being built, gives credence to Careel Bay being the second place vessels were launched from in Pittwater.
The Champions have done detailed research into one James Stokes and although the records they found indicate he owned a vessel they do not state he built one, leaving the Collins and the men who married into this family, as well as those stationed at Barrenjoey, as the most likely shipwrights at Careel Bay: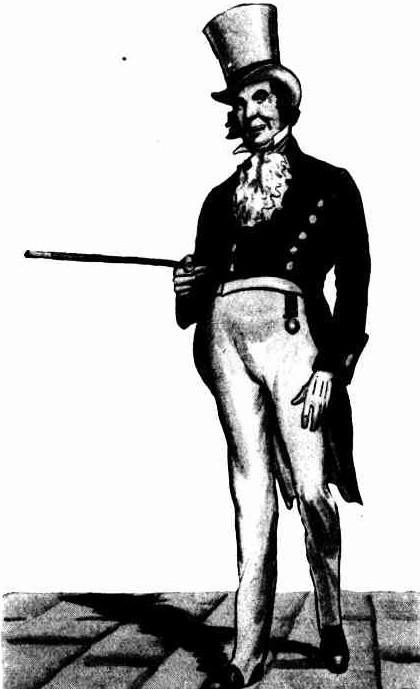 STOKES, after whom Stokes Point is named, built several sloops here. Stokes was a fine old man who lived a secluded life on his little promontory across the bay. He was transported for being found in a crowd with a stolen handkerchief in his possession. He always protested his innocence, saying that the handkerchief had been planted on him by a pickpocket; his subsequent conduct certainly bore witness to his good character. He had been a ladies' shoemaker in London, and his neatness and tidiness were in keeping with the refinement of his early profession. His manner was courteous, his hands were well kept despite his arduous employment, and on Sunday he was a magnificent sight in a tight bottle-green coat with large buttons, a very tall hat, and a stock which might have belonged to Beau Brummell himself. Fashions came and fashions went but the bottle-green coat remained as a brilliant speck of colour in that colourful district. ROADS OF TO-DAY—TALES OF YESTERDAY. (1937, August 25). Sydney Mail(NSW : 1912 - 1938), p. 43. Retrieved from http://nla.gov.au/nla.news-article160498911
From Profiles of the Pioneers in Manly, Warringah and Pittwater:
STOKES, James . James Stokes [listed as James Stocks] was sentenced to 7 years. He left Gravesend England in October 1798 on the Hillsborough and arrived in the Colony on the on 26 July 1799. On the ship there were 300 male convicts, 95 of whom died on the voyage following an outbreak of typhoid.
James Stokes, of Sydney, limeburner and sole owner of a sloop called the Happy Return, signed a bond to the Naval Officer in Sydney on 29 August 1815. He promised:
1. Not to take any person whatever without the Governor's written permission after being duly advertized nor to bring any person whatever from the Out Settlements without permission from the Lieutenant Governor or Commandant of that place.
2. Not to depart the Port without a regular Clearance.
3. Not to navigate without the limits of the Territory comprized within the Latitudes of 10 37' and 43 39' South and 135 East Longitude from Greenwich inclusive of the penalty of the Bond given on Registering.
4. Not to receive Deserters from His Majesty's Ships from Merchant Vessels or from any
Colonial Vessels or Gangs engaged at this place or stationed under agreement at any of the Islands within the limits of this Territory, but may receive men from Colonial Vessels or Gangs who have no pay consideration or maintenance from their Employers.
5. Not to fail or neglect providing a sufficient quantity of Provisions where the Gangs are stationed, whereby they may become distressed.
6. Not to break Bulk until reported and entered by the Naval Officer and fees paid according to the General Order of the 15th October 1810.
7. Not to authorize Strange Vessels to take any person who is a British subject from the Gangs.
8. Not to purchase or receive more than twenty gallons of Spirits from any ship they meet.
9. Not to purchase or barter to receive provisions, tools or clothing from convicts that are allowed to them by Government.
If there were any default in observing these rules then James Stokes would be liable to a penalty of £500 sterling and his two crewmen £50 sterling each. [AO Fiche 3284; X702 p.119-121]
As a limeburner before he signed this bond, however, he had been obtaining shells for lime from Broken Bay. One record states that theHappy Return was proceeding to Broken Bay under ballast on 23 August 1813. As owner and master of a vessel, Stokes would have known Pittwater well. He was recorded as being a salt boiler in September 1822, with Mary Dursdale as his housekeeper. It is not surprising to find him at the age of 54 (recorded as Stocks in the 1828 census) settled on 25 acres at Stokes Point, which he had purchased from Thomas Warner. He had cleared 5 acres and cultivated 3. A housekeeper, Margaret Shinnie, and her 11-year old daughter, also named Margaret, lived with him.
James Stokes sold his 25 acres to William Charles on 29 July 1835 for £10. This transaction brought Warner's 50 acre grant under one ownership once more. William Charles sold to George Green on 2 March 1854 for £70. [LTO Book 30 No. 888] On 21 October 1870 George Green sold the land to John Collins for £70, and on the same day Collins sold it to Revd. Joseph Dalton, a trustee of Revd. Therry's will, for £100. [LTO Book 121 Nos. 729, 730]
James Stokes was living by himself in a wooden house at Careel Bay at the time of the 1841 census, and was listed as landholder, Pitt Water, in Low's 1847 directory. Stokes died in 1856. - Profiles of the Pioneers in Manly, Warringah and Pittwater - by Shelagh Champion, OAM, B.A.(Lib.Sc.) and George Champion, OAM, Dip.Ed.Admin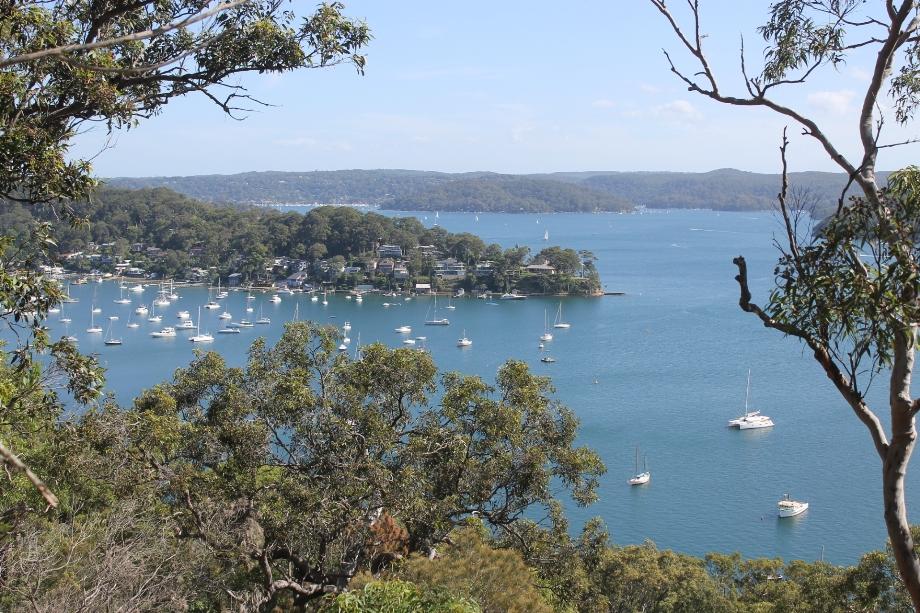 Stokes Point - Pittwater, 2015
Soon the Goddards would move to Palm Beach with decades of shipwright experience, the Gonsalves would have known how to repair a fishing boat, Mr. Gow, and his lighthouse relatives, especially his boat-building father, would certainly have followed on from the first shipwrights stationed here, but is only when vessels are launched, carrying wood or produce or shells, or wrecked, or sold, that we can place them in Pittwater:
The coaster Maid of Australia has been sold by Mr. G. Crestenoff to Mr. F. Chave, of Pittwater, for £100. IMPORTS.FEBRUARY 14. (1885, February 17). The Sydney Morning Herald (NSW : 1842 - 1954), p. 6. Retrieved from http://nla.gov.au/nla.news-article28367085
Maid of Australia, for the Hawkesbury; Mary Jane, for Broken Bay ; Missis, for Cape Hawke-; Maggie Scott, for Brisbane Water; Srlvañus, for Jervis Bay ; Rebecca, Hirondelle, Hebo, Vibilia, and Clara, for Newcastle; Dairy Maid, for Shellharbour; Peahen, for Pittwater. CLEARANCES.—June 21. (1870, June 22). Empire (Sydney, NSW : 1850 - 1875), p. 2. Retrieved from http://nla.gov.au/nla.news-article63108439
In re Richard A. W. Green. Bankrupt was examined at some considerable length. He said he had been working a leasehold at Pittwater, which he had the option of purchasing for £15OO within three years. This was his third insolvency. The first was about twenty years ago. Twelve months ago he gave a bill of sale over furniture and a stock of boats at Pittwater, to a, Mr. Bailey. He did not receive any consideration therefor at the time. Mr. Bailey appointed bankrupt's father-in-law to take possession. Mrs. Green was a creditor for £271. She was his mother. In 1884 he entered into an agreement to sell some land he had bought from his mother for £8000. A dispute arose and was settled in Equity by him taking a one fifth share in the re-sale of the kind, in addition to the £8000. Two payments of £600 each were made, but Mr. Bailey got the money. At the conclusion of the examination His Honor drew attention to the unnecessary length to which it had been carried, and that the costs should be reserved, and not allowed without an express order. In Bankruptcy. (1889, February 14). Evening News (Sydney, NSW : 1869 - 1931), p. 3. Retrieved from http://nla.gov.au/nla.news-article108793499
The body of a man, apparently about 37 years of age, was found floating in the waters of Darling Harbor, near Lime-street, by two seamen, on Friday night, about 10.50 p.m. It has been identified as that of James Miller, of Pittwater, lately in the employment of a Mr. Smith, a fisherman, of Broken Bay. Brevities. (1889, August 3). Evening News (Sydney, NSW : 1869 - 1931), p. 4. Retrieved fromhttp://nla.gov.au/nla.news-article108107630
Nicholas Moorcese, 20, a German, seaman, was sent to gaol for six months, with hard labour, on a charge of stealing a purse containing 19s. 4d., the property of John Walsh. Prosecutor said he was a labourer working at the Rock Lilly Hotel, Pittwater.Prisoner came to the place to stay on the 7th instant, and remained there until the 21st; he slept in his (Walsh's) room; after the man finally left the hotel Walsh missed his purse, containing 19s. 4d., from his trousers, which were hanging up in the apartment. The prisoner pleaded guilty to the charge when arrested by the police. POLICE. (1889, January 26). The Sydney Morning Herald(NSW : 1842 - 1954), p. 14. Retrieved from http://nla.gov.au/nla.news-article13711787
The 45ft auxiliary pleasure yacht Petuna, formerly owned by Mr. Ingham; has been purchased by Mr.George Hyde, of Scotland Island, Pittwater, the transaction being carried out by Mr. Chas. H. Relph. CYCLING AND MOTORING. (1913, June 11). The Sydney Morning Herald (NSW : 1842 - 1954), p. 16. Retrieved from http://nla.gov.au/nla.news-article15426530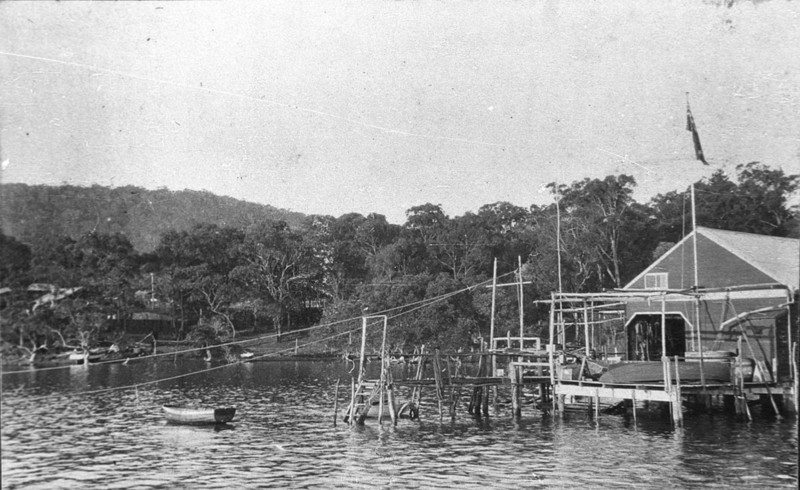 Newport Boatshed, Image No.: bcp_00640r, courtesy State Library of NSW
BOATBUILDER AND ENGINEER, NEWPORT. 'Phone, Manly 1773. Installation of Motors Specialised. Boats and Launches Built and Repaired. Advertising. (1925, October 31). The Sydney Morning Herald(NSW : 1842 - 1954), p. 1. Retrieved from http://nla.gov.au/nla.news-article16251726
THE GALATEA. W. A. Dettman will shortly launch his new cruiser Galatea, which is in the hands of J. Williams and Sons, of Bayview, Pittwater. She is 63ft overall, with a clipper, bow and counter stern. The vessel will have splendid accommodation, with a bridge deck, a promenade deck, 20ft long, and a sun deck. There will be sleeping accommodation for ten. The craft is to be added to the register of the R.M.Y.C. Mr. Dettman has purchased a Spanish bungalow at Salt Pan, and is laying down moorings, not only for his own craft, but also for prospective visitors. Motor Sport and Motoring. (1934, June 7). Referee (Sydney, NSW : 1886 - 1939), p. 24. Retrieved from http://nla.gov.au/nla.news-article136117004
Next week Messrs. G. and H. Solomon, builders, of Newport (Broken Bay) will launch a handsome cruiser for F. M. Keighley, of Cremorne. This craft has a length of 35ft with lift beam, and will have the latest bridge deck. Huon pine has been used in the hull, with Indian teak for the decking, while the interior has been finished off with Queensland polished maple. The craft will have twin screws and two Universal engines. -J. Miles, of Newport, is completing a 31ft raised-deck bridge-type- cruiser of 31ft, a 10ft beam and ,a draught of 2ft10in. Sleeping accommodation for six has been provided and a C.L.A.E. engine is to be installed. A. G. Williams, of Drummoyne, is building a new racing cruiser for C. P. White, while. Miss Joy II, owned by Mr. J. C. Wylie (transferred to the register of the R.M.Y.C.) is at Jack Robinson's yards for an overhaul and the replacement of the old engine with the latest C.L.A.E. Motor Sport and Motoring. (1934, September 13). Referee(Sydney, NSW : 1886 - 1939), p. 24. Retrieved from http://nla.gov.au/nla.news-article136126638
BOATBUILDERS BUSY IN N.S.W. boatbuilders will be kept exceptionally busy during the next nine months. New cruisers are under construction by W. L. Holmes and Co. at McMahon's Point; L. Halvorsen, at Neutral Bay; Walker and Kelshaw, Rushcutter Bay: Jack Robinson, Balmain; C.Larsen, Gladesville ; A. G. Williams, Drummoyne ; John Williams and Sons, Bayview; G. and H. Solomon, Newport; Peter Kemp, Kogarah Bay; and Shevili Bros., at Sans Souci. Within the next three weeks cruisers for J. S. Bruce, Max Mantel, and H. P. Christmas will be ready for launching. AUSTRALIAN AND N.S.W. MOTOR BOATING CHAMPIONSHIPS. (1936, January 9).Referee (Sydney, NSW : 1886 - 1939), p. 11. Retrieved, from http://nla.gov.au/nla.news-article135644471
Mr. C. .Mason, of Columbia Pictures. Ltd., has commissioned Solomon, Duffy and Solomon, of Newport, to construct a 34ft cruiser with a 9tt 01n:-.beain- .-to be powered bv a G-fiO Gray- engine. N.S.W. ENJOYS BOAT BUILDING BOOM. (1936, August 6).Referee (Sydney, NSW : 1886 - 1939), p. 18. Retrieved from http://nla.gov.au/nla.news-article135655820
Some sources state Stokes Point was a place vessels were built, other sources claim a Broken Bay man named James Webb also built boats on Scotland Island, although Charles Swancott has him placed as 'squatting' further north in 1823. Later on, and still a little further north than Pittwater, Rock Davis launched all kinds of boats from the small to the larger steamer, many of them built for local Pittwater people.
FIRST SETTLER The first settler in the area was James Webb, a boatbuilder of Sydney and of Scotland Island, Pittwater, who, in October 1823, was advised that Governor Brisbane had approved of his occupying temporarily an area on the north east arm of Broken Bay. He settled on the 100 acres granted him. The land extended from the rip to Blackwall Wharf and is now known as Orange Grove. Webb later bought large areas of land comprising practically the whole of Woy Woy township. Until the '60's or later the area was known as Webb's Flat and the' rip as Webb's Reef. Other settlers from Pittwater followed hard on the heels of Webb and there were soon so many applications followed in the area that the surveyors were called into action. Between 1825 and 1829 Surveyors Richards, Rolfe and McBrien conducted much survey work in the district and they contributed greatly to the early exploration and settlement of Brisbane Water. Brisbane Water was named after Governor Brisbane. The name first appeared in a letter of Surveyor Richards in 1825. GOVERNOR REFERRED TO GOSFORD ON PLAN IN 1839. (1952, March 7). The Gosford Times and Wyong District Advocate (NSW : 1906 - 1954), p. 3. Retrieved from http://nla.gov.au/nla.news-article167229842
On Tuesday the 15th instant. there was launched from Mr Rock Davis's- shipbuilding yard, Blackwall, Brisbane Water, a new screw steamboat, built to the order of W. T. Yeager, and specially designed for carrying passengers on the Richmond River. Her dimensions are as follows; Length, overall 72 feet beam 13 feet, … On the following day, the 16th,there was launched from the same yard a cutter of good carrying capacity built to the order of Mr Thomas Oliver, Pittwater, and intended to run between Sydney and the Hawkesbury. EXPORTS.—JULY 22. (1879, July 24). The Sydney Morning Herald (NSW : 1842 - 1954), p. 4. Retrieved fromhttp://nla.gov.au/nla.news-article13439218
A small vessel named the Welcome Home, of 14 tons registered tonnage, was registered at the Customs yesterday. The vessel is cutter ringed, 88ft. long, 14ft. beam, and 4ft.7in. depth of hold. The Welcome Home was built by Mr. E. Beattie, of Brisbane Water, and was launched on November 27, 1888. Her owner, Mr. Thomas Oliver, of Pittwater, intends to run her in the timber trade between Sydney and Broken Bay. SHIPPING REPORTS, &c. (1889, January 10). The Sydney Morning Herald(NSW : 1842 - 1954), p. 8. Retrieved from http://nla.gov.au/nla.news-article13709802
It seems the smaller shipwrights, possibly building only for themselves, slip through the records without being recorded unless they go missing, much like so many of us toil every day without a glimmer of trumpets:
The S. M. Herald, in referring to the schooner Fleetwing, which has been missing since the 16th of November, says:-"The Fleetwing is a wooden vessel built at Pittwater, New South Wales, in 1879. The colonial register shows her to be owned by Mr. Alexander J. Shields, and registered at the port of Rockhampton since 1882. Her dimensions are:-Length, 54 ft. 5in.; beam,15 ft. 6 in.; and depth, 6 ft. 1 In.; the register tonnage being 33 tons." VESSELS IN HARBOUR. (1889, December 17). Morning Bulletin (Rockhampton, Qld. : 1878 - 1954), p. 4. Retrieved from http://nla.gov.au/nla.news-article52285137
The Mulhalls are reported by family lore to have built or owned several small schooners apart from the open whalers they excelled in, and relatives, the Kelfs, by marriage, also plied between Brisbane Water, Pittwater and Sydney, their shipwrights may well have been themselves and their acquaintances:
OLD SYDNEY. Eighty Years Ago. MR. KELF'S REMINISCENCES.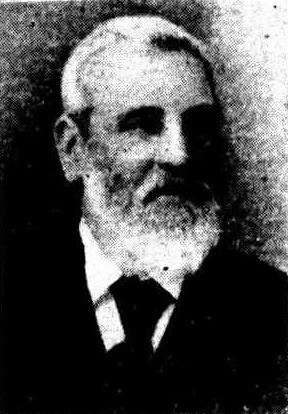 Pitt-street - a street of weatherboard cottages, some snugly hidden behind shrubberies, a tall gum tree, and flowering creepers; a shop; a hostelry here and there; a couple of sodden cartwheel tracks, the sounds of the rumbling of a mail coach, the ear-split-ting crack of a whip as it belabours the four-in-hand; the shouts of jolly children, the anxious shrill voice of some anxious mother fearing for the safety of her offspring, engaged at the moment in a game with other young children in the middle of the road, a rustic bridge spanning a gently-flowing rivulet-Pitt-street 88 years ago, when Mr. Joseph Kelf was born.
Now retired after his long career in his little picturesque home at Chatswood, Mr. Kelf lay back yesterday, and recalled old Sydney, the Sydney that he knows better than that of to-day.
He was in the hurly-burly of the search for gold. Mr Kelf told how he chased the treasure from one place to another, always filled with hope; but the gold somehow eluded him. Field after field broke out, and Mr. Kelf was always in the van. His spirit of adventure took him even as far as New Zealand, and again his search was in vain. So, back to New South Wales Mr. Kelf came, and joining the Postal Department in 1869, remained in its service until 1904.
"I think the department made a mistake when it pensioned me off," said Mr. Kelf yesterday. And it did seem that the pensions' branch will continue to pay out to Joseph Kelf for some years to come. For he still enjoys the best of health. He still retains the glow of good health in his cheeks, and just as assiduously as years ago reads his "Herald," marking the progress of his native city. He suffers just one handicap -his limbs have been attacked with rheumatism, which, much against his will, confines him periodically to his bedroom.
Going back to the days of his boyhood, Mr. Kelf showed that he had a remarkable memory. Picture a series of soft sandy beaches along the foreshores of Darling Harbour, a holiday resort for the sturdy pioneers of Kent, Clarence, King, and Druitt and adjacent streets, and a swimming area every day in the hot summer months for the little boys of the neighbourhood. In Barrack-street one sees an English regiment on parade, and hears a bugle call or the roll of a drum. Not far away the boys are enjoying cricket; the school bell of St. Philip's Grammar School, in Clarence-street, rings, and young Joseph Kelf and his playmates hastily "draw stumps," and within a minute or two are being marched into the little building by Mr. Taylor, the learned schoolmaster. Lessons finished, young Kelf and his schoolfellows go to the beach at the bottom of King and Erskine streets, or, as fancy strikes them, they go to the bottom of Gas-street, next the old gas works. Quite near is the slaughter-house-at the bottom of Druitt-street. The offal is thrown into the harbour, and one may see a school of sharks hungrily devouring it. All the boys in those days could swim. Shark scares had no terrors for them until one day a man swimming at Fig Tree (near the Domain) was taken by one of the monsters, and, although bravely rescued by two of his companions, died of his injuries.
"We were all very cautious after that," re-marked Mr. Kelf. That incident was the first that he could recollect of a shark attacking a bather. "Whenever an island cutter arrived in the harbour, there was always a great race to see who reached it first," said Mr. Kelf. Our daredevil daring, however, was always well rewarded, for they invariably had a cargo of cocoanuts, and nothing delighted most of the boys of Sydney 75 years ago more than a meal of cocoanuts. There were no docks for the ships that needed re-pairs or repainting, but at the end of the beach, which was between Erskine and Kent streets, was a patent slip, and by means of innumerable cranks vessels of 70 and 80 tons were hauled up.
OLD ST. PHILIP'S.
"St Philip's Church then stood in Jamie-son-street. I remember the old church well. It had a battlemented tower and a small peal of bells. When the bells were rung it seemed to us, as boys, that they tolled out: 'Kill old Tom stone dead,' and we naturally set these words to the strain."
An epic year was 1851. The magic word "gold" was on everybody's lips, and burnt itself into many an adventurer's soul. At12 years of age young Kelf was taken by his father to the Turon diggings. Suddenly thrown into that strange, barbaric frenzy of the great gold rushes, he for years rambled among the diggings, from one to another; first the Turon and Sofala, then Queensland, and later Gabriel's Gully, in the South Island of New Zealand, in the 'Sixties. Then, returning to New South Wales, he went to Forbes and Parkes.
SYDNEY CRICKET FIELDS.
"I learned to play cricket where St. Philip's Church now stands, and a vacant allotment near the barracks in Barrack street was also a favourite spot. Hyde Park was also a gathering ground for cricketers. One of the sensations of the cricket world in those days was the feat of Mr. William Tunks, who was afterwards the member for St. Leonards. He hit the ball over the houses in Elizabeth-street into Castlereagh-street.
SIR HENRY PARKES.
"The first time I saw Sir Henry Parkes," said Mr. Kelf, "he was standing at the door of his shop in Hunter-street. He was wearing a brown-paper cap and an apron. He was a favourite with the boys of St. Philip's Grammar School, because he had turned some tops for us. They were of iron bark, and, of course, we had no trouble in splitting all the English-made tops. Tom Morrissey, who lived at the top of Clarence-street, also kept us well supplied with the harder tops. And, by the way, all the buildings in Clarence-street were residential. I do not think there was a business place in the whole street.
ANNIVERSARY REGATTA.
In 1868 Mr. Kelf was married to Miss Mulhall at St. Peter's, Woolloomooloo. She was a daughter of Mr. James Mulhall, whose four sons were noted rowers in their day. They had a farm near Brisbane Water, and frequently rowed down to Sydney in whale-boats with their produce, returning with supplies for the farm. The Mulhalls took a leading part at the anniversary regattas, which were then just as popular with the Sydney people, as they are to-day.
"It was always a great day," said Mr. Kelf, "and everybody who could sail or row or swim made a day of it. The flag-ship was usually moored off Benelong Point, and the set course was round Goat Island, round Pinchgut, and back to the flagship. All Sydney turned out for the regatta."
IN THE PUBLIC SERVICE.
"After my ramblings I joined the postal department. That was in 1869. I discovered that my faculties were just as keen as the men higher up. So I purchased a set of school books and 12 months later passed the civil service examination at the University. In 1876 I was transferred to Singleton to relieve temporarily the post and telegraph master for two months. I remained there for 25 years." Mr. Kelf took a keen interest in local wel-fare movements, and was president of the Mechanics' Institute, and for 15 or 16 years was vice-president of the Singleton benevolent asylum and hospital, which were then conducted as one institution. In 1900he was transferred to Bourke, which was then a great flourishing town, retiring in 1904.
A "HERALD" SUBSCRIBER.
For over 60 years Mr. Kelf has been a subscriber to the "Sydney Morning Herald." "It has been my guide, philosopher, and friend." he said yesterday, "I have always found it reliable, and never has it published anything merely for the sake of "working up" excitement, and it still maintains that policy."
Asked for his summing-up of life Mr. Kelf said, "The key to happiness is a contented mind." OLD SYDNEY. (1927, January 6). The Sydney Morning Herald(NSW : 1842 - 1954), p. 10. Retrieved from http://nla.gov.au/nla.news-article16345289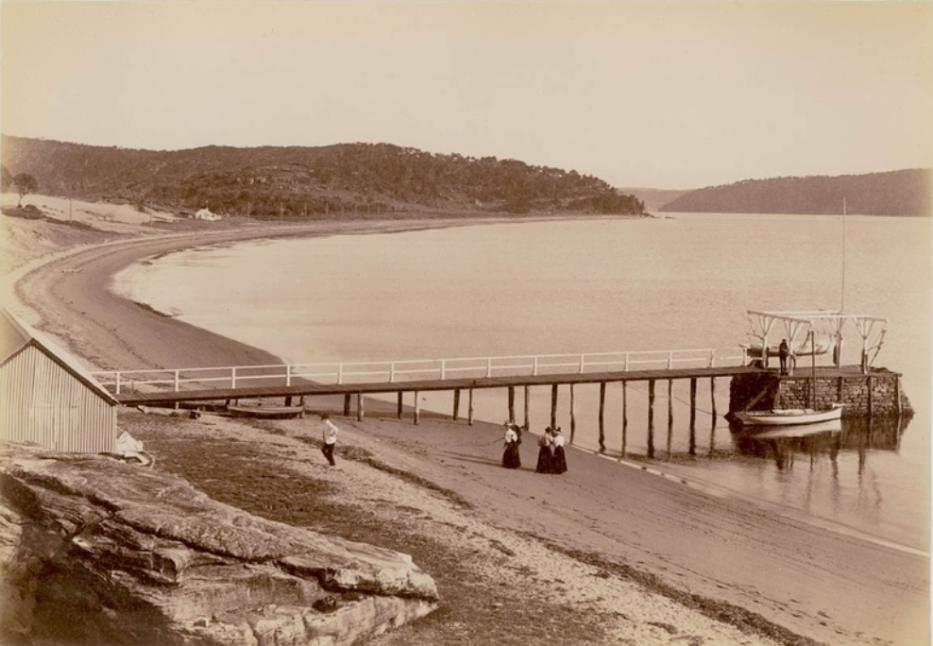 Wharf, Barrenjoey, Hawkesbury River, 1900-1910. Pic No: a116421, Courtesy of The State Library of NSW
Mr Kelf married Mary Ann Mulhall, in 1868. They had four children before she passed away at Singleton in 1881. A few years earlier in 1863, Joseph's sister Elizabeth had married Thomas Mulhall:
DEATH.—On the 2nd instant, MARY ANN, the beloved wife of J. Kelf, Post-master, Singleton, aged 41 years.Family Notices. (1881, June 4). Singleton Argus (NSW : 1880 - 1954) , p. 2. Retrieved from http://nla.gov.au/nla.news-article82630844
AQUATICS. WATERMAN'S RACE.- A race in bona fide waterman's boats is appointed to come off on Monday next between James Punch and Thomas Mulhall, for £25 a-side. The course to be pulled is from the Red Buoy off Fort Macquarie, round Goat Island, thence round Pinchgut, and back to the Red Buoy. Punch being a much younger man than his opponent, is looked upon as the favourite- the odds being at 7 to 4 in his favour. AQUATICS. (1858, March 6). Bell's Life in Sydney and Sporting Reviewer (NSW : 1845 - 1860), p. 2. Retrieved from http://nla.gov.au/nla.news-article59868300
DEATH OF MRS. MULHALL. OLD NORTH SYDNEY RESIDENT
An old North Shore resident in the person of Mrs Elizabeth Mulhall, relict of Thomas Mulhall, died at her residence, Fitzroy street. North Sydney, on Sunday. The deceased lady was born In Sydney in June,71 years ago and her husband was also a native of the State, having been born in he Hawkesbury district about the same time. Mrs. Mulhall belonged to an old English family, the Kelk's, and the branch from which she sprung was highly respected the early days of the city. She took a deep interest in church work, and was a hearty worker in affairs connected with St. John's Church of England and in all. Like her husband, she also took a keen interest in yachting and last January, through failing health, was the first occasion she had missed the Anniversary Regatta for 54 years. Up to the time of her husbands death, 16years ago the family had lived in the city but after her bereavement the widow and her children moved across the harbour, and they have resided on the North Shore since then. Mrs. Mulhall had been ailing for 15 months, but up to the last retained her faculties and had many interesting recollections of early Sydney and its history and development. She leaves six children to mourn. Messrs Thomas Lindsay, Frank and Sydney Mulhall Mrs Cecil Bailey, Henry J Mulhall, and Mrs. H. Vandenberg. The funeral will take place tomorrow morning-and the remains to be later interred in the Rookwood cemetery. DEATH OF MRS. MULHALL. (1913, January 6). Evening News(Sydney, NSW : 1869 - 1931), p. 5. Retrieved from http://nla.gov.au/nla.news-article113774500
MULHALL.—January 5, at her late residence Fitzroy- street, North Sydney, Elizabeth relict of the late Thomas Mulhall, in her 72nd year.Family Notices. (1913, January 6). The Sydney Morning Herald(NSW : 1842 - 1954), p. 8. Retrieved from http://nla.gov.au/nla.news-article15388282
While their son, Thomas Lindsay, also clearly spent a lot of time mucking about in boats in Sydney Harbour as well as Pittwater:
MR. T. L. MULHALL. Mr. Thomas Lindsay Mulhall, who died at his home in Chatswood recently, had been associated with the Anniversary Regatta for 53 years, first as a competitor, and later as an official. Mr Mulhall became a member of the Anniversary Regatta committee in 1890, and at the time of his death was senior sailing Judge He was also an active member of the executive of the Pittwater Regatta since Its foundation in 1906 and was starter and judge of the Royal Prince Alfred Yacht Club. For 42 years Mr Mulhall was a member of the staff of the wool department of Goldsbrough Mort and Co Ltd He retired in 1930 He is survived by his widow, a son, Mr Lindsay Mulhall, of Melbourne, a brother Mr Harry Mulhall, and two sisters. MR. T. L. MULHALL. (1938, May 20). The Sydney Morning Herald (NSW : 1842 - 1954), p. 9. Retrieved from http://nla.gov.au/nla.news-article17467200
Pioneer Yachtsman Passes
AUSTRALIA has lost one of its best-known yachting officials in Thomas Lindsay Mulhall, who died at Chatswood on Friday. His remains were cremated at the Northern Suburbs Cemetery yesterday. Tom Mulhall was a skilful pilot in his young days, and his best performances were achieved with the Tom Thumb. For over 50 years he was an official at the Anniversary regatta, and was one of the founders of the Pittwater Regatta 30 years ago. A member of the Royal Prince Alfred Yacht Club, he will be sadly missed on the waterfront. Pioneer Yachtsman Passes. (
1938, May 15
).
Truth
(Sydney, NSW : 1894 - 1954), p. 9. Retrieved from
http://nla.gov.au/nla.news-article169091406
Back where we began, with only glimpses, where the names of the vessels feature more than who built them and those who may have witnessed the great fleets and known their builders share only glimpses too:
THE "MOSQUITO FLEET." OLD HAWKESBURY TRADERS.
The days when a fleet of as many as 72 vessels, instead of less than half a dozen as at present, plied between Sydney and the Hawkesbury River were recalled by Mr James Booth when lecturing to the members of the Manly and Warringah Shire Historical Society.
From about the year 1840 and up to 1875, said Mr Booth, a number of small sailing vessels, of from about 15 to 40 tons burden, known along the coast as the "Mosquito Fleet," plied between the Hawkesbury River and Sydney from the estuary of Pittwater they carried mostly shells, which were burned for lime at the old Lime-street wharf, Sydney, and from the Hawkesbury River their cargo consisted principally of farm produce, corn, pumpkins, potatoes, and hay. From Brisbane Water the principal cargoes were sawn timber.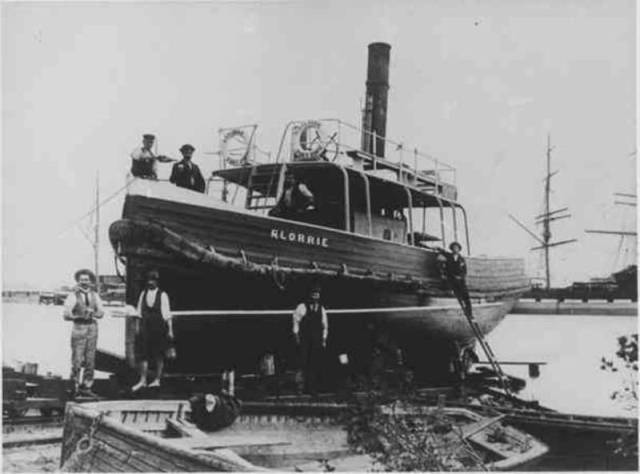 These craft could sail with a fair wind only, as their boating qualities were very poor, and a wait of three or four days was quite common until they got a fair start, when a great number of them would sail away together. Many times they reached North Head, only to be chased back all the way to Pittwater by a "southerly buster,"
and although they only had a sea journey of 20 miles it often required all their skippers' skill to save the little vessels. Some of these craft were run single-handed, some with a crew of two or three, four being regarded as a fairly large crew.
As there were no roads in those days the transportation of produce and travellers depended on these vessels. Some were built along the banks of the Hawkesbury by the Peat family, who were first-class shipwrights(Peats Ferry still bears their name), a few were built in Pittwater, but the greater number were built at Blackwall, Brisbane Water, by the Davis Brothers, Davis Town being named after the family.
About 1875 the farmers on the Hawkesbury formed themselves into a company, and had a steamer, which they named the Hawkesbury, built at Drakes yard, Balmain. She proved a great boon to the farmers carrying an "outside" passengers' ticket, running the mails, and making two trips a week for about30 years.
In 1882 a steamer called the Florrie
was subsidised by the Government to run the North Coast mails from Gosford to Newport, Pittwater. From Newport, passengers and mails were taken on to Manly by Boltons line of coaches, these being the first coaches that ran to what was then but a fishing village.
As there was no bridge across the Narrabeen Lagoon the coaches were driven through the water, with the passengers' feet up on the seat and the horses almost swimming. Sometimes a boat was used, a coach being kept on each side of the lagoon. As the roads were only bush tracks it took four or five horses to pull these coaches and as on occasion sporting passengers would tip one driver half a sovereign to beat the other, some of the trips were exciting. The fare was 4/ single and 6/ return. About 1888a boat called the General Gordon plied across the Hawkesbury River, carrying the mails and passengers to the two ends of the New-castle railway until the Hawkesbury Bridge was completed, a change of direction that closed the careers of both the steamer Florrie and Bolton's line of coaches. THE "MOSQUITO FLEET.". (
1930, April 22
).
The Sydney Morning Herald
(NSW : 1842 - 1954), p. 10. Retrieved from
http://nla.gov.au/nla.news-article16704624
There are many families in the early turn of the last century days of Pittwater who were just boatbuilders though, and had been for a few generations. One of these began at The Spit before the building of the bridge:
Miss Betty Riddle is a daughter of the well-known, boatbuilder of Pitt-water, "Andy" Riddle, and has been taught the art of sculling from an early age. She assists her father in his business and has' always been prominent in aquatic, sport. Miss. Williamson has not had as much experience as the other entrants. She is a member of the Parramatta River Club and is accompanying' her clubmates on a first visit to the Clarence. WHO'S WHO. (
1936, April 2
).
Daily Examiner
(Grafton, NSW : 1915 - 1954), p. 3. Retrieved from
http://nla.gov.au/nla.news-article194267096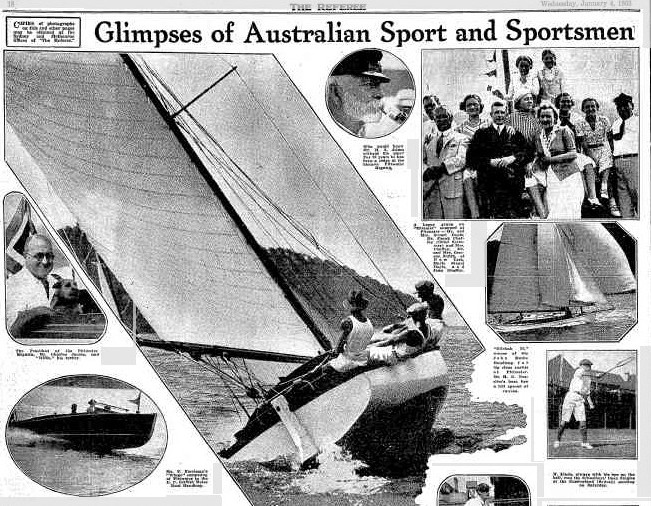 Mr. L. U. Buckinham's 'Foam'
competing in the White Horse'Whisky event for 'A' and 'B' class yachts at the Pitt water Regatta on Saturday. Glimpses of Australian Sport and Sportsmen Big Cricket Through "The Referee" Cameras. (
1933, January 4
).
Referee
(Sydney, NSW : 1886 - 1939), p. 18. Retrieved from
http://nla.gov.au/nla.news-article135323377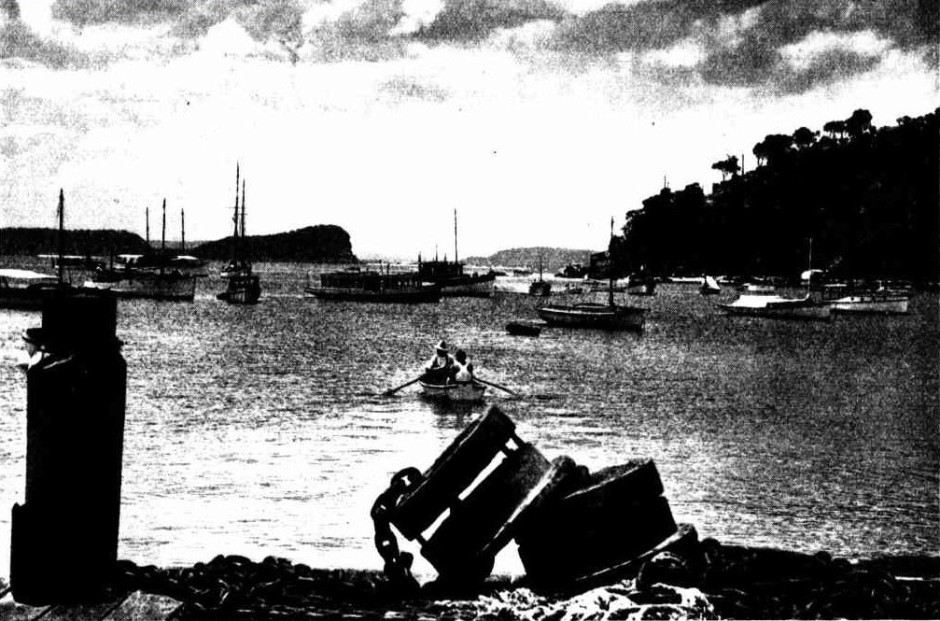 LAUNCHES AT ANCHOR AT PITTWATER, WITH LION ISLAND(BROKEN BAY) IN THE DISTANCE No title. (1935, April 3). Sydney Mail (NSW : 1912 - 1938), p. 42. Retrieved from http://nla.gov.au/nla.news-article166111070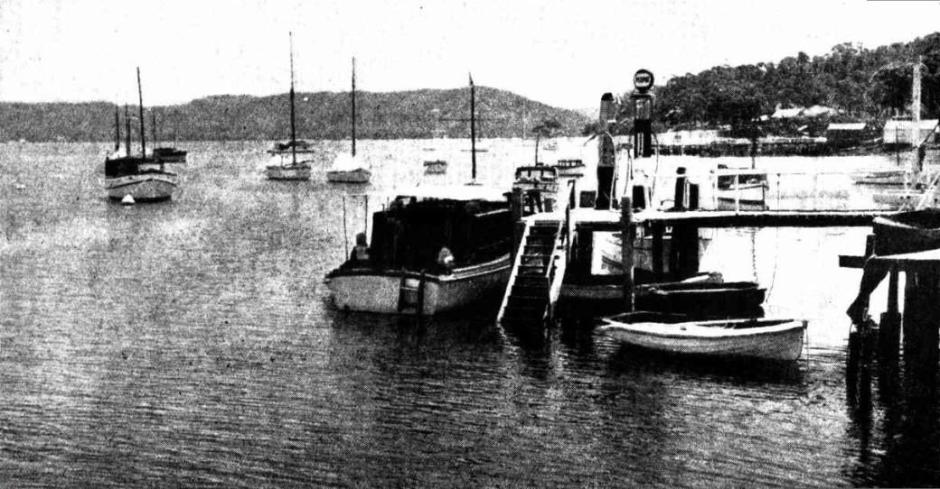 The pier at Pittwater, local 'headquarters' of the yachting and sailing fraternity. - RMYC Wharf - with boatshed to north. From: Pittwater:. (1938, December 28). Sydney Mail (NSW : 1912 - 1938), p. 12. Retrieved from http://nla.gov.au/nla.news-article166525296
Extras:
NARRABEEN.
1. Robert Anderson, 60, sixty acres; bounded on the north by a line east 25 chains; on the east by a line south 24 chains; on the south by a line west 10 degrees south 20 chains; and on the west by a line north 28 chains-promised by Governor Macquarie on the10th September, 1818; Quit rent, 1s. sterling per annum, commencing 1st January, 1827.
2. Richard Porter, 50, fifty acres; bounded on the north by a line west 17 chains, commencing at Ander-sons north west corner; on the west by a line south 42 chains to Pitt Water; on the south by a line east10 degrees north 13 chains; and on the east by Ander-son's farm, bearing north 23 chains—promised by Governor Macquarie on the 16th January, 1816; Quit rent, 1s. sterling per annum, commencing 1st January, 1827.
3. Robert Melville, 60, sixty acres; bounded on the east by a line north 24 chains, commencing at Porter's south west corner; on the north by a line west 32 chains; and on the west and south by Pittwater.—Quit rent, 1s. sterling per annum, commencing 1stJanuary, 1827.
4. Alexander McDonald, 60, sixty acres bounded on the north by a line west 20 degrees north 20 chains, commencing at Campbell's south east corner ; on the west by a line south chains; on the south by a line east 16 chains; and on the east by the sea coast—promised by Governor Macquarie on the 30th October,1813; Quit rent. 1s. sterling per annum, commencing 1st January, 1827.
5. Alexander McDonald, 60, sixty acres; bounded on the west by a line south 20 chains 90 links, commencing at Jenkins' south east corner; on the south by a line east 44 chains to Narrabeen Head; on the east bv the sea coast; and on the north by a line west 16 chains—promised by Governor Macquarie on the 31st March, 1821; Quit rent, 1s. sterling per annum, commencing 1st January, 1827.
6. Alexander McDonald, 80, eighty acres; bounded on the east by the sea coast, commencing at Narrabeen Head; on the south by the entrance into the Narrabeen Lagoon; on the west by a line north 42 chains; and on the north by 34 chains of his sixty acres farm, bearing west to Narrabeen Head—promised by Governor Macquarie on the 16th January, 1816;Quit rent, 1s. sterling per annum, commencing 1st January, 1827.
7. James Jenkins, 100, one hundred acres; bounded on the north by a line west 82 chains, commencing at Rowan's south east corner; on the west by a line south 13 chains; on the south by a line east 82 chains; and on the east by 13 chains of Macdonald—promised by Sir Thomas Brisbane on the 17th August, 1824; Quit rent, 15s. sterling per annum, commencing 1st January, 1831.
8. James Jenkins, 250, two hundred and fifty acres; bounded on the west by a line south 34 chains, commencing at the southwest corner of his 100 acre grant, on the south by a line east 82 chains; on the east by a line north 31 chains; and on the north by his 100acre grant—promised by Sir Thomas Brisbane on the 6th April, 1825; Quit rent, £1 17s. 6d. sterling per annum, commencing 1st January, 1831.
9. Philip Chaffer, 50, fifty acres; bounded on the north by a line west 22 chains 70 links; on the west by a line south 21 chains; on the south by a line east 30 chains; and on the east by Narrabeen Swamp —promised by Governor Macquarie on the 16thJanuary, 1816; Quit rent. 1s. sterling per annum, commencing 1st January, 1827. Government Notice. (1831, October 3). The Sydney Herald(NSW : 1831 - 1842), p. 1 Supplement: Supplement to the Sydney Herald.. Retrieved from http://nla.gov.au/nla.news-article12843563
COLONIAL SHIP-BUILDING.
Within a few years the progress in this trade has been most surprising, and owing to the facilities afforded by the abundance of our native timber, which for strength and durability is not to be excelled, those vessels of colonial structure have boon preferred before any built in the Mother Country. In Sydney, very little is doing in ship-building, but in the surrounding bays and rivers along the coast, numerous vessels are being constructed of both a large and small tonnage, which will doubtless prove adapted for any trade, if we might form a true criterion from the specimens which are now afloat, launched from the yards of the same builders.
In Sydney, at Mr. Corcoran 's (late Milne's Wharf), a fine brig of about 101 tons is now nearly ready for launching; her dimensions are 65 feet 0 inches keel, 70 feet 6 inches over all,21 feet beam, and 13 foot depth of hold. From her model, it is surmised - that she will sail well, and from her strength of build will carry a large cargo. The establishments at Pyrmont, although not generally known to the public, form the chief for our colonial naval architecture, in which more work is done than perhaps in the whole of similar establishments in the Colony. At Mr. Russell's yard, a finely-modelled schooner of about 85 tons has lately been launched, which when laden will draw about 7 feet water ; her dimensions arc, length aloft, 68 feet 11 inches, keel, 68 feet 10 inches, depth of hold, 7 feet 5inches, and beam 16 feet 4 inches; she is intended for sale. At the same yard, another vessel has been laid down of about 140 tons; which when completed will measure 80 feet aloft, 20 feet beam, 10 feet 6 inches depth of hold.
Upon going over the hill at Pyrmont towards Johnson's Bay, another similar establishment presents itself, belonging to Mr.Chowne, which nature has so constructed, as to render it in every way adapted for the trade which is now carried on it. Several of our best and fastest vessels have been launched from this yard, and at present numerous workmen are engaged in completing three that are on the stocks. One, a now steamer intended for the Parramatta trade, which has been ordered by the Hunter River Steam Company, and is expected from her peculiar build to compete with any other steamer in the port. She is built on the diagonal principle, with three skins, the two inner ones running diagonally, being 1/2 inch thick, and the outer one running horizontally of IJ inch thickness. Between these, a thick layer of felt is laid, the whole of which is clinched together with copper bolts. Her fittings up, both fore and aft, are most- commodious, being lofty and airy, and the small draft of water which she will draw, only 2 feet, must make her a most commodious boat for the trade in which she is intended to run. She will be launched in a few days. Her dimensions are 02 feet over all, 85 feet keel, extreme breadth 18 feet. An engine of 35 horse- power is ready to be placed in her, and the diameter of the paddle-wheels will be 16 feet. The second is also a steamer, intended to ply from Windmill-street to Billy Blue's Point, on the North Shore, in the place of the Ferry Queen, which will be taken on the borth, and run from the Circular Wharf to Milsom's Point. This boat is also built in an unusual manner, somewhat after the style of the Waterman, being sharp fore and aft, carrying two bows, before which a rudder is placed, to obviate any necessity for going about, in starting for the landing place. She measures 64 feet over all, 12 feet beam, and is flat-bottomed. The third craft, which is also very nearly finished, is about 70 tons, and is without exception the finest model of any colonial vessel we have before seen. Her measurement is 66 foot over all, 16foot 6 inches beam, 6 feet depth of hold. Mr. Chowne has also built a brig at the Clarence River of 180 tons, which will shortly be in Sydney.
At the Manning River, Messrs. Newton and Nicholson have launched a barque of 250 tons, which has been purchased, and is now fitting out to come on to Sydney, They have likewise a schooner building of 144 tons. At the William River, from Mr. Lowe's yard, a schooner of 88 tons was launched, a short time since ; measurement, C5 feet keel, 65 feet overall, 18 foot beam, and 0 foet 6 inches depth of hold. Another vessel of about 180 tons is almost ready to be launched from the same yard. They both are for sale.
At Ulladulla, Mr. David Warden is constructing a brig of 160 tons, which, judging from other vessels now trading from the port, built under his superintendence, may be set down as a first-rate vessel. At the Murray, a vessel is building of 120 tons. Besides those enumerated above, there are several of a minor tonnage in the different small inlets along the coast, and those, of colonial build, which have been tested in so many instances, both for strength and sailing qualifications, afford sufficient proof that hence forwards we need not be depending on England for vessels out of these Colonies. COLONIAL SHIP-BUILDING. (1847, May 4). The Australian(Sydney, NSW : 1824 - 1848), p. 2. Retrieved from http://nla.gov.au/nla.news-article37129408
I soon came across some houses, which I afterwards ascertained to be Pittwater, and found there the ever ready, courteous hospitality that always awaits the belated wayfarer in rural New South Wales.
After partaking of a hearty meal, and satisfying myself that my horse was doing the same, I strolled around to make a sketch or two. And, truly, it was a subject meet for any artist's pundi. There stands the lighthouse at the head of Broken Bay just visible in the distance, six miles away, and the incoming Pacific rolled in through a channel half a mile wide at its nearest part to me, watched by hills covered with verdure, and forming at length into a lagoon some three miles or so long, to the right of which I saw the embryo township of Newport, to which place the Kembla took over 400 people last Queen's birthday. Newport is only represented by one house at present, but the site appeared a peculiarly eligible one for a township.' However, I shall speak of it in another place more fully. At the other end of the lagoon is a Wesleyan church, a tiny neat structure, built on a gentle declivity overlooking the water. Just across the water is Scotland Island, of some little size, rising to some considerable height above the water. Only one house, I believe is there, the lady inhabiting it being termed the Queen of Scotland Island. Just below, in the bay, was a little sailing vessel engaged in the wood traffic between Pittwater and Sydney. I stayed to make a sketch, and as the shadows of night were falling fast, I betook myself to my quarters.
A petition was being got up there, having for its object the establishment of a public school in that district. Some 20 signatures I saw in the hands of Mr. M'Keown, who will forward the document to Sydney. As the Wesleyan church will answer temporarily for the purpose of a, school, I do not imagine the Department of Public Instruction will hesitate to take pity on' this out of-the-way corner of the colony, and send up a teacher as soon as possible. Early next morning I bade farewell to Pittwater, and with the help of a guide found the right track and came back the way I went, which of course considerably resembled my going. Taking my time returning, I arrived in Sydney a day or two afterwards. Lane Cove and Pittwater. (1880, August 28). Australian Town and Country Journal (Sydney, NSW : 1870 - 1907), p. 18. Retrieved from http://nla.gov.au/nla.news-article70947110
Re John Joseph Ryan. The bankrupt attended, and did not desire to amend his statement. Eleven creditors had proved, but none were purchasing within three years for £1600. He had been insolvent three times ; the first time was in 1866. A year ago he gave a bill of sale for £100 over his furniture, live stock, and boats at Pittwater to a Mr. Bailey, for which at the time he did not receive any consideration. He did not know whether the bill of sale was registered. His father-in-law, John Johnson, was appointed by Mr. Bailey to take possession. The Mrs. Green inserted as a creditor was his mother. The debt due to her £277 : it was advanced by Mr. Bailey as trustee.
Re Richard A. W. Green.-The bankrupt attended, and verified his statement of affairs. Mr. E. A. Smith (for the official assignee, Mr. A. Morris) examined the bankrupt as to his transactions. The bankrupt said he was not in any business at the time of his sequestration. He was working on leasehold property at Pittwater, which he had the option of purchasing. In 1884 he agreed to sell to four gentlemen for £8000 a plot of land he had purchased from his mother. A dispute arose over the agreement, which was settled in equity two years afterwards by a new agreement, under which he was to receive, in addition to the £8000, a fifth share of the resale of the land. When the agreement was signed a deposit of £600 was made. A second payment of £600 was made soon after the equity suit was over. Mr. Bailey drew the money; he never saw it. The balance of the £8000 he understood had been paid; Mr. Bailey never told him so. If Mr. Bailey had received the balance of the purchase money he had not in any way accounted for it to him(the bankrupt). After further questioning, the bankrupt was declared to have passed his examination subject to any other examination which might be required. His Honor made a special order that the costs of the "prolix examination" should be reserved, and not allowed upon taxation without express order. LAW REPORT. SUPREME COURT—WEDNESDAY, FEBRUARY 13. (1889, February 14). The Sydney Morning Herald (NSW : 1842 - 1954), p. 5. Retrieved from http://nla.gov.au/nla.news-article13714051
Richard A. W. Green, Born at Sydney, 1836, was one of our best scullers for many years. Although only of medium, height he scaled 12st. when in condition. He was remarkable from the first for his great speed for the first mile, and many of his best races were won by his ability to make the pace so fast at the lead. He had a most remarkable career, and although he was beaten repeatedly by Hickey he managed to secure a long list or wins. He was constantly rowing from 1851 to 1873, and during this time he competed 210 less than 213 times in every class of boat. The one performance that stands out more prominently than others is his memorable race with R. Chambers on the Thames, in 1863, when he was beaten ; but this race is said to have been a foregone conclusion, as Green was not In good health, and while racing he broke down completely. He had the satisfaction of heating Kelley and five others at the great regatta held on the Thames in that year, the race being open to all the world; and, with Kelley, won the champion pair oars from five other crews. The Australians were so satisfied with their man that they presented him with a service of plate and an address, and he is spoken of as a very honourable man. Some of his most prominent races were with T. M'Grath, Deward, Candlish, 'White, and Hickey. He was continually rowing these and other men, also engaging in double scull races, four-oar events, whaler races, &c-, and formed one of all the crews that at that time made rowing so popular. Dick Green's name can never pass out of mind when one looks back to the days that were making Australia's fame as the new home of rowing. Green beat J. Candlish, an English sculler, in 1858, this being the first race rowed on the present champion course. Richard A. W. Green. (1886, December 4). The Sydney Mail and New South Wales Advertiser (NSW : 1871 - 1912), p. 1154. Retrieved from http://nla.gov.au/nla.news-article164382025
GREAT OARSMAN DEAD. Richard A. W. Green. MAN OF MANY RACES
By the death of Richard Augustus Wiloughby (Dick) Green at his home "Warren" Greenwich-road, Greenwich yesterday, only the memory is left of one of the greatest oarsmen the world has seen. He rowed an incredible number of races 326 of which but 50 were won - and was ready to row in any type of boat. Mr. Green, who was 85 at the time of his death. In 1906 rowed in a race between former champions. Another competitor was Bill Beach, then 54 years old. In an interview some years ago the champion gave the following account of his career:-"I rowed my first race when I was 17 years of age. We always raced our races on the harbour in my early days. Until Deward came out from England in 18??.We did not go in for match rowing. McGrath was the first man to get an outrigger out here, but Jas. Edwards was the first man to bring one out from England.
A Cumbersome Outrigger.
I was matched with McGrath and we built on outrigger 35 ft long ..... with wood and she was three times the weight of Mc Grath's boat. It took ... men to put it in the water. Needless to say I lost the race and a £20 wager. In the second race with McGrath, though in a new boat, I beat The Candlish, the Englishman came out and I bought McGrath's outrigger for £50 to row him in. He wanted to row on smooth water and we chose the Parramatta course and pulled on it for the first race. I won, the time being 22 min 35 sec. Deward came out and I beat him in equal boats, when I was only 21, for £50 a side.
An Adventurous Journey
Then I set sail in the ship Damascus for England, shipping as carpenter's mate and with only £10 in my pocket to row for the championship of England. I got to London, but was stranded there for 12 months before the £200arrived from Australia to row Chambers.' We met and he defeated me after I had led him most of the way. The weather nearly killed me in England, like it did most of our scullers. Chambers would never meet me again, although the late Mr. George Thornton offer, to back me. 'Then I rowed in the great international regatta on the Thames and beat everyone including Harry Kelly who I consider was the greatest sculler I ever saw him race. Trickett claims to have brought the championship to Australia, but I am convinced I did so by winning this international race 12years before and because Chambers would not race me again.. I never though much of Sadler, the man Trickett beat. I came home in the Great Brittain and went into the butcher boats at the Heads, rowing for Playfairs against the two Hickeys and others, who were employed by T. Rice. I drew £5 a week, and was almost kept as well. It was through the arguements arising during my time in the three-pair butcher boats and the whalers that Bill Hickey and I were matched and rowed several races Hickey winning most of them. I rowed him a mile race, though, and beat him. I covered the mile in 5 min25 sec. Most of these races were for£100 or £200 aside.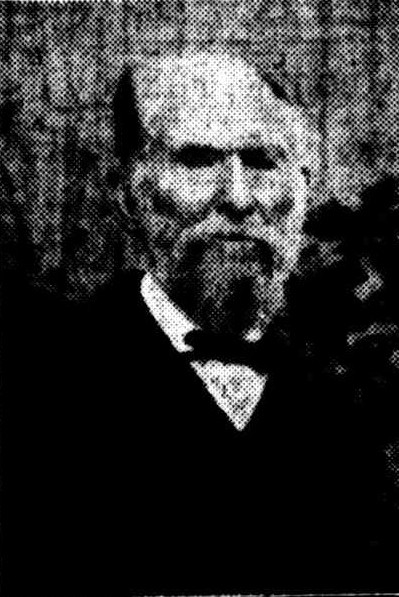 Various Races.
At pair-oar rowing Jas. Punch and M'Grath proved superior to my late brother Harry and myself. A memorable race we rowed was that between the four Englishmen, Candlish, Day, White and Deward in one boat and Punch, McGrath, my brother and myself in another boat and the Woodley brothers in the third. We vanquished the Englishmen after a great race. I think it was the first time professionals rowed in four-oared boats in Australia.. I was stroke , two of the great whaleboat crew consisting of J. Punch, T. Cronin, T. McGrath, Harry Green and myself with W. F. Dind as coxswain and we won a lot of money.' I won the championship cup at the Anniversary Regatta three years in succession that being the biggest race of the year those times and I also won a 50 guinea cup at North Shore Regatta two years running. I retired about 1873. R. A. W. GREEN. GREAT OARSMAN DEAD. (1921, September 7). Evening News(Sydney, NSW : 1869 - 1931), p. 2. Retrieved from http://nla.gov.au/nla.news-article118915906
DOYEN OF AUSTRALIAN OARSMEN. DEATH OF MR. RICHARD GREEN.
The death took place yesterday, at Greenwich, at the age of 85 years, of Mr. Richard(Dick) A. W. Green, the first champion sculler of Australia to proceed to England 59 years ago.
A son of the late Mr. Geo. Green, Richard Augustus Willoughby Green was born at Greenwich in August, 1836. He rowed in no fewer than 326 races, and won 275 of them.
He was pitted against England's champion, Robert Chambers, but during the race he was taken suddenly ill in his boat. He was informed in a letter afterwards that he had been poisoned - he believed a servant girl was responsible. So incensed was he over the affair that he asked one of the newspapers to publish the letter which he had received, but it declined to do so - apparently feeling that discretion was the better part of enthusiasm, even in the cause of a brilliant overseas oars-man.
The race was on the Thames, and Mr. Green
had raced his opponent for nearly two miles out of the journey of three miles, when he was suddenly stricken down. He was struck dumb and was unable to call out to his coach, although suffering from terrible pains in his groins. Realising that he had been under a cloud, the Australian wanted the English-man again to race him for the world's championship, but the latter declined.
Mr. Green was champion here for a score or more of years, and he rowed in almost every kind of boat possible. He was about 17 years of age when he won his first race a £7 prize for amateurs in outriggers and was a familiar figure for many years in the regatta events. On one occasion he rowed in five races on one day, and won the whole lot of them. DOYEN OF AUSTRALIAN OARSMEN. (1921, September 7).The Sydney Morning Herald (NSW : 1842 - 1954), p. 12. Retrieved from http://nla.gov.au/nla.news-article15985785
A BALD-FACED COW, branded P over D on near rump, split ear near side, and docked tail (with a calf at foot}, has been running, off and on, for the last 12 months with my cows. The owner is requested to communicate with SAMCEL STRONGMAN, the Basin, Pittwater. Advertising. (1889, April 13). The Sydney Mail and New South Wales Advertiser (NSW : 1871 - 1912), p. 739. Retrieved from http://nla.gov.au/nla.news-article161930557
A Bit of Old Pyrmont.
THE A.S.N. COMPANY'S WORKS ON DARLING ISLAND.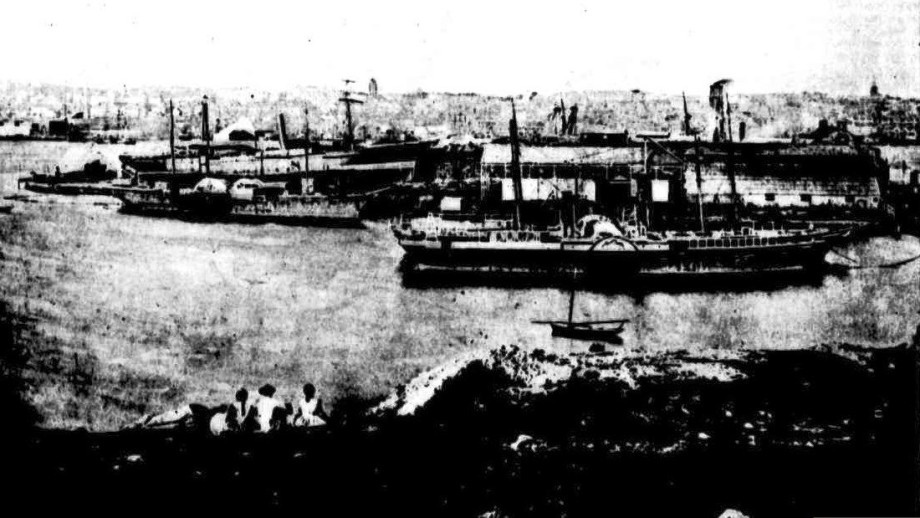 (See illustration on this page.)
The accompanying Illustration shows Darling Island, on the west side of Darling Harbour, Sydney, when, it was In the, hands of the Australian Steam Navigation Company, which for many years was the premier steamship company of Australia. Looking back, at the success of that great company, we many a time wonder how it was ever possible for such a business to have passed out of the hands of Sydney people. The ships were of the best and always improving, and 'their reputation was such as any company would have been proud of; while their captains, officers, and men were equal to every call of duty. Many of the most gallant deeds done on the coast are to be credited to this great company.
The Darling Island, or rather peninsula, of today, with Its great grain sheds, Its network of railroads, and Its long, straight line of concrete wharf, alongside which square-rigged »hips of all nations are just now unloading their big cargoes of North and South American grain, is not the "Darling Island" of 1871. Times have changed, and man bas so altered it, that no one acquainted with its early appearance would ever take it. to be one and the same place. At present there is not even a trace of its former greatness. Everything, even to the smallest, detail, has been altered, as if it were the policy of the present owners to thoroughly blot out a something altogether unworthy of remembrance. The old "Island" was one of Sydney's earliest Industrial landmarks, which deserved, a fate somewhat different from that which has befallen it. It was, indeed, a monument to the ability of the early managers and tradesmen of the A.'S.N. Company, and as such is deserving of more than a passing remembrance. There are many of the old residents of Pyrmont, who will never forget the days when their "Island" was in full swing, employing something like ten or twelve hundred hands at manual labour alone. They were Pyrmonts palmy days, when money was free and work so plentiful that none went without. The hammer and the anvil rang out merrily from morn till night, and the clatter of the expert rivetters, as they hung over the side of one of the old Intercolonial traders, or paid their attentions to a new boiler in the sheds, went on all day long. Shipwrights caulked away filling the seams with oakum, tightening decks, which were then the homes of master mariners whose names are still house, hold words among the skippers of the port. And when the great steam hammer got going on a big "heat," how she thumped it into shape, Hitting with a mighty force, that old hammer welded many a crank or propeller shaft that served the company honourably and well.
These things are now no longer there. The present business of Darling Island is quite of a different kind. There were sheds In the old time, and trolly lines, too. There were stone wall wharves, as well. But the sheds of the ploturo are totally different from those of to-day. They were grimy and black from the smoke of the fires that burned within them. The iron roofings were rusted and broken through long service, and the narrow gauge trolly ways, heralds of the railroads of today, ran here and there through the workshops, carrying freights In every way different from the freights that are handled there now. Half-a-dozen men usually supplied the motive power for those early A.S.N. railways.
The A.S.N. Company, then registered as the Hunter River Steam Navigation Company, was established in 1839, with a capital of £40,000, for the purpose of trading only with the Hunter River. As the colony grew, the company grew With it. It was not until some years later that the name was changed to the A.S.N. Company. Year after year of successful operations led them from one success to another, until within a comparatively short time the A.S.N. Company stood firmly established as the premier shipping company of the continent, with its ships running all up and down the eastern and southern seaboards, as a connecting link In the fast-growing civilisation, bringing mails, passengers, and cargoes from almost every Australian port. To Fiji, to New Caledonia, to New Zealand, to Tasmania, their vessels ran, winning for themselves reputations and records which took a lot of beating. Occasionally, when anything went wrong with the delivery of mails from either 'Frisco or Singapore, the company's vessels were dispatched to bring the belated news home. When the Panama service failed, in 1868, several of the A.S.N. vessels were chartered to take up the early running roSan Francisco, In which trade the City of Melbourne and Wonga Wonga did excellent service, prior to the coming of the Zealandia and Australia, and the two "cities" that were here before them, so well-known In the Pacific mail work. It might be truly said that no flag was ever better known In Australian waters than the old red and blue diagonal of the A.S.N. Company. It was really the Union Jack of the colonies, and was kept in the vanguard of Australian-owned shipping, from the day the Rose, under the command of Captain Seaward, carried it proudly into the harbour of Port Jackson, until the day on which two-white diagonal bars were added by the representatives of the present A.U.S.N. Company in 1887.Though somewhat changed by this addition, the old flag remains with us still, as the hall-mark of an honourable shipping company, which acquired the property, as well as the trade of what was at' once our oldest and best.
The vessels in the Illustrations are some of, the old fleet up for repairs. The paddle-wheel steamer at the wharf is the Yarra Yarra, built in 1851, and sold some time after, 1878, to Captain Sommerbell, and employed as a collier in the Newcastle trade, and eventually lost on the Oyster Bank, inside Nobby's, where, in all probability, she still has a representative plate or two in the heap of rusty steel and iron which has of late years been accumulating there. On the slip for repairs is the Wonga Wonga, or the City of Melbourne. Opinions differ over this vessel. The Wonga Wonga was condemned, and broken up in 1880, after being on the active service list since 1854, In which year she was built to the order of the A.S.N. Company. The other paddler wheel steamers are the Illalong and the Lady Bowen or the Lady Young. These vessels were of the same tonnage-442-and were purchased In the same year, the former being sold In 1882,and the latter being broken up in 1881. They were among the vessels which did some of the best of that days Intercolonial trade., and, In doing it, they made big dividends, and sometimes fair bonuses for shareholders and employees. The wharves of the company were Darling Island in the Early Days, then on both sides of the the foot of Margaret street, the Newcastle trade being done by the old Coonanbarra and Collaroy, from an old wharf which formerly existed on the site of Huddart, Parker, and Company's present substantial structure. Some time later, If we can hunt up a picture of the Collaroy or Kembla, we hope to refer to those early Newcastle traders. At the wharf on the other side of Margaret-street, though not distinguishable in this picture, iles the Hero, one of the early New Zealand traders, with the Balclutha and Boomerang, then engaged in the Queensland trade. Every ship in this picture has floated her last. They all did the work for which they were built, and, having worn thin, and got out of date or unseaworthy, they either fell In harness before the fury of the unbending wave, as In the case of the Balclutha, or were dismantled and disgraced through no fault of their own, and broken up. This breaking-up process, even though the old iron goes through the furnace for renewal, is not the happiest of endings for an old ship that has seen good service. To pull safely through many a hurricane, and to cast off many a hard-hitting sea, only to come at last under the hammer of the auctioneer at "Fraser's Mart," and, worst of all, to be towed to a resting place on one of the harbour beaches, to be fired and broken asunder piece by piece. Possibly many of the old ships knew the doom awaiting them, and preferred, rather than be disgraced by total dismemberment, to fall, beaten at 'lost, by the elements against which they had battled so bravely all their life long.
Ship by ship the old company added to its fleet, building and buying to suit the ever-growing trade. Returning to the days of inauguration, we find that it was in 1846 that the first settlement was made on Darling Island, which, in those days, was quite surrounded by water. As the works grew, the refuse and ash heaps extended the area of the island, until some time after the date on which our Illustration was taken, the last trace of the one time channel had disappeared. The original outlay on works cost the company £111. This included the purchase of land and the erection of wharf and boiler shed, Pyrmont must then have «been a very long way out suburb to have been of so little value. The bridge had not yet been built, and the only means of getting to the works was by pulling boat, or round by the Haymarket, through the bush of Ultimo, to the scrub-covered Pyrmont on the extreme end of which the A.S.N. Works were located.
The fleet began with the purchase of the Tamar, a vessel about which we can find no other reference than that she was purchased in 1840. Her size is indicated by her tonnage, 130. Next came the Rose, of 122 tons register, in 1841,This vessel was followed by the Thistle, of 175, and then the Shamrock, of 211 tons, the last named ship being built for the company on the Clyde. Her steaming time from the land of her birth was 123 days!
These steamers were considerably smaller than many of our present-day colliers. Of their speed we can find no record. They must have been fairly easy to handle, as in the absence of any slip or dock, they were beached for cleaning and painting on the southern beaches of Darling Harbour.
Late in 1841 it was proposed to open up communication and trade with Moreton Bay, the company advertising their intentions of doing this "if sufficient inducements offered." In December the Shamrock was sent north with freights at 20s a ton, and fares at £8, £6, and£4 respectively. Over this action the directors got into trouble with the shareholders, who considered it a violation of the deed of settlement, inasmuch as that document granted permission to trade only to the Hunter River and the ports adjacent. In defence of their action, the board took counsel's advice, appealing to "Mr. Broadhurst, Q.C., who was then one of Sydney's most prominent legal lights, and on the strength of his opinion, combined with the views of other lawyers, the action of the directors was upheld. The question in dispute was whether Moreton Bay was adjacent to the Hunter. Counsel and the nautical experts said it was. After that there were no more disputes, Five months later the Shamrock was withdrawn, owing to the trade proving unremunerative. For the chart of Moreton Bay presented to the company by a Mr. Dixon a free passage was given.
A year later, In 1842, Melbourne Town, as it was then- known, was thought of as a field of operations for the future efforts of the company. This was decided upon on July 30, 1842;but on the following day the board thought better of their decision, and came to the conclusion that, "as at this time of the year it would be dangerous,' as well as unprofitable, to send the Shamrock south, she be continued on the Moreton Bay run for the present." In the following year, under more favourable conditions, this "pioneer" steamer carried the A.S.N. Company's flag into Hobson's Bay. Twofold Bay, Melbourne Town, and Launceston were then the three ports of call.
The big slip at the "island" on which we see a vessel up for repairs was opened in 1855. It was in this same year that, owing to the P. and O. Company abandoning the existing mail contract, the company proposed to the Sydney and Melbourne Chambers of Commerce to carry out the service to Singapore with the Wonga Wonga and City of Sydney.
In 1855 the fleet consisted of the following ships:-City of Sydney, Wonga Wonga, Telegraph, Governor-General, Boomerang, Yarra Yarra, Waratah, Shamrock, Illalong, Collaroy, Tkiutle, Tamar, Ballarat, Sam Bon, Eagle, Rose, Ben Bolt, Brisbane, and City of Melbourne.
For several years after 1855 dividends of 10 percent, wore declared. When times were exceptionally good an extra bonus of 5B was given.
Seven years after the establishment of the Pyrmont works the Ballarat, the fleet vessel built by the company for their own use, was launched, that would be In 1853. In after years many others were laid down and finished In those busy yards. During 1862 the Yaamba and two riverboats were completed and sent to do the business of the company in Queensland.
The A.S.N. Company's works have the honour of constructing the first colonial-built man-of war. Of what she was like we can find no record. "A gunboat for the New Zealand Government was built, and launched during the month of July, 1863." The Leichhardt followed next, getting into her element some time in 1864.
Speaking of the Leichhardt carries us back to' an earlier time when Dr. Leichhardt made application to the company for a passage to Moreton Bay. In the letter conveying the request, Dr. Leichhardt, stated "that he and a party of men were about undertaking an explorating expedition to Port Essington." It was resolved that this application be granted. The spirit of generosity seemed always uppermost in the early days of the company. Anything that could be done for the general good of the young colony was done readily and in the proper spirit. Towards the patriotic fund inaugurated at the time of the Indian Mutiny, 200 guineas were voted. Free passages were often given to the Volunteers of the Hunter River towns to attend parades before the Governors of the day; and in 1861 the board tendered the services of their vessels for the purpose 'of towing the Burke and Wills irelleí steamer, then on her way to the Gulf of Carpentaria, free of cost as far north as these ships' traded.
Time and space will not permit us following the doings of the company any further In the present issue. Possible on another occasion we may have an opportunity of again returning to it. In 1887 the whole assets of the Australasian Steam Navigation Company were disposed of for a sum of £676,500, which returned to the shareholders the whole capital of £20 per share, and this notwithstanding the fact that at the time the negotiations were opened the market value of the shares was only £9 10s.Mr. F. Phillips, appointed secretary in 1867, was the company's last servant, and to him Mr. James Ewen, then chairman of directors, paid a very high- and complimentary reference as he ended the speech which explained the details of the sale, and dropped the curtain on one of the brightest as well as most interesting pages in the annals of colonial shipping. A Bit of Old Pyrmont. (1903, June 17). Australian Town and Country Journal (Sydney, NSW : 1870 - 1907), p. 35. Retrieved from http://nla.gov.au/nla.news-article71482458
GOVERNOR GIPPS NAMES GOSFORD AFTER FRIEND
By C. SWANCOTT
The story of Gosford starts on a day in 1839, when Governor Gipps inspected Surveyor Dalgety's plan of a township at Brisbane Water, and named it after his friend the Earl of Gosford, with whom he had been a Commissioner in Canada, before coming to Australia.
Dalgety's plan showed the residence of Mr. Holden, the magistrate, with a fenced area encroaching on part of Holden Street and Georgiana Terrace; the courthouse site; and the constable's house and garden south of Georgiana Terrace and opposite the courthouse. There were no other habitations on the area. A few weeks after the foundation of the colony, and in June, 1789, Governor Phillip and his party penetrated what was then called the North East Arm of Broken Bay, to the head of navigation at Erina and Narara Creeks. Returning to Sydney, they decided to explore the river called De-rub-bun by the natives, which was to become known later as the Hawkesbury River. Their exploration sealed the fate of the North East Arm for the next 34 years, for, apart from a party of fishermen who were cast onshore in bad weather near Port Stephens in 1796, and who walked southward through the district to Broken Bay, there was no white settlement until 1823.Then James Webb, a boatbuilder, squatted at Webb's Reef (now the Rip, between Booker Bay and Orange Grove) and was subsequently granted 100 acres. Other settlers followed hard on his heels; Hely at Narara, Bean at Erina, Henderson at Veteran Hall. Booker at Booker Bay, Fitzgerald at the entrance to Cockle Creek, Ward near Killcare, Mallen at what is now Hardy's Bay, Humphreys at Kincumber South. Cape at Wyong, Holden at Toowoon Bay, Lowrey at New Brighton, Warlters at Green Point, Slade at Tuggerah and Hill at Brisbane Water. Settlement advanced rapidly in the thirties and numerous settlers took up vantage points round the shores of Brisbane Water. There were even two licensed inns — the Red Cow at Coorumbene, and The Sign of the Crooked Bill at Pretty Beach.
Access was solely by water. The settlers in the thirties had been bitterly disappointed because the road promised by Surveyor Oxley, which would have closely approximated the present position of the Pacific Highway, had been vetoed by Governor Darling, who decided that the Great Northern Road should go through Wiseman's Ferry, St. Albans and Wollombi. Felton Matthew, the surveyor, spent many months in exploring and mapping the ranges that lie between the Great North Road and Brisbane Water. He recorded that he was'in every way baffled and disappointed; the hills are so intricate and the brush so thick.' The Rev. T. Atkins, chaplain to the Lower Hawkesbury, visited the settlement at Brisbane Water in 1837-8 —with no other landmark than notched trees beyond Mangrove Creek, he rode through the thick bush 24 miles to the settlement at Brisbane Water.
Doctor Lost Way Near Mangrove Creek
A doctor going from the Hawkesbury to Mangrove Creek was lost for five days and nights. He was found almost naked and nearly insane through having eaten only grass. There was no direct access with Sydney until 1848, when the road via Peat's Ferry came into use the Hawkesbury River had still to be crossed by boat or ferry. Samuel Peek in 1849 advised Peter Fagan that a petition with 1000 signatures was being presented to the Legislative Assembly, praying fora road to Maitland by way of Brisbane Water. Ninety years was to elapse before Peek's dream was to be realised. Small five- and ten-ton ketches, schooners and an occasional larger vessel traded to and from Brisbane Water. In the thirties the paddle - wheel steamer, William the Fourth commenced running to Gosford and in 1841 the smart little steamer Kangaroo left every Saturday morning for Brisbane Water. The township site which was to become Gosford had been reserved from occupation pending survey. T. A. Scott had squatted on the township site in the early thirties, but had been told to move and was given land elsewhere. The rough courthouse had been built of slabs in 1827at a cost of £70. It was so frail that a prisoner escaped by boring holes with a gimlet in a plank, part of which he removed. Jonathon Warner was appointed magistrate for Brisbane Water in 1835 and built a temporary cottage (actual- ,ly a bark hut) on the township site to house his wife and eight children. The constable also built without permission in order to be close to the courthouse. The street names on Dalget's plan were mostly those of the principal district
, settlers and magistrates of the time. Mann Street was named for Captain Gother K. Mann, a son-in-law of Frederick Augustus Hely, who built a home at Wyoming and was appointed a magistrate in 1840; Donnison Street for Henry Donnison, of Erina, a magistrate and landholder of the period; Faunce Street for Capt. A. T. Faunce, an earlier magistrate; Bean Street for Willoughby Bean, the first magistrate of Brisbane Water; Battiey Street for Thomas Cade Battiey, a brother-in-law of Bean; Holden Street for another magistrate, Cape Street, after the pioneer settler of Wyong: and Moore Street, for Moore of Avoca. In June, 1839. Surveyor Dalgety was requested to layout the sections and reserves of the new township, and to mark the intersections with si strong posts about twelve feet high, with small flat pieces of board nailed on top marked with the number of the sections. On May 29. 1839. letters were sent regarding the mustering of servants for Divine service every Sunday to the following settlers of the district: Willoughby Bean, H. G. Watson, John Monro, Ft. Henderson, Robert Cox, William Spears, George Spears, Joseph Spears, Thomas C. Battiey, William Shand, Mrs. Murray, Henry Piper, James Mullins, Thomas Woodward, William Pickett, John Lowrey, Mrs. Hely, Peter Fagan and Thomas Mullins.In 1840 Donnison. Mann and Holden were asked to be members of the District Committee at Brisbane Water of the Australian Immigration Association, which proposed to obtain permission to import Coolies from India. Signatures to the petition were Mann, Holden, Read, Rev. Edward Rogers, Watson, G. F. Baker, Ralph Wood and Thos. Foley, of Gosford: Prince (postmaster), Richard Edwards, and Jas. Stockdale, of East Gosford: Samuel Taylor, of Hawkesbury River and Edward Walmrley, of Wallaroo Park. Governor Gipps was adverse to the introduction of this class of person, on the ground that it would tend to deteriorate the community of the rising Colony. East Gosford, a private township built on 500 acres, the property of Samuel Peek, a Sydney tea merchant, was not surveyed until 1840.In twelve months, according to the 'Sydney Herald' of May 12, 1841, two hotels, three thriving stores, some smaller shops, a school, a bakery, a smithy and neat cottages had been erected at East Gosford, and twelve other houses were in course of erection. As Gosford remained at a standstill, the rapid settlement of East Gosford naturally suggested itself as the ideal location for the proposed Church of England. Continued next Friday.
'Lobster Bill' Stayed Close To His Ketch
Brogan's Point was named after 'Lobster Bill' Brogan, a sea captain who beached his ketch, All Serene, at +his point, and lived in a shack alongside the vessel.
Booker Bay was first settled in 1825 by William and Betty Booker. William was sent out as a convict. He was a sawyer and wheelwright, and worked in the government lumber yards at Sydney before getting his ticket of occupation, and grant. William died in 1850, and Betty in 1863. Their only son was lost at sea. They are buried in a little neglected cemetery at Booker Bay, where also lie a man named Bushell, Mr. and Mrs. Bogan, and several victims of the 'Maitland' wreck.
Few people nowadays know of the existence of the cemetery, or its whereabouts. Riley's Bay was originally the home of the Murray's, who settled there in the 1830's. Mrs. Isabella Riley, a descendant of the Riley's, Shipbuilders, of Riley's Island, has lived in the old home for the past 50 years. A son cultivates miles of oyster leases in the neighbourhood. At Fisherman's Bight just below Daley's Point., there settled ' on Fitzgerald in the1820s. On the left hand side lies Booker Bay, with its famed coral tree on the waterfront.
Mr. Swancott said that from reading Hunter's Journal and his knowledge of the changes that have been made in the waterfront, he believed Phillip and his party landed in the vicinity of the coral tree, and refreshed themselves on the June morning of 1789, when they revisited the North East Arm to complete their exploration. In this bay it was a common sight to see 20 ketches at a time moored waiting for favourable winds and tides. In the background is Blackwall Mountain on which is located Webb trigonometrical station. ;It was known as Signal'Hill for many years.
Rock' Davis stationed a lookout to watch for ketches loaded with bricks, in which he was interested. He had the contract for the water carriage of the 19 million bricks used in the Woy Woy railway tunnel. To save time he would send out a steam launch to tow the vessels up to Brick Wharf. Just inside the Rip, James Webb, a Sydney boatbuilder, settled on a 100-acre grant in October 1823, becoming the first settler of Brisbane Water.
The Rip was known as Webb s Reef for many years. In the nineties the engineer of one of 'Rock' Davis' steamers fell overboard near Lion Island, and was not missed until the vessel was in the Rip. 'They turned-back and found him still swimming strongly. In 1871 the ketch 'Tim Whiffler', with passengers aboard, I was returning from Sydney and capsized while passing through the Rip. Ephraim, William Ward's son was working as a shipwright in the Blackwall shipyard and saw the accident. He seized an aze, rowed over to where the vessel was floating bottom upwards, and heard knocking under the hull. Without thinking he knocked a -hole in the vessel; the air escaped, the boat rolled -over, and sank like a stone. As it rolled a woman passenger dived through the hatchway with a baby in her arms, but an elder daughter was drowned. Ephraim Ward was known as the 'Whisperer'. He would stand on one side of the Rip and hold a conversation with his brother, Manasseh on the other side.
'CURRENT VIEW FARM' WAS HIS HOME
James Webb married Ann, sister of the famous George Peat. His home was known as 'Current Point Farm', also as 'Mullbong Farm'. The imposing stone house above the Rip was built in 1887-8 for Mr. and Mrs. H, R. Cox, who, while in Japan on their honeymoon, brought out 10 Japanese servants and workmen to build their home.
St. Hubert's Island was named by Father Coughlan, who took over the island in 1843.He was priest-in-charge of the[Brisbane Water district. Father Coughlan resided on the island, where he grew bananas. |Opposite the island is 'Palermo', home of the Beatties, who were shipbuilders for many years.'Palermo'1 was named by a Captain King, who once owned the property, after a favourite port of call in the Mediterranean. It originally belonged to the Piper family, Jonathon being one of the earliest shipbuilders. Several of the Davis lads were apprenticed to Jonathon. He had a family of 24, all of whom lived to be adults. His wife, Sarah, lived till the age of 99. .Jonathon was buried in Devonshire St cemetery but when the Sydney railway station was built his body was removed to Kincumber.
Beyond Merritt's wharf is Empire Bay and Kincumber, with its historic churches and orphanage. 'Rock' Davis' shipyard and sawmills carried on an extensive business from 1862 till the death of Davis in 1904.The yard finally closed in1912. The last vessel to be built was the ill-fated ferry 'Grey-cliffe', sunk in tragic circumstances on Port Jackson in 1927. The shipyard shed, shaped like a New Guinea hut, was a notable landmark until it collapsed in a storm about 1920.Brick Wharf was so-called because the bricks for the railway tunnel were landed there. At the right of Brick Wharf is Riley's Island, on which the 'Maggie Riley', 'Jessie Riley' and 'The Brothers' were built. It is separated from St. Hubert's Island by a narrow channel dug in the thirties by Robert Henderson, who received the sum of £4 for the job.
Further on is 'Veteran Hall', first settled by Robert Henderson in 1825.Until the turn of the century the locality was known as Henderson's Point. The area was granted in1821 to Patrick Carey, father of Mrs. Henderson, and was probably named after Lieutenant Lawson's home, 'Veteran Hall'.' Robert Henderson came over from Pittwater, and was district constable for some years.] His salary for the first three years was £25 a year, and he 'did not receive rations or['slops', although he received a number of valuable grants of land. A private cemetery,( which he had completely enclosed by a stone wall, was, built for a special reason. A vessel — the cutter 'Traveller' was wrecked in the Broadwater in 1858. The -bodies of three of the crew were buried, as was the custom of the time, loosely wrapped in sailcloth in a shallow grave. The bodies were dug up by wild pigs and Robert Henderson was so shocked by the occurence that he decided to enclose the area for the dead.' A few months before he died in 1869, he had the following inscription carved on a slab , of stone which forms part of the wall of the private cemetery. It read: 'This land, enclosed by a wall of stone, is bequeathed and willed by me to the dead, who sleep within its walls during eternity. Robert Henderson, Brisbane Water,1869.'
Earliest tombstone in the cemetery bears the name of Patrick Gearey, father-in-law of Robert Henderson, who died in 1827, aged 63. Other early tombstones are those of John Jacob Pester, who died in 1832, and Thomas Daily, who died in 1837. Other tombstones record the deaths of many of the Henderson family, and their retainers. There is an isolated grave on the Saratoga side, which has had the element of mystery for many years. The headstone has the name of John Campbell, of East Gosford, and the date 1841(thought to be 1811).Mr. Swancott said he came across the records of an inquest held at the 'Red Cow Inn', Brisbane Water, on September 28, 1840, on John Campbell and Patrick Shortill, who were drowned through the upsetting of a dinghy on Narara Creek. Maclehose's Directory for1839 gives the name of John K. _ Campbell, merchant, of Brisbane Water. He was evidently the lad's father. CONTINUED NEXT FRIDAY "Lobster Bill" Stayed dose To His Ketch. (1952, November 7).The Gosford Times and Wyong District Advocate (NSW : 1906 - 1954), p. 6. Retrieved from http://nla.gov.au/nla.news-article167234927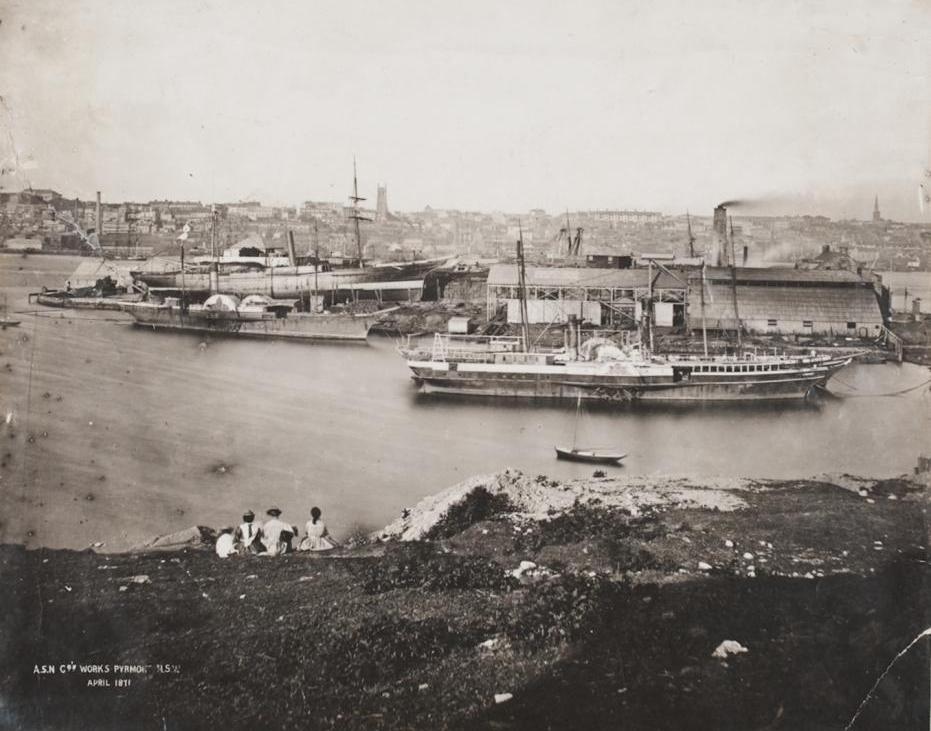 Above - same as 1903 article ASN Darling Island. Image No.: a5621001h, courtesy State Library of NSW.
The vessels in the Illustrations are some of, the old fleet up for repairs. The paddle-wheel steamer at the wharf is the Yarra Yarra, built in 1851, and sold some time after, 1878, to Captain Sommerbell, and employed as a collier in the Newcastle trade, and eventually lost on the Oyster Bank, inside Nobby's, where, in all probability, she still has a representative plate or two in the heap of rusty steel and iron which has of late years been accumulating there. On the slip for repairs is the Wonga Wonga, or the City of Melbourne. Opinions differ over this vessel. The Wonga Wonga was condemned, and broken up in 1880, after being on the active service list since 1854, In which year she was built to the order of the A.S.N. Company. The other paddler wheel steamers are the Illalong and the Lady Bowen or the Lady Young.
The First Boat Builders of Pittwater - threads collected and collated by A J Guesdon, 2015.