April 15 - 21, 2012: Issue 54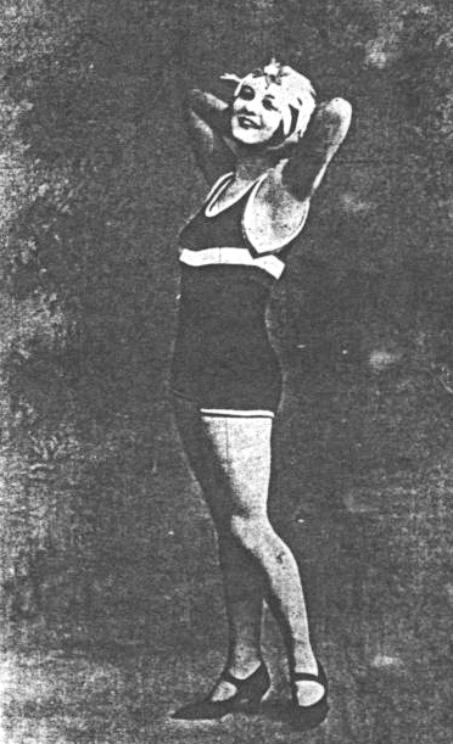 Above: Neva Carr Glyn Principal Girl Fullers- Theatre magazine 1926. Below; 1952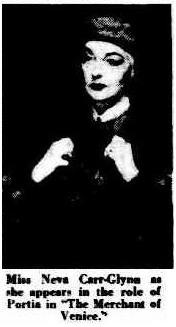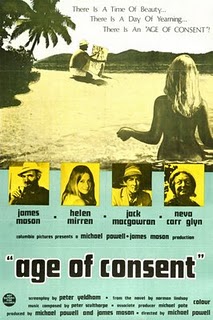 Neva Josephine Mary Carr-Glynn
10th of May, 1908– 10th of August, 1975
A vivacious lady who lived at Bongin Bongin Bay, Mona Vale (the Basin) and was a legend in Australian radio, film and theatre was Vera Carr-Glynn. Named 'Neva' for a great-aunt, a contralto of some quality, who sang many times throughout Australia, our Neva was born in Melbourne to Adolphus Benjamin Carr Glynn (d.1923), an Irish-born vaudevillian known professionally as 'Arthur Glynn', and his wife Marie Dunoon, née Senior(stage name 'Marie Avis'), a singer from Scotland. Her parents were with the Fred Niblo company touring the J. C. Williamson circuit at this time and some sources state Neva's theatrical debut was four months later, in New Zealand, when Fred Niblo carried her on stage. By age 4 she was playing the young William to her mother's Lady Isabel Vane in East Lynne, a very popular play of then based on the 1861 book by Ellen Wood. From age five to twelve Neva was boarded in convent schools, ending in Sydney (Parramatta). At eight she was at the Minnie Hooper School of Dancing also and at eleven dancing in a revue called 'The Queen of Sheba' at the Sydney Town Hall. By age thirteen her dancing skills won her a place in the chorus line of a Fuller Brothers pantomime Dick Wittington and His Cat at the Majestic Theatre, Newtown then in 1925 toured with the Band Box Revue, now a whole 18 years of age. In 1926 she entered the Miss Australia contest and came 10th!
Constantly working, by 1929 Neva and her mother toured South Africa in 1931 where she was, by now, playing lead roles in comedies. From South Africa she went to London and worked in theatre and also made four movies with luminaries such as Ann Todd and Sydney Howard. While in London she married Australian grazier Arthur John then promptly left him when he insisted she give up her stage career.
Neva came home to Australia in 1937 and worked in pantomimes by day and revues with Jim Gerald and Ella Shields at night. The following year she was working for the Australian Broadcasting Commission doing radio plays with Peter Finch. The family's high qualities of voice paid off here as she became known as one the queens of Australian radio in the era when everyone listened, when this was what evening family entertainment was, almost two decades before the advent of television.
In 1940 she married fellow actor John Tate (of Russian descent). In 1942 their son Nick Tate was born. Nick is an internationally renowned Australian actor with a string of entertainment credits longer then both your arms. It was soon after that this small family purchased a simply cottage near Bongin Bongin Bay, Mona Vale, and spent their more relaxing times surfing, or as Neva once put it 'messing about in boats'. In an interview with Nick by ABC's Simon Marney, taped for his Sunday Brunch radio series in 2009, this now mature gent recalled these times with fondness and stated he still plays golf at Bayview when he can.
Radio Star Returns To The Stage: …; She (Neva) is enjoying enormously her return to the live theatre with the John Alden Company, and the challenge of Shakespearean roles. In private life, as Mrs. John Tate, she has a permanent home at Mona vale. NSW, where with her husband and son, nine-year-old Nicholas, she enjoys the vigors of boating and surfing.
Radio Star Returns To. (1952, March 14). The Advertiser (Adelaide, SA : 1931 - 1954), p. 11. Retrieved from http://nla.gov.au/nla.news-article47373940
As technology developed television, this versatile lady, who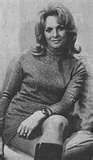 definitely followed all thespians creed of 'get work, keep working' appeared in the Homicide series, Skippy, and played Mrs Gillipop for four years in the children's television show, 'The Gillipops'. While doing all this she was still working hard in theatre and Australian films, and lived, from 1954 when she and her second husband divorced (John Tate returning to England) full time at Mona Vale.
Acclaimed during her lifetime for her contributions to her craft, adaptability, professional attitude, with a clear love of Pittwater and everything Australian, this lady of our bays enriched and entertained thousands and was considered by her peers one of the best in both drama and comedy.
| | |
| --- | --- |
| Copyright Pittwater Online News, 2012. All Rights Reserved. | |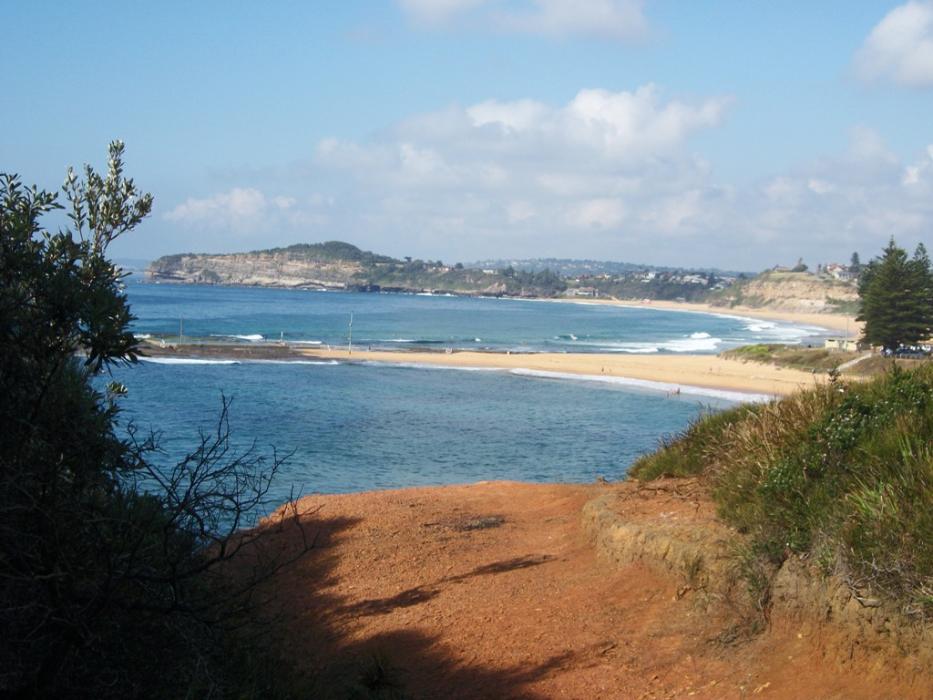 Above: Bongin Bongin (means 'many shells') Bay, Mona Vale, also known as The Basin, Mona Vale.