June 5 - 11, 2011: Issue 9
Family Holidays at CURRAWONG In The 50s And 60s
by Patricia Nolan (nee Burns)
My family has wonderful memories of holidays at Currawong spanning the years 1951 to 1966. My father Colin worked at the Electricity Commission at Bunnerong in Botany and found out that he was entitled to take his family for a safe and enjoyable holiday by the seaside.
Terry, Robert and I went on the first holiday (which was usually at Easter time) where we stayed in a small cottage on the right hand side of Midholme. My mother Patricia did not have a cot for the baby to sleep in so she put bedding in one of the drawers from the bedroom and used it as a sleeping place for Robert who was about four months old at the time.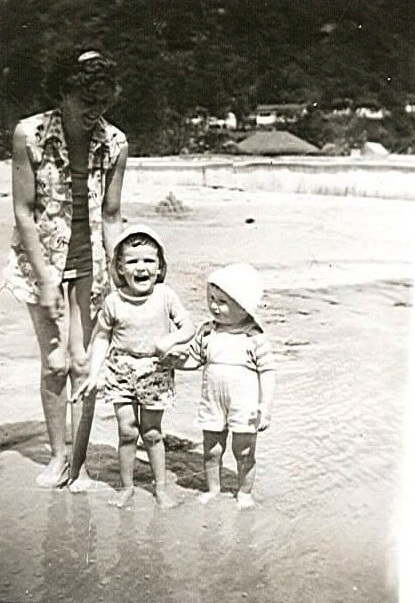 As the years progressed so did the family. My brother David and then Peter came along. In 1961 my sister Julie was born and in 1963 the youngest child, Mark was born.
Currawong was idyllic for us as a family. We did not own a car for the first few years so, we would take the long ride on the double decker bus - luggage, food and all things necessary for a holiday by the sea. Other years, a good family friend would drive us in his ute with mum and dad in the front and the kids with all the kit and caboodle in the back.
We spent many happy days swimming, fishing, snorkelling, making sandcastles, watching David's magic tricks, rock climbing, bush walking and jumping off the pier after the ferry pulled away from the wharf. Northend was so big we could play tennis on the verandah, Murder In The Dark as well as Hide-and-go-seek.
There was a piano room near Midholme where we spent many days laughing and playing with other guests. I recall playing What Shall We Do with the Drunken Sailor on the piano that was in a constant state of disrepair. Sometimes we went on holidays during the colder months and enjoyed Cracker Night on the beach. Superb!
We were in complete heaven at Currawong – our special place. We even had our own kookaburra named Jackie of course! We used to feel sorry for the people at The Basin because they were in tents and we were in cottages!! We named the rocks that jut out along the beach with names such as Caterpillar Rock, Bed Rock, Shoe Rock and Whale Rock.
Currawong is a place where you have to take your own things such as food, towels and sheets. There was a small shop where we could buy tissues, batteries, drinks and bandaids. The manager at the time was called Midge and he and his wife ran the shop and made sure everyone was happy.
If we were up early enough we would take a ride over with Midge in one of his little boats (The Quest or the Maryanne) and pick up Jack who used to do odd jobs around the place. We would sit up at the bow of the boat and scream with delight as the water washed over our feet. Mum said she could hear my older brother Terry's excited voice come back to her over the water.
Jack used to fascinate me as he would do magic tricks with shells and pretend he ate them. I figured out that he did not of course but, he was so quick I could not catch exactly what he did. He did seem to put his hand behind his ear during the trick though.
As a family we loved it so much we returned in the 1990s for a few holidays taking children, nieces, nephews and friends once we began our own families. There is discussion on setting a holiday date to return for a family reunion in the near future.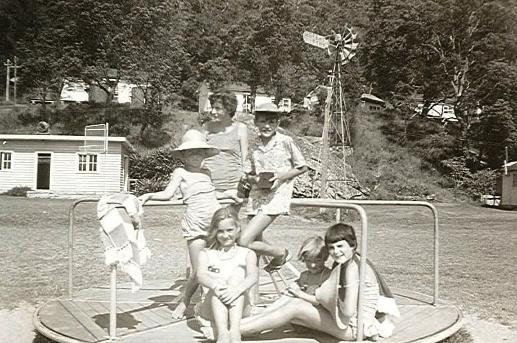 Above: Elizabeth, brother Terry, friend Joanne (long hair) and two young children, 1961. Below: Dad, Trish, Terry, Robert. circa 1955. Right: Mum, David and Jackie Kookaburra at Midholme, 1954.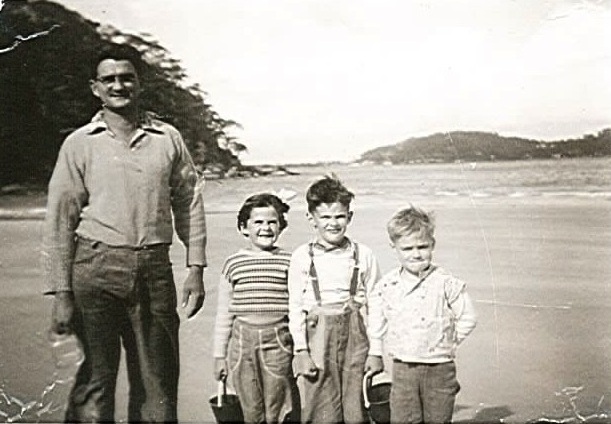 Above: Peter, Mark and Julie at Northend, 1964.
That building in the background is Northend. It was originally on the northern end. It was build up with rocks in front. It was once used in the Australian TV series called Riptide. We used to go and stay there when there were 9 of us - 7 children. It had enough room for a large family. It has more room than Midholme I think. It was fun. The shower was cold and we could look down through the wooden slats to the ground underneath where the water washed away down a hole. We could jump off the verandah into the water when it was hightide.

I think in the 70s it was carried away or destroyed because the tide was so high the place just floated away. A family named Carey was in it at that time. Gabriel Carey was a co author of Puberty Blues with Cathy Letts.
Gabriel was there holidaying one of the years that I went back with my husband and sister in the late 90s. So you can see, families returned year after year even taking their children back as well.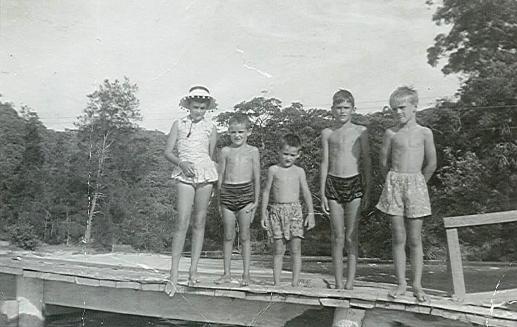 Above: Patricia and siblings on Northend bridge, 1959. Below: Peter, David, Robert, Trish (Julie) and Terry, circa 1962.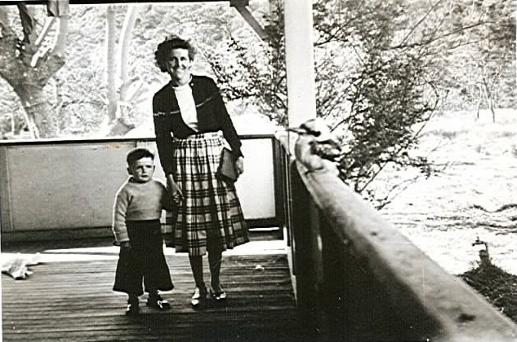 Words and Images Copyright Patricia Nolan, 2011.