April 27 - May 3, 2014: Issue 160
PBSLSC -The First Shed and First Surf Boat: Left; Merle Loxton, Laurie Gallagher, Tim Gonsalves and Sydney Gonsalves. H.R. Ayres and Harold 'Midge' Gonsalves. Right; Adrian Curlewis, Len Palmer, M Ormsby. Picture Courtesy Philippa Poole - daughter of Adrian Curlewis.
The Fearless Men of Palm Beach SLSC's Surf Boats First Crews
A Tale of Viking Ships, Butcher Boats and Robert Gow's Tom Thumb 'Canoe'
As any proficient sailor will tell you it is confidence in their boat and their navigational training that will establish confidence enough to go out into the deeper sea. How many of us would do this in a surf boat though – and how many of us know that the first surf boats also had sails that could be utilised to move these craft from one beach to another?
The first surf boat crew of Palm Beach were of this ilk and regularly rowed from Palm Beach to Newcastle to compete in their carnival. Records indicate they challenged others to do as they and this challenge was taken up – developing more then a few great feats in rowing and culminating in a North Bondi crew deciding to row to Coolangatta, 600 miles, in 1950.
The crew that would row from Palm Beach to Newcastle were not averse to getting a lift from passing steamers but they were also resident fishermen and boatbuilders who went out in big seas night and day when called upon to save others at all other times too.
In some ways their rows to Newcastle to compete in their carnival reminds of the Vikings who used to row vast distances in their boats The word 'viking' itself, derived from the Old Norse víkingr, is said to signify 'a sea-rover' or 'pirate' and these early vessels, although a fair bit larger then our surfboats, had similar elements. There is also, since the early days of surfboats in New South Wales, another similarity. The old Vikings boats that have been unearthed were found to have been used as burial vessels for chieftains. In a tribute to our own surf life savers, watermen who have passed away have been returned to the sea they love or had a surfboat utilised as their funeral cortege.
Palm Beach SLSC has always had a strong surf boat division. Their first boat was built at the yards of William Holmes of Lavendar Bay (See Extras in Bona - Classic Wooden Yacht) and was one of the 'Johnnie Walker' clinker built boats – a three seater double ended version – sometimes referred to as 'banana boats'. There were competitions for these boats, which were awarded as prizes initially until the surfboat evolved. The Palm Beach SLSC, through a generous donation from Thomas Peters of £93 purchased their own – signifying the way they started out was the way it would always be.
The launch of the same tells of something unique which may have given the rowers confidence to sail to Newcastle: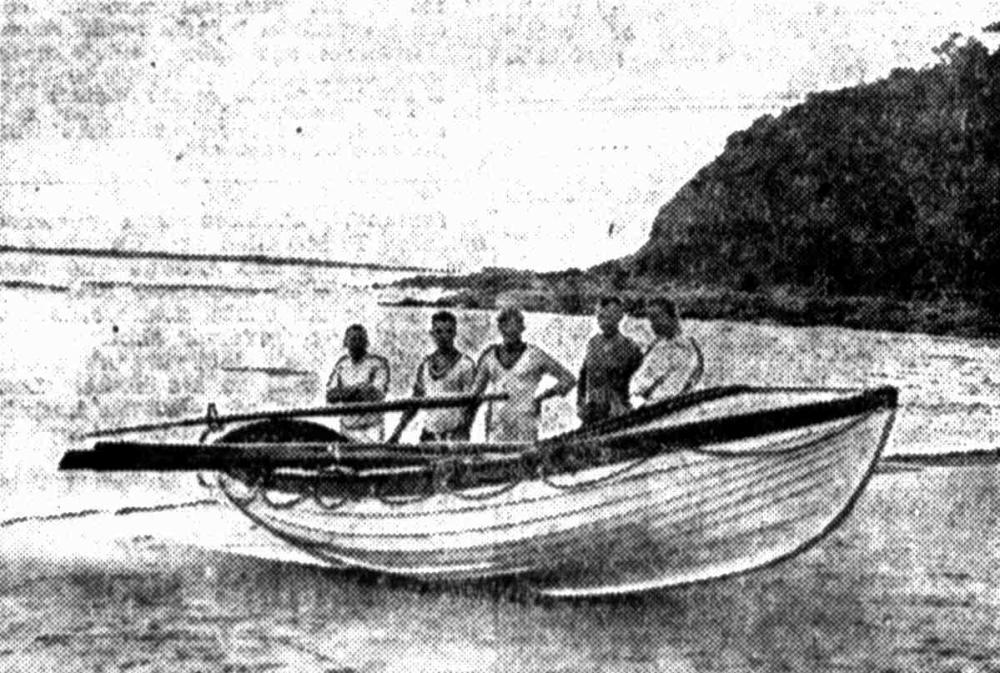 What is claimed to be the most up-to-date surf-boat built in Sydney was launched at Palm Bench on Sunday. Built by W. Holmes, of Lavender Bay, at a cost of £93, it is 21ft overall, with a 5ft beam. It Is the only surf-boat in New South Wales with masts and sails.
The launching ceremony was performed by Mrs. H. W. Meggitt. Mr. J. Craig referred to the liberality of the residents of Palmi Beach, and to their keen Interest in the Club. The spectators were treated to a first-class exhibition In the heavy southerly swell that was running, and the boat behaved splendidly. Mr. Fred Notting, ex-captain of the Manly Surf Club, took the steering oar.
Although the Palm Beach Surf Life saving Club was started only in November 1921, it has now 35 active members, nearly all of whom are qualified life-savers. PALM BEACH SURF BOAT (
1922, May 17
).
The Sun
(Sydney, NSW : 1910 - 1954), p. 8 (FINAL RACING). Retrieved from
http://nla.gov.au/nla.news-article223949070
The record of the first surf boat winners also contains an announcement that pertains to Palm Beach SLSC's formation:
ON THE BEACHES - NORTH BONDI WINS JOHNNIE WALKER SURF BOAT (By JONATHAN.)
The Newcastle Surf Life Saving Club held a very successful carnival. The weather was everything desired, and the attendance large. Most of the clubs around Sydney were represented, over 300 people going up from the city. The principal event, the final of the Johnnie Walker Surf Boat Competition, was won with comparative ease by the North Bondi, whose team was made up of W. Marrott (patient), J. Chalmers(belt), R. Ferguson, C. Seabrook, Ray Weekes and A. Gray (belt). North Bondi, by this win, Have the right to call the boat their own. They have scored 12 points, North Steyne and Manly, each with 8 points, being runners-up. North Bondi deserve this win, as they had trained particularly hard. It is the first big win that has come their way for a good while. North Bondi was the most successful team to journey to Newcastle, for besides winning the surf boat they were placed first and second in the senior alarm reel race, and A. Moxom was second in the surf board race, while R. Ferguson was second in the surf race.
SURF LIFE-SAVING ASSOCIATION.
At an executive meeting of this association on Monday a good deal of business was put through. Palm Beach Progressive Association notified that they had decided to set up a complete life saving outfit, and will have an expert life saver on the beach. Assistance was asked for from the association, and it was decided to meet them in the matter. The secretary of the S.L.S.A. will confer with the Palm Beach body. Stockton L.S.C. has decided to have a standard surf boat on their beach and has asked the association for plans, but as these are now costly, the association makes, a charge of a guinea for them, and Stockton will receive plans for that sum.
The date of the championship carnival has been definitely fixed for March 19, and will take place on North Bondi beach. If it is found possible, the Johnnie Walker Surf Boat will be handed over to the winners (North Bondi) on that date. The championship pennant for 1920-21, which is much improved on that given last year, will also be handed over at the carnival, if possible.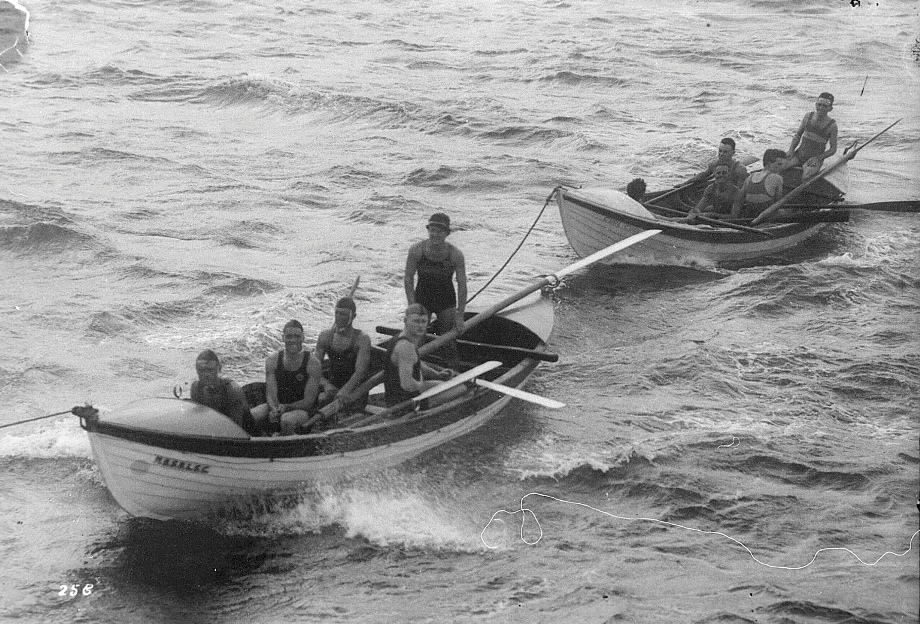 Surf life boats being towed, possibly NORTH STEYNE and CURL CURL – image courtesy Australian National Maritime Museum pictures on Flickr: Object number 00010244 - circa 1925 - being towed for race off Shelley Beach. This version are the 'double-enders'.
CURL CURL'S DAY.
Curl Curl L.S.C. will hold the first surf carnival on their beach on Saturday, March 26. The following programme has been arranged: March past, junior and senior alarm reel races, rescue competition, surf race, surf-board race, and beach relay race. Entries will close with the secretary, S.L.S. Association, Sports Club, on Monday, March 14, at 1.30 p.m. It is to be hoped this young club will receive a bumper entry for all events and thus encourage them to make the carnival an annual affair.
S.L.H. HANDBOOK.
The S.L.S. Association made a request to the Government to print a new edition of their handbook, as many clubs had been asking for them. The president stated at the last executive meeting that he had received a report from the local Government to the effect that the Government had acceded to the request ,and would print them as soon as possible. ,It is pleasing to see that Tweed Heads is taking an active interest in life saving, and the local enthusiasts have written to the association asking that a dozen of these handbooks be forwarded.' A motion of thanks was carried at the meeting to the Newcastle S.L.S. Club for the arrangements of their carnival last Saturday and for the treatment of the Sydney clubs that participated at the carnival.
ROTH SHIELD.
North Bondi has two teams training hard for the Roth Shield, which will be held on March 1, and they say that they are going to wrest the shield from the holders, who are their rival club on the beach (Bondi). North Bondi's team are: — A team: F. Foran, R. Weekes. E.Hagon, P. Borthwick, and Jack Lovelace as instructor; B team: R. Chambers, A. Freeman, A. Coleman, L. Tres and Tommy, Glazebrook instructor. ON THE BEACHES. (1921, February 18). Arrow (Sydney, NSW : 1916 - 1933), p. 12. Retrieved fromhttp://nla.gov.au/nla.news-article103430118
Please note that the following records misspells 'Rayner' as 'Raynor' and PBSLSC's first official lifesaver Austin 'Dellit' as 'Dellet'. Mr Dellit was part of the formation of the Collaroy Surf Club, an association with this great old Surf Life Saving Club that would continue. Then, as now, the camaraderie between all clubs on the Northern Beaches, and Sydney's southern beaches, was established - skilled trainers teaching elsewhere, members belonging to more than one club, and mateship outside of competitive racing, as some of the records in this page illustrate. For our younger readers, 'woop woop' was used to refer to Palm Beach's geographical distance from 'the city' as Palmy was, in this era, still considered rural with much of the landscape still pristine bush:
Palm Beach followers assembled in force at the first annual meeting last Sunday. Everything is well with the Woop Woops, as the metropolitan clubs dub them. In their first season Palm Beach have handled no less than £201, purchased a surf boat for £93, acquired a clubhouse and all necessary gear. The disbursements amounted to £164, and the balance in hand is £35. The following officials were elected : —Patron, Sir Herbert Maitland (See Gow's Wharf and Albert Verrills); president, Mr. Thomas Peters ; vice-presidents, Messrs. W. J. Barnes, J. W. Brown, Dr. H. H. Bullmore. Messrs. J. M. Craig, H.K. Crossman, Judge Curlewis, W. Goddard, W. Chorley. E. D. Gray, A. I. Hordern, H. W. Meggitt, R. B. Orchard, M.H.R.. T. Peters. W. H. Raynor, F. Spier, H. A. Wilshire and W. W. Woodley; captain. A. Goddard; vice-captain, E. H. Sheedy: hon. secretary, L. A. Palmer ; hon. treasurer. E. H. Sheedy; hon. instructor, A. Dellit ; delegates to S.L.S.A.. E. H. Sheedy and L. A- Palmer ; hon. auditors, Messrs. Goldsmith and W. H. Raynor; trustees of club property. Councillor G. W. Hitchcock. Messrs. H. W. Meggitt, T. Peters, W.H. Raynor and H. A. Wilshire; committee. Messrs. K. Oatley, L. Gallagher, W. Goddard. A. Curlewis, H. Holt. The club is keen on surf-boat work this Summer, and the following have been chosen to man the craft pending a final selection: H. Holt, A. Goddard, A. Curlewis, A. Dellit, T. Gonsalves, and J. Ralston. Holt and Curlewis are Varsity senior oarsmen. The next move of Palm Beach is to erect a boathouse in a suitable position. Meanwhile great preparations are being made for the carnival on Jan. 1. at the double. THE LIVELY WOOP WOOPS. (1922, December 1).Arrow(Sydney, NSW : 1916 - 1933), p. 12. Retrieved from http://nla.gov.au/nla.news-article103446181
PALM BEACH DOINGS.L. A. Palmer, Palm Beach's hon. sec., communicates the information that Austin Dellet has been appointed life-saver. His duties extend from Nov. 1 to April 17, 1923. The local Progress Association is contemplating the erection of a rock baths. A few weeks ago the Surf Club's craft was capsized in the joggle, and before it could be secured the steer oar had been caught in the tow and whiskel away like a torpedo. Palm Beach was just about to purchase another when a phone message from a city ship chandler informed them that the oar had been picked up by one of Howard Smith's steamers in the vicinity of Norah Head. AMONG THE SURFERS. (1922, November 3). Arrow (Sydney, NSW : 1916 - 1933), p. 13. Retrieved from http://nla.gov.au/nla.news-article103444527
SURF-BOAT EVENTS. Surf boat captains of the various clubs are specially reminded that the standard belt, adopted by the S.L.S. Association, must be worn by all members of the crews taking part in a race or display. Five surf boats will contest the race for the Poster King's Cup. Collaroy, Dee Why, Manly, Freshwater, and North Steyne have entered boats. Stan tells me that his boys are getting into shape for the Palm Beach fixture, and, although their surf boat is very old, they intend giving Palm Beach ago at their carnival.
PALM BEACH MEETING. Palm Beach is holding a pow-wow on Sunday. Three motor cars will be necessary to transport the deliberators to headquarters. L. A. Palmer says that there is a possibility of them removing their boat-shed from its present position to a much better site which has been made available by the shire council. North Steyne's Gala To-morrow. (1922, December 15). Arrow(Sydney, NSW : 1916 - 1933), p. 12. Retrieved from http://nla.gov.au/nla.news-article103442263
Len Palmer at Mona Vale:
Excitement at Mona Vale: Patient and Belt Man Rescued (By THE STARTER.) At Mona Vale surfers experienced more excitement than they bargained for last week-end. They were being put through their facings by the instructor of Palm Beach when the belt man got into difficulties. He and the patient were rescued; but came in for a tossing. Members of the infant club, Mona Vale, experienced some thrills last Sunday. Palm Beach's hon. instructor (L. A. Palmer) visited the beach to put the lads through their facings, and everything went serenely until the water section of the R. and R. was attempted. The patient — the local limb of the law — swam out in a heavy sea and the beltman was despatched after him. The beltman, a raw youth, after battling for a considerable time, became exhausted, and L.A.P. ordered him to be hauled ashore, as he was being gradually drawn towards the rocks. Things looked serious until Johnny Blackwood, hon. secretary of the club and a Rugby Union rep. forward, supported by Palmer, went to his assistance and landed him safely. The unfortunate patient came in for a strenuous time. AMONG THE SURFERS. (1923, March 9). Arrow (Sydney, NSW : 1916 - 1933), p. 11. Retrieved from http://nla.gov.au/nla.news-article103536866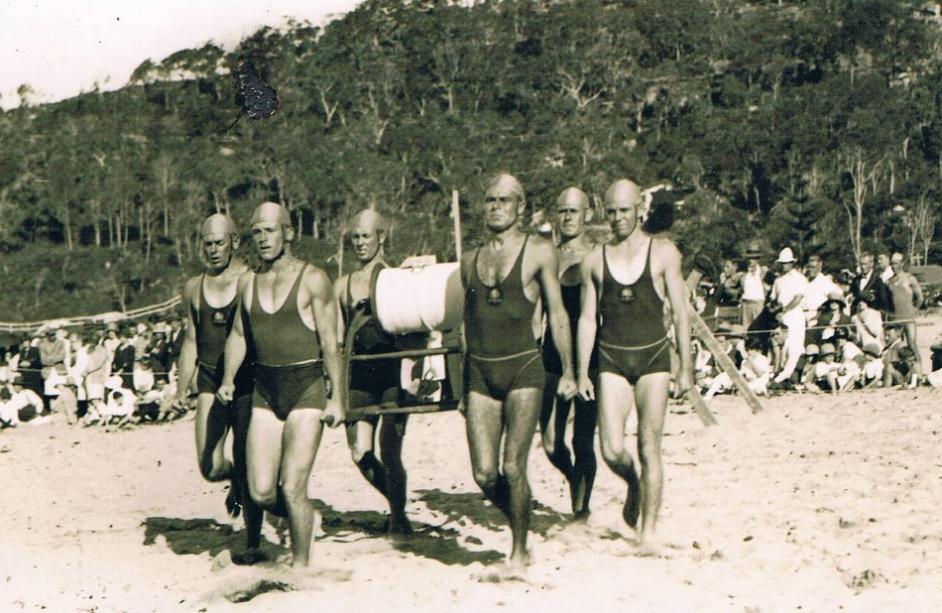 R&R squad competing in the first Surf Carnival to be held at Palm Beach on 1/1/1923, photo by Leon Cayley - courtesy Philippa Poole.
The next winners of Johnnie Walker surfboat and an inkling of Palm Beach surfboat crew's status among rowers:
JOHNNIE WALKER TO NORTH STEYNE.
North Steyne is joyful over winning the Johnnie Walker surf lifeboat at the South Coast carnival last Saturday. The final scores were : North Steyne 18 points, Manly 14 points. Fitz Lough, who landed the craft for North Steyne, is a splendid all-round athlete. He is Manly's croquet champion, plays forward for Manly's First Grade Football Union XV., is a fine sprint and long distance runner, a crack ice and roller skater, golfer, high and fancy diver.
Austin Dellitt, Palm Beach's Lifesaver and instructor, has been seriously ill. A poisoned leg laid Austin low. He was unconcious for a week, and his doctor ordered him away to the mountains for a spell. He will resume duty next week. Len A. Palmer, the club's hon. sec, is suffering from ear trouble, and recently underwent his sixth operation. However, he is now on the mend, and looks chirpy, but his medico has decreed that he shall surf no more.
PALM BEACH CAPSIZE.
At last Palm Beach Lifeboat crew has capsized. After they had got safely ashore and hung their clothes out to dry, a hungry old cow strolled along and gobbled 'em up. Thus have the mighty fallen. HEROIC SURF ACT. (1923, March 23). Arrow (Sydney, NSW : 1916 - 1933), p. 12. Retrieved from http://nla.gov.au/nla.news-article103538829
The first official Boat Captain of Palm Beach SLSC was Arthur Goddard, son of William Joseph Goddard and father of Pittwater shipwright Jimmy Goddard for the 1923-24 Season. His crew on this first row were comprised mainly from other resident families with a similar heritage of being 'sea rovers'. Some insights on these rows:
A GREAT PULL
Palm Beach Surfers Reach Newcastle
NEWCASTLE, Saturday.—
A feat probably unequalled in surfing annals was accomplished today by the Palm Beach Surf Life Saving Club boat crew, comprising A. Goddard (captain), the brothers H. S. and L. Gonsalves, and J. Coltman.
The crew rowed from Palm Beach to Newcastle in order to take part in the club's surf carnival today. Starting from Palm Beach at 9 a.m. on Friday they rowed 30 miles, and
were towed five miles from the Newcastle side of Norah Head by the steamer Currembene.
There they were met by the Newcastle surf boat, and pulled ashore amid great enthusiasm. A GREAT PULL. (
1924, February 17
).
Sunday Times
(Sydney, NSW : 1895 - 1930), p. 7. Retrieved from
http://nla.gov.au/nla.news-article128153132
PALM BEACH BOYS
To Sea in a Surf Boat FOR NEWCASTLE FETE;
crew comprised H., H.E Gonsalves, A Goddard, R Thompson and A. Dellit.
: PALM BEACH BOYS. (
1925, February 6
). Evening News(Sydney, NSW : 1869 - 1931), p. 1. Retrieved from
http://nla.gov.au/nla.news-article117972634
An all residents of Palm Beach crew for 1926's escapade:
PALM BEACH TO NEWCASTLE. SURFERS' EXPERIENCES. NEWCASTLE, Friday. The surf boat containing the members of the Palm Beach crew-the three Gonsalves brothers, Goddard, and Gow-who will compete at the surf carnival, arrived at Newcastle shortly after noon today, after an exciting trip up the coast. Leaving Palm Beach at 4 a.m. yesterday, they were expected, at Newcastle before dusk last night, but a message arrived later that they bad landed at Terrigal to spend the night. Upon landing, the captain (A. Goddard) said that soon after starting they had to face a strong nor'-easter, and after a hard row they decided to land at McMaster's Beach. As they turned the boat shorewards he was knocked overboard by a huge wave, and the next wave washed him further from the boat. "I was very glad," he said, "when they turned towards me, and eventually hauled me aboard, as the place has a bad reputation for sharks."
Later, on there appeared to be no chance of reaching Newcastle before dark, they decided to land at Terrigal. A start was again made at 6 o'clock this morning, and after rowing a few miles, they were picked up by the North Coast steamer Urana, and arrived off Newcastle about noon. The visitors wore welcomed by the president of the Newcastle Surf Club (Dr. Idris Morgan),and entertained at lunch In the Surf Club's pavilion. BOAT TRIP. (
1926, February 13
). The Sydney Morning Herald(NSW : 1842 - 1954), p. 15. Retrieved from
http://nla.gov.au/nla.news-article16264350
NEWCASTLE SURF CARNIVAL Newcastle Surf Life Saving Club's carnival will take place this afternoon. Fifteen metropolitan clubs will be represented in the competition, in which it is expected 400 life-savers will take part. The rescue and resuscitation event, and the surf teams' race for the Johnny Walker surf boat will be one of the main features of the programme. The following officials of the Surf Life Saving Association will be in attendance:- Mr. C. D. Paterson, president; Mr. D. D. McIntyre, secretary, who has not missed a Newcastle surf carnival since the inception some fifteen years ago; Mr. WV. T. Calnan, assistant secretary; Mr: WV. V.Craven, instructor-in-chief; Mr. Ramsay Sharpe, and Mr. O. G. H. Read, vice presidents; and Mr. T. Moran, registrar.
The Palm Beach surf boat crew (A.Goddard captain, H., H. E., and S. Gonsalves, and C. Gow)
arrived at Newcastle yesterday early in the afternoon, to take part in the carnival. They left Palm Beach at four o'clock on Thursday morning, but a north-east wind was blowing, and freshened considerably, and only slow progress was made. A landing was made at McMaster's Beach at half-past eight o'clock on Thursday morning. Goddard was caught by a sweep while negotiating a landing, and went overboard, but escaped injury. After resting for in hour and a half they resumed their trip and reached Terrigal at twenty minutes past twelve o'clock p.m.
They stayed there until five o'clock yesterday morning, and after going about three miles were taken in tow by the North Coast Company's steamer Urana, which brought them as far as Newcastle. This is the third time that the boat has come to Newcastle to take part in the Newcastle Surf Club's
carnival, and on each occasion the crew have been fortunate enough to be towed the greater part of the distance.
NEWCASTLE SURF CARNIVAL. (
1926, February 13
).
Newcastle Morning Herald and Miners' Advocate
(NSW : 1876 - 1954) , p. 6. Retrieved from
http://nla.gov.au/nla.news-article137506981
'C Gow' is Carl Gow, youngest son of Robert Gow, of the Pilot station at Newcastle and from a family whose contributions to saving lives in Australia, either as Pilot Station attendees, as Lightkeepers at NSW Lighthouses, and as men who went out in their vessels to save others would fill several volumes. Carl is not listed as a Palm Beach SLSC member and it is his long association with the Gonsalves family that would explain his being on this trip to Newcastle.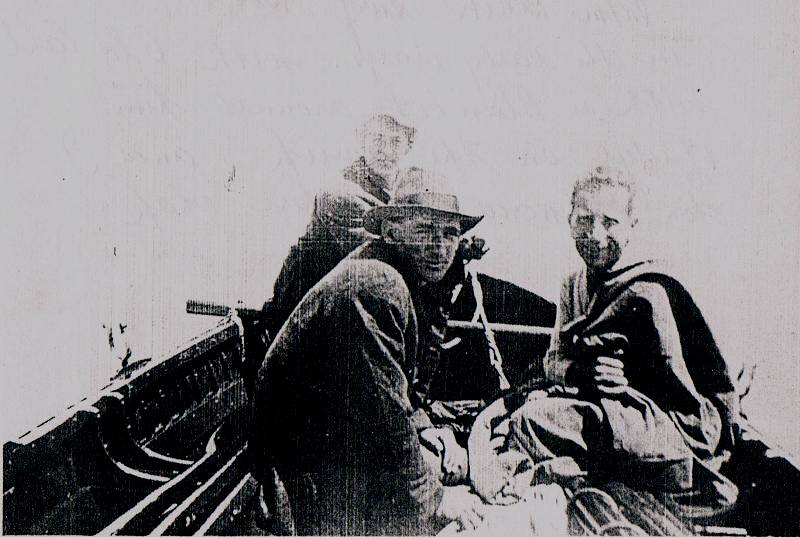 Carl with the Gonsalves - image courtesy Peter Verrills.
SURF BOAT AT SEA -
Palm Beach Crew On Return Trip NEWCASTLE. Monday.
ALTHOUGH they had an adventurous trip to Newcastle, narrowly missing being dashed on to the rocks near Nora Head. L. Knox, G. Morrow, and the Gonsalve brothers left here at 10 a.m. today to row the Palm Bench surfboat bark to its own beach. Taking it in turn to pull and control today.
Two other members of the crew travelled back by train. SURF BOAT AT SEA. (1931, February 16). Evening News(Sydney, NSW : 1869 - 1931), p. 5. Retrieved from http://nla.gov.au/nla.news-article115405542
HELPED BY WIND Palm Beach Surfers at Swansea. SAILING TO NEWCASTLE.
The weather was kind to the crew of the Palm Beach surf boat, which during recent years has regularly been sailed up to Newcastle for the annual surf carnival here. Generally the voyage has been accomplished in the teeth of adverse winds and head seas but the gods of the weather smiled on the five men who left Palm Beach at dawn yesterday for Newcastle. A brisk southerly sent the boat along at a good speed under sail,
and at 3 o'clock yesterday afternoon it turned into the entrance to Lake Macquarie, at Swansea with the greater part of the voyage completed. The Palm Beach crew, who are
captained by G. Morrow
, reported a splendid trip when they disembarked at Swansea and hauled their boat into the pilot shed there. They will remain at Swansea for a couple of days fishing and in other ways enjoying themselves before they take to the open sea again to complete the trip to Newcastle. HELPED BY WIND. (1
933, February 1
). Newcastle Morning Herald and Miners' Advocate (NSW : 1876 - 1954) , p. 6. Retrieved from
http://nla.gov.au/nla.news-article135541931
IN EIGHT HOURS Barrenjoey to Nobbys SURF BOAT'S FAST TRIP
Eight hours' actual sailing time between Barrenjoey and Nobbys. This was the performance of five members of the Palm Beach Surf Club, who sailed their surfboat up the coast this week to attend the Newcastle carnival today. Leaving Palm Beach on Tuesday morning, they reached the entrance to Lake Macquarie in six hours. They spent two days at Swansea, fishing, and practising for the carnival and sailed the last stage to Nobbys in two hours yesterday, arriving early in the afternoon. The crew, consisting of Gordon Morrow, A. Godddard, T. Gonsalves, J. Johnson and N. Brown, claim their time for the trip was a record for a small sailing boat. They have challenged all other metropolitan crews to a race to Newcastle on the occasion of the next carnival here.
CLOSE TO WHALE
Off Norah Head the crew had one of the few thrills of the trip.
The boat had topped an immense wave, and was starting on a long shoot when the back of a whale broke the surface. It was directly in the track of the oncoming boat. With almost superhuman strength the sweep, G. Morrow, turned the craft with its nose to sea.
It passed the whale, which apparently unaware of the presence of the surface, blew twice, and then disappeared. It came to the surface again over a mile away.
From Norah Head to Lake Macquarie Heads the little craft travelled before the .wind, catching shoot after shoot, many of which carried the boat from 150 to 200 yards.
In this manner the crew reached Lake Macquarie Heads, clearing the bar at 12.30 p.m.., exactly six hours after they had set out. At Swansea the Palm Beach men put in some good practice for the carnival today by shooting the breakers on the bar. They saw the Swansea crew at practice and were much impressed by its performances.
Mr. Morrow paid a tribute yesterday to the hospitality of the Swansea people, and particularly to Mr. Boyd. In charge of the pilot station there.
The Palm Beach men will sail their boat home on Sunday or Monday, according to the weather. IN EIGHT HOURS. (
1933, February 4
).
Newcastle Morning Herald and Miners' Advocate
(NSW : 1876 - 1954) , p. 6. Retrieved from
http://nla.gov.au/nla.news-article135563634
In November 30th, 1930 the Club's second surfboat,
Barrenjoey
, was launched. The first boat, 8 years old, was too heavy to be easily moved unless many hands were available, and was unsuited to winning races at carnivals. This second boat was built by W. M Ford of North Sydney for
£
143 with a
£
35 trade in on the old boat. A secondhand boat was also purchased from Dee Why and kept on Sydney harbour for week night training as crew members were now no longer solely residents.
Surf rescue boat on Sydney Harbour (training?) – courtesy Australian National Maritime Museum on Flickr collection, picture: Object no. 00012117
Judging by the enthusiasm at the annual meeting last Sunday, Palm Beach Club will have a record year. Mr. C. P. Curlewis was elected president; A.M.Lamport, secretary; C. M. , Walker, treasurer; K. Hunter, captain; R. T. Cowlashaw, vice-captain; A. Goddard, boat captain; and J. S. Mant, chief instructor.
The club has purchased a new surf boat at a cost or £140, delivery of which is expected in about a fortnight.
Last year 29 surf awards were gained by the club, and 52 rescues were effected. A new set of club rules was adopted at Palm Beach Club's meeting on Sunday — and they should be absolutely watertight. The committee that drew them up consisted of two barristers and seven solicitors. LETS GO SURFING. (
1930, October 22
).
Referee
(Sydney, NSW : 1886 - 1939), p. 19. Retrieved from
http://nla.gov.au/nla.news-article131159260
During the early decades some of Australia's best rowers and sweeps formed part of surf boat fraternity, a harking back to the butcher boat days when the best rowers were hired. The Palm Beach boat crews had their share, George Wray, Boat Captain 1934-35 Season, also captain of the crew that won at the Manly Carnival of 1934 (Gordon Morrow - sweep; George Wray, H.H. Hammond, Des Carr and 'Paddy' Kenny) tried out for the surfboat crew of the Australian Surf Team representing Australia at the Pacific Games of 1939 and Shore student and PBSLSC member, Fenton Braund, was part of the victorious surfboat crew. In fact the whole surfboat crew came from Sydney's Northern Beaches with Mona Vale rowers comprising three of the four seat:
CHAMPION OARSMAN— Makes a Comeback MELBOURNE. Today.
One of Australia's best known oarsmen is making a comeback. Cyril Callaghan, formerly of Mosman (N.S.W.) Rowing Club, and one of Australia's outstanding No. six oarsmen, prior to retirement in 1930, recently transferred to Melbourne and returned to rowing as a member of the Mercantile Club. 'Callaghan was the outstanding member of the old champion Mosman eight, which was practically unbeaten in N.S.W. from 1921 to 1929. Seven times he represented N.S.W. in the King's Cup, but It Is possible that when the race is rowed in Sydney next May he may have a seat in the Victorian boat. During the three years he has been out of the sport, Callaghan has led a very active life, and for a time was stroke of the Palm Beach Surf Club boat. CHAMPION OARSMAN. (1934, August 18). Mirror (Perth, WA : 1921 - 1956), p. 7. Retrieved from http://nla.gov.au/nla.news-article75996722
Mr. G. Wray, of the International Correspondence School, who was captain of the Palm Beach surf boat crew and a well-known rower, was an interested spectator at the North Coast surf carnival at Ballina on Sunday. PERSONAL. (1935, March 5). Northern Star (Lismore, NSW : 1876 - 1954), p. 6. Retrieved from
http://nla.gov.au/nla.news-article94517964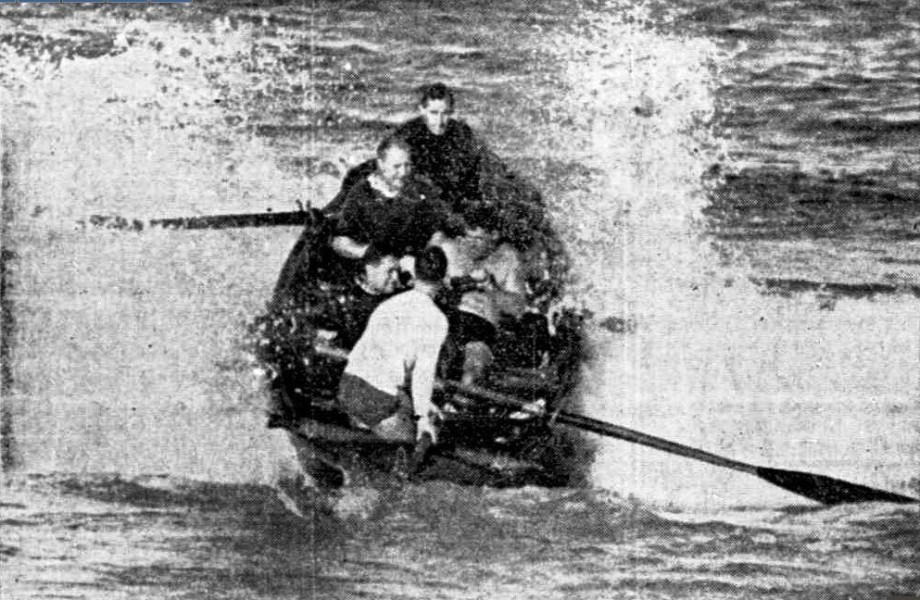 Surf Men In Action.
Oarsmen in the Australian Surf Team
take out a surf boat at Maroubra for a try-out.
They leave for Honolulu on June 23 to compete at the Pacific Surf Games in July.
Crew here is: F. Davis (sweep), J. B. Hardness (stroke), R. Dickson (3),
G. Wray (2)
(emergency who substituted for W. Mackney),
F. Braund (bow)
.
Surf Men In Action. (1939, June 18). Sunday Times (Perth, WA : 1902 - 1954), p. 3. Retrieved from http://nla.gov.au/nla.news-article59008010
SURF BOAT CREW.— F. C. Davis (Manly) sweep, J. B. Harness (Mona Vale) stroke. R. A. Dickson (MonaVale) No. 3, W. A. R. Mackney(Mona Vale) No. 2, F. N. Braund (Palm Beach) bow.
HITCH OVER SURF TOUR. (
1939, May 17
).
The Courier-Mai
l(Brisbane, Qld. : 1933 - 1954), p. 16. Retrieved from
http://nla.gov.au/nla.news-article408430
03
Pacific Surf Games -
On Sunday the Australian team competed at a surf-boat, canoe, surf-board, ski, and outboard motor regatta at Alma Moana canal. Here the surf-boat and crew clinched Australia's first victory since the games commenced.
They won the three-quarter mile boatrace. Chappie, Boorman, Morath, and Russell were also successful in the surfboard relay race. They won from Hawaii's No. 1 team. Hawaii and Australia were the only competitors. In an open water swim over 880 yards Robin Biddulph looked like winning, but Nakama, who knew the tide and currents, passed him during the final 300 yards, and went on to win - by 30 yards.Biddulph's Unlucky Defeat In 800 Metres. (1939, July 20).Referee (Sydney, NSW : 1886 - 1939), p. 21. Retrieved from
http://nla.gov.au/nla.news-article127601317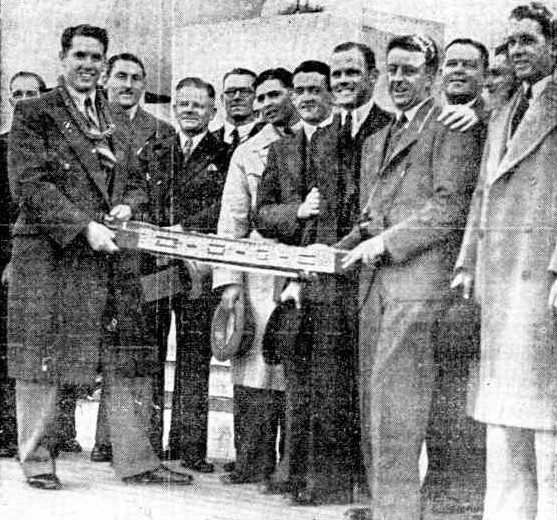 THE AUSTRALIAN SURF TEAM pictured on their arrival back in Sydney from the Pacific Surf Games at Honolulu.
H. R. Biddulph (left) and W. Furey are holding the Hawaiian catamaran a trophy.
No title. (1939, August 13). Sunday Times (Perth, WA : 1902 - 1954), p. 9. Retrieved from
http://nla.gov.au/nla.news-article58964000
The date of this Surf Team's return is a few weeks prior to Australia declaring war on Germany - September 3rd, 1939, shortly after the invasion of Poland.
Ginger remembers Australia's famous surf team - VIOLA MACDONALD'S Hollywood cable: GINGER ROGERS gave me a special message yesterday for the Australian surf team which she met in Honolulu three years ago, taking part in the Pacific Surf Games of July, 1939.
"We met on the beach, and they took me surfing, swimming, and boating," Ginger reminisced. "Never in my life have I met such charming and polite young men. They must be in the army now, but I would like them to know I am not forgetting the.good times we had together in Hawaii."
....Ginger is right about the surf team members being in the army to-day. J. L. D. McKay, J. B. Harkness, and F. C. Davis, all A.I.F., are just back after two years' active service in the Middle East. F. N. Braund is still in the Middle East with a mechanised unit. W. Furey, A.I.F., is at a battle station "somewhere in the north." C. R. Chapple and R. A. Dickson are with the A.M.F. Four members of the team, H. R. Biddulph, A. Imrie, Hector Scott, and L. Morath, are in the R.A.A.F. H. Doener, A. Fitzgerald, J. R. Cameron, and W. Mackney are working in essential services. Coach Harry Hay, returned Digger of 1914 18, is on a civil construction job. The remaining member of the team is "Blue" Russell, who remained in America to marry one of the Heinz girls-yes, the millionaire food packing family.
The Australian Women's Weekly .Saturday 26 September 1942, page 41.
'Blue Russell' was a board aficionado and another member of Palm Beach SLSC.
1936 a new surf boat was donated by Percy Arnott (William Arnott Company), built by Mr. For again, and the Dee Why boat fetched £5 as a trade in - this boat was christened '
Arnott's Biscuits'.
The Palm Beach SLSC surfboats and their adventures past this 1936 vessel warrant another full page - what the trips to Newcastle, and the challenge issued, inspired: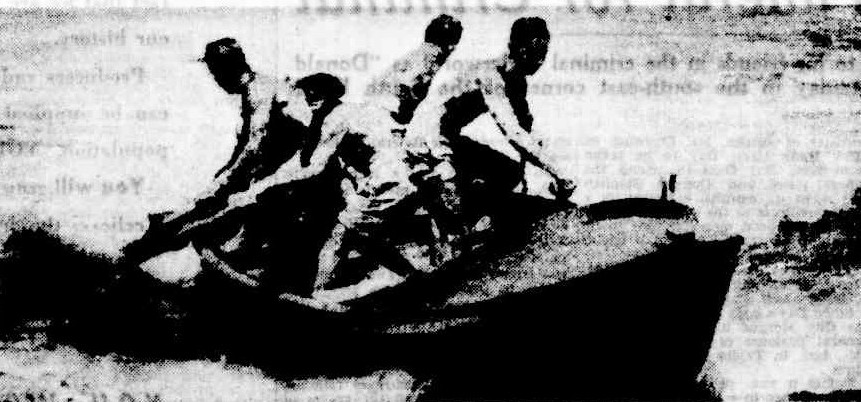 SURF-BOAT ARRIVES AT NEWCASTLE The new Deewhy surf-boat and crew arriving at Newcastle yesterday. The crew left Deewhy on Tuesday and rowed 60 miles to Newcastle in three days. It was claimed to be the longest row of its kind. They will compete in the northern championships tomorrow. SURF-BOAT ARRIVES AT NEWCASTLE. (
1945, February 2
).
The Sydney Morning Herald
(NSW : 1842 - 1954), p. 3. Retrieved from
http://nla.gov.au/nla.news-article17934129
Row Surf Boat From Sydney NORTH BONDI surf boat crew left Sydney at dawn yesterday to row to Newcastle for Newcastle surf carnival on Saturday. They are expected to arrive late on Friday afternoon. The crew is the third to row from Sydney to Newcastle.
In 1934, Palm Beach crew rowed the 64 miles, and a Dee Why crew repeated the performance for the 1945-46 carnival.
North Bondi crew stayed last night at Patonga Beach. They will stay to-night at Tuggerah Beach. Row Surf Boat From Sydney. (
1948, February 5
).
Newcastle Morning Herald and Miners' Advocate
(NSW : 1876 - 1954) , p. 2. Retrieved from
http://nla.gov.au/nla.news-article134326277
Row Surf Boat From Sydney N
ORTH BONDI surf boat crew left Sydney at dawn yesterday to row to Newcastle for Newcastle surf carnival on Saturday.
They are expected to arrive late on Friday afternoon.
The crew is the third to row from Sydney to Newcastle. In 1934, Palm Beach crew rowed the 64 miles, and a Dee Why crew repeated the performance for the 1945-46 carnival.
North Bondi crew stayed last night at Patonga Beach. They will stay to-night at Tuggerah Beach. Row Surf Boat From Sydney. (
1948, February 5
). Newcastle Morning Herald and Miners' Advocate (NSW : 1876 - 1954) , p. 2. Retrieved from
http://nla.gov.au/nla.news-article134326277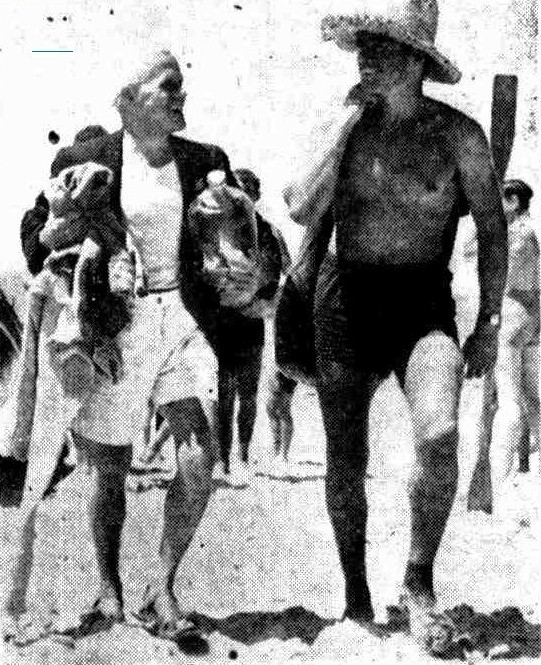 The North Bondi surf boat which left its home beach at dawn on Wednesday, arrived at Newcastle yesterday morning. The crew arrived tired, but in good condition, after their 60-mile row.
Mr. Joe Palmer, who organised Sydney representation in the Newcastle carnival, helps Keith Hurst, sweep for the North Bondi boat, with his gear, while walking up Newcastle Beach after the boat's arrival.
ROWED SYDNEY-NEWCASTLE. (
1948, February 7
).
Newcastle Morning Herald and Miners' Advocate
(NSW : 1876 - 1954) , p. 3. Retrieved from
http://nla.gov.au/nla.news-article134320888
FIVE MEN IN SURFBOAT BEGIN 600-MILE TRIP
In a blaze of fireworks and searchlights a surfboat, carrying five members of the North Bondi Surf Life-saving Club, setout last night from Bondi on a 600-mile voyage to Queensland. About 10,000 people attending the Bondi Yulunga watched Miss Balbara Stone, daughter of the Yulunga committee chairman, Mr. Waller Stone, break a bottle of champagne over the stern. (See picture above.)
The crew are Keith Hurst, skipper, Jack Watson, W. Pointing, C. Guthrie, and Keith Wood.
The surfboat has a compass, a few gallons of water, and army emergency rations, but no radio, navigation lights, or "distress flares. It has a small sail. The skipper, Keith Hurst, will temporarily leave the boat along the coast to compete in the State surfing championships at Wollongong on March 25.He intends to fly to Sydney and to fly back next day. The men hope to reach Coolangatta for the Australian surf championships on April 10.
FIVE MEN IN SURFBOAT BEGIN 600-MILE TRIP. (1950, March 4). The Sydney Morning Herald (NSW : 1842 - 1954), p. 1. Retrieved from http://nla.gov.au/nla.news-article18150644
Lifesavers Get Lift On Queensland Trip. The five North Bondi lifesavers and the boat they are rowing to Coolangatta went from Nambucca Heads to Uranga yesterday on the back of a lorry. When the men put in to Nambucca Heads on Monday they met a school of sharks while crossing the sandbar. One of the sharks attacked an oar. The men then decided to go to Urunga by lorry, instead of rowing the extra eight miles. At 5 a.m. to-day they will setout for Coffs Harbour, about 15miles further north. Urunga life-savers in a club surfboat will see them over the tricky river mouth.
Since leaving Sydney on March 3 the North Bondi men have used a small sail whenever possible, and hitched a tow from a small ship on the way to Newcastle.
All of them are well.
Lifesavers Get Lift On Queensland Trip. (1950, March 22). The Sydney Morning Herald (NSW : 1842 - 1954), p. 5. Retrieved from http://nla.gov.au/nla.news-article18153152
SURFBOAT ARRIVES SAFELY The North Bondi surf crew, which left Sydney on March 4 in the surfboat
Bill Wright II
, arrived at Coolangatta, Queensland, yesterday afternoon. Here, part of a crowd , of nearly 2,000 people is seen welcoming the crew as they pull into the shore. SURFBOAT ARRIVES SAFELY. (
1950, April 1
).
The Sydney Morning Herald
(NSW : 1842 - 1954), p. 4. Retrieved from
http://nla.gov.au/nla.news-article27574797
SURFERS TO ROW 57 MILES. Sydney, Tuesday.
A surfboat race over 57 miles from Sydney to Newcastle will be held next month by Newcastle Surf Club. The organisers claim it will be the longest race in surfing history.
Secretary of Newcastle Surf Club, Mr. J. Jenkins, said today the race would be rowed in three one-day stages. Crews would race only for a maximum of 12 hours a day. Early start. They would start at 6 a.m. to row to the overnight stopping plane. If a boat reached the stopping place before 6 p.m. it would receive a time credit. Mr. Jenkins added: "The boat with the biggest time credit will win. They will race for a cup and prize money worth £70." Race organisers are taking elaborate safety precautions. Captain to help: An experienced pilot steamer captain will prepare an information sheet, on the coast between Sydney and Newcastle; planes will patrol over the boats; and each boat must take water and emergency rations.
Already four clubs have entered for the race.
They are:
Newcastle, Cook's Hill, Palm Beach, and North Bondi.
SURFERS TO ROW 57 MILES. (
1952, January 24
).
The Argus
(Melbourne, Vic. : 1848 - 1957), p. 10. Retrieved from
http://nla.gov.au/nla.news-article23159025
We can find no record of who won this race by four surfboats to Newcastle - anyone who knows, please contact us so it can form part of this record.
Today this kind of marathon rowing event happens only in the George Bass Marathon - a gruelling 170 kilometre seven day row off the coast of Australia emulating the 1797 row by Surgeon Commander George Bass (Bass Strait) and a six member Naval Crew in a whaleboat similar to the original double ended surfboats from Port Philip to Cape Howe. Held biannually, this quite correctly claims to be 'the longest surfboat race in the world'. The last George Bass Marathon was held as part of the 2013-14 season and an all girl Avalon Beach SLSC crew in the Veterans category
competed
, taking line honours in the second leg. Bad weather and erratic seas plagued the 2013/14 run Bass Marathon
George Bass arrived in Sydney aboard the
Reliance
on September 7th, 1795. Also on the voyage were Matthew Flinders, John Hunter, Bennelong, and his surgeon's assistant William Martin.
Bass had brought with him on the Reliance a small boat with an 8-foot (2.4 m) keel and 5-foot (1.5 m) beam, which he'd called the Tom Thumb on account of its size. In October 1795 Bass and Flinders, accompanied by William Martin sailed the Tom Thumb out of Port Jackson to Botany Bay, exploring the Georges River further upstream than done previously by the colonists. Their reports on their return led to the settlement of 'Banks' Town'.
In March 1796 this same party embarked on a second voyage in a similar small boat, also called the
Tom Thumb
. During this voyage they travelled as far down the coast as Lake Illawarra, which they called
Tom Thumb Lagoon.
They discovered and explored Port Hacking.
It is this tale of Tom Thumbs, and the passing away of an entertainer-retired farmer dubbed 'Tom Thumb' in 1907, that brings us to a local connection of what one founding member of Newcastle SLSC, Joe Palmer, considered the genesis of surfboats.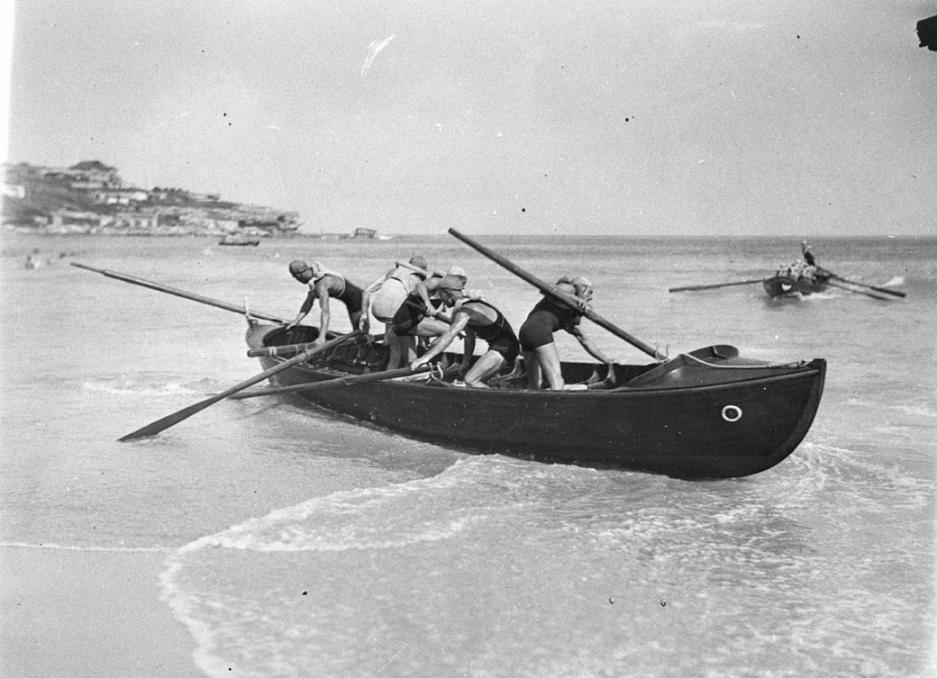 The Barrenjoey - 'Surf Boat Race' photograph by Sam Hood, taken in 1934 Image no.: hood_05190h, courtesy State Library of NSW: Gordon Morrow - sweep; George Wray, H.H. Hammond, Des Carr and 'Paddy' Kenny)
Robert Gow's Tom Thumb - Built and Launched 1907 - At Gow and Gonsalve's Boatshed until at Least 1947
The research into our northernmost club's surfboat adventures brought out a nice little insight from which tumbled a cavalcade of canoes, butcher boats and viking vessels of old. As related above, the sons and fathers of the Goddard and Gonsalves families were all founding members of the Palm Beach SLSC and also residents at Palm Beach whose industry in fishing, boatbuilding, with a heritage of generations of serving in either of these industries made them the men to go to decades before a permanent rescue boat was stationed in Pittwater.
Carl Gow came to Palm Beach after serving in WWI, first at Galipolli and then in France - we have shared Carl's war record as part of a previous History page. His older brother, and the eldest son of Robert, was David - lightkeeper at Barrenjoey during this conflict, and closer than Newcastle Pilot Station when Carl was finally shipped home to Sydney. There are some records that point to Robert being at Barrenjoey, perhaps assisting David during these years with Keeping the Light; David lost his wife to illness while Carl was serving, and Robert and his wife Mary Ann may have been present to look after their children.
PRIVATE CARL GOW. Mr. Robert Gow, of East Newcastle, has received an intimation from the Defence Department, that his son, Private Carl B. Gow, had been wounded at the Dardanelles. In forwarding the information for publication, Mr. Gow says:--"I may state he enlisted in June last, and was only one week in camp, when he left with the 6th Reinforcements of the Third Battalion, on 10th June, arriving In Egypt on 17th July. He spent only seven days in Egypt, and then went to the front. He never had a day's training In his life, and I think greater care should be taken, not to allow untrained lads to go straight into the fighting line, no matter how keen their desire to get there may be. Before he enlisted, my son was employed at Winn and company's, Oxford-street, Sydney. He was in charge of their country order department. He had been with Winn and Company since he was fourteen years of age. -He is now 20."PRIVATE CARL GOW. (1915, September 14). Newcastle Morning Herald and Miners' Advocate (NSW : 1876 - 1954) , p. 5. Retrieved from http://nla.gov.au/nla.news-article137969100
Butcher Boats Preceded Surf Boats
By JOE PALMER
THE BUTCHER BOAT (famous in the early life of Newcastle, in the race for the trade of the sailing vessels making the port)preceded the surf boat. It was launched mostly from the more placid water of Nobbys Beach, but returned often through rough water. There were times when butcher boat crews performed courageous feats. A major part in the rescue of the crew of a whaleboat of the Navigation Department swamped 200 yards from the beach during the 1908 carnival of the Newcastle Club Was played by Messrs. G. and A. McInnes and J. Walmsley, who were the first three elected as life members of the club in recognition of their exploit. The late Alfred Stevens, of Zara street, had a frail little boat in which the late Lieutenant Donald McHattie and the writer used to help the owner lay the buoys at dawn of the days of early carnivals.
Claimed to be the first canoe in Australia, the little galvanised iron and wooden Tom Thumb, owned by Mr. Carl Gow, now at Palm Beach, and built in 1907 by his father, the late Robert Gow, who was at that time boat builder for the Government department known as Harbours and Rivers, had airtight compartments fore and aft. It made its way out through big surf, and rode the waves for long distances back to the beach. Most exciting experience Don McHattie and myself had in the Tom Thumb was at the Newcastle carnival of 1912.
"Submarine Explosion"
Billed as "the club's marine engineers in a grand submarine explosion," we made our way out through a big surf with an oil drum containing gelignite and other explosives, with a light cable trailing behind us to the beach. Many will remember that explosion. I shall never forget it. I regard the Tom Thumb (1907-1913) as the genesis of the surf boat. The Spray, also of galvanised iron and wood, and with airtight compartments, followed in 1913. Built by Messrs. "Tacky" Walters and Fernyhough, its regular crew of five comprised Don McHattie, Gordon Lees. "Tacky" Walters, Harry Samuels and myself.
The Spray was homely but rather wonderful, despite the fact that at times after a shoot to the beach Walters would have to go to the clubhouse for his soldering iron to repair some damage.
First Wooden 'Boat'
The evolution, as it concerns Newcastle, gained in impetus in 1919, when Bill York, of Maryville, built the first wooden boat for members of the Newcastle Club. It was succeeded by a club boat in 1920, costing £85 built by W. Holmes, of Lavender Bay. This was regarded as the forerunner of the standard boat adopted soon after by the Surf Life-saving Association. There has been a departure on actual lines in boats built by the L. Boyd and Humphries families, of Swansea. Collaroy's new craft is a Swansea-built boat. Average cost of boats on the Newcastle beach today is £150. -Messrs. N L and E. Towns, of Dempsey Island, Newcastle, have been building the majority of the boats for some years for local and Sydney clubs. Mr. Norman Towns, senior member of the partnership, expects to see a further advance in the evolution of the surf-boat, probably in plastic construction. Butcher Boats Preceded Surf Boats. (1947, February 8).Newcastle Morning Herald and Miners' Advocate (NSW : 1876 - 1954) , p. 8. Retrieved from http://nla.gov.au/nla.news-article132868410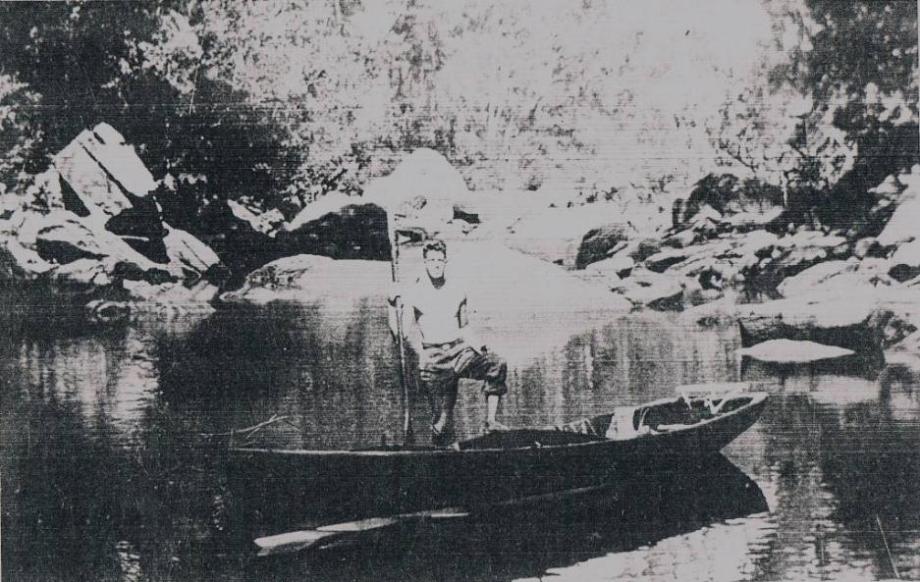 Above: Frank J Jnr. in his early 20's in the Tom Thumb (?). Below Frank Gonsalves. Photos courtesy Peter Verrills.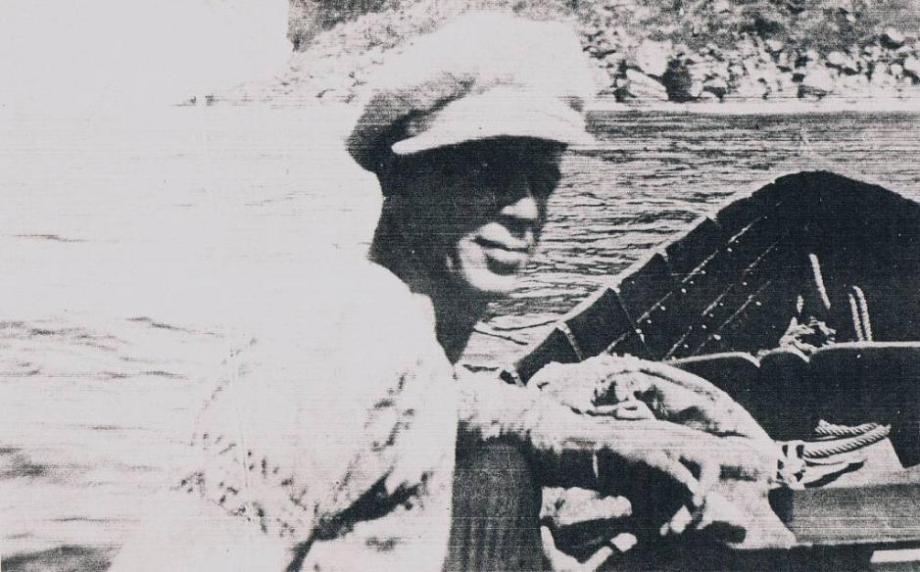 At present there are eight surf boats in the Newcastle district, fully equipped and manned by expert crews. These are the lifeboats of the beaches, and their history is almost as interesting as that surf bathing. Twenty-five years ago surf boats were practically unknown. The first surf boat in Newcastle-probably the first in Australia to appear regularly in the surf- was the canoe Tom Thumb. This was built by Mr. Robert Gow in 1907, and was generally manned by the late. Don McHattie and by Joe Palmer, and long voyages were often made from beach to beach in the tiny craft. BRONZED GUARDIANS OF OUR BEACHES. (1933, October 11). Newcastle Morning Herald and Miners' Advocate (NSW : 1876 - 1954) , p. 23. Retrieved from http://nla.gov.au/nla.news-article136691631
A few insights into Robert Gow, builder of the 'Tom Thumb'. Mr. Gow was the son of David Gow, one of five sons and at least one daughter who came to Australia with their father John aboard the 'Kate', arriving in 1849, who then went to Newcastle. One of his uncles, Ramsay, who later buitl a home of the same 'Fettercairn' name, was part of the Navigation Department, seemed to keep an eye out for Robert after his father's early death:
DEATH.GOW. — At his residence, Manning River, December 19th, DAVID GOW, aged 51 years, late of Newcastle,
eldest son of the late John Gow, Fettercairn, Montrose, Scotland, and father of Robert Gow,
and brother of James F. and Ramsay Gow, of this city, deeply respected by a large circle of friends. Family Notices. (
1879, December 27
).
Newcastle Morning Herald and Miners' Advocate
(NSW : 1876 - 1954) , p. 4. Retrieved from
http://nla.gov.au/nla.news-article135967341
David married Margerata in 1849 almost on arrival and Robert was born in 1852:
THE LATE MRS. DAVID GOW;SEN. Mrs. David Gow, sen., who died at Merewether on August 28, had been', closely identified with the Newcastle district for 70 years. 'Though she had reached almost her 90th year, she retained the full possession of her faculties to the last, and took an alert interest in current affairs. The late Mrs. Gow was intensely patriotic, and she was proud to speak of her grandsons and other relatives who had gone to tho war. Of her nine soldier grandsons three have been killed in active service. Despite her advanced years the deceased lady had been engaged since the Inception of the war in knitting socks and other comforts and necessities for her own and other soldier boys. Mrs. Gow was born in Edinburgh, and was a daughter of the late Robert M'Gregor, of Morpeth and East Maitland. She arrived in Sydney with her father when ten years of age. Almost immediately Mr. M'Gregor proceeded with his daughter to Maitland. After a short interval he took, up a selection of land at Narragut, near Morpeth, and for many years followed farming and fruit growing pursuits.
The deceased married in 1849 Mr. David Gow, son of John Gow, who had arrived in Newcastle the same year as the M'Gregor family.
Mr. David Gow at that time and for many years afterwards was well known in the public life of Newcastle.
Some forty years ago, and almost up to the time of his death, the late Mr. Gow represented Macquarie Ward in the City Council.
Mrs. Gow had lived almost continuously in the Newcastle district for the past 70years, and had witnessed the many and vast changes in its growth.' She often told of the period when Hunter-street was merely a bush track, and the southern side of the city from "Watt-street little else than sand' and scrub. Nobbys was then an island, and many were the boat excursions across to it in Mrs. Gow's young days. Newcastle was originally a convict settlement, and Mrs. Gow frequently recounted the horror she felt at seeing the convicts working in the chain gangs on the roads. She also remembered many other unhappy phases oft early colonial history from her association with families to whom the convicts were assigned. Many were the attempts to escape, and severe was the punishment meted out to them when recaptured. Mrs. Gow reared a large family, eight of whom have survived her, and the family name is widely known and respected. It is in interesting fact that the deceased lady leaves 33 grandchildren and 3 great grandchildren; and she is also survived by one sister, Mrs. A. Marcham, of Plattsburg. Mrs. Gow was buried on August 29 in the Congregational portion of Sandgate Cemetery, the Rev. H. Watts Grimmett, assisted by the Rev. George Reed, officiating at the graveside. MEREWETHER. (
1917, September 7
).
Newcastle Morning Herald and Miners' Advocate
(NSW : 1876 - 1954) , p. 6. Retrieved from
http://nla.gov.au/nla.news-article138743451
Robert was christened 'Robert Gon Vide Gow'. In 1874 he married Mary Ann Congdon and David (Jun.) their first son, was born the following year. Another event in Mr. Gow's year of 1875:
An accident, which might have terminated fatally, occurred on the wharf yesterday, about five o'clock p.m. The carpenter of the ship Rouparell, who was considerably under the influence of liquor, was proceeding along the wharf to No 2 crane-where his vessel was lying-with the intention, as he stated, of going on board. He had reached the barque Girvan, and, apparently mistaking her for his own ship, was endeavouring to get on beard, when he fell between the barque and the wharf. The man, who was known to be a good swimmer, seemed to be unable to keep his head above water, and was evidently drowning within sight of a large number of persons on the wharf. Mr. Robert Gow, one of the spectators, seeing the danger of the other, bravely jumped from the wharf into the harbour, after divesting himself of a portion of his clothing, and seizing the drowning man, held him up, until a line was thrown from the barque. The ship carpenter was by this means hauled ashore, and Mr. Gow shortly afterwards managed to reach the wharf by climbing up one of the fender lines of the barque. There can be little doubt that, but for the timely assistance rendered by Mr. Gow, there would have been a fatal accident to record. NEWCASTLE. (1875, March 6). The Maitland Mercury and Hunter River General Advertiser (NSW : 1843 - 1893), p. 6. Retrieved from http://nla.gov.au/nla.news-article18792642
THE MARINE BOARD. The weekly meeting of the Newcastle Marine Board was held in the boardroom at the offices, Custom-house Buildings, this afternoon. Captain H.R. Cross (president) occupied the chair, and there were also present-Messrs. D J. McLean, Frank Gardner, John Reid, and Captain J. H. Veitch (secretary). The gazetted notification of the resignation of Mr. W. R. Logan as a member of the board was tabled, and it was stated that so far no steps had been taken to fill the vacancy. Antonio Costa was, on the recommendation of the harbourmaster (Captain Newton), appointed to the position of second coxswain of the lifeboat, vice Robert Gow, who, after six years creditable service, has resigned. The new coxswain is the holder of gold medals for braverv displayed in saving life on the Clarence River on the occasion of the wreck of the New England. THE MARINE BOARD. (1897, December 16). The Sydney Morning Herald (NSW : 1842 - 1954), p. 5. Retrieved from http://nla.gov.au/nla.news-article14144581
PUBLIC SERVICE ASSOCIATION. ELECTION OF OFFICERS. .. representing Customs Department; Mr. Robert Gow, pilot tender PUBLIC SERVICE ASSOCIATION. (1900, August 22). The Sydney Morning Herald (NSW : 1842 - 1954), p. 8. Retrieved from http://nla.gov.au/nla.news-article14331932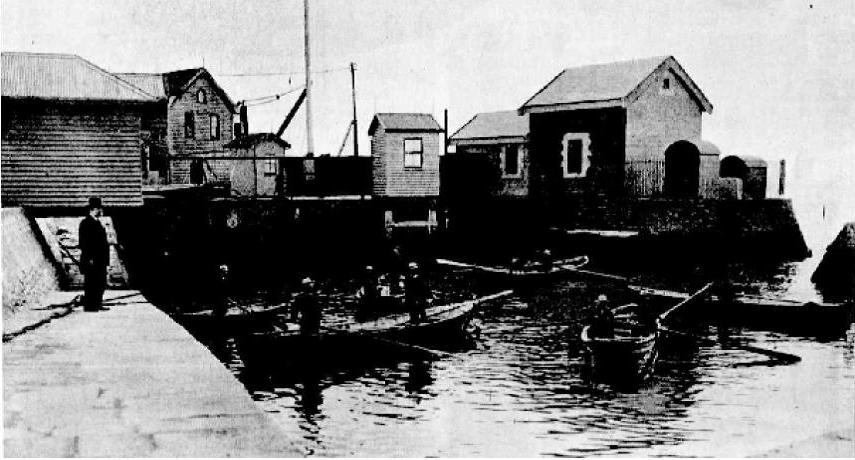 The Boat Harbour at the Pilot Station
NEWCASTLE LIFEBOAT. Newcastle has one of the two lifeboats which New South Wales possesses, and a very, fine craft it is, measuring 27ft long, with a beam of 9ft 31n. The boat, which is manned by boatmen in the Harbours' Department, is housed at the pilot station, and a keen pride in looking after it is taken by the coxswain, that good old seaman, Alex. M'Kinnon. In addition to Mr. M'Kinnon, the present crew is composed of Antonio Costo (assistant coxswain), J. Henderson, J. Olson, D. M'Leod, V. Loscoco, E. Magrath, R. Gow, F. Martin, W. G. Adams, W. Frazer, S. Woods, R.M'Leod, K. M'Leod, J. Roes, E. Rees, R. Miller, Dt. Davies, and D. 'Bowen. A rocket brigade is in existence at Stockton, the over-the-water suburb, and RB station is fitted up with rocket life-saving apparatus. It may be mentioned here that the Government pilot steamer, the Ajax, is stationed at the port. NEWCASTLE LIFEBOAT. (1902, September 20). Australian Town and Country Journal (Sydney, NSW : 1870 - 1907), p. 36. Retrieved from http://nla.gov.au/nla.news-article71492913
renovations, repairs, etc., to quarters, pilot station, Newcastle, three tenders, Gow and Shearman, £1049 10s, lowest; TENDERS OPENED. (1902, August 12). Evening News(Sydney, NSW : 1869 - 1931), p. 5. Retrieved from http://nla.gov.au/nla.news-article112781827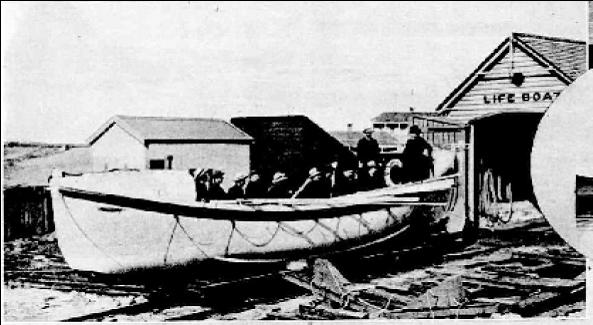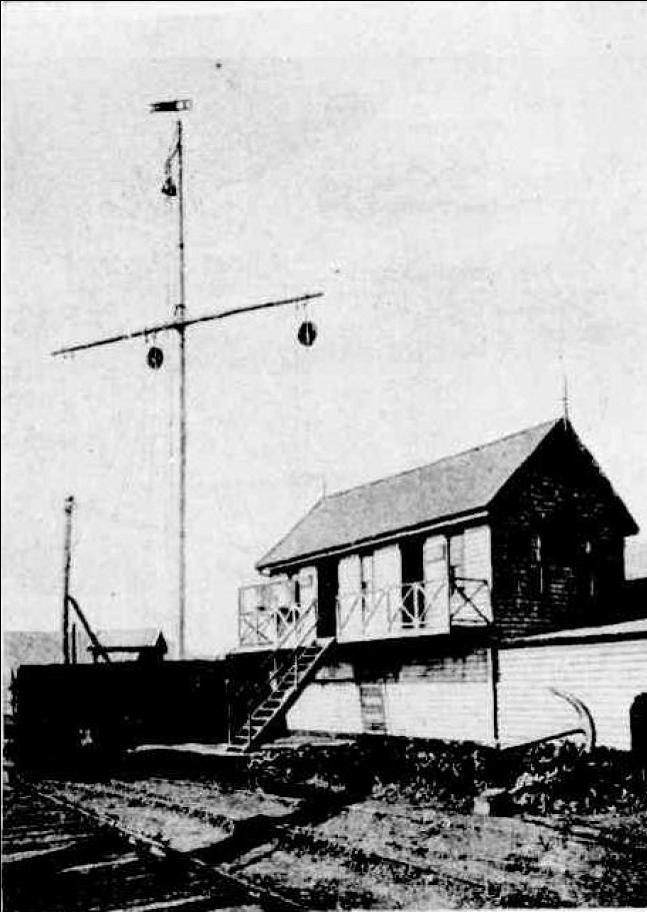 THE CITY OF NEWCASTLE. The Entrance to Newcastle-The Breakwater and Nobbys. 2.-The Lifeboat and Crew. 3.-Captain Newton's Launch. ' 4.-The Boat Harbour at the Pilot Station. 5. Pilot Station, Newcastle. PHOTOS: BY G. A. HILLS Pilot station and lifeboat: Newcastle. (1902, September 20). Australian Town and Country Journal (Sydney, NSW : 1870 - 1907), p. 21. Retrieved from http://nla.gov.au/nla.news-article71493117
tenders accepted: renovating and repairing pilots and boatmen's quarters at Pilot Station, Newcastle, Gow and Shearman, Newcastle, £1049 10s, NEW PUBLIC WORKS. (1903, January 27). Evening News(Sydney, NSW : 1869 - 1931), p. 4. Retrieved from http://nla.gov.au/nla.news-article113403668
Just two insights, of which there are many, into the Goddard / Gow / Gonsalves residents contingent coming to the aid of people in distress at sea in the Palm Beach region:
YACHT IN TROUBLE.
Dismasted at Sea.
SURF BOAT TO THE RESCUE.
A few minutes before 2 o'clock on Saturday afternoon the eight-metre yacht Brand V., owned and sailed by Mr. J. R. Palmer, was dismasted off Barrenjoey Beach. She was engaged In the Royal Prince Alfred Yacht Club's annual race for the Basin Cup, in which at the time of her mishap she had a good chance of success.
Standing along the coast fairly well in-shore, close-hauled on the starboard tack in afresh north-easter, her topmast forestay or some other part of her for'ard gear carried away, and in an instant her mast snapped off short, just above the lower crosstrees.
The upper part of her mainsail and mast, her jib, and most of her rigging, fell in a tangled mass to leeward, fortunately without injuring anyone, and she was left drifting helplessly on a lee shore.
Her ground tackle was not sufficiently good to enable her to anchor until assistance came, and her crew of five set a small Jib, Jury rigged on the 25ft stump of the mast, with a view to making for Barrenjoey and shelter. She was, however, unable to go about under this rig, and making considerable leeway she was in danger of going ashore.
The members of the Palm Beach Surf Club observed her plight, and about half an hour after the accident the surf boat, manned by Messrs. H. Hattersloy, Gonsalves, P. Tress, H. P. Tattersall, and A. Wolstenholme, put to sea, and taking her in tow, endeavoured to lift her up to windward, assisting her in going about. Later she towed her towards the steamer Gosford when she came to assist.
Meanwhile the lighthouse-keeper at Barrenjoey had communicated with Goddard's boat-shed at Palm Beach, and a launch was despatched. Her position was also observed by some of the other competitors, and Morna, returning to Sydney, made out of her course for the club steamer Gosford, which at the time was some two or three miles to the south-east. Hoisting an ensign upside down and the signal NC (want Immediate assistance), she conveyed the information that Brand was in sore straits.
The Gosford immediately proceeded to the scene, and relieving the surf boat of its unwieldly burden, took the disabled yacht in tow about 80 minutes after the accident, finally dropping her at her moorings In Careening Cove. The launch from Palm Beach stood by until Brand was safely in tow. Included in Brand's crew was a 15-year-old lad, Jack Morris, who took a prominent part in hauling the heavy tow-line aboard and making it fast. YACHT IN TROUBLE. (1931, January 19). The Sydney Morning Herald (NSW : 1842 - 1954), p. 11. Retrieved from http://nla.gov.au/nla.news-article16746747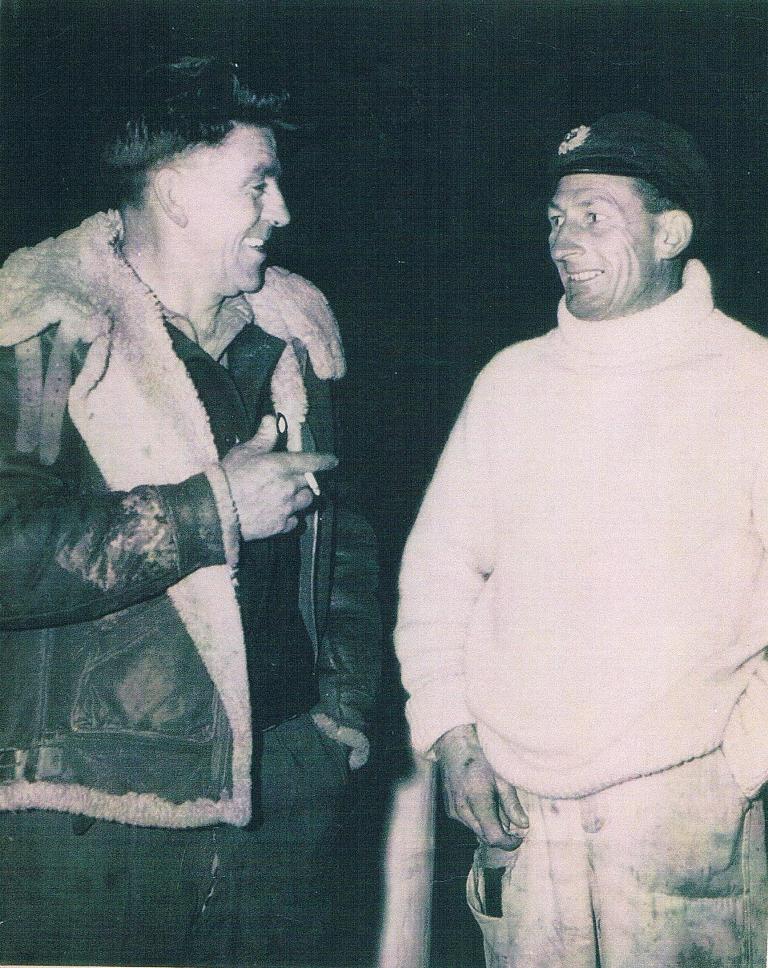 FISHERMEN RESCUED IN HEAVY GALE. ABOVE: Two elderly fishermen, who refused to give their names, photographed in their launch last night, after it had been towed into the shelter of Pittwater from four miles off Palm Beach, where the craft had been caught in a 50-miles-an hour gale. AT RIGHT: Two of the three rescuers, Messrs. Arthur Goddard (left) and Charles Pritchard. FISHERMEN RESCUED IN HEAVY GALE. (1946, July 31). The Sydney Morning Herald (NSW : 1842 - 1954), p. 1. Retrieved from http://nla.gov.au/nla.news-article17985621 Photo courtesy Peter Verrills.
Of Butcher Boats
ANNIVERSARY REGATTA. ROWING EVENTS. Butcher Boat Race Included.
Races for amateurs, professionals, service boats, Navy League Sea Cadets, Sea Scouts, and the mercantile marine, are provided for on the programme of the 100th Anniversary Regatta, which will be held on Sydney Harbour on January 27, 1936. The amateur events will be the same as last year, but the all comers single sculls handicap in best boats, has been replaced by a butcher boat scratch race.It is anticipated that crows from the northern rivers will compete. It is many years since the butcher boat has been seen in Sydney. The boat is 27 feet long, with a beam of 4ft 10in, and is rowed with four pairs of sculls. The name "butcher boat" was derived, it is understood, from the fact that the butchers used these boats to meet the ships on arrival at the heads to canvass for orders. Trained crews manned the boats, and when a ship was sighted they would race to her, the first boat to arrive invariably securing the order. In more recent years the boats have been used on the rivers as flood boats, and to ensure that trained crews are available for this service, races ore contested frequently. The boats will be available for local crews also, and it is expected that good racing will result in the heats and final. ANNIVERSARY REGATTA. (1935, December 28). The Sydney Morning Herald (NSW : 1842 - 1954), p. 16. Retrieved from http://nla.gov.au/nla.news-article27995525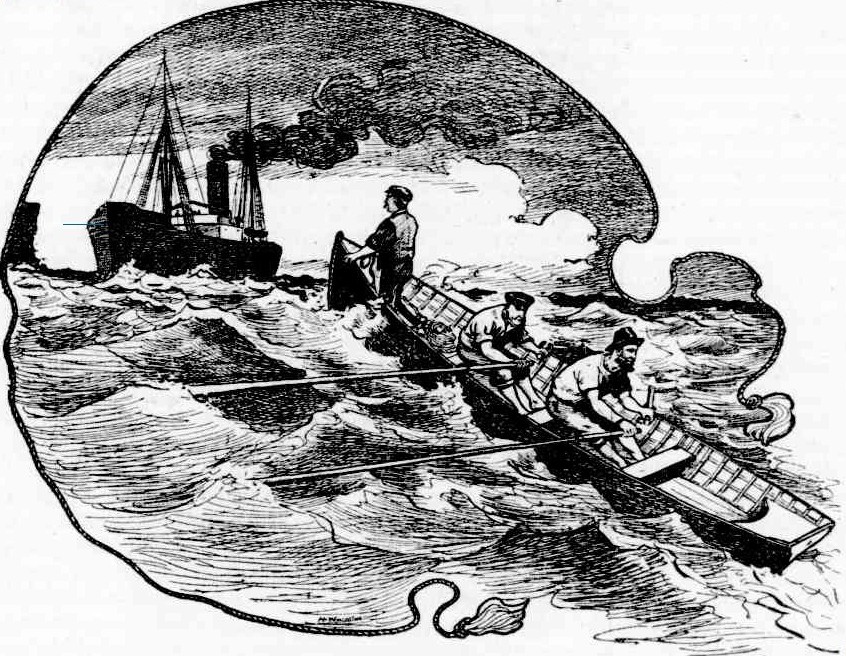 Illustration from: HOW SHIPS ARE CATERED FOR. (1908, June 20). Evening News (Sydney, NSW : 1869 - 1931), p. 3. Retrieved from http://nla.gov.au/nla.news-article112967157
ABOARD A BUTCHER BOAT AN UNCOMMON TYPE OF COMMERCIAL TRAVELLER RUBBING SHOULDERS WITH DEATH— AN ADVENTUROUS CAREER.
Drawn up on a sheltered teach at Watson's Bay may frequently be seen a cedar-built boat, which, to the uninitiated, looks like a large variety of double-sculled racing skiff. But though she is always ready to compete in a race against time at midday or at midnight, in fair weather or in foul, her races are run over no set, smooth-water course, but out beyond the Harbor heads, where the great rollers of the Pacific, scorning to injure an object so frail, glide noiselessly beneath her keel, to hurl themselves a moment later in a thundering cloud of spray against the walls of the iron
It is not for pleasure that this delicate looking craft braves the wrath of the elements on the high seas. For she sometimes even ventures out beyond the five-mile limit. In appearance she looks as though sport or pleasure were the object of her life. In reality her course is set on strictly business lines. She is part and parcel of the commercial life of the city, for she is owned by a great firm of ship chandlers, and is used as the means by which to get into communication with the tramp steamers and ships which are constantly making for this port, and whose masters are free to do their own providoring.
GOING OUT OF FASHION.
'Butcher boats,' for such is the name of these ocean skiffs, are gradually going out of use. In the days of steam they could put out to sea much more quickly than the launch that had to wait until steam was up. Petrol, how ever has altered all that. But, strange as it. may appear, the fragile butcher boat, that looks as if a breeze on the harbor would be about the limit of her weather-withstanding, capacity, can go out to sea with comparative safety where many a motor-launch would do so at great risk. Nobody seems to know exactly how much sea a butcher boat can stand, but it is safe to say that it is more than half a gale that keeps her harbor-bound. Some years ago, when launches were not so plentiful, and the providoring was not so completely in the hands of agents as it is today, it was quite a common occurrence for a butcher boat to range north as far as Broken Bay and as far south as Wollongong, to meet an incoming vessel, and secure the ship s business when she made port. An ordinary butcher boat is about 25ft long, with a beam of 35ft. She is built of cedar, and carries two pairs of sculls. Sailing is always resorted to when possible, and for this purpose, she has a lugsail and a jib, but she has neither centreboard nor keel, though some of the larger boats used to be equipped with a centreboard to help them keep up to the wind. A crew of two is all a 25-footer carries, and one of them is the accredited representative of the firm he works for.
SOMETHING ABOUT THE CREW.
The men who undertake this arduous work practically live beside their boat. At any rate, they are always prepared to launch her and put out to sea the moment a likely vessel is, signalled from the Round House on South Head. Week-days, Sundays, or holidays, it is all the same to the men of the butcher boat. The call is just as likely to come in the silent watches of the night as in the middle of the day and it is just as promptly responded to. The game little craft may shoot out to sea when the deep-keeled yachts are running for shelter under close-reefed, topsails, and battened hatches, and get through, too. The men who do this seem to be imbued with the spirit of William Pitt's manner, in 'The Sailor's Consolation,' when he sang:
'A strong nor' -easter's blowing, Bill ! Hark ! Don't ye hear it roar now ? Lord help 'em. how I pities them Unhappy folks on shore now!'
It is claimed for the butcher boat that it is a difficult matter to upset it, and there must be a good deal of truth in this contention, seeing the weather they go out in.
A STRENUOUS CALLING.
With all its drawbacks, the few men engaged; in this strenuous calling appear to like it. There is just that spice of danger in it which calls for courage and resource, and helps to break the monotony of mere routine. It is also one of the few walks in life in which business ability is as essential to success as physical endurance, and the capacity to undergo hard and exhausting labor. But the man with 'nerves'-or the man afraid of work or a wet jacket-should leave this branch of industry severely alone. The man who loses his head in a time of danger is as great a menace to life on board a small craft as a homicidal maniac let loose in a crowd. Fortunately, seamen of our race are not often troubled with funk, which is all too often the active agent in boating fatalities. It is quite safe however, to forecast that disaster never overtakes men who run butcher boats on this account, for if they were not absolutely callous to danger they would never think of putting put to sea in a butcher boat. LIFE ON THE OCEAN DEEP. (1913, December 28). Sunday Times (Sydney, NSW : 1895 - 1930), p. 1 Supplement: SUNDAY TIMES GLOBE PICTORIAL. Retrieved from http://nla.gov.au/nla.news-article126313943
NIGHT UNDER BARRENJOEY.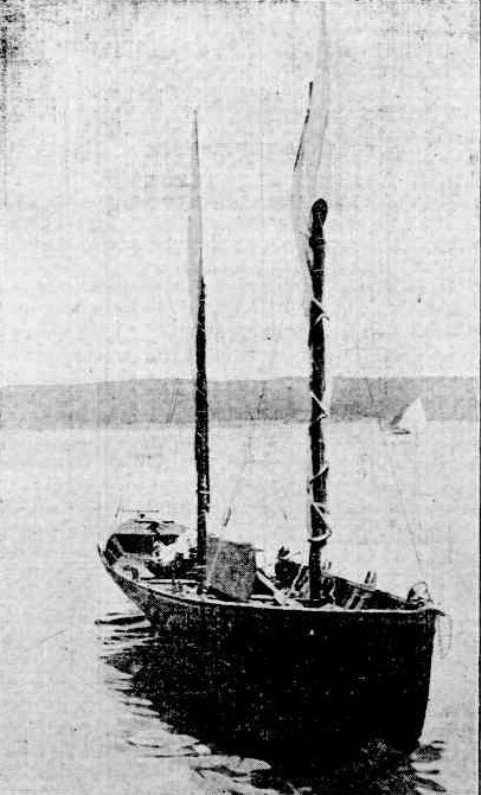 Gentle reader, have you ever moored your boat on steamer night under the beetling cliffs of that weird, black headland, Barrenjoey? Three hundred feet above is the deep red light, that has guided many a storm-tossed craft to a haven of refuge; below the flares-up of the Italian fisherman, busy packing their crayfish for the market, are reflected in patches of gold on the ink-like water; and out in the bay the riding lights of several smaller traders' burn dimly. The Italians are not by any means the Italians of opera or comic opera and they are too busy even to sell you a crayfish. Some of the traders are waiting to trans-ship their produce to the steamer; another, laden with firewood, is weather bound.
You strike up an acquaintance with the old fellow on board. He comes alongside In his rattle-trap of a dingey, and .accepts a glass of your excellent whisky; he drinks it neat, followed by a mouthful of water, and; confides' to you that you can get a really good drop of stuff at some impossible public-house in the purlieus of Pyrmont or Darling Harbor side. He hesitates about coming on board, but eventually you hook him. His troubles are, of course, uppermost in his mind, and he tells you of half a dozen vain attempts to reach Sydney with his bit of fire wood, but he is going to make an early start on the morrow, so as to make the port before the morning westerly veers round to the south. He is all alone on board his little craft; and, loaded as she is, he can't flog her against a head wind and sea. He used to have a 'nipper' on board a former boat, but when she was run down one night by a steamer the 'nipper' was lost, and be has never got; another. He has seen some wild nights outside, but what he is afraid of is the steamers.
Photo - A Barnett built Butcher Boat
A DRAMA BETWEEN THE HEADS. He remembers the day the pilot-boats and the butcher-boat were capsized, and, bit by bit, you drag from him the story of the drama he saw enacted on Monday, July 29, 1867, an which the actors played their parts according to the best traditions of their race. The entrance to Sydney Harbor was the theatre and among the spectators, who watched from the cliffs, were those nearest and dearest to the actors. The day had broken wildly; a gale of almost cyclonic force was blowing, with driving, blinding squalls of rain and a heavy topping sea was running.
About 8 o'clock the ship Strathdon, from London was sighted close to the Heads, and Pilot Robinson and his crew put off to bring her in. About the same time a butcher-boat with Robert Green in charge was making for the ship. There was in those days the keenest competition for orders, and many a stirring race took place between the rival butcher-boats, whose Crews were picked from our best professional scullers. Midway between South Reef and the Old Man's Hat the pilot boat was struck by a sea and capsized. Green promptly, went to the rescue in his swift, lightly-built boat, which was manifestly unequal to the increased weight of the rescued crew, and she was almost immediately swamped. Two pilot boats under charge of Pilots Jenkins and Shanks were then despatched to the scene; the latter's boat was overturned, and to Pilot Jenkins was left the dangerous and difficult task of attempting to save the three boats crews. He did his work well, and succeeded in landing at Manly as many as his boat could carry. Robert Green, the master of the row-boat, observed the etiquette of the occasion as punctiliously as if he had been the captain of a battleship; he insisted on his men saving themselves, and then refused to add his weight to the overladen pilot boat. Pilot Jenkins returned from Manly, and, with a number of villagers and fishermen, from Watson's Bay who had put off in their boats, resumed the now hopeless search. The sound of mourning— the mourning of the widows and the fatherless— was heard in the little village; eight of the men, including Robert Green and Pilots Robinson and Reeder, had played their last part.
The old fellow is away before dawn next morning, slowly sweeping his crazy old craft out with the tide, while you, gentle reader are sleeping in your cosy cabin. You pass him off the Hole in the Wall, and he waves his hand to you; you are pleased at his kindly recognition. He is one of our toilers of the sea, a class that the people of Sydney should indeed be proud of. But as old Sanger, the circus proprietor used to say, 'Let's cut the cackle, and come to the 'osses.'' PORT JACKSON'S PLEASURE FLEETS. . (1907, November 30). Evening News(Sydney, NSW : 1869 - 1931), p. 11. Retrieved from http://nla.gov.au/nla.news-article113900099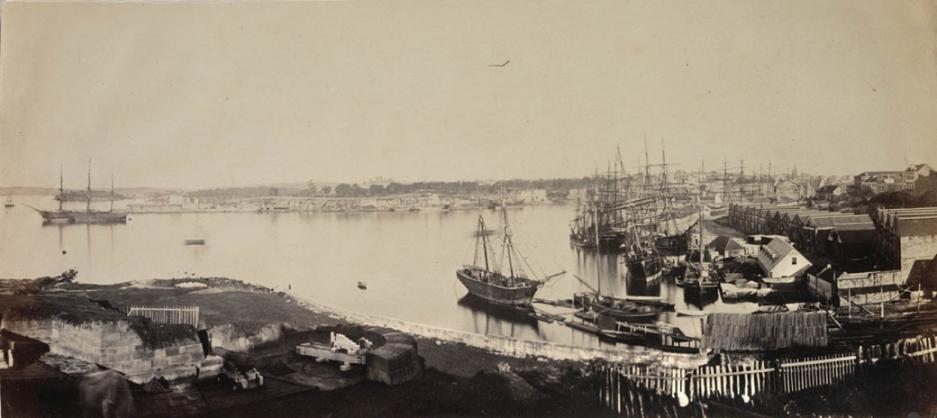 Above; Campbells Wharf, May 1864, Image a 128716h, courtesy State Library of NSW. Below: Campbell's Wharf, circa 1876, Image No.: 089789h, courtesy State Library of NSW.

FOR SALE – SURF- BOAT, 23 feet, Ship and Coasters Boats from 10 to 19 feet, 17 feet Fishing Boat, centre board, with gear, and boats suitable for lagoons and rivers. FORD, next Campbell's Wharf. Advertising. (1873, October 17). The Sydney Morning Herald(NSW : 1842 - 1954), p. 1. Retrieved from http://nla.gov.au/nla.news-article13324833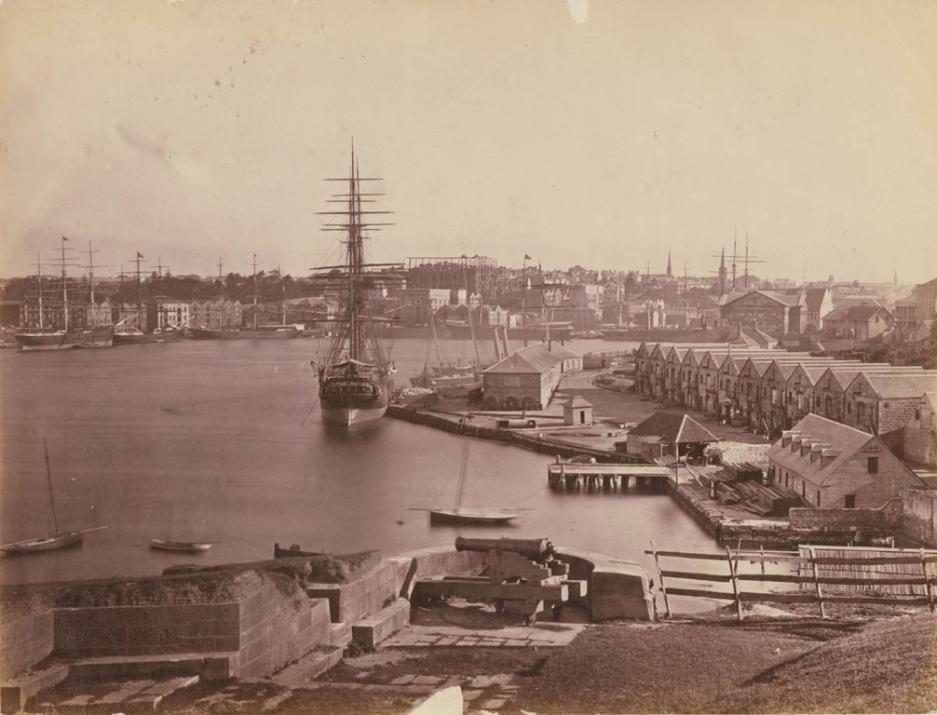 Extras and References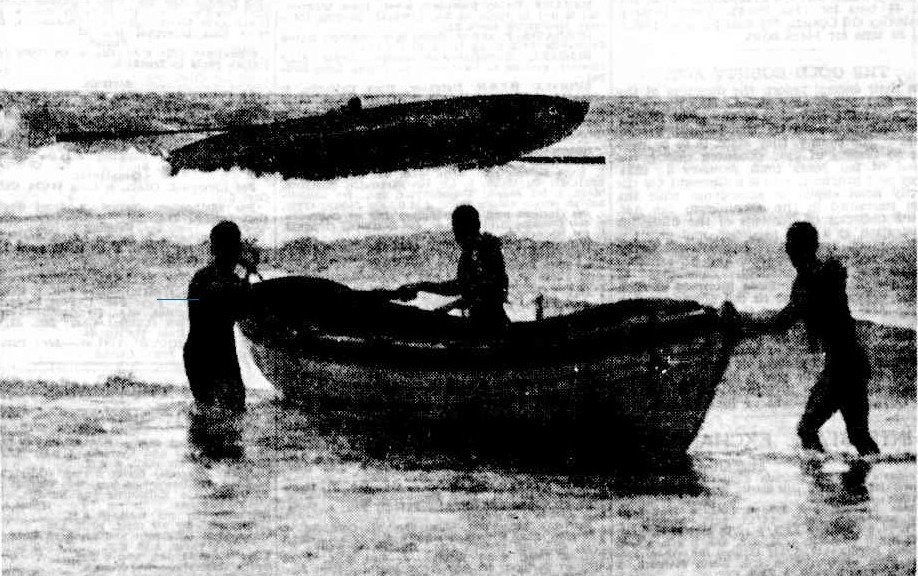 BOAT ALMOST OVERTURNS IN MANLY SURF. An exciting moment during Saturday's carnival. The Palm Beach surf boat almost overturned. Swordfish II., Manly's new boat, is in the foreground. BOAT ALMOST OVERTURNS IN MANLY SURF. (1931, February 2).The Sydney Morning Herald (NSW : 1842 - 1954), p. 12. Retrieved from http://nla.gov.au/nla.news-article16750690
SWEPT OUT BY HUGE WAVE. Two 14-year-old girls were swept by a huge wave into the sea from rocks between Palm Beach and Whale Beach yesterday. Thio Van Dugteren, a South Palm Beach lifesaver, saw the girls swept from the rocks and disappear. When he saw them again they were 10 yards out in a boiling surf. He immediately swam to their aid. When he reached them they had been carried out another 170 yards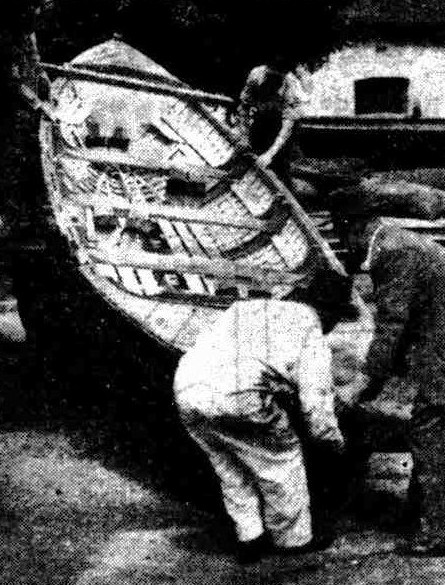 SIGNALLED. Van Dugteren then signalled for help, and the South Palm Beach surf boat, which was on patrol, swung towards them. Because the seas were running 20 feet high the surf boat could not get close to the girls so one of the crew. Michael Mathews, donned a lifeline and swam to their aid. They were then taken Into the boat and rowed to Palm Beach. The girls were in the water about 20 minutes. They would not tell the lifesavers their names. SWEPT OUT BY HUGE WAVE. (1952, January 6). The Sunday Herald (Sydney, NSW : 1949 - 1953), p. 1. Retrieved from http://nla.gov.au/nla.news-article18488728
Surf boats ONE OF TWO surf boats which arrived in Adelaide from Sydney yesterday for the Brighton and Glenelg lifesaving clubs. The surfboat is shown being unloaded at Mr. J. M. Lendon's workshop on Anzac Highway. Surf boats arrive. (1953, November 5). News (Adelaide, SA : 1923 - 1954), p. 14. Retrieved from http://nla.gov.au/nla.news-article131247399
Left: Picture from above article.
NSW surfboat for Brighton. A 23-ft..surf boat, which has battled through the heaviest of surf at Palm Beach, NSW, will be used to train Brighton Surf Lifesaving Club members this season. The boat was presented by Palm Beach Club to help replace losses by SA clubs during the heavy May storm of last year. The Brighton club- president. Mr. K. W. Stock, said today the club had spent £110 on the craft, which bad been damaged in Sydney. But with new ribs, seating and bulkheads, it was now as good as new. He expected it would be launched in about three weeks when the Brighton surfing season opened. It was the first surf boat the club had owned. The boat would be entered for the State surfboat championships, which would probably be held at Moana in March. NSW surf boat for Brighton. (1954, October 2). The Mail(Adelaide, SA : 1912 - 1954), p. 18. Retrieved from http://nla.gov.au/nla.news-article58099265
NO PLACE FOR WEAKLINGS IN THIS SPORT. PRINCIPLES OF SURF BOAT CONSTRUCTION. FATE OF THE 'BARRACOUTA'
SURF boat racing is not a sport for weaklings. When men fight nature, and the force of nature, every ounce of brain and energy is needed. But a victory over nature has a reward that the timid can never appreciate, for there is no sport like the fair defeat of a superior opponent. And so surf club members vie with each other to make the boat crew, and there is never a dearth of applicants to 'go for a row.' Selected men train assiduously night after night, and row their boat along the coast to neighboring beaches for practice or to take part in a race.
Like the motor car and the aeroplane, streamlining has found its way to the surf boat, and the boats of today are vastly superior to those of 15 years ago, both for speed and seaworthiness, though the general principles of construction have remained the same. Only once has that principle been departed from — when North Bondi built a boat from the design of one of its members, F. A. Hammer, the main features of which were a rudder instead of a sweep, and a self emptying device. However, the rudder did not prove as effective as the sweep, and because it was alleged to slow-up the boat, the self emptying device was never again used. From being a curiosity, surf boat race's have developed and are now the most, discussed events at a carnival, Originally clubs favored a heavy type of boat, which required about ten men to lift. It was contended that this was the only kind of craft that could withstand the buffeting of heavy breakers. Then, about six years ago, North Narrabeen introduced the 'Barracouta' to the surf. Built on the lines of other boats, with air-tanks fore and aft, this boat was so light that four men could lift it, and it was no uncommon thing for ballast, in the form of bags of sand, to be used in a race. A succession of calm seas at carnivals found the 'Barracouta' invincible. Wiseacres contended, however, the first heavy sea the boat was in would break its back. Came an exceptionally bad sea at North Steyne, and boat after boat swamped or capsized. But North Narrabeen's boat came through and won.
The 'Barracouta,' however, had a short reign. It disappeared!
It is said to have been seen drifting towards the horizon. And as it would float (as will all surf boats)even when water-logged, its departure in mystery has conjured up many theories— whether it has found rest on some island, or is still drifting, a derelict, on the Pacific. But the 'Barracouta' and surfboat races opened the way for new surf boat architecture. A better type of boat was built— one with speed combined with strength, and therefore better able to perform the work for which these boats were originally designed: the saving of human life. Followed Freshwater's 'White Wings,' the 'Johnnie Walker,' Deewhy's 'Black Swan,' North Steyne's 'Bluebottle,' and Manly's 'Sawfish.'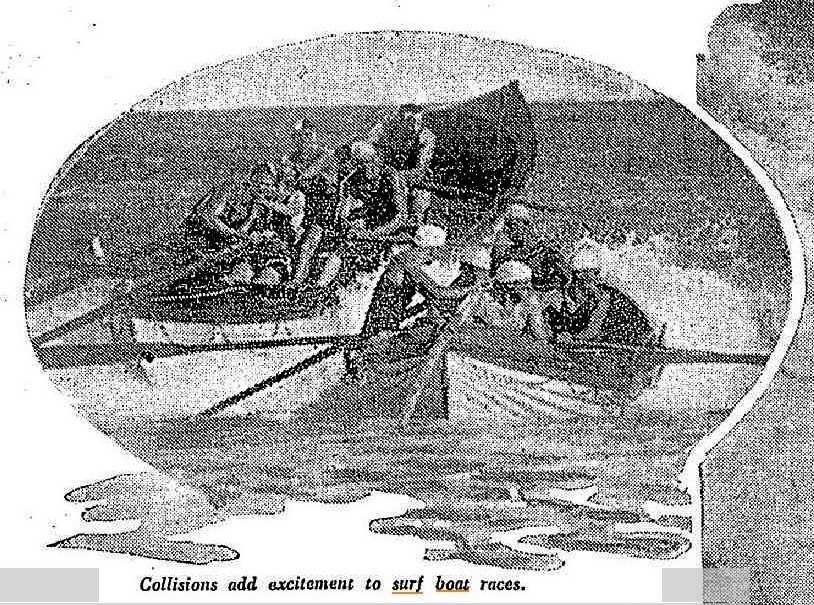 Palm Beach and Freshwater have just had new boats built, and critics are waiting to see them in action; while from the Newcastle district Swansea Caves Club had a boat built locally with which they succeeded in winning the Northern District championship. Queensland has also built its first surf boat, to the order of Mowbray Park Club. With the advancement in architecture, so has the price kept pace. First surf boats cost about £40 each. Now the price ranges up to £180,with the average cost about £180. Along the eastern coast of Australia there are now over 50 surf boats in use, valued at nearly £7000. Like other sports, surf boat racing has produced its champions. First came Dick Mathieson, of Freshwater, and George Dempster, of Deewhy. Now H. C. Evans (North. Steyne) and R. D. Ford (Manly), are most prominent. The surf boat championship of Australia is at present held by North Steyne. The crew which won the title being: H. C. Evans (sweep), S.G. Kelly, M. Vaughan, V. Mazlin, J. Milne.
Previously the championship was held as follows: 1919-20, Freshwater; 1920-21, North Steyne; 1921-22, North Steyne; 1922-23, Freshwater; 1923-24, North Steyne, 1924- 25, North Narrabeen; 1925-26, North Steyne; 1926-27, North Steyne; 1927-28, Manly; 1928-29, North Steyne.
Surf boat racing will never wane. The men who comprise the surf clubs of Australia will find therein an answer to their strength, their brain, their energy. The battle through the surf, the long row to the turning buoy, then with tired muscles and pounding heart, the last stretch shorewards on a 'shoot.' .With men who are men, racing such as this will always hold. For there is no sport like the sport that lights the forces of nature.
COME astern! . . . Come astern!' The men with the sweep calls; braces his body, tauts his muscles. . .Swiftly the great wave looms above the boat, like a giant bent on devouring. . A sudden lift, a creaking of timber, a smothering of foam. A split second and the boat is lifted and shot forward at tremendous speed. The four rowers go to the sweep's assistance. With muscles strained and faces grim, they assist to keep the boat straight on its exhilarating rush to the beach . . . But sometimes the boat turns, is capsized, and crew, boat, and oars, are mixed together in foaming water. (By E. THOMAS). Surf Boats For Thrills Says Australia. (1930, December 24).Referee (Sydney, NSW : 1886 - 1939), p. 18. Retrieved from http://nla.gov.au/nla.news-article131158430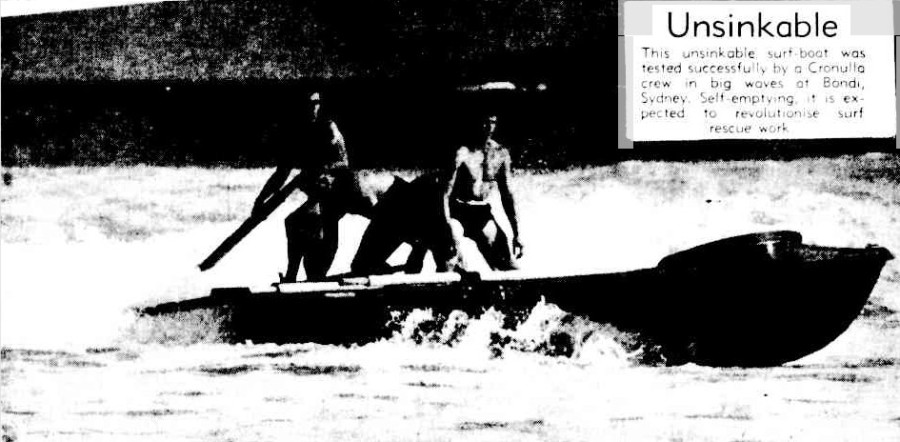 Unsinkable. This unsinkable surf-boat was tested successfully by a Cronulla crew in big waves at Bondi, Sydney. Self-emptying, it is expected to revolutionise surf rescue work. Unsinkable. (1937, September 10). The Courier-Mail (Brisbane, Qld. : 1933 - 1954), p. 22. Retrieved from http://nla.gov.au/nla.news-article37923672
Chieftains of Surf Life Saving
Ashes of the late Andrew (Sonny) Gibson, former secretary of the Curl Curl Surf Club, were cast into the sea from a surfboat yesterday morning. The picture shows his brother, Mr. Roy Gibson, carrying the … to the surfboat through a guard of honour formed by members of the North and South Curl Curl clubs. PARIS UNDER GERMAN RULE — MR. CHURCHILL IN TIN HAT — RUGBY LEAGUE FINAL — ASHES CAST INTO SEA. (1940, September 2). The Sydney Morning Herald (NSW : 1842 - 1954), p. 12. Retrieved April 26, 2014, from http://nla.gov.au/nla.news-article17708329
SURF MEN MARCH AT FUNERAL . Members of the North Cronulla Surf Club yesterday marched in the funeral cortege of their club captain, Jim Peryman, who was drowned on Sunday while rescuing a 16-year-old girl. The lifesavers marched with their surfboat, which carried Peryman's coffin. More than 5,000 people watched the funeral procession on it's way to Woronora Crematorium from Cronulla Church of Engand Church where the Rev. F. J. Camroux conducted a service. In the congregation were Daphne Knowles, in whose rescue Peryman was drowned, and representatives of the Surf Life Saving Association. SURF MEN MARCH AT FUNERAL. (1950, February 22). The Sydney Morning Herald (NSW : 1842 - 1954), p. 4. Retrieved from http://nla.gov.au/nla.news-article27582736
For boatmen, the surf-boat races hold a peculiar interest. Newcastle area clubs, Swansea Caves and Swansea-Belmont, will race in the tuck stern boats. Their rivals will be in the standard surf-boats. Controversy has arisen in the association over the tucked stern craft, but the official attitude is that if the boats prove more efficient than those now used in big seas they may be adopted by the association.Fishermen designed the new boats. Chance To Give Club Surf Fame. (1950, March 25). The Sydney Morning Herald (NSW : 1842 - 1954), p. 10. Retrieved from http://nla.gov.au/nla.news-article18153773
IN THE DAYS OF THE VIKINGS. To a shipping port like Newcastle these two little sketches should prove of more then passing interest. Briefly, they are selected from the photographic collection of an English traveller in Norway and Sweden, and they represent the beet of a number of specimens of Viking war vessels which, unearthed from 1867 to 1880, are now on exhibition in the University Gardens at Christiania. These "dragons," as they were called by their masters, are each 80 feet long by about 18 foot beam, and were evidently propelled by a double bank of oars, sixteen aside.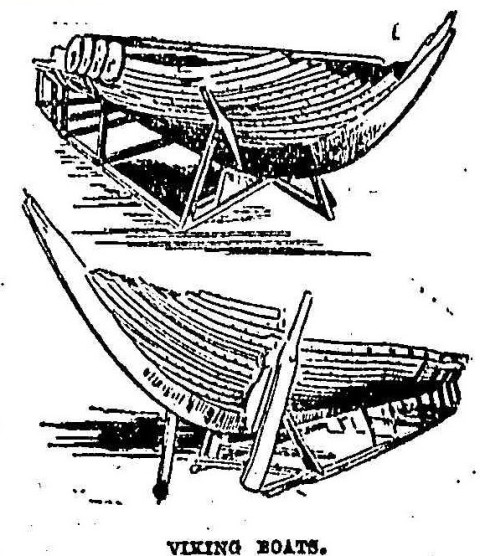 Undoubtedly all the work in preparing the timber was done with the axe, the vessels being clinker built, with nails in the upper parts, and the "withies" in the other portions. As may be seen from the sketches both ends are sharp, and, unlike our ships of the present day, the docks were evidently movable, while the rudder was worked from the side, much as we sometimes see in a surf-boat when the steersman guides his craft with an oar. The length of these latter on the "dragons" were, judged from the specimens found in the hold, fully twenty feet, an ample evidence of the sturdiness of their onetime users. The vessels, which are stated to be at least nine hundred and possibly over a thousand years old, are in an excellent state of preservation. IN THE DAYS OF THE VIKINGS. (1898, January 29). Newcastle Morning Herald and Miners' Advocate (NSW : 1876 - 1954) , p. 5. Retrieved from http://nla.gov.au/nla.news-article137059986
The word " Viking" in the sense in which it is commonly used is derived from the Old Norse víkingr signifying a sea-rover or pirate. In 1867, the first Viking ship to be unearthed, the Tune ship, was excavated in Østfold, Norway. The ship provided new knowledge about the Vikings and their culture. The excavation of other ships and artifacts led to a higher consciousness about the Viking past in Norway. For example, the only complete Viking helmet ever to be found was also excavated in Norway.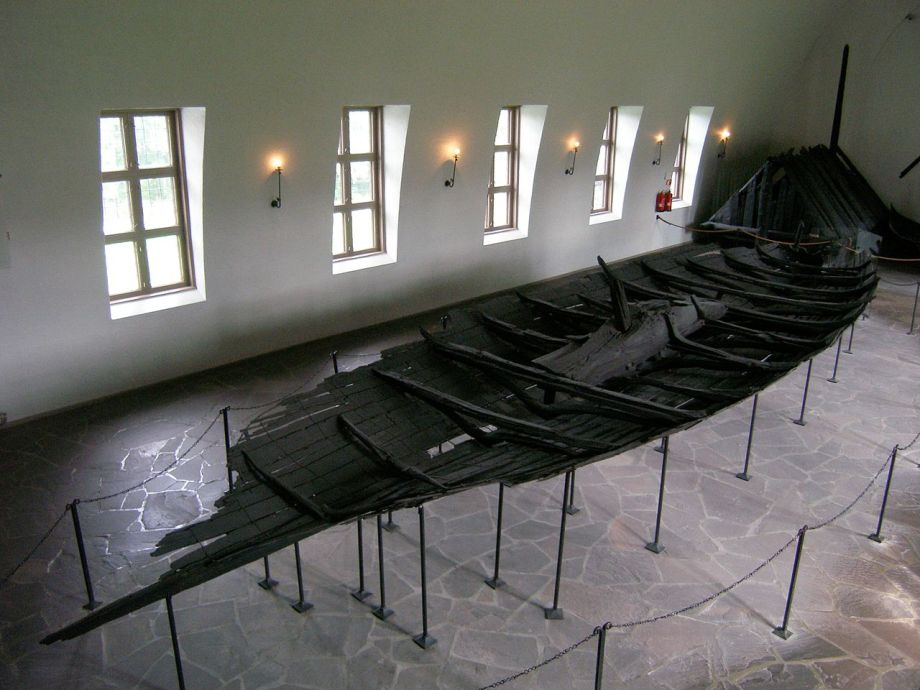 The Tune viking ship in the Viking Ship Museum in Oslo photograph by China Crisis
The Tune ship (Tuneskipet) is a Viking era ship exhibited in theViking Ship Museum in Bygdøy, Oslo. The "karv" type ship was found at Haugen farm on Rolvsøy in Tune, Østfold, Norway. The ship was built around 900 A.D., and is made of clinkered oak planks and is clinker built with overlapping strakes, while the ribs are fastened to the hull in cleats carved out of the strakes. It was found in a boat burial mound (Norwegian:Båthaugen, from the Old Norse word haugrmeaning mound or barrow). The site was excavated by archaeologist Oluf Rygh in 1867.
The ship is fragmentary, but may have been up to 22 metres (72 ft) long. It is 4.35 metres (14.3 ft) wide and would have had 11 or 12 pairs of oars. The length of the keel is approximately 14 metres (46 ft). It is of rugged construction with naturally grown ribs, thick crossbeams and a solid gunwale. The Tune ship was excavated in 1867 from a large mound at Haugen farm at Rolvsøy in Østfold. It was later used as a burial ship for a powerful chieftain. The burial furnishings are not preserved. The dead man was placed in a timber burial chamber. Tune ship. (2013, July 21). In Wikipedia, The Free Encyclopedia. Retrieved from http://en.wikipedia.org/w/index.php?title=Tune_ship&oldid=565128114
The Gokstad ship is a Viking ship found in a burial mound at Gokstad farm in Sandar, Sandefjord, Vestfold, Norway. Dendrochronological dating suggests that the ship was built around 890 AD. The place where the boat was found, situated on arable land, had long been named Gokstadhaugen or Kongshaugen (from the Old Norse words kóngr meaning king and haugr meaning mound), although the relevance of its name had been discounted as folklore, as other sites in Norway bear similar names. Shortly after the 1880 New Year the sons of the owner of Gokstad Farm, having heard of the legends surrounding the site, uncovered the bow of a boat and its painter while digging in the still frozen ground. As word of the find got out, Nicolay Nicolaysen, the then President of the Society for the Preservation of Ancient Norwegian Monuments, reached the site on 6 February 1880 and, having ascertained that the find was indeed that of an ancient artefact, liaised for the digging to be stopped.
Nicolaysen returned on March 27 and established that the mound still measured 50 metres by 43 metres, although its height had been diminished down to 5 metres by constant years of ploughing. With his team, he began excavating the mound from the side rather than from the top down, and on the second day of digging was surprised to find the bow of a ship.
Side view of the ship - photograph by Bjørn Christian Tørrissen
The Gokstad ship is clinker-built, constructed largely of oak. The ship is 23.24 metres (76.2 ft) long and 5.20 m (17.1 ft) wide. It is the largest in the Viking Ship Museum in Oslo. The ship was steered by a quarter rudder fastened to a large block of wood attached to the outside of the hull and supported by an extra stout rib. The block is known as the wart, and is fastened by osiers, knotted on the outside passed through both the rudder and wart to be firmly anchored in the ship. There are 16 tapered planks per side. The garboard planks are near vertical where they attach to the keel. The garboard planks are narrow and remain only slightly wider to take the turn of the bilge. The topside planks are progressively wider. Each oak plank is slightly tapered in cross section to allow it to overlap about 30mm the plank above and below in normal clinker (lapstrake) style. Iron rivets are about 180mm apart where the planks lie straight and about 125mm apart where the planks turn. At the bow all of the planks taper to butt the stem. The stem is carved from a single curved oak log to form the cutwater and has one land for each plank. The inside of the stem is hollowed into a v shape so the inside of the rivets can be reached during construction or repair. Each of the crossbeams has a ledge cut about 25mm wide and deep to take a removable section of decking. Sea chests were placed on top of the decking to use when rowing. Most likely on longer voyages sea chests were secured below decks to act as ballast when sailing. The centre section of the keel has little rocker and together with flat midships transverse section the hull shape is suited to medium to flat water sailing. When sailing downwind in strong winds and waves, directional control would be poor, so it is likely that some reefing system was used to reduce sail area. In such conditions the ship would take water aboard at an alarming rate if sailed at high speed.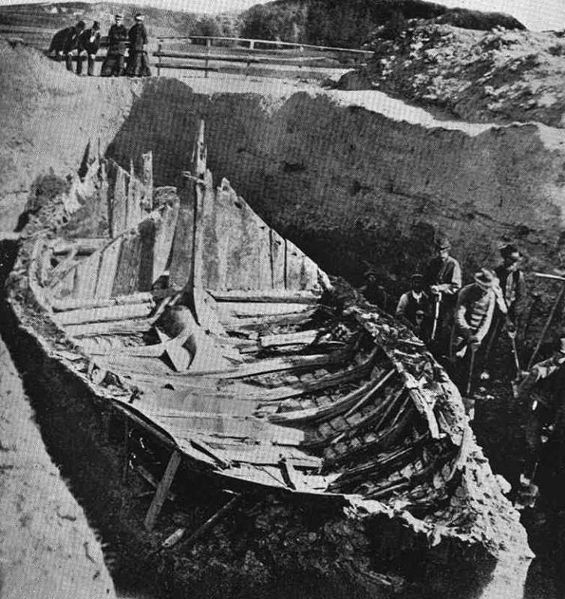 The ship was built to carry 32 oarsmen, and the oar holes could be hatched down when the ship was under sail. It utilized a square sail of approximately 110 square metres (1,200 sq ft), which, it is estimated, could propel the ship to over 12 knots (22 km/h; 14 mph).
The mast could be raised and lowered. While the ship was travelling in shallow water, the rudder could be raised very quickly by undoing the fastening.
Dendrochronological dating suggests that the ship was built of timber that was felled around 890 AD. This period is the height of Norse (Viking) expansion in Dublin, Ireland and Jorvik (York), England.
The Gokstad ship was commissioned during the reign of Harald Fairhair at the end of the 9th century. The ship could carry a crew of 40 men but could carry a maximum of 70.
Left: Gokstad Viking ship excavation. Photographed in 1880. From the excavation of the Gokstad viking ship at the farm Gokstad in Sandefjord, Norway; Source: http://www.gaia.no/
During the excavations, the skeleton of a male aged between 50–70 years was recovered. The skeleton was found in a bed inside a timber-built burial chamber.
Although the identity of the person buried is unknown, it has been suggested that it is that of Olaf Geirstad-Alf, a minor king/chieftain of Vestfold. He was of the House of Yngling, and died about this time, according to the Heimskringla.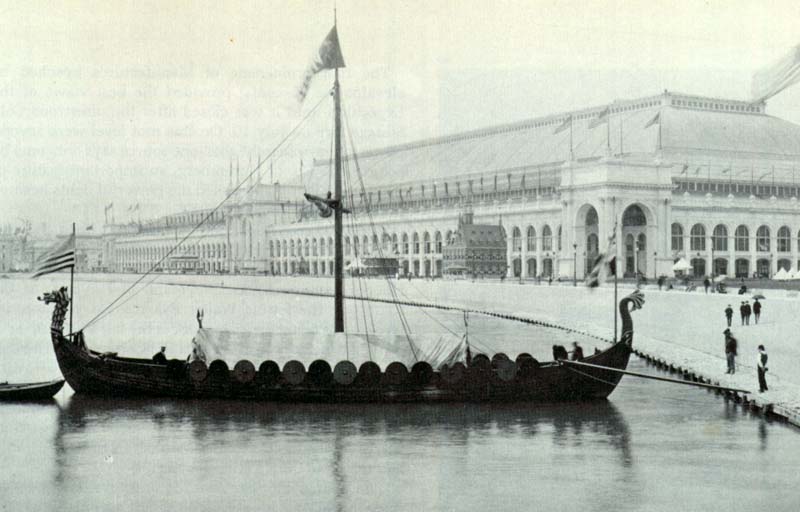 "Viking", replica of the Gokstad Viking ship, at the Chicago World Fair 1893
Gokstad ship. (2014, March 13). In Wikipedia, The Free Encyclopedia. Retrieved from http://en.wikipedia.org/w/index.php?title=Gokstad_ship&oldid=599385790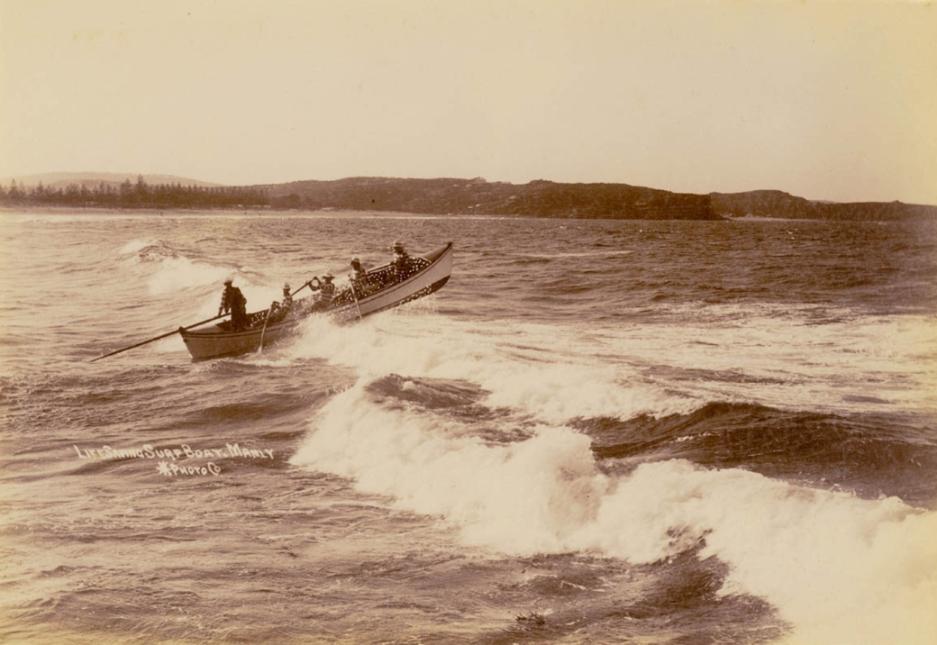 Manly Surfboat - 1908, Image No.: 116608h, courtesy State Library of NSW

The Fearless Men of Palm Beach SLSC's Surf Boats First Crews - threads collected and collated by A J Guesdon, 2014.