September 4 - 10, 2011: Issue 22
During the first month of Spring we glimpse scenes from the lives of women who inspire what Spring means; poetry, botany, cooks of the season's fruits. Those who have lived in and loved and visited Pittwater, whose laughter still echoes on the wind, help us celebrate the ever-renewing Spring.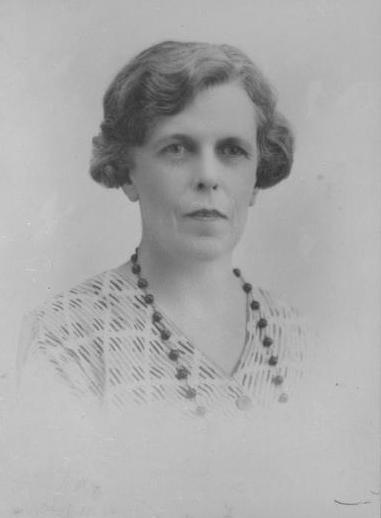 Above: Ruth Marjory Bedford (1882-1963), by unknown photographer, 1930s
National Library of Australia, nla.pic-an23207577
SURFING MORNING.
Blue and white the sea is; blue and white the sky;
Softer than the flight of birds the little breezes fly;
The very clouds are flecks of light, the sand is warm and gold,
And you and I this morning are six and five years old!
Take my hand and run with me!
Now the waves begin;
Quickly through the shallows-deeper, deeper in!
The laughing water plays with us, splashes us with spray.
Leaps at us and knocks us down and rolls our years away.
Towering come the great waves-will you jump or dive?
Are you glad the summer's come-glad that you're alive?
Happy is the sparkling sea, the sky, the golden sands,
And all the world is given into our young hands.
RUTH M. BEDFORD.
SURFING MORNING. (1925, February 7). The Sydney Morning Herald (NSW : 1842 - 1954), p. 13. Retrieved September 2, 2011, from http://nla.gov.au/nla.news-article16201618
BUSH FLOWERS.
Now is the bush all foaming full
Of flowers we love and long to pull,
The sweet boronia, pink and white.
And crimson bottle-brushes bright.
And all the hundred flowers, so small .,
A child can scarcely find ' them all,
While the tall blossoms overhead
Their wild, delicious perfume shed.
Scarlet and yellow, pink and grey
How many have we found to-day?
How many have we welcomed back
Along the gully, up the track?
But In the bush all brown and green
Most gay and lovely arc they seen,
For when we bring them home we find
That half their beauty's left behind.
RUTH M. BEDFORD.
BUSH FLOWERS. (1930, November 15). The Sydney Morning Herald (NSW : 1842 - 1954), p. 11. Retrieved September 2, 2011, from http://nla.gov.au/nla.news-article16730647
Sydney at sunset : and other verses (1911)
Author: Bedford, Ruth Marjory
Publisher: Melbourne : Australasian Author's Agency
Ruth Marjory Bedford
1882–1963
When Spring is whispering, all astir,
(O the dear young voice and the joy of her!)
When the poorest tree has its gift of green,
And the blood runs swift and the pulse is keen,
Then clear from the heights rings a glad new cry
And swift through the heart of us Joy rides high.
Out ! for the morning is bright once more,
There is life on the hills, in the woods, on the shore;
The warm waves dance, and we're strong of limb,
And the wine of life's at the cup's gold brim,
And we're one with Youth that can never die,
And Joy rides ever, and Joy rides high !
From Joy Rides High, Copyright Ruth Bedford, 1911
Poet, playwright, conservationist, fiction and article writer, lover of the bush and bush flowers, and acting, Ruth Marjory Bedford was also a lifelong friend of Dorothea Mackellar (b1885). These two used to drive into the bush outside the city of Sydney to 'play' imagined characters they had created together. They later collaborated on two books together based on these created characters The Little Blue Devil (London, 1912) and Two's Company (London, 1914).
Born into an affluent family, Ruth was educated at home by governesses beside sisters Sylvia and Alfreda.
Her first book Rhymes by Ruth, was published when she was only 11 years old. All her life she wrote for children as much as adults. A lover of the bush, especially its bush flowers, an avid swimmer and 'surfer', Ruth Marjory Bedford pursued a professional career as a writer and promoting Australian literature and literacy. In 1931 she co-founded with her best friend Dorothea the Sydney branch of the London-based international literary society, PEN-an acronym for Poets, Essayists, Novelists. Spring remained one of her favourite subjects in verse and from the early 1920's to 1930's many of her verses celebrated the bush and all its flowers or the sea. She was also a correspondent for SMH during overseas travels of 1912-1914 and had her poems published by the SMH for over thirty years.
Although she resided at Edgecliff in her latter years, a short way from Coogee's waves, her references to bush flowers, and regular swims with Dorothea would also have made her a guest at Tarrangaua, the home overlooking Lovett Bay built for Dorothea in 1924.
CHATTER
Miss Ruth Bedford and Miss Dorothy Mackellar, have put their heads together, and are writing a novel. Miss Mackellar, knows as much about the North West plains as most of us, and more than most about Boggabri and district. CHATTER (1929, December 12). The North Western Courier (Narrabri, NSW : 1913 - 1955), p. 1. Retrieved from http://nla.gov.au/nla.news-article133496805
Further:
Another arrival from England during the week was Ruth Bedford, author of several books of children's verse . . . she has been away 18 months, and was in Stockholm to attend a world congress of the P.E.N. Club when war was declared.
In London she saw quite a lot of Kathleen Monypenny . . . Kathleen is minding evacuated children . . . and Jessie Urquhart and Don Finley. Don sent his love to everyone... he had just designed two sets for the Stratford-on-Avon Festival ... is engaged, and said he was to be married quite soon. Yvonne talks turbans with Marie Ney (1941, January 19). The Sun (Sydney, NSW : 1910 - 1954), p. 3 (Women's Section). Retrieved from http://nla.gov.au/nla.news-article230948041
Sir,-All decent people must be ashamed at accounts of the lack of public response to the surf lifesavers' modest appeal for funds.
That this splendid body of young men, who-unlike many motorists-save lives every week, instead of ending them, should have to ask for money at all is unbelievable, especially as the money is not for themselves, but simply to buy necessary equipment.
Ingratitude and meanness used not to be Australian characteristics, yet when one thinks of the thousands who surf and the few who have given even a shilling one is filled with anxiety as well as shame.
RUTH M. BEDFORD, Edgecliff.
Lifesavers. (1952, January 3). The Sydney Morning Herald (NSW : 1842 - 1954), p. 2. Retrieved from http://nla.gov.au/nla.news-article18262589
Tarrangaua Bungalow
Lovett Bay, NSW 2105
Pittwater
Notable former home of writer Dorothea McKellar, in bushland setting, built in 1924 in a great position (LEP, 1994). Significant aesthetic, historic and social values for as a rare remaining example of residential design by influential interwar architect William Hardy Wilson in a splendid setting surrounded by spotted gum forest (Corymbia maculata) overlooking Lovett Bay (Read, S., pers.comm., 11/2006). From: http://www.heritage.nsw.gov.au/07_subnav_02_2.cfm?itemid=5060288
Trove Results: http://trove.nla.gov.au/newspaper/result?q=ruth+bedford+dorothea+mackellar
ON THE OCEAN WAVE. Life Aboard Ship. (RUTH M. BEDFORD.)
The Sydney Morning Herald (NSW : 1842 - 1954) Thursday 13 February 1930 p 15 Article
... ON THE OCEAN WAVE. Life Aboard Ship. (RUTH M. BEDFORD.) Life on the ocean wave, at last One Is not too sophisticated to thrill at the thought, at the reality, indeed; for here in truth is the good ship Oswego, setting forth on her 12,000-mile trip; there, through the port-1 hole, one can ... 1431 words
COMMUNITY PLAYHOUSE
The Sydney Morning Herald (NSW : 1842 - 1954) Saturday 20 June 1931 p 8 Article
... COMMUNITY PLAYHOUSE Miss Ruth Bedford s play The Murder Next Door will be staged at the Community Playhouse this evening ... 20 words
Ruth Bedford Biography; Connors, Jane, 'Bedford, Ruth Marjory (1882–1963)', Australian Dictionary of Biography, National Centre of Biography, Australian National University, http://adb.anu.edu.au/biography/bedford-ruth-marjory-9468/text16655
PEN MEMBERS 1931
J.M.H. Abbott, Prof. L.H. Allen, Ethel Anderson, Marjorie Barnard, Flinders Barr, Ruth Bedford, C.E.W. Bean, E.J. Brady, Prof. le Gay Brereton, A.H. Chisholm, Zora Cross, John Dalley, Miss Eldershaw, Dr. Firth, C. Brunsdon Fletcher, Mary Gilmore, H.M. Green, Nora Kelly, Amy Mack, G. Mackaness, Wm. Moore, Dorothea Mackellar, Elliott Napier, Shaw Neilson, Marjorie Quinn, Steele Rudd, Professor Sadler, Kenneth Slessor, Ethel Turner, Paul Wenz, Dora Wilcox.
From: http://hass.unsw.adfa.edu.au/ASEC/HOBA96_Papers/heath.html
The Sir Archibald Strong Memorial Prize for Literature
Misses Ruth and Alfreda Bedford, having given £500 on behalf of their sister Sylvia Bedford, to provide for an annual prize for literary work in memory of Sir Archibald Strong, formerly Jury Professor of English Language and Literature.
From; here
Ruth Bedford threads collected and collated by A J Guesdon, 2011.