October 12 - 18, 2014: Issue 184
Yabbying in Warriewood's Creeks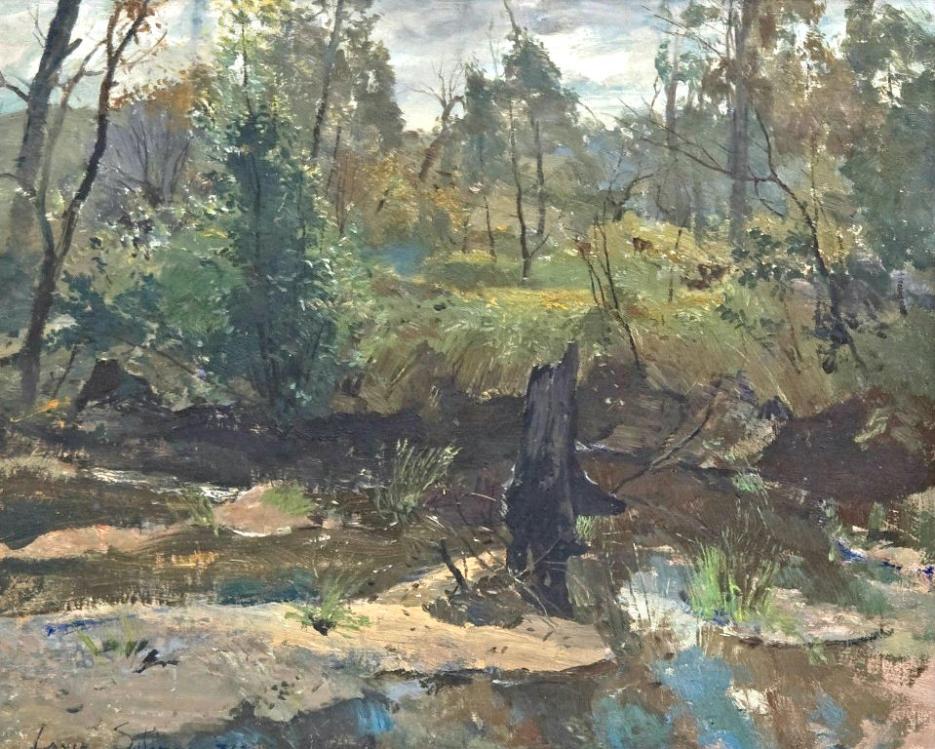 DUNLOP ART CONTEST - NO FIRST PRIZE AWARDED
MELBOURNE. May 14-Thejudges of the £1000 Dunlop art contest unanimously agreed that no picture entered In the competition deserved the first prize of £300.The second prize of £200 was won by Mr. L. Solomon, of Narrabeen, Sydney, for his painting of "TheYabbies Pool." DUNLOP ART CONTEST. (1951, May 15). Cairns Post (Qld. : 1909 - 1954), p. 3. Retrieved fromhttp://nla.gov.au/nla.news-article40371251
ORIGINAL PAINTING BY LANCE VAIBEN SOLOMON..AUST..LANDSCAPE ARTIST.(1913-1989) $999.00 At here
Yabbying in Warriewood's Creeks
When speaking with Betty King in 2012 about her time in Warriewood and Narrabeen as a girl during the 1930's, Betty remarked when asked: What are the main changes you've noticed in Warriewood since the 1930's?
The main change would be the creeks in the valley. The farmers used to spray DDT on the tomatoes and this leaked into the ground and waters. We used to have yabbies in all the creeks, beautiful big ones. We used to get a bit of meat and put a string in and catch yabbies when we first came here. That killed the creeks, they're just starting now to recuperate. I look at the water and I see it is becoming clearer.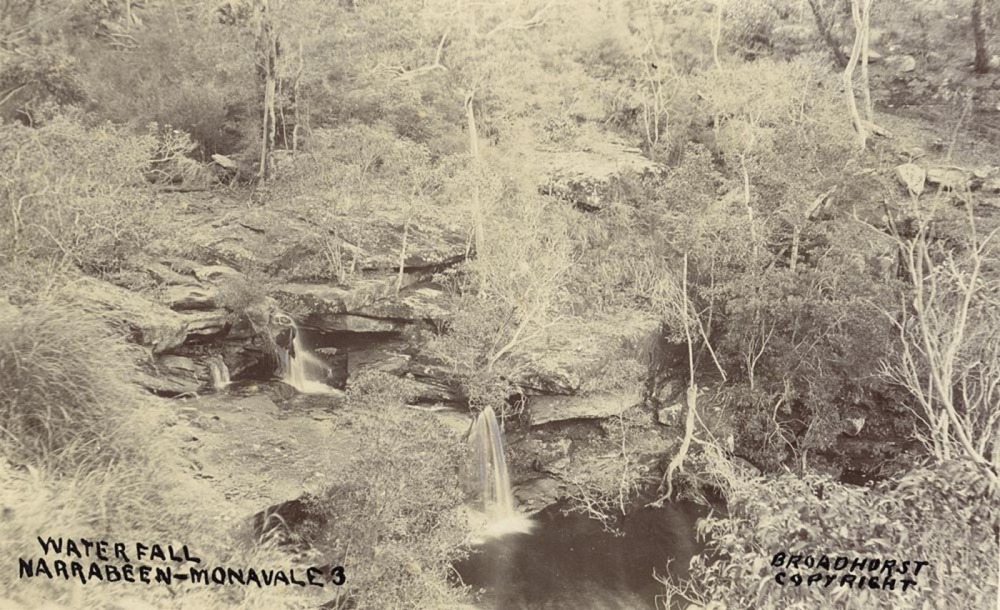 Image No.: .a106060h from Scenes of Narrabeen Album, Courtesy The Mitchell Library, State Library of Australia

Records of abundant seafood in both freshwater creeks and estuarine salt creeks in Pittwater communicate that prior to developments and the use of chemicals this was a rural paradise where the watery environments were also places where feasts may be harvested, in some cases producing record sized fish:
On Thursday last a fine specimen of black bream was caught by Mr J Booth, of Church Point, Pittwater. It was 21 in. in length, and weighed 5 ½ lb. The Sydney Morning Herald. (1896, February 19). The Sydney Morning Herald (NSW : 1842 - 1954), p. 4. Retrieved fromhttp://nla.gov.au/nla.news-article14037879
Warriewood's creeks were part of this readily available source for food, with Mullet Creek noted for once having 'scarred trees'; markers made by the original indigenous peoples indicating food was here. Irrawong waterfall and the pool that forms at its base, was certainly a prime habitat for the yabby, and its place in keeping the floodplain of Mullet creek healthy prior to the use of chemicals
The yabby, much maligned by farmers due to its destructive habits in dams and ditches, and for being a 'fish spawn eater', was used by fishermen for bait, was and is still a food for people as well. Nowadays, due to farming and market demands as pets, bait, and a food in restaurants where they are used in ravioli, grilled plain and many other dishes, they are available year round. Their wild or natural season is, when 'wild-caught', mostly in NSW from October to March.
The word 'yabby' is from:
A VOCABULARY OF ABORIGINAL TERMS, (Woradgery Tongue.) FOR BIRDS, BEASTS, FISHES, WEAPONS, TREES, &c.[Compiled by J. F. H. Mitchell, one of the Pioneers of the Albury District.] Yabby — Small dark lobster or crab (lagoon). A VOCABULARY OF ABORIGINAL TERMS. (1904, May 27). Albury Banner and Wodonga Express (NSW : 1896 - 1938), p. 34. Retrieved from http://nla.gov.au/nla.news-article100603675
YACKANDANDAH - THE Shire Council, at its last meeting, considered a petition from 26 ratepayers of Kiewa and Tangambalanga, asking that the necessary steps be taken to change the name of Tangambalanga to Tangam. Councillors were generally opposed to changing the name, which had been in use for over 60 years, and was the aboriginal for the 'Home of Yabbies,' it was decided that no action be taken. YACKANDANDAH. (1936, May 29). Albury Banner and Wodonga Express (NSW : 1896 - 1938), p. 5. Retrieved from http://nla.gov.au/nla.news-article112706345
Tangambalanga or Tangam for short, is a town in north-eastern Victoria, Australia. It is approximately 20 kilometres (12 mi) south-east of the regional centre of Wodonga, in the Kiewa Valley, and 5 kilometres (3.1 mi) from the Hume Weir. The residential district located near the intersection with the Kiewa Valley Highway is known as "Kiewa", with Tangambalanga proper beginning on the other side of the small valley flood plain. The town's name is derived from the Aboriginal Pallangaganmiddah Tribe's word (Tan-gam-bool-am) for the white clawed lobster, Murray crayfish. Tangambalanga. (2014, January 31). In Wikipedia, The Free Encyclopedia. Retrieved from http://en.wikipedia.org/w/index.php?title=Tangambalanga&oldid=593302886
And 'yabbying' was once as popular as 'prawning' and made a lot of common sense prior to and after The Depression in Australia. Our research has brought to light many reports of communities going 'yabbying' during flood tides or at yabby season, as well as many tragedies where unsupervised children were allowed to go yabbying alone along creeks and dams in rural areas. It is the abundance, method of catching and eating, and... the manner of poisoning them to get rid of them that bears out what Betty witnessed:
AUSTRALIAN AQUATIC PLANTS. At the ordinary monthly meeting of the Aquarium Society, a letter was read from the Director of the Botanic Gardens, intimating that endeavor would be made to meet the wishes of the society by the formation of a permanent exhibit of living Australian aquatic plants in glass aquaria, so as to be clearly discernible by the thousands who visit these gardens. As many of these plants are of extreme beauty and great use, this announcement was received with satisfaction. A number of exhibits of great interest were shown, among them being two living examples of the well-known 'yabby' crayfish, which is so destructive- to the walls of irrigation channels, by Mr. R. E. Eastway; the larvae of a caddis-fly, which is highly destructive to water plants, by Mr. Geddes; an interesting and beautiful fish known as the crested goby, by Mr. David G. Stead. AUSTRALIAN AQUATIC PLANTS. (1908, February 5).Evening News (Sydney, NSW : 1869 - 1931), p. 3. Retrieved from http://nla.gov.au/nla.news-article114107350
Yabbies. We used fresh meat also for catching yabbies — a small species of lobster, plentiful in outback dams and waterholes. The bait was tied on the end of a piece of twine, and when the yabby took hold with his claws, he was drawn up very gently until within a few inches of the water's edge, then brought out with a sudden jerk. Catching yabbies in this way was not as simple as it looked. The amateur either jerked too soon, when the yabby would drop in the water and escape; or he delayed a little too long, when the watchful crustacean would let go the bait. Immediately afterwards the yabby would make a sharp backward spring, thus stirring up the mud to hide his line of retreat. Going Fishing in the Backblocks, with Rod and Net. (1914, March 12). The Catholic Press (Sydney, NSW : 1895 - 1942), p. 13. Retrieved from http://nla.gov.au/nla.news-article104989642
THE YABBY GRABBERS. Some years ago, Wilcannia. N.S.W., and thereabouts, had a yabby-grabbers' club, the members of which were mostly business people, who met at waterholes and excavated tanks, and had yabby-grabbing- competitions. The yabby, which is a small species of freshwater lobster, is, generally plentiful in western tanks and waterholes. It is sometimes a nuisance in dams and irrigation channels, where it bores tunnels into the embankments, causing- loss of water. The small boy revels in fishing- for it with fresh meat—and the members of the club fished in the same way. The bait was tied on the end of a short line, and when the Yabby took hold of it with his claws,-he was drawn up very gently, till within a few inches of the water's edge, then brought out with a sudden jerk. Catching yabbies in that way was not as simple as it looked. The inexperienced fisher either jerked too soon, when the yabby would drop in the water and escape, or he delayed a little too long, when the watchful crustacean Would let go the bait. Immediately afterwards the Yabby made a sharp backward spring, thus stirring up the mud to hide his line of retreat. Some big tanks provided good sport, and there was always lots of fun in a competition amongst members.—Dimon. AUSTRALIAN: Topical, Reminiscent, Historical. (1925, November 14). The World's News (Sydney, NSW : 1901 - 1955), p. 8. Retrieved from http://nla.gov.au/nla.news-article131452965
YABBY INDUSTRY. A syndicate has already made preliminary negotiations (says Leeton 'Irrigator') for securing the sole rights from the W.C. and I.C. of gathering cray-fish from the channel waters on this irrigation area. The idea !behind the scheme is to issue specially made traps to those prepared to use them, and the syndicate will then purchase the yabbies at so much per lb: The food section will be dissected, ;for which there is a market, and the balance of the crustacean will be crushed for fowl food. The whole proposal is still in the 'air,' but has every indication of becoming an established fact very soon. YABBY INDUSTRY. (1931, June 4). The Hillston Spectator and Lachlan River Advertiser (NSW : 1898 - 1953), p. 6. Retrieved from http://nla.gov.au/nla.news-article131384899
YABBIES ARE REAL CULPRITS
BUT CATER HAD TO PAY THE PIPER.
Before Mr. Sheridan at the Leeton Court yesterday, William H. Cater was proceeded against by Willimbong Shire. Council for allowing rice water to flow on to a public road. The Shire Clerk, Kessel A. Edwards, prosecuted for the Council, and Mr. Sedgewick appeared for the defendant and entered a plea of guilty. He explained that the offence did not disclose negligence on the part of his client, but yabbies had bored holes through the banks, thus causing the seepage on to the road. Mr; Edwards said he was not pressing for a heavy penalty as the case was on a par with one heard recently, where a nominal fine was imposed. Cater was fined 10/, together with 19/ costs. YABBIES ARE REAL CULPRITS. (1933, April 21). The Murrumbidgee Irrigator (Leeton, NSW : 1915 - 1954), p. 7. Retrieved from http://nla.gov.au/nla.news-article156024320
One day we went yabbying. We all enjoyed the fun of catching the sequaint creatures. Then we passed them over to my husband, who cooked them in my friend's copper, then cleaned only the tail pieces, all other parts being discarded. He scalded the tail cutlets and arranged the pretty pink and white slices on a meat dish, with salt, pepper and vinegar, and we enjoyed them better than any crayfish supper we have had in town. Fun On The Farm And Yabby Suppers. (1940, April 4).Chronicle (Adelaide, SA : 1895 - 1954), p. 52. Retrieved from http://nla.gov.au/nla.news-article92387949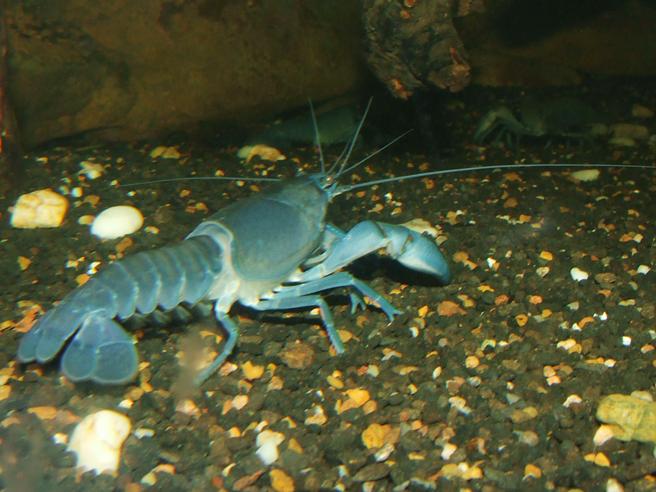 YABBIE 16 ¾ INCHES LONG
What is confidently believed to be the biggest yabbie ever seen in this district was caught in the Government tank here on Sunday, by Mrs. Mortin, of the Tibooburra Hotel, and it measured exactly 163 inches long. It is doubtful whether there has ever been a bigger Yabbie caught in the whole of the Far West. Enquiries since Sunday have elicited the fact that yabbies measuring up to 13 inches In a few ea.-es have been caught. This 16 1/2 Inch 'monster' was secured on Sunday when about twelve people were 'yabbying' In the tank that is almost lull. Mrs. Martin (formerly Miss Cranston of Wertago Station- was naturally excited over the catch. Few in the district failed to see this yabbie and the first question that had to be disposed of was whether it is actually a yabbie. However, there was ultimately no question of the yabbie specie identity. Mrs. Martin caught the yabbie in a net after it had attacked the bait, but the capture was made only after several mistakes with the hand net. The net was applied in the ordinary way. To secure a yabbie about three to six inches. So it was In this case the net was applied to the yabbie's back . instead of Just behind him. Mrs. .Martin had only the front portion of the prey within observation till she landed him.The excitement did not die down for quite a time. People kept calling to see the 'find' and it was measured and remeasured till all were convinced of its exact size. At 9 o'clock on Sunday night the hotel people had yabbie supper!
STORY OF LOCAL YABBIES
Yabbies were not always to be found in this tank. Many years ago they were placed there by Mr. Tommy Hoon, A chinaman, who lived in this district for a great number of years before his death.Mr. Hoon brought them from ML Poole Station where they have been known to exist for very many years.Since the yabbies were put in the tank it has never none completely dry, though on occasions too low for use. Yabbies will live in mud and water, so to speak, and they have survived in this tunk through several droughts At present there are quite a lot of yabbies In the Government tank. YABBIE 16 3/4 INCHES LONG. (1947, November 28). Western Grazier (Wilcannia, NSW : 1896 - 1951), p. 3. Retrieved from http://nla.gov.au/nla.news-article133036814
DAMAGE BY YABBIES Yabbies are a constant worry, particularly near to and on the downstream side of checks and regulators. Of recent years, good results in checking 'the burrowing activities of the yabby, have been obtained by mixing' some coal cinders with the loam to be used in repairing the -inside batters of earth channels. Miss Helen Clark, of the Melbourne Museum, who is a leading authority on yabbies, visited the M.I.A. in May, 1949 and while here explained why this method is effective. The yabby has no blood vessels and therefore a puncture of the skin in any part of the body will cause death by haemorrhage and accordingly the yabby will keep away from places where there' is cutting edges such as are found in, cinders, are present. This method of control would be- satisfactory in farm head ditches. 730 Million Tons Of Irrigation Water. (1950, January 10). The Murrumbidgee Irrigator (Leeton, NSW : 1915 - 1954), p. 1. Retrieved fromhttp://nla.gov.au/nla.news-article156115205
And a few examples of the notion during the 1930's to 1950's that 'what poisons and kills other living things won't affect us at all';
CLAIM SUCCESS IN YABBIE ERADICATION'
WORK OF GRIFFITH MEN
AT the same time as the investigation into the question of exterminating the 'Yabbies'- was being carried out at Leeton by 'Mr. Keith C. McKeown, a settler and Departmental officer at Griffith have also been experimenting.
The Fruit Inspector at Griffith (Mr.'P. C. Bottrell) working in conjunction with Mr. D. G. Stark and in collaboration with Mr. G. Beverley, has achieved great success in dealing with yabbies.
PRACTICALLY 100 Per Cent KILL
Mr. Stark is responsible for the original idea, says Mr. Bottrell, who gives full credit to this settler for the scheme which has made the campaign so successful. .This scheme employs bisulphide and practically 100 per cent kill is claimed as a result of the first applications. There has been definitely a 97 per cent, result in test areas.
The method employed is simple. About one fluid ounce is applied to each hole. A shovelful of dirt removed from the entrance of the hole, the carbon bisulphide poured in and the earth replaced and pressed back. The gas so penetrates to every corner of the hole and right to the bottom. ' Mr. Bottrell regards the result of the experiment as being of great value and will particularly be appreciated by fruitgrowers with earth ditches. CLAIM SUCCESS IN "YABBIE ERADICATION". (
1939, March 3
).
The Murrumbidgee Irrigator
(Leeton, NSW : 1915 - 1954), p. 3. Retrieved from
http://nla.gov.au/nla.news-article156083136
Making War on Yabbies -
Damage To Area Canal Banks -
EXPERIMENTS OF ENTOMOLOGIST AND FARMER
REFERENCE was recently made in these columns to the work of Mr. K. C. McKeown, of the staff of the Australian Museum, in connection with the destruction of 'yabbies' which are often a great nuisance to irrigators on these areas. Mr. McKeown achieved considerable success with the destruction of 'Yabbies' using in his field experiments forms of Derris Powder and extract as well as nicotine sulphate and other substances of the kind which, although fatal in the case of certain aquatic organisms such as crayfish, are quite harmless when brought into contact with other forms of life.
All authorities consulted, he states, were unanimous on the question that Derris on warm-blooded animals, even in reasonably strong concentrations, was quite harmless, while very dilute solutions gave satisfactory results in the case of crayfish.
GRIFFITH MAN'S METHOD
Mr. D. G. Stark has carried out a considerable amount of experimental work on his Farm No. 7, Griffith, on quite different lines, and his results are most interesting. In a letter dealing with this subject Mr. Stark writes: —'First, it should be observed that the earth head ditches on my farm were first constructed in 1913 and in process of time have been gradually enlarged, now being about 8-feet across and about 15-inches deep.' For many years the Yabbies have been troublesome, gradually extending their holes until in places they resemble rabbit burrows. Loss of water through these holes has been considerable, and latterly the orchard trees in the vicinity were definitely threatened by the consequent seepage.' At the beginning of last watering season I set out seriously to try and find an effective method of control of the pest, enquired at the local Co-operative Store, and was advised by Mr. Roy McNabb, to try carbon bi-sulphide.'
100 PER CENT. EFFECTIVE
"Tackling first the worst sections of the ditch, my procedure was to open up the holes with a shovel to a depth of 6 or 8 inches, taking care to keep the holes open.
I then measured about -1-oz. of the bi sulphide —using a 2 oz. Marmite pot — and poured same well down into the hole, immediately covering with damp soil and filling to original level, tramping down the soil to seal the hole and also to prevent seepage.
'The results were entirely satisfactory — practically 100 per cent effective — as not one hole thus treated has been re-opened. The first sections were treated in October of last year and the ditch was filled with water repeatedly during a very trying season.' I may add that Mr. Botterell —Inspector of the Agricultural Department — has closely watched this experiment, and has actually carried out the work on another section of the ditch with similarly satisfactory results. I understand that he has covered the matter in a comprehensive report to his department. Mr. Stark's method so far as is known is quite new and the results achieved are so outstanding that other settlers who are experiencing trouble from Yabbies will doubtless be very interested in the information now given. Making War on "Yabbies". (
1939, August 22
).
The Murrumbidgee Irrigator
(Leeton, NSW : 1915 - 1954), p. 4. Retrieved from
http://nla.gov.au/nla.news-article156081304
The term
bisulphide
is now outdated, and is usually avoided due to the ambiguity of the bi- prefix most often being used for mixed metal and hydrogen salts. Carbon disulfide is a colorless volatile liquid with the formula CS2. The compound is used frequently as a building block in organic chemistry as well as an industrial and chemical non-polar solvent. It has an "ether-like" odor, but commercial samples are typically contaminated with foul-smelling impurities, such as carbonyl sulfide. Insecticide
Carbon disulfide is used as an insecticide for the fumigation of grains, nursery stock, in fresh fruit conservation and as a soil disinfectant against insects and nematodes.
Derris is a climbing leguminous plant of Southeast Asia and the southwest Pacific islands, including New Guinea. Its roots contain rotenone, a strong insecticide and fish poison. Also known as derris powder and tuba root, it was formerly used as an organic insecticide used to control pests on crops such as peas. However, due to studies revealing its extreme toxicity, as well as due to the concentration level of rotenone to which the powder is often refined, experts in ecological and organic growing no longer consider it ecologically sound.
FISH AND YABBIES -
KILLED BY D.D.T. SPRAY DRAINED INTO DAM
THE killing of carp and yabbies(crayfish) with D.D.T. Is described in an article contributed by the Entomological Branch of the Department of Agriculture, in the current Agricultural Gazette. Mr. E. J. Wason, entomologist at Leeton, recorded the case of an M.L Area grower who had been using a 0.1 per cent D.D.T. spray and ... allowing- approximately one gallon to drain back into a dam of estimated capacity 25,000 gallons. Hundreds of carp and yabbies were dead along the bank of the dam on the following morning. The fish and yabbies were still being affected and dying twenty-four hours after the D.D.T. pollution. On the basis of the figures given, the final D.D.T. concentration in the dam would be one in 25,000,000.In addition to the interest attaching to this report, it suggests a possible practical method of control of yabbies.
OVERSEAS EXPERIENCE
Five per cent D.D.T. in kerosene was used extensively in the Northwest Pacific for the control of Anopheline mosquitoes, and the normal rate of application was one quart to the acre. Such an application would kill many other aquatic insects, but was generally considered harmless to fish.
Emulsions were considered for this work as they offered some advantages, e.g., drip cans over streams were the conventional method, but it was quickly - found that emulsions were toxic to fish in concentrations as dilute as one part D.D.T. in 10,000,000. In other experimental work in U.S.A., one in 20,000.000 was found to be harmless to fish within six days. In one experiment trees surrounding a reservoir were sprayed from the air. About 75 points of rain fell within a few days and some of the spray drifted over the water. Analysis showed less than one part of D.D.T. per 10,000,000 of water, yet water animals, fish and frogs were killed. FISH AND YABBIES. (
1947, December 30
).
The Murrumbidgee Irrigator
(Leeton, NSW : 1915 - 1954), p. 6. Retrieved from
http://nla.gov.au/nla.news-article156162253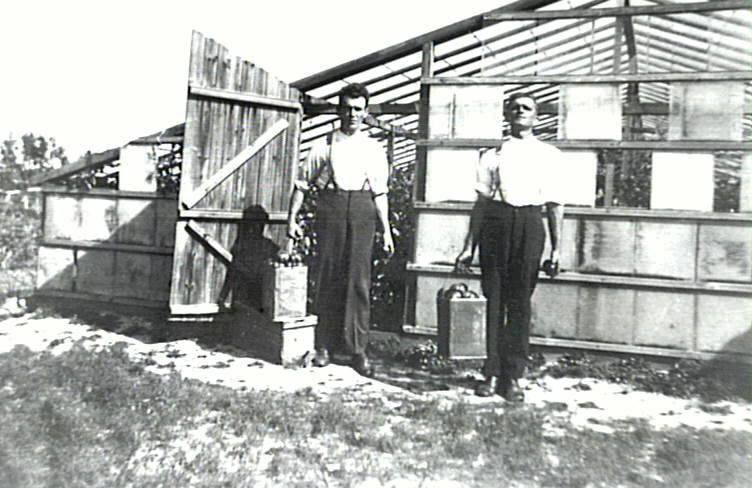 Warriewood 1934 - Ivan and Ivan at tomato glasshouses - image courtesy Mona Vale Library History Unit
(Dichloro-Diphenyl-Trichloroethane) (DDT) was a widely used synthetic pesticide before its usage was banned in many countries, following many campaigns that it is harmful to the environment and wildlife. It is a persistent organic pollutant with a half-life of 2–15 years. DDT was first registered as an insecticide in Australia in the 1950s. A 1972 report from the Australian Academy of Science entitled The Use of DDT in Australiarecommended continued use of DDT where its use clearly outweighed the disadvantages, plus further emphasis on research for alternatives. The use of DDT in Australia has been fully banned since 1987.
Although the use of many chemicals in crop production for tomatoes in Warriewood would clearly be the premier cause of the loss of being able to procure a yabby feast from Warriewood creeks today (fishing regulations aside), an examination of the development of land grants and those who first built on these areas of sandplain, escarpment and Mullet Creek flow may indicate others fed poison into the two water courses that converge to pour over at Irrawong and flow as the Mullet Creek into Narrabeen Lagoon.
One of these streams stems from near what is now the Monash Country Club, the other from a few fields over in the belly of the Ingleside escarpment. An early Land Map names who owns what in this part of the valley where Irrawong gathers her chimes: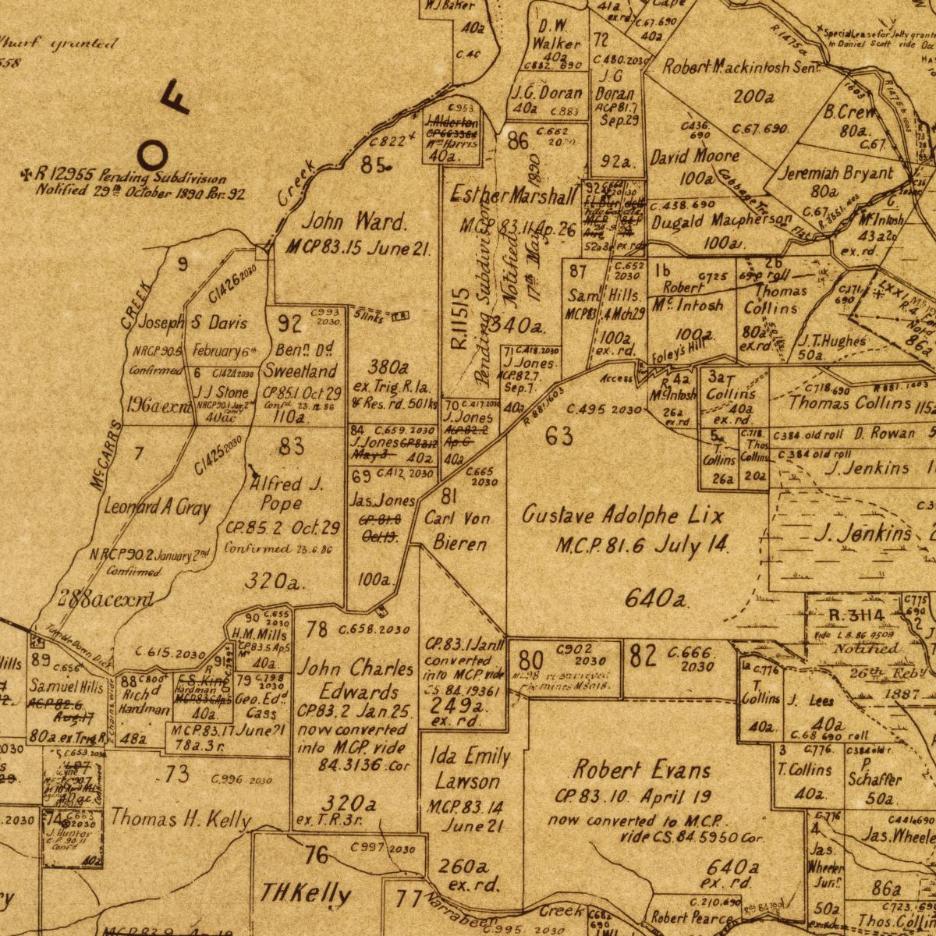 Above: New South Wales. Department of Lands. Parish of Narrabeen, County of Cumberland [cartographic material] : Metropolitan Land District, Eastern Division N.S.W. 1886. MAP G8971.G46 svar (Copy 1).
Below: New South Wales. Department of Lands. Parish of Narrabeen, County of Cumberland [cartographic material] : Metropolitan Land District, Eastern Division N.S.W. 1905. MAP G8971.G46 svar (Copy 1). Tile b1.Made in 1895 -
Below this an enlargement from: : New South Wales. Department of Lands.Parish of Narrabeen, County of Cumberland ... N.S.W. [cartographic material] 1895. MAP F 173. all courtesy National Library of Australia. G M Frankand was brother to G J Frankland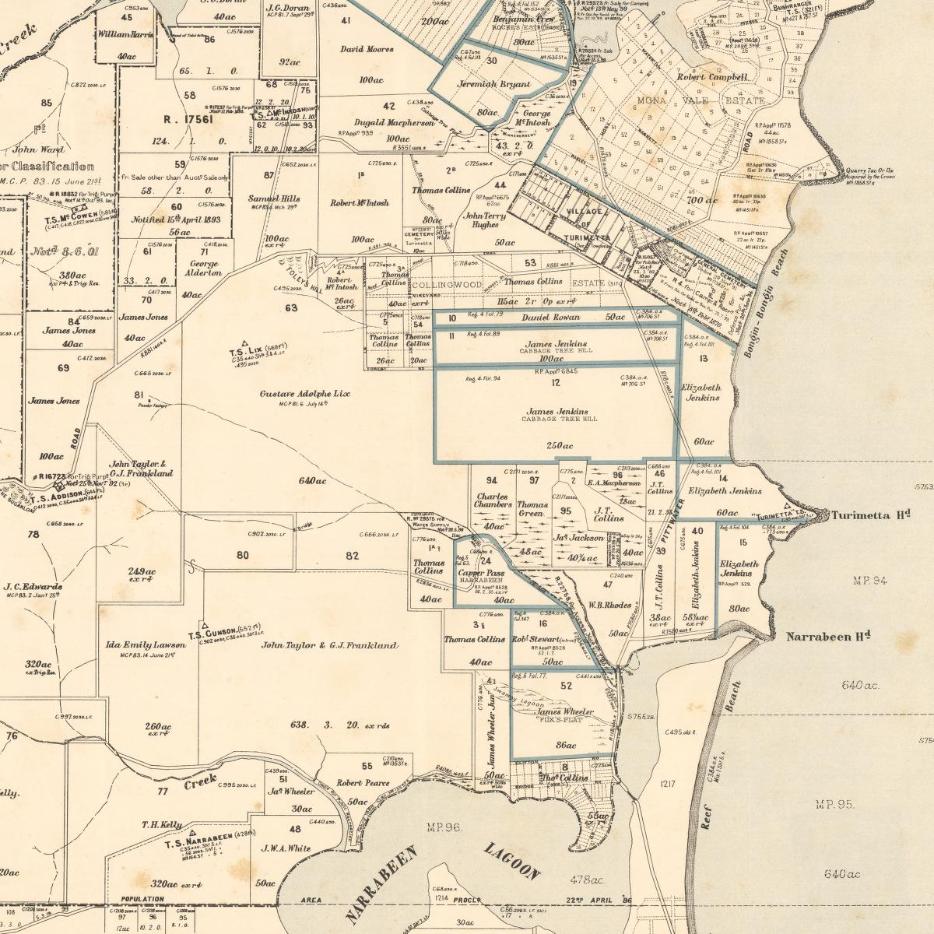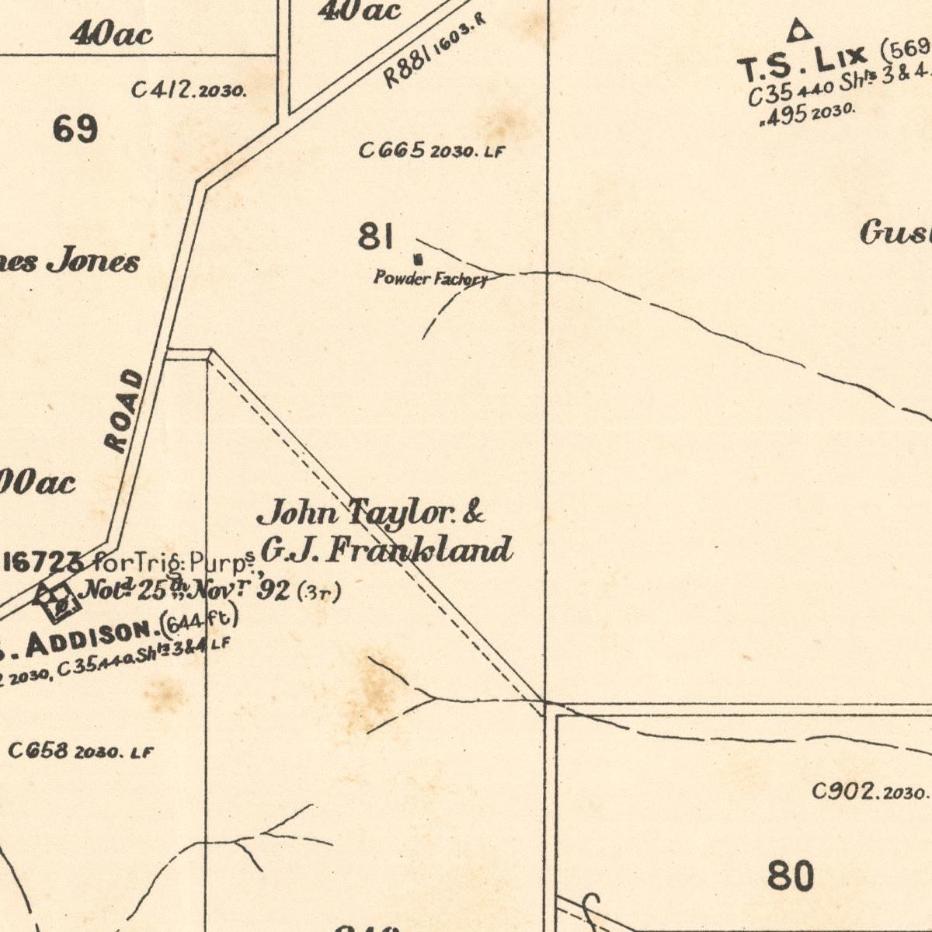 The Ingleside Powder Works and the lands of John Taylor and G J Frankland on one side and the lands of Gustave Adolphe Lix on the other are where the water courses the converge into Mullet creek were.
Irrawong waterfall, and the pool that grows bigger with good rain, are indicated as a reserve for water in 1895, Noted 20.5.1899: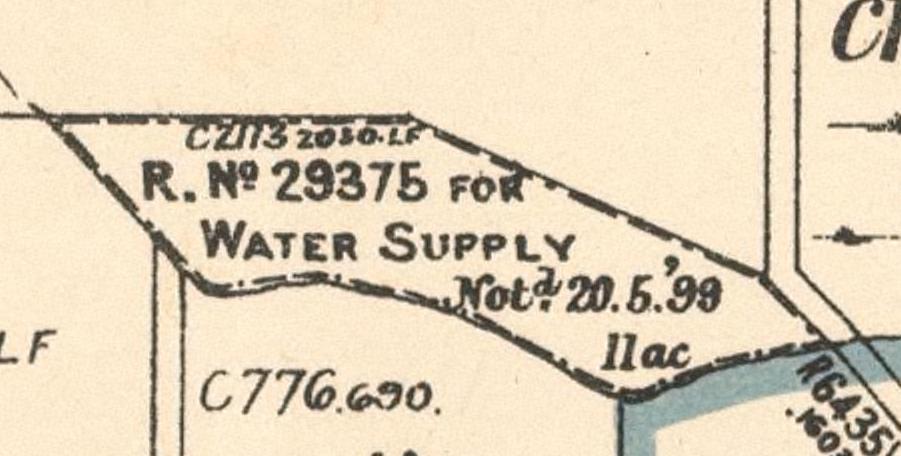 New South Wales. Department of Lands. Parish of Narrabeen, County of Cumberland [cartographic material] : Metropolitan Land District, Eastern Division N.S.W. 1905. MAP G8971.G46 svar (Copy 1). Tile b1.Made in 1895
Narrabeen Powder Works: NARRABEEN POWDER WORKS. (1885, June 20). The Sydney Morning Herald (NSW : 1842 - 1954), p. 10. Retrieved from http://nla.gov.au/nla.news-article28362489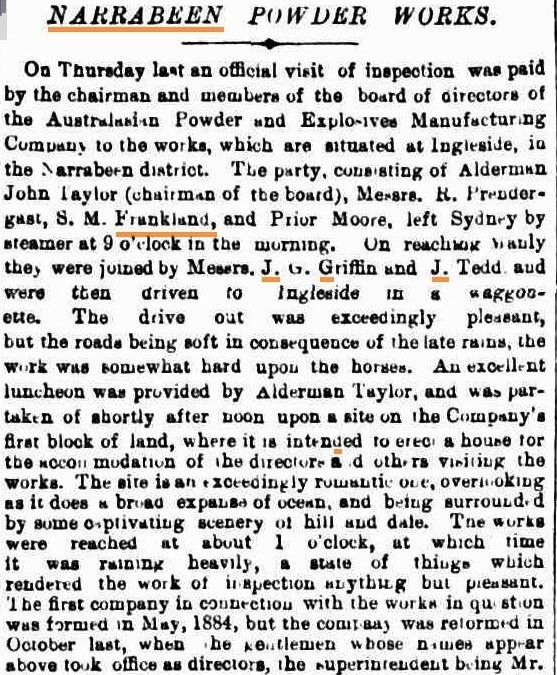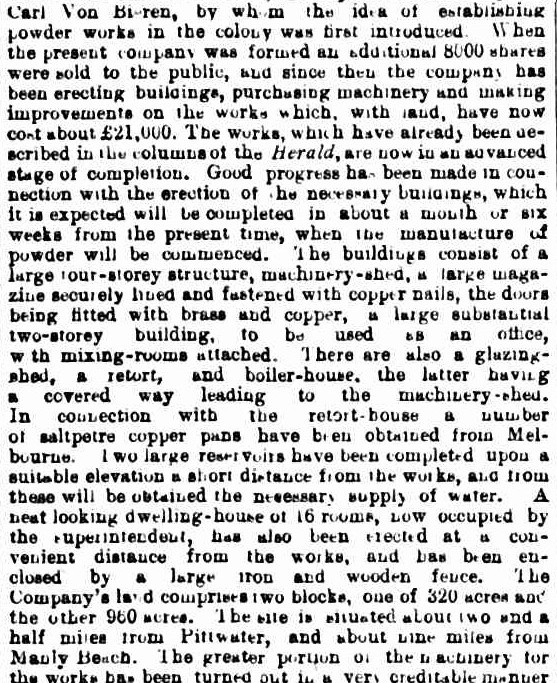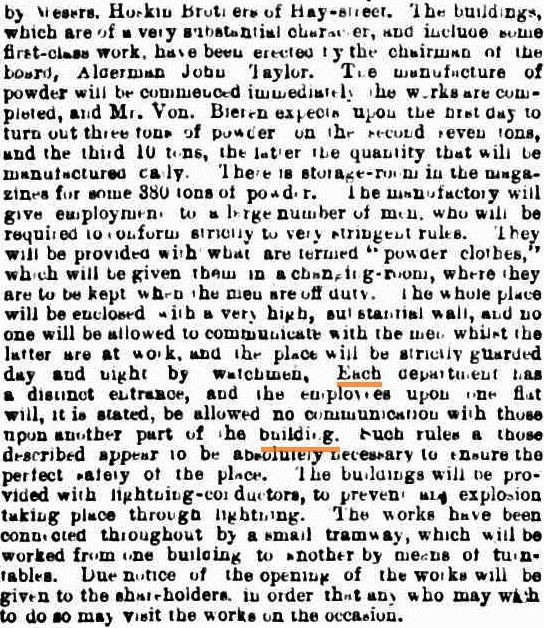 In mid 1885 this Powder Works venture began to fall apart. The lavish house, the lavish entertainments, the procuring of more land, tools and equipment seemed to have emptied the pockets of Von Bieren and, after borrowing more pounds from acquaintances, he fled to Melbourne, stating in parting he was going to purchase sulphur and presses, when in fact he was trying to get out of the country, and succeeded, only to be brought back - the land, as shown in the maps above, went to the directors named. More of this venture is at the link to the Ingleside Powder Works history page. It seems unlikely that any sulphur was disposed of in the creek; what may have been detrimental to the area and escarpment surrounds was the wholesale gathering of grass trees from which the powder would have been made.
More about the gentlemen who owned these lands at the time shifts were occurring in the Warriewood valley are in Extras below. One of these, Gustave Adolphe Lix, who came out to Australia from France for the International Exhibitions in Sydney and Melbourne, then stayed on, is shown in possession of 640 acres where one of the origins of Mullet Creek flows towards Irrawong's 'water pond'.
The family that saw a shift towards saving what was being spoiled through ignorance and unawareness of the 'half life' of some chemicals once commonly used in our waterways and poured into the good earth, has a surname of Heydon and it is in a cancelled Land Map of 1905 that we see the 640 acres of Warriewood Gustave Lix land has now been ascribed to J K Heydon. Born in or close to 1836, Monsieur Lix would have been around 50 years of age when hhis name was affixed to land in Warriewood in 1886, the same year Leon Houreaux, another French gentleman 'farmer' and timber cutter in Warriewood prior to then, applied for a publicans licence, and within months of Mr. Lix turning 70 in 1905 - time to retire from hard work in any man's language....or to invest elsewhere....We have found no proof of a connection between the two Frenchmen, but it beggars belief that they did not know each other while in the same valley in the same year and of the same culture.
To be noted is Shelagh Champion, OAM, B.A.(Lib.Sc.) and. George Champion, OAM, Dip listing Mr. Lix as a 'farmer' as well in their Profiles of the pioneers in Manly Warringah and Pittwater - 1996, revised 2013.
This notice, which describes the property, and records that Leon Houreaux worked as a woodcutter prior to opening the Rock Lily Hotel seems most telling, or confirming:
TO SPECULATORS -Splendid unique chance. Right to M. C. P. Block of 640 acres at Narrabeen; splendid position, plenty of water, part cleared, and dwelling on It. For particulars and Inspection apply at Rocklily Hotel, Pittwater-rd. Advertising. (1886, July 31). The Sydney Morning Herald (NSW : 1842 - 1954), p. 17. Retrieved from http://nla.gov.au/nla.news-article13632453
It is the Powder Works drama that may have first brought the green valley and escarpment to the attention of the Heydon family:
The charge of fraudulent insolvency against Carl von Bieren was resumed this morning. Mr. Heydon, assisted by Mr. Campbell, prosecuted ; and Mr. Rogers defended. The first witness called was James Tedd, commercial broker, who said that early in September the accused was indebted in about… to him. About that time he showed him a letter from America, signed by a man named … offering to take one hundred tons of charcoal per month from him at 3d per lb. The accused then deplored he could not take the offer up on account of the way in which he was situated, and eventually he induced the witness to put ….in the venture. EQUITY COURT. (1886, June 2). Evening News (Sydney, NSW : 1869 - 1931), p. 6. Retrieved from http://nla.gov.au/nla.news-article107285006
NOTICE OF APPLICATION FOR A PUBLICAN'S CONDITIONAL LICENSE. I, LEON HOUREUX, of Narrabeen, Farmer, do hereby give notice that I desire to obtain, and will at the next Licensing Court to be held at Sydney on the 10th day of July next, apply for a certificate authorising the issue of a publican's conditional licence for a house to be erected at Narrabeen, and to contain eight rooms, exclusive of those required for the use of the family, set in conformity with the provisions of section SO of the Licensing Act of 1882. Dated the 18th day of June, 1885, Signature of applicant-LEON HOUREUX. Address-Farmer, Narrabeen. Advertising. (1885, June 22). The Sydney Morning Herald (NSW : 1842 - 1954), p. 2. Retrieved from http://nla.gov.au/nla.news-article28362579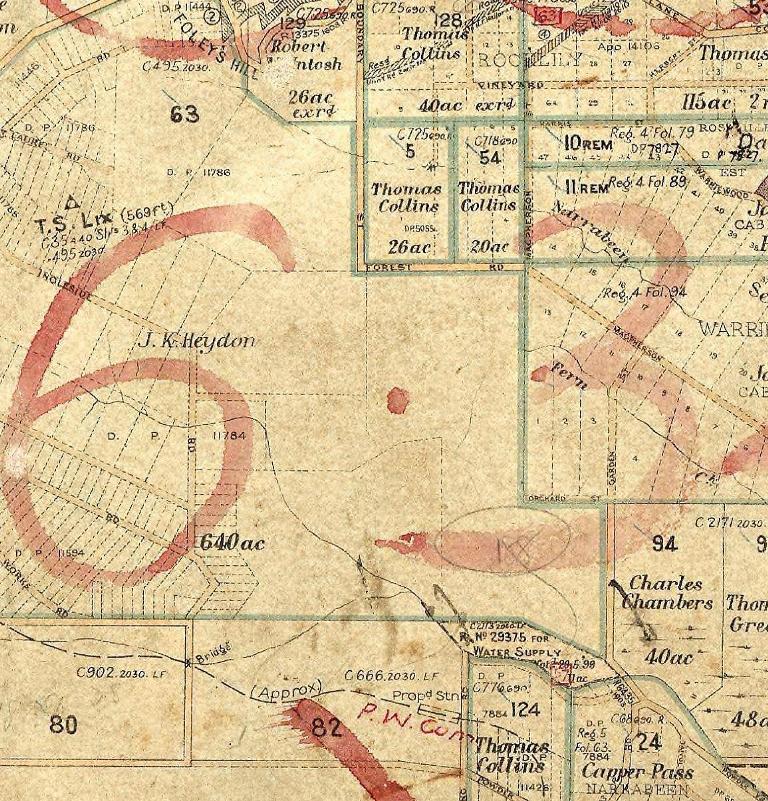 Primary Application - Joseph Kentigern Heydon 6 acres 1 rood 1 perch on Pittwater & intersection Waterview & Mona Streets hire Warringah Parish Narrabeen County Cumberland Volume 2486 Folio 96 Access Direction: Effect: Early; Duration, Date range: 12/04/1913 to 04/11/1913: NSW State Records
Mr. J. K. Heydon Dies Abroad
Mr. Joseph Kentigern Heydon, whose death has been reported from England, was a noted Catholic and the author of several outstanding Catholic books. He was also the founder of the firm now known as Felt and Textiles Limited.
Born in Sydney in 1884, he was the only son of the late Hon. L. F. Heydon, M.L.C., and grandson of Jabez King Heydon. He was educated in England by the Benedictines at Downside School, and later went to the Massachusetts Institute of Technology in Boston (U.S.A.), where he studied physics. Returning to England he married Miss Alice Leary, and worked as an industrial chemist in London for some years. Later he returned to Sydney, qualified as a solicitor and became his father's partner in the firm of Messrs. Heydon and Heydon. But science was always his first love, and this led him to Interest himself in the processes of manufacturing and eventually to the development of a small textile concern — The Textile Company of Sydney, which has since grown into Felt and Textiles of Australia, Limited, Among chess players it will be recalled that he represented New South Wales in tournaments and enjoyed an international reputation as a composer of chess problems.
Capable Writer
In later life Mr. Heydon settled again in England and devoted himself to writing. Earlier, he had been an active member of the Sydney Catholic Evidence Guild. It was a natural development that Mr. Heydon later spent his leisure in England in writing books on Catholic topics. He usually addressed himself more particularly to the university man. His books in this category are 'The God of Reason,-' The God of Love,' and 'Live and Help Live.' Also, 'The Wonder of It,' which is still In the publisher's hands. These books were remarkably well received. One critic said of 'The God of Reason,' that 'it shows Mr. Heydon as a Catholic apologist of the first order.'
Mr. Heydon's interest in social and economic questions also dated from his student days. His early book, 'Wage Slavery,' was a plea for co-operation between employer and worker for their mutual good. He supported the Catholic Social Guild in England. By degrees, however, he ceased to believe in the possibility of reform under the existing system, and began to look to the corporative order.
He also contributed articles on the subject to various political Journals, both in England and the United States. His books also include the novel, 'World . D,' a scientific fantasy on the lines of Mr. H. G. Wells; early books. His last book was 'The Wonder of It.' Mr. Heydon is survived by his wife and a son, Dr. Bernard Heydon. Mrs. W. E. Collingridge, of Hunter's Hill, is a sister. — R.I.P. Mr. J. K. Heydon Dies Abroad. (1947, October 16). Catholic Weekly (Sydney, NSW : 1942 - 1954), p. 6. Retrieved from http://nla.gov.au/nla.news-article146606824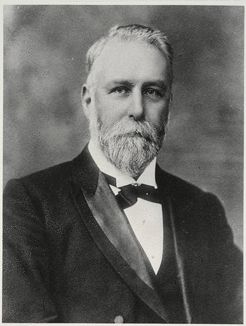 Louis Francis Heydon (1848–1918) - The death took place suddenly yesterday afternoon of Mr. Louis Francis Heydon, M.L.C., at his residence, Kentigern, Mary street, Hunter's Hill. Mr. Heydon was in his garden, among the flowers, when he suddenly felt ill, and returned to the house, expiring almost immediately. Born in Sydney 70 years ago, the son of the late Mr. J. K. Heydon, he was educated at St. Mary's Seminary, and afterwards at the Sydney Grammar School. As in the case of his brother, Mr. Justice Heydon, the President of the State Industrial Arbitration Court, he was attracted by the law, and he became one of Sydney's leading solicitors. Entering the Legislative Assembly in January, 1882, as member for Yass Plains, he quickly made his way in politics, and he was Minister for Justice in Sir John Robertson's Ministry from December 22, 1885, to February 4, 1886. He resigned from the Assembly in 1886, and he entered the Legislative Council in 1889. He was always prominent in debate. He was recognised, indeed, as one of the best debaters in the House. He brought a keen intellect and a broad outlook to bear on every measure that came before him as a member of the Chamber, and his knowledge of Parliamentary procedure was equalled by that of few other men in the House. He was a man of fine literary attainments, and was a member of the Shakespeare and other well-known societies. In art matters, too, he was very interested. A prominent member of the Roman Catholic Church, he took a keen interest in all matters relating to that denomination. He was president of the St Vincent de Paul Society, with which institution he had been connected since its foundation many years ago. In the early days of the war he was prominently identified with the movement for the early closing of hotels. The deceased gentleman leaves a son and a daughter - Mr. J. Kentigern Heydon and Mrs. W. Collingridge. There will be a requiem Mass at Villa Maria on Monday, at 10.30, and the funeral will take place at the Field of Mars Cemetery. DEATH OF MR. L. F. HEYDON, M.L.C. (1918, May 18). The Sydney Morning Herald (NSW : 1842 - 1954), p. 14. Retrieved from http://nla.gov.au/nla.news-article15768917
LATE MR. L. F. HEYDON, M.L.C.
Probate has been granted of the will of the late Mr. Louis Francis Heydon, M.L.C., solicitor, of Sydney, who died on May 17 last. His estate is of the net value of £14,853, nearly all of which consists of mortgage investments. The bequests are £250 to the rector of St Joseph's Foreign Missionary College, Mill Hill, England; £200 to the Roman Catholic Bishop of Bathurst, for the cathedral there; £100 to the rector of Riverview College; £100 to the Hunter's Hill branch of the Society of St. Vincent de Paul; £100 to the Superior Council of Australasia of the same society; £300 to the Mother Prioress of the Carmelite Convent, Dulwich Hill; £50 each to the parish priest at Villa Maria, Hunter's Hill, and the Rev. Egall, of Ryde, for masses for repose of testator's soul; £50 to the Bishop of Rockhampton for the Roman Catholic Church at Bowen. The annuities include £10 each a month, for 10 years, to the Mother Prioress of the Carmelite Convent, the Superioress of the Marist Convent, Woolwich, and the Provincial of the Marist Order in Australia. The residue of the estate is devised to testator's widow, to his daughter (Mrs. Mary E. Collingride), and to his son(Joseph Kentigern Heydon), who is appointed sole executor and trustee. LATE MR. L. F. HEYDON, M.L.C. (1918, September 17). The Sydney Morning Herald (NSW : 1842 - 1954), p. 8. Retrieved from http://nla.gov.au/nla.news-article15802936
From the October 1st, 1906 Land Sale by Halloran Land Sale in Warriewood on begins the phase of 'taxing' the Warriewood Valley which constitutes a slippery slide into losing much of the Eel Tide of Irrawong, Mullet Creek, Fern Creek and over the sand and flood plain of the Warriewood wetlands...
The Eel Tide of Irrawong and Warriewood Wetlands, with the help of some who were there during these shifts, will complete our focus of Pittwater's Watery Environs (Aquatic Feasts), with insights on those intervening 100+ years...and with them, some positive notes of a community determined to keep the environment in our environment....which the Heydon family were part of...
*PNHA along with the Ingleside Residents Association and (the then) Pittwater Residents Association played a key role in preserving large areas of bushland on the escarpment when a major subdivision was proposed, then rejected by Pittwater Council, for the so-called Burrawang Ridge Estate by development company (Healesville Holdings) in 1994 in the most northerly area of the escarpment south of Mona Vale. A further proposal for subdivision around September 1999 was also rejected by the Council, and, after a meeting that the Pittwater Escarpment Committee held at Pittwater RSL in February 2000, a land swap was arranged to compensate the owners. The bushland reserve of Ingleside Park had long been established just south of this land.
However south of this reserve, another major area of bushland in private ownership, was the Heydon Estate, covering the upper reaches of Mullet Creek. A deal between Pittwater Council, the NSW Government and the owners resulted in this area also being conserved as bushland. So now Warriewood, so changed by housing subdivision, at least has a beautiful bushland backdrop.
The success in saving the bushland on the escarpment was a great win-win situation for all - the bushland and its flora and fauna, the people of Pittwater and the owners of the land. Development would have caused enormous damage to the bushland and watercourses for buildings, infrastructure and bushfire hazard-reduced areas.
In 2003 PNHA received a grant Community Caring for Warriewood Wetland and Irrawong Reserves for over $24000. This provided for $22 000 of contract bush regeneration work. A generous donation from the son of the former owner of Warriewood Wetland, Henry Roth, contributed to the publication of PNHA's Introductory Field Guide to Birds of Warriewood Wetland and Irrawong Reserves. Profits from this book have provided for at least $14500 for wetland conservation and erection of nestboxes for Sacred Kingfishers. Our regular Breakfast with the Birds activities began with this grant and continue to be very popular.
*This information is courtesy of Marita Macrae of PNHA, one of those who was there.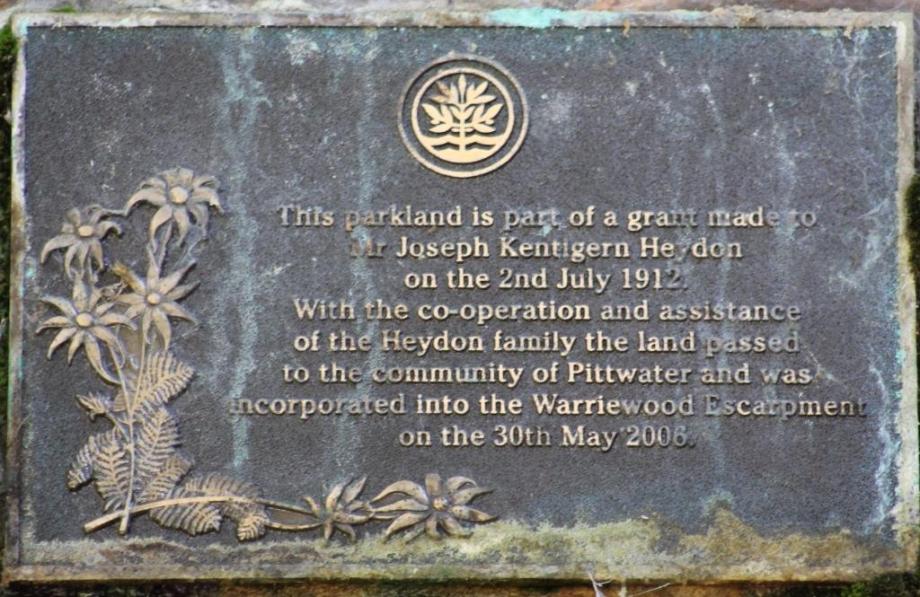 Fish and other fresh-water species: Native fish may occur in the escarpment waterways, however, to date only the introduced Mosquito Fish has been positively recorded. Other aquatic species such as yabbies live in the main waterways, their presence is important as they are now uncommon in urbanized waterways. P.27 - Warriewood/Ingleside Escarpment (North) – 2005 . Plan of Management - Pittwater Council. April 2005. Pittwater Council. Prepared By Gondwana Consulting
Part of Pittwater Environmental Foundation's Mullet Creek Large Project grant work involves fauna surveys of the catchment. In February (2013) a rare Giant Burrowing Frog was located near the creek's northern arm. "Giant" for a frog means the body is about 10cm long. This survey was undertaken by Tracy Chambers and Chris Jolly, took this photo.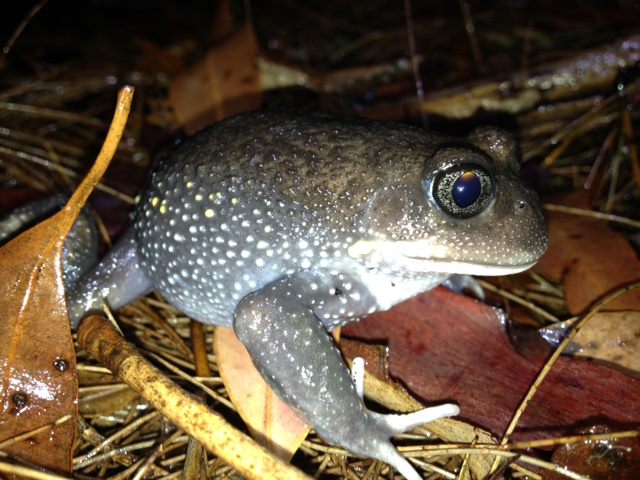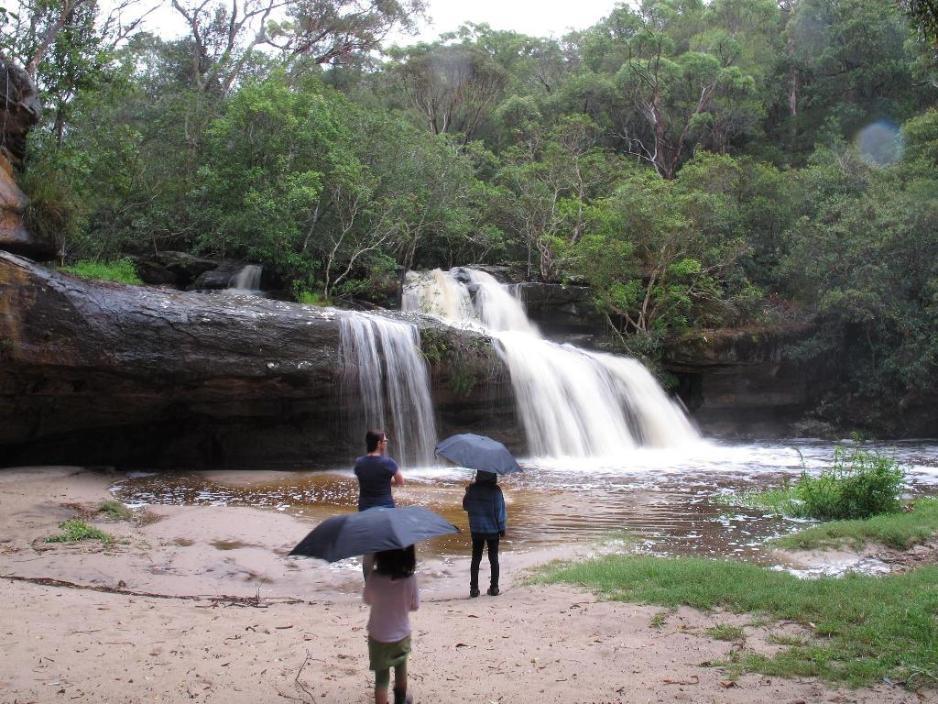 The waterfall in flood on 2/2/13, photo by Marita Macrae.
MULLET CREEK PROJECT LAUNCH
By Pittwater Ecowarriors - Published on 9 Sep 2012
Mullet Creek project launch by Pittwater MP Rob Stokes, Welcome to Country by Neil Evers, Guringai elder. Thanks to the volunteers, bush-care staff of Pittwater Council and PEF who did the hard work
Extras:
George Jackson Frankland (1825- 1902)
The Late Mr. G. J, Frankland.
On Tuesday evening, at The Pines, East Maitland, Mr. G. J. Frankland, late of Mowbray, Paterson, breathed his last. He had lain unconscious and without pain, since Sunday at midday. His family, of five— three daughters and two sons, and Mrs. Frankland — were with him when he died, and Canon Shaw, of St. Paul's, Paterson, was a visitor on Monday.
Mr. Frankland's history is a very interesting one. He was born in Pitt-street, Sydney, in September 1823.. His father Captain Frankland had arrived with his young wife in the brig Ann, owned, sailed, and freighted by himself, a couple of years before. And, after selling his cargo and engaging in trade for three or four years, he determined to settle down on a grant of land which he secured. The first grant was in Tasmania, but he was advised to get it transferred to New South Wales, Tasmania being a small place, and never likely to be anything but a convict settlement. Ho therefore selected a site for his homo on the Paterson river. Leaving his wife and young son in Sydney till he built a house at Mowbray— so called from his native village in Yorkshire — he established himself in the then remote locality beyond Paterson. In 1825 Capt. Frankland went on a business visit to Sydney. When he was expected back, his wife sent the rowboat to Newcastle to meet him. When the long delayed sailing vessel by which he was expected arrived, it brought news of his death. The widow, with her two little sons, determined to return to her friends. On the way home a third son was born, off, the Falkland Islands.
Of these sons, the subject of our sketch was The last survivor. He was educated at North Allerton Grammar School and Wakefield College. After leaving school, he spent three years in a bank, and sailed for New South Wales in 1844. The barque sprung a leak, and put into Porto Praya for repairs, arriving in Sydney eleven months after starting. In 1845 Mr. Frankland started to gain ' colonial experience' by taking a lot of cattle to the Clarence River. In 1840 he sailed again for London, and accepted a position with a firm of Shipping Agents, where he remained till 1852. He then returned to Australia, and accepted a similar post in Sydney, remaining' till 18B0. He returned to England and remained there for two years, returning to New South Wales in 1863, since which date ho lived at Mowbray, till he sold it in August last. When in England the last time he became engaged to 'Miss Mary Stevenson, a Yorkshire lady. ' After arranging for her to follow him, escorted by the late Hon. Thos. and Mrs. Walker, of Yarralla, Concord, he hastened buck and built the present house as a home for his English bride. Miss Stevenson duly arrived, and the wedding took place at Yaralla. In 1873 Mrs. Frankland died, leaving two sons and three daughters living, and who still survive Mr. Frankland remained a widower till 1889, when he married Miss Phoebe Cobbett, daughter of the late Mr. E. J.Cobbett, K.B.A., an English artist of distinction.
Mr. Frankland,'s health has been generally good, but of late he has suffered from weak sight and Slight deafness, but his mental faculties were unimpaired to the last, and he succumbed at last to senile decay, calmly sleeping away. Till advancing age advised rest Mr. Frankland was active in church work and in the public life of the district where he resided. For many years ho represented the parish' of Paterson in' the Synod of the Diocese of Newcastle, and ho was justice of the peace also for many ' years. Ho was an excellent neighbour, a considerate employer, a faithful friend, a kind father, and a hospitable host. Conspicuously courteous- in demeanor, with fine manners which people sometimes called old fashioned, a shrewd observer of won and events, conscientious in the discharge of duty, a practical Christian, the Squire of Mowbray was a pattern to his fellows. ?? The' phrase ' A fine old English gentleman' aptly described him. He parted with Mowbray only a few months ago, his life being practically ended in the locality which was favoured by his lengthened residence within its boundaries.
All Mr. Frankland's family are grown up, and three are married.
Mention is made above of the voyage up the river to Mowbray, undertaken by Mr. Frankland's father in 1824. We may here conveniently use some notes of a conversation with Mr. Frankland a few years ago, embodying reminiscences of his life. The manuscript was submitted to Mr. Frankland after we had written it,' but has not before been printed. Captain Frankland, as has been said, in 1824 sailed in a small vessel called the Fame, from Sydney, to occupy his grant, then the farthest out on the river. There was at that time no hotel at Newcastle, and Captain Frankland appointed the hospitable entertainment extended to him by the commandant. He came up the Hunter in a row boat, having for companions, besides his servants, Mr. Siddleton, Captain Grimes, and Mr. Edward Cory. The present site of Morpeth was known uu tho Green Hills, a designation which lived till within a few years back, but it is now never heard. There was no settlement at Morpeth, and the party camped at a hostelry of Nature's gilt, at the junction of the Hunter and Paterson luivei-ii, a great hollow tree. Covered with their bout clonks, they slept in the bout. A sail was rigged for the progress up the Paterson, and a favourable wind curried tho voyagers many miles on thoir way. Here and there they passed settlers wharfs, and occasionally a cull was made. Eventually, Captain Frankland reached his destination, and set himself to prepare a dwelling for his wife and young son, who were left in Sydney in the meantime. The river was, at that early time, the only highway. There were no roads...... There was no township of Paterson in 1814. Settlement began to proceed slowly between 1825 and 1830. The first visitors and explorers of the district passed the rich and fertile lands on the Hunter and came on to the Paterson, scared by f oar of floods. Very great floods had left their marks in the trees on the Hunter ....The brushes which occupied the flats held back the water. Blacks and bushrangers were alike troublesome at the time of which we are writing.
King Bungaree, the monarch of the Paterson tribe, was a constant visitor at Captain Frankland's homestead, but could not keep his hand, or those of his subjects from picking and stealing. Captain Frankland had mounted two ship's swivel guns in front of his house, and on special occasions they were fired off. He resolved to give the blacks a salutary fright. With that end in view, he took the opportunity to show the guns to Bungaree, saying to him— 'You see that fellow ; I just put a pipe in his mouth, and he will speak.' Subsequently, the guns having been charged, the blacks were ranged in front of the house ; Captain Frankland's servant at a given signal applied the match, and the report was so astounding to the King and his subjects that they fell to the ground in terror, and dare not venture near the place for some time after. When Bungaree did reappear, he brought some fish as a peace-offering. Captain Frankland had few experiences with bushrangers. One he took in custody, in what circumstances we have not been told, and was thanked by the Government for his courage. Ho expected an attack on one occasion, and was somewhat dubious of the good faith of his assigned servants. Upon consulting with his overseer, a free Irishman, however, he was assured he might depend on them. Still, he thought it well to try them, and in complicity with the overseer, secretly arranged to give a false alarm, while he openly promised some reward to the man first in the position to give aid. The experiment was entirely satisfactory in appearance, but 'really was a failure, for the overseer had whispered to the Irishmen among the men what had been fixed upon, to give them a chance, as he said. There was fortunately no other trial of their fidelity. The breed of poly cattle still well-known in the Paterson district; was introduced there by Captain Frankland. The Rev. Samuel Marsden had brought some Yorkshire polled cattle to the colony and he gave Captain Frankland a heifer. That gentleman also procured some others by purchase, and the small herd was travelled from Sydney by way of Wiseman's Ferry. Butter and cheese then sold at 2s 6d a pound, and many settlers made a good living by dairying. As we have said, there were then no roads in the Paterson district. The traveller who wanted to get to Sydney, had to go by boat down tho river, two men pulling and one steering. Most settlers kept a boat of their own. At Newcastle the voyager had to wait for a chance to got to sea. Sometimes there would be a delay of four or five days. An authentic story is told of a gentleman who desired to bo in Sydney by a certain date to attend a sale, and having waited vainly for a vessel at last chartered a whale boat, intending to conquer the difficulty , in that way. Fortunately, before ho set out oh so adventurous a voyage, a ship was driven in by stress of weather, and gave him passage. ' The Late Mr. G. J. Frankland. (1902, December 18). The Maitland Daily Mercury (NSW : 1894 - 1939), p. 4. Retrieved from http://nla.gov.au/nla.news-article123433456
DEATH. At the Sydney Hotel, on the night of Thursday last, the 1st instant, G. S. FRANKLAND, Esq. formerly commander and owner of the brig Ann. This Gentlemen, who was universally respected for his amiable manners and strict propriety of conduct, came to this Colony between 2 and 3 years since, with his family, and became a valuable settler on Hunter's River. He was lately attacked with a fever, and on his arrival in town two or three weeks ago, called in the professional skill of Dr. BLAND, under whose care he was restored to tolerable health. However, he was so unfortunate, as to indulge himself the pleasure of bathing before his frame was sufficiently restored, and this was attended with a relapse. From the second attack he soon recovered, and visited Parramatta, returning to Town on Monday or Tuesday last ; and was then attacked with a return of the fever which is supposed to have originated or been greatly occasioned by mental anxiety. The third attack proved fatal, the unfortunate Gentleman expiring in the course of Thursday night. He was respectably interred on Saturday morning. Captain Frankland leaves an amiable widow and two children, to deplore their irreparable loss. Family Notices. (1825, December 5). The Sydney Gazette and New South Wales Advertiser (NSW : 1803 - 1842), p. 3. Retrieved from http://nla.gov.au/nla.news-article2184803
Gustave Adolph Lix (1836 - 1920)
From Galle Mr. Gustave Lix.: SHIPPING. ARRIVALS.—JULY 18. (1879, July 19). The Sydney Morning Herald (NSW : 1842 - 1954), p. 4. Retrieved from http://nla.gov.au/nla.news-article13438846
THE INTERNATIONAL EXHIBITION.
Among the passengers by the mail steamer Siam, which brought the Japanese Commissioner, were M. Gustave Lix and M. Bourdil, the former of whom is the commercial agent for the French exhibitors, and the latter a gentleman to whom has been entrusted the duty of fitting up the French Court and arranging the French exhibits. M. Lix was secretary to the French Commissions at the exhibitions of London, Vienna, and Philadelphia. The French man of-war, with the Commissioners and exhibits, is daily expected to arrive. The Commandant and Commissioner-General is Captain Adolphe Francois Mathieu, formerly Governor of New Caledonia, and his staff consists of M. Mario Paul Cave, second in command ; M. Emmanuel Victor Thomas Marie de Kernafflen de Kergos, midshipman ; M. Auguste AlexisI Fran Cois Lefevre, midshipman ; M. Alfred Guth, midshipman ; M. Aimé Isidore Vergé, midshipman ; M. Charles Jean Fran Cois Cauvin, surgeon ; M. Paul Henri Chasseriand, assistant surgeon ; M. Andre Stephen Ande, assistant Commissioner at the head of the Secretarial Department of the Commission ; M. Bourdil, already mentioned ; M. Arthur Menard, private secretary to the Com-missioner-General ; M. Ollive. M. de Savignon, M. Soudry, M. Ladislas Zamoiski, deputed respectively to report upon agricultural, commercial, financial, and other matters in the colony.' The Japanese Commissioner, Mr. Haruo Sakata, and his two secretaries, Mr. J. Watanabe and Mr. Y. Murakami, were shown over the Exhibition building and grounds on Saturday by Mr. B. H.d'Avigdor, private secretary to the Executive Commissioner, and expressed themselves as highly delighted with the site pointed out to them as the probable location of Japan-namely, in the north-eastern portion of the build-ing. Mr. Sakata is a gentleman of considerable distinction in his own country, and has had a large experience in European countries. He speaks English fluently, as do also his two secretaries. The other Japanese who accompany him are exhibitors. Mr. J. de Groot, who came to Sydney as the commercial representative of several Netherland houses, has been introduced by the Dutch Consul as the official representative of Holland. M. Albert Van Schalle, the Belgian Commissioner, has paid a visit to the Exhibition building, with which he expresses himself as highly pleased. The secretary is Mr. John Lodwidge. The foreign Commissioners are to be presented by the Executive Commissioner (Mr. P. A. Jennings, C.M.G.) to his Excellency the Lieutenant-Governor to-morrow in his capacity of President of the Commission. M. Prosper Lamal," the representative of a largo number of Belgian exhibitors, and_ who filled a similar office at the Paris Exhibition, arrived in Sydney by the Lusitania, and has taken up his residence at 22, Charlotte-place. Besides the French man-of-war, au Austrian and a German man-of war are on their way to Sydney with Commissioners and exhibits. We understand that it is intended to hold an International Exhibition in Japan in 1881. THE INTERNATIONAL EXHIBITION. (1879, July 22). The Sydney Morning Herald (NSW : 1842 - 1954), p. 7. Retrieved fromhttp://nla.gov.au/nla.news-article13439089
Gustave Lix has charge of this excellent exhibit and also of a display of French Cashmere shawls in several qualities, sent by E. Breant, of Paris. The artificial flowers exhibited by C_ Poitevinet Sour, Palis, are very beautiful, violets, pansies, roses, lilies, in bouquets, a garland of many coloured... daffodils, veronica, and ferns in clusters, and some immense blossoms and leaves of velvet richly coloured. One large bouquet contains a great variety of spring and summer flowers most beautifully made -and faithfully coloured. Mr. Lix represents the exhibitors. ARTICLES of APPAREL and PERSONAL ADORNMENT in the EXHIBITION. (1880, April 13). The Sydney Morning Herald(NSW : 1842 - 1954), p. 3. Retrieved from http://nla.gov.au/nla.news-article13457925
DAILY SALES At the Melbourne International Exhibition - Under Instructions from FRENCH, AUSTRIAN, PRUSSIAN, INDIAN, and Other Exhibitors. A Vast Quantity of EXHIBITION GOODS, GEMMELL, TUCKETT, and Co have received Instructions to SELL by AUCTION, at the Melbourne International Exhibition, on days to be mentioned in future issue, French Austrian Prussian Indian, and Intercolonial exhibits, Comprising A large variety of goods...Under instructions from M Gustave Lix, Messrs Boring and Dorrmann, Messrs Jas M'LaannndCoM Felix Doohllng M Telllor…. Advertising. (1881, April 21). The Argus (Melbourne, Vic. : 1848 - 1957), p. 2. Retrieved from http://nla.gov.au/nla.news-article5980816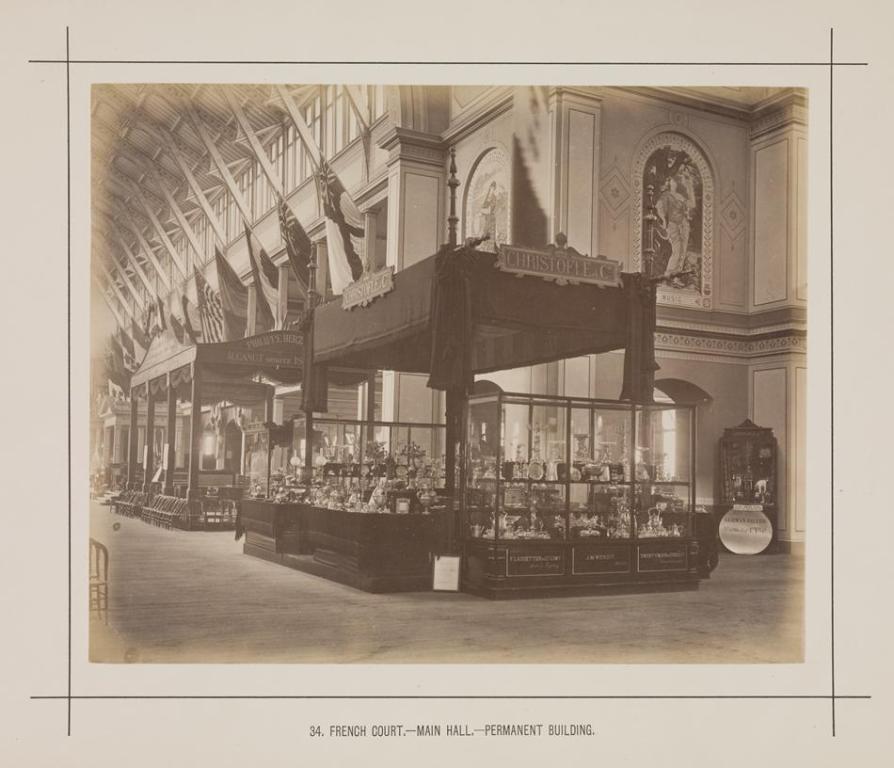 Photograph - French Court, Great Hall, Exhibition Building, 1880-1881, Reg. No: MM 107833, courtesy Museum of Victoria: View of the exhibit of Christofle & Co. in the French Court in the Great Hall at the 1880 Melbourne International Exhibition held at the Exhibition Buildings, Carlton Gardens, between 1 October 1880 and 30 April 1881.
In addition to the main permanent Exhibition Building, two permanent annexes as well as a large, central wooden temporary annexe was constructed to house the courts of various countries, or to include larger items from countries already represented in the main Building. France had courts in both the main Exhibition Building as well as in the central temporary annexes, on the western side of the main avenue between Great Britain and Germany.
Christofle & Co., of 56 Rue du Bondy in Paris, exhibited under class 24, Goldsmiths' and Silversmiths' Work, where they exhibited various silverware, seen in their display case in this photograph on the south-eastern corner of the transept in the main building. Singled out for comment in the Argus newspaper, one journalist wrote: 'Messrs. Christofle, of Paris, exhibit a pair of very fine candelabra and centre-piece, executed in bronze, encrusted with leaves and flowers; and another pair in oxidised silver, ruinè in style. Patine has been used to give an additional charm to this fine and most artistic work.' Retrieved from HERE
LIX.—August 13. 1920, at Mount Druitt, Gustave Adolphe Lix, late of France, aged 84 years. Family Notices. (1920, August 16).The Sydney Morning Herald(NSW : 1842 - 1954), p. 8. Retrieved from http://nla.gov.au/nla.news-article15902372
A Yabby Biography.
By JAMES DEVANEY.
THE dam built across the little creek was at first bare and life-less when the stock came in to drink, but soon a fringe of green edged it; deep black mud covered the yellow clay bottom, reeds and water lilies appeared, and it swarmed with crayfish. The feet of waders, sticky with spawn and seed-bearing mud from distant waterholes, no doubt first populated the new dam. The swarming aquatic life did no harm, nor did the birds that fished and bred there; but the station overseer, always half preoccupied with the water problem, cursed the crayfish. Their burrows went farther and farther into the clay banks till here and there a wasteful seepage began to moisten the outside.
Sometimes the station children came down with nets and lines-yard lengths of cotton with raw meat baits tied at the end-and they would half fill a kerosene tin in an afternoon. But the crayfish more than held their own.
It was here that Yabby was born, one of the teeming crew in that fierce competition for food and life, and, by mere chance, one of the survivors. The narrowed tail showed him to be a male, and as he grew his almost trans-parent, water-coloured suit of armour plate changed to a darker and darker green. The time came when the fugitive stage was over, and he became one of the aggressors in a world where might was the only right.
The Crayfish Clan.
THE crayfish population were not always abroad hunting, in spite of their astonishing appetites. They disliked water which was very warm or very cold, and would remain in the muddy burrows, or lurk deep among the weeds about the edges. During most of the winter they stayed half torpid far under the banks, and during the heat of midday in summer the water birds knew that there would be but poor fishing.
But at all other times they -were the prowling ghouls of the pool and dominated everything. Foul and savage feeders, always frantically hungry, the shadowy forms went gliding forwards over the bottom with their double pair of feelers waving slowly and the huge
claws ready. At the first sign of danger they would reverse gear and go darting backwards, tail first, always raising a "smoke screen" of fine mud which completely hid them. Many of the females carried a mass of soft, jelly-like eggs under the tall leaves like a bunch of diminutive grapes. The tiny young, resembling the grown-ups as soon as born, kept to the shallows, and were very hard to see at all, for they were exactly the almost trans-parent colour of the water.
Yabby himself, now an experienced warrior of the crayfish people, had long learnt the need of extreme .cau-tion, for night and day the place swarmed with enemies. Where Might is Right.
HERONS stalked along the edges with stiletto bills, held ready for the thrust. The tall Jabiru loved crayfish, the bittern hunted for them among the reeds; the shag dived for them. Towards evening the water-rat was abroad; and all night long the nocturnal nankeen heron was at his fishing.
But Yabby, too, was perpetually hungry, and of late the competition was becoming keen. Nothing, living or dead, came amiss as food. When a weak sheep became bogged and finally sank, smothered in the mud, befouling all the dam and Indeed the whole neighbourhood, Yabby and his fellows gorged Inside the carcase for weeks, stripping the bones bare. The more rotten the offal the more they loved it.
He had seen the "old men" of his clan, huge green and spiky fellows, even kill small swimming animals, and once, ferocious with hunger, he had stalked a young water-rat, gripped it under water when it dived, held on grimly till it was drowned, and then feasted. More than once, too, in the lean times, he had set upon a female crayfish, gripped her with his great pincers, and devoured her. It was always females who were eaten by males, for they were callous cannibals. They simply had to eat, and there was no fellow-feeling among them, no esprit de corps, no chivalry. It was Nature's old ruthless law-each for himself.
The Great Trek.
YABBY was able to feed, to mate, to survive, only by this utter ruthlessness, for the place was becoming overstocked. Fights with big fellows like himself became more and more frequent, and twice he lost a claw in single combat, and had to Ile low in semi-starvation till the huge nipper grew again. There was too much cover for the wading-birds to keep the balance of Nature here. But Nature has always a way.
Sometimes large and strong members of that crustacean community simply disappeared, none know how or where. And as the place became more crowded and the competition too keen a dim racial instinct stirred in Yabby. He, a water animal, would leave the water. He did not plan; he simply obeyed a wisdom greater than himself, a blind but infallible instinct.
And instinctively he chose exactly the right time. One evening, just after rain, when the bush was drenched with moisture and the skies clouded, he lumbered up a log at the edge and went ludicrously up and over the bank and off across the paddock. He breathed by gills and could not breathe air direct, but the grasses were wet, and he felt no discomfort. Under the cover of the friendly darkness he gain-ed the timbered country, and all nightlong he shambled awkwardly forward, slowly but purposefully, and always in a straight line.
Pastures New.
BY dawn he was some hundreds of yards away from the home dam, and before daylight he was well hidden in a moist clump of undergrowth. But no sun appeared; a drizzle set in, and Yabby once more went shuffling for-ward over the unfamiliar world of solid things, but careful of cover now. He was a fish out of water, a triumph of instinct.
Once a young fantail spied him crawling through the grass and plopped down beside him, staring. Yabby backed and raised his great front claws, his long feelers waving. The young bird propped back on its tall, gave a startled squawk, and vanished.
Most of the day he travelled through the wet forest and all the next night, uphill and down, over rocks and sticks, under logs and debris. By daylight he had travelled more than a mile overland, unerringly to the unknown goal. He came downhill at last to where a long permanent waterhole lay level in a creek bed.
Yabby approached the edge at long last and went crawling over the bare rock. A heron across the water was suddenly interested and came flapping over, but It was too late. Yabby had slid gratefully into the wide water, and with three tremendous flips of his tail he was right out Into the deep, leaving a line of tiny bubbles in his wake. A Yabby Biography. (1932, December 31). The Brisbane Courier (Qld. : 1864 - 1933), p. 17. Retrieved from http://nla.gov.au/nla.news-article21998482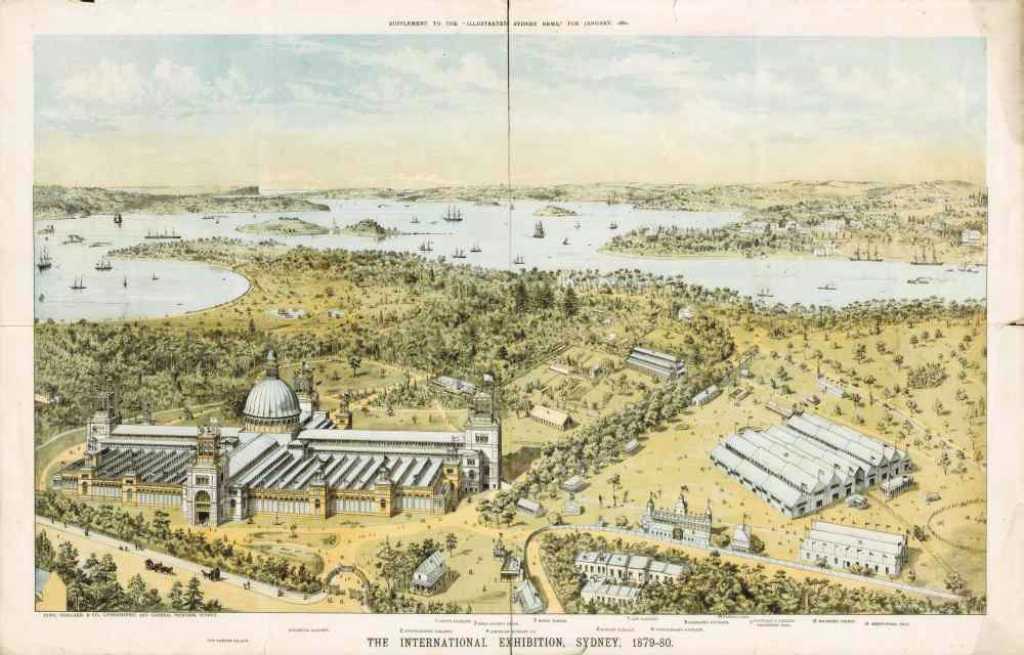 'The International Exhibition, Sydney, 1879-80,' supplement to Illustrated Sydney News, January 1880. Chromolithograph; Image No.: 8336600, courtesy National Library of Australia, Canberra.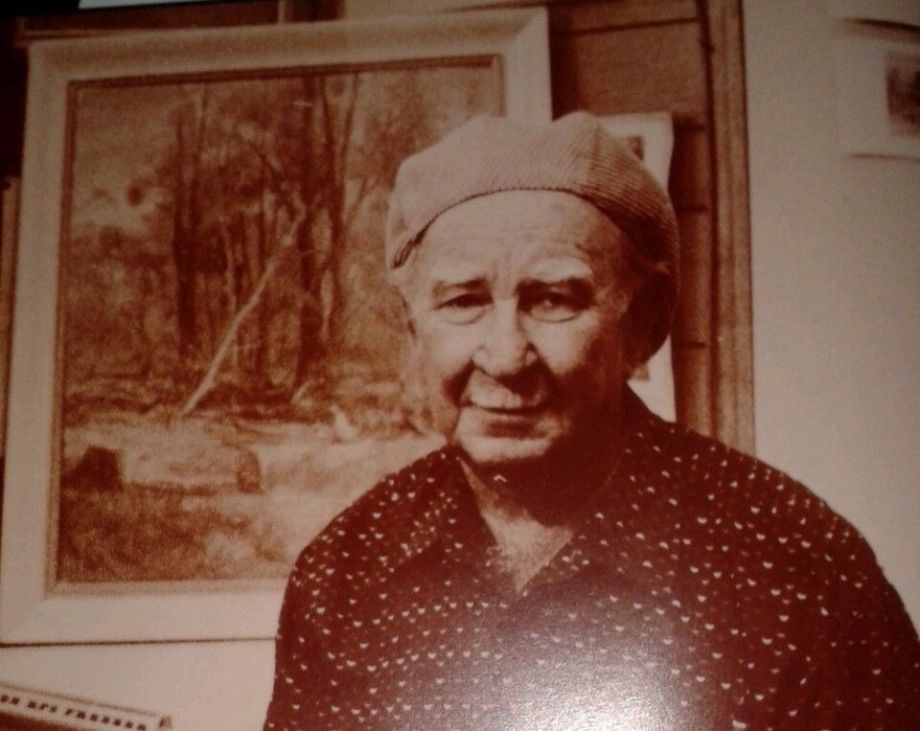 Lance Solomon - Narrabeen Artist - (1913-1989)
Yabbying and Eeling in Warriewood's Creeks - threads collected and collated by A J Guesdon, 2014.