June 3 - 9, 2012: Issue 61
McCarr's Creek : Some history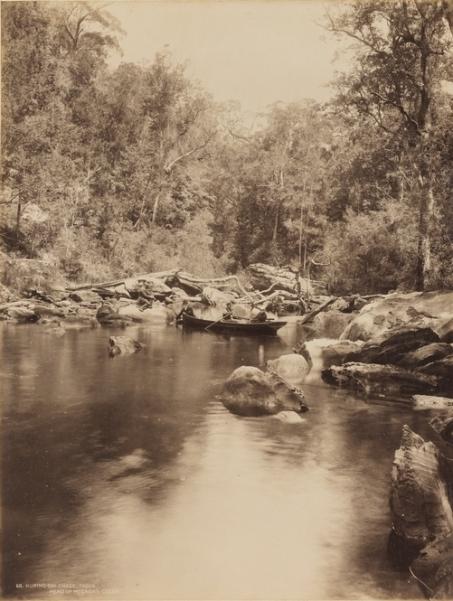 Creeks are the lifeblood of the land for farmers, a refuge for native fish, birds and drinking holes for all the doe eyed tree and ground dwellers. They have also been used for much else in Pittwater since Europeans settled here; their environments, their uses, the folk that have come and gone and the reasons for their being there have changed dramatically. McCarr's Creek has been a place for smugglers to hide their casks of rum and a place of illegal stills, a proposed depot and runway for air mail services via seaplanes, part of where was searched when a Stinson went down in 1937 on its ways from Brisbane to Sydney, a camp for soldiers at the duck ponds in 1942, a sand mining operation from 1950 up until the 1970's as well as a favoured place for swimming, picnicking, fishing and orcharding since Pittwater's earliest settlement by Europeans.
The water channel was originally named Pitt Inlet by Gov. Phillip and appeared on maps in the 1830s as South West Arm. Some sources state the origin of the current name is not known but it has been appearing as such alongside 'South West Arm' spelt "MacAa's Creek". Opinions stated the person in question may be John Macarthur of The Rum Rebellion fame. He owned a farm at Pennant Hills from which naturalist George Caley embarked in 1805 to explore a ridge from Thornleigh to Fox Valley, Warrawee and Turramurra and then on to Cowan Creek. Shelagh and George Champion inform us that George Caley did not go to Cowan Creek. He was following the ridge now known as Mona Vale Road, and yes, the water did drain northward, followed by southward into Middle Harbour around Belrose, where the grevillea caleyi still grows. He went on to Narrabeen Lagoon, going on the north side and returning on the south side. The name in fact comes from a James McCarr, who was living with Ann Haynes near McCarr's Creek in 1820.
Ann Haynes came to the settlement in 1806 aboard the William Pitt. In 1821 she was convicted of stealing 28 sheaves of wheat from John Williams, who also was District Constable and Pound Keeper, appointed 1820. (HAYNES Ann Alias: FOSS, Ann Ship: William Pitt 1806; 20 Nov 1837, Recommended Absolute Pardon [4/4489; Reel 800 Page 007] Ann Haynes; Stealing 28 sheaves of wheat from John Williams at Broken Bay, 1821, Reel 1975 2703 [SZ794] 60, 97Appendix J: Schedule of case papers, 1821 - Court of Criminal Jurisdiction: Informations, depositions and related papers, 1796-1824; Session: Jul-Aug 1821. NSW State Records).
At Broken Bay.—John Williams, District Constable and Pound keeper. TOWN AND DISTRICT OF SYDNEY. (1820, May 20). The Sydney Gazette and New South Wales Advertiser (NSW : 1803 - 1842), p. 1. Retrieved from http://nla.gov.au/nla.news-article2179470
McCarrs Creek's source is in a recreation reserve near Mona Vale Road, Tumbledown Dick not far from the head of Wirreanda Creek. The upper section is shallow before it drops to a ten metre wide pool at Upper Gledhill Falls. (named after Percy Walter Gledhill, 1890-1962, of the Manly Warringah and Pittwater Historical Society). The main site starts as a six metre wide pool at then becomes very narrow, ending at a lower pool at Lower Gledhill Falls. McCarrs Creek Reserve, around 5 hectares, is located at the junction of McCarrs Creek and Cicada Creek in Church Point. Ku-ring-gai Chase National Park is adjacent . The plant systems here range from Mangroves and Saltmarsh on the shoreline, planted Swamp Oak and a small remnant strip of Narrabeen slopes forest along the edge of the Road Reserve. Tall spotted gums shelter an understorey of sandstone escarpment and native grasslands, bushflowers and many grass trees. Many tales of this deep water tidal creek being a haven for sharks have also accompanied its history.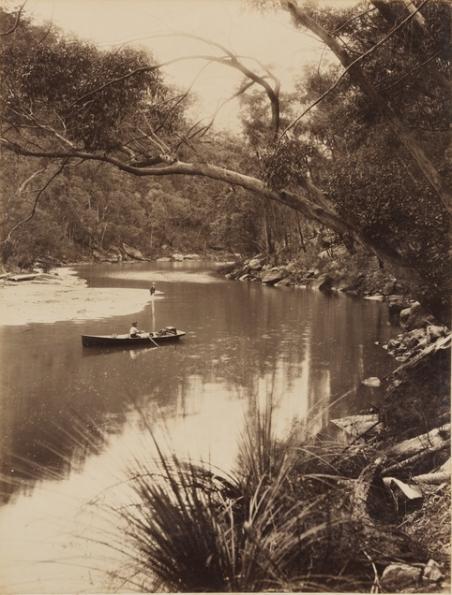 The tributaries of Mc Carrs Creek are Wirrenanda Creek which runs from north of Mona Vale Road down to the main creek, Cicada Glen Creek (apparently while camping beside the creek, early explorers found the sound of cicadas deafening, hence its name) which begins near Mona Vale Road then flows through Ingleside and Ku-ring-gai Chase National Park before flowing into McCarrs Creek at McCarrs Creek Reserve in Church Point and Crystal Creek. Crystal creek begins as a shallow six metre pool then drops twenty metres down a waterfall into another shallow pool and runs as many smaller rock pools which are home to Freshwater Crayfish. Lying wholly within the Ku-ring-gai Chase National Park it remains pristine and relatively undisturbed.
The Pittwater Environmental Foundation has been involved in McCarrs Creek Foreshore Restoration at Bothams Beach. Their Project's Description: The forest here is Pittwater Spotted Gum forest, an endangered ecological community. The project provides bush regeneration and community education and engagement. Work funded by a second grant will be completed late May 2012. Bush regeneration restores habitat for native fauna and to assist this, the grant has provided six boxes for Sugar or Squirrel Gliders, which are likely to live in the area.
McCarrs Creek has always been noted for its beauty and the amount of local fauna that flourishes there:
A BIRD SANCTUARY. McCarr's Creek, Pittwater. (BY J. S. N. WHEELER.) The upper part of McCarr's Creek, Pittwater, which may be reached by rowing-boat, is a veritable bird sanctuary. The sylvan retreat at the limit of tidal water is one mile from Church Point, and is called the Silent Pool on account of the serenity of the spot. It is enclosed by steep hills covered with the vegetation of Kuring-gai Chase on one side. Livistona palms grow here to perfection. While you glide quietly along there comes the swishing sound of the coachwhip bird from forest brakes, with a final crack like the stockman's whip. At eventide the dominant notes of the bell-magpie or "currawong" ring out a valediction to the visitor.
This spot is only approachable on the floodtide, and the creek should be dredged to keep the channel open (as has been done at Narrabeen lagoon and Curl Curl Creek, near Manly), in order that this bird sanctuary maybe rendered more accessible.
To those who seek adventure and exercise a climb up the rugged, picturesque gully is recommended. Through dense bracken and vines, over logs and boulders and waterfalls, a climb of one hour and twenty minutes will lead to the "Duckhole," which is a sequestered pond at the confluence of two mountain brooks, the right-hand branch and the mainstream of the upper reaches of the creek. The calls of magpies, peewees, crows, and currawongs will be heard in this quarter. Coming down the gully again, one hears the melodious fluting of bush birds to the accompanying song of small cascades. Further down an exquisite glimpse of the greenish water of the Silent Pool Is obtained from the seclusion of the forest. A BIRD SANCTUARY. (1930, December 20). The Sydney Morning Herald (NSW : 1842 - 1954), p. 11. Retrieved from http://nla.gov.au/nla.news-article16740448
McCarrs creek next appears in relation to being used for covet and illegal activities: Bowen Bungaree was noted as being particularly good at finding illegal stills in the upper reaches of Mc Carr's Creek, on one occasion a William Farr being detained. ( ACCIDENTS, OFFENCES, &c. (1837, April 17).The Sydney Herald (NSW : 1831 - 1842), p. 3. Retrieved from http://nla.gov.au/nla.news-article12860563
George Brown received a land grant of 41 acres at McCarrs creek in 1840. He and his family had some troublesome as well as delightful times
METROPOLITAN DISTRICT COURT. Wednesday; In this case John Sumersgill, of Albert-street, Redfern, sued George Brown, of Church Point, .Pittwater, for £200 damages for wrongful seizure, verdict for the defendant, without costs. METROPOLITAN DISTRICT COURT. (1892, May 26). The Sydney Morning Herald (NSW : 1842 - 1954), p. 3. Retrieved from http://nla.gov.au/nla.news-article13868674
BROWN-TAYT.- June 25, 1902. at St. Thomas' Church, North Sydney, by the Rev. Stephen D. Childe, B A, George Brown of Waterside, Pittwater, third son of the late William Brown, to Emilly Matilda Elanor, youngest daughter of the late Captain William Tayt, of North Sydney. Family Notices. (1902, July 26). The Sydney Morning Herald (NSW : 1842 - 1954), p. 1. Retrieved from http://nla.gov.au/nla.news-article14471685
A seven-roomed cottage, owned and occupied by Mr George Brown, of McCarr's Creek. Pittwater, was destroyed by fire on Sunday evening. Rats gnawing at wax matches is the supposed cause of the fire. GLEANINGS. (1912, March 7). Singleton Argus (NSW : 1880 - 1954) , p. 1. Retrieved from http://nla.gov.au/nla.news-article80059234
By Order of the PERPETUAL TRUSTEE CO., Limited, ADMINISTRATORS of the Estate or the Late GEORGE BROWN. NORTH SYDNEY. 1.-A CORNER BUILDING SITE, part of Lot 17, Section 12, of tile St Leonards Township 2.-AN ORIGINAL HALF-ACRE BLOCK. Lot 1, Section S3, St Leonards Township, having 66ft towest side of Wr-.-STIIEET and 330it to PALMERSTREET, extending back to FLAT (late Abbott) STREET, to which it has 66ft frontage. 3. McCARR'S CREEK. PITTWATER. 41 ACRES, being Portion 26. parish of Narrabeen, fronting McCarr's Creek, with deep water off portion of the frontage. Only a SHORT DISTANCE SOUTH of CHURCH POINT. RICHARDSON and WRENCH, LTD. (in conjunction with PERCY WOODS, Cremorne Junction), will sell by auction, at His Rooms, 92 Pitt-Btreet on FRI-DAY, 5th SEPTEMBER, at .11..T0 a.m. The above Lairds at North Sydney and Pittwater. Plans on view at the Rooms. Torrens Titles._|_(5438)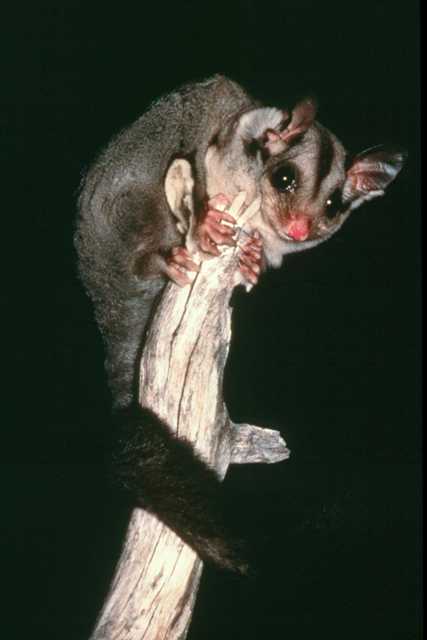 "Now we shall go up McCarr's Creek to a little inlet called Brown's Bay. George Brown and his family were the owners of the 41 acres estate "Waterside", a grant made in 1880. His house of weatherboard stood on the hillside, reached by a zig-zag path from the little stone jetty. The estate extended right to the head of the bay, where there is a gully, clad in various kinds of flora interesting to the botanist. Two old peach trees grew in front of the verandah, which was supported on pillars and at the head of the bay, passion-fruit vines grew over the rocks and trees. A track from Church Point led to it and on the way round exquisite glimpses of the creek were obtained through the gum-trees. I often stayed with the Browns at this old house and in the years 1909-10, it was a sequested spot, quite isolated even from the few inhabitants of Church Point.
More than forty years ago the visitor drifting along in his boat would have heard the trains of the piano adding glamour to the peaceful night. Our hostess is playing an old hymn or some melody of bye-gone days and an atmosphere that is almost Victorian is imparted to the drawing-room. Outside the bush is dark and dreamy and mysterious insect voices accentuate the sense of loneliness. Now that old home has disappeared and the motorist travels to Coal and Candle Creek over its site, quite heedless of those halcyon days." JSN Wheeler, Some Old Families Of Pittwater, n.d.
The stretch of calm still water has always been a mecca for visitors by water and air and was even named as a potential Air Mail base:
MCCARRS CREEK, PITTWATER. TO THE EDITOR OF THE HERALD.
Sir,-Easter is near at band, and usually at that time, Sydney yachtsmen make for this splendid sailing area. So I would ask you to give, through your columns, a warning to Intending visitors, that the usually safe anchorage of McCarrs Creek contains a risk of which they cannot possibly have any knowledge. Quite, recently the Telephone Department has placed across McCarrs Creek at Its entrance, four telephone wires, which stretch from Church Point to the opposite shore, about 550 yards across. These wires are suspended at such a height that no big yacht could possibly avoid striking them, nor could those on board see the wires, till they are quite close to then it and the result of a broken spar falling on the deck might be very serious. Only as recently as Sunday a large schooner rigged yacht came up to her usual spot for mooring, quite unaware of the danger, and was warned by people in a launch of the impending danger, just In time to avoid a collision with the wires. There is also the risk to pilots in seaplanes, who are not infrequent visitors to these waters, and who descend into McCarr's Creek. I am not a flier, but I feel confident no pilot in a descent could possibly see the wires till too late, and the result might In the case of a seaplane may readily be fatal The Telephone Department may have its own reasons for not using a submarine Cable.
I am, etc., Church Point, March 19. PETRON.
McCARRS CREEK, PITTWATER. (1929, March 21). The Sydney Morning Herald (NSW : 1842 - 1954), p. 6. Retrieved from http://nla.gov.au/nla.news-article16539818
AIR MAIL.BASE. TO THE EDITOR OF THE HERALD.
Sir,-I am directed to suggest the use of Pittwater as the base for the air mail service in place of Rose Bay, and to express our surprise that this site should have received such small consideration, in view of its apparent suitability for the purpose. There we have a sheltered stretch of water about 6 miles long by an average of one mile broad, and, further, with an east-west width at the southern end of two miles, and a large area of flat land to the south and south-east, to facilitate the take off of planes to the south. Then, for building docks, etc., there are about 40 acres of the Winnererremy Swamp which needs reclaiming. Should this be thought too exposed, or in any other way, unsuitable, there is McCarr's Creek, having deepwater of about 400 yards wide for about three-quarters of a mile, and about 200 yards wide for a further third of a mile, and sheltered from every wind that blows. Ample cheap land is also available for development. We feel that the authorities would do well to investigate Pittwater further before deciring elsewhere. I am, etc., F. T. JEFFERY, hon. secretary, Warringah Direct Transport League. AIR MAIL BASE. (1937, July 12). The Sydney Morning Herald(NSW : 1842 - 1954), p. 6. Retrieved from http://nla.gov.au/nla.news-article17372302
Mr Gledhill of the Manly Warringah and Pittwater Historical Society arranged for an obelisk to be erected at McCarr's Creek, Pittwater to commemorate the surveying of McCarr's Creek by Captin John Hunter and William Romaine Govett. A scroll, giving the details of the survey and the history of Church Point and Pittwater, was placed in a steel container under the obelisk. It also recorded on the scroll that the obelisk was a stone from the Balmain Cemetery and was erected there in 1871 in memory of: William, Shaw, MD, 29 May 1871, Edgar Peveril, 10 March 1868, George Henry Hamilton, MD, 15 June 1888. This obelisk is in Rosstrevor Reserve.
The concrete obelisk with a marble plaque commemorates the exploration and survey of McCarr's Creek by Captain John Hunter in 1789. The original obelisk described as sandstone was erected by Manly Warringah Pittwater Historical Society on May 22nd 1943.

BAYVIEW AND PITTWATER. Mr. P. W. Gledhill, secretary of the Manly Warringah and Pittwater Historical Society, in a lecture to the society last night on the early history of the Bayview-Pittwater district, said that settlement began with the survey of Robert Campbell's grant of 700 acres in May, 1814. Fields of wheat and other crops flourished near Pittwater in those early days. A map in the journal of Captain Hunter, who in 1789 surveyed McCarrs Creek, at the south-west corner of Pittwater, showed an 18ft channel in the creek, where now there was not more than 6ft at high tide. The name Bayview went back to 1882, when a post-office was opened in the residence of Mrs. Collins. BAYVIEW AND PITTWATER. (1936, June 19). The Sydney Morning Herald (NSW : 1842 - 1954), p. 17. Retrieved from http://nla.gov.au/nla.news-article17243899
During the second world war soldiers camped at the duck ponds. In the period from the 1950s to the early 1970s, sand mining operations were undertaken in the upper reaches of McCarr's Creek leaving tailings ponds to scar the land. This area has since been rehabilitated with local flora restored.
Protected from most winds, secluded and quiet with pure bush on one side and a winding road that hugs the contours of the hills on the other, a haven for fish, all manner of birds, swamp wallbies and marsupials, McCarrs creek remains a place most of us return to when we want it all; fresh and salt water, tides and rains filling creeks, and trees filled with birdsong.
Bothams Beach on McCarrs Creek is a little beach backed by endangered Pittwater Spotted Gum bushland. It's the first beach beyond Holmeport Marina, disappearing at high tide.
The Pittwater Environmental Foundation has received two grants from Hawkesbury Nepean CMA for bushcare and engaging the community in care of the site. The site was invaded by the usual weeds with the ground absolutely invisible. Pittwater Council is overseeing the work.
Stage 1: contract bush regeneration resulted in piles of weed material, burnt to encourage regeneration. As expected this has been spectacular, as the many dormant pea and wattle seeds germinated. Spring will be lovely here.
Stage 2: now continuing, has involved maintenance weeding and the installation of 5 nestboxes suitable for Sugar or Squirrel Gliders.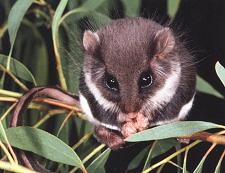 A tiny Feathertail Glider was seen last year on the balcony of a neighbouring house, so we are hoping that the regenerating bush will also benefit this little creature. Loss of tree hollows is a problem for all gliders. They nest in family groups and are quick moving as a result of their high energy diet. This Tweed Valley Wildlife Carers site suggests how to build suitable boxes: HERE
Attracting volunteers to help with bushcare here has not been easy. It is not high profile and at the weekend parking is impossible.
So our future work days will be during the week. We'd love you to join one of our bushcare days on Thursday July 5, Tuesday July 17, Thursday August 2, Tuesday August 14, Thursday September 6, Tuesday September 18. Come on any day that suits. Tools and cake provided. Contact Marita on via email marita.macrae@gmail.com for how to get there.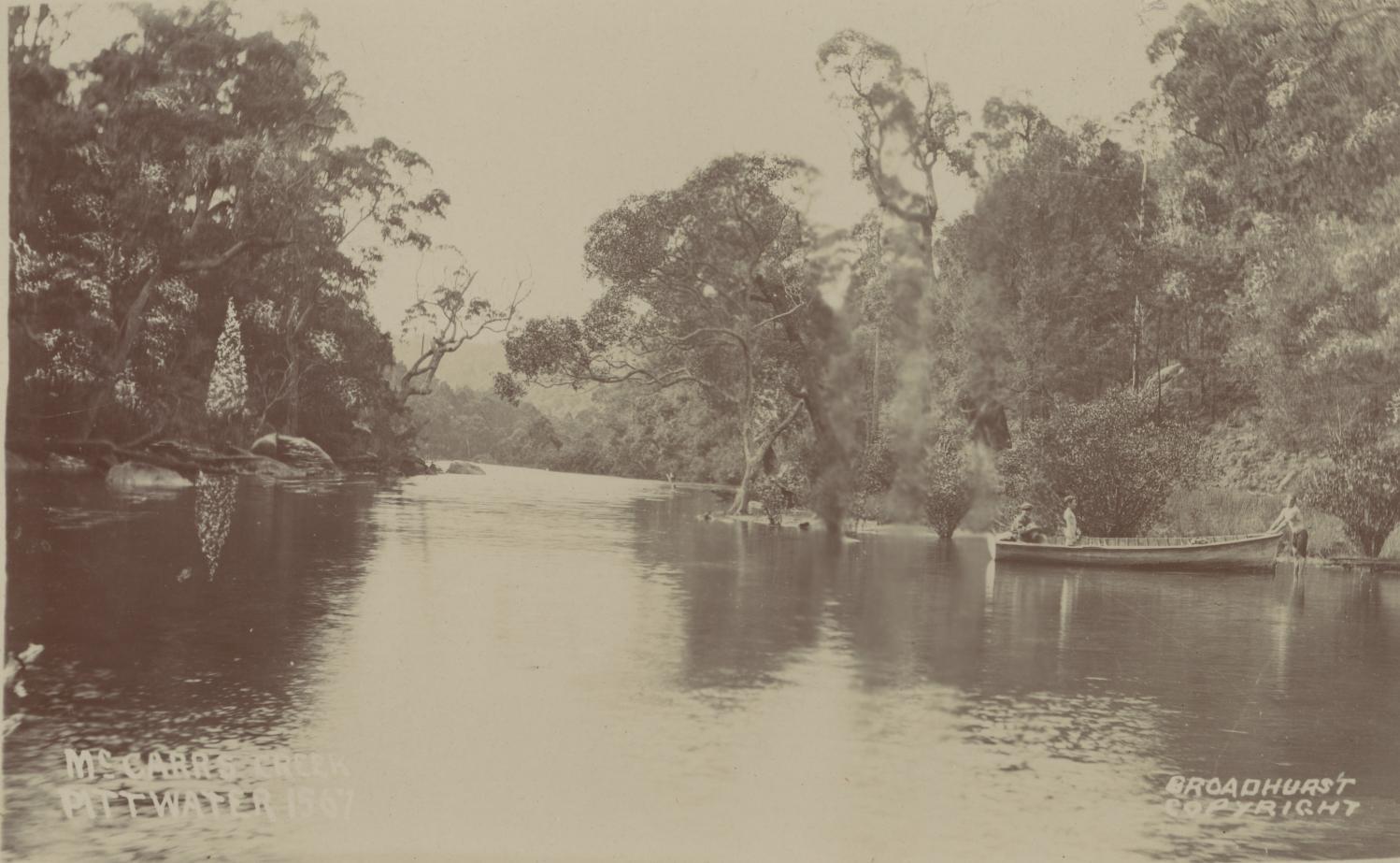 Head of McCarrs Creek, Pittwater, 1879-1892 Image Number; a106169, Courtesy of State Library of NSW. In text image Credits: Head of McCarrs Creek, Pittwater, 1879-1892 Image Number; a924967h & a924066h, Courtesy of State Library of NSW.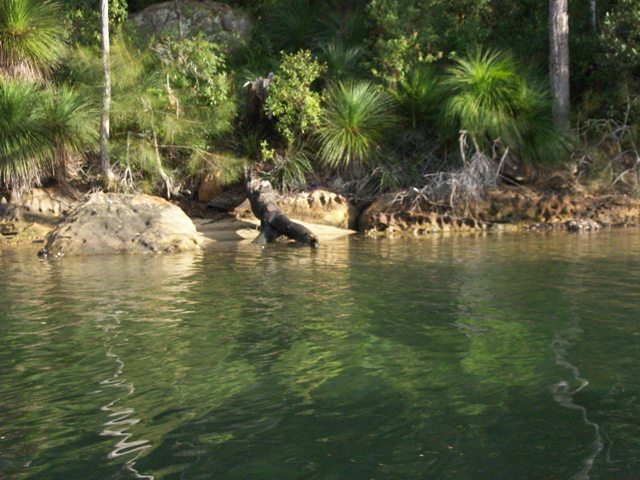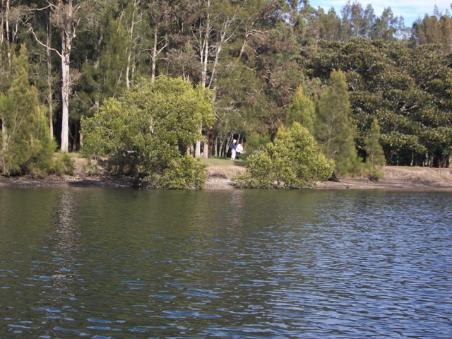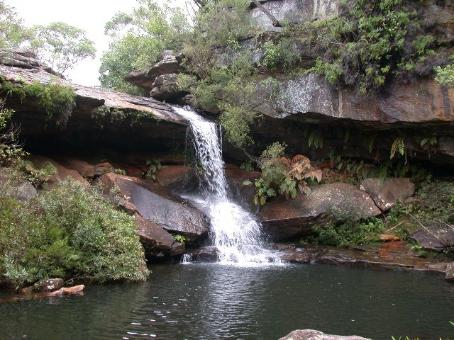 Above: KuRingGai National park side of McCarrs Creek. McCarrs creek reserve. Above: Upper Gledhill Falls. Below: Obelisk erected by Percy Gledhill. Upper Gledhill Falls and Obelisk photographs from http://www.gledhillgenealogy.info/gallery.ht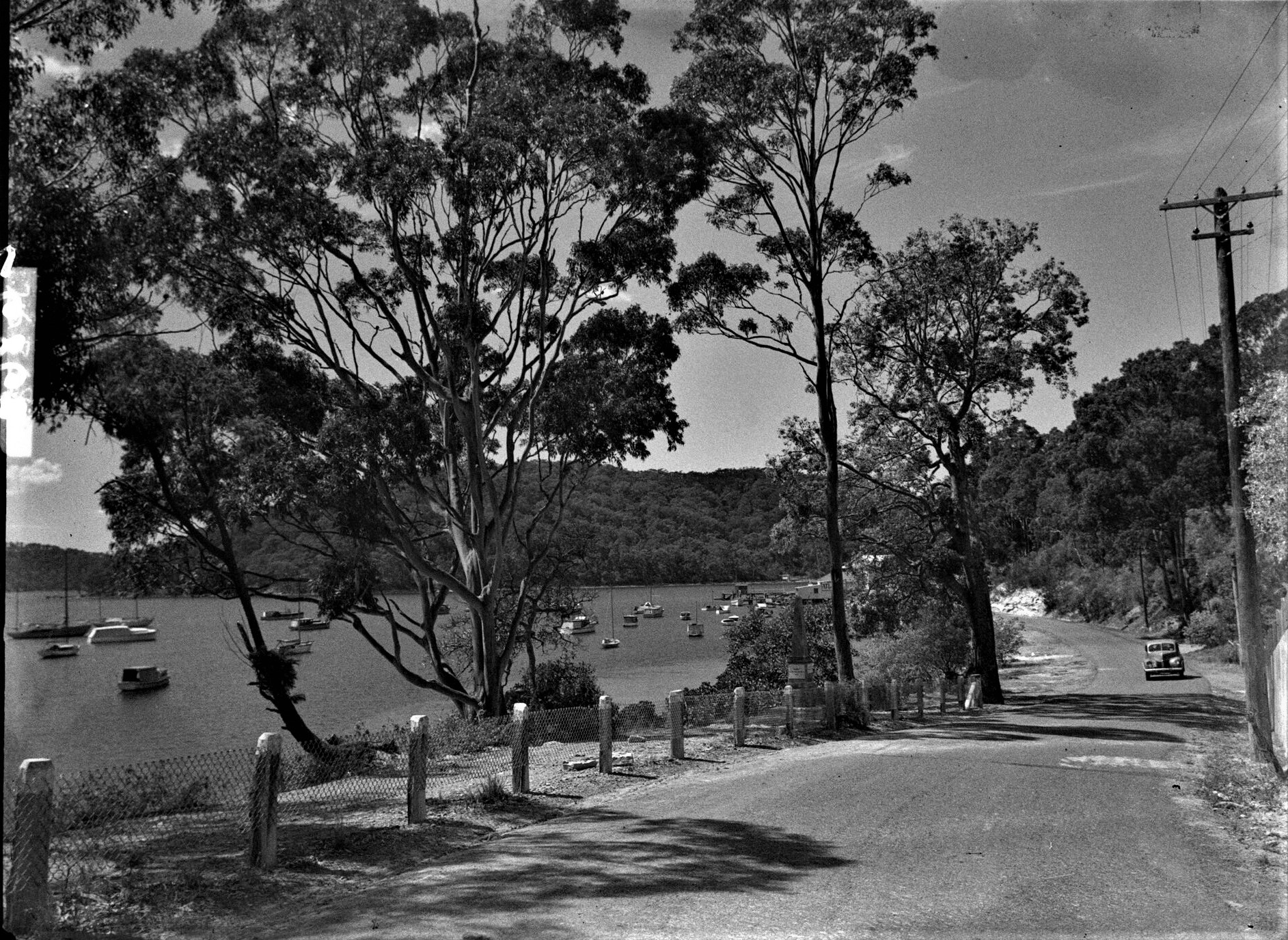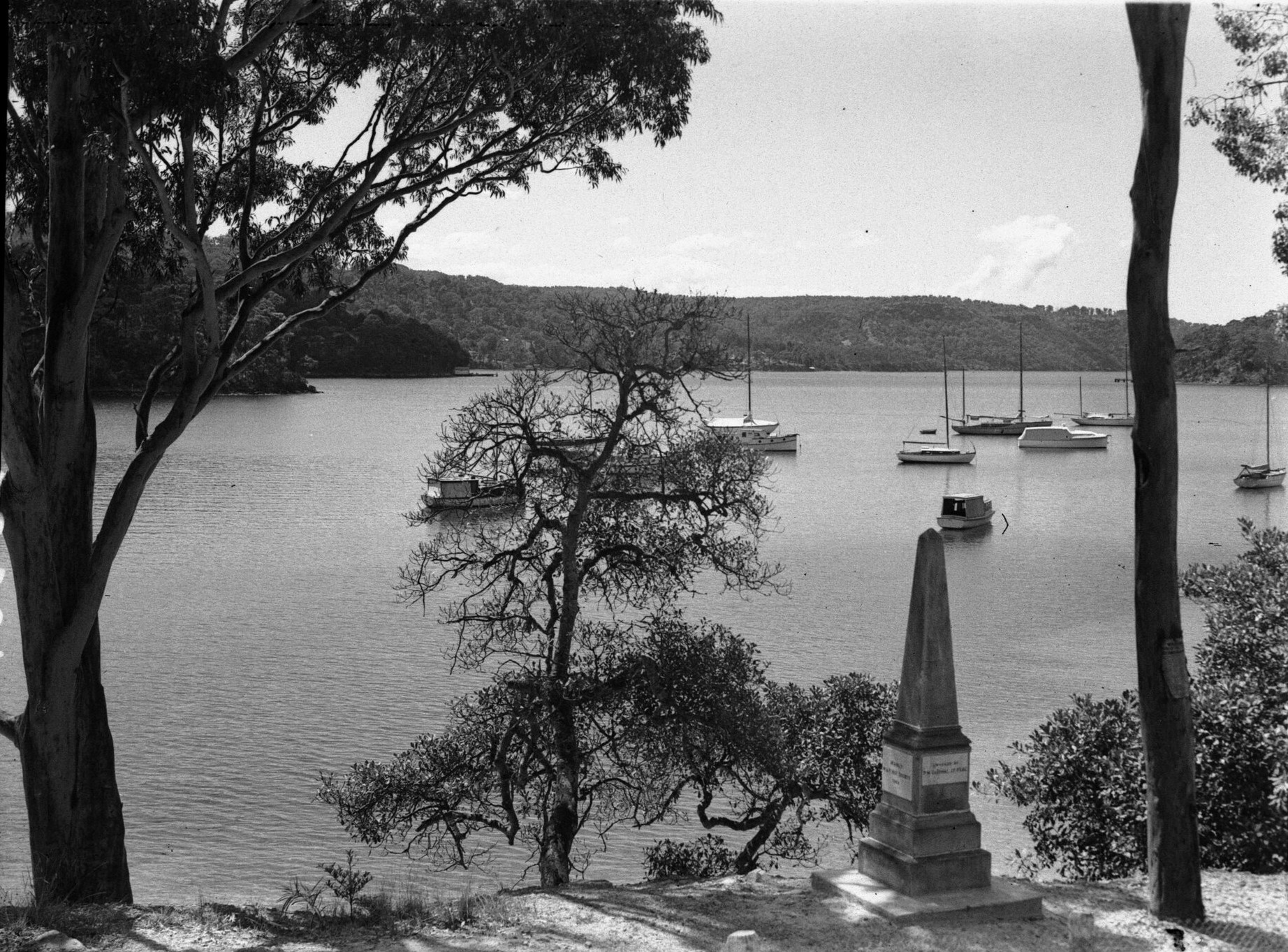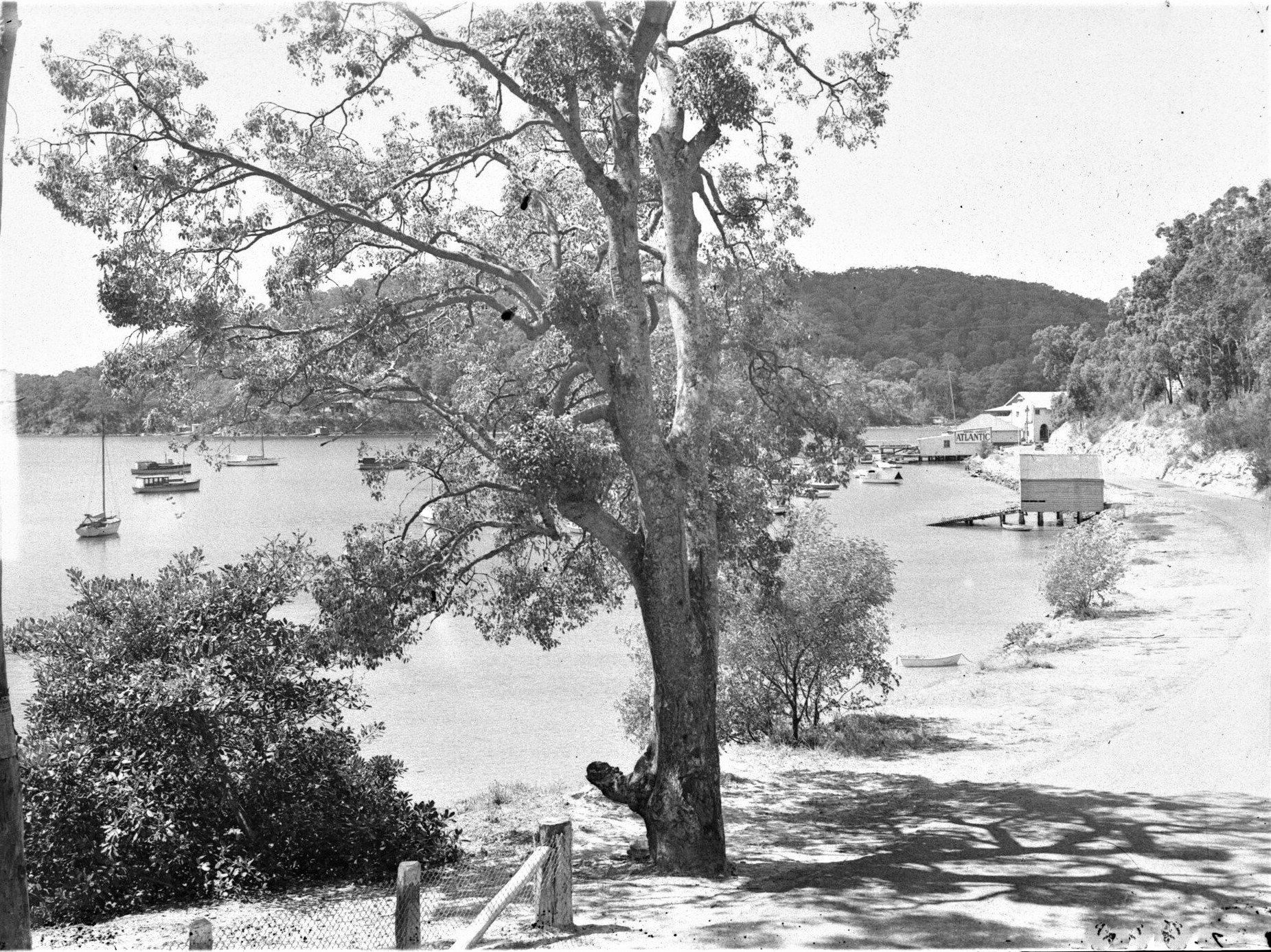 Above: Rostrevor Reserve on McCarrs Creek in 1945. Photos Courtesy State Records and Archives.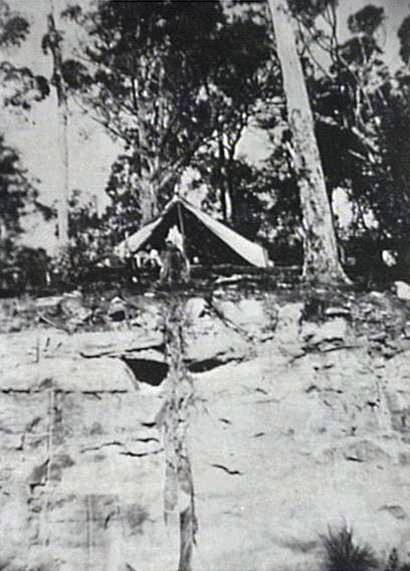 Camping at The Duckhole, McCarrs Creek.1942. Source: Fred Powderley, Courtesy Mona Vale Library Historical Unit and Images.
Threads collected by A J Guesdon, 2012.
With thanks to Shelagh and George Champion and Marita Macrae.