April 22 - 28, 2012: Issue 55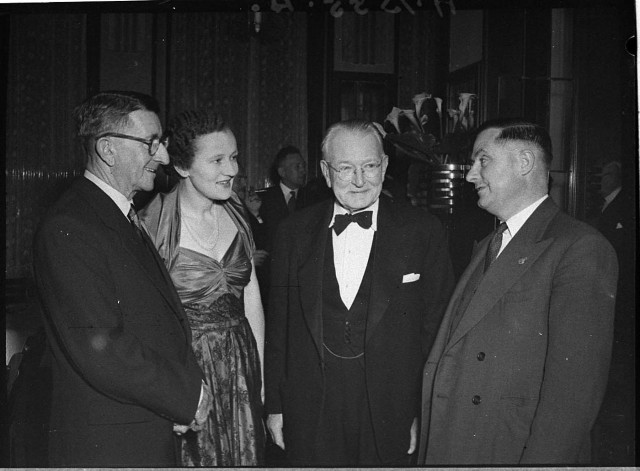 Above: From left to right: Mr G Parry, Lady Schlink, Sir Herbert Schlink, Mr G Duncan, Date of Work; 20/10/1955 Home and Away – 28347, Taken for Newcastle Morning Herald, hood_28347, Courtesy State Library of NSW
Below: Marara April, 1933 Digital Order No a3299015, Caption; Album 74: Photographs of the Allen family, November 1932 - March 1934, Courtesy State Library of NSW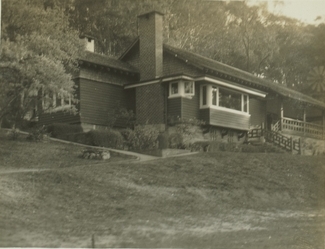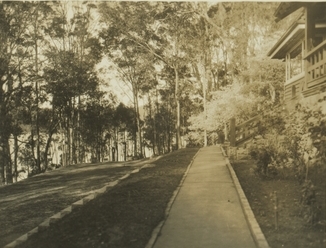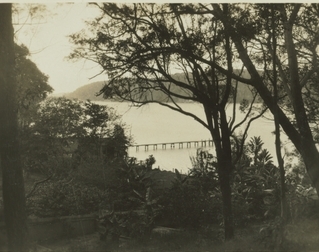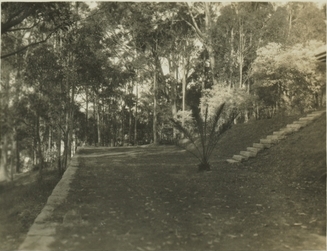 Article by A J Guesdon, 2012.
Margaret Mulvey (Lady Schlink)
12 November 1916 - December, 2001
Margaret Mulvey was the eldest daughter and born at Concord to Roy Dadson Mulvey and Gladys Esme (nee Taylor) who met while they were some of the first teachers at Parramatta High School when it was still in Macquarie street.
MULVEY-TAYLOR.-December 20, 1915, at the Congregational Church, Pitt-street, by the Rev. N. J. Cocks, M.A., Roy Dadson, son of Mr. and Mrs. G. W. Mulvey, of Mayfield, Newcastle, to Gladys, eldest daughter of Mrs. R. C. Taylor, Concord. Family Notices. (1916, January 29). The Sydney Morning Herald (NSW : 1842 - 1954), p. 16. Retrieved from http://nla.gov.au/nla.news-article28782345
Mrs Mulvey remained teaching while her husband served in WWI and on his return produced their first son, Eric William (1919). Roy Mulvey worked as a GP on his return. Two other sons and a daughter were born in the 1920's. Mrs Mulvey died 8 days after a fourth son, stillborn, in 1929, when Margaret was just 12 years old, an experience and memory that seemed to mark the rest of her life. The family was living at Oberon then but moved to Bathurst soon after.
By 1940 Margaret and her brother Eric were both at Sydney University, Margaret graduating that year with Honours (Bachelor of Surgery). In 1942 the first of her brothers, John Dadson, enlisted. In 1943 Eric William enlisted and died a few months before his son was born in 1945 of disease while serving in Borneo. In 1945 Peter Maxwell Mulvey, then a few months short of being 18, enlisted. Roy Dadson, their father, also re-enlisted. This family's sons and father served in the Army, Air Force and Navy.
During this period Margaret, or 'Meg' as she was popularly known, began her career in 1941 as a Junior Medical Officer at the Royal Prince Alfred Hospital. By 1943 Dr Mulvey was Clinical Superintendent at the King George V Hospital for Mothers and Babies which was attached to the RPA. Around this time she also began to come into contact frequently with Dr Herbert Schlink, a man who had served in WWI, was Chairman of the RPA with a like interest and focus, like Dr Mulvey, in the field of women's health, particularly obstetrics and gynaecology. He was one of the Founders of King George V.
A keen skier, man who sought funds to improve the hospital and rewrote much of the strata of private and public patient definitions in his time, also owned a few acres on Careel Bay called 'Marara'.
This was his favourite place and Meg was taken there on numerous occasions during her courtship as this gent also had a touch of poet about him… "It's the tracery of the trees I want to share." (from: A HOSPITAL REMEMBERS ITS 'CHURCHILL'. (1973, September 5). The Australian Women's Weekly (1933 - 1982), p. 15. Retrieved from http://nla.gov.au/nla.news-article52260970)
On the 28th of June 1945, at St Mary's Cathedral, Sydney, Margaret married Herbert. Theirs was to be a marriage that focused on the passion they shared; bringing new lives into the world and ensuring the women who gave birth survived.
Medical Visitors From Sydney: Dr Herbert H. Schlink, chairman of directors of the King George V Hospital, Sydney, who is in Melbourne, is accompanied by his wife, whom he married shortly before coming here, so their trip is in the nature of a honeymoon, though Dr Schlink is here on business as well. His wife was formerly Dr Margaret Mulvey, deputy superintendent of the same hospital. She is a daughter of Dr Mulvey, of Bathurst, and the late Mrs Mulvey. She will go into partnership with her husband, "as a wife and a doctor," as he put it. THE LIFE OF MELBOURNE. (1945, July 12). The Argus (Melbourne, Vic. : 1848 - 1956), p. 8. Retrieved from http://nla.gov.au/nla.news-article974929
The Schlinks had a very happy and successful marriage. Although they did not have any children they did bring thousands, literally, into the world through careers that spanned over a hundred years between the two of them. Their research, articles and advances in women's health and medicine may have healed the deep wound Dr Mulvey experienced while still a young girl. A focus on the treatment of pelvic cancer, its early detection and radical surgical extirpation saw Meg supporting her husband's pioneering the use of cobalt ray therapy in treating pelvic cancer and instigated the systematic follow-up of cancer patients. During their downtime they dwelled at Careel Bay, entertaining and gardening.
In 1954 Dr Schlink was recognised for all his, his public services and his service to medicine and was created Knight Bachelor. Margaret became Lady Schlink. Sir Schlink passed away in 1962.
In January 1986 Margaret Schlink was appointed Member of the Order of Australia, for her service to medicine, particularly in the field of obstetrics and gynaecology, and to the community (as Margaret Mulvey). In 1990, now 74, Dr Mulvey retired.
To be Members in the General Division of the Order of Australia (A.M.)
Dr Margaret MULVEY,
88 Cabarita Road, Careel Bay, NSW 2107
For service to medicine, particularly in the field of obstetrics and gynaecology, and to the community.
AUSTRALIA DAY 1986 HONOURS (1986, January 25). Commonwealth of Australia Gazette. Special (National : 1977 - 2012), p. 1. Retrieved from http://nla.gov.au/nla.news-article240546088
Margaret lived at Marara until mid-2001 when health necessitated her being moved to a nursing home. This property, still not subdivided, was placed on the market again only last month, details of which are in the research file. Dubbed the 'Mother of Australian Obstetrics' by those she has taught, this lady of Pittwater, and Careel Bay, is someone many Pittwater residents, Australian mothers, and fathers, cherish still.
Dr. H. H. Schlink has Issued Invitations for his annual dinner for members of the Ski Club at his house at Careel Bay on Sunday. About 30 are expected to be present. SOCIAL AND PERSONAL. (1936, April 30). The Sydney Morning Herald (NSW : 1842 - 1954), p. 21. Retrieved from http://nla.gov.au/nla.news-article1734728