January 28 - February 3, 2018: Issue 345
Black Bakelite Telephone: Early Pittwater Phone Numbers
In 2018, Issue 345,
Pittwater Online News
ran a Collectors Page on a Black Bakelite Telephone that brought up some questions as well as answers into means of communication in our area. A few weeks ago we were fortunate to receive clarification on the item from a gentleman in Western Australia, Ross Herbert.
With so many changes in recent times, and texts now taking the place of telegrams, a grateful thank you is extended to Mr. Ross for his insights - and these have now been added into that original page. That 2018 article runs this Issue for those interested.:
I worked for PMG/Telecom/Telstra between 1956 and 1993 and I had some involvement with the design and modification of telephone equipment.

The PWS on the label stands for Postal Workshops Sydney. The R/C means Repair/Construction.

Most states had PMG (as it was until 1975) engineering workshops to both manufacture and repair equipment used by the organisation. Melbourne used PWM on their labels.

While it is not mentioned in the text your telephone is most likely a BPO model 332. It is fitted with a carrying handle so it can be used in a portable installation. The dial is a No.10 which first appeared in the UK in 1929 but the chrome finger plate didn't eventuate until around 1936.

I must admit I have not seen a 332 with the vent plugs on the side - on yours they look to be made of metal and press fitted to the case. The Australian 332 telephone was made in the UK and I believe. Telephones made in the UK for the APO usually were fitted with a dummy card drawer but sometimes you will find a British 332 with the pullout card drawer fitted. If the baseplate has a row of holes punched around where the bell gongs are positioned inside the case then it is definitely a 332. When Australia started to manufacture their own 300 model telephones the baseplate was not punched with holes and there was no dummy card drawer.

The first time I came across a case with the side vents was on the 400 telephone which appeared around 1958 and I seem to recall that the vents were used as finger grips for carrying the telephone because the Australian manufactured 400 was not supplied with a carrying handle. Also, the vents were made of black bakelite.

It is quite possible that the telephone you have was refurbished in the workshops using parts from different telephones - sort of mix and match.

You can find a whole heap of information on the Australian telephones here https://www.britishtelephones.com/aus/telemenu.htm

Note that Bob Freshwater is in the UK.
Regards
Ross Herbert
Perth WA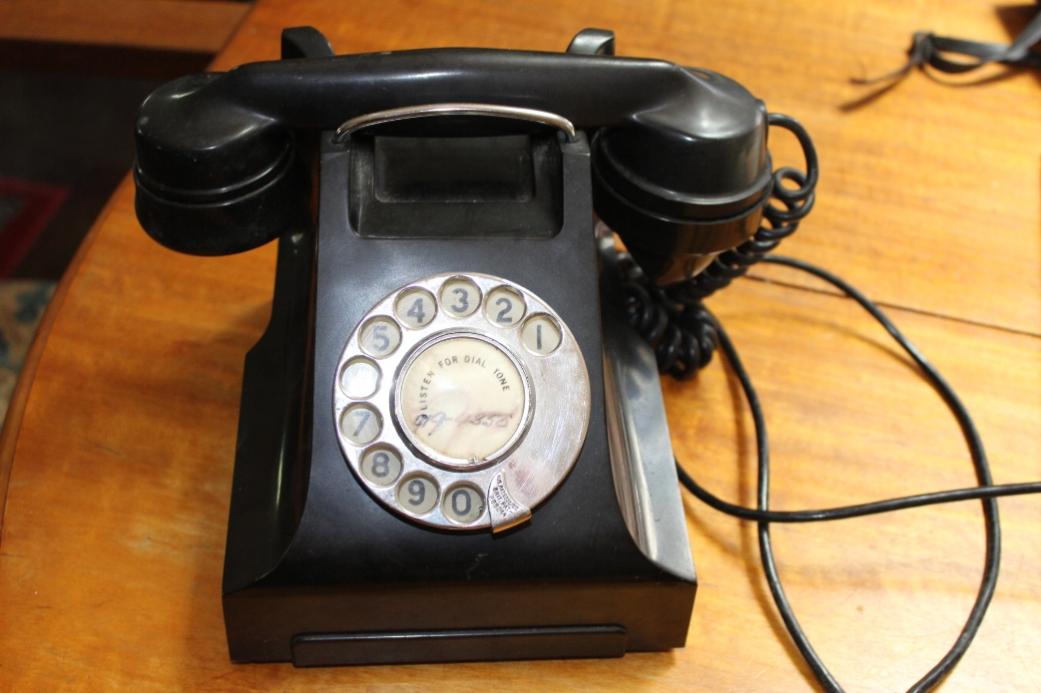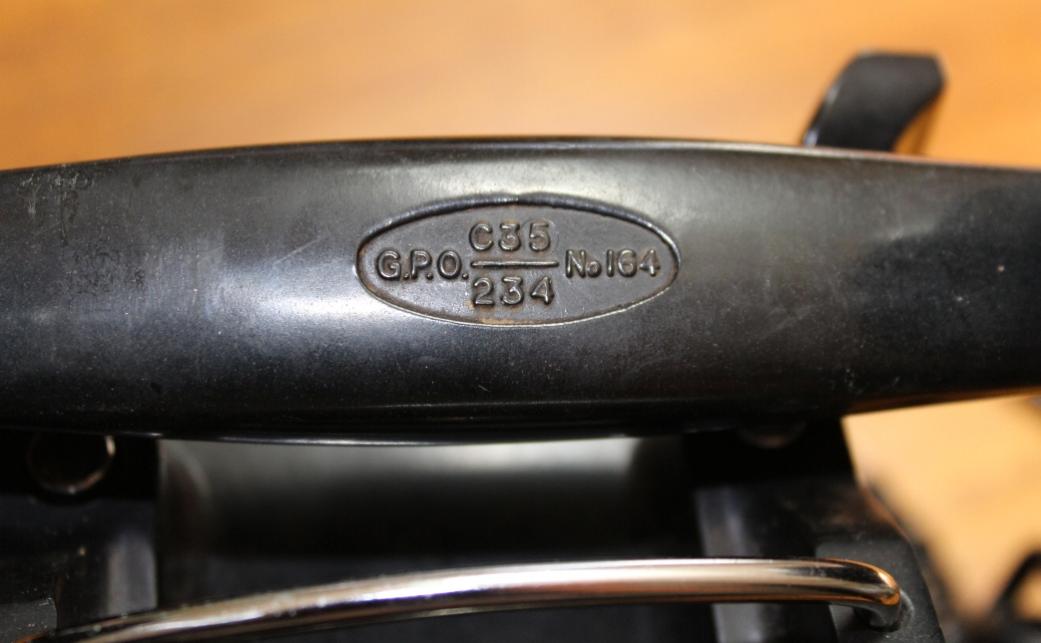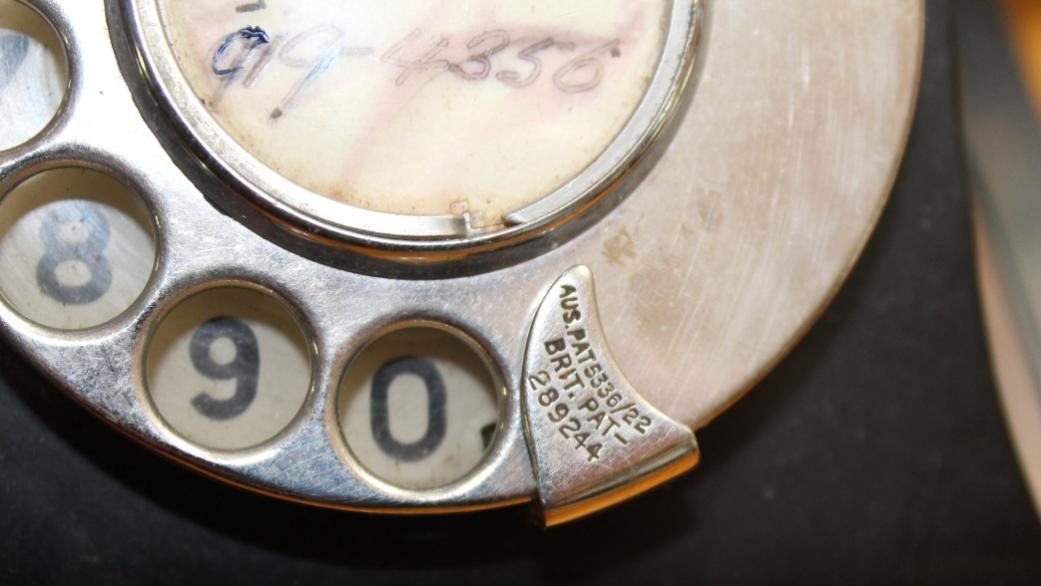 This 1930's Black Bakelite Telephone,
Australian Patent 5336/22
(
Improvements in
and
relating to number dials for automatic telephone
systems and the like; Siemens Brothers & Co., Limited - Filing date: 1925-07-06;
Australian Patents register
)
British patent 289244 -
GPO No.: 164 -
C35 -
234

,
has been modified over the years, with a new cord and a carry handle, just like our communications systems.
Bakelite (sometimes spelled Baekelite), or polyoxybenzylmethylenglycolanhydride, is the first plastic made from synthetic components. It is a thermosetting phenol formaldehyde resin, formed from a condensation reaction of phenol with formaldehyde. It was developed by the Belgian-American chemist Leo Baekeland in Yonkers, New York, in 1907.
Bakelite was patented on December 7, 1909. The creation of a synthetic plastic was revolutionary for its electrical nonconductivity and heat-resistant properties in electrical insulators, radio and telephone casings and such diverse products as kitchenware, jewelry, pipe stems, children's toys, and firearms. The "retro" appeal of old Bakelite products has made them collectible.
The first phone with both a bakelite handset and case was made by Automatic Electric (USA) in 1925 and was called the 'Monophone'. From this concept the British company Siemens Brothers (see under References) developed their bakelite phone called the 'Neophone' between 1927 and 1929. There were two table versions of the 'Neophone' and a wall version. The British Post Office (GPO) adopted a modified version of the 'Neophone' as the Handset Telephone No. 162 in 1929 as a replacement for the metal 'candlestick' type. Initially this had a metal base but shortly afterwards a bakelite base with a lead weight was made. This base did not have a pull-out number index.
By 1932 a bakelite case No.25 bellset was made which could be fitted under the Tele 162 or mounted on a wall. A

bout the same time the pull-out number index base was available as an option

. The Tele 162 was made in bakelite coloured either black or brown and also in thermoplastic coloured ivory/cream, red or green. Gold was also available by painting a black phone. The Tele 162 was wired for either Central Battery (CB) or automatic (dial) working.
Other British companies such as ATM and GEC made Tele 162. GEC also made a similar phone with a No.164 handset but an internal bell, capacitor and anti-sidetone induction coil which was called the 'GECophone'. The GECophone was available in black, brown and ivory. British Ericsson (later Ericsson Telephones Limited - ETL) made a phone that was similar to the 'GECophone'. Siemens Brothers continued to produce the 'Neophone' as well as the Tele 162. One table version of the 'Neophone' had a detachable Bakelite case bellset and the other had a one piece case with a metal base that mounted a bell, capacitor and anti-sidetone induction coil.
The Australian Postmaster General's Department (PMG) bought limited quantities of the Tele 162 in 1931 but designated it the '566A' (automatic) or '566C' (CB). The bulk of these were in black but some ivory, red and green were available at a premium. None of these phones had the pull-out number index base option.
It was soon discovered that the red and green cases faded badly in strong light so they were withdrawn. At the same time the PMG allowed the local offices of Siemens Brothers, GEC and Ericsson to sell their phones (black only) to subscribers providing the phone was installed by a PMG technician and the subscriber took out a maintenance contract with the PMG. By 1933 the PMG had found that this maintenance was too costly due to having to stock four different sets of spares so all sales were stopped and the existing phones were acquired by the PMG.
New 2000 type automatic exchanges were being installed to replace obsolete manual switchboards and thousands of 566A/162 phones were purchased from GEC
. These were marked '162' and were usually installed with an attached No.25 bellset most of which were made by a smaller British company, Phoenix Telephones. A short three-conductor cable was fitted externally between the bellset and the top section of the phone. All new phones were marked with a gold PMG label on the base.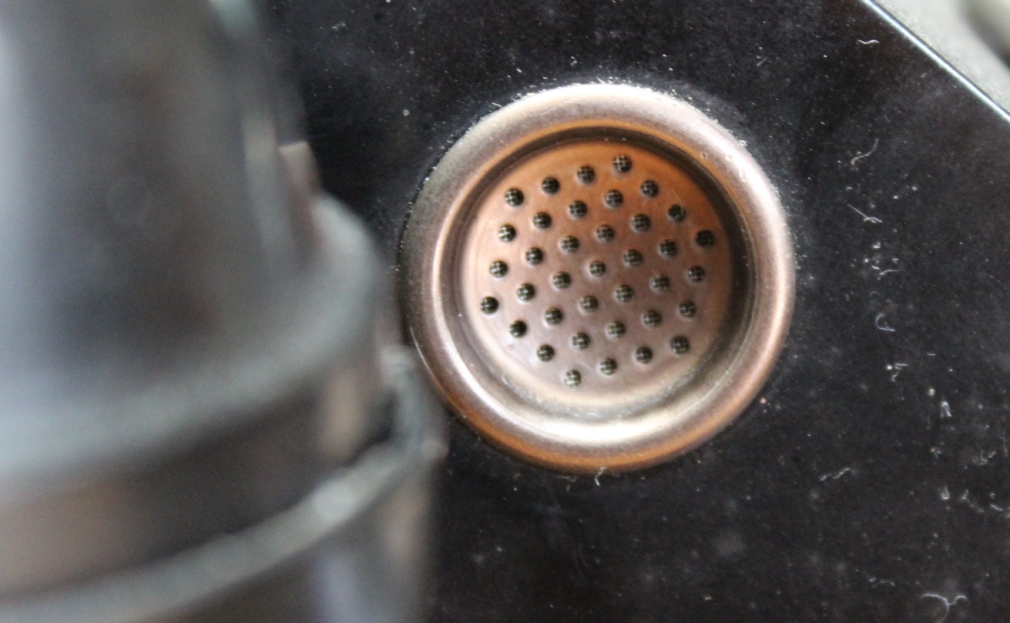 Side grille so you can hear them bells!
By 1936 AWA was making bakelite phones in Sydney which were marked 162 on the base
but 566A on the circuit diagram pasted inside.
In 1937 an improved version, the Tele 232, was developed which had an anti-sidetone induction coil mounted in the top section in place of the anti-sidetone transformer of the 162. The Tele 232 came with a bellset permanently attached and the bellset had only a bell motor and 2mF capacitor. The connecting cable was fitted internally and passed through a small hole drilled in the cover of the bellset. The Tele 232 also had a wider handset cradle made from cellulose acetate that was not brittle and less prone to breaking than the cradle on the Tele 162. The PMG adopted the Tele 232 as the 232AT/232CB and reclassified the 566A/566C as the 162AT/162CB. Phones without an anti-sidetone induction coil were grouped as the 100 Series and phones with an anti-sidetone induction coil were grouped as the 200 Series. [1.]
Each of the six Australian colonies had their own telephony communications network prior to Federation of Australia in 1901. The Australian networks were government assets operating under colonial legislation modelled on that of Britain. The UK Telegraph Act 1868 for example empowered the Postmaster-General to 'acquire, maintain and work electric telegraphs' and foreshadowed the 1870 nationalisation of competing British telegraph companies.
Australia's first telephone service (connecting the Melbourne and South Melbourne offices of Robinson Brothers) was launched in 1879.
What came so soon on top of Telegraphs was the invention of Telephones,
demonstrated to work in 1876 by Alexander Bell
- and in Sydney by 1881
The private Melbourne Telephone Exchange Company opened Australia's first telephone exchange in August 1880. Around 7,757 calls were handled in 1884.
In Sydney –
In a room in the Sydney General Post, Office may be seen a brass memorial plate which commemorates the opening of the first telephone exchange in this State, in March, 1882. This was not exactly the first telephonic connection established as the Merchants' Exchange already existed in Bridge-street, having been established by private enterprise with the object of keeping in touch with wool and general produce movements, shipping, bonds, etc.
It was not long before an amalgamation took place, the Government exchange absorbing the original installation. Mr. Percy Howe was the first official operating when the exchange was established and was afterwards transferred to the G.P.O., where he rose rapidly and was sent to Melbourne later to fill an important post. In response to an invitation he attended the jubilee commemoration when the tablet was set up in the G.P.O. Australianalities (
1942, October 12
).
Daily Advertiser
(Wagga Wagga, NSW : 1911 - 1954), p. 4. Retrieved from
http://nla.gov.au/nla.news-article144207808
All the colonies ran their telegraph networks at a deficit through investment in infrastructure and subsidisation of regional access, generally with bipartisan support.
Government-operated post office and telegraph networks - the largest parts of the bureaucracy - were combined into a single department in each colony on the model of the UK Post Office: South Australia in 1869, Victoria in 1870, Queensland in 1880 and New South Wales in 1893.
At Federation (1901), the colonial networks (staff, switches, wires, handsets, buildings etc.)
were transferred to the Commonwealth Postmaster-General's Department
responsible for domestic postal, telephone and, telegraph services
becoming the responsibility of the first Postmaster-General (PMG)
. With 16,000 staff (and assets of over £6 million) the PMG accounted for 80% of the new federal bureaucracy.
Public phones were available in a handful of post offices. Subscriber telephones were initially restricted to major businesses, government agencies, institutions and wealthier residences. Eight million telegrams were sent that year over 43,000 miles of line.
There were around 33,000 phones across Australia, with 7,502 telephone subscribers in inner Sydney and 4,800 in the Melbourne central business district.
Overseas cable links to Australia remained in private hands, reflecting the realities of imperial politics, demands on the new government's resources, and perceptions of its responsibilities.
[2.]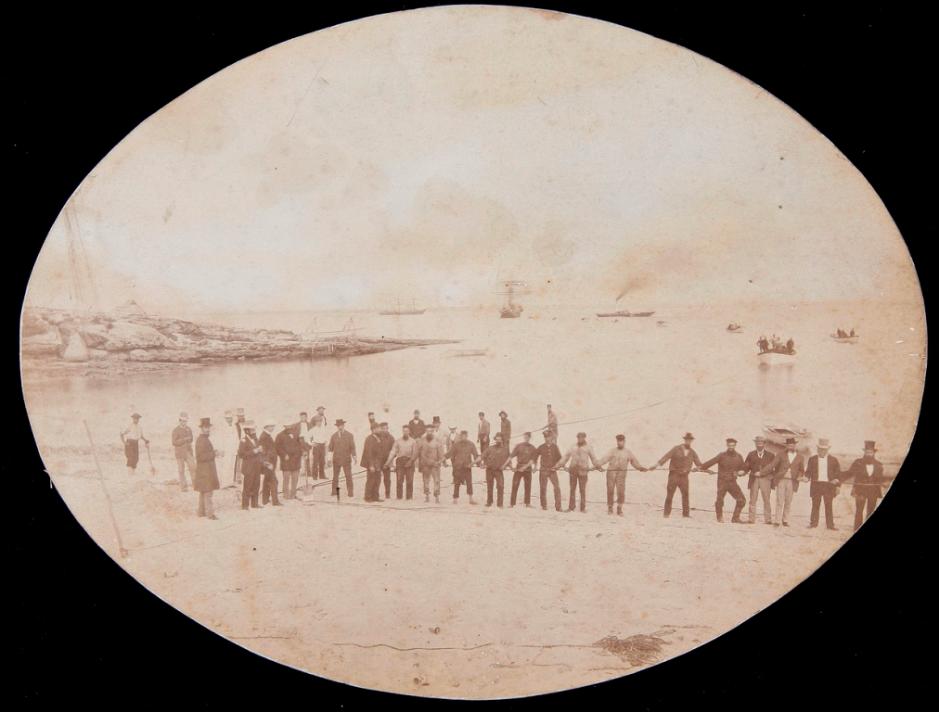 Landing of the New Zealand to Sydney telegraph cable at La Perouse in 1876
Oval black and white photograph of the landing of the New Zealand to Sydney telegraph cable at La Perouse in 1876. Photographer unknown. It shows a line of men on the beach, hauling the cable in. A paddle steamer and the two cable laying sailing ships EDINBURGH and HIBERNIA are lying offshore. On the reverse is handwritten "Landing of Sy NZ Cable/ La Perouse Waka/ 1876/ Edinburgh- Hibernia". Also present are blue coloured pencil annotations. The word "waka" written on the back was the call sign used by the Cable Bay station in New Zealand. Courtesy of the Australian National Maritime Museum. Also in State Library of NSW online photographic collection.
That often-abused but seldom-abashed person, the Government contractor, should smile and hold his head a little higher than usual when he reads the report of the proceedings in the City Council in connection with the Pitt-street telephone tunnels. This work was intended to demonstrate, among other things, the advantages of day labor over the contract system. It was put in hand by the late Government. The designs were prepared, under official direction, by a well-known firm of architects and contractors, and the work has been carried on ever since under the immediate supervision of a trusted Government officer. How it will eventually, as the saying goes, "pan out" remains to be seen; but meanwhile there has been such a stir about the manner in which portions of the work have been executed that the city fathers decided to go in a body to examine it for them selves. The result of their inspection has been duly recorded.
One alderman has described the particular portions of the work which were inspected as of a "slipshod, shoddy character and disgraceful." Another had never seen such a disgraceful specimen of untradesmanlike work." The general opinion of the aldermen appeared to be that there was something radically wrong. One cannot help contrasting the indignation, not to say alarm, of the city aldermen with the complaisance of the Postmaster-General, who, in answer to a question by the leader of the Opposition in the Assembly last Tuesday, declared that the "sensational newspaper reports" on the subject had been "grossly exaggerated." Mr. Cook added that one small subsidence had been discovered, but that the whole thing could be put right, for £8 or £10. He was particularly emphatic in his assurance that there was "no danger to the footpaths."
Mr. Cook seems to have unbounded faith in official re-ports. One of these reports is, however, scarcely of a reassuring character. It is from Mr. Donald, Engineer-in-Chief for Telegraphs, and is dated 7th June, eight days before the P.M.G. made his complaisant reply to Mr. Lyne. Said Mr. Donald: —
In reference to the piece of tunnel work opened cut by the Water and Sewerage men in Pitt-street, between Liverpool and Goulburn streets, where the timber is unpacked, I gave orders on April 4 last year to leave the packing out, as I intended to remove all the timber by cutting out the footpath. Some time subsequently I put men to work to do so and while it was being done the Water and Sewerage Board men commenced to lay a ventilating pipe across the work; and, so that we should not interfere with them, I removed my men to other work, and it afterwards escaped my memory until about two months ago, when I remembered it, and made a note to get it done after completing No. 5 section. The reason why I intended to remove the timber in the first instance was because the ground was soft and shallow above it.
It was rather unfortunate for the writer of this report that the document should have been read to a body of gentlemen just fresh from an inspection of the work for which so curious an apology was thus offered. Small wonder, then, that the particular passage referring to the lapse of memory should have excited a chorus of laughter among the aldermen. It was, to be sure, anything but merry laughter that the city fathers indulged in. There was presented to the aldermanic mind the awful legal problem; who will be made responsible in case of loss of life or injury to limb by the "alleged" subsidences of the footpath — the City Council or the Postmaster-General ? A contemplation of this aspect of the trouble was enough to cause the laugh of the aldermen to proceed from what is called the wrong side of the mouth. Not so, however, with contractors. Their mirth over the results of the day labor system should be free and unconstrained — not merely "from the teeth outwards." The City Council now calls on the Postmaster-General to open the work throughout, remove all timbers, and do what is needful to the satisfaction of the City Surveyor, and, at the cost of his department. The little bill for such an order should total something more than Mr. Cook's estimate of £8 or £10. TELEPHONE TUNNELS. (
1897, June 19
).
Evening News
(Sydney, NSW : 1869 - 1931), p. 4. Retrieved from
http://nla.gov.au/nla.news-article108055873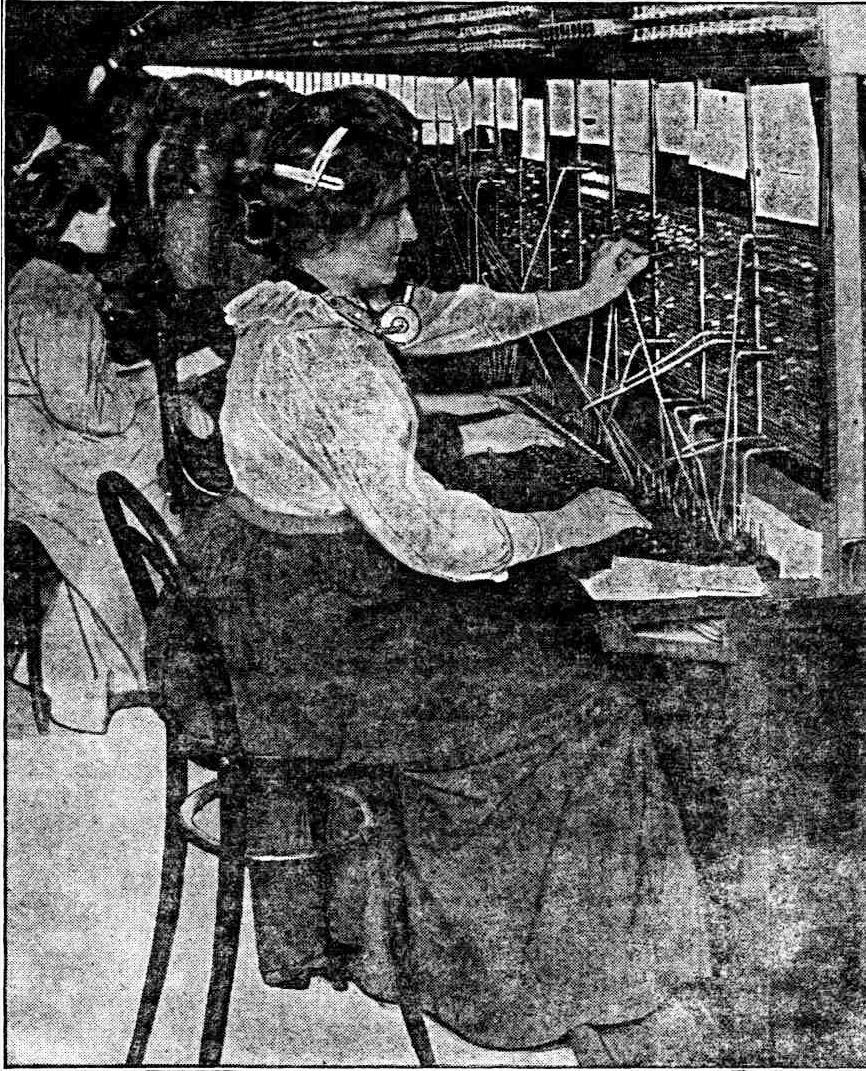 A view of portion of the switchboard at the Sydney Telephone Exchange, showing how the girl attendants manipulate a bewildering collections of cords and plugs. (Photographed by permission of the Deputy Postmaster-General.) THE TELEPHONE GIRL. (
1910, September 1
).
Evening News
(Sydney, NSW : 1869 - 1931), p. 2. Retrieved from
http://nla.gov.au/nla.news-article115258076
On the base of this telephone is a green paper sticker with the information P.W.S. R/C Centre, tested 12th of March 1965 - (
P.W.S. R/C Centre;
Pittwater Warringah Shire Radio Co. Centre; ?).
When many had a radio, pre-television days, these were an expensive item that many people had to purchase through paying them off. If damaged they were repaired, not replaced. Likewise other items would be repaired at Radio shops; sewing machines for example.
RADIO BUSINESS for Sale
leading position Sydney's most prosperous suburb showing excellent return with large percentage shop sales Well
fitted show room and workshop skilled mechanic would stay with purchaser exceedingly cheap rent price with stock £100 or will sell tenancy
furniture and trading name for £50 A genuine business Apply No ... Herald_
RADIO -Here's the opportunity for a live man to take over Radio Shop situated in prominent position main street-as busy as Pitt street. Rent
£3 for Shop and Dwelling. Full price including Picked Radio Stock and furnishings with good Agencies £100
Locally there were a number of businesses and a number of customers to keep them open. John Stone, long-time Avalon Beach proprietor, recalls two radio shops being in Avalon Beach when he first opened a shop there. These places also sold anything associated with radio, such as records.
"
The second radio repair shop, the Dykstras, kept selling a small stock of records for quite some time though." John W. Stone, Profile
There were others, all regulated in what they could and could not do and could and could not sell - similar regulations applied to individuals who owned units (See Extras):
MANLY ELECTRIC & RADIO CO. PTY. LTD.,
314 Sydney Road.
DEE WHY RADIO SERVICE, ,
W. W. Kavanagh, Pittwater Road.
MANLY ELECTRIC & RADIO CO. PTY. LTD.,
84 The Corso.
MANLY & WARRING AH SEWING MACHINE SERVICE,
24 Sydney Road.
The old telephone also has a number listed on it commencing 919, which is an old Palm Beach number, but not an original one, and not the ones used today. Early Palm Beach numbers, shown in Pittwater Online News'
Barrenjoey House history page
:
PALM BEACH.-Accommodation
, 2 minutes surf beach, Golfing, fishing. Mrs. Garner and Miss Bruggen,
Kookaburra, Florida-rd (late Sunrise).
T., P.B. 31.
PALM BEACH,-furnished Cottages to Let
and For Sale
Gow and Howlett. Store. Phone. 21.
Advertising. (
1922, March 4
).
The Sydney Morning Herald
(NSW : 1842 - 1954), p. 3. Retrieved from
http://nla.gov.au/nla.news-article28086268
HOUSES AND LAND FOR SALE. AVALON BEACH AVALON.
AVALON BEACH AVALON
LIQUIDATORS SALE 12 AVALON BEACH LOTS
CANCELLATIONS UNDER THE MORATORIUM ACT
CANCELLATIONS UNDER THE MORATORIUM ACT.
A FEW EXAMPLES -
originally £150 golf links Absolute gift. Lot, ocean frontage originally cost £350 must be sold for £97 Only a stones throw from golf links An opportunity to secure one of the best lots at Avalon at a sensational price - 5 years terms on any lot.
Cars leave our office daily - free from any obligation.
J T STAPLETON and CO
133 Pitt street
Sydney B7896-2 lines
Also at Avalon and Palm Beach.
By the mid 1950's - down the road at Avalon Beach:
Most attractive near new Stained W B Home Large sundeck Modern up to the minute appointments to be sacrificed below cost Garage
H W S septic gently sloping block beach frontage
Inspect now
J T STAPLETON PTY LTD
Example telephone number in Sydney
1950s-1960s
Alphabetical exchange codes
MW 2114
1960s-1971
All-digit dialling and conversion to seven digits
660 2114
1971-1996
STD codes introduced
02-660 2114
1996–present
Area code restructuring
(02) 9660 2114
Telephones in the area were established well before this though, commencing soon after Telegraph was established:
Newport Telegraph Office. Last Saturday the new telegraphic office at Newport was formally opened by Mr. Cracknell, the chief superintendent, in the presence of a large assemblage of residents and visitors. Mr. Cracknell delivered a short address, and formally declared the office opened and communication established with the rest of the world. He asked the visitors to join with him in thanking Messrs. Shorter and Boulton for the efforts they had made in bringing about this desirable result. A large number of ladies and gentlemen then adjourned to Bulfin's Newport Hotel, where dinner was provided for those who had taken a prominent part in the proceedings. This opportunity was taken to present the Christmas prizes at the Newport public school, which has been open for about nine months, and is under the supervision of Miss Giles. Various prominent residents had contributed to the prizes, amongst which was a watch, donated by Mr. Aitken to the most efficient pupil. After the prizes had been distributed, an address, signed by the Misses Bulfin and Miss M. Scott, on behalf of their fellow pupils, was presented to Miss Giles. The address was accompanied by a gold-bracelet and a smelling-bottle. The presentation was suitably acknowledged by Miss Giles, after which, the proceedings terminated. Newport Telegraph Office. (1888, December 27). Evening News (Sydney, NSW : 1869 - 1931), p. 8. Retrieved from http://nla.gov.au/nla.news-article108111373
J.J. Roche and his wife Katherine, the parents of John Roche, one of those behind the early Pittwater Regattas, are recorded as having a telephone in 1898:
The Bay View Post-office, with a telephone, is attached to a store in front of his grounds. The various industries that Mr. and Mrs. Rochesuccessfully conduct are worthy of praise and admiration. There is also a post and telegraph office at Newport, so that in the matter of postal, telegraphic, and telephonic communication Pittwater is up to date.
Religion and education are amply provided for at Pittwater. Most of the denominations have places of Divine worship there. There are two Catholic churches, one at Josephton, Careel Bay, and the other at Mona Vale, which are served by the Rev. Father Dowling, or one of the priests attached to St. Patrick's College, Manly. There is a Public school at Bay View, and one also at Newport. A SKETCH OF PITTWATER. (1898, May 7). Freeman's Journal(Sydney, NSW : 1850 - 1932), p. 20. Retrieved from http://nla.gov.au/nla.news-article115386531

Soon after:

Telephone bureaux have been established at Brookvale, Narrabeen, and Newport. The charges are as follow :—Brookvale : For each period of three minutes, or portion thereof, 6d. Narrabeen: For each period of three minutes or portion thereof,6d. Newport: For each period of three minutes or portion thereof, 1s. THE PRINCE ALFRED HOSPITAL. (1901, March 6). The Sydney Morning Herald (NSW : 1842 - 1954), p. 6. Retrieved from http://nla.gov.au/nla.news-article14346660
In 1904 the Telegraph Office was closed at Barrenjoey. There are several records, again in National Archives of Australia, of exchanges in arranging to pick up this telegraphic equipment. A Telephone was installed and line to main exchange at Manly was established. Like the telegraph apparatus - many of the first telephones within Pittwater were part of the general stores - at Church Point, Bayview, Newport, Mona Vale - with some establishments having their own, as 'The Oaks' did - prior to the night it was destroyed: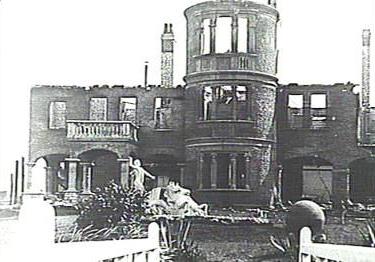 BIG FIRE AT MONA VALE, THIRTY BOARDERS ESCAPE IN NIGHT- ATTIRE. - .DAMAGE ESTIMATED. AT £30,000. SYDNEY, Monday A disastrous conflagration, the resulting damage of which is estimated at £30,000, early this morning destroyed Brock's Mansions at Mona Vale, 20 miles from Sydney, and 14 miles from Manly. The premises were conducted as an extensive boarding house by Madame Reineud, who shortly before the 1am woke out of her sleep to find the place on fire- She-aroused her boarders, some 30 in number, all of whom were compelled to fly from their rooms in their night attire, having no time to take either their clothes or jewellery with them. The boarders were barely out of the place when the building was a roaring mass of flames. One of the boarders motored to Manly, but the fire brigade refused to proceed to Mona Vale, as there was no reticulation service and as it was not in the brigade's district. The fire burnt itself out, leaving nothing but a mass of ruins. The fire is supposed to have been caused by the burning butt of a cigar having been carelessly thrown on the dining-room carpet.
One of the boarders tore the telephone from the wall and carried it outside. Later in the day an electrician fitted the instrument to a fence. The boarders were thus enabled to telephone to their friends and arrange for a supply of clothing. Accommodation was provided for the homeless people at Mr. Scott Fell's house. Madame Reineud lost about £10,000.worth of furniture and fittings. The building was owned by Mr. Arthur Rickard. The total damage is estimated at over £30,000. The building, when constructed some years ago, cost £30-000. It possessed its own polo ground and racecourse, the latter afterwards bang converted into golf links. BIG FIRE AT MONA VALE. (1912, January 9). The Border Morning Mail and Riverina Times (Albury, NSW : 1903 - 1920), p. 3. Retrieved from http://nla.gov.au/nla.news-article109730918
TRUNK- TELEPHONE SERVICES. The Postmaster-General's Department announces that an improved system of operating trunk lines to Blackheath, Bowral, Campbelltown, Corrimal. Cronulla, Glenbrook, Katoomba, Kurnell, Lawson, Lithgow, Mittagong, Mona Vale. Palm Beach, Penrith, Port Kembla, Sutherland, Thirroul, Wentworth Falls, Windsor, and Wollongong exchanges will be introduced on Monday, September 17. Subscribers will obtain service with these exchanges by calling 13076, when, as far as practicable, calls will be completed on demand. TRUNK TELEPHONE SERVICES. (1928, September 15). The Sydney Morning Herald (NSW : 1842 - 1954), p. 22. Retrieved from http://nla.gov.au/nla.news-article16494525
DISASTROUS FIRE. At Church Point. BUILDINGS AND BOATS DESTROYED. A fire which broke out last night at Church Point caused extensive damage, the general store and post-office, tea-rooms, and garage, as well as a launch and several rowing boats, being destroyed. The residents of the well-known pleasure resort were unable to combat the flames, as no water supply was available.
The fire, it is stated, broke out first in Mr. H. Jensen's general store, a large wooden structure. The flames quickly devoured that building and spread to the adjoining tea-rooms. They razed this building to the ground, and enveloped a large motor garage, containing two or three cars. A motor launch, which was lying on slips at the rear of the garage, and several skiffs, which wore tied up beneath It, also caught fire. The garage and Its contents were destroyed.
Mr. Jensen, the manager of the store, tea-rooms, and garage, was spending the evening with his family at a picture theatre in Collaroy. He was not aware of the fire until he returned home at a late hour to find the buildings In a state of ruin. Mr. Jenson is also In charge of the post-office at Church Point.
The buildings were owned by Mr. H. J. Fitzpatrick, of Lennox-street, Mosman, and were leased by him to Mr. Jensen. The boats were the property of Mr. Jensen. One of the motor cars was owned by the local mailman. The fire was discovered in peculiar circumstances. A resident of Newport, on the opposite side of the bay, noticed a brilliant glare In the direction of Church Point, and he communicated with the Mona Vale Telephone Exchange, and Inquired if any fire had been reported from that vicinity. The telephone operator got Into communication with a resident at Church Point, and this man discovered the fire. It is believed that the damage will amount to several thousands of pounds. DISASTROUS FIRE. (1928, November 22). The Sydney Morning Herald (NSW : 1842 - 1954), p. 13. Retrieved from http://nla.gov.au/nla.news-article16511092
Many local telephones still had to go through a post office exchange to be connected elsewhere. Allocated numbers grew with the amount of people using them and shows a shift from one number to two numbers or letters and numbers combined:
TELEPHONE CHANGES
The Telephone Department advises that the prefix letter of subscribers con-netting with Glebe Exchange was altered yesterday from M to MW-thus M2345 is now MW2345. In some cases it has also been found necessary to change the number. Automatic exchange subscribers when calling Redfern and Mascot, should dial M4 and M7 respectively, as at present. TELEPHONE CHANGES (1923, April 30). Evening News (Sydney, NSW : 1869 - 1931), p. 8. Retrieved from http://nla.gov.au/nla.news-article118843880
The introduction of local exchanges and subscriber trunk dialling was slow, partly because of the distances of exchanges in some areas and partly due to the use of manual exchanges well into the 1980s. Initially, dialing codes covered a very small area, sometimes only one exchange, but gradually exchanges conglomerated to become large area codes.

MONA VALE TELEPHONES.
Mr. J. W. Kitto, Deputy-Director of Posts and Telegraphs, advises that from 10 a.m. on Monday next subscribers connected to automatic exchanges will obtain service direct with Mona Vale by caning Y04, instead of B076, as at present. Subscribers on manual exchanges should ask the local exchange for the Mona Vale number. MONA VALE TELEPHONES. (1930, February 15). The Sydney Morning Herald(NSW : 1842 - 1954), p. 12. Retrieved from http://nla.gov.au/nla.news-article28045043
All telecommunications providers still advise to not use telephones during thunderstorms. An early local example of why not:
LIGHTNING FLASH. Men Struck at Warriewood. TREE SPLINTERED.
Three men were slightly Injured by a flash of lightning, which struck a tree at Warriewood, near Mona Vale, on Friday. Mr. D. McLaren was clearing debris from his garden in Hill-street, and Mr. J. Skinner was watching him from a nearby house. Both men were almost blinded by a vivid flash when lightning struck a tall gum tree about 70 yards from Mr. McLaren. Every bough except one was hurled from the tree by the force of the explosion, and pieces of bark were thrown hundreds of feet in all directions. One bough, 4ft in length, was tossed 100 yards, where it struck the chimney of a cottage. Windows in neighbouring houses were shattered. Mr. McLaren, dazed and paralysed in one side, was able to reach Mr Tarry's home, a neighbour's house, where he collapsed. He was treated, and suffered no ill-effects.
James Savage and Hermann Schrelnerp were working at the switchboard of the Mona Vale post-office, when their instruments were struck by a blinding flash. The two men were stunned, and when they recovered were almost helpless for some time. Then they returned to duty, to find that a number of lines had been rendered useless by the disturbance. Patrolling Mona Road, Constable Langhurst received a severe shock in the right arm, but was able to resume duty.LIGHTNING FLASH. (1931, April 27). The Sydney Morning Herald (NSW : 1842 - 1954), p. 6. Retrieved from http://nla.gov.au/nla.news-article16772870
The Commonwealth Department of the Interior Work- and Services Branch has made the following orders on tenders recently received : Mona Vale, Erection of automatic telephone exchange building tender accepted, S J Campbell 11 Hunter street Mortdale, £1040. GOVERNMENT CONTRACTS. (1934, July 17). The Sydney Morning Herald (NSW : 1842 - 1954), p. 6. Retrieved from http://nla.gov.au/nla.news-article17089329
MONA VALE TELEPHONE. The telephone exchange at Mona Vale will be converted to automatic working on Tuesday December 18 at 7 am. MONA VALE TELEPHONE. (1934, December 18). The Sydney Morning Herald (NSW : 1842 - 1954), p. 7. Retrieved from http://nla.gov.au/nla.news-article17128140
An added interesting item about these Tenders and their dates is Mr William 'Billy' Hughes, who had a holiday cottage at Palm Beach since at least 1923, requested Mr Kitto install a telephone box at this same place for 'privacy' in 1934, and within weeks, one magically appeared.
BILLY HUGHES, OF PALM BEACH. At Palm Beach's committee meeting, last Sunday, Mr. W. M. Hughes, M.H.R., was elected a vice-president. The ex- Prime Minister has a week-end cottage there. Austin Dellitt. A. Goddard, L. A. Palmer, and S. Gonsalves have been appointed beach inspectors. The club's annual carnival takes place on New Year's Day. TAMARAMA BEACH (1923, November 9). Arrow (Sydney, NSW : 1916 - 1933), p. 6. Retrieved from http://nla.gov.au/nla.news-article103541164
J McKay £51/10/ Mona Vale Telephone Exchange External painting Lowest tender received. BUILDING AND CONSTRUCTION. (1938, February 1). The Sydney Morning Herald (NSW : 1842 - 1954), p. 6. Retrieved from http://nla.gov.au/nla.news-article17424454

TELEPHONE PROGRESS
One of the most extensive alterations in the telephone system in Sydney was carried into effect yesterday by the transfer of the manual exchange at North Sydney to automatic working, and the changing of the prefix letters at Chatswood, Dee Why, Manly, Mona Vale and Mosman exchanges. North Sydney subscribers desiring to originate a call now are asked to remove the receiver and listen for the dialling tone. TELEPHONE PROGRESS (1938, May 29).The Sun (Sydney, NSW : 1910 - 1954), p. 16. Retrieved from http://nla.gov.au/nla.news-article231034511
NORTH SYDNEY TELEPHONE. Automatic To-morrow.
The new telephone exchange at North Sydney will be changed over to complete automatic working at 5.30 p.m. to-morrow, at which time, the call letters for practically all the North Shore and Manly systems will come into use.
Telephones connected with the North Sydney exchange are divided into four groups-North Sydney (XB), Cremorne (XA), North-bridge (XL), and St. Leonards (XF).Changes are made In other call letters. Mosman becomes XM, Manly XU, Deewhy XW8,Mona Vale XW9, and Chatswood JA. These changes affect 26,360 subscribers. There has been a big increase in the number of persons in the districts named using the telephone. Ten years ago the subscribers totalled 18,754. The increase in the intervening period has been almost 8,000, or about 45 per cent. NORTH SYDNEY TELEPHONE. (1938, May 27). The Sydney Morning Herald (NSW : 1842 - 1954), p. 15. Retrieved from http://nla.gov.au/nla.news-article17468730
TELEPHONE CHANGES. Manual to Automatic. 22,000 NUMBERS AFFECTED. An extensive alteration in the telephone system in Sydney was effected on Saturday at 5.30 p.m. More than 22,000 subscribers were affected, and many of the changes were Instantaneous. Within a minute the manual exchange at North Sydney was altered to automatic working, and the prefix letters at Chatswood, Dee Why, Manly, Mona Vale, and Mosman ex-changes were changed.
Officials said that the change-over was very satisfactory. Most of the complaints that went into the inquiries officer were from people who were having difficulty from the changing of the prefix letters. Many subscribers waited too long before operating the dials, and the result was that the sudden demand on the first stage of the automatic equipment rose above its maximum capacity. These subscribers suffered little inconvenience, because their predicament was indicated in the exchange by a device and attendants came in on their lines and told them that the transfer from the manual to the auto-matic exchange had taken place. TELEPHONE CHANGES. (1938, May 30). The Sydney Morning Herald (NSW : 1842 - 1954), p. 12. Retrieved fromhttp://nla.gov.au/nla.news-article17469615
WHAT HAPPENS WHEN YOU DIAL. Marvels of Sydney's Telephone Network.

By N. M. Goddard.
Automatic telephone equipment is extremely ingenious, almost intelligent, and, considering the delicacy of its construction and the functions that it performs, remarkably reliable. Residents of the Northern Suburbs may not agree with those statements as for the past fortnight they have been suffering from the after-effects of a change-over which has involved the making of more than 50,000 new connections. It would be expecting too much of human hands to find no errors in an undertaking or this magnitude.
The Sydney network consists of approximately 100,000 lines but associated with these lines are several times as many switching appliances, contacts and connecting wires.
The Sydney network has some peculiar problems which make it different from net-works in other cities of comparable size. The division of the city by the harbour and its arms combined with the fact that in area, it is probably the largest in the world—it extends from Mona Vale in the north to Liverpool and Sutherland in the south and west-ward to Parramatta and beyond—means a difficult layout.
Remote, Control of Switches
Automatic telephony is essentially a matter of remote control of switching devices. These devices must be able to connect any line to any other line of the network whether it be in the next street or 20 miles away and at the same time do many others things. Having selected the light line they have to find out if it is busy and if it is, connect the calling line to the engaged signal circuit. They have to see that the called line is protected from the intrusion of other calls or signals while it is in use; disconnect it from all other circuits to which it may have been connected, and then supply ringing current to the line of the called subscriber; cut off the ringing current when the called person answers, immediately supply current for talking, and at the same time operate the meter included In the calling line. At the end of the conversation the lines must be disconnected and everything restored to the initial state.
All these functions require a great deal of complex and delicate equipment, the main parts of which are line switches, selectors (first, second, third, or even fourth, according to the size of the network), and final selectors or connectors. The line switches and connectors are the first and last pieces of equipment in the chain from calling to called line. They are also the most important. Together with the interposed selectors, they are grouped in their thousands throughout the network at main and branch exchanges. In Sydney, there are eight main automatic exchanges, placed respectively at City North, City South, City East, Ashfield, Balmain, Chatswood, Newtown, and North Sydney. They have associated with them 23 branch exchanges. The manual lines still in use are looked after by 10 exchanges. All the main automatic exchanges are connected together and to their branch exchanges by numerous lines known as junctions. Some of the branches of a main exchange are inter-connected, and also connected to branches of another main exchange if their relative geo-graphical positions and the amount of traffic warrant such junctions.
Making a Call.
To show the relative disposition and functions of the various pieces of equipment, take the typical example of a subscriber in Waverley wishing to call a subscriber at Homebush. He lifts his receiver and this action immediately operates his line switch at Waverley. The line switch does a number of things, but the most important is to seek out an idle junction to his main exchange (City East), and at that exchange look for an idle first selector. This first selector then waits ready to pass the call on to the main exchange that is chosen. This it does upon receipt of the series of impulses caused by the first dialling action of the calling subscriber. In the case considered he dials "U" or "7" and in response to these impulses the first selector operates to pick out an unused junction from City East to Ashfield (Homebush's main ex-change). This junction extends the Waverley subscriber's line to a second selector at Ashfield. The second selector waits for the next dialling impulses so that it may extend the line still further to the third selector at any blanch exchange within its scope The Waverley man then dialling "M" or "6," the Ashfield equipment continues his line to the Homebush branch exchange, and to a third selector there.
The succeeding dialling impulse operates the third selector to choose the desired group of thousands in the wanted number and pick-up a fourth selector, which, upon the receipt of the next group of dialling impulses chooses the proper group of hundreds, and the last two dialling impulses operate a connector which selects the line corresponding to the tens and units of the previously chosen thou-sands and hundreds. The connector makes the final connection, doing most of the things enumerated above. When the conversation has ended, all the equipment returns to the idle condition, to wait until it is required to establish another line of connection.
Control by Dial Impulses.
In the case of a call which does not go as far afield as the example cited, the initial connections are made to the main exchange, but at a certain stage in the dialling operations the junctions to and from the main exchange may be cast aside, and the call completed either through the equipment in the-caller's branch exchange or through a junction to a neighbouring branch exchange.
The dial is, In a sense, the driving unit of all this widespread apparatus. Current from the exchange battery is interrupted as the dial moves back to Its normal position, the number of interruptions corresponding to the number on the hole on the dial plate that is pulled. It is most important that the rate of interruption should be correct. Any hindrance or acceleration will result in wrong working.
All the exchange equipment with its hundreds of thousands of spring contacts, its wiper arms and relays is essentially a very delicate mass of apparatus. It is, therefore, housed In a dust-free atmosphere which is kept In a constant state of temperature and humidity. The equipment is also protected against lightning and other currents which accidentally enter the exchange as well as smaller currents, which, although not of immediate danger, might cause serious overheating and possibly fire.
Indicator lamps and alarm circuits are also included to draw attention to failure of switching apparatus, all of which is constantly undergoing routine tests.WHAT HAPPENS WHEN YOU DIAL. (1938, June 11). The Sydney Morning Herald (NSW : 1842 - 1954), p. 13. Retrieved fromhttp://nla.gov.au/nla.news-article17470515
More and more people wanting to telephone someone meant ongoing changes to phone numbers:

TELEPHONE CHANGES

The Deputy Director, Posts and Telegraphs, Mr. B. W. Hamilton, said yesterday that many important telephone changes are to take effect at 7 am. on Tuesday, November 25. In addition to many changes in telephone subscribers' numbers, new automatic exchanges will be established at Kensington, Mascot, and Miranda. The dialling code for Cronulla and Kurnell manual ex-changes and the prefix call letters of subcribersconnected to Campsie and Sutherland exchanges will be changed. To avoid confusion and possible delay, users of the metropolitan telephone system should consult the November, 1941, issue of the telephone directory before making calls after 7 a.m. Tuesday.TELEPHONE CHANGES (1941, November 21). The Sydney Morning Herald (NSW : 1842 - 1954), p. 8. Retrieved from http://nla.gov.au/nla.news-article17774950
NEW TELEPHONE NUMBERS
This afternoon every telephone subscriber in Sydney can throw away his old telephone directory and work on the new one for all numbers-if he has the new directory. At 2 p.m. to-morrow the G.P.O. , will switch about 6,403 city lines to the new York Exchange in the Grace Building, and most of them will get new numbers. The new exchange will absorb the overflow of the City North exchange, which is now accommodated in the basement of the G.P.O. The change will also convert all five figure City North numbers to six figure numbers. NEW TELEPHONE NUMBERS (1948, December 4). The Sydney Morning Herald (NSW : 1842 - 1954), p. 2. Retrieved from http://nla.gov.au/nla.news-article18097454
CHANGES IN PHONE NUMBERS
Telephone switch-over from the present Sydney telephone directory to a new directory will take place at 11 o'clock tomorrow night. Deputy-Director of Posts and Telegraphs (Mr. Kellock) announced today.About About 1800 telephone subscribers in the metropolitan area will have new numbers, and small groups will be transferred in several districts. CHANGES IN PHONE NUMBERS (1950, December 8). The Sun (Sydney, NSW : 1910 - 1954), p. 4 (LATE FIANL EXTRA). Retrieved from http://nla.gov.au/nla.news-article230876630
Palm Beach still had to go through the local post master during WWII:
Injured Soldier Crawled To Telephone.
With a compound fracture of his right leg. a soldier who had fallen from the roof of his house yesterday dragged himself indoors and telephoned for help. The soldier. Pte. T. R. Hillier, of Pacific Street. Palm Beach, was painting the roof of his house when he lost his balance on the ladder and fell about 12ft to the ground. His calls for help were not heard, and, almost fainting, he dragged himself into the house to the telephone. He was forced to rest many times before reaching the telephone. He called the postmistress at Palm Beach, Mrs. R. Williams. She rang Manly Ambulance, and Hillier was taken to an Army hospital. He was suffering from shock when he was admitted. Injured Soldier Crawled To Telephone. (1944, October 28). The Sydney Morning Herald (NSW : 1842 - 1954), p. 4. Retrieved from http://nla.gov.au/nla.news-article17925685
MOTHER UNABLE TO RAISE EXCHANGE. Son Injured Seriously in Cycle Crash SYDNEY, Monday.
For an hour this evening Mrs Legallion, of Iluka Road, Palm Beach, attempted to raise the Palm Beach telephone exchange so that she could summon the Manly ambulance to at-tend to her son, Charles, 14, who had been injured seriously in a fall from a bicycle. Finally in desperation she ran to the home of Dr Brown, who drove a mile to the exchange and returned with an ambulance. The boy was admitted to Manly District Hospital suffering from a lacerated 'scalp, serious abrasions to arms, severe shock and fractured ribs.
He was returning from school on a bicycle when he was forced off the road by a passing motorist. The lad skidded along the gravel, tearing the skin on practically the whole of the left side of his body When he had not returned from school his mother went to look for him and he was found unconscious, some distance from the cycle. Officials of the Postal Department stated to night that investigations would be made into the delay in raising the exchange. MOTHER UNABLE TO RAISE EXCHANGE. (1945, October 30).The Canberra Times (ACT : 1926 - 1995), p. 4. Retrieved fromhttp://nla.gov.au/nla.news-article2649831
INJURED BOY'S LONG WAIT ON ROADWAY. After falling from his bicycle in Florida Road, Palm Beach, last night, a boy of 14 lay on the roadway, seriously injured, for an hour while vain efforts were made to raise the local manual telephone exchange to summon the Manly Ambulance.Dr. Brown, of Palm Beach, rendered temporary medical aid to the injured boy. Charles Le Gallion, of lluka Road. Palm Beach, and then joined in efforts to contact the exchange. All attempts made from two telephones in the vicinity having failed, a car was sent to the exchange and an ambulance from the Manly depot, 31 miles away, arrived in less than half an hour,
The boy was admitted to Manly Hospital shortly after 8 p.m., nearly three hours after the accident, He sustained deep Incerations to the head and right shoulder, severe shook, and probable fractured ribs.
Ants On Wounds. The driver of the ambulance, Mr C. Williams, said that when he arrived numerous ants were crawling over the boy's wounds. Mr. A. Mays, committee man and publicity officer of the Manly and Warringah District Ambulance, said last night that his committee had been trying for more than a year to get permisison to build an ambulance station on land which is owned at Mona Vale, but the applications had consistently been refused by the Government. A sub-station in that area would enable cases in the Palm Beach and Newport districts to be reached quickly. INJURED BOY'S LONG WAIT ON ROADWAY. (1945, October 30). The Sydney Morning Herald (NSW : 1842 - 1954), p. 3. Retrieved from http://nla.gov.au/nla.news-article17957947
MANLY AMBULANCE DILEMMA. GOVT. WITHHOLDS BUILDING PERMIT
MANLY and Warringah District Ambulance which patrols, with six waggons, 150 square miles of country, including 80 miles of surfing beaches, has been refused permission by the Commonwealth Directorate of Housing to build a sub-station, costing £3700, at Mona Vale.
RAISED by subscriptions from an appreciative public the ambulance already has the money to proceed with the building ar.ri would not require a Government subsidy.
Charles Le-Gallion
Last year the six ambulance waggons travelled 87,865 miles to treat 8009 cases, as against a mileage of 40,007 by four waggons in 1941-42 to treat 4317 cases. The establishing of a substation at Mona Vale would provide a quick service from Collaroy to Palm Beach and inland to French's Forest and St. Ives. Control of building operations passed from the Commonwealth to the State on October 31, and the situation is now up to the State Department of Labor and Industry.
Last week 14-years-old Charles LeGallion lay on the roadway for an hour and a half at Palm Beach in agony and with ants crawling over his wounds. Trouble was experienced in contacting the local telephone exchange, but after the ambulance was notified a waggon covered the 21 miles from Manly to Palm Beach in less than 30 minutes. MANLY AMBULANCE DILEMMA (1945, November 4). Truth (Sydney, NSW : 1894 - 1954), p. 24. Retrieved fromhttp://nla.gov.au/nla.news-article169361356
Mr. Williams was actually based at Bayview - so he didn't come all the way from Manly in half an hour. As this was towards the end of WWII with petrol restrictions and less cars on the road, his quick arrival could be attributed to emptier roads.
The length of codes varied; as early as 1971, some localities had area codes as long as seven digits, while the state capitals had two-digit area codes. By 1989, the system had been standardised to three digit codes across the board, with two digit codes in the major cities. Only Kangaroo Island retained its four-digit code. [2.]:

Renumbering (1994–1998)

Due to the increase in subscriber uptake of services such as extra telephone lines in homes, mobile phones and other services, the previous numbering plan was being stretched to its limit. It was decided to reduce the number of area codes and lengthen all subscriber numbers by one or two digits. This occurred between 1994 and 1998, and was done progressively to ensure as little inconvenience and confusion as possible. The gradual change was also to avoid number clashes, a situation where two subscribers in two completely different locations have technically the same telephone number if dialled in their entirety.
The first numbers to be converted to eight digits were numbers in the 99x xxxx and 99 xxxx ranges in the suburb of Mona Vale in Sydney, which all became 999x xxxx or 9999 xxxx on the 25th of July 1994
. The final codes changed to eight digits were the Queensland (070), (071), (076), (077) and (079) codes, which all changed to (07) on 10 November 1997. [2.]
The Federal Government legislation -
Telecommunications Numbering Plan 1997 -
as amended -
made under subsection 455 (1) of the
Telecommunications Act 1997,
required the
Australian Communications and Media Authority (ACMA) to make a plan for:
• the numbering of carriage services in Australia; and
• the use of numbers in connection with the supply of such services.
Section 455 of the Act identifies a number of matters to be included in the
plan, for example:
• the numbers that are for use in connection with the supply of carriage
services to the public in Australia
• rules about the allocation, transfer, surrender and portability of numbers.
Section 455 of the Act also sets out 3 concepts about the transfer of numbers.
The 'first tier' concept is specification by the plan of numbers that are for use
in connection with the supply of carriage services to the public in Australia.
The 'second tier' concept is allocation of numbers by ACMA to carriage
service providers.
The 'third tier' concept is issue of numbers by carriage service providers to
customers.
The plan may also empower ACMA to make decisions of an administrative
character.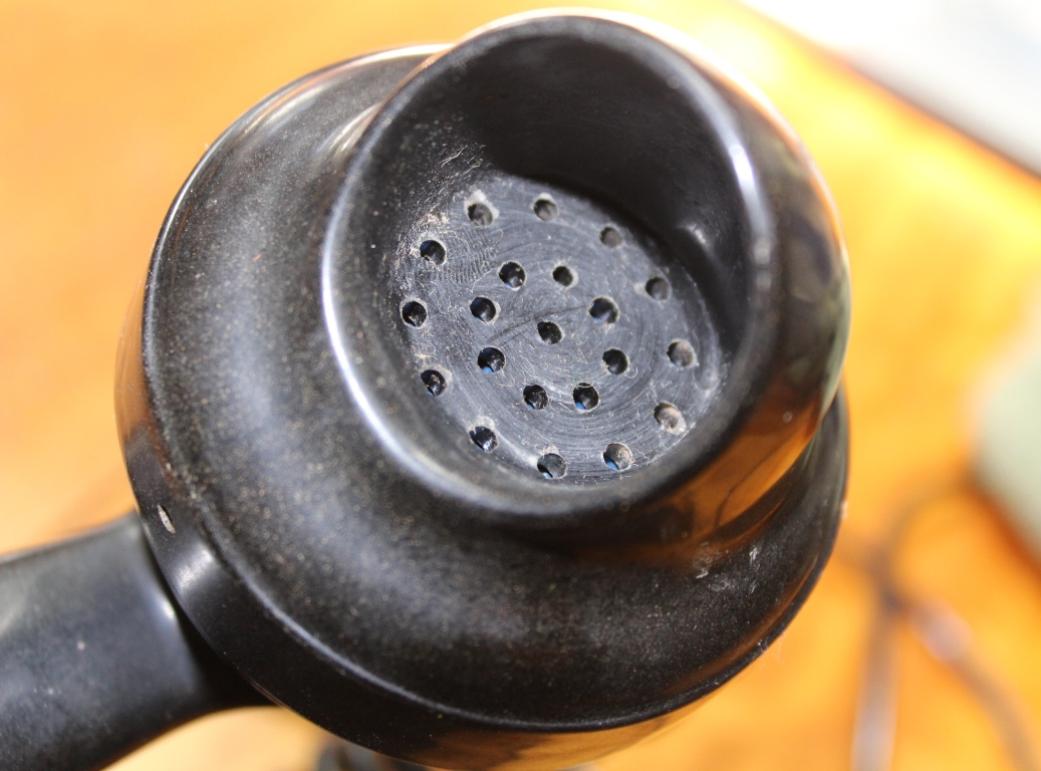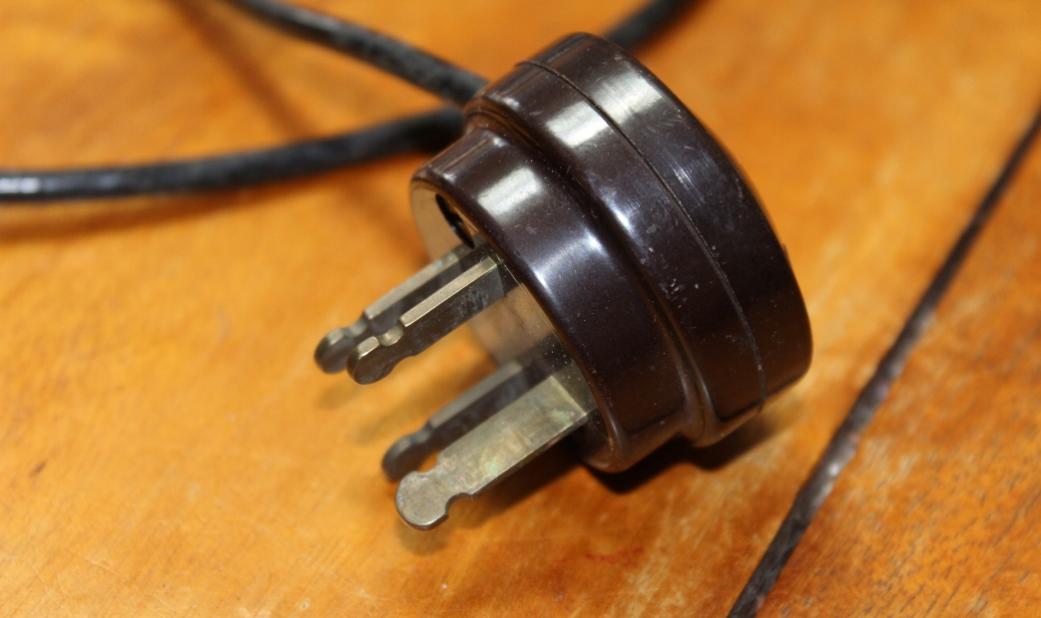 References And Extras
2. Former Australian dialling codes. (2017, August 28). In Wikipedia, The Free Encyclopedia. Retrieved from https://en.wikipedia.org/w/index.php?title=Former_Australian_dialling_codes&oldid=797671500
3. Wikipedia contributors. Bakelite. In Wikipedia, The Free Encyclopedia. Retrieved from https://en.wikipedia.org/w/index.php?title=Bakelite&oldid=852249830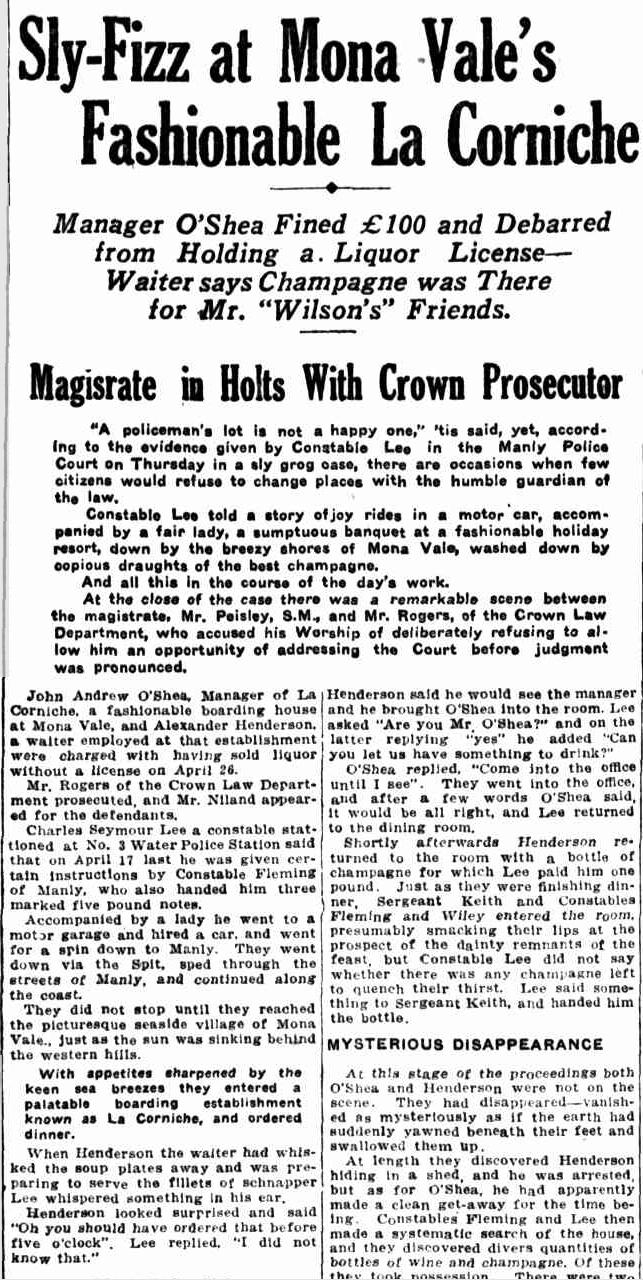 MANLY TELEPHONES.

Out of Order All Day.

CABLE BROKEN NEAR SPIT.
From 7.30 o'clock yesterday morning, the Manly, Mona Vale, and Deewhy telephone service from the city and suburbs was cut off owing to a break in the main cable at Spit Junction. A tramway workman's pick is believed to have broken the cable
, and, as a new cable had to be laid, the service may not be restored before early this morning.
A temporary cable was fitted to enable connections to be made through the automatic exchanges on about 5) lines instead of the usual 700 lines.
The break was discovered in the main cable, which is under the tram lines at Spit Junc-tion. Since last Thursday tramway work-men have been relaying the lines there, and it Is thought that during the excavations the telephone cable may have been damaged. To connect a temporary cable, the relaid rails and the concrete ballast had to be torn up again, and until the temporary cable was connected all calls over the automatic lines to Manly recorded only a faint buzzing sound.
Most of the public services, such as the fire brigade, were isolated except through the direct lines from their headquarters in the city.
Business firms at Manly were greatly inconvenienced by the break, which was the first serious interruption in the telephone service to any of the Sydney suburbs for many years. The Telephone Department detailed a special operator to acquaint persons dialling numbers through the Manly exchange that the lines would be out of order all day. MANLY TELEPHONES (
1936, January 10
).
The Sydney Morning Herald
(NSW : 1842 - 1954), p. 12. Retrieved from
http://nla.gov.au/nla.news-article17219665
ROMANTIC MARRIAGE RECALLED
The name of William Charles Wentworth, illustrious in the early history of New South Wales, is brought to mind by the birth of a daugnter to Mr. and Mrs. W. C. Wentworth, jun:,
at Dennolm private hospital, Darling Point, on Monday of last week. The baby is the great-great-granddaughter of William Charles Wentworth who was born at Norfolk Island in 1790, and who first came before the public in New South "Wales when, with Blax-land and Lawson, he crossed the Blue Mountains in' 1813 Later he built a home on the ' Vaucluse; estate, which now stands as a monumept to his name. His
powerful personality was stamped on every political and social institution in the colony.

The baby's, mother was before her marriage, Miss Barbara Baird. daughter of. Mr. and Mrs. Henry Baird, Corinella, Mona Vale

, and her romantic marriage in America last year to Mr. Wentworth created much interest in Sydney. She visited America alone, intending to tour Canada, the States and Mexico, but her plans were altered by

a proposal of marriage by telephone from Australia.

Subsequently, Mr. Wentworth took the first outgoing steamer from Australia and joined her in America They were married in Reno to over
come domicile difficulties, obtained a special license and took two assistants from the shop where they purchased their ring to be witnesses at their wed ding and also to drink their., health afterwards. ' b. Their honeymoon was spept in ari aerial tour over the States, and the returned to Sydney in August last year. ROMANTIC MARRIAGE RECALLED (

1936, April 29

). Daily Examiner (Grafton, NSW : 1915 - 1954), p. 8. Retrieved from http://nla.gov.au/nla.news-article194264300
TRYING to avoid a bus, Mr. W. M. Hughes, M.H.R., narrowly avoided a bad collision and nearly overturned his car on the Barrenjoey Road, Newport, yesterday. When Truth phoned Mr. Hughes last night he queried:
'What's the trouble, brother?'
Truth: 'It is reported that you
had a bad accident today.'
Mr. Hughes: 'I was on my way to Palm Beach, brother. A bus came out of a side street. I don't go about knocking buses over, brother; and so I had to get out of its way.'
LOCAL GOVERNMENT ACT, 1919.
Proposed Residential District No. 14 within the Shire of

Warringah.
IT is hereby notified that the Warringah Shire Council has applied to the Governor (1) to declare the portion of the Shire of Warringah defined in Schedule "A" hereto to be a Residential District (No. 14—Warringah Shire); (2) to prohibit in, proposed Residential District No. 14-—Warringah Shire (a)
the ejection of any building for use for the purposes of any trade, industry, manufacture, shop or place of public amusement whatsoever
, other than, the trades, industries, manufactures shops or places of public amusement described in Schedule "fe" hereto; (b) the use of any building for the purposes of any trade, industry, manufacture, shop or place of public amusement whatsoever, other than aforesaid; (c) the erection pr use of advertisement hoardings; and (d) the use of any land for the purposes of the trades, businesses, avocations or callings described in Schedule "C"
hereto.
Any person interested may lodge objection to this proposal on or before 31st July, 1950. (S. 50-1,964)
J. J. CAHILL, Minister for Local Government. Department of Local Government,
Sydney, 23rd June, 1950.
Proposed Residential District No. 14 (at Harbord and
South Curl Curl).
Commencing at the intersection of the eastern side of Harbord-road with the southern side of Brighton-street; and bounded thence by Brighton-street easterly to Bennett-street; by Bennett-street northerly and easterly to Park-street; by Park-street northerly to Adams-street; by Adams-street easterly and north-easterly to the northerhmost Corner of portion 509, parish of Manly Cove, couiity of Cumberland; by a line east to the foreshore of the South Pacific Ocean; by that foreshore generally southerly to its intersection with, the north-easterly prolongation of the south-eastern boiindary of lot 1, deposited plan 5,494; by a line along the south-eastern boundary of that lot south-westerly to Pavilion-street; by that street north-westerly to ihe north-eastern corner or lot 2, deposited plan 4,484; by a line along the eastern boundary of that lot and lots 2 and 13, deposited plan 12,597, crossing Queenscliff-road, southerly to Greycliffe-street; by that Street north-westerly to the south-western corner of jot 9, deposited plan 6,076; by a line along the western boundary oi lots 9 and 7, deposited plan 6,076, and lot 6, feectioii 2, deposited plan 1,376, crossing Queenscliff-road, northerly to Pavilion-street aforesaid; by that street westerly to 5 the easternmost coiner of lot 40, section 3, deposited plan 1,376; by a line along the north-eastern boundary of that lot and lot 41 to 71 inclusive, north-westerly to Cavill-street; by Cavill-street northerly to Lawrence-street; by Lawrence-street westerly to McDonald-street; by McDonald-street northerly to Wyadra-avenue; by Wyadra-avenue easterly to Harbord-road; and by that road generally north-westerly to the point of commence
ment.
Bakers' shops, bicycle shops, boat-building and repairing,
booksellers' shops, boot and Shoe Shops, boot and shoe repairing shops, bread manufacture, butchers' shops, cab proprietors, cake shops, chemists' shops, commission agents, confectionery shops, drapers' shops, dressmaking, dressmakers' shops, dyeing and cleaning,

electrical goods and radio shops

, electricity substations, estate agents' shops, fishing depots, fish shops, florists' shops, fruiterers' shops, greengrocers' shop, grocers' shops, haberdashery shops, hairdressing saloons, hardware shops, ironmongers' shops, milk vendors' shops, milliners' shops, motor accessories selling and repair shops, newsagents shops, pastry goods shops, paltry goods manufacture, picture theatres, plumbers' shops, poulterers' shops, public halls; refreshment rooms, sale of crockery and glassware, sale of ice, sale of music and musical instruments, sale of petrol and lubricant servicing, hiring and garaging of motor vehicles, Small goods shops, sports goods shops, stationers' shops, tailoring, tailors' shops, tobacconists' shops.
Brick-making, concrete or earthenware pipe making, pottery making, terracotta tile-making, bottle dealing, storage or exchanging,' second-hand machinery and/or vehicles dealing and exchanging, saw-milling, timber merchants' yards, dairying and/or keeping of cows for profit, riding schools and/or keeping of horses for profit. LOCAL GOVERNMENT ACT, 1919. (
1950, June 23
).
Government Gazette of the State of New South Wales
(Sydney, NSW : 1901 - 2001), p. 1920. Retrieved from
http://nla.gov.au/nla.news-article220101561
17 Persons Fined For No Radio Licence
The visit to West Wyalong of a wireless license inspector resulted in the preferring of charges against 17 town residents for having unlicensed radios. This was revealed In the West Wyalong Court of Petty Sessions last Thursday.
The charges were preferred l>y wireless license inspector Albert Letchford Smith, of the P.M.G. department.
Fines varying from £1 to £7 were imposed by the Stipendiary Magistrate, Mr. W. Finlay
S.M. .All were ordered to pay 18/- costs. Mr. Smith asked Mr. Finlay to grant 12/- court costs and 6/- witness expenses.
The persons lined were:
• HENRY CHARLES JOHN LEMON, Lemon did not appear and the case was heard exparte. Inspector Smith said Lemon, of Neeld Street, Wyalong, had admitted he had the wireless for six months without a license. Lemon had said he didn't have enough money to spare, owing to the sickness of his wife, who had two major operations.
Lemon was fined £4 with 18/ costs.
• ALBERT KEITH WELLS, of Hyde Street, West Wyalong who pleaded guilty to the
charge. Mr. Smith said Wells had gone for six mouths without a license for his receiver. In explanation, lie said he "hadn't thought of it." Wells was fined £3 with 18/costs, and allowed 24 hours to pay.
0 CLEMSON CLARENCE STUBBS, of Neeld Street, Wyalong, who did not appear, and whose case was heard ex-parte. Inspector Smith said Stubbs, when asked why he had not his license for six months, said "I am away from home most of the time, and I never gave it a thought" Stubbs was fined £4 and ordered to pay 18/- costs.
• JAMES ALBERT NAPPER, of Mallee Street Wyalong, who appeared in court to plead guilty. Inspector Smith said Napper had his set for two months without a license. He had purchased a house, including furniture and wireless. Asked for an explanation, Napper said; "I just never thought of it."
.•FREDERICK WHITE, of neeTff Street, Wyalong, who appeared in court to plead guilty. Mr Smith gald Wlritfe' had had receiving set for six months without a license, and both he and his wife said they thought the other had got the license. White was fined £3 with 18/costs, and on his application was allowed 24 hours to pay.
• STANLEY SIMPSON, of 7 Church Street, West Wyalong, who through Cecil Albert Hoberts, pleaded guilty to the case. Inspector Smith said Simpson explained, "I just overlooked getting the license." when asked why he did not have a license for three months. Simpson was fined £2 with 18/-, costs:
• ERIC GEORGE KIRKUP, of 8 Golden Street, West Wyalong. Cecil Albert Roberts also appeared for Kirkup to plead guilty to the charge. Inspector. Smith said Kirkup had not had a license for his set for two months. In explanation,Kirkup had said it was just neglect on his part for not having a license. Mr. Finlay. fined Kirkup £2 with 18/- costs.
• FERGUS WILLIAM DONALDSON, of 13 Maitland Street, West Wyalong, who through solicitor Mr, R. B. Bloore, pleaded guilty to the charge. Inspector Smith said Donaldson had admitted not having a license for 14 months, and In explanation, said, "I hadn't thought of getting one." Mr; Bloore told Mr. Finlay. Donaldson had. moved Into West Wyalong from the country, and the failure to procure a license had been an oversight. Mr. Finlay: He could have saved himself £2 If he had remembered. He fined him £4 with 18/- costs.
• JOHN ATHOL PELLOW, of 24 Welcome Street, West Wyalong, who did not appear, the case being heard ex-parte. Peltow had admitted he did not have a license at the time the inspector first called, and said they had the receiver for 12 months, but it had been out of order for six months. Pellow was-fined £4 with 18/ costs.
• KEVIN KEITH BROAD, of 12 Cypress 1 Street West Wyalong. Inspector Smith said that Broad, when interviewed admitted he did not have a license and said, "I was caught for the same thing sometime ago." Inspector Smith said Inquiries had revealed that Dulcie May Broad bad been fined £3 in 1949 tor a similar offence. Following this action. Broad had taken out a license, but he had let it lapse. Mr. Finlay fined Broad £7 with 18/- costs.
• STAFFORD MAXWELL HEWITT of 130 Gladstone St.. West Wyalong, who did not appear, the case being beard ex parte. Inspector Smith' said
Hewitt had admitted not having a license for 10 months, but said he had held a license at Avalon Beach.
However, enquiries had revealed there was no record of a license being held at Avalon Beach, he said
. Hewitt was fined £5 with 18/-1 ….
THE NEW GENERAL POST-OFFICE IN
SYDNEY.
On the occasion of the opening of the General Post-Office in Sydney on Tuesday evening, Mr. James Barnet, Colonial Architect, prepared the following descriptive paper:—
Many years ago, it was seen that the premises devoted to postal business were becoming inadequate and unsuitable to its growing requirements, and in laying out the Barrack-square for sale, a large piece of land was reserved for a new post-office, having frontages to Wynyard-square and Clarence-street of 445 feet, and to Erskine-street of 164 feet.
In 1854 plans for a new post-office were obtained from a prominent architect in England, and in the same year a sum of £10,000 was granted for a new building. After consideration, however, it seems that the plans obtained were not considered suitable to the requirements, and an opinion appeared to have gained ground that it was not desirable to remove the establishment from the site which it had occupied for many years, and which was admitted to be unobjectionable for public convenience.
The old post-office in George-street was erected, I believe, in 1821, for a police-office, and was, a few years after-wards, converted to the former use. Its area was limited, having a frontage of 82 ft to George-street, by a depth of 170 feet, but without any means of access at the sides or back. With the advance of the colony in population and commerce, the inadequacy of the old building for postal purposes became evident, and continual alterations and additions were made to increase its capabilities, until almost he whole of the ground was covered, and nothing further was practicable. The telegraph department, for which at its origination, a small room in the Exchange was sufficient, was added to the postal department.
On the rapid increase in electric telegraphs I need not remark, as it is evident to you all. It had, therefore, to be provided for in the new building. The original idea was to construct a building on the site of the George-street office, retaining the old hexa-style Roman Doric portico, which had become a feature in the recollection of Sydney residents. Plans were prepared with this view, and it was decided to proceed with the structure. Accordingly, temporary accommodation for the post office was provided by the erection, in 1863, of a wooden building in Wynyard Square, at a cost of £3600.
The materials of the old post office were sold by auction, and two of the pillars of the portico referred to were used for astronomical purposes on the North Shore, and for marking a measured mile for nautical purposes.
Before further steps were taken towards commencing the building, additional consideration by the Government led it to decide upon having a building on an entirely fresh plan, and to obtain land leading from George street to Pitt-street, to which the post office would have frontage, and by means of which access could be had to its internal courts. After some considerable time spent in negotiations with the adjoining proprietor, it was decided to give up 16 feet of the post office site, together with 16 feet purchased from our neighbour, to form a lane from George-street to Pitt-street, 32 feet in width. In August, 1864, instructions were given to prepare a sketch design, having a frontage to this lane and to George and Pitt streets. The dimensions of the site being thus reduced by 16 feet m width to form part of the side lane, leaving only 66 feet available for building on, it was directed that this frontage should be allotted in nearly equal parts for the Post-office, the Money Order Office, and the Electric Telegraph department, the sketch approved showing the floor space available for the respective departments, namely :
Sup. feet
Post office....................... 15,801
Telegraph Office.............. 5,872
Money Order Office......... 1,915 being a total of 21,589 sup. feet.
Some delay occurred before instructions were given to prepare the working plans, which were submitted for approval in February, 1865 ; but, in consequence of political changes and the difficulty of obtaining any opinion as to the arrangements, a commencement could not be made for some time, and the first contract—that for the foundations and basement story—was taken in Fe-bruary, 1886, now eight and a half years ago, and the principal arch stone was set by his Royal Highness the Duke of Edinburgh, in April, 1869. About one year was lost in negotiations respecting adjoining land for extension of site and widening the lane, and from intervals between the contracts, the works have gone on till now, seven and a half years, being the actual time the building operations have been in hand. According to the dates fixed by the contractors themselves, the building should have taken only three and a half years for erection, and, including necessary delays between contracts, should have been completed in four years and a half from its commencement. No one contractor.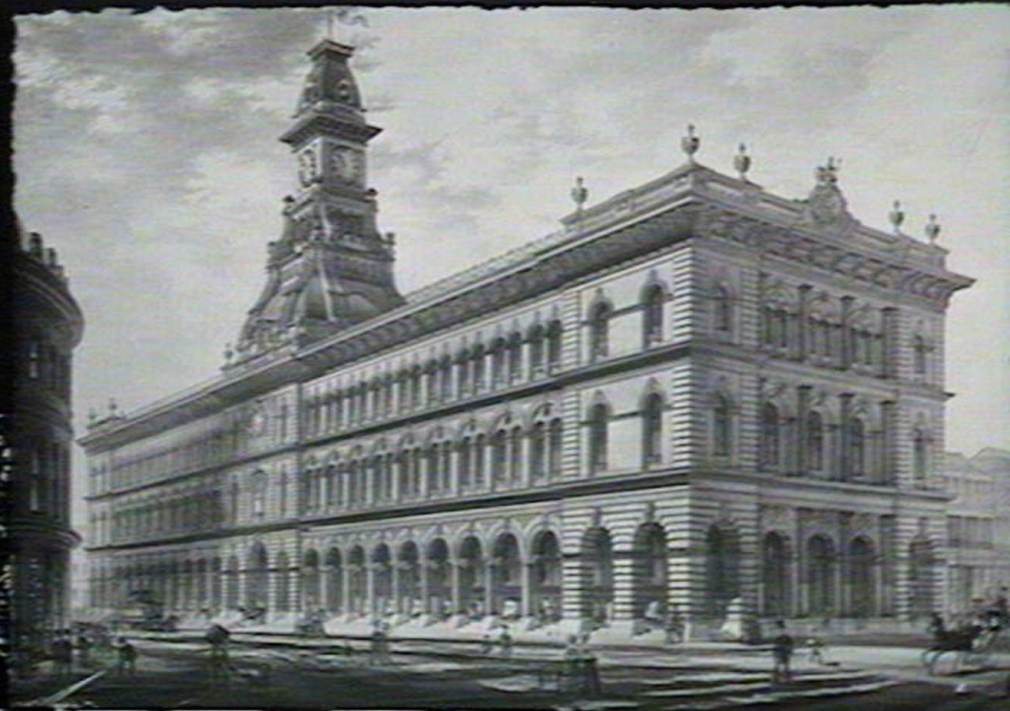 Design of General Post Office, Sydney, Image No. d1_05837h, Government Printing Office. Courtesy State Library of NSW.

however, fulfilled his engagements to time. The foundations, which were to have been done in six months, took fifteen months, the contractor for the superstructure, instead of two years, as agreed, took four years and a half to perform his work, and those who undertook the finishing trades exceeded their stipulated twelve months by six months The furni-ture and fittings just completed, have occupied three months. This seems extraordinary, but no doubt the contractors greatly under-estimated the time required to execute a work of this magnitude, surrounded with so many difficulties, and including so many novelties. Time was spent in quarries and looking for materials, it being desired to obtain everything if possible in the colony to erect the building. Failure in one instance necessitated going to Europe for the balcony landings, which were with great difficulty and daisy obtained from the north of Scotland.
The introduction of polished granite and the difficulties of foundation and sewerage, together with the scarcity of suitable workmen, and the circumstance that in 1871 it was considered desirable to hurry on the works of harbour defence with all dispatch, workmen from the post-office were employed for that purpose, that work being considered the less urgent Later on, the strike in the iron trades caused delay, and kept back the completion of the finishing trades. The telegraph workshop has been in occupation about twelve months. The site was restricted, in consequence of the abstraction of the sixteen feet before referred to, to a considerably less area than that appropriated by the old post-office alone, and on this provision had to be made for three growing establishments. This was a difficult task, but it was effected by going a story higher than was originally intended, by the construction of mezzanine galleries on the ground-floor, by building two stones over the stables, and a large room over the court-yard, and by carrying the entire main building on an arcade over the footpath on the side lane. By these means the accommodation was greatly increased to the following dimensions -
Post-office................................. 20,836
Telegraph Office.......................... 7,632
Money-order Office ..................... 2,814
Lobbies, passages, &c. ..................3,975
Making a total of......................... 35,247
Being 13,658 feet more than the original sketch plan. The heads of these branches were at that time all subordinate officers of the Treasury and Public Works' Departments, and they were suitably pro
vided for. It was not, therefore contemplated that the different kind of accommodation needed for a political head of the department would have to be included. This has necessitated some modification of the original arrangements.
The present temporary offices provide for the respective branches the following floor space :—
Feet sup. Post-office............................................10,388
Telegraph Office..................................... 4,324
Money order Office and Savings Bank...... 1,933
Total................................................... 16,645
The floor area of the Melbourne Post office is :
Feet sup. Post-office............................................17 211
Branch Telegraph Office......................... 1,132
Money Order Office and Savings Bank .... 1,633
Stamp Printing Department .................... 2,515
Lobbies and passages. ............................ 5,701
Total .................................................. 28,193
From these figures it will be seen that the Sydney new post-office comprises a floor area above a fourth as large again as that of Melbourne, besides which, in Sydney, there is a larger portion of the site unbuilt on and available. The building has 13,053 superficial feet, or more than one-third more space than was comprised in the sketch sanctioned by Parliament in 1864, and 18,602 superficial feet (nearly double) more than the present temporary offices. The style chosen for the design is Italian Renaissance, and was necessarily adapted to the uses of the building and the nature of the site. The materials used are, with but little exception, of colonial production.
The excellent sandstone from the Pyrmont quarries has been procured and used in blocks of a magnitude never before attempted in these colonies. Considerable trouble was taken and outlay incurred in the search for a suitable marble for decoration purposes, and to open quarries and use the fine granite so abundant at the Moruya River, in preference to the importation of foreign material. The use of such a material was necessitated by the immense weight which was superincumbent on all small points of support, to form the arcade. The material selected has been found all that could be desired, both for utility and artistic effect. A novelty was introduced, for the first time in these colonies, in the construction of dome vaulting and vaulted ceilings, the material of which is composed of fire-proof concrete of original composition. A few words will be desirable as to the internal divisions and arrangements.
The basement, which has a granite paved yard, contains accommodation for postmen, telegraph messengers, housekeeper, stabling, a battery store capable of holding 1000 cells, store rooms, space for mail carts, lavatories, &c. This communicates by means of four staircases with the floor above, which is on the street level. In this are the principal entrances to post-office, telegraph and money order and savings bank branches. The rooms for receipt and delivery of letters are on this floor, with windows in the arcade, the telegraph and money-order counters for the public are in the George-street front. The next, or mezzanine story, contains the galleries over letter receipt and delivery rooms, for purposes of inspection offices, and, in the back building on the same level, reached by iron bridges and balconies, work-shops and laboratory for the telegraph department. The first floor, which extends over the entire main building, has the apartments of the Postmaster General and Under-Secretary, the superintendents of the telegraph and money-order branches, clerks' rooms, and a large room for despatch of newspapers, &c.
On the second floor will be found the telegraph operating room, this is provided with pneumatic tubes for despatches, and other facilities for communication with the other offices below. It is lighted mainly from the roof, and has also a gallery connecting with the uppermost floor, in which it is contemplated, I believe, to employ female operators. There is, moreover, accommodation for the assistant superintendent of telegraphs, clerks, reporters of the press, &c. The third or topmost floor contains retiring rooms for males and females, luncheon rooms, cloak room, &c.
Some mention should be made of the arrangements for indicating the time. The whole of the clocks will be in connection with each other and with the Sydney Observatory, and will be regulated by electricity. The clock surmounting the building indicates the hours and minutes in a novel manner, but it is also intended to have large clocks, with inner and outer faces, in the arcades. All the clocks will indicate the time both by day and night. The roof, besides the bell-cote and clock-room, has a large iron water tank, with which pipes and hose throughout the building are connected, for the purpose of extinguishing the first indications of fire.
The portion of the building now completed is only one-half the design, it being intended to continue it to Pitt-street, which will form a length of 353 feet by a width of 78 feet. In a building devoted exclusively to work, but little scope is left for the employment of art, but, so far as circumstances would admit, that has not been forgotten. Utility being paramount, that has been also exclusively kept in view, and in going over the building, you will find that sanitary needs have had due attention, and such modern appliances and conveniences as were available have been taken advantage of, to save labour and facilitate the duties to the employees and the public.
Seeing that the labour of the persons employed is long and continuous everything that was possible has been done to aid their comfort and convenience; and the wishes of those interested have been consulted and carried into effect. The Government had been unsparing of expense to effect these objects, and, as far as possible, to lighten the labours of their officers and promote the convenience of the public. The colony may feel proud in the knowledge that this building, as regards mechanical skill and good workmanship, and the quality of the material employed, is not excelled by any that has been erected in the mother country. It may be taken as a sure sign of the permanent advance of the colony, and its vastly increased importance and prosperity, that the necessity for a structure of this extent should have been felt, and the demand which will be sure to arise for more room for the important services of of which it is the home, will be an index of our continued material progress, and the outlay necessary will, I am sure, be gladly agreed to by the public
and the Government.
THE NEW GENERAL POST-OFFICE IN SYDNEY. (
1874, September 5
).
The Maitland Mercury and Hunter River General Advertiser
(NSW : 1843 - 1893), p. 5. Retrieved from
http://nla.gov.au/nla.news-article18787462
Sydney's Telephone Service.
Our illustrations on this page depict sections of a new switchboard in the Telephone Room at the General Post Office, Sydney, that is being erected at a cost of some thou-sands of pounds. The matter of telephone business is of such great importance that any mechanical devices and inventions which tend to the improvement of the service will no doubt be welcomed by the great number of subscribers in the city and suburbs. As showing the wonderful advance in the adoption of the telephonic system, it is only necessary to turn up our old Exchange book, of (say) 1895, and then look at the present one. The former shows a subscribers' list of 2470 names, whilst, that for August; 1899, shows 6718 names―a truly great increase.
Referring to the engravings, No. 1 shows the dynamotors, with their starting rheostats and automatic cut-outs. These dynamotors will be supplied with current from the 110 volts supply. The large one on the left transforms this current into one of suitable strength for charging the storage battery, which in its turn supplies current to the transmitters, the self-restoring drops, and the signal lamps. The two smaller machines on the right transform the 110 volt current into an alternating current of suitable voltage and frequency for ringing the subscribers' bells.
The power switchboard is shown in No. 2, mounted on two marble slabs. On the left-hand side are the necessary switches and measuring instruments for controlling the power used in restoring the drops, lighting the signal lamps,. and supplying current to the attendants' transmitters; on the right are the safety fuses for protecting the switchboard proper and the attendants, from an excess of current in case of accident or other cause. The present equipment of the switchboard is for 4000 subscribers' lines, 200 out-going and 200 incoming trunk lines, making a total of 4400 lines. These may ultimately all be metallic circuits; provision has consequently had to be made for 8800 wires. When it is realised that any attendant must be able to reach any pair of these wires, some conception may be formed of the complicated work involved. There are in-side the office in connection with the switchboard and its accessories 810 miles of wire, covered with silk, wool, or cotton, and the number of soldered connections exceeds 400,000.
No. 3 shows one section of the new Sydney switchboard, accommodating 300 subscribers, which are attended to by three operators. All the subscribers' lines are multiplied or repeated on each section, so that any attendant can connect any subscriber to any other subscriber he may ask for. Each subscriber's section contains 4500 jacks. There are fourteen of these sections, and in addition thereto four special sections for the working of the trunk lines, which connect to the local exchanges. The total number of jacks on the switchboard is 73,500.
The above information has been kindly supplied by Mr. Williamson, representing the Western Electric Telegraph Manufacturing Company, who
are the contractors for the board. When the contract is finished there is no doubt that the Sydney Telephone Exchange will possess the most complete switchboard in the Southern Hemi-sphere. The board is fitted with all the most modern improvements, and seems to have every-thing up to date necessary, for the convenience of subscribers and the expedition of business. In-deed, so complete will all arrangements in connection with the Telephone Exchange be when the board is in working order that the Postmaster-General may be heartily congratulated on having taken this matter to a satisfactory issue. Mr. Williamson, the contractor, has imported a mechanical expert from America, who is fitting up the board, under the direction bf the Chief Electrician and Engineer-in-Chief (Mr. P. B. Walker). Mr. Williamson expects to have the contract ready to hand over in about two months.
IMPROVEMENTS IN THE TELEPHONE DEPARTMENT, GENERAL POST OFFICE, SYDNEY.
1.―THE DYNAMOTORS WITH STARTING RHEOSTATS AND AUTOMATIC CUT-OUTS.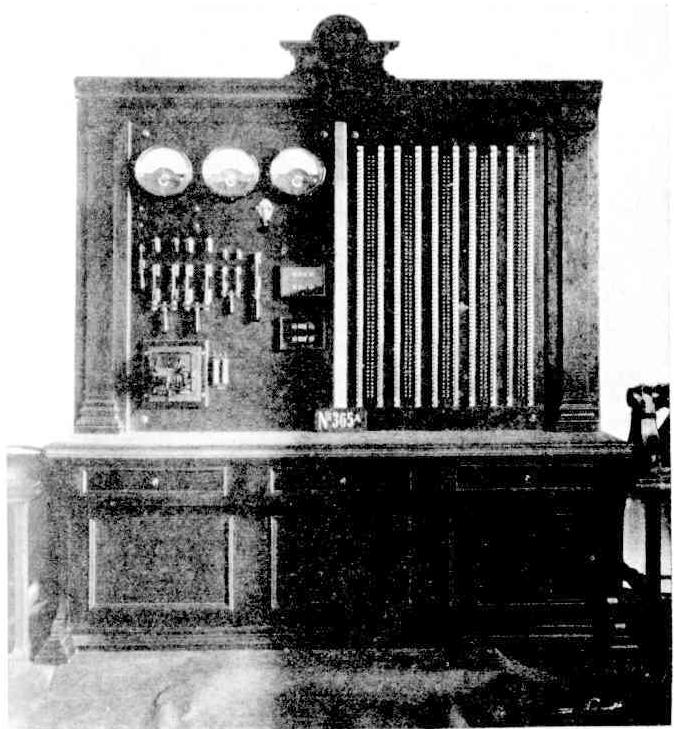 2.―THE POWER SWITCHBOARD.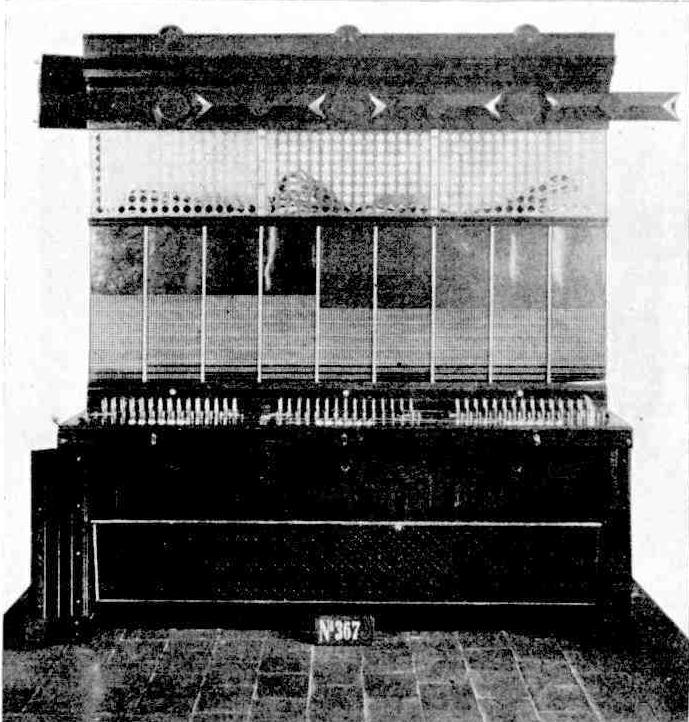 3.―A SECTION OF THE NEW SYDNEY SWITCHBOARD.
It is probable that the public would acquiesce in the revised telephone regulations with better grace if along with the change they secured a better service. Against requiring payment in proportion to the service received there is no argument. If, as the Postmaster-General asks us to believe, it is true that in the case of some much-used business Installations it costs the department between £17 and £18 per year to give attendance for which only £9 is paid, it is obvious that the financial basis of working is not satisfactory. The point of objection is not to changing the system, but to bringing the change into operation before the Postal Commission has completed its investigations, and submitted its recommendations. As it is, every fresh sitting of that Commission only emphasises the appalling condition of chaos Into which the Postmaster-General's department has drifted. It is already clear that, In order to put that department in n fair way to be efficient, not only more money will require to be spent, but radical organisation of the administrative machinery will be necessary. That applies to all the services under the department. Is it then a wise proceeding to commence tinkering with the telephone rates while the whole question of root and branch reform is still under consideration.
One effect of the new regulations will be to make all subscribers pay more than they do now. They will discourage private installations, and there is more than a suspicion that this is just what the department wishes to do. Such an attitude, however, is quite indefensible, and is a confession of inability to rise to the limits of the public demand.
Like many other things, which once we comfortably did without, the telephone has become a necessity of modern life, and as the Government claims a monopoly of the supply, it should place itself in a position to satisfy every application.
We can just imagine what an exclamation of indignation there would be on the part of Mr. Thomas and his friends if a "monopolist!" private telephone corporation were to cause the same vexation and inconvenience to its subscribers as this Government monopoly is doing. Until the whole department is reformed, and its finances carefully dissected, it is impossible for the Postmaster-General or his officers to put forward a scale of telephone charges which will adequately cover the requirements. At present it is merely guesswork in the dark. To change the basis of payment for a telephone service is one thing; to increase the charge for a bad service is another, and one not likely to commend itself to telephone subscribers. NEW TELEPHONE RATES. (
1909, March 22
).
The Sydney Morning Herald
(NSW : 1842 - 1954), p. 6. Retrieved from
http://nla.gov.au/nla.news-article15044620
Siemens Brothers and Company Limited owned an electrical engineering design and manufacturing business in London, England. It was first established as a branch in 1858 by a brother of the founder of the German electrical engineering firm Siemens & Halske. The principal works, set up in 1863, was at Charlton for cables and other light-current electrical apparatus. The site is now at the south end of the Thames Barrier. A new works was built at Stafford in 1903 for the manufacture of generators of all kinds and sizes and motors for complete factories, locomotives etc.
During World War I Siemens Brothers was bought by a British consortium because most of its ownership was in the hands of enemy aliens.
Siemens Brothers and Company Limited was bought by Associated Electrical Industries in 1955. At that time its business was described as follows: manufacture sale and installation of submarine and land cables, overhead telegraph, telephone and power transmission lines, public and private telephone exchanges and carrier transmission equipment for telephone lines and marine radio and signalling equipment. Through subsidiaries it was engaged in the manufacture of lamps of all kinds, miscellaneous electrical equipment and electrical railway signals.
1908:
An incandescent lamp factory is built in Dalston.
1910:

The decision is made to expand into the business of telephone apparatus manufacture.
1911:

The telephone manufacturing organisation is established.
1914:
The shares of the English Siemens company are confiscated by the British government.
On 1 October 1858, the German firm Siemens & Halske established an English firm, Siemens & Halske & Company, a partnership of William Siemens, cable manufacturer R S Newall of Gateshead and Siemens & Halske of Berlin. Its purpose was to help lay Newall's newly developed submarine communications cable. The London branch was under the control of William, later Sir William Siemens, formerly known as Carl Wilhelm Siemens (1823–1883). Hanover-born Sir William went to England in 1843 to sell a patent he shared with his brother Werner. He found employment in Birmingham with engineers Fox, Henderson & Co and became a naturalised British subject in 1859, the same day as he married the daughter of an Edinburgh lawyer. Her brother was Lewis Gordon business partner of R S Newall. During the 1850s Sir William developed the Siemens regenerative furnace.
Following various failures in Newall's installed cables the link with them was dropped at the end of 1860.
In 1865 Johann Georg Halske, partner in Siemens & Halske, withdrew from the English branch following failures in the London firm's work so then it became Siemens Brothers.
[1.]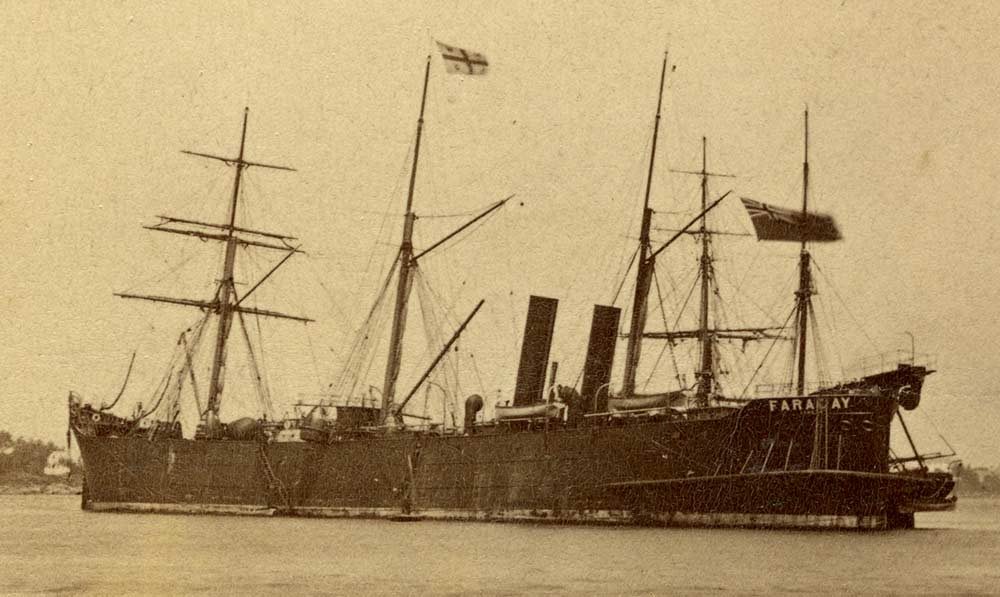 Siemens Brothers and Company cable ship CS Faraday shortly after her launch in 1874.
Designed by Sir William Siemens she was finally scrapped in 1950.
Replaced in 1923 by a new CS Faraday sunk by bombing 1941. From
Davis Bros., Portsmouth, New Hampshire - Atlantic Cable - History of the Faraday.
Detail of 1874 stereoview of the cable laying ship Faraday. The flag flying from the middle mast is the Siemens Brothers company flag,a St. George's cross (red on a white ground) bearing the brothers' initials.
1. Siemens Brothers. (2017, June 30). In Wikipedia, The Free Encyclopedia. Retrieved from https://en.wikipedia.org/w/index.php?title=Siemens_Brothers&oldid=788255837

THE NEW TELEPHONE EXCHANGE.
Melbourne telephone users will be glad I to know that the new Telephone Exchange, adjoining, the Crown Law offices in Lonsdale-street, has been completed by the contractors, the Western Electric Company of London. The new building is a handsome J two story structure, with a bold front, of Pyrmont free stone, it extends about 200 feet to Little Bourke-street, this position being in brick and reinforced concrete. It was expressly designed for a telephone exchange conducted on the the most modern principles, and cost just on £20,030, the premises have been made thoroughly fireproof, they contain large and commodious rooms, possessing the latest appointments. The manager and his clerical staff will occupy rooms on the ground floor, there will be a public inquiry room and several telephones for the use of the public. On the f first floor the telephonists (operators) will be provided with luncheon rooms, cloak rooms and lockers, &c.
The operating room, which is on the second floor, is 150 feet x 33 feet, it is lofty, well lighted and ventilated, and provided with, a fire escape. It is in this room the common battery switchboard has been erected and equipped for the present. 9000 subscribers' lines, but which can be readily extended to serve an additional 2700. It is claimed to be the largest yet installed by the Post Office department, and the latest in switchboard design. The main portion of the switchboard is placed on the east side of the room, it is 137 feet long and ar- I ranged for 21 telephonists to operate 567 junction lines connected with suburban ex- I changes, and 39 telephonists to attend to I the wants of subscribers numbering from 1 i to 4000. The second portion of the switchboard, which is at present only 68 feet long, j is on the west side of the operating room, and equipped for 5003 subscribers, which will require the attention of 30 telephonists.
It is estimated that the traffic arising from the 9000 lines and the incoming traffic from the various suburban exchanges will require 90 telephonists to handle it during busy portions of the day. Each telephonist will wear a head telephone, and will have charge of from 100 to 180 lines. Should it be found, clue to a sudden rush of business, that the traffic on any position is too much for any operator, it can at short notice be transferred to another. The telephone user, when making a call on this new exchange, will do so by simply removing the receiver from the hook of his telephone; the hook thus released automatically connects his line with its relay at-the exchange; glows the associated line lamp in the face of the switchboard in front of the telephonist, thus indicating the number calling, 8990 for instance. The telephonist now takes up one of the answering cords, inserts its plug into the answering jack immediately under the lamp glowing, and extinguishes the lamp. She then pushes over the listening key connected with the particular cord in use and listens for- the number required. On receiving this number —say 100 — she takes up the twin cord and plug of the one in use, then finds number i00 in the multiple field, tests same for engaged— gets no engaged click— inserts .'the plug and operates the ringing key, which rings the bell at number 100's premises. Assuming that number 100 responded to the call and is conversing with number 89, 90, the supervisory lamps associated with the connecting cords do not glow, but should either person hang up permanently or temporarily, the lamp of that respective cord will instantly glow.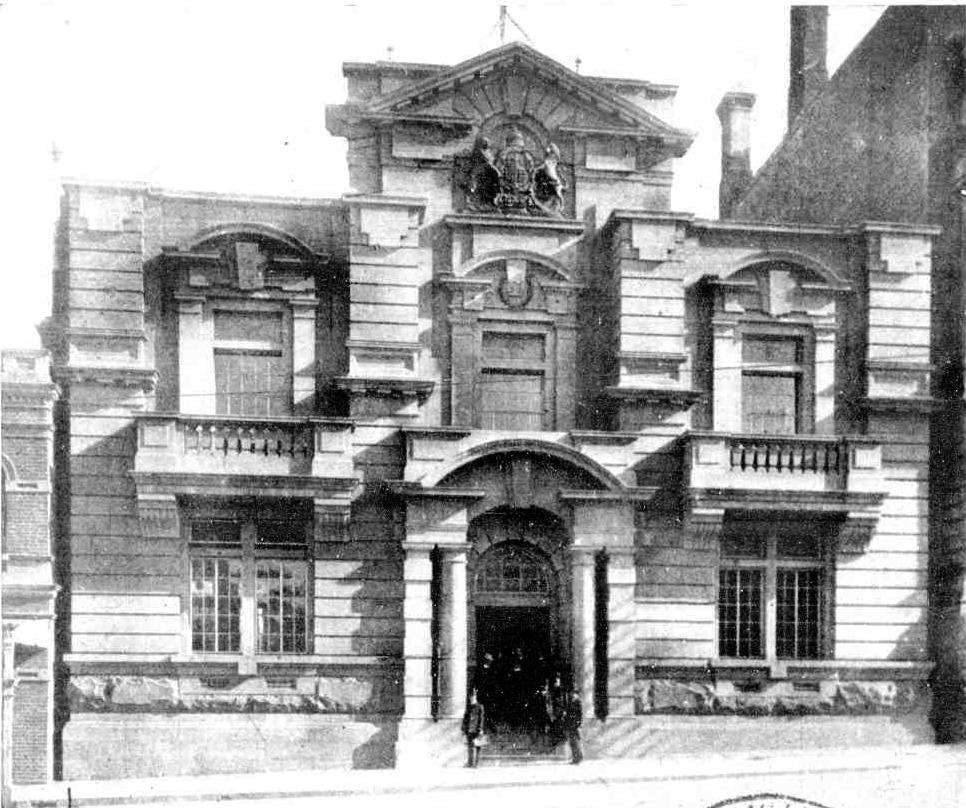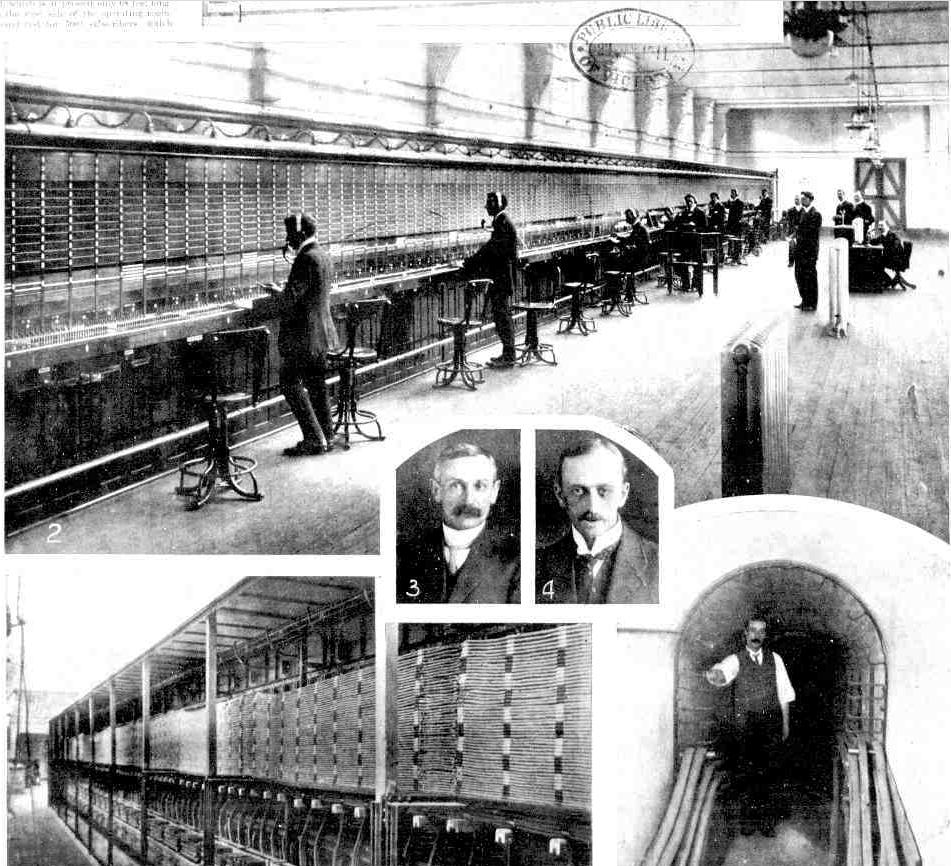 1. The New Central Telephone Exchange in Lonsdale-street.
2. Eastern Section of Main Switchboard, Showing Officers Testing. 3. Mr. O. A. Junck, Departmental Officer in Charge. 4. Mr. E. H. MInnes, Contractor's Representative. 5. A Rear View of Switchboard, Showing Multiple and Other Cabling. 6. Entrance to Five Miles of Tunnels Under Melbourne.
VIEWS OF THE NEW 'CENTRAL TELEPHONE EXCHANGE.
When both hang up, then the two lamps glow, -but before the telephonist makes the disconnection she presses the meter key, which will register a call against number 8990. There are 400 outgoing junction wires connected with other exchanges, by which means the city telephone users can reach their suburban clients. The multiple field is the means by which it is possible' for any operator to connect with any line. Each of the 9000 subscribers' lines appears in the answering jack-field in the form of a 24-volt lamp and jack. Each of the 9000 again appears in the multiple field in 30 different portion's of the whole switchboard; There are no fewer than 276.000 connecting jacks in the "multiple."
Nine hundred cables, Containing 64 wires each, are required to connect the multiple jacks with the answering jacks. The apparatus room is on the first floor, and immediately under the operating room. Here the main frame, provided with 12.500 lightning protectors, and intermediate distributing frame, which is for the purposes of regulating the telephonists' load according to the state of business, also for the purpose of receiving and distributing the 900 multiple cables, 450 answering cables, 450 relay cables, 450 main frame cables, 90 meter cables, &c., are situated. No less than 3000 miles of silk and cotton covered copper wire laid up in cable form was necessary for the various circuits. Each cable has its color scheme of 20 distinctive colors.
An important feature of the new service will be the 9000 meters that register the calls made by the subscribers. All lines for subscribers and operating circuits within the exchange are "fused"; whenever a fuse is "blown" by an excessive current it gives an automatic signal to the exchange officers. There are provided repeating coils, which repeat the voice currents from one line to the other, three dynamotors and power board, that generate an alternating current at 75 volts at about 16 cycles with an output of 2 amps. It is this current that the telephonists draw from when ringing subscribers' telephone bells. These ringing' machines have attached high , and low speed battery -interrupters, the current from which when used by the .operator gives the familiar signals which signify that the line is either "busy" or "does not answer." There is a testing desk for the purpose of making rapid tests of any lines faulty or otherwise, locating same by a voltmeter and other apparatus, also for the purpose of calling, by means of a "Howler set," any subscribe, who has inadvertently left the receiver off his hook.
The accumulators and the 20h. p. charging machine are on the -ground floor. The batteries are of the chloride type, they are in duplicate, each set consists of 15 cells, the main battery, has eleven cells, giving 24 volts for signalling, speaking, &c. It has a capacity of 3910 amper hours (10 hour rated). Lead covered cables arc now being run through the underground tunnels, which will connect the subscribers with a new switchboard. The contract for the switchboard, apparatus, &c., amounted to £43,000, the installing of which required the services of 00 fitters for 13 months. The contractors' engineer, Mr. E. H. Minnes, of London, is well pleased with the manner in which the work has been done, and quite recently handed the exchange over to the Postal department at being completed. Departmental officers are at present engaged in making searching tests of every cable and piece of apparatus for efficiency before accepting the same from the Western Electric Company. The Postmaster-General and his Melbourne Deputy are very anxious to let the telephone users enjoy the benefits of the new service as early as possible. With that object in view, Mr. Hesleeth, the Chief Electrical Engineer, and Messrs. Jenvey, Howard, Howson, the Melbourne electrical engineers, are doing everything that is possible to have the "change-over" made at the earliest date that can be arranged.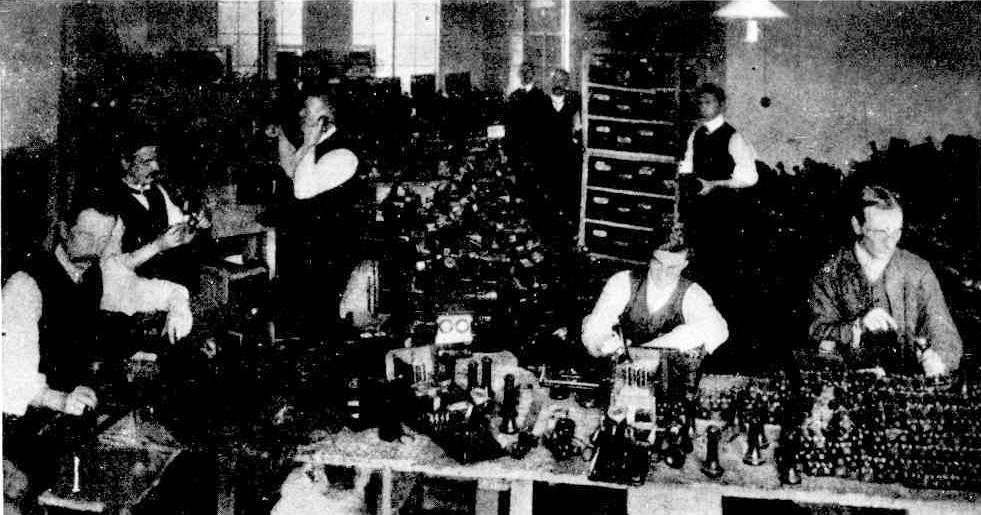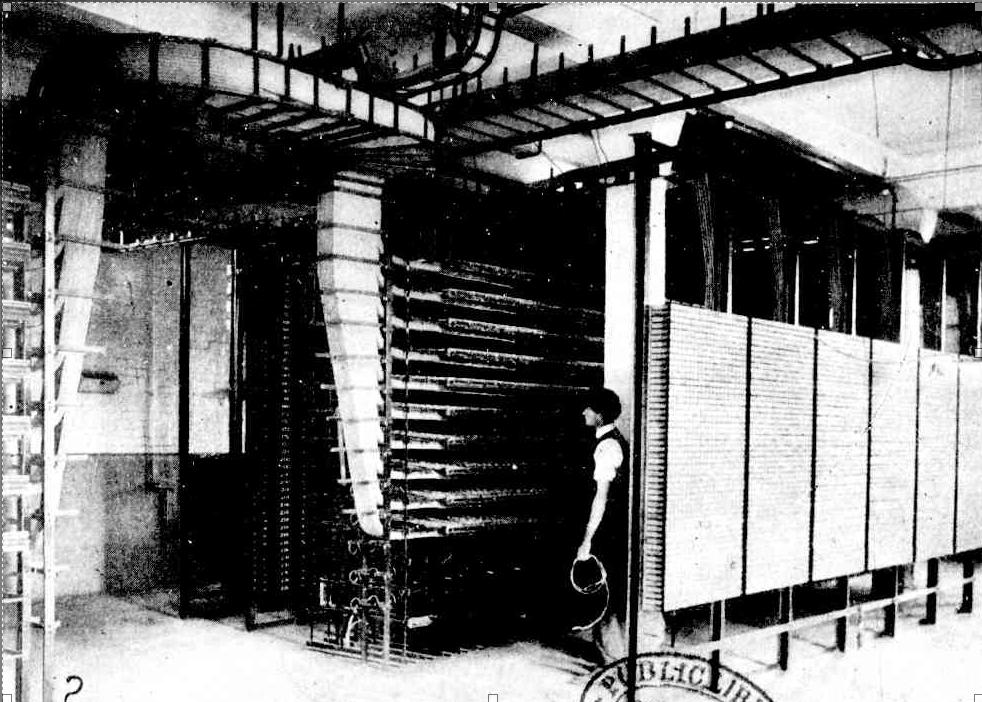 1. Examining and Testing New Telephones. 2. Portion of Frames, Showing Intricate Cabling. 3. The Meter Rack, Showing 9000 Subscribers' Toll Telephones. 4. Frame With Lightning Arresters, Testing Deck and Fuse Panel. 5. Motor Generator and Power Switchboard. 6. Accumulators.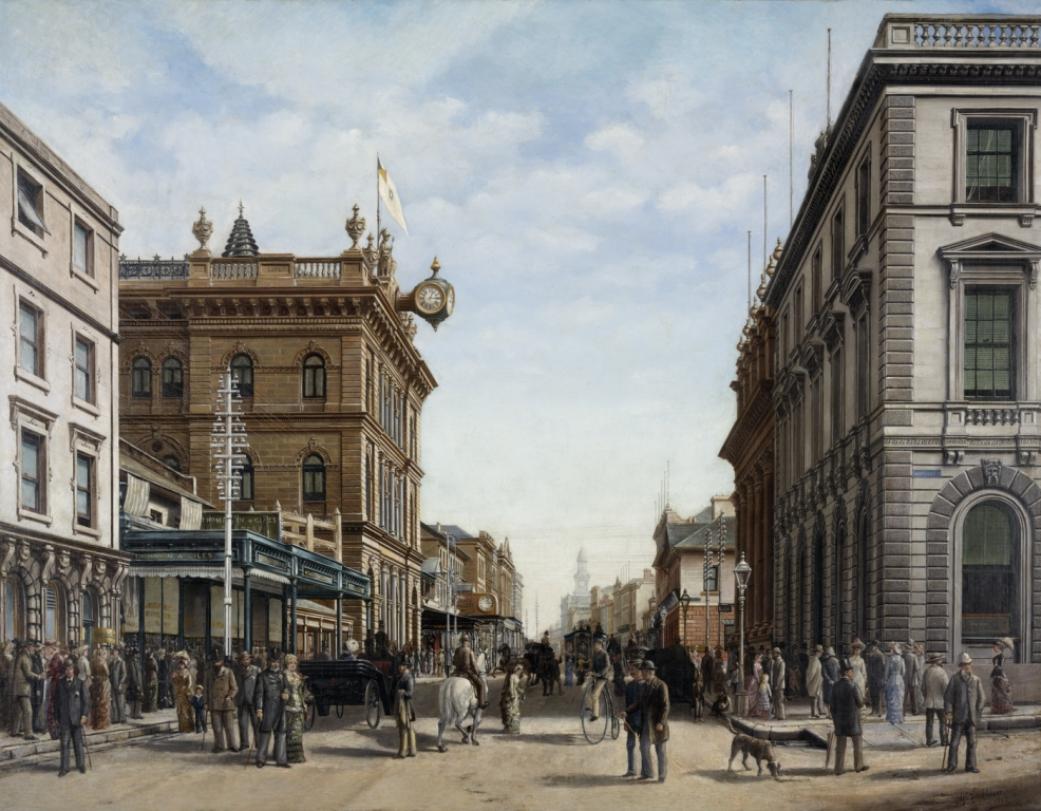 George Street, Sydney, 1883 / Alfred Tischbauer. Image No.: a1528170h, courtesy State Library of NSW
Alfred Tischbauer was a teacher of perspective at East Sydney Technical College when he painted this work. Originally from Alsace, Tischbauer trained as a scene painter and designer and worked at the Paris Opera. He was involved in the Paris Communes of 1871, and like his fellow artist and teacher Lucien Henry, was exiled to New Caledonia and came to Sydney after a political amnesty in 1879. Tischbauer stayed only a few years in Sydney, then went to New York and became a successful stage designer.
This picture shows the GPO after the clock was moved to overhang George Street, since pedestrians complained that they could not read the time when it was originally set into the facade (De Vries, S. Historic Sydney as seen by its early artists, Rev. ed. North Ryde, N.S.W. : Angus & Robertson, 1987, c1983)
"On the extreme left can be seen the old premises of Prince, Ogg & Company, Warehousemen. Between this building and the General Post Office stood Thomson and Giles, Mercers, and the Railway Booking Office. These buildings were demolished between 1890 and 1891, to make way for Martin Place, which was opened for traffic (between George and Pitt Streets), on 5th September, 1892.
The George Street end of the General Post Office was opened for business in September, 1874. The cone shaped structure on the roof housed the bell of the clock in the days before the tower was built. The flag indicates that an overseas mail, landed at Melbourne by P.&O. ship and brought overland to Sydney, was ready for delivery. The shop, with a clock a few doors further up George Street, was that of H. E. Delarue, Jeweller.
On the extreme right of the picture stands the Head Office of the Bank of New South Wales, with the Head Office of the Commercial Banking Company of Sydney adjoining it. These buildings were erected on part of the old parade ground of the Military Barracks and completed in 1853 and 1854 respectively" (notes accompanying print of a watercolour by Albert Collins, 1948, based on the oil by Tischbauer, filed at SPF/Sydney - Streets - George Street 1883.
A review of the 1883 Art Society of New South Wales exhibition in the Sydney Morning Herald, Saturday, 31 March 1883 p.5, makes the following reference to this painting: "A. Tischbauer has only sent one picture, No. 218, but that is so good that it is worth half a dozen less carefully painted. It is a view of George-street, from the north side of Wynyard-street, and looking south. The architectural work is finished to the utmost degree, the perspective is simply perfect; not a detail, as regards signs, &c., has been omitted, and the atmospheric effect is good. Cabs and other vehicles throng the street, while on the footpaths there is a bustling crowd of pedestrians, several portraits being introduced, among them those of Mr. Combes [president of the Society] and Mr. J. P. Russell."
In the same exhibition were portraits of Tischbauer and Combes by J. P. Russell.
Colour photolithographs with historical notes by W. C. Penfold & Co. Pty. Ltd. at V1/St/Geo/3, V1/St/Geo/4, DG V1A/23
Black Bakelite Telephone: Early Pittwater Phone Numbers - threads collected and collated by A J Guesdon, 2018