January 8 - 14, 2012: Issue 40
Australian and English Women's Cricket Teams Pittwater Picnic
Monday, December 17th, 1934
The first recorded women's cricket match was an informal event in 1874 in the Victorian gold town of Bendigo. The first official organised women's cricket match was between the Fernleas and the Siroccos (captained by sisters Lily and Nellie Gregory) on the 8 March 1886 at the Association Ground (now the Sydney Cricket Ground).
Cricket. A FAMOUS CRICKETRESS.
Cricket is not generally supposed to be a lady's game, but girls who have been accustomed to play with their brothers have developed into really good cricketers. And no doubt a good representative team could be gathered together in Australia which could hold its own against the lady cricketers of England. As long ago as 1874 a ladies' cricket match was played . in Sandhurst (Vic.) between two elevens, and some £300 were raised by this means for the Bendigo District Hospital." Several of the players exhibited remarkably good form, and one young lady proved herself to be a round arm bowler who would have been an acquisition to any team. Ladies', cricket matches have been played elsewhere at intervals and last season two were played on Moore Park, Sydney, At these matches there were several good fielders and bats, but one player proved herself to be a very Spofforth of a bowler. Bowlers are, as a rule, scarce among women, but no doubt a sufficient number could be found in the colonies to form a basis for a match team, and with some practice together, such a team would take a good deal of beating even by cricketers of the sterner sex. Cricket. (1886, July 24). Australian Town and Country Journal (Sydney, NSW : 1870 - 1907), , p. 38. Retrieved from http://nla.gov.au/nla.news-article71065520
The 1934-35 Summer season began as a cool wet one in Sydney with temperatures not rising until mid to late January. This Summer (1934-35) was also the beginning of International Women's cricket for Australian lady players with an English team landing via boat in Sydney. Girls were on the Sydney Cricket Ground, not the flowers ranged around its sides.
The report on the first international match:
Jottings on Sport. CRICKET. England Beats N.S.W. AN EXCITING FINISH.;
The first international women's cricket match in Sydney was notable. Those who were present on Saturday are not likely to forget the last half-hour of glorious cricket, when the English girls snatched an exciting victory from the New South Wales side. Nor will they forget that the victory was made possible by the sporting gesture of the State's captain, Margaret Peden. New South Wales could have played a draw, but Miss Peden gave the visitors a chance by giving them 30 minutes in which to make 57 runs, and they did it.
The English girls were the first to acknowledge Miss Peden's action. Excited by having achieved their first win In Australia, they said: "What a sporting declaration on the part of New South Wales. It was a wonderful match."
The game was full of incident. Women were showing that they could handle a cricket ball and bat effectively, and the carefree spirit of the match was commented on. The traditions of the great game were honoured in every way, yet some feminine touches were added to it. Nobody had ever seen drinks handed to the umpires when the lemon squash or ginger beer was brought out. The crowd was appreciative of this courtesy, and applauded it.
The Sydney Cricket Ground is always picturesque, and it looked its best for the women's match. Even the weather smiled on the players and produced two days of brilliant sunshine after weeks of rain and wind. The girls were trim and neat in their business-like divided skirts, short-sleeved shirt blouses, long white stockings, and canvas shoes. The English team wore small white hats to match their costume, while most of the State players adopted white caps, some favouring a more becoming headgear-white linen hats lined with blue.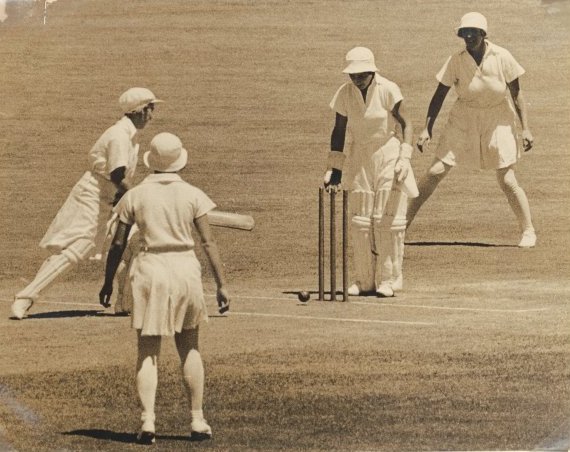 Above: nla.pic-vn3255988 Anne Palmer (NSW) bowled, with Spear, Snowball and Partridge (England), 2nd Women's Test match in Sydney (SCG) 1935. Below: Drinks Break.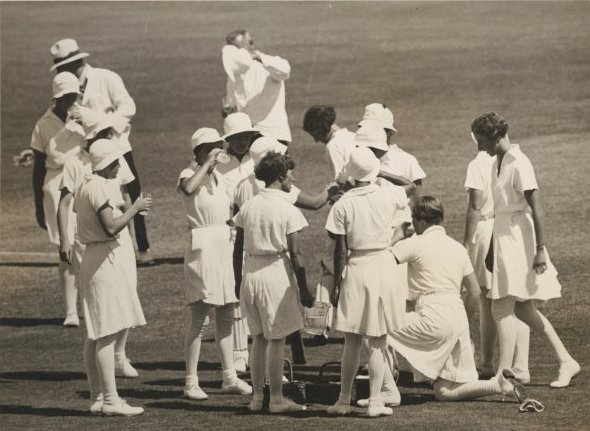 Today the English team will be entertained at a picnic at Palm Beach by the United Associations, and to-morrow they will play at Wollongong. The Women's Cricket Association has arranged for them to be taken by car to Wollongong and back, to give them the opportunity of seeing some of the South Coast. They will play against Wollongong and District in the afternoon, and will be entertained at dinner afterwards by the Mayor. They will leave for Sydney as early as possible, as they are to fly to Newcastle on Wednesday morning for a match there before proceeding to Brisbane at night. Jottings on Sport. CRICKET. (1934, December 17). The Sydney Morning Herald (NSW : 1842 - 1954), p. 4. Retrieved from http://nla.gov.au/nla.news-article17114836
At Palm Beach

Miss CAROL VALENTINE, of the English women's cricket team, photographed as she made the best of the surf at Palm Beach. At Palm Beach (1934, December 18). The Newcastle Sun (NSW : 1918 - 1954), p. 3. Retrieved from http://nla.gov.au/nla.news-article166303252
"Wherever we have gone we have brought the fine weather," said Miss Betty Green, the player manager of the English team, on Saturday, "but this is the hottest day we have experienced." Her Australian listeners gently reminded her that so far we had had no summer and that the day was really mild. But the prospect of hotter days did not cheer her. As it happened the English girls were in the field nearly all day and they were thoroughly exhausted when the match ended.JOTTINGS ON SPORT. (1934, December 20). The Sydney Morning Herald (NSW : 1842 - 1954), p. 20 Supplement: Women's Supplement. Retrieved from http://nla.gov.au/nla.news-article17136868
Australian women have a long history of being players as much as spectators in the noble sport of cricket. Settlers joined willingly in games and many regional areas had their own all-women teams, as shown above.
The second test match: The sporting year for women of New South Wales opened on January 4 with the second test match between England's and Australia's women's cricket teams at the Sydney Cricket Ground. This match proved one of the most interesting of the tour and aroused great interest not only among women supporters, but also among the male cricketing community, many of whom came along doubtful as to women's ability to play cricket, but remained to applaud. YEAR GOES BY. (1935, December 24). The Sydney Morning Herald (NSW : 1842 - 1954), p. 20 Supplement: Women's Supplement. Retrieved from http://nla.gov.au/nla.news-article17229441
Picnicking in Pittwater, likewise, has a long history of being one of the places to go to do this, so bringing the English team to our lovely beaches, even during a cool start to Summer, would have been a must. Some of our research came across complaints from visitors to Palm Beach about cows wandering over their picnic rugs. There is also every organisation from sporting visitors or local sporting clubs and Red Cross to Car clubs wending their way to Palm Beach for an annual or 'picnic outing'.
The weather was ideal for the picnic on Monday at Palm Beach. Mrs. A. Littlejohn planned a very happy day for the girls. They were driven along the headlands, lunched at Whale Beach, and then went on to Palm Beach for one of best "surfs" of their tour. JOTTINGS ON SPORT. (1934, December 20). The Sydney Morning Herald (NSW : 1842 - 1954), p. 20 Supplement: Women's Supplement. Retrieved from http://nla.gov.au/nla.news-article17136868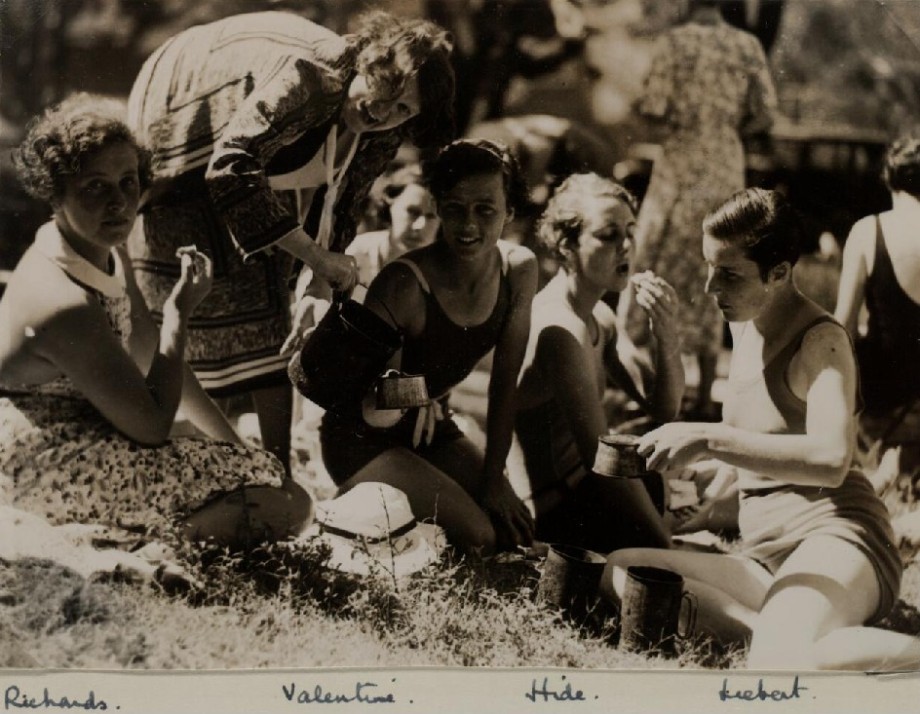 Above: Billy tea being served to the English women's cricket team at the surf-bathing picnic, Palm Beach, Sydney, December 1935. Women's Cricket Association tour of Australia, 1934-1935 Courtesy National Library of Australia; nla.pic-vn3257378. Left to right: Richards, unidentified tea-server, Valentine, Hide, Liebert.
Below: Surf-bathing picnic at Palm Beach, Sydney, English and Australian cricket team, December 1935 Part of Women's Cricket Association tour of Australia, 1934-1935 [picture] Left to right: Mrs Waldron (Australian), Betty Archdale, M. Peden (Australian), Mrs Littlejohn (Australian), Valentine, Lady Walder, Liebert, Hide, Green, Spear. nla.pic-vn3257347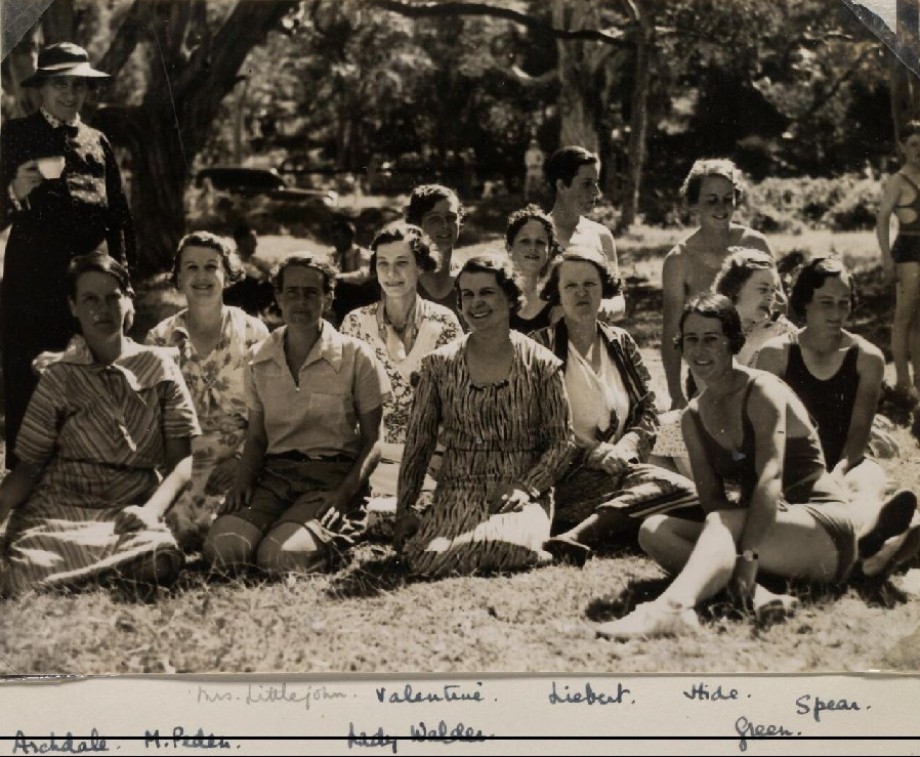 Mrs A (Albert) Littlejohn was Emma Linda Palmer Littlejohn, a very intelligent lady, writer, journalist, radio broadcaster and advocate of women's rights and autonomy in Australia. The United Associations (of Women or UA), were considered radicals when they formed their association during 1929. Jessie Street, Ruby Rich, Adela Pankhurst Walsh, Linda and others sought to bring political pressure and attention on the rights and needs of women in Australia and were very active during the 1930's and 40's.
Palm Beach in 1934 was considered the epitome of relaxed enjoyment of the Australian outdoors. From a comparison between Florida's PB and our own;
Now come down to Palm Beach, Sydney, for a breath of salt sea air and a week-end in the caressing sunshine on a warm, sandy beach, with the song of the Pacific continually lapping the shore, in your ears, and with a vista of bush and beach mostly as Nature made it, with here and there a bungalow jutting out of the hillside, almost apologetically, as if realising that man's hand must do nothing to spoil the entrancing work of Nature.
To be sure, we have our Florida-road at Palm Beach, but no millions of dollars have been spent to put it there. It meanders along the hillside, dodging round corners, and going off its course here and there for the convenience of some bungalow owner who has required an entrance for his garage It is a dirt road-or rather a rocky one, with a little dirt here and there to hold it together, but it serves its purpose picturesquely. But down on the beach society plays in the sand under multi- coloured beach umbrellas, like a crop of mushrooms, and sun and surf provide the only entertainment necessary free, gratis, and for nothing
Most of the summer cottages are open for the season now, which will continue until after Easter and, indeed, so warm and mild are the days on beach and golf links that many people go down regularly every week-end almost throughout the year. (1934, January 4). The Sydney Morning Herald (NSW : 1842 - 1954), p. 7 Supplement: Women's Supplement. Retrieved from http://nla.gov.au/nla.news-article17037866
The picnic at Whale and surf at Palm Beach may have been an opportunity for Linda to engage these women of a new frontier to garner their support for more recognition of women's rights, or it may have been simply a lovely afternoon where all spent time with like-minded ladies dwelling in Pittwater's beauty; a feast for all their other senses.
Another team also was taken to the Palm Beach -Whale Beach area for a picnic over 10 years on:
CRICKETERS IN SURF AND SUN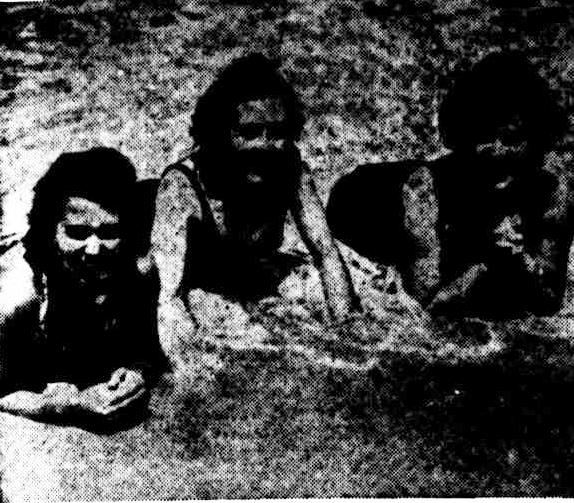 MISSES BETTY BIRCH, HAZEL SANDERS, and MARY DUGGAN, three members of the English women's cricket team, who surfed at Whale Beach yesterday (above).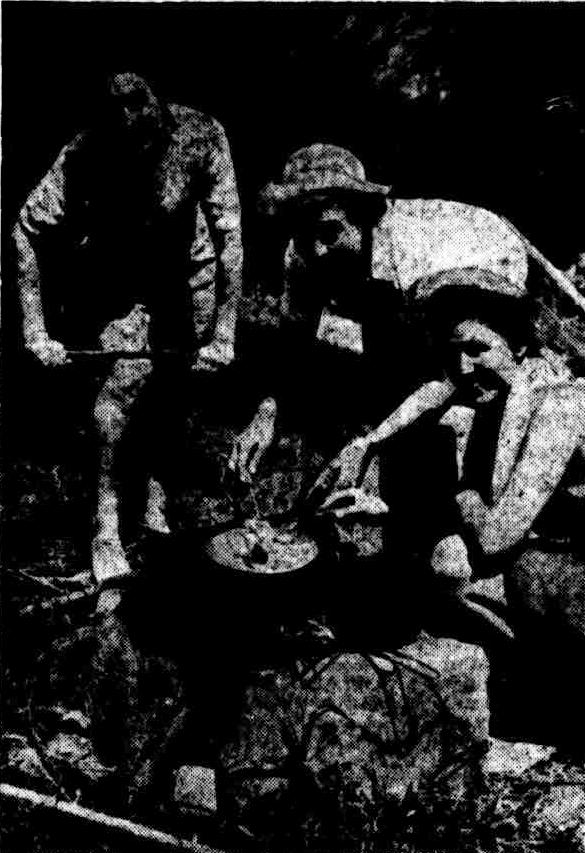 The captain of the New South Wales cricket team, MISS MOLLY DIVE, with two English cricketers, MISSES MARY JOHNSON and CECILIA ROBINSON, help to prepare lunch (right).
English Visitors Enjoy First Picnic At Beach
Members of the visiting English women's cricket team had their first surf and beach picnic in Sydney at Whale Beach yesterday. Thirteen members of the team were entertained at a picnic beach party by the ?New South Wales Hockey Association at the home of one of the members, Mrs. A. L. Holt, at Whale Beach. Among the cricketers at the picnic were the English captain, Miss Molly Hide, and the New South Wales captain, Miss Molly Dive.
Their teams will resume play at the Sydney Cricket Ground to-day.
On the opening day's play on Saturday the Australian team was all out for 146. The touring team is one down for 40. The Governor, Lieutenant General Northcott, will attend the match to-day and will be guest of honour at lunch.
Many Australians on the beach commented on the English-women's dark suntan acquired during their voyage to Australia in the Orion.
"It's just as well we got In ahead of the Sydney sun," one cricketer said. "I hate to think how sunburned we would have all been when we resumed play to-morrow."
MATCH ON SATURDAY Several enthusiasts took their portable radios to the cricket match between the English and N.S.W. women's teams at the Sydney Cricket Ground on Saturday. They turned their machines on, and peacefully listened to the races at Randwick.
Apart from these fans most of the other 5,000 spectators present watched the match in a languid manner. Little bursts of applause sounded as a particularly brilliant stroke or catch was made.
The S.C.G. committee was criticised for making the women change under the Sheridan Pavilion instead of the old Members' Stand, from which all A grade men players troup on to the ground. CRICKETERS IN SURF AND SUN (1948, December 6). The Sydney Morning Herald (NSW : 1842 - 1954), , p. 5. Retrieved from http://nla.gov.au/nla.news-article18099860
Further:
Research File; open and 'save as' to keep a copy.
Emma Linda Palmer Littlejohn: http://adb.anu.edu.au/biography/littlejohn-emma-linda-palmer-7208
Current Online 'Cricket In Australia' exhibition at State Library of NSW: http://www.sl.nsw.gov.au/discover_collections/society_art/cricket/index.html
Women's Cricket as part of this: http://www.sl.nsw.gov.au/discover_collections/society_art/cricket/women/index.html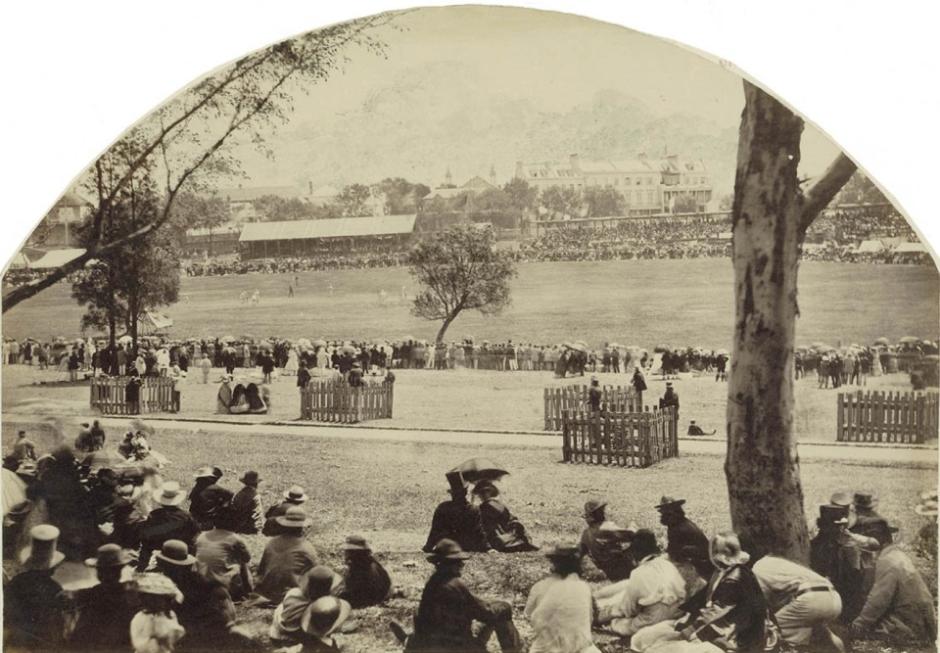 Top: Cricket match in the Domain, 1862, between Wed 29 Jan-Sat 1 Feb 1862, "The All-England Eleven at Sydney" Illustrated London News 10 May 1862 p474 [F050/129], Courtesy State Library of NSW, Pic. No: a128283r
Ladies Cricket Match - Glenn Innes, circa 1900, by unknown photographer - from State Library of NSW pictures - 'At Work and Play' - image No.: 02655
Women Cricketers Picnic at Palm Beach 1934, threads collected by A J Guesdon, 2012.