August 4 - 10, 2013: Issue 122
Light Keepers of Barrenjoey Lightstation
Before there was a Barrenjoey lighthouse there were Stewart Towers. Before there were Stewart Towers there was a basket held aloft in bad storms. Those who 'manned' the Barrenjoey Lightstation included the wives and children of the Head Keeper and the two assistants required to also be on duty.
Steamers ferrying people and supplies may have visited the Customs Station wharf more and more frequently as years went by but living at Barrenjoey was essentially an isolated environment far from the cosmopolitan streets with easier access to everything the city of Sydney could provide. Children were born here, some members of the customs and light station familes also died here. They were on duty, as were their wives and children in the cacpacity of telegraph operators to provide the required ship sightings tally and weather reports, 24 hours a day, seven days a week.
The men who undertook this work, like those of the Barrenjoey Customs Station, were dedicated watermen with a broad streak of metal through their spines. Venturing out in huge seas in whalers and then cruisers to put their faces into gale force winds to save people whose vessels had foundered requires an extraordinary spirit and dedication to the sanctity of all life.
The following list is compiled from documents preserved by the Australian National Archives, Trove records and The Red Light of Palm Beach by Jervis Sparks. It does not include relieving Light Keepers excepting where something exceptional is on record. Where available we share a little about those on this list and insights into their rescue works. Although the men at Broken Bay - Barrenjoey Customs Station undertook a lot of the saving of lives, the customs station was closed in 1903/04 and the work of rescuing those at peril at sea became that of the local community and those stationed at Barrenjoey.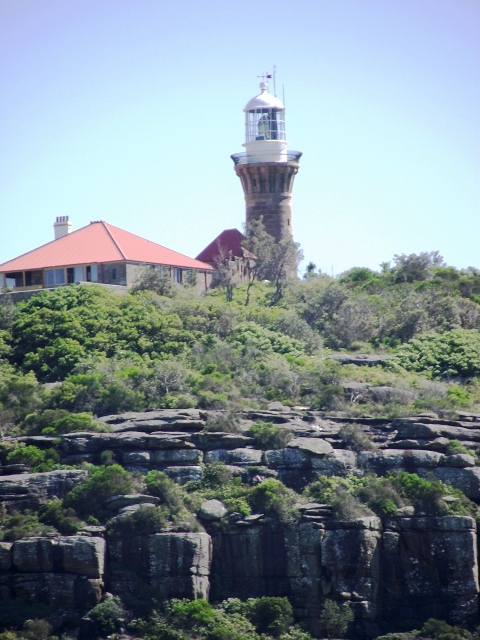 George Mulhall 1868(?)1881- 1885
George Mullhall jr. 1868(?) 1881 -1891
William James Steere 1881 – 1898
James Quinn 1885 – 1889
William Hersee ???? - 1894
Isaac Newman 1891 – 1908
William Smith 1894 - 1901
John Skelton jr. 1894 – 1903
Henry Hobbs 1902 – 1906
W J Richard Crossingham 1903 – 1904
John McNally 1906 – 1913
Henry Parker 1905 – 1906
Albert Gidley 1908 – 1910
Frederick Peters ???? - 1914
Robert William Russell 1910- 1920 and then 1925 – 1931
David Gow 1912 – 1919 Robert Gow
Joe Warren 1917 – 1922
John Fry 1919 – 1921
Charles R Tennant 1922 - ?
Richard Sullivan 1921 – 1925
Charles Thomson 1927 – 1931
Fred Warren 1927 – 1932
John Berryman 1931 - 1932
George Mulhall was the first principal keeper of Barrenjoey Lighthouse, his son of the same name was First Assistant and William Steere Second Assistant on the 1881 commencement. The census of 1828 states George Mulhall was born in Australia in 1811 (his headstone states 1814). His father and mother came in convict ships from Ireland in 1803 and Wales in 1804 (respectively). George spent his early years on his parents property adjoining present day Hunter Street and later moved to a property on Brisbane Water – Mulhall Point (now known as Wagstaff Point). In 1835 George married Mary Ann Smith and stayed at the Mulhall property.
He was a well known and respected 'waterman' on Sydney Harbour, working near the then floating lightstations, and a renowned rower winning many races prior to 'retiring' from this sport, although some sources state he would row his whaler from Barrenjoey to the harbour to compete.
DOMESTIC INTELLIGENCE SHIPWRECKS.LOSS OF THE SCHOONER WANDERER.(From the Daily Advertiser.)It is our melancholy duty to report the total loss of the schooner Wanderer, one of our finest colonial-built vessels trading out of the harbour of Port Jackson. The particulars are somewhat vague, having been obtained from the only survivor on board, who was taken from off the wreck in a state of great exhaustion. Yesterday(Sunday) at daylight, it was perceived from the Floating Light ship that a vessel had gone down during the night a short distance from them, her masthead being visible above water, with one man on the main crosstrees. Mr. Petty immediately lowered a boat and re-paired to the spot, when, after repeated attempts, attended with much danger, they succeeded in rescuing the survivor from his perilous situation. From him it was ascertained that the vessel was the Wanderer, Captain Crosten, with a full cargo from Launceston, which port she left on Wednesday last. They had a fine run without any accident until arriving off Wollongong, on Saturday evening, when the force of the gale split the foresail in several places, and rendered it useless. At twelve o'clock she entered the Heads, and fetched up well for the Light Ship, but in going round, missed stays ; the larboard anchor was then let go, and the gale still continuing unabated, the other anchor was also let go; but, unfortunately, it fouled the bowsprit shroud, and before it could be cleared, she struck on the rocks, but rallied off again, and instantly went down in deep water. The name of the person saved is Edward Smith, a seaman belonging to the vessel, who was at the wheel when the accident occurred; the Captain and all the others had gone forward to clear the second anchor, when Smith, seeing her settling down fast, immediately took to the main-rigging, and thus succeeded in saving his life. He was taken on board the Light Ship, where every means were used for his recovery, having then been exposed to the inclemency of the weather for eight hours. A signal was then hoisted for the pilots to come off, who promptly came to see if any further assistance could be rendered; but the man was then in too precarious a state to be removed, and not the least symptoms were visible of there being any other survivors from the wreck. The number of those who were on board now missing, are Captain Crosten, the mate, four seamen, and two passengers, names not known, who embarked at Launceston. The Wanderer struck a short di stance from the spot where the Edward Loom was lost, and from the heavy sea then running, we fear that there is little or no hope of any other person on board being saved, although George Mulhall, a waterman, who knows the harbour well, states he saw some persons round a fire on an unfrequented point of land in North Harbour, yesterday, which they might probably have reached in a boat from the wreck. Owing to the thickness of the weather, the news was not known in town yesterday until near noon, when it was passed up by telegraph from South Head, a sudden break in the weather having taken place. The Wanderer is the property of Mr. James Cook, and is insured; the names of her passengers and the contents of her cargo are as yet unknown. No blame can be attached to the Captain, as he was well known to be a man of the utmost assiduity and sobriety, and was universally respected by those who knew him. As the tide made yesterday, the vessel floated off to her anchors, and she is now lying sunk in five fathoms water. Domestic Intelligence. (1848, July 15). Sydney Chronicle (NSW : 1846 - 1848), p. 1. Retrieved from http://nla.gov.au/nla.news-article31757096
OUR SHIPPING REPORTS. The following are the Boatmen attached to The Empire, to any of whom information intended for this Office may be entrusted :-George Mulhall, Thomas Mulhall, James Rice, William Warren, and Michael Solomon. Empire Office, April 13th, 1853. OUR SHIPPING REPORTS. (1853, April 15). Empire (Sydney, NSW : 1850 - 1875), p. 2. Retrieved from http://nla.gov.au/nla.news-article61323385
ANNIVERSARY REGATTA. The Sixty-sixth Anniversary of the colony was celebrated on Thursday by a Regatta, which eclipsed in all the essentials of that national pastime, its predecessors. The day was glorious and sunny, a fresh breeze from the N. E. made the competing crafts "walk the waters like things, of life," and all things conspired to make the day a real holiday. We may truly say that all Sydney was out in its holiday garments, and therefore we shall be excused from giving a detailed account of the different races, cramped as we also are for want of space ; we shall briefly notice, however, the5th and 13th matches, which were, so to speak, the races of the day. The 5th was the Champion race for all boats pulling a pair of sculls-first prize £21 second £5 5s, and after a spirited contest, was won by Thos. McGrath, Green being a very good second, and George Mulhall rather astern. The result proves Mulhall too heavy for a light skiff, and that his superior strength and bottom rather operate against him in such a small craft. The 13th match, for licensed watermen's boats pulling a pair of sculls, was easily won by George Mulhall, beating McGrath 30 seconds-first prize £20, second ditto £5. Mulhall must still rank first man in the colony in a waterman's boat. The arrangements of the Regatta were very complete, and reflect the highest credit on the Committee. So long as good order prevails, we may expect to see our Annual Regatta take a very high rank in the sporting world. ANNIVERSARY REGATTA. (1854, January 28). Illustrated Sydney News (NSW : 1853 - 1872), p. 2. Retrieved from http://nla.gov.au/nla.news-article63613927
THE PROFESSIONAL SCULLERS. The forthcoming race on the 24th inst for the new title of heavy-boat champion, recalls some of the great contests of the past in this type of boat for big side wagers. Some of our best heavy boat-rowers were George Mulhall, James Richards, Tom Mulhall, J. Donnett, Dick Green, William Hickey, Richard Hickey, Tom McGrath, Ned Trickett, Mick Rush, Harry Pearce, senr., Tom Clifford, Tom Connors, Elias Laycock, George Nash, Job Ives, Richard Tresidder, and Ben Thorough-good. Some of them also proved great scullers in outriggers, but Trickett's record stands alone. He won in 12ft dingles, light skiffs, heavy boats, whalers, heavy fours, double scullers, men-o'-war cutters, and, of course, "best" sculling boats. All the sculling races in the early day's, from 1828 onwards, were rowed in boats of about 22ft in length, 4 1/2 ft beam, and 18in deep, end, as a rule, they were used to carry "fares" to the ships in the harbour and to the northern suburbs Regattas were then held at Woolloomooloo Bay, Cockle Creek (now Darling Harbour), Balmain, and North Shore, with the annual Anniversary regatta the premier function, and at all these the principal item in the rowing races was a heavy-boat event. For some years Sir James Fairfax gave as a prize for the Watermen's race a recognised waterman's boat, which was handed over to the winner at the conclusion of the Anniversary regatta. ROWING. (1914, October 14). The Sydney Morning Herald(NSW : 1842 - 1954), p. 5. Retrieved from http://nla.gov.au/nla.news-article15566340
The Australian Sculling Championship (Professional) Title was first recognised in the early 1850s. George Mulhall was the first champion due to his dominance in heavy boats. From 1858 when racing was held on the Parramatta River Richard Green became the Champion. He was later the first international contestant for the World Sculling Championship and that race was held on the Thames in 1863. Thus began a long association of Australian Champions who were either contestants in, or actual holders of, the World Title. Australian Sculling Championship. (2013, July 9). In Wikipedia, The Free Encyclopedia. Retrieved from http://en.wikipedia.org/w/index.php?title=Australian_Sculling_Championship&oldid=563576903
On July 9, 1868 George was appointed by the Colonial Treasurer as lightkeeper at Barrenjoey and his son (George Jr) became the assistant keeper. At that stage the lighthouse was Two Stewart Towers and the quarters were located on the third tee of the present day Palm Beach Golf Course.
LIGHTS ON BARRENJUEY, BROKEN BAY.
Two lights were exhibited on Barrenjuey, which forms the south head of the entrance into Broken Bay, for the first time, last night. It will, perhaps, be in the recollection of the readers that the sites of these new lights were fixed on the 8th of last mouth, when a party of gentlemen, consisting of the Governor, the Superintendent of Pilots, Captain Hixson, the Colonial Architect, Mr. Barrett, the Engineer-in-Chief for Harbours and Rivers, Mr. Moriaity, Mr. Coles, of the Colonial Architect's Department, Mr. Stewart, M.L.A., Mr. Trunks, M.L.A., and several other gentlemen, went down to Broken Bay in the Government schooner Thetis. The site of both the lights having been fixed, the work of erecting the temporary towers was commenced almost immediately, under the superintendence of Mr. Hudson, of the Colonial Architect'™s department and they were finished about a week ago.
The towers are temporary structures, the inner one being twenty feet above the rock, and the outer one ten feet.. Each tower is constructed of four hardwood posts, firmly fixed in the rock, which has been excavated to receive them, and they are protected from the weather by sheets of corrugated iron. The lanterns are fixed up on the wooden structure, and about four feet below the lights running round each tower, is a platform from which the trimmer can light and clean the lamps. A sleeping berth for the light-keeper has been fitted up in the larger tower, which is placed at a distance of 1180 feet in a W.N.W". direction from the outer tower. The outer light is 315 feet and the inner one 347 feet above high water mark.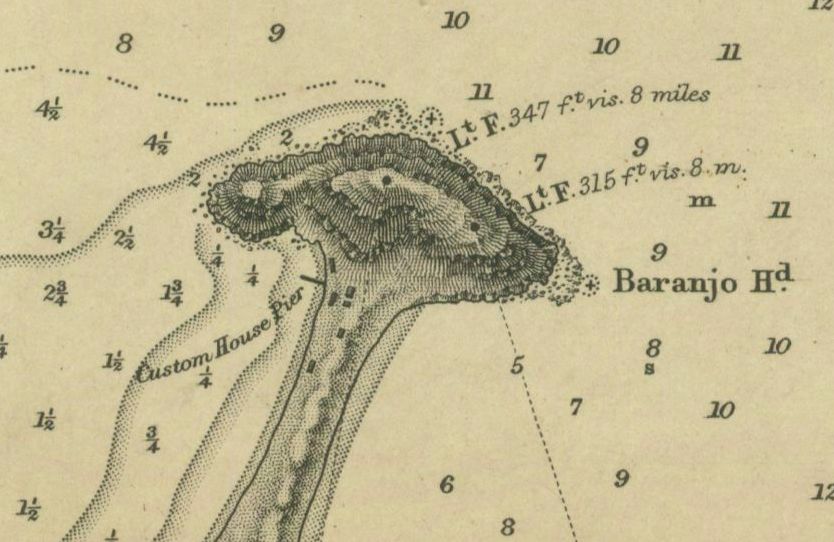 Australia East Coast - New South Wales Broken Bay [cartographic material] 1869 Edition - Surveyed by Capt. F.W. Sidney, Nav. Lieut. J.T. Gowlland & C.George Nav. Mid. R.N. 1868. Series note: British Admiralty nautical charts ; 2166 , Courtesy Stat Library of Victoria
Each tower is furnished with three lanterns lighted with kerosene, to form a fixed bright light, and will be visible at a distance of about twelve miles to seaward. From a notification to mariners in the Government Gazette, we learn that both lights will be eclipsed between the bearings of South mid S.S. E ½ E., to prevent them from being seen over the land which recedes from the Outer South Head, and also to ensure a vessel to pass a safe distance off the South Head, when running with the lights in sight for the purpose of obtaining anchorage in Broken Bay.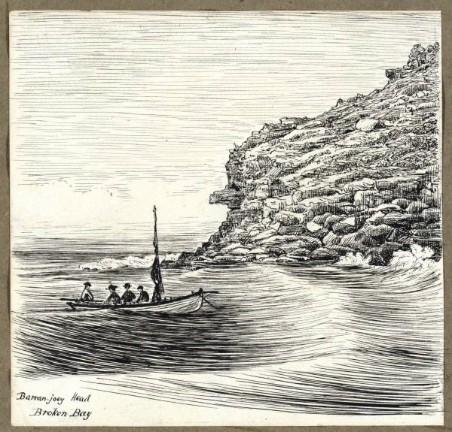 Right: Barranjoey Head, Broken Bay [picture]Creator Graham, H. J. (Harold John), 1858-1929. Description, pen and ink drawing [1884?] Image number nla.pic-an6438965, courtesy National Library of Australia.
The lower, or outer light, will be lost sight of in rounding Barreujuey, but the upper light will be a good guide for coasters bound to Pitt Water, or for large vessels anxious to obtain shelter in Flint and Steel Bay. On Tuesday last the Thetis went down to Broken Bay, taking as passengers Captain .Myhill, Harbour Master of Port Jackson, Mr. Coles, and Mr. Robinson, the manufacturer of the lanterns, when both lights were exhibited for a short time, and their position and bearings examined from various points seaward by Captain Myhill, prior to the return of the steamer to Sydney. It was intended to have a picnic to mark the occasion of the lighting up of these two lights-which, by the way, are to be called " Stewart's Lights," after Mr. Stewart, one of the members of the Assembly for East Sydney, who has been the principal mover in the matter, and had the weather continued fine the Thetis would have gone down to the bay yesterday morning with a number of gentlemen. As the weather proved so stormy, the trip by sea had to be postponed, and Mr. Robinson, and Mr. Mulhall, who has been appointed light-keeper, went overland to light up last night. A notification for the intention to exhibit these lights has been in the papers for a fortnight, but it should undoubtedly have been given much earlier-Sydney Herald, July 21st. SHIPPING INTELLIGENCE. (1868, July 29). The Mercury(Hobart, Tas. : 1860 - 1954), p. 2. Retrieved from http://nla.gov.au/nla.news-article8853675
When Barrenjoey Head Lighthouse commenced operation on July 29, 1881 George became principal keeper and his son first assistant.
The death of George Mulhall is one of the "Tales from Barrenjoey" (Jervis Sparks):
On a stormy night in June, 1885, George Mulhall venturing out for more firewood, was struck down by a tremendous bolt (lightening), and as the Journalism of that day recorded, was burnt to a cinder."
George Mulhall's death certificate describes his cause of death as apoplexy (stroke) preceded by three days of illness. The certificate was witnessed by A.T. Black JP, the Customs Officer, and Samuel Turtle, the local school teacher. This is believed to be the true cause of George Mulhall's death. In 1886 Mary (his wife) was buried next to her husband.
Mr, George Mulhall, the lighthouse-keeper at Barrenjoey, died on Thursday (25.6.1885) last and was buried yesterday. He was a long time in the service of the Government, and with his brother, was well-known as an aquatic man in the olden days at this Port. EXPORTS.—JUNE 27. (1885, June 29). The Sydney Morning Herald (NSW : 1842 - 1954), p. 6. Retrieved from http://nla.gov.au/nla.news-article13591869
George junior was also struck by lightening resulting in a badly burnt arm which from that day was bound in snake-skin to ward off further celestial visitations.
Information from "Tales of Barrenjoey" Jervis Sparks, 1992
Tragically the brother of George junior was struck by lightning too and did not survive:
SHOCKING DEATH BY LIGHTNING. A HOUSE SET ON FIRE.
[By Telegraph.] (From our own correspondent.)BARRANJOEY, Sunday.
This afternoon, during the close of a severe storm which passed over Barrenjoey, ending about 6 p.m., a small two-roomed house near the lighthouse was struck by lightning, and instantly enveloped in flames from end to end. Within a few minutes it was reduced almost to ashes. It was then ascertained that the person occupying the house, a man named William Mulhall, was unfortunately inside at the time of the occurrence, and that he had lost his life. His remains were almost entirely consumed, a portion of the charred trunk being found lying in a natural position on the bed. The lighthouse officials, who were relatives of the deceased, were compelled almost passively to look on, as nothing whatever could be done, the building being a mass of flames when first seen by them. The deceased was a son of the late Mr. Geo. Mulhall, and brother of the present light-keeper. Information has been given to the Inspector-General of Police and the coroner, and the usual inquiry will be held. SHOCKING DEATH BY LIGHTNING. (1888, March 26). The Sydney Morning Herald (NSW : 1842 - 1954), p. 8. Retrieved from http://nla.gov.au/nla.news-article13666158
With his faher's passing George Mullhall jnr. became Head Light Keeper, a duty which, as he had experienced in the past when on duty to keep the Stewart Towers alight, did not always go uncriticised;
Telegraphic INTELLIGENCE, BROKEN BAY. (From our Correspodnent)
FATAL BOAT Account.-Additional, PARTICULARS.
Barrenjoey- Tuesday, 10.50.
At 4 p.m on Sunday, the pleasure boat Ada, from Sydney, sank off Barrenjoey. One of the occupants (Henry Tucker) was drowned, but his body was recovered. The other gentlemen-Mr. Frank Smith, Mr. Walker, and. Mr. Williams-were rescued by the Customs boat. The inquest on the body of Tucker is now proceeding. TELEGRAPHIC INTELLIGENCE. (1871, December 27). Empire(Sydney, NSW : 1850 - 1875), p. 3. Retrieved from http://nla.gov.au/nla.news-article60879495
BARRANJUIE LIGHTHOUSE.
TO THE EDITOR OF THE HERALD.
Sir,-I was rather surprised to find in the Herald of Saturday, a communication wherein " George Mulhall, jun," contradicts the sworn evidence of myself J. Walker, and G. Williams, given at the inquest held on the body of the late Henry Tucker, to the effect that up till quite dark on the night in question and we were not within two miles of the land, so that if the lights had been there, we must have seen them.
They were anxiously looked for, our position being a most critical one, as we had either to risk running among the breakers on shore, or standing out to sea in a small boat on a dark night-, in a fresh southerly wind. I have spoken to one experienced yachtsman, who entered Broken Bay the same night; he confirms our statement as to there being no light visible up till 9 o'clock. I am convinced that Mr. Mulhall will fail to bring any evidence to the contrary. We did not expect to see any light from where we were camped. As this is a matter of the greatest importance, I trust that the proper authorities will cause a strict investigation to be made, and not rest satisfied with the simple denial of Mr. Mulhall.
I remain, Sir, your obedient servant,
FRANK SMITH.
BARRANJUIE LIGHTHOUSE. (1872, January 2). The Sydney Morning Herald (NSW : 1842 - 1954), p. 2. Retrieved from http://nla.gov.au/nla.news-article28416937
On Tuesday morning, September 18, the Marine Board left Phoenix Wharf in the I.S.N. Co.'s steamer Bega, on their annual inspection of lighthouses and pilot stations along the coast of the colony. The members of the Board were Captain F. Hixson (President), Commander Lindeman (secretary), Captains M'Lean, Moody, and Jenkins (wardens of the board), with Mr. B.Telfer (colonial architect's deputy), Mr. Robinson (inspector of lighthouses), and several friends, making a total of 15.The first place visited was the Barranjoey lighthouse, Broken Bay, where the party arrived at 2.30 in the afternoon. The members of the board proceeded on shore, while some of the passengers, dismayed, perhaps, at the height of the hill, stayed on board to fish. After a pleasant though rather long walk, the lighthouse was reached and inspected. Everything seemed in pretty fair order, but not equal to the places which were seen later on. The building is a very imposing one, built of stone obtained in the vicinity, and is 51ft in height. There are three keepers who have very fine houses, also built of this gray stone; in fact one is forced to the conclusion that they are meant, in some remote contingency, perhaps, to act as barracks, so large and commodious do they appear. Our Lighthouses. (1888, October 2). Evening News (Sydney, NSW : 1869 - 1931), p. 3. Retrieved from http://nla.gov.au/nla.news-article108116692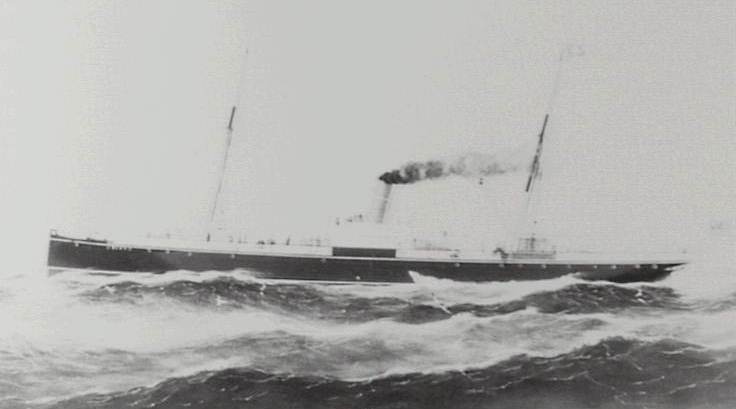 SS Bega, launched 1883 - Illawarra Steam Navigation Co.
George retired in 1891 and William James Steere, who had originally been second assistant light keeper became Principal Light Keeper until his own retirement. Mr Steere experienced the loss of two of his children during his first year as head Light Keeper and passed away himself ten days after the Maitland Gale.
Retirement. G. Mulhall, (jun) principal keeper, Barranjoey Lighthouse, Marine Board Department, will on October 1 retire under the provisions of the same act. Government Gazette. (1891, September 5). Evening News(Sydney, NSW : 1869 - 1931), p. 11. Retrieved from http://nla.gov.au/nla.news-article111982910
STEERE— July 26, at St. Vincent's Hospital, William George Steere, of Barranjoey, aged 19 years. R.I.P. Family Notices. (1892, July 30). Freeman's Journal (Sydney, NSW : 1850 - 1932), p. 11. Retrieved from http://nla.gov.au/nla.news-article111326208
STEERE.-July 2, 1891, at Barranjoey, the son of W. J. Steere, assistant lightkeeper, Barranjoey, aged 9 years and 3 months. Family Notices. (1891, July 7). The Sydney Morning Herald(NSW : 1842 - 1954), p. 1. Retrieved from http://nla.gov.au/nla.news-article13830253
STEERE. May 21, at his residence, 661 Bourke-street, Surry Hills, William James Steere, late principal light keeper, Barranjoey. Family Notices. (1898, May 24). The Sydney Morning Herald(NSW : 1842 - 1954), p. 1. Retrieved from http://nla.gov.au/nla.news-article14157841
The death is announced of Mr. William James Steere at his residence. 661 Bourke-street, SurryHills. Deceased was for a great number of years principal lightkeeper at the Barranjoey Lighthouse, but recently retired on a pension. BREVITIES. (1898, May 24). Evening News (Sydney, NSW : 1869 - 1931), p. 4. Retrieved from http://nla.gov.au/nla.news-article109652414
William Hersee appears to have been a Captain and born the son of a Captain who ran the steamer BEGA for many years up and down the coast. William jnr. may have been issued with a packet license prior to taking up duties at Barrenjoey. In 1884 his wife Theresa (nee Horan) gave birth to a son:
HERSEE, — In loving rembrance of my dear husband, William Hersee -who departed this life April 6, 1894, aged 32 years, late of the Barranjoey lighthouse, Broken Bay. Inserted by his loving wife, Theresa. May his soul rest in peace. Family Notices. (1896, April 6). Evening News (Sydney, NSW : 1869 - 1931), p. 5. Retrieved from http://nla.gov.au/nla.news-article108776354
Isaac Newman became First Assistant Light Keeper at Barrenjoey on the 1st of October, 1891 and Head Light Keeper in 1898. He was one of the witnesses to the horrific foundering of the paddle-steamer Maitland and could not report her loss due to the telegraph wires being down. At dawn, when they saw the vessel, with seas still mountainous, they reconnected the wires to notify Sydney, contacted then Coast Waiter of Broken Bay Customs Station, Captain William Champion, who tried his utmost to round Shark Point.
Mr Newman retired in 1908. Strangely, over three decades after his death in late 1913/ early 1914, the following Notice appears on the other side of Australia:
THE SCHEDULE:—All lands set out hereunder are under The Transfer of Land Act, 1893-1944 and are vacant lands situated in the district of Bayswater: - Item Amount due Name of person registered as proprietor in fee simple and address appear- Any other person appearing In the Register Book Pescrlptlon of land including reference to relative Certificate of Titles: 39. £19 9 9 Isaac Newman of Barrenjoey, New South Wales, Lighthouse Keeper:Advertising. (1947, November 11). The Daily News (Perth, WA : 1882 - 1950), p. 15 Edition: CITY FINAL. Retrieved from http://nla.gov.au/nla.news-article79814108
William Smith left Barrenjoey in 1901. ONe of the 'rules' for Light Keepers during this period was that they had to be married:
The Friends WILLIAM SMITH Lighthouse keeper at Barrenjoey, are kindly invited to attend the funeral of his dearly beloved WIFE; to move from the Manly Cottage Hospital Family Notices. (1901, August 12). The Sydney Morning Herald(NSW : 1842 - 1954), p. 10. Retrieved from http://nla.gov.au/nla.news-article14402805
John Skelton jr. , Head Keeper in 1902, transferred to Smoky Cape in 1903, was a career seaman who, despite witnessing some terrible shipwrecks, never lost his commitment to saving lives: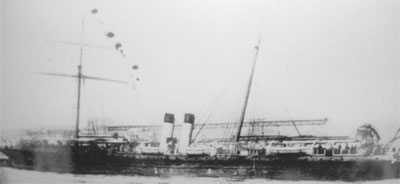 Wreck of the Ly-ee-Moon. [BY ELECTRIC TELEGRAPH.] [FROM OUR OWN CORRESPONDENT.] LATEST INTELLIGENCE. GREEN CAPE, June 3. THERE is very little farther to add concerning Fotheringham's evidence as telegraphed yesterday.
The third officer said he did not alter the course pf the vessel, but called Captain Webber in plenty of time to allow him to do so. He stated that the captain was in the wheelhouse, from which the Green Cape light could be seen for about seven minutes before the vessel struck on the rock, and that his statement At the inquest yesterday the evidence of John Hutchinson, the second officer, was taken. He stated : " When the accident happened I rushed on the bridge and said 'Good God, Fotheringham, how did this happen? Was the captain on deck?' The third mate replied, Yes, he was conning the ship in the wheelhouse.'…
Mr.Poole believes that with proper life-saving apparatus at the lighthouse many on the after part of the vessel might have been rescued. John Skelton, lighthouse-keeper, however, holds the contrary opinion. Wreck of the Ly-ee-Moon. (1886, June 5). The Queenslander(Brisbane, Qld. : 1866 - 1939), p. 920. Retrieved from http://nla.gov.au/nla.news-article1980569
Daniel Whelan, the assistant lighthouse keeper, was, we believe, the first to scramble down the rocks; and there, when hours of perilous exertion had drenched him many times to the, skin, fatigued and benumbed, he remained at his post clutching one after another as the exhausted forms were swept on the shore. Captain Skelton, Mr. John Skelton (jun,), and Mr.Walter, the telegraph operator, were probably not one whit less energetic in the work of rescue. But how futile would their efforts have been were it not for the warm beds and bright fires-the gentle hands and generous provisions-awaiting the sufferers at the top of the cliffs. " After all had been brought on shore that could be landed," said the Rev. Wm. Poole, in his narrative of the disaster, "the kindness and hospitality of Mrs. Skelton, Mrs. Whelan, and Mrs. Walter, were unbounded. The Heroic Residents of Green Cape,. (1886, July 15).Illustrated Sydney News (NSW : 1853 - 1872), p. 11. Retrieved from http://nla.gov.au/nla.news-article63620217
WRECK OF THE SIR GEORGE. The wreck or the ketch Sir George (owned by Messrs. John Hibberd, sen., and John Hibberd,Jnr.. of Port Macquarie, near Smoky Cape, on November 12 last, formed the subject of an inquiry by the Marine Court — Judge Murray and Captain W. C. M'Gibbon, and W. A. Worrafl (assessors) — in the Sydney District Court- After hearing evidence, the Court found that the Sir George, while on a voyage from Port Macquarie to Sydney, was driven ashore about a mile and a half north of Smoky Cape, when a heavy southerly gale coming on, the master was compelled to run for shelter, intending to make Trial Bay. In the course of running for shelter, a heavy sea struck the ship, the rudder was carried away, and the vessel was disabled, two of the crew being drowned. The master and crew did all they reasonably could to save the vessel. The Court further found that great credit was due to the lighthouse-keeper (John Skelton, jun). at Smoky Cape, and his assistant, in going to the rescue of the survivors, and, at great risk to their own lives, assisting them to get ashore. WRECK OF THE SIR GEORGE. (1903, December 4). Evening News (Sydney, NSW : 1869 - 1931), p. 6. Retrieved from http://nla.gov.au/nla.news-article113801758
AWARDS FOR BRAVERY., All the distribution of certificates in connection with the Royal Humane Society on Monday, 52 awards were made, including.... John .Skelton (principal lighthouse keeper. Smoky Cape), William Dennis Chapman (assistant lighthouse keeper, Smoky Cape), rescued a man on the occasion of the wreck of the ketch Sir George on the night of November 12th, last. Messrs. Skelton and Chapman proceeded from tile lighthouse at Smoky Cape to the scene-a very rugged und dangerous track-a distance of about, two miles. Each awarded silver medal and certificate of merit. AWARDS FOR BRAVERY. (1904, August 13). Clarence and Richmond Examiner (Grafton, NSW : 1889 - 1915), p. 3. Retrieved from http://nla.gov.au/nla.news-article61408690
Correspondence made available to all by the National Archives of Australia sheds some light on the Crossingham family's duties: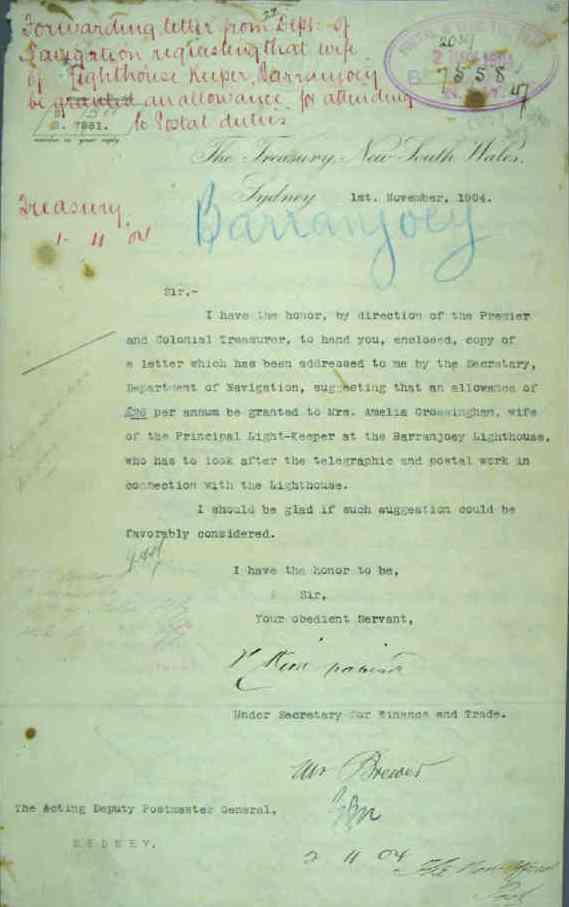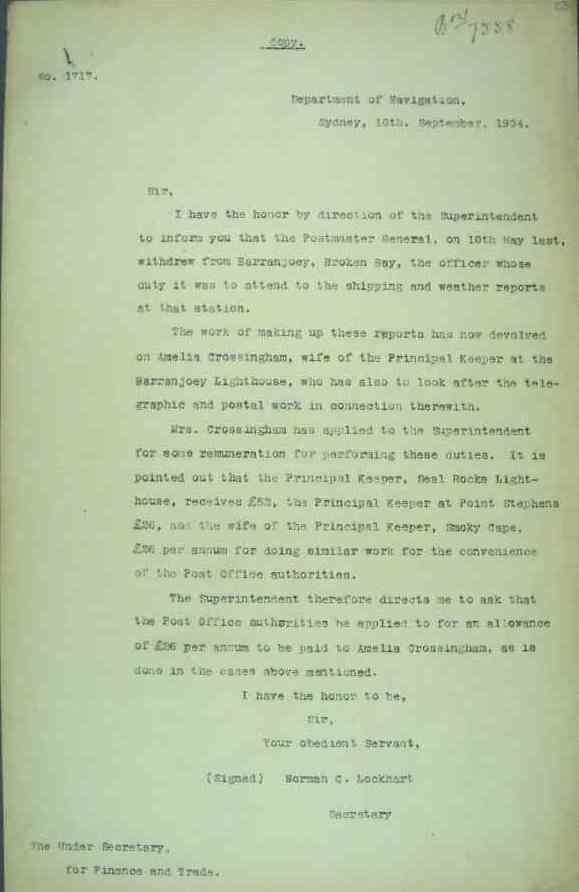 John McNally, with variations on the way his name has been spelt in some reports, was appointed Head or Principal Keeper at Barrenjoey on the 18th of January, 1906. One of his unfortunate duties was to find what was left of the yacht the Gift:
John M'Neilly, lighthouse keeper at Barrenjoey, on Sunday morning found a 22ft half decked sailing boat, the Gift, lying on the beach damaged, and full of water. It transpires that on Saturday afternoon a party of six left Farr's Wharf, Pyrmont, on a fishing excursion to Broken Bay. The crew consisted of Thomas Hawkes, 40, Harris-street, Pyrmont, the owner of the boat; Thomas McGirk, 16, Bowman-street, Pyrmont; Arthur Doodson,17 Harwood-street. Pyrmont; Eric Hales, 17 Pitt-street, Redfern; Thomas Hubbard, 6 Mullins-street, Balmain, and another whose name is unknown. When the boat was found her . mast was standing, but her boom was smashed. Several oil drums painted blue, which had evidently been used as floats and washed out of her, were also found on the beach. In the boat there was some clothing, fishing tackle, and part of a metal watch, on which the' name of G. Doodson was scratched. It is feared that the Gift was caught in the sudden squall which took place on Saturday evening, and that its occupants were drowned. It may be that they have been picked up by a passing steamer. If they had gone ashore, it is more than probable that they would have communicated with the lighthouse keeper, or else walked to Manly. Up to this morning the police had received no tidings of the missing men. BOAT'S CREW MISSING. (1908, November 9). Evening News(Sydney, NSW : 1869 - 1931), p. 6. Retrieved from http://nla.gov.au/nla.news-article113762747
DEATH Of MR. JOHN McNALLY. Mr. John McNally, of Melford-street, Hurlstone Park, who died on the 1st ult. at the age of 70 years, was, until his retirement, a lighthouse-keeper for 30 years. He was stationed at Port Stephens, then at Solitary Island, Barrenjoey, Norah Head, and finally was placed in charge of Sydney Lighthouse at South Head. Born at Longreach, Macleay River, in 1865, Mr.McNally married Miss Ellen Fahy, of Gort, County Galway, Ireland, in 1896, at Waterloo. Mr. McNally was a member of the Irish National Foresters for many years. He resided in Hurlstone Park for the past 12 years. Mr. McNally is survived by his widow, seven sons and two daughters. During his illness he was visited by his friends among the clergy, including Rev. Dr. P. Tuomey, P.P., Rev. Fathers J. F. Byrne, C. Heffernan and D. Furlong, who administered the Last Sacraments. Requiem Mass was celebrated at the Church of St. Paul of the Cross, Dulwich Hill, by Dr. Tuomey, who also officiated at the graveside in Rookwood Cemetery. The chief mourners were Mrs. Ellen McNally(widow), Mr. and Mrs. James McNally, Mr. and Mrs. John McNally, Mr. and Mrs. Cyril McNally, Mr. and Mrs. Norman McNally, Messrs. Neil, Charles and Hugh McNally, Misses Alice and Eileen McNally, Mr. Neil McNally (of Gladstone), Mr. and Mrs. Patrick McNally, Mr. and Mrs. C.Reynolds, Mrs. W. Gleeson, and Mr. andMrs. Frank McNally. The funeral arrangements were in the hands of W. N. Bull,Ltd.— R.I.P. DEATH OF MR. JOHN McNALLY. (1936, August 20). The Catholic Press (NSW : 1895 - 1942), p. 31. Retrieved from http://nla.gov.au/nla.news-article106382326
Frederick Peters, also a Light Keeper at Barrenjoey, is a sad reminder that men who save lives can also lose their own on the water, in possibly mundane circumstances through a simple mistake:
A LIGHT-KEEPER'S DEATH. Wreck of a Sailing Boat. The dead, body of Frederick Peters, aged sixty years, one of the light-keepers at the Barranjoey Lighthouse, was washed up on the rocks at Stokes Point, Broken Bay, on Saturday afternoon. Peters was last seen alive on Wednesday morning, when he left in a sailing boat for Newport. The same afternoon the boat was found on the beach near that place, and a search was then instituted for Peters, with the result stated. A LIGHT-KEEPER'S DEATH. (1914, December 15). The Farmer and Settler (NSW : 1906 - 1957), p. 2. Retrieved from http://nla.gov.au/nla.news-article116695709
The gentleman who became Principal Light Keeper after Mr McNally was David Gow, and here too a whole family, including generations, back and forward in father Robert, were all on duty while on the Barrenjoey Headland. David Gow, elder brother of Carl Gow, commenced his duties on February 1st, 1912: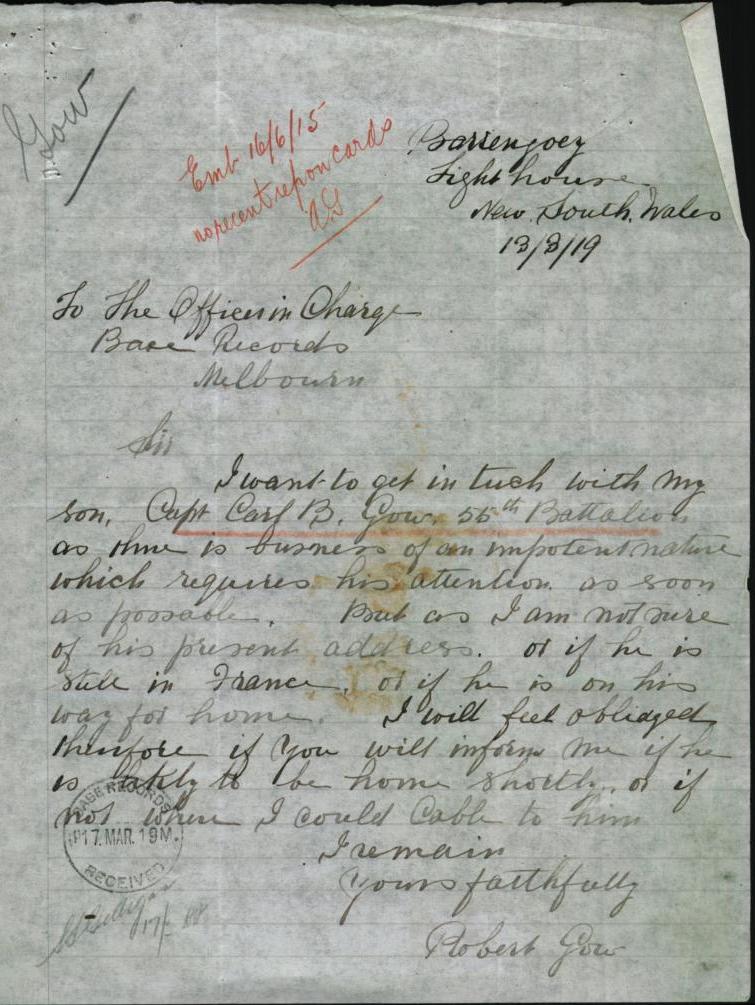 THE ADVENTURES OF AN ORGAN. The Cornish Company, of 204 Clarence street, Sydney, and Washington, N.J.,U.S.A., have sent us the following interesting letter, which they have received from a lady who is a member of a family who are very old patrons of the Company. It shows with clearness how valuable the pleasure and blessing of good music is to those who have to spend their work-a-day life in the lonely and unfrequented parts, and we all know that there are many such in Australia. The brightly-written and entertaining letter is from Mrs. Gow, who is the wife of the lighthouse-keeper now stationed at Barrenjoey Light.
"It would be useless," the lady writes from Barrenjoey Lighthouse, "for me to tell you that the organ is giving every satisfaction, for you know it could not be otherwise for an Instrument from the Cornish Co., but I feel sure you will be Interested to hour of its travels previous toits new safely resting at our quarters here. When we got it we were stationed at the Solitary Island light. This is a small island a long way out from the mainland In mid-ocean. There is no harbour or shelter of any kind, and we were indeed wondering however we would get the huge heavy case safely off the steamer into our house at the foot of the light. However, it was lowered over the side, into the small, tossing boat, and finally landed on the rough rocks on the most sheltered side of the island. Then, with three men, we started to get It over the jagged face of the cliff. For two hours they struggled with It, many times pulling it over the jutting rocks, and sometimes it went over and over in their endeavours to get it safely on the top. Once it took charge of proceedings on its own, and A way it went, and finally brought up with a bump, which, I can tell you, was a pretty hard one, and, in fact, when at last it was landed at the house, I told Mr. Gow not to bother opening the case. I felt that seeing the organ, for which we were so impatiently waiting, all broken up would be a bad disappointment However it was, of course, opened, and I was surprised to find that there was not a single scratch upon it. That evening it was being played, and delighted us all. Since then it was moved from Solitary to Barrenjoey, and it had all the experience to go through again. Yet, here it is as good as ever. It has to stand a lot has that organ; for instance, when the weather is rough the sea-spray dashes right over our house here. It causes everything to turn damp and mildewy except, strange to say,, our organ. The only ill-effect was to cause the stops to work slightly stiff. I must again wish you every success, and close.
"Yours truly,
"Mrs. DAVID GOW."
If anyone deserves the pleasure of good music surely Mrs. Gow does. We would just like to add that the Cornish Co. will be very glad to forward their handsome Piano and Organ Catalogue post free to any lady or gentleman who may be interested in securing an instrument of this nature at manufacturer's price, and direct from the factory. The address is—The Cornish Co.(E. Aust.), 204 Clarence-street, Sydney. THE ADVENTURES OF AN ORGAN. (1913, October 30).Watchman (Sydney, NSW : 1902 - 1926), p. 2. Retrieved from http://nla.gov.au/nla.news-article112380777
Mr. J Warren;
Mr. J Warren, head lighthouse keeper at Byron Bay, who has been in charge of the Cape Byron light for eight years, has been notified of his transfer to Barranjoey. He and his family have taken part, at much inconvenience to themselves, in every movement promoting the welfare of the town, and they will be missed. Mr. Gow is mentioned as Mr. Warren's successor. PERSONAL. (1919, March 14). Northern Star (Lismore, NSW : 1876 - 1954), p. 2. Retrieved from http://nla.gov.au/nla.news-article92981549
On Thursday afternoon Mr. Les Warren received by wire the distressing news that his mother, Mrs. Warren, wife of Mr. J. L. Warren (late Chief Keeper Cape Byron Lighthouse), now of Barrenjoey, had passed away. The deceased lady's health had caused her family much anxiety of late but her death was unexpected, indeed, her son had just received letters stating his mother was progressing well, the telegram, therefore, came as a shock. The family, which includes her husband. Miss Eva Warren, and sisters,, Mr. Leslie Warren (late A.I F.). Pte, Fred Warren (remaining with the burying corps in France) will keenly feel their loss. LOCAL AND GENERAL,. (1919, November 8). The Byron Bay Record (NSW : 1902 - 1924), p. 8. Retrieved from http://nla.gov.au/nla.news-article108141854
Mr. Fred Warren (late A. I.F.) eldest son of Mr. J. L. Warren, Chief Keeper Barrenjoey Lighthouse, is at present in Byron Bay on a holiday. He saw a long term of service., remaining in France for some Time as a member of the burying corps. LOCAL AND GENERAL,. (1920, February 28). The Byron Bay Record (NSW : 1902 - 1924), p. 8. Retrieved from http://nla.gov.au/nla.news-article108143343
We close this page with food for thought of future history pages on keeping the light bright at Barrenjoey:
"JONAH' TO SHIPPING Last To See 4 Lost Ships, MELBOURNE, Thursday. Claiming to be the youngest Victorian returned soldier who fought in the -war, Albert Edward Johnson, 30, of South Melbourne, said that he considers he has another claim to prominence in that he is a "Jonah to Australian shipping."
A relieving lighthouse keeper, he has been the last person on land to see four ships before they were wrecked on the New South Wales and Victorian coasts.
"I think I am the last man on land to have seen the Paringa before she foundered," he said. "At 5 p.m. on December 24 I was on watch at the Cliffy Island Lighthouse. I saw two ships passing westward, and recognised the leading one as the Paringa. She did not signal, but I worked on her frequently when I was with the Adelaide Steamship Co., and am sure I was not mistaken."
In January 1931, Mr. Johnson was on duty at the Barrenjoey (NSW) light when the small coastal steamer Alwyn River, bound for Newcastle, signalled that she was in distress. She ran aground on a sandbar soon after. "JONAH" TO SHIPPING. (1936, January 30). Barrier Miner(Broken Hill, NSW : 1888 - 1954), p. 3. Retrieved from http://nla.gov.au/nla.news-article47926064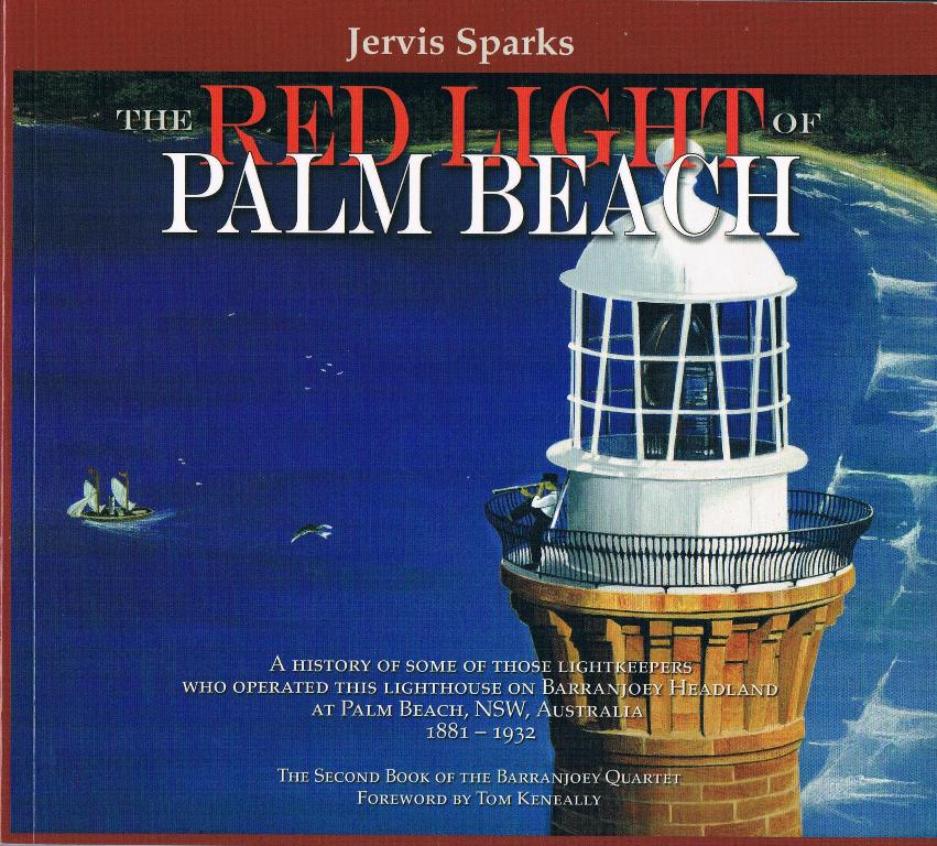 Barrenjoey Lightstation - the Light Keepers threads collected by A J Guesdon, 2013.