July 1 - 7, 2012: Issue 65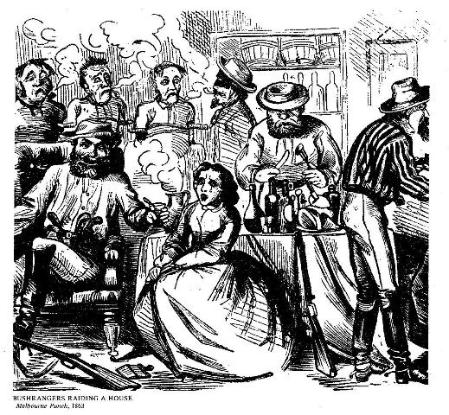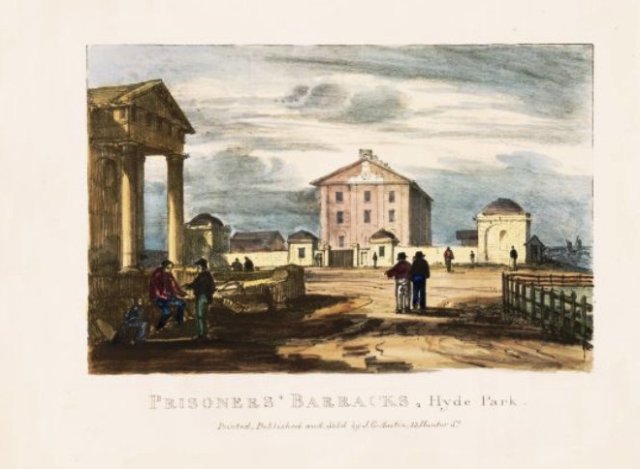 Above: Prisoners' barracks, Hyde Park. Image number: nla.pic-an5924561 by Robert Russell, 1836. lithograph, hand col. Courtesy National Library of Australia.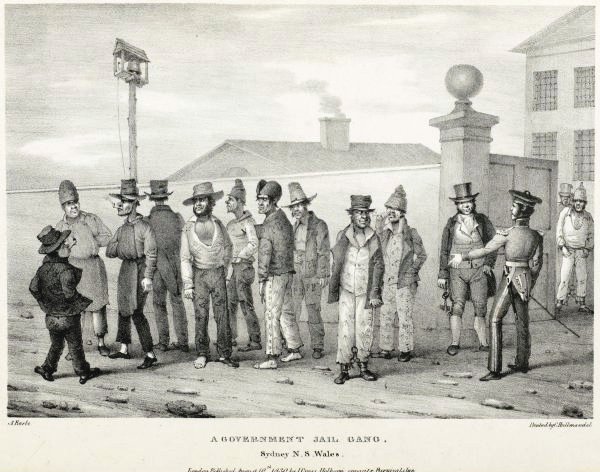 Above: A government jail gang, Sydney N.S.Wales. nla.pic. 6065451 by Augustus Earle, 1830. lithograph, printed in black ink, from one stone; hand-coloured. Courtesy National Library of Australia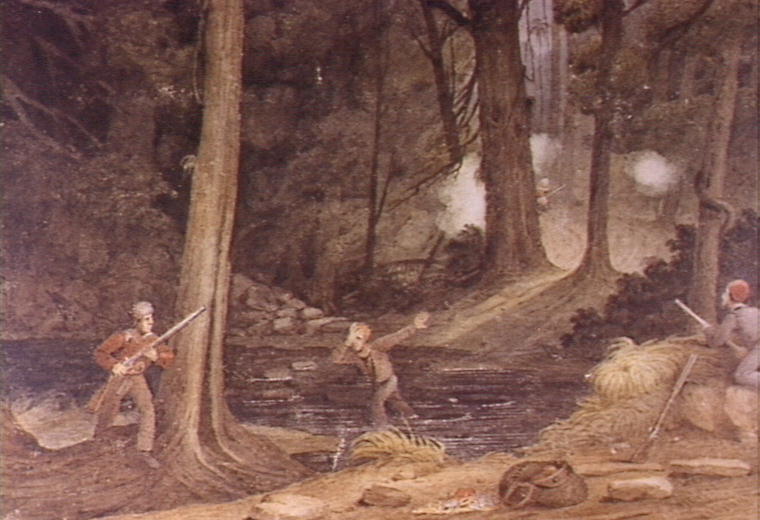 Above: Watercolour by Augustus Earle 1793-1838 - "Skirmish between bushrangers and constables, Illawarra. Image number P12/P12818. Managed by and courtesy of Wollongong Library.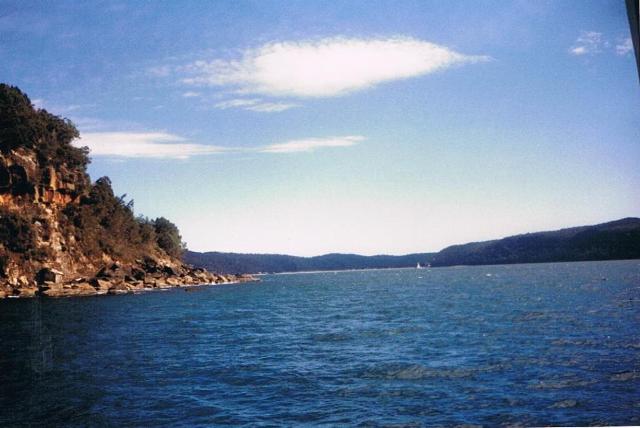 Above: The precipitous terrain of Pittwater's western shore. photo by George Champion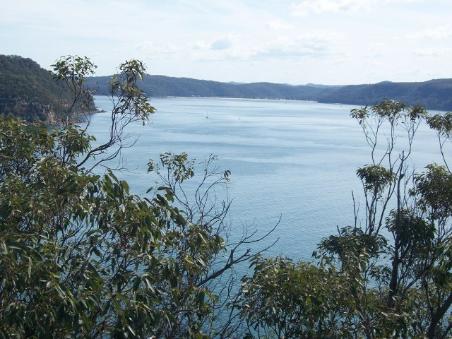 Above: View to mouth of Hawkesbury River from Shark Point, Barrenjoey Headland.
Below: West Head entrance to Hawkesbury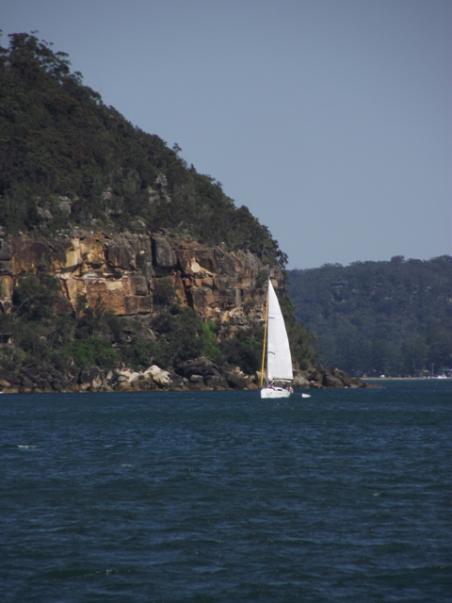 Copyright Shelagh Champion OAM and George Champion OAM, 2012. All Rights Reserved.
Bushrangers at Pittwater
by Shelagh Champion OAM
Escaping convicts were a continual problem faced by those in charge of the penal colony. When they remained in the bush, to rob and plunder, they were called bushrangers. By the 1820s the Pittwater district was becoming settled and farmed.
James McCarr was living with Ann Haynes near McCarr's Creek in 1820. McCarr had to go to Sydney, and on his return on Tuesday, 23 May he found that his house had been plundered. He compiled a long list of missing articles, ranging from a feather bed, blankets and a chest full of clothing, through tools, utensils, food and seven goats. His boat, oars and sails, which he had lent to a seaman, James Gribble, were also missing. Ann Haynes had left the house in the evening of 22 May, leaving James Newcombe, who said that James Gribble was his master, in charge. Three days later Constable John Williams was going from Broken Bay to Windsor, when two Aborigines informed him that a bushranger, with McCarr's boat and property, was in Mangrove Creek. With their assistance Williams apprehended Newcombe, took him to Windsor and secured him in the gaol. Newcombe, described as a "most notorious bushranger", had absconded from the Coal River (now Hunter River) for a second time. He was tried in Sydney and sentenced to fourteen years transportation. Later, as a runaway from Port Macquarie, he was sent to Van Diemen's Land. [State Records NSW SZ791; COD451B no.33, p.449-459]
From September 1820 to May 1826 Martin Burke held the position of Constable at Pittwater. During this time he apprehended one or two bushrangers, but the details are not known.
In 1827 David Foley, a respected tenant of the 700 acre farm at Bungin Bungin (now Mona Vale), was disturbed by a bushranger. The Sydney Gazette reported:
"A man named David Foley presented himself at the [Sydney] Police Office [on 5 January 1827], armed with a musket, and having garments plentifully sprinkled with blood. He stated that he was a settler residing at Broken Bay and that, on Wednesday evening last, his government servant informed him that a man having the appearance of a bushranger was secreted in a haystack near the building. He immediately went out, and with the assistance of his servant, apprehended him. Information was sent off to the nearest constable, who, however, was not in the way, but a pair of handcuffs being procured, he was manacled, and taken into Foley's house. When there he confessed himself to be a bushranger, and gave his name, Stanly. Foley secured him in his house for that night, supplying him with every necessary refreshment, and on the following morning proceeded with him, still handcuffed, on the way to Sydney. On the road, Foley borrowed a musket at the farm of Mr. Jenkins, which he loaded with three pistol balls, and continued his journey. On arriving, however, at Manly Beach [harbour side], where it became necessary to take boat, the man in custody seized an opportunity, and suddenly struck Foley a violent blow with his hands, handcuffed as he was, which felled him to the ground. While he was down, the bushranger contrived to take the key from Foley's pocket, with which, by opening them a little way, he succeeded in freeing himself from the handcuffs. On his recovery, Foley found his late prisoner in possession of the musket, which he immediately presented at him, swearing he would shoot him through the head if he approached, and that he would do so as it was, were it not for the humane manner in which he treated him the previous night, at the same time desiring him to give up what money he had about him. Foley, accordingly, threw what money he had on the ground, and whilst the other stooped for it, rushed in and seized the gun. A violent struggle ensued, in the course of which the piece went off, carrying away part of the flesh from the bushranger's forehead. Both parties were much bruised, but the prisoner succeeded in effecting his escape. Foley stated, that the wound occasioned by the discharge of the gun, bled most profusely, from which he conceived he might, without much difficulty, be tracked, as he could not have proceeded far from the spot, owing to the severe injury he had sustained in the conflict."
----------
In November 1836 Lazarus or Louis Bara, who was either French or Spanish, and two Jamaica Negroes, absconded from Hyde Park Barracks and made their way to Pittwater, where residents were kept in a state of consternation and alarm for some months.
District Constable Robert Melville received a report in January 1837 that the three bushrangers were hiding out in a particularly rocky and precipitous place on Pittwater's western shore. On Sunday evening, Constable Melville took his son Robert, William Oliver and another resident by boat and lay hidden all night. Early next morning they were clambering up the difficult terrain when they saw a man, who took to his heels and escaped into the bush. They came to a cave, where they found Bara and one black man, who both tried to escape. Melville's son called out to fire, and three of the party did so. The Negro escaped, but Bara fell, a bullet having passed through his thigh.
In the cave they found a loaded musket, half a canister of powder, cartridges, and shot made by cutting up a rod of iron. There were also potatoes, onions and roasted beef, and pots on a fire as though they had been preparing breakfast.
In the Supreme Court in Sydney, on 16 February 1837, Bara was found guilty of burglary and robbery in the dwelling house of Mr Michael McHale at Pittwater, and sentenced to death.
The two Jamaican Negroes were both captured later in 1837 in the vicinity of Windsor.
----------
Another three convicts, named Joseph Bennett, Thomas Wicks or Weeks, and William Smith, escaped from Goat Island on 14 March 1837. They seized the Government launch, which had been left at the island for repairs, at 3 a.m. They eluded the guards, who shot at them sixteen times, the Police boat and others who pursued them.
Some days later, it was reported that they visited the farm of John Clarke, who lived just north of Narrabeen Lagoon. Mr Clarke proceeded to work on his farm as usual. When he returned home, he saw three fellows coming out of his house laden with pieces of furniture, clothing and provisions. They insisted on accompanying Mr Clarke inside his house and undressing himself. They then took his clothes, leaving him in a complete state of nudity. His wife Sarah was away in Sydney, and the men servants were working at a distance.
They stole a boat belonging to Michael Sullivan, which enabled them to move around as they pleased. They killed a heifer belonging to David Foley, and the following day, after dark, moved to William Oliver's farm on the western side of Pittwater. They stole a pistol, a musket, a quantity of ammunition, two bags of wheat, tea, flour and sugar. They killed a pig, and then took everything away in the boat.
On 3 April District Constable William Shields of the North Shore, and Constables Brophy, Andrew Hogan and John Lovett were sent in pursuit, using a borrowed boat. They saw the men in a boat near Mullet (Dangar) Island, but lost sight of them. The next day, about a mile up Mooney Mooney Creek, they saw Weeks standing sentry over a boat with a gun in his hand. As they approached, he ran up the rocks. They fired at him but missed. Shields eventually found him hiding under a rock, the gun lying at his feet. Constable Brophy was left with Weeks in custody while Shields searched further up the creek for the others. While Brophy and Hogan were guarding Weeks and the stolen property at Mr Peat's, at the junction of the creek and the Hawkesbury, they were approached by an Aboriginal man named Bowen, who told him that the men were on the island near the house. Brophy saw them leaving the island on a raft they had made. He ordered them to put down their arms, or he would fire, but they answered that they had no arms, and surrendered.
The three bushrangers were brought to Sydney and convicted of absconding.
----------
There are unconfirmed, hearsay reports by John Farrell II, recorded by Charles de Boos in My Holiday, of a bushranger named "Casey", first name unknown, in the Pittwater district. So far, no substantial evidence of his existence in the district has been found. John Farrell was born in 1823 and lived with his family in Macquarie Street until the 1840s. He claimed that Casey was around Pittwater during his boyhood and that he frequented Bushranger's Hill, which Farrell called Casey's Hill. Casey, he said, confined his operations to huts and small farmhouses, which he robbed of food and clothing. Farrell claimed that Casey was eventually shot dead by Bowen, although he did not know exactly when or where.
Surveyor W.R. Govett recorded the name "Casy" on his map of the area dated January 1830, suggesting that Casey may have been squatting on the farm of Philip Schaffer at North Narrabeen, after the aged Schaffer had been admitted to the Benevolent Asylum in January 1829.
Sources
Manly, Warringah and Pittwater 1788-1850, by S. and G. Champion. Killarney Heights NSW, 1997.
My holiday and other early travels from Manly to Palm Beach 1861, compiled by Guy Jennings. Newport Beach, Aramo, 1991.