May 27 - June 2, 2012: Issue 60
George Urquhart (Scotty) Allan
2 February 1900 - 12 August 1996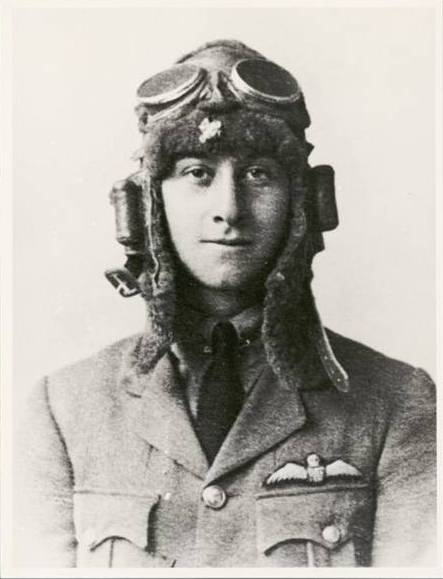 George Urquhart Allan was born in Bellshill (Forgandenny), Scotland. At 17 years of age, in 1917, he joined the Royal Flying Corps and served on the Western Front. He served in the 71 Sqn RFC and 11, 47, 58 Sqns RAF.
Allan continued his service with the RAF after the war and served in the Middle East. In 1929 he was recruited by Charles Ulm as a pilot, emigrated to Australia to take up a position with Charles Kingsford Smith and Ulm's Australian National Airways. In this company he was highly regarded for his skills flying their Avro X aircraft.
Right: Portrait of Captain George 'Scotty' Allan in Royal Air Force uniform, 1918, nla.pic-vn4925609, Courtesy of the National Library of Australia, 18 years of age!
He flew on the first airmail flights from Sydney to Brisbane with Charles Kingsford-Smith and from Sydney to Melbourne with Pat Hall. Following the collapse of ANA in 1931, Allan acted as co-pilot to both Kingsford Smith and Ulm on various long distance flights.
In 1933 he flew with Ulm and P.G. Taylor on the record-breaking flight from England to Australia in Faith in Australia. In October 1934 he joined QANTAS on the DH86 service between Brisbane and Singapore, this time flying DH86 aircraft.
During this period he also worked as a flight instructor and trained a keen aviator, Dr Lee Brown, a surgeon in partnership with famous surgeon and urologist Robert Gordon Craig, and daughter of this gent and Dr Lee's wife, Ailsa Craig, also a keen aviator, and artist. Dr Brown died in 1934 when he crashed his self-piloted biplane on a Botany Bay beach. He was 39.

In 1935 Ailsa and George married, living in Brisbane for two years due to his work commitments.
Flying Couple Wed in N.S.W.
SYDNEY, Saturday. — Mrs. Ailsa Lee Brown, the widow of Dr. R. K. Lee Brown, who tragically crashed at Brighton Le Sands in April, 1934, was quietly married today at Binnaway (New South Wales) to Mr. G. U. ('Scotty') Allen, the well-known airman, now flying on the Brisbane-Singapore air mail route. Mr. Allen was a close friend of Dr. and Mrs. Brown. Mrs. Allen is also a flier, having an A pilot's licence, and the pair will have a flying honeymoon in two States. The bride is the daughter of Dr. Gordon Craig, and the wedding was held at his property. Mrs. J. F. Chambers, sister of the bride, was matron of honor, and the best man was Mr. A. Baird, chief engineer of Qantas-Empire Airways. Mr. and Mrs. Allen will make their home in Brisbane. Flying Couple Wed in N.S.W. (1935, June 22). The Mail (Adelaide, SA : 1912 - 1954), p. 2. Retrieved from http://nla.gov.au/nla.news-article57009571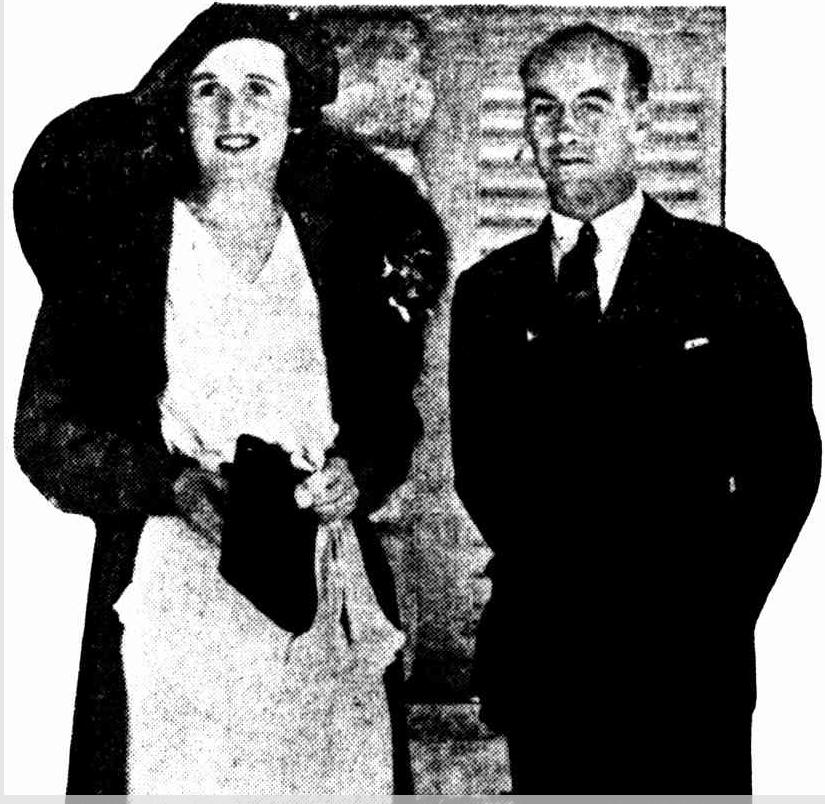 MR. AND MRS. G. U. ALLAN photographed after their marriage at the Gordon-Craig homestead, Ulinda, near Binnaway, New South Wales. The bridegroom is the well-known air mail pilot on the Brisbane— Singapore route, and the bride was formerly Mrs. Ailsa Lee Brown. No title (1935, June 25). The Courier-Mail (Brisbane, Qld. : 1933 - 1954), p. 15. Retrieved from http://nla.gov.au/nla.news-article36771694
The Allans then moved home to Palm Beach, where the Craigs had a house on 'Pill Hill' as it was then dubbed.
Mrs. G. U. Allan, who is the wife of Captain Allan, the well known aviator on the Singapore route, has since her marriage been residing in Ascot, Brisbane, but has now decided to make her home in Sydney. She intends to refurnish and redecorate the house at Palm Beach, which was the seaside home of her parents, the late Dr. Gordon Craig and Mrs. Craig. A Few Lines to Say. (1937, April 17). The Courier-Mail(Brisbane, Qld. : 1933 - 1954), p. 27. Retrieved from http://nla.gov.au/nla.news-article36887917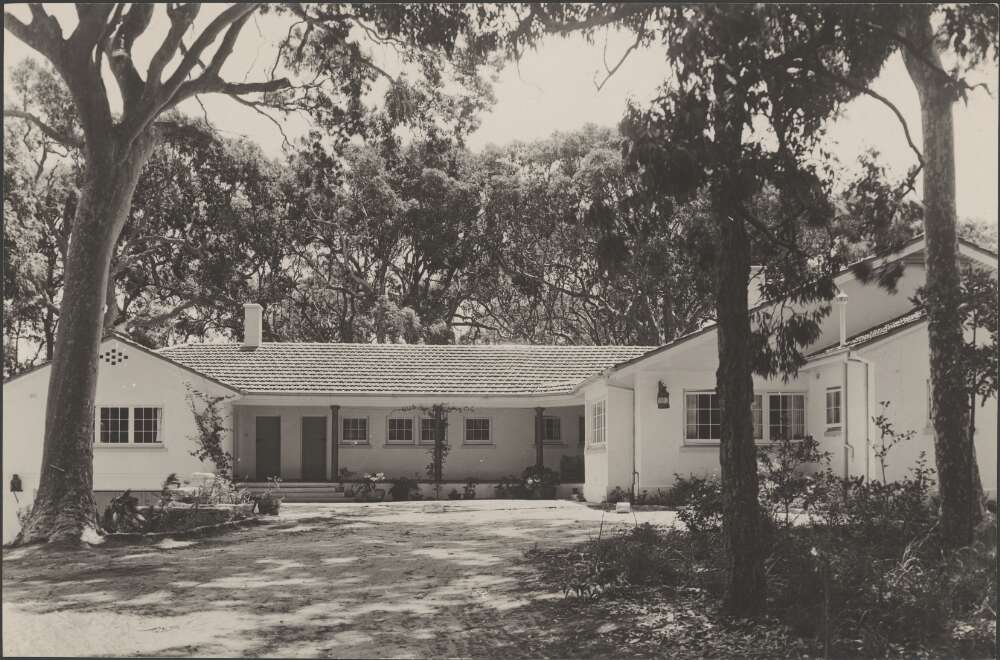 Ailsa's house at Palm Beach, New South Wales, approximately 1935 photo by Harold Cazneaux- courtesy National Library of Australia Image No.: http://nla.gov.au/nla.obj-140228205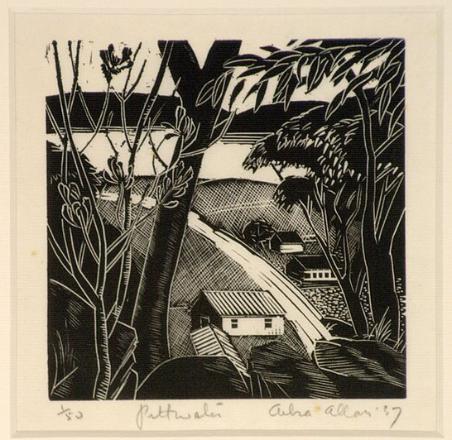 Right: Ailsa Allan's lithograph 'Pittwater' from 1937, Courtesy State Library of NSW
In 1938 Captain Allan went to England to study flying-boat techniques and returned to Sydney in the flying boat Coolangatta.
His home base during these years was Palm Beach where the couple entertained guests such as William Dobell, whom Ailsa had met while studying Art, and the Ballet Russe de Monte Carlo, whom they had met while based in London or visiting New York:
Quite a party with Otis Pearce and Sono Osato doing the Big Apple . . . Hera Roberts, Mrs. Scotty Allen, Arnold Haskell, Roman Jasinsky, Kyra Strakhova, and Jimmy and Prudence Dickson. The Whole Town Goes A-Partying: Off To Melbourne For Big Society Wedding (1938, December 11). The Sun (Sydney, NSW : 1910 - 1954), p. 1 (WOMENS SECTION). Retrieved from http://nla.gov.au/nla.news-article231136070
Talking of flying folk . . . it's the done thing to ask. Scotty Allen how his knitting's coming along. No one has ever seen Scotty' s knitting, but he's done a lot of boasting about taking it up, being first interested by picking up a magazine a woman flying-boat passenger had been engrossed in, and finding it written in a strange language: K. 1, p. 1, k, 2 tog., si. 1, k. 1 .. . k k k
Subsequently he discovered that this type of literature was the favorite among women passengers and thought he might drop Esperanto and take it up, too.
But now the opportunity to knit socks has arisen, Scotty's squibbing the issue and says he's "conseedering being a soldier m'self and being kneeted for." General's Family Arrives To Make Home In Sydney (1939, October 22). The Sun (Sydney, NSW : 1910 - 1954), p. 25. Retrieved from http://nla.gov.au/nla.news-article231223500
Mrs J P Chambers, of Melbourne who is spending a holiday at Palm Beach with her sister, Mrs G U Allan, gave a luncheon at Prince's yesterday. Her guests were Captain and Mrs Allan, Mrs James Dickson and Mr John McDonnell of Brisbane Mr McDonnell is also a guest of Mrs Allan at Palm Beach.
SOCIAL AND PERSONAL. —. (
1940, January 25
). The Sydney Morning Herald (NSW : 1842 - 1954), p. 20. Retrieved from
http://nla.gov.au/nla.news-article17669557
Ailsa was an artist, and his stepdaughter was Mitty Lee-Brown, who was a student of Dobell's when he took a teaching job at East Sydney Technical College. Dobell became a friend of Ailsa's, and he would visit her and Scotty at their home at Palm Beach, on Sydney's northern beaches. Scotty bought a number of Dobell's London paintings, including an over-the-shoulder observational piece from 1933, Watching Hyde Park Speakers, and Dust Cart created from one of Dobell's most comfortable positions…
Scotty's second wife, Barbara, remembers him telling her he bought the paintings when 'Bill was a bit broke'.
'He got those [paintings] for about £5, or something,' Barbara Allan says.
In his autobiography, Scotty Allan wrote about how 'difficult' it was to buy the paintings, because Dobell 'wouldn't sell them, even though he was broke moist of the time. I really had to kid him into selling me some'. - Bill: The Life of William Dobell. By Scott Bevan. 2014. Simon and Schuster.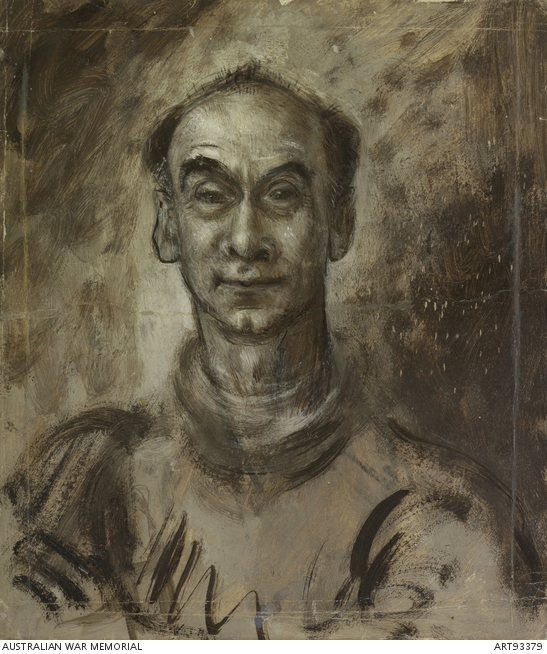 Study for 'Captain G.U. 'Scotty' Allan'-William Dobell - Squadron Leader GU 'Scotty' Allan Finalist in 1941 Archibald
In 1941 Allan was a member of the Qantas crew which brought flying boats from San Diego to Sydney for the RAAF. During 1941 Allan was seconded to the RAAF in the 23 Sqn as Wing-Commander and was C.O. of various stations including Rathmines on Lake Macquarie, where he trained Catalina crews, and No. 1 Flying Boat Repair Depot at Lake Boga.
Below: George 'Scotty' Allan, in centre, watching Charles Kingsford-Smith, on left, shaking hands with James 'Jimmy' Mollison, ca. 1930, nla.pic-vn4925810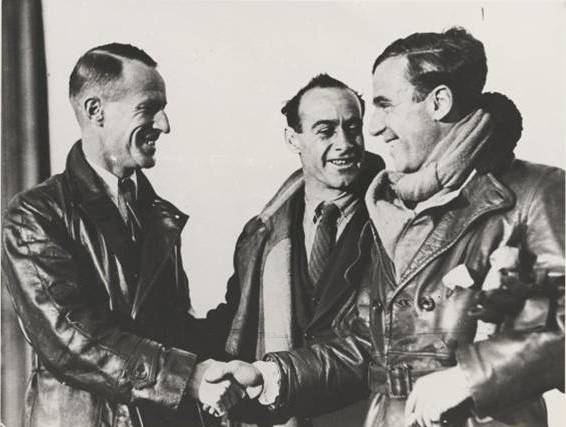 In 1943 Ailsa died in a traffic accident as she returned home from volunteer coast-watching at Palm Beach. Some sources state she was struck by a bicycle ridden by a delivery boy and died on Pacific road, Palm Beach. The lady was interred at Manly.
ALLAN.-On February 9, at Palm Beach(as the result of an accident), Ailsa, beloved wife of Wing-Commander G. U. Allan, A.F.C., and sister of Mrs. J. F. Chambers, Toorak. Privately cremated. Family Notices. (1943, February 12). The Sydney Morning Herald (NSW : 1842 - 1954), p. 10. Retrieved from http://nla.gov.au/nla.news-article17836678
In 1944, whilst serving in England 'Scotty' met and married Barbara Millbourne;
AIRMAN'S WIFE FROM ENGLAND: Mrs. G. U. Allan, wife of the famous aviator, Captain "Scotty" Allan, arrived yesterday from England by Qantas flying-boat. As the guest of Mrs. Gordon Craig, of Palm Beach, Mrs. Allan expects to stay indefinitely in Australia.
Captain Allan, who is with Qantas in Los Angeles, California, is expected to return to Sydney in two on three months' time. Before their marriage in England last year, Mrs. Allan was Miss Barbara Millbourn, daughter of Mr. and Mrs. Robert Millbourn, of Purley, England. AIRMAN'S WIFE FROM ENGLAND. (1947, July 1). The Sydney Morning Herald (NSW : 1842 - 1954), p. 13. Retrieved from http://nla.gov.au/nla.news-article18032894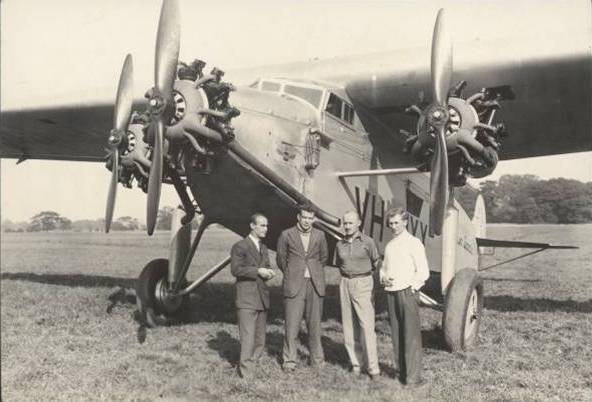 Above: Scotty Allan, Charles Ulm, P.G. Taylor and J.A.W. Edwards in front of Faith in Australia, Avro X monoplane VH-UXX at Heston Aerodrome, England, 25 July 1933, nla.pic-vn3930851, Courtesy National Library of Australia.
After the war Captain Allan rejoined Qantas as London Manager, then as Controller of Technical Developments, where he was chief adviser on aircraft types. In 1957 he was made a Commander of the British Empire for his services to aviation. He retired from Qantas in 1961 as Deputy Chief Executive and Deputy General Manager, but, clearly an active man, he went on after his retirement and held positions on many boards including Fiji Airways, Air Pacific, Polynesian Airlines and Malayan Airways.
Pete Smith of Newport Beach contributes: In 1983 I was a young Army Lieutenant working out of Victoria Barracks (Paddington) and was attached to the Schofields Air Show. At that same time, I was flying around Sydney helping to demonstrate a McDonnell Douglas 500E helicopter as well as promote the Show. The pilot in command of the MD500 was astronaut and commander of Apollo 12, Charles (Pete) Conrad.
Conrad and I landed on what I understand now to be Barrenjoey Beach and walked across the park to pick up Scotty and Mrs Allan and fly them as two of the guests of honour at the show. Scotty was the subject of an Archibald entry by Sir William Dobell and the portrait is described by art critics as one of Dobell's greatest works.
He was an Ace, a pioneer in Australia's aviation and huge contributor to the development of our RAAF and domestic air services.
For more on his life at Palm Beach visit The Cabin (Pink House) Palm Beach
Extras
Album: Charles T.P. Ulm collection of historical aviation photographs, ca. 1920-1934, Couyrtesy The Mitchell Library, State Library of NSW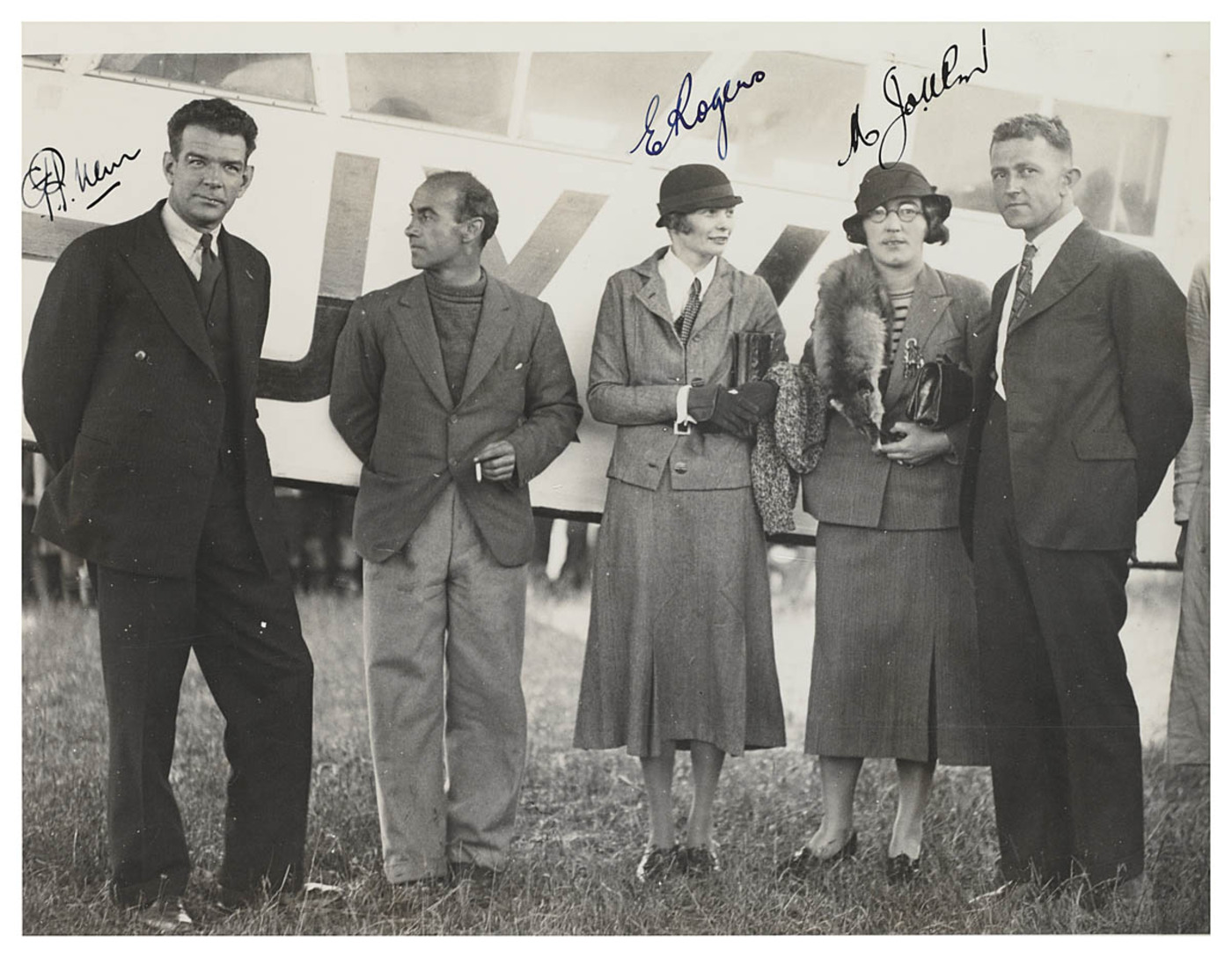 FILE TITLE:
53. Crew and lady passengers at New Plymouth, Image No.:
a1269010h
FILE TITLE:
95. Ulm (seated) with G.U. Scotty Allan testing the wireless in Faith in Australia, 1933, Image No.:
a1269014h
On the Airway to Singapore
By Garnsey Potts
III. — Empty North to Teeming East
IT has been said that the finest part of the day I- is the one that most people rarely see — dawn. After watching from the cabin of a Qantas airliner the sun rising over the Timor Sea, flooding sky and water with delicate pastel shades that not even the brush of a Turner could record with full justice, I am convinced that I have seen the finest part of the day in its finest setting and from the finest vantage point. That dawn heralded a day with throbbing interest, a flight from the empty North of Australia, over tropic isles, serried rice fields, towering mountain peaks, and oil fields, to Sourabaya, the city of colour and contrast.
FLOODLIT by the beam of an air beacon the big airliner looked like some strange monster of the deep as we drove on to Darwin aerodrome before dawn, and mechanics appeared and disappeared with eerie suddenness. As the new day rubbed the sleep from its eyes we took our seats, and at 6.30 we were off and up into a perfect morning.
Sunrise Over the Timor
TWENTY minutes later the sun raised its rim over the eastern horizon, and from a height of 5000 feet we looked out on a scene of swift-changing beauty. Rose-pink the skyline, gold-tipped the clouds, and the calm, unruffled water below ribbed and barred with pastel shades of every hue. Suddenly a shaft of dazzling gold light flashed across the sea, routing the more delicate tints, as the sun, full-faced, took command, and low-lying clouds over Bathurst Island, our last glimpse of Australia, seemed to sink even lower under this mighty onslaught. I looked around to see how my fellow passengers were faring. Dr. Lees was reading, Mr. Emerson was asleep. I touched him lightly on the shoulder. 'You have missed the most wonderful sunrise imaginable,' I informed him. I interrupted Dr. Lees's reading, and for the rest of that 'perilous' crossing of the Timor Sea, undoubtedly the most uneventful section of the entire Brisbane-Singapore air route, we discussed the problem of oil search in Australia. A ten-minute flight from the coast of the Island of Timor brought us to Koepang aerodrome, which is situated ten miles from the town of that name. Almost before the airliner had come to rest four natives rushed out with a petrol pump trolley, connected up hoses, and, as we walked across to the rest house for breakfast, we could see these dusky 'service men' working vigorously at the task of replenishing the tanks of R.M.A. Adelaide. These Timor natives are short, stocky people, somewhat reminiscent of the Malaita- 'boys' in the Solomon Islands.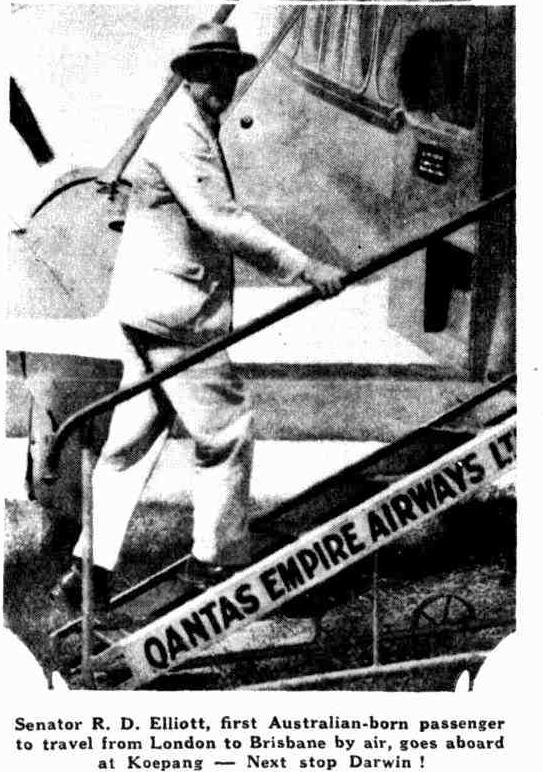 Senator R. D. Elliott, first Australian-born passenger to travel from London to Brisbane by air, goes aboard at Koepang — Next stop Darwin !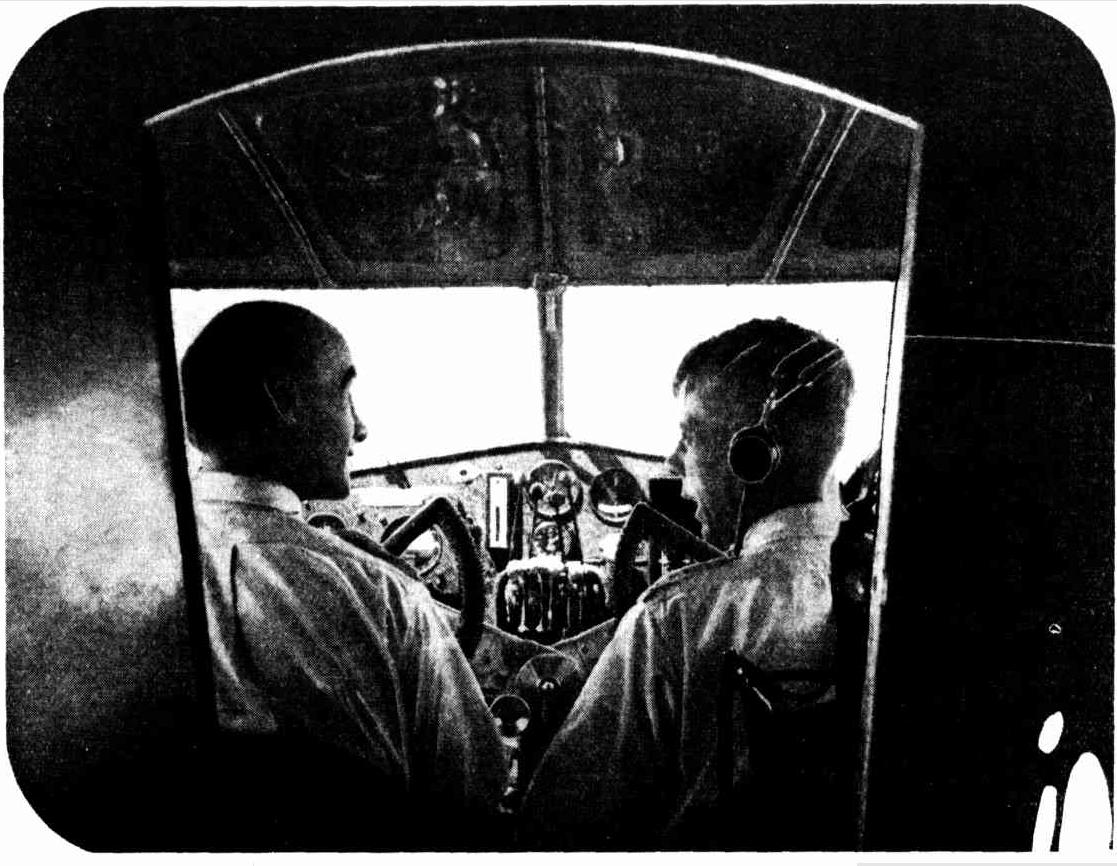 Fourteen thousand feet above the Timor Sea! — A peep into the navigating cabin, showing Captain 'Scotty' Allan (left) and First-officer W. Purton.
The few huts we saw adjacent to the landing ground were rather primitive, and their owners appear to share the Australian aborigines' aversion to soap and water. In the matter of headgear they certainly display considerable ingenuity. Millinery varies from a dirty rag, screwed around the head turban-like, to a most imposing straw-plaited 'Stetson' that resembles, more than anything else, an upturned fruit basket. At breakfast we were waited on by two natives dressed in spotless white suits. We found them to be Malays, and our relish of the eggs, fruit, and coffee brought a broad smile of satisfaction. The bananas and mandarins served at Koepang were quite the largest and most luscious I have ever eaten, and the unanimous opinion in the passengers' cabin, after we had taken off for Rambang on the Island of Lombok, was that 'Koepang is a delightful 'refuelling' station.'
On to Rambang
AFTER passing over the little town of Koepang with its small harbour and obviously ancient, close-packed buildings, we struck out over the sea on the 240-mile crossing to Waingapoe, an emergency landing ground on the Island of Sumba, whose terrain is somewhat similar to the red, hilly country in the Mt. Isa district. With no occasion to land at Waingapoe we pushed on over a further sea crossing, eventually making the coastline of the Island of Sumbawa near its western extremity. Clusters of cumulus clouds almost obscured Sumbawa, but through the gaps we could see densely-timbered, mountainous country that continued right to the water's edge. As we left Sumbawa behind and flew over Alias Strait, the tip of Rinjani (12,000ft), the highest mountain in the East Indies, showed as a triangle of. blue above dense white clouds that covered the middle heights of the Island of Lombok. Rambang aerodrome is right on the coast of this fascinating little island, and our wheels seemed almost I to brush the beach as we glided into land.
Bende - Riding an Art
HERE, again, natives displayed amazing speed and j efficiency in refuelling the airliner, while we were j taken off by a most affable Dutchman, with a surprising command of English [ (and not a little Australian) j to a delightful lunch served I in a plaited -palm rest house ! on the aerodrome. Iced drinks were acceptable, for, after the comparative cool of flying, the ground temperature was slightly uncomfortable, but right to the degree we had anticipated. Outside the rest house we discovered a bende (native for cab) drawn by a creamy pony which appeared almost overwhelmed by the magnificence and weight of its gaudy and gaily bedecked harness. Mr. Emerson, keen to 'try anything once,' climbed into the back seat. Up tipped the cab, and it was only the astounding agility of the driver in leaping to the shafts that saved I the pony from the ignominy and discomfort of being suspended in mid-air. Mr. Emerson then moved forward. This time the driver put his shoulder under the shaft, evidently to prevent the spread-eagling of the pony. After this experience we decided that riding in a bende is an art only to be , acquired after long practice.
Over the Ricefields
IN the short flight across the Island of Lombok we were given 'the trailer' of the feature film that was to be screened below us over almost the entire flight from Rambang to Batavia. Ricefields — in the valleys, on the plains, in the highlands, and on the mountain sides. Ricefields— each with a surrounding dyke, each small, but no two alike in shape. Ricefields — green, yellow, black. Ricefields— some flooded with water, some being churned under the slow-moving hoofs of oxen, some showing the green of young plants, some splashed (Continued on Next Page.)
Mr. F. Emerson, aerial globe-trotting American, meets another traveller at Sourabaya, Java. Everyone in Sourabaya seems to own a vehicle of some kind.
cUhc C: 'Airway to Singapore (Continued from Opposite Page.) yellow with ripened growth, some blackened with the ashes of burnt straw. Ricefields — nothing but ricefields, save for the groves of coconut palms that showed up as oases in a patterned desert, and on closer inspection proved to screen the close packed, red-roofed houses houses of the ricegrowers. We were amazed as we proceeded from Lombok along the north coast of the Island of Bali to see the extent ' of these ricefields and the way that every square yard of suitable land has been claimed for the . production of the staple food of the East. Far up the sides of the mountains the natives have persevered with their intensive cultivation, until it seems that to go another foot higher would precipitate the 'grower backwards into the valley thousands of feet below. It is only the ingenious system of terracing that has enabled them to carry their rice-growing into the very clouds.
Temples and Oil Wells
ON this coastal flight we saw, too, the wonderful Ealinese temples, Hinduistic places of worship, with giant, grotesque-faced idols gazing down into sacred bathing pools. The age of these temples no one knows. Their religious origin is also shrouded in the mists of the past. But their beauty was apparent even to us as we sped overhead at 140 miles an hour. Low-lying swamplands mark the eastern end of Java, but a few miles inland there recurs the far stretching pattern of the ricefields. Now, however, a new feature greets the air traveller. Tapering steel towers grouped here and there point to where the liquid wealth of Netherlands India is gushing out from the bowels of the earth. Crude oil, petrol, kerosene! As we drew near to Sourabaya, keeping south to avoid flying over the prohibited area that embraces the Dutch naval base, oil tanks and refineries become a common sight, and prepared us, but only in small measure, for the streaming traffic of this Eastern city.
Nature hung her most striking masterpiece for the benefit of passengers making the Timor Sea crossing by Qantas air-liner.
Sourabaya , City of Contrasts
OUT of the air -liner at Sourabaya aerodrome we stepped into a whirl of colour and contrast. Whitesuited Dutchmen, eager to voice a welcome in their precise English, brushed aside black-velvet-capped Javanese, whose lower limbs were swathed in gaily-coloured sarongs. The Qantas agent, an Australian, who greeted us with homeland warmth, led us to a waiting car driven by a smiling Malay. He, too, wore a black velvet cap. We swept with a shriek of whirring tyres out on to the road leading to the city and into the most extraordinary stream of traffic it is possible to imagine. Bicycles, ridden by young, middle-aged, and old; oxen waggons, weaving and creaking under prodigious loads; gaily-decked ponies drawing quaint bendes; coolies of every Eastern race, of both sex, and of all hues, shuffling along with loaded baskets carried Chinese-wise on poles; three-wheel taxicabs snorting and puffing ; toy-like steam locomotives drawing open-sided white-canopied carriages crowded with natives ; clanging electric trams, honking motor cars. Through this stream our driver burst his way with most amazing and nerve - wracking skill. With one hand he spun the wheel left and right in avoiding by bare inches the multitude of obstacles, both fixed and mobile, that beset our path and threatened us with momentary extinction.With With the other hand he continued a spasmodic squeezing of the bulb of an old - fashioned motor horn with which every car, however modern, is fitted in Sourabaya. I could not fathom the preference for this type, for no one appeared to take the slightest notice of our honking, or that of anyone else, for that matter.
Land of Cheap Servants
HOWEVER, we emerged out of this welter of rip, roaring traffic to arrive safely at the Oraje Hotel, to enjoy our first experience of Javanese service. At dinner there appeared to be a waiter for every course, and while I cannot say I am enamoured of roast beef served with preserved apricots, a most appetising meal was selected from the other ten courses on the menu. To reach for a condiment on the table is possible. To reach it is not, for many dusky hands are sure to forestall yours. The opening of a cigarette case automatically brings the flicking of a lighter, held in the hand of a silent-footed servant. And, strangely enough, cigarette lighters at Sourabaya light the first time! A short after-dinner walk through the city streets gave us a glimpse of many fine buildings, modern shops displaying Parisian — or were they Hollywood? — fashions, and native bazaars, in which all the imaginable, and a number of unimaginable, goods were jumbled up in a positive hotch-potch of colour and odour ! (To be Continued.) On the Airway to Singapore (
1935, July 24
).
Sydney Mail
(NSW : 1912 - 1938), p. 18. Retrieved from
http://nla.gov.au/nla.news-article160501467
LIEUTENANT GARNSEY POTTS.
WELCOMED AT H.A. COLLEGE. GREAT 'RECEPTION BY 'DIGGERS.'
The bugles of the Motherland ' Rang ceaselessly across the sea, To call him and his loan, brown band To shape Imperial destiny-; He went by youth's grave purpose willed; The goal unknown, the cost unweighed, The promise of his blood fulfilled — 'The bravest thing God ever made.' — Ogilvie.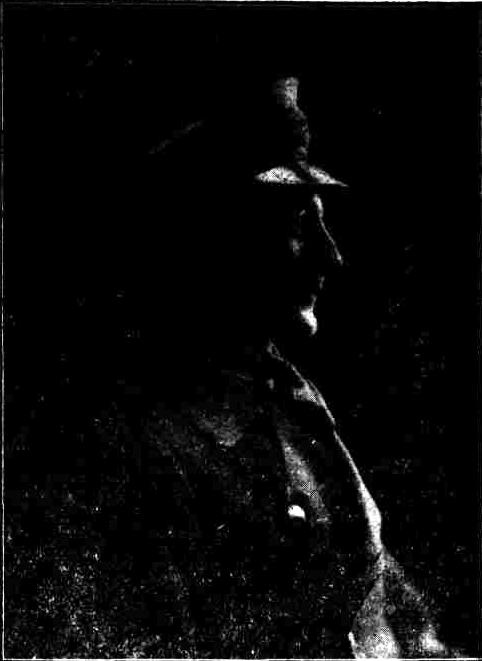 Great enthusiasm was displayed at the Hawkesbury Agricultural College on Friday evening last, when Flight-Lieut. Garnsey Potts, son of Principal H. W. Potts and Mrs. Potts, was the guest of the returned 'diggers' at a dance in honor of his homecoming.
Lieutenant Potts was the engineer on the 'Kangaroo' flying machine under the command of Captain G. H. Wilkins, which essayed the flight from England to Australia
. But, unfortunately, their attempt was frustrated by many mishaps. They progressed' about 40 .miles past Crete on the way to Cairo, when the lubricating system became defective, necessitating a return to' the aerodrome, which was ' made with difficulty with one engine. The ma? chine 'crashed' when landing, and a new engine was necessary. It was then decided to abandon, the flight, and a few' weeks ago Captain Wilkins. and Lieutenant Potts returned home by the steamer Bremen. There was no mistaking the' cordiality of the welcome tendered to Lieut. Potts by the 'digger' students of the College on Friday night, and thanks to the hearty co-operation of the committee, it proved to be one of the most successful functions of the kind ever held at the great institution. Invited guests numbering upwards of 100 were present, including Principal and Mrs. Potts, visitors from various local centres, and the metropolis.
...
Major H. Grabham then proposed the health of Lieut. Potts. -He ''said it .was with great pleasure that he rose to extend on behalf of the returned soldiers a heartywelcome home to their guest, Lieut. Potts. During the war they had the happy knack -of summing up their experiences as a 'something good .time' or a 'something bad time.' That night was one of the really 'something good times,' because they gathered there to welcome a brother soldier, who not only fought with distinction during the warj but, who, after the armistice, was making a name for ' himself in the field of aviation. We first find our guest as a pupil of The King's School, continued the speaker. He left school, leaving behind a' record such as all men do, who, as Henry Newboldt says, 'play up, and play the game.' We next find him in the engineer's shop under our worthy friend,\ Mr. Brebner. I am led to believe that he always worked as hard as some of the returned soldiers and students appeared to do on the day they were cinematographed. (Laughter). Leaving the college, Lieut. Potts joined the General Electric Company, and on the outbreak of war,he enlisted and learnt to fly at the home aerodrome. He went to Point Cook in Melbourne, and from there went overseas to take a hand in the game we are so mightily proud we helped to play. He served with great distinction, and when we were planning and scheming how we could get back to Australia, how we could get on the 'Repat.,' come to the Hawkesbury College, and one or two other minor things, he was preparing' to make the now world famous flight — England to Australia. You all know the details of the flight— how, battling against bad weather and meeting with foul play, he and his fellow aviators were forced to land at Crete. Although, through misfortune, the flight was not the success he would have had it be, it does not detract one iota from the praise due to our guest for the plucky attempt he made, and
for the sportsmanlike way in which he takes his misfortune. Turning towards the brave aviator, Major Grabham said: Lieut. Potts, on belialf of the returned soldiers I wish to congratulate you on your safe return home after the many perilous adventures you have been through. We greatly admire your gallant flight and sympathise with you in your misfortune. In due course you will return to your pre-war occupation, and we wish you every success, and pray that you will enjoy every happiness that this life holds. (Loud applause). The .health of Lieut. Potts was then drunk with musical, honors and cheers. On rising' to respond Lieutenant Potts had a great reception. In a happy little speech he thanked all connected with the function for the splendid reception. During the war, he continued, the man who got the wind up me was the A.P.M. (Laughter). Most 'of you know him, I guess. Well, I might tell you that this speech has got the wind up me more than the A.P.M. ever had. (Laughter).. I can assure you that I appreciate this reception very much, more so on account of it coming from the diggers. I am enjoying myself immensely, and if you are. having half as much fun as I am you are having a 'darn' good time. (Applause). Lieut. Potts appeared to be deeply touched with the magnificent reception given him and concluded with: Thank you all, and I really mean it. (Loud applause) .Further Further applause and cheering followed, and it increased with' great violence till visitors, hardly knew what it was all about. However, Principal Potts was made to realise what was wrong — it was the signal for a speech from him — and it was not until he' rose that the din subsided-;The Principal briefly- thanked all con
cerned for that (handsome entertainment, which he claimed as a great compliment' to his noble son. He also accepted it as- a keen compliment to Mrs. Potts, himself and family. He dwelt on the ties of friendship which existed among ' returned soldiers in Australia, and hoped they would never be severed. (Applause)
The company then returned to the ballroom and the dance went merrily on till after 5 a.m. All the arrangements in connection with the function evinced the grateful and 'cordial sentiments towards the soldier at H.A. College, and, undoubtedly, it was one of the best and most successful functions ever held at the college, and as a spectacular event it will be long remembered by the joyous band of merry patrons.
Garnsey Henry Mead StClair Potts | The Australian War Memorial
https://www.awm.gov.au/collection/R2021852
Final Rank, Second Lieutenant. Roll title, Flying Corps - October 1916 to October 1917 - Reinforcements and 1 and 2 Special Drafts (May 1917 -. Conflict/Operation, First World War, 1914-1918. Date of Embarkation, 11 May 1917. Place of embarkation, Melbourne. Ship Embarked On, HMAT Shropshire A9 .
Garnsey Henry Meade St Clair Potts 1897 - 1959. Category: Other. Description: Photo taken for Garnsey's graduation as a pilot from the New South Wales Aviation School in Richmond.
75 Years Aloft: Royal Australian Air Force Air Training Corps: ...
https://books.google.com.au/books?isbn=1326519832
Matthew Glozier
Flight Lieutenant Garnsey Potts (who worked in the Directorate), formulated plans for a national "Air Force Cadet Corps", including a unit badge and uniform.38 Flight Lieutenant Potts's Director supported the proposal and forwarded Pott's recommendation to Air Commodore (later Air Vice-Marshal) Henry Neilson Wrigley...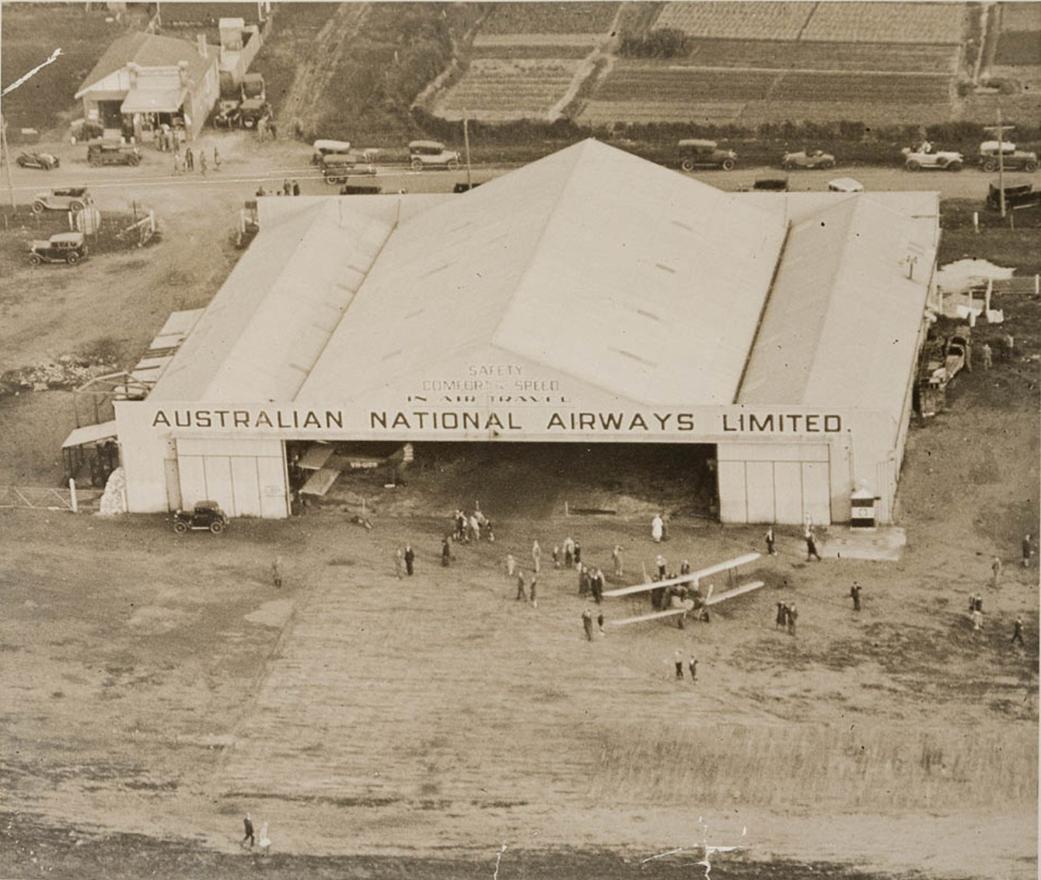 Aerodrome Mascot - A.N.A. hanger completed 1929, Image No. a1269006, Courtesy the State Library of NSW
George Urquhart (Scotty) Allan threads collected by A J Guesdon with help from Pete Smith, 2012-2013.