July 15 - 21, 2012: Issue 67
An Illicit Still at McCarr's Creek
By Shelagh Champion OAM
As a consequence of the notorious smuggling operation involving the Fair Barbadian at Broken Bay in 1842, a Customs Station was established at Barrenjoey in January and February, 1843, with John Broadley Howard as Customs Officer. The establishment consisted of himself, a free coxswain and five convicts. There was a whaleboat, necessary for use in rough weather, and later, an additional smaller boat.
While living in tents, the men built huts, and later, a three-room cottage for Howard, his wife and family. By June 1844, having made many searches, particularly in Cowan Creek, Howard was convinced that smuggling by ships had entirely ceased in the neighbourhood. He had noted a track from the head of Cowan Creek to Lane Cove, as the upper North Shore around present Gordon and Killara was then called. He observed, "The distance from the water side to the Public House is about six miles, and there is nothing to prevent Spirits from being conveyed overland in that direction in small packages."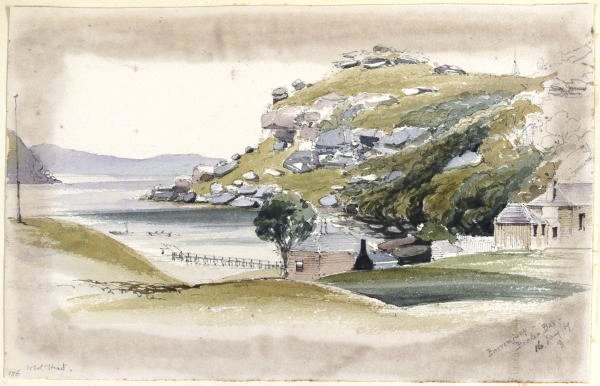 The drinking of rum was widespread among Sydney's population, particularly the lower classes. Many illicit stills were concealed in the surrounding creeks and inlets. There was a widespread practice of mixing illicitly distilled rum with the better quality liquor from licensed distilleries, to the advantage of the proprietors of licensed premises and to the detriment of Government revenue.
On Sydney's north shore the logging of timber was an important industry and the workers' thirst for rum at the end of the day was satisfied by small licensed hotels in the 1830s and 40s.
John Johnson was issued with a publican's licence for the Gate Hotel, situated on William Foster's grant at present Killara, on 2 July 1832. As the Green Gate Hotel, his licence was renewed on 3 July 1833. In a double wedding on 25 February 1833, John Johnson married Charlotte Oliver, and Daniel Bullock, sawyer, married Bridget Oliver. Bridget was the sister of William Oliver and the unmarried mother of Charlotte. William's other sister, Margaret, married Peter Joseph Duffy in 1836. John Johnson, Daniel Bullock and Peter Duffy were all involved in 1844-45 with the illicit distillery at McCarr's Creek.
Johnson moved to the new Sawyer's Arms, a long slab and bark hut on Henry Oliver's grant, opposite Fidden's Wharf Road. He held a licence there from 1834 to 1838, and then moved to the George Inn, on the corner of Market and Castlereagh Streets, Sydney, in 1839 and 1840. Finally on 1 January 1841 he took a lease of McIntosh's 200 acre grant at present Bayview, for £20 per annum.
William Oliver held the licence for the Sawyer's Arms in 1836, 1837 and 1840, as well as farming his land at Pittwater.
Daniel Bullock held the licence for the Sawyer's Arms in 1839, and later moved to the New Inn at Lane Cove, holding that licence from 1843 to 1845. Bullock supplied yeast to the distillers, and later received the illicit rum.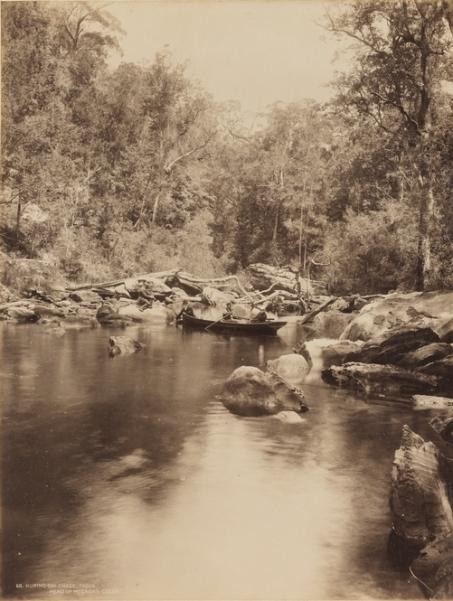 Head of McCarrs Creek, Pittwater, 1879-1892 Image Number; a924967h & a924066h, Courtesy of State Library of NSW.
The 9 ton coaster Mary Ann, master Black, delivered cargoes of shells, shingles and other commodities such as lemons or onions from Pittwater to Sydney every ten days or so, returning on the same day in ballast or bringing passengers or "sundries". In October 1844 Poyner (sometimes spelt "Payner" in the Sydney Morning Herald) took over as master of the Mary Ann. On 6 November Poyner arrived in Sydney with 250 bushels of shells from Port Aiken, which is in Sutherland Shire, and was a place where a great deal of smuggling was carried on. Poyner then proceeded to Pittwater with the Mary Ann in ballast. He visited Sydney again on 15 November with 250 bushels of shells from Pittwater, and returned to Pittwater on the same day with "sundries". He had two passengers, Alan Cook and William Farr, who unloaded from the Mary Ann a copper still and other necessary materials for distilling. The equipment and materials were kept at John Johnson's house at Pittwater. Peter Duffy also lived at the head of Pittwater.
Francis (Frank) Poyner was the brother of Susannah, the wife of Peter Ellery, who operated the Spit ferry in the 1850s. Frank was also the uncle of Lavinia Ellery, who married Thomas Collins of North Narrabeen on 11 March 1844. Poyner's name crops up repeatedly in the Warringah and Pittwater area, often associated with some unsavoury activity. In this case it is significant that Poyner, as master of the small 9 ton vessel Mary Ann, would have been well placed to deliver illicit spirits to Sydney.
Alan Cook was employed by a Sydney plumber named William Robinson as a builder and general labourer, while William Farr was employed by Robinson to assist in the working of the still. After unloading from the Mary Ann, Cook and Farr proceeded to McCarr's Creek, and under the direction of James Cropper, put up two stills. One, a thirty six gallon still, was put into operation, and a quantity of rum from this still was sent by the Mary Ann and sold in Sydney.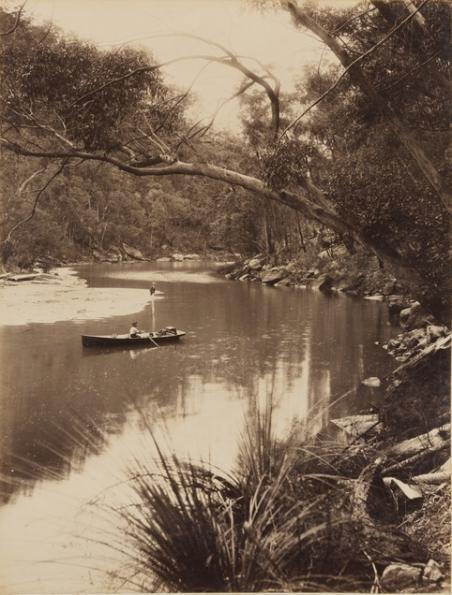 On 2 March 1845 Robert Cassels, Chief Inspector of Distilleries, acting on information received from Alan Cook, visited McCarr's Creek with a colleague, but could not find the distillery. Cook had been unwilling to go with them, but two days later he did so. By then the distillers had been alerted, the stills had been removed, "and writings left in chalk to shew that we were expected". Cassels and Watson found a few large casks and about a thousand gallons of wash ready for distillation. There was a large hut, well fitted up. The place was very difficult of access, except that at high tide a light boat could reach within half a mile. Cassels and Watson spilt the wash and burnt the buildings.
Undeterred at the setback, the men at McCarr's Creek set to work during April 1845 to establish another distillery, with a building which measured 28 feet by 24 feet, in a more secluded part of the creek. Building materials were brought from the timber yards on the Lane Cove Road (now Pacific Highway) along the route of present Mona Vale Road, turning left at Tumbledown-Dick, down what is now a bush track to the Duckholes on McCarr's Creek. However, they had not reckoned on an arrangement between John B. Howard, at the Broken Bay Customs Station, and an Aboriginal man named Bowen. Howard had been supplying Bowen and his family with rations in return for his valuable tracking skills. Bowen discovered the new distillery and showed Howard, who wrote to the Customs House in Sydney. Somehow, the news spread that the retreat had been discovered, and a man arrived on horseback from Parramatta to warn the distillers. Information reached Howard, who knew that he could not delay.
Although the weather was very unfavourable, Howard proceeded at midnight on 28-29 April with his boat's crew to McCarr's Creek. They hauled the boat into the bush and crept up the mountain, guided by Bowen, till they reached the place, concealing themselves until daylight. When William Farr appeared, he was detained. Howard found that the distillers had progressed rapidly with the building, and eight hogsheads of very superior wash were ready to be run off. He could not find the still, but he made a large fire and destroyed everything that would burn. Having been eighteen hours in heavy rain without food or shelter, they were compelled to leave. Howard remarked that the distillers' labour must have been incredible, and he hoped that further attempts would not be made. According to Farr, the distillers had looked on their establishment as being perfectly unassailable, while Howard believed that it would never have been found "but for the unwearied exertions of the black fellow I employed".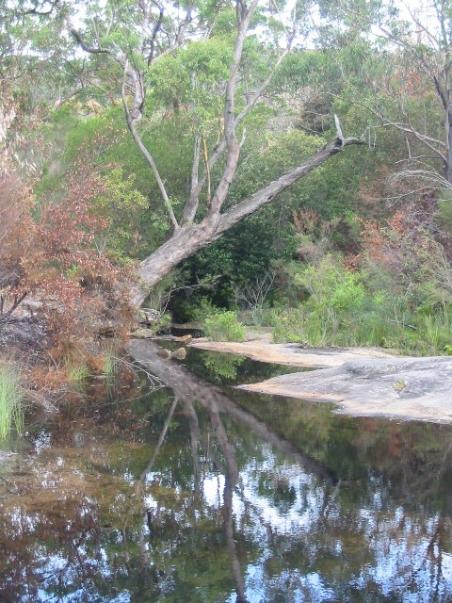 The Duckholes, photo by and courtesy of Peter Firminger, 2004.
Howard took Farr back to the Customs Station at Barrenjoey, where he made his statement. He said that a 36 gallon still was concealed in the bush and a 100 gallon still sunk in Pittwater – he did not know where. There were large vats at Mr Johnson's house, ready to be put together; one to contain 1700 gallons of wash and the other 700 gallons, as well as smaller vats. The distillery would have been complete and in full operation in about a fortnight. The eight hogsheads of wash destroyed by Mr Howard would have been worked off the following day, and the spirits would have been conveyed by land to Lane Cove or by water to Sydney, as opportunity offered.
On 3 May 1845 Howard reported by letter to the Collector of Customs at Sydney, and included a recommendation that Bowen might be rewarded:
"I would beg that he may have a second hand boat purchased for him which would cost about four pounds & enable him to get a living for himself & family consisting of two daughters and a son. As he will be liable to insult and oppression for having aided me in the discovery of the still it would be cruel not to give him some recompense, and being a good fisherman it would be the most useful present he could have." Howard was granted authority to purchase the boat for Bowen. [State Records NSW 4/2723]
Proceedings were taken by the Crown in the Supreme Court in August 1845 against William Robinson. He was found guilty of using a still for the distillation of spirits at Broken Bay, without being duly licensed. He was fined £200, but only paid £140. Howard was promised £25 by the Governor, Sir George Gipps, and he was eventually paid a gratuity out of the sum voted for rewards.
John Johnson had moved back to the North Shore by 30 August 1845, when the Bayview property was leased to someone else. However, it is evident that he continued to be associated with illicit distillation in the Lane Cove district. On 22 May 1846 John Bramwell of Her Majesty's Customs, stopped a horse and cart in the charge of Johnson as they landed in Sydney by the North Shore ferry. Concealed in the cart were two casks of illicit spirits containing 18 gallons 12.4 underproof. Johnson claimed that he had merely been employed to convey the spirits to Sydney, and he believed it to be part of the spirits made by a still which had been seized and destroyed by Bramwell in the Lane Cove district on 9 March 1846. Johnson's horse and cart were also seized.
Owing to the presence and vigilance of Customs officers, Broken Bay ceased to present an attraction for illicit distillers and smugglers after this time, except for some private home distillers.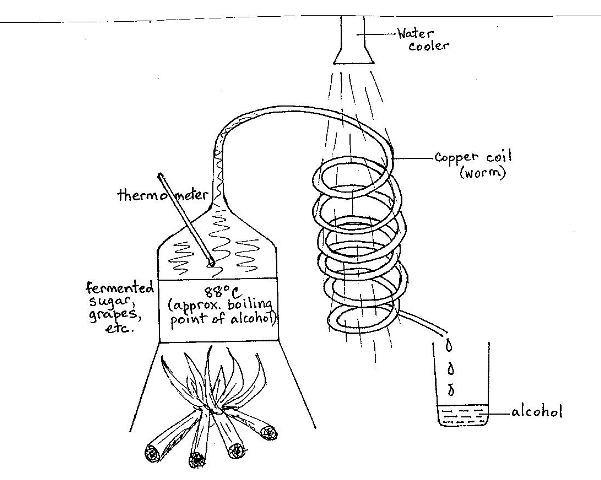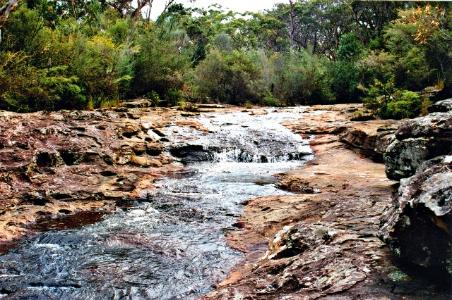 Left: Simple Diagram of a Still by Bruce Champion. Above:
Duckhole Cascades by and courtesy of Sandra Arrell. March 2010.
Main source: Champion, S. and G: Manly, Warringah and Pittwater 1788-1850. Killarney Heights NSW, 1997.
Pictures:
Barrenjuey [i.e. Barrenjoey], Broken Bay. Slade, George Penkivil, 1832-1896. nla.pic-an6454687: 1869 Jan. 16. This page: http://nla.gov.au/nla.pic-an6454687. Courtesy National Library of Australia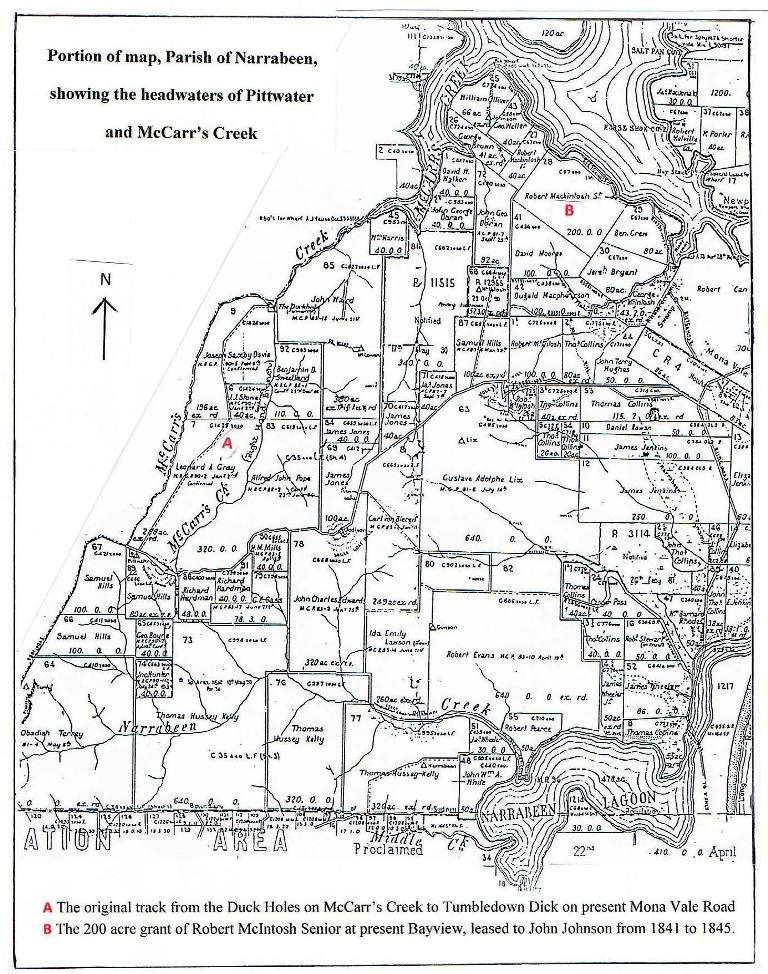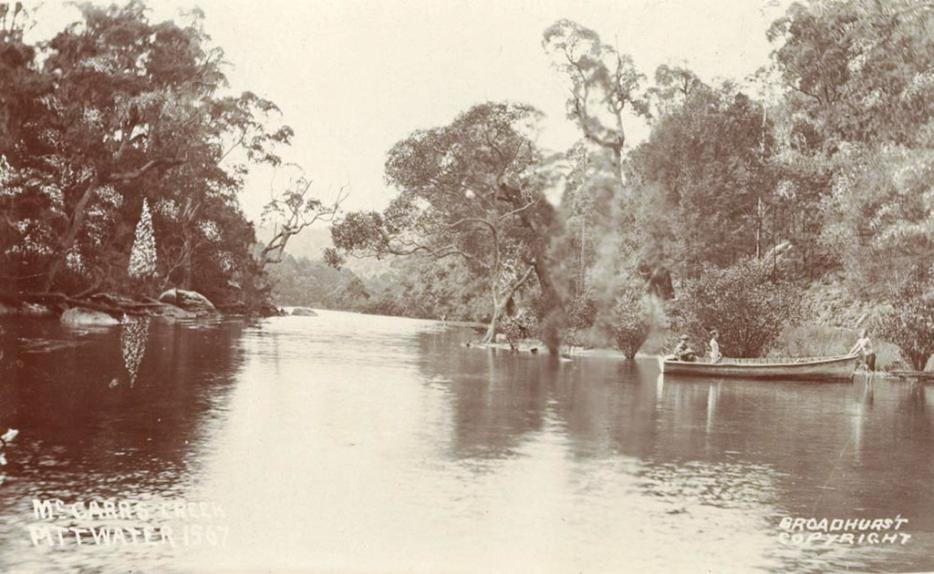 McCarrs Creek, Pittwater , ca. 1900-1927. Sydney & Ashfield : Broadhurst Post Card Publishers (with original sepia tinge). No. a106169, Courtesy State Library of NSW
Copyright Shelagh Champion OAM and George Champion OAM, 2012. All Rights Reserved.