October 9 - 15, 2011: Issue 27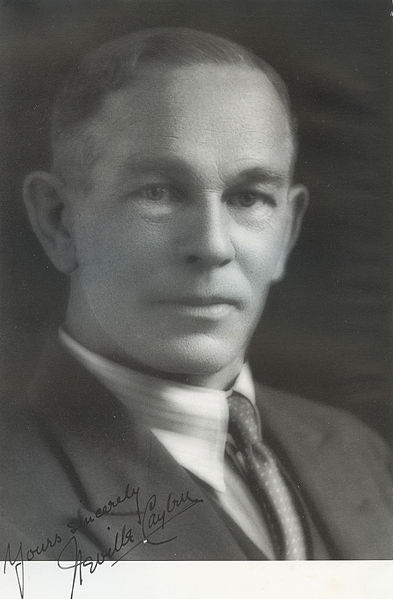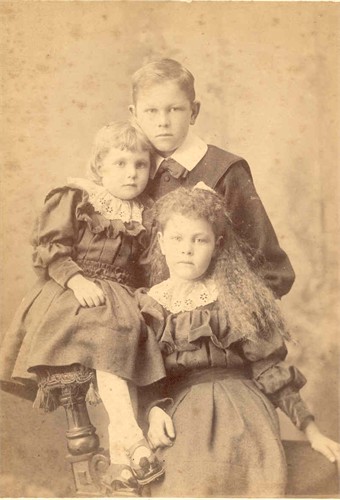 Top: Neville W. Cayley. Above: as a boy with sisters Alice (older) and Doris. Below: Fairy wrens [picture]nla.pic-vn4939070, Cayley, Neville W. (Neville William), 1886-1950. Part of Gould League collection of prints and watercolours of Australian birds and animals [picture] 1930-1960. Courtesy National Library of Australia and Neville W.'s personal 'bluebirds of happiness'.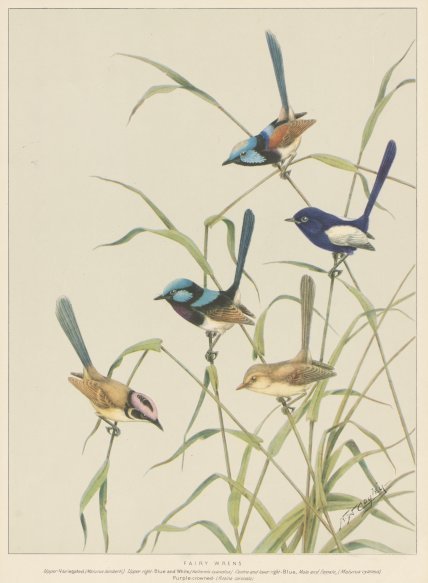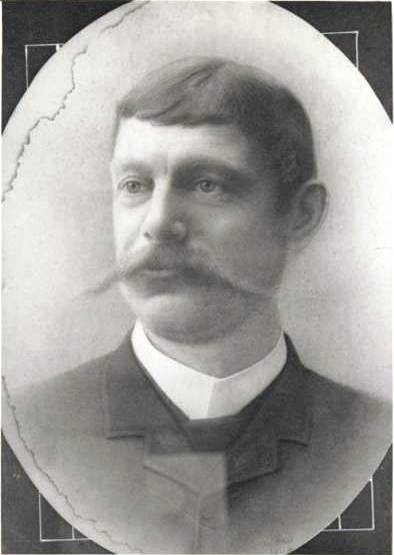 Neville William Cayley
7th of January 1886 – 17th of March 1950
One of Australia's foremost Ornithologists and artists and a man who helped begin Surf Lifesaving in Australia, is former Avalon resident Neville William Cayley. Son of Neville Henry Peniston Cayley, who came to Australia with a brother to begin a new life away from the privileges and family ties of home, and was a prolific painter of birds, Neville W was born on the Clarence River, near Yamba to Neville H.'s native-born wife Lois Emmeline, née Gregory. Two sisters, Alice and Doris were also born in subsequent years. The family moved to Cronulla, Sydney, around 1894, although Neville Snr. had been making trips to do bird paintings prior to then. A founder of the Cronulla Surf Life Saving Club in 1907 (whose first club house was an old tram) and a member of the executive of the Surf Life Saving Association of Australia and the Royal Life Saving Society, Neville W worked with a passion collating and creating pictures to extend and establish an extensive knowledge of Australian birds.
Neville W shared his father's love of these feathered creatures and they steered and dominated his life from soon after the publication of his first booklet Our Birds. His increasing fascination with ornithology led to a more scientific approach and dedication to recording previously unknown facts regarding many species of Australian avian. Several books, illustrated by his wonderful and accurate paintings, including the ephemeral What Bird is That? first published in 1931 and reprinted several times (re-released this year), were followed by Australian Finches in Bush and Aviary … (1932), Budgerigars in Bush and Aviary (1933), Australian Parrots … (1938) and The Fairy Wrens of Australia; The Bluebirds of Happiness (1949).
Mr Cayley worked incessantly, painting, field studies, touring our nation giving Lectures or Talks in any forum available, including radio. His exhibitions occurred regularly and his works were so popular it is difficult to lay your hands on a true original today. Besides attending to this 'touring' side of his life he was also a council-member of the Royal Zoological Society of New South Wales and became president 1932-33, was a member of the Royal Australasian Ornithologists' Union and its president 1936-37, the Gould League of Bird Lovers and the Wild Life Preservation Society of Australia, and a trustee of the National Park in 1937-48.
This large workload and his seemingly driven nature may be attributed to two influences. He inherited his father's health battles with his kidneys, originally termed 'Bright's Disease' and his personal life was marked by tragedies, although, had he lived to a ripe old age, he would be aware of wonderful grandchildren and great grandchildren today. On 15 December 1917 at Marrickville Cayley married Beatrice Lucy Doust(1889-1927), grand daughter of Robert Dunlop, Newtown councillor and Wesleyan church teacher. Beatrice died in childbirth, their daughter also being stillborn, in January of 1927 leaving behind sons Neville Clive (then 7) and Glenn Digby (just 2). This kind and gentle lady had already experienced a series of children being lost or stillborn. The toll of Neville W., who clearly was devoted to his 'beloved wife', and his very young sons, must have been devastating.
Neville Clive (1920-1992) was sent to boarding school, grew tall, served in the Army during World War II, becoming engaged to Gladys Thiele of Bundaberg in 1943, and on being released from Service became a farmer at Alloway, just outside of Bundaberg. They had a son, Neville David, and daughter, Joan Lesley. Neville D. and his wife Elvira have three children, grandchildren and a close family. Glenn Digby (1924-1958), on becoming old enough, was also sent to boarding school. He became engaged to Patricia Solway the year after his father's passing. They had a daughter Susan (1954) and a son, also named Glenn (1958). Glenn Digby(Snr.), whose birth announcement did not appear until six months after his arrival, was killed in a logging accident in 1958. His darling daughter was killed when she chased a ball onto the road one to three weeks later, running straight into the only taxi in the town Macksville, where Pat had gone straight after her husband's death. Four year old Susan was killed instantly. Fortunately Pat had Glenn jnr., then a few weeks old only, to hold in her arms. Pat herself passed in 2010. Glenn jnr. has one child and another on the way.
Neville William Cayley, having battled with his inherited kidney disorder all of his life, and spending the last eight months of his years here bedridden, not a state his nature could accommodate easily, passed away in his Avalon home in 1950 from a stroke and heart attack. His second wife, a divorcee Phyllis Mary Linton, née Goodson, whom he had married in 1944, and two daughters from her first marriage, lived with him in the house in Marine Parade, Avalon (named still 'Ideal View'). He, and his father's dedication to our birds, and the scope of the works they contributed to our heritage, are still regarded so highly many contemporary ornithologists dedicate their works to one or the other.
What Bird is That ? 2011 Edition.
Our sincere and grateful thanks go to Neville David Cayley, grandson, for assisting us with this work.
Further: In Files Below on 1. Neville W. Cayley and 2. His Family ( parents, sisters and sons).
Cayley Family 2011
Above: Neville David Cayley, wife Elvira, daughters Donna and Susan, son Dean, husbands, wives and grandchildren, taken at 2010 wedding. To Left: Neville Henry Penistone Cayley 1892 Portrait, courtesy National Library of Australia.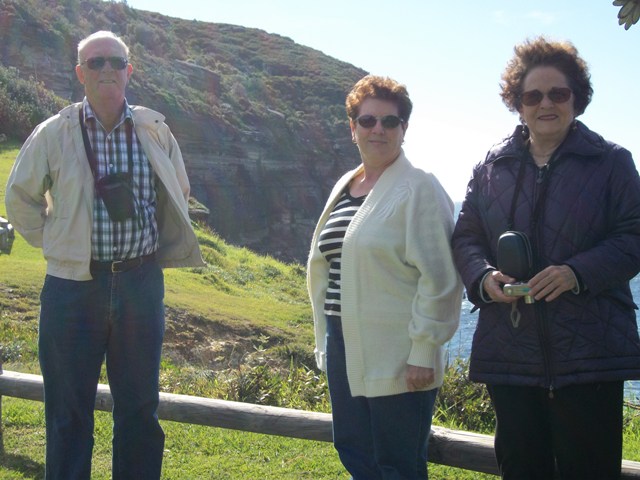 Above left to right 12.5.2012: Neville Cayley (grandson) wife Vera and sister Joan on Bangalley Headland.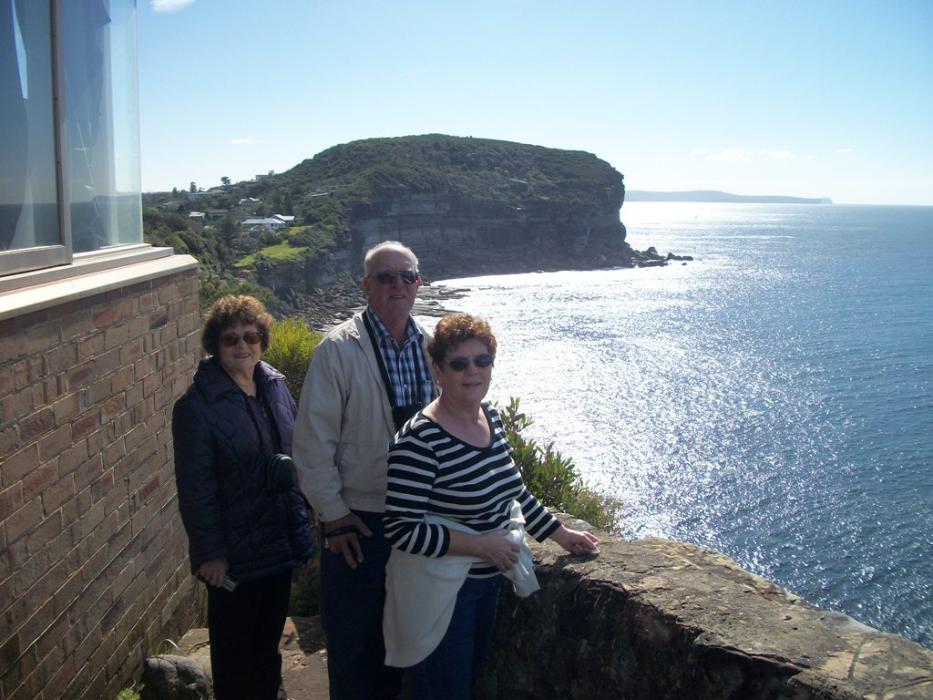 Above: at 'Ideal View' , Marine Parade, Avalon, May 2012, Joan, Neville and Vera.
Copyright Pittwater Online News, 2011. All Rights Reserved.