July 24 -30, 2011: Issue 16

NATIONAL TREE DAY AT LAKESIDE PARK
To mark Planet Ark's National Tree Day, Pittwater Council will be holding a tree-planting day on Sunday 31 July at Sydney Lakeside Holiday Park, North Narrabeen from 9.30am to 1.30pm. National Tree Day is Australia's largest community tree-planting event, with last year over 300,000 people at 3500 sites digging deep to improve their natural surroundings.
Pittwater Council's Bushcare Officer Peter Ziegler said that National Tree Day was a great opportunity for the community to come together to help our natural environment.
"The Lakeside Holiday Park is one of Sydney's iconic holiday parks, located next to Council's Coastal Environment Centre," he said. "This site has been chosen as the work will help towards establishing a wildlife corridor by improving the habitat for native animals.
"We are aiming to remove the African Olive weed and help regenerate the site with new plantings," said Mr Ziegler.
The Council will provide tools, training and morning tea. Volunteers on the day should wear sturdy covered shoes, a hat and sunscreen and bring a drink with them. Families are welcome to attend. Participants should meet at the front office of the Lakeside Holiday Park at 38 Lake Park Road, North Narrabeen.
If you are driving, press the intercom to speak to the front office and you will be let into the caravan park grounds. You will then be directed to the planting site.
For more information or to book for the event visit www.treeday.planetark.org/find-a-site or email peter_ziegler@pittwater.nsw.gov.au or call 9970 1367.
Scarred Trees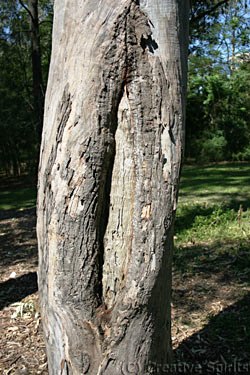 As next Sunday is National Tree Day we focus this week on living artefacts that are part of our environment in our first month of examining the history of our local landscapes. We hope it inspires you to join in the celebration of these 'upright people' and help our local Council at their own National Tree Day Event (details on this page).
We have some remnant examples of Scarred Trees in Warriewood wetlands.
Scarred trees were marked by our local indigenous peoples as they carved out canoes (why some are found beside waterways) or to mark initiation sites or tombstones for those who have passed. They were also used to create implements used on food or to make shields. Those we still have are at least two hundred years old and native to the areas they are found in. The Eucalypt genus Box and Red Gums (Angophora in Pittwater) were those most used for this practice.
Further Reading:
Guide to where to find Scarred Trees in NSW:
http://www.environment.nsw.gov.au/conservation/AboriginalScarredTrees.htm
Scarred Trees: http://www.creativespirits.info/aboriginalculture/land/aboriginal-scarred-trees.html
Warriewod Wetlands Information from Pittwater Council: here
Copyright Pittwater Online News, 2011. All Rights Reserved.