June 12 - 18, 2011: Issue 10
We went West last week, to Midholme, and go East this Issue, to celebrate the handmade wonders of Loggan Rock Cabin.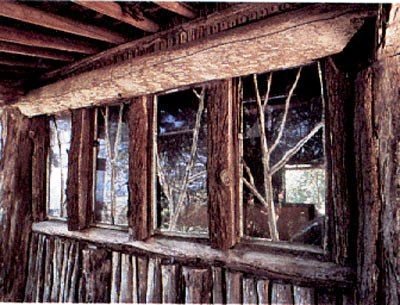 Above: Windows Image and Interior Fireplace Image both copyright by Mary Ann Hamilton. All Rights Reserved. Actual View and Interior showing sandstone floor Courtesy McGrath Real Estate, Palm Beach and current owners; Thank you ! See more at: http://www.mcgrath.com.au/105449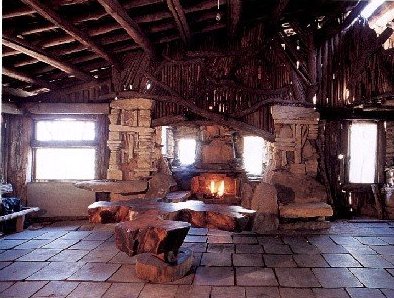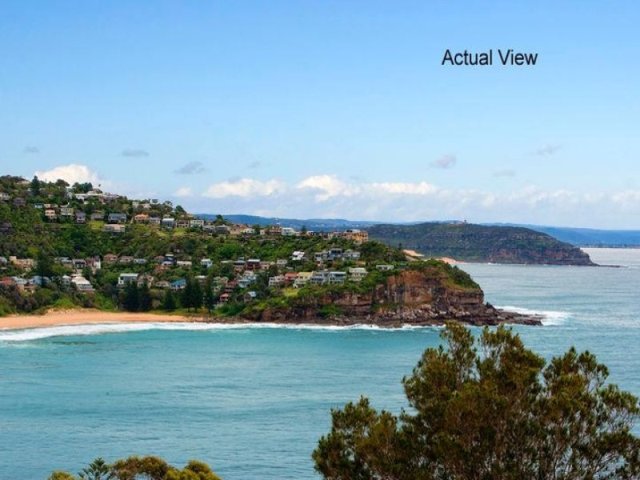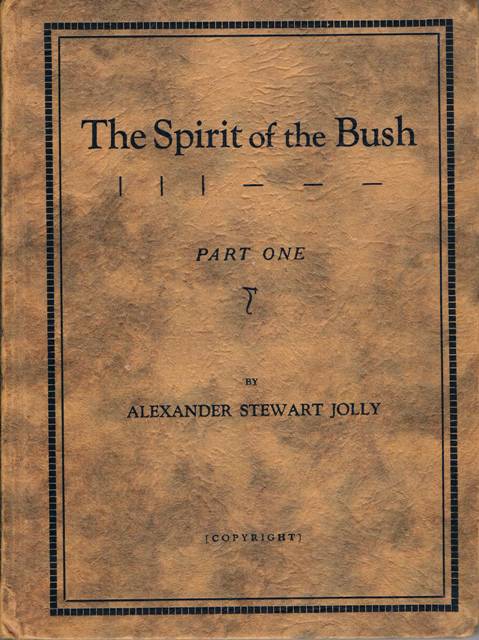 Log On Rock Cabin threads collected and collated by A J Guesdon, 2011.
Loggan Rock Cabin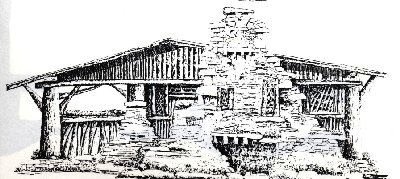 1929 Sketch of Loggan Rock by A S Jolly
Loggan Rock Cabin (log on rock or log and rock) was designed and hand built by Alexander Stewart Jolly.
Alexander Stewart Jolly was born in 1887 to Scottish parents, James Jolly and Jessie Stewart at Mearsham Vale near Lismore where his family ran a building firm, Brown & Jolly and his love of working with timber and stone began. In his post-school years he encountered architects Wardell & Denning and in 1908 began training in their Sydney offices to become an architect. He married Kathleen Wilhelmina, daughter of Rev. William Marcus Dill Macky, at Scots Church, Sydney in 1912 and they had a son and three daughters. He was quite successful as an architect during 1918 and the early 1920's but appears to have had a breakdown in 1923 and also to be afflicted with alcoholism. Reports in the Sydney Morning Herald from 1923 to 1928 cite him as a respondent in drunk driving causing harm charges as well as experiencing bankruptcy. (See: Further Reading below). Other sources cite an over-generous and open nature (a country boy) as contributing factors to the state he found himself in during the twenties.
He moved to Avalon in 1923 and took up selling and developing land in Avalon with A E Dashwood. The natural bushland and his love of Nature seemed to heal this broken man while here. He often camped on the sites he was selling and wrote two children's books, The Spirit of the Bush (1932), filled with local references, and Adrift at Sea, while here. A scanned copy of The Spirit of the Bush is on this page, from a First Edition we found earlier this year. Spirit tells of his disillusionment with 'city ways'. It also incorporates many animals we no longer see in our trees or on the bush floor; kangaroos, koala bears as well as local wildflowers, so may have been inspired by Spring spirit. He even speaks of going to Careel Bay to get oysters.
There are also two chapters in this book, 'Planning the Cabin', and, 'A Site for the Cabin' that speak of his renewal for his craft and vocation. During this period Jolly designed and built: Loggan Rock ( 1930-31) a rubble, stone and log hand crafted cabin built to 'emerge' from the landscape, Careel House(1934) reminiscent of a Scottish castle, Stonehaven(1933) another unique stone rubble cabin, and Hy Brasil, originally named 'The Gem'(1933), also a bush cabin construction of stone and timber designed to be in harmony with the landscape and the Elephant House (1935), Taylor's Point. He also put his hand up for building the first clubhouse for the Avalon Beach SLSC, albeit unsuccessfully.
The Depression years would have stemmed a flow of money and materials but this man wanted his buildings to emerge from what was on site and had constructed nineteen similar buildings by the time World War II began. Clearly no slouch, he not only directed his teams of workers, he also had to step in and do all the finer details himself, by hand. Tall, with grey eyes and quite lean, he enlisted in the Militia in December 1941 and was posted to the 7th Garrison Battalion until being discharged in November 1943.
Loggan's Cabin is constructed from stone and timber incorporating natural rocks, boulders, roughly squared quarried sandstone, timber shingles, rough barked logs, tree trunks, and forked branches. As you can see from the images here it is indeed a feast for the eyes of those who love details and how they create one harmonious whole.
It was commissioned by Lionel Hurley, the uncle of Frank Hurley (see his page) and painstakingly constructed on Careel Head. A fireplace, stone benches constructed into the wall, a great banksia tree trunk form a table. Tree branches form the windows with the glass embedded between these. All hand built, all handmade and placed exactly as he wanted them by Alexander himself to induce visitors to be among Nature, immersed with the land itself.
Further Reading:
Jolly, Alexander Stewart (1887 - 1957) Biography: http://adbonline.anu.edu.au/biogs/AS10253b.htm
SMH Article: From: http://www.timbermerchants.com.au/timber-merchants-articles/2006/9/28/a-folly-good-show/
Loggan rock cabin link; http://www.mcgrath.com.au/105449
Below from: http://www.heritage.nsw.gov.au/07_subnav_02_2.cfm?itemid=5050058
Loggan Rock land history
The land on which Loggan Rock now stands was part of the original 113.31 hectare grant of land to John Joseph Therry in 1837. In 1924 a 14.56 hectare parcel of land with road, including part of the Loggan Rock land, was subdivided and sold to Ernest Ebenezer Way who further subdivided the land and in 1928 sold Lot 179 and 180 DP to Harold Kent.
By 1932 the land on which Loggan Rock is sited was part of 6 residential lot, Lots 175 to 180 in 1932. Kent sold Lot 175 to Charles Berry Grieve in 1932 and Alexander Stewart Jolly commenced the design and construction of Careel House on that parcel of land. Careel House was completed in 1934 but during its construction, Jolly set about building the Loggan Rock holiday cabin on Lot 179 - 180 for his friend the film censor, Lionel Hurley. This land was subsequently sold to Alfred Dangar Burne and Hurley did not have legal possession of the land until 1937 when he finally had purchased and consolidated Lots 176 to 180 which then became Lot 4 DP 420717.
Design of Loggan Rock
The log cabin , Loggan Rock was completed in 1931 and in 1934 the stone tower was constructed. The tower contains a laundry bathroom on the lower level and two bedrooms on the first and second levels. The house remained in Hurley's ownership until 1950 when Loggan Rock was purchased by the well known and highly regarded artist and sculptor, John Bonar Dunlop and his wife Hilary, a talented dancer with the Bodenweiser Dance Company. In 1950s the Dunlops added a kitchen, dining and lounge room to the tower building. The tower was refurbished at the time.In December 1959 the land was transferred to Dr.Herbert Sheridan, an Avalon dentist. He in turn sold to Jan Smith and Greg Saunders who restored the property, then sold to the present owners Gerry and Regina Sutton in 2003
ASJ In The Papers:
Quarter Sessions
Alexander Stewart Jolly by wanton driving cause bodily harm; Leo Summit, receiving.
FROM: http://nla.gov.au/nla.news-page1217744
QUARTER SESSION. (1925, November 7). The Sydney Morning Herald (NSW : 1842-1954), p. 12. Retrieved April 28, 2011, from http://nla.gov.au/nla.news-article16253272
IN BANKRUPTCY.
(Before the Registrar, Mr. N. C. Lockhart)
SECTION 30 EXAMINATION.
Re: Alexander Stewart Jolly. Four witnesses were examined by Mr. Norman Pilcher, counsel for the official assignee, and the matter was adjourned generally, with leave to re-enter. Mr. H. W. Moffitt represented the witnesses.
VOLUNTARY SEQUESTRATIONS.
FROM:
http://nla.gov.au/nla.news-page1203451
IN BANKRUPTCY. (1928, June 2). The Sydney Morning Herald (NSW : 1842-1954), p. 12. Retrieved April 28, 2011, from http://nla.gov.au/nla.news-article16469375
AVALON LANDSCAPE AND HARMONY: WALTER BURLEY GRIFFIN, ALEXANDER STEWART JOLLY AND HARRY RUSKIN ROWE
Edited by Jan Roberts, cloth-bound edition, Ruskin Rowe Press, $40.
The organic architectural tradition and artistic life of Avalon, centre of Sydney's northern peninsula, are warmly celebrated in this bespoke book from local publishers. Dr Jan Roberts begins with an intimate introduction to the neighbourhood (subdivided in the 1920s) and concludes with a valuable documentation of the thoughts of Richard Leplastrier (illustrated with a marvellous sketch by his friend Paul Pholeros on some environmental principles of building on steep Pittwater bush sites). Essays explain the local activities of three architects: Walter Burley Griffin (by Ian Stephenson), Alexander Stewart Jolly (by Maisy Stapleton) and Harry Ruskin Rowe (by Janine Formica and Caroline Kades). It's a delightful read, even if you don't know the northern beaches