May 21 - 27, 2017: Issue 313
the Bayview Tea Gardens
when run by Thomas Edward and Annie Newey (nee Costello)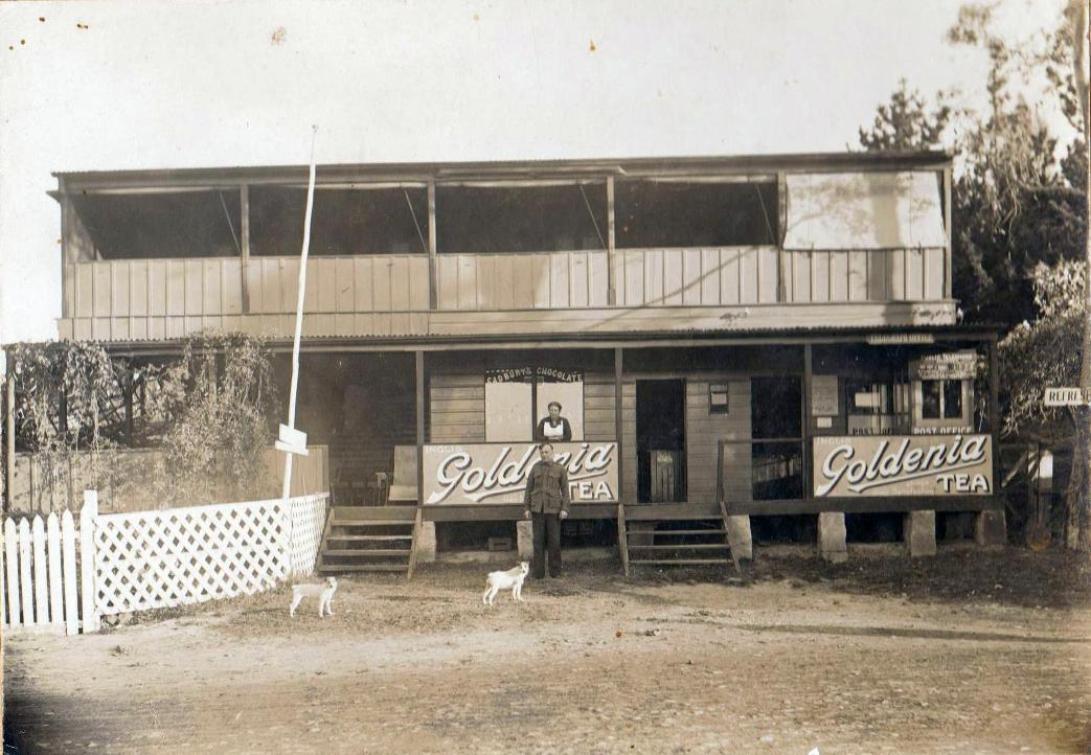 Tom and Annie Newey (on the balcony) of the Bayview Tea Rooms - 1920
That we are now hungry for seeing all aspects of our past, and learning more about those who inhabited and made the area we live in, what they looked like, what they did, what they had experienced, in the hope we may also understand a little of how they felt and thought, the grist that was in their spines, is evident in the fact that each of our History pages are revisited in the hundreds of thousands each year and people inform us they are quite happy to print them out (even when hundreds of pages long), or use them as a reference point for heritage listings – another of these this week.
So too has the rise in wanting to know the relatives we never met paralleled this unabashed search into our past, not only in websites that will help you find your ancestors, but in the many people who seek this information themselves through the online portals now digitising and making available records such as births, marriages, ships taken or wars fought in, or the times lived in and through. That road brings up some fascinating material, and, although it may be long, brings the past into our immediate present and allows us to glimmer a great grandmother or grandfather and their whimsical smiles out the corners of our eyes.
As always we are more than thankful when someone is kind enough to add to the records made here and thus made available for all for all time. This Issue we'd like to preface what follows with a huge thank you to Vicki Smith, who is clearly of a like mind and community-building up ethos, as she sheds some light on a corner and time of Pittwater we had only had threads of before.
This is a true story of generations of family that stretch from Manly to Brookvale, Curl Curl and Dee Why and to Bayview and also tells of perseverance against all odds. There is also a continuity and love for Pittwater that is evident today in this wonderful lady sending us information and not seen before photos from Victoria, Australia.
Thank you Vicki!
My grandfather is Benjamin Martin Athol Pearce (b 1891), the 4th child of Mary Ann 'Annie' (nee Costello) Pearce and Benjamin Pearce. I am the daughter of he and his wife's Jean's daughter, Helene (my mother who was born at 4 Adelaide St, Petone, New Zealand, in 1921).
Annie is the lady you can see with her husband Tom, in the image at the top of this page. This photo is from soon after they took the lease of the Bayview Post Office, General Store and Tea Gardens. Thomas (Tom) is still wearing his WWI uniform jacket – they took over running the business soon after he returned serving with the A.I.F.
National Archives of Australia records show T E Newey was approved to take over the Post Master position from June 1st 1920: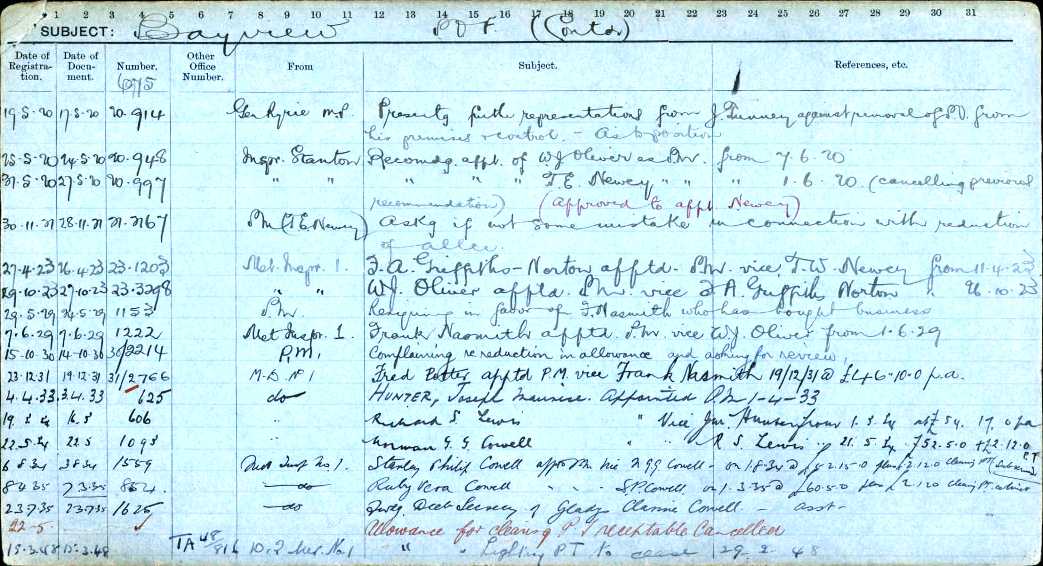 My grandfather also came to Australia from New Zealand, living in Brookvale. Although he arrived just in time for the worst years of the Depression, his own indomitable spirit ensured he made the best of every and any opportunity.
Mary Ann 'Annie' Costello was born 10th of March 1865 the eldest of six daughters of
Martin and Ellen Costello (nee Kehely) at New Plymouth, N.Z. Her mother was widowed ten years later so life must have been very hard for her and her five little sisters.
Within another year her mother remarried, a Sydney Madgwick, and produced another seven children in fifteen years. A family story states that Annie visited her mother one day only to find Sydney Madgwick hitting Ellen - Annie took to him with her riding crop!
Nothing else is known of Annie until she married Benjamin Pearce on 19th September 1884 at the Auckland Registry Office. Witnesses were Elizabeth Pearce, sister of the bride and J Hedlund, Seaman of Onehunga. Registrar was J Owen Lord.
She had probably met her husband in New Plymouth because he was a Seaman on boats trading with New Plymouth.
There is a photo of Benjamin and Annie taken soon after their marriage.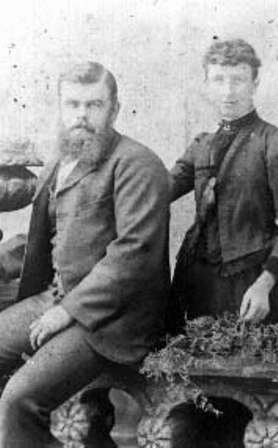 Benjamin and Annie Pearce
They had five children over the next fifteen years - Lionel b 1885, Ruby b 1887, Ethel, Benjamin Martin Athol b 13Aug 1891 and Alex b 1900 (Alex died seven months later on 4th September, 1900). All children were born at Onehunga.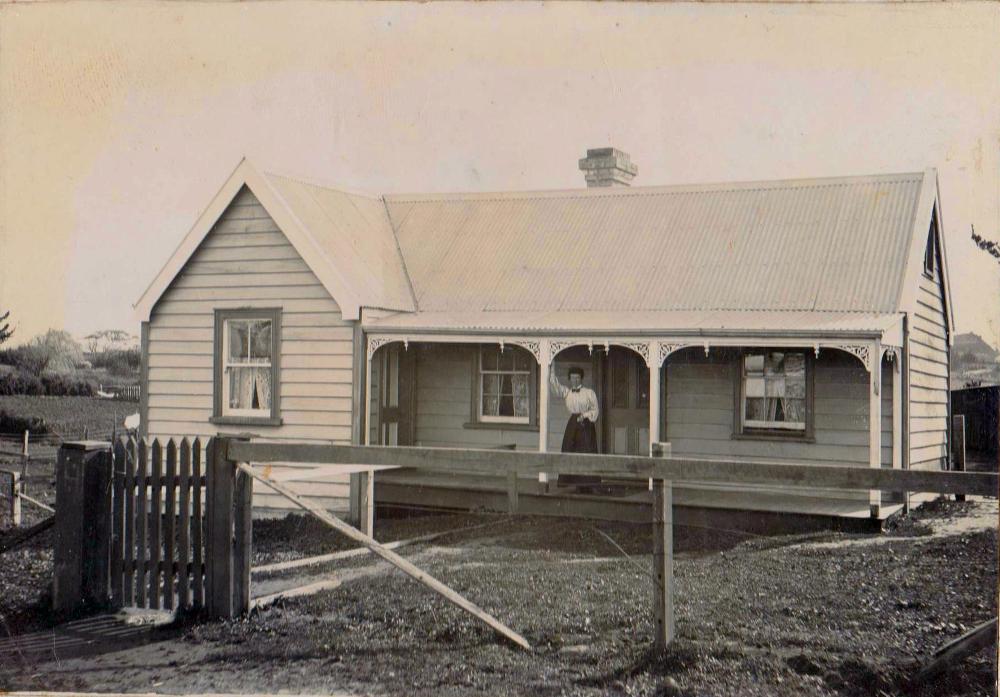 Annie on verandah of Pearce House
Within a few weeks of their son Alex dying on 4th September 1900, Annie's husband
Benjamin was found dead on a dredge "Erskine" in Manakau Harbour on 30th September 1900. He was aged 38 and living apart from Annie at the time. An inquest was held on 2nd October, 1900.
(A copy of the inquest - No. 769 - was obtained from New Zealand).
A fall from a horse eighteen months previous had caused him to have epileptic fits which probably contributed to his death.
Annie received little help from the Pearce family and worked long and hard to
look after herself and her four children - she ran a first class boarding house (according to cousin Molly) and sewed clothes for a funeral parlour next door to make extra money.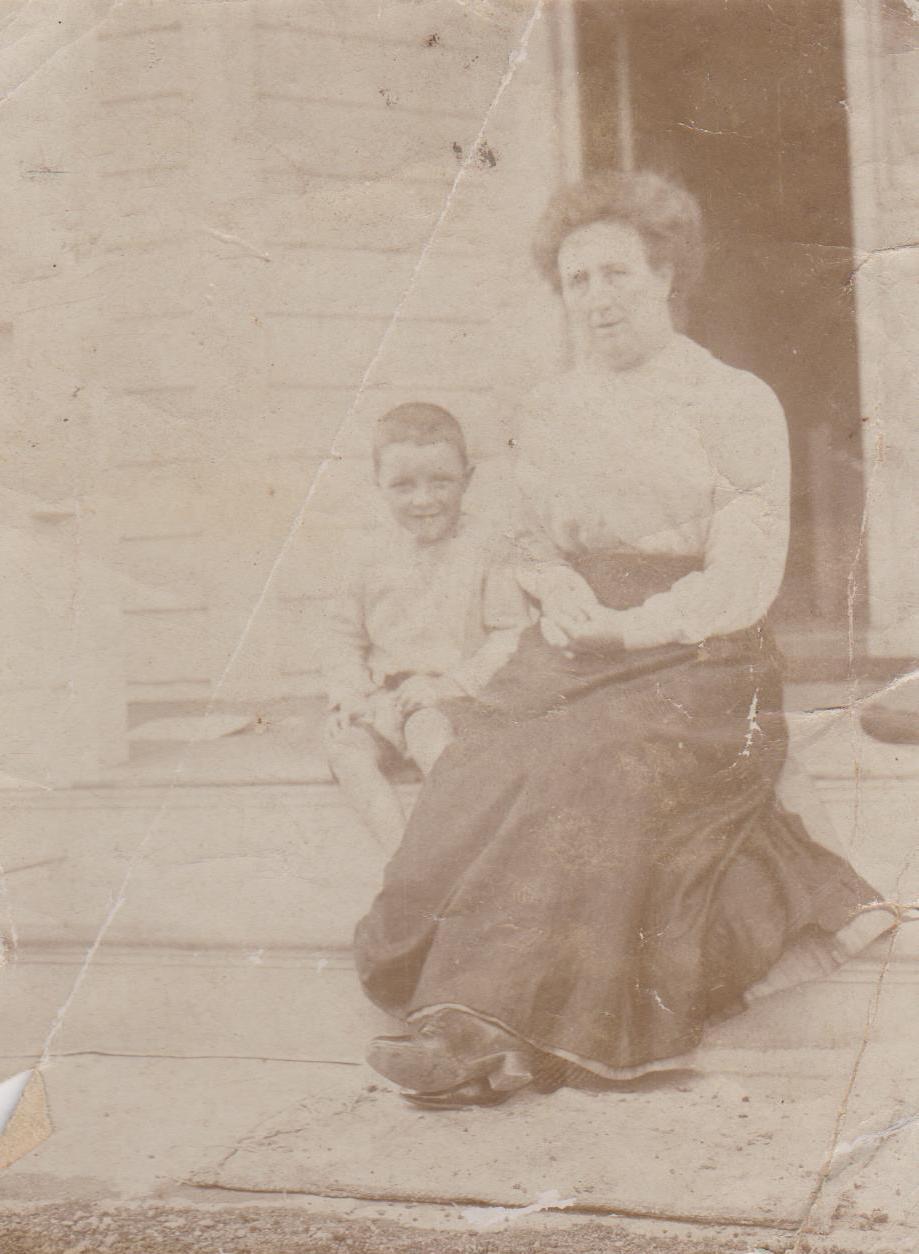 Molly tells the story - 'The Pearces made no effort to assist their daughter-in-law, just put her out of their minds, so you can imagine what a rough time was had by that young family. In those days there was no Widows pension in NZ. No assistance at all.
My mother (Ruby) was sent out to work, 200 miles from home to help two old maids in the house and run messages. She came home a very sick child at age of 13 years...but Annie didn't give in very easily. She made good and all of her children had plenty of courage.
She was Roman Catholic and a confidant of Father Paul - the second Parish
Priest of Onehunga. (He is buried inside the church which was built in 1851).
After two years of widowhood, Annie married Thomas Edward Newey on the 13th of May 1902 in the Dunedin Registry Office, ceremony by W J Hall. Witnesses were George Newey (brother of groom) and Annie's sister Margaret Roberts nee Costello (wife of Ernold Roberts) - both of Dunedin. Thomas was aged 29, Annie 36.
Thomas was a Painter and Decorator born on the 22nd of November 1872 at Sydenham Gardens Hotel Bendigo (Sandhurst) in Victoria, the son of
Henry 'Harry' and Jessie Newey (nee Kennedy).The Neweys were a Birmingham family who came to Victoria in 1853. Harry was a painter as was his son Thomas. See Extras below.
Thomas was believed to have been related to the two Miss Neweys of Hook & Eye fame - not proven. Thomas had two sisters, a brother Bill in Perth and another George, a businessman in Dunedin NZ - Leather goods were his stock in trade, his motto "Buy a Newey". Both had large families'.
Tom had much trouble trying to convince Annie to marry him - he enlisted the help of his mother and sister. The women finally talked Annie around.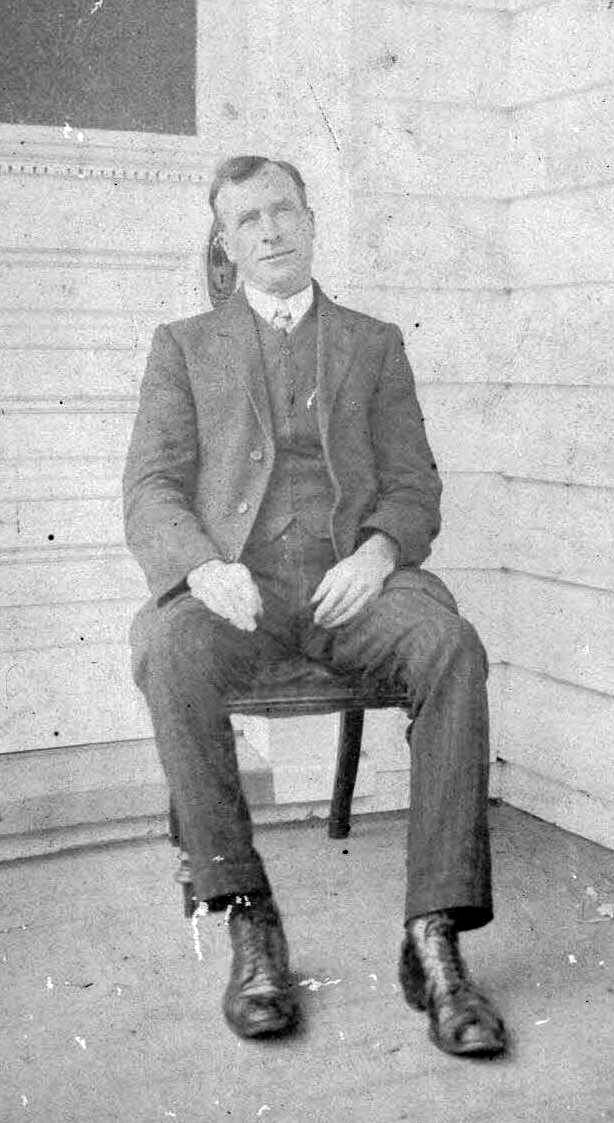 Thomas Newey as a younger man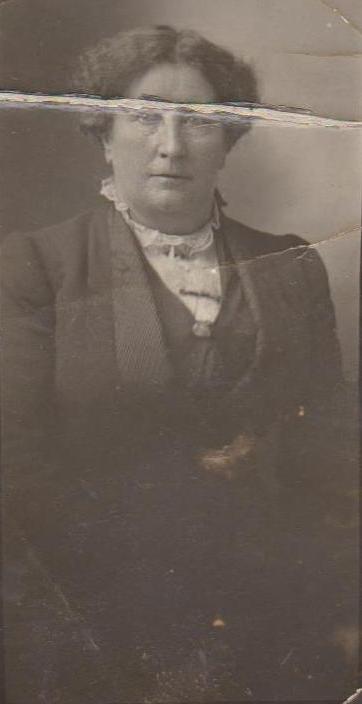 Annie around time they moved to Australia
The NZ Electoral Roll 1896 lists Thomas Newey living at Dannevirke, working as a Painter. Two Marriage Notices from around these years places his parents, who had also moved from Melbourne to New Zealand, close by as well as Australian -New Zealand connections within the family.
GRINTON— ARMSTRONG,— On the 31st July,
at the residence of the bride's uncle, W. Newey
, Northbrook House, Clifton Hill, by the Rev. T. Thomas. James Grinton, eldest son of the late James Grinton, of Manchester,
to Maggie, eldest daughter of Charles Armstrong, Dunedin.
Family Notices (
1886, August 12
).
The Age
(Melbourne, Vic. : 1854 - 1954), p. 1. Retrieved from
http://nla.gov.au/nla.news-article190846631
NEWEY— DALRYMPLE— On 19th October, at Perth, West Australia,
William (late of Clifton Hill, Melbourne), eldest son of Henry and Jessie Newey. Of Dunedin, New Zealand
, to Mary Alice, youngest daughter of Ann and the late John James Dalrymple, of Collingwood," Melbourne. New Zealand papers please copy. Family Notices (
1897, October 30
).
The Age
(Melbourne, Vic. : 1854 - 1954), p. 5. Retrieved from
http://nla.gov.au/nla.news-article188152361
In 1905-6 Electoral Roll Thomas and Annie are living at McBride St, Dunedin, Thomas a Painter. In both the 1911 and 1914 Parnell Roll, Thomas is living Railway Tce, Newmarket, a Painter.
In the 1914 Electoral Roll, Thomas and Annie are living at Hellensville, Thomas still a Painter.
Annie and Thomas had lived in Wellington, Dunedin and Auckland between 1900 and 1917 according to Wise's NZ Post Office Directories.
There is a photo of a house with "Mrs Annie Newey, Dunedin, Kensington, 3rd house from Andersons Bay Rd, Kensington" written on the back.
From postcards sent to and from Annie she lived at the following addresses:
"Kahu Ranga, Harbour View, Wellington - 16 Ellice (Ellis) St, Wellington -
"Raroa", 4 John St, Petone - 97 Brougham St, Wellington and later;
12 Francis
St, Manly NSW.
A Mr & Mrs Newey aged 42 and 37 years, sailed from Wellington to Melbourne, arriving 9th of May 1914 per 'Ulimaroa'.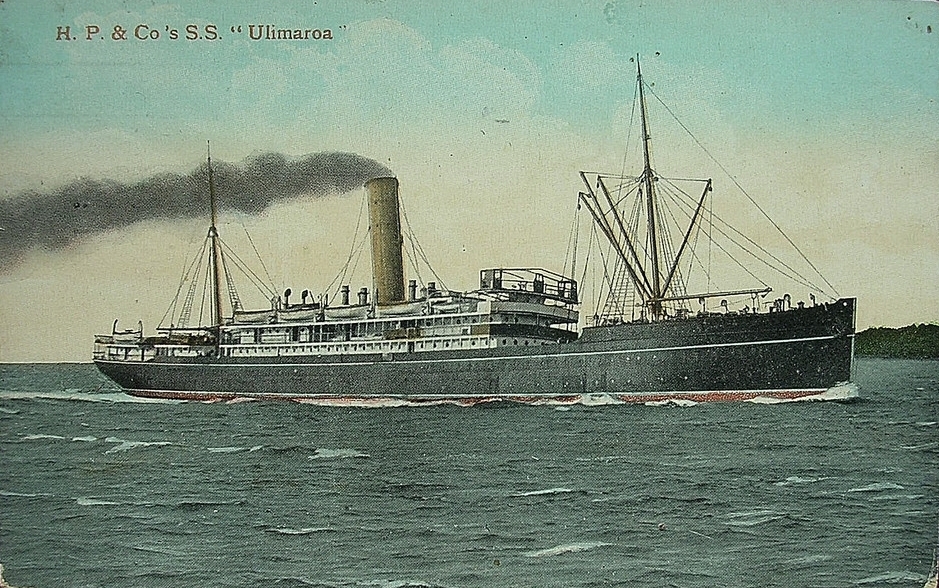 Huddart Parker & Co 'S.S.Ulimaroa' - Souvenir Postcard

When Tom enlisted in the AIF on 5th November, 1915 at Orange NSW - his next of kin was Annie Newey of Hellenville NZ, later Commercial Rd, Auckland, then a Sydney address.
Thomas was placed in the 20th Battalion in Orange NSW on 5th November 1915. He was nearly 44 years of age, 5ft 10 1/2ins tall, 149lb with fair complexion, blue eyes and light brown hair - religion Church of England. His Regimental Number was 3951.
He sailed from Sydney on 20th of January 1916 per H.T. 'Runic' to Alexandria then onto France disembarking at Marseilles on April 3rd, 1916.
Molly tells the story - 'When the Great War broke out in 1914 Tom wanted to join up - but they wouldn't have him in NZ, too old they said. As he was born in Victoria, he decided to come over to Australia and enlist. This time he was successful.
He saw action in France and was terribly wounded by shrapnel, it tore through his right side taking out his lung and displacing his heart. His War Records state this wound as 'gunshot wound chest (mild)'. He was left for dead, but some time later still showed signs of life, he received medical help.
His War Records state; 'wounded in the right chest at Pozieres, France on 2nd August, 1916.'
Annie received many letters from nurses and sisters in France telling of his progress and they said that he was the man that refused to die.
Up until that time he was the longest wounded soldier to be kept in a French hospital. Wounded Servicemen were sent across to England in a matter of hours, but Thomas Newey had 9 days there. After treatment in England he embarked on A38 "Ulysses" from Deranvort 19th February, 1917. He was shipped home, arriving in April 1917.
He was discharged permanently unfit, 14th of May, 1917. Annie was notified of his chest injury and impending discharge at Hellenville, New Zealand.
Tom was the first man in Sydney to get the terrible Influenza when it was spreading around the world. With only one lung he became very ill indeed and no one knew what it was that he had.
Grandma went to see him and took him a small bottle of rum and he swore that it was the rum that pulled him through'.
Annie and Thomas Newey made a new life in Australia. Her daughter Ruby and three children were already here.
Thomas applied for and received a Military pension for himself, Annie and their adopted son Eric Gordon Newey. The family lived at 7 Smith St, Manly.
Later they bought a home in Consul Rd, Brookvale.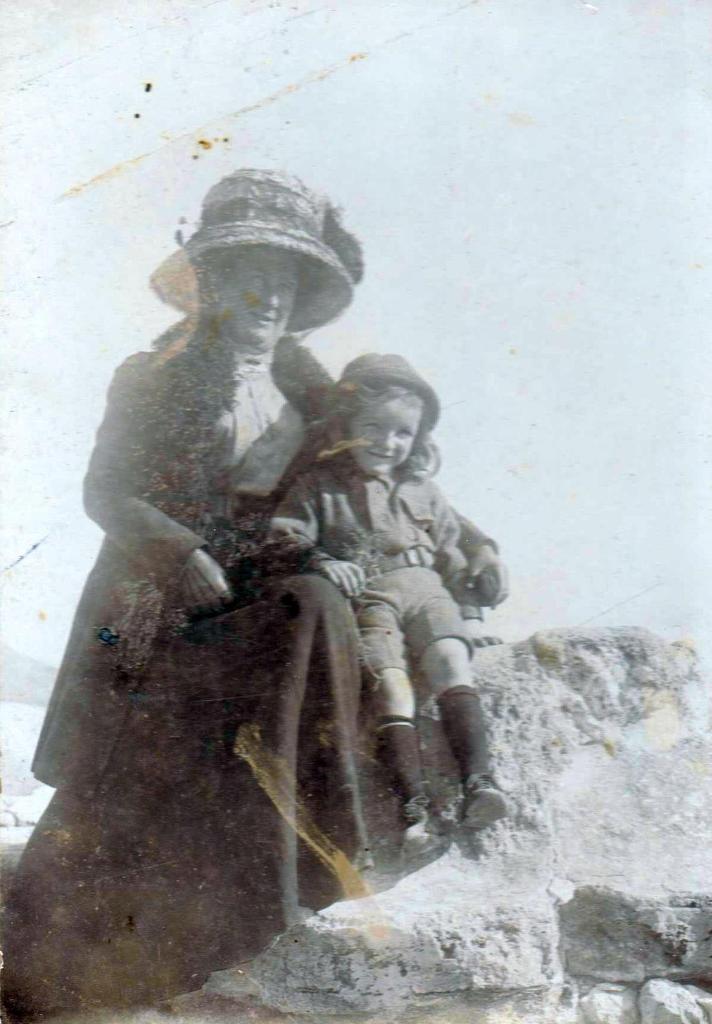 Annie with adopted son
Eric Gordon Newey,
taken in Rotorua NZ -
date unknown
After he had recovered the couple took over the lease of the Bayview Post Office, General Store and Tea Rooms, then owned by Katherine Roche, and prior to her, her mother, Mrs. Collins. The original Post Office in Bayview was opened, according to records, in 1882.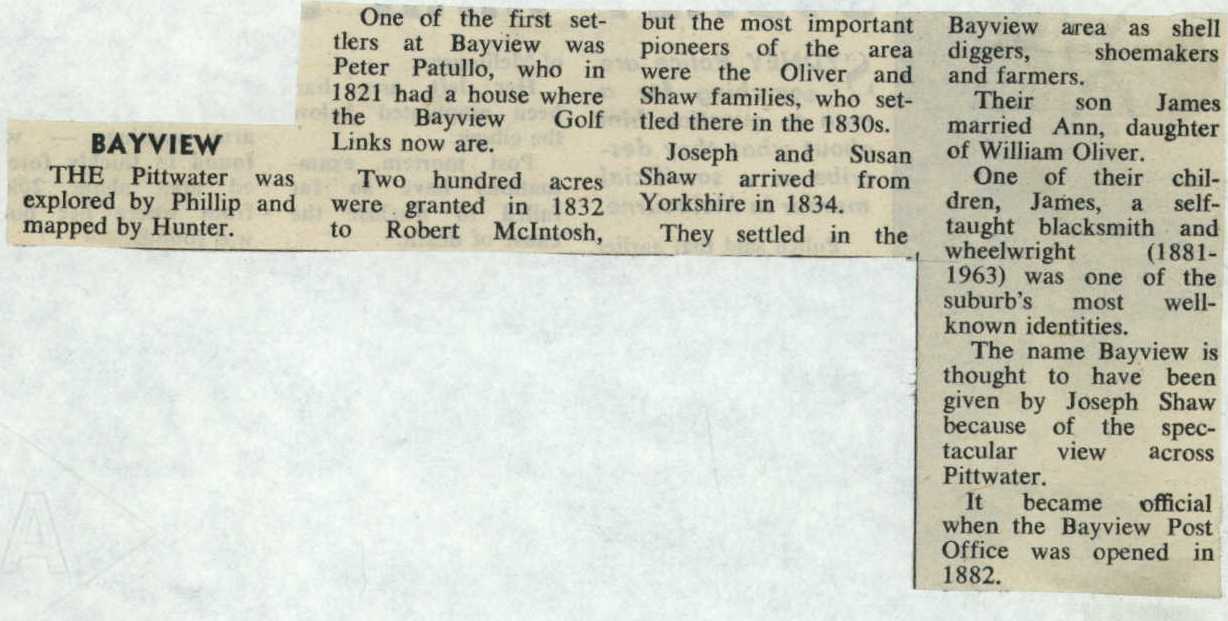 Bayview history extract - clipping per The Sun Feb., 26th 1975

Molly tells the story - 'The reason why we haven't any documents with dates
Etc. is firstly - After the WWI Tom Newey became Postmaster and Store Keeper at
Bayview opposite the Bayview wharf near Church Point NSW in June 1920. I have sepia postcards with photos of Annie and Tom outside the Bayview Tea Gardens taken in 1922.
The dog in the photo is named 'Tick' because he had survived so many 'tick bites'!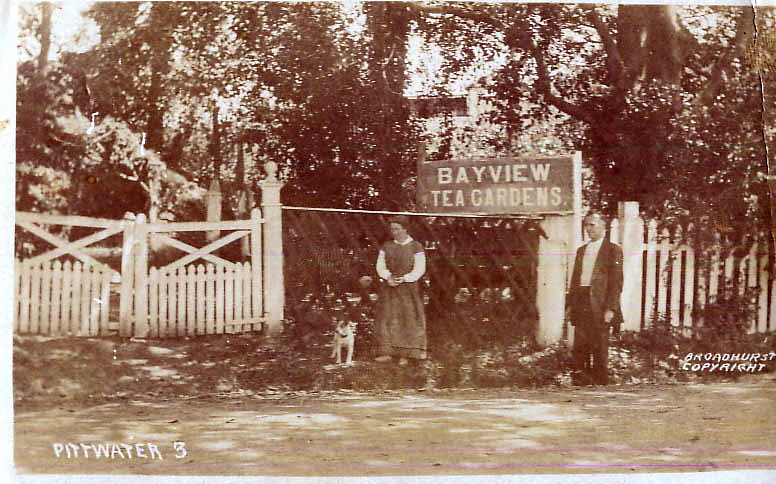 Faded pencil writing on the back says -
"Dear Ethel, You will think I am a nice one not writing but I am so busy I haven't time to turn around.
After two weeks (cannot fathom the rest) Glad to hear you are all right. Love to all, new baby included, Mother."
The postcard is undated but would have been from Annie to her daughter Ethel - don't know which baby she is referring to.
Two further sepia postcards show views overlooking Pittwater. Annie has
written in ink on the backs of the postcards -
"Dear Jean & Jack,
Just a card to wish you a very Happy Xmas & New Year. I got your letter & cards of baby & I wish I could see her instead of the cards.
I am sure she is a little love. I am glad to hear Jack makes such a good daddy. I will write you after Xmas.
Aunt Maggie will be with me for a little while & I will have more time while she is here.
Eric is waiting to close the mail. He is in a bad temper. He has boils on his arm & they are food for the temper.
Those are two views of our place, our wharf in front of the shop & a view of the back of our house in the trees & Lion Island in the Distance.
Fondest love from Mother to Jean Jack & Hellene.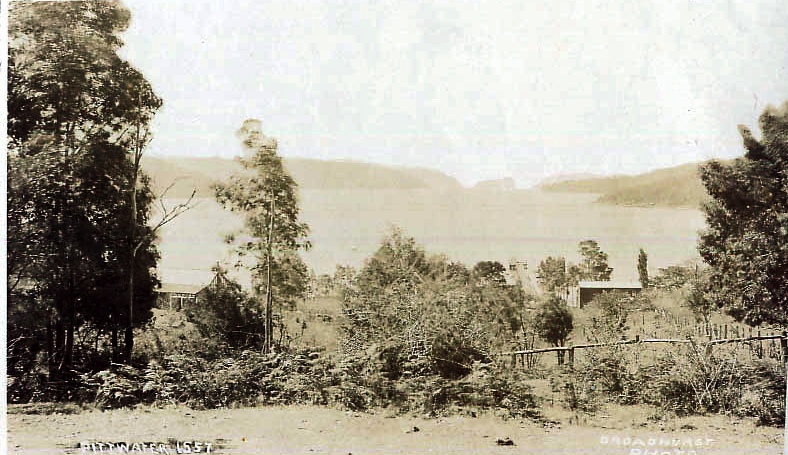 These cards were to Annie's son Benjamin (always known as Jack), his wife Jean and their daughter Helene (my mother who was born in 1921).
A fourth sepia postcard is addressed to Mr J Pearce, Huia St, Petone,
Wellington, NZ - Xmas Greeting from Bayview.
Love to Jean, Self and baby from Tom Mother and Eric.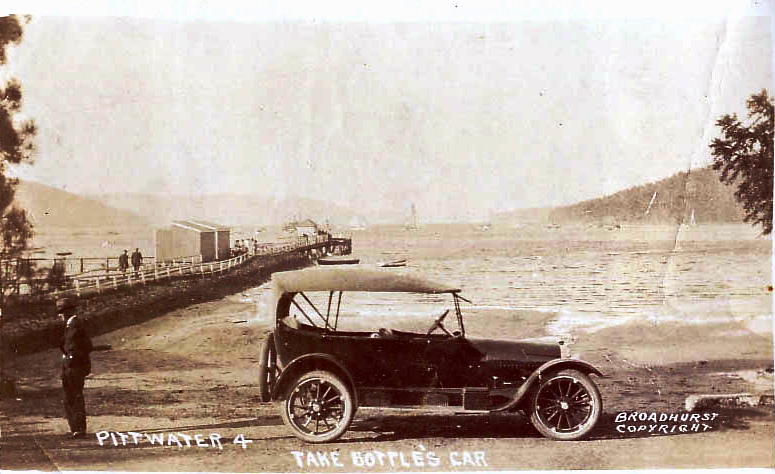 Then in 1923 just before Christmas the whole place was burnt to the ground. It was a fine two storey building, a weekend boarding house and tearoom with tea gardens.
It was a lucky thing they escaped in their nightclothes. The house was very old and the timber was dry, everything was lost, I only have photos and little bits and pieces that I collected over the years from relatives'.
A few of the several newspaper articles about the fire(this was reported Australia wide):
POSTMASTER BURNT OUT
Waking up late last night and finding their two-storey residence 'in flames, Thomas Edward Newey, postmaster of Bayview, and his wife were compelled to jump through a window of their bedroom, on the second floor, to a tank below.
The cause of the outbreak is unknown. The building was the
property of Mrs. K. M. Roche, Mosman
, and was of six rooms, and insured for £600. Mr. Newey conducted a general store and the Bayview post-office on the premises.The store was locked up about 8.30 last night, and Mr. Newey and his wife went to bed shortly afterwards. At 11 p.m. they were awakened by the crackling of burning wood. Finding that the fire had reached their bedroom door they took the only chance of escape— through the window. Fortunately the drop was only a few feet. Neighbors turned out, but were unable to do anything to subdue the flames. The district is outside the Manly and Narrabeen lire area, and residents had to stand and see the building burn to the ground. JUMP FOR LIFE (
1923, April 10
).
The Sun
(Sydney, NSW : 1910 - 1954), p. 8 (FINAL EXTRA). Retrieved from
http://nla.gov.au/nla.news-article223450981
MAN & WIFE IN BUILDING FIRE. ESCAPE DOWN PIPING
THE BUILDING DESTROYED
Sydney, Tuesday.
Thomas Edward Newey and his wife, occupiers of the post office, which includes a dwelling and refreshment store at Bayview, near Pittwater, had a thrilling experience last night when the building was burnt to, the ground. They escaped in their night clothes by descending the downpipe and dropping on to a water tank.
Mr. and Mrs. Newey were awakened shortly after 11 p.m. by the crackling of the flames. Newey found that it would be impossible to descend the stairs which were a mass of flames, the weatherboard construction of the building providing excellent fuel for the flames. The only way of leaving was through the window at the side of which a downpipe led from the guttering round the roof to the tank below. Newey and his wife climbed through the window and after a difficult descent, managed; to land safely on the tank from which it was comparatively easy to jump to the ground.
The building was consumed in a very short time. There is no fire brigade in the district, and it was impossible to do anything to save the place. MAN & WIFE IN BURNING BUILDING (
1923, April 10
).
Barrier Miner
(Broken Hill, NSW : 1888 - 1954), p. 1. Retrieved from
http://nla.gov.au/nla.news-article45602879
SYDNEY, Tuesday. FIRE AT BAYVIEW Residence Gutted
The two-storied residence of Mr Thomas Newey, Postmaster, of Bayview was totally destroyed by fire late last night. Mr. Newey and his Wife were awakened just in time and in order to save their lives were compelled to jump through a window of their bedroom o the second floor to, a tank below. The district is outside the Manly and Narrabeen fire area, and residents had to stand and see the building burned to the ground. THE LATEST (
1923, April 10
).
Goulburn Evening Penny Post
(NSW : 1881 - 1940), p. 2 (EVENING). Retrieved from
http://nla.gov.au/nla.news-article102879305
Annie and Tom moved to Harbord where Annie installed a bomb shelter in the backyard after WWII broke out.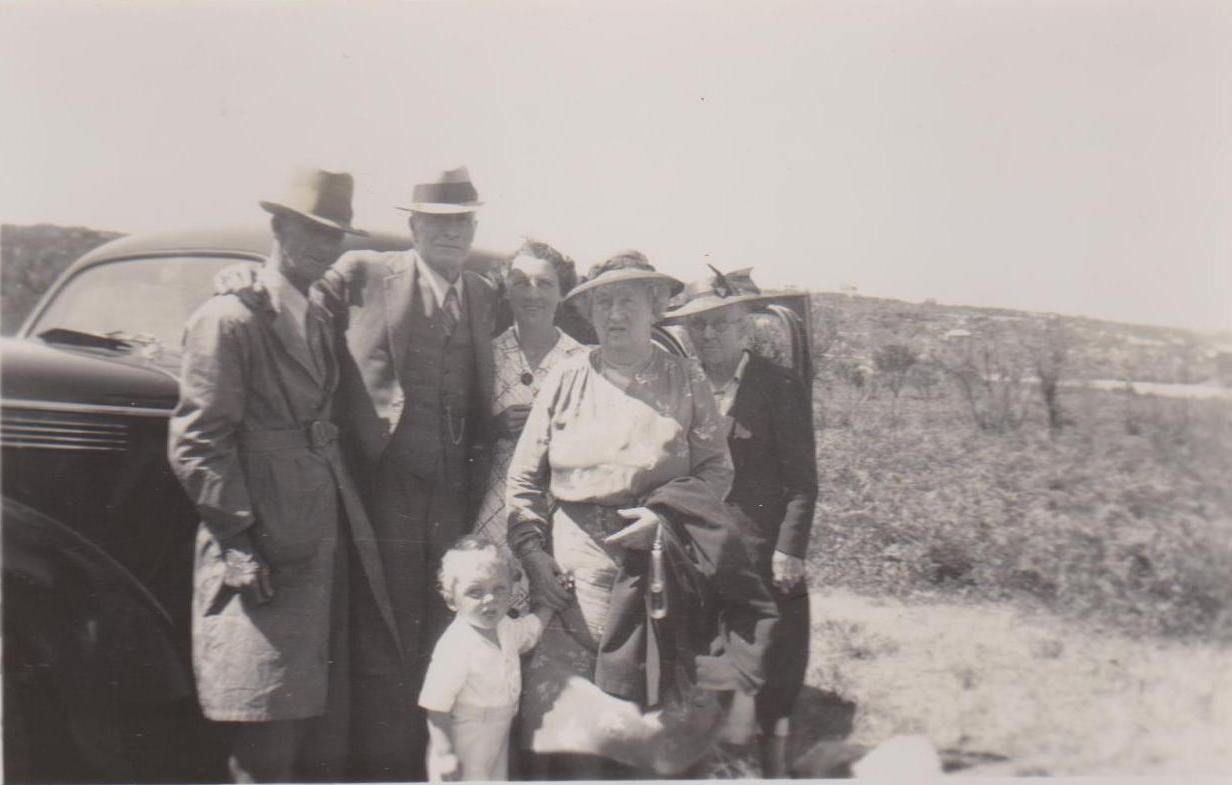 On Annie's recommendation, Benjamin and family also came to Australia.
Benjamin Martin Pearce (BMA) attended Arthur St School in Dunedin from 24th of May 1903 to 22nd June, 1903. The family lived at Michie St, Roslyn at the time.
The school was established in 1848. The family later lived at 53 Richmond St,
Petone, Wellington.
BMA - always known as 'Jack' - had been apprenticed as a plumber to R.W. Jenkins.
Three of his Certificates from Wellington Technical School in 1909 and 1910 are in our Family folder.
From his Army Record - At the time of joining the Army, he was described as 5'6" tall weighing 9st 10oz with ruddy complexion, blue eyes and auburn hair. A photo of Jack and another soldier in full uniform appeared in the N.Z. Free Lance on 23rd of March, 1917. The New Zealand Free Lance was one of New Zealand's most popular weekly, pictorial newspapers. It was first published in Wellington in 1900 by Geddis and Blomfield as a spin-off from their successful Auckland weekly, the NZ Observer and Free Lance. The publishers split the title, with the Auckland paper becoming the NZ Observer and the Wellington paper taking the name Free Lance.
BMA joined the New Zealand Army at Wellington on 23rd of October, 1917 as a Private in 4th Batt/3rd N.Z. Rifle Brigade.
His Military Number was 74762. He marched into Trentham camp on 7th March, 1918 and embarked from N.Z. on H.M. Troop Ship "105 SS Remuera" on 18th June, 1918.
He disembarked at Liverpool on 31st July, 1918 marching into Brocton - being Posted to Rifle Brigade as Rifleman on 31st July, 1918.
He left for France on 25th September, 1918 marching into Etaples 27th September, 1918. He joined a Battalion being posted to D Company on 30th September, 1918.
Jack was wounded in action 5th October, 1918 - a gunshot wound to right buttock.
He was admitted via 2nd N.Z. Field Ambulance to 11 Staty Hospital in Rouen on
7th October, 1918.
Later he travelled by hospital ship to 1st N.Z General Hospital at Brockenhurst on 11th October, 1918 being discharged on 17th December, 1918.
He marched in Larkhill on 3rd January, 1919 and Torquay on 1st July, 1919.
He embarked for N.Z on H.M.N.Z Troop Ship "288 SS Ionic" at Plymouth on 8th September, arriving Wellington on 25th October,1919.
Jack was discharged from Army on 22nd November, 1919 receiving the British War Medal and Victory Medal.
While recuperating in England, he met Jean Mailer Forsyth (born 19th February, 1889) in Stirling, Scotland. According to cousin Molly - they met in London towards the end of the war. After a short courtship of five months they were married May
2nd
, 1919 at 5 Phillips St, Paisley, Scotland.
A relative Molly Smith had a photo of the place where Jack and Jean spent their honeymoon - she later presented them with a framed copy as a memento.
There are postcards of places the newlyweds visited - including the Wallace Memorial at Stirling where they climbed to the top.
Jean came back as a War Bride to N.Z. on the same ship that Jack returned from
WW1 - the 'Ionic' - Jean travelled 3rd class!
I recently found details of this journey in Jean's own handwriting.
Jean and Jack lived at Huia St, Petone in Wellington. Benjamin prospered and they owned their home at 4 Adelaide St, Petone (photo) where their daughter Helene Whyte was born on 20th April, 1921.
Jean was homesick for Scotland so the family returned there for a year where Helene was Christened (hence the two surnames as is the Scottish tradition). They had been staying at 19 Argyle St in Paisley.
I have a small silver ashtray with the emblem of 'Corinthic' on it - a family heirloom!
Jobs were becoming scarce when the family returned to N.Z. Another daughter Jean was born 30th April, 1925 at Petone, N.Z.
The family sailed to Australia in October, 1927 - Annie Newey (Jack's mother) had painted a very rosy picture - a land of milk and honey!
A third daughter Dorothy Ann was born 14th December, 1927 soon after the family arrived in Australia.
Benjamin was without a job, but grew vegetables for the family to eat.
He tried to sell some by taking a huge basket full every day down to Manly Wharf - walking all the way. He often returned with a full basket – selling none.
Life in Sydney during the Depression was very difficult.
According to the Electoral Rolls BMA Pearce and Jean lived at Consul Rd, Brookvale in 1930 and 1933. In 1936, 37, 43 and 49 they lived at 12 Francis St, Fairlight before moving to 4 Francis St for the 1954 Election.
The family never regained the life they had in N.Z. where Jack had his own plumbing business and they owned their own home.
From Jean's notebooks - BMA would journey by train up to Tyringham to visit his daughters and their families - often staying a month or so. He had made copper kettles out of the copper balls in cisterns - I have two of them - he helped make life on the farm a bit easier for my mum Helene, by building a channel between the laundry to bathroom to you could run hot water from the copper to the bath.
He also helped my father Tom to build the new chook house - still standing Christmas 2017 - always referred to as the 'house that Jack built'.
He worked hard as a plumber, but when nearly at retirement age his employer went bankrupt and left Jack and Jean in a very ordinary financial position.
Jack's health was deteriorating and he died 26th of May,1960 aged 68 at Neringah Nursing Home, Wahroonga, after a long illness.
He was privately cremated on 28th of May, 1960. Details as per Sydney Morning Herald – 30 May 1960.
Thomas and Annie are listed on the Electoral Roll in NSW - In 1930 and 1933 they are living at The Strand, Dee Why, both Thomas and Eric Gordon Evans are Painters.
In 1936 Thomas and Annie are still at The Strand, while Eric and wife Eileen are living at 74 Howard Ave in Dee Why. Both men are still Painters.
In 1937 they are living at Consul Rd, Brookvale, Eric and Eileen still at 74 Howard Ave, Dee Why. Both men still painters.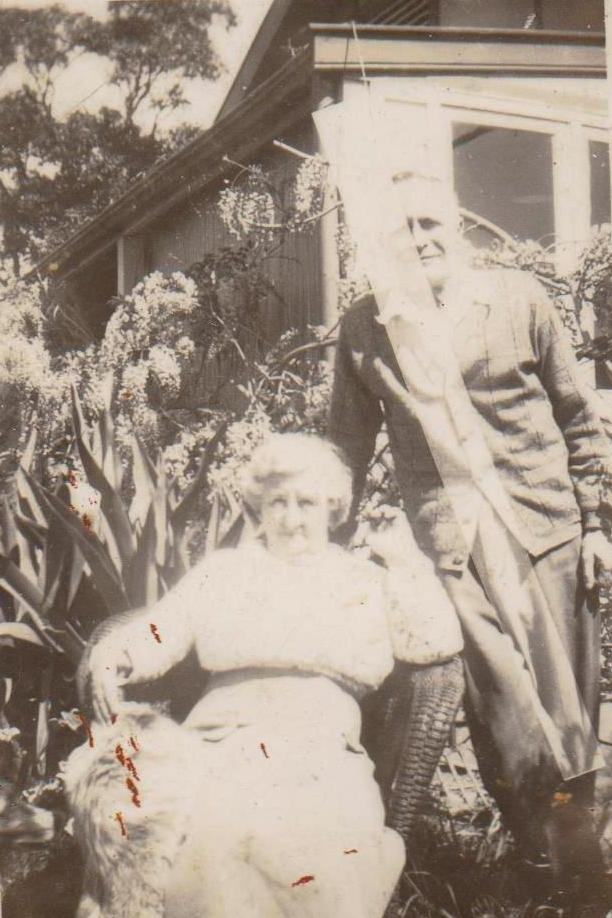 Annie and Tom in their Harbord home during her later years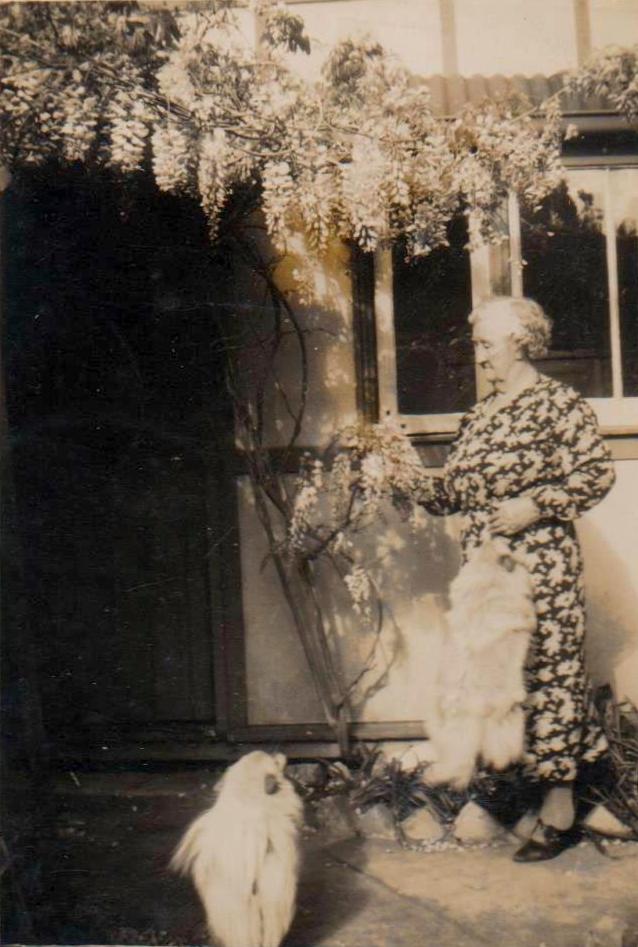 Annie in Harbord home during her later years
Thomas died 17th of March 1940 at Randwick Military Hospital probably as a result of war injuries – his death certificate states 'Broncho Pneumonia and Cardiac Failure'.
He was aged 68 years. He was cremated at Northern Suburbs Crematorium in
Sydney. I have not been able to find his grave to this date - perhaps his ashes were taken somewhere. No will for Thomas was found during a search of the NSW Probate Index.
NEWEY.—March 17, 1940, at Randwick Military Hospital, Thomas Edward Newey (late 20th Batt..A.l.F.) of Pitt Road, North Curl Curl, dearly beloved husband of Annie Newey, aged 67 years.
Privately cremated Northern Suburbs, March 19. 1940. Family Notices (
1940, March 20
).
The Sydney Morning Herald
(NSW : 1842 - 1954), p. 10. Retrieved from
http://nla.gov.au/nla.news-article17660078
Annie died 21st July, 1942 and was buried at French's Forest Cemetery - in the Roman Catholic area, Row B/Grave 76. There is a little font with a plaque to honour
her passing.
I have a photo of this plaque which reads - "In Loving Memory of Annie Newey passed away 22-7-1942 aged 77 years. R.I.P."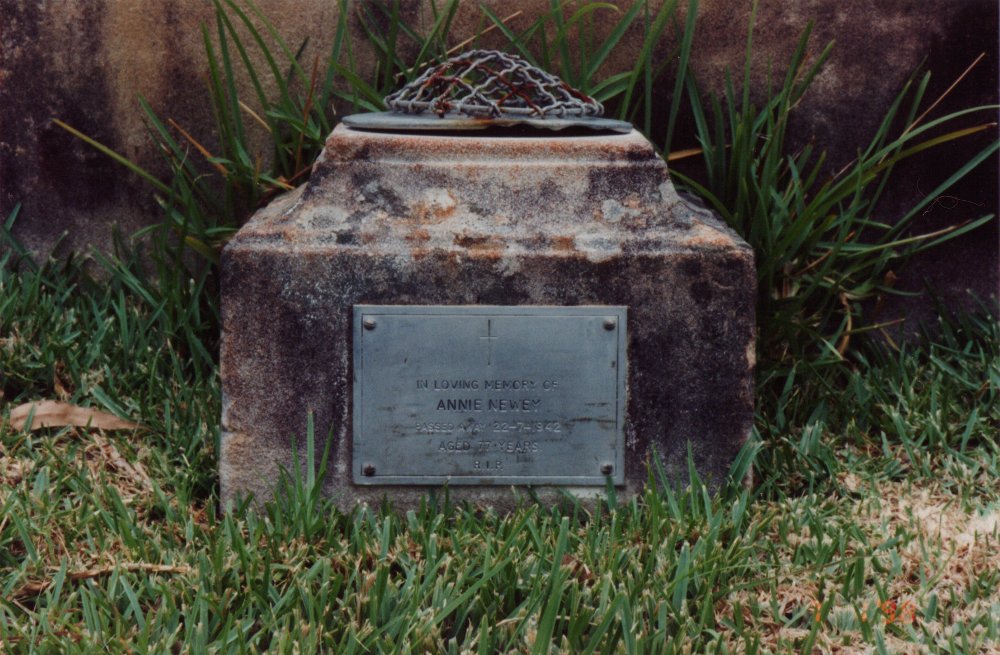 Her son Eric inherited a property in Pitt St, Curl Curl when Annie died in 1942.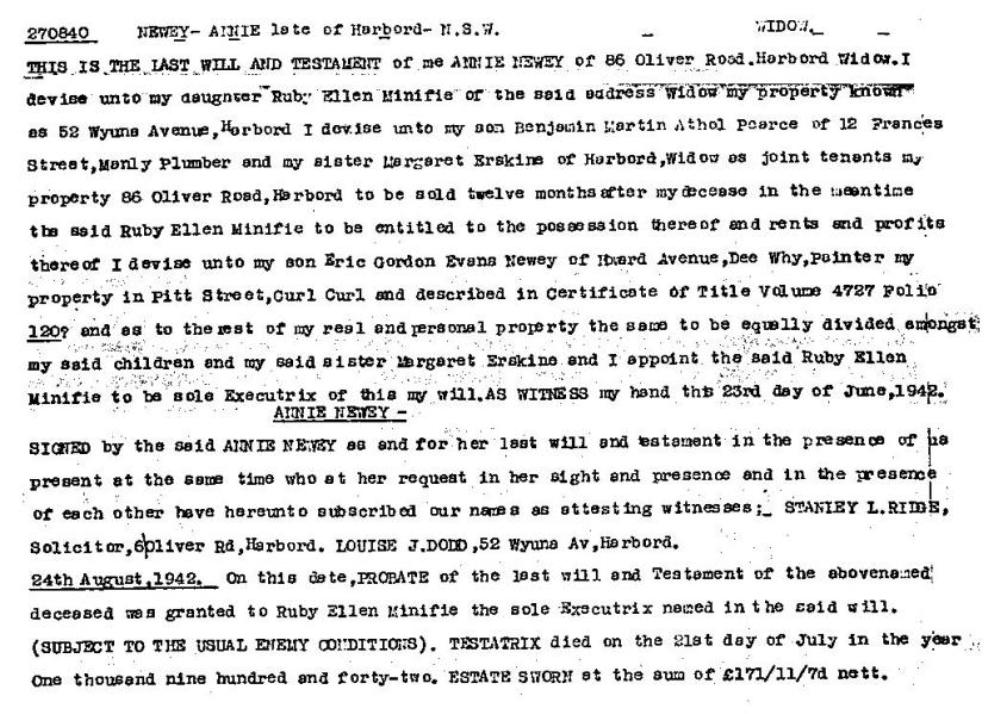 Mary Ann (Annie) lived a very long and full life from 1865 to 1942 - 77 years!
From a childhood in the shadow of Mt Taranaki NZ - her father dead when she was 10, the eldest of the five surviving Costello girls (the sixth daughter Lily only lived one year) - her mother remarried the next year 1876 - her mother died aged 43 in 1891 on the birth of her thirteenth child.
Annie had married Benjamin in 1884 aged 19 and was left a widow at 35 with five children in 1900 – until her remarriage two years later to Thomas Newey.
The move to Australia in 1915, living through two World Wars and the Depression to be widowed again in 1940, tell of resilience and perseverence.
Her Obituary in the local paper stated -
"A very old and respected resident of
the Warringah Shire, in the person of Mrs Annie Newey, wife of the late Thomas E Newey, passed away at her residence 86 Oliver Rd, Harbord on the 21st instant.
A Native of Taranaki, Wellington, New Zealand, the late Mrs Newey was 77 years of age and leaves a grown up family to mourn their sad loss.
Of a quiet disposition, the late Mrs Newey was loved by all who had the privilege of her acquaintance. On the 22nd instant the funeral left her late residence for the French's Forest Cemetery, and was largely attended by many of her old friends and relatives."
My family's association with Pittwater didn't end there though. My lovely mother's second husband Neville Corvisy had a home at Church Point and a yacht moored at Royal Prince Alfred Yacht Club - we had a wonderful number of days sailing around the Hawkesbury with them when we visited Sydney (I live in Geelong) - sadly both my mother and Neville are now deceased.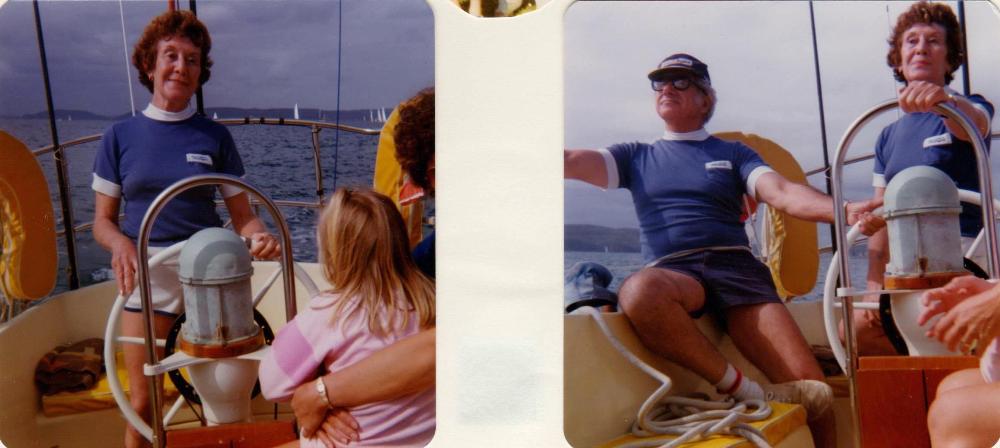 Photos of my mum Helene Whyte Corvisy (nee Pearce formerly McKeown) and Neville Corvisy.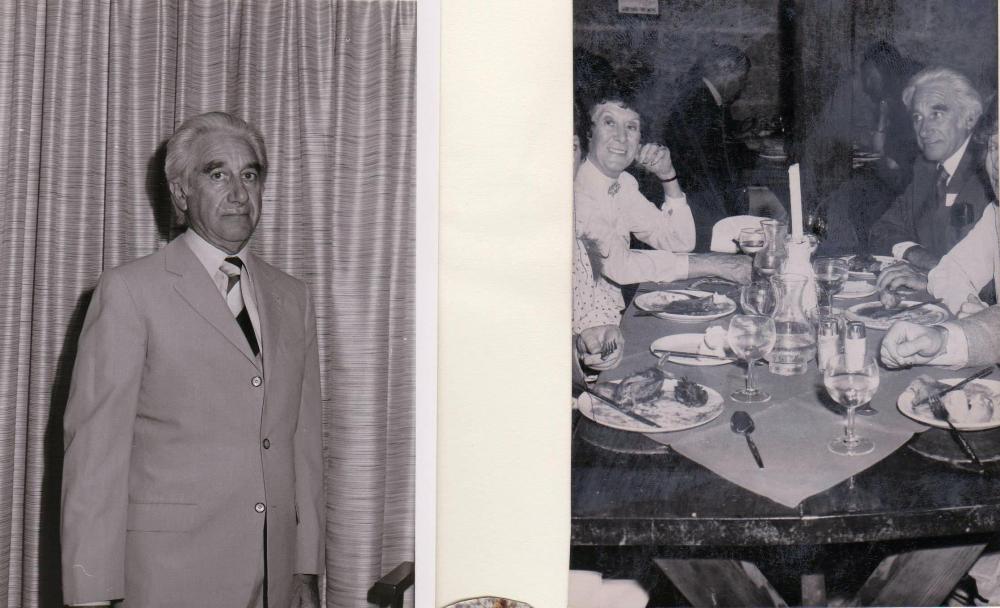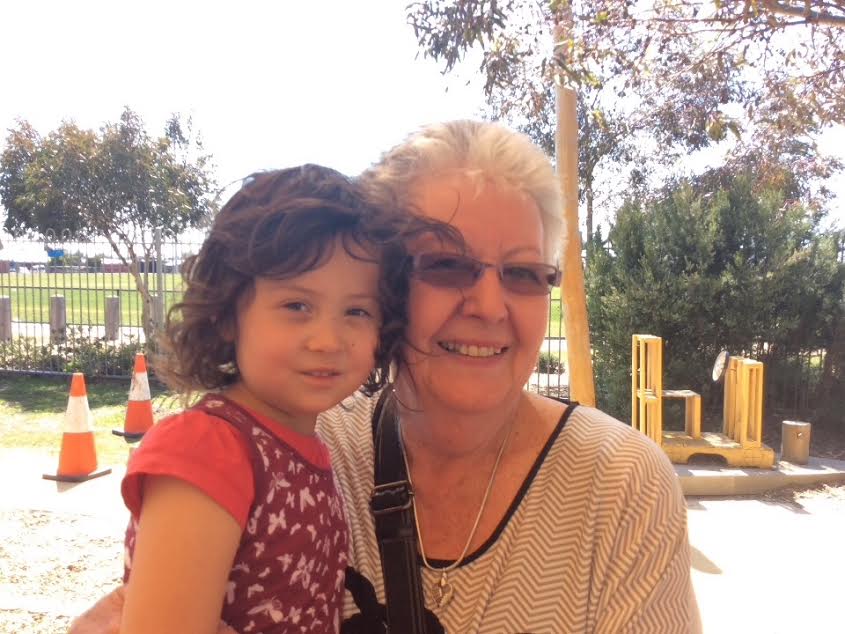 Also photo of the love of my life and myself, my granddaughter Chloe Isabelle Smith - aged 5, and myself – life goes on and life is good!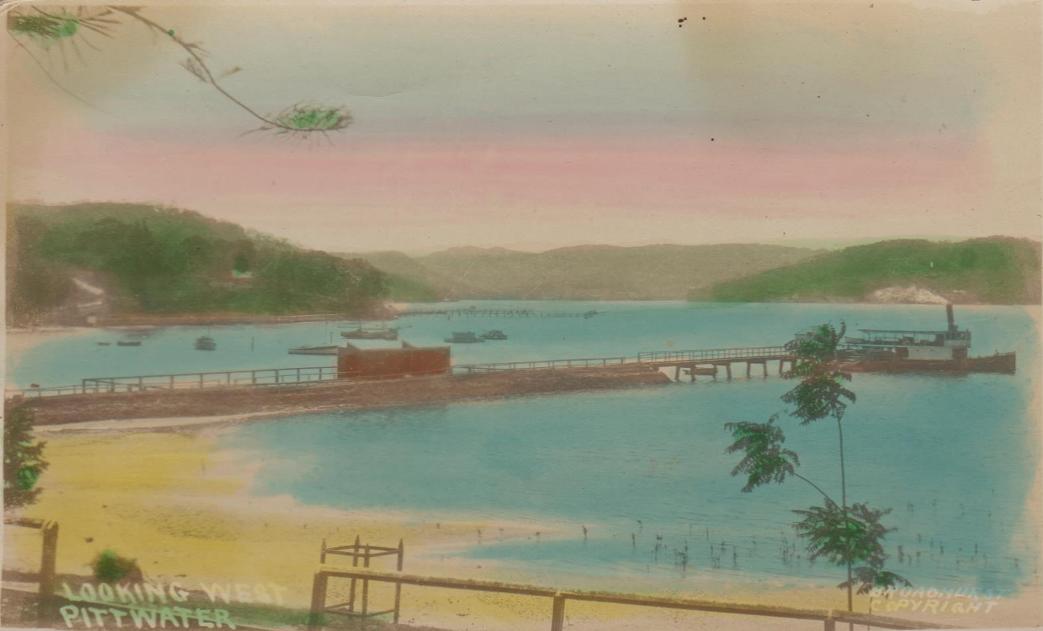 SS Phoenix
at Bayview Wharf -
SS Erringhi also had this wharf as part of her Pittwater Wharves and Jetties Route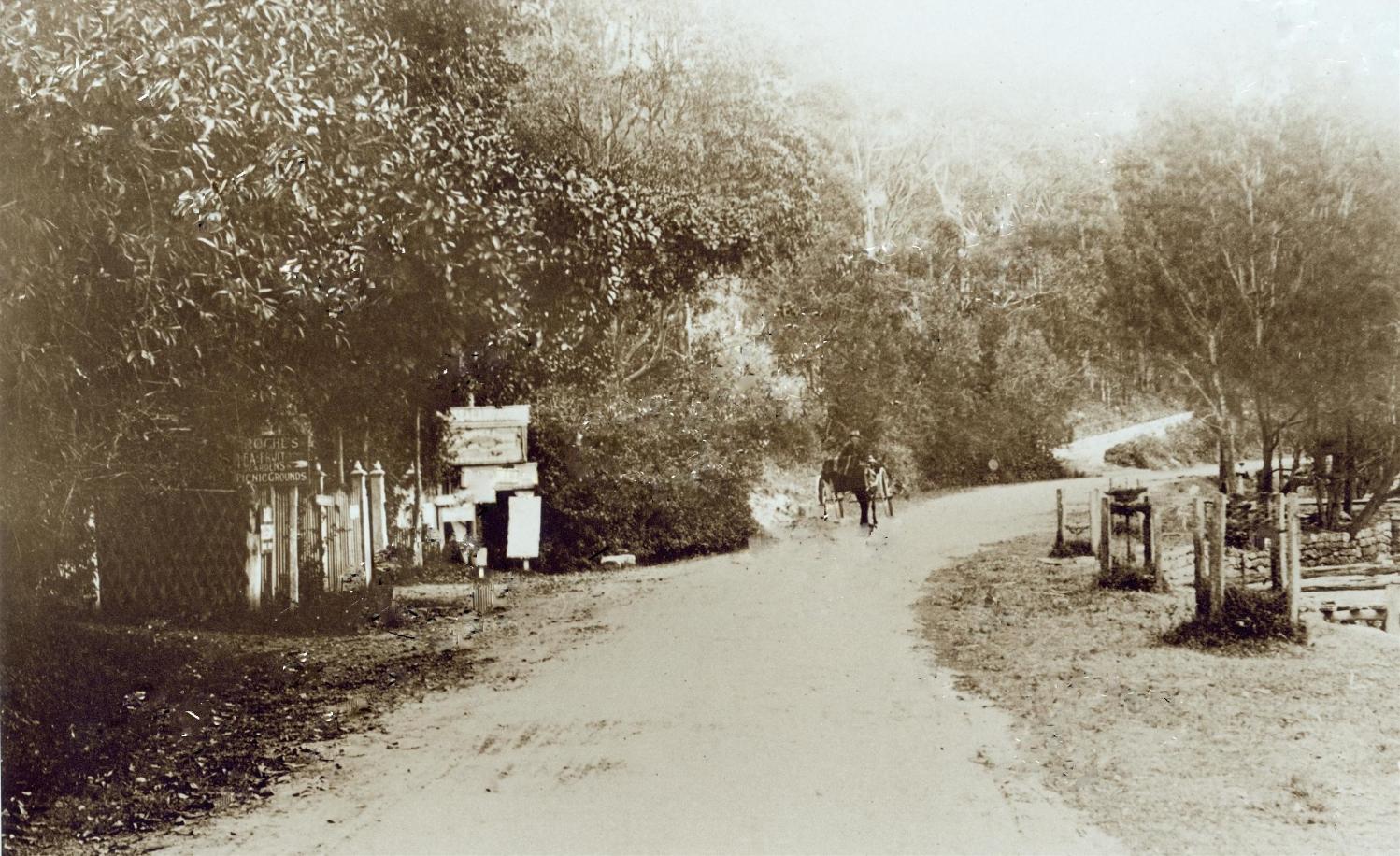 Roche's Corner - circa 1895-1900, Kerry photograph, courtesy State Library of NSW
Extras - References
How wonderful to have this association with the formative days of Pittwater and to see this connection still going on, one hundred years later. A few connected insights:
The growing popularity of Pittwater meant the demand for accommodation grew. There are numerous advertisements in newspapers of the time for accommodation at Bayview.
We also wonder why it took so long for a local Fire Brigade to be available for residents – the fire at Brock's Mansion, later La Corniche when the Rainauds moved there, and the later fire at Bayview must have underlined something more immediate was required – especially in view of this small article and report:
FIRE BRIGADE CONFERENCE.
The delegates attending the Inter-State Fire Brigade Conference had an enjoyable outing yesterday. The party left Redfern for Hawkes-bury by the 9.5 train, in the morning, and
proceeded by steamer to Bayview, from the station via Cowan, Broken Bay, Pittwater and Ku-ring-gai Chase. After lunch at Bayview
the party was driven to Manly, catching the 5.30 steamer for Sydney. FIRE BRIGADE CONFERENCE. (
1906, May 17 - Thursday
).
The Daily Telegraph
(Sydney, NSW : 1883 - 1930), p. 8. Retrieved from
http://nla.gov.au/nla.news-article236835715
Interstate Fire Brigades Conference - Banquet at Bayview.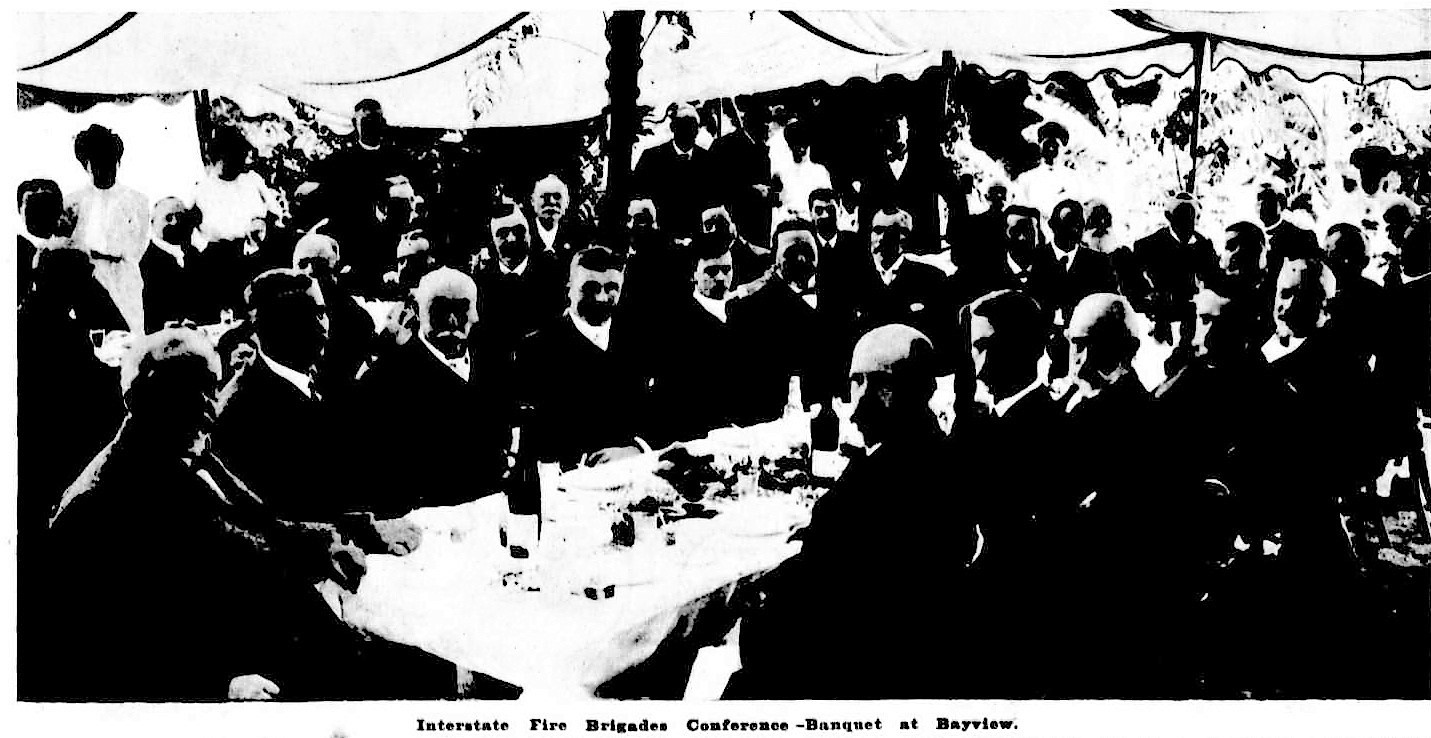 The Conference. which assembled in Sydney on May 14 was brought to a conclusion on May 19. The delegates who attended the Conference were:- Fire Brigades Board, Sydney: Messrs. Charles Bown (chairman), G. Howard Pope, H. F. Francis, E. Lindsay-Thompson, Z. Collis Barry (secretary), Alfred Webb (Superintendent of Fire Brigades), Captain E. J. Love (vice-chairman). Fire Brigades Board, Melbourne: Messrs. J. G. Aikman, M.L.C. (President), C. E. Jarrett, S. Mauger, M.P., W. Davidson, W. F. Allan. T. Sanders, D. J. Stien (chief officer), F .J. Gomm (secretary), Lieutenant-Colonel J. Ballenger, Sir H. de C. Kellett. Country Fire Brigades Board, Victoria: Captain J. Lynch (president), Mr. T. S. Marshall (chief officer). Fire Brigades Board, South Australia: Messrs. P. Heath (chairman), W. D. Ponder, M.P., W. A. Coombs, A. A. Hooker (Superintendent of Fire Brigades). Fire Brigades Board, West Australia: Messrs. Harry Brown, M.L, A. (chairman), J. M. Lapsley (superintendent). Fire Brigades Board, Brisbane, and Fire Brigades Board, South Brisbane: Mr. J. E. Hinton (superintendent). Fire Brigades Board, Hobart, Tasmania: Mr. E. P. Maher (superintendent). Fire Brigades Board, Launceston, Tasmania, Messrs. R. Bennell (superintendent), Keith Ritchie (secretary). Fire Brigades Board, Broken Hill, N.S.W. Mr. J. M. Lambourne (superintendent). Interstate Fire Brigades Conference-Banquet at Bayview. (
1906, May 23
).
Australian Town and Country Journal
(Sydney, NSW : 1870 - 1907), p. 36. Retrieved from
http://nla.gov.au/nla.news-article71530695
FIRE BRIGADES CONFERENCE,
A conference of representatives of the Fire Brigades of the Commonwealth States was commenced in the Headquarters Fire Station, Sydney, on Monday. Prior to the conference the delegates were officially welcomed at the Town-hall by Ald. Allen Taylor, Lord Mayor, who said that prior to 1891 the protection of Sydney against fire was undertaken by the insurance companies, but that year an Act of Parliament had been passed, which transferred the work to the control of a Fire Brigades Board. The population of Sydney and suburbs in 1889 was about 300,000, and at the end of 1905 it was estimated at 529,000. The area under the board's control was 211 square miles, and although the board was doing all in its power to provide fire appliances, there were still many places still requiring protection. At present there were 16 stations, occupied by 188 members of the permanent staff, 22 stations occupied by 190 partially-paid volunteers, 15 steam fire engines, one petrol motor pumping engine, five combined hose carriages .and chemical engines, 24 manual fire engines, 8 hose carriages, 14 hose reels. 18 ladders from 45ft. to 80ft. long, and 101 horses. The value of the repairing work done in the brigade workshops during 1905 was estimated at £2951; the estimated value of land, buildings and plant, under the core of the board, on December 31, 1905, was Xl 50,000 : the assessed annual rateable value of the property in February, 1905, was £5,492,281 : the insured property within the area on December 31, 1905, was £78,108.74 9 and the estimated expenditure of the board for 1900 was £41,100.
Mr. Charles Bown, chairman of the Fire Brigades' Board, said he would like to see the Sydney fire fighters' strength increased. He did not think that the city had had its real big fire yet, and it would do well to be prepared for the day when it came. There should be a stronger force than there I was at present.
Mr. J. C. Aikman. M. L.C, chairman of the Melbourne Fire Brigades' Board, made a point of urging that the Federal Government should abolish telephone charges to brigades. FIRE BRIGADES' CONFERENCE. (
1906, May 19
).
Clarence and Richmond Examiner
(Grafton, NSW : 1889 - 1915), p. 11. Retrieved from
http://nla.gov.au/nla.news-article61453540
FIRE BRIGADES' CONFERENCE.
FINAL SITTINGS.
At yesterday's concluding sitting of the Inter-State Congress of Fire Brigades (Mr. Bown presiding), the following resolutions were carried : — Proposed by Mr. Manger, M.H.R. (for Captain Love) and seconded by Mr Heath : 'That a committee, consisting of the chief officers of the Sydney, Melbourne, Adelaide, and Brisbane Brigades with Messrs. Ackman, Lynch, Mauger and Francis, be appointed to collect evidence and data, and prepare a scheme of firemen's assurance and pensions, and to submit same to the next Conference, four to form a quorum.' Proposed by Mr. E. Lindsay-Thompson and seconded by Mr. H. Brown, M.L.A. (W.A.) : 'That in view of the protection afforded by fire brigades to the lives of the people and to the property of the Federal Government, from which a contribution towards maintaining fire brigades is paid, in the opinion of this conference the Commonwealth might reasonably, in lieu of such contribution, and as some small return for the service rendered, maintain without charge all fire brigade telephone lines, telephones, and fire alarms, and that the foregoing resolution be forwarded to the Postmaster General. And in order to demonstrate the value of such fire brigade service an approximate estimate of the value of property held by the Federal Government in each of the States be prepared by the respective boards, and be presented to the Federal Government by Mr. S. Mauger, M.P., with the request that the foregoing resolution be given effect to, or a sum equivalent to the cost of the telephone service be placed upon the Estimates for a pro rata distribution to the Fire Brigades' Boards of the various States.' After papers had been read by Captain Lynch (Country Fire Brigades Board, Vic.), and Mr. A. Webb (Superintendent of Fire Brigades, Sydney), various courtesy resolutions were passed and the president thanked the delegates for their attendance. FIRE BRIGADES' CONFERENCE. (
1906, May 20
).
Sunday Times
(Sydney, NSW : 1895 - 1930), p. 5. Retrieved from
http://nla.gov.au/nla.news-article126564139
Some more Victorian and Newey insights:
On the 22nd November, at Sydenham Gardens, Mrs. Henry Newey, of a son.
Family Notices (
1872, December 5
).
Bendigo Advertiser
(Vic. : 1855 - 1918), p. 3. Retrieved from
http://nla.gov.au/nla.news-article88247438
THE SYDENHAM GARDENS.
BY STROLLER.
After the transaction of business in Sandhurst, I have often felt puzzled to know what to do with myself in order to while away an hour or two. Of the various essays I have made in pedestrian tours to solve the problem, only one has, as yet, been successful. Cabs and 'busses I vote expensive abominations; nil very well as conveniences to take you where you want to go on business, but not exactly the most desirable mediums for procuring the recreation referred to. The dust and the company are frequently disagreeable concomitants. There are but few agreeable walks about Sandhurst, and of those I have tried. I most decidedly give my preference to a stroll to the Sydenham Gardens.
The gardens are situate on the eastern declivity of a hill, and present an inviting appearance on descending the slope from the Chinese Camp. They occupy an enclosure containing some fourteen acres. The southern fence is hedged with a perfect garden of roses haying a gate in the centre between two stately poplars. There is a fine vineyard, some two acres in extent, in which the numerous clusters of large bunches of grapes, give a fine promise of, an abundant yield. About an acre is under vine cuttings, which also look is thriving condition; whilst grouped around, are any number of fruit-trees, such as orange, lemon, peach, pear, cherry, nectarine, apple, &c., all promising a good yield except the latter, which do not look quite as flourishing as the rest. About a thousand fruit trees will he ready for transplanting next year. That "variety is charming" is here most charmingly exemplified. The garden is certainly not laid out in accordance with any methodical plan of high art or horticultural arrangement. But what it lacks in method it compensates in wild luxuriance, and the style of its own, or absence of method, is more in harmony with its surroundings and the adjacent city tram a prim horticulturally-arranged garden would be. There abound delicious labyrinths of sweet, flowers of choice varieties. Then there are trellised avenue, and labyrinthine mazes, with accommodation in a dozen, or more elegantly-designed arbors, that are pavillioned over with a variety of flowers.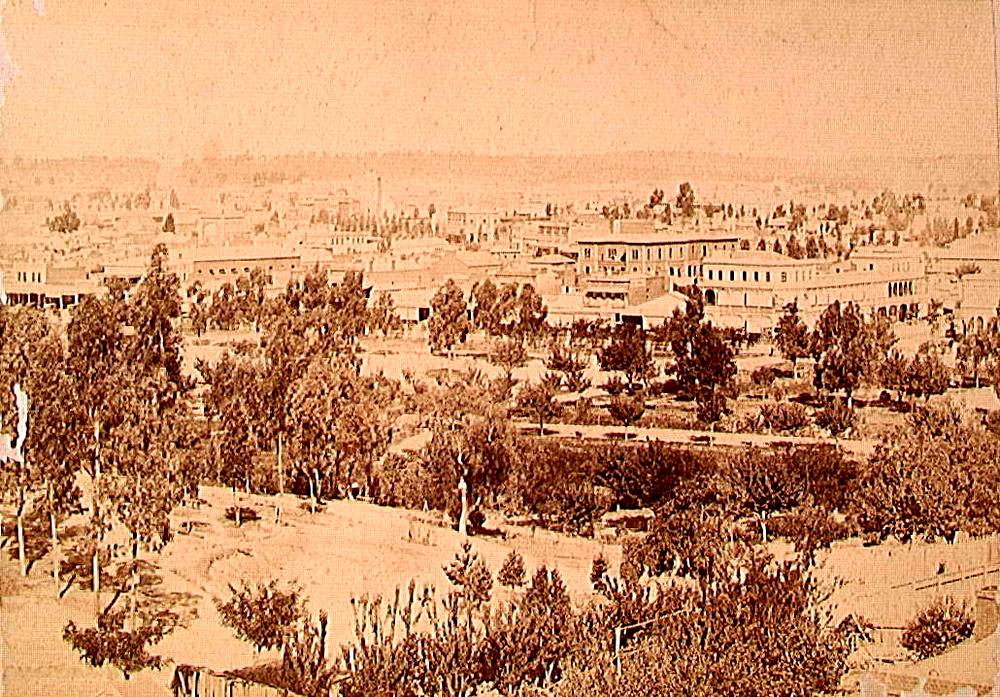 Sandhurst East with a portion of the City Reserve.
by
N. J Caire 1837-1918, photographer.
Date: ca. 1875
– courtesy State Library of Victoria.
Image details: photograph : albumen silver ; 13.0 x 18.0 cm.
Subjects: Bendigo (Vic.) -- Views -- 1871-1875.
Notes: Printed below image l.r.: PHOTO., SANDHURST.
Printed below image l.l.: N. J. CAIRE.
Title printed below image.
Printed inside front cover u.l.: CARRS BINDER SANDHURST
Contents/Summary: Includes the Jewish Synagogue, Buckley's Flour Mills, Oddfellow's Hall, City Town Hall and the Shamrock Hotel.
The Gardens are maintained in apple-pie order by efficient gardeners. The Sydenham Gardens Hotel, under the new landlord, Mr. Henry Newey, has undergone considerable renovations.
At the formal opening of the hotel by Host Newey recently, a ball and supper were given in the capacious dancing saloon, which has been re-decorated.
Mr. Geo. Cragg's efficient band supplied the music, to the satisfaction of the company, and an agreeable evening was spent. Perhaps there are one or two desiderata which may be supplied in due course, such as bath-rooms, a billiard table, and a band to play in the gardens on Wednesday half-holidays, and other holidays. I understand that steps have already been taken for the engagement of a band. The gardens are coming into increased favor as a fashionable resort for ladies, for whom there is a private entrance disconnected from the hotel, and admission free. A great deal might be urged, upon social and sanitary grounds, to show why these gardens should be more extensively patronised as a fashionable promenade, but I have already trespassed too much upon your space. THE SYDENHAM GARDENS. (
1872, November 28
).
Bendigo Advertiser
(Vic. : 1855 - 1918), p. 2. Retrieved from
http://nla.gov.au/nla.news-article88247316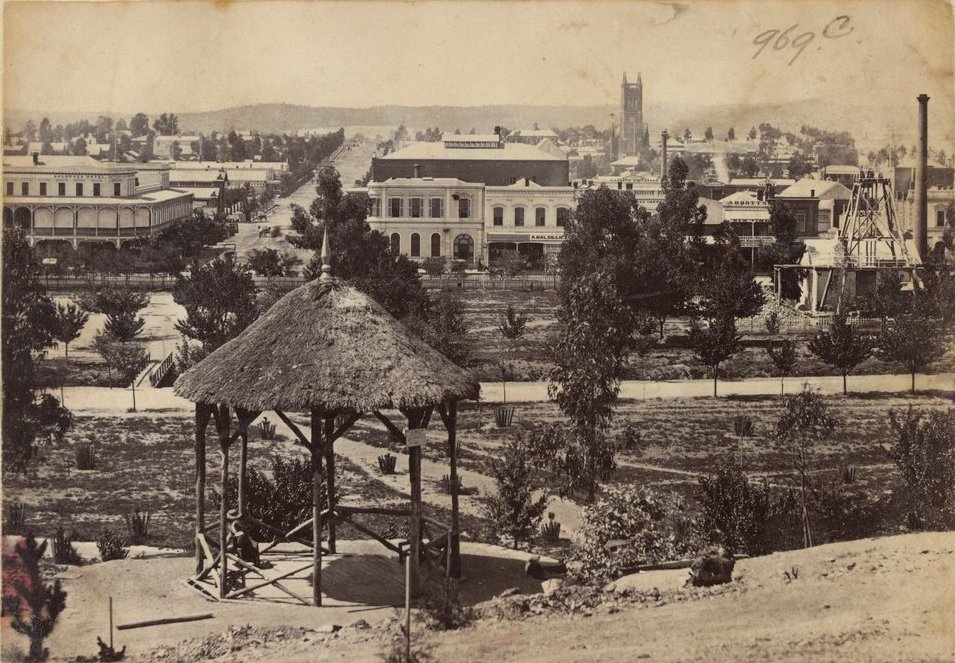 Part of Sandhurst as seen from the Camp Hill Reserve
By
N. J Caire 1837-1918, photographer.
Date: 1876 – courtesy State Library of Victoria. Image details: Photographic print taken from Camp Hill Reserve (now Rosalind Park) looking down to township of Bendigo (then Sandhurst). Shows rotunda in foreground, poppet head (c.r.), with Shamrock Hotel and St. Paul's Cathedral visible in
background
.
Transferred from The Victorian Patents Office to the Melbourne Public Library 1908.
Link to online item: http://handle.slv.vic.gov.au/10381/55033
Did you know that Bendigo used to be called Sandhurst? And then changed its name back to Bendigo?
Now that the Bendigo Advertiser is digitised on Trove, spanning 1855 to 1918, you can learn all kinds of fascinating details about the history of this famous Victorian city, including the controversial change of name that occurred over 100 years ago.
Bendigo Advertiser, 27 April 1891, page 2:

THE BENDIGO ADVERTISER
(PUBLISHED DAILY.)
PROGRESSION, OUR RIGHTS, AND OUR RESOURCES.
SANDHURST, MONDAY, APRIL 27, 1891.
BENDIGO OR SANDHURST.
TO MORROW a poll will be taken in order to ascertain whether the ratepayers of Sandhurst are desirous of adopting the old name of Bendigo, or of adhering to the name of Sandhurst, which the city at present bears. A correspondent, writing under the nom de plume "Sandhurst" in our Saturday's issue,
states that while not one solid reason has been advanced for the change, there are many weighty arguments against it. The only arguments "Sandhurst" urges are contained in the following sentences:— "For 38 years it has been the City of Sandhurst, County of Bendigo. Why did our pioneers—then in the height of their youth and energy—permit the change, and why has it taken them nearly 40 years to discover the terrific injury we have been bearing so patiently?" Now, in the first place, Sandhurst has not been a city for 38 years, and the County of Bendigo was not created till some years after the adoption of the name of Sandhurst for the township in 1853. Bendigo was the name of the dig-gings, and did not comprise any more territory than was contained in the area between Epsom and Kangaroo Flat and Back Creek and Eaglehawk. As for "Sandhurst's" sneering allusion to the pioneers having permitted the change, it only shows his ignorance of conditions under which the diggers lived in those days. It is a wonder that "Sandhurst" did not go farther and
ask what the councillors and members of Parliament were doing in 1853 that they did not place their views before the Govern-ment of the day.
For Sandhurst's information we will point out that there was no Council in 1853, no representation for the goldfields population in Par-liament, no persons holding authority in the place but the officials who represented the Government, including the "numbskull" who hit upon the name which our corres-pondent has adopted as his nom de plume. As a matter of fact the people of Bendigo did protest against the change of name, but it was only one of very many protests which were unheeded in those days, when the diggers possessed none of the rights and privileges which every individual in the community holds to-day. "Sandhurst" also makes a very ungraceful allusion to the old age of some of the gentlemen who advocate the change, and the probability of their paying an early and prolonged visit to the cemetery. He may be reminded that while we are all, old and young, going the same road, the grey-headed pio-neers are often hardy, and tenacious of life,
and some of them may remain long enough their juniors
carried to "that bourne from whence no traveller returns." We only mention this to show how absurd it is to talk about the "gratification afforded by the change being only for a few short years." For that matter, if the advocates of Sandhurst win to-morrow, there may be some among them who may be gratified by the result "for a few short weeks." Who knows? Certainly
not "Sandhurst."
The advocates of "Bendigo" want to get
back a name which never should have been taken away from the place, and in this they certainly have a stronger case than those people who succeeded in having "Emerald Hill" changed to "South Melbourne," "Hotham" changed to "North Melbourne," and "Sandridge" to "Port Melbourne." It is a name that has sunk deep into the hearts of the people of this goldfield, and to the world it represents a golden era in the history of Victoria. Is it any wonder there-fore that such a general desire exists amongst the inhabitants of the district to keep the name prominently in view? They wish to
be connected in name with their famous
surroundings; they wish the capitalists of Britain to know that this goldfield is the wonderful Bendigo that startled the people of the old country by its riches; they wish them to know that though the gold so profusely scattered over its surface is, to a great extent, gathered, its mines have, since the discovery of the field, continued to yield an almost
fabulous amount of gold; also that it still produces large quantities of the precious metal, that its oldest mines are not worked out, and that there is abundance of virgin ground for the investment of capital, far more than can ever be opened up by its people in the present or for generations to come. It is with the object of associating the greatness of the past with the profitable work of the present; and for still further developing the mines; that it is contended capital can be directed from Britain to this goldfield, and the association of ideas referred to it is thought, can best be attained by restoring the name "Bendigo" as the name of the city and goldfield, and by sending to the old country, regular statements of the yields and dividends of the mines as the yield of the Bendigo goldfield. That Bendigo is known, in the old country, as a once great goldfield, is fully testified to by many well-known residents of this district who have revisited the scenes of their youth, while Sandhurst is not so known, but is invariably connected with a military college in Eng
land.
Already a very pronounced opinion has been given in favor, of the proposed change of name by a petition, of nearly 4,000 signatures while, it was shown, that most of the institutions of the city are called by the name "Bendigo." There was some opposition as there usually is to all movements in the public interest, but a counter petition only contained some 300 names. The Minister in whose department rests the power of making the alteration, instead of at once acceding to a request so strongly put, has decided to take a poll of the ratepayers on the subject, and that poll takes place to-morrow. It therefore behoves all those who are in favor of restoring the name Bendigo, or retaining that of Sandhurst to record their votes. This is a question in which the miners as well as the tradespeople, are deeply interested. If capital can be turned to this part of Victoria, and there is no place in Victoria where its investment is so legitimate, the whole people must benefit.
It is from a practical point of view the change of name is chiefly urged, but there is a sentimental side to it, and sentiment is a powerful force in the world as at present constituted. The name "Bendigo" is a good one, a strong manly name as befits a mining community. It is a name with a meaning. Sandhurst as a name has no relevancy whatever to this district except that it recalls to recollection a dark period in the history of the gold-field, a time when it was under the rule of upstart officialdom, whose minions collected extortionate taxes at the point of the bayonet. Against the gross tyranny of the time the men of Bendigo rose and struck for freedom and justice, and they succeeded; but it was to blot out the name of Bendigo, that the name Sandhurst was given to this city and goldfield by these officials. Is Sandhurst, with such a reputation and origin a name to be perpetuated? Should not the name rather be "Bendigo?"
It is the birth name, singularly appropriate in its meaning, "I bless."
Gold is a good thing, and the 800 tons of precious metal extracted from the mines of Bendigo have proved a blessing reaching far
and wide. Its gold, with that of Ballarat (good old name, so meet to be companion to Bendigo), proved a blessing in relieving the crowded population of the old country; it drew thousands of the most adventurous and energetic people of Britain to this new land. They built Marvellous Melbourne with the gold its valleys and hills produced. Bendigo gold raised up this city with its noble, educational, benevolent, and religious institutions, and it is the foundation of its industries. So well have these facts been recognised that even in their very stones the name of Bendigo is engraven. Bendigo gold has had much to do with placing Victoria in the proud position of foremost of Australian colonies. Bendigo representatives have done much to shape the life and destinies of this country. It was Bendigonians who materially assisted to rouse the population into action against the tyranny of official rule, a Bendigonian who first secured representation for the miners in Parliament; a Bendigonian who helped to unlock the lands; a Bendigonian whose name is inseparably connected with the free education, the Bendigo water supply, the regulation of mines statute, a Bendigonian who established Hospital Sunday in Victoria; and a Bendigonian who is the pioneer of deep sinking. In fact all that is best and noblest in the district and country is for ever linked with Bendigonians. Is it not most fit and proper, there-fore, that such a grand record should be kept over in remembrance as proud memories, and for example? That can best be done by keeping alive the name Bendigo, by calling this city by that name as the living ever-present representative of a great goldfield, and a glorious heritage.
THE BENDIGO ADVERTISER (
1891, April 27
).
Bendigo Advertiser
(Vic. : 1855 - 1918), p. 2. Retrieved from
http://nla.gov.au/nla.news-article88961098
Ulimaroa Origin

Ulimaroa was a name given to Australia by the Swedish geographer and cartographer Daniel Djurberg in 1776. Djurberg adapted the name from Olhemaroa, a Maori word found in Hawkesworth's edition of Captain James Cook and Sir Joseph Banks' journals which is thought to have been a misunderstood translation — the Maori were actually referring to Grand Terre, the largest island of New Caledonia. Djurberg believed the name meant something like "big red land", whereas modern linguists believe it meant "long hand" — echoing the geography of Grand Terre. The spurious name continued to be reproduced on certain European maps, particularly some Austrian, Czech, German and Swedish maps, until around 1820., including in Carl Almqvist's 1817 novel Parjumouf Saga ifrån Nya Holland (Stockholm, 1817).

Huddart Parker's 5,828 GRT passenger ship Ulimaroa, built by Gourlay Bros in Dundee in 1907 and scrapped in 1934. Photo courtesy John Oxley Library, State Library of Queensland.

SS ULIMAROA is shown at wharf No 2 Naval Buoy. The vessel was used for trade to Tasmania and along the Australian coast. ULIMAROA is shown painted in a camouflage razzle-dazzle paint scheme, used as a protection against enemy attack during World War I when it served as a troopship.
SS ULIMAROA was a 5777 ton steam ship built in 1908 by Gourlay Bros &​ Co at Dundee. It was registered in Melbourne and employed on the trans Tasman trade route under the owners of Huddart Parker Co. It also made a number of passages along the Australian coast.
ULIMAROA could accommodate 190 first, 120 second and 120 third class passengers. During World War I it was requisitioned by the Commonwealth for war services transporting troops. In 1934 it was broken up by Japanese scrappers.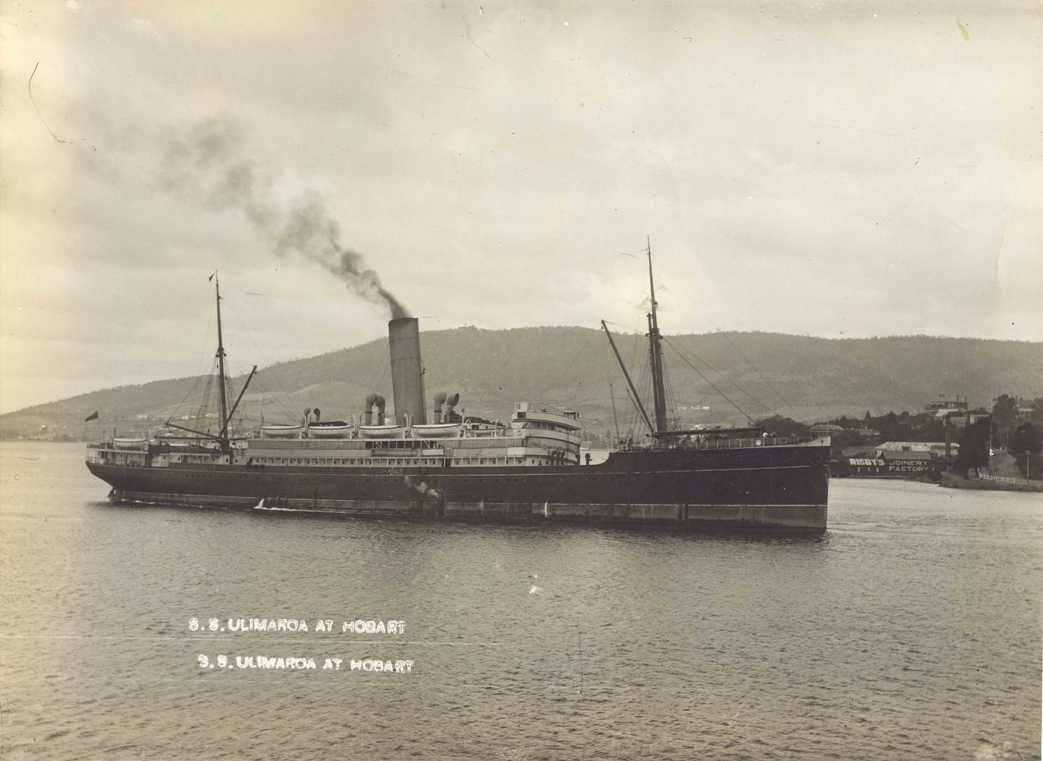 S.S. Ulimaroa at Hobart - From
LINC Tasmania records - State Library of Tasmania Archives