November 26 - December 2, 2017: Issue 339

Women In The Surf Life Saving Movement As Life Savers: From At Least 1910 - Awarded Medals For Saving Lives From 1880 In NSW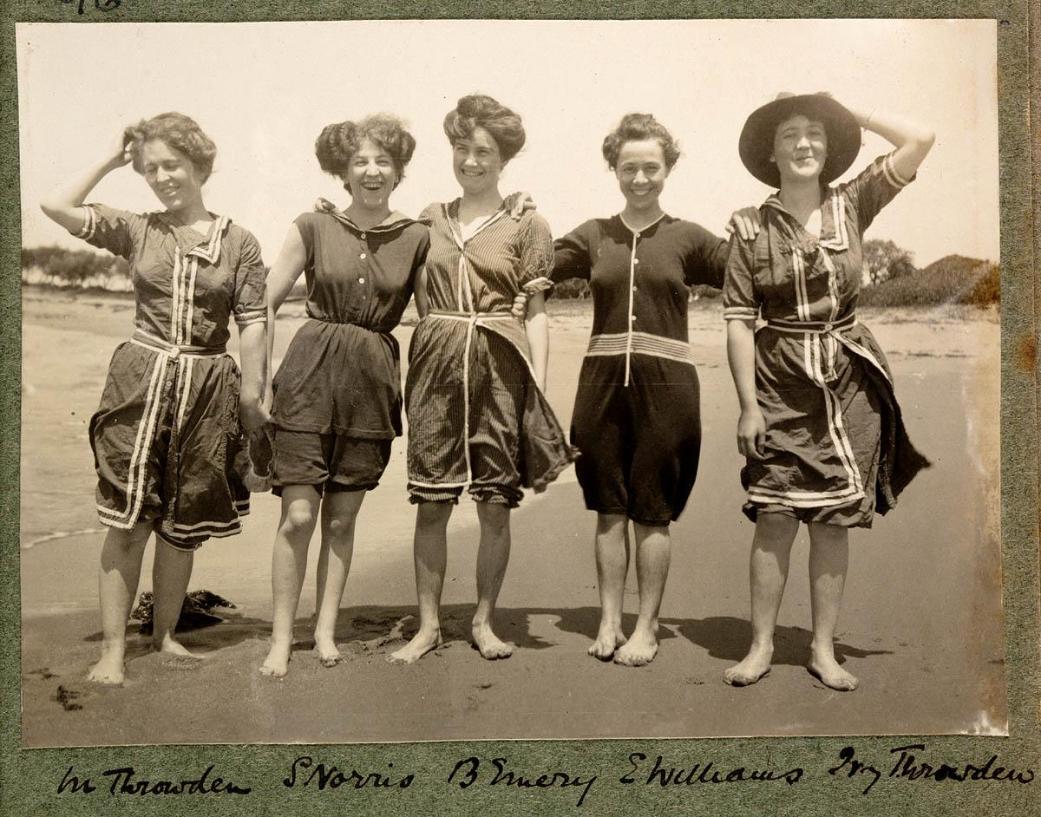 Women in bathing suits on Collaroy Beach, 1908, photographed by Colin Caird,courtesy State Library of NSW, Image No.: a845001h - Models from left to right: M. Throwden, S. Norris, B. Emery, E. Williams, Ivy Throwden
The contribution of women as surf lifesavers is finally beginning to emerge again. This week's (November 22nd) presentation of bronze medallions to the Terrigal ladies who patrolled that beach during World War Two as an all-women squad (with an occasional token male), presents an opportunity to acknowledge women and girls did do more than work hard as fundraisers to establish and keep going surf life saving during its first years and formative decades.

Although there were influences that wanted to separate the sexes to keep the clubs strong during the 1920's and 1930's, as women had been members prior to then, no one would deny that when you need your life saved you are not going to slap away a hand offered based on gender.
Women had been saving lives in the water prior to then too - a perusal of earlier than then periodicals and news reports shows women saving people from drowning and, by the late 1870's and early 1880's, were receiving awards and medals from the
National Shipwreck Relief Society of New South Wales
- some were only children too when they performed these feats!
The National Shipwreck Relief Society of New South Wales (later the Royal Shipwreck Relief & Humane Society of New South Wales) was founded in 1877 'for the relief of the widows, orphans and others dependent upon men lost in the marine service of our coast, or elsewhere, such relief to be distributed at the discretion of the Committee'. In 1902 it became the Royal Shipwreck Relief & Humane Society of New South Wales, and in 1968 it was re-named the Royal Humane Society of New South Wales. Medals and certificates were given to those who saved lives, focused on saving those from drowning.
In fact, the first to be awarded a medal here was a
Mrs. Maria Boldt, who won her Silver Medal in 1880 and
received
in July.
The annual meeting of the National Shipwreck Relief Society of New South Wales was held yesterday afternoon, at the Hall of Commerce.
Captain F. Hixson
occupied the chair. The third annual report of the committee was submitted and adopted on the motion of the chairman, seconded by Sir. T. Buckland. From the report it appeared that the number of seamen of all grades who have subscribed as members to the society amounts to 522, viz., 178 masters, 137 officers, 20 engineers, 5 pilots, and 170 seamen. The claims upon the society have providentially not been great during the past year. A sum of £115 has been granted to widows whose husbands lost their lives at sea, and £95 18s. in assisting members who had suffered personal loss through shipwreck. A total sum of £819 11s. 3d. has been collected during the year, to which has to be added interest derived from fixed deposits £394, making a total income of £1213 11s. 3d. The committee have received from Captain D. Allen the sum of £70 16s. 3d., the balance of a fund subscribed on the occasion of the wreck of
the Elinor Lancaster, off Newcastle, some years ago, held in trust by him as Treasurer of the Shipwrecked Mariners' Society.

It was reported that the society's silver medal had been presented to Henry Lang, Mrs. Maria Boldt, and Manuol Zupa, for having displayed acts of bravery in the saving of human life

. The committee expressed regret at having to record the death of their late colleague, Captain IT. E. Shorter, whose interest in the society since its foundation was unfailing. In concluding:their report, tho committee took tho opportunity of thanking the various donors and subscribers for their liberality during the past year, and ajipealed to the general public for a continuance of that interest and support which has hitherto been manifested towards the society. The public meeting having ter-minated, a committee meeting was held for the purpose
of electing two members to fill tho vacancies which had occurred on the committee, and Captains J. Brown and W. Dobinson were unanimously appointed to the
vacant positions. Mr. J. G. Oatley, one of the joint
honorary secretaries, tendered his resignation, which was accepted with regret.
NEWS OF THE DAY. (
1880, August 27
).
The Sydney Morning Herald
(NSW : 1842 - 1954), p. 5. Retrieved from
http://nla.gov.au/nla.news-article13467015
Presentation of a Medal to Mrs. Boldt.
The ceremony of presenting the silver medal of the National Shipwreck Society of New South Wales to Mrs. Boldt, wife of the captain of the ship Moorburg, in recognition of her heroic conduct in navigating the vessel into Moreton Bay, under unexceptionally trying circumstances, in October last, took place in the Oddfellows' Hall, Freemantle, on Tuesday afternoon, June 29. At the request of the society, the presentation of the medal was performed by
his Excellency the Governor, who was accompanied by Lady Robinson and the private secretary (Mr. E. W. Howard). The hall was crowded in every part, and among those assembled were the Chief Justice, the leading officials of Perth, and many prominent citizens. Mrs. Boldt is a voung, prepossessing, and altogether interesting little body, having a decidedly intellectual expression of countenance, without being deficient in those traits of kindness and amiability which is woman's highest charm. Mrs. Boldt has been in the habit of accompanying her husband to sea during the past four or five years, in the course of which she gained that practical experience of seafaring life which proved of so much service on the memorable occasion of the Moorburg's
voyage
from China to Melbourne. Like her husband, she is German by birth and descent, her birthplace being the little village of Moorburg (after which the vessel is named), on the outskirts of the port of Hamburg. The particulars of the voyage of the Moorburg are well known. The crew were nearly all disabled through severe sickness, and Mrs. Boldt not only ministered to the wants of the invalids, but took an active part in navigating the vessel.

In a gale of wind Mrs. Boldt remained alone at the wheel, the only two surviving seamen on board (the captain and the mate) being confined to their hammocks

. The captain, however, in his extremity, managed to creep on
deck
, and attempted to unfurl a sail, but all his efforts in that direction proved futile, and there was nothing for it but allow the gale to expend its fury. This, fortunately, it did before the night came on. This was the day before they sighted Cape Moreton, when the pilot came on board.
In presenting the medal his Excellency referred to the
occurrence
and the official report he had received from the National Shipwreck Society, and said: "— As I am well aware, Mrs. Boldt, that true heroism such as you have displayed, such courage as you have exhibited, is always modest, £ will not embarrass you by many further remarks than those already made. I will say little more than that the act of bravery 'which you have performed not only does honour to yourself, but also elevates the estimation in which we hold your sex and the race. It is, indeed, well that we should at times look away from the little trials and difficulties of our comparatively comfortable shore lives, and think of the hardships and privations and cf the dangers which have to be encountered by those who follow the sea as a profession. And as we do so, we may indeed feel thankful and proud that there are men, and women too, who know how to act with true courage and heroism under circumstances of the most difficult and trying nature that can possibly be presented. My only tinge of regret, Mrs. Boldt, on this pleasing occasion is that we cannot claim you as a fellow-countrywoman. But if this link be wanting between us, you may be sure that, on the part of all present, towards yourself there exists a bond of sympathy and admiration which none of us will ever forget. I have now much pleasure in presenting you with the medal

which the National Shipwreck Relief Society of New South Wales

has awarded you, and I trust you may live long to posses.
The medal, a very handsome one, is of solid silver, an' on one side bears the following
inscription
:— ' Presentea to Maria Boldt, for brave conduct, in 1879, by the 'National Shipwreck Society of New South Wales.' On 08 other side appears an allegorical figure nwH'fs in her hand a wreath. At her feet is another figure in the act of succouring a shipwrecked castaway on the background representing a vessel tossed about on a stormy sea, the whole being surrounded by the following legend;
Sunt lacryrince rerum sunt et sua primia lauds.
The pre
sentation of the medal was the signal for an outburst of applause, which was sustained for some time, during which his Excellency cordially shook hands with the recipient who was visibly affected, and who, failing in words to delineate her feelings, expressed her gratitude by a look and a smile of genial sweetness, far more eloquent than any words could convey. Captain Boldt, her husband, then ascended the platform and, amid loud cheers, thanked his Excellency for the honour done to his wife.—
Western Australian
, July 2
In a closer connection, in 1898
,
when the Maitland
was wrecked at Broken Bay, a Mrs. Hammond and the chief engineer were coming in shore by a line, when the engineer became exhausted and collapsed into the surf. This lady, in peril to herself, reached down until she caught him, and retained her grip until they were dragged through 150 yards of raging sea to safety.
Presentation of Medals. In the Town Hall, Sydney, on Thursday next Lady Hampden will present the silver medals awarded by the National Shipwreck Relief Society of New South Wales to those whose heroism in connection with the Maitland wreck has been so widely recognised. The Premier and Sir William Manninng (ex-Mayor of Sydney) and Mr. Edmund Barton, Q.C., are expected to be present. Mr. Wiegond, city organist, will play "The Storm." Those to whom the medals are to be presented are: W. Williams, A.B.; A. Anderson, second mate: Jeremiah Anderson, second engineer; Walter Phillips, chief steward; Mr. John Russell, of Newcastle; and Mrs. Hammond, of Bulladelah, the mother of the baby taken ashore on the day after the wreck. Mrs. Hammond,. like Mr. Russell and the others, displayed great courage in saving life on the said occasion.
N.S.W. Shipwreck Relief Society
THE 21st annual meeting of the National Shipwreck Relief Society of New South Wales will have been held before the published date of this issue. At it a number of presentations are to be made to people who bave distinguished themselves by gallantry during the past year at wrecks, and in life saving on or in the water. The two gold medals go to men very differently circumstanced
and for acts under very different conditions. In both cases we published large portraits and described the acts at the time, but we add vignettes of the gallant fellows now. In March last the public was thrilled by the narrative of the Atacama's boats crew who had survived terrible perils of starvation and tempest in an open
boat, and been preserved in a manner approaching the miraculous. As the story - sank into the public mind it became evident that the little group of survivors owed their preservation, so far as human aid could help them, to the extraordinary endurance, presence of mind, and indomitable courage of the Chilian boatswain, Jose Figueroa...
Three ladies receive the silver medals and certificates of merit.
Miss Constance Emily Mytton Pratt, daughter of Dr. E. H. L. Pratt, of Parramatta, won hers under circumstances thus officially described : On the 5th February, 1898, whilst bathing at the Parramatta
Centennial Baths, a young girl named Gertrude Lowe, having stayed in the water after all the others had left, got out of her depth and became exhausted. Her sister, Victoria, went to her assistance, hut being seized by the younger one both were in imminent danger of being drowned, when Miss Pratt, who hai just finished dressing, hearing the cries that two girls were drowning, without the slightest hesitation plunged in to their aid and. though heavily encumbered by her clothing, managed to keep them above water, and eventually, with great difficulty, assisted them to reach the steps. Miss Pratt was then very exhausted, being in a weak state of health at the time.

Miss Isabella M'Lean was at the wreck of the Kameruka in October last, and besides the medal and certificate she has received various presentations from passengers.

One of these, a gold watch, was presented at the same time as the medal. It bears this inscription : ' Presented to Miss Isabella M'Lean for her bravery at the the rescue of passengers and crew of the S.S. Kameruka, wrecked October 16, 1897, by John Mundav, John Gainford, S. L. Bensusan, E.V. Bensusan.' This is the official description of her acts. On October 16, 1897, on the occasion of the wreck of the S.S. Kameruka, at Pedro point, near Moruya, N.S.W., as just described, after Captain Sutherland had become exhausted and helpless from the force of the sea,

Miss M'Lean, who was on the beach with others, seeing the danger of his being again carried out to sea, heroically rushed into the surf, and, seizing him, succeeded, with assistance

, in dragging him out of danger.

Mrs. Anita Hammond was the heroine of the Maitland wreck.

Special interest was aroused by the circumstances at the time on account of the pathetic picture of Mrs. Hammond's little baby, kept in the rigging by the captain, boatswain, and others of the wrecked steamer, with the seas breaking over them all night, and the men striving to keep the mite warm, and to quieten its pangs of hunger by chewing biscuit and putting it in its mouth. Mrs. Hammond is the wife of a builder and contractor at Beulah Dalah.

The society thus records her exploit : —At the wreck of the S.S. Maitland, after the life line had been connected with the shore, Mrs. Hammond, accompanied by Mr.
M'Nicoll, Chief Engineer, was the first to leave the wreck. When about 150ft. from the shore Mr. M'Nicoll became exhausted, loosing his hold of the line, and must have been drowned had not Mrs. Hammond, although almost entirely bereft of clothing by the force of the waves, with great presence of mind bravely reached down, caught him by the hand and enabled him to retain his hold until the assistance of Messrs. Henderson and Phillips arrived,

when all reached the shore in & very exhausted condition. Other recipients of silver medals this year are Alfred Burgess, Joseph Victor Powell, E. W. G. Twentyman, A. Cavill, John George, St. John M'Vernon, Frank Moore, J. P. M' Arthur, Angus Sutherland, William Williams, Alex. Anderson, John Russell, Jeremiah Henderson, Walter Phillips ; certificates of merit were awarded to Eugene Carlberg, C. J. Engstrom,G. Engstrom, S. S. Smith, F. A. Franks, P. J. Johnston, B. Rodd. In addition Captain Carlberg, of the ketch Advance, was also presented with a pair of binoculars, and C. J. Engstrom, mate, and G. Engstrom, A-B. of the same ketch, were presented with three guineas each.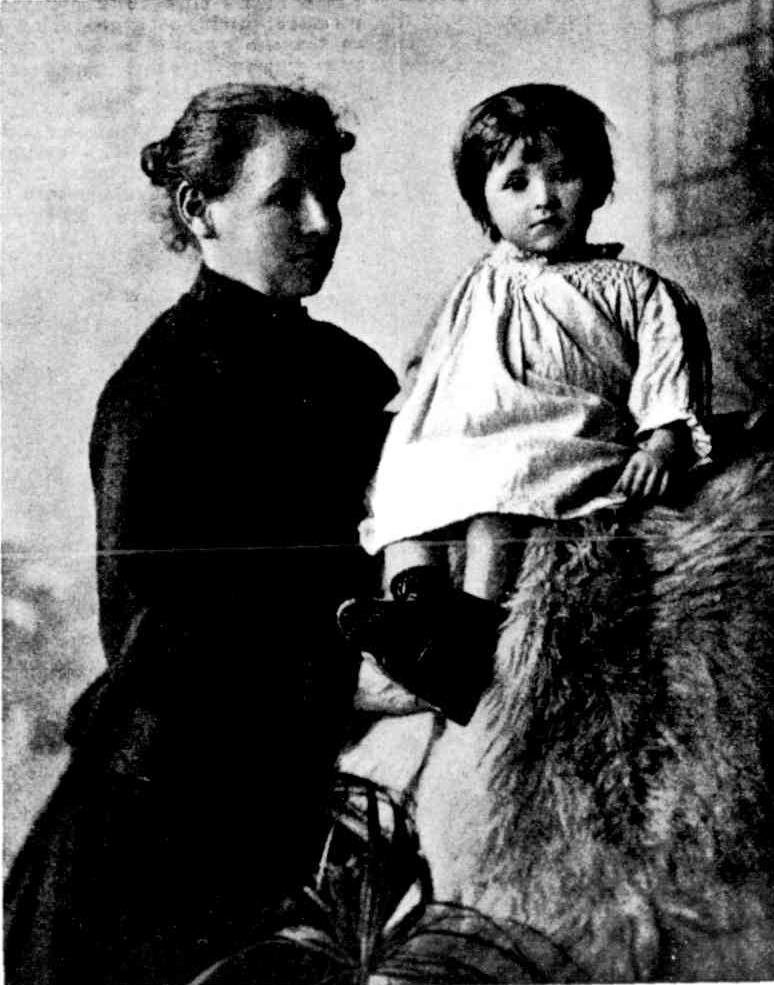 MRS. ANITA HAMMOND AND HER BABY (the ' Mascotte ' of the Maitland Wreck).
This was also extended to youngsters and teaching ways to save lives:
Colonial Secretary's Office,
Sydney, 16th November, 1891.
THE subjoined copy of the new conditions under which the
Queen's Medallion of the Royal Humane Society of
Australasia may be competed for by Pupils of State Schools is published for general information.
GEORGE E. DIBBS.
______________
THE ROYAL HUMANE SOCIETY OF AUSTRALASIA.
Conditions upon which the Society will award the Queen's
Medallion for Proficiency in Swimming Exercises with Reference to Saving Life, and Certificates for Proficiency in the Theoretical Knowledge of the Art of Saving Life from Drowning, &c., &c., &c

.
Open to all Public and Private Schools in the Australasian

Colonies.
1. A Bronze Medallion will be awarded by the Society, each year, for the practical demonstration of ability in swimming to the relief of a drowning person, and effecting his rescue and reeuseitation, to each State School, without payment of any fee, and to each Private School which shall contribute the sum of half-a-guinea to the funds of the Society. Notice of intention to compete most be given to the Secretary on or before the 1st day of February in each year.
2. A Silver Medallion will be awarded by the Society, each year, to be competed for by all winners of the Bronze Medallion for that year. The first competition will be held in Melbourne, before the President and Directors of the Royal Humane Society of Australaaia, at a place and date to be determined by them.
3.
Two Certificates, for the most proficient boy and girl in
for saving life in cases of drowning, snakebite, choking, sunstroke, bleeding, fainting, and apoplexy, to each State School,

without payment of any fee, and to each Private School which shall contribute the sum of half-a-guinea to the funds of the Society. Notice of intention to compete must be given to the Secretary on or before the 1st day of February in each year.
4. The Practical Demonstration shall be made in the
presence of the Scholars and the Head Master or Teacher, or of such other judge as he shall appoint, whose award shall be
final.
5. The Theoretical Examination will be held under the
supervision of the Head Master or Teacher of each competing school. Printed examination papers will be issued by the Society on application. The answers must be in writing; the
decision of the Head Masters or Teachers thereon to be final.
N.B.—The Subscription of half-a-guinea will include the competition for both Medallion and Certificate.
Rules to be observed by Competitors for the Bronze Medallion
awarded for Proficiency in Swimming Exercises at the Public and Private Schools, with reference to Saving Life from Drowning.
1. The competition for the Medallion to be open to all pupils of the school, subject to the approval of the Head Master or Teacher, and to be held at euch place as he shall direct, and to be carried out under his supervision or that of such umpire as he may appoint.
Each competitor to have one trial, under the following con
ditions :—
2. 1st Trial—A dummy or block of wood, to represent a body,
to be floated at some distance from the place where the pupil has to enter the water. The competitor is to swim to it and bring it back to the starting point.
N.B.—In running water, this rule may be modified to such
extent as the Head Matter or Teacher may consider
necessary.
2nd Trial—A weighted dummy or block of wood with rope
handles to be sunk at some distance from the place where the competitor is to enter the water. The competitor shall swim to the spot, dive, and bring the dummy to land at a place appointed. The spot where it is sunk may be indicated by a floating cork, not to be attached to the dummy (except in running water).
3rd Trial—A dummy to be sunk in the water, the place not
being indicated. The competitor to enter the water at a given point, then dive, find the dummy, and bring it to shore. The weight of the dummy to be proportioned to the ages of the pupils.
A certain number of marks to be awarded to every competitor in each of the above trials, the minimum time occupied being an important consideration.
3. Competitors to be partially clothed.
4. The Medallion is to be awarded to the pupil who has obtained the greatest number of marks in the above three trials, and who has satisfied his Head Master of his ability theoretically to restore the life of the rescued person according to the Bules of the Society. The winner at any competition is ineligible for future prizes.
It is strongly recommended that all competitors should make themselves acquainted with the Bules for the Restoration of the Apparently Drowned, &c., as adopted by this Society.
WILLIAM HAMILTON,
Secretary. Melbourne, 41,
Selborne Chambers,
19th August, 1891.
A few lady examples from pages where you could also see these awardees:
SILVER MEDALS AND CERTIFICATES.
Janet Euphemia Shearer (aged 15 years)
. — On September 22, 1906, while four youths were attempting to sail across Lake Albert, Wagga Wagga, in a canvas dingy, a sudden squall struck the boat, and capsized it, throwing the occupants into the water. Being unable to right the boat, the boys, owing to the cold, became benumbed and exhausted. Janet Shearer's attention was drawn to the occurrence by an eye-witness of the accident, who asked her to go for assistance, but, instead of doing that, and in spite of remonstrance, she ran down to the lake and pushed off in a small flat-bottomed boat to the aid of the boys. She rowed more than a quarter of a mile In the face of a heavy wind, and reached the capsize Just in time. Having assisted the two younger lads into her boat, she remained
and steadied the capsized boat until other assistance arrived.
BRONZE MEDALS AND CERTIFICATES.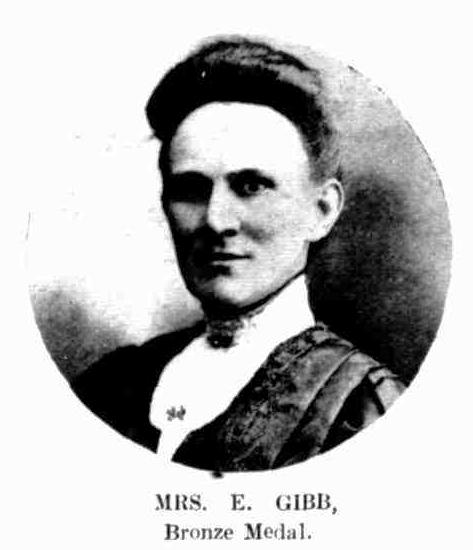 Mrs. Esther Gibbs.— On December 27, 1906, a dairyman named Amos Gibbs, 65 years of age, went into the dairy paddock at Auburn Vale Dairy, Waterloo, to drive a bull into the pen, when the animal suddenly charged him, knocking him down, and trampling upon him
. His daughter-in-law, Mrs. Esther Gibbs, who witnessed the occurrence, immediately ran to the spot, and, facing the now infuriated animal, succeeded in beating it off with a strong hay-batten, afterwards carrying Mr. Gibbs, who was much knocked about and thoroughly exhausted, to the house.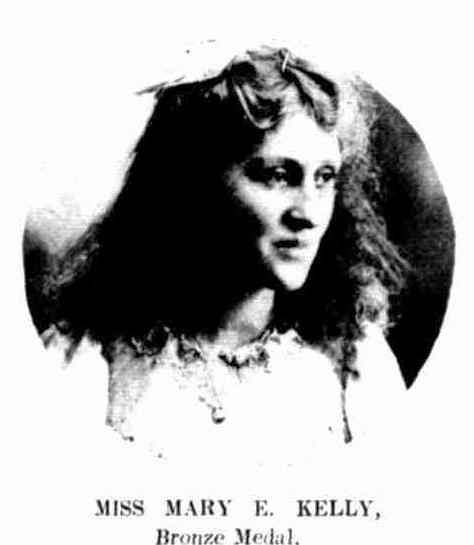 Mary Eileen Kelly (aged 14 years).— On July 16, 1906, a boy, three years of age, named York Mallock, fell from the pier at Watson's Bay into deep water, when Mary Kelly sprang into the water without divesting herself of any of her clothing
(as she saw a steamer was nearing the wharf), and, swimming to his assistance, succeeded in rescuing, the child. She was suffering from St. Vitus' Dance at the time, which was aggravated by the excitement created by her brave rescue.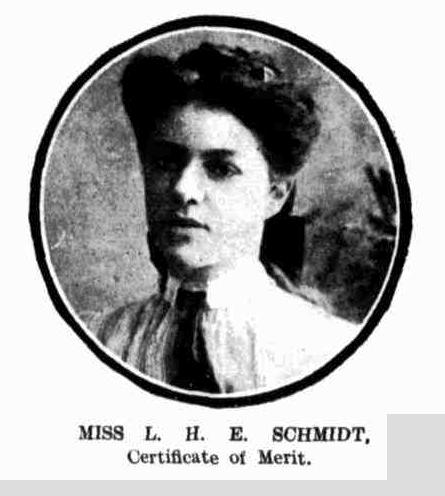 Miss Louise Hermine Emilie Schmidt, aged 15 years
. — On January 11, 1908, two young girls named Miss Richards and Miss Schmidt went for a bathe in Little River, near Wellington, New South Wales, when Miss Schmidt, who had swum out Into deep water, heard cries, and, turning round, found that Miss Richards, who could not swim, had got into deep water, and was drowning.
Miss Schmidt at once swam to her assistance, and, although compelled to loose her hold once, succeeded eventually, with much difficulty, in getting her to the bank in an unconscious condition.
Also in this page and in that year's Awards: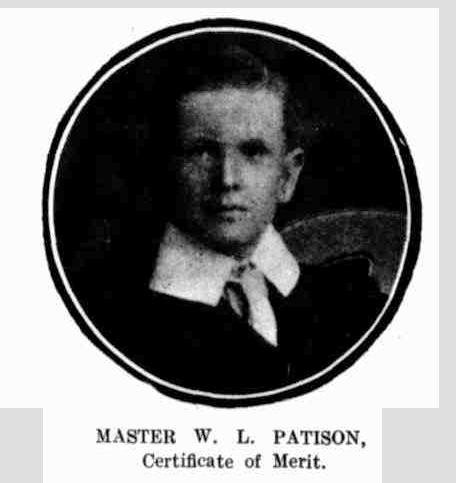 Walter Lyle Patison, aged 12 years
.— On September 21, 1907, a little boy named James E. Wright,
whilst playing on a punt-shaped boat in Curl Curl Lagoon, Manly, fell into deep water, when young Patison
,
without hesitation, dived in fully dressed, and succeeded in reaching the child
, and holding him up until, with assistance, he was got ashore.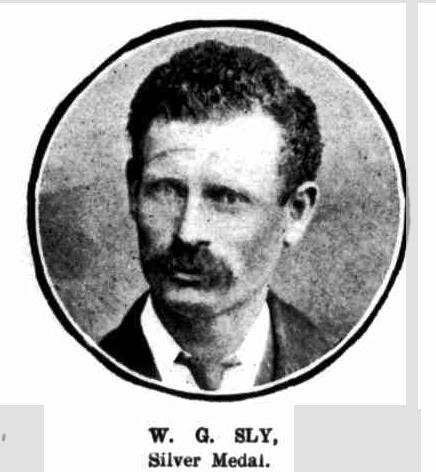 SILVER MEDALS. William George Sly

.— On May 15, 1908, shortly before midnight,

a man named James Davidson fell Into the water from the passenger wharf. Manly. William Sly, who was on the wharf at the time, dived, fully dressed, into the water,

and reaching Davidson held him up, at the same time calling out for asistance. His cries attracted the attention of Stanley Wild, who assisted Sly out of the water, and Davidson was got on to the wharf by means of the line which Sly had previously tied round him; but after prolonged efforts had been made by Dr. Hall and others to restore animation, lite was pronounced extinct.
The RLSS, still in operation in many Commonwealth countries, is a charitable trust formed in 1891 to train children and adults to swim in open water. It was also the first institution to credential experienced swimmers as lifeguards throughout the United Kingdom.
Britain's Royal Life Saving Society established a branch in Sydney in 1894 and women in NSW were actively encouraged to acquire water safety skills and to impart their knowledge to children. Women throughout NSW also gained formal qualifications as lifesavers, with newspapers of those times reporting hundreds achieving proficiency certificates in lifesaving.
The need for surf lifesavers really came to the fore in 1903 when by-laws restricting swimming at Sydney beaches during daylight hours were relaxed by councils.
The end of these restrictions drew thousands of Sydneysiders to the city's foreshores in the summer months, creating a major headache for residents and proficient swimmers alike as most of the new beachgoers were poor swimmers with little or no ocean knowledge.
The summer of 1904 set a record for drownings at Sydney beaches, the gravity of the problem meaning local councils were not going to place restrictions on the gender of people authorised to rescue or resuscitate swimmers.
In November 1904, Sydney sports newspaper The Referee reported that Mrs. May Loftus of the Sydney Ladies Swimming Club passed her examination for a Bronze Medallion. According to the article, she was the first woman in Australia to achieve the feat, which remains the prerequisite for becoming a beach lifesaver.
May's achievement was recognised by the NSW branch of the RLSS and many other women were inspired by her example and followed in her footsteps before the national surf lifesaving body banned ladies attempting to achieve the award.
In 1910, the Wollongong Surf Life Saving Club invited its female members to present for bronze medallions and four were successful.
Locally we had an all-female team giving a display at Manly that inspired a Spence painting.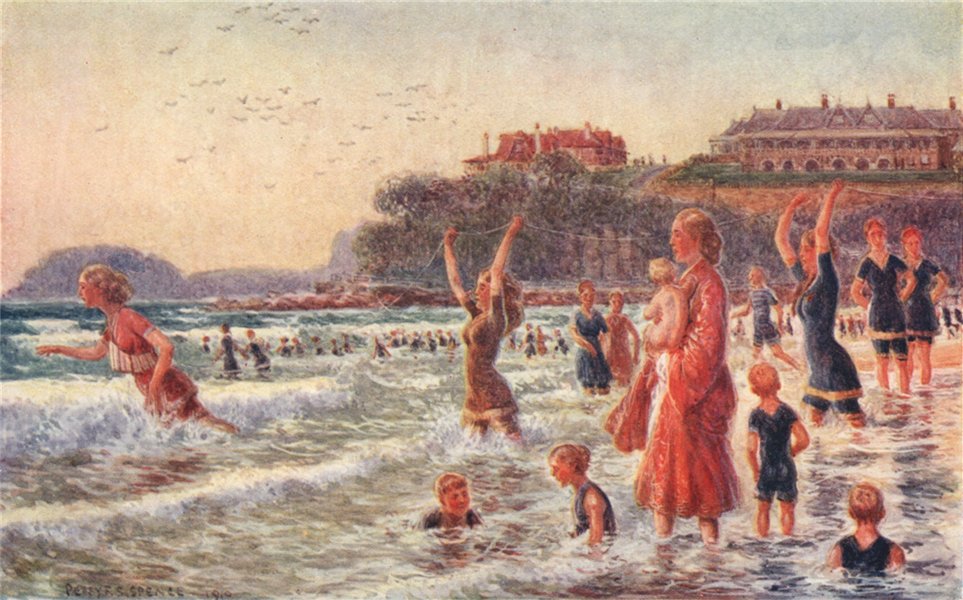 Surf-bathing - girls' life-saving team' by Percy Spence. Australia beach, 1910
CAPTION PRINTED BELOW PICTURE: 'Surf-Bathing-Girls' Life-Saving team at Practice'
Antique colour print from a watercolour painting - Published by Adam and Charles Black, London
The Manly surf carnival yesterday drew an enormous crowd to the village by the sea. A fine, warm day smiled on the proceedings, and surf conditions were good. The southern end of the
ocean beach was thronged by holiday-makers, and on the hill overlooking the scene were several thousand persons, clustering on the various points off vantage.
The proceedings began with a procession, the feature of which was a display supposed to show the
arrival of Lieutenant Shackleton and party at the South Pole.'The Amateur Fishermen's Association had a good display, and a good setting was provided in the "Early Settlers' Camp" and the "Surf banner," upheld by a girl in flowing robes, who was surrounded by lusty children in bathing dress. On the banner read, "Health greets the surfer." The local fire brigade appeared in their turn-out, and the various competing surf clubs in costume, with the residents of Manly, in motor-cars and carriages, made up a really interesting procession.
The procession over, the surf competitions and displays were begun.
The results were as follow— Alarm Reel Race. — First heat, Thirroul; second heat, Manly; third heat, North Steyne; fourth heat, Maroubra. . Final: Manly, 1; North Steyne, 2; Merubra, 3. Wheelbarrow Race.— Brown and Johnson (Coogee). Surf Race (five competitors).— Cecil Healy, L. Solomons, S. M'Kelvey, T. S. Smith, and l A. Wright. Result:— Cecil Healy jumped in, and was followed by Smith, and then came Solomons. Smith put in a fine effort, and just missed a shoot that might have taken him to victory. It was the only chance.
Rescue and Resuscitation Competition.— Bondi, 1; North Steyne, 2; Coogee, 3. Cock-fighting.— A. T. Browne and C. Mondel (Coogee). Inter-club race and Resuscitation Competition.— Little Coogee, 1 ; Manly No. 1, 2; North Steyne, 3.
During the afternoon a fine exhibition of life-saving was given by the following team of ladies:— Patient, Miss Aggie Sly;

support, Miss Dorothea Cracktanthorp ; belt, Miss Dot Wessberg; 1st line, Miss Amy Cox; 2nd line, Miss Joyce Wessberg; 3rd line, Miss Flora Glen; reel, Miss Nellie Kuhl; nurses, Nurse Alice Glen and

Nurse Jessie Sly

.
In the surf-shooting R. M'Kelvey made some beautiful runs, but had a board. J. Holland and C. Healy also gave an exceptionally fine exhibition.
The Misses Jessie and Agnes Sly and Miss Lemers
were little behind the men in this exhibition. Manned by Stan.. Jones (capt,), A. A. Watson, A. W. Bye, V. Rowlands, and W. A. Kellner the surf boat shot in in the breakers in fine style, and drew enthusiastic applause from the crowd.
A spectacular feature of the afternoon was a grand display entitled "Arrival of raft with shipwrecked crew, attack by cannibals, and rescue by men-o'-war." It was carried out very successfully, and created considerable amusement. Owing to lack of time many events were dropped, the Iast decision not being given till nearly 7 p.m.
MANLY SURF CARNIVAL. (
1910, March 20
).
The Sunday Sun
(Sydney, NSW : 1903 - 1910), p. 1. Retrieved from
http://nla.gov.au/nla.news-article226883634
SYDNEY,- : Monday;-An .enormous crowd assembled on Saturday at: Manly to witness the - Surf Carnival, which proved a great success.
Tho procession Included "displays, representing the arrival of the Shackleton party at the South-Pole, an early settlers' camp, etc. Mr. Leslie Curnow won the group prize, in which a figure representing the Goddess of Health was surrounded by a number of little girls in bathing costumes lying about as though on a beach; the background showing a picture of the sea with the surf breaking at sunrise. The Life Saving Clubs, with their reels and life lines, created an impression.
There were a large number of humorous characters. A prize was awarded to George Hell, who appeared as Professor David, a special prize being given-, to Naughty Tottie, a young surf bather from Newcastle, who appeared in a fashionable-lady's costume. The competitions were contested with keenness characteristic of the Surf Club's interest, and the spectators' enthusiasm was aroused at the start and maintained to the finish.
A fine exhibition of life saving was given by a team of ladies.
Manly Surf Carnival. (
1910, March 22
).
Clarence and Richmond Examiner
(Grafton, NSW : 1889 - 1915), p. 5. Retrieved from
http://nla.gov.au/nla.news-article61516062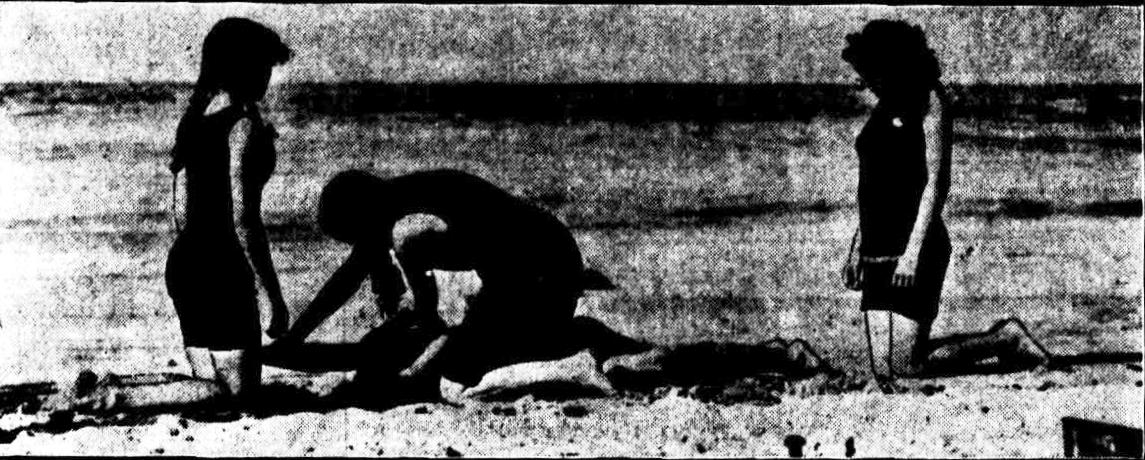 GIRLS' LIFE'SAVING EXHIBITION.
Newport SLSC's records in its excellent History compiled by Guy Jennings (Newport Surf Life Saving Club: The First Century 1909-2009) contains a postcard the back of which reads "This picture is historic and represents the first girls life saving team formed in the world. They succeeded in reaching the buoy at their first public surf carnival at Dee Why in 1910. The men's team failed (the) water was rough and heavy with kelp which tangled lines"
The above may also be the Newport Surf Club Girls: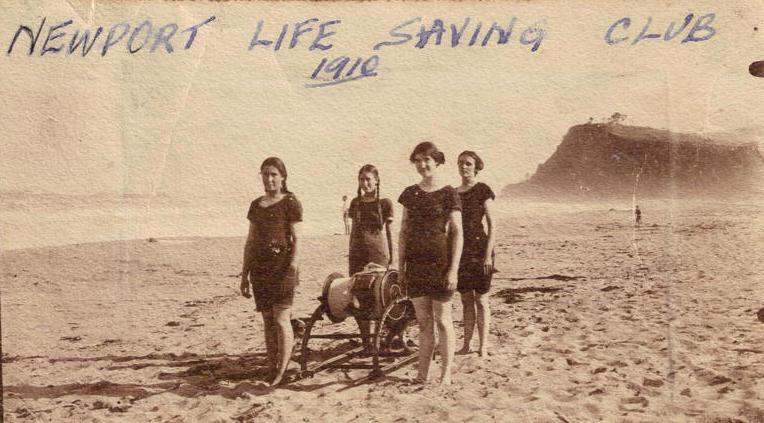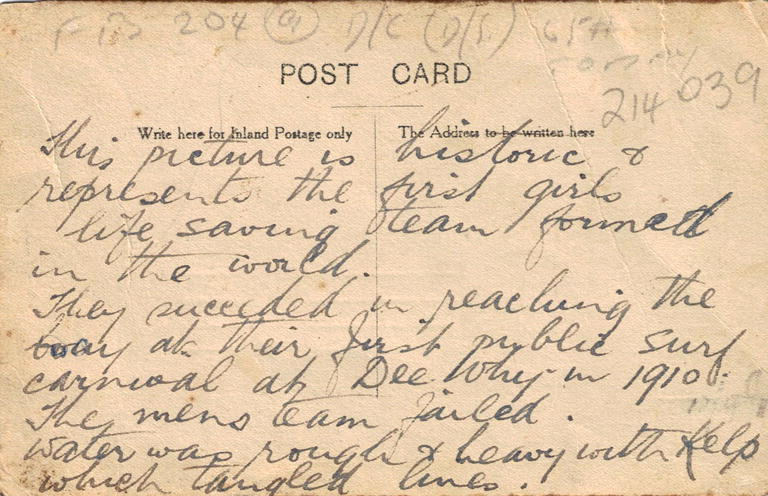 The three Hope sisters and Vera Lewis - one of the first in the world girls life-saving team, 1910; Women in at the beginning of Newport Surf Club - Annie Brennan, Elsie Brennan, Muriel Bulfin (Newport School and Hotel), Alto Corner, Olive Corner, Doris Hope, Francis Hope and Winn Hope - to name a few!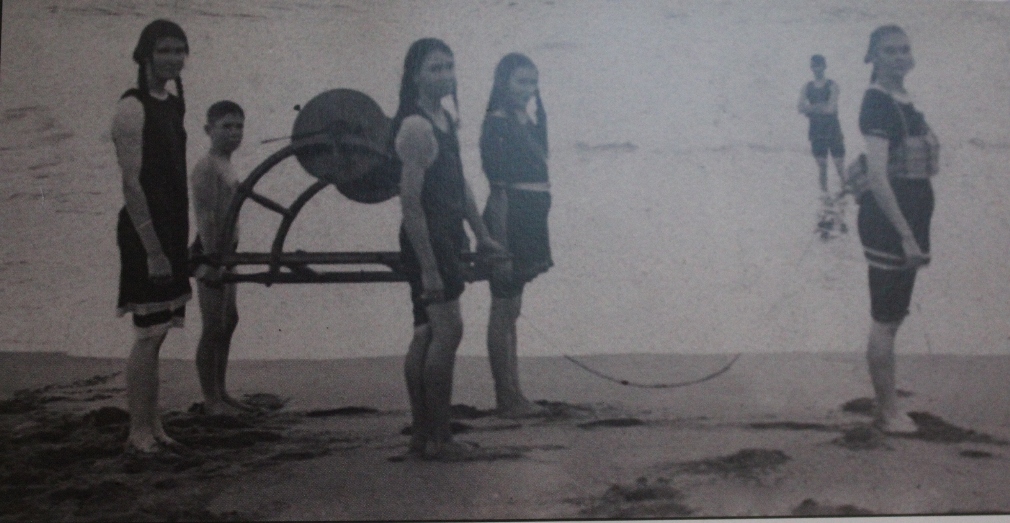 Constable ,T. Hewitt, of Newport, has for some time past, been busy in instructing the members of the Newport Surf Bathing and Life Saving Club in the methods of the Royal Life Saving Society, and hopes in a few days to present his candidates for examination. AMONG THE BREAKERS. (1910, January 20). The Star (Sydney, NSW : 1909 - 1910), p. 2 (LATEST EDITION). Retrieved from http://nla.gov.au/nla.news-article228320867
Newport Surf Club reports the formation of a life- saving class among its members. AMONGST THE BREAKERS. (1910, March 17). The Star(Sydney, NSW : 1909 - 1910), p. 2. Retrieved from http://nla.gov.au/nla.news-article228308015
LADIES' SURF CLUB FOR CRONULLA.
A public meeting was held at Cronulla with the object of forming a ladies' surf club.
Councillor M'Alister presided, and pointed out that the object in forming the club was not that ladies should take part in the actual rescue work, but in restoring the apparently drowned lady patients, and assisting, by this means, the local surf club.
It was resolved, on the motion of Messrs. W. A. Gilder and F. G. Stafford, that a ladies surf club be formed, and twentv-two ladies handed in their names as members. The following officers were . elected: — President, Mr. W. A. Gilder: vice-presidents, Mesdames G. Maiden, B. C. Monday, Gilder, Messrs. C. M'Alister, Board, Windsor,

Wilshire

, Furley, Cayley, Giddings, Doust, Wolstenholme, Evans, Houston, Cotton, Pickles, Wunderlich, Jenner, Best, Blaxland, De Leurence, Purser, -M'Donald,

Gordon-Craig,

Hill,

Wilshire,

Palmer, Stratford, Hamilton; hon. secretary. -Miss M. Wilshire; -Hon.
treasurer
. Miss C. Gilder; committee.

Misses, Board, Harnett, Cayley, Doust

, E. Evans; captain, Miss A. Evans; vice-captain.

Miss D. Cayley;

hon. instructor, Mr. F. Stratford. LADIES' SURF CLUB FOR CRONULLA. (

1910, March 16

). Evening News (Sydney, NSW : 1869 - 1931), p. 3. Retrieved from http://nla.gov.au/nla.news-article116049205
The Bondi Ladies' Surf Club have started a life-saving class under the Instruction of Miss Moloney, of the Royal Life-Saving Society. About 22 ladies presented themselves for drill last week, and their instructor was well pleased with their showing.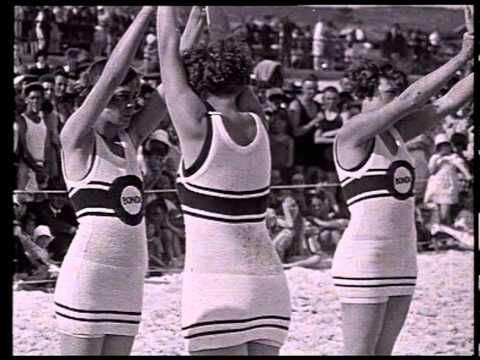 Women surf lifesavers at Bondi Beach in the newsreel "Surf Guardians", 1920's.

Mr. William Henry, assisted by Mr. Geo. H. Williams, conducted examinations in connection with the N.S.S. Sobraon, Manly Surf Club, and the North Steyne Surf and Life
Saving Club. Candidates presented themselves for all awards.

At Parramatta Baths, last Friday afternoon Misses Fanny Durack and Mina Wylie were examined in the necessary tests' for the Royal Life Saving Society's diploma (the highest),

by Mr. William Henry. AMONG The BREAKERS (

1910, December 15

). The Sun (Sydney, NSW : 1910 - 1954), p. 5 (LATEST EDITION). Retrieved from http://nla.gov.au/nla.news-article229983289
Sarah Frances "Fanny" Durack
(27 October 1889 – 20 March 1956), was an Australian competition swimmer. From 1910 until 1918 she was the world's greatest female swimmer of all distances from freestyle sprints to the mile marathon.
Durack learned to swim in Sydney's Coogee Baths using breaststroke, the only style for which there was a championship for women at that time. In 1906 she won her first title, and over the next few years, dominated the Australian swimming scene. In the 1910-11 swimming season, Mina Wylie beat Durack in the 100-yard breaststroke and the 100- and 220-yard freestyle at the Australian Swimming Championships at Rose Bay. The two went on to become close friends.
Wilhelmina "Mina" Wylie
(27 June 1891 – 6 July 1984) grew up in South Coogee, Sydney, where her father Henry Wylie built Wylie's Baths in 1907. The Baths are the oldest surviving communal sea baths in Australia.
The 1912 Summer Olympics in Stockholm was to be the first Olympics to have women's swimming. Durack and Wylie were initially refused permission by NSWLSA to compete, but later they were allowed to go provided they bore their own expenses. Durack won a gold medal and Wylie a silver medal. Durack's time in the 100 m final was 1:22.2, and Wylie's was 1:25.4., the first Olympic gold medal to ever by won by an Australian woman.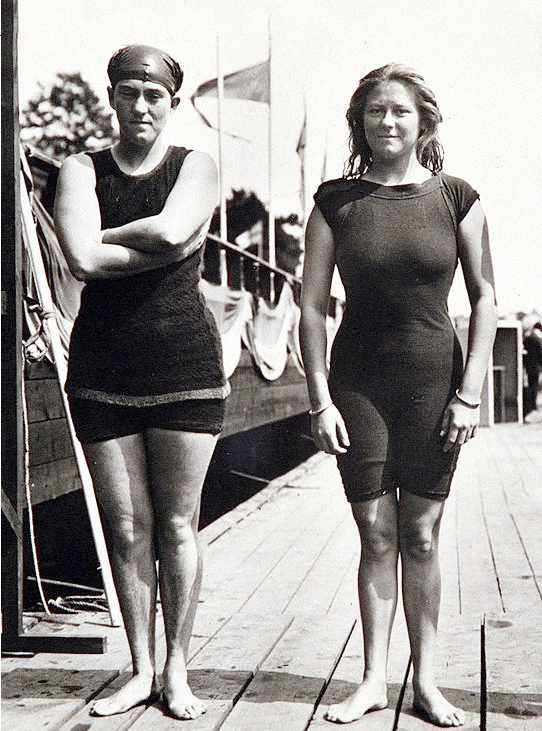 Fanny Durack (left) and Mina Wylie at the 1912 Olympics
COLLAROY SURF CLUB CARNIVAL.
The newly formed Collaroy Surf Club's first carnival on Collaroy Beach
on Saturday, proved highly successful, and was witnessed by a large number of people from the surrounding districts. The keenly-contested events included a swimming race, 'cock-fight,' potato race, the 'curry-your chum' race, schoolboys' race
and various races for ladies.
One of the features of the sport was a stirring tug-of-war between several teams from the district each consisting of eight men.
Prior to the carnival, an interesting display of surf life-saving was given by the club members under the captaincy of Mr. H. J Dellitt.
FRESHWATER SURF CARNIVAL.
MANLY WINS GRIFFITH TROPHY
The Freshwater Sari Club held Its fourth annual carnival at Freshwater Beach yesterday in the presence of a big gathering. Large entries and keen contests characterised the function, which was well managed by the officials. Twelve clubs took part in the parade, and made a fine spectacle.
Excellent displays were made on the surf board and by the surf boats.
Results:— -GRAND PARADE OF CLUBS.— Cook's Hill, 1; Freshwater,
2. LADIES' SURF RACE.— Miss A. Sly (Manly), 1; Miss L Lowers (Manly),
2. Time, Ozziln. 64 2-SseQ. "DUKE" SURF BOARD DISPLAY. — T. Walker (North Steyne), 1; G. West (Freshwater), 2, SURF LIFEBOAT RACE.— Freshwater, 1; Dee Why, 2. JUNIOR CANOE RACE.— G. Gilford (Freshwater), 1.1000 1000 YARDS SURF RELAY RACE, for Griffith Trophy, value £10 10s, presented by Mr. Arthur Griffith. Ten men in each team, each man to swim 100 yards. — Manly Life Saving Club (A. W. Barry, H. Hay, G. Wyld, J. Huie, J. Brown, R. Brown, S. Wright, N. M'MuIlen, C. D. Bell, N. Smith), 1; Coogee, 2; Bond!, 3. Won easily. An exciting finish between Coogee and Bondi for second place. Manly Club having won the contest last year the shield now becomes Its permanent property. CHAMPIONSHIP PENNANT, Surf Bathing Association of New South Wales.— Semi-final: Bond! (69.43 points), 1; Cook's Hill (66.49 points), 2; Coogee (64.91 points), 3; Manly (64.67 points), -4; Cromilla (63.10 points); 6; North Wollongong (48.19 points), 6. The final for the competition will be contested between Bondi, Cook's Hill, and Coogee at the Bondi Surf Carnival next' Saturday. FLAG RELAY RACE. — North Steyne No. 2 (L. Williams. J. E. Nicholls, H. Nlcholls. N. Lyons), 1; Cronulla No. 2 (R. Whitfield, H. Duckworth, F. Moore, J. Dillon), 2. A close and exciting finish. NOVICE ALARM REEL COMPETITION.— Manly (J. Brown, A. Rein, A. Childers, G. Cruickshank, J. Caswell), 1. Time, 2min. 27 26scc. SENIOR ALARM REEL COMPETITION.— Manly No. 1 Team (H. Hay, C. D. Bell, J-. Hole, O. Mater, L Duff), 1. SURF RACE.— H. Fletcher (Bondi), 1; N. Smith (Manly), 2; C. D. Bell (Manly), 3. OBSTACLE, RACE.— R. Shelly (Collaroy), 1; T. Smith (Collaroy), 2. WHEELBARROW RACE. — E. Sutton and Bonny-man (Stockton), 1. FRESHWATER SURF CARNIVAL. (
1915, March 14
).
The Sun
(Sydney, NSW : 1910 - 1954), p. 5. Retrieved from
http://nla.gov.au/nla.news-article229331007
Local women were working at saving lives as surfers, one great example being Isabel Latham, the lass inspired by the Duke:
KAHANAMOKU ATTRACTS THOUSANDS
Deewhy had a day out yesterday. The local surf clubs annual carnival was on, but the big attraction was Duke Kahanamoku, who went down to show the natives how to ride the surf board. The board is as big as the bottom of a boat, and Kahanamoku went out so far on it that the crowd thought he was off to Honolulu. But about half a mile out he suddenly turned caught the breaker, and electrified the audience by kneeling, standing, and upending himself on the board, finishing up by diving a somersault when the breaker broke. On one occasion he disappeared. 'There goes his board, someone shouted. "Thats not his board, said someone else, "that's one of his feet." And so it was. Kahana, etc., kept up these stunts for an hour, and gave a great display.
For part of the time he was accompanied by Miss Letham, of Freshwater, an Australian girl swimmer, who, it is said, only comes out of the surf to eat and sleep.
On one occasion both swimmers stood riding the board for about two hundred yards. Duke received an ovation at the conclusion of his display. The crowd at the carnival was the biggest that had ever congregated at Deewhy since the inland aboriginals came down to spear fish in the lagoon and dance corroborees round their shell-fish heaps on Long Reef. About four thousand were present. There was a big programme, and the various events were spiritedly contested. The surfing and live-saving events were under the control of the N.S.W. Surf Bathing Association. The days sport was concluded with an open-air concert last night.
GRAND PARADE AND MARCH PAST. — Dee Why 1, Collaroy 2. THIRD ROUND (Metropolitan Division) RESCUE AND RESUSCITATION COMPETITION FOR 1915 CHAMPION-SHIP PENNANT OF SURF-BATHING ASSOCIATION OF N.S.W. — Bondi A, 57.77 points; Manly A, 57.49 points; Coogee, 56.66 points; North Steyne, 52.83 points; North Bondi, 50.29 points; Bondi B, 49.20 points. NOVICE SURF RACE. — H. V. Rein (Manly) 1, C. D. Bell (Manly) 2. COCK OF THE WALK. — First heat: Narrabeen beat Dee Why B. Second heat: Collaroy beat Balmoral. Third heat: Dee Why A beat Clovelly. Final: Dee Why beat Narrabeen. BEACH RELAY RACE. — First heat: Collaroy 1, Dee Why 2. Second heat: North Steyne 1, Dee Why 2. Third heat: Coogee 1, Narrabeen 2. Final: Collaroy (L. Chimchen, T. V. Smith, A. Sheldon, and L. Sheldon), 1 ; North Steyne (L. E. Goulding, G. Morgan, O. H. C. Merritt, C. W. Whitehead), 2. In this race a collision occurred, necessitating a re-run. The results given are of the re-run. ALARM REEL RACE. — First heat: North Steyne 1, Bondi 2. Second heat: Manly 1, Dee Why 2. Final: Manly (H. M. Hay belt, O. Mater, H. Buhl, S. Bennett, D. West), 1; North Steyne (L. V. Hind belt, F. E. Nicholls, B. McEwan, E. Goulding, N. Thompson), 2. COCKFIGHT. — Balmoral (J. Doudney and C. Walker), 1. SURF BRACE RELAY RACE. — Manly (J. G. Brown and N. Smith), 1; North Steyne (C. Healy and L. Solomon), and Bondi (J. G. Brown and H. Fletcher), dead-heat, 2. NOVICE ALARM REEL RACE. — First heat: North Steyne 1, North Bondi 2. Second heat: Coogee 1. Third heat: Bondi 1, Narrabeen 2. Final: Coogee (J. Leary, H. Mason, H. McLure, R. Harrocks, M. Ruben-stein) 2. WHEELBARROW RACE. — North Steyne (H. Nichols and F. E. Nichols), 1. CARNIVAL AT DEE WHY (
1915, February 7
).
Sunday Times
(Sydney, NSW : 1895 - 1930), p. 13. Retrieved from
http://nla.gov.au/nla.news-article120792408
The exhibition of surf board riding given by D. P. Kahanamoku at the Deewhy Surf Club's carnival, provided the greatest spectacle that has yet been witnessed in this respect. The Hawaiian proved himself a master of the art, and, despite the fact that the conditions were anything but favourable, fulfilled his advertised programme. On one occasion the board carried him a distance of four hundred yards, and he balanced on his head while shooting towards the shore. On another occasion, and whilst sitting on the board, he finished the shoot by coming in broadside on.
He also carried a lady passenger a distance of a hundred yards.
The exhibition lasted more than an hour. There seems to be no limit to Kahanamoku's work with the board, and at Cronulla on Sunday he used it to carry him for a short distance, and then dived into the wave and completed his trip to the sands with a body shoot. The Deewhy Carnival was well carried out.
The annual championship carnival of the Ladies' Association
did not attract the usual large attendance, but racing has not been keener nor the spectators more enthusiastic than on Saturday last. The 100 metres re-cord established by Miss Durack is more in keeping with her 100yds record. It is a coincidence that, up to Saturday, both the male and female records over 100 metres did not compare favourably with the respective 100yds records. For instance, a 56 3-5s swim over the 100yds should result in about 63s for 100 metres, yet Barry has never done better than 64 4-5s under record conditions. Similarly, Miss Durack also held a 100 metres' record not in keeping with her best 100yds, but she has now rectified this. Cunha, the speedy Hawaiian, took part in the special 100 metres handicap, together with Boardman and Levy, and just won by a touch from the Olympic representative. The winner was not at his best, as he is suffering from a heavy cold. One of the most promising lady competitors was Miss Head, who swam well in two races, and also took part in the diving. She used a very nice crawl stroke. Once again Miss Durack won the hundred yards championship, with Mina Wylie second. The Coogee girl swam remarkably well for 75 yards, and seemed to hold the winner, after which the champion swam so well that she eventually won by about five yards. Lottie Fevyer, from whom close opposition was expected, was a similar distance behind Miss Wylie, who, considering her recent illness, swam splendidly. The three girls named have been selected to visit Brisbane for the Australian championships, and will make a very formid-able trio for the Brisbane competitors to face. Mrs. W. Chambers will act as manageress. SWIMMING. (
1915, February 10
). The Sydney Morning Herald (NSW : 1842 - 1954), p. 6. Retrieved from
http://nla.gov.au/nla.news-article15561625
From watching life-savers on the beaches she has gleaned sufficient knowledge of resuscitation methods to be of use in case of accidents. In going over the hill towards Manly some time ago she noticed a crowd on the Freshwater Beach. Someone told her a little boy was being carried out.
The girl swimmer dropped her parcels and fled down, to the beach, dashed into the surf, and brought the youngster's body out. She was too late, however, for he had been in the water ten minutes already, and although she worked on him until the doctor came, two hours later, the sea had done its work too well.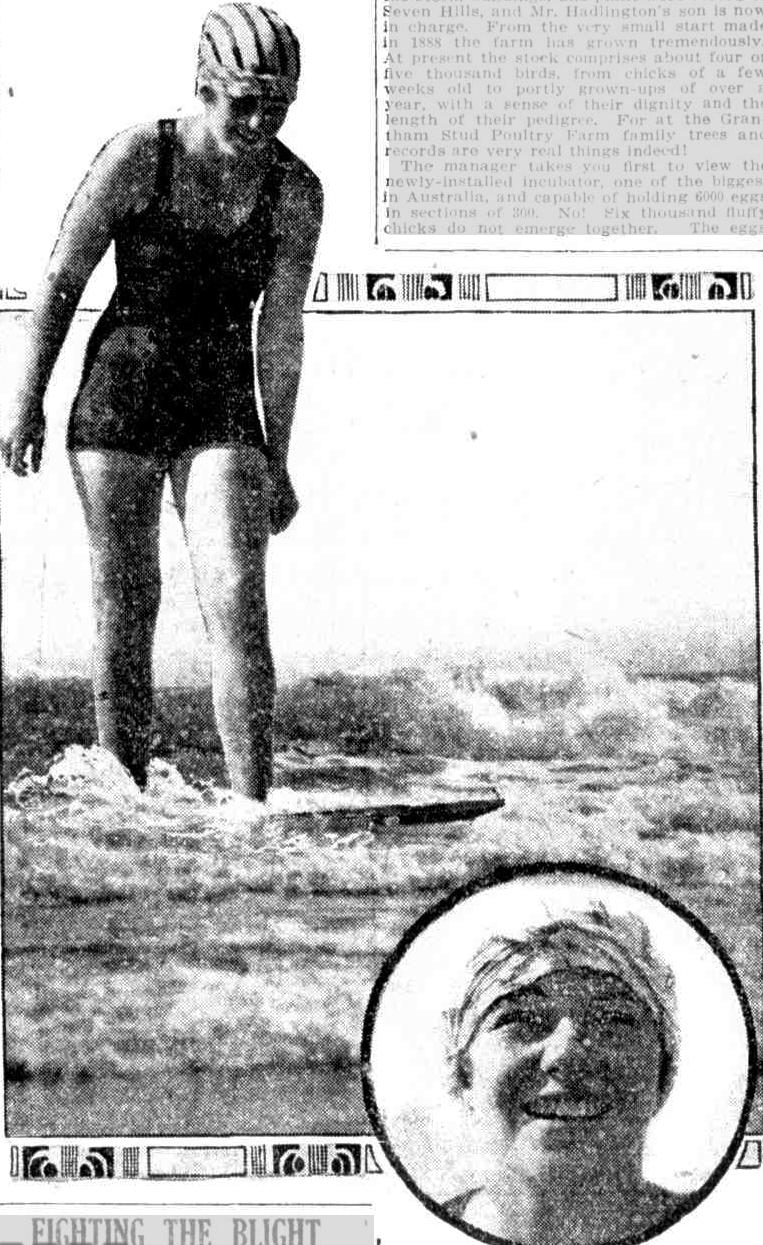 "That was a horrible experience," says she.
You wonder if she has over been in difficulties herself.
"Well, yes," Is the answer; "but when people know you're a swimmer they think it impossible for anything to happen to you, and if you did need assistance no one would believe you. Yes, I'm afraid of sharks. The other day I thought I'd like a longer swim than usual, and when I was some distance out, I became aware of a shark asleep on a breaker. He didn't notice me, thank goodness, and you couldn't see my heels for dust!"
The interview closes, the tall, athletic-looking girl rises, and you find yourself goggling at what she carries in her hand. It is a knitting-bag!
During WWI three bronze medallions and an Instructors certificate were awarded to North Wollongong female members.
The Cottesloe Ladies Surf Club was formed in 1926 and participated strongly in inter club carnivals in the 1930s. The club competed in events such as surf races, beach sprints and march pasts.
The R and R and surf teams were unbeaten between 1930 and 1938.
However, under the constitution of the Surf Life Saving Association of Australia they were not allowed to perform rescue work.
Before 1935, women competed in annual surf carnivals in NSW and Queensland too.
At the Evans Head club on the far north coast of NSW, it was common for women to compete against men in surf races, and according to the club's official history they sometimes won.
"For practice, the girls frequently entered the men's surf races, and a number of occasions were successful in gaining either first, second or third places."
Women's surf carnivals flourished in Queensland in the 1920s, where teams competed for regional and state titles in rescue and resuscitation, sprinting and swimming.
Mooloolaba club on the Sunshine Coast had 70 members in 1930, 11 of whom were women. Early in the summer of 1930, these Mooloolaba women blew all competition out of the water after they won the overall team event at the Queensland surf titles. A photo of the victorious team has adorned the surf club's rooms ever since.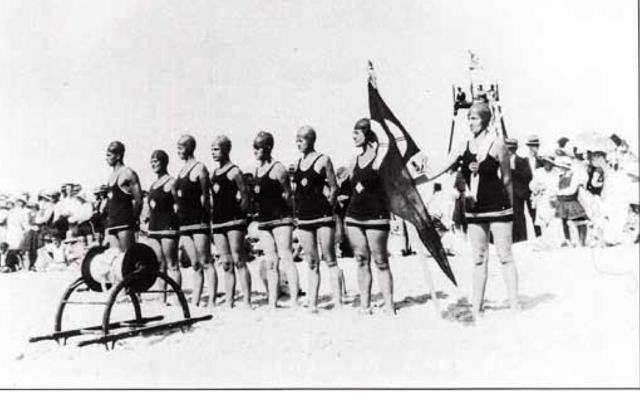 The famed female Mooloolaba surf lifesaving troupe that beat all others in 1930. Photo: Mooloolaba Surf Lifesaving Club
During WWII the Terrigal girls weren't the only ones saving lives on local beaches, even if these actions weren't recorded. In Beach Beyond : A history of the Palm Beach Surf Club 1921-1996 (Sean Brawley, 1996, UNSW Press) states female members of the Pacific Club used a reel to rescue a swimmer in trouble.
One photo shows Members of Palm Beach SLSC's Junior Surf Life saving Club (1940) and there's a girl in there too – Philippa Curlewis, daughter of Adrian Curlewis and sister to Ian Curlewis.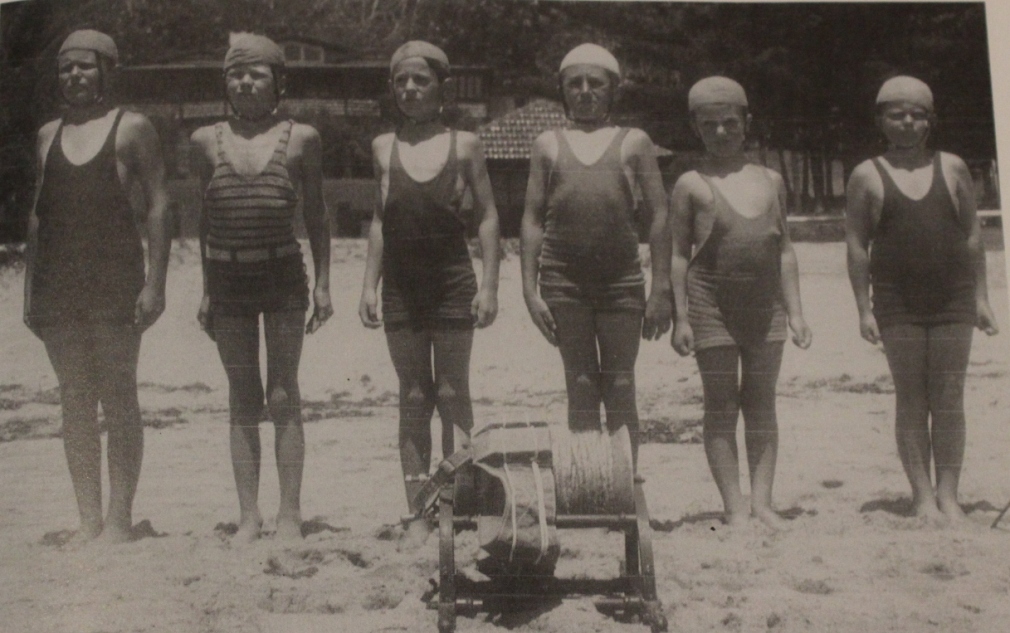 L to R: Bill Tulloch, Ken Coles, Peter Barnes, Pat Barnes, Philippa Curlewis, Jim Tulloch – photo courtesy Philippa Curlewis.
Other members included Ian Curlewis, Bruce and Laurie Seaman, Pat Tulloch and Ken Coles. The JSLSC ran for three seasons and includes Australia's first female Nipper – Philippa.
In 1942, with 72 of its 76 male members of the Club on military service, a group of 15 members of the Terrigal SLSC's Ladies Auxiliary banded together to provide water safety on the beach. Their efforts were recorded by numerous local newspapers prior to items run in Sydney papers.
Terrigal SLSC member and the club's historian Cathy Cole spent almost two years trying to track down each member of what she soon found was a 35 all women squad, with the occasional male. Cathy managed to find 21 of the 35; only seven of whom remain alive today.
The women found were, as of September 2017; Joan Sloman, Muriel Dibben, Nola Compton, Tricia Walters, Dot Berry, Beth Berry, Joyce Burgess, Jean Payne and Mary Fogarty. Ms Cole is still searching for "Dinkie" Olive Campbell, Noreen Walsh, Joyce Speers, Norma Speers, Muriel Ogden, Louise Cambourne, Olive Kirkpatrick, Dot Crick, Mary Kirkness, Gwen Moore and Bessie Campbell.
On Wednesday, November 22nd 2017, with Governor General Sir Peter Cosgrove in attendance, six of those seven women, along with the families of those who have since passed, were presented with the Bronze Medallion at a ceremony at the all-women-patrol's clubhouse.
Some of these articles about this Patrol of women surf life savers runs below, along with a few other 'ladies of the surf clubs' insights:
"But the number patrolling will be sufficient only to man water areas between the beach flags,
"The public is warned to keep within the flags. If people bathe outside, and get into difficulties, it may be just too bad for them.
"Members of police boys' clubs, aged between 16 and 18, are being specially trained in lifesaving work.
"They will patrol outer suburban beaches, assist with reels and other beach work, but will not perform the actual rescues.
"Country beaches are in a far worse position. They are not backed by a large population from which new members are drawn."
When 60 life savers from the club joined the forces the 20 Gosford girls went through a grueling test and replaced the men as life savers on the beaches. Applications to the controlling body for recognition failed and when the Department of Information sought Information from the association the reply was that it had no surf girl life savers.
By the end of the year was inland and on the far side of this island and had also gone south:
Today Surf Life Saving Australia has more than 61,000 female members who fulfill all roles at all levels of the movement that maintains Vigilance and Service.

Surf Life Saving Australia
To save lives, create great Australians and build better communities.
To provide safe beaches and aquatic environments throughout Australia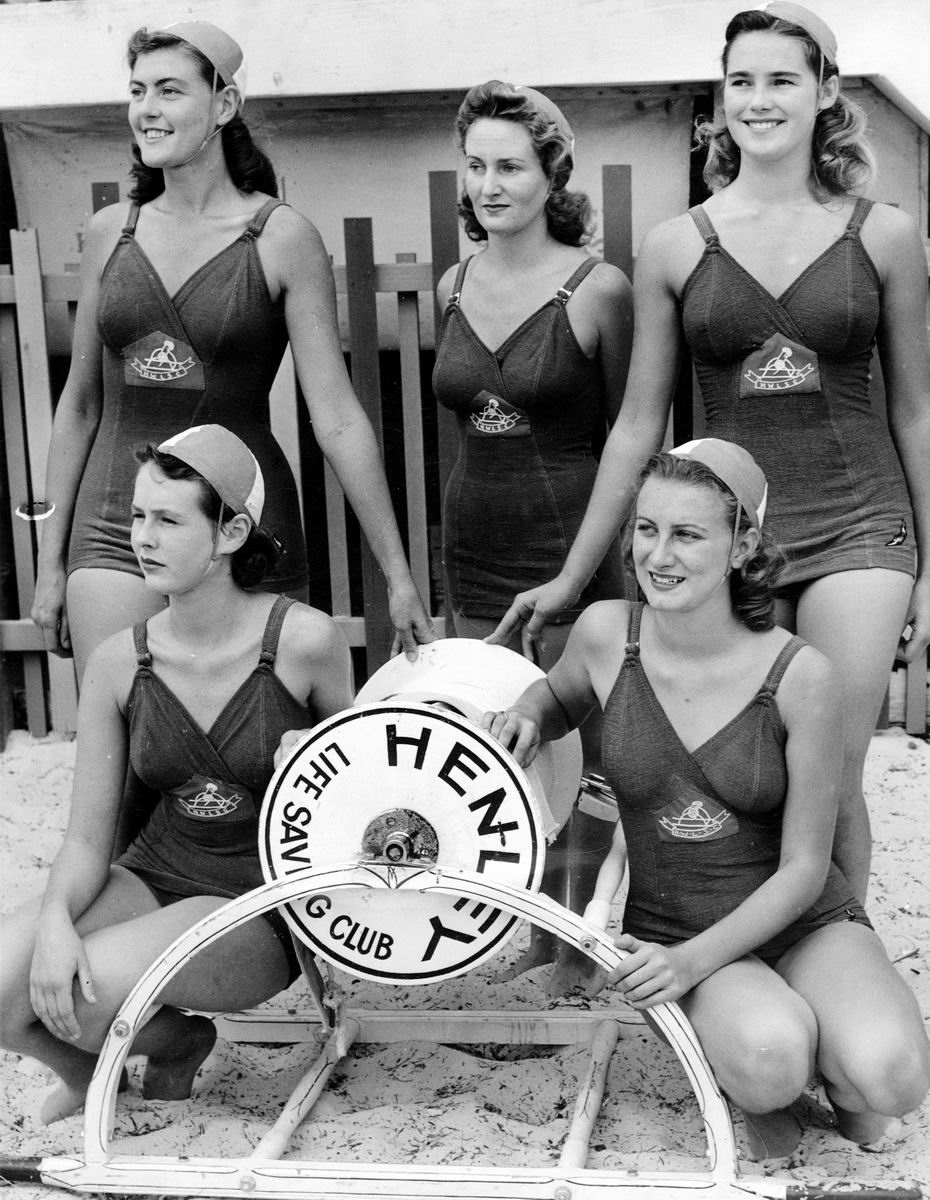 Henly SLSC South Australia, Women's Patrol, 1946
Extras
THE NATIONAL SHIPWRECK SOCIETY'S MEDAL. The National Shipwreck Society's Medal.
RECENTLY the National Shipwreck Society solicited competitive designs for a medal distinctive of the society, for presentation in recognition of acts of bravery and saving of life at sea. A goodly number of artistic designs were forwarded by competitors, and, after due consideration, the committee decided to adopt the design of Mr. James F. Sayers, manager of the London Chartered Bank at Newcastle, and award the prize to that gentleman. The design, as may be seen from an engraving, represents in a spirited manner a life-boat putting off for a shipwrecked vessel. Lying on the shore is a man saved from a watery grave, his rescuer using means to restore animation. Over the latter is an angel resting one hand on the shoulders of a weeping mother with a babe in her arms; the other containing a wreath, which is held towards the rescuer. The other side has the name of the society, a space in the centre being left for the name of the recipient and the deed that is recognised. The National Shipwreck Society's Medal. (1878, August 24).Australian Town and Country Journal (NSW : 1870 - 1907), p. 32. Retrieved fromhttp://nla.gov.au/nla.news-article70594306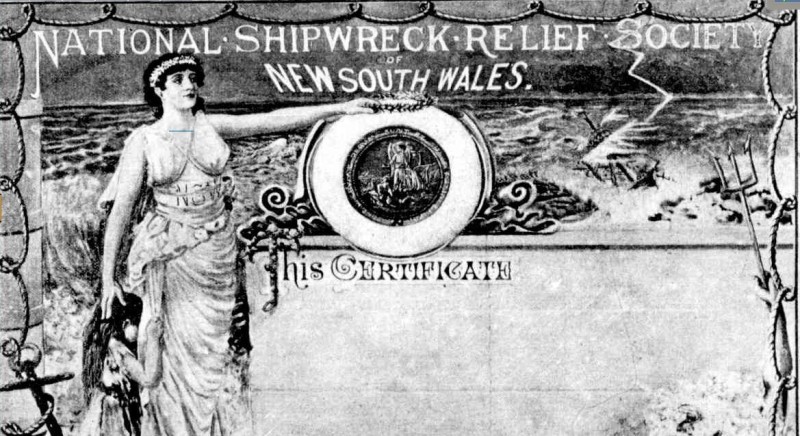 The head, neck, shoulder, arm, and other portions of the remains of apparently a youth about 17, were found recently in the stomach of a shark caught at Barrenjoey, New South Wales. The remains are believed to be those of the cabin boy drowned in the collision of the Barrabool and the Bonnie Dundee. The Sydney Marine Board have concluded the inquiry in the late collision case of the Barrabool and the Bonnie Dundee. They exonerated the captain of the Bonnie Dundee, and adjudged the mate in default. The latter had his certificate suspended for twelve months. Facts V Scraps. (1879, April 12). The Australasian Sketcher with Pen and Pencil (Melbourne, Vic. : 1873 - 1889), p. 11. Retrieved fromhttp://nla.gov.au/nla.news-article60623206
A successful "at home" was held on Saturday last, when Mrs. Macarthur Onslow officially opened the Bondi Ladies' Surf Club.
Ma Norton Russell was In the chair, and introduced Mrs. Macarthur Onslow to those present. Other speakers were: Colonel Onslow (member for Waverley), the Mayors of Waverley and Woollahra and Mr. Duncan. Little 'Arthur Ganges I presented Mrs. Macarthur Onslow with a bouquet, and the clubroom was declared open. Mrs. Watkins (the club's president) then announced that afternoon tea would be served in the marquee on the beach.
An interesting demonstration of life-saving was given by the members of the Bondi Life-saving Club
. Among the large attendance were; Sir James and Lady Graham. Mr. and Mrs. Consett Stephen. Miss Bayly. Mr. and Mrs. Souter. Dr. and Mrs. Collins. Dr. and Mrs. Luke. Misses de Lissa, Mrs. Otto Wunderlich, Mrs. Watkins. Captain and Mrs. Marshall, Mrs. Richmond Bryan, Sirs, and Miss Lyons, Rev. and Mrs. Fielding, Mrs. and Miss Edwards, Mrs. Woollett. Mrs. Samuels, Mrs. and Miss Garran, Mr. and Mrs. Grover,
Misses Moclair. Mr. and Misses Dunricb, Misses Satchell, Miss Louie Latham, Mrs. Goldie, Misses Helmore, Miss Burke, Mrs. and Miss Fotheringham, Rev. and Mrs. M'Keown, Miss Josephine Marks, Mrs. John Fell, Miss Scrutton. Miss Wallach, Mrs. Ganges, Misses Souter, Messrs. Wilson, Stewart, Tinsiuy, Ormsby, Williams, Craven, Kelly, Fullwood, O'Brien, Flynn, and Harris.
FOR WOMEN. (
1910, September 7
).
The Daily Telegraph
(Sydney, NSW : 1883 - 1923), p. 6. Retrieved from
http://nla.gov.au/nla.news-article238005133
The official opening of Newport Beach, recently resumed by the Government, took place on Saturday. Amongst those present were the president of the Warringah Shire (Councillor Ralston), Councillor Quirk, Dr. Arthur, M.L.A., Alderman C. D. Paterson (Manly), and several prominent visitors. Newport Beach is one of the many beautiful spots resumed by the Lands Department and handed over to the Warringah Shire.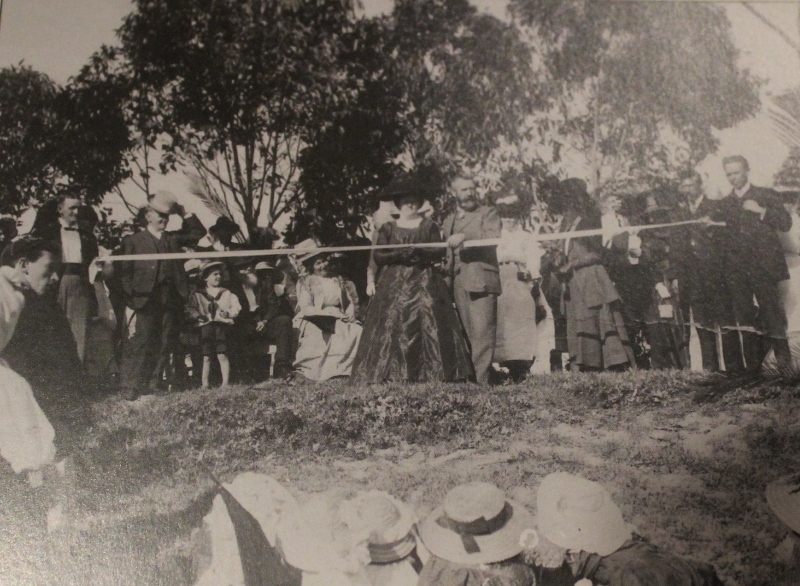 The 'Opening' Ceremony - photograph courtesy of and from Newport Surf Life Saving Club - The First Century 1909-2009 - compiled by Guy Jennings
The members of the North Steyne Surf Club gave the first life-saving demonstration. Councillor Ralston said that the shire had been in existence close on five years. They had control of two beaches at first, Curl Curl and Bongin-Bongin. Then Freshwater Beach, which was alienated from the public, was secured, and it is now the premier surf-bathing beach in the State. Mrs. Nielsen, wife of the Minister for Lands, was presented by Councillor Ralston with a pair of silver scissors, and in severing the ribbon declared the beach open for all time to the people. NEWPORT BEACH OPENED. (1911, April 10). The Sydney Morning Herald (NSW : 1842 - 1954), , p. 10. Retrieved from http://nla.gov.au/nla.news-article15235233
Newport Beach presented a sight on Saturday last to gladden the heart of the surf-bathing enthusiast. The acquisition of this fine stretch of beach for the public, and the surfer in particular, is a blessing that will be appreciated by many hundreds before long, as there is certain to be 'a big settlement in the immediate neighborhood in the near future. The dedication of the beach, with its accompanying "picnic" gathering, was enjoyed by over 609 people, and the ladies' committee (Mrs. Lewis hon. Secretary and Mrs. Greig treasurer) who, along with Councillors Ralston and Quirk, engineered the function, deserve every praise.
To the Warringah Shire Council the gratitude of all surf-bathers along this coast for all time to come Is due for their accomplishment in getting back the several beaches for the people. Had the council not grasped the situation patriotically four years ago, and fought hard ever since, there would have been great trouble and cost in resumptions in the future, as practically, all the beach territory has been subdivided by the property owners lately, and once out up It would be hard work to get the beaches back again. AMONG The BREAKERS (
1911, April 13
).
The Sun
(Sydney, NSW : 1910 - 1954), p. 11 (LATEST EDITION). Retrieved from
http://nla.gov.au/nla.news-article221580264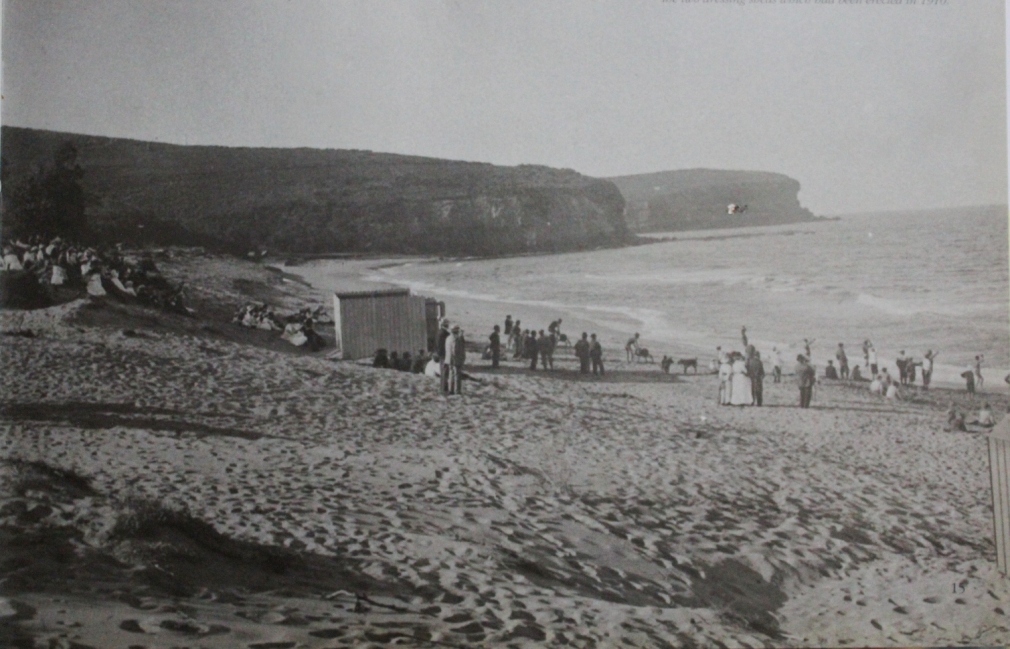 Newport Beach on Opening Day - North Steyne and Newport lifesaving demonstration and the two dressing sheds erected in 1910 -
photograph courtesy of and from
Newport Surf Life Saving Club - The First Century 1909-2009
- compiled by Guy Jennings
A concert was recently held in aid of the Newport Surf Club, at Newport, for the purpose of getting funds for erecting new bathing sheds and a club room.
Narrabeen have formed a surf club and Intend holding their first carnival towards the end of March. SURF GOSSIP. (
1913, March 8
).
Saturday Referee and the Arrow
(Sydney, NSW : 1912 - 1916), p. 5. Retrieved from
http://nla.gov.au/nla.news-article133435723
Women Who Have Laughed at Death
Heroines in Teashops

and Factories
WORLD news during the last three months has told of some sensa
tional acts of heroism by women;,some of the most daring of these have been centred in Sydney. Women have braved fire and water to save lives, and have even beaten off thugs.
Prompted by this unusual record of women's courage, the Women's Supplement turned up New South Wales life-saving files, and found a most moving picture of the gallantry of scores of Australian women.
By a Representative of the Women's Supplement...,
FIRST, from Toronto, came the story of the
heroism of two mothers who had died in an attempt to save their children from a bushfire.
Then, barely two months ago, came the amazing story of Mrs. Ada Milton, 48-year-old English woman, and mother of four children, who, in the height of a storm, saved the Liverpool Street to Norwich express, with its load of 400 people, from a great disaster by a margin of 20 seconds. A tree had crashed across the rails, and with only a few minutes to go before the train, speeding at 70 miles an hour, was due to pass. 'Mrs. Milton' battled through the storm along the line; crashed twice on the sleepers, and collapsed at the nearby railway station as she warned them of the danger.
Almost immediately Sydney added to this striking crop of heroic acts by women. In a £10,000 city furniture fire, Miss Penfold, a young fore-woman, dashed back through flames and smoke to help rescue six girl workers who had been trapped while at morning tea. Another brave act took place at Summer Hill, only a few days ago, when Mrs. A. Gray, realising that her daughter was caught in the bathroom of her fiercely-blazing home, beat her way through a glass door and a wall of flames to save the girl. Within this same short period of three months, women have made outstanding rescues from drowning in New Zealand and Australia; and in Sydney alone, young girls and women have beaten off armed thugs, and have even chased them while men gaped.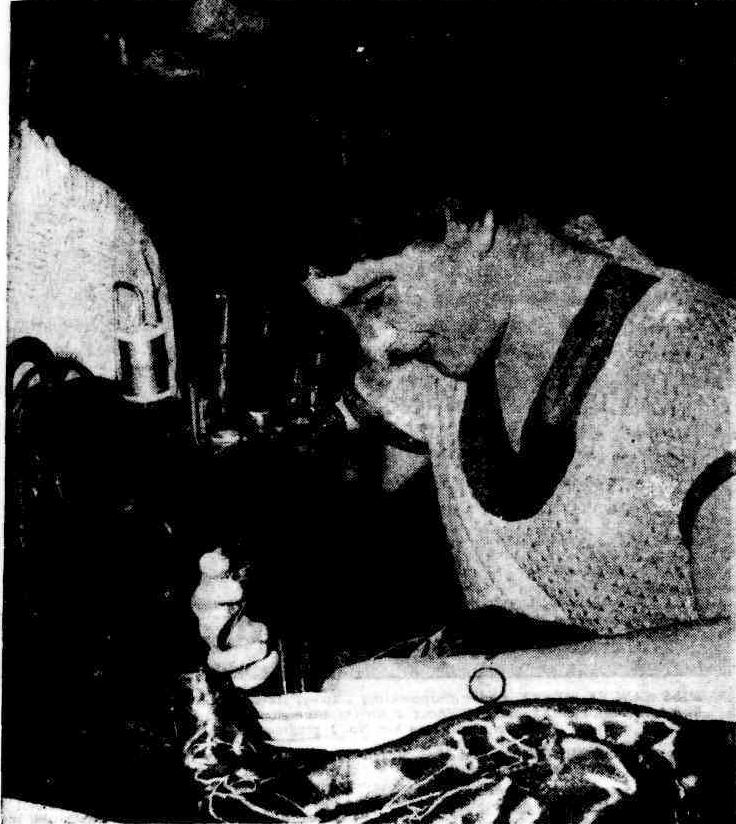 Miss Jean Samson saved a man from drowning and then walked off the scene as if it is part of her day's job. Here she is at her real job-as a machinist in a well-known
tailoring shop.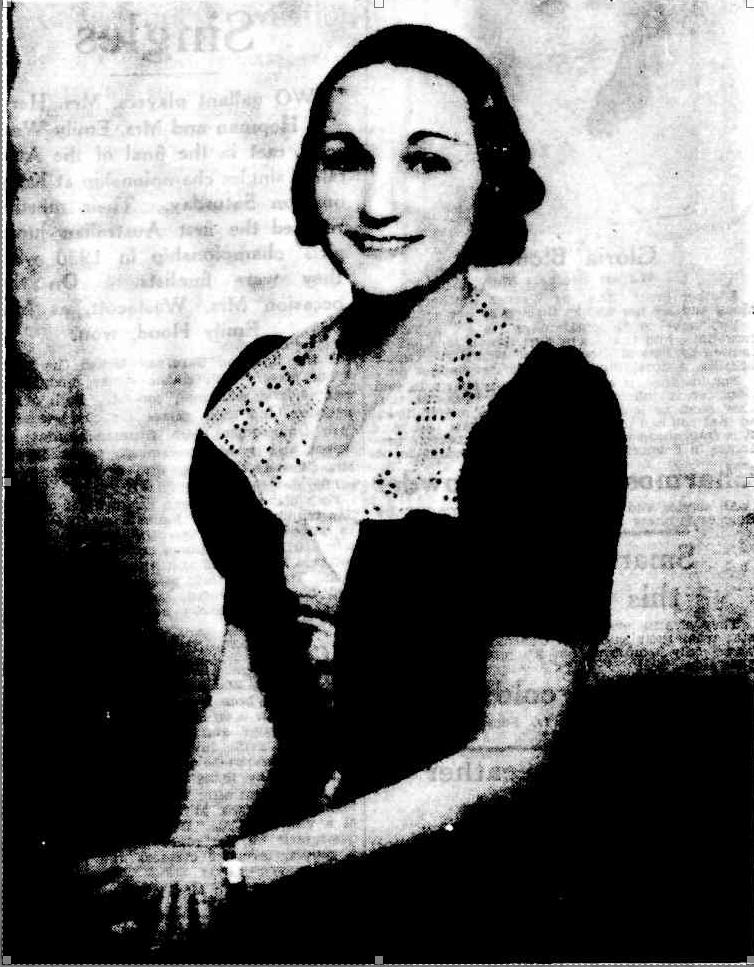 Miss Letty Stewart, of Vaucluse, is 22, and loves her kindergarten work. Ten years ago
she was a heroine in the Greycliffe ferry disaster.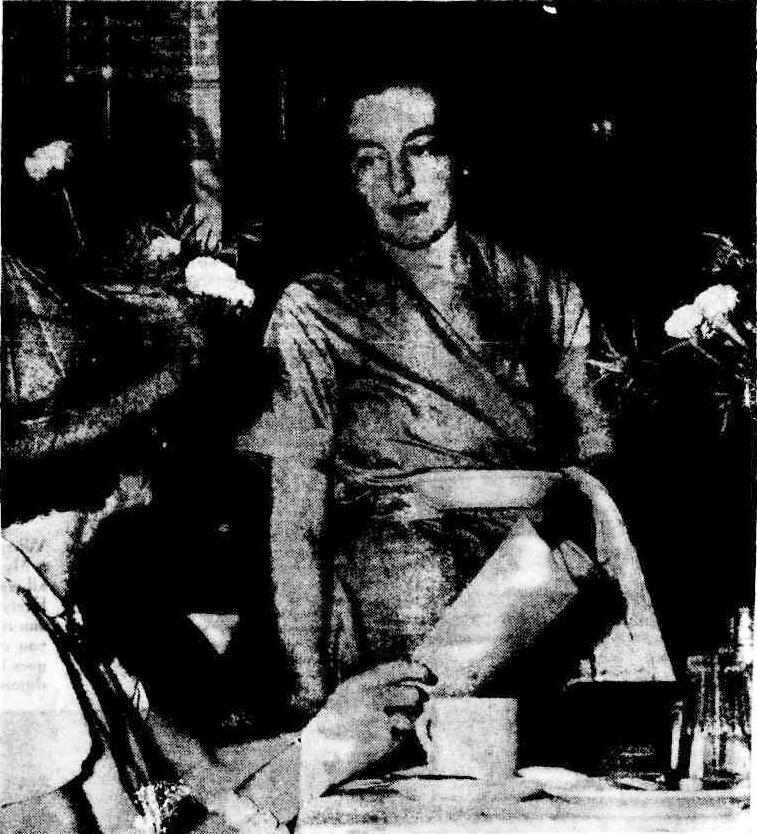 "Your order, please.-' There was no time for such deliberation when this city waitress. Miss
Mary McNamara, saved a man from drowning under difficult conditions.
WITH these stories in mind, .we turned to the
only available State records that would tell us of past deeds of heroism by women, those kept tot 58 years by the Royal Shipwreck Relief and Humane Society at their Pitt Street office.
The first report of awards for courage was made in 1880, and from that year until 1898, when the society printed descriptive paragraphs on the circumstances of each act, there is a mere list of names to go by, but there is a tell-tale "Mrs." to show that the very first award went to a married woman. She was Mrs. Maria Boldt, and won her Silver Medal in 1880. A married woman also took the second award.
Thereafter was a sprinkling of from two to six or seven women each year. Silver and bronze medals were numerous, and at last, in 1928, the most remarkable of all years for rescues by women, came the one award of the coveted gold medal that has been given to a woman in this State. Rescues from drowning predominated, but there were others, from flood, fire, electrocution, gas poisoning, a runaway horse, and a bull.
Almost half of the rescues were by juveniles, ranging from five to 16 of 17 years.
IT is difficult to measure the Qualities of heroism
and set one instance of it up against another. But for all the 'uncertainties of the Question, there can be no doubt of the utterly fear-less work done by Lucy Bell Donaldson, the 1928 Gold Medallist. This 21-year-old' girl' went swimming with a companion at Scotts Beach,
Newcastle. A man whom she knew swam with them and then plunged on ahead. Suddenly he
shrieked, and .the water reddened round him.. Sharks! The man was terribly mutilated, almost beyond, help, but this girl swam to him, tried to bring him.in, and when she lost him once, swam back again, and brought him to land. Not once but twice she risked a horrible death.
The Coroner at the inquest paid this tribute:
"I desire, from the Bench, to commend your singularly brave act. It was performed while you were practically alone, and certainly in most dangerous and depressing circumstances. It reflects upon you the utmost credit!"
The same year has another fascinating story that had its beginning in horror, and this time two young girls were the heroines. Letty Stewart was 11 1/2, and Eugenie Wise was 16 when the harbour ferry Greycliffe, cut in two by the Tahiti, tossed them and some scores of others into the water Letty Stewart, the "little girl in green," as described by the signal master at South Head, swam to a broken portion of deck, which was floating about, dragged her companion Eugenie to safety and with her help, pulled two more women on to the raft. The "little girl in green," who lives at Vaucluse, has since come of age.
IN 1936, at Seven Mile Beach, Gerringong, Miss
Mary McNamara swam out with an oar to a drowning man, struggling over 120 yards against the perils of a crashing sea, and the additional menace of sharks. She works daily in a George Street restaurant, and enjoys her job as a waitress.
Miss Jean Samson, of North Bondi, was only 15 when she saved a young man of 19 from drowning in 1937. She is a keen Sunday school worker, and was swimming with some of her pupils in the Nielsen Park swimming pool on Anniversary Day. When someone said a man was drowning, she dived and brought up the youth, left him to be resuscitated, and disappeared so suddenly and effectively that it was some time before her full heroism was proved. She works as a machinist in a well-known city tailor's shop.
But that remarkable year 1928 deserves telling in full. Pearl Gallantry lived up to her name by saving a girl in Sydney Harbour. Three more girls, ranging in age from 14 to 17, made rescues from drowning. Ivy Bridge, aged only nine and a half, left in charge of younger brothers and sisters one night, saved them from death by fire. A night candle set fire to the bedroom, and Ivy, who was in another part of the house, made four separate journeys into the inferno to rescue the children. Then, in spite of burns, she shouted until help came. Another young girl made five attempts to bring up the body of a man who had fallen from a ferry, under the worst of harbour conditions. All these were in addition to the Gold Medal rescue and the Greycliffe'-incident. ;
ANOTHER ten-year-old child, Lilian. V.
Saunders, saved her small sister from fire in 1911. The enthusiasm at her public decoration
reached one of the most
tumultuous
ever known ...
of the society, which were really famous for their
enthusiasm.
In 1914, Geraldine Arclibold (14) saved a tiny four-year-old girl right from the feet of a madly plunging horse at Orange. In 1917, Beatrice Nash, 13, although she could not swim, jumped into six feet of water in the Leichhardt Canal and saved her three-year-old sister who had fallen there unconscious.
Younger still was Irene Lee, 8, who in 1922 saved a brother and sister from fire. A remarkable fact ls that Irene was not long out of hospital after a long spell there. Harriet Evans, ll, pushed a small child out of the way of a striking snake, and took the bite on her own arm. Nor do these cases exhaust the list of very young girls who have been "little heroines."
THERE has been a young Australian "Grace
Darling," for thy circumstances of Janet Shearer's rescue in 1908, of four youths whose boat had capsized on Lake Albert in stormy weather, surely warrants-this-title. She was only 15, and knew nothing of the management of a boat, but when she saw the capsize and could not get help,
she pushed out in a "flattie," and, against a strong wind managed to work her way out to the wreck just in time to take off the numbed and drowning boys.
Back in the eighties, two women were heroines under storm and shipwreck conditions. When the Kamernka was wrecked at Pedro Point in 1897, Miss
Isabella McLean rushed into a boiling surf to rescue Pilot Captain A. Sutherland, who had been beaten insensible by the waves while trying to swim out with a line to the wreck.
Next year, the Maitland

was wrecked at Broken Bay. A Mrs. Hammond and the chief engineer were coming in shore by a line, when the engineer became exhausted and collapsed into the surf. This woman, at great peril to herself, reached down until she caught him, and retained her grip until they were dragged through 150 yards of raging sea to safety.
Two- other rescues by grown women will finally serve to exemplify the tremendous and fearless grit that Australian women can be capable of if
necessary.
Mrs. E. M. Cantwell, of Berrigan, the mother of six children and extremely frail in health, saw a neighbour's house on fire, and hearing a child scream, ran to the rescue. The house was of pine and hessian, and it roared with flame like a torch in the wind. She had to run 250 yards before reaching the house, and had then only the child's cries to guide her through the blinding smoke. A moment or two after she was out of the house with the child, the flimsy place collapsed.
Miss R. Tatham, a Sydney domestic, was first to dive into the water from a ferry when a man went overboard last February. She was a poor swimmer, but she was a Girl Guide officer. A man followed her, and together they rescued the drowning man. Even the police found it hard to get details of the rescue from this self-effacing girl.
Royal Life Saving Carnival
The annual championship carnival of the Royal Life Saving Society of' Australia will be held at Manly Harbour Pool on Saturday, March 18.
AT least seven suburban clubs
affiliated with the society will compete. The registrar of the N.S.W. head centre of the society, Mr. W. Scott, expects several country clubs to travel to Sydney for the event.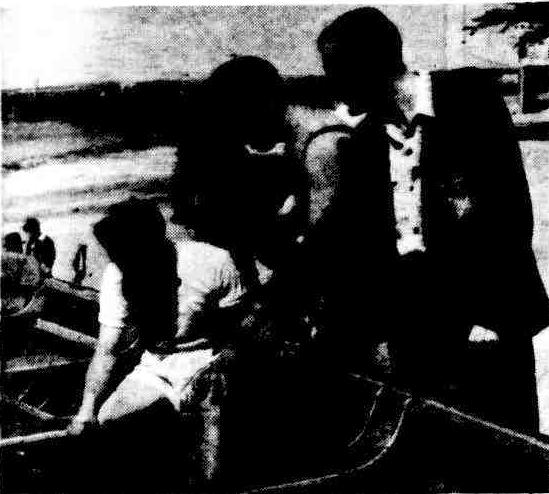 A group of young members of the society inspect Brighton's surf boat.
A march past of all clubs, relay swimming, individual rescue and carry races, novelty events and team displays, will be features of the programme.
Mr. Scott says:
"The only difference between our carnival and those sponsored by the Surf Life Saving Associations is that we lack the glamour of the surf boat race.
We don't generally use surf boats in our work, though we have one at Brighton."
The Royal Life Saving Society is a world-wide organisation.
Headquarters are in London, but there are branches in 52.countries. N.S.W. membership is already more than 14,000. During 1950 it is hoped that 20,000 people will sit for the various examinations of the society's course.
The grade awards are Intermediate Certificate, Elementary Certificate, Bronze Medallion, Bronze Cross, Bronze Cross with Star, Award of Merit and finally the Diploma Certificate.
"There is no age limit in the society," Mr. Scott says. "Any-one from five to 105 can arrange for tuition. People generally form clubs and arrange to have an instructor from the society to lake classes.
We teach Girl Guides, Boy Scouts, factory work
ers, school children and women's clubs

." '
Clubs affiliated with-the Royal Life Saving Society patrol swim-ming baths and beaches in .en-closed waters, such as Botany
Bay. .
Some of the clubs competing in the carnival will be from Neilson. Park, Balmoral, Brighton-le-Sands, Ramsgate and Malabar.
The most coveted prize is the Ampol Cup, which will be won by the best team competing in the rescue and resuscitation race. Though this is a team event the majority of awards and trophies are for individual effort.
Members of .the society do not use the surf reel, nor rely on team-work to rescue people. The importance of their work lies in their ability to manage single handed when a swimmer is in difficulties, whether he is in a tank, a river or the surf.
In this way life-savers trained by the society are always able to operate in an emergency, whether it is in a rural area or in the city, or-in any .country of the world. Royal Life Saving Carnival (
1950, March 12
).
The Sunday Herald
(Sydney, NSW : 1949 - 1953), p. 1 (Playtime). Retrieved from
http://nla.gov.au/nla.news-article18476243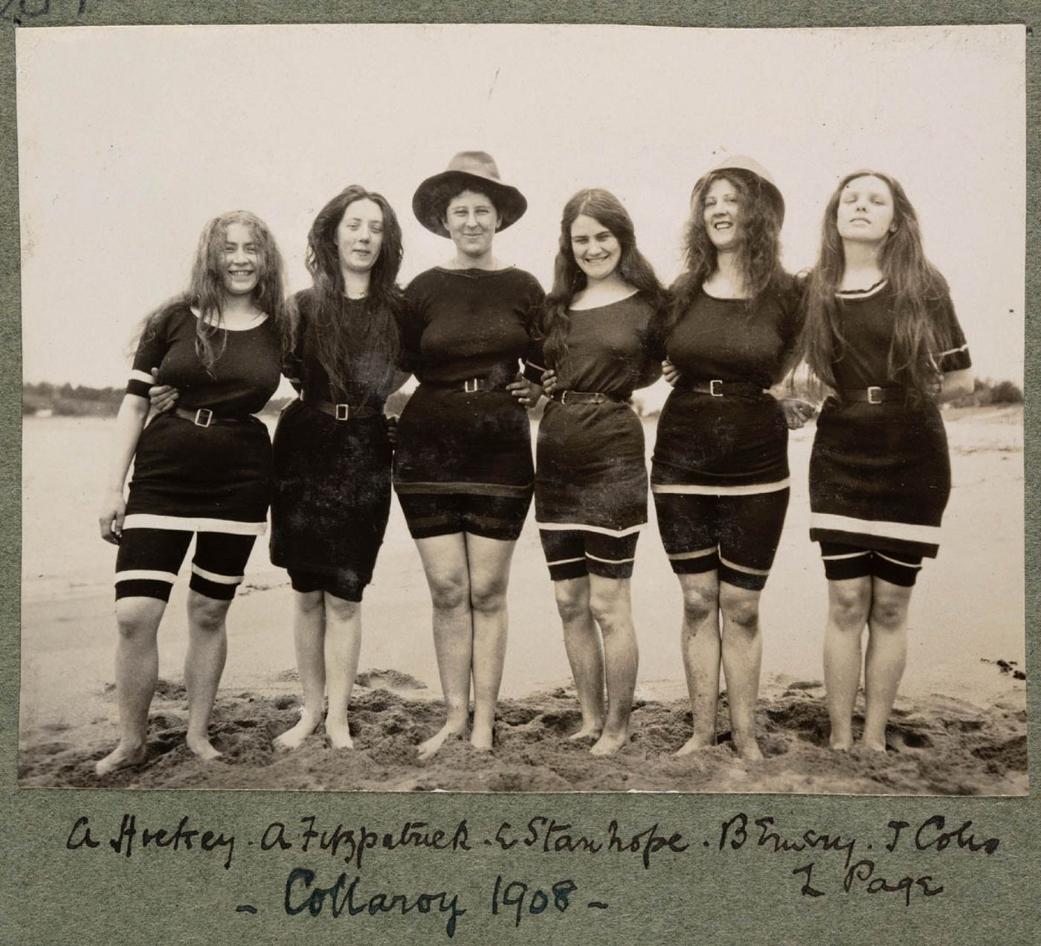 Women in bathing suits on Collaroy Beach, 1908; Models from left to right: A. Hickey, A[my?] Fitzpatrick, [E?] Stanhope, B[ella] Emery, J. Coles, L. Page, courtesy State Library of NSW, Image No: a845002h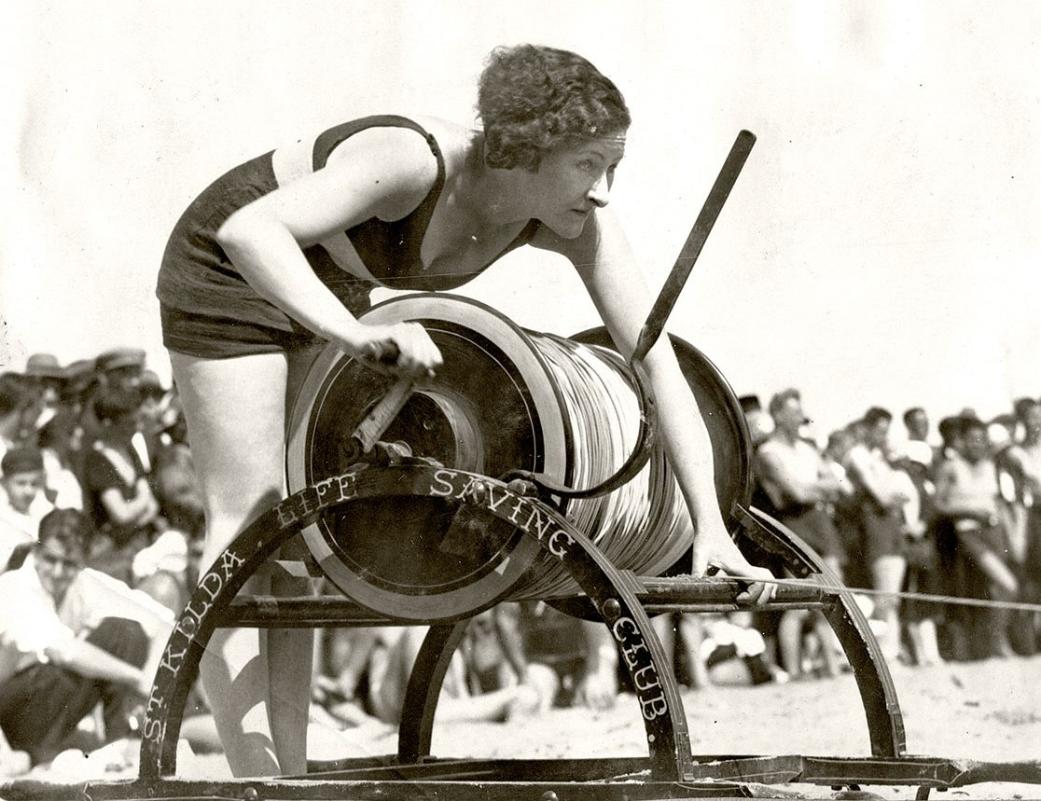 Women In The Surf Life Saving Movement As Life Savers: From At Least 1910
- Threads Collected and Collated by A J Guesdon, 2017