October 8 - 14, 2017: Issue 332

Traces Of WWII Coast Watchers (1942) Found On Bangalley Headland After Recent Fire

A few years ago we found similar evidence of Coastal Watchers stationed along the ridges at Ingleside. What is clear from these 'carvings' and the dates carved with them, brings in what was happening during the twelve months of 1942, including the Midget Submarine attacks on Sydney Harbour, the formalisation of Coastal Watchers, women being called to join in the plane spotting and women growing vegetables locally to forestall the effects of rationing rules that year and locals stationed along these ridges alongside those who carved their enlistment numbers under their names.
Although there were many challenges to overcome, locally, those that lived here, seemed universal whatever their age or gender, to do what they could, whether this was helping out being a plane spotter or helping out by growing their own food and becoming more self sufficient during wartime rationing and did so fairly quickly after war had been declared.
Their determination and resolution may be attributed to losing neighbours and friends loved ones so soon after young local men signed up after the September 3rd 1939 announcements:
Of course it wasn't all perching on the clifftops looking worriedly out to sea and sky; being a place so many came to for holidays Avalon, Palm Beach and surrounds continued to attract visitors for respite and although Pittwater remains a place that can be quiet, peaceful - it was, then, still a place where the circus would come to town:
Letters home or reports from or about those serving overseas provide a few more Avalon Beach residents names as well as pre-war visitors who'd rather be in Avalon, right now:
Not Avalon, but close to where the men from Manly, enlisting at North Head, were being trained:
Clearly there are a few blanks in these small insights into Avalon Beach and the Bangalley Headland Coast Watchers of 1942 - contributions, as always, very welcome - particularly if you know who J. Lumley is. The Clifford family are synonymous with Gosford and the Central Coast.
As can be seen from just a few items found above, Avalon Beach was a fairly busy place during WWII - older women were working as plane spotters or Red Cross fundraisers or at camp where Ruskin Rowe is now, soon to become a cadet training area, boys from the Police club in town were patrolling the beach, coast watchers and plane spotters, both VDC and local volunteers, took turns peering from every headland and outcrop of rock. Those far from her shores, whether residents or visitors, dreamt in foreign places of being here once more.
This poignant note seems an appropriate close for the worst of times that brought out the best in those here in 1942 - with peace still years away: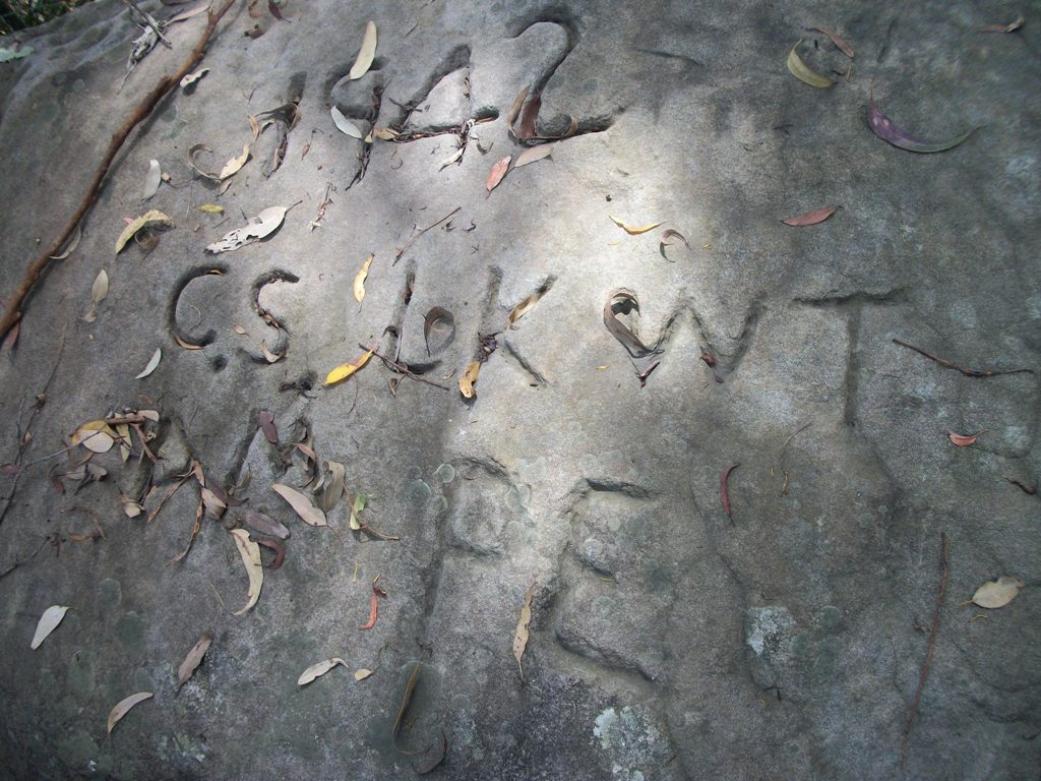 Ingleside carvings found in 2012 - Plane Spotters or Coast Watchers?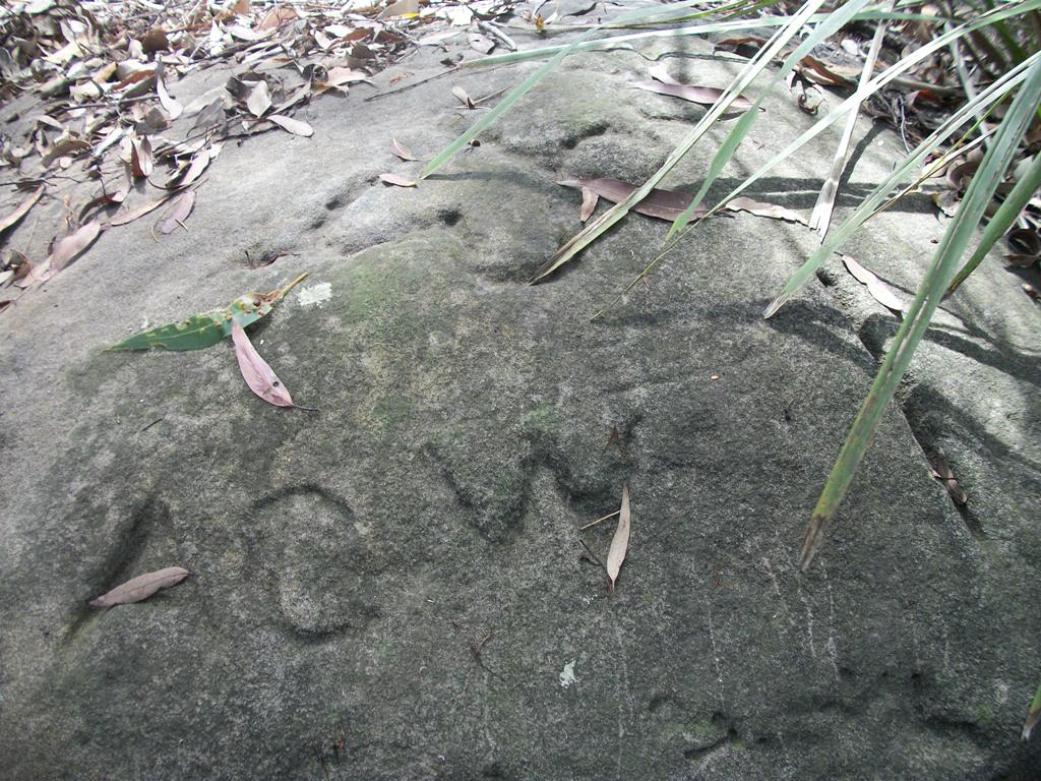 Ingleside carvings found in 2012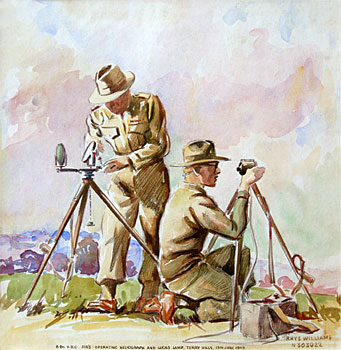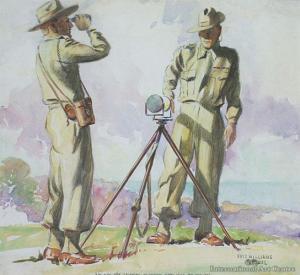 Rhys Williams: 8th Bn V.D.C Sigs Operating Heliograph and Lucas Lamp,Terrey Hills,13th June 1943 Watercolour 37.0 x 40.0 Signed, inscribed & dated 1943 and Rhys Williams 8th Bn V.D.C. Sig's Operating Heliograph Terrey Hills, 13th June 1943 Watercolour 37.0 x 40.0 Signed, inscribed & dated 1943 - Visit Rhys Williams Painting - June, 1942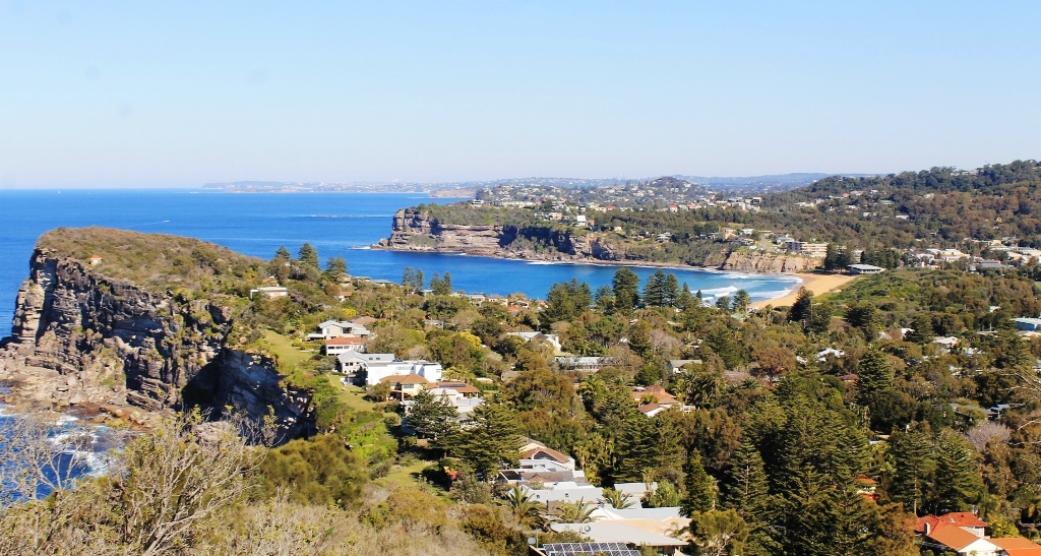 The View south from Bangalley Headland today
References And Extras
Colours are to be presented to the Hawkesbury Volunteers on Saturday, the 31st instant, and they (the Volunteers) are to give a ball on the following Monday evening. This fixing upon the 31st as the day of presentation will prevent the attendance of the Sydney and Suburban Volunteers. THE SYDNEY MONTHLY OVERLAND MAIL. (
1861, September 21
).
The Sydney Morning Herald
(NSW : 1842 - 1954), p. 5. Retrieved from
http://nla.gov.au/nla.news-article13059149
ABBOTT - July 17, 1943 (suddenly of illness on active service) NX10246
Eric Cairns Abbott, dearly loved son of William Campbell Abbott, of Avalon Beach, aged 39 years.
Family Notices (
1943, July 19
).
The Sydney Morning Herald
(NSW : 1842 - 1954), p. 8. Retrieved from
http://nla.gov.au/nla.news-article27942465
Ashfleld Executive have once more set the pace for other clubs in the Association. This time it was a bus picnic. Over 60 Association members and friends assembled at Ashfleld on Sunday morning, 28th January, and
proceeded by double-decker bus to Avalon Beach.
The bright spot of the run down in the bus was the singing of Bren Reade and his pals, whilst the community singing of Paul Malone and Company at lunch time added considerably to the entertainment. After lunch the party was graced with the presence of none other than Austin Glacken, who proceeded to act the Good Samaritan by taking some of the company in his car to have a look at the scenery around Newport. The social secretary of the Association, Marie Falvey, was present, and added considerably to the life of the party. Ashfield committee appreciate the interest displayed by the Association Executive. Len Spillane was in excellent voice on the way home. SPORT (
1940, February 8
).
Catholic Freeman's Journal
(Sydney, NSW : 1932 - 1942), p. 24. Retrieved from
http://nla.gov.au/nla.news-article146099841
Easier Speed Test Admits More W.A.A.F. Trainees
GIRLS able to send and receive 15 words a minute in wireless telegraphy. are now acceptable for training -with the Women's Auxiliary of the Air Force.
Previously the minimum speed was
20 words a minute. Applications must be sent to the Women's Voluntary National Register, 16 O'Connell-street. Sydney. The age limit is 18 to 40. "I think every girl should give -up at- least one: night a week for "first aid, home nursing, drill; physical culture, or something of 'the "'kind. The bigger jobs, like nursing and helping at canteens, are for those who do not have to earn - their own living and help in their homes. In an emergency, of course, " everything would be changed.'' Miss P. Gordon, of Jessie-street, Arinidale, makes this reply to Miss D. Peters's query of last week: "Am I doing my bit to win the war?" She continues: — "I think Miss Peters is doing as much as she can at present. She knits a pair of socks a fortnight and writes to various boys in the
forces. Both these services are what we might call 'helping,' be it ever such a little bit. She also learns first aid, which I consider one of the most important things to do in these times. "Office girls need some form of entertainment, such as one night a week- at the pictures, to take their minds off work and the worry of "So I would say, Miss Peters, keep on as you are going. Get your first aid certificate, and then start to learn morse code, signalling, A.R.P, or . home, nursing on the Tuesday night that you usually give up for work of this kind. "in case of extreme emergency, everything would be changed, and I think every girl and every woman would be ready to give up her week-ends and every night a week to help in whatever way she could. "You are 20 years old. Your work at the factory is probably just as important as any other job you could do, You are helping in an industry, and whatever happens none of us must 'crack up.' " . Miss Jean Kauber, of Jesmand, Newcastle: The address of the Wans is 16 O'Connell-street, Sydney. They teach such a wide range of subjects that I am sure you would find what you want there. Write to that address. . ? Miss Fay Juleff, Deniliquln: No, I am afraid you could not possibly get a position at an air training school until you had trained and been accepted by the WAAF. in Melbourne. It would then rest with the authorities where you were sent, Write to the Women's Voluntary National Register, Bank of N.S.W. Building, 16 O'Connell-street. and outline your ambitions. ? ? Miss Phyllis Allan, via Wingham: Write to Wans headquarters, 16 O'Connell-street, and ask if they have any country classes in signalling you could join. Explain just where you live, and your nearest big centre. Miss D. Blair, of Kensington, and "Young Lady," of Cronulla: You both want to do voluntary work a few days a week. The Women's Voluntary National Register is wanting people like you. Please write— the address is Bank of NH.W. Building, 16 O'Connell-street — and state the time you have available, your age, qualifications, and when you would be ready to begin duties. Miss A. Bond, Coolac: Would it be possible to complete your training, and register for service overseas? If not, rest assured any nursing you do here in Australia is useful, for you will be releasing more fully-trained girls to go away. Write to the Red Cross again and ask if there is anything further you could do to qualify for an appointment.
Miss Joyce Byron, Avalon Beach:
You did not say if you want voluntary or paid work. For the former, write to the W.V-.N.R., 16 O'Connell-street, Sydney. You might also apply to the transport section of the National Defence League, having obtained your Sydney licence. If you want a paid job, you might like to study signalling and stand the chance of being accepted for one of the services. Apply for training at the Flying Club, 231 George-street, or the Signallers, 10 Clarence- street.
Naval christening on board HMAS Barcoo today, for one year-old Patricia Margaret Cook.
Her father, Lieut.-C. L Cook and Mrs. Cook, of Avalon Beach,
will entertain friends at a party after the christening. The ship's bell will be used as a christening font. Sugar aeroplanes decorate cake . . . old lace bridal veil ... welcome home party . . . brothers at wedding (
1946, August 4
).
The Sun
(Sydney, NSW : 1910 - 1954), p. 13. Retrieved from
http://nla.gov.au/nla.news-article231571915
Plans for the erection of a
new clubhouse at Avalon Beach
have been prepared and will go to the Warringah Shire Council for approval.
The Minister for Education,
Mr. Heffron, has announced the resumption of a new public school site in Barrenjoey Road, Avalon .
If only they had known what they were sending these souls back to:
The St. Louis (16,732 tons), the last of the five Hamburg-Amerika liners to reach Germany, has arrived after an absence of seven months.
It was under the command of Captain Gustav Schroeder. Until before the war it was engaged in an attempt to carry refugees to Southern American ports. (See picture below).
The German steamer St. Louis unsuccessfully attempted to land 913 German Jewish refugees in Cuba.
Here men of the Cuban military forces are seen watching the departure of the ship after permission to land the refugees had been refused. ST. LOUIS REACHES GERMANY (
1940, January 3
).
Northern Star
(Lismore, NSW : 1876 - 1954), p. 1. Retrieved from
http://nla.gov.au/nla.news-article101492773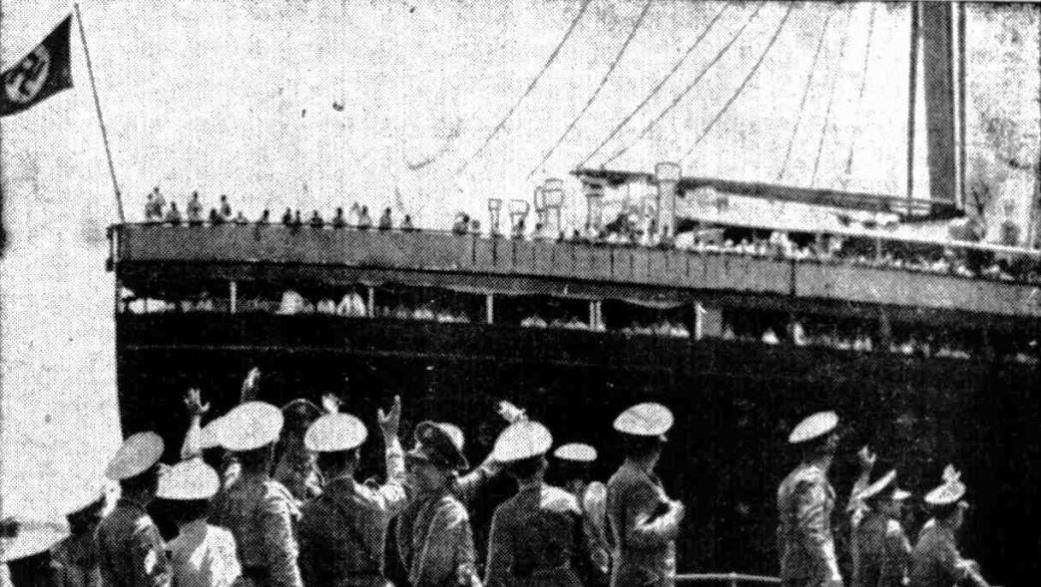 Traces of WWII Coast Watchers on Bangalley Headland – 1942
- by ShellsMassage Avalon
and A J Guesdon - 1956 to 2017!