December 18, 2016 - January 7, 2017: Issue 294

Kamikaze Corner Roundabout Pop Up Art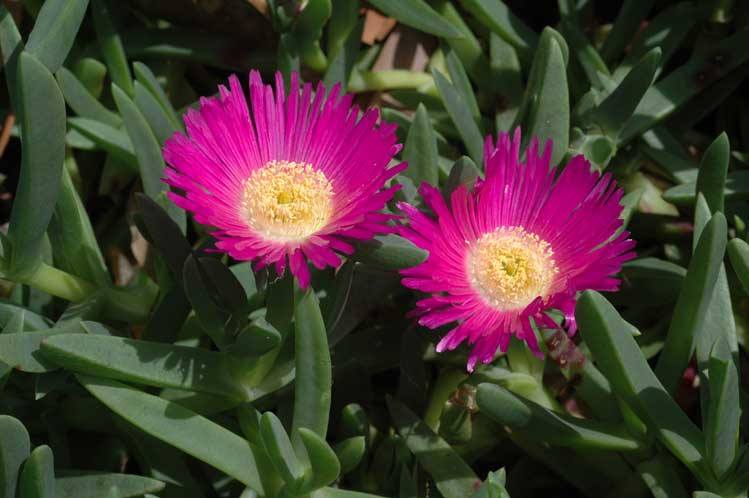 The Carpobrotus glaucescens is in. November 16, 2016 at 10.10 p.m. - Kamikazecorner Roundabout

Carpobrotus glaucescens
, commonly known as angular sea-fig or pigface, is a species of flowering plant in the ice plant family. It is a succulent coastal groundcover native to temperate eastern Australia.
Kamikaze Corner Roundabout Cultural Creative Community Consciousness
Since at least 2012 a local gentleman has been brightening the lives of many who make it through the Bilgola Bends heading north, or have to depart the green valley of Avalon for the land beyond the bends, with soft sculptural moments of joy.
As council has recently planted out the notorious roundabout with flowers suited to that environment this was taken as the time to cease this popular 'pop-up art' commentary so said blooms would not be trampled. The gentleman known as 'Kami' also cited some found the creations a hazard that added danger to the corner, an added impetus to cease.
We spoke to the gentleman most people have nicknamed 'Kami' over the years this week.
How long have these creations been appearing?
For a long time – it's not only the corner, many will have seen signs going up around the Bends (Bilgola) prior to this for decades. Initially it started prior to my placing something there – the gardens that kept being installed on the roundabout would get trashed and the gardeners quite reasonably got fed up with that and nothing was planted.
As a result people began installing things to do their own 'beautification' of what was a barren spot I guess. One of the first was a duck and then the idea just exploded and you'd see all this cheap kind of showground stuff. I thought, we can't have cheap toys going up there, let's lift the standard and get some consistency going. I decided to do it every school term.
I originally began putting them up around four or five years ago.
The other part of this was that the duck that was put up by someone exploded and as it was filled with all those little Styrofoam balls they just went everywhere. One of my mates from the council, Rob, had to clean it all up, those that hadn't already been sent down to Bilgola Beach and into the water. He was pretty upset, as you would be, so I said I'd start doing it and making sure nothing like that happened again and if there was rubbish, I'd clean it up.
It was a little bit like Kramer from Seinfeld, that was my stretch of road – and was good until it became a hazard for some drivers – there's no way any of us would want something there that could make that corner dangerous, myself included.
After I began the rubbish and potential pollutants stopped. It went on for a bit without too much comment.
Then Pittwater Online ran that dinosaur one, gave it some press, and it was just 'boom' after that, people were always watching and looking for the next one.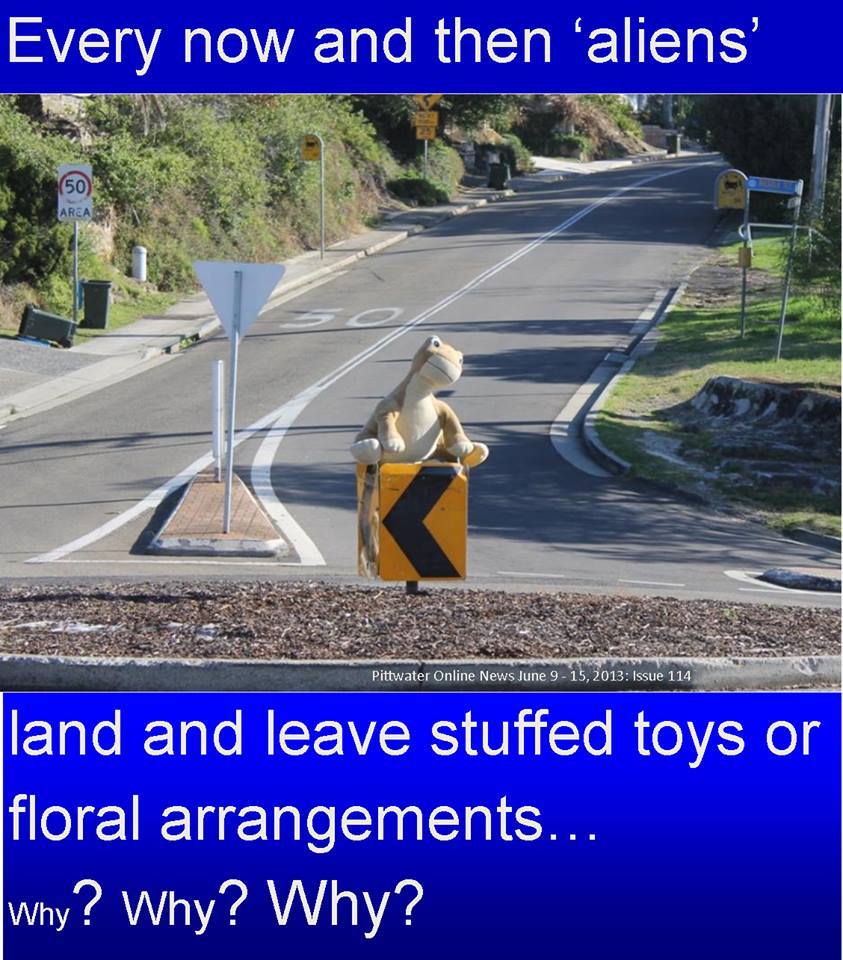 Where did the toys come from?
From Red Cross shops, Vinnies, these places – and always from one out of the area; you can't have a local child's toy turn up there, that would be just devastating!
What happens to them afterwards?
Well after they've been out there for a week they have pretty much had it.
Some have been re-adapted for a second run though.
Most of them have been nicked though, so many never got to the stage where the weather had done its utmost and they needed to be binned.
When Jack passed away a new respect developed though. That one lasted a week and then two weeks – the tributes and love coming from the community at that time, the flowers that were placed there.
I'd set up a Facebook page,
Kamikazecorner Roundabout
(Launched on May 4, 2012), where people were posting what was happening or comments. I'd contacted a friend of Jack's and said 'I've got this cherub, let's put it up there and see what happens.' When this one was up I posted 'we've lost an angel' -, an 'Avalon Angel'.
The next day I saw one flower, that was in the morning, and thought 'something is going to happen here'. The next day there were more and more. Soon the roundabout was full of flowers.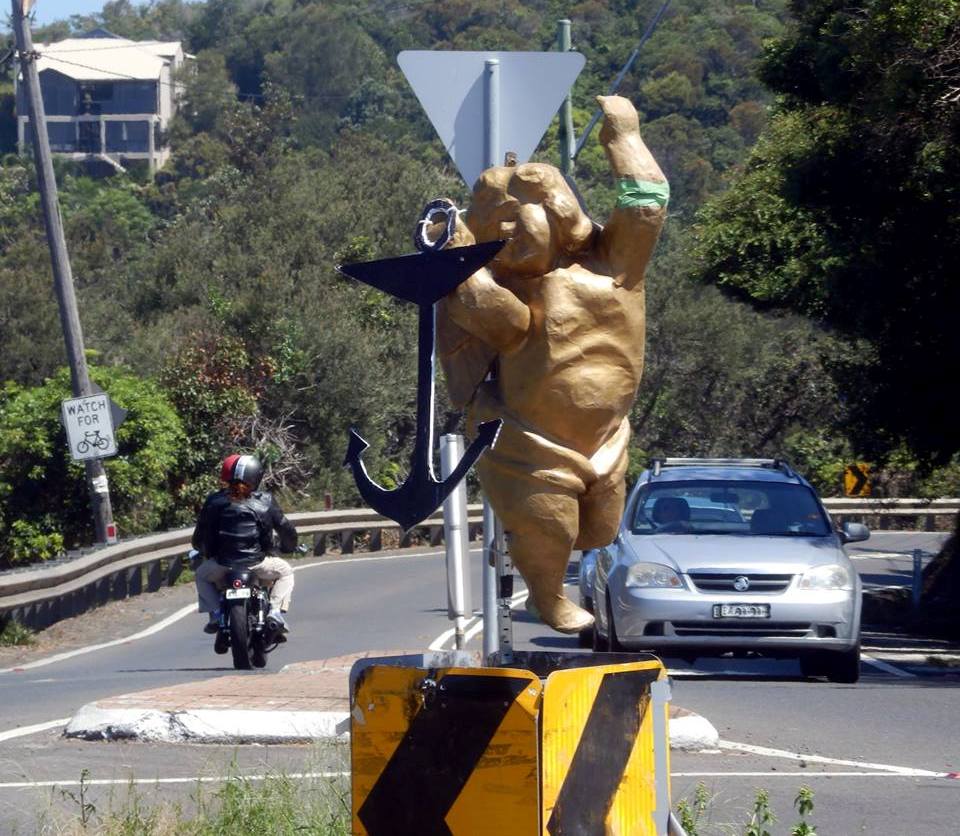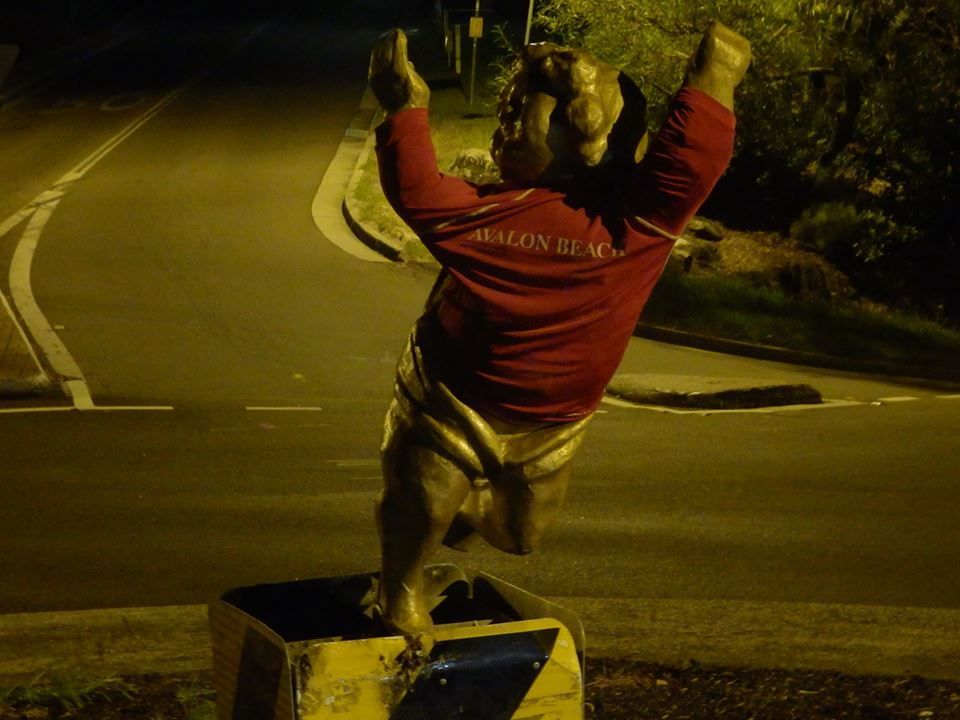 March 2, 2015 - An Avalon angel
March 7, 2015 – more and more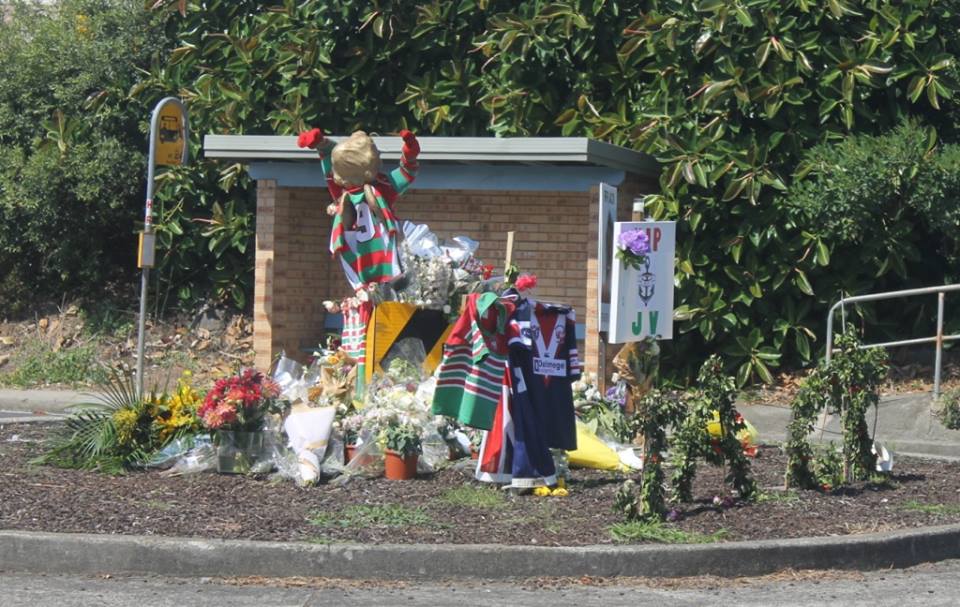 Finally the roundabout was covered in flowers left
It's incredibly sad but very moving to see the roundabout get covered in flowers in honour of Jack. Just dropped my bunch off. - KKCR post
This is a family who is loved and respected in our community. That was shown then.
I know his father would want us to say, as part of that, and especially at this time of the year or at any time of the year for that matter, please keep asking each other 'are you ok?' – (
RUOK
?), and if you are struggling,
please
tell someone, if there isn't someone on hand you'd talk to,
please
get in contact with
Lifeline
(13 11 14) or
headspace
or
Beyond Blue
.
The other Tribute that grew and grew was when we lost
Midget Farrelly
– the response there just blew me away. For that tribute I was fortunate in having a midget lion and thought, I'll put that on a board, and then just had to do a stencil of his signature to place across the board – alike all those great surfboards he gave to surfing.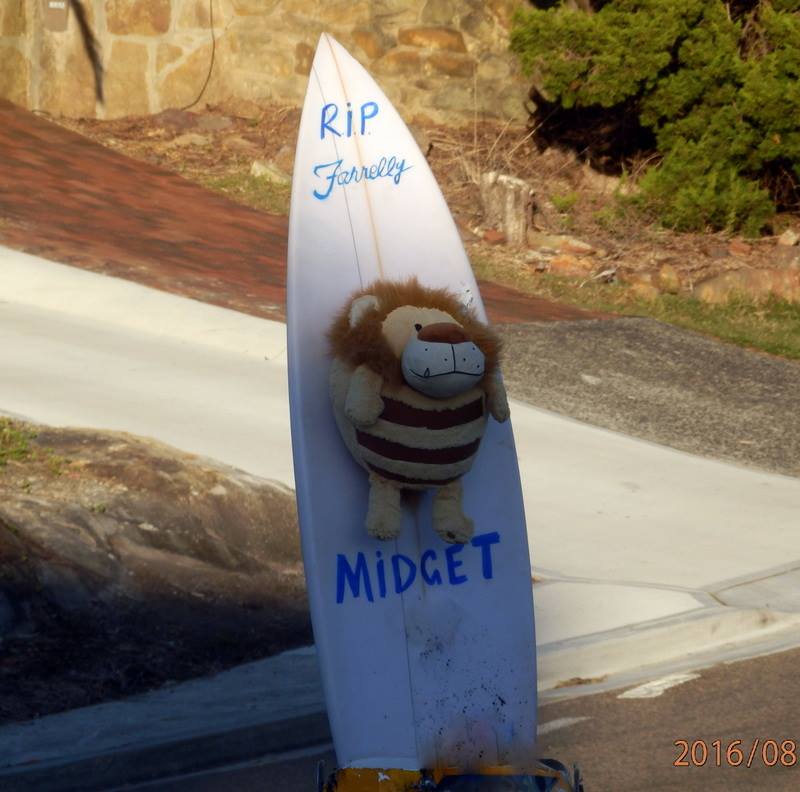 Our first surfing champion. Posted August 10, 2016 - Kamikazecorner Roundabout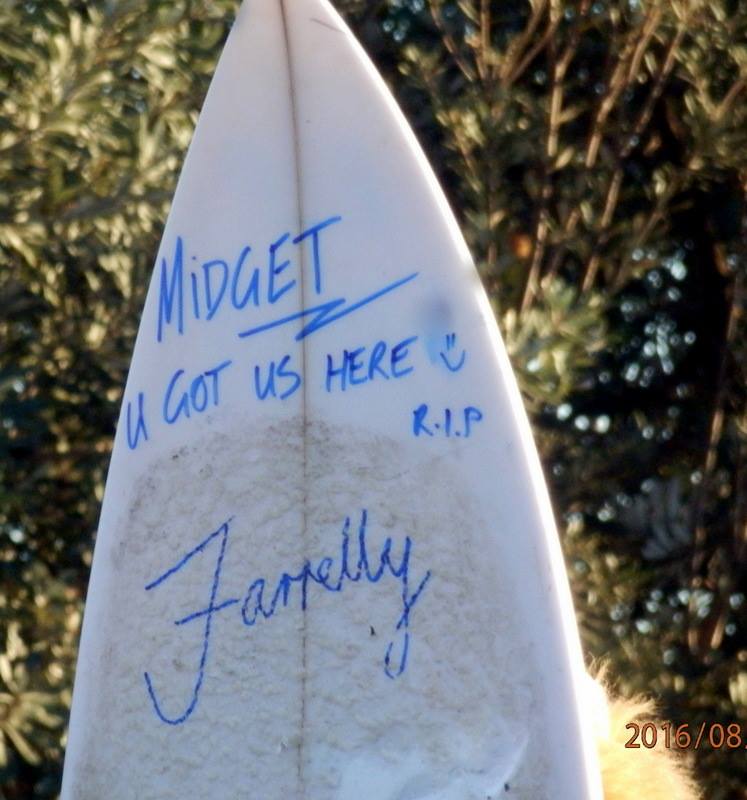 Each has been unique, focusing on something current with themes of environment, culture, arts, sports, when we've lost people, something occurring in the broader community outside of ours – where did these ideas come from?
Well it hasn't just been me – there have always been people who have put things up there. I remember once an aboriginal sign going up there and I don't know who did that, but I get the credit for it, when that was someone else who contributed.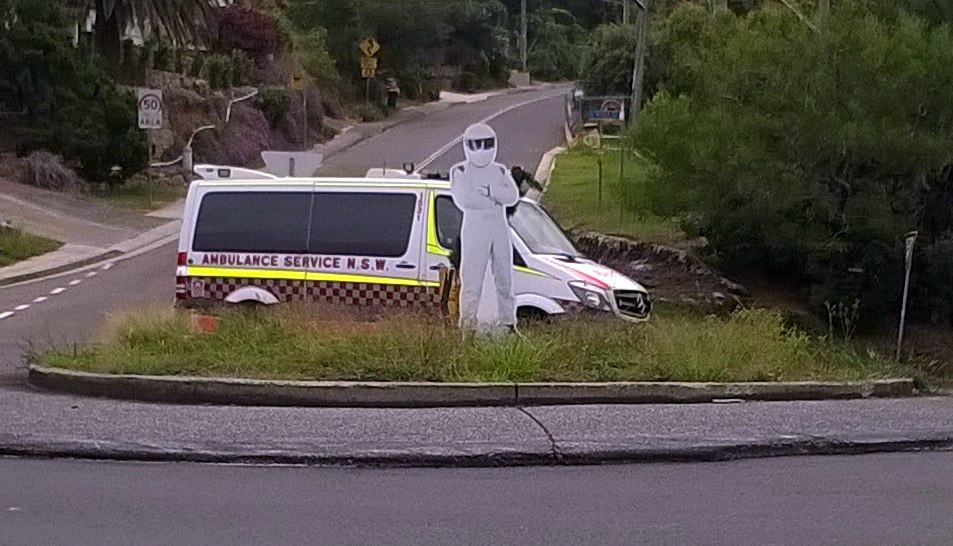 THE STIG - January 4, 2016
Must be another roundabout bandit. Grt stuff! -
Kamikazecorner Roundabout
(The Stig is a character on the British motoring television show Top Gear. The character is a play on the anonymity of racing drivers' full-face helmets, with the running joke that nobody knows who is inside the Stig's racing suit.)

My stuff has been all the toys as the main idea or aim was to get the kids in the back seat of the car talking with their parents, to give them some enjoyment.
The ideas of what then went up came from the toys and adapting them to address something current.
At other times there have been requests – one came from someone who I think was a Barrenjoey High teacher who asked if a tribute to David Bowie could be put up.
I walked into a shop and there was this toy that looked like a jester, like Bowie and some of his early makeup phase, I'll do that. That was a real popular one.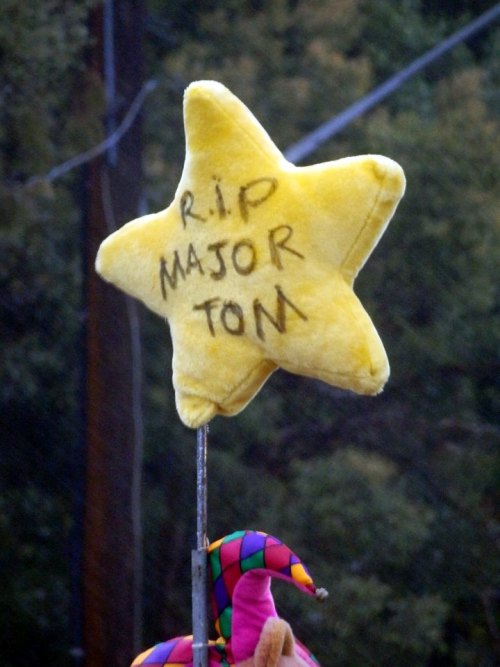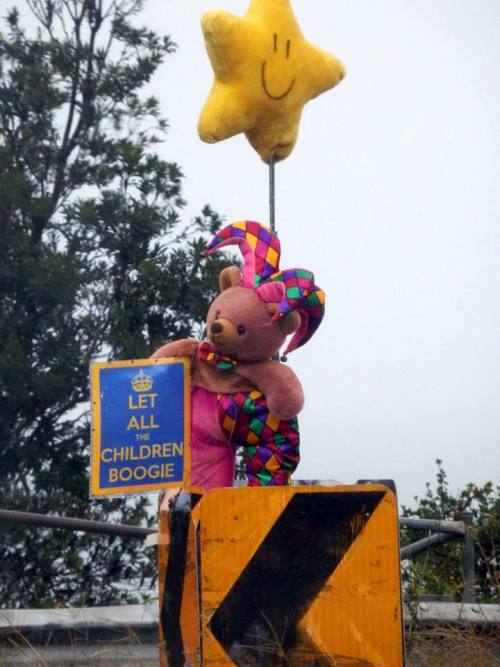 RIP Major Tom – David Bowie
– posted January 15th, 2016 -
Kamikazecorner Roundabout
The polo one was popular too, having a bit of fun with the polo players.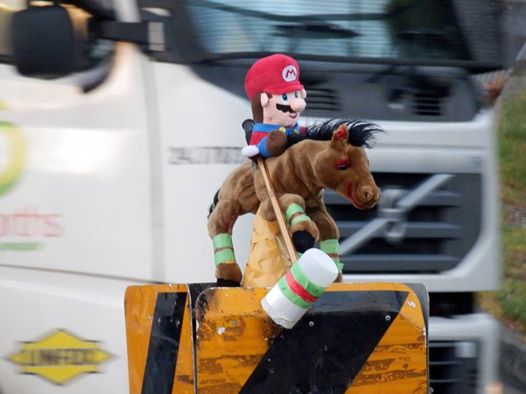 Too wet for Mario and his mates this year :( - Polo by the Sea – January 12, 2016 -
Kamikazecorner Roundabout
The children love it, and we know you're a great Educator; we also know you don't wish us to disclose who you are, does that hold still though?
A lot of people do know who I am, some even think they know who I am and don't, but a lot more don't want to know, they like the mystery of it all and prefer to just attribute everything to 'Kami' a nickname I've acquired.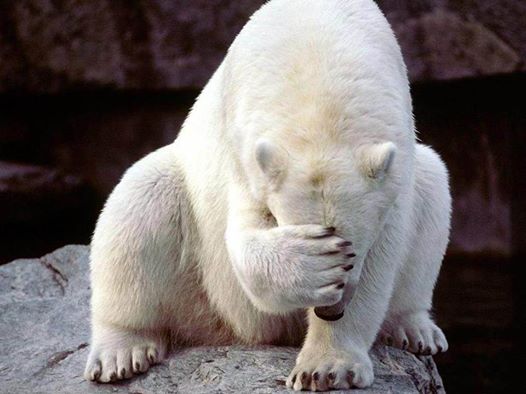 'Kami's facebook icon picture - a polar bear with his face covered - get it??! Polar - poles, polarising, anonymity
It's really been a good community focus point for everyone, hopefully gives people a smile as they're heading off to work or coming home from a long day, and has been great at starting and keeping going a conversation by people in the community about everything they want to talk about.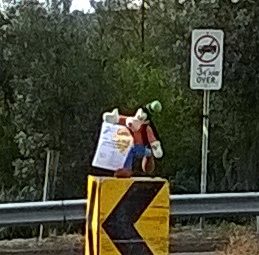 HSC 2015
- HSC starts. I wonder what mark Goofy got at school? - October 12, 2015 -
Kamikazecorner Roundabout
It's a proven fact that goofy just played the role and was actually the most advanced academic of the Disney team. It's believed Mickey had it contracted that goofy was not to look smarter than him at all times.
So some goss for u -

Craig Finniss
Good luck to all doing their HSC!!! I love Kamikazecorner Roundabout reflection of what is happening in our community. -
Janet Forrester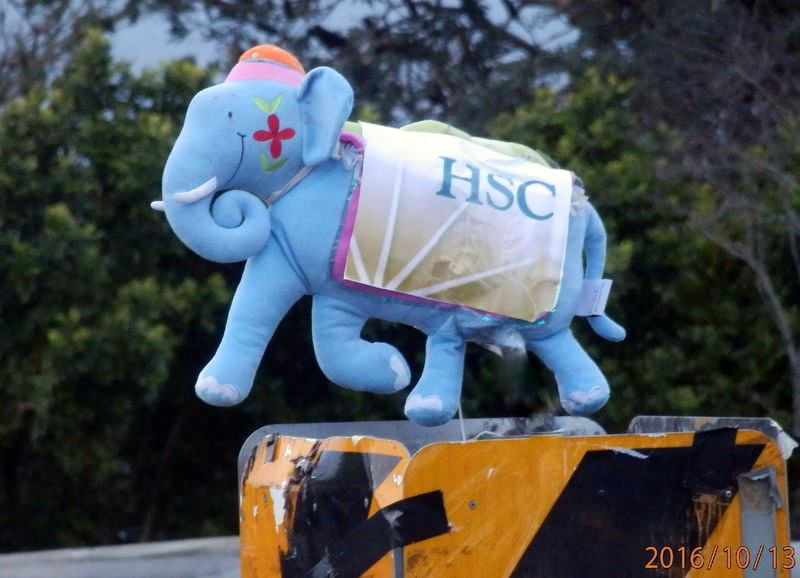 HSC 2016
- The elephant is out of the room! - October 13, 2016 -
Kamikazecorner Roundabout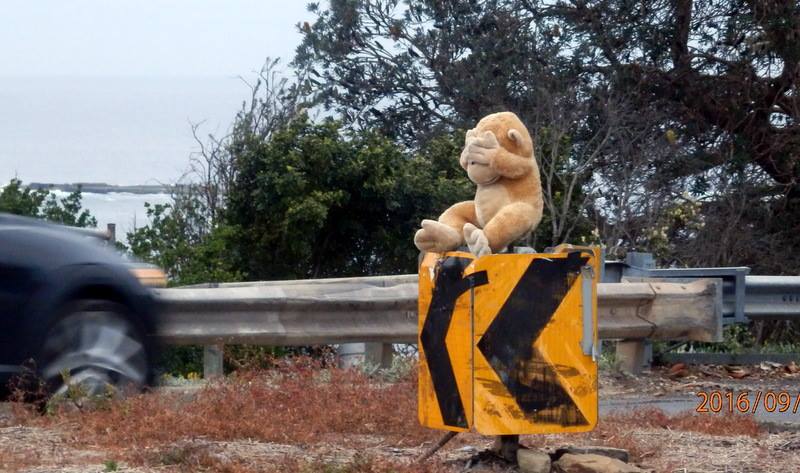 HSC 2016 Study time
It's not over? It's study time! ahh
. -
September 21, 2016
-
Kamikazecorner Roundabout
You have also used this to support community fundraising, such as when Avalon decided to join in having a laugh at that Avalon Now video and then use that to raise money for Vanuatu after the 2015 cyclone that wreaked havoc there -
Yes – this was a positive, and others added in toys dressed in blue stripes to that too. People have a way of doing something good out here for others at any opportunity, as well as never taking themselves too seriously.
Look who is wearing stripes for Vanuatu! Avalon now! March 29, 2015 - Kamikazecorner Roundabout
The 2 littlies turned up o'night too. - April 1, 2015
There have been some kinetic moments too – the St. Patrick's Day – Simply Irresistible creation for example?
Yes, there have been a few – the bus just happened to be passing by then as I took the picture – so such things just go from there.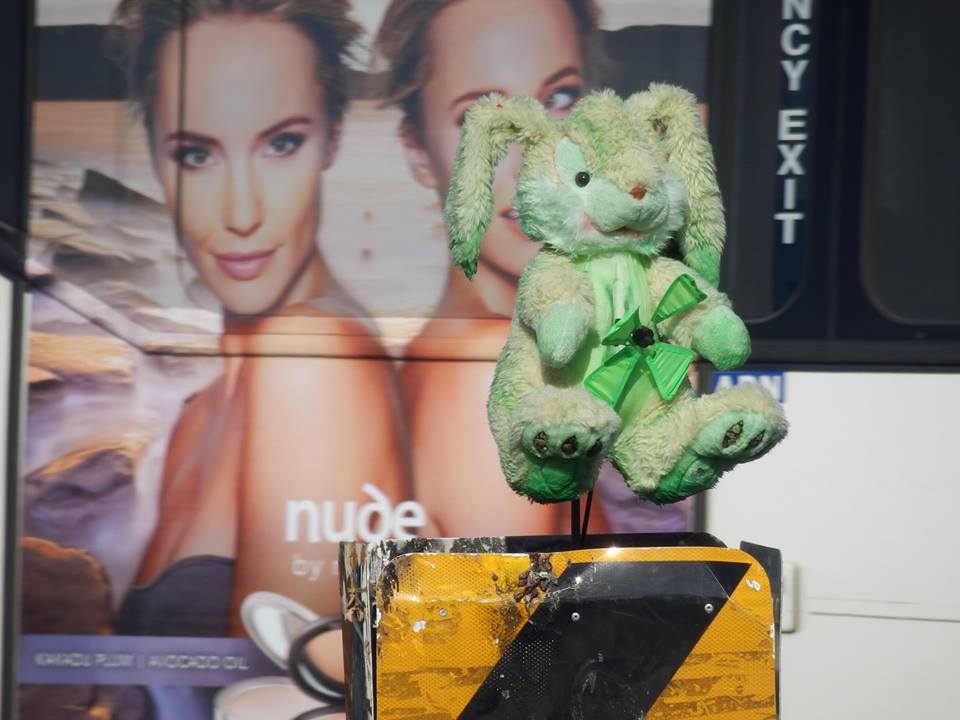 Green is "...simply irresistable" - March 17, 2015 -
Kamikazecorner Roundabout
Of course. I don't think my wife will miss me doing it though; she thought I devoted too much time to it, even though it didn't take long at all. I'd find something, figure something out, and put it up.
It's funny – I have lots of nephews and nieces who keep their parents informed of what's going on in the roundabout and they didn't know it was me at all – was hilarious listening to them. (laughs)
The community would thank you for inspiring us and giving us a smile for so many years – so thank you Kami – well done son.
No worries Al.
Kamikazecorner Roundabout - always expressing the community's feelings perfectly.
– Love Clareville, facebook page
Kammy has a kind heart and is at the pulse of knowledge for the area.
Nothing goes unnoticed. Well done mate
- Craig Finniss
KKCR pop up art puts a smile on my face every time. Keep it up!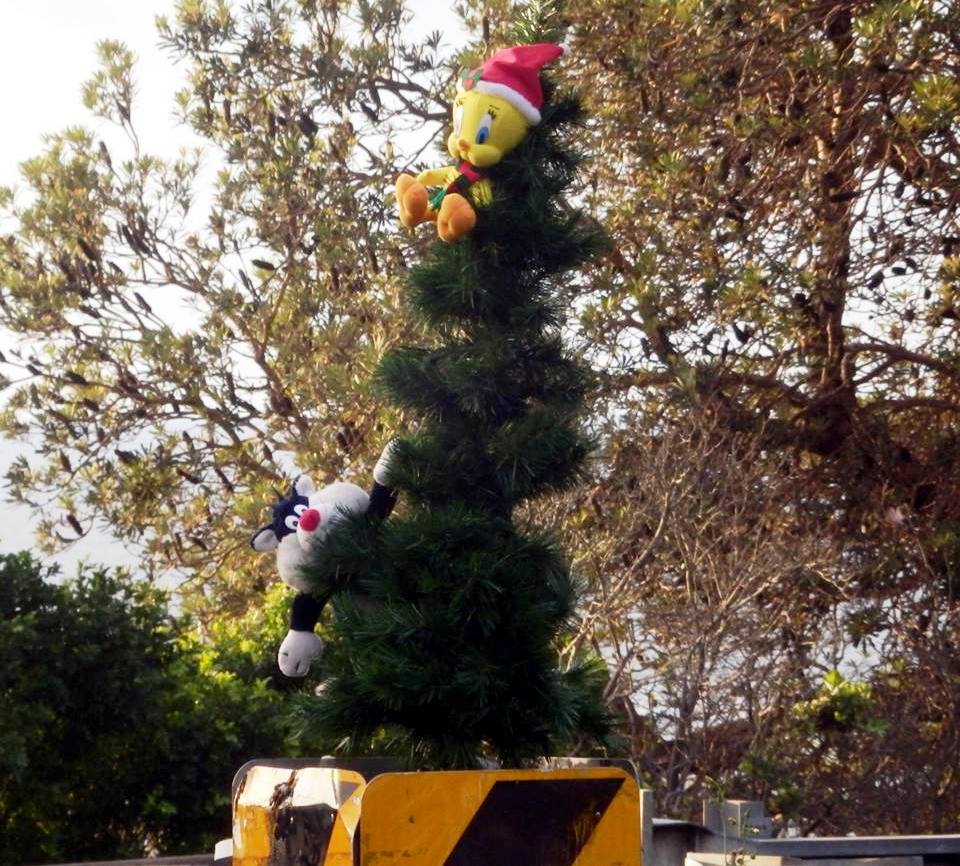 It's still there!!! Merry Christmas Everyone :) - December 24, 2015 -
Kamikazecorner Roundabout
A few more of the KKCR soft sculptural commentaries run below – for the record!
Weather Events, Seasonal And Environment Notes Struck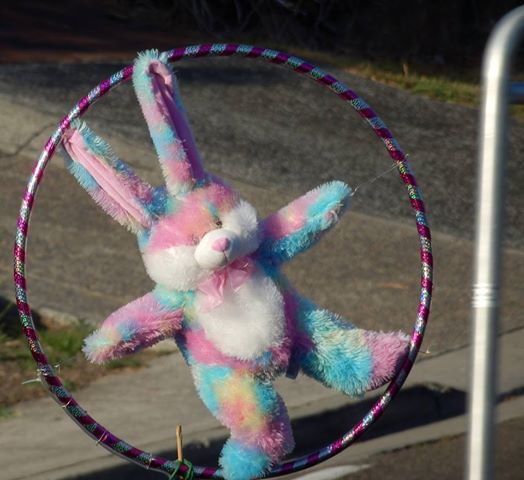 Summer Bunny - December 1st, 2015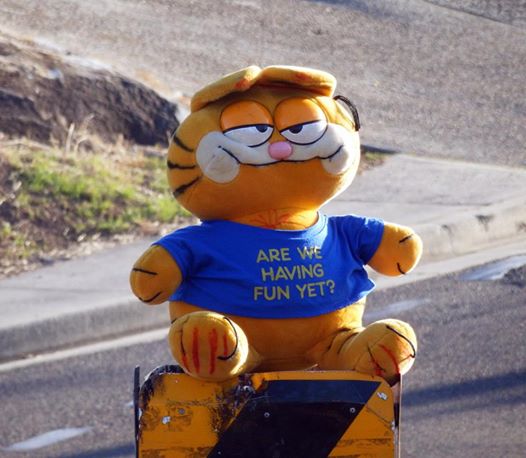 Spring's coming...Hold the Lasagne - August 31, 2015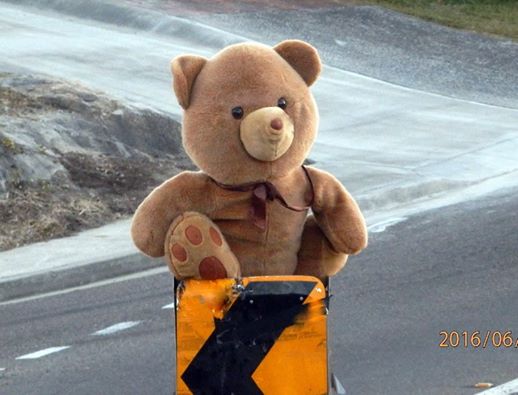 It's bearrry cold - June 29, 2016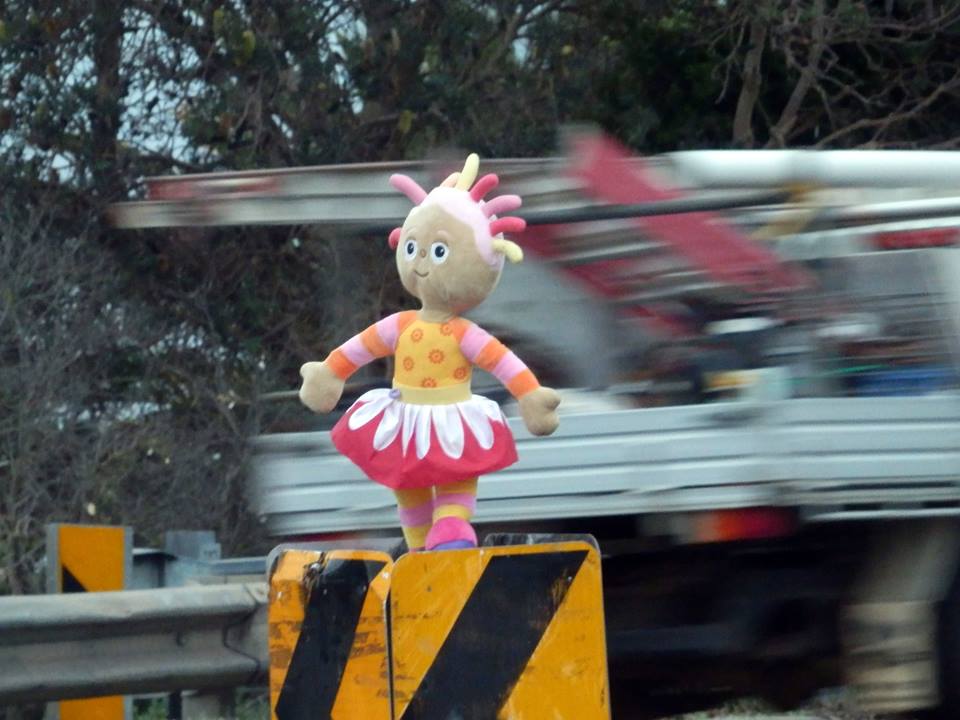 After the flood all the colours come out... - May 4th, 2015
...'sing everything you see.' - June 10, 2016 - Storm event wreaks havoc and destruction and floods on Northern Beaches - 'I can sing a rainbow'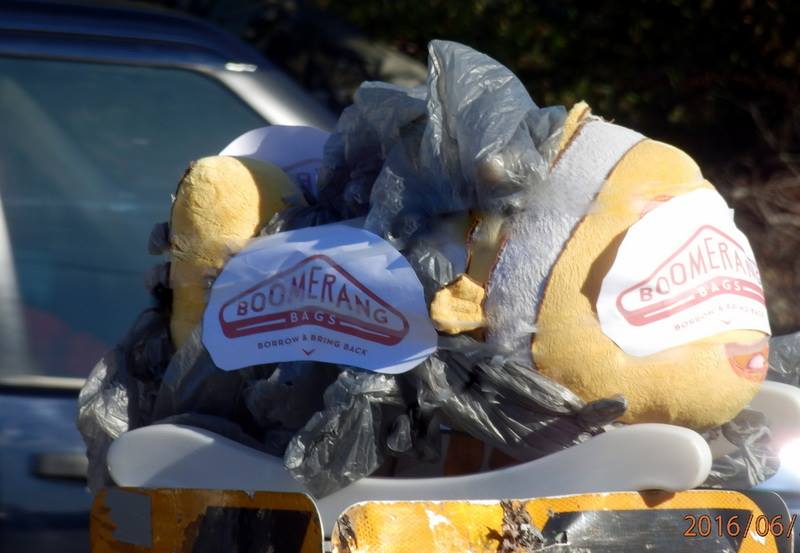 Boomerang Bags...Save Nemo (Sausage Sizzle at 11am) - June 25, 2016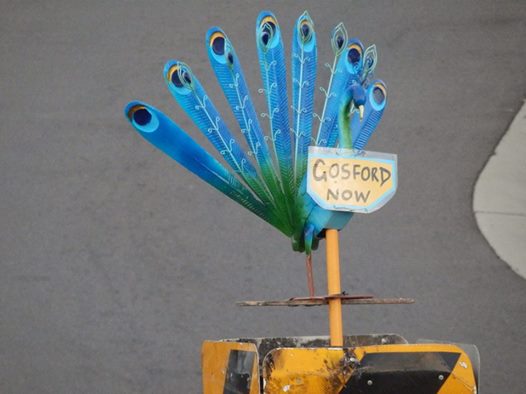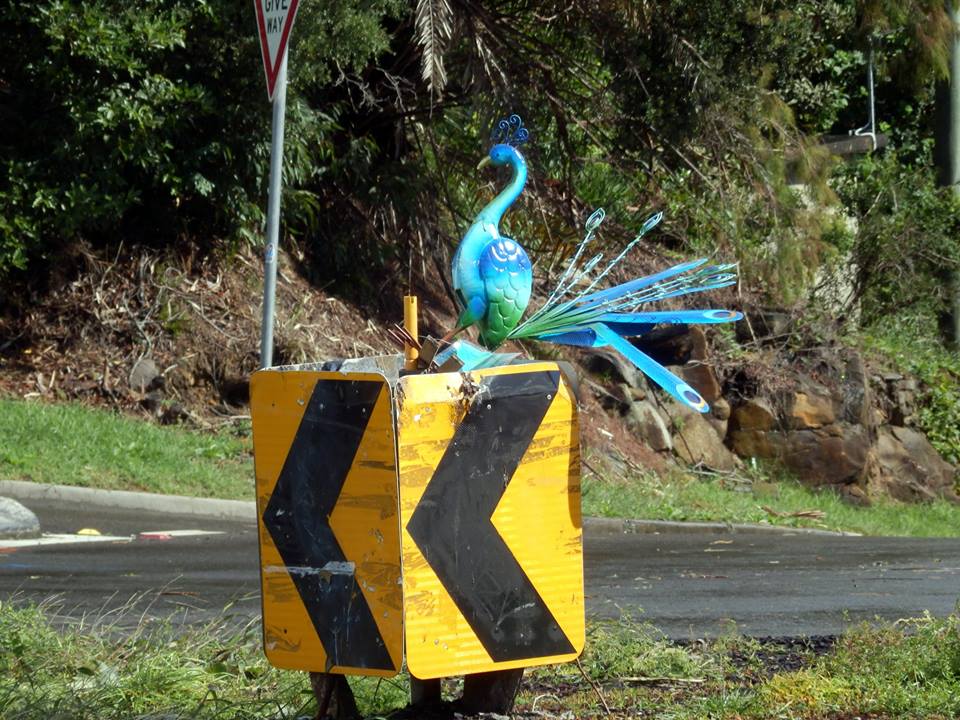 In memory of the Ruskin Rowe peacocks ;) - April 15, 2015
page post: ... spoke to Ruskin Rowe lady - she's been there for decades and said they were taken years ago - moved to bush - there is 1 lady who still has one there at present - but is in a cage and a pet - there are still lyre birds there apparently - native ones - would be interested in hearing what you have heard Tim
Popular And Historical Cultural And Celebrations Of Annual Days - Pure 'For The Kids' Stuff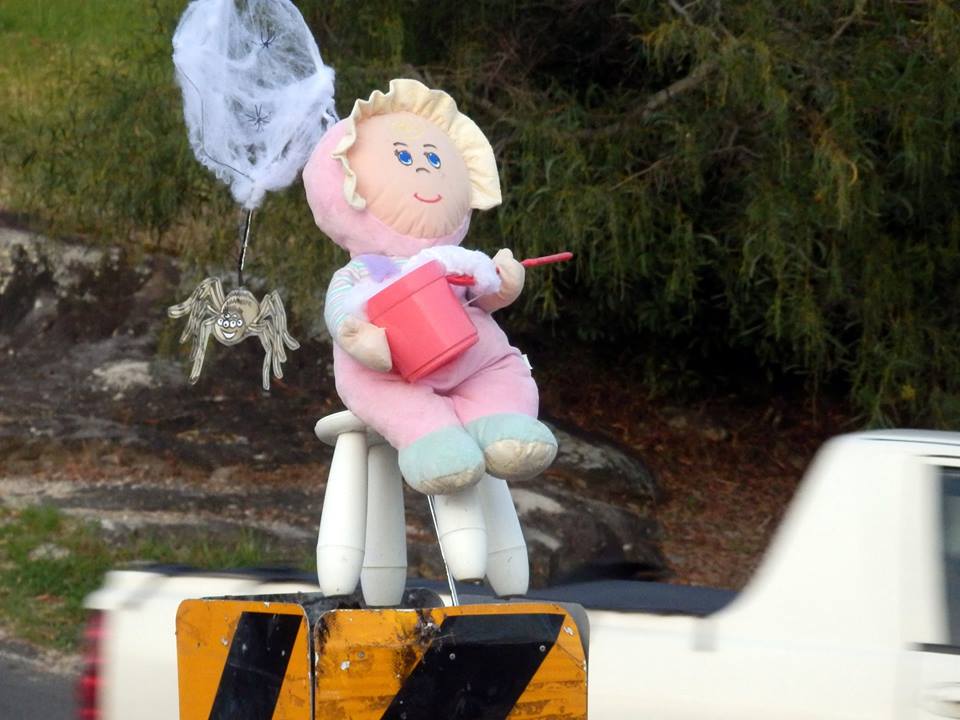 Do something Evil...Give the children Curds and Whey. October 31st, 2015 - for Halloween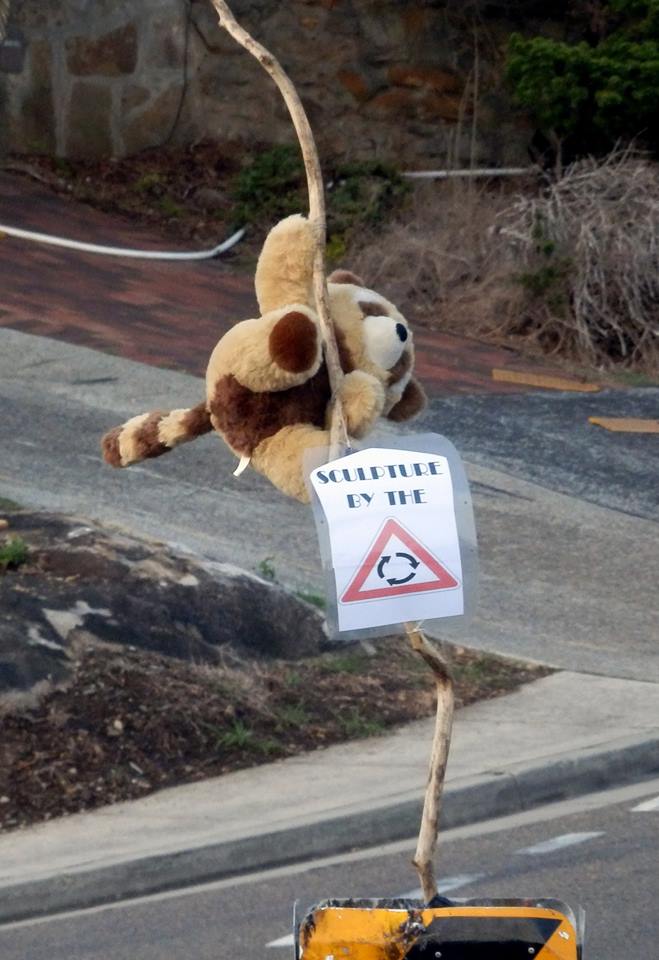 Sculpture or Stick - November 9, 2015 - Annual Sculptures by the Sea opens at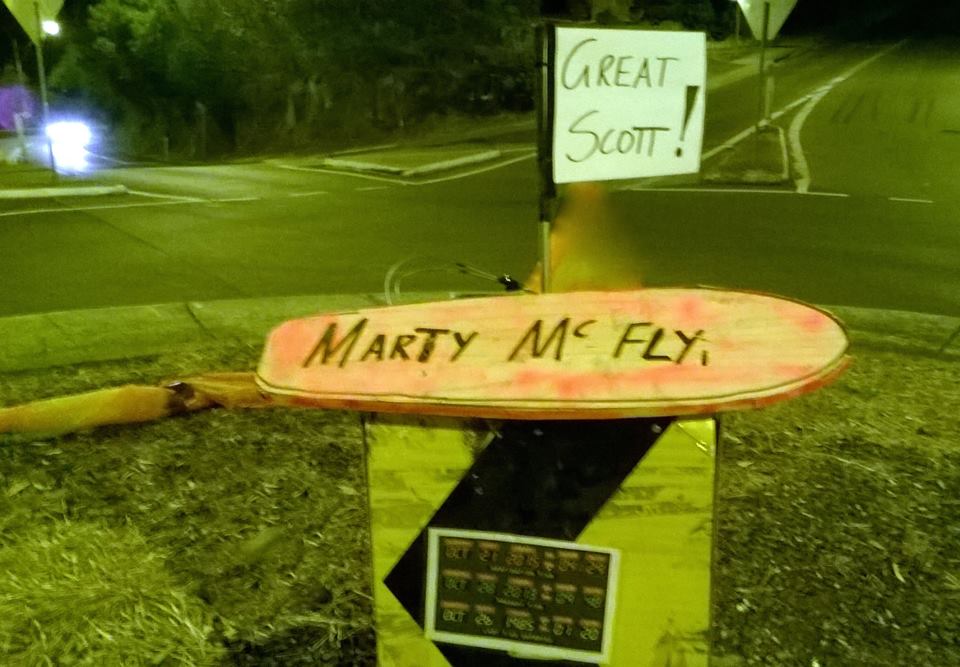 88 mph and BOOM...Great Scott!!! – Back to the Future - October 21, 2015:
October 21, 2015 is "Back to the Future Day." It's the day Marty McFly and Doc Brown travel to the future in their time machine, the DeLorean. The 'hoverboard' skateboard!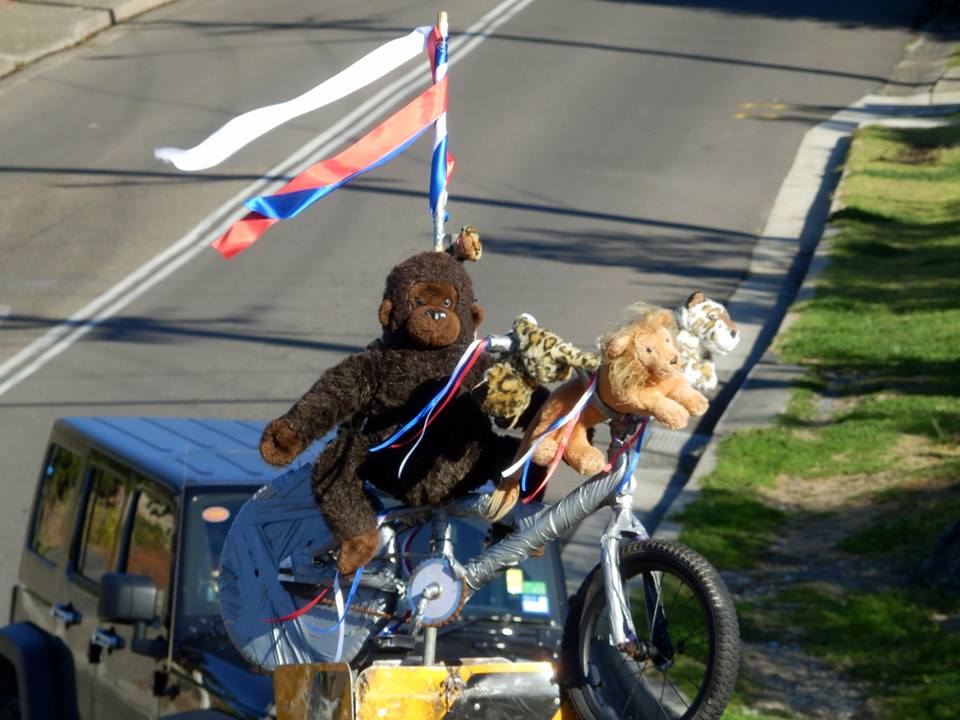 Le Tour de Bastille - July 14, 2015 - Bastille Day, and Le Tour celebration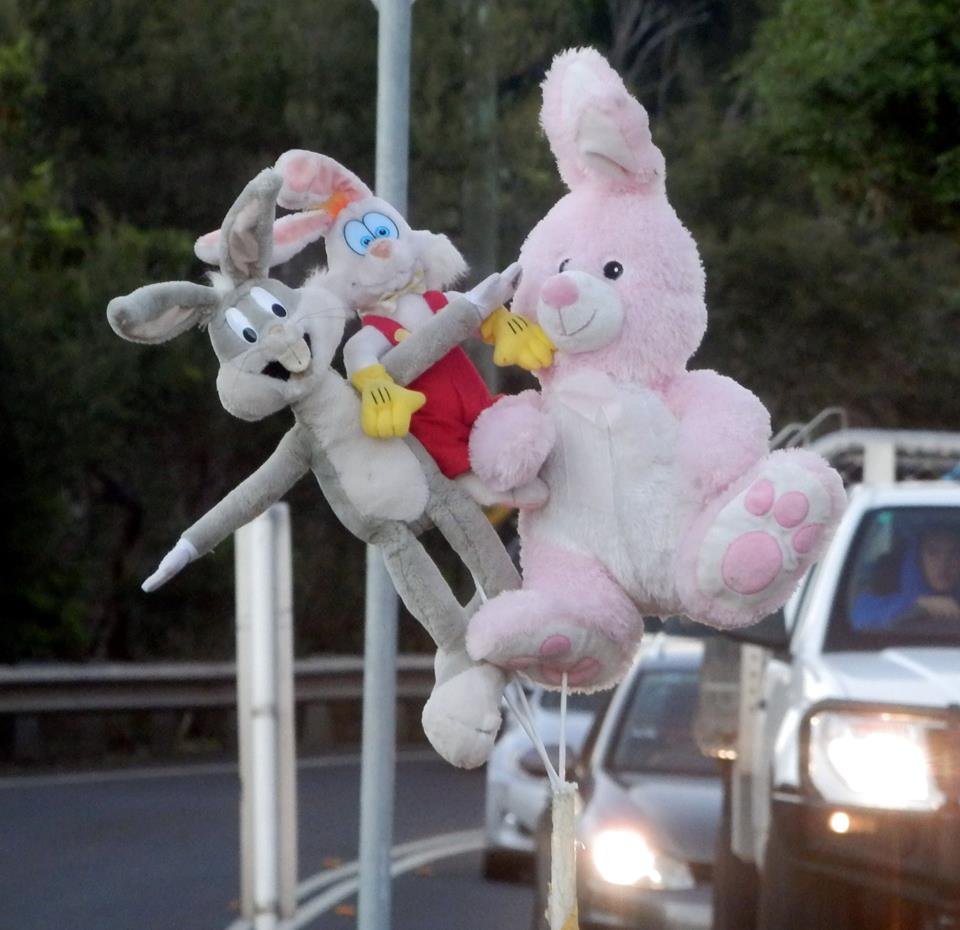 Happy Easter Bunnies - March 23, 2016

Good Sports - From Near And Far
Rain? I ain't moving, Go Bulldogs! Sunday. September 3rd, 2016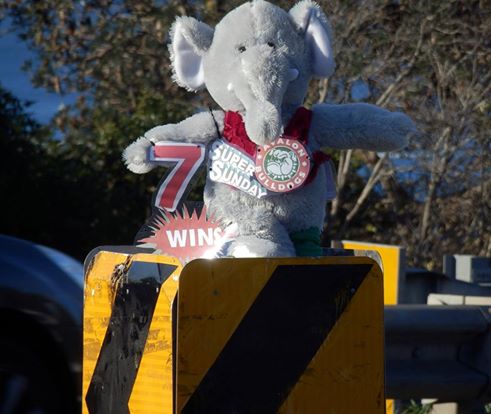 preceded by Happy Elephant - September 8, 2015 Bulldogs win!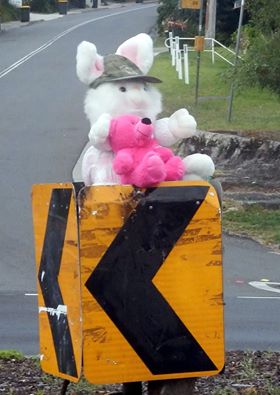 Sydney Test – the pink test – for Jane McGrath Foundation - January 6, 2015
RIP Hughsey - December 1st, 2014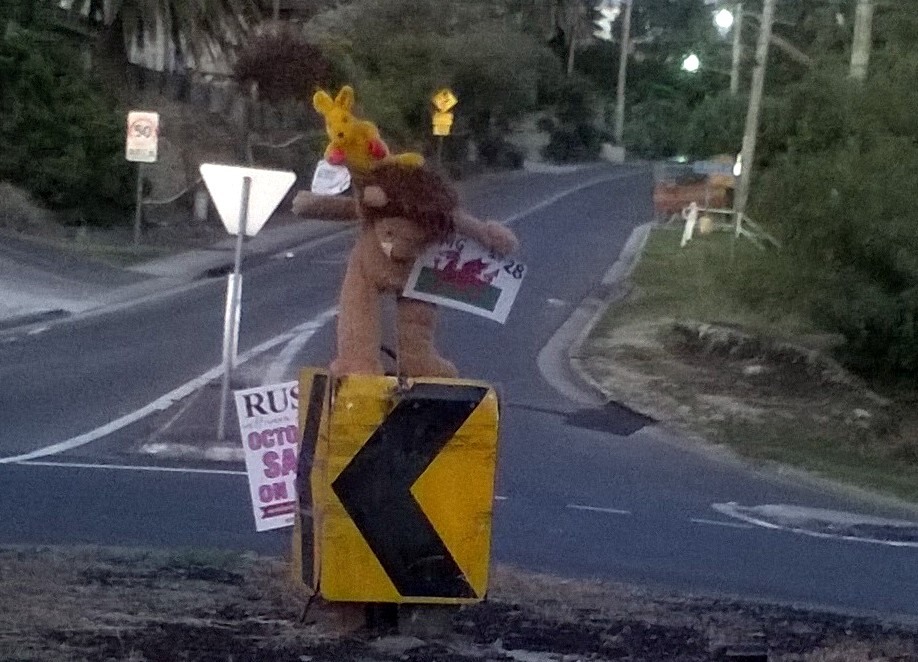 The wallaby still packs a punch with a little help from a dragon...Poor Lion - October 5th, 2015
Newsworthy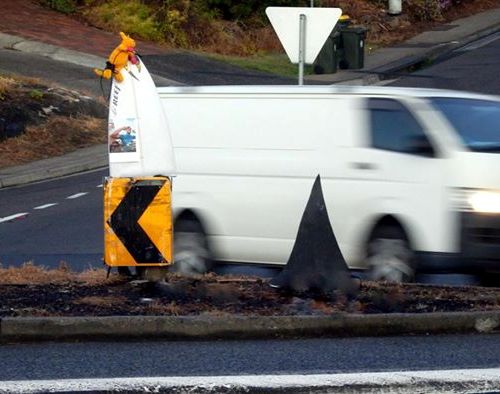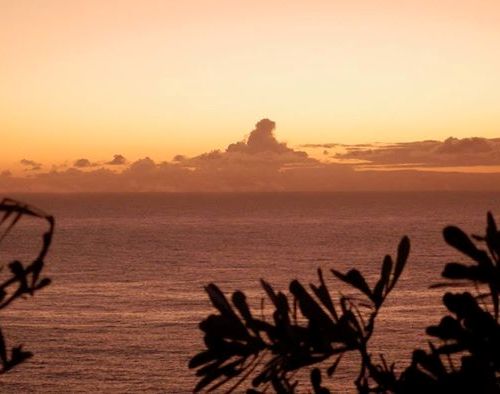 Finally a good shark story ;) - July 21, 2015 -
Kamikazecorner Roundabout
I nearly forgot. This was the sunrise on the serpentine after I put up Mick's tribute. You be the judge. (Mick Fanning – shark tussle)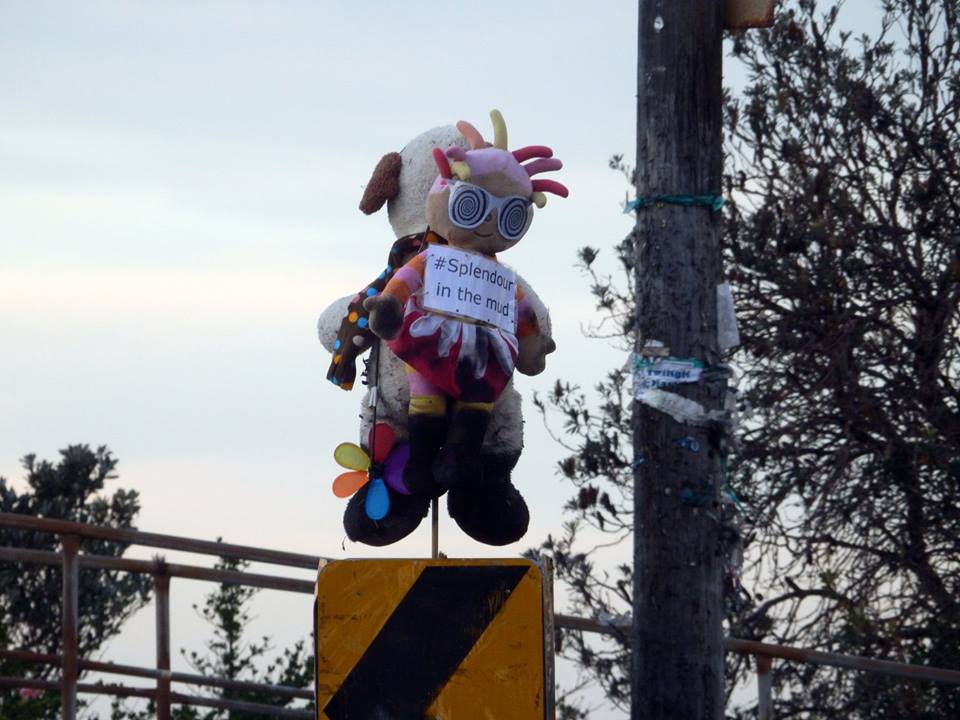 A couple of stragglers from Byron. 'Splendour in the mud' - July 30th, 2015 - yes, it rained that year!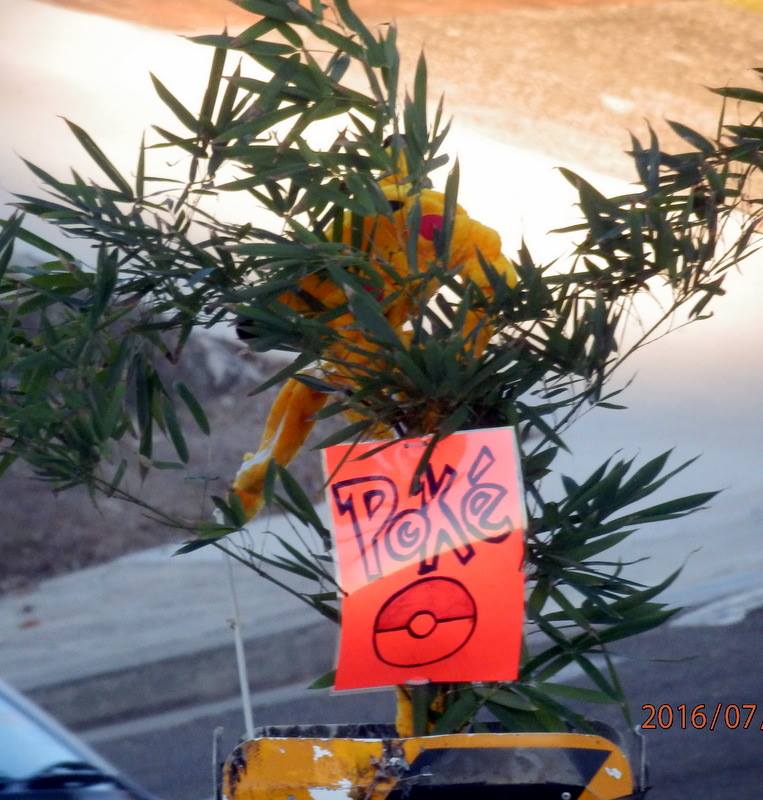 Someone's taken up residence ;) - July 27, 2016 - Pokemon gets people outdoors

References And Notes
Known in early days as 'Six Ways' and then 'five ways' junction, from as early as February 1933 the Avalon Beach & District Progress Association were sending regular requests to the then Warringah Shire Council - '
that danger sign be erected at the Six Ways junction at .the top of the hill between Bilgola and Avalon . Resolved, - That the Association be informed there is no money available
' - letter dated 17/2/1933 and response in Minutes of Meetings.
1933 is known as the year that was really bad in Australia during the Depression - there would definitely have been very little, if any, funds available for much of anything. This was underlined in the same association requesting wire netting in this same letter for Clareville baths and repairs to Clareville wharf - both refused on the same lack of funds. An earlier February 15th, 1933 request 'that the Council endeavour to secure a grant from the Unemployment Relief Council for the building of proper dressing sheds on Avalon Beach; (b) that provision be made for the erection of a Clubhouse, in Avalon in conjunction with the surf sheds, the Council to provide the material, the Association the labour; also pointing out that the Association is paying for a life saver. ' was answered with a request to submit plans showing what they require, and that the Council might make application on those plans to the Unemployment Relief Council.
A letter dated March 18th, 1955 from the Avalon Beach Progress Assoc., 'suggesting that the corners at what is known as "The Five Ways" be rounded off to minimise the danger at that spot.' shows that the several directions, of the Serpentine, Bilgola, coming from south and east, the Bilgola Bends heading north or south
and Barrenjoey road continuing
, the Plateau road up the hill to Bilgola, Old Barrenjoey road out of Avalon, may have given rise to this name and also that 'six' has become five.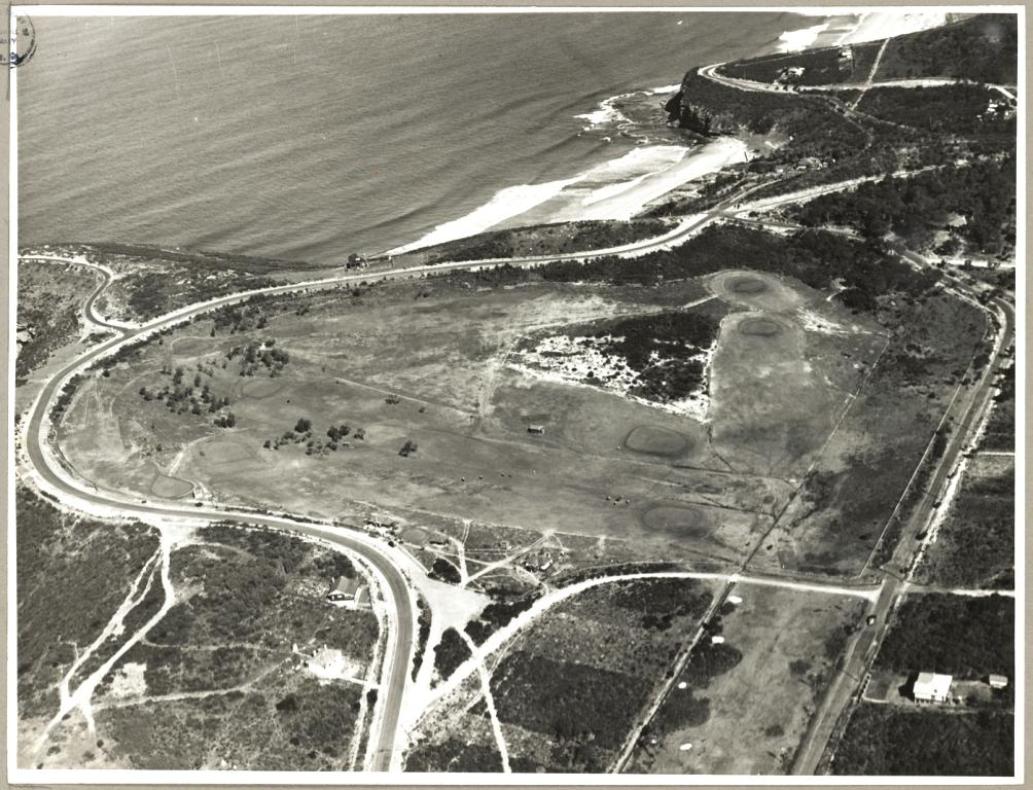 AVALON GOLF COURSE circa 1938 . Image No.:
a2802001h, courtesy State Library of NSW - and enlarged section from to show junction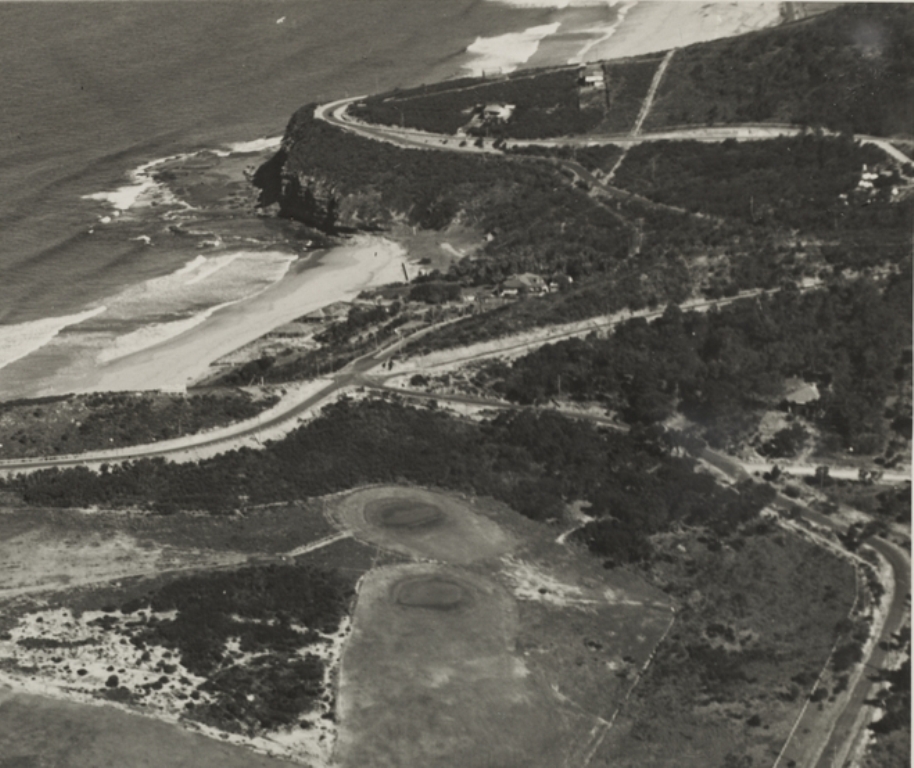 Others, integral in many other early developments in Avalon Beach such as
the first clubhouse
for surf life savers, made suggestions too:
It was resolved that a plan prepared by the President, Mr. Ford, be approved and sent on to the Main Roads Department..
The plan provides for regrading old Barrenjoey Road between Bilgola and Avalon underpassing Barrenjoey Road at the six ways intersection, and providing a clover leaf junction at this point to link up the old and new roads.
Present: Those present at the September meeting included the President. Mr. Bertram Ford, in the chair, Messrs. H. F. Halloran, G. Roster Lee, W. McLelland, R. M. Duncan, G. Cooper, Fred Parkinson, Mrs. B. W. Ford and Miss Mary TOWN PLANNING ASSOCIATION OF NEW SOUTH WALES (
1949, October 12
).
Construction
(Sydney, NSW : 1938 - 1954), p. 7. Retrieved from
http://nla.gov.au/nla.news-article222883488
Town Planning Association of N.S.W.
Annual General Meeting. Thursday, 19th November. Special attention is drawn to the day and date of the Annual Meeting which will be held on Thursday, 19th November (a fortnight ahead). Council meets 4.25 p.m. General meeting, 4.30 p.m. Nominations for all offices close with the President (Mr. B. W. Ford) 119 West Street, Balgowlah, on Friday, 13th November. Place of meeting. The meeting will be held as usual in Churchill Chambers, 61 Market Street, between Pitt and Castlereagh Streets, in room No. 5, on floor No. 5. Turn to the right after entering building and take lift in passage— room No. 5 overlooks the corner of Pitt and Market Streets. General Business. (1) Minutes. (2) President's Report. (3) Treasurer's Report and Balance Sheet. (4) Election of Officers. (5) Restoration of G.P.O. Clock Tower. (6) Ribbon Development. (7) General.
September Meeting. Among those present at the September meeting of the Association were: The President (Mr. Bertram Ford) in the chair, Messrs. Aubrey Halloran, W. McLelland, G. W. Cooper, Winchester Ford, and F. S. Henry. Apologies for non-attendance were received from Messrs. H. F. and Warren Halloran, H. E. Mcintosh, G. Rosten Lee, Mrs. F. W. Peplow, and Miss Portia Geach.
On the motion of Messrs. B. W. Ford and G. W. Cooper, it was resolved to protest against the closing of part of Barrenjoey Road at Avalon and to again urge the adoption of this Association's plan for an underpass at five ways junction between Bilgola and Avalon, taking the old Barrenjoey Road under the new road.
Town Planning Association of N.S.W. (
1953, November 4
).
Construction
(Sydney, NSW : 1938 - 1954), p. 4. Retrieved from
http://nla.gov.au/nla.news-article222899104
The problem was alleviated slightly in part by closing off the Serpentine entrance to the junction just after this suggestion. This has never been the only traffic/road problem at Avalon of course, nor the sole fund of word skirmishes between those with disparate views:
THE Warringah Shire Council has advised the N.R.M.A. that action is to be taken to effect the resumption of the whole of the land between Avalon Beach reserve and the Old Barrenjoey road with the execution of a rectangular portion at the junction of Avalon Parade and Old Barrenjoey road, on which a shop is situated. The association, when advocating the resumption, pointed out that the existing reserve is narrow and sandy, and does not offer facilities for car parking. The area which it is proposed to resume is admirably suited for camping and picnicking. Avalon Beach Reserve (
1936, May 13
).Sydney Mail (NSW : 1912 - 1938), p. 44. Retrieved from
http://nla.gov.au/nla.news-article160638679
'THEY LEFT A DOME AT AVALON'
But Position is All Wrong, Say Drivers
Motorists using the road to Palm Beach have narrowly escaped serious accident from time to time by driving their cars over a traffic dome at the corner of Barrenjoey-road and Avalon Parade, Avalon, owing to the dome being in a position not suspected by those unfamiliar with the locality. The N.R.M.A. recently took the matter up with the Warringah Shire Council, and suggested a new location for the dome. The Council has now advised the Association that the present position of the dome was selected by the road authorities, but that the Council, endorsing the N.R.M.A. contention, was communicating with the department in order to have the potential danger removed. "THEY LEFT A DOME AT AVALON" (
1929, September 29
).
Sunday Times
(Sydney, NSW : 1895 - 1930), p. 15. Retrieved from
http://nla.gov.au/nla.news-article131622034
Sir,-The Main Roads Department apparently waits for events to happen rather than anticipate them.
A start has been made to remove the bump in the Sydney Road at Balgowlah after the recent bus accident had occurred there.
A commencement has been made to deviate the main road at Avalon Beach across the mouth of the public reserve and the main access to the beach and bisecting the best portion of the public reserve and children's playground. This deviation is against the oft-expressed wishes of the Warringah Shire Council and the residents, and is contrary to the expressed views of the new town-planning authority and the Cumberland County Council's chief engineer.
Must this deviation be proceeded with and accidents occur before the Main Roads Department will belatedly acknowledge that there is another logical route for the main road other than the one now commencing, with its deliberate destruction of a recreation area and the creation of a potential death-trap?
If the Main Roads Department will consult the Warringah Shire Council, a better route will be indicated and ultimate economy and safety achieved.
Sir,-Councillor Dunbar's letter on the road deviation at Avalon Beach attacks the well-considered plan of the Main Roads Department to by-pass the Avalon business centre and avoid two dangerous right-angle turns therein. The new traffic deviation will preserve a well-planned district lay out and appears to be the only practical solution
The Main Roads Department stated as far back as 1938 in a letter to the late E Lloyd Sanders, M L A , that after full investigation of alternatives and all circumstances, the route now criticised by Councillor Dunbar should be adopted The land was resumed by the Department in 1939 and formally accepted as a public road by the Warringah Shire Council early in 1946
In view of the many serious accidents which have occurred and the near capsize of two buses recently at the existing road junction, the Avalon Ratepayers' Association, which strongly supports the Commissioner's plan, has urged its carlv comple lion in the interest of public safety
The deviation will provide a much safer road and will certainly not create the potential death trap imagined by your correspondent
ARTHUR .J. SMALL President,
6 women and a baby who were camping on a blanket beneath a beach umbrella at Avalon Reserve had a narrow escape when a car ran away from a nearby car park. TWO KILLED IN ROAD ACCIDENTS (
1946, October 28
).
Newcastle Morning Herald and Miners' Advocate
(NSW : 1876 - 1954), p. 3. Retrieved from
http://nla.gov.au/nla.news-article133161286
While on Avalon Beach roads - did you know that when plans were made in mid 1926 to make new roads, and a deviation int Avalon, A. J. Small negotiating with the council to allow them to resume some blocks of land to make this possible, a suggestion was made by the Avalon Beach Estate (2.11.26.) 'suggesting that the opening of Barrenjoey Road deviations be treated as an important public event, that the name "De Chair Drive" be given the deviations, and submitting a proposal for tree planting along the deviations.'
This 'suggestion' was written down to be treated favourably but deferred until the construction of the deviations was actually taking place.
As we all know the name 'Barrenjoey' is one infinitely preferred around here and as such the
Warringah Shire Council Minutes of March 19th, 1928, presumbly when works were now complete, records:
'Resolved (Cr.s Hope, Hitchcock) - That the deviations of Street Names Barrenjoey Road be called "Barrenjoey Road", and that the old road in the same section be called "Old Barrenjoey Road." -'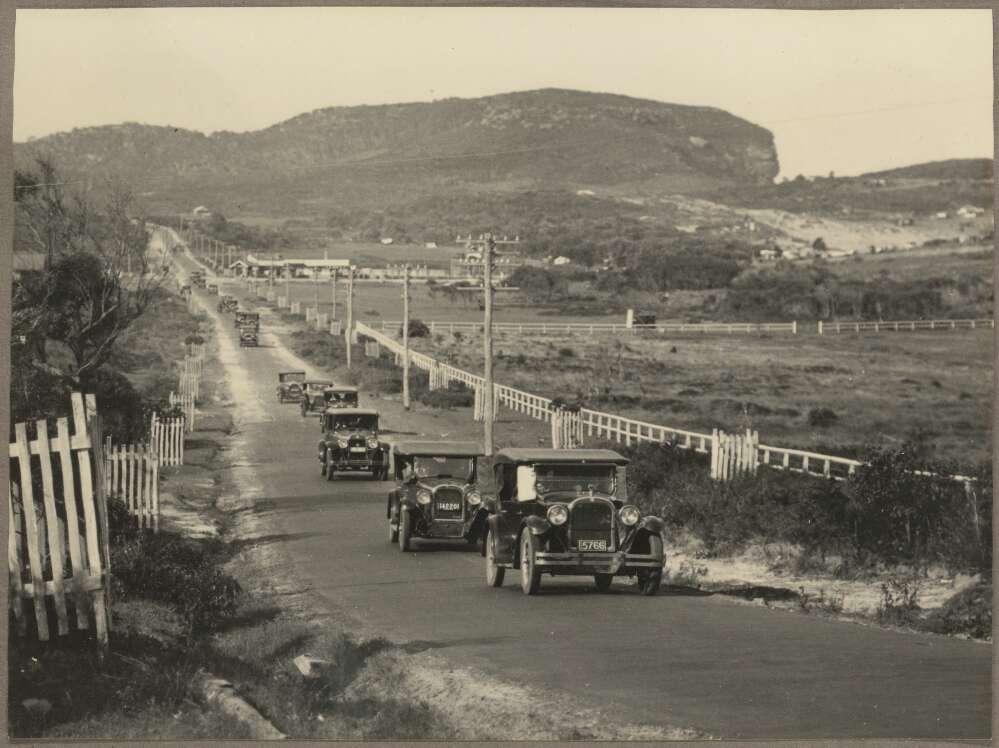 Show Us Your True Stripes On April Fools Day For Cyclone Pam Crisis Appeal!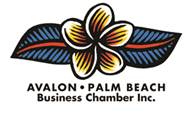 Published in Pittwater Online News - Issue 208 ( March 29 - April 4, 2015) Community News page
In pure 'AVALON NOW' fashion, we want the whole of Avalon to wear something with stripes on April Fools Day, Wednesday April 1st.
If you're confused or have been away and don't know about 'Avalon Now', the Gold 'Willbe' winning film from Creative Creatures Film Festival, you can watch it here :) www.youtube.com/watch?
Cyclone Pam Crisis Appeal
To show that under those stripes beats a strong generous heart ( ... from all those kale shakes!) we are asking people to wear stripes on Wednesday April 1 and donate a gold coin to the Cylone Pam Crisis Appeal and you as a chamber member can help by putting a collection container on your counter on April 1.
Lots of places to donate:
• La Banette • Nourished • Swell • Smalltown • Relish • Haven & Sarah • Rust • Vintage Cellars • Beach Without Sand • Avalon Bowling Club • and more ...