August 13 - 19, 2017: Issue 325
Narani, Captain Cook Celebrations At MVPS And Elvina Bay Memories – 1970s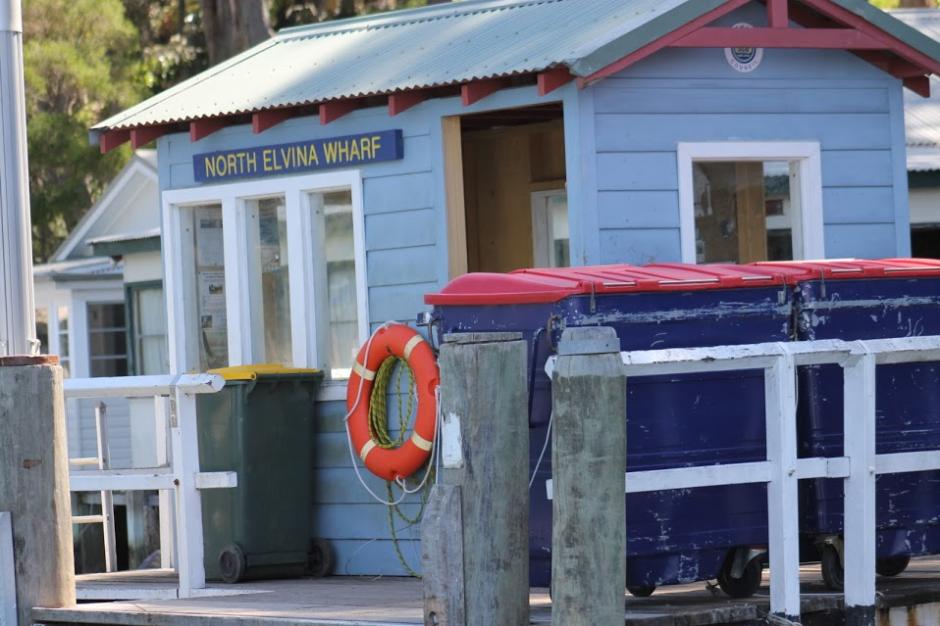 Narani, Captain Cook Celebrations at MVPS and Elvina Bay Memories - 1970s
Just a few pictures some of your older readers may remember.
Back story
My parents Denis and Val Ryan designed and built their own ketch, Narani, in the front yard of my Nanna Belle's home at Russell Ave, Wahroongha. It was taken, via road to Blues Point where it was launched. My sister and I, although quite small at the time, I am sure, were an enormous help!! Dad had an excellent group of mates who also pitched in. Quite the talking point, even in the 1960s in a residential street.
We lived on Narani for a number years and cruised the South Pacific on her; New Zealand, Fiji, New Caledonia and Tonga - all the little islands in between. It was a whole different era. I remember we traded cigarettes for shell jewellery in those days - very naughty now! We left from Holdencraft at Newport (Beaconsfield street) and arrived back at Newcastle a year or so later. My mum, a teacher (taught at Brooklyn, Epping, Mona Vale, Newport and lastly Mudgee) and my dad, a shipwright took casual jobs in the various countries to fund the adventure - of which there were many. Dad had an excellent saying whenever the Customs people checked us...he said 'we had sufficient without waste' - mostly referring to the demi johns of wine from Noumea!!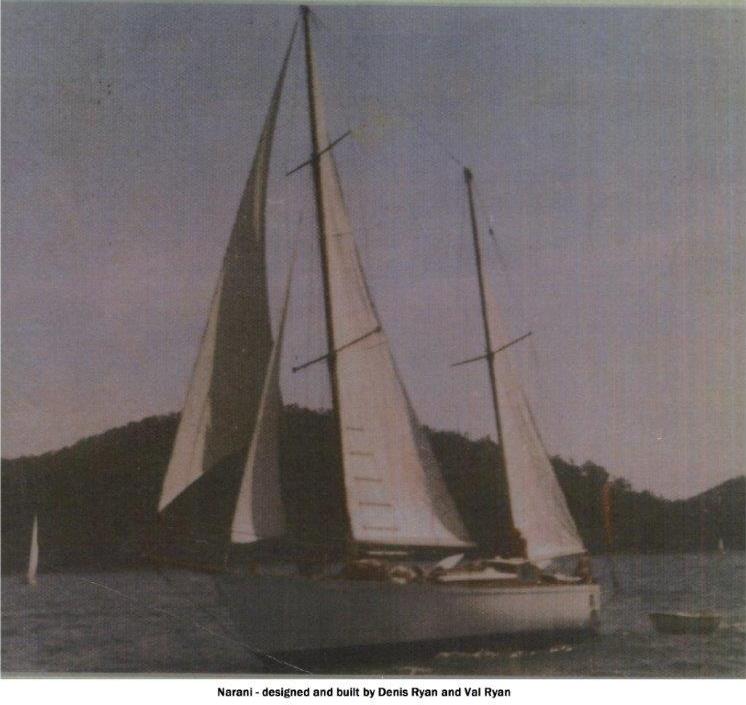 Narani

We lived for a while on the boat at Lavender Bay, near Luna Park, at Holdencraft and then at Elvina Bay. Mum and dad then sold Narani and we became land lubbers with a home in Sturdee Ave., Elvina Bay. Whilst we had a pet dog on the boat, Nipper, my sister was always a 'farm girl' at heart. So at Elvina Bay we had a dog, donkeys and geese. Bringing the donkeys over from Church Point on the punt was quite the scene.
I have many fond memories of catching the ferry to school. Luckily the Duffs knew our routine too so no matter how late we were they hovered near our wharf for us to fly down the stairs to hop on. I remember comparing sun burn and peeling skin with the other kids after a great weekend - suncreen phew!! Closest I remember was coconut oil and maybe some zinc on the lips for glamour.
Mum and Dad had some awesome parties with people coming in their boats to attend (as there was no road access through the National Park). Esme and Pat Parry made dandelion wine. There was much frivolity, music and fun. Miss Witt lived next door and had a great big fat Labrador AND a tennis court - very swish!!
Dad then decided he wanted to have a tree change so off we toddled to Mudgee where mum was fortunate enough to pick up a teaching job. No one really wanted to go to the Country in those days. My sister and I certainly stood out as the city kids. We were in Senior high school - everyone else seemed to have been at school together since the year dot. Merri and I knew no one - I found it a very hard time. Merri appeared to settle in...just had more space for animals! Mum and dad took their love of music and fun to the farm and had some truly epic wool shed parties.
Dad has sadly passed on however mum is still on the farm. Merri is not so far from her. I am hundreds of kilometres away however check on them quite frequently (whether they like it or not).
I have attached these photos - there are more which I can scratch out however I appreciate as interesting as I think my life is - maybe no one else will :)
Merri and I went to Pittwater High - here is a photo of her Indonesian Class in 1974 and two of the terrific wooden replicas of the Endeavour which Dad made for the 200 year celebrations at Mona Vale Public School.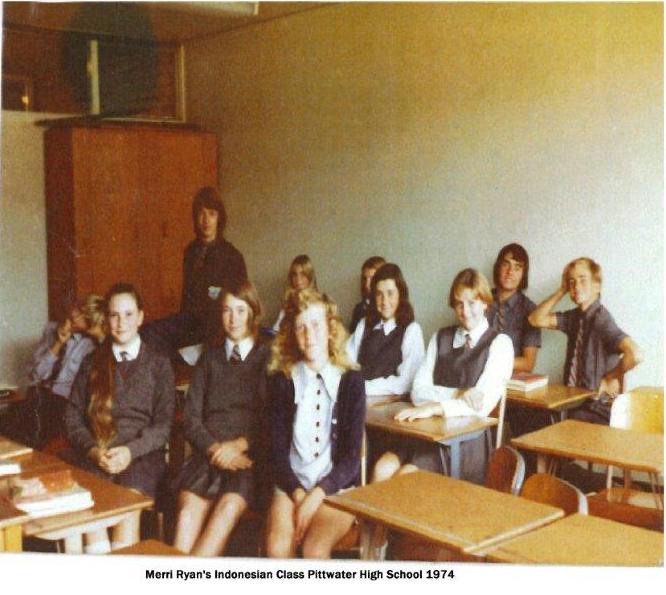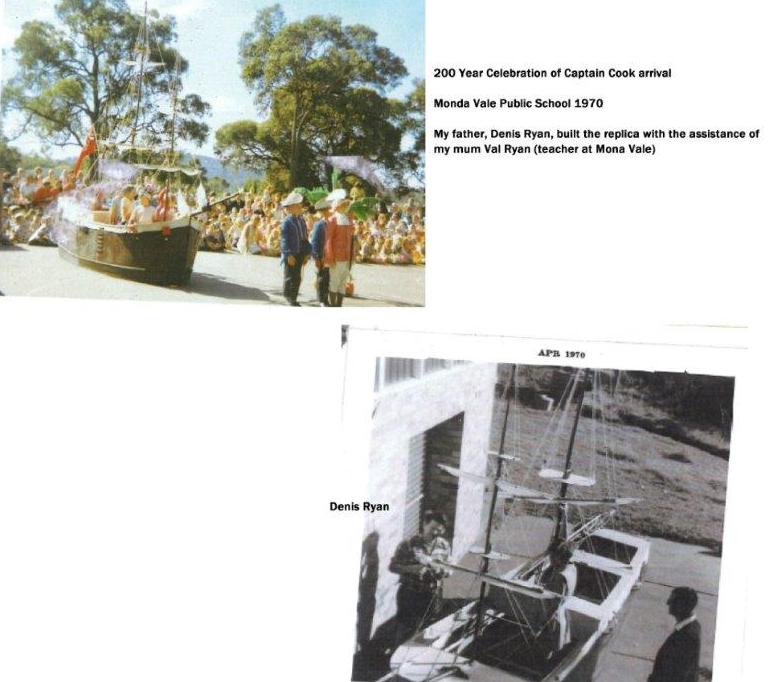 from and by Kathyrn Ryan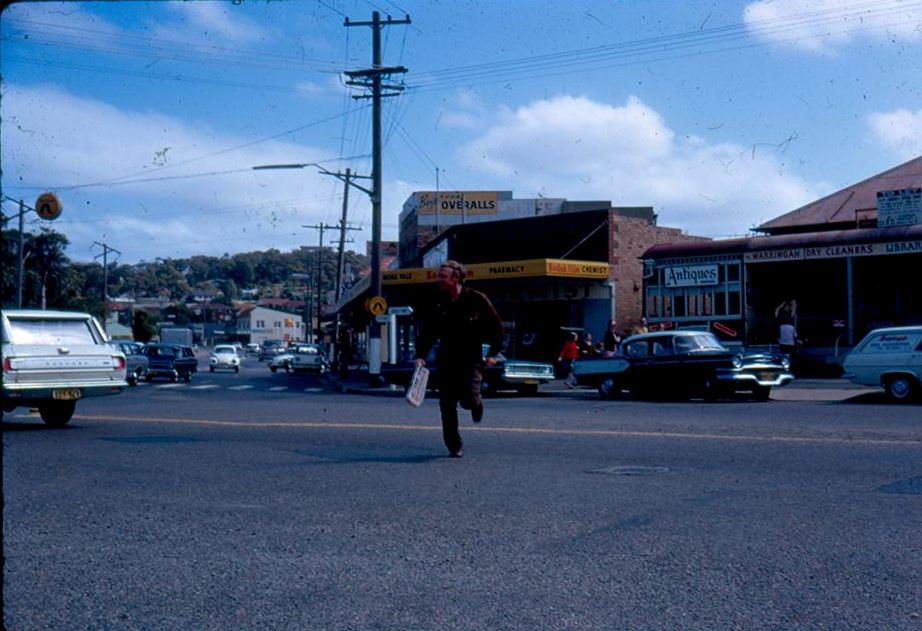 Mona Vale looking south from the Pittwater/Barrenjoey Rd intersection - on a Friday afternoon, April 1970 (Source: Fred Murray - courtesy Dave Murray)