July 22 - 28, 2012: Issue 68
The Murder of David Foley
By Shelagh Champion OAM
The main characters in this real life drama were David Foley, Thomas Collins, Lavinia Collins (nee Ellery) and Frank Poyner (Lavinia's uncle).
David Foley, a clerk, was convicted in County Cork, Ireland, in March 1817, and sentenced to transportation for life, for the offence of "felony, wounding". He arrived in Sydney on 1 April 1818, when he was described as 5 feet 4½ inches tall, of dark ruddy complexion, with brown hair and hazel eyes. He was 19 years old.
He married Sarah Andrews, the step daughter of Martin Burke, on 14 February 1823 at St Mary's Church, Sydney. Sarah had been born in the Colony, and was then aged about 20.
Martin Burke had the lease of the 700 acre farm at Bungin (now Mona Vale), which he sub-leased to David Foley on 4 April 1825. A covenant reserved to Burke cattle grazing rights, the use of one room in the dwelling house and half an acre of garden ground. David received his ticket of leave in 1826.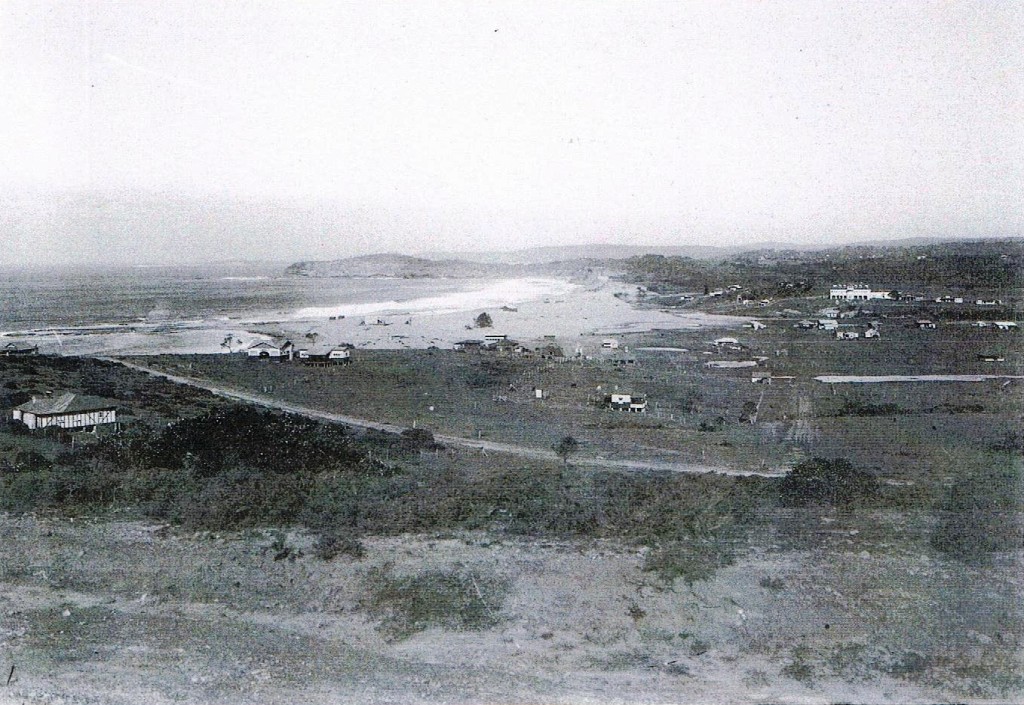 Land at Mona Vale, formerly David Foley's Bungin farm. Mona Vale views: Mona Vale, Call Number Government Printing Office 1 – 15675, courtesy of the State Library of NSW.
By the time of the 1828 census, David and Sarah had three children: Margaret aged 5, Mary Ann aged 3, and John aged one year. Of the leased 700 acres, forty acres had been cleared and eighteen acres were in cultivation. He owned 54 head of cattle.
In January 1829 Foley valued his weatherboard dwelling house at £150 and his out-offices at £100, a total value of £250. He then had sixty acres of cleared land, sixty horned cattle and available money capital of £100. He had completed two miles of fencing, and employed and maintained three free servants. David Foley was a most energetic, industrious and trustworthy man, and received a conditional pardon in 1831.
In 1839 he owned 640 acres of land at Mulbring Creek, on the road to Maitland, for which he paid £160.
David Foley was appointed a police constable in 1839, a position he held until he resigned in April 1842. During this time, according to his wife Sarah, he prosecuted one man for maiming cattle and burning a hay stack.
In 1843 David's son John, aged only fifteen years, died from a gun-shot wound. At the inquest, it was recorded that he had taken a gun from his father's residence, to frighten the cockatoos from some grain that had recently been sown. From the direction of the wound it was apparent that the muzzle had been under his chin, and that the shot had passed through the back part of his head, causing almost instantaneous death. [SMH 26 April 1843]
The coroner recorded a finding of accidental death on 6 June 1843. However, it is difficult to believe that John would have been careless enough to rest his chin on the muzzle of a gun, and murder by some person or persons unknown seems far more likely.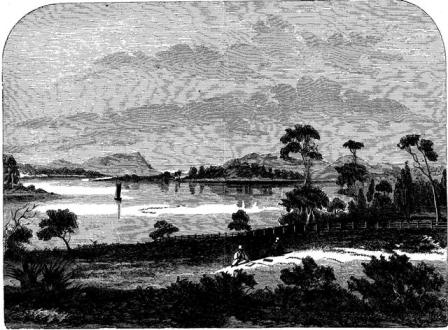 Meanwhile, Thomas Collins arrived in Sydney as a convict on 9 April 1835. His native place was Cheshire, England, and, with no previous conviction, he was sentenced to transportation for life at the Lancaster Assizes on 9 August 1834, for assault, having apparently killed someone in a fight. His occupation was farm labourer. He was single, a Protestant, and could read. He was aged 20, and was described as being 5 feet 9¾ inches tall, of brown pock-pitted complexion, with brown hair and grey eyes. He had a number of scars and had lost the forefinger from his right hand. In 1837 he was assigned to work for Rolla O'Farrell on the 410 acre Mount Ramsay Estate near Narrabeen Lagoon.
Lavinia Maria Collins (nee Ellery) arrived in the Colony as a 14-year old immigrant with her parents, Peter Ellery and Susannah Ellery (nee Poyner), and her brothers and sisters, on the ship Orient on 4 April 1839. She was born in Cornwall and christened on 27 November 1825.
Thomas Collins married 18 year old Lavinia Ellery on 11 March 1844 at St Philip's Church, Sydney. They went to live on John Clarke's farm at North Narrabeen. Clarke died on 1 May 1847, leaving all his real and personal estate sworn at under £200, to Thomas Collins, who was living with him at the time of his death. Thomas Collins thus became the main southern neighbour of David Foley.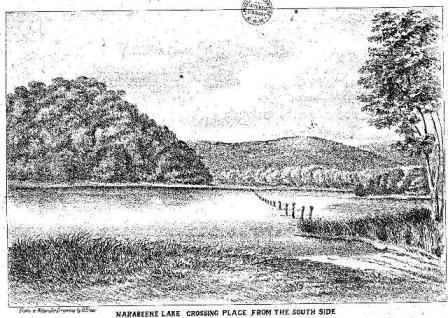 Francis (Frank) Poyner was the brother of Susannah Ellery and travelled to Sydney with the Ellery family on the Orient in 1839. He would have been about 16, but because of his young age, he may have assumed the identity of his older brother John, aged 22. From an 1858 conviction, we know that he was 5 feet 6 inches tall, of sallow complexion, with dark brown hair and dark grey eyes. His arms were hairy, and he had a scar on the corner of his left eyebrow. Frank followed the occupation of seaman, but when he was ashore he lived with Thomas and Lavinia at North Narrabeen. Although he was Lavinia's uncle, he was only a few years older than she was.
On 3 July 1849 Foley's premises were entered and about twenty pounds of butter, fifteen tin milk dishes, about one hundred weight of butter salt and three iron wedges were stolen. He believed the goods were concealed on the premises of Thomas Collins. Foley secured a search warrant in Sydney, and in company with Constables Peter Thomson and Thomas Newton, and two of his daughters, Sarah and Mary Ann, implemented the warrant.
Sarah recognised a piece of print, portion of an old frock which covered the butter the last time she saw it in her father's dairy. In Collins' dairy, five milk dishes were selected as having been stolen. One constable observed Collins burying a dish in a dung heap, and Foley claimed it as one of his. Collins then took the six dishes and ran away, calling out to the police that he would not allow himself to be taken into custody until the return of his wife from Sydney.
The next day, with Frank Poyner carrying the dishes, Thomas Collins gave himself and the dishes up to the police in Sydney, claiming that they had belonged to Mr Clarke, the former owner of the farm. Foley and his daughters identified the dishes as their property. Although there was no private mark on them, they had been using them for a long time. Collins was committed for trial, but allowed bail, himself for £40, and two sureties of £20 each. He indicated his intention to plead guilty to the charge.
The trial date was set for 12 November 1849, but before the trial could take place, David Foley was murdered on Thursday 8 November 1849, about half a mile from his home at Bungin.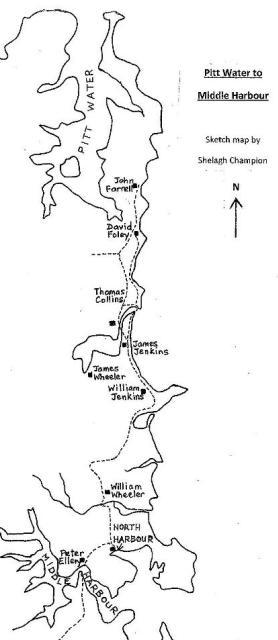 David's widow Sarah Foley gave evidence:
On Thursday, 8 November the deceased, David Foley, left his house between six and seven o'clock in the morning, with a cart and horse, with some calves and butter, which he was going to take to North Harbour, a distance of twelve miles. His man was with him, but not to return with him. Thomas Collins' house was about two miles from Foley's on the road towards North Harbour. The next house on the road was James Jenkins', about a mile further on; the next William Jenkins', about a mile further; and the next William Wheeler's, about a mile and a half from North Harbour. She expected her husband to return about three or four o'clock. He did not return. About five or six o'clock she and her two daughters went out in search of him. They found him about half a mile from the house. He was on his face and hands, under the cart. The off side rail of the cart was on his back, his head and shoulders being under it. He was quite dead and cold. The horse was on his back. There was nothing in the road to upset the cart. Sarah and her daughters took the body from under the cart, and laid it on its back. They then unharnessed the horse, and righted the cart, and placed the body in it. There were two holes in the left breast, through his waistcoat. There was a good deal of blood on his waistcoat and in the cart. It appeared that he had fallen backwards when shot, into the cart. The next morning before sunrise they found his hat about a hundred yards behind the place where the cart was found turned over. There were tracks of the cart from the hat to where it was found turned over, but they turned off the road at that spot. Sarah judged that the murder had been committed a little beyond the place where the hat lay, because there was a screen of bushes close by, high enough to hide a man. The deceased had nothing with him to be robbed of, and had no watch or other valuables with him. She did not know of Foley having any quarrel with anyone except Collins. Collins was nearest on one side and Farrell on the other. Poyner lived with Collins as a servant. Collins generally went to his house through Narrabeen Lagoon, while Foley, Farrell and others crossed at the mouth. The body was taken to Sydney the next morning, in the same state as when it was found, except that the face was washed and the waistcoat opened. Death had been caused by two gunshot wounds, which appeared to have been inflicted from behind.
William Dawson, the boatman at North Harbour, said that Foley arrived at his house about 10.30 a.m. on 8 November and left for home about 11 a.m. The last person to see him alive was Ann Jenkins, wife of James Jenkins at Narrabeen, who saw Foley about 1.30 p.m., when he took the slip rails down, passed through with his horse and cart, and put them up again.
Witnesses established that Frank Poyner also took the journey by horse and cart to North Harbour, with a tub of butter, about an hour after Foley. Going home, Poyner gained time by travelling faster and taking a short cut through William Wheeler's stockyard. When Ann Jenkins saw Poyner at Narrabeen, he was only a quarter of an hour behind Foley. After passing through Narrabeen Lagoon, Poyner arrived home at North Narrabeen about two o'clock.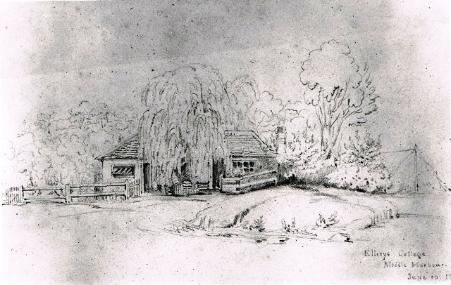 Also on 8 November, Thomas Collins went to Sydney, on foot, with a bag on his shoulder. About 12 noon he called in to see his father-in-law, Peter Ellery, at the Spit. Constable Peter Thomson was there also, and spoke to Collins, but said that Collins did not cross in the boat with him. There was an alternative way to reach Sydney, by rowing to Willoughby Bay and walking to the North Shore ferry. Collins may have gone that way. He was in Sydney about 2 p.m., and enquired about a passage to California. However, the Victoria, which was to leave the next day, was fully booked. He then arranged and paid £1 for his passage the following day on the schooner Fancy for Twofold Bay. He went home overnight, and on Friday morning, 9 November, he was put on board the Fancy between Bradley's Head and the Sow and Pigs Reef.
A Coroner's inquest was held on Friday and Saturday, 9 and 10 November 1849, Warrants were issued for the apprehension of the suspected parties, Poyner and Collins. Poyner was apprehended by Constable Peter Thomson at 5 a.m. on 10 November at Collins' farm, North Narrabeen. A pair of trousers with blood on them was found in the house. The inquest was continued on Saturday 17 November at the George Street Police Office. Francis Poyner and Lavinia Collins were in custody, charged with murder. Mrs Collins was discharged at once, as there was no evidence against her. After hearing evidence, the jury decided on a verdict of wilful murder against Thomas Collins and Francis Poyner.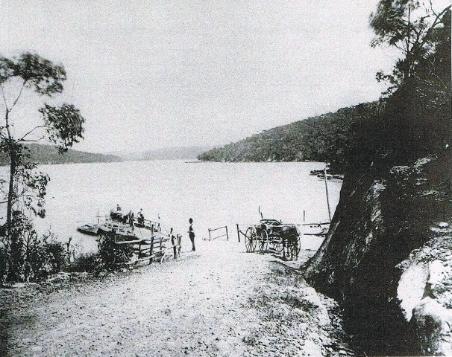 The Police at Braidwood were alerted, and on 18 November Chief Constable William Bradbury apprehended Collins at a public house at Pambula. When asked his name he replied "Francis Poyner" and that he was an immigrant. He had a paper in Poyner's name. The Constable then asked him to show his right hand (which had the forefinger missing). Collins immediately said that he was Thomas Collins, he came from Pittwater and was going to California in consequence of having been prosecuted by Foley for stealing some tin dishes. On 26 November Collins was brought to Sydney by the Shamrock, which had passengers on board from Port Phillip and Melbourne.
Committal proceedings were held in Sydney on 6 and 13 December, and the trial was held in the Central Criminal Court in Sydney on 27 December 1849, before His Honor Chief Justice Stephen. On the application of prisoners' counsel, the prisoners were tried separately. The case of Francis Poyner was taken first. Lavinia Collins' evidence was crucial. She stated that when Poyner returned home on Thursday 8 November, about two o'clock,
"He went to put the horse in the stable. After that he came to dinner, and then sat down on the sofa. Dinner was not quite ready. Mrs Collins asked him to nurse the child [Mary, born 1848] a while, which he did. He then went out into the paddock and cut two bundles of oats for the cows. He then went to spread some dung on a piece of ground to plant corn. He said he wanted to go to Sydney to get himself a pair of shoes. Mrs Collins said if he must go, he must, but he must get the cows in in time for her to milk. Mrs Collins called him when she was ready for the cows, and after he had brought them, he took the grey horse and went to Sydney." (Poyner met Collins at Benjamin Yabsley's shop in George Street, Sydney, about 8 p.m.) When cross examined Mrs Collins said that after Poyner had cut the oats, he worked for about an hour in the field. He was in sight of Mrs Collins all the time. She did not see him take a gun out of the house all the day.
Lavinia Collins had given Poyner an alibi, or established his innocence. Without retiring, the jury immediately acquitted him.
In the Supreme Court Criminal Sessions for 1849 the statement was made, "Collins not to be tried on this charge by order of the Attorney General." However, Thomas Collins, a convict who was under a life sentence and therefore forbidden to leave the Colony, could be called upon to stand trial for the murder of David Foley at any time during his lifetime.
Collins was then remanded on a charge of larceny. The case was heard on 27 February 1850 in the Central Criminal Court. Thomas Collins was indicted for that he, on 3 July 1849, feloniously did steal certain butter, tin dishes, print calico, etc., the property of David Foley, of Pittwater. Although he had previously stated his guilt, he pleaded "not guilty".
His Honor Mr Justice Therry told the jury that before they could find a verdict of guilty, they must be satisfied as to the identity of the property alleged to have been stolen. The jury returned a verdict of not guilty.
Thus the life of a good man, David Foley, was brought to an abrupt end at the age of fifty, and his murderer or murderers were unfortunately never brought to justice.
Sources
Manly, Warringah and Pittwater 1788-1850, by S. and G. Champion. Killarney Heights NSW, 1997.
Sydney Morning Herald September 1849 to February 1850
Regina v Thomas Collins: Depositions 1849. State Records NSW 9/6348
Supreme Court Criminal Sessions: Records 1849. State Records NSW 4/5730
Pictures (in sequance appear)
1.Land at Mona Vale, formerly David Foley's Bungin farm. Mona Vale views: Mona Vale, Call Number Government Printing Office 1 – 15675, courtesy of the State Library of NSW.
2."Scene on Narrabeen Lagoon" from Town and Country Journal, 6 January 1877
3."Narrabeen Lagoon crossing place" from The Pittwater and Hawkesbury Lakes Album, 1880. Mitchell Library.
4.Pittwater to Middle Harbour, sketch map by Shelagh Champion OAM.
5.On the way home. Composite illustration by George Champion, OAM.
6.Ellery's Cottage. Middle Harbour. Unsigned. Dated, 'June 10, 1858' and titled. f.8 Probably by Rebecca Marten from Martens, Conrad, 1801-1878, Portfolio collection of views, mainly in New South Wales, volume 6, ca. 1845-1858 / drawn by Conrad Martens ca. 1845-1858, Call Number: DGD 12, courtesy of the State Library of NSW.
7.The Spit showing Mr. Peter Ellery's Hand Punt 1870, Historic pictures of Manly and Pittwater, 1856-1937 / compiled by Percy W. Gledhill. Call No: PXB 417 7. courtesy of the State Library of NSW.
Copyright Shelagh Champion OAM and George Champion OAM, 2012. All Rights Reserved.