September 18 - 24, 2011: Issue 24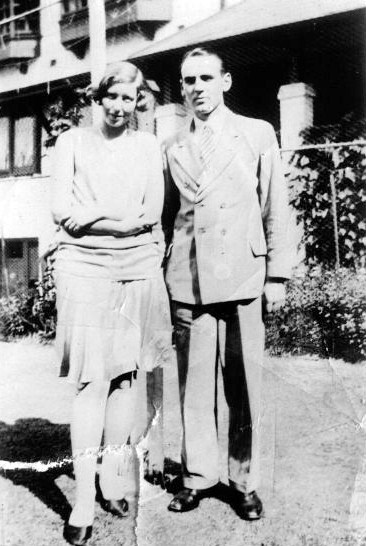 Above: Mollie and 'Bill' Power. Photo Courtesy Felix Power.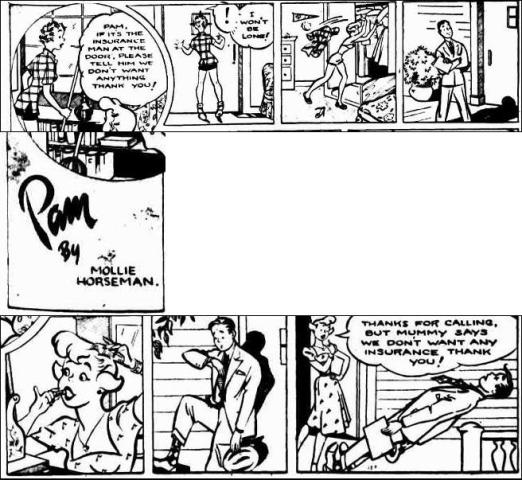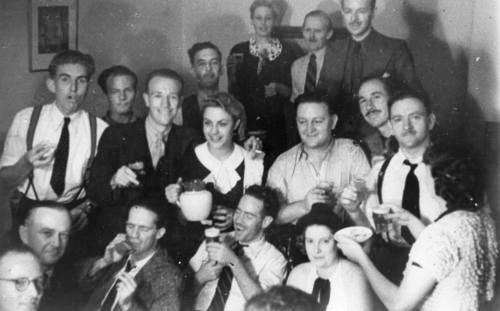 Above: 1938 Photo of Australian Black and White Artists members at a party. This group of Australians 'smocked' Mollie in 1956 (gave her a smock all had contributed artworks to). Photo courtesy QLD State Library.
Mollie Horseman, Marie Compston
1911–1974
Tall, blonde, bubbly Mollie Horseman was a prolific illustrator, cartoonist, landscape artist and painter. Born in Victoria near Rochester she grew up in Melbourne. During a trip to Germany from 1924-26 with her mother, and speaking no German, she communicated by drawing pictures.
On returning to Australia she was briefly employed by Norman Lindsay and his wife as a governess. Training at Sydney Technical College Mollie was one of many late 1920s female students influenced by Rayner Hoff's vitalist, 'life force' ideas to create sculptures, paintings and (especially) cartoons unprecedented in their uninhibited sexuality.
Mollie referred to Lindsay and Hoff two of the three great influences on her life. 'Smith's Weekly', the first newspaper to encourage the work of female graphic artists in Australia, became her place of work from 1929 where she worked with Joan Morrison. This newspaper employed many cartoonists right through the Depression.
In 1931 she married William Longford Power and had a son Roderick before divorcing. In 1938 she married Nelson Illingworth and had another son and three daughters.
After Jean Cullen, also a cartoonist, suicided in 1953 Mollie took over her new comic strip about the teenager 'Pam' in the Sunday Mail and 'The Clothes Horse' in SMH and syndicated Newspapers. She gave both real Australian character. These became her best known works and ran for over 11 years.
From 1957 to 1967 she lived at Avalon with the five children, drawing 'Pam' and other comics, cartoons, fashion and children's book illustrations. According to a biography written by Joan Kerr 'Mollie also painted nymphs, shepherds and other rococo fantasies for special evenings at Romano's nightclub. In the early 1960s Mollie became staff artist on Everybody's magazine. Her numerous illustrations (either anonymous or signed 'Vanessa') included a weekly, full-page colour cartoon of the sexy Man type and the serial 'Girl Crusoe' (1964), a cheerful parody of the popular 'good girl cheesecake' comic' (2006).
At a local jazz club on Saturday nights she played the lagerphone; made from beer bottle tops attached to a broomstick which is struck against the floor while upright or shaken to provide sound.
We contacted Felix Power, living grandchild, to garner a few insights on this vivacious lady from those who knew her;
I was brought up in England and only met Molly once when I was 7 years old up in the Blue Mountains after her stroke. She gave me a copy of a children's book she'd illustrated called The Magic Car.
My mother who was Molly's daughter-in-law used to speak often of how warm and funny Molly was. She used to tell a story of how Molly invited some of her more bohemian artist friends over for dinner. The evening was a great success, with great conversation and laughter and went on until the early hours. Only the next morning did Molly find the dinner she'd prepared still in the oven. Everyone was having such a great time they totally forgot the food.
Felix Power Hertfordshire
Further:
Biography Online: Kerr, Joan, 'Horseman, Marie Compston (Mollie) (1911–1974)', Australian Dictionary of Biography, National Centre of Biography, Australian National University, http://adb.anu.edu.au/biography/horseman-marie-compston-mollie-12990/text23481, accessed 2 August 2011.
Death of Jean Cullen. (1953, April 4). The Mail (Adelaide, SA : 1912 - 1954), p. 3. Retrieved September 14, 2011, from http://nla.gov.au/nla.news-article57777467
IN DIVORCE. (Before the Judge in Divorce, Mr. Justice Boyce.) CALLOW v CALLOW.
The Sydney Morning Herald (NSW : 1842 - 1954) Saturday 23 October 1937 p 12 Article ... Marie Compston Power (formerly Horseman) v William Longford Power. Marriage September 1931, at ... 678 words
Drawing and Article CLOTHES HORSE
The Horse is delighted with a visit she paid to the House of Curzon before leaving on her holiday at the seaside. Here are two of the 'separates' she found in the sports department. The Horse is particularly impressed with the woven check gingham on the left, consisting of three pieces — blouse, bloomer, and skirt. The balloon effect of the sleeves is achieved by tying the long cuffs in bows. This group has a small-boyish charm, and is just the thing for the holidaying teenager. The striped 'separates' consist of the elastic-backed skirt with a shoulder-tie top. They are made from a black cream and khaki striped denim with the khaki dominating throughout. The stripes on the fully gathered skirt give an enchanting star-like effect at the waist. Mollie Horseman.
Drawing: CLOTHES HORSE. (1954, November 13). The Mail (Adelaide, SA : 1912 - 1954), p. 7 Section: Women's Pages. Retrieved September 13, 2011, from http://nla.gov.au/nla.news-article58097253
Copyright Pittwater Online News. All Rights Reserved.