June 12 - 18, 2016: Issue 267
Narrabeen Lagoon and Collaroy Beachfront: Storms and Flood Tides of the Past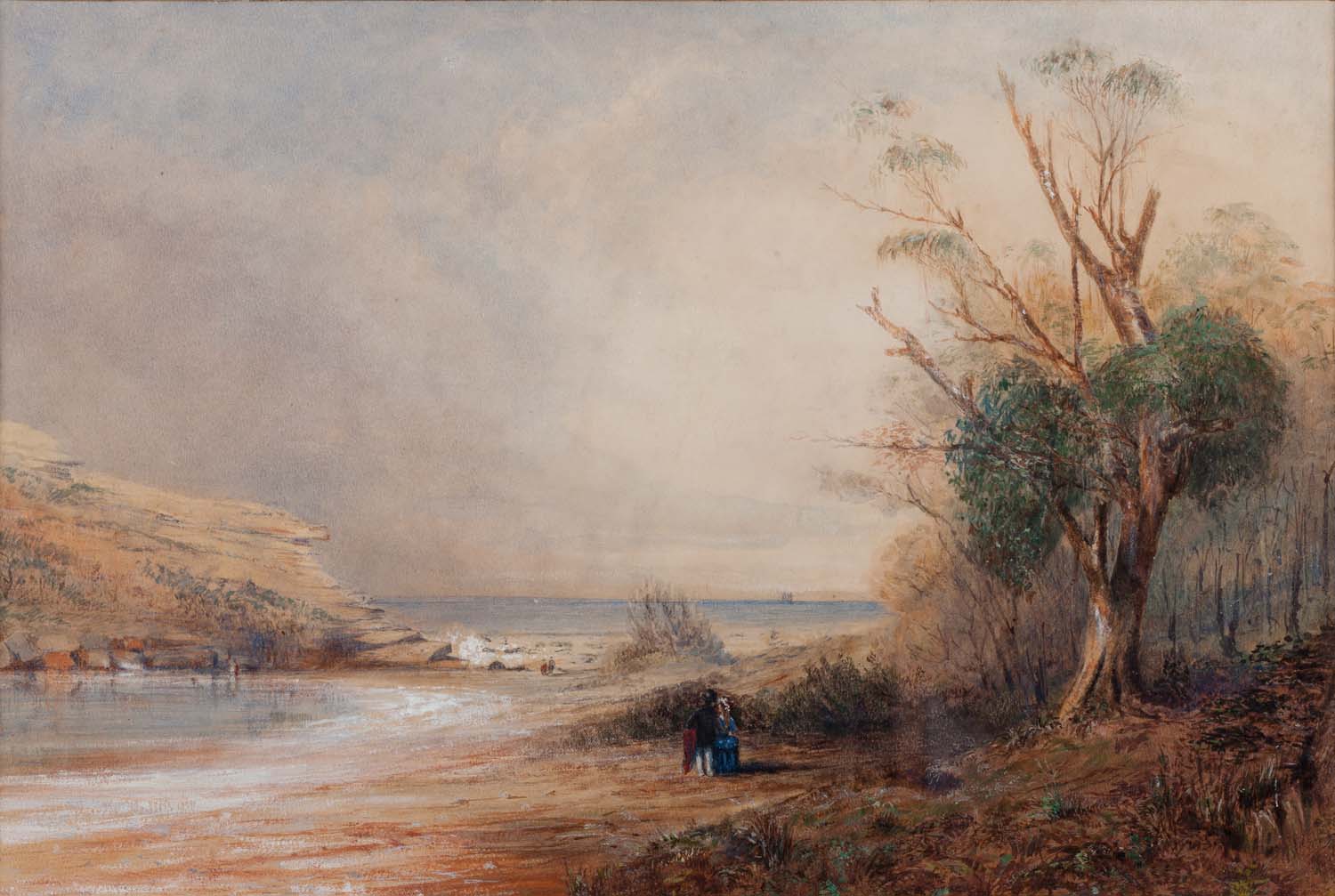 CONRAD MARTENS (1801-1878) Entrance to Narrabeen Lake
watercolour signed, titled and inscribed verso: Entrance to Narrabeen Lake by Conrad Martens 39.5 x 44.5 cm
courtesy The Alan & Margaret Hickinbotham Collection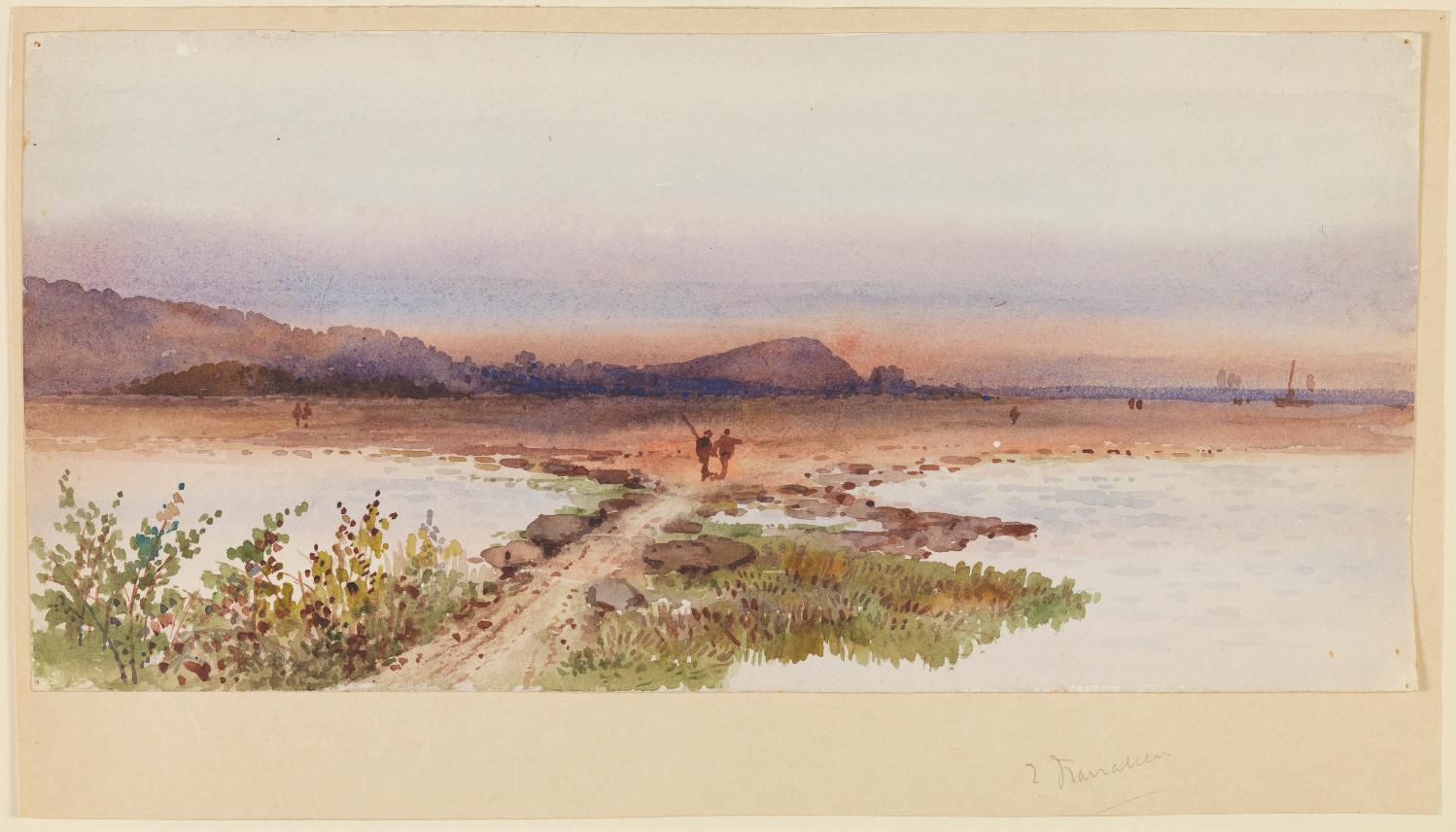 Narrabeen
[a view, possibly of the lagoon and beach] by William Andrews, 1840-1887.
Watercolour, 16.2 × 34 cm (6 3/8" × 13 3/8"), Unsigned Item: c12838_0017_c, courtesy Dixson Library, State Library of New South Wales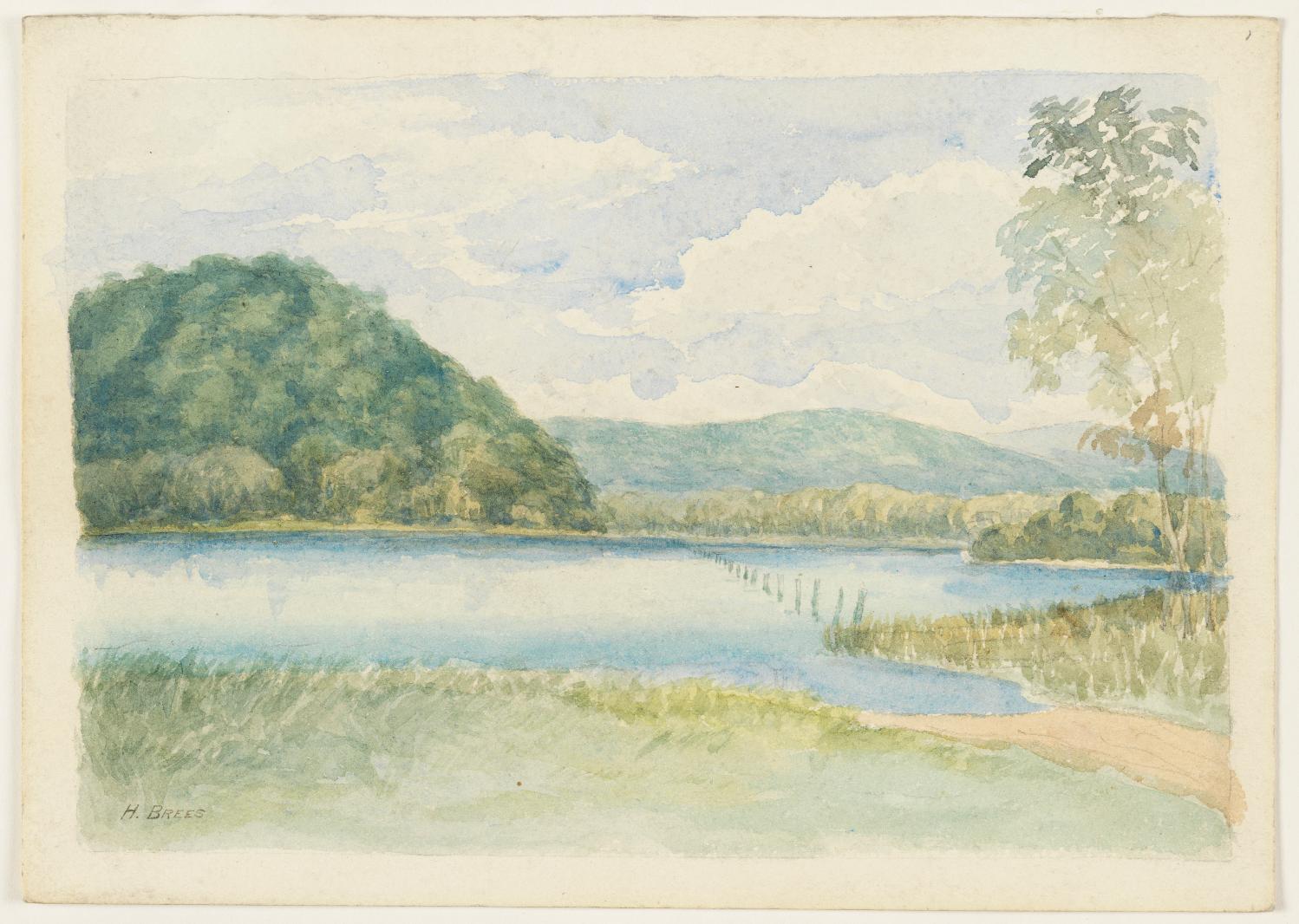 Narrabeen Lagoon Crossing Place, from album Collection: Pittwater scenes, 1880 / Harold Brees - item: c13730_0001_c, courtesy State Library of New South Wales.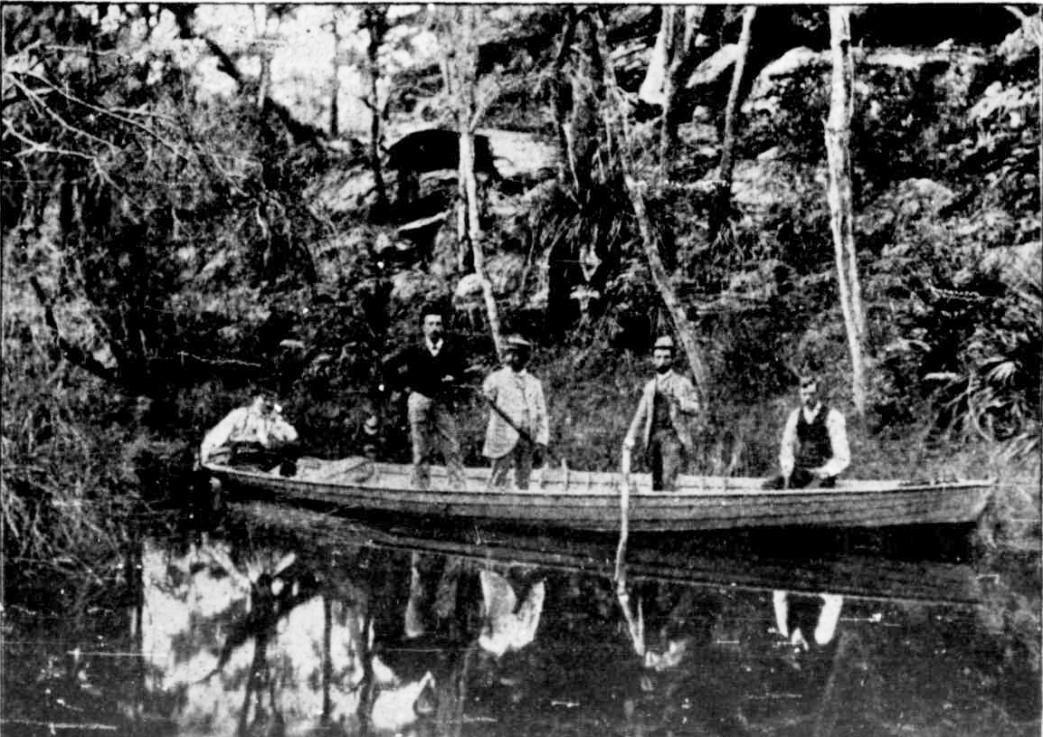 On the Narrabeen Lagoon, AT MANLY.
The picture, shown on this page, is taken at one of the most picturesque spots on the lagoon. It is on the opposite side from Manly, close to the gasworks ; though it is sacrilege to name, the lagoon and gasworks in the same breath. The party in the boat wended their way pleasurably up one of the many pretty tributaries. The picturesquely-wooded foreshores, with their fretted rocky caves and mirror-like waters, form a surpassingly beautiful scene. Ferns, flowers, and grasses are plentiful. Shady nooks and bathing places easily found. The picture is quite an artistic creation, and does not belie the original. Regular bodily, exercise is worth a host of physicians. On the Narrabeen Lagoon-Manly. (See letterpress on this page.) On the Narrabeen Lagoon, (1892, March 19). Australian Town and Country Journal (Sydney, NSW : 1870 - 1907), , p. 30. Retrieved from http://nla.gov.au/nla.news-article71235518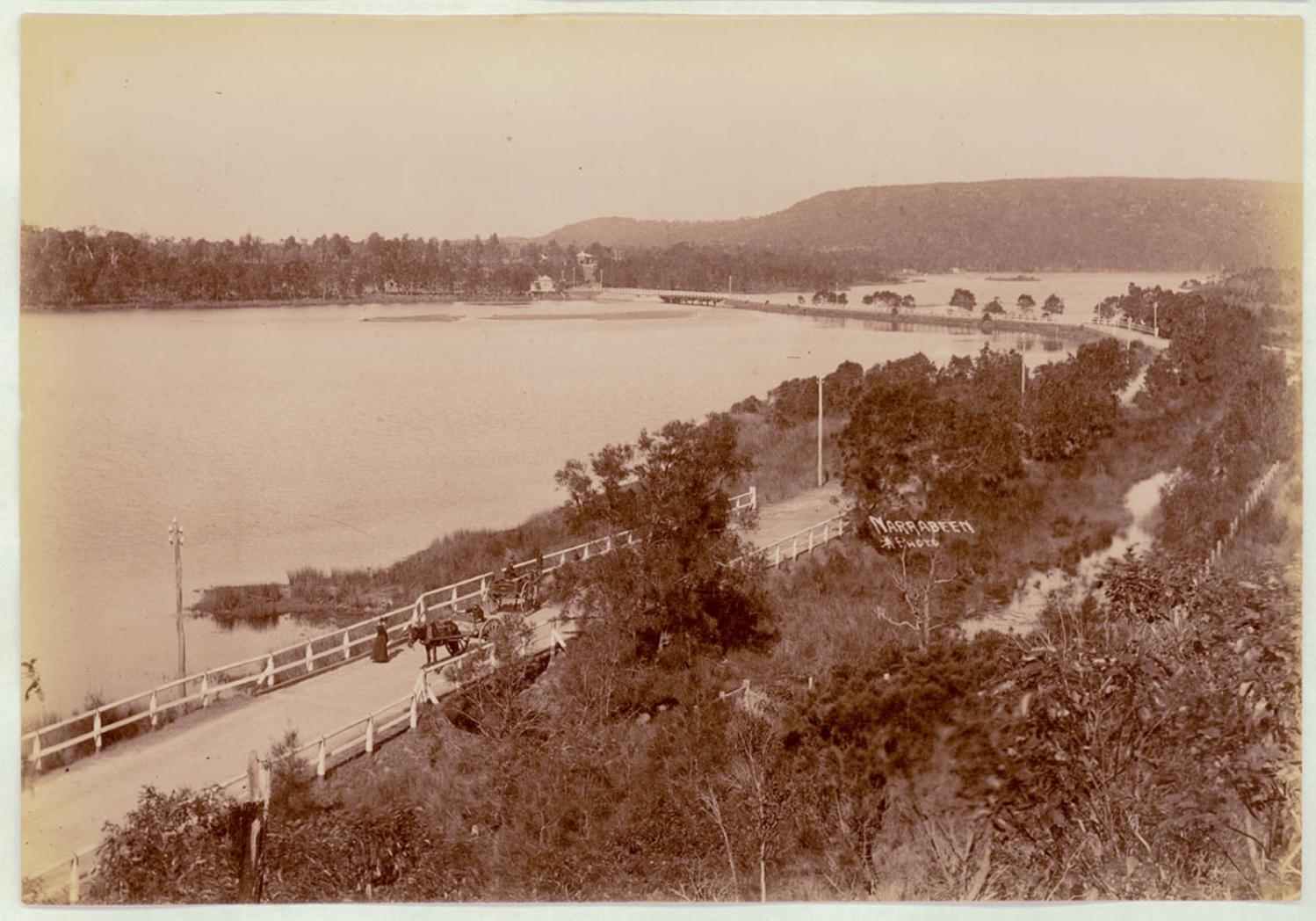 View - Narrabeen Lakes, ca. 1900-1910, a116483h, courtesy state Library of New South Wales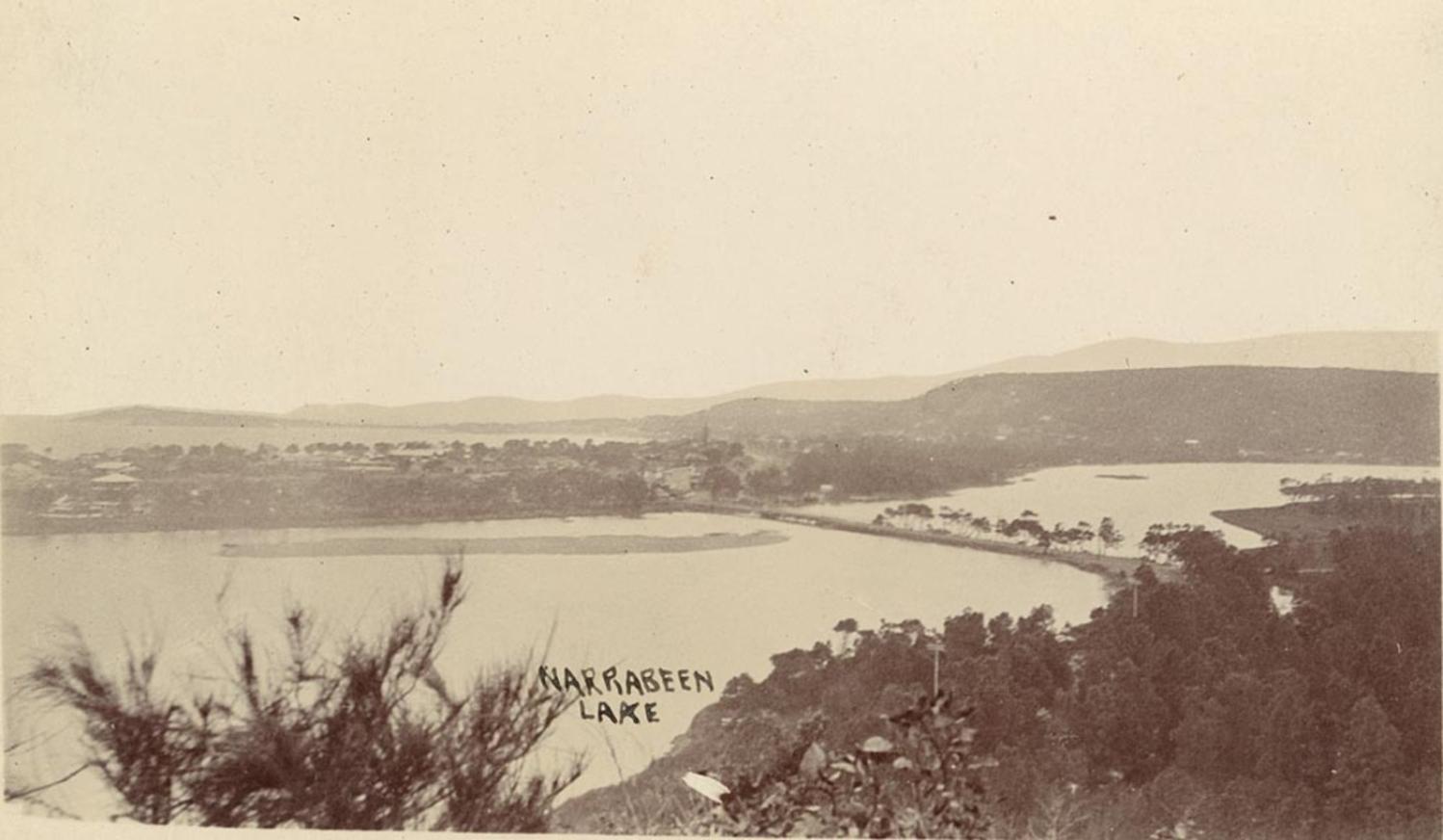 Narrabeen Lake, circa 1900- 1927, from album scenes of Narrabeen. Image No; a106063h, courtesy State Library of NSW
Since records were made of Narrabeen Lagoon and the Collaroy beachfront mention of flood tides and storms that brought king tides and their waves have been part of what was known and if not noted in the meaning of 'lagoon' (an area of shallow water separated from the sea by low sandy dune), there were eyes enough to have witnessed what occurs as part of these places natural and seasonal cycles:

On the banks of the Narrabeen Lagoon, a pretty extensive and romantic sheet of water situated about nine miles from Manly Cove, and communicating with the ocean in high floods there is a small extent of superior land for cultivation with a considerable tract of very fair pasture land belonging to the family of the late Mr. Jenkins, of Sydney ; and about three miles farther on, towards the head of Pitt Water, there is a very fair cultivation farm leased to a small settler of the name of Foley. Colonial Statistics. (1838, February 28).The Colonist (Sydney, NSW : 1835 - 1840), , p. 2. Retrieved from http://nla.gov.au/nla.news-article31720524
The journey is an interesting one. On the road there is some pretty scenery; and in several places there are splendid views of the ocean. Two lakes (or lagoons, as they are here called) are passed on the road; the largest of which, Narrabeen, is several square miles in extent, and has many small islands on its surface. It is for the most part shallow, and abounds with fish, which might be taken with the greatest ease, as a net could be hauled through any part of it. At present it is separated from the ocean by a barren sandy neck; but after floods this is covered, and the traveller is obliged to wade through the water for a considerable distance. METEOROLOGY. (1850, January 30). The Sydney Morning Herald (NSW : 1842 - 1954), , p. 2. Retrieved from http://nla.gov.au/nla.news-article12915324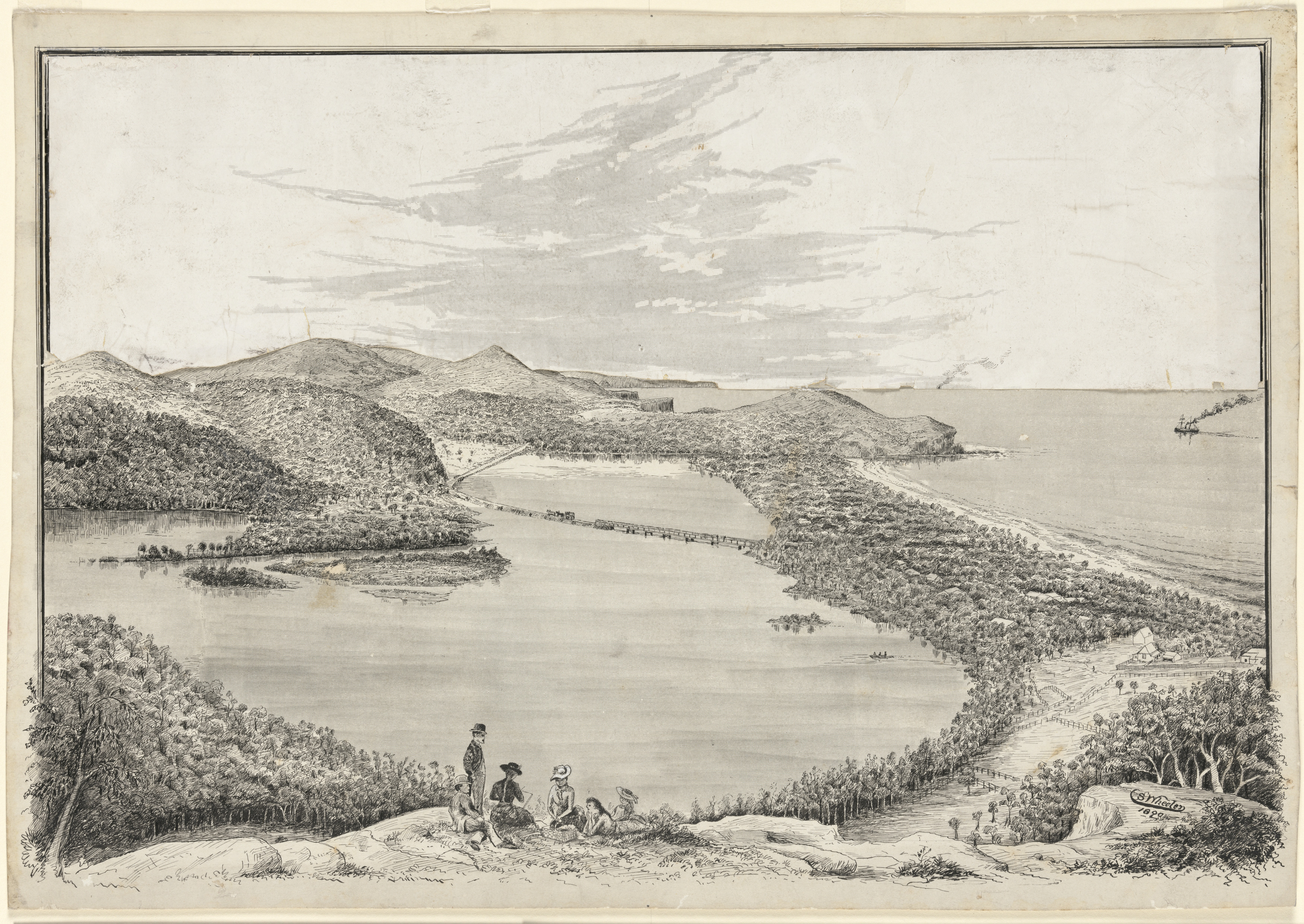 Narrabeen Lagoon, 1890/ C. S. Wheeler. Item: c11295_0001_c, courtesy Dixson Library, State Library of New South Wales

UNLOCKING THE LAKES
NARRABEEN THREATENED BY FLOOD.
FISHERMEN DISAPPOINTED
In spite of the strong north-east wind and driving rain which prevailed on Saturday, the beach at North Narrabeen was the scene of much activity. About 20 workers and a hundred spectators were gathered there for the purpose of assisting in the witnessing of cutting of a channel through the sand to release the surplus waters of the lake, by allowing them to flow into the sea.
During the past weeks the lake has been steadily rising and the barrier of sand being about 50 yards in width and hard-packed, there was no prospect of the waters finding their way seaward unaided.
Saturday nights' steady rain set the tributary streams running bankers, and on Sunday the flood to the north of the bridge was six inches under water, and a house near by was quite surrounded. so the shire council officials decided to cut a channel through the sand, an operation which is necessary about three times a year.
In addition to the regular shire workmen, volunteers were engaged at 2s an hour and the work began about midday. ... UNLOCKING THE LAKES (1913, April 7). Evening News (Sydney, NSW : 1869 - 1931), p. 9. Retrieved from http://nla.gov.au/nla.news-article117938033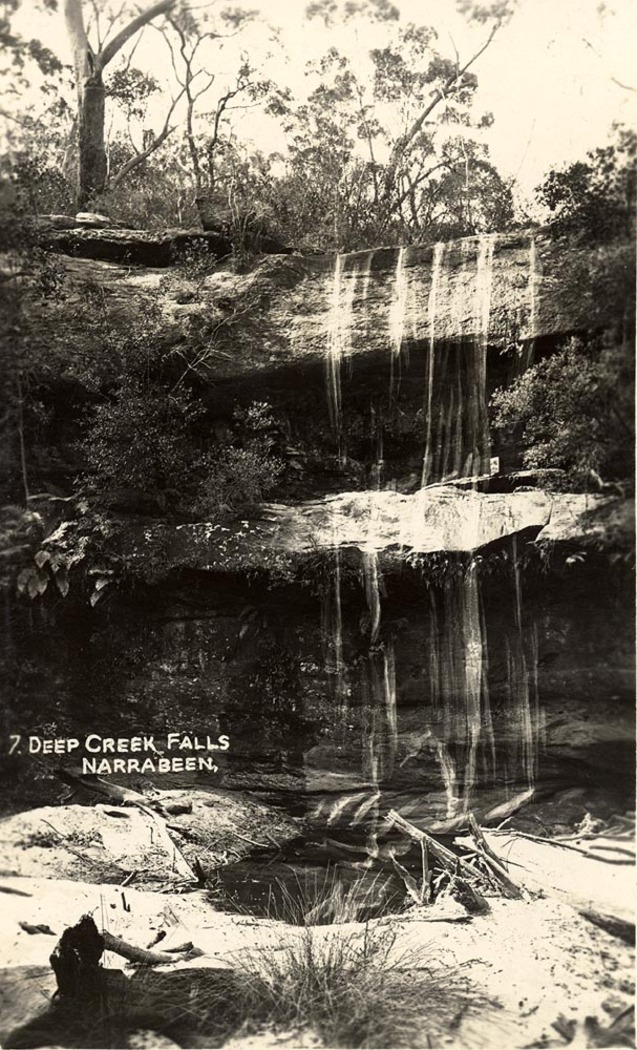 Deep Creek Falls Narrabeen - Image: a106061h courtesy the State Library of New South Wales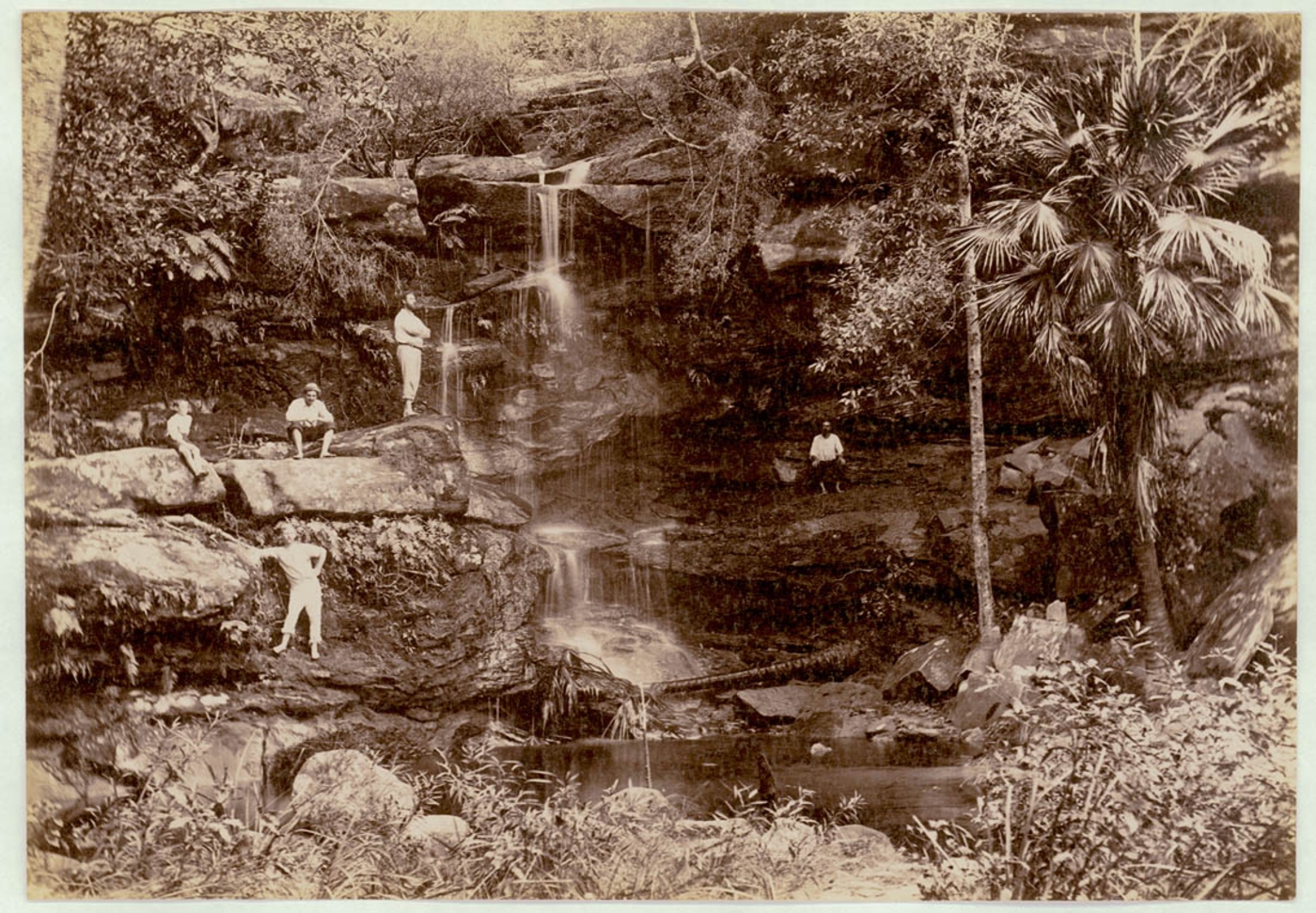 Falls - Narrabeen Lakes, Image No.: a116484h, courtesy the State Library of New South Wales.
Promotion of these places as somewhere great for the health continued for decades, the area considered a 'country place', for fishermen and farms, until the establishment of the tram line to Narrabeen, making the lagoon and all places to it more accessible, 'opened the country up'. Collaroy, even until 1912 and despite the well known story of the beaching of the Collaroy steamer, was referred to as part of Narrabeen in land sales notices, and still merges, where the verge of South Narrabeen SLSC becomes part of Collaroy beach, with one long stretch of open exposed beach. This small sample of snippets found a pioneer family of Collaroy illustrates the changes from 1912 on and a kind of mini building boom that occurred from 1920-1925:
S. C. Twight, of Collaroy Beach, Narrabeen, writes: — 'Some very good catches of schnapper are being made just now off Long Reef. Two of the best catches lately were made by Mr. E. Baker and Messrs. Davis and party, principally schnapper, a number of the fish going over 6lb. An early morning start is necessary, coming back before the north-easter gets too strong.' FISHING NOTES. (1906, November 3).Evening News (Sydney, NSW : 1869 - 1931), , p. 2. Retrieved from http://nla.gov.au/nla.news-article115679706
Narrabeen. Tramway Terminus Estates (TWIGHT'S WELL-KNOWN ORCHARD.) CLOSE TO COLLAROY BEACH. ELEVATED BUILDING SITES. RIGHT AGAINST TRAM AND BEACH. EASY ACCESS. GLORIOUS OCEAN VIEWS. AUCTION SALE ON THE GROUND. Next Saturday, November 16, at 3 p.m. TITLE WILL BE TORRENS. TERMS: £10 DEPOSIT, Balance, £2 Monthly, Interest 5 p.c. ' PLANS ON APPLICATION. RAINE AND HORNE (in conjunction with D. Hewitt, Narrabeen), AUCTIONEERS, NARRABEEN. Advertising (1912, November 10). Sunday Times (Sydney, NSW : 1895 - 1930), , p. 13. Retrieved from http://nla.gov.au/nla.news-article120680133
SUNDRY PROPERTIES for AUCTION SALES, at the Rooms, OCEAN HOUSE, 26 MOORE-STREET. at 11.30 o'clock. TO-MORROW, WEDNESDAY, MARCH 12, 1919. NARRABEEN-COLLAROY.-Twight's Collaroy Beach Tea Rooms and Picnic Grounds, with absolute Beach Frontage, AS A GOING CONCERN. Advertising (1919, March 11). The Sydney Morning Herald (NSW : 1842 - 1954), , p. 10. Retrieved from http://nla.gov.au/nla.news-article15829151
Mr Twight dispensed with agents soon after this: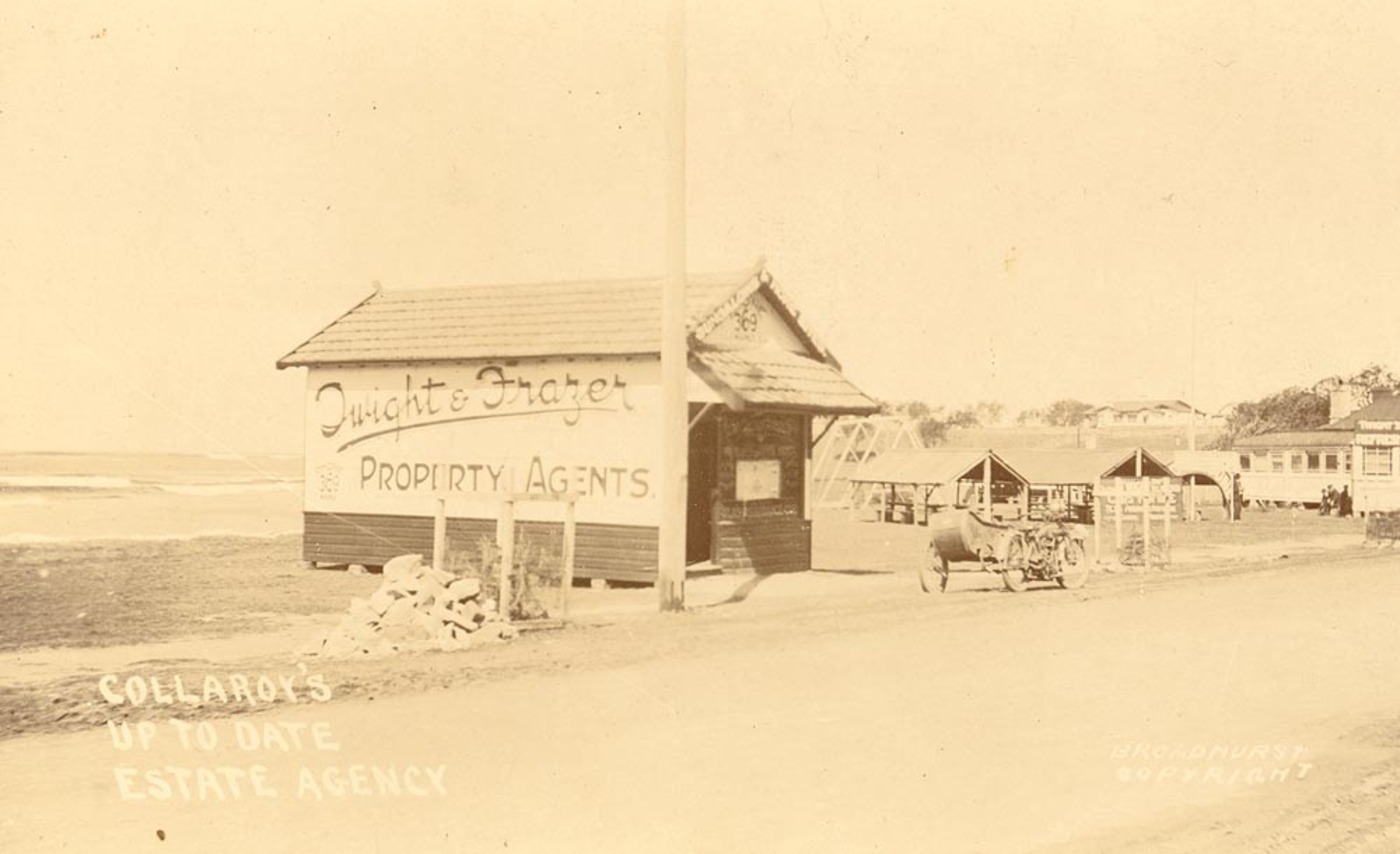 Collaroy's Up to Date Estate Agency [Twight & Frazer Property Agents] from Scenes of Collaroy, N.S.W. Album ca. 1900-1927 Sydney & Ashfield : Broadhurst Post Card Publishers, courtesy The Mithcell Library, State Library of NSW. Images No.: a105164h and below: a105163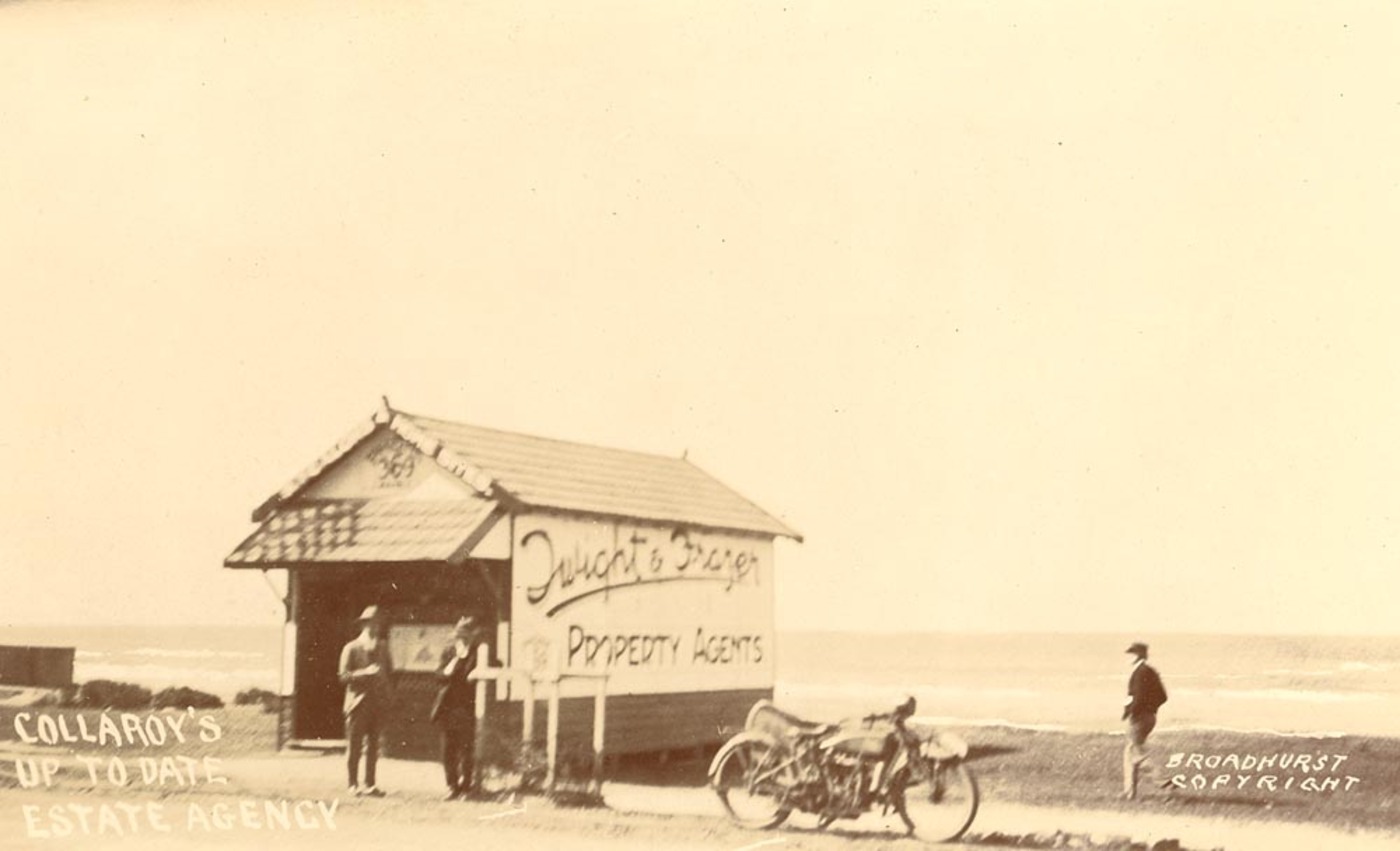 "THEATRES AND PUBLIC HALLS ACT, 1908." THE following list of theatres and public halls, to which the provisions of Part II of the "Theatres and Public Halls Act, 1908," have been applied, is published for general information. All previous lists are hereby cancelled. Narrabeen Beach Cafe Hall, Collaroy Beach:. Twight's Hall. "THEATRES AND PUBLIC HALLS ACT, 1908." (1920, April 1). Government Gazette of the State of New South Wales (Sydney, NSW : 1901 - 2001), , p. 2055. Retrieved from http://nla.gov.au/nla.news-article224641121
WANT, Young Girl to assist in shop; others kept. Good home found. Write particulars Mrs. Twight, Collaroy Tea Rooms, Narrabeen, Manly. Advertising (1921, February 28).Newcastle Morning Herald and Miners' Advocate (NSW : 1876 - 1954) , , p. 6. Retrieved from http://nla.gov.au/nla.news-article140025978
Prior to this quick influx of people establishing permanent or weekenders, with a lot of people who were also from the country, the beachfront dunes were held together with plants along a tombola landscape. Earliest accounts of visitors to the area all remark on this long stretch of flat sandy land that persists until the Narrabeen lagoon is reached - Charles de Boos in his 'My Holiday' from the early 1860's describes:

Descending to the road, a few minutes walk along it brought us abreast of a cluster of buildings which we had mistaken for a farm, and which is known amongst the natives as "Jenkins" old place." And old enough it is, in all conscience-the houses having a ricketty tumble-down appearance sufficient to deter any but one who had a very heavy insurance on his life from venturing to go in them. There appeared to he no signs of cultivation, in so far as we could see from the road, the only relief to the otherwise forsaken look of the place being a solitary cabbage-tree palm, which grew at the foot of the hill in the bed of a small watercourse, but looked ragged and miserable, as if half-ashamed of the shabby rookery of houses with which it found itself in such close company. At the bottom of the hill by the roadside was a half broken down stockyard, and by the side of the stockyard was a quite broken-down cart, the body turned bottom upwards, and the wheels lying rotting alongside of it, as though there had been at one time an intention to repair it, but that a sufficient amount of energy for the purpose had never been forthcoming. None of the inhabitants described by Tom gave any signs of vitality as we passed, neither women, children, nor fowls being visible, and it seemed as if the roosters even were too dispirited to get up a crow amongst the lot of them; there was nothing, therefore, very attractive in this picture of desolation, and we made tracks away from it without regret.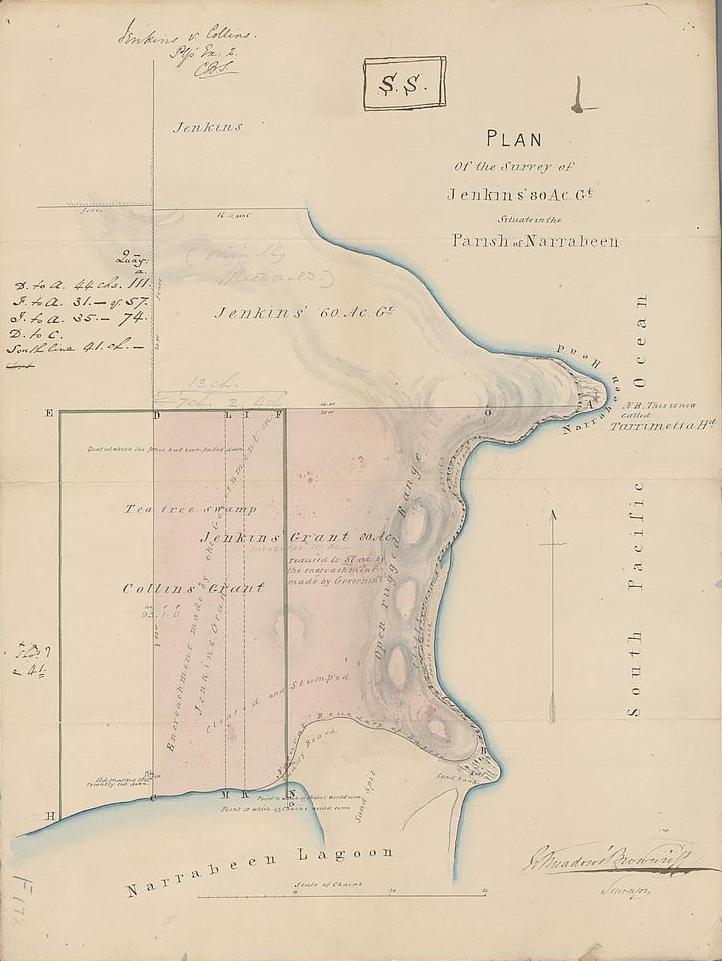 Right: Plan of the survey of Jenkins' 80 acre grant [cartographic material] : situate in the Parish of Narrabeen: 1831 - 1859. MAP F 172. by Brownrigg, W. Meadows (William Meadows), courtesy National Library of Australia
The road now led us along a swampy honeysuckle flat for rather more than half a mile, and then brought us on to the margin of the Narrabeen lagoon. Narrabeen is a somewhat extensive lagoon, connected with the sea by broad sandy flats covered by the tide at high water, but hire at low water, with the exception of a distance of about twenty rods in width, forming a channel by which the surplus water of the lagoon runs out into the sea. The opening to the sea is somewhat narrower than this, though deeper, taking a man to the waist in wading over, whilst at the regular crossing-place the stream at low water is not much over the knee. It is situated between the island fall of the high precipitous ridge that, jutting far out into the ocean, forms Narrabeen Head to the north; and to the south, the long low sandy beach that extends northerly from the Long Reef. The large sheet of water that forms the lagoon is situated some two miles from the sea, with which the sandy flats connect it, although at high water, and particularly at spring tides, one broad expanse of water extending in one continuous sheet from the ocean into the interior for a distance of five miles is presented to the view, forming a magnificent lake, by no means wanting in picturesqueness and rude grandeur in some portions of it. Where the road crosses, the country for some distance around is flat, and consequently tame, and the picture is rendered sombre by the low, thick growth of ti tree that fringes the water line, and the dark leaved honeysuckles of the flat land beyond ; but higher up, where the fresh water of the lagoon commences, where ranges clad with giant timber come down to its margin, and where numerous gullies with the rich, dank jungle vegetation of the tropics, including the cabbage-tree palm, the fern tree, the bengola, and wild vine, empty their watery contributions into it wild landscape views might be taken fully equal to many of those about which artists have raved so much.
I have said that the morning was cloudy, and consequently the sun, not yet very high, was overcast and as we came down to the channel, over which we had to cross, the wind swept coldly over the sandy beach, making the task of stripping and crossing anything but a pleasant one. Under the circumstances, the twenty rods of width-for luckily we had hit the extreme low water - appeared, in my eyes a mighty waste of waters, and in the absence of guide or direction, it seemed a somewhat dangerous experiment to venture upon, particularly as the water was evidently running out with great swiftness.
"Oh," said Tom, as I expressed my doubts, " there's no danger; its all right !"
Right: The Plateau Valse [music] - 1880 - 1889 (9 pages - cover shown) by Charles Huenerbein, courtesy National Library of Australia
So we sat down, pulled off boots and stockings, and tucked up our trousers as high as we could ; but I noticed that with all his boasting, Master Thomas loitered considerably over his preparations, growling audibly over "those blessed boots," the getting on again of which he declared to be a matter of considerable doubt. Tom grumbled and fumbled so long, that Nat, declaring that "he wasn't going to wait getting cold through for him," took the lead in the advance, walked nonchalantly into the water and made steadily for the other side. I watched him with fear and trembling, expecting every minute to sea him disappear, but, as I perceived that he got half-way over with the water only up to Ins knees, I took heart of grace and ventured in. But oh the terrible agony of that first plunge! The water was as cold as if it had been fresh melted snow, and my feet, having been warmed by the brief walk, felt the change most bitterly. But on and on I went, the chill of the water biting in rising circles round my legs as I got deeper and deeper in the stream, causing an agony unspeakable. Just as I was about half-way across, I turned round in order to see by the distance I had passed how long this torture was to be continued and there I beheld Tom, all ready for the passage, peeping out at us through the bushes. He caught my eye, and shouted "Tell us if it gets any deeper!
The old dodger had quietly pushed us on ahead, in order, as he said, that we might take soundings for him. I made him no answer, for I was too full of my own especial sufferings just at that moment j and, i without joke, it was as painful an ordeal, in regard to mere corporeal pain, as ever I went through m so brief a time. In fact, so acute was it, that I felt as I neared the end of my torture as if I could not possibly hold out until I got out of that blood-chilling stream, but that my feet must give way, and that I must fall. However, across I did get, without the fall that I considered inevitable, and it was only by looking down at my feet and seeing them there doing duty, that I could assure myself that I still possessed those appendages. The feeling I experienced on quitting the water was as if feet ankles and legs had been cut off, just at the place where the water had reached highest, with a red hot saw. Though I looked down occasionally to assure myself of the fact that I still possessed them, it was only after a ten minutes' run upon the sand that any sensation of feeling in those useful members made assurance doubly sure; and during the whole of the day I felt that burning ring round my leg, sometimes with painful distinctness.
There was a large flock of sand pipers, small birds, somewhat about the size of a lark, but with long lags like a snipe, that were running about the sand picking up their morning meal. I tried very hard to got a shot at them, but they ran away so fast and kept themselves so pertinaciously out of gun-shot that at last I let fly haphazard at them, and of course got nothing.
We now made for the opposite bank of the stream, where, above high watermark, the grass grew in thick coarse tufts forming a convenient towel with which to wipe the sand from our feet, and here we once more resumed boots and stockings, and got into marching on, though not before Tom had had a desperate struggle with his rebellious watertights, in which, from dread that in the end the boots would get the best of it, we were at last fain to join, and so by dint of numbers gained the mastery. Tom seemed quite proud of his achievement, and stalked along in consequence quite boastfully for the rest of that day's journey.
We had hung our loads on the posts of a fence that skirted the edge of the sand, and which enclosed paddock of long reedy grass, as high as a man's waist though beyond some gently undulating land the crest surmounted by a not very neat but substantial looking slate dwelling, rose up from the marshy plain, and appeared to be rich cultivated land. We were about to take our loads from the temporary pegs on which they hung, when we were joined by another wayfarer, who, like ourselves, had just crossed the lagoon, and came up to us to reconnoitre.
"... [To be continued.) MY HOLIDAY. (1861, July 1). The Sydney Morning Herald (NSW : 1842 - 1954), p. 2. Retrieved from http://nla.gov.au/nla.news-article13061639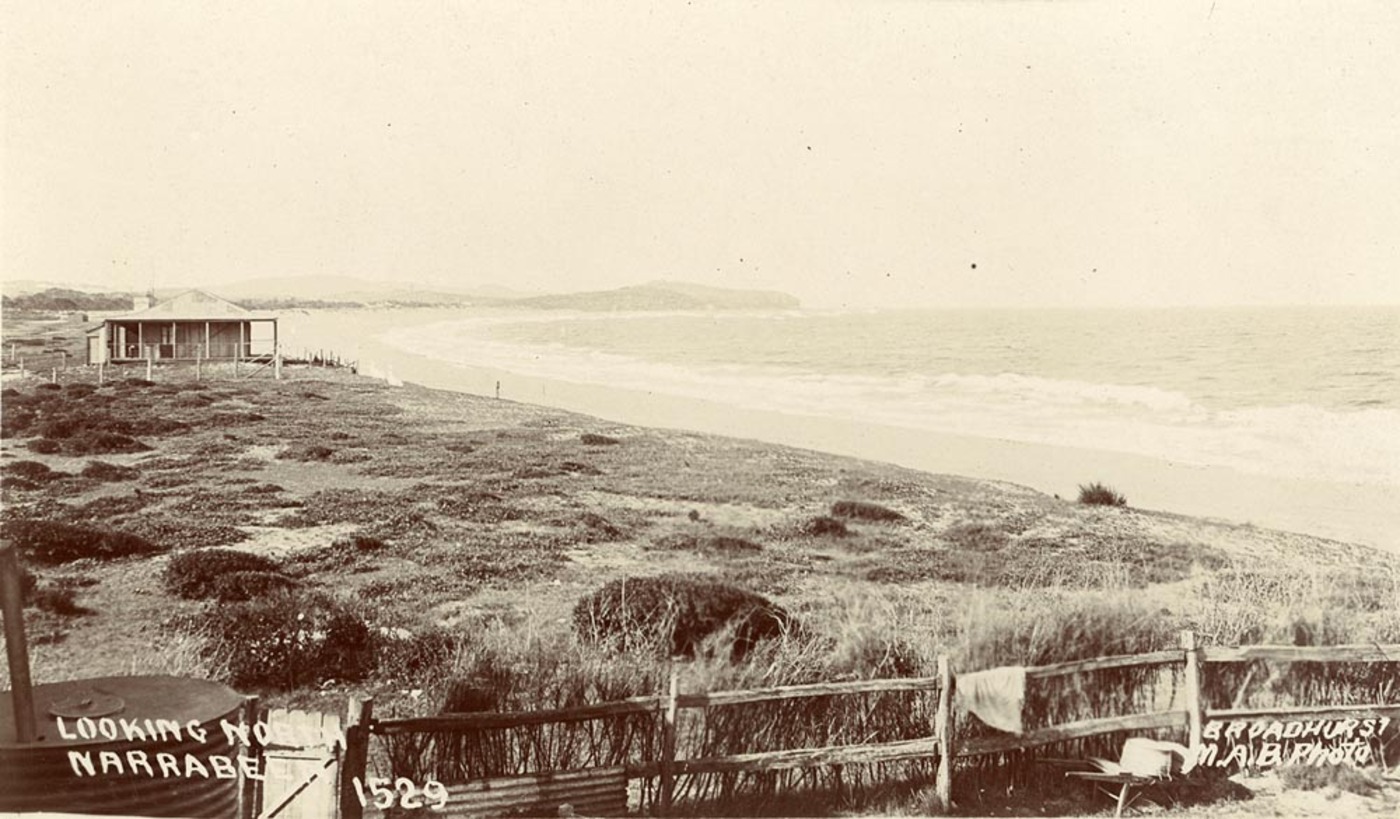 Looking north to Narrabeen, From Scenes of Narrabeen album, circa. 1900-1927 Sydney & Ashfield : Broadhurst Post Card, Images No.: a106058h and below; a105160h courtesy The Mitchell Library, State Library of NSW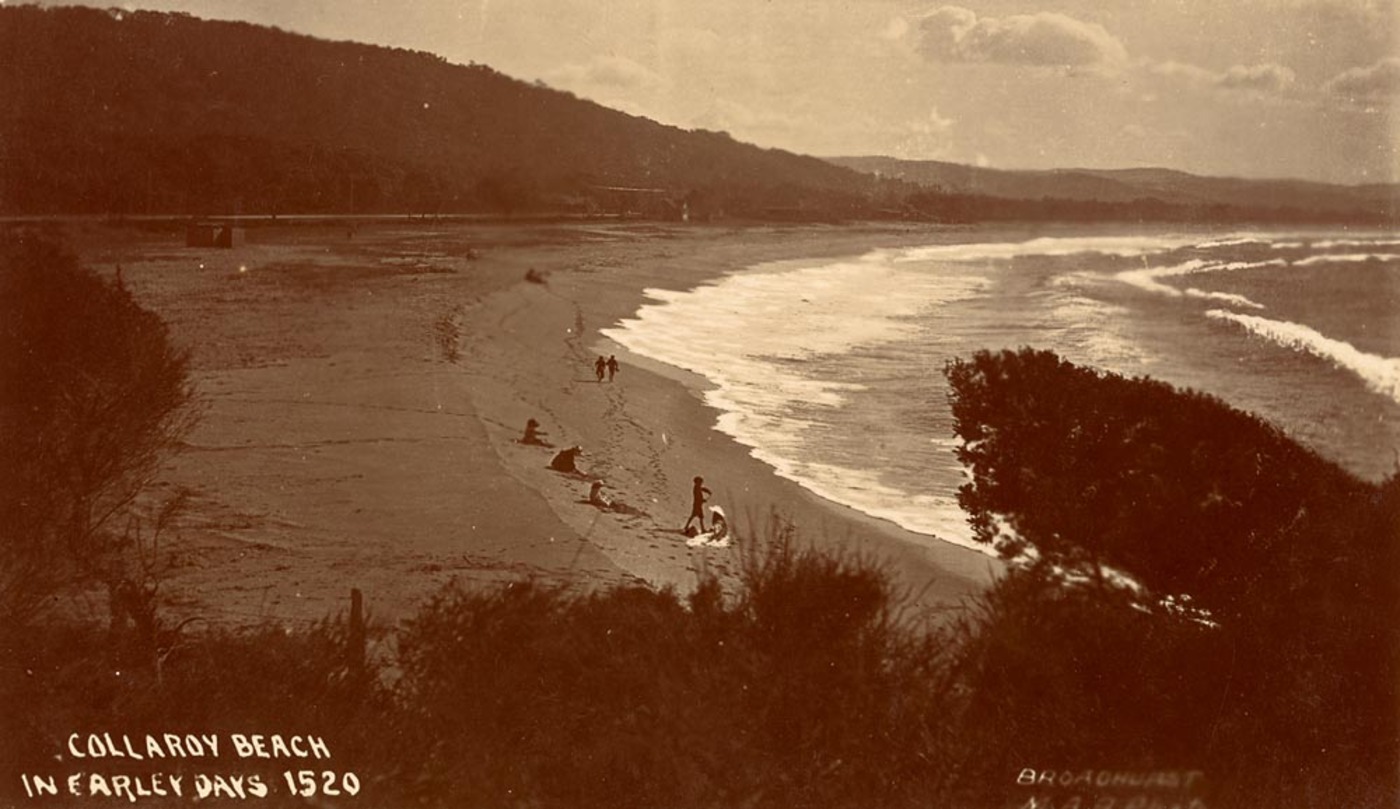 Collaroy Beach in earley [ie. early] days ca. 1900-1927; Sydney & Ashfield : Broadhurst Post Card Publishers, by William Henry Broadhurst, 1855-1927, courtesy State Library of New south wales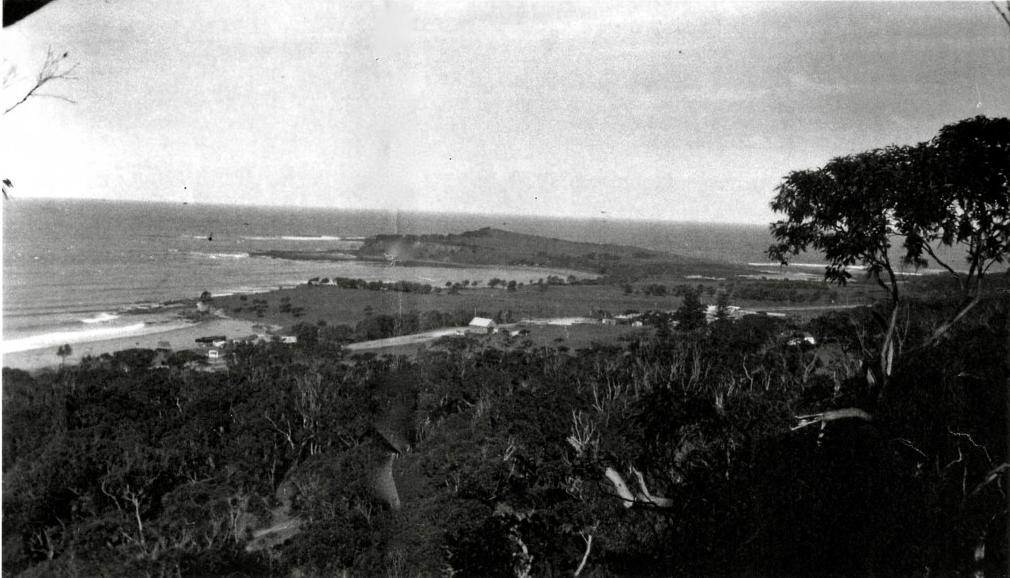 Collaroy and Long Reef Basin in 1912
BESIDE THE WIND-SWEPT SEA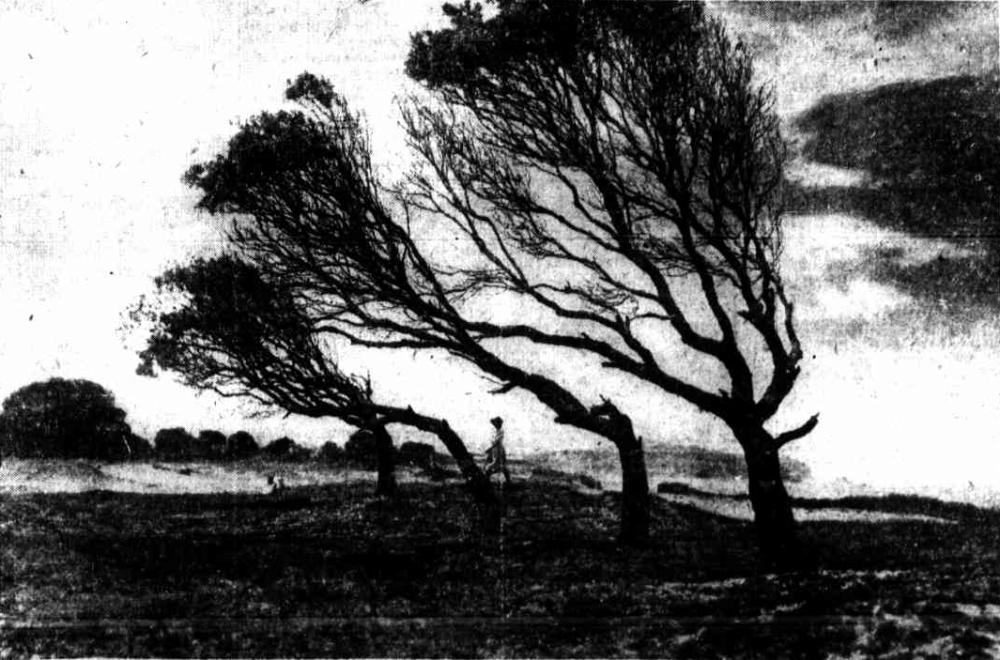 — Special by "The Sun" photographer. Salt spray and lashing wind have transformed the youth and slender straightness of these trees into age which is gnarled and twisted. The four of them together in their home on the edge of the sand have kept companionship through years of tempestuous wind and sea. They are guardians of the beach between Collaroy and Narrabeen — picturesquely silhouetted where few trees raise their heads to the sky. BESIDE THE WIND-SWEPT SEA (1923, May 13). The Sun (Sydney, NSW : 1910 - 1954), , p. 1. Retrieved from http://nla.gov.au/nla.news-article224105838
GEOLOGICAL CHANGES AT COLLAROY. SCENE AT THE SOUTHERN END OF THE BEACH.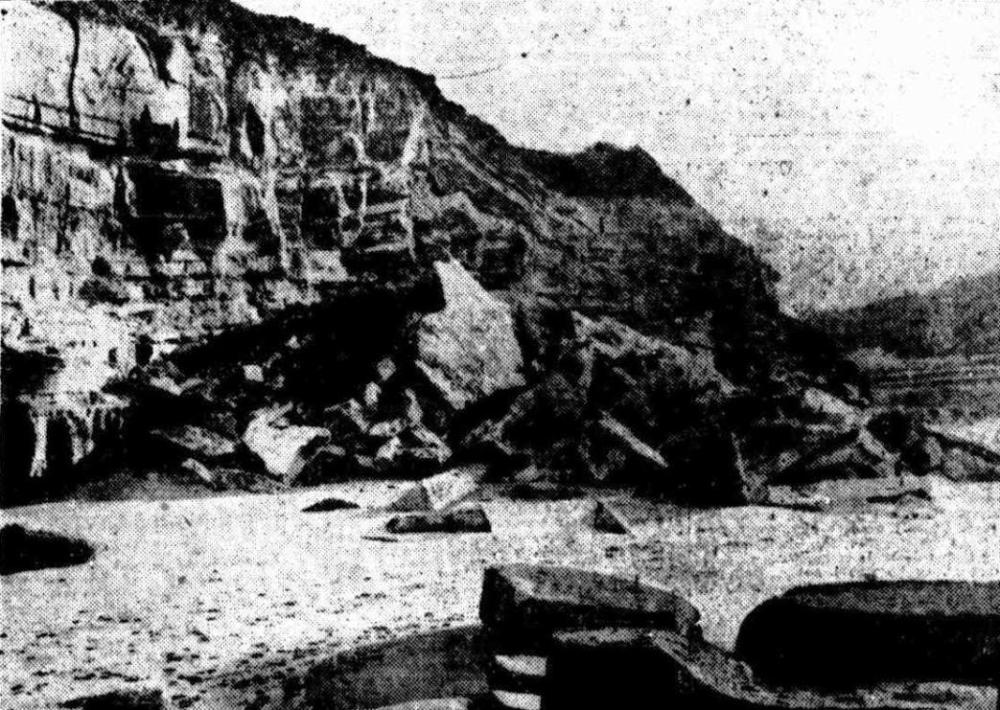 The Rev. R T Wade, of Killara, who forwarded to us the photography of which the above is a reproduction, writes - "The headland at the south end of Collaroy Beach consists of alternating beds of sandstone and shale. The lower beds, because of oxidation and other chemical changes, have expanded, and forced the upper beds into the small but well-marked anticline in the centre of the view." GEOLOGICAL CHANGES AT COLLAROY. (1925, April 13). The Sydney Morning Herald (NSW : 1842 - 1954), , p. 10. Retrieved from http://nla.gov.au/nla.news-article16212688
COLLAROY PARK ESTATE.

At Narrabeen yesterday afternoon Messrs. Hardie and Gorman Proprietary, Ltd. in conjunction with Messrs. Richardson and Wrench, Ltd., held an auction sale of the Collaroy Park estate. There was a fair attendance, but in consequence of the high reserve placed upon the lots a great amount of business did not result. Prices realised up to £5 per foot. YESTERDAY'S LAND SALES. (1913, April 27). Sunday Times (Sydney, NSW : 1895 - 1930), , p. 10. Retrieved from http://nla.gov.au/nla.news-article126453866
Collaroy's Great Progress
An event which promises to be a red letter day for Narrabeen-Collaroy is to take place next Saturday evening, when the Arlington Amusement Hall will be opened to the public. The hall is situated right on the beach and attached to it are four shops and dwellings appearance, design and structure making the buildings equal to city or suburban requirements. The Hall is commodious, and is approached by a fine vestibule, a spacious stage and dressing rooms, also a gallery add to the comfort of both entertainers and patrons. Saturday's function will include a short programme of latest pictures. Dancing will be freely indulged, an orchestra being specially engaged. A con cert programme will be rendered at short intervals. The proceeds of the evening will be donated to the funds of the Collaroy Surf Club, also the Rock Bath at Collaroy. This offer has been made by Mrs. C. Williamson, owner of the hall and shops. Collaroy's Great Progress (1921, December 15). Evening News (Sydney, NSW : 1869 - 1931), , p. 10. Retrieved from http://nla.gov.au/nla.news-article118879510
COLLAROY BEACH SALE.
Collaroy Beach Estate, Narrabeen, was sold by auction yesterday by Messrs. Raine and Horne. Thirty-seven lots were disposed of for a-total amount of £11,100. The sale, in consequence of the rain, was held in the picture palace, which was lent to the auctioneers, and there was a gathering of between 200 and 300 people in the building. Business sites realised from £13/10/ to £21/15/ a foot - a record for Narrabeen. Residential allotments brought from £4/10/ to £7 a foot. COLLAROY BEACH SALE. (1922, January 3). The Sydney Morning Herald (NSW : 1842 - 1954), , p. 4. Retrieved from http://nla.gov.au/nla.news-article15985359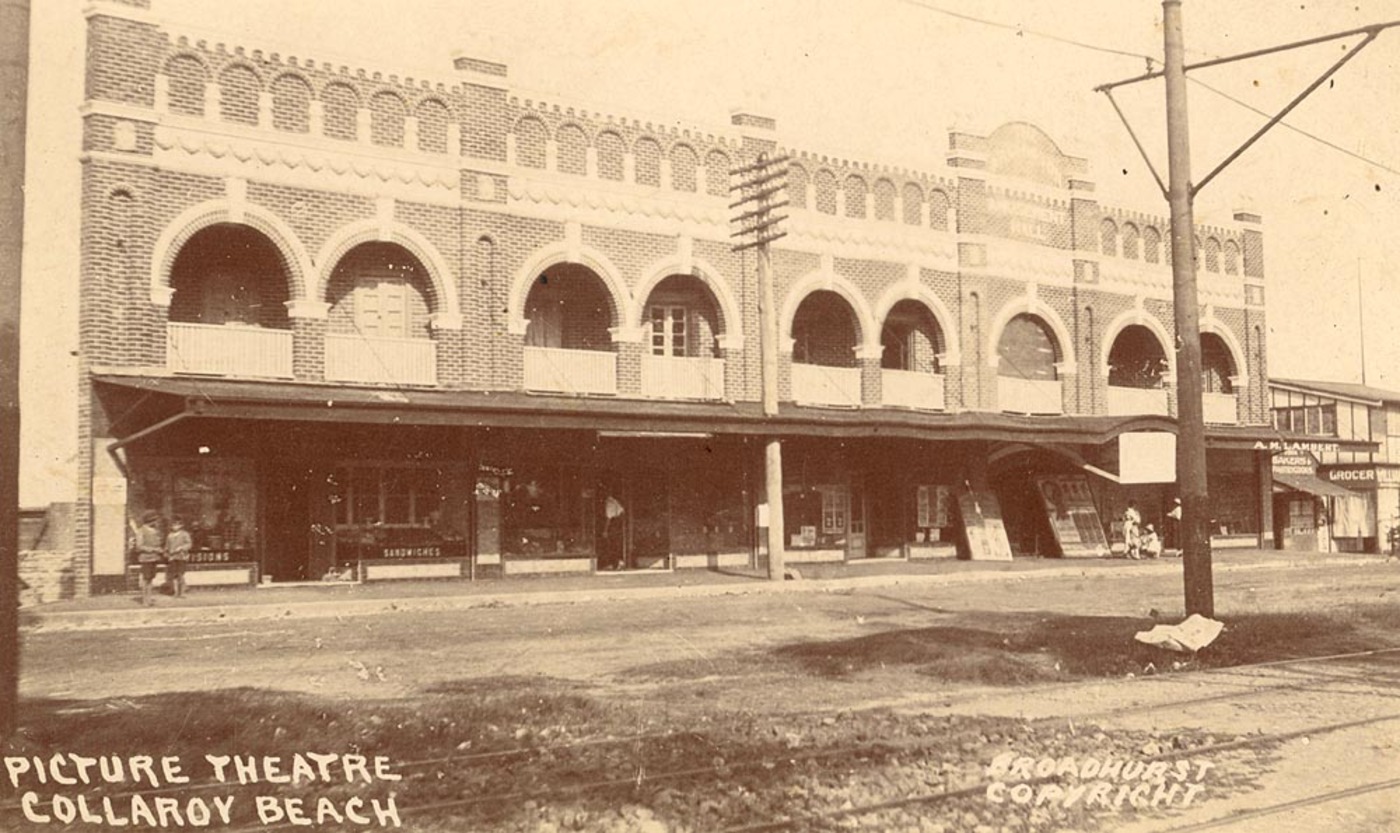 Picture Theatre From Scenes of Collaroy album, circa. 1900-1927 Sydney & Ashfield : Broadhurst Post Card, Image No.: a105159 - courtesy The Mitchell Library, State Library of NSW The Arlington for sale - Mrs. Williamson retiring: Advertising (1924, November 15). The Sydney Morning Herald (NSW : 1842 - 1954), , p. 7. Retrieved from http://nla.gov.au/nla.news-article28072590
Narrabeen Lagoon - Foresight and Experience Promotes a 'Be Prepared' Approach
Around 100 years of witnessing or hearing from the original inhabitants what happens at Narrabeen kept those who settled at Narrabeen more wary of what happens when it rains too much and all those waters from Ingleside and the lagoons own creeks cannot get out to sea.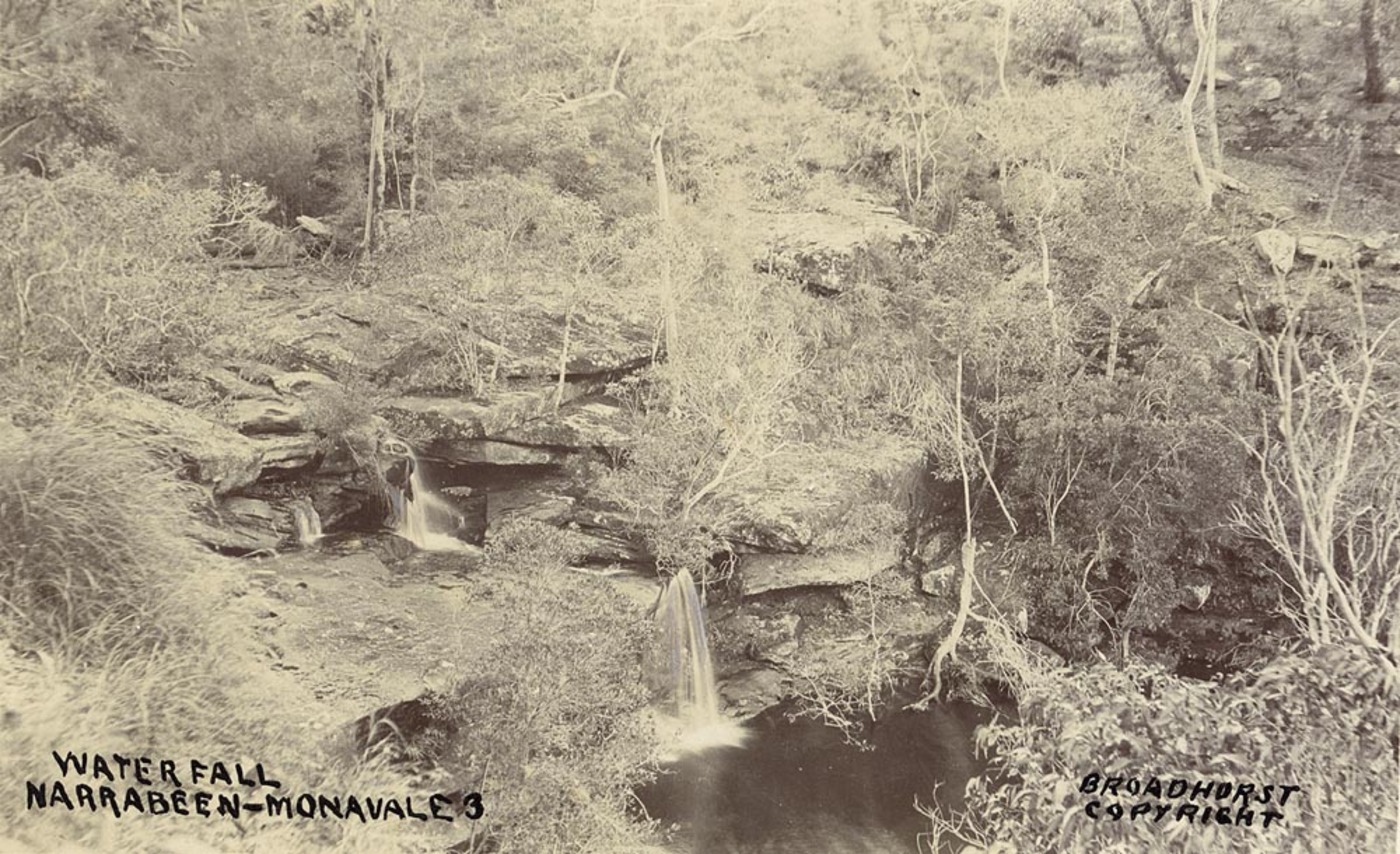 Waterfall Narrabeen - Mona Vale Image No.: .a106060h from Scenes of Narrabeen Album - courtesy The Mitchell Library, State Library of Australia
In Camping at Narrabeen – A Trickle then a Flood, which shares how popular camping at Narrabeen quickly became, and in Yabbying In Warriewood Creeks Eeling in Warriewood's Creeks (Includes A Short History of community involvement in favour of environmental issues and campaigns in and around Narrabeen Lagoon - 1974 to present by David James OAM) and in Narrabeen Prawning Times - A Seasonal Tide of Returnings the records show what Narrabeen Lagoon looked like, where it meets the sea, prior to the waters edge being rimmed with dwellings and bridges being built. Historical art images, alike those shown above, and even in these great early photographs, show the entrance to the lagoon from the sea, and even the outrush of water from the lagoon to the sea itself, was blocked by sand building up: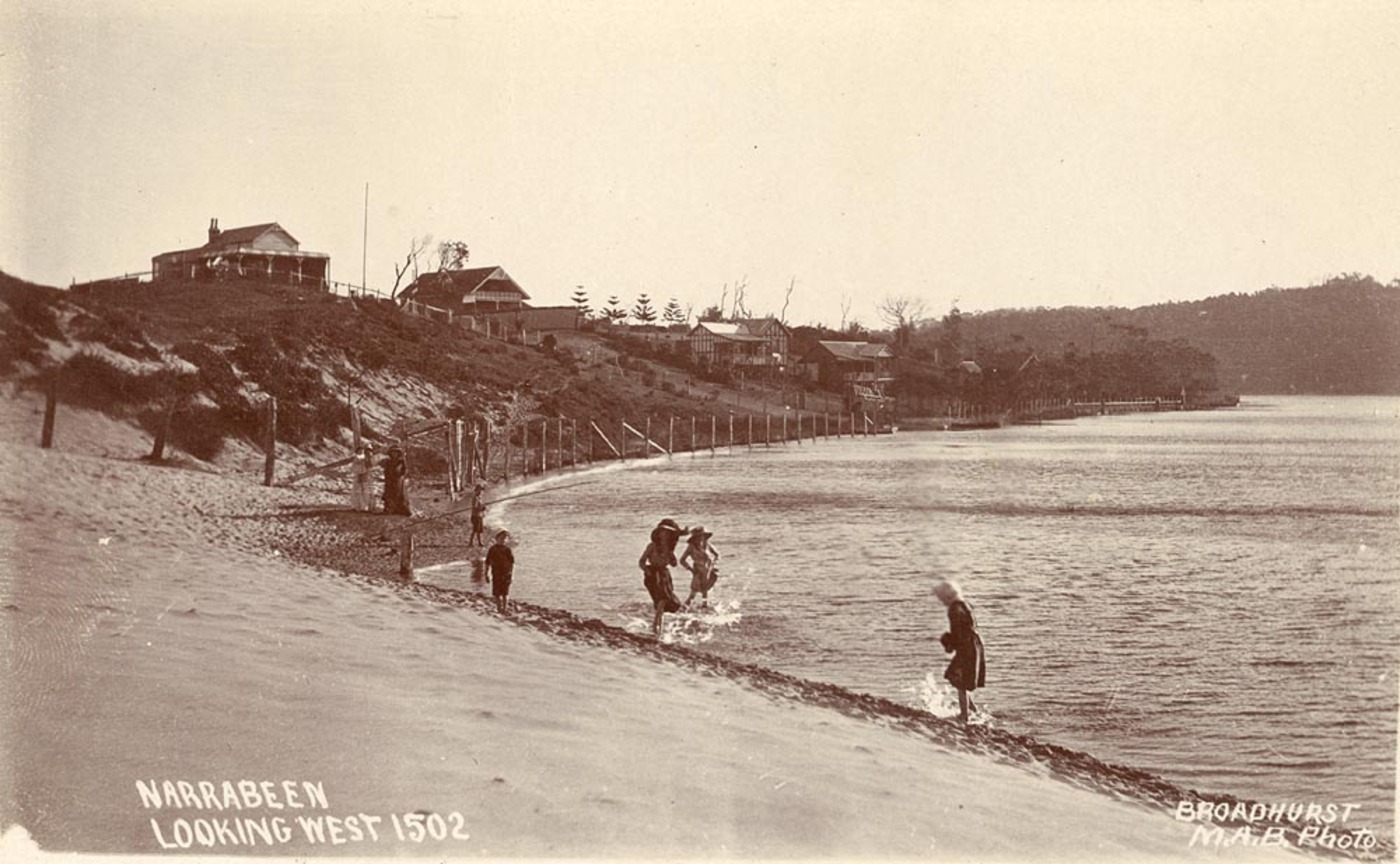 Narrabeen Looking West - From Scenes of Narrabeen album, ca. 1900-1927- Sydney & Ashfield : Broadhurst Post Card, courtesy State Library of NSW. Images No: a106056h (above) and a105060h Courtesy The Mitchell Library, State Library of Australia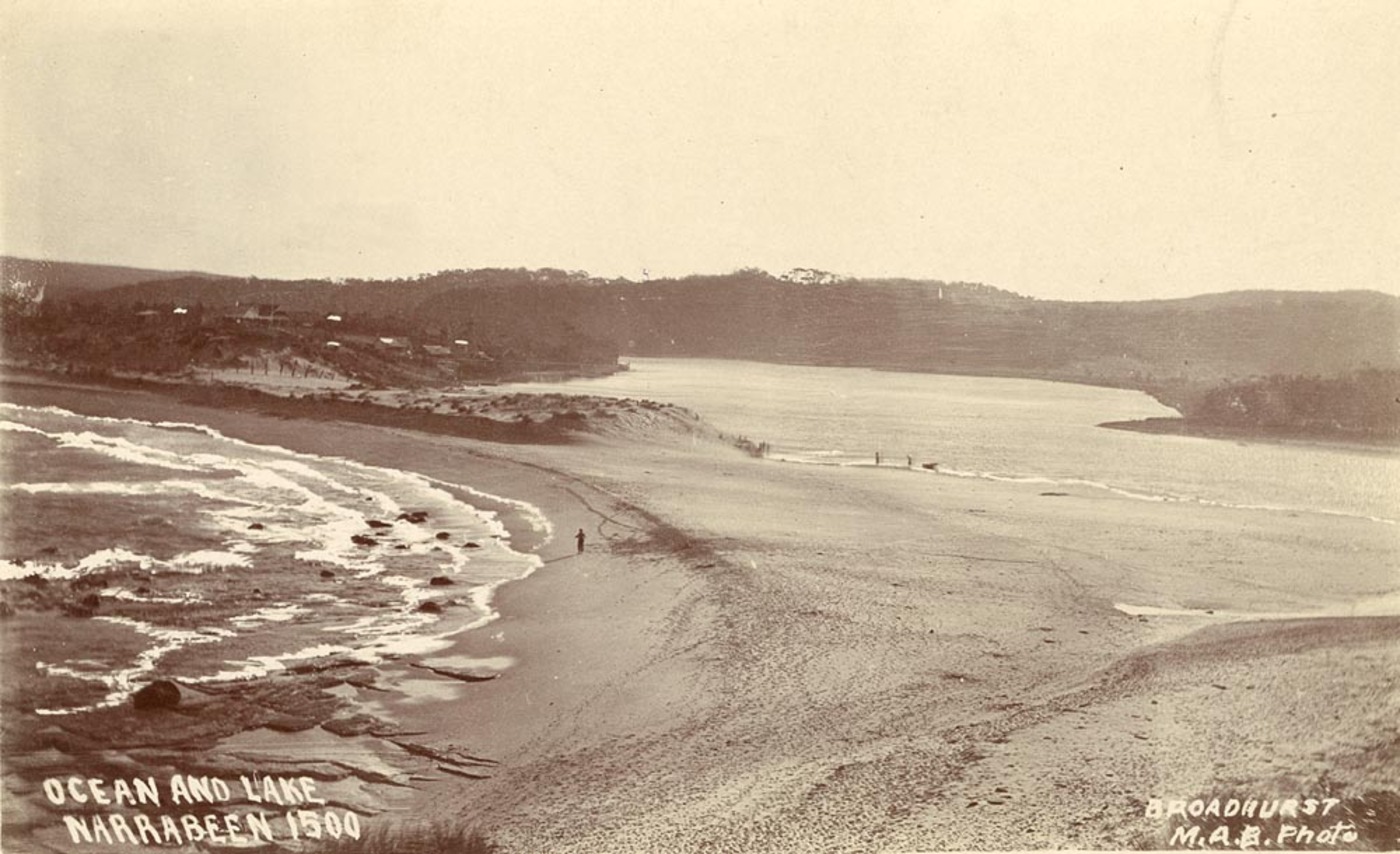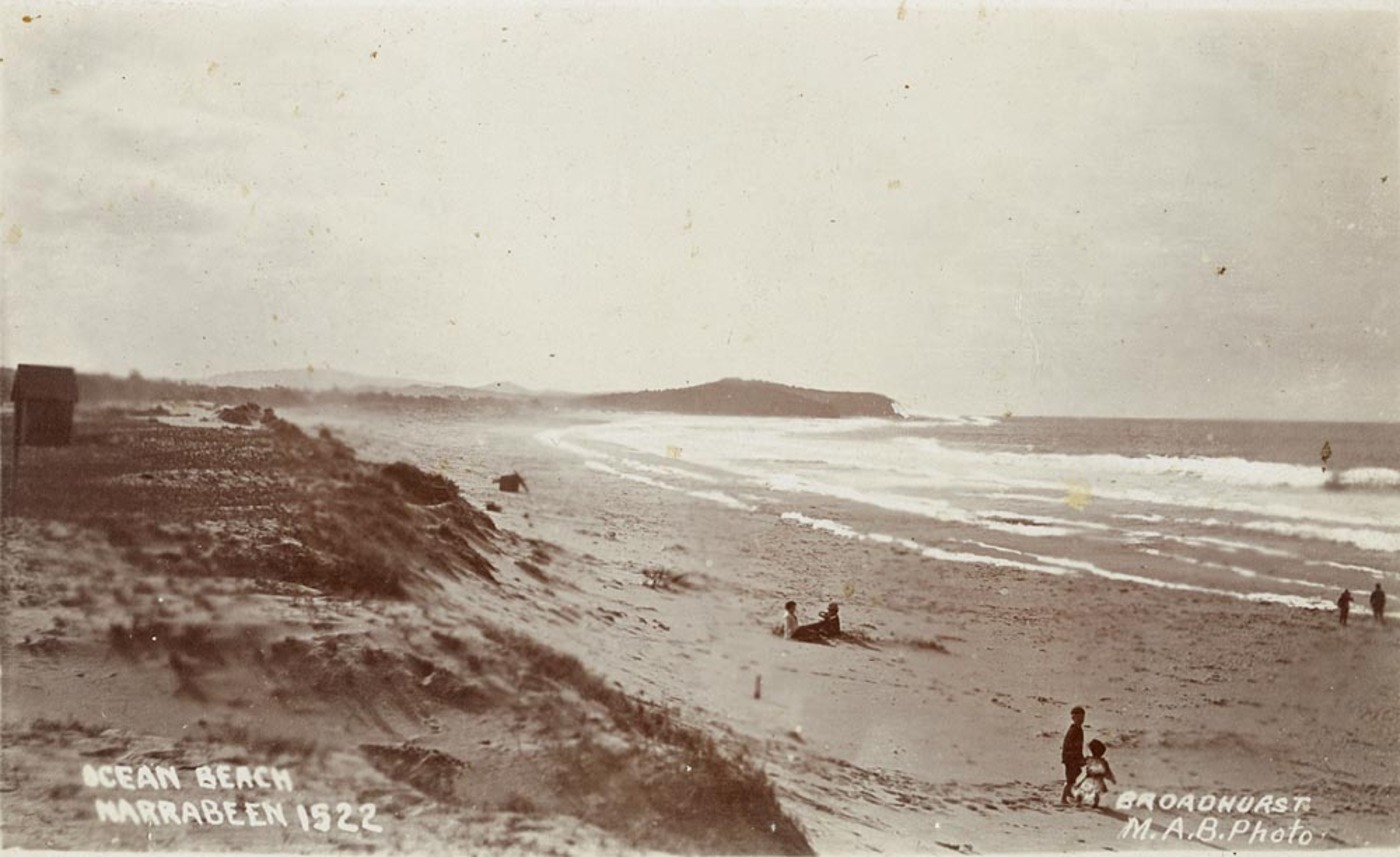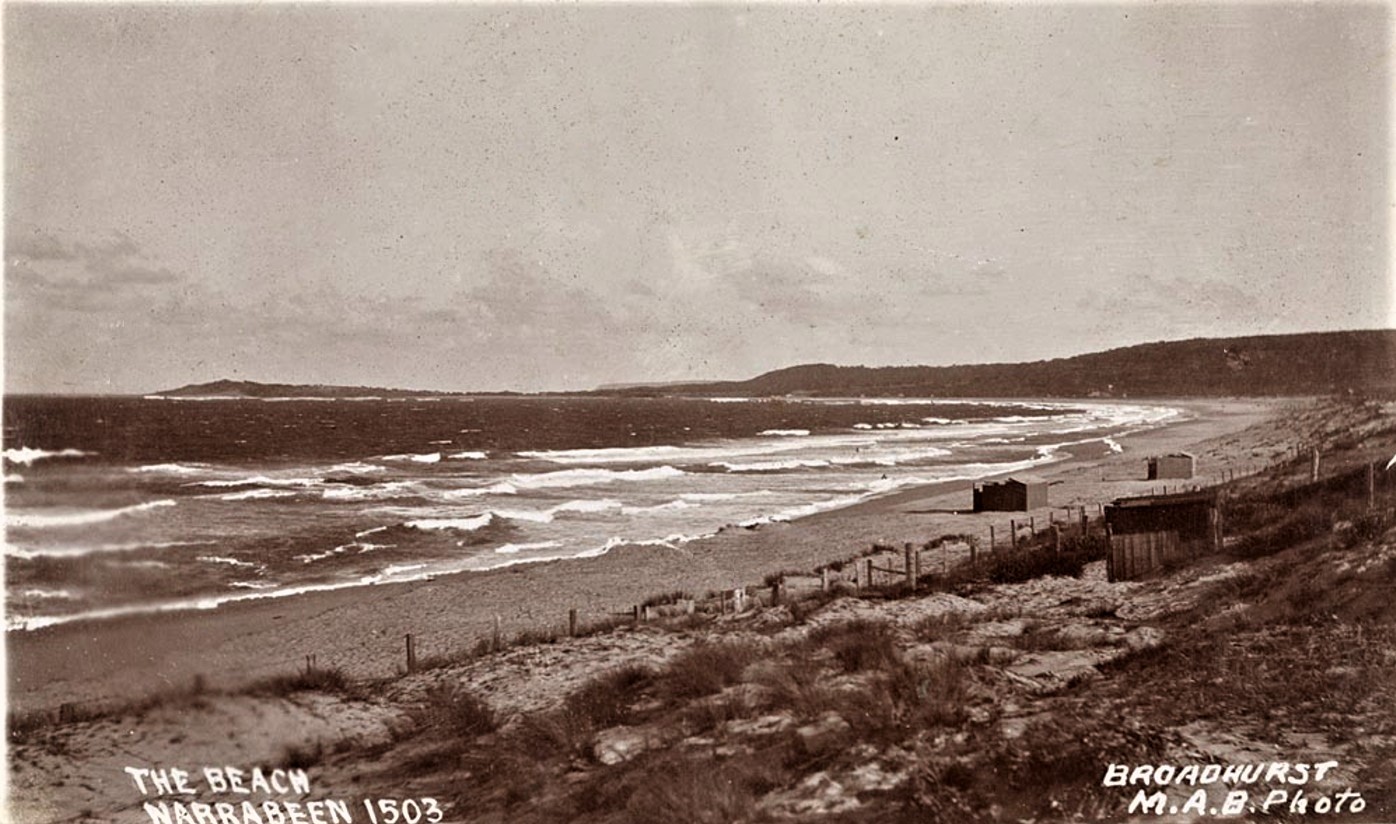 Ocean Beach Narrabeen and Views north and south at North Narrabeen and Collaroy Beach Image No.: .a106050h, a106051h a106052h, from Scenes of Narrabeen Album, Courtesy The Mitchell Library, State Library of Australia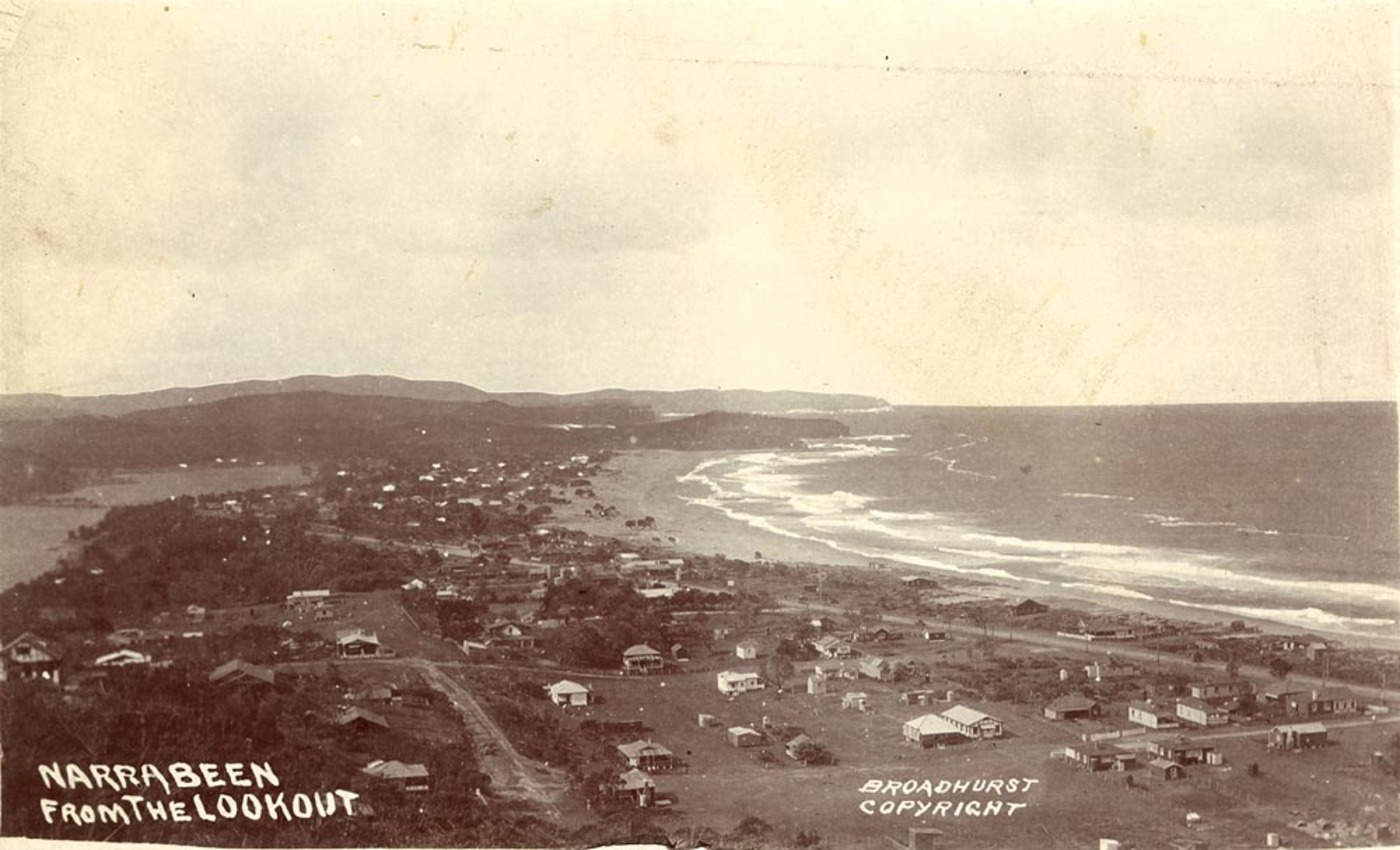 Narrabeen from the Lookout. Image No.: a106055h, from Scenes of Narrabeen Album, Courtesy The Mitchell Library, State Library of Australia
The hills above Narrabeen, where all those beautiful creeks and waterfalls are, were also a place of development, as were the beach runs from Narrabeen to Warriewood, along the coast, and Warriewood Valley itself. In both places instances of having to reclaim land before selling it, of council refusing some land sales due to a flood risk and of places where flooding still took place anyway as that was the shape of the landscape and a catchment are is just that - a place where water flows through the landscape, into the lagoon, and out to sea.
Visit: Pittwater Roads II: Where The Streets Have Your Name - 'Green Hills', Elanora Heights, and Ingleside and Pittwater Roads II: Where The Streets Have Your Name - Warriewood
GreenHill Falls, Narrabeen-Collaroy, Image no: a106059h, courtesy the State Library of New South Wales.
Just as in 1913, when people gathered to either watch or help council workers cut a channel from the lagoon to the sea to mitigate flood waters, every time since the works have attracted a crowd of spectators:
WHEN NARRABEEN LAKE RUSHED OUT TO SEA.
Last week we published a brief account of some sea tragedies connected with the 'letting out' of Narrabeen Lake (see BREAKING OF A LAKE. (1919, May 21). Sydney Mail. Here We illustrate the event that created so much interest among residents on the other side of Manly.
SOME day Narrabeen Lake will be transformed into permanent navigable waters from the sea to the head of the three beautiful creeks five miles above the bridge, at the present tram terminus. During periods of drought (writes L.A.S.), when very little water is running out to sea, the action of the waves builds up a wall of sand at the entrance. This backs up the water, and when heavy rain falls it is thrown over the low-lying land for miles surrounding the lagoon, to the joy of the small boy and the black swan, and to the dismay and discomfort of the week-ender. To the permanent resident who delights to see his beloved lake 'full' the mere suggestion of 'letting it out' is sacrilege; but when the butcher refuses to call, the baker who delivers his bread is clad in a bathing-suit, and the stove wood floats into the best bedroom, it is realised it is time to call upon the shire council to 'let her out.'
Within ten minutes of this decision everybody in Narrabeen knows of it.
WHEN the momentous decision was come to recently I was told by an old hand not to worry about the fish being thrown up on the beach this time, because their numbers had been sadly depleted, net fishermen during the last two months having 'dragged the bottom out of the lake.' And so it proved. The only fish secured wore half a dozen small silver bellies. The porpoises, sharks, etc., who were instinctively waiting outside for the feast, had this time 'grossly exaggerated their instinct.' and it is not to be wondered at that they quarrelled among themselves. They were probably eating one another. Now, if the lake had been let out say, during February, there would have been something doing in the fish line. There were plenty of fish in the lake then. Despite, the poor half-dozen 'silver-bellies' this time, one could tell tales of wonderful hauls of fish on previous occasions. The most memorable was about fourteen years ago.
IT is the professional fisherman's business to know where the fish are in the estuaries along our coast. They knew that there were plenty of fish in Narrabeen Lake, and when they heard it war, to be let out they came from Botany and La Perouse and Watson's Bay, per medium of a varied assortment, of vehicles. After waiting all night, the lake broke out and the fish went through the channel, representatives of all the species, and in enormous numbers. The buffeting about and the sudden transmersion from practically fresh to strong sea water was too much for many pampered lake fish, and they were thrown back on the sandy shore by the waves in a stunned rendition in tons. All sorts of implements were used in their capture, from table forks to garden forks; they were thrown into chaff-bags, carts, kit-bags, tin dishes, baskets, and colanders. It is stated that over 50 tons of fish were secured. A few years later, when the lake was again opened, not a professional fisherman appeared on the scene; some amateur fishermen waited for two days, but did not get even six 'silver-bellies.' The lake had been netted beforehand. Every man to his job. The accompanying pictures show the appearance of the channel a few hours after a gang of corporation labourers bad dug a 'let-out' in the sand to give the water a start. The rapidity with which the increasing volume of water displaced the thousands of tons of sand gave some idea of the enormous shifting power of a rushing stream. At 2 o'clock the channel was four feet deep and about six feet wide; at 5 o'clock it was 10 feet deep and 50 yards wide. On a rough calculation over 2000 acre feet of water rushed through the channel in two hours.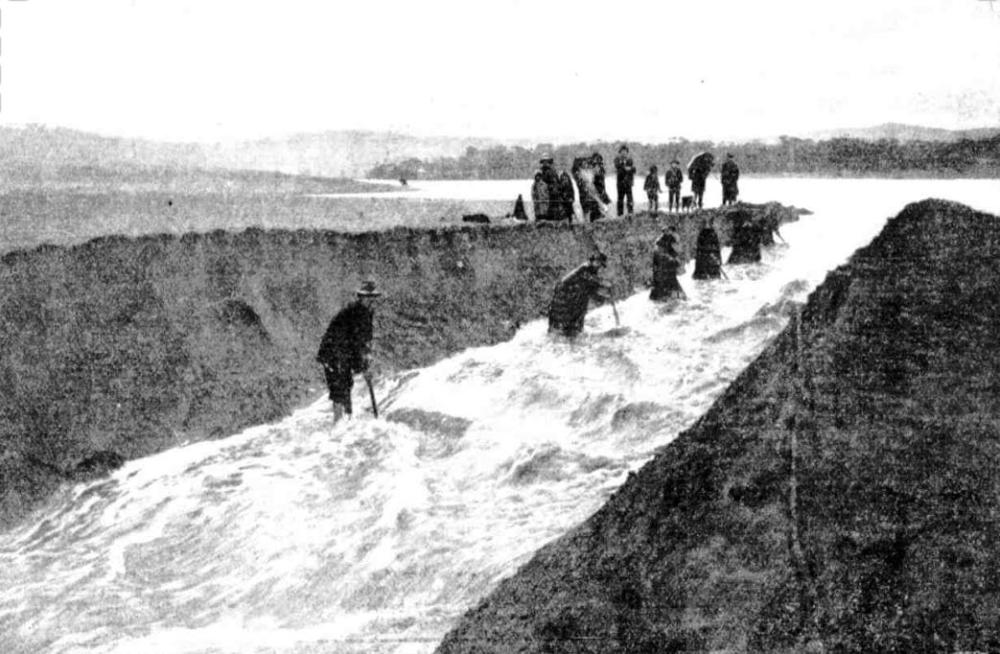 CUTTING THE CHANNEL THROUGH THE SANDBANK. A gang of men cut a narrow 'let out' about six feet wide— the water did the rest.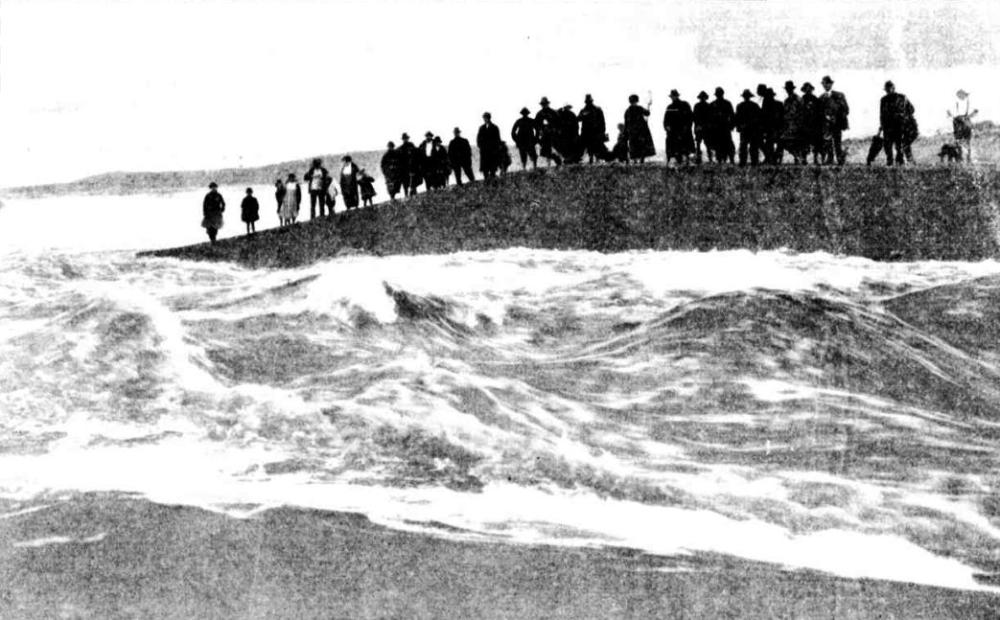 SOON AFTER THE OPENING OF THE CHANNEL. So great was the rush of water that within three hours the torrent was 150 feet wide. It is estimated that over 2000 acre-feet of water rushed out to sea in two hours.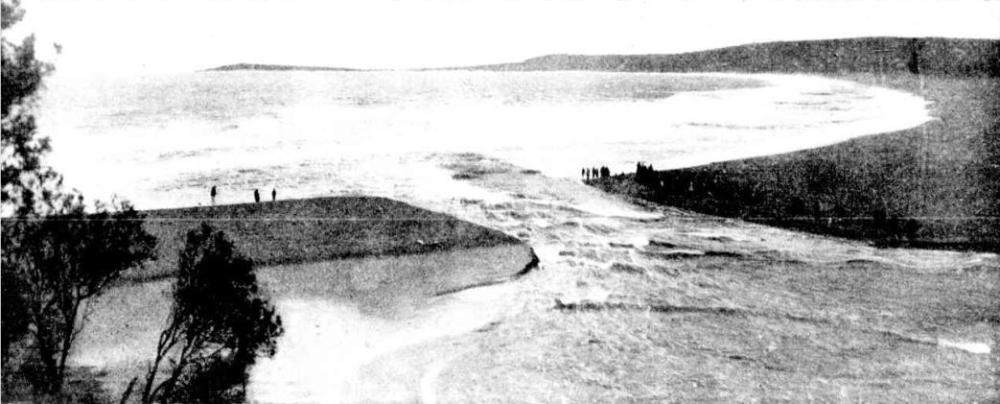 WHERE NARRABEEN AND THE SEA WERE JOINED JUST BEFORE THE LAKE RUSHED OUT. WHEN NARRABEEN LAKE RUSHED OUT TO SEA. (1919, May 28). Sydney Mail (NSW : 1912 - 1938), , p. 13. Retrieved from http://nla.gov.au/nla.news-article159655216
These photographs are very similar to those taken by Sam Hood during 1927, when this wonderful photographer captured a few other iconic images of how flood tides will cover roads and bridges surrounding the lagoon as creeks fill over their brims. In 1927 there were floods in April, June and in November.
Some of these experiences, such as catching fish from the flooded streets, have been repeated in a June 4-6 flooding of Narrabeen. What hasn't been repeated is people being stranded in homes by rising flood tides;
MODERN MOSES
SHOVELS FIGHT FLOOD NARRABEEN SAFE
FISH . BOARDERS LEAVE
Nobody in Narrabeen has a magic rod of Moses such as rolled back tho turbulent waters of the Red Sea. A posse of trusty shovels, however, to-day rolled back waters to make part of Narrabeen safo for democracy. They served tho purpose quite wolL In Holland a dyke Is cut. to encourage a Hood. In Narrabeen they out a dyko to defeat a flood. Twenty men to-day fought creeping waters of the Narrabeen Lagoon by carving a channel 10 feet wide through the tumbled dunes of part of the beach. To Narrabeen people and those who live for week-ends In the wood and fibro cottages inside the rugged golden range of the beach, the lagoon, when properly behaved, is restful and soothes the nerves. But in the last three days the lagoon has not been well behaved! Insidious Flood Narrabeen on Saturday and Sunday was rained upon with a merciless savagery, which residents said to-day had not been equalled anywhere round Sydney.
"They officially gave us 168 points, but ,i think it should have been 668 points," said one man gloomily, as he looked out on chicken coops floating in the backyard of his home. Water crept across paddocks; it blotted out roads leading from the beach; it rippled through fences, set stacks of firewood floating between back verandahs and garages, and lapped the bridge on the main road, asphalt midway in its wet grip. There as no surging of waters, no rumbles or rescues or plashing of oars or shouting of men la boats. They just awoke, in houses skirting the lagoon, yesterday, to find fishes playing round the roofs of kennels where Fido should have frisked. This was too much.-The challenge of the expanding lagoon, with its silent Insidious creep of waters was accepted!
War Declared
It was war between the Narrabeans and the spreading lake. Rattling shovels In defiance, a body of men employed by the Warringah Shire trecked to the beach with grim set jaws. They were out to teach the lagoon a salutory lesson. While the surf smoked, and the rollers thundered in the grey dawn, twenty shovels bit and hacked at the beach. By the time that the early Spartan surfers appeared on the beach, twenty hats rose and fell In a deep trench through the sand and particles of beach flew In the air from shovels.
At 10 a.m. the huts had disappeared in the sand trench, but gusts of sand still floated up from tho energetic shovels. Soon afterwards Narrabeen rejoiced! The first trickle of the revolutionary waters of the lagoon threaded its way along the channel, and was lost in the boiling froth of the Pacific. Men and women sat along the steep banks of the new channel and felt as satisfied as residents do at the cutting of a ribbon opening a new railway section, or the throwing in of a switch starting a new electric light plant. The trench was cut with a considerable fall towards the sea and by 11.30 a.m. a tumultous river swept along the channel from the lagoon. The light was won. The flood had been defeated! Water began to drop a little In the backyards, but It will be many hours before any decided change Is shown In the 300 acre expanse of swollen lagoon. This afternoon the council gang has to contend with land slides or rather sand slides that threaten to obstruct the channel.
"Red Tape"
Councillor Greenwood complained to the Warringah Shire Council last night of the red tape connected with the opening of the lagoon when floods threatened. Before council could drain the water the consent of the Lands Department had to be obtained, and frequently dangerous delays occurred. The flood waters were menacing the safety of the bridge, and damage to the extent of £100 had been caused to property, he said. (See Picture on Page 1) MODERN MOSES (1927, April 5). The Sun (Sydney, NSW : 1910 - 1954), p. 13 (FINAL EXTRA). Retrieved from http://nla.gov.au/nla.news-article223229819
April 1927 Cutting a channel from the Narrabeen lagoon to the ocean photos: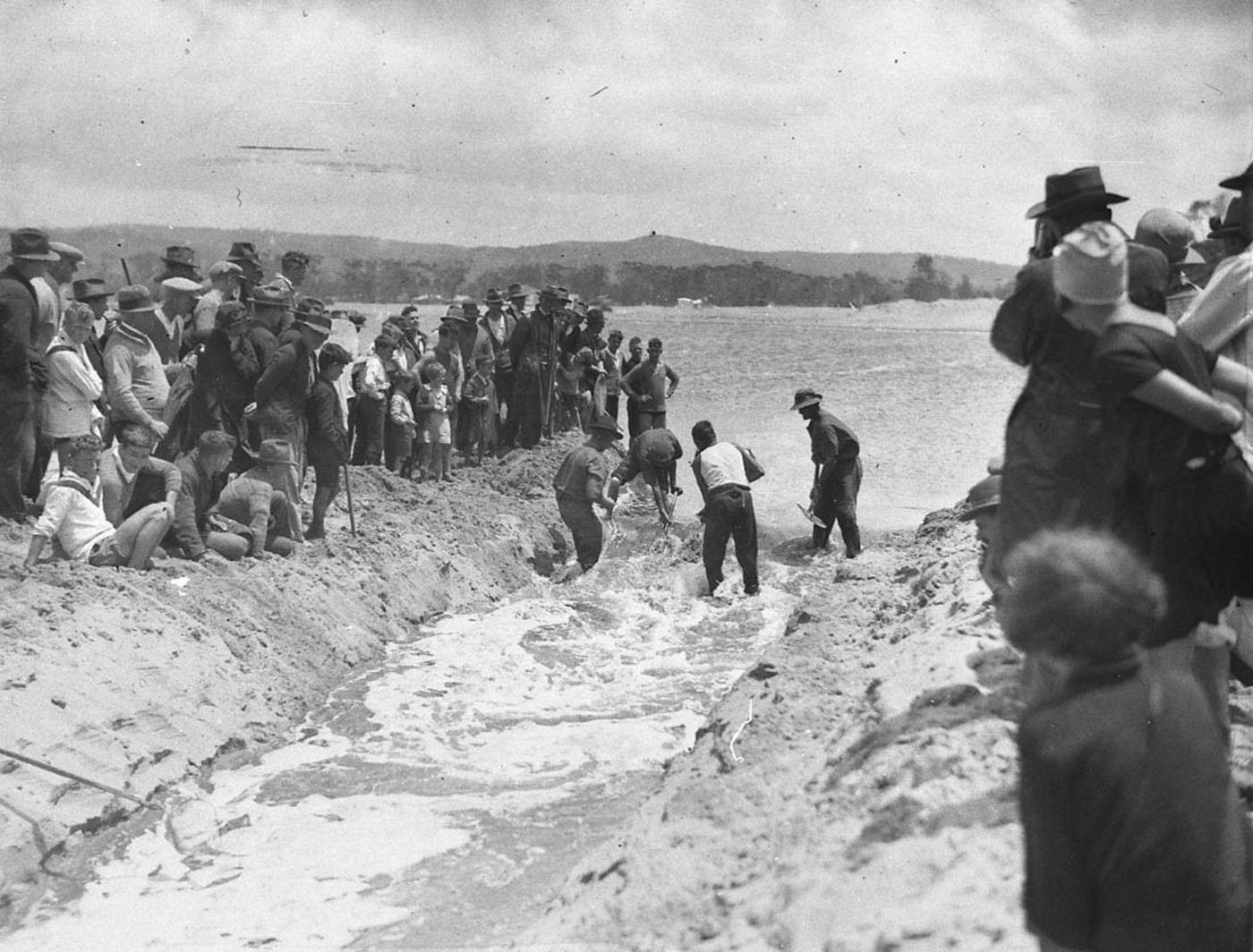 Flood mitigation work by council workers 1927 - Image. No: hood_06390, courtesy State Library of NSW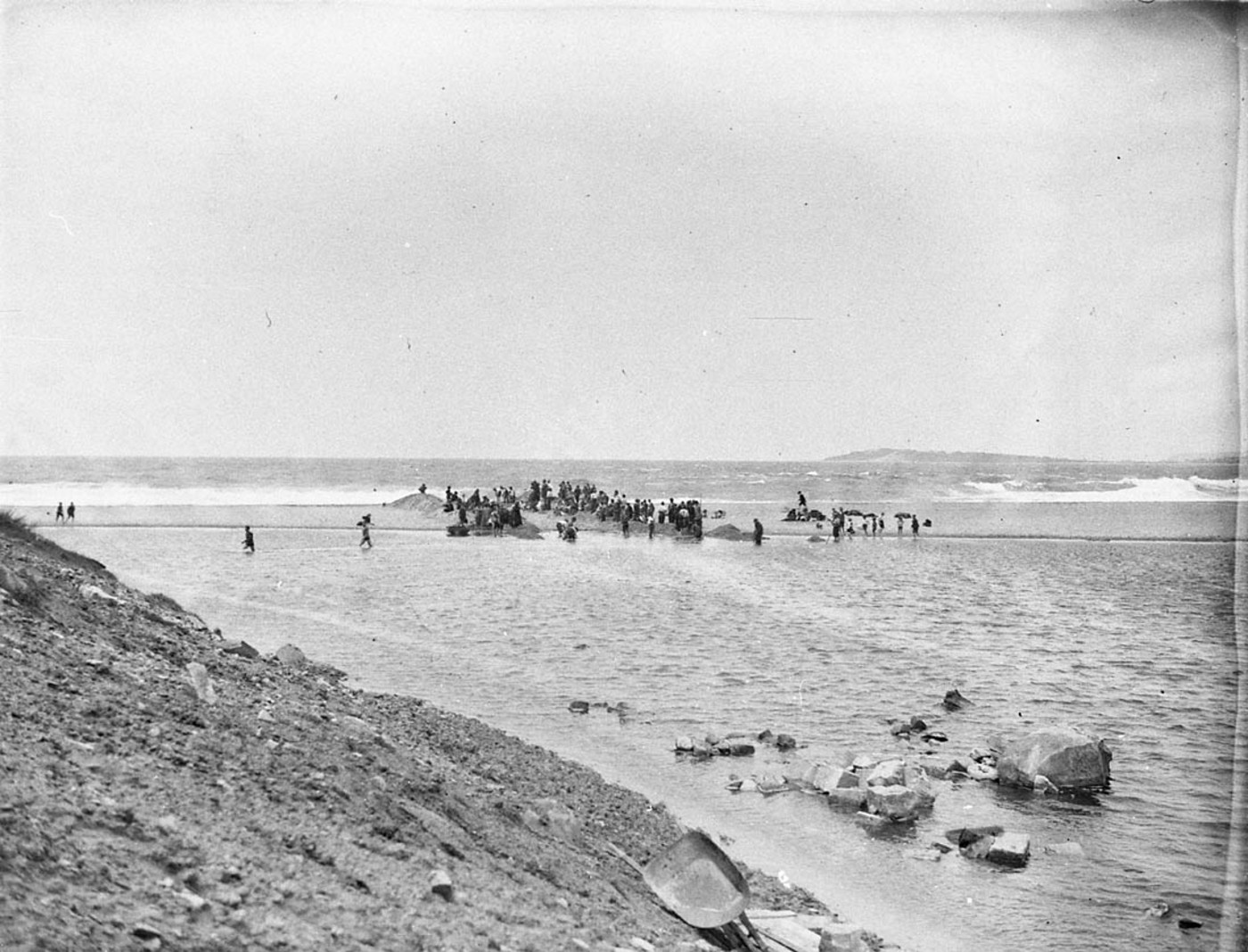 Crowds gather on some earthworks near the flood waters, Narrabeen Image No.: hood_06393h, courtesy State Library of NSW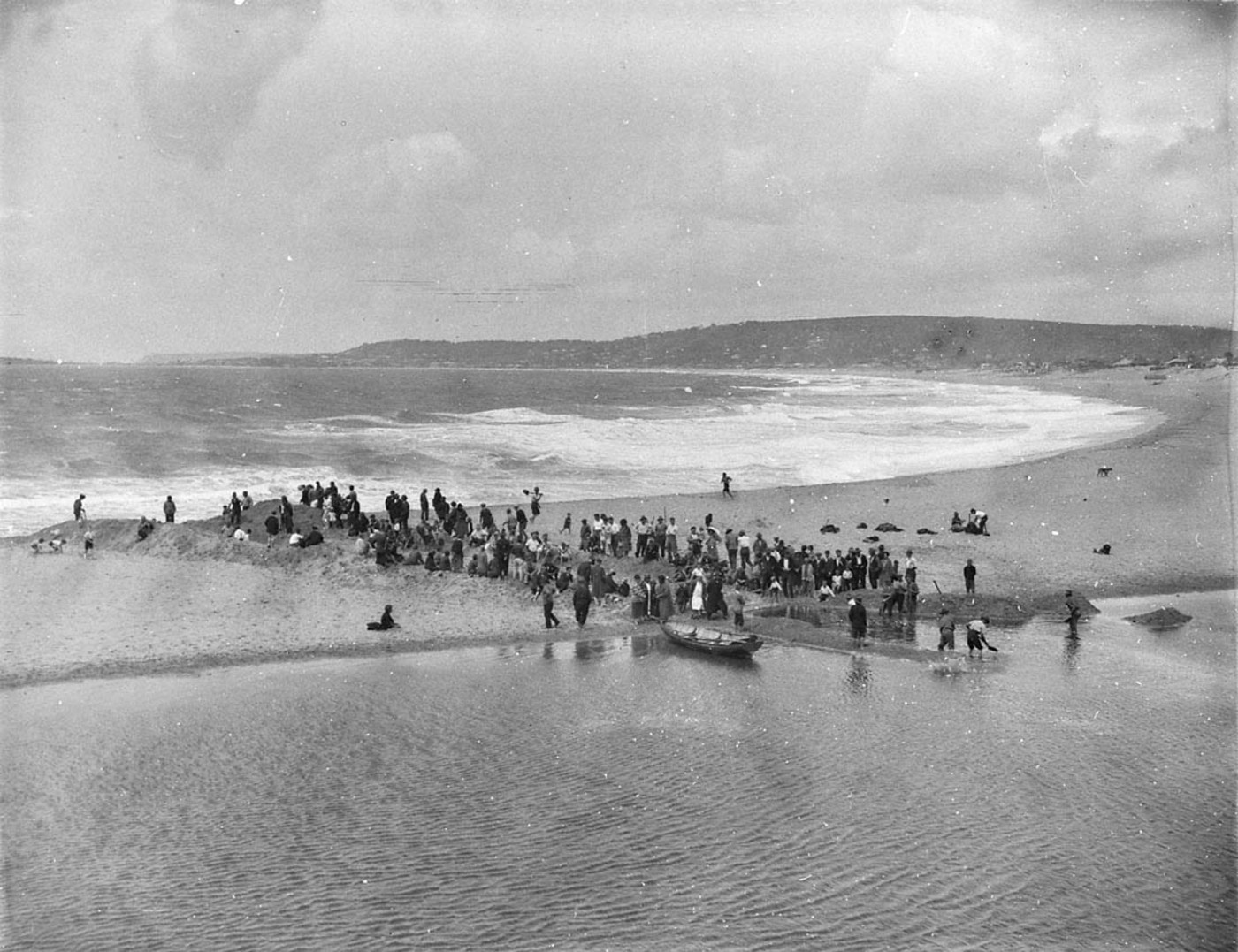 Flood control ditch dug from the Lake to the Beach, Narrabeen Image. No: hood_06407h, courtesy State Library of NSW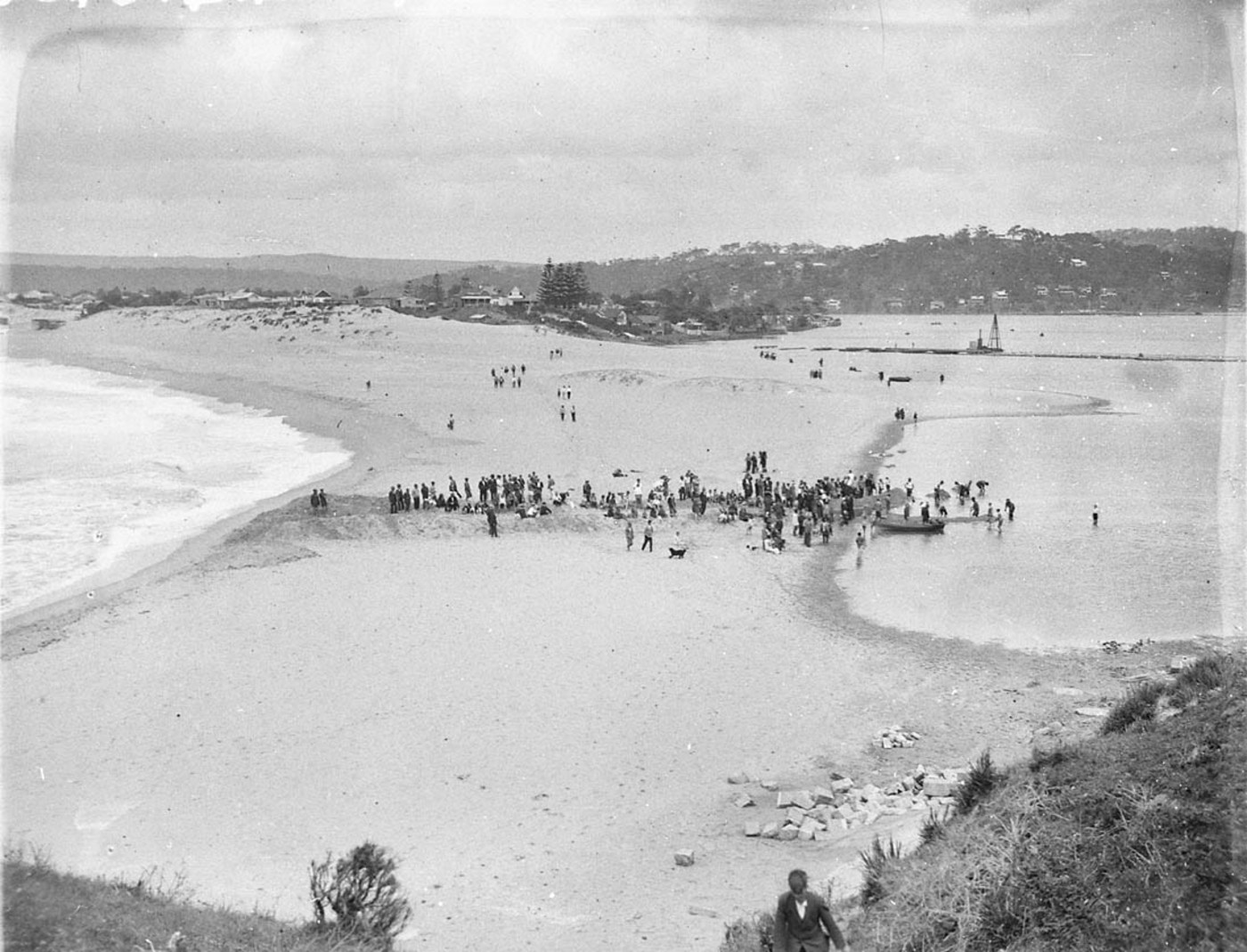 Crowds around a new flood control channel from Narrabeen Lake to sea Image. No: hood_06408, courtesy State Library of NSW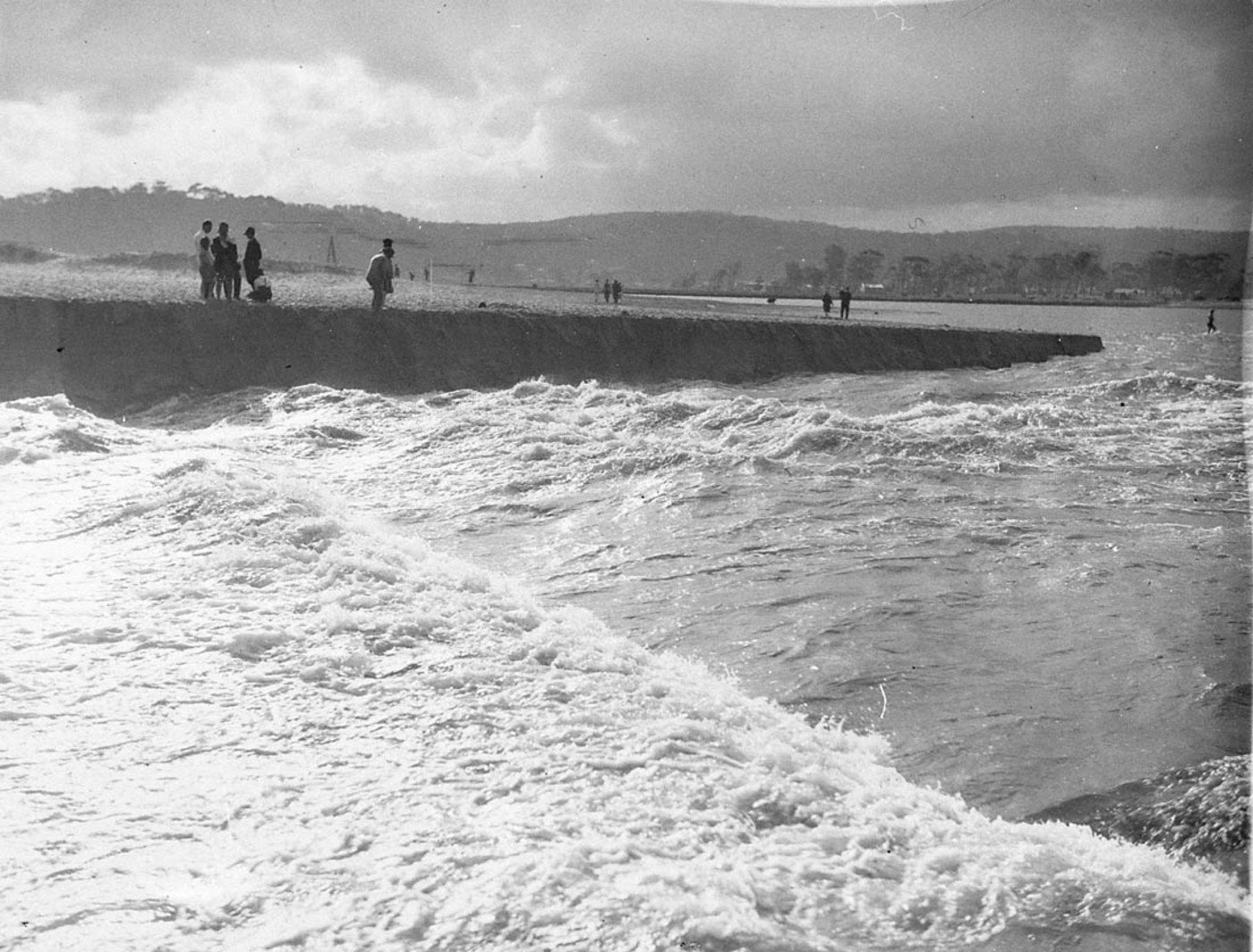 Flood waters from Narrabeen Lake pour into the sea. Image No: hood_06396h, courtesy State Library of NSW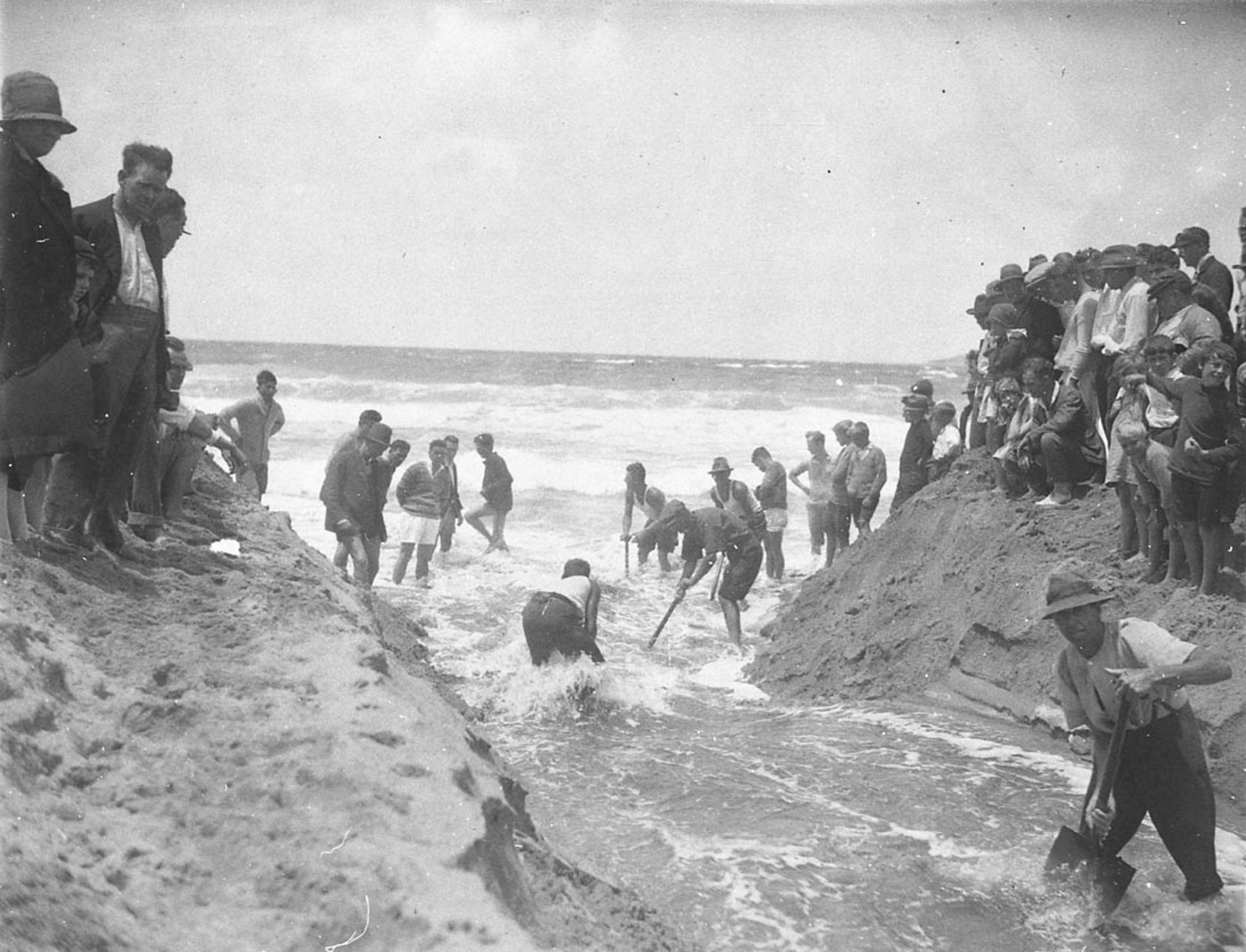 Workmen deepen a channel to drain Narrabeen Lake in the floods April 1927 Image. No: hood_06401h, courtesy State Library of NSW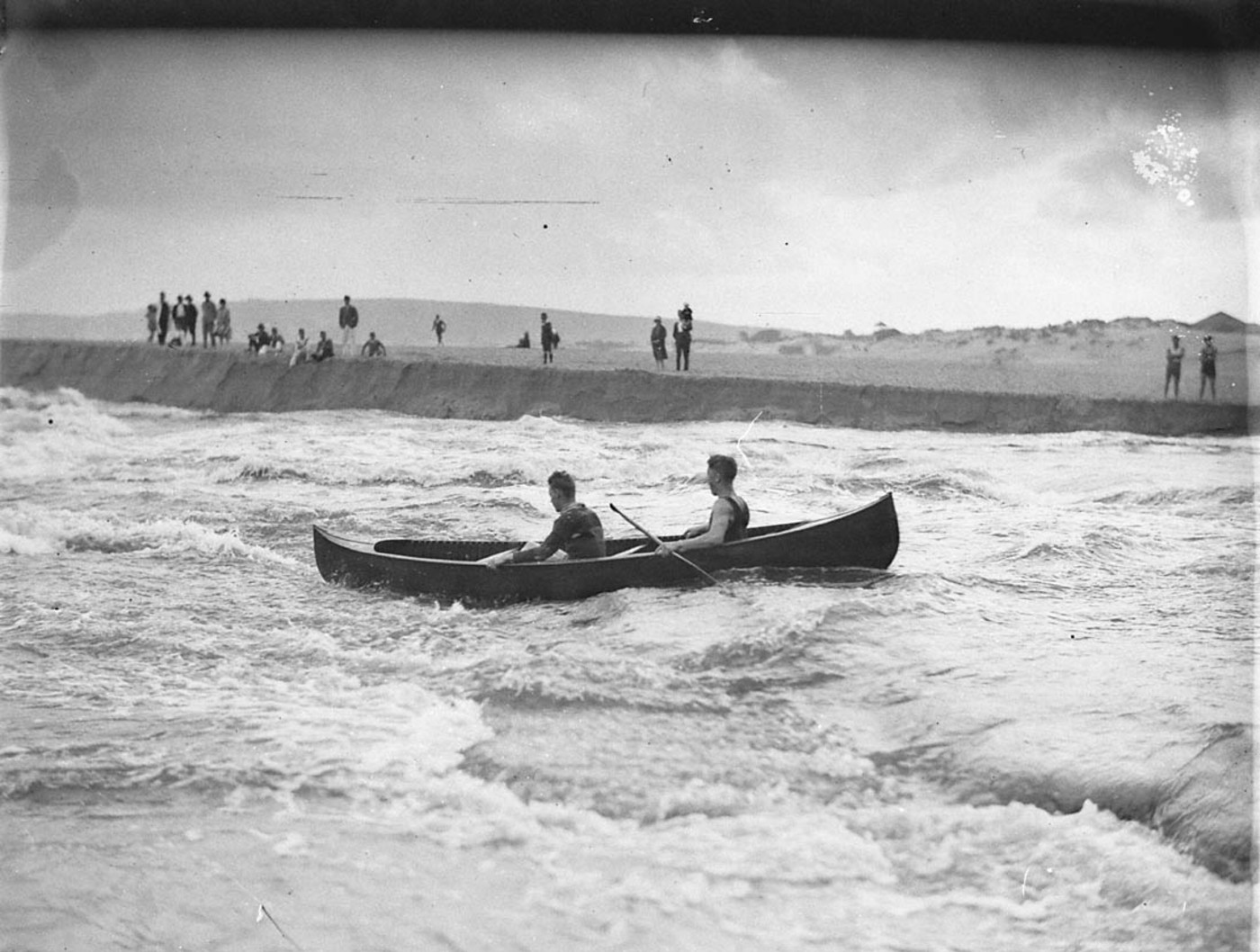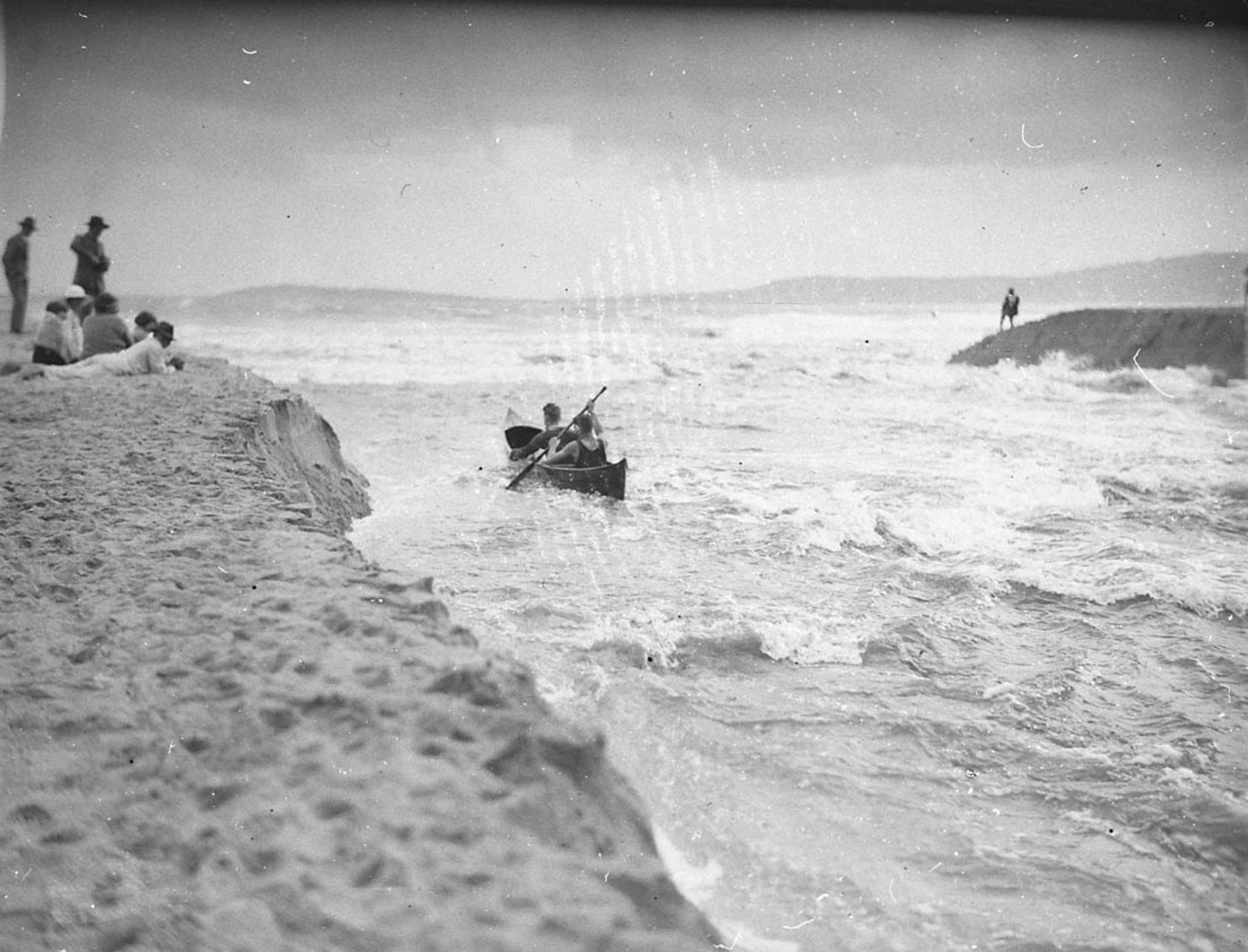 Two canoeists brave the rapids where Narrabeen Lake flood pours into the sea – Top one appeared in newspaper _06397h and _06404h, courtesy State Library of NSW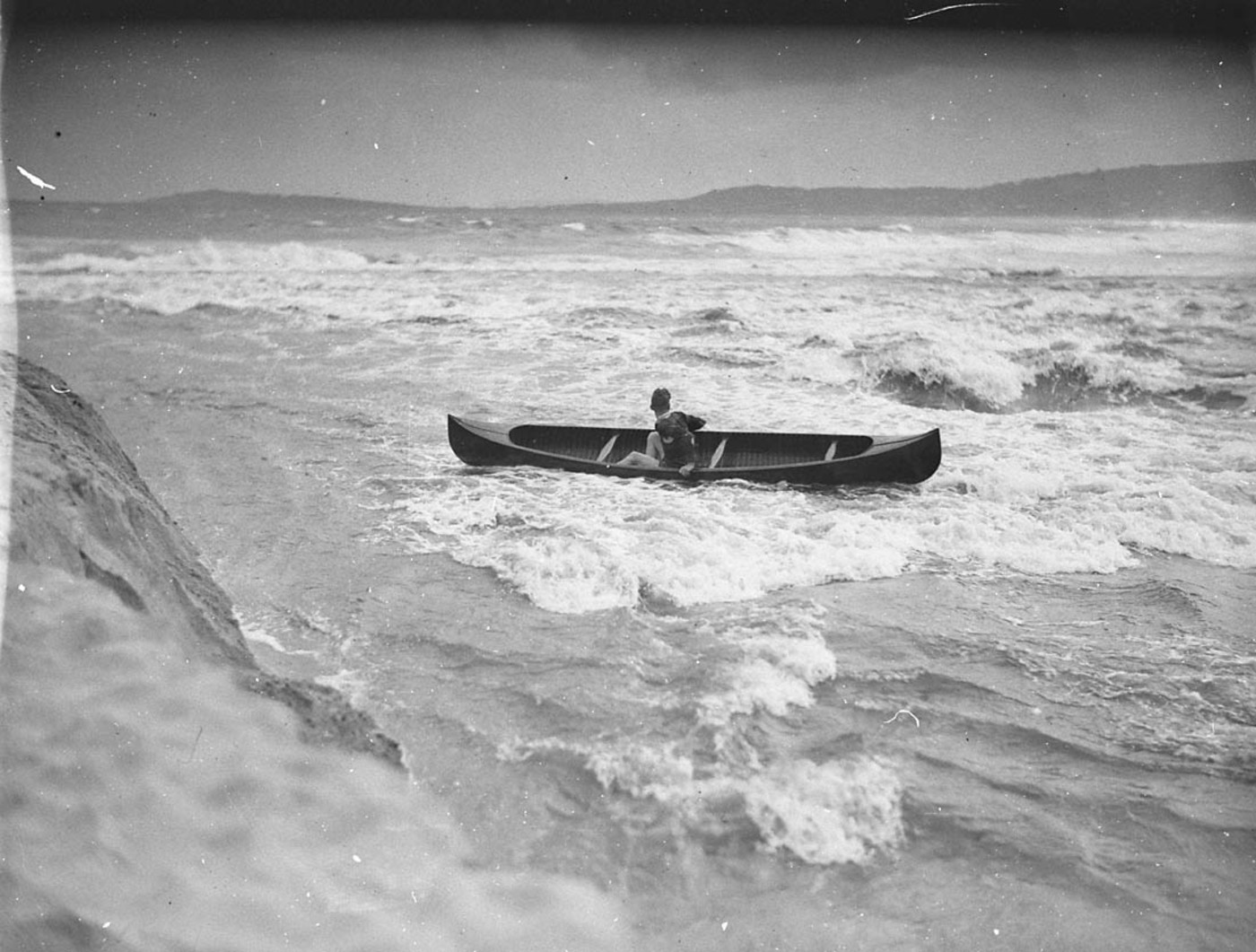 Canoeist in danger as canoe swept out to sea in the Narrabeen flood, Image No.: hood_06405h, courtesy State Library of NSW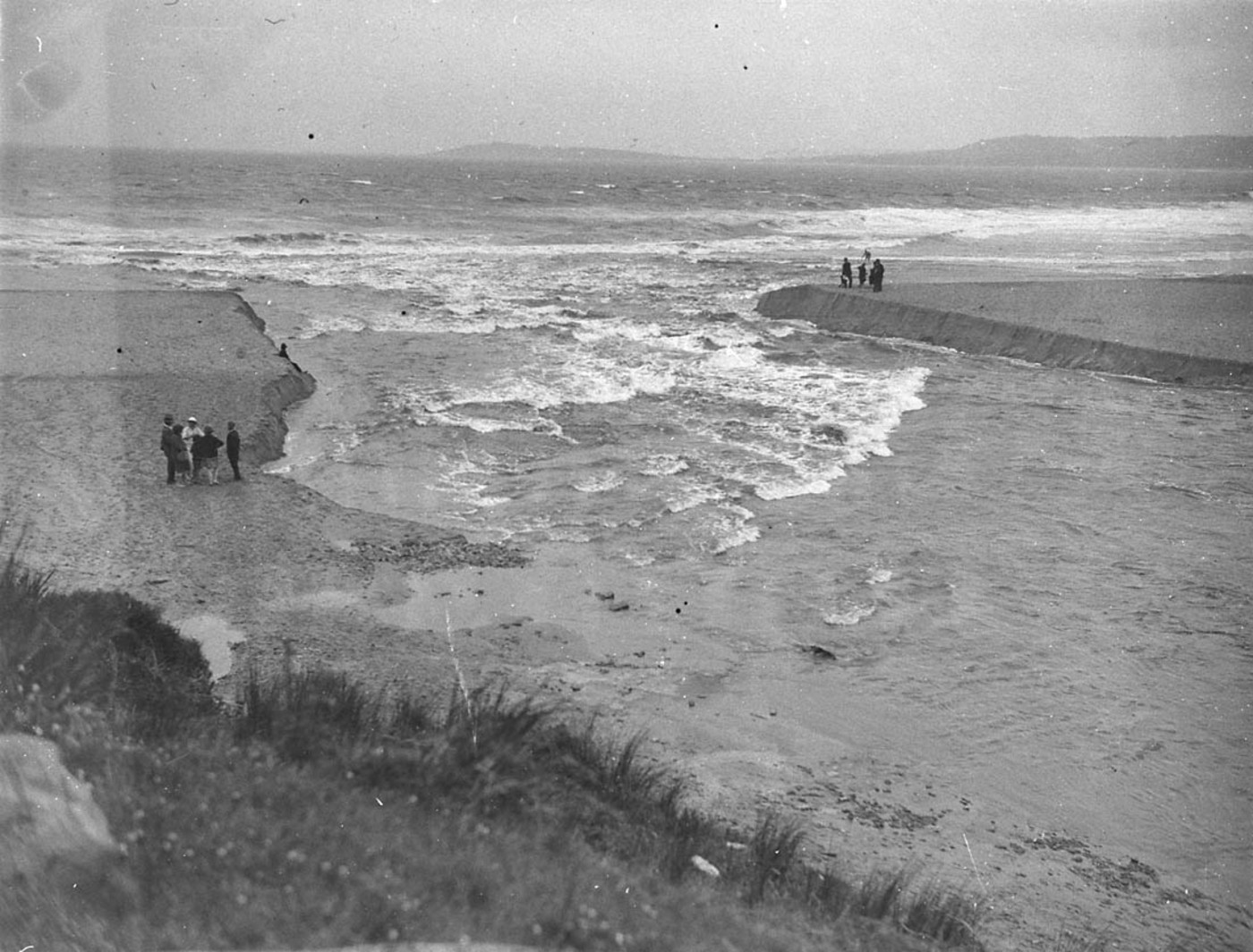 Flood waters pours from Narrabeen Lake into the sea Image. No: hood_06395, courtesy State Library of NSW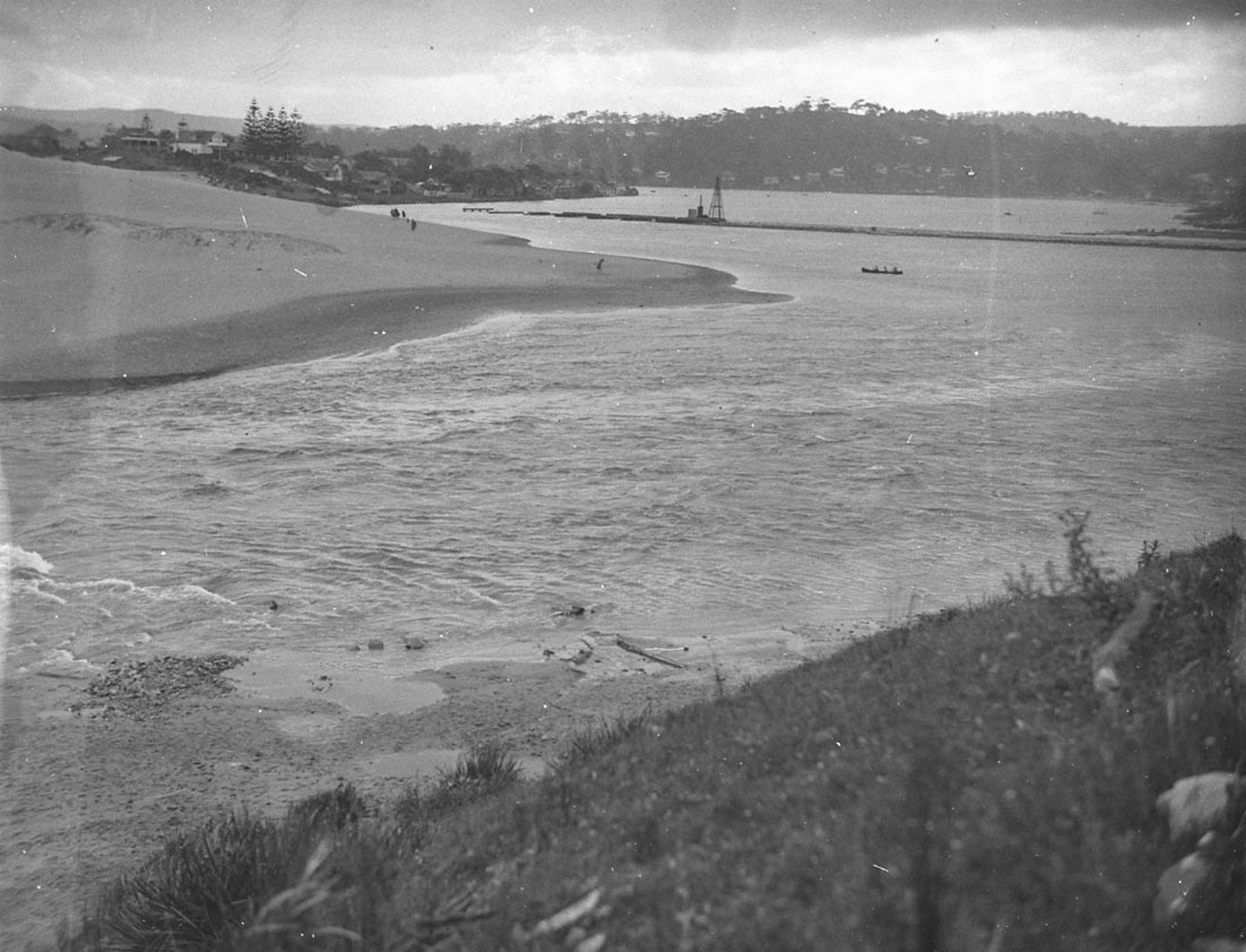 Flood waters and the channel to the sea, Narrabeen. Image No: hood_06403h, courtesy State Library of NSW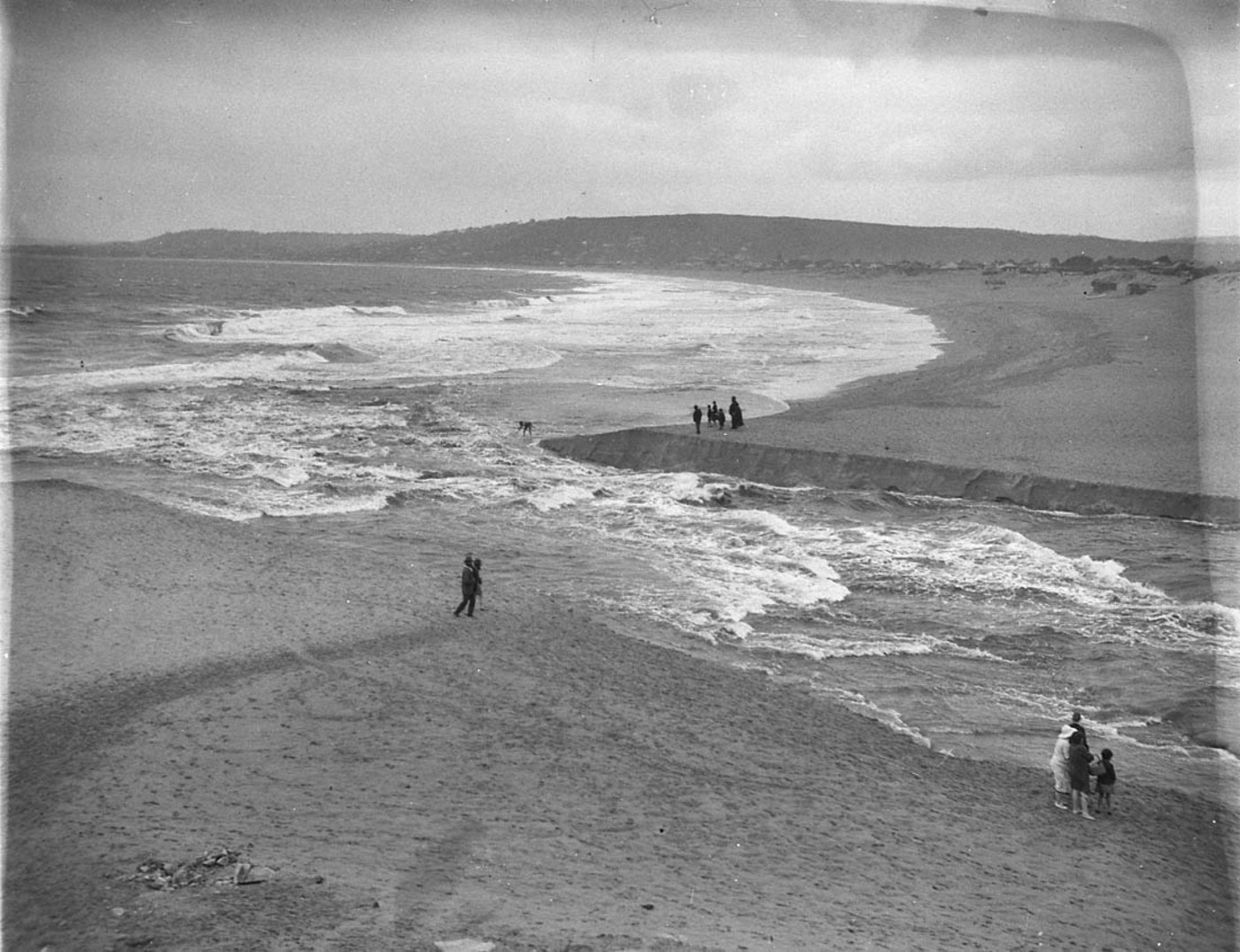 Flood control ditch dug from the Lake to the Beach, Narrabeen Image. No: hood_06406h, courtesy State Library of NSW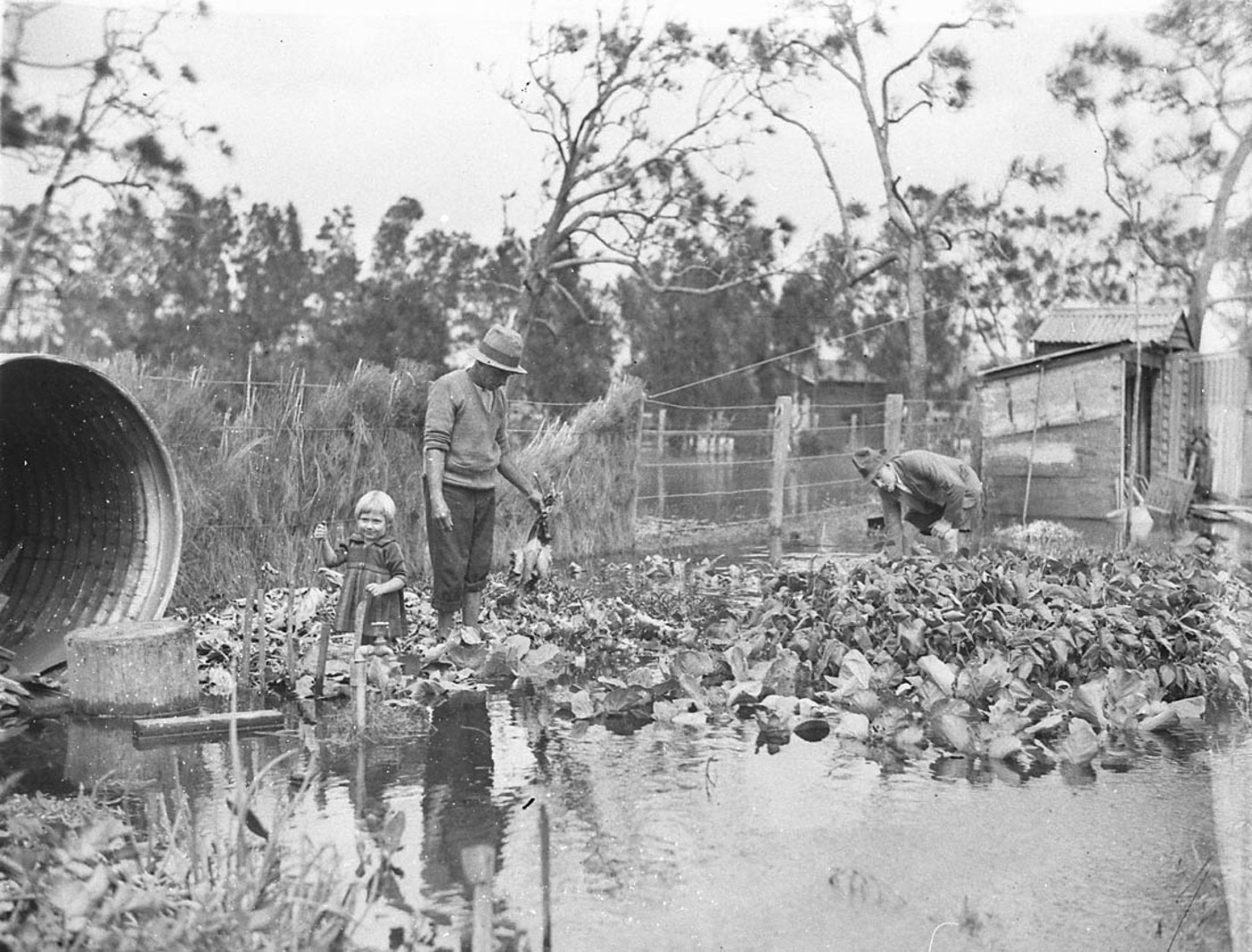 Man surveys his vegetable garden in the Narrabeen flood - Image. No: hood_06399, courtesy State Library of NSW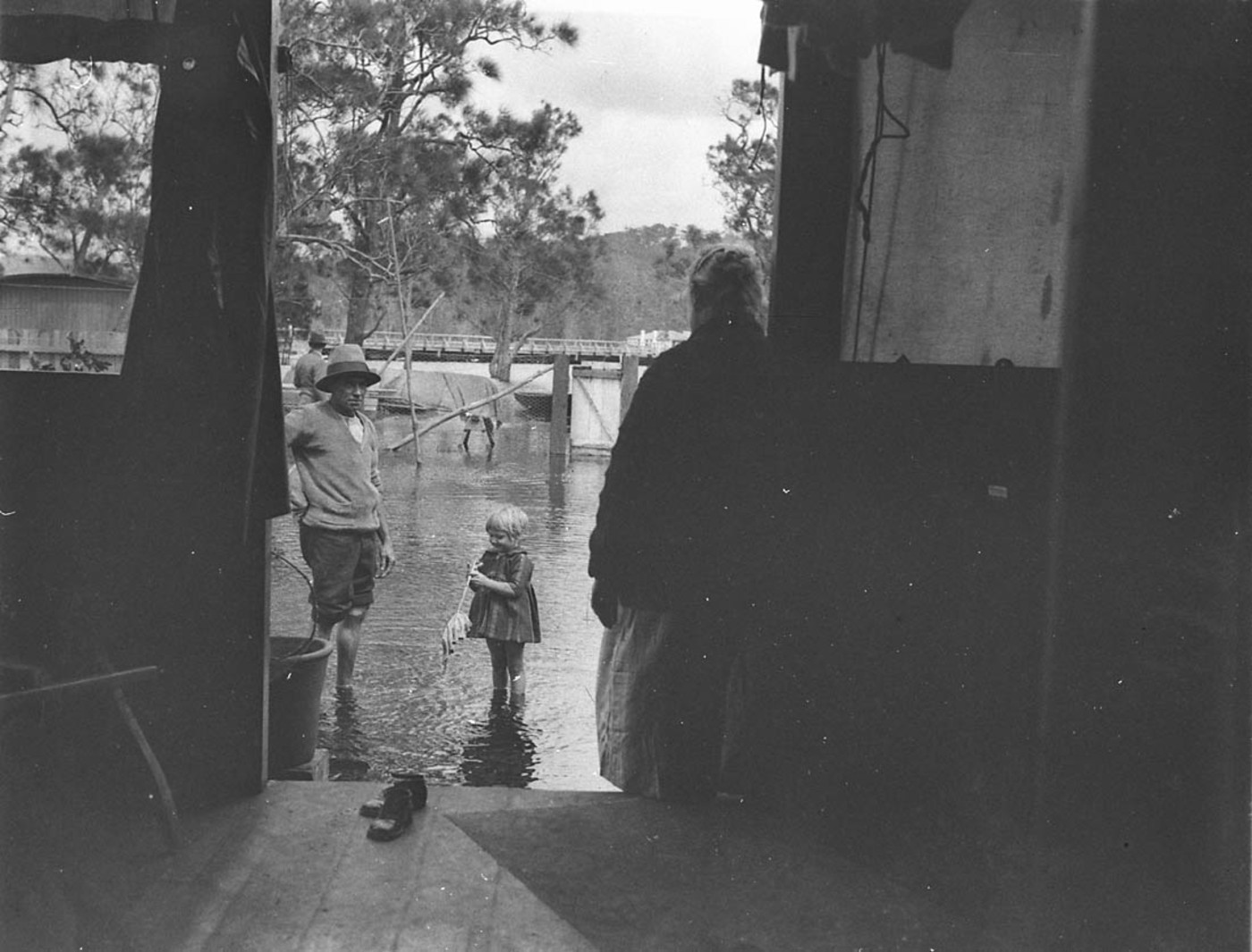 A man, a woman, and a small girl and their flooded house, Narrabeen Image. No: hood_06392h, courtesy State Library of NSW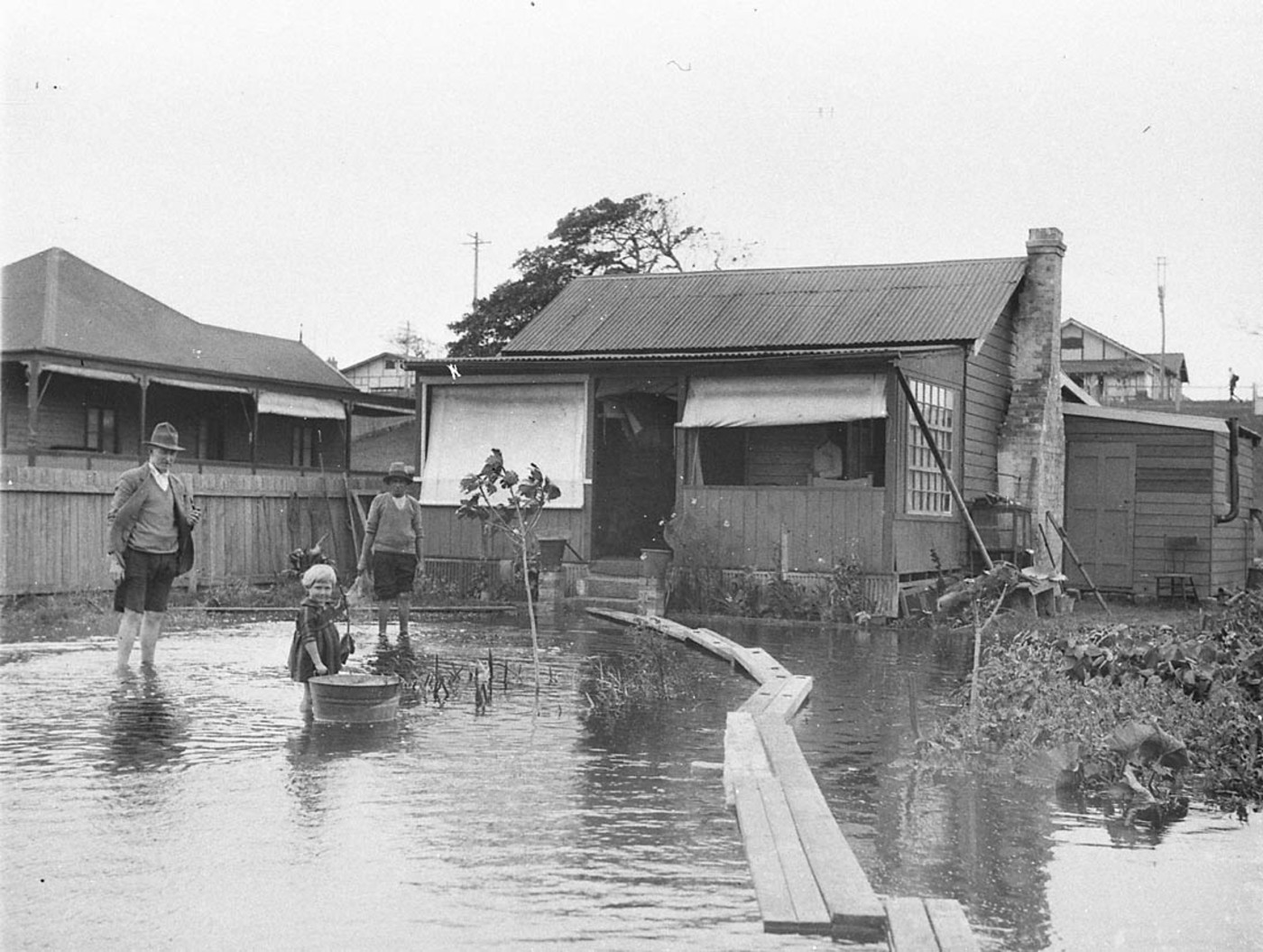 Narrabeen flooding; duck-boards for access Image. No:hood_06402 - all courtesy The Mitchell Library, State Library of NSW, courtesy State Library of NSW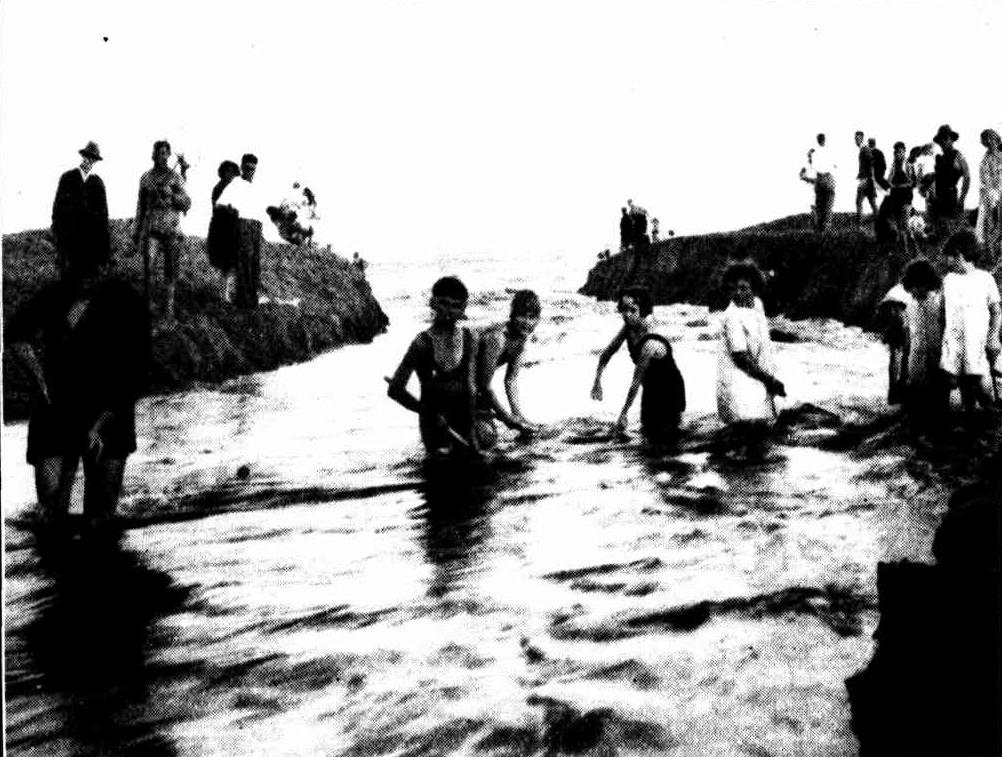 As a result of the recent heavy rains Narrabeen Lake rose to an unusually high level, and some of the streets in the vicinity were flooded. A channel was cut through the sand at the mouth, so as to allow the lake water to run out to sea. The young children in the picture greatly enjoyed themselves in the rushing water,
and they caught many fish in prawn nets.
AT NARRABEEN LAKE. (
1929, April 10
).
Sydney Mail
(NSW : 1912 - 1938), , p. 3. Retrieved from
http://nla.gov.au/nla.news-article166259835
Some November 1927 reports and photos:
NARRABEEN FLOODS FISH INVADE STREET— In this street at Narrabeen. Residents caught whiting and bream last night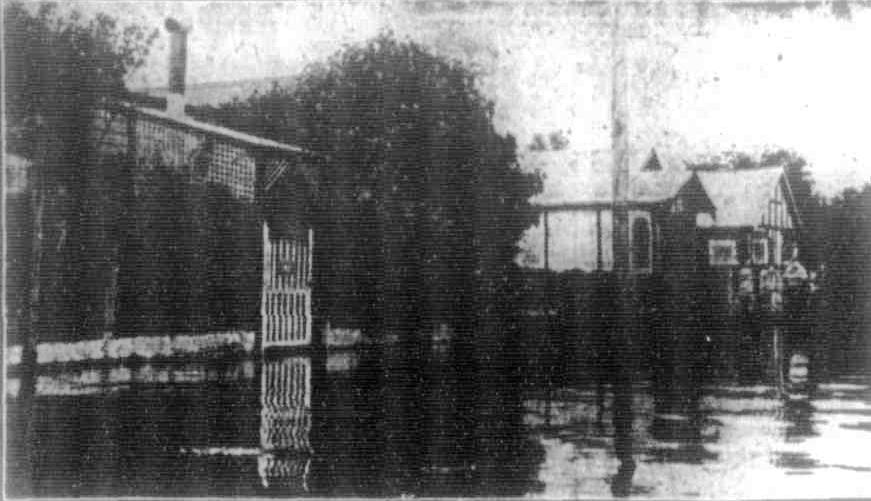 CAUGHT BY FLOOD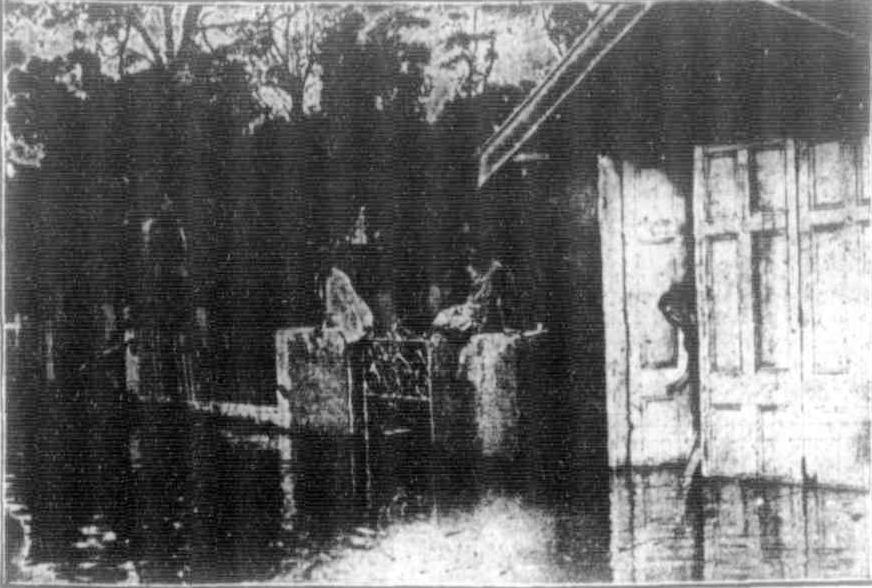 Many residents of Narrabeen were in the same plight as these ladies on Sunday and had to wait till boats arrived to take them off. STARVED SCHOOLS— NARRABEEN FLOODS (1927, November 28). Evening News (Sydney, NSW : 1869 - 1931), , p. 13. Retrieved from http://nla.gov.au/nla.news-article118936894
A MOTOR CAR ON THE PITTWATER-ROAD, NARRABEEN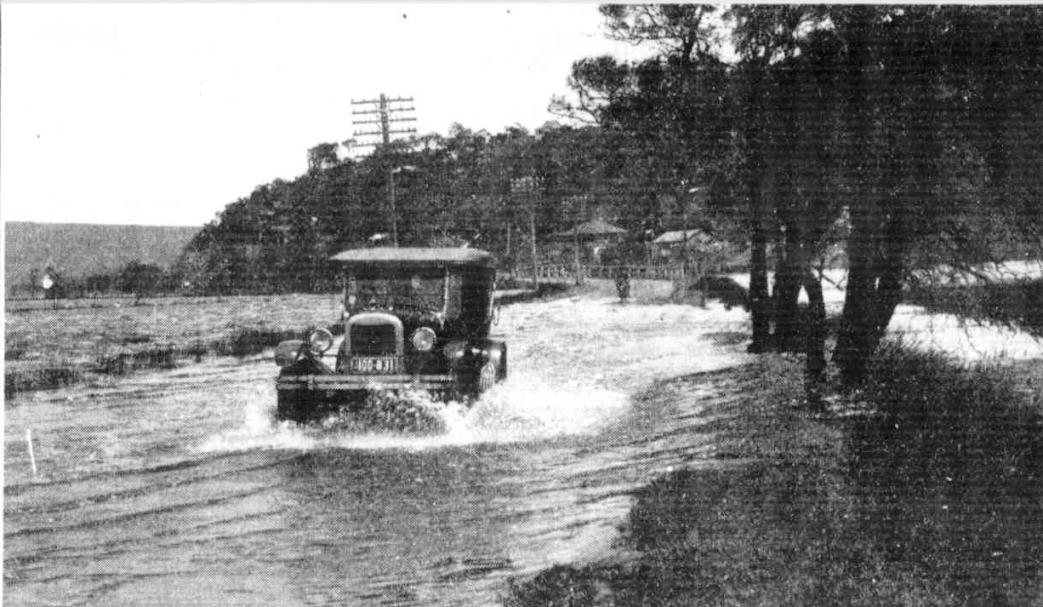 The foreshores of the lake were flooded by the recent heavy rains. The Warringah Council workmen opened a way to the sea on Sunday morning. Forestry, Floods, and Kindergarten Work (1927, November 30). Sydney Mail (NSW : 1912 - 1938), , p. 9. Retrieved from http://nla.gov.au/nla.news-article158295859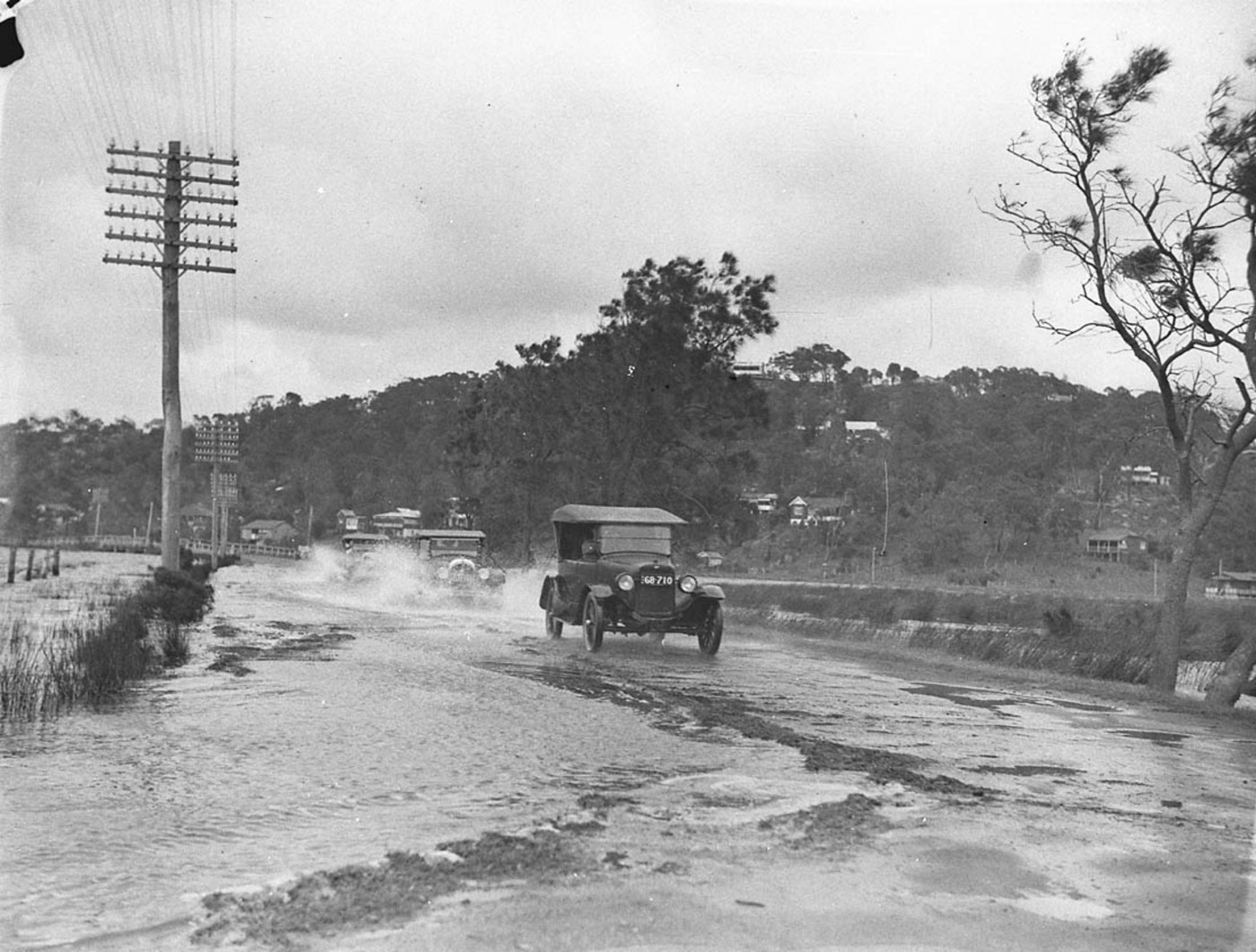 A 1926 Overland, a 1928 (?) Chrysler, and a 1928 (?) Dodge ploughing through Narrabeen floods - November 1927 Image. No: hood_06391- from the collections of the State Library of NSW.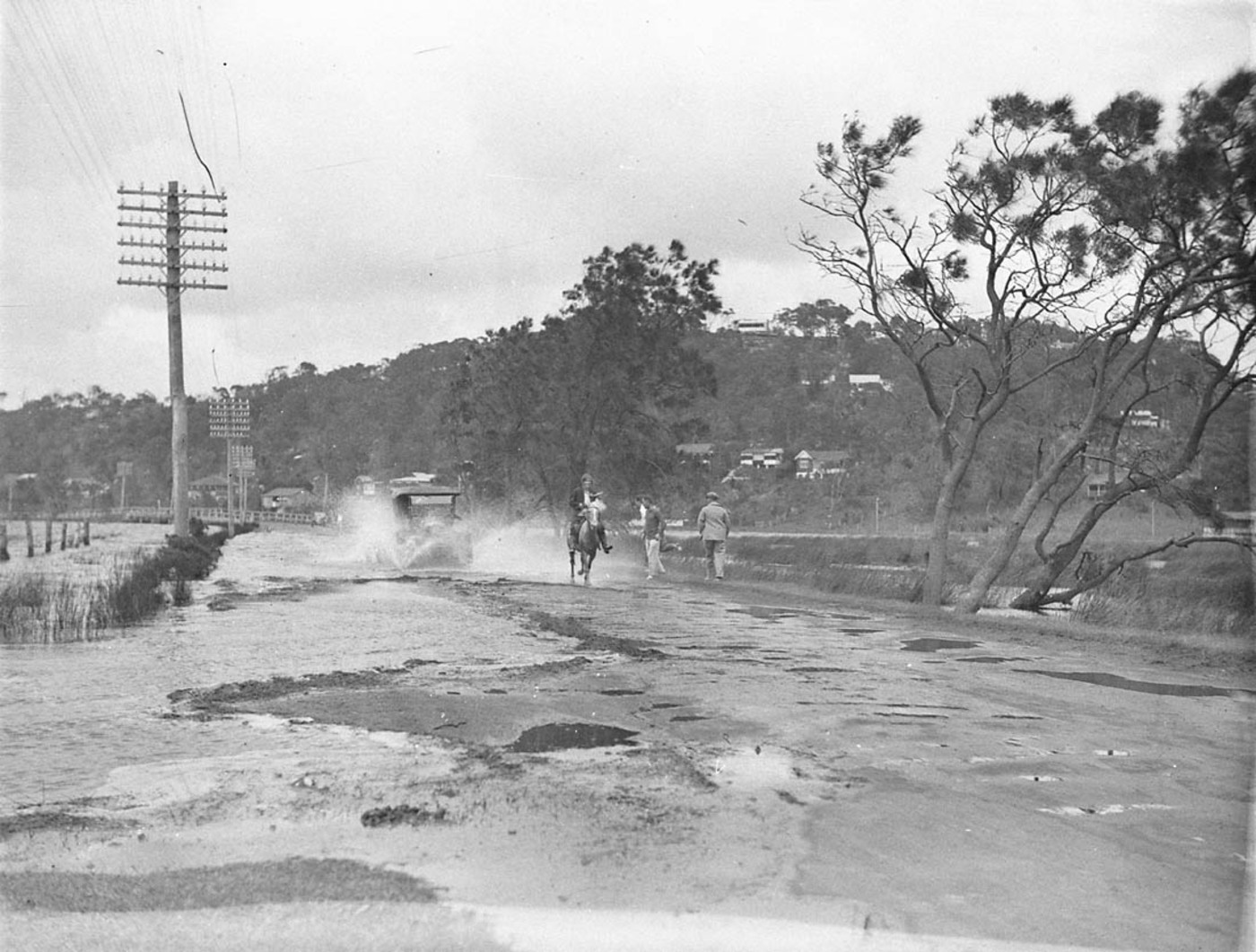 A car and a horse plough through a flooded road, Narrabeen - Image. No: hood-006394 from the collections of the State Library of NSW
The Narrabeen catchment has continued to flood, as have other lagoons along he peninsula:
When the Lakes Overflowed. A
n aerial photograph of the flood at Narrabeen during the weekend. When the Lakes Overflowed (1930, May 7). The Newcastle Sun (NSW : 1918 - 1954), , p. 6. Retrieved from http://nla.gov.au/nla.news-article165793488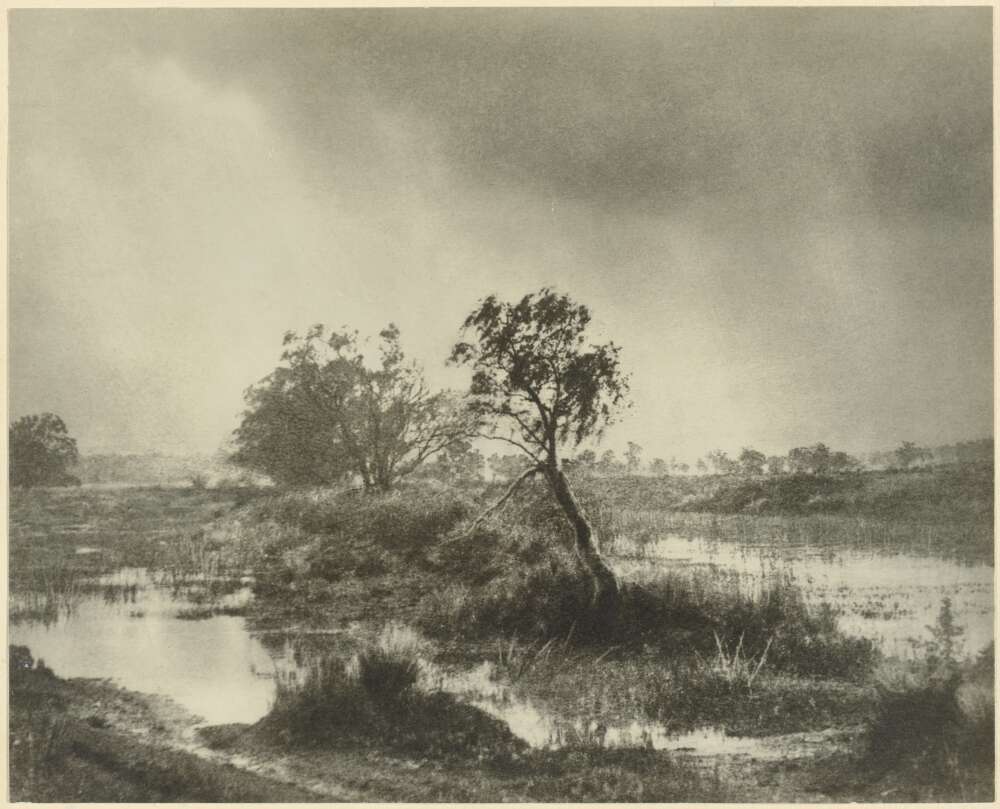 Clearing showers, Narrabeen, New South Wales by Harold Cazneaux(Harold, 1878-1953)circa. 1935. Image No.: 1987425, courtesy National Library of Australia
FLOOD WATERS DELAY MOTORISTS AT NORTH MANLY.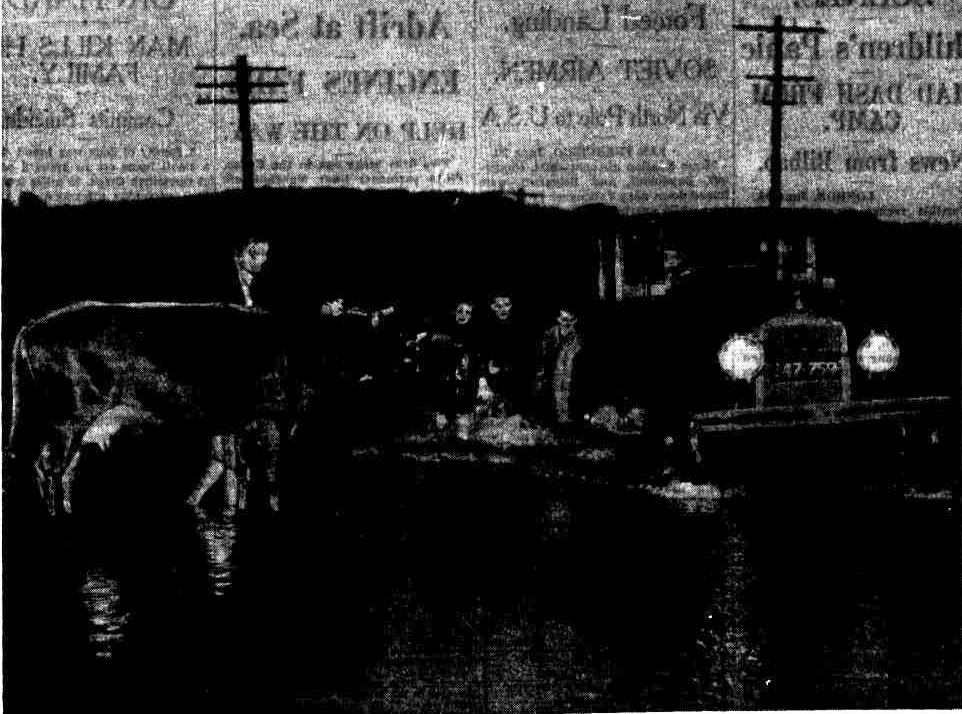 Resulting from heavy rainfall during the week-end, flood waters overflowing from Manly Golf Links caused anxiety to many motorists returning from Narrabeen yesterday. Youthful helpers were ready to assist this driver in the event of engine trouble. FLOOD WATERS DELAY MOTORISTS AT NORTH MANLY. (
1937, June 21
).
The Sydney Morning Herald
(NSW : 1842 - 1954), , p. 10. Retrieved from
http://nla.gov.au/nla.news-article27984430
SYDNEY'S WATER SUPPLY REPLENISHED - FLOODS AT NARRABEEN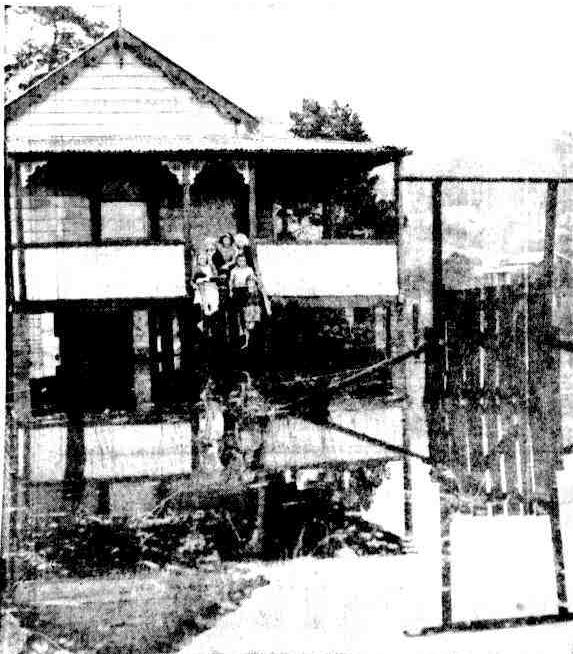 A cottage in Powder Puff Road, Narrabeen, isolated by flood waters yesterday. A scene typical of several in the district after the extensive rains at the week-end.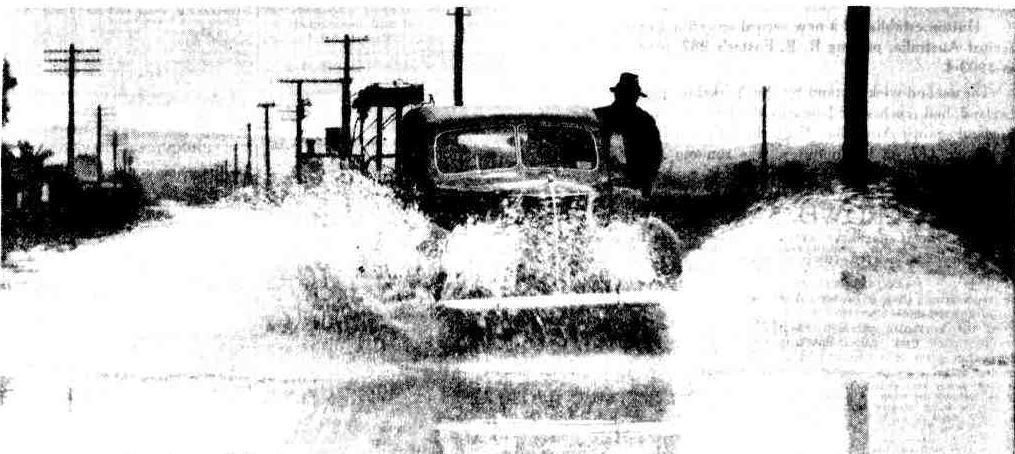 Flood waters at Narrabeen. A Postal department telephone maintenance truck splashing along Powder Puff Road during yesterday's heavy rain. SYDNEY'S WATER SUPPLY REPLENISHED — FLOODS AT NARRABEEN — GOLF CHAMPIONSHIP PLAY IN HEAVY RAIN. (
1938, August 23
).
The Sydney Morning Herald
(NSW : 1842 - 1954), , p. 14. Retrieved from
http://nla.gov.au/nla.news-article17494965
TATTERED TENT TOWN AT NARRABEEN.
Torn to ribbons by wind yesterday morning and flooded by continuous heavy rain, these "homes" in Narrabeen's Tent Town were forlorn and deserted last night.
TATTERED TENT TOWN AT NARRABEEN (
1946, April 17
).
The Sydney Morning Herald
(NSW : 1842 - 1954), , p. 1. Retrieved from http://nla.gov.au/nla.news-article17976502
FLOODED STREET IN NARRABEEN
Gondola Street, Narrabeen, yesterday was flooded and residents thought its name appropriate. John Ashton (on his bike), Eileen Dawson, and Mrs. J. Putsey had to wade through the flooded street to do their shopping.
FLOODED STREET IN NARRABEEN (1946, April 19). The Sydney Morning Herald (NSW : 1842 - 1954), , p. 4. Retrieved from http://nla.gov.au/nla.news-article17976978
STORMS FLOOD SYDNEY SUBURBS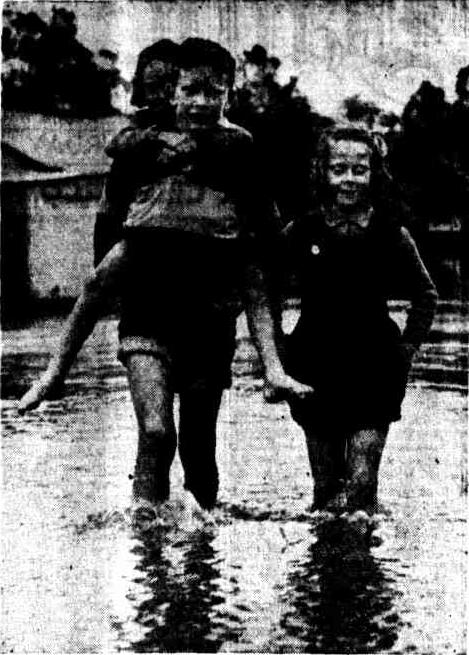 Severe storm damage in Sydney was particularly evident in the seaside suburb of Narrabeen. One street, Gondola-street, was appropriately named, since boats would have been useful. John Pope carried his young sister Valerie, and looked after his other sister Joan, as they crossed Gondola-street. STORMS FLOOD SYDNEY SUBURBS (
1946, April 20
).
Daily Advertiser
(Wagga Wagga, NSW : 1911 - 1954), p. 2. Retrieved from
http://nla.gov.au/nla.news-article145017603
Lower Left: Holiday campers at Narrabeen reserve salvaging their belongings.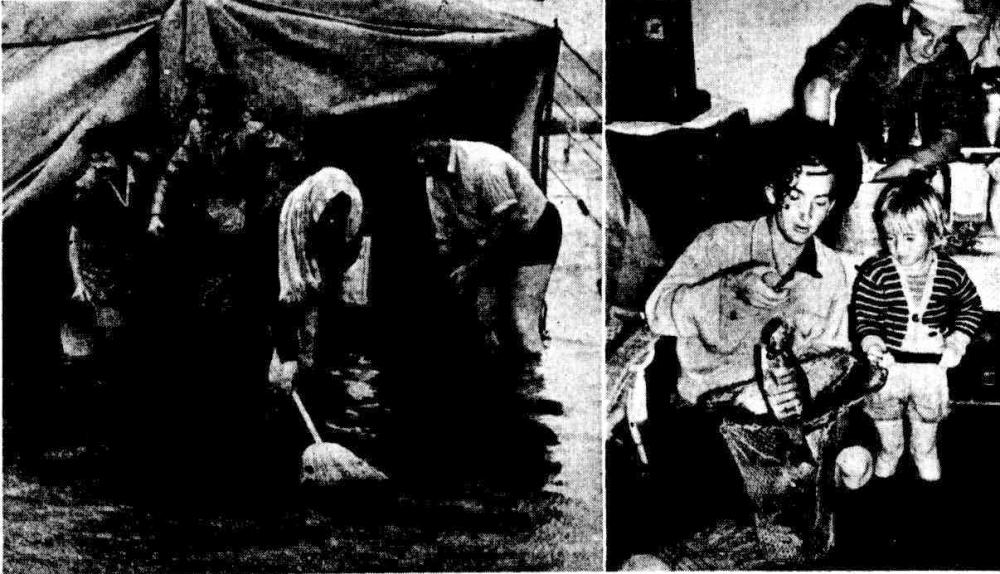 These
are some of the hundreds affected by the flood at the reserve.
Lower Right: Mr. J. Thompson, of Lidcombe, with fish he caught in his tent during the flood at Narrabeen camping reserve yesterday. RAIN SCENES IN SYDNEY YESTERDAY (1949, January 11). The Sydney Morning Herald (NSW : 1842 - 1954), , p. 1. Retrieved from http://nla.gov.au/nla.news-article18091215
This flooded tent at Narrabeen (left) is still being used as a home by Mrs. B. Drake.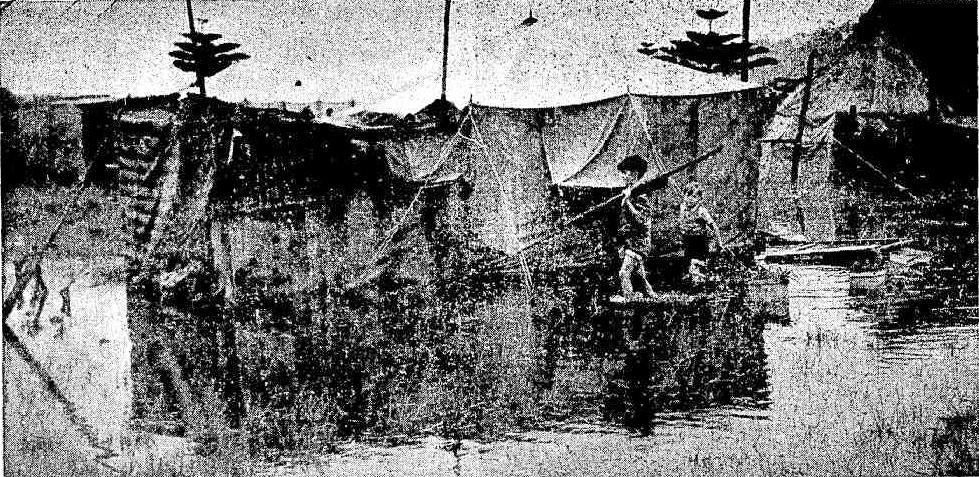 At right, another Narrabeen tent, the floor of which is under two feet of water. In it live Mrs. L. G. Lane and family. FLOOD SCENES YESTERDAY (
1949, June 19
).
The Sunday Herald
(Sydney, NSW : 1949 - 1953), , p. 6 (Features). Retrieved from
http://nla.gov.au/nla.news-article28666153
TENTS FLOODED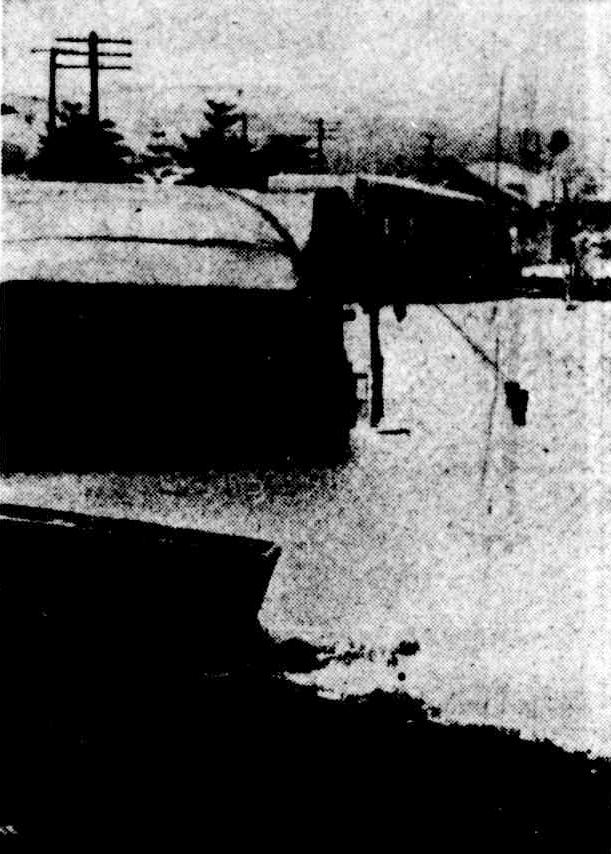 Part of the camping area at Narrabeen which was flooded yesterday. TENTS FLOODED (
1952, August 6
).
The Sydney Morning Herald
(NSW : 1842 - 1954), , p. 4. Retrieved from
http://nla.gov.au/nla.news-article18276459
SYDNEY DELUGED BY HEAVY ALL-DAY RAIN -
LAKE:
Shops in Pittwater Road, Narrabeen, surrounded by a miniature lake yesterday. SYDNEY DELUGED BY HEAVY ALL-DAY RAIN (
1953, May 8
).
The Sydney Morning Herald
(NSW : 1842 - 1954), , p. 5. Retrieved from
http://nla.gov.au/nla.news-article18370080
A land of droughts and flooding rains! - This is what preceded the 1927 drenching:
DRYING UP - NARRABEEN LAGOON RESIDENTS WORRIED
All the northern end of- Narrabeen Lagoon, which for many years has been the Christmas playground of many thousands of -"water-babies," is fast drying up. To-day the ."babies' bath," the local name of the one-time bountiful stretch of shallows that formed the northerly end of the lagoon, is barely knee-deep. With another fortnight of dry weather barely a bucketful of safe paddling water will be available. Only for those who are not- afraid to take headers or "feet-firsters" into the "paddocks," where a powerful sand pump, housed on a flat-bottom punt is working, will the Inner mouth section of Narrabeen have any attraction this year. These paddocks are said to be quite 20ft. deep. Already many of the local residents have forbidden their children to approach them. At the bridge, the north side is all dry sand as flat as a pancake and so level and hard that every other motorist turns off the roadway to have a run on the sand dunes. Already some of the lake-side residents are complaining of the clatter of motors, bicycles and speed cars. Not for 25 years has the lagoon been so dry. All the 100 odd boats owned by the residents and week-enders of the north side of the lagoon frontages are high add dry. Only flood rains will fill the lake again.
Does Water Come Back?
The pumping of the sand and water is being done to improve a private section of swampy land about a quarter of a mile from tho lake shore. "Little or no damage would be done to our end of the lagoon." said a lake-sider yesterday,' "If the water came back again into the lagoon. That is not happening, if pumping is continued for another fortnight, duly the dredge 'paddocks' will cave in." "Representation should Immediately be made to the Public Works Department," he said, "to see If something cannot be done before It Is too late to save some of what Is left of the lagoon for the children at Christmas-time. "Already there are many cancellings of cottages taken for the school holidays. It looks as If we are In for n bad Christmas season." A movement is already on foot to approach the Minister for Public Works to ask that one of the departmental engineers be sent down to. advise Warringah Council or the local residents as to the best course to be taken, to keep sufficient, water In the lagoon to afford boating and swimming facilities. A meeting was held on Friday night at the Narrabeen tram terminus, and a deputation was appointed to accompany Mr. Reid, M.L.A. PIcture: Boats on the edge of what used to be Narrabeen Lagoon.
DRYING UP (1926, December 14). The Sun (Sydney, NSW : 1910 - 1954), , p. 23 (FINAL EXTRA). Retrieved from http://nla.gov.au/nla.news-article224130500
As can be seen from these past
articles
with pictures to prove it, Narrabeen's
permanent
residents
experienced inundations year round and proved themselves resilient whatever the weather
and even
catching
prawns and fish as a result of some storms and their rains.
In Collaroy, with its bare face into the sometimes quick change from end of Autumn mellowness to east lows combined with king tides as Winter abruptly announces its arrival, the sheltering hills surrounding Narrabeen lagoon are not there for a buffer.
With the quickly sprung up homes from the early 1920's on the shift from dunes knitted with plant roots and a beachfront able to readjust itself and its natural rhythms to a place robbed of its ability to restore itself, and structures made for hot Summer evenings from thin sheets of fibro or thin boards and sheets of tin, the first real storms to hit the 'new' resort resulted in destruction.
Collaroy's Long Succession of Storms at the End of May and Early June
These early photos showing damage to homes at Collaroy were recorded in a storm of 1925 where 20 homes are stated to have been ruined - those that follow all stem from the last week of May until mid June - coincidence? - possibly not... however, storms come all year round as well - as has been shown by recent events. Some insights from the pages of the Past:
FIERCE STORM SWEEPS COLLAROY
Collaroy was practically the centre of the fierce squall which swept Sydney last night. Cottages were unroofed and moved bodily from their foundations. Today all was chaos. The heavy rain had soaked through the roofless dwellings causing a night of misery. The house on the left is off its foundations that on the right completely unroofed.
FIERCE STORM SWEEPS COLLAROY (1925, May 26). Evening News (Sydney, NSW : 1869 - 1931), , p. 1. Retrieved from http://nla.gov.au/nla.news-article117457149
GALE AT COLLAROY. COLLAROY RECEIVES FULL FORCE OF BIG GALE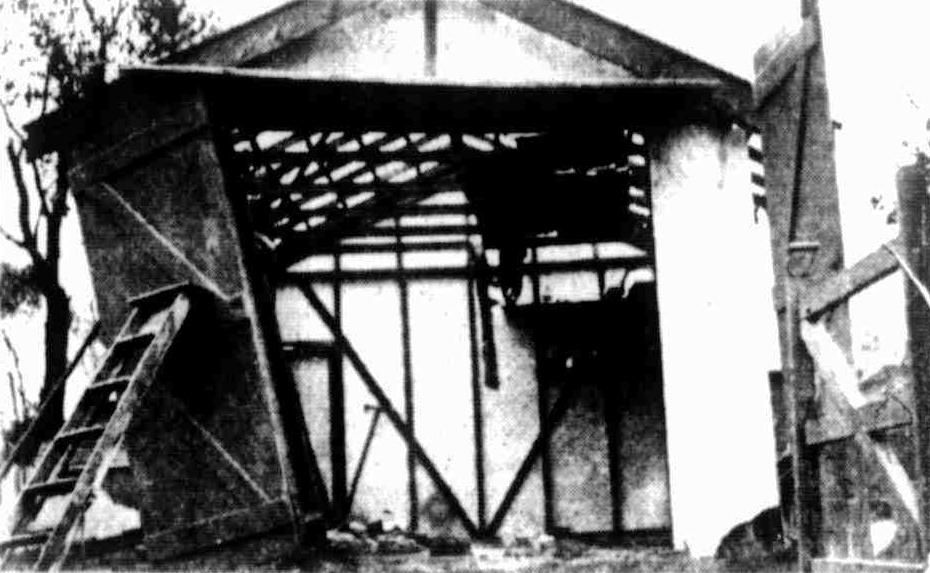 DAMAGE AT COLLAROY. -A close Up view of one of the wrecked cottages at Collaroy. All the foundations of this building have been shattered.
THE GARAGE SUFFERS —In Fielding street, Collaroy.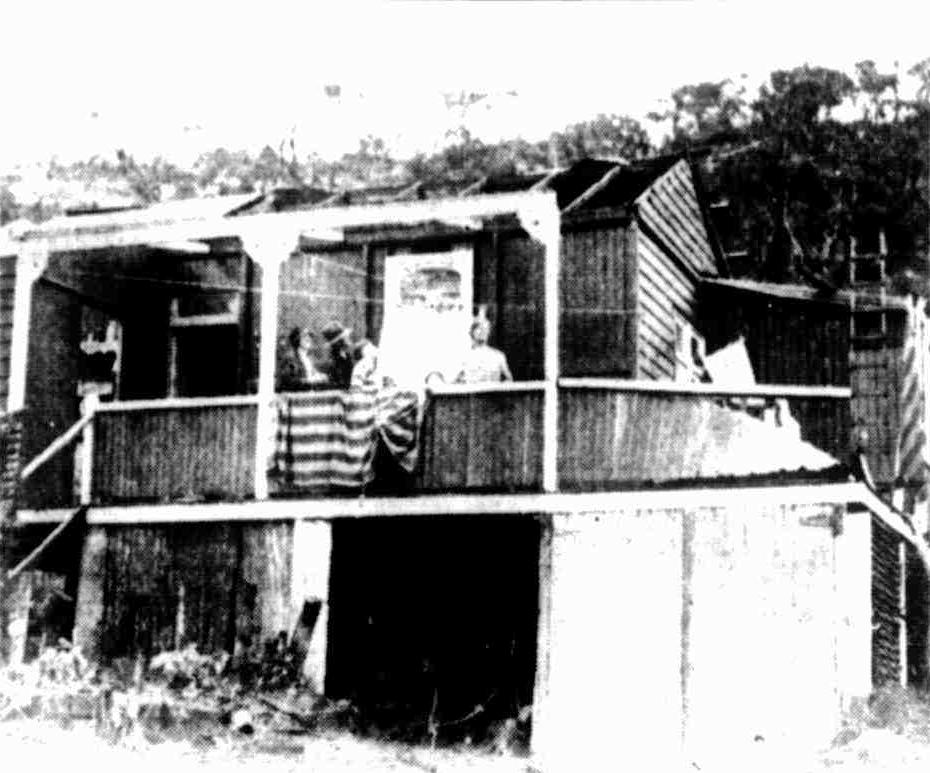 THE HOUSES IN THE AVENUE at Collaroy were also extensively damaged.
CYCLONE FOLLOWS DELUGE COTTAGES WRECKED.
The full force of the storm was felt at Collaroy about 4.30 a m yesterday. Heavy rain fell during the previous afternoon and evening and although the deluge, which wrought so much havoc further along the coast did minor damage the residents of Collaroy retired with the sense that there was no further danger.
Early yesterday morning however the wind began to increase and heavy rain again began to fall. By 4 30 a m the wind had increased to almost hurricane force coming from the east-north-east. Blinding rain accompanied the wind, and many of the residents, awakened by the howling of the wind took the precaution of making their homes as snug as possible while the storm continued. Blinds and other light movable articles began to feel the effects of the gale and in several cases, outbuildings succumbed under the early gusts.
The Collaroy and Narrabeen districts generally suffered damage, but the locality between the Collaroy tram section and Narrabeen Public School suffered to the greatest extent. The centre of the damage was in the vicinity of Fielding street and the Avenue Collaroy, where eight cottages were wrecked. The devastated area was only about a chain in width. Roofs were lifted off the weatherboard cottages as though they were sheets of beaver-board and the occupants of the cottages went through a trying ordeal. The rain was still falling in torrents and the wind seemed to be increasing every minute.
Many buildings were creaking ominously and the crashing of galvanised iron, as the sheets of rooting material lifted into the air fell to the ground, caused great alarm among the occupants of the houses, which were being roughly handled by the storm. Rain poured Into the unroofed buildings and much damage was also done.
The wind was so terrific that one cottage In the Avenue was lifted bodily off Its foundations and carried several yards away. The building fortunately was unoccupied. for the structure was badly wrecked. The occupants of the damaged houses were cared for by neighbours.
When dawn came there was a scene of desolation. Sheets of galvanised Iron were scattered about and the devastated area was littered with debris. In one instance a sheet of galvanised iron was found suspended in a tree about 600 feet awav from the cottage from which It had been lifted.
It is fortunate that Narrabeen Lake Is running out to sea as otherwise the sudden rainstorm would have resulted in serious damage In that locality.
Many also suffered to a lesser degree, many residences receiving minor damage. The Corso and other thoroughfares were flooded the water in some portions of the former being about a foot deep. The low-lying parts of the Village were inundated and the Manly Oval was covered with water. At North Manly and in the district towards Brookvale the rain was also heavy and the lower portions were flooded. Manly Reservoir was filled by Monday night rain, and yesterday was overflowing. GALE AT COLLAROY. (1925, May 27).The Sydney Morning Herald (NSW : 1842 - 1954), , p. 15. Retrieved from http://nla.gov.au/nla.news-article16215171
SCENES AFTER THE STORM IN SYDNEY.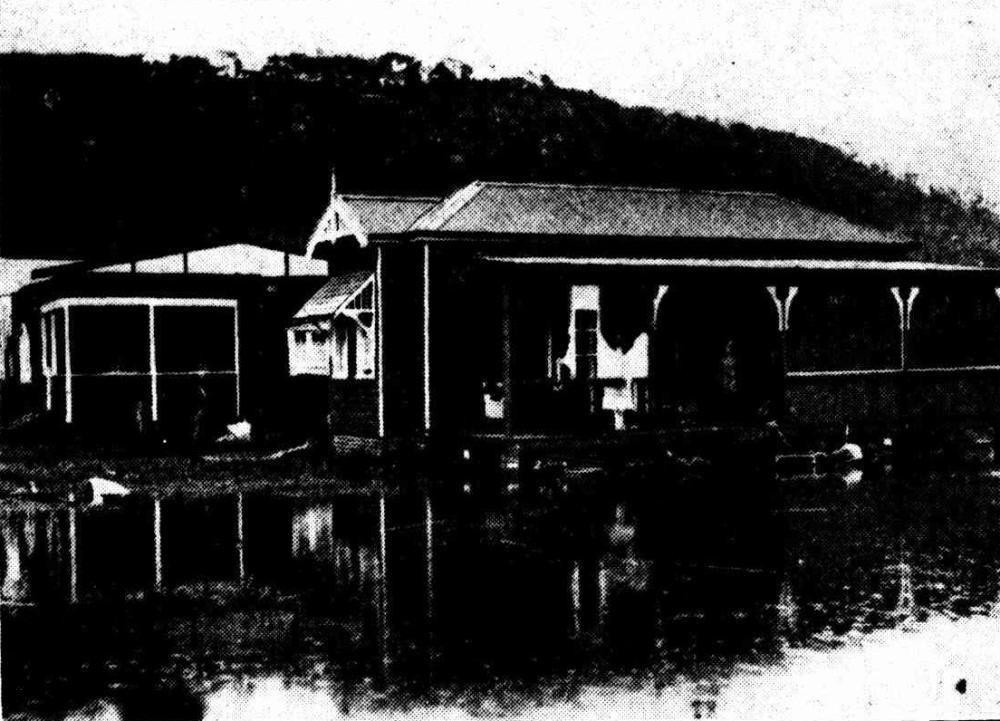 THERE WERE MANY MINIATURE LAKES AT COLLAROY YESTERDAY MORNING. EVERY PLACE IN THE LOW LYING PORTIONS WAS FLOODED.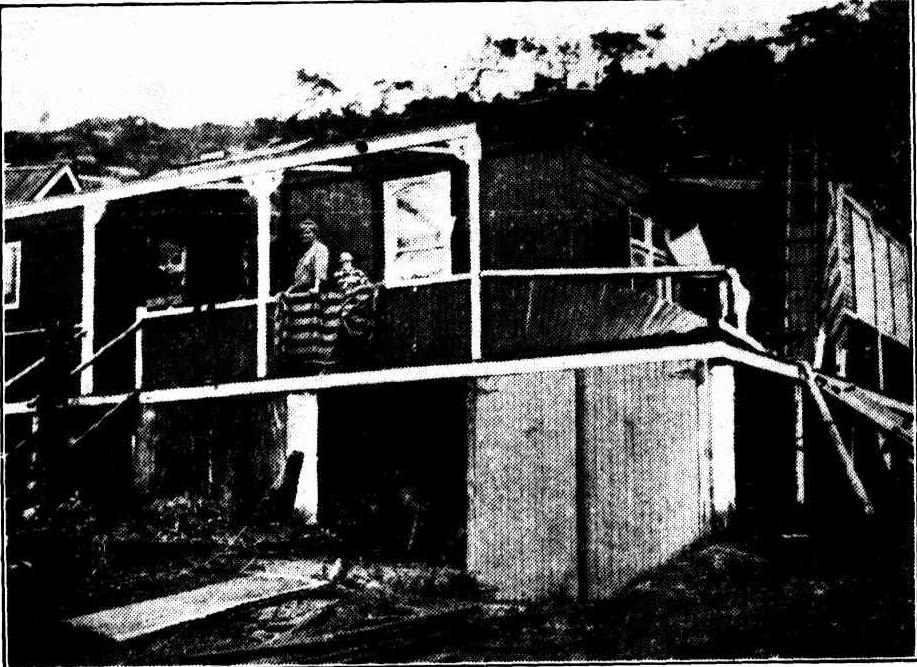 ONE OF THE HOUSES AT COLLAROY WRECKED BY THE STORM. SCENES AFTER THE STORM IN SYDNEY. (1925, May 27). The Sydney Morning Herald (NSW : 1842 - 1954), , p. 18. Retrieved from http://nla.gov.au/nla.news-article16215225
Twenty Houses Unroofed at Collaroy
ANOTHER TERRIBLE STORM DURING NIGHT Widespread Floods and Extraordinary Wind Pranks
Another furious storm swept Sydney and the suburbs early this morning, adding lo the damage caused by the deluge of the previous evening. At 4. 30 a.m. a cyclone, the path of which was not more than half a mile wide struck Collaroy. About 20 houses were unroofed. Some of the roofs were blown 500 yards away. This was the greatest damage, but floods were reported from many suburbs, particularly Marrickville, Sydenham and Upper Cook's River became a roaring torrent. There was a wild time at sea, and the Moeraki kept off the Heads till daylight. The wind changed rapidly from S.W. to E. then to E. by N.
Manly 675 points, Mosman 550 points. Strathfield 382 points, Roseville 335 points, Hurstville 311 points. Riverview 303 points. These were some of the heaviest registrations this morning in the rain gauges dotted over the metropolitan area. And In some suburbs about half the rain fell In the drenching downpour that came, with vivid lightning and crackling thunder just as the city crowds were going home yesterday evening. But more rain fell later at night, and in the early hours of this morning. Mosman, for instance, got an additional 190 points. When the storm raged in its first fury the wind in the city attained a velocity of 30 miles per hour, but the wind speed was greater out to-City Forecast.— Unsettled, with further rain, and probably another thunderstorm; heavy showers; strong south-east winds to gale force towards evening and at night; rough sea. New South Wales.— Improving in the north-west, but otherwise still unsettled, with further rain, heavy and with flood falls in the coastal districts from Sydney southwards; strong south-east winds to gales on the central and South Coast ; south-west to west winds chiefly else-where. Ocean Forecasts.— -Cyclonic storm centred off the east coast south of Newcastle, causing strong south-east winds to gales and rough seas from Bass Straits to Sydney and eastward over the Tasman Sea; freshening west to south west winds around the south-west corner of the continent.
Towards the open seaboard — at some points very much more. In some parts the storm about 4 o'clock this morning was even more furious than last night. Very often, according to Mr. Mares, when a severe thunderstorm such as Sydney had yesterday, is associated with cyclonic conditions, there may follow it tornadic squalls of sharp severity. Doubtless one of those squalls struck Collaroy, and did the damage there. The path of the squall was probably narrow. The wind veered extraordinarily during this morning's storm. CYCLONE FOLLOWS DELUGE (1925, May 26). The Sun (Sydney, NSW : 1910 - 1954), , p. 10 (FINAL EXTRA). Retrieved from http://nla.gov.au/nla.news-article224051766
SYDNEY'S GREAT STORM CYCLONE AT COLLAROY SYDNEY, Tuesday. Last night's rainstorm was followed by a cyclonic disturbance this morning. Collaroy was the principal sufferer. Fortunately the path of the storm was narrow, but almost every residence suffered. In some cases roofs were carried away, but in a few cases houses were hurled from their foundations. The roofs of some residences were carried some hundreds of yards along the roadway. Early this morning the wind at South Head attained a velocity of 50 miles an hour, and the steamer Moeraki hove to until 8 o'clock. A statement issued by the Tramway Department today showed that on nineteen lines derailments occurred during the storm last night. At Neutral Bay traffic was suspended for almost four hours. SYDNEY'S GREAT STORM (1925, May 27). Newcastle Morning Herald and Miners' Advocate (NSW : 1876 - 1954) , , p. 7. Retrieved from http://nla.gov.au/nla.news-article137830294

COLLAROY BEACH

The Under-Secretary for Lands has informed Warringah Council, in reference to the proposed Collaroy Beach resumptions, that contracts for purchase were entered into with certain of the owners of the beach frontage lands, and that these were now with the Crown Solicitor to complete the purchase. It was expected that this would be done shortly. COLLAROY BEACH (1925, June 19).Evening News (Sydney, NSW : 1869 - 1931), , p. 9. Retrieved from http://nla.gov.au/nla.news-article113925677
See Extras – this had already been mooted under another scheme and was not connected with the storm damage of May 1925.
GALE IN SYDNEY. ROUGH SEAS OFF COAST. Sydney. Sunday..
Extremely unpleasant weather prevailed today, when a westerly gale caused the thermometer to fall to 43 degrees, which is extremely cold for Sydney. Rough seas prevailed on the coast, with prospects of the storm increasing in intensity. The gale did: considerable minor damage to houses and shops in the suburbs, many windows being blown in. A wall was blown down at Marrickville, and fell on Walter Holmes Wickham, aged 7 years, who was playing beneath it. He was taken to hospital in a critical condition, suffering from scalp, leg and back injuries. A launch party of four were blown to sea off Collaroy, but after a strenuous struggle with the waves, managed to beach their craft. They were in an exhausted condition. The cyclone was stated to have extended all along the south coast as far as Tasmania and Victoria, and was expected to continue. GALE IN SYDNEY ROUGH SEAS ON COAST (1929, June 11). Barrier Miner (Broken Hill, NSW : 1888 - 1954), , p. 3. Retrieved from http://nla.gov.au/nla.news-article46064332
More Collaroy and Manly men proficient at sea and an insight into how quickly June seas may change
YACHT IN TOW. Launch's Hazardous Trip. PITTWATER TO BALMORAL
Mr. H. P. Woolcott, of the Corso, Manly, told a graphic narrative yesterday of a launch's battle with the storm. With a yacht containing two youths in tow, the launch fought a hazardous wav from Pittwater to Balmoral. The voyage occupied from 6.30 p.m. on Monday to 2 a.m. on Tuesday.
Mr. Woolcott said that on Monday after-noon he was fishing with a companion, Mr. Frank Manieri, of Collaroy, in a 23ft launch on Barrenjoey. The seas became so high that they decided to put into Pittwater. There two youths in a small yacht persuaded the men in the launch to tow the yacht back to Balmoral, a distance of about 29 miles. As there appeared to be a lull in the weather, Messrs. Woolcott and Manieri thought they would have nothing more to fear than a heavy swell, and set off at about 6.30 p.m.
When they were off Barrenjoey, a strong wind got up" from the south-west, and when they were of! Newport beach terrific seas were running. Both tow-ropes parted, and the yacht swung oil like a cork. By skilful manoeuvring the men on the launch succeeded in getting another rope aboard the yacht, and set off again. Near Long Reef the rope parted again, and with great difficulty was again secured. Both craft had shipped water, and the yacht was pitching alarmingly, but the sea was running too high to permit them to put into shore.
"Our position seemed desperate," said Mr. Woolcott. "Our petrol v-as giving out, and to add to our troubles the tow-rope parted for the third time. We secured it again, cased the engine down, and crept along the coast to North Head. Swinging wide, we ran into the harbour with the sea. I have never seen such a sea. One moment we were hurled high in the air; the next we were wallowing in the trough. The yacht was a dead weight, and the strain on the launch was so terrific that the tow-rope parted twice before we were able to pass Middle Head. Finally, we tied up at Balmoral wharf about 2 o'clock on ¡Tuesday morning. It was a nightmare experience!" YACHT IN TOW. (1935, June 20). The Sydney Morning Herald (NSW : 1842 - 1954), , p. 8. Retrieved from http://nla.gov.au/nla.news-article29536644
World War II meant most of these wives husbands were not at home:
TERRIFIC STORM
SYDNEY, Thursday.— Terrific seas pounded Sydney beaches last night and at Collaroy women and children had hours of terror as the surf swept across the beach up to their back doors. The storm, which residents describe as the worst in 30 years, left a scene of damage and desolation. Many houses had the fences torn down. TERRIFIC STORM (1944, May 26). Daily Mercury (Mackay, Qld. : 1906 - 1954), , p. 3. Retrieved from http://nla.gov.au/nla.news-article170863208
Although these images are less than perfect, they're included as the items give you the names of people who lost part, or all of their homes -
ROUGH SEAS DAMAGE COLLAROY HOMES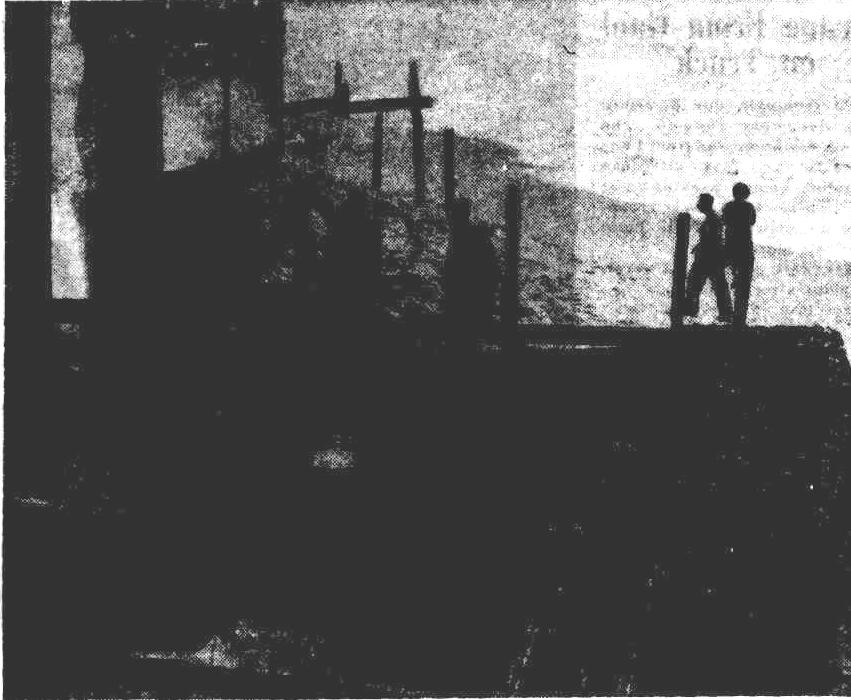 Heavy seas which pounded Sydney beaches yesterday did considerable damage to properties at Collaroy, where some sea-side homes had part of their frontages completely washed away. The above picture shows the laundry, undermined and collapsed, at the home of Mrs. B. M. Cookston. The foundations at the back of the house were washed away. ROUGH SEAS DAMAGE COLLAROY HOMES (1944, May 26). The Sydney Morning Herald (NSW : 1842 - 1954), , p. 3. Retrieved from http://nla.gov.au/nla.news-article17908510
SYDNEY DELUGE
Torrential rain fell in Sydney last night and early this morning. Gutters ran bankers and floodings occurred in low-lying areas. Between 3 p.m. yesterday and 2 a.m. to-day more than an inch of rain was registered at the Weather Bureau. At Collaroy heavy seas again made inroads; on the beach and the sand-bags placed there after heavy storms last year were breached. SYDNEY DELUGE (1945, June 12). The Sydney Morning Herald (NSW : 1842 - 1954), , p. 1. Retrieved from http://nla.gov.au/nla.news-article27937012
SEAS WRECK HOME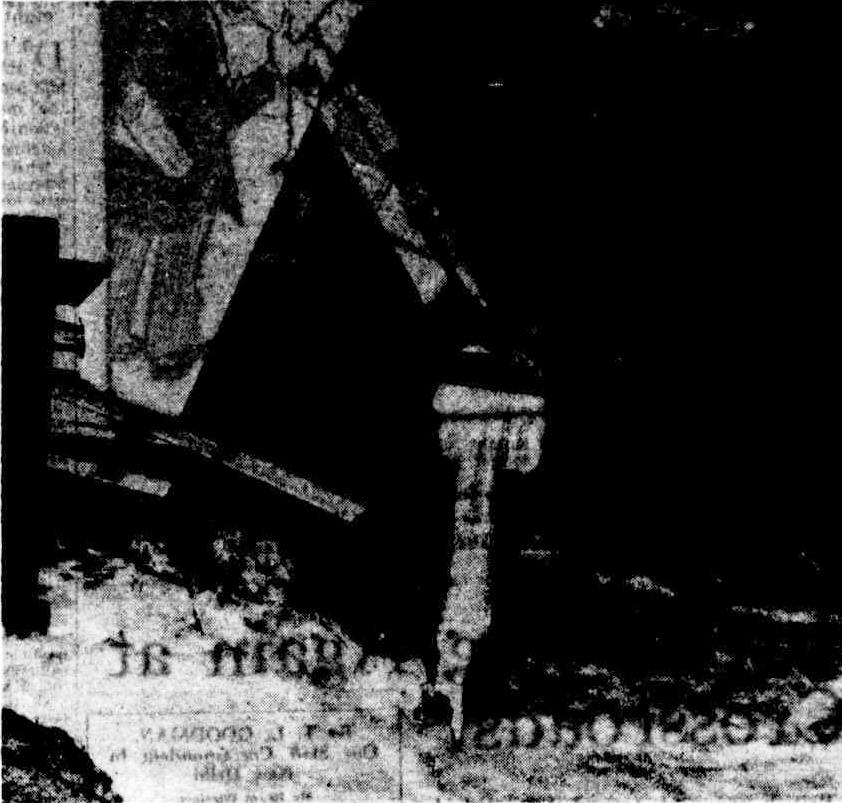 Mr. R. Macgregor's house at Collaroy was destroyed by heavy seas last night.. The house faced the beach, and throughout the day the sea undermined the foundations. The owner's belonging were moved before the house broke up. (See this paper and page 4.) SEAS WRECK HOME (1945, June 13). The Sydney Morning Herald (NSW : 1842 - 1954), , p. 1. Retrieved from http://nla.gov.au/nla.news-article17935062
COLLAROY HOME ENGULFED BY SEA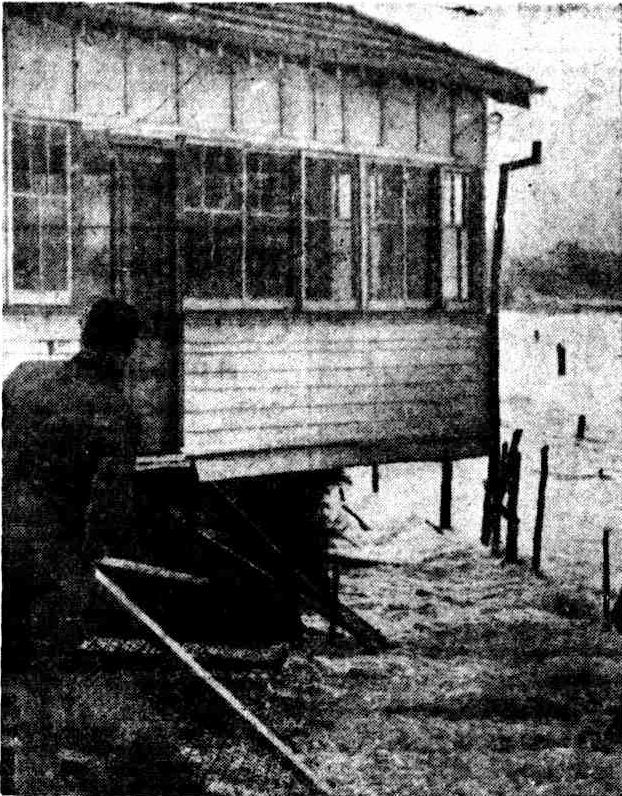 One of the three waterfront homes washed away at Collaroy last night. This picture was taken yesterday afternoon, when the encroaching sea had swept away the brick piles supporting the house. Originally the expanse at the right was a flower garden. It is feared that six more Collaroy homes will be destroyed. See Story, Page 1. COLLAROY HOME ENGULFED BY SEA (1945, June 13). Newcastle Morning Herald and Miners' Advocate (NSW : 1876 - 1954) , , p. 4. Retrieved from http://nla.gov.au/nla.news-article134999958
Houses Washed Out To Sea STORM DAMAGE AT COLLAROY
SYDNEY. Tues : Three modern homes were washed out to sea and six others badly damaged when flood waters turned portions of Collaroy into a mad whirlpool throughout the afternoon and night. The homes were situated on the sea edge between Jenkin and Collaroy streets. Police ordered the occupants to evacuate early this afternoon, but many refused to leave and were forced to stand by and see their homes washed away. Remains of a wreck washed on to the rocks two years ago have gone back into the sea. Houses Washed Out To Sea (1945, June 13). Daily Advertiser (Wagga Wagga, NSW : 1911 - 1954), p. 5. Retrieved from http://nla.gov.au/nla.news-article144975256
SAND ON TRAMLINES AT MAROUBRA
Storm damage to houses and tramlines was done yesterday by the exceptional rains. Top: The gale swept sand from the dunes on to the tramlines at Maroubra, and it had to be shovelled away.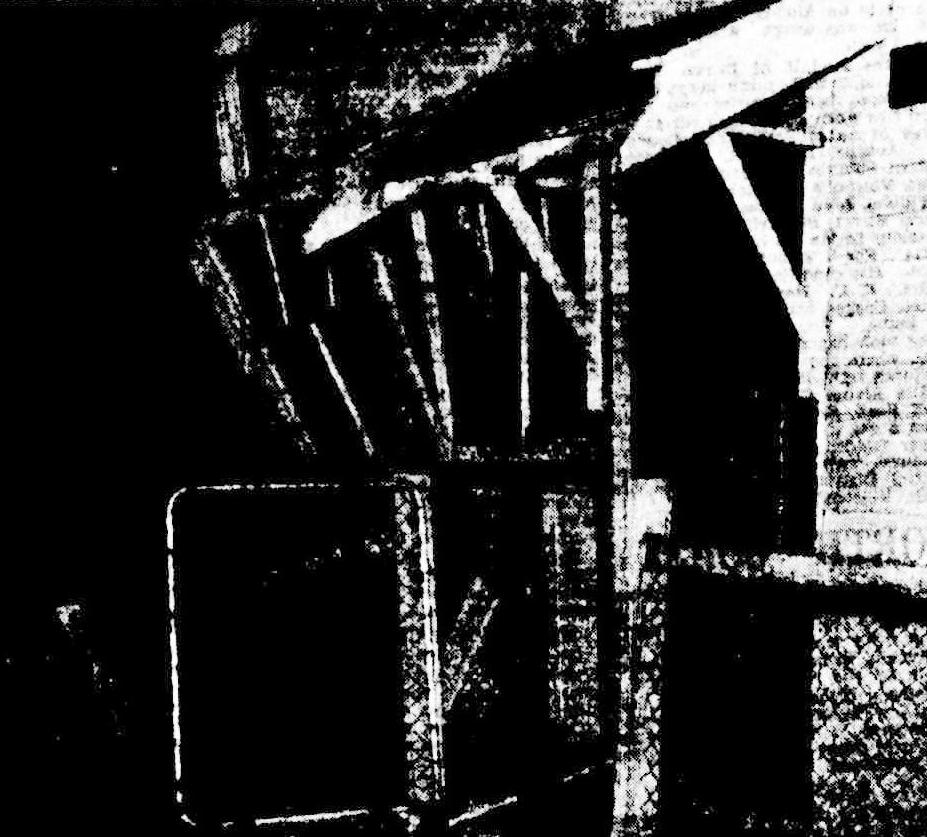 Bottom: Houses on the waterfront at Collaroy were severely damaged when the sea broke through.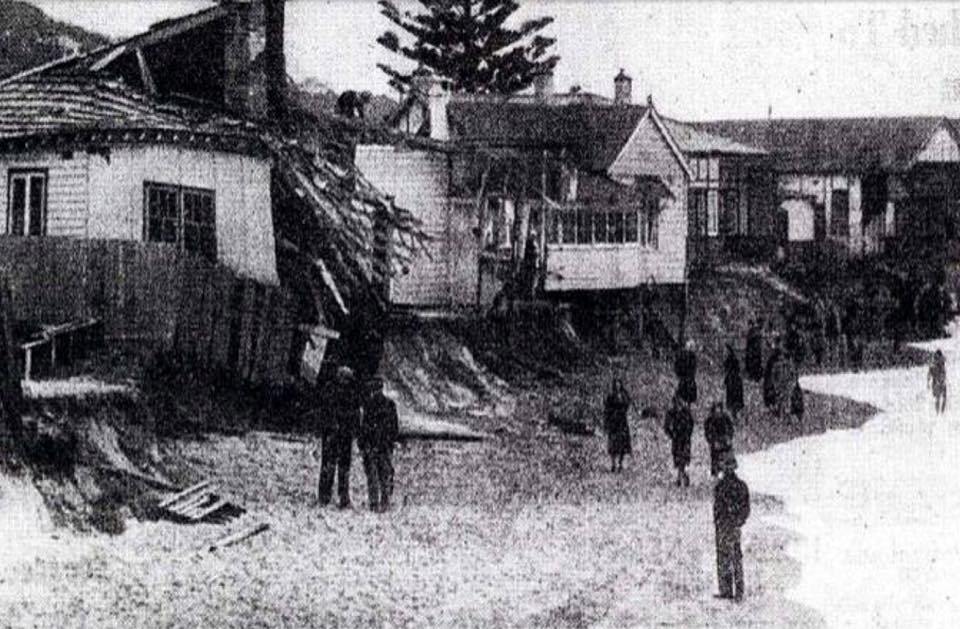 SAND ON TRAMLINES AT MAROUBRA (1945, June 13). The Sydney Morning Herald (NSW : 1842 - 1954), , p. 3. Retrieved from http://nla.gov.au/nla.news-article17935124
An earlier example of what happens at Collaroy also happens at Narrabeen and Manly:
Storm Damage in Sydney :: Serious Floods at Lismore

ALL THAT WAS LEFT OF A £2,000 HOUSE at a beach north of Manly, Sydney, after the huge waves had encroached on the foreshore during the height of the cyclonic storm this week. Many homes at Collaroy and Narrabeen were wrecked.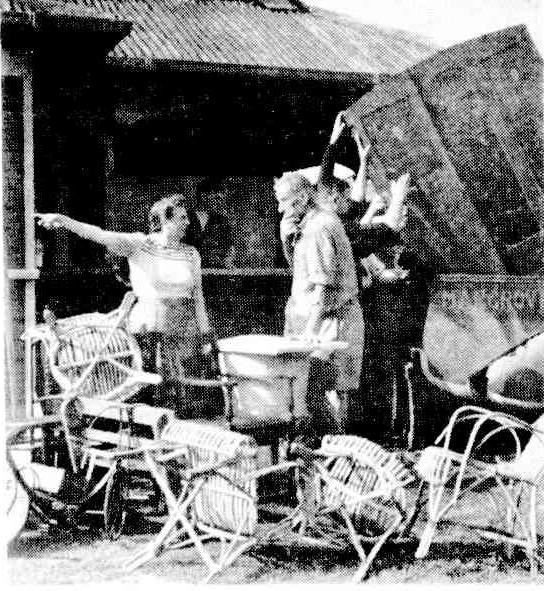 RESIDENTS AT NARRABEEN removing furniture from their homes, which were rendered uninhabitable by the storm. Roofs were torn off some houses.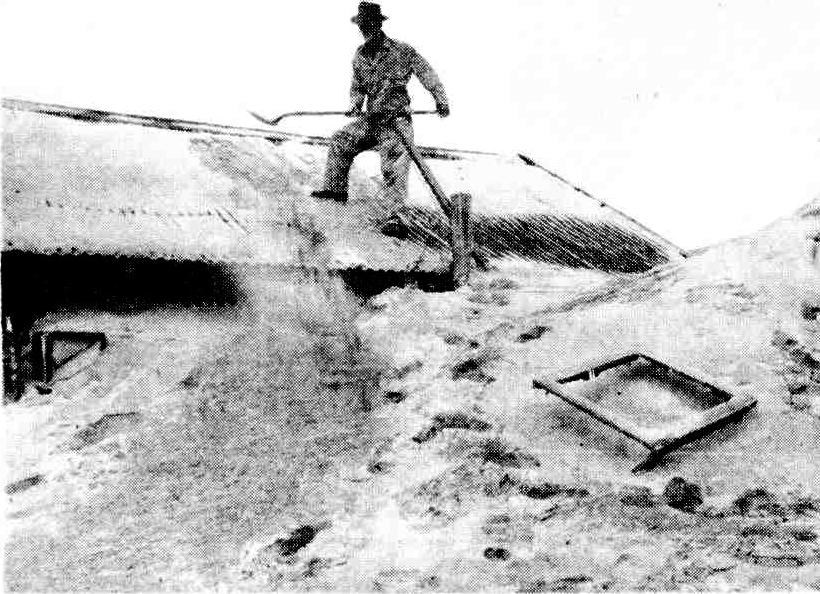 WHIPPED OFF THE BEACH and driven by the cyclone this sand was piled up to the roof of a garage, at Narrabeen peninsula. Most outhouses adjoining the beach were buried by sand. Storm Damage in Sydney:: Serious Floods at Lismore (1945, June 15). The Argus (Melbourne, Vic. : 1848 - 1957), , p. 9. Retrieved from http://nla.gov.au/nla.news-article980260
Recycling war cement:
TANK TRAPS TO PROTECT HOMES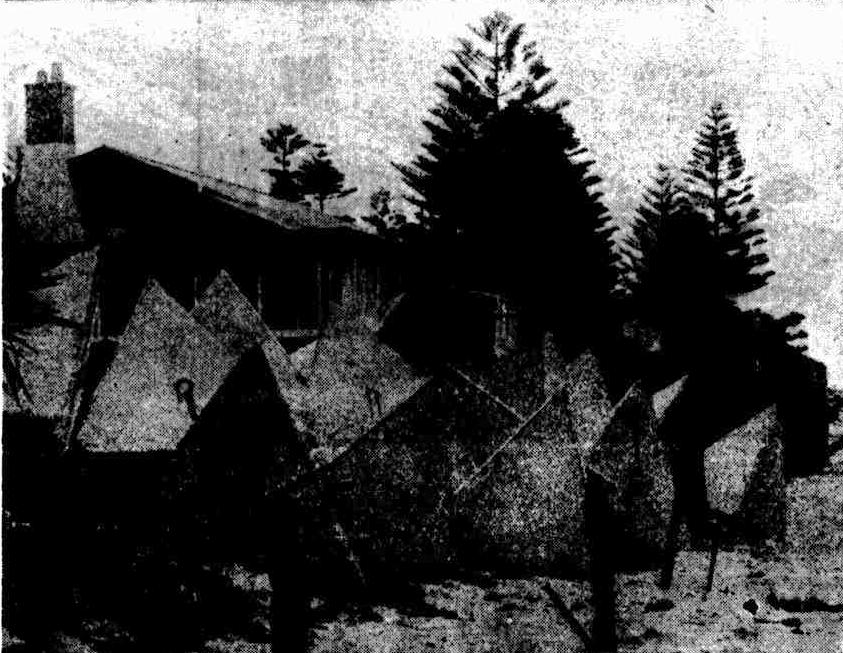 Triangular anti-tank traps have been placed along the beach at Collaroy to prevent washaways of gardens and homes on the waterfront. During heavy storms last year several homes were severely damaged in this area. TANK TRAPS TO PROTECT HOMES (1946, February 14). The Sydney Morning Herald (NSW : 1842 - 1954), , p. 3. Retrieved from http://nla.gov.au/nla.news-article17970399
TANK TRAPS TO PROTECT HOMES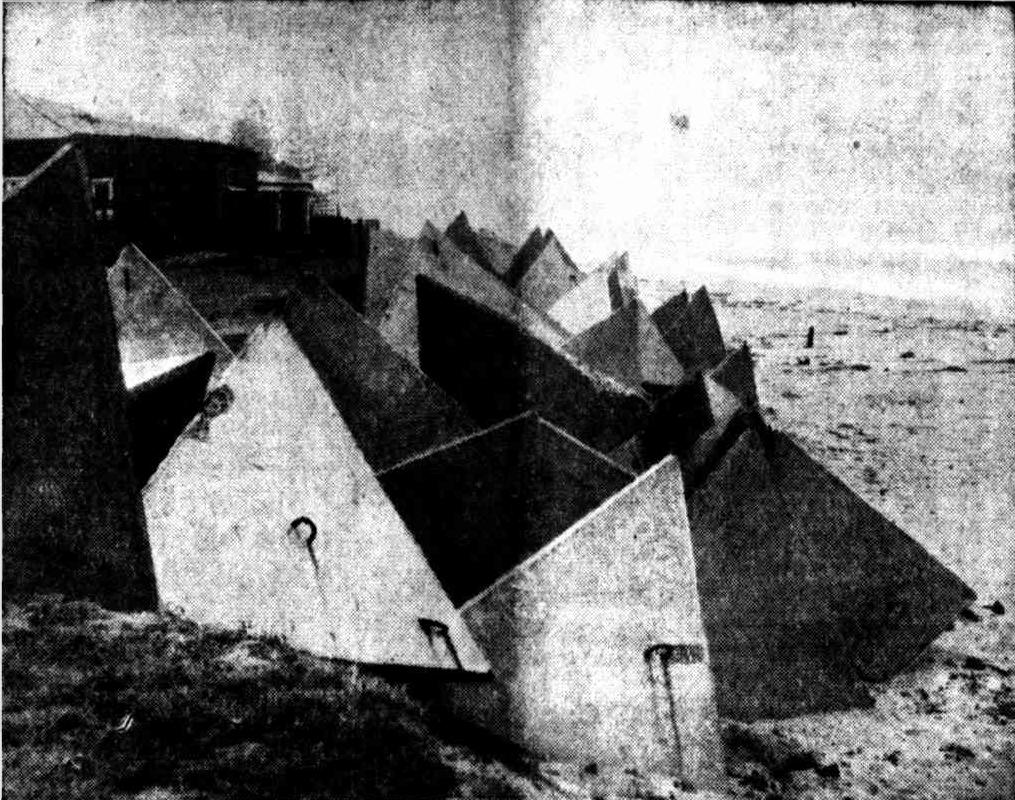 Triangular anti-tank traps have been placed along the beach at Collaroy to prevent washaways of gardens and homes on the waterfront. During heavy storms last year several homes were severely damaged in this area. TANK TRAPS TO PROTECT HOMES (1946, February 15). Daily Advertiser (Wagga Wagga, NSW : 1911 - 1954), p. 1. Retrieved from http://nla.gov.au/nla.news-article145007744
SYDNEY, Sunday.-A brick wall 45ft high collapsed and fell in a Redfern street to-day during the 70-mile-an hour gale that lashed Sydney and a wide stretch of the southern coast. Heavy rain, which was still falling late to-night, inundated many low-lying areas in Sydney, particularly at Randwick, where some areas were flooded to a depth of 4ft. Big seas endangered small boats and launches. Six men were rescued by members of Collaroy Surf Life-saving Club after their small launch had been tossed about for almost five hours.
Engine Broke Down The men rescued off Collaroy this afternoon were Harry Nicholas Linn, 50, of Randwick:. James Gillimore 48. and Leslie Reynolds, 34, of Redfern; Benjamin Reynolds, 32, of Merrylands: John Reginald Miller and Herbert Joseph Priffett, 34, both of Bankstown The men were sufferinig from exposure, but quickly recovered. They left Rose Bay early this morning on a fishing trip, but the engine broke down when they were off Curl Curl. The kellick was dropped, but the rope snapped, and the boat drifted three miles towards Collaroy. Waves were breaking over the boat and the engine, after hasty repairs, broke down a second time. The pilot ship Hydra was sent to their aid but in the meantime Collaroy Surf Club was got in touch with by the police. Six members took out the surfboat. It reached the launch well ahead of the-Hydra, which was recalled. As the surfboat came within hailing distance of the launch, one of its members dived into the sea and attached a rope to the launch, which was then taken in tow. Later, the launch was beached at Long Reef after its occupants had been landed. Sydney (1946, May 20). Newcastle Morning Herald and Miners' Advocate (NSW : 1876 - 1954) , , p. 2. Retrieved from http://nla.gov.au/nla.news-article140615416
Dune erosion at Bilgola beach in May 1966 resulted in costly remediation works but no shift towards 'foolish and wise builders' and not building on sand.
On May 27th and 28th 1974 and again into the first week of June another great storm eroded under the Marquesa building at Narrabeen and destroyed houses at Bilgola - these photos in a Women's Weekly of June 12th show the destruction closer to home. Newport and Mona Vale, like the Collaroy- Narrabeen stretch, are also places these eastern lows, with a king tide kicker, will show where redesigning the landscape to suit ourselves can bring home our lack of knowledge and its harvest.
The 1974 storms led to the Coastal Protection Act 1979, which once again placed ephasis on maintaining what humans wanted on the coast, ignoring the natural processes at future peril. A step in a more positive direction, in the Coastal Management Bill 2016 passing as this most recent storm came in, and Assented to on June 7th, while what is now thankfully and respectfully called 'The Sand Bag Army' gathered everyone in community and services to save those perched on that same stretch of sand:
PENINSULA POWER TAKES ON MOTHER NATURE FOR A SMALL BUT SIGNIFICANT WIN.

Northern Beaches LAC - NSW Police Force: June 8, 2016
State Emergency Services and supporting emergency agencies faced a tough challenge yesterday. Engineers inspecting the ocean break wall north of Stuart Street Collaroy recommended dropping four thousand sand bags on and around the wall to maintain its integrity with the added benefit of protecting six houses from the relentless swell. It was a tough challenge that had to be completed before the two metre king tide arrived in the late evening.
It was inspiring to see up to 500 members from all the agencies working side by side filling sand bags and forming lines to hand deliver them to where they were needed.
In the early afternoon it became apparent that we needed more volunteers to get the job done and we turned to Surf Life Saving Australia. More than two hundred SLSC members turned up and enthusiastically got stuck into the task at hand and more than doubled our output of production and delivery of bags.
In the final stages of our push to get the job done, volunteers walked off the street to help.
Just as the king tide arrived we finished the job with many soaked from drenching sea spray. As the last bag was placed and the Engineer gave his thumbs up of approval, all services had worked together to produce and hand deliver 12,000 bags, a total of 320 tonnes of sand.
Our morning inspection today revealed our efforts had been worth it. Our sand bagging was intact and had prevented further damage to the sea wall.
A heartfelt thanks to all involved.
Collaroy Summer and Autumn Storms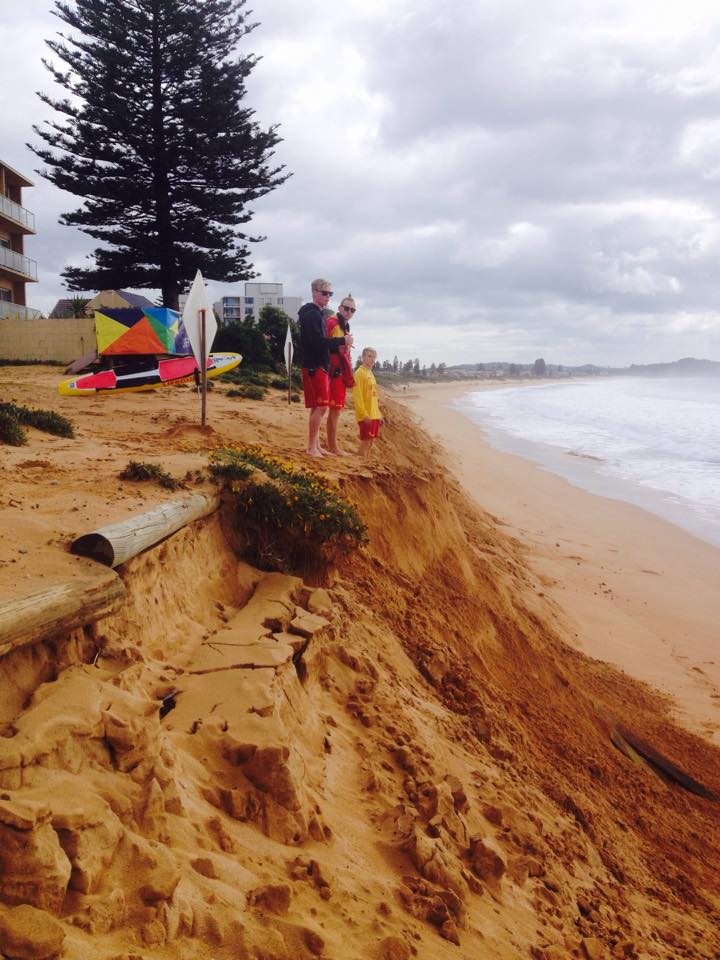 In September 2015 Ken (Sava) Lloyd, a member at Collaroy SLSC wrote in response to a report run, published by Sydney University and the University of New South Wales; Coastal vulnerability across the Pacific dominated by El Niño/Southern Oscillation.
This September erosion had been preceded by the March 2015 Sydney Storm
The projected upsurge of severe El Niño and La Niña events will lead to extreme coastal flooding and erosion in populated regions across the Pacific including Australia, according to the then new multi-agency study. The impact of these storms is not presently included in most studies on future coastal vulnerability, which look primarily at sea level rise. New research data, from 48 beaches across three continents and five countries bordering the Pacific Ocean, suggested the predicted increase will exacerbate coastal erosion irrespective of sea level rise affecting the region.
A co-author of the paper, Professor Andrew Short from the University of Sydney, says forecast increases in the strength of El Niño and La Niña weather events driven by global climate change means coastal erosion on many Australian beaches could be worse than currently predicted based on sea level rise alone.
The study, Coastal vulnerability across the Pacific dominated by El Niño/Southern Oscillation, involving 13 institutions, including the US Geological Survey, UNSW Australia, University of Sydney, and the University of Waikato (New Zealand) was published in the journal Nature Geoscience.
More, as well as link to study, ran in that Issue's Aquatics page
Right: picture courtesy of Angie Thorpe taken at South Narrabeen SLSC Yesterday, Saturday September 26th.
When I was on patrol at Collaroy SLSC Early Summer 1953, our patrol noticed some young blokes with hands full of coins i.e pennies 2 bobs etc. and they were picking them up as the waves washed up the beach and receded. At that time the beach was 12" from the top of the stone retaining wall. That started lots of club members doing the same thing and some of the blokes stopped going to work to catch the incoming tide each day.
I can even remember when my squad were doing our Bronze examination which was on the 20th December 1953, our patient who we were carrying up the beach said "stop there is two bob down there".
We all got our Bronze Medallions. The waves finally stopped eroding the beach away and we saw 19 steps in front of the Clubhouse they are still there. We had never seen them.
That means that the beach had lost 9'6" of sand. There were
sovereigns
,diamond rings and watches and lots of coin found, so it has happened before.
Ken (Sava) Lloyd. Gunnedah
Ken was right, the sifting of sand from coins had happened before - three decades before!:
CINDERELLA'S POST-BAG
Mosman. DEAR CINDERELLA,—
Perhaps you remember me from the year before last, for I am not a new reader; My going up for the Intermediate last year left me no time to contribute to 'the page' — indeed, I feel like Dr. Marette, buried and alive again. Though I have put my home address on this letter, I am at present staying at Collaroy. We came down after the great New Year storm. The waves still dashed up to our fence, totally covering the beach at high tide. There is always a very narrow strip of sand here. Further along towards the reef, where the surf is usually some way out, the broad plain of sand was half covered by the surging foam. When the tide was out we found all sorts of seaweeds. There were dainty fern-like, red, pink, and white kinds scattered everywhere, while one could hardly move without stepping upon the broad, horny leaves of the commoner species. As usual, after any disturbance at sea, there was a great deal of sponge amongst the debris. We collected no less than eight .distinct types. Some were formed of masses of long narrow upturned arms, much like the cladodes of a very tiny cactus. Others were merely very soft and porous balls, and some were much firmer, while one was just like a monster cardboard geranium leaf, minus the stalk! There were also many kinds of shells, ranging from dainty little pink and white 'gems' to rough and usually blemished cones about six inches long. Other treasures came to light one morning (after a night when the breakers roared and bunged even more than usual). These were coins, which we found in the miniature precipice, made by the denudation of the beach. There were pennies, into which the salt sand had eaten its way ; like a rude mosaics, and shillings, which were so tarnished that we could not distinguish them from the coppers! While thus exploring Neptune's secret 'strongroom' we realised the large fortune of one shilling and ninepence : Wishing 'the page' all good luck through the coming year, your' interested reader, MILDRED M. RAYMOND (10). (Dear Mildred.— Glad to welcome you back. I note that your work has strengthened considerably, but the reason why your design was not reproduced last week was the colour, which calls for careful 'treatment. I am thinking of fitting out a Stevensoian expedition to Collaroy .—Cinderella.) CINDERELLA'S POST-BAG (1922, March 8). Sydney Mail (NSW : 1912 - 1938), , p. 29. Retrieved from http://nla.gov.au/nla.news-article169771632
AN AERIAL VIEW OF COLLAROY AND NARRABEEN. POPULAR RESORTS OF WEEK-END MOTORISTS.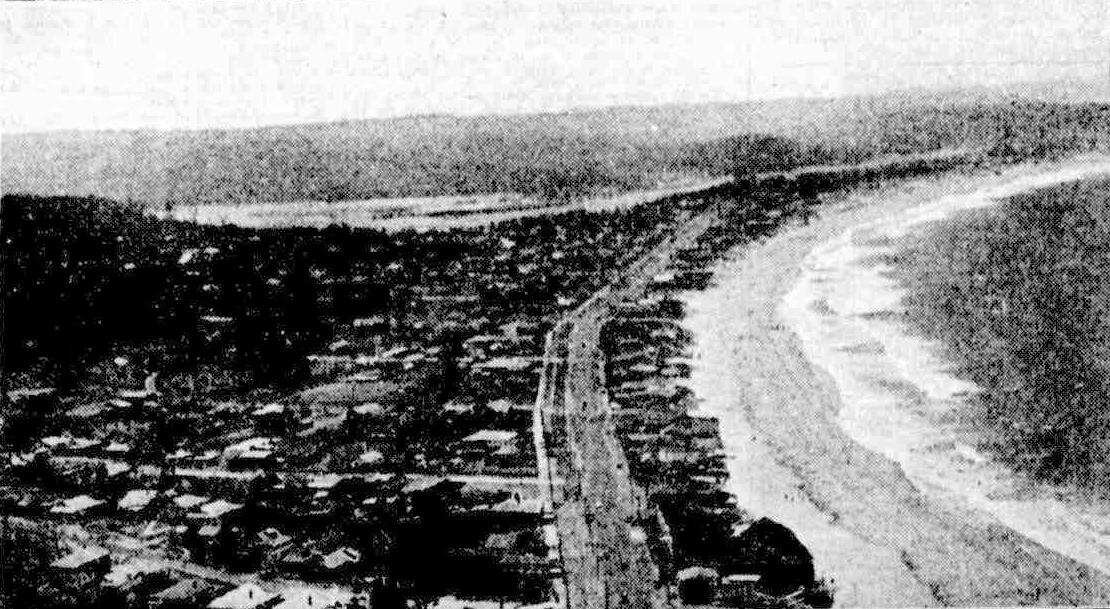 AN AERIAL VIEW OF COLLAROY AND NARRABEEN. (1929, March 12). The Sydney Morning Herald (NSW : 1842 - 1954), , p. 14. Retrieved from http://nla.gov.au/nla.news-article16537300
Lots of homes on the beachfront in the above photograph, while this one from the following year shows structures sitting in the sand:
Above : Collaroy, one of the 'newer' surfing beaches in the Manly district.
Dee Why swimming pool, showing recent improvements. Dee Why is also in the Manly district. Collaroy and Dee Why (1930, January 1).Sydney Mail (NSW : 1912 - 1938), , p. 9. Retrieved from http://nla.gov.au/nla.news-article160630380
COLLAROY SEAWEED. CLEARED OUT BY STORM.

The large accumulation of seaweed at Collaroy, which had been blamed for the drowning of a young man on Boxing Day, and which had been menacing the safety of the beach for almost 12 months, was washed out to sea by one of the storms last week.
Preparations had been made during the week to make an attempt to haul the bank of seaweed up on to the beach, where it was proposed to dry it and burn it. A tractor and tackle, including grappling irons, had been sent down in preparation for an attempt this afternoon. The Shell Company and Howard Auto Cultivators Ltd., who were going to carry out the experiment, were, however, relieved of the responsibility by the storm. COLLAROY SEAWEED. (1936, January 20). The Sydney Morning Herald (NSW : 1842 - 1954), , p. 10. Retrieved from http://nla.gov.au/nla.news-article17208427
STORM TRAGEDY Young Man Electrocuted Sydney, Tuesday.
William Wright (35), married, was electrocuted at Collaroy when he became entangled in live wires, brought down by a storm. Death was instantaneous. A friend, who went to his assistance, suffered severe shock. STORM TRAGEDY (1937, March 16). The Dubbo Liberal and Macquarie Advocate (NSW : 1894 - 1954), , p. 1. Retrieved from http://nla.gov.au/nla.news-article131589767
SYDNEY, Mon: Drenching rain and a 50 m.p.h. south-easterly wind caused widespread damage and dislocated tram, train, air and ferry traffic in Sydney and suburbs today. By 9 a.m. the city's rainfall had reached 575 points in 24 hours, but indications were that a break in the weather was likely. At Cronulla and Collaroy heavy wind-whipped seas are battering the foreshore and damaging houses and other buildings. There is anxiety that much damage will be caused at high tide late today. Holidays-makers at Narrabeen had their tents flattened last night and were washed out as swirling waters from the lakes swept through the area. Police ordered them to strike camp and move. Sydney Services Dislocated In Heavy Storm (1949, January 10). The Daily News (Perth, WA : 1882 - 1950), , p. 1 (HOME). Retrieved from http://nla.gov.au/nla.news-article83772895
The cloudburst caused thousands of pounds of damage to roads, shops and other buildings. Areas worst hit are Newcastle, Manly, Collaroy and Narrabeen. Boys Trapped Georges River rose quickly at Campbelltown, and trapped eight boys at Woolwash camping ground. The boys crossed the river this morning. Police said that some of the lads were becoming panicky, and they were trying to signal them: to wait there, If necessary all night. The police are arranging to rescue the boys. The tragedy at Stanwell Park is the second within a few years at the same spot. A few years ago seven campers were washed out to sea and drowned. Clarke was crossing the causeway In the creek to deliver papers to occupants of the camping ground when floodwaters rushed his utility off the causeway. He managed to get on to the roof of the truck, but before people on the bank could throw him a rope, he was washed out to sea. Man Meets Death in Storm (1950, September 12). Daily Advertiser (Wagga Wagga, NSW : 1911 - 1954), p. 2. Retrieved from http://nla.gov.au/nla.news-article145598199
Discussions to Save the Beaches Begin With One Note of a Long Observed Sea Song
Twenty years before the storms of 1974, one of those who have long been on the beach at Collaroy pointed out a way forward:
Sydney's Dwindling Beaches Set A Problem For Experts
By A STAFF CORRESPONDENT
AFTER this winter, as after most of the other winters in the last half-century, the devotees of sun and space and sea air who crowd Sydney's 35 sea beaches may note that some further part of their play-grounds has disappeared into the sea's maw. Increasing crowds on contracting beaches may express concern, or indignation, or outright condemnation of the authorities, until the dependable sun lulls their minds to that lethargic acceptance of today typical .of the beach-basker.
Because of the New South Wales climate, the temperament of her people and the geographical features which make sun-bathing a part of our daily lives, the problem of beach erosion is here more pressing than perhaps any-where else in the world.
Australia's concern, and Sydney's is to see that the Constant supply of beach sand maintains its time-honoured position between the green land and the blue water, in just those quantities we need for our recreation.
Especially in the last few years erosion has been very serious on some of the beaches and has caused hundreds of thousands of pounds' worth of damage to municipal and private property.
A spokesman for the Cumberland County Council, Mr. J. O'Brien, said last week: "Some of the worst erosion has taken place at Manly Beach.
"North Steyne lost a lot of its seawall and almost lost its surfshed as well during the big storms a few years ago. At South Steyne also erosion threatened to undermine the big pavilion and the sea wall.
"During the heavy rain a couple of weeks ago hundreds of tons of sand was washed away at Queenscliff.
"Collaroy has suffered badly from erosion. Many houses had to be removed from the beach front because of it. "Of the southern beaches, Cronulla is by far the most affected. North Cronulla has lost more than £100,000 worth of municipal property through erosion, while South Cronulla lost both its surf club and most of its beach during a bad period in 1946-47.
"Some of the sand at Cronulla has come back, but it is not nearly as good a surfing beach as it was before. The beach has eroded so far back that the old promenade steps are now in the middle of the beach."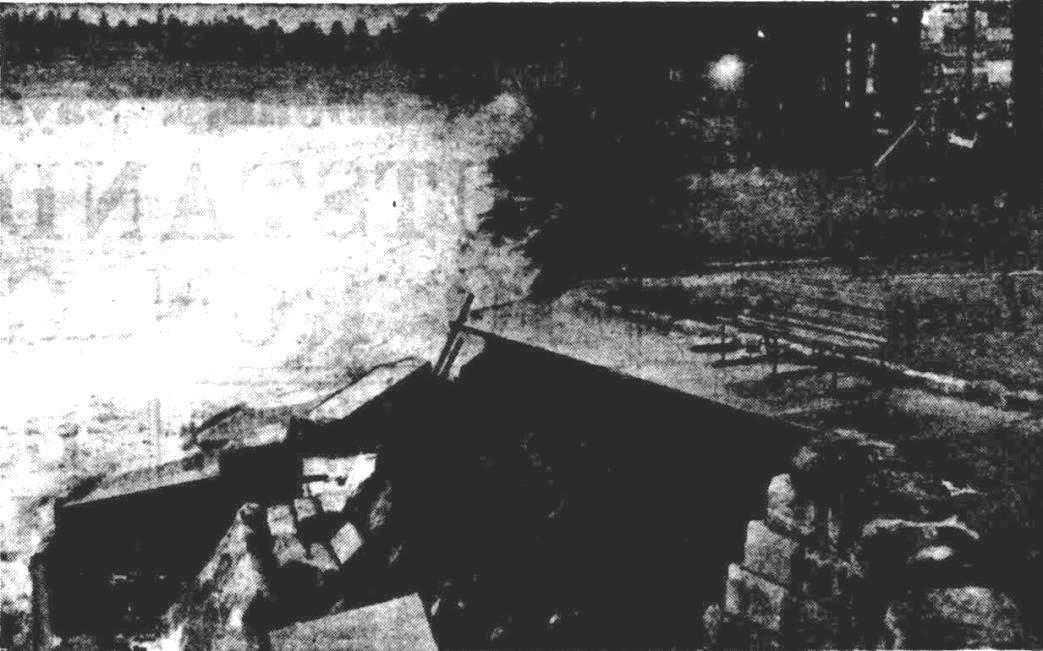 Photo: Heavy damage by rough seas at Queenscliff beach, north of Manly, in a winter storm in 1950 which smashed the sea wall. That storm permanently carried away part of the beach.
IN the past, man's interference with beach evolution has taken the form of erecting sea-walls, groynes and break-waters, and levelling sand dunes behind the beach. On some beaches these processes either actively assist in beach erosion or prevent normal seasonal recovery.
Mr. L. M. Graham, the Manly Council engineer, who is faced with the necessity of restoring some of the worst erosion recorded on Sydney beaches, said sadly last week: "No matter what you do it seems to make erosion worse.
"Nature seems to resent anything of human agency, and even a pebble placed on the beach seems to aggravate erosion. "For instance, the rock pool we constructed near the Queenscliff end of our beach seems harmless enough, but even it appears to have caused erosion.
"And almost everyone has some theory. After the big storm in 1950 which did so much damage we had advice' from all sorts of people, and some of them had gone to the trouble of making models. "Some said, 'Take all the walls away,' and others suggested more walls, and different kinds of walls."
Mr. Graham at present is communicating with county councils and other bodies in England to find the best tested procedures in that country. Many experts overseas, particularly in Holland and England, have deeply studied the problem of sea-coast erosion, but it has been- their more pressing concern to save land rather than beaches. They are usually well pleased if their sea walls hold - but sometimes where the land is saved the beach is lost.
The natural processes by which the sand is laid down are imperfectly understood. Few Australians have studied the movements of the sand and the agents which carry it, the waves, the tides, and the winds, in their variety of combinations.
ONE of the exceptions is a young geologist in the employ of the Department of Mines, Mr. P. J. McKenzie, of Deewhy, who has combined his twin interests of geology and surf lifesaving in a concentrated study of the mechanics of beach construction and destruction.
Man, he says, must learn to work with, instead of against, nature's processes so as to increase the deposit of sand whenever the conditions are right for it.
He holds that there are four factors which influence the deposit of sand upon the beaches. These are the strength, size and type of the waves, the slope of the beach, the average size of the grains composing the beach, and the tide-rips which form just off-shore. The action of normal waves is to thrust sand forward, as they break on a beach, and at the same time to work lighter elements, such as mud and slush, further back into deep water.
Some forms of breaking waves deposit sand more readily than others, and the form of the wave may be influenced by the slope up which the water runs. It may also be modified by such a factor as an off-shore wind.
Sand is built up on a beach in the form of a terrace, which is raised rapidly in the beginning by the waves, and more slowly thereafter, as a new slope is established. The nature of this slope depends, to a great extent, on the grain-size of the sand.
Hence, Mr. McKenzie believes, an expert who knows the grain-size of the beach he is working on, the optimum slope for .the rapid deposit of sand, and ,the other conditions provided by the weather, the wind and the wave-size, could, by using a bulldozer, increase the deposit rate at will. In other words, the factor he can influence is the slope of the sand.
"I DON'T know enough to do it. Neither does any other expert, as yet," Mr. McKenzie says. "But it seems a good field for study. I think quite a lot may come of it. I began this study just because I was interested, but I can see more and more possibilities as I go along.
"As I see it, it is a different problem from the older one, which has exercised countries in the northern hemisphere, of stopping the encroachment of the land by the sea.
Mr. McKenzie says there is no shortage of the material which goes to make up the beach. A constant source of new sand is the land, where destructive processes are always at work on the rocks. The sand from this source is separated from the humus and mud by the wave processes already described and is constantly available for the natural building up of beaches.
Off the New South Wales coast there is a strong current flowing south, and a backwater of this current constantly moves northward along the beaches. Hence there is a constant movement of sand to the north, but the requirements of the beaches have always been met.
Civilisation does not interfere with the processes of sand formation. As a matter of fact, it may accelerate the natural destruction of rocks. Nearly all civilised interference with beaches, however, has hastened the process of erosion and slowed the compensating deposit.
A sloping wall, he says, may not hasten erosion to the degree that a vertical wall will, but it is still effective in some degree.
"The only place for a wall is behind the first row of dunes," Mr. McKenzie says.
AN official of the Cumberland County Council recently wrote, in a publication of the council's: "If we intend to preserve our beaches, some general study is urgently needed.
"Apart from their great beauty and their recreational value, which is our first concern, the metropolitan beaches represent a tremendous commercial asset to Sydney municipalities and to the nation.
"If the picture is expanded to the hundreds of beaches up and down the coast, we have something of immense value which is being steadily whittled away. . . .
"A temporary halt in our present policy of artificial improvements might save us a few thousand pounds, or even a few beaches, later on. It might also point the way to redeeming some of our damaged assets." Sydney's Dwindling Beaches Set A Problem For Experts (1953, May 24). The Sunday Herald (Sydney, NSW : 1949 - 1953), , p. 2. Retrieved from http://nla.gov.au/nla.news-article18509664
The building up continued apace though
Collaroy. Five brick lock-up shops are to be erected in Pittwater Rd., at a cost of £12,000, for Mr. M. J. Corkery. Builder is B .M. Chequer, 17 Worcester Avenue, Collaroy. North Manly. Alterations and additions costing £11,000 are to be made to the Golf Club premises in Condamine Street by Warringah Golf Club Ltd. OPPORTUNITIES FOR BUSINESS (1954, September 1). Construction (Sydney, NSW : 1938 - 1954), , p. 8. Retrieved from http://nla.gov.au/nla.news-article224517252
FLOODS DAMAGE SHOPS AT DEE WHY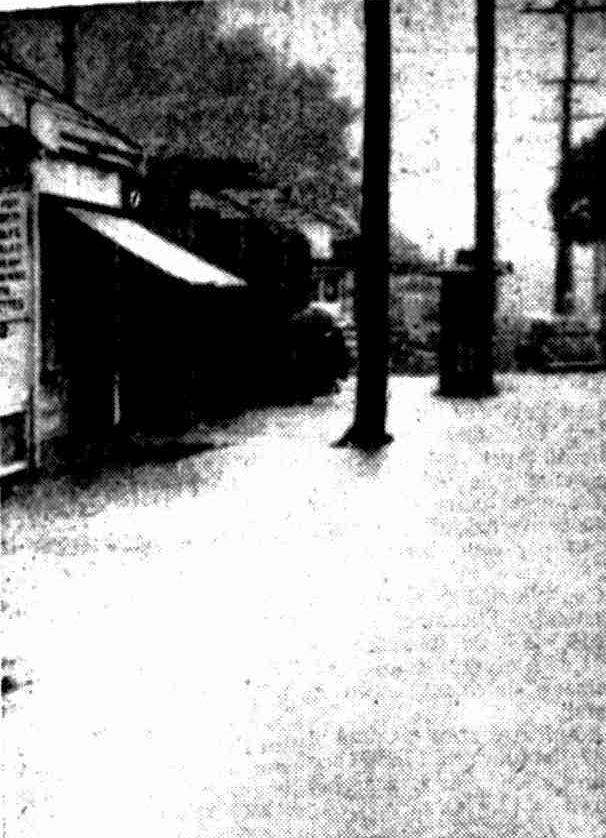 Sydney: Rain water more than six inches deep streamed into shops and caused hundreds of pounds worth of damage in the Sydney suburb of Dee Why yesterday. Shops closed front doors and sealed off areas where the rain had entered. Within minutes of the start of torrential rains in the suburb, storm channels and gutters were flooded. Many cars stalled, were abandoned as drivers sought shelter. At the height of the storm, a huge waterspout, more than 100 feet high shot up out of the ocean at near by Collaroy beach. It fell in an arch-like column into a lagoon more than 100 yards away. FLOODS DAMAGE SHOPS AT DEE WHY (1954, November 5). Barrier Miner (Broken Hill, NSW : 1888 - 1954), , p. 9. Retrieved from http://nla.gov.au/nla.news-article49971675
WILLY-WILLY
A willy-willy twisted the inch-thick steel arms of a rotary clothes line like wire at the home of Mr. George Evenden, Primrose Avenue, Rosebery. Two motor launches were caught in a thunderstorm about two miles from Collaroy beach, and fearing the launches would be blown to sea, Collaroy lifesavers manned a surf boat. The launches, however, were got under control and gained the shelter of the Basin. VICTORIA SWEPT BY FLOODS AND GALES; BOY DROWNED (1954, December 13). The Sydney Morning Herald (NSW : 1842 - 1954), , p. 1. Retrieved from http://nla.gov.au/nla.news-article18462241
All of the above tells us we must do better, perhaps even outlines that restoration, returning what once was, must be placed higher than the coin of greed, even having this emphasised in what happens in the sorting of coins from grains of golden sand on this beautiful beach. Community is what counts, sandbagging until the proper addressing, which is not sticking the head in the sand, so to speak, has caused a shift back to 'flowing with it' not against it - these are ever tides.
To Close - a few 'extras' of times and places gone. This Pictorial shares some of the images sent in by Readers, for the Record, again, of the Storm that came in June 2016. Updated this Issue with those that inundated our area over the weekend of February 8th to 10th, 2020 - HERE.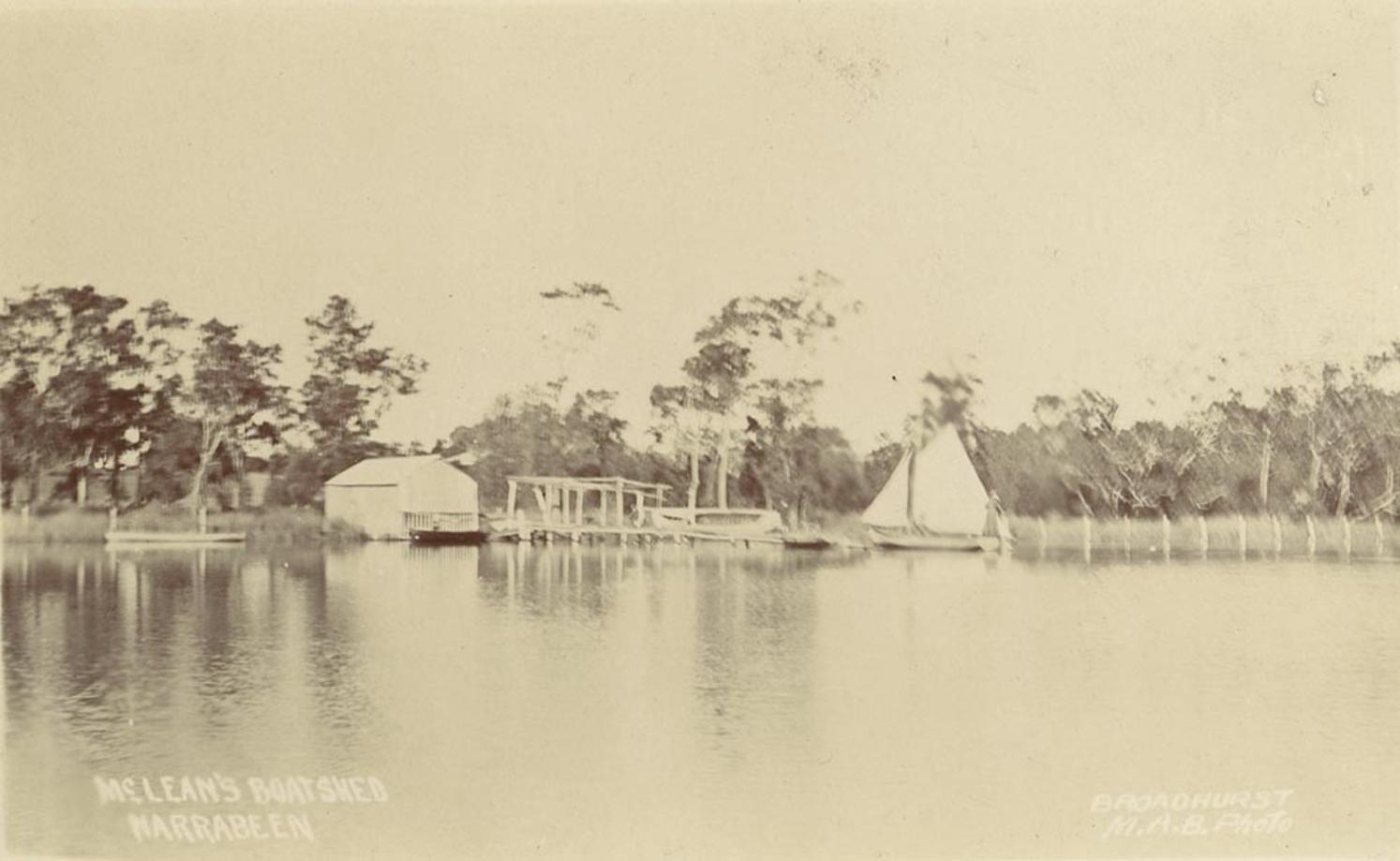 McLeans boatshed. From Scenes of Narrabeen album, circa 1900-1927 Image: a106065h, courtesy State Library of NSW - the McLean family members were among founders of the Narrabeen SLSC and part of the Narrabeen Progress Association
Extras:
A RUINED FISHERY.
NARRABEEN LAKE.
It is always a sad thing to have to chronicle the exhaustion of nature, particularly when that exhaus- tion has been the result of man's efforts, carried on without regard to the future. Such, however, must be done in regard to the fishing at Narrabeen Lake. This one time popular netting area and sporting resort is now in a parlous condition. It is less than a hundred yards distant from the sea at one end, and occasionally is connected with the ocean when the waves break through the sand bar at its mouth. At present the lake is very shallow, and sand banks appear in it several places. The bar at the mouth is very flat, and occasionally a heavy wave breaks near it and sends a frothy ripple into the lake. The sea, however, does not get a chance to re- plenish the lake with fish. Indeed it is possible that the instinct of the fishes has warned them that the lake is no longer a quiet nursery, and they pass on for more peaceful quarters. The lake has been de-clared closed to netting for a considerable time, and the closure has a long time to run yet.
Notwithstanding the closure, however, the lake is constantly netted. It is common talk at Narra-been, Rock Lily and in Manly that poachers carry on operations with nets in the lake frequently, timing their work so as to avoid interference or cap-ture by the inspectors of the Fisheries Department. In conversation local residents, including members of the Narrabeen Progress Association, confess that poaching goes on.
It appeared from further inquiries that generally when the inspector made his appearance at Manly the news was promptly telephoned to Narrabeen, and everybody who possessed a net took good care that he did not use it while there was a possibility of capture. The lake, although very shallow, contains moderate quantities of mullet, flathead, whiting, tailer, flounder, tarwhine, black bream, crabs and a few other varieties, but nearly all are small, and the quantity, which under a perfect closure, would have greatly increased during the last year, is considerably
less than ever it was before.
The matter is of importance to a growing district, The place should be a much more popular resort than it is. If the tram from Manly, which at present stops near the Manly Lagoon Bridge, were extended to Narrabeen the principal attraction for holiday and week-end visitors would be the facilities for fishing in the lake. The Railway Commissioners would certainly not be justified in pushing on with the tram unless the fishing were greatly improved. Near the mouth just now there is only about 3ft of water in the deepest places where once the depth was about 6 or 8 feet. The depth could of course be increased by the raising of the sand bar and a considerable fall of rain. This would increase the area of the lake and give the fish a better chance. But what would be needed first would be the restocking of the lake from other places. In view of the fact, however, that the State does not possess a hatchery in working order, it appears that the lake will have to recuperate itself with any assistance Neptune may be disposed to give it. The sea can do it all, including the erection of the sand bar at the mouth, as it does at the Illawarra Lake occasionally, but obviously Nature would have to be aided by an effectual and not a merely nominal closure to the wholesale methods of capturing the
fish as carried out now. A RUINED FISHERY. (1904, January 14). The Sydney Morning Herald (NSW : 1842 - 1954), p. 4. Retrieved from http://nla.gov.au/nla.news-article14593079
NARRABEEN WATERFALLS.
By W. F. MACLEAN.
THE watersheds of the coastal lagoons at Manly, Curl Curl, Deewhy, and Narrabeen are, in the main, rolling uplands, interspersed with deep sheltered gullies densely clothed in underscrub, in some places literally impassable for the tangle of vine and undergrowth. Each gully is traversed by a creek, a veritable babbling brook of the poets, smaller or larger according to the area it drains. The descent is usually steep. Nearly every creek has waterfalls, which vary in height, from a few feet to twenty or thirty, flowing through soil composed of silt from the higher lands and the decaying debris of the bush, gum leaves, and rotten wood, which with sand from the erosion of the rocks makes up a compost of the highest degree of fertility. Common bracken grows in these places to the height of a man, and boronia (binnata) to the same size. The coachwood, a cousin to Christmas bush, may also be seen at its best; the flowers are somewhat similar to those of the latter, but larger, and the petals are wider separated. The foliage is also much larger, making a beautiful shade tree. It does not thrive away from its damp gullies; otherwise it would be seen more in suburban gardens.
NARRABEEN, the largest lagoon in the Warringah shire, drains the most extensive area. Substantial creeks flow into it, the drainage of many square miles — South Creek, Middle Creek. Deep Creek, and others. There are waterfalls on tributaries of several of these creeks. The falls illustrated are easily accessible to pedestrians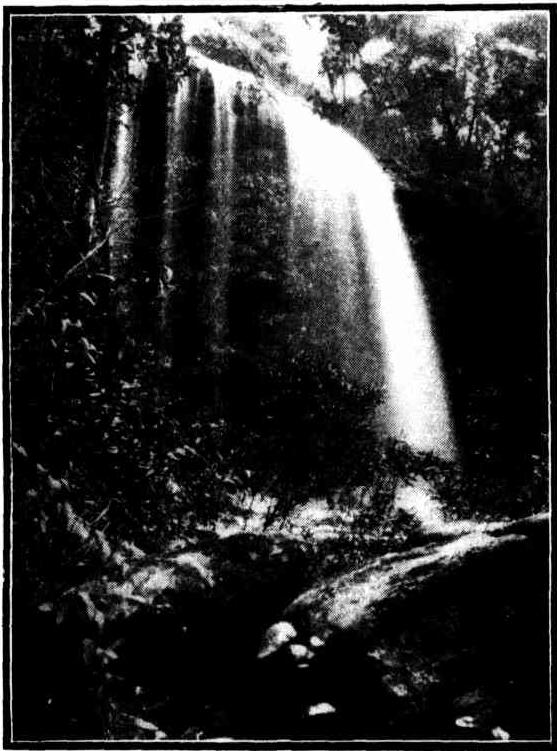 THE UPPER NARRABEEN FALLS.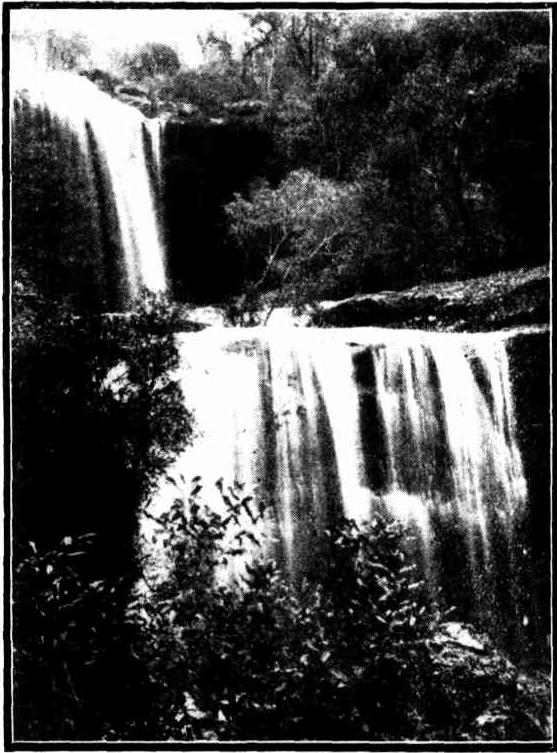 THE UPPER AND LOWER NARRABEEN FALLS
and vehicles, including motors. To secure the photographs we left the tram at Narrabeen terminus, crossed the lake by bridge, and walked along the causeway to the big headland which ends at the road just on the other side of the lake. 'Rounding the spur the road stretches straight into the west. On one side is an arm of the lake, into which Powderworks Creek runs; the other side is hilly and well covered with week-end cottages. The road is of red Boil, with deep cart-ruts, which were filled with water from recent rains. There is a slight but nippy wind from the south-west, which makes walking a pleasure. On past two gum trees of large diameter, one on either side of the road, their branches intermingling overhead, and up a slight rise to where a road branches off to the left. We ignore this turn-off and descend a slight hill with a small cottage 'at the bottom, on to the right, and over a little culvert. Three minutes through a rough piece of road, a swamp to the right very densely overgrown with all kinds of small scrubs — amongst which large swamp mahogany trees rear themselves above the smaller stuff — and we arrive at the road's end. Immediately in front of us is a large pool about 100ft x 50ft, backed by a waterfall. This fill is rather disappointing, in itself; but the surroundings are beautiful. A few years ago a large mahogany tree sloped across the pool at such an angle that it. was easily . walked upon to its utmost branches. There were also a number of giant cabbage-tree palms, perhaps 100 feet high. To-day only one remains; the others have, fallen to some wanton axe. The stockwhip bird is found here in great, numbers, its note being heard continually. The conditions are very favourable for these birds' breeding-place.
APPARENTLY this is about as far as you can go, the cliffs being rather precipitous; but to the left of the falls is a medium-sized palm, and underneath this is a faint track up the hillside. Climbing this and descending slightly, we reach the rocky bed of the creek. The soil has long since been washed away, leaving the naked rock, over which, the water runs noisily. There are many pools filled with beautiful drinking-water, and in the ? larger yabbies (small crayfish) of a greenish hue can be seen if one sits still enough. The sides are covered with umbrella fern, and tall plants of boronia with flowers just past their prime lift their heads above the ferns. The bed of the creek soon becomes too rough, and compels us to go further up the hillside, which is very steep and clothed with great red gums, turpentines, bloodwoods, and oaks. The ground is covered ankle-deep with oak needles, and in some places is almost impassable with the top hamper of large oaks that have been felled for shingles. The pale pink of boronia past its prime, the paler pink of a sister variety just coming into bloom, the purple hardenbergia and yellow dillwynia all combine with the many shades of green and the russet brown of dead leaves and bracken to make a lovely combination of colour. Above the noise of running water gurgling and babbling, and the noise of a waterfall somewhere in the near distance, sounds the song of birds— the sharp, penetrating crack of the stockwhip, followed by the 'weet-weet' of its mate, and the equally penetrating and beautifully full note of the grey thrush. A yellow robin — silent now, although later on, when dusk creeps over the gully, its note will predominate —perches motionless on the bark of a dead tree, watching ?with large eye our every move. You can be sure its nest is close by, but so well hidden with Nature's camouflage that you need to look closely to find it. We could sit for hours enjoying the scene before us. There is constantly something to interest. Three or four crows Avith their harsh 'car-car' wheel overhead, and finally land in some trees on the top of the ridge. BUT move we must, as the sun is creeping slowly up the eastern side of the gully, leaving us in the shade. We travel along the side of the hill— heavy going with the debris of fallen trees and many prickly bushes, some without flowers, others a variety of wattle with creamy blossoms and a nutty fragrance, but very prickly, sticking through your clothes and piercing the flesh. A few yards further on and the falls come into view. There are few waterfalls anywhere round Sydney to equal these for beauty and size. If they were on the Mountains special tracks would be cut to reach them. The lower falls are about twelve feet wide and fifteen to twenty feet high. Above them is a shelf of an ironstone kind of rock about 50 to 70 feet wide. On to this falls the upper half— fifty feet or more. A large figtree grows underneath the falling water, its leaves being continuously wet with the spray. When running well this fall makes a great roar, which can be heard for a long distance off. Above it again there are several small cascades, and higher again is marshy land from which the creek draws much of its water. This marsh land is the real home of the Christmas bell, and in the season large bunches can be picked with very little trouble. Another wild flower always found in damp situations is the sprengelia, a long spikehead of beautiful pink stars with a white eye; it forms a pretty bunch, and keeps well in water. A few yards to the west of the upper fall, on the hilltop, native roses can be picked Sprengelia can also be obtained here in quantity, and a bunch of native roses: sprengelia, and the long spikes of heath, both pink and white, make a wonderful combination of beauty and perfume. Most wild -flower pickers pull a specimen or two of every flower in sight, including those that do not keep well, and by the time they reach home many have wilted and the whole becomes an untidy hotchpotch. Presently these hillsides will be white with flannel flowers. These should be picked with one other -flower only— a tall bright purple spike called steeple, which name describes it very well. THERE are other creeks in the neighbourhood which carry a good volume of water, and make a precipitous descent, on which waterfalls may be found. But these cannot be explored on this trip for want, of time. The hills about them are literally carpeted with wild flowers at the present time. This locality is off the beaten track, 'but is easily accessible from Narrabeen, and those who love the bush and its flowers and birds will find it a new country with surprises on every hand. OUTDOOR AUSTRALIA (1920, October 20). Sydney Mail (NSW : 1912 - 1938), , p. 14. Retrieved from http://nla.gov.au/nla.news-article159040970
£9000 is the amount of a special loan proposed to be made by the Shire Council of Warringah (Sydney) for the 'purpose of acquiring for public recreation purposes, certain lands in the vicinity of and adjoining Collaroy Beach,
together with other buildings and other improvements thereon'. OPPORTUNITIES (1924, December 10).Construction and Local Government Journal (Sydney, NSW : 1913 - 1930), , p. 18. Retrieved from http://nla.gov.au/nla.news-article109760038
One of many country people who retire to the coast during the 1915-1925 years:
Mr. W. F. Kellett, one of the most popular of the citizens of Mudgee, a member of the firm of. Messrs. W. Kellett and Son, Ltd., and its managing director, and who has for all his adult life been associated with the well-known Flagstaff Stores; has decided to leave Mudgee and to live in pleasant retirement close to Sydney. Mr. Kellett some time since built a summer residence at Collaroy Beach, one' of the most pleasant seaside resorts within a few miles of the city, and it is at this pleasant home that he will now make his residence. Mr. Kellett will, of course, pay occasional business and other visits to Mudgee where he will always be assured of a warm welcome. Mr. Kellett has always been a most useful, as well as a most popular townsman, and he will be very greatly missed. He was for many years an enthusiastic member of the committee of management of the Mudgee Mechanics' Institute, and has also been usefully and influentially connected , with several other town institutions. Local Brevities (1920, March 25). Mudgee Guardian and North-Western Representative (NSW : 1890 - 1954), p. 9. Retrieved from http://nla.gov.au/nla.news-article157046147
Warringah's "Is's'" and "Was's" teams!:
CRICKET AT COLLAROY Pitch Laid Down
At Collaroy, on the big 175-acre recreation ground locally known as Griffith Park, the sportsmen of the district have secured a large area from the Warringah Council and have put down u concrete wicket for the use of the players of the district. The ground is flat, and very suitable for cricket and football. It is close to the north-western corner of the park on Anzac-parade, and within a stones-throw of the tram rails, and easy distance of the ocean. Much of the work of laying down the pitch has been done by voluntary labor on Saturday afternoons. On Eight Hour Day the new ground will be opened, teams representing the veterans and the present-day players, one known us the Is's, and the other us the Was's, are to begin welting round tho leather. The deputy president, Mr. Arthur Parr, will captain the old-timers, and Mr. Douglas Murray is to have charge of the youngsters. CRICKET AT COLLAROY (1920, September 27). The Sun (Sydney, NSW : 1910 - 1954), , p. 7 (CABLE EDITION). Retrieved from http://nla.gov.au/nla.news-article221499821
GOLF AT COLLAROY - Griffith Park Proposal
Residents of Collaroy and Narrabeen are seeking to establish a golf course in the district. Griffith Park is the suggested location. This 175-acre section is under the control of the Warringah Council, which has been asked to set aside an area wide enough for playing. A nine-hole course can be laid down without difficulty. One of Sydney's most expert professionals has been over the land, and reports favorably upon the scheme. Matters are now hung up awaiting the approval of the Minister for Lands, to whom the Warringah Council has submitted the proposal GOLF AT COLLAROY (1920, October 26).The Sun (Sydney, NSW : 1910 - 1954), , p. 7 (FINAL EXTRA). Retrieved from http://nla.gov.au/nla.news-article222665015
Narrabeen - one of many insights into geology of the Narrabeen group of sedimentary rocks which occurs in the Sydney Basin:
OUR NARRABEEN BEDS
Their Origin and History.
(BY W. LATIMER HARRISON.)
At the dawn of the Mesozoic Age in New South Wales, the eastern part of that State consisted of rocks of the Permo-Carboniferous period of the Palaeozoic Age, much denuded by the various agents of denudation to form a large, shallow, saucer-shaped depression. The rim of this depression extended from near Broken Bay, on the north, in a sweeping curve westwards to Lithgow, and thence to near Kiama, on the South Coast. How far east it extended we have no means of determining, as nature has hidden that part from our sight, fathoms deep beneath the blue waters of the Pacific. The deepest part, the nadir of the saucer, so to speak, was immediately beneath where Sydney now stands, where, as evidenced by a bore put down in Moore Park at the latter end of last century, it attained a depth of approximately 1000ft.
The highlands around this depression consisted of huge quantities of volcanic lavas and fragmentary and ash deposits, the results of the terrific volcanic outbursts at the close of the Palaeozoic Age. When this part of the world had recovered from the tremendous revolutions and convulsions which had ushered in the new age, and normal conditions once more prevailed, the hillsides became clothed with a luxuriant tropical vegetation, while the bottom of the depression became a small marshy lake.
Finding In the old Permo-Carboniferous volcanic soil an ideal plant food, the tall and stately Phyliotheca, the giant bladelike Macrotaeniopteris, the spreading Thinnfeldia, together with the delicate tracery of the Sphenopteris and a spikelike Tasniopteris, grow, multiplied, and flourished, forming a matted, tangled, jungle-like growth around the margin of the lake, while higher up on the hillsides the large conifer Aruarites, growing in large numbers, helped considerably in making an effective wind break, and rendering the placid waters of this hidden lake entirely undisturbed.
Small streams wandering down the hillside carried into the lake sediments of various sorts. For a while the various streams would be working on a lava deposit rich in magnetite, a mineral containing up to 72 per cent, of iron, and the easily won sediments from such deposits, coloured a deep chocolate by the oxidising of the iron constituent, would be deposited over the floor of the lake. Then, perhaps, the streams would encounter one of the huge volcanic ash de-posits of the Permo-Carboniferous era, and the detritis derived from those sources, a light grey in colour, would be superimposed upon the chocolate sediments. Different streams, however, were likely to encounter different materials in their courses, and, therefore, different parts of the lake would have different deposits laid down contemporaneously. The chocolate, the grey, and even green sediments, owing their colour to the presence of minute quantities of the copper carbonate, malachite, were consequently intricately mixed, merging into and overlapping one another, with, however, the chocolate deposits preponderating, giving to the whole series that deep chocolate colour which is so characteristic of them to-day.
WILD STORMS.
Occasionally wild storms ravaged the placid surroundings of this silent little corner of Nature's workshop, and while their fury lasted large and small waterworn pebbles were washed out of the streams and strewn over the floor of the lake, forming bands of conglomerate, which, owing to the generally short-lived nature of these periodical visitations, were invariably very thin; while, from volcanoes so remote that only the very finest wind-blown material over reached the lake, were built up thin stratified bands of volcanic tuff. Then, as the water quietened down, or even during disturbances of a calmer nature, thin bands of sandstone were laid down in a similar manner.
As these large quantities of sediments were washed into the lake, the water level was continually rising, and consequently the mar-gin of the lake continually expanding. As it did so, the plants which grew round the water's edge were washed out of their positions of growth in large numbers, and, together with other plants and the cones of the Arucarites washed down by the streams from the high-lands, floated gently around, until they became waterlogged and sank, to become part and parcel of the formation being laid down. These plants occur in great numbers as fossils in the rocks of this age, and the remark-able way in which they are preserved as en-tire specimens gives conclusive proof that they could not have drifted far, and must have necessarily been at the mercy of only the stillest water. The water lapping gently on the shore gave it a rippled surface, and dry material from the shore, blown into these ripples, and also the numerous worm tracks, formed a mould which has preserved these characteristics to the present day. The margin of the lake having increased to the limits described earlier in the text, a slow subsidence began, which finally let in the sea. Then were laid down the sandstone deposits of the Hawkesbury stage, and as the slow subsidence continued the shale deposits of the Wiannamatta stage. About this time, con-temporaneously with the lava flows of Mount Hay, Mount Tomah, and Mount King George, a huge dyke intruded the Narrabeen beds, but did not penetrate them to reach the Hawkesbury sandstones.
Towards the end of Cretaceous times a great speirogenic movement took place, which lifted the Trias Jura and Cretaceous seas into the continent of Australia. These strata then became a prey to the agents of denudation, and soon deep gorges and valleys traversed the whole area. At the end of Cretaceous times a slow subsidence took place, which resulted finally in the drowning of these valleys to form our Sydney Harbour and large indentations of Deewhy, Collaroy, Narrabeen, Broken Bay, etc. At the time Bass and Torres Straits were formed, separating Tasmania and New Guinea from the mainland. Then were the superimposed deposits denuded away to reveal the sea-ward end of the dyke referred to above. Owing to the action of the waves, a large beach of shells was built up near Long Reef, and when, later, the neighbourhood underwent a slight uplift of some 10 foot, this beach was raised to form a thick shell deposit, known geologically as a Kitchen Midden. Some claim, however, and in many cases with a fair amount of reason, that these deposits are the work of countless generations of aborigines, making periodical visits to the shore in search of shellfish, and throwing the empty shells in a heap on the beach. Colour is lent to this view by the fact that rarely are complete shells found in these deposits, the majority being more or loss destroyed.
LAGOONS FORMED.
The waves, in continuing the cycle of erosion, began to wear away the headlands left by the spurs of the various drowned valleys, and, finding the exposed dyke, contrary to the usual nature of dykes, offering a greater resistance to their attacks, soon left this body as a low, flat reef, some seven acres in extent, stretching about a quarter of a mile into the ocean. The detritis derived from this source was carried by the waves into the indentations left by the subsidence, at Dee Why, Collaroy and Narrabeen. Accumulating first to form bars across these inlets, the process of agradation has gone on, to form lagoons, which are now almost entirely choked.
Since the Narrabeen beds have been raised above sea level at Narrabeen and thereabouts, percolating rain water has dissolved out the iron constituent in the shales, and filled all the joint planes, leaving them as distinct ridges of free ironstone. It has in places even filled largo fissures, resulting in large blocks of limonite and haematite, which, offering greater resistance to wave action, are invariably located standing out in relief above the surrounding parent rock. In places percolating rainwater has also dissolved barium sulphate out of the felspathic constituent of the rock, and deposited it in joint planes, cracks, etc, as barytes.
Since the formation of the reef caused very rough water and strong currents in its vicin-ity, a fairly large littoral deposit of large and small waterworn pebbles has been ac-cumulated on the reef itself, and on the beaches immediately adjoining. Owing to extensive weathering of the cliff face at Long Reef, a large accumulation of Talus Breccia has been built up at its base, and it is in this accumulation, particularly in the grey shale, which is much better preserved than the chocolate, that the majority of fossils are discovered. OUR NARRABEEN BEDS (1927, April 20).The Sydney Morning Herald (NSW : 1842 - 1954), , p. 15. Retrieved from http://nla.gov.au/nla.news-article16381760
PICTURE THEATRE. COLLAROY.
Work is proceeding on a new picture theatre at the corner of Pittwater Road and Alexander Street, Collaroy, which has been designed to seat 1000. There is a spacious entrance vestibule giving easy access to the stalls and dress circle. There is comfortable lounge space in the foyer, which is 50 feet by 35 feet. Large windows overlooking the ocean open off the foyer.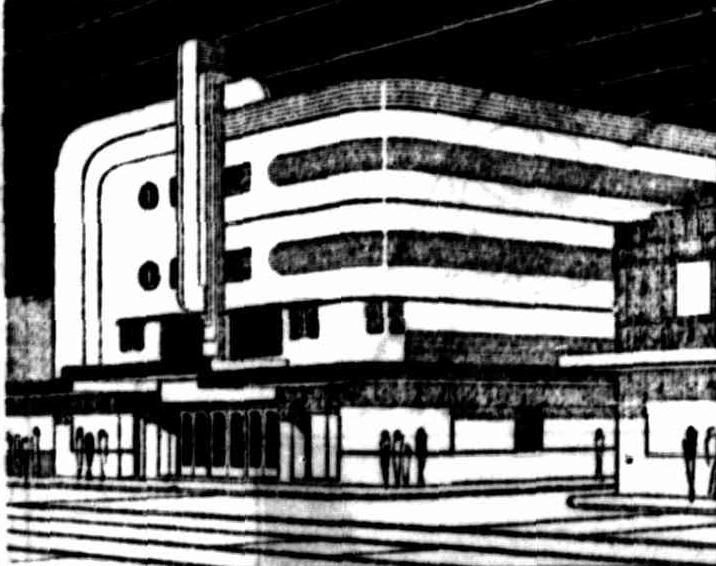 New Theatre at Collaroy.
Subdued but colourful lighting will be given indirectly. The decorative treatment in the auditorium is a study in simplicity contrasted with richness concentrated on the most important positions. Mechanical ventilation and heating plants will be installed. The sound equipment will be of the most modern and effective kind.
Roomy and comfortable chairs will be provided for patrons in all sections of the theatre. The floors will be carpeted throughout. The decision of the proprietors was to provide a theatre up to city standards, with all necessary comforts and facilities for patrons. The building is being erected by Charles A. Bullivant to plans, and under the supervision, of J. C. Rennie Bartle, architect. PICTURE THEATRE. COLLAROY. (1937, September 21). The Sydney Morning Herald (NSW : 1842 - 1954), , p. 8. Retrieved from http://nla.gov.au/nla.news-article17408008
Two Little Penguins
AS Mr. Neville Cayley mentions in the 'Mail' that there is very little known regarding the length of time these penguins care for their young before turning them out, I thought the following account would be of especial interest to readers of 'Outdoor Australia.'
At a crowded Museum lecture Mr. Kinghorn told us this unusual incident. One morning towards the end of August, 1921, the peace and serenity of some dwellers at Collaroy Beach were disturbed by extraordinary noises and weird cries at the back door. When the astonished owner of the house opened the door in rushed two little penguins, which with loud voices announced their intentions of staying. Then they danced about and waved their little wings in a most ingratiating way. After a short time these noisy visitors were shown the door, and they disappeared for a while. But, having chosen their home, Mr. and Mrs. Penguin returned later, and as they could not get inside the house they went underneath as far as they could get, and there made their nest of seaweed. The noise every night was almost unbearable; they would scream and cackle, and later, after about six weeks their songs of joy were terrific, for two youngsters were hatched. About four months after their arrival 1he penguin family suddenly departed. Where they wintered is their own secret: but late in the following August a terrible cackling' outside advised these householders that they were back. When the door was opened Mr. and Mrs. Penguin marched triumphantly in, followed by two grown chicks, which were inquisitive and rather shy. Then followed extravagant dances of greeting and vociferous songs of 'Here we are again,' etc., in which the young ones also joined. They could not be quietened, and the neighbours hastened across to see if someone had gone mad. The owners of the house put the whole family down on the beach and drove them away. It was then that the parents sent off the chicks to fend for themselves, and they themselves returned later and went under the house to their old nest. The celebrations were so overpowering that the householders took down some boards next day, got the noisy pair out, and drove them at night by car to Palm Beach, about twelve miles distant, and there left them. But next morning saw them back. They were taken a second time, but returned, and were allowed lo stay; but a home was made for them in the far corner of the garden. The house side was netted off and a hole cut in the fence to allow them free access to the beach. They made a nest of seaweed, and later two eggs were laid. The birds look it in turn to sit on them, and there was always much shouting and scolding when one returned from the sea at night. After about six weeks two sooty-brown chicks appeared, and the noise that night and the next few days while the celebrations lasted was tremendous. The parents took it in turn to fish and swim during the day that followed, but at night they often went out together to find a suitable supper, and about 9 p.m. would return, arguing together as they came up the beach. The following summer my father saw a young penguin land on the rocks at Coogee. I think it quite likely that it was one of the young ones turned out at Collaroy. It was evidently not very used to fending for itself, for a patch of feathers was torn from its shoulder, possibly through not being an adept at landing. At the time of the lecture these queer visitors were still in residence at Collaroy, and what became of them I do not know. It is likely enough that the nesting-place on North Head mentioned by Mr. Cayley is occupied by these little penguins or their descendants. Outdoor Australia (1925, March 18).Sydney Mail (NSW : 1912 - 1938), , p. 10. Retrieved from http://nla.gov.au/nla.news-article159721727
It is recorded that two Fairy penguins for a number of years made seasonal visitations to Collaroy, near Sydney, and often laid their eggs under the floor of one of the houses there. — F.J.B. Quaint and Beautiful Sea Birds (1934, October 31). Sydney Mail (NSW : 1912 - 1938), , p. 56. Retrieved from http://nla.gov.au/nla.news-article166107257
Long Reef – Reef Care: reefcarelongreef.org.au/little-penguins/ States: "There are over 140 birds seen on Long Reef and 40 of these are listed as NSW threatened or protected species. Long Reef forms an important link with Dee Why Lagoon Wildlife Refuge and the NSW coastline. Birds listed include Lewin's Rail, Little Grassbird, Little Penguin, Osprey, Sooty Oystercatcher and many migratory wader birds. Little Penguins are seen regularly feeding and swimming off Long Reef. Up until the 1940's Little Penguins nested on Long Reef Beach."
Collaroy SLSC Surf Boat Crews and Members Just Kept and Keep Saving Everyone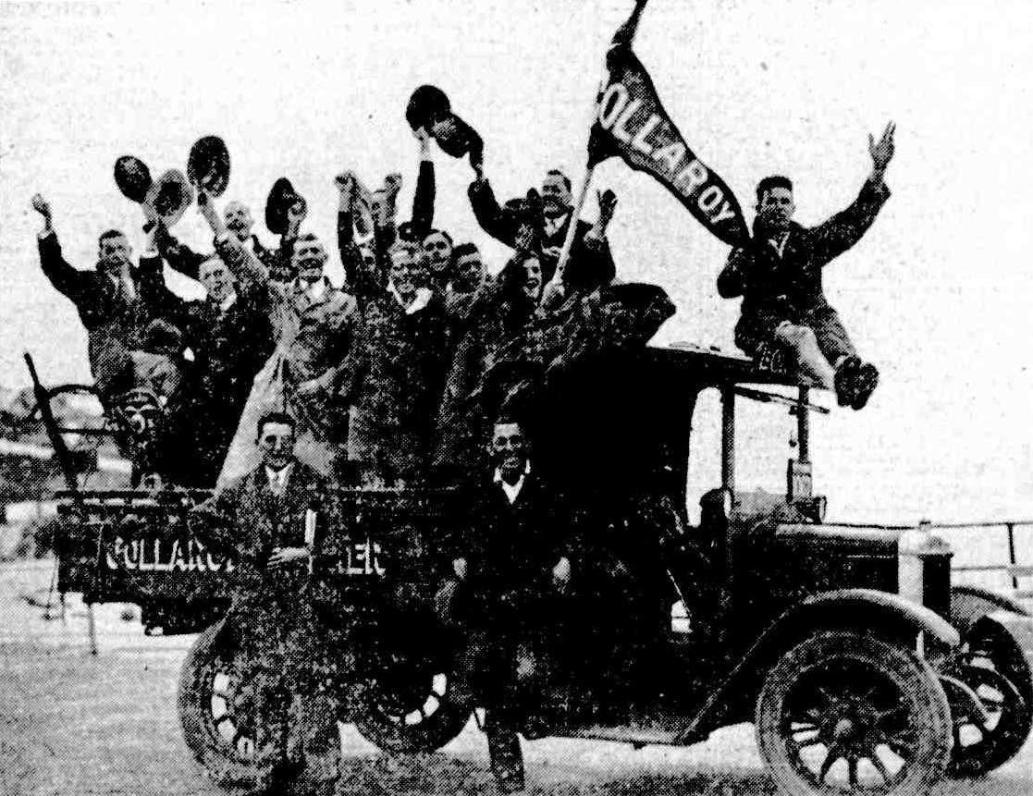 Above from: COLLAROY SURF BOAT CREW. RETURNING AFTER POSTPONEMENT OF NORTH BONDI SURF CARNIVAL. COLLAROY SURF BOAT CREW. (1927, January 24). The Sydney Morning Herald (NSW : 1842 - 1954), , p. 14. Retrieved from http://nla.gov.au/nla.news-article16349463
What appears time and time again during all these reports of people needing help in the storms seas off Collaroy beach is surf boats from Collaroy surf club taking to the waves to make safe others.
This is a tradition carried forward as recently as last summer, when neighbours Long Reef had members taking part of the George Bass Marathon and going back to the earliest days of Collaroy SLSC:
During the afternoon information was received at South Head Signal Station from Collaroy Beach to the effect that two small fishing boats, which had left early in the morning, were in difficulties as a result of the gale, and the pilot steamer, Captain Cook, was despatched to render assistance. In the meantime, however, the surf boat had gone out and brought both boats in, and the Captain Cook returned to port. SQUALLS IN SYDNEY. (1918, January 1).Northern Times (Newcastle, NSW : 1857 - 1918), , p. 2. Retrieved from http://nla.gov.au/nla.news-article123665391
Below from: NEW SURF CLUB AT COLLAROY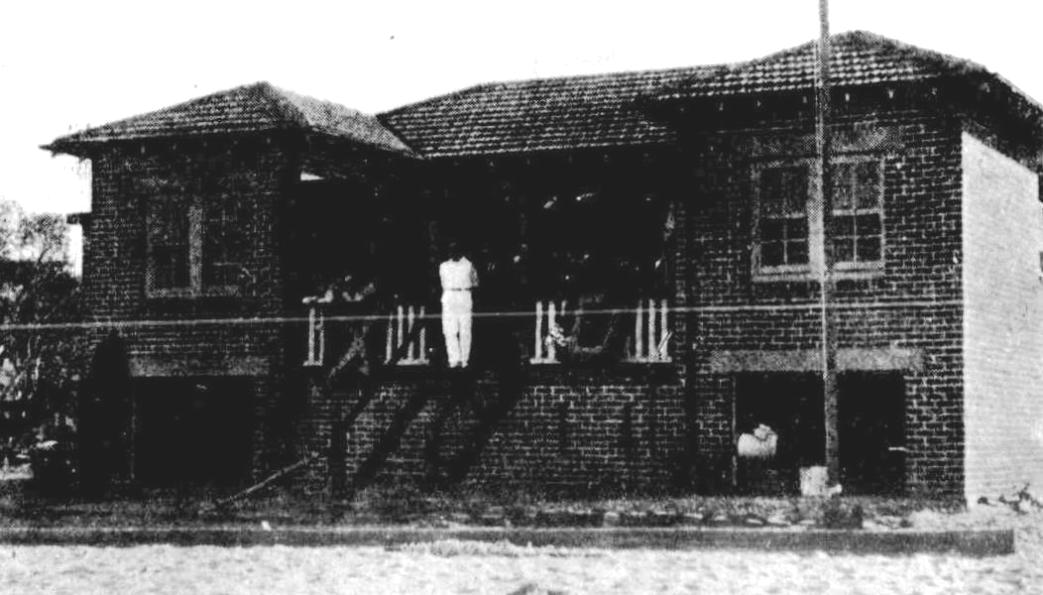 Collaroy on the Sydney side of Narrabeen, is one of the most popular of our beaches. The lifesaving club has now been provided with a fine, well-equipped club-house, which was officially opened by Mr. Parkhill, M.P., on Saturday. The Camera As a News Recorder (1927, November 23). Sydney Mail (NSW : 1912 - 1938), , p. 19. Retrieved from http://nla.gov.au/nla.news-article158297122
Palm Beach Club had five rescues last Sunday. Adrian Curlewis went out with the line on, three occasions, once having to run a distance of 500 yards along the beach before taking to the water to swim to a girl in difficulties. Others prominent were A. M. Lamport, ex-Rugby Union player, ad Alexander. The two latter entered the water with their clothes on.
North Steyne's surf carnival which is due to take place on December 15 will be unique In that no rescue event is included. This is sure to meet with the disapproval of the Surf Life Saving Association, for the rescue event is regarded by the controlling body as the basis of carnival programmes, not only from the instructive standpoint, but owing to the training which the members undergo. Some clubs claim that tho event takes too long to conduct, and bores the public who pay to see the carnivals. This may be so, but if all clubs decide to omit rescue and resuscitation events at their carnivals it will certainly have a deteriorating effect on efficiency unless, of course, special competitions are arranged apart from carnivals. Les Ellison, North Steyne's hon. secretary states that the "Bluebottle" is fully repaired and refitted after its strenuous season, and H. C. Evans and his crew will be out for fresh laurels. As an Indication of the drain of a racing surf boat on club funds. It might be stated that North Steyne's boat' costs about £40 per annum in maintenance. Gordon Soutar, son of the well-known golfer, D. G. Soutar, has joined North Steyne this year, and Is expected to do very well in Junior, ranks. There were thirteen candidates for the position of beach inspector at North Steyne among them, being club members G. Riddington (N. Steyne), Noel Walpole (Freshwater), V. Gorman and T. Farrell (Manly). The name of Chequer is pre-eminent in the Collaroy Club, and it is doubtful whether there Is any parallel to the fact that Mr. W B. Chequer is president, and his sons Ralph Chequer (surf belt champion) captain, B. Chequer hon. club instructor, and S. A. Chequer hon. treasurer and assistant secretary. Among Collaroy's new members this season is W. Spargo. a 16-year-old lad who Is regarded in some quarters as a successor to Andrew Charlton, and who has been linked up with the Manly Amateur Swimming Club for expert coaching. ON THE WAVES (1929, October 23). The Sun (Sydney, NSW : 1910 - 1954), , p. 9 (LAST RACE EDITION). Retrieved from http://nla.gov.au/nla.news-article223500854
SPRAINED ANKLE; GRUELLING SWIM
Badly spraining his ankle when he was swept over board by a big wave
at Maroubra surf carnival yesterday
Dick Twight, Collaroy junior boat crew sweep, had an agonising swim through a treacherous surf to safety. Twight collapsed with exhaustion when he reached the beach and was carried by stretcher to the club-house.
He revived after treatment and except for a sprained ankle was in no way affected by the gruelling. The 8000 spectators little suspected that Twight was battling his way through the heavy sea dragging a useless foot behind him. All they could see was the spectacular spill and then Twight's head bobbing in the waves. His collapse when he reached the sand was the first indication of his ordeal. Bobby Johnson appeared to have an unassailable lead in the open surf race when Rod Chapman (Bronte), A. Fidler (Sth. Narrabeen), and Johnny Ashley (Sth. Steyne), swept past him on a wave. They finished in that order. The Duke and Duchess of Gloucester were present and according to Marouba president, Tom Wild, they overstayed their scheduled time by three-quarters of an hour to watch the racing. Heavy rain just after the arrival of the party soaked the Duke, who sat through the carnival with the shoulders of his light fawn suit spotted with rain. SPRAINED ANKLE; GRUELLING SWIM (
1947, January 5
).
Truth
(Sydney, NSW : 1894 - 1954), , p. 14. Retrieved from
http://nla.gov.au/nla.news-article169365585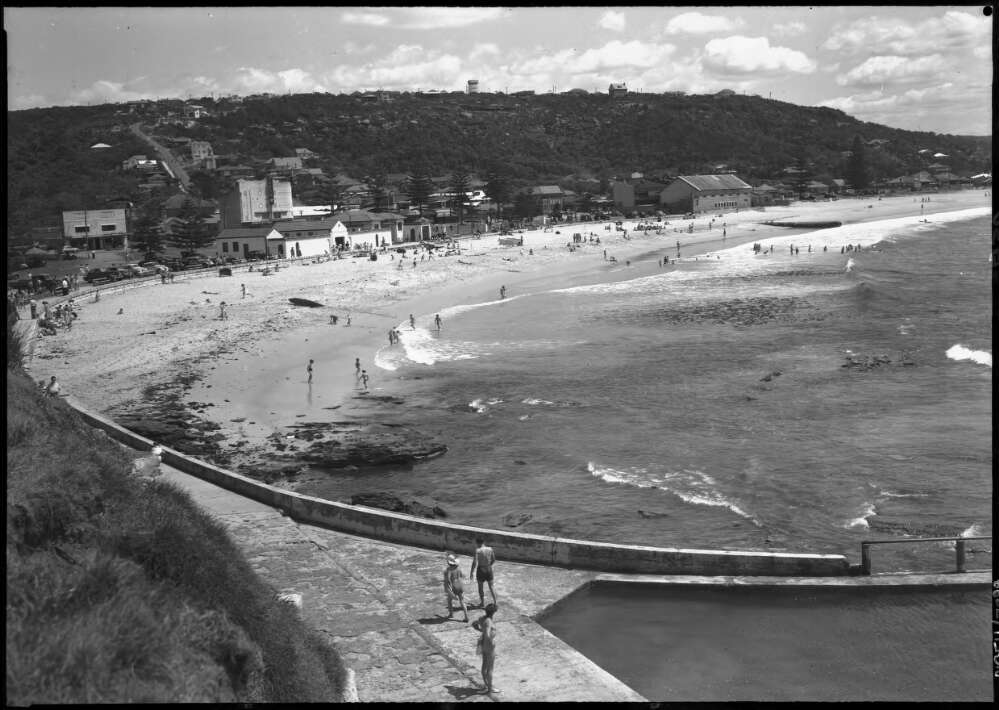 Frank Hurley Collaroy post 1945 Image No.: nla.obj-160161598-1, courtesy National Library of Australia

Photo: Mr. and Mrs. Richard Twight
- she was Betty Boddington - flew to Geraldton for a short honeymoon after their marriage at Ross Memorial Church. The bridegroom, who came with his brother and parents, Mr. and Mrs. N. Twight, of Collaroy, N.S.W., for the wedding, leaves tomorrow with his bride in the Oronsay to return to his home State.
Married Recently (
1952, March 13
). Western Mail (Perth, WA : 1885 - 1954), , p. 33. Retrieved from
http://nla.gov.au/nla.news-article39349416
Twenty-seven years old Dick Twight, of Collaroy, proved himself one of the best all round surf club members by winning the senior belt race.
Twight was a member of the Collaroy boat crew in 1946 when it won the Australian title. He is also a member of Collaroy's R. and R. team in which he has represented N.S.W. three times.
He has been training and competing for the last three years in belt races, but yesterday's win was his first in open company. He has not been out of a place in open carnivals this year, and beat Tom Dalton, of Deewhy, who has had five runs into second place. WHALE BEACH WINS IN DAMAGED BOAT (
1954, January 24
).
The Sun-Herald
(Sydney, NSW : 1953 - 1954), p. 47. Retrieved from
http://nla.gov.au/nla.news-article12641744
AUSTRALIAN SURF TEAM FOR SOUTH AFRICA NAMED BRISBANE, Mon.— The Australian surf lifesaving team to visit South Africa in June was chosen at Burleigh Heads today. Surf Lifesaving National Council honorary secretary, Ken Watson, was appointed manager. The team will fly to South Africa from Perth on June 21. They will spend two weeks touring the country before they return. The team is: John Bloomfield (Coff's Harbour), Brian Hutching (Bondi), Ray Matheson (Freshwater), Donald Morrison (Cottesloe, W.A.),
Richard Twight (Collaroy)
, Gary Winram (North Bondi), and Barry Lumsdaine (Freshwater). AUSTRALIAN SURF TEAM FOR SOUTH AFRICA NAMED (
1954, April 20
).
Illawarra Daily Mercury
(Wollongong, NSW : 1950 - 1954), p. 12. Retrieved from
http://nla.gov.au/nla.news-article133782008
Collaroy only recently lost Mr. R Twight
Life Members at Collaroy SLSC
Twight, R (Dick) (OAM)*
Twight, Stan Snr*
TWIGHT, Richard Norman OAM QB 1990. FOR SERVICE TO SURF-LIFESAVING – granted June 11, 1990
TWIGHT, Richard – Australian Sports Medal - 4 times Aust. March Past Gold Medalist, a members of NSW and Aust. Teams. Granted September 13, 2000
The Australian Sports Medal commemorates the efforts of Australians who have made our country a nation of sporting excellence.
Nominations were called for in 2000 – the year in which Sydney hosted the Olympic and Paralympic games.
Stanley & Florence Twight Reserve, Collaroy
* indicates member has passed away
Health by the Sea at Collaroy - 97 years
In 1916 Frederick George Sargood purchased a classic beachfront house with a sunshine north aspect on Collaroy Beach.

Homes for Our Army Nurses.
The Red Cross Society is at present arranging for the opening of two 'convalescent homes for our returning war nurses. After the storm and stress and strain the nurses deserve the utmost consideration, and they should be given months of rest and attention to recuperate their nerve force. Mr. Sargood's home at Collaroy, which was given to the War Chest, his been handed over to the Red Cross Society, and' will be opened as a home for tired nursing sisters. Through the Eyes of a Woman (1919, February 23). The Mirror (Sydney, NSW : 1917 - 1919), , p. 6. Retrieved from http://nla.gov.au/nla.news-article136733980
A CONTRAST: ILLNESS AND HEALTH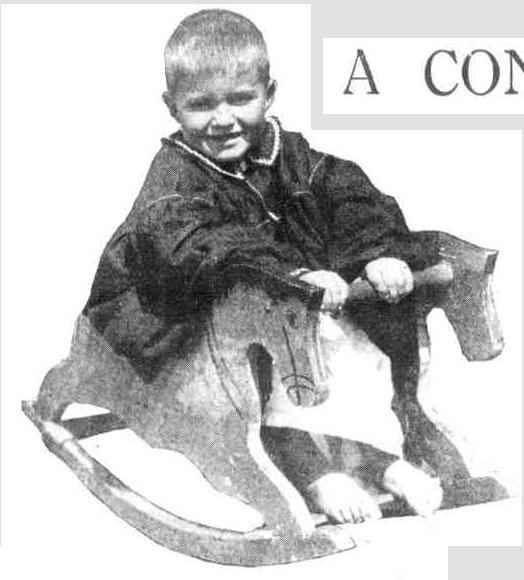 'THIS IS FINE !!!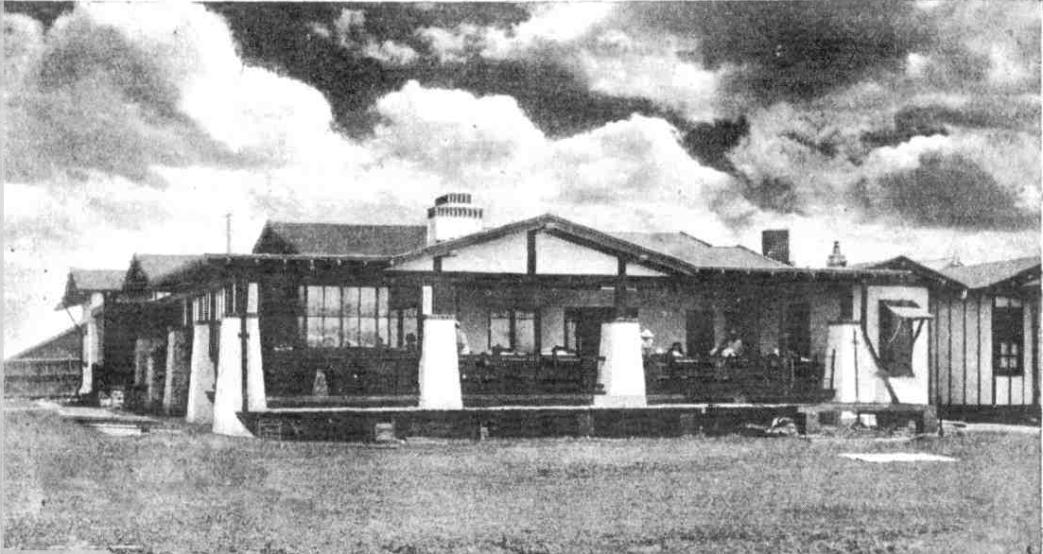 CHILDREN'S CONVALESCENT HOME AT COLLAROY.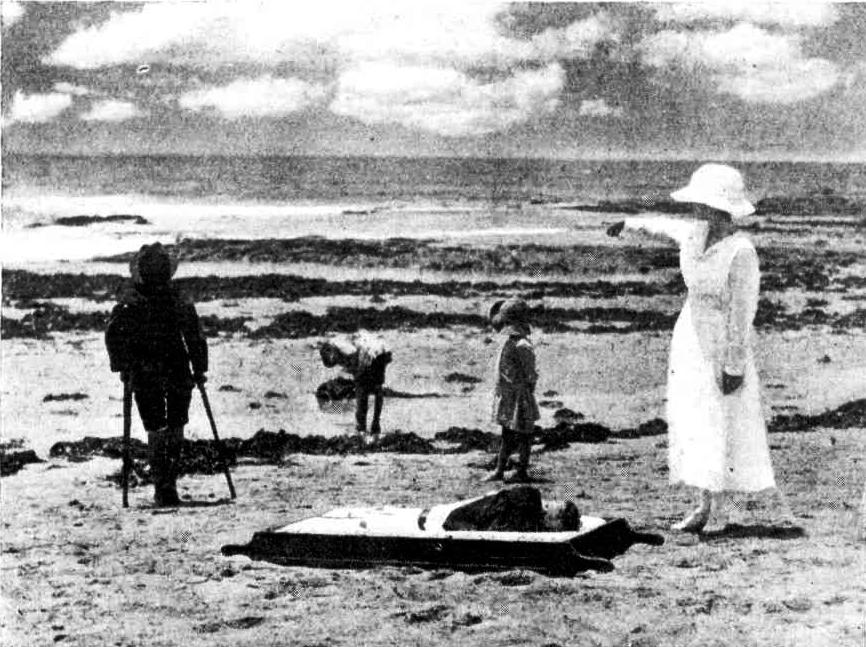 ON THE BEACH AT COLLAROY.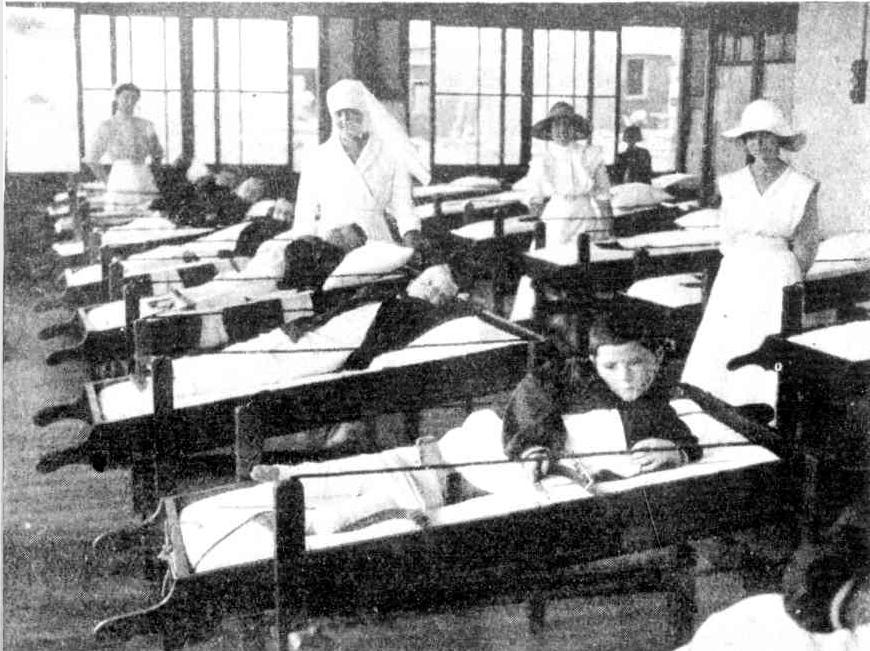 SOME OF THE LITTLE CRIPPLES.
DURING the war Mr. F. G. Sargood presented this beautiful bungalow at Collaroy, commanding a glorious view, to the War Chest Fund, expressing the wish that when it should become no longer useful to that organisation it should he given to the Royal Alexandra Hospital for Children as a convalescent home. In due course it was handed over to, the hospital, and the War Chest contributed £5000, the interest of which is to be used for the upkeep of the home, and a similar amount for the endowment of five cots in perpetuity. The hospital has expended a good deal in converting the bungalow into a thoroughly-equipped home, and many children are now in residence there, enjoying 1he recuperative properties of fresh air and sea-bathing. A CONTRAST: ILLNESS AND HEALTH (1922, January 18). Sydney Mail (NSW : 1912 - 1938), , p. 16. Retrieved from http://nla.gov.au/nla.news-article169770525
CHILDREN'S CONVALESCENT HOME AT COLLAROY.

RECENTLY OPENED BY THE ROYAL ALEXANDRA HOSPITAL FOR CHILDREN.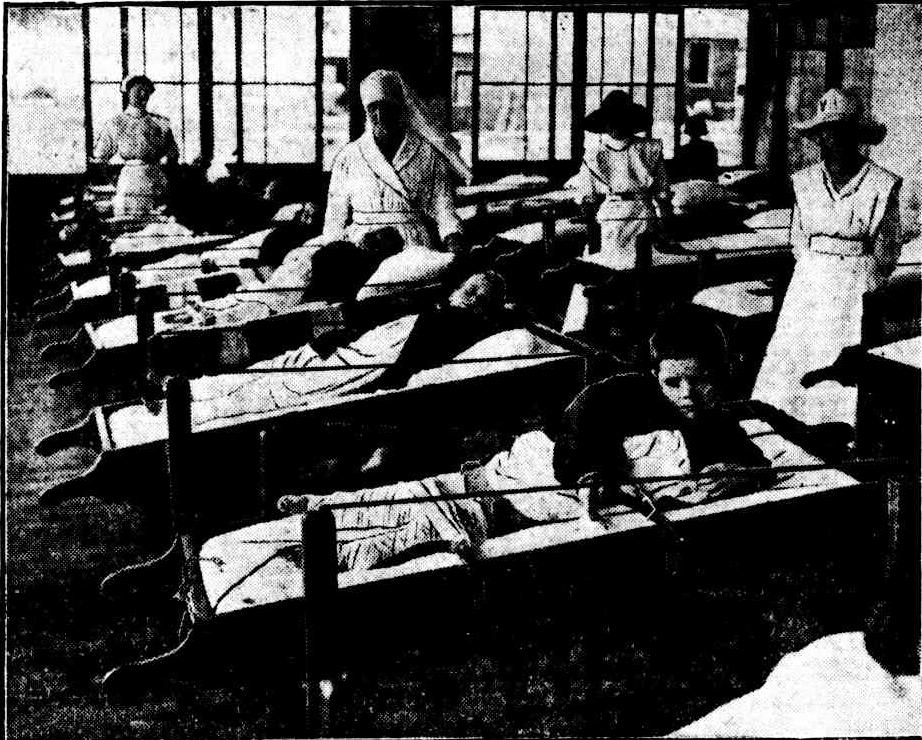 ON THE VERANDAH OVERLOOKING THE BEACH, Showing the specially-designed cots, the top portions of which can be lifted as stretchers and placed on the sands.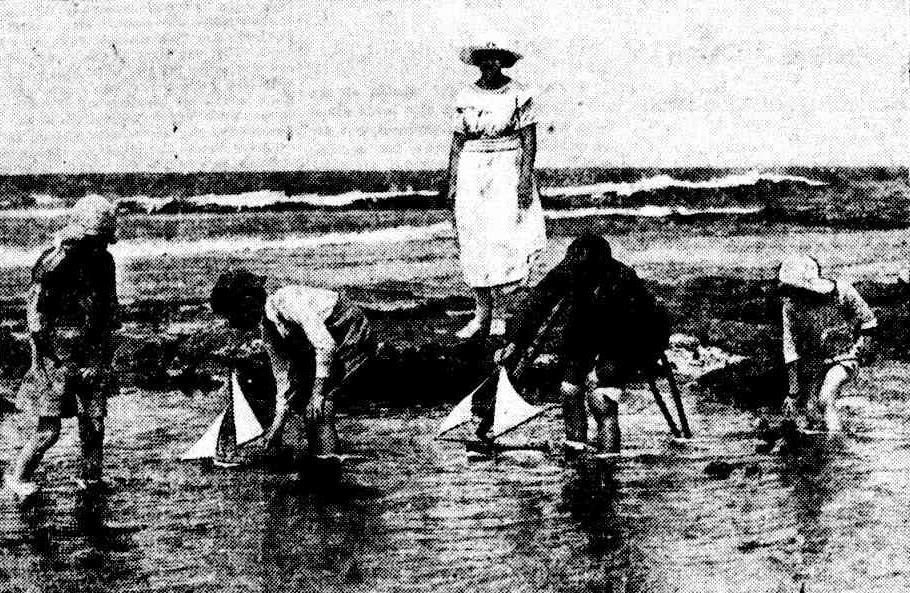 CONVALESCENT CHILDREN IN CHARGE OF A VOLUNTARY HELPER. CHILDREN'S CONVALESCENT HOME AT COLLAROY. (1922, January 12). The Sydney Morning Herald (NSW : 1842 - 1954), , p. 10. Retrieved from http://nla.gov.au/nla.news-article15971245
CONVALESCENT HOME. OPENED AT COLLAROY.
The Convalescent Home at Collaroy in connection with the Royal Alexandra Hospital for Children was opened by the Governor (Sir Walter Davidson) on Saturday afternoon.
His Excellency, who was accompanied by Dame Margaret Davidson, was received by a guard of honour, composed of the Boy Scouts of the Manly and Narrabeen troops, and by the Manly Girl Guides.
Sir Walter Davidson, in declaring the home open, congratulated tho board of management on its progressive spirit in securing such an auxiliary to the institution in such beautiful surroundings, and in making available 30 cots for convalescent children from the hospital.
Dr. Clubbe, the president of the hospital, stated that the hospital had been hoping for a home of that description for the past 15 years. The home was the gift of Mr. F. G. Sargood, through the War Chest Fund. He further stated that with that gift that fund had given £5000 towards the endowment of the home. Some residents of Collaroy had stated that it was a shame that a home of that description should be established at a seaside resort, as there was a danger of the spread of diphtheria. Dr. Clubbe stated emphatically that he could deny the allegation, as the latest sewerage system had been supplied to the home under the supervision of the Health Department. There was no danger whatever in that direction, and Dr. Purdy had endorsed his statement.
Dr. Clubbe added that all cases taken there wore of a non-infectious type, and that the home was ably managed by a matron and a certificated staff, assisted by voluntary workers. The work of the hospital in saving child life was eulogised by Mr. C. W. Oakes, Minister for Health. CONVALESCENT HOME. (1922, June 26).The Sydney Morning Herald (NSW : 1842 - 1954), , p. 6. Retrieved from http://nla.gov.au/nla.news-article16009642
CHILDREN'S CONVALESCENT HOME AT COLLAROY.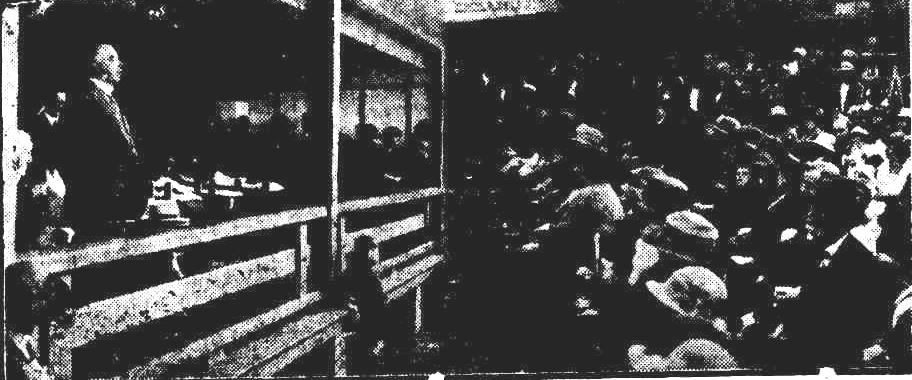 THE GOVERNOR PERFORMING - THE OPENING CEREMONY ON SATURDAY. CHILDREN'S CONVALESCENT HOME AT COLLAROY. (1922, June 27). The Sydney Morning Herald (NSW : 1842 - 1954), , p. 10. Retrieved from http://nla.gov.au/nla.news-article16009865
FOR CONVALESCENT CHILDREN
The new Convalescent Home which has been opened at Collaroy in connection with the Royal Alexandra Hospital for Children possesses an ideal situation. It is built on the top of the headland overlooking Long Reel beach, and the view includes the whole coastline from Collaroy to Barrenjoey, and on a clear day the headlands on the other side of Broken Bay. All this — the golden sands, white-crested waves, blue sky. green sea, the red-roofed houses nestling in the trees, and the purple coast in the far distance — goes to make up the view seen from tho big verandah on which the patients live — for they all sleep out. This verandah is large enough to hold three rows of beds, each row holding about ten. The floor is raised, and therefore the back row gets just tho same view as the front, and there is no jealousy or neck craning. The doings of the people on the beach are always of interest, and there is invariably something fresh to look at. There is, however, a prospect of this view being lost, as a house is to be built on an adjoining block. An effort is being made to buy the land in the Interests of the institution — but a sum of £700 is required. When it is warm the children play on the beach, sunbake— lying quite naked behind specially constructed screens — paddle, or even bathe in the rock pool. All this is possible only a few minutes walk from the building. FOR CONVALESCENT CHILDREN (1922, June 25). The Sun (Sydney, NSW : 1910 - 1954), , p. 5. Retrieved from http://nla.gov.au/nla.news-article223945010
ROYAL ALEXANDRA HOSPITAL. A RECORD YEAR. 36,376 CHILDREN TREATED. The annual meeting of the Royal Alexandra Hospital tor Children was held yesterday, the Lord Mayor (Alderman Gilpin) presiding. The report of the board of management stated that from both the medical and financial points of view the year's work of 1922 was again a record one. Statistics showed that the total number of children treated In all departments during tho year was 36,376, the greatest number in the history of the hospital. The average number of patients resident daily was 192.. The Convalescent Home, Collaroy Beach, proved a great success, 133 patients having been admitted in the year. ROYAL ALEXANDRA HOSPITAL. (1923, May 24). The Sydney Morning Herald (NSW : 1842 - 1954), , p. 6. Retrieved from http://nla.gov.au/nla.news-article16077200

The Sargood Foundation states that in 1960 the site was declared "surplus to requirements" by the Royal Alexandria Hospital for Children and transferred to the Department of Health, and that successive governments attempted to rezone the land with intention to sell it.
In 1999, the then Collaroy Community Group (now the Sargood Foundation) were officially elected. Their mandate is to ensure that Frederick Sargood's vision of a place of healing for the community remains in perpetuity.
In 2011 Lifetime Care and Support Authority purchased the land from the Department of Health. In 2012 The Honourable Barry O'Farrell, then Premier of NSW officiates at the Ground Breaking Ceremony for a new care facility which it is hoped will be completed this year, 2016.
Sargood Foundation: June 6 at 10:49am, from their Facebook page
Hello from ‪Collaroy‬ after the ‪storm‬. We have been lucky here at the Sargood on Collaroy site however some of our neighbours have experience some significant damage. The Novati team have removed small branches in and around the site and surprisingly there is minimum water onsite. One of our local supporters, The Beach Club has been severely damaged but luckily no injuries. Please take care on the roads and around any flooded areas.
About the Sarggod Foundation
Empowering people with spinal cord injury to gain the confidence and skills to return to a full and rewarding life. Sargood is operated by Royal Rehab.
Sargood will be a world-class, residential learning centre on beautiful Collaroy beach .This facility will enable people to continue their rehab and return to rehab. It will enable contact with other people who share SCI from all life stages and journeys to support and share the journey together. The focus will be on encouraging community engagement and involvement, continuation of achievement of goals.
It equips you with the skills and confidence you need for new challenges. Living independently, getting a job., managing relationships. Taking part in the community and taking control of your life.
Statistics: 300 Australians suffer spinal cord injury each year. The average age is 19. More than half of these young people sustain quadriplegia and they need key support services to be able to successfully resume their lives.
What Makes Sargood Unique:
Many people with spinal cord injuries return to hospital because they haven't gained all the skills and confidence they need to live independently. We will offer: Holiday apartments, with or without SCI trained attendant carers. - Individual apartments where you can stay with your family so you can establish a new way of living together. - An apartment where your family can stay with you. - On-site learning to help you set and achieve your goals of living independently. - An uplifting, resort-like environment. - A supportive local community working toward an accessible, all inclusive Collaroy. - On-site learning for people with SCI, their attendant carers and family.
Sargood Foundation:
The Sargood Foundation is the fundraising arm of Sargood and is represented by the community which is a 25% stakeholder of Sargood. Our aim is to raise funds to ensure the Centre is completed to the "State of the Art" standard proposed and to focus on raising funds for the centre's programs and the stay of residents who are unable to fund their own.
Royal Rehab:
Royal Rehab are the highly credentialed organisation and personnel behind the day to day operation of the Sargood Centre and the residents with SCI.
Sargood's Structure:
Sargood is a not for profit partnership bringing together government and private funding with strong community support.
50% Lifetime Care and Support Authority.
25% The Sargood Foundation, representing the local community.
25% A private foundation.
Rod Macqueen AM, Alan Jones AO and Wendy Harmer are our Patrons.
Website: http://www.sargood.org.au/sargood-story/
Facebook page: https://www.facebook.com/sargoodcentre/timeline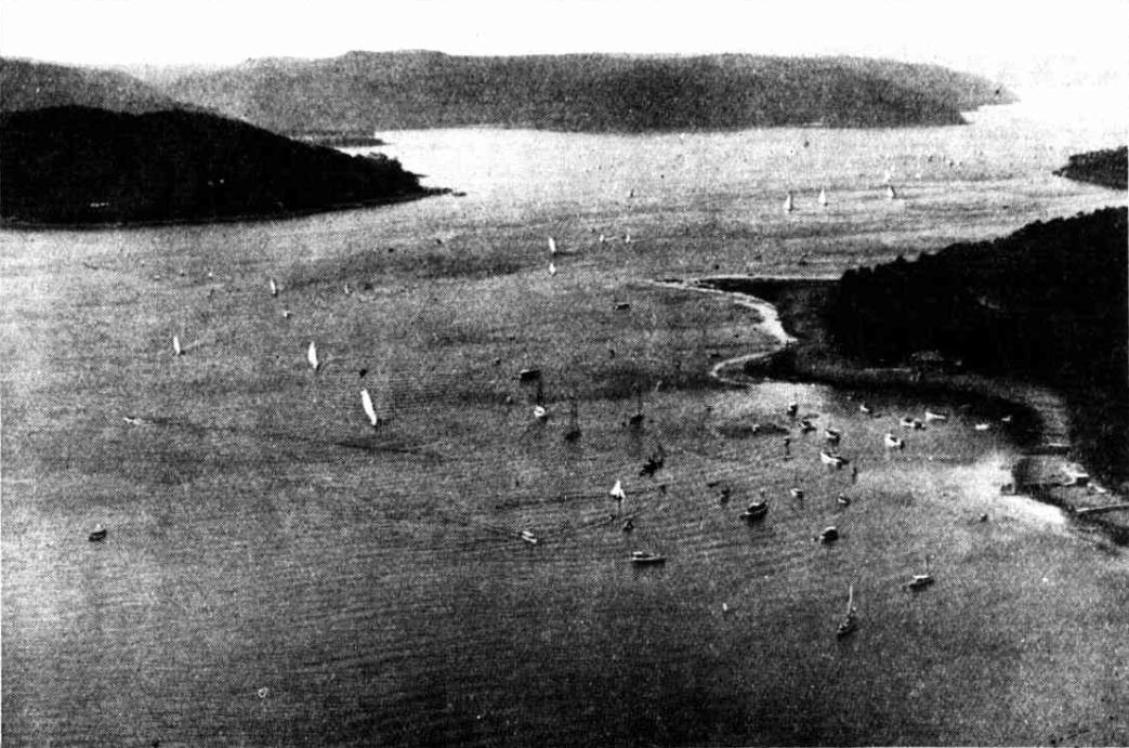 Striking Aerial Views PITTWATER. ONE OF THE LOVELIEST SPOTS IN N.S.W. Photographed from a height of 700ft.
FISHERMAN'S BEACH, LONG REEF, COLLAROY. From a height, of 500ft. Photos by T. Purcell. Striking Aerial Views (1929, January 9).Sydney Mail (NSW : 1912 - 1938), , p. 25. Retrieved from http://nla.gov.au/nla.news-article166259456