January 27 - February 2, 2013: Issue 95
The Kalori - Pittwater High School Yacht
Walter 'Wal' Wardle, History teacher at Pittwater Highs School since it opened in 1963, attributes the idea of building a school yacht to Harold Vaughan, one of the founders of the Avalon Sailing Club:
What was the first conversation that eventuated in a yacht being built in the canteen at Pittwater High School?
It'd have to be the 1968 Sydney-Hobart Yacht Race. At the time, Harold Vaughan, whom I used to sail with on his Diamond which was called 'Saltash'. We were halfway across Bass Strait in the yacht "Shimaal", in quite a storm, and Harold said, "Well, how would you like to build a Diamond at the school?".
I said "Oh, that'd be great Harold." Then forgot about it.
I thought maybe, with the storm and all, it'd got to him. But Harold at the time was President of the Australian Diamond Association. It was promoted by the English magazine 'Yachting World'. The Yachting World Diamond Class was designed by Jack Holt with the idea being that you could build it yourself. So I just forgot all about it until Harold rang me up one evening about May the next year (1969) and said "Well, I've got all the materials; when are we going to start?". So we started in June 1969.
The school was all for it?
Oh yes. We had to go and talk to the P&C Association. The headmaster Jim Gorrell, he lived in Bayview, and Jim was all for it; I don't think he understood what he was in for, but it was built there by volunteer parents, probably would have been 10 parents, and we had a group that would come in two nights a week; I'm guessing it was the Tuesday night and Thursday night, and they would work through from 6 or 7 o'clock until whatever time the job took.
I remember one occasion when we had the by-laws inspector from the Council come around; he'd had a complaint about noise. What was happening was we were riveting and you know Bang … BANG… BANNG!
I explained to him what we were doing, because we had glue setting, riveting etc. and he said "I'll come back in half an hour."
He went away, came back and by then we'd finished, and then he ordered us to stop. What a decent chap! He understood, had the spirit, exactly.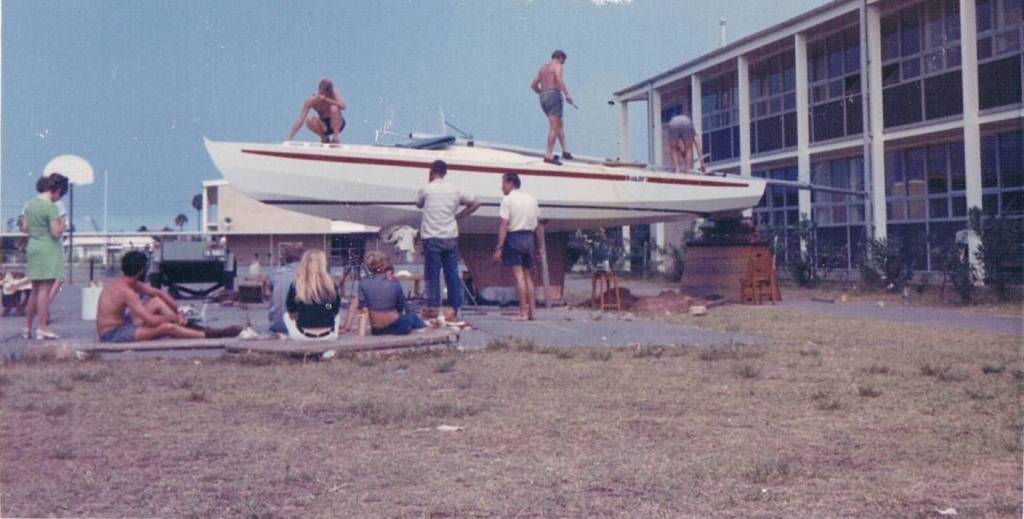 Did the students help build her as well?
Oh yes. They worked odd afternoons except Sports Days. There wasn't a regular pattern with that. We'd just stay after school. I used to co-ordinate with the different parents on the Tuesday and Thursday evenings. Then on two or three afternoons a few of the kids would stay and do a little bit and then go home. If we ran a bit late we'd go in on the weekends and try and catch up.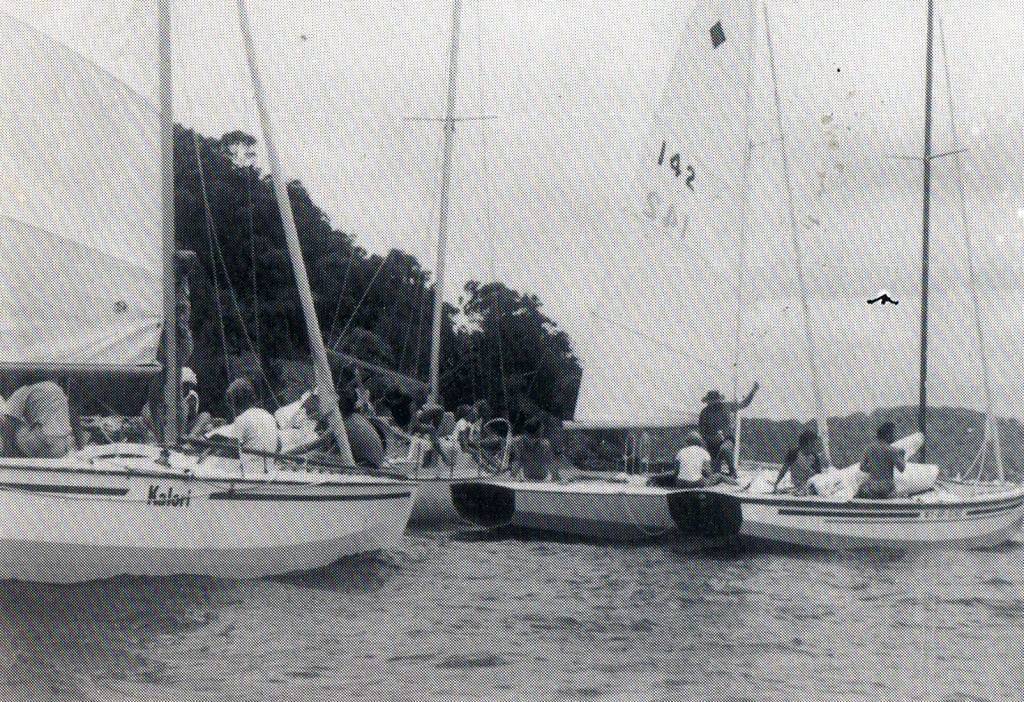 A photo from Alan's archives entitled 'Lunch break on Pittwater'.
Why did you choose the name 'Kalori'; Alan told us it meant 'Message Stick', where did that idea spring from?
It's a corruption of an aboriginal word; I can't remember what the original word was, but 'message stick' we thought was a good word because we were going to use it as a training boat.
Message sticks were also traditionally used or given to someone who was going into another 'country' as a passport, passing between the different tribes; in this way it parallels sailing the different parts of the oceans as well; it translates across all those areas.
The word 'Kalori' was in the school anyway; it was the name for the yearbooks and magazines. Then they had one called 'Nunana' Kalori which was a pamphlet; a small edition. This one here, from 1972; with some pictures of Kalori. The yachting Diamond Association heard we were building a boat and they asked us would it be ready to display at the Boat Show, which was about six weeks off at the end of July, so instead of not giving them anything we did a scale model. I think it was one sixth to scale. That number, on the sail there, was never Kalori's number, the chap who made the sails for it, Jack McKellar, he only died recently, so he used the number off his boat; I think 396. Kalori, when she came out, her number was 702, and then it became 122.
How long did it take to build her?
We started in June 1969 and launched her on March the 9th the following year, 1970. With the school Xmas holidays there would be a big break; so it took about six-seven months.
Where was she launched?
She was launched at Prince Alfred, at the slipway by Lady Cutler. When it was launched, it was about three o'clock in the afternoon, March the 9th; it was the tradition with launching yachts that you launched quickly. The cradle ran down the slipway, no braking at all, with the crew on board. The skipper was Barry Byerley. Philip Frost was another member. Into the water and off they went sailing and had its first collision in five minutes. It was only minor and not caused by the crew but by a spectator craft, and I thought, 'Well thank goodness, we needn't worry now; its had its first ding;
So sailing became part of the curriculum at Pittwater?
It already was. We introduced it in the Summer of '63/64; as soon as the school returned in 1964. The chap who helped a lot was Zachary Stolznow, to get it established. He had a boy at the school, he had a restaurant too at French's forest.
Can you remember Michael Jeffries or Campbell Knox?
Yes. They were very good sailors. Michael was a very good helmsman. His dad Brian built a Diamond called 'Lucy Anne' which was the first name of Michael's mother. Michael was a very very good helmsman, he was … maybe the third Skipper. Another early skipper was Hendrik, Martin Visser's son, he was very good too, they both did very well at the State and Australian level.
You put her into the State Championships?
Yes straight away, in 1970. We also towed it to Melbourne. Brisbane and Hobart for the Nationals held each year. I can remember Melbourne and the presentation; they all came dressed up in dinner suits but they were wearing sailing shoes that looked like sandshoes. They made a grand entry after everyone had settled; and we all had a good laugh; sailing shoes with dinner suits! There was Hendrik and Roy Baker.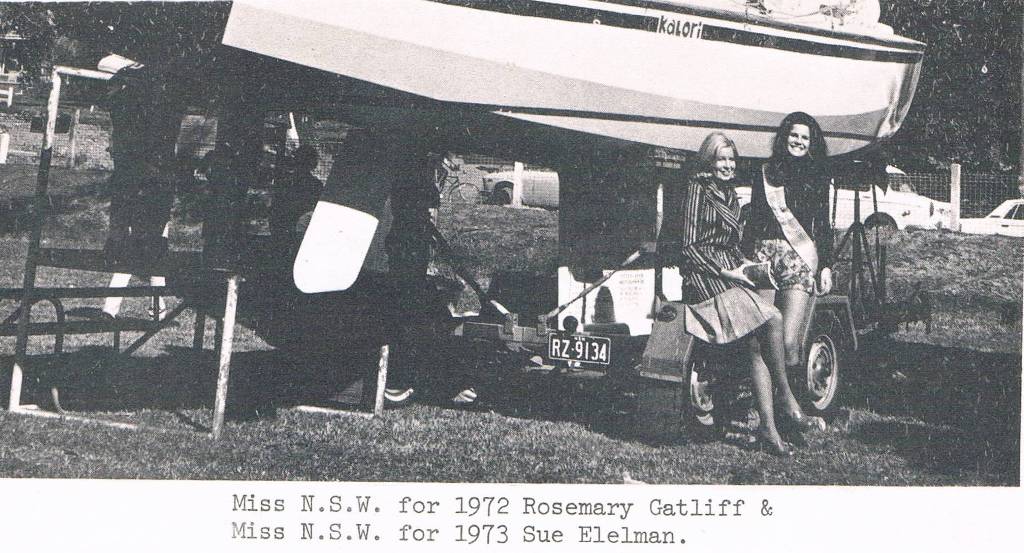 From the 1972 Kalori yearbook
How many Championships did she win?
I don't think it won a championship; mainly seconds and thirds. I know later on, when I owned a boat I won some, and they were seconds and thirds in the same series (Diamonds). In fact, I can remember having not incidents but close encounters with Kalori when Michael Jeffries was sailing her. I think in one Melbourne there was one decision against them.
From 1974 Kalori Yearbook:
For many pupils, sailing continues to be an important part of school life at Pittwater. Because of this there is always a demand for use of the school's small boats. There are four Manly Juniors and a fourteen foot sailing boat painted orange which has been named "Orange Peel". This particular boat also functions well as a fishing boat. In summer time the learners class, taken by Mr. Jones makes good use of these boats. In winter they are used by those beginners who have graduated or by other pupils who haven't got their own boats.
The school boats from time to time need maintenance and this is looked after by Mr. Jones and the crews of the boats concerned. The costs of this maintenance is in part paid by the sailing fees charged at the beginning of each season, and to some extent by the school sports fund. In April the Warringah Zone Sailing Championship was conducted on Pittwater. As in previous years, Pittwater High was the host school, but this did not prevent the school from beating its guests. As overall points leader, Pittwater won the "Kalori Shield" coming first in both the yacht and A division and fourth in B division. The better individual places scored by pupils were as follows:-
Yachts - 1st Peter Isaacs 3rd P. Woolley
A. Division - 2nd J. Bulpitt 3rd S. Hill
B. Division - 1st P. Davidson
The results were very pleasing because the number of boats entering has risen to over ninety and the ability of the top half of the fleet has improved greatly over the years.
"Kalori" has come back to school and is in the same place where she was built. I hope most earnestly that by the time you read this, "Kalori" will be back in her element. Dry rot had got into the gunwale and doubler on the starboard side and had run along a line of sap for about seven feet. Aft major surgery the gunwale has been replaced and a new strip of ply inserted in the damaged area of the top-sides. To prevent any future problem with rot the rubbing strip right round the yacht has been removed, the joint between the deck and topside has been stripped, micro-ballooned and sheathed in dynel. New teak external gunwales have been seated on a flexible compound and these measures should keep the rain water out and prevent further rot.
It has also been possible to allow "Kalori" to dry out which has helped with the repairs and paint ing. The keel has been taken off the hull to allow it to be faired in correctly and re-painted. After this major overhaul the yacht will actually be a more potent racing craft than when first launched. Whilst one famous "Kalori" crew of previous years has been conspicuous by its absence I must thank those few boys who have regularly stayed back after school to help. In particular I would thank the two first form boys who have never sailed on "Kalori" yet turn up to help - they help to make it all worthwhile.
While a group of boys worked on "Kalori" on Tuesday afternoons, Mr. Jones and Mr. Hamilton conducted the winter sailing in all types of weather. For the sake of sailing at Pittwater it is to be hoped when these teachers move on to other schools,
that they were not indispensable.
W. Wardle.
In 1980 a Celebration of ten years of the Kalori was held at the Royal Prince Alfred Yacht Club, where the Kalori was moored, without cost, throughout her years on Pittwater. The invitation read:
Kalori – 10 Years Celebration at RPAYC on Friday 14th of March - Invitation
THE LAUNCHING OF THE KALORI
Many months of hard work by parents, students and teachers culminated in the launching of the "Kalori" on Monday 9th March, at the Royal Prince Alfred Yacht Club, Newport, where the boat will be moored free of charge. The launching was attended by Sir Roden Cutler, the Area Director for Education, Mr. McKibbon, as well as other guests, parents, senior students and members of the School's sailing fleet.
At three o'clock the Governor and Lady Cutler arrived. The ceremony proceeded with the Commodore of the R.P.A.Y.C., Mr. L. Armitage presiding. Mr. Gorrell, who spoke first, gave a brief history of sailing at the school, traced the development of the "Kalori" and thanked those who had helped in the building of the yacht and those who attended the ceremony. Next to speak was Mr. H. Vaughan who listed the people who had donated to the project.
After Mr. Vaughan had spoken, Barry Byerley, the yacht's captain, accepted the boat on behalf of the students. His Excellency then spoke, commenting on how he had always enjoyed sailing and expressing his hope that the school would be able to make good use of the "Kalori".
The crew of the boat, A. Pratt, R. O'Neill, P. Frost and B. Byerley were then introduced to the guests. After this, Lady Cutler officially christened the "Kalori" at 3.25 p.m.
With the help of cheers from the crowd the maroon, grey and white hull slid easily down the slipway and into the water for the first time. The sails were quickly hoisted and with its new sails billowing and the School's small yacht fleet in tow the "Kalori" moved up the bay.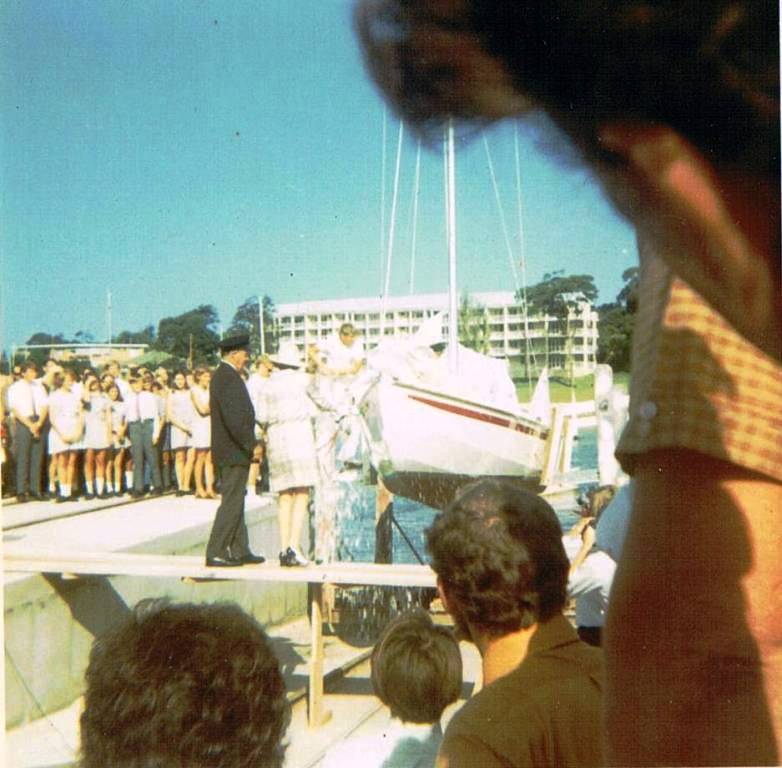 Among Alan Jones' records, as he was the teacher who took over sailing at PHS when Wally was made History Master at Barrenjoey High School, and is the same gentleman resposible for Sailability Pittwater, is a timeline to accompany the ten year celebration:
KALORI - 10 YEARS
March 9th 1970: Launched by Lady Cutler. Crew: Barry Byerley, Allyn Pratt, Philip Frost, Richard O'Neill.
October 1970: State Championships: Hendrik Visser, Roy Baker, Rick McGrath, Richard O'Neill
January 1971: National Championships, (N.S.W.)
January 1972 National Championships, (QLD.) Crew: Hendrik Visser, Roy Baker, Rick McGrath, Richard O'Neill
January 1973 National Championships, VIC.)
February 1973 State Championships, LAKE MACQUARIE. Crew: Wal Wardle, Peter Davidson, Michael Gorman
February 1974 State Championships, GOSFORD. Crew: Wal Wardle, Rick McGrath, Roy Baker, Hendrik Visser
Winter 1974 re-fit
Spring 1974 Crew: Wal Wardle, Jeff Bulpitt, Brett Dunstan, Campbell Knox.
Summer 1975 Crew: Jeff Bulpitt, Brett Dunstan, Ian Collopy, Jim Davies.
December 1975 State Championships, LAKE MACQUARIE.Crew: Jeff Bulpitt, Ian Collopy, Jim Davies, Tony Marchant.
January 1976 National Championships, LAKE MACQUARIE.Crew: Jeff Bulpitt, Michael Jefferys, Campbell Knox, Stephen Hill.
November 1976: State Championships, SYDNEY HARBOUR.Crew: Michael Jefferys, Campbell Knox, Tony Marchant, Allan Jones.
January 1977 National Championships, VIC.Crew: Michael Jefferys, Campbell Knox, Tony Marchant, Allan Jones.
Spring 1977 Crew: Wayne Torpy, Ruth Cunningham, David Preston, Peter Hindle
December 1977 State Championships, WHALE BEACH.Crew: Wayne Torpy, Greg Torpy, David Preston, Peter Hindle.
January 1978 National Championships, HOBART.Crew: Wayne Torpy, Greg Torpy, Peter Hindle, Lee Cooper.
Spring 1978 Crew: Wayne Torpy, Greg Torpy, Peter Hindle, Mandy Molloy.
Summer 1979 Crew: Matthew Cudmore, Grant Crowle, Mandy Molloy, Stuart Shimeld.
Spring 1979 Crew: Matthew Cudmore, Greg Parkes, Linda Jefferys, Richard West.
January 1980 National Championships, SYDNEY HARBOUR.Crew: Matthew Cudmore, Greg Parkes, Richard West, Bob Hamilton.
Summer 1980 Crew: Grant Crowle, Linda Jefferys, Michael Hole, Peter Ross.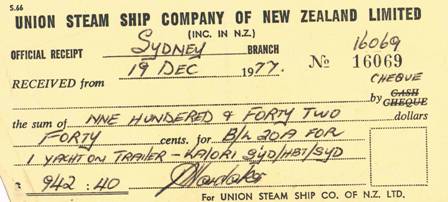 Alan, smiling, regaled us with stories of students who could not afford cars taking girlfriends out on the yacht for dates, of struggles to get the yacht to and from the various championships in other states she competed in. Fundraising, seeking sponsorship from the community, working out shipping costs, securing ways and means to transport crews took up a lot of his after teaching hours as evidenced here: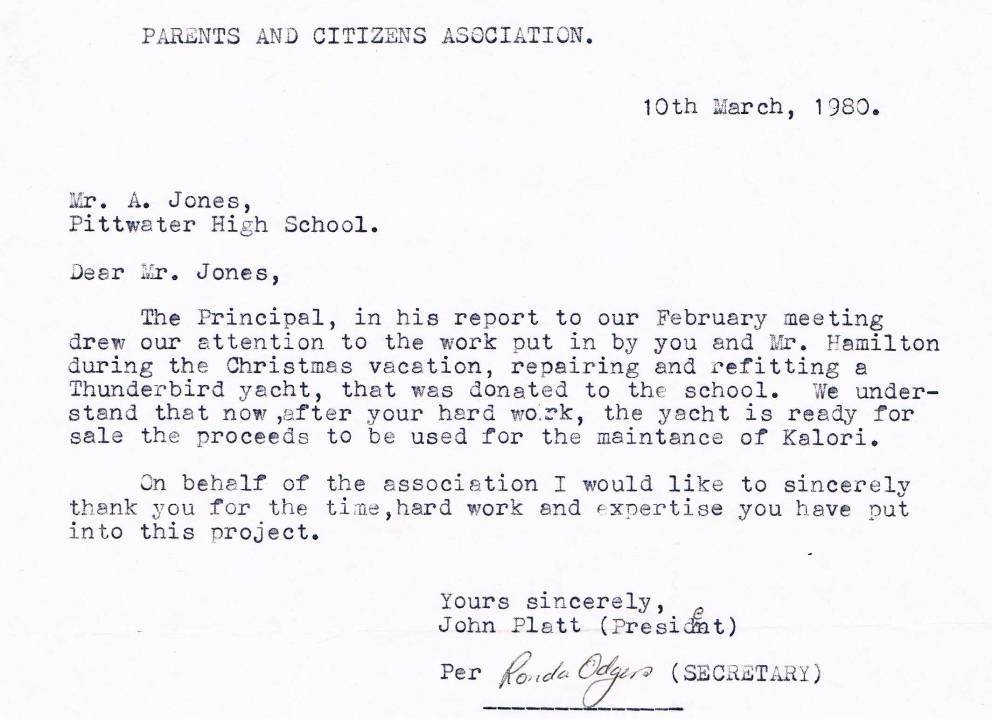 Wally attributes Alan as having a passion for Diamonds and a passion for teaching his students sailing that knew no limits. The Kalori was a Diamond class yacht, a vessel designed by legendary boat designer Jack Holt. The first one to be launched in Australia was on Pitwtater in 1962. Alan went into a little bit about how particular he had to be when entering the yacht in any championships that she fulfileld specifications required.
YW Diamond Class Specifications
Overall Length 9.182 m.
Length at Waterline 7.3 m.
Beam 2.026 m.
Displacement 1075 kg.
Draft 1.3 m.
Mast Height 9.144 m.
Spinnaker Pole Length 3.048 m.
Boom Length 3.57 m.
Construction Marine Plywood, GRP or Aluminium.
Sail Area
Mainsail 14.3 sq.m.
Genoa 14.5 sq.m.
Spinnaker 42.0 sq.m. (approx.)
Jib (optional) 6.3 sq.m.
Racing Crew Three or Four
YW Diamond Class History
1960 Editors of Yachting World approach Jack Holt. The resultant boat is known as the Yachting World Keelboat.
1961 Prototype shown at the National Boat Show in London.
1962 The First Diamond launched in Australia on Pittwater
1967 Name Changed to Yachting World Diamond
1980s Fibreglass replaces marine ply as the preferred construction material
One of the insights Wally Wardle shares in his Profile is how a yacht may be 'tuned' by her sailors to become a much finer vessel. A document among Alan Jones' files sheds light on what he means:
DIAMOND TUNE UP.
Preamble.
Before any 'tune up procedure is under taken it is more important that the the hull be faired in and smoth, that all the fittings and equipment are up-.odate and easy to operate and that the spars and sails are more than satisfactory. If your Diamond is deficient in any of these areas tuning becomes useless for a very simple reason. A badly prepared hull with poor gear and sails will be up to 30$ slower than a top boat. Tuning on the other hand will only give you perhaps 2 or 3, So start with the basics.
The following ideas suit "Wy-ar-gine" and the sails and gear we carry, therefore they can only be considered as starting points for other diamonds. It is vital that you know your sails and the characteristics of your spars so that they can he used to complement each other and the prevailing weather.
1 MAST.
On a still, calm day use a plumb-bob to setup the mast so that it is vertical. Tie Up any slack (no more) on the backstay. The mast head could move back 411 but allow no more. Use the forestay adjustment to bring back to" if need. be. Next adjust the upper shrouds so that the head of mast is over the centre line. (Hull should be level in the water of course). Upper shrouds should be quite t. ht0 If the mast is not quite straight use the lowers to straighten itp then take off the same number of turns on the port and starboard bottle. screws • Don't worry if the warp comes back, concentrate on the slackness needed in the lowers. Under load on different tacks the mast will be in the same position. Have the lowers looser than the uppers. They shouldn't flop too much, say about two inches about five or six feet above the deck.
The jumpers are set up next. The jumpers can be used to lower or raise the bend when the backstay is applied.0 Tighten the jumpers to lower the bend.. If you need to flatten the middle or lower area of the main tighten them, if the top is too full loose jumpers will allow The top to bend more easily. I believe that a mast with a soft top allows the bend to come too easily and results in less tension on the genoa luff and too much sag. Our jumpers run through a small block at the mast head and this allows some athwartship move- merit. The theory is that in a gust the head falls away and allows the lowers to pull the centre of the mast up to weather opening the slot in the gusto Wear on The block has proved it does move.
2 .BOOM.
The boom is approximately a 3" section, The main sheet is attached to three wire hangers It does not add thrust to the gooseneck so is not used to bend the mast. Some diamonds do use the boom for this purpose quite successfully. If I tried this I would attach the sheets to a boom track and slide to allow more or less thrust to suit the breeze. At present the yang is only just taut on the breeze but we will try more load on it in the coming season, Incidentally the yang is controlled by the helmsman on tight shy— spinnaker runs to prevent broaches.
3. GENOA.
The genoa halyard returns down inside the luff and therefore helps to prevent sag. The tack of our particular genoa is attached about 4- inches from the deck. This allows the foot to be on the deck and trap the air.
The genoa diew mast be set up in conjunction with and after the main has been set up. Use your barber hauler or genoa track to alter the relative loading on leech and foot. We raise the block (barber-hauler) in a breeze. The foot is usually a fraction slacker that the leech but at the same time the clew is adjusted so that the genoa leech when viewed from the bow seems to be parallel to the shape of the main and not constricting the slot.
The genoa luff is eased until wrinkled and then these are just pulled out and no more.
All these adjustments have to be altered with changing conditions as the race goes on.
4. MAIN.
Our main luff is adjustable through the halyard and then in a breeze the cunningham eye. The foot is tensioned so that there are no wrinkles or strain, lines but rather a fair shape. The cunningham eye, foot and leech are all operated by the crew from either aide while hiking. They must be altered as soonas conditions change. and as often as they change.
Take your sailmakers advice, on the weight of your battens • We shape ours so that the curve is 5$ back along the batten and they straighten out at the leech — each batten must be in the same relative plane, (parallel) when viewed from below. Battens should not corrugate the sails if they do ease off and then remove the wrinkles plus a. bit more tension.
It is very effective to be able to tighten and ease the backstays continually in the hard puffs. This should happen before the traveller or main sheet is adjusted. To do this you need a double ended backstay system adjusted by the for' a.rd hand as he swings to port or starboard.
To reduce backwinding in the main we tighten the backstays, flattening the sail, increase foot tension, increase cunningham eye tension and raise the genoa clew easing the genoa luff in relation to the foot. The genoa clew and backstay should be adjusted together: and. if this is not sufficient main foot and luff can be tightened next. Be prepared to ease off as soon as possible otherwise the boat will feel constipated,
THE CREW. Themselves must be highly tuned. If they don't know how to adjust the gear automatically- you should train them to do so. Then you should trust their judgement and let them make the necessary adjustments without waiting your command. You can then concentrate on the helm and the race.
WARNING
Be systematic with your alterations to tune, keep records and don't change more then one factor at a time. In other words it could take a good season before an untuned or badly prepared diamond approaches its potential. The above comments are based upon an obvious distinction between tuning factors race adjustments. If the boat loses "boat speed" ease gall your race adjust- ;s and systematically reset - particularly major items such as luffs, sheets backstay loads. Above all do something and gauge the result and keep records, of that for the future.
WAL WARDLE.
No one has tracked down where the Kalori is now. Wal thought he saw her front half in a nearby boatshed a few years ago. Wherever she is her spirit remains in the blood and memories of those lucky students fortunate enough to go to school that was built on an estuary where going sailing is akin to breathing...how could it be otherwise...
Kalori page from material and insights provided by Walter Wardle and Alan Jones, 2013.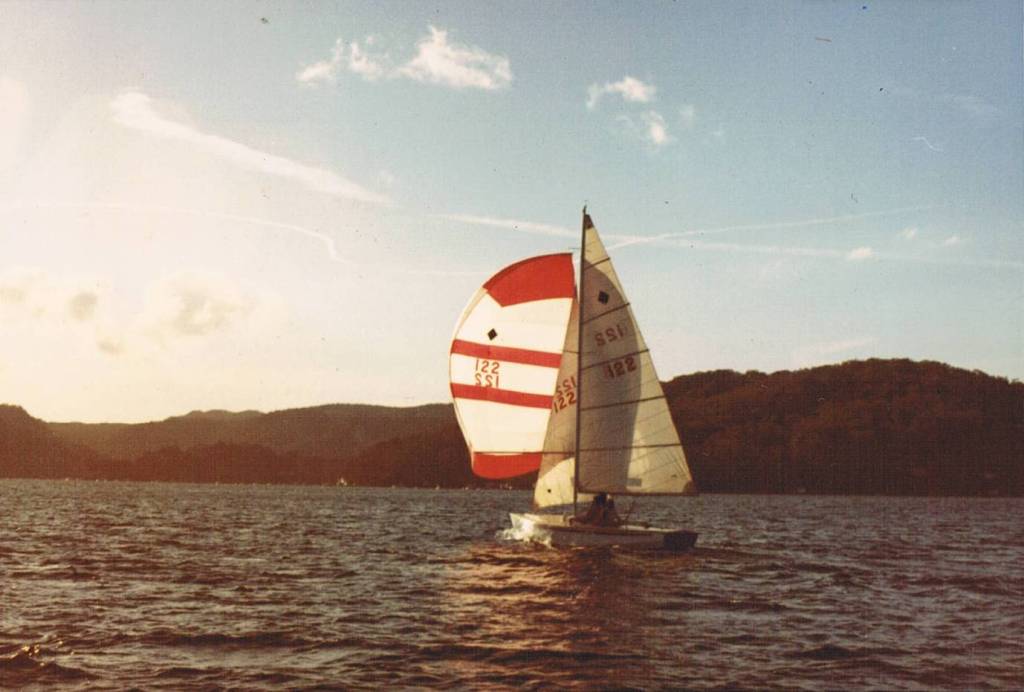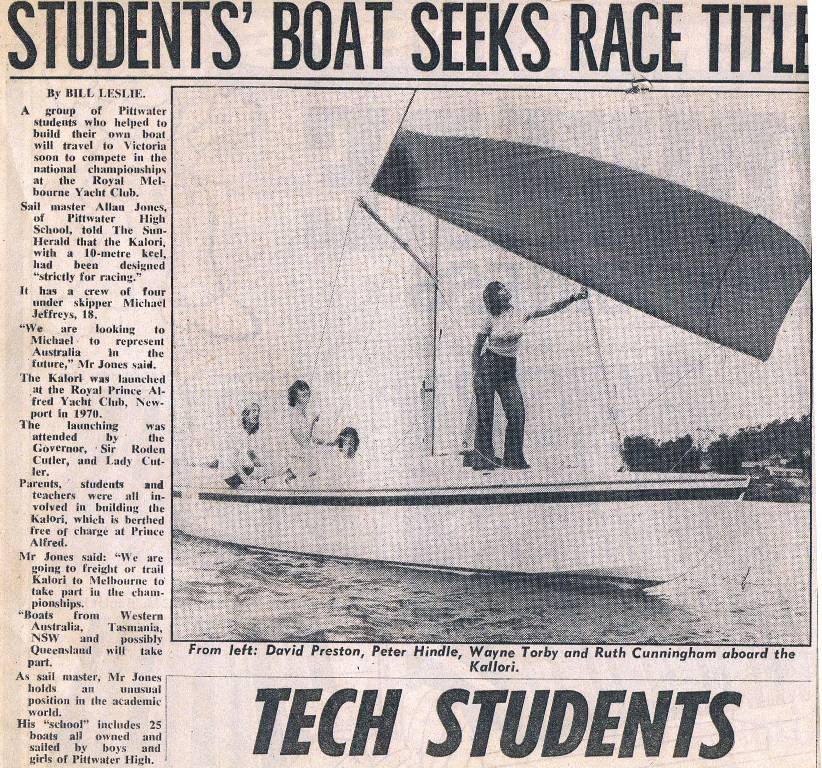 One of Alan's newspaper clippings; a Novermber 16, 1976 Sun Herald report on the Kalori.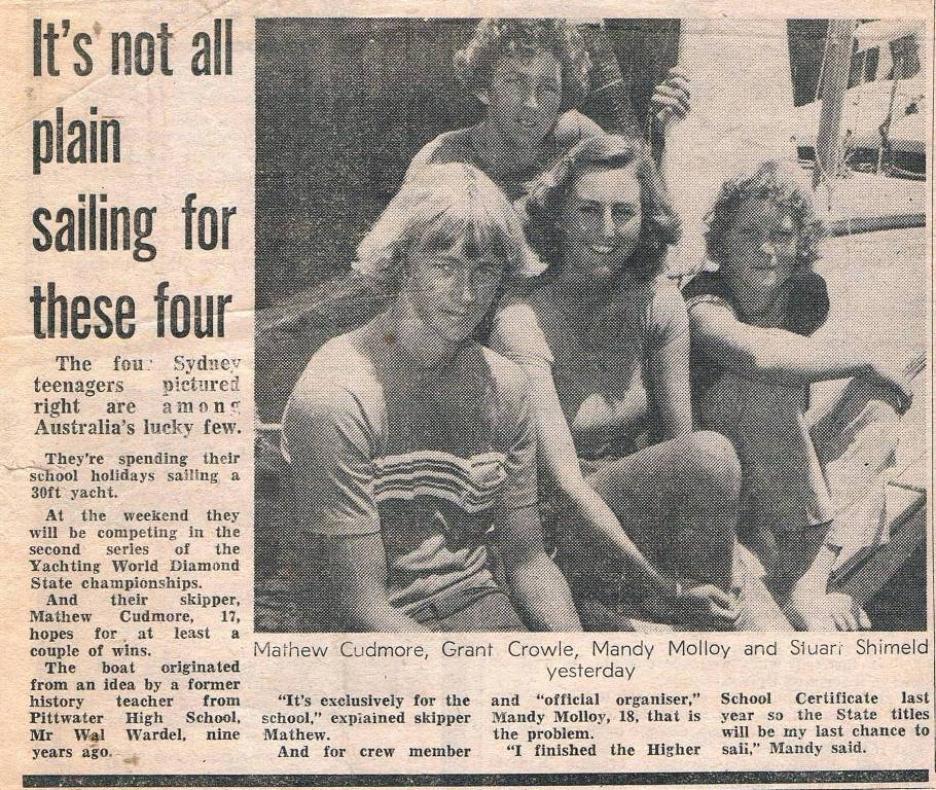 Daily Mirror clipping from Friday January 26th, 1979.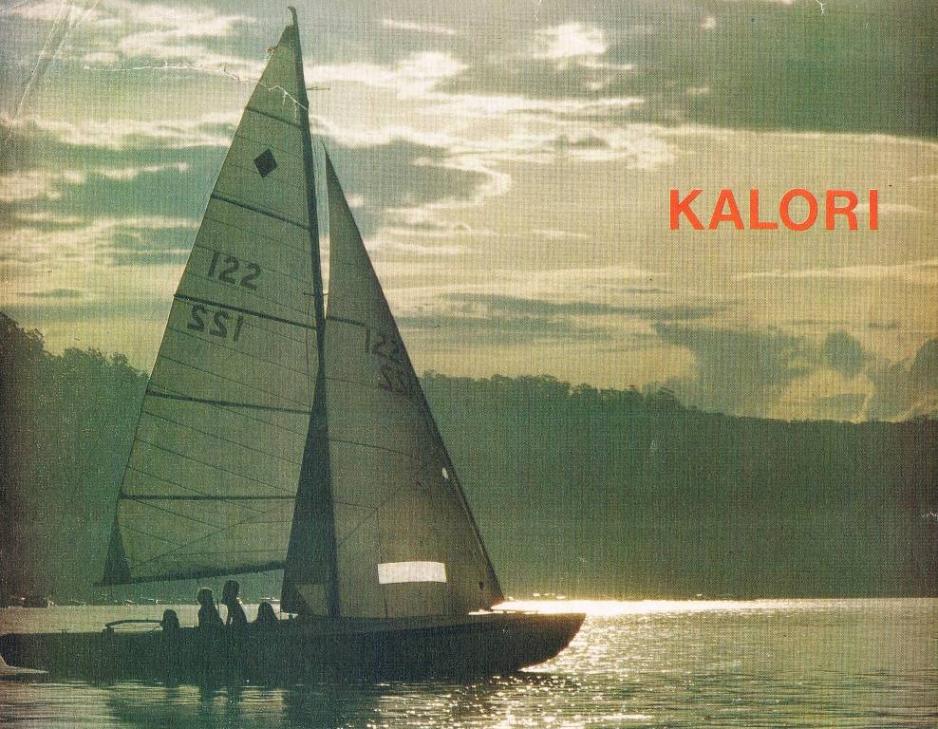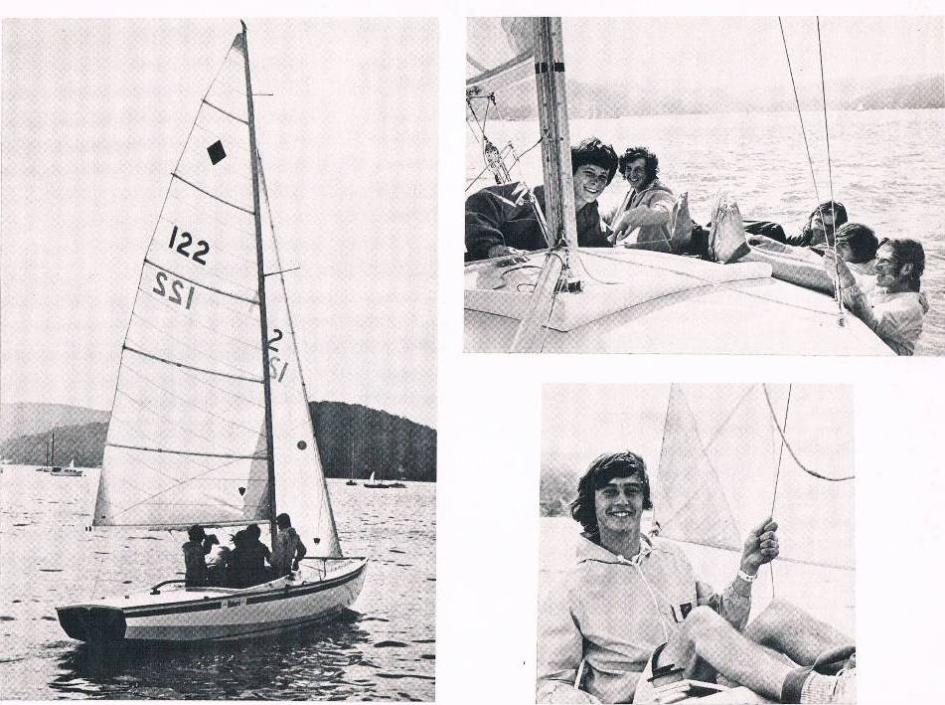 From the 1974 Kalori yearbook.