February 19 - 25, 2012: Issue 46
Bondi Golf Course photo copyright Neil Paton 2007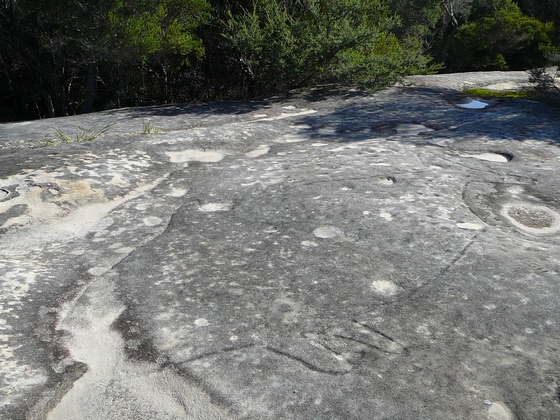 Whale Rock Carving on South Coast of NSW
John Ogden was the Western Australian correspondent for Tracks magazine. On visiting the Tracks office in Whale Beach in the late seventies, he had found the place where he wanted to live. It would take almost two decades to get there however, as he began to work in the film industry: shooting surf films and documentaries on four continents; drama for film and television; music videos for the likes of Prince and Michael Hutchence; and many commercials all over the planet. Cyclops Press is based on the northern beaches and it is appropriate that Saltwater People of the Broken Bays explores the history and character of this incredible shoreline. John Ogden has worked for decades with Aboriginal culture, including a role as a mentor for the Aboriginal Healing Group.
Saltwater People of the Broken Bays explores the incredible history and natural beauty of the coastline between North Head and Barrenjoey. These golden beaches were the birthplace of Australian beach culture. It was here that beach bathing, surf life saving and board-riding all began in this country. What is not so well known is the strong link to the ocean of the Aboriginal clans who enjoyed a highly sustainable lifestyle along this coastline for 20,000 years before the arrival of the Europeans. The book reveals the spirit of the northern beaches through the lens of history, and explores our relationship with that energized zone where the ocean meets the shore. Buy at www.cyclopspress.com.au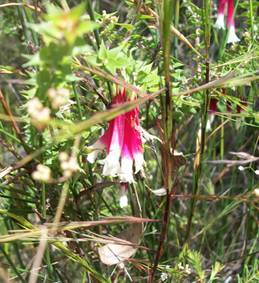 PETROGLYTHS
ABORIGINAL ROCK ART ON THE NORTHERN BEACHES
by John Ogden
Traditional Aboriginal culture along the northern beaches was decimated within a few short years following the arrival of the first fleet with its cargo of over a thousand soldiers and convicts. In fact the destruction was so rapid that there was little record made of this heritage. There are however thousands of rock engraving sites around Sydney and many of these are on the north side of the harbour. The petroglyths carved into the Sydney sandstone are comparable in artistry and meaning to famous sites in China, South Africa, France, India and Spain. All these countries catalogue and protect their Indigenous art, but to our shame there is no national catalogue for rock art in Australia.
One of my favourite engraving sites is right next to the Mona Vale Road and is possibly endangered by long overdue road widening. Both the RTA and the Metropolitan Local Aboriginal Lands Council are aware of the issue and claim that the site is safe, but with no room for the widening to happen on the eastern side of the road it is easy to imagine that the rock platform with the engravings will become an island wedged between four lanes of traffic. This site already serves as an interesting analogy to the contrasts of the culture of the first people and that of the European interlopers. The first has a sense of stillness and timelessness, while the increasingly noisy culture of the later is demonstrated by the rush of traffic, oblivious to the magic they speed past.
Petroglyths (carvings into stone surfaces) are not just graffiti or idle carvings created from boredom. For the Aborigines they represented a direct link to their ancestors and their country. The labour made in making these engravings was considerable, and they were regularly re-engraved during ceremony. Like many other sites, the Mona Vale Road site is on the ridge of a hill, removed from areas frequented in daily life. It is believed that these locations, often with panoramic views, were reserved for mens' rituals. In this case, the 7 metre carving of a whale with the nearby outline of a person holding a club may have been a ritual magic place where rituals were conducted to call the whales in to be beached, and subsequently eaten.
I am reluctant to reveal the location of this site because Aboriginal petroglyths are not always treated with respect, and the wear and tear of visitors will speed their destruction. It is estimated that Aboriginal rock engravings lose about half a grain of rock per year. Early explorers in the 1880s measured Indigenous rock engravings to be around one inch (25.4 mm) deep, but this figure had dropped to 16mm in the 1950s, then 8 to 10mm in the 1990s, and around 5mm in 2008 [1]. Even if not directly exposed to rain, even dew settling on the rock and environmental pollution will cause erosion. In traditional times Aboriginal people periodically regrooved their rock engravings, but today regrooving is very rare since it is often difficult to find traditional owners with the authority to renew them.
Archaeologists predict that half the Aboriginal rock art sites in Australia could be lost in less than 50 years. In fact, it would not be too much of a stretch to say that within a few decades you will not be able to point out rock engravings you can still see today. Little is being done to protect these sites. Crude graffiti can often be found scratched or painted over thousand-year-old images. When Rachel Perkins was scouting locations for her television series First Australians she had to abandon plans to film in Bull Cave (further south in Dharawal country) due to graffiti.
" We went to film there because that was where the First Fleet's cattle escaped and they wandered down south and they went into Dharawal country and the Dharawal people painted this extraordinary image of this massive bull on the cave wall. It is one of the first pieces of contact art, a really important site. We went down there to film and of course, someone has spray painted across it in red letters: 'This is bulls**t' and painted a big penis across it, so of course we can't film there." [2]
Aboriginal sites have been allowed to be 'disturbed' or destroyed by state governments. Between 2005 and 2009 the NSW government approved 541 permits to destroy or disturb Aboriginal heritage sites [3]. Not a single application to do so was rejected in the first 10 months of 2008. On 1 October 2010, however, new procedures commenced to provide a transparent, consistent and effective approach to protecting and managing Aboriginal cultural heritage in New South Wales. These changes are due to recent amendments to the Aboriginal heritage provisions in the National Parks and Wildlife Act 1974 (NPW Act). The National Parks and Wildlife Amendment (Aboriginal Objects and Places) Regulation 2010 represent an initial reform while the NSW Government undertakes a more complete review of the laws that protect Aboriginal cultural heritage in NSW.
[1] Les Bursill, Aboriginal archaeologist http://www.creativespirits.info/aboriginalculture/arts/aboriginal-rock-art.html#ixzz1mWZEaKoD
[2] 2Deadly 2006 ATSILIRN Conference, keynote address by Rachel Perkins.
[3] 'Site protection a success: NSW govt', NIT, 16/4/2009
Read more: http://www.creativespirits.info/aboriginalculture/arts/aboriginal-rock-art.html#ixzz1mWWs4K75
Copyright John Ogden, 2012. All Rights Reserved.