September 30 - October 6, 2012: Issue 78

Panoramic view of Whale Beach, New South Wales, ca. 1930 nla.pic-vn3418797, Courtesy National Library of Australia.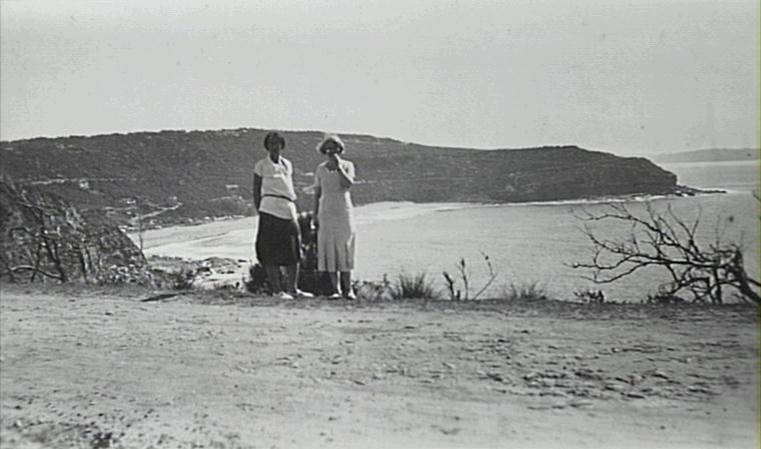 Looking north to Whale Beach, 1933. from B. Mansion. Courtesy Mona Vale Library Local Studies dept.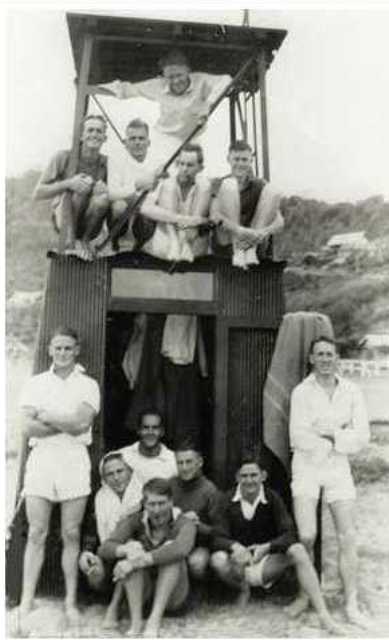 Whale Beach SLSC members 1938. Courtesy Whale Beach SLSC.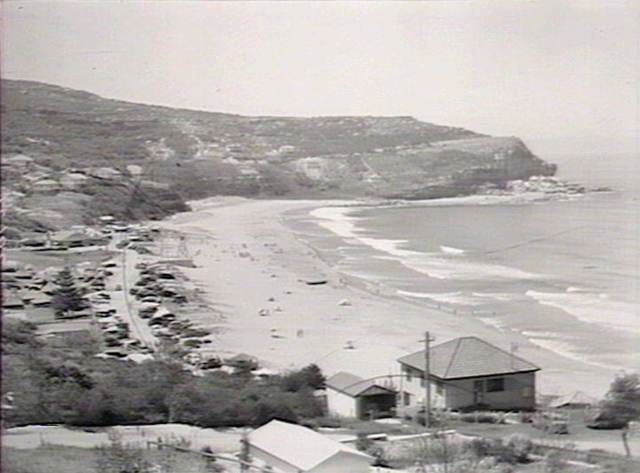 Whale Beach, 12/1946, Government Printing Office 1 – 36499. Courtesy State library of NSW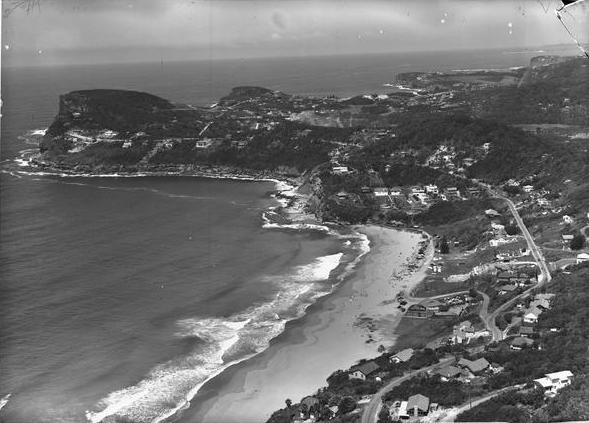 Whale Beach by Frank Hurley nla.pic-an23817454, Courtesy National Library of Australia.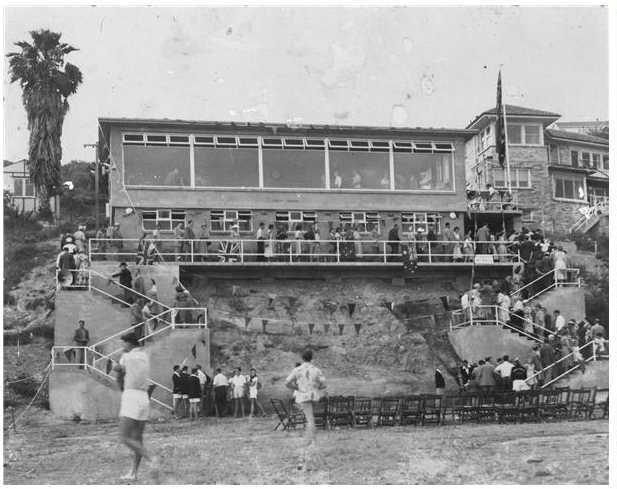 Whale Beach SLSC clubhouse 1953. Courtesy Whale Beach SLSC.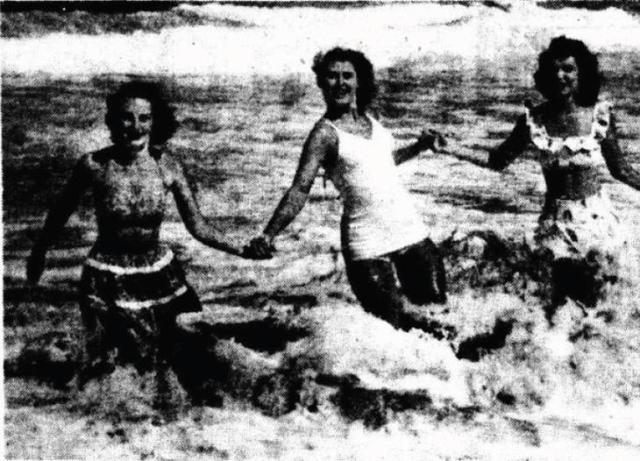 Seeking Beach Girl Title: These girls, who have entered for the Miss Whale Beach section of the N.S.W. Surf Girl contest to aid the Surf Life-saving Association, did not venture too far into rough seas which pounded beaches along the- N.S.W. coast at the weekend. Seeking Beach Girl Title. (1948, January 7). The Mercury (Hobart, Tas. : 1860 - 1954), p. 2. Retrieved from http://nla.gov.au/nla.news-article26444380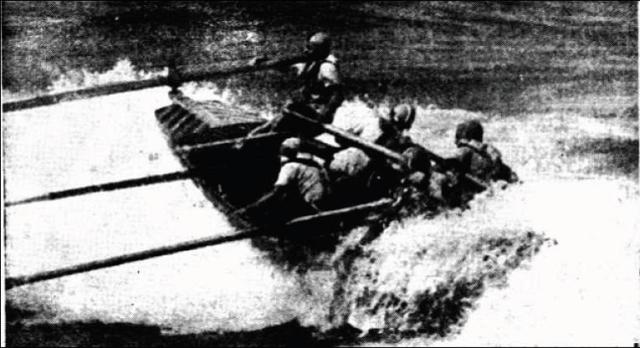 WHALE BEACH crew coming in on a breaker at Coogee yesterday. Surf Champions Fail At Metropolitan Carnival. (1952, February 3). The Sunday Herald (Sydney, NSW : 1949 - 1953), p. 8 Section: Sports Section. Retrieved from http://nla.gov.au/nla.news-article18501722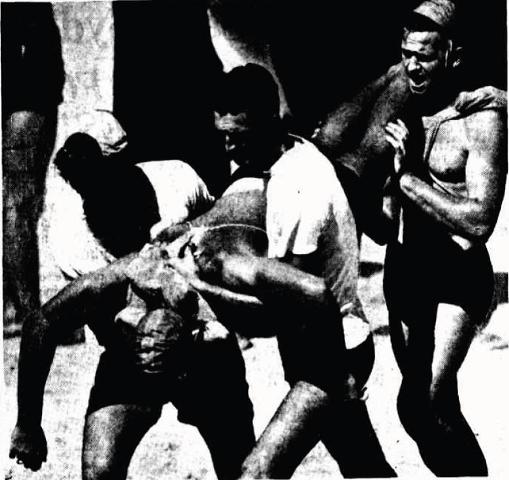 Accident In Surf Carnival Boat Race LIFESAVERS carry Frank Gardner, of the Whale Beach surfboat crew, into the first-aid tent at the North Steyne Surf Life Saving Club's 38th annual carnival at North Steyne yesterday. He was knocked out when his oar struck the finishing tripod and swung into his body in the senior boat race. Accident In Surf Carnival Boat Race. (1953, January 18).The Sunday Herald (Sydney, NSW : 1949 - 1953), p. 3. Retrieved from http://nla.gov.au/nla.news-article18513673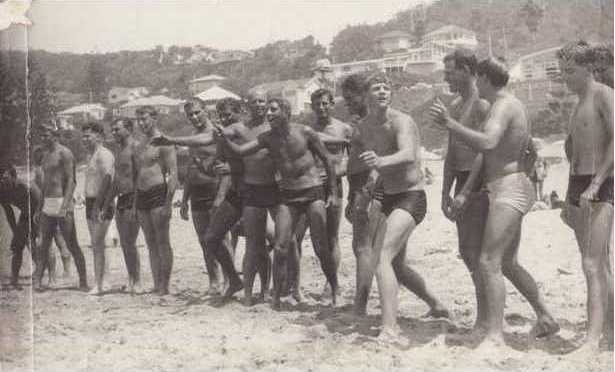 WBSLSC Christmas Surf Race, 1966. Courtesy WBSLSC.
£1,000 -in gratitude - Sydney, Monday . A 70-year-old member of a surf club today gave the club £l1000 - because other members had been thoughtful. Club members sent a car tome home of Mr. Steve Newlands, Wollstonecraft- a well-known city businessman to take him to Whale Beach for the club's Christmas luncheon. He was so grateful for being remembered that he donated the £1,000 towards the club's new building, now under construction. £1,000 — in gratitude. (1950, December 26). The Argus(Melbourne, Vic. : 1848 - 1956), p. 5. Retrieved from http://nla.gov.au/nla.news-article23025862
WHEN a reader complained about the 2/ parking fee at beaches in the Warringah Shire, the council's president, Mr. J.L. Fisher, retorted that the council spent £37,000 a year to maintain amenities for the visitors. "Will you just ask Mr. Fisher when any responsible members of his council visited the dressing sheds at Whale Beach?" writes Mr.E Wilson, North Avalon. "For over a year they've not had any attention—far less an attendant—and are disintegrating rapidly. "Just a small part of that £37,000 might stop the rot " Granny COLUMN 8. (1952, January 21). The Sydney Morning Herald (NSW : 1842 - 1954), p. 1. Retrieved fromhttp://nla.gov.au/nla.news-article18262372
Sportsmanship:
PRESSED TO WIN SURF BOAT RACE
Newport, runner up in the last Australian surfboat championship was pressed by Palm Beach in a test row at the Avalon Surf Carnival yesterday. Newport beat Palm Beach in the last 15 yards of the race. Whale Beach was third. Professor Frank Cotton supervises the training of the Newport crew. Professor Cotton does not let the crew row at their best in open carnivals because he thinks they may "burn out" before the Australian championship. Professor Cotton coached New-port when it narrowly lost last year's title to Manly at North Bondi. Brian Head (Avalon) was disqualified for swimming to the wrong buoy after he had finished first in the junior belt race, from D. Meares (Palm Beach) and O. Ramsay (Whale Beach).
Officials gave Meares the first placing. However, Meares and Ramsay approached their respective club captains to ask the referee to grant the trophy and first placing to Head. The referee announced that Head would be allowed to receive the trophy, and declared him the winner of the race. Australian beach sprint champion R Harrison scored easily in yesterday's event. Harrison will not defend his national title this year. He will go to England to take up an engineering position. PRESSED TO WIN SURF BOAT RACE. (1950, January 30).The Sydney Morning Herald (NSW : 1842 - 1954), p. 5. Retrieved from http://nla.gov.au/nla.news-article27582247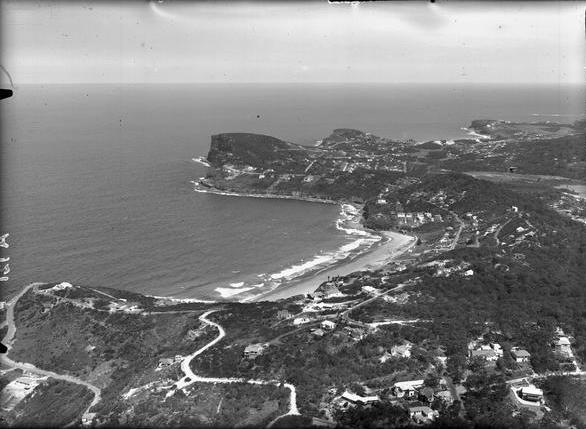 Whale Beach by Frank Hurley nla.pic-an23817453, Courtesy National Library of Australia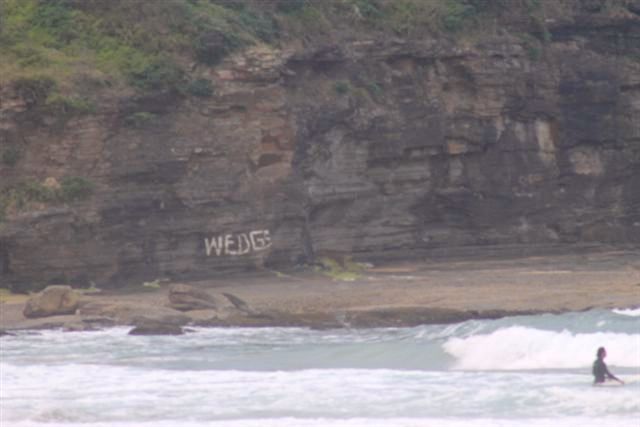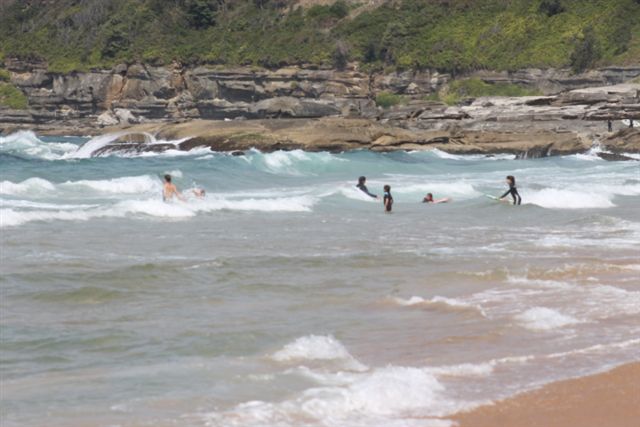 Whale Beach Surf Life Saving Club
All beaches in Pittwater had a line and reel rescue equipment supplied by local shire councils. These were usually positioned mid-beach. Like so many local surf clubs Whale Beach's surf patrols began by a group of residents and visitors deciding they would look after their loved ones.
A dozen surfing areas are Included in the Warringah Shire, and every effort is being made by the council to improve the bathing facilities. The beaches In the shire com-prise, from south to north, Queenscliff, Harbord (Freshwater), South Curl Curl, North Curl Curl, Deewhy, Collaroy, Narrabeen, Mona Vale, Newport, Avalon, Whale Beach, and Palm Beach. Life-saving appliances existon all these beaches, and the council and the surf life-saving clubs, as is the casein Manly, work In complete harmony. Last year the shire council expended nearly £700 on life-saving appliances, etc, and recently another £600 was spent on additions to pub-lic accommodation on the beaches and to surfclub houses. The Warringah Shire Council is making special provision for women and children by building rock baths at a number of the beaches, part of the cost of which, In some cases, has been provided by the local residents. Twelve months ago the council expended nearly £900 In this direction. SURFING BEACHES. (1928, January 9). The Sydney Morning Herald(NSW : 1842 - 1954), p. 13. Retrieved fromhttp://nla.gov.au/nla.news-article16432534
SURF LIFE-SAVING. NEW CLUB AT WHALE BEACH.
A surf life-saving club has been formed at Whale Beach, near Palm Beach, and already the club has about 30 active members. The club will he affiliated with the Surf Association which will send instructors to coach the members of the new club. In conjunction with the Warringah Shire Council, life saving equipment is being provided for the beach. The following officers have been elected: President, Mr James Young; vice-presidents Messrs. L. Mort. and Dubois; hononary secretary, Mr A Newlands; assistant honorary secretary, Mr Ronald F C Young; honorary treasurer, Mr. A. Cooper. SURF LIFE-SAVING. (1929, January 21). The Sydney Morning Herald(NSW : 1842 - 1954), p. 7. Retrieved from http://nla.gov.au/nla.news-article16525141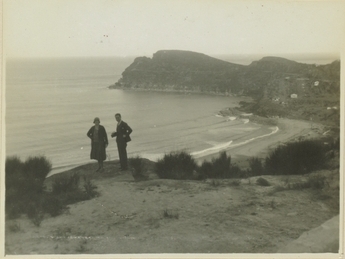 Whale Beach, 1931. From Allen Family Album
Whale beach, still mostly coastal heath, bush and weekend shacks, attracted many visitors who camped at the edge of the sand. Rips at the North end, mid-beach and south end were treacherous for the unaware. The rock platforms at either end of the beach, where campers fished, claimed a few lives outside the summer months. In 1937 an official SLSC was formed at Whaley and patrols commenced in October, many of the life savers members of the Northbridge Swimming Club. These gents were soon saving lives;
HAZARDOUS RESCUES. MEN STRUGGLE IN SURF SYDNEY. Wednesday. Two men had a desperate struggle for life in heavy seas, and were severely lacerated on the rocks, when their launch broke down off Whale Beach to-day. Two young life-savers, at the risk of their lives, dived off the rocks and swam to their aid. George Pollitt, aged 38 years, of Wind-mill street. Miller's Point, and George Cunningham, aged 40 years, of Botany street, Redfern, were bringing a 28-¿foot launch down the coast from Church Point. There was a heavy sea running, and about mid-day, when they were off Whale Beach, the engine failed. The two men, using sweeps, made desperate efforts to keep the boat head on to the seas, but it was a hopeless fight. The launch, half swamped, was swept rapidly toward the dangerous rocks at the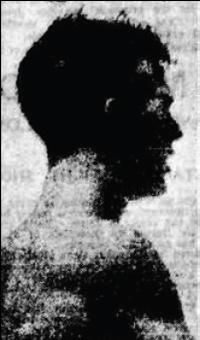 southern end of Whale Beach Life-saver's Effort: When their plight was seen by the members of the Whale Beach Life-saving Club, Noel Greenfield, aged 20 years, without waiting for the line ran to the rocks and dived into the sea A wave swept him back against the jagged rocks He was battered and cut about the body but he fought his way clear and swam 70 yards through heavy seas to the disabled launch. The two men on board were exhausted, and it was obvious that nothing could save the boat. Greenfield (pictured) clinging to the gunwale, called to Pollitt and Cunningham to jump overboard and swim for their lives. Both strong swimmers, the two men jumped into the sea just as a large breaker swept Greenfield away. Pollitt worn out by his ordeal was in difficulties. Greenfield struggled to his side, and assisted him to a half-submerged ledge near the Cliffs. As they were resting there, another wave swept them apart, and Pollitt was thrown against a rock and knocked unconscious. Greenfield's club mates reinforced by Palm Beach life savers, who had rushed to the scene by motor-car formed a human chain, and managed to pull him and Greenfield on to the rocks.
In Grave Danger: It was dangerous work and seven of the rescuers were swept into the surf at one stage, and had a hard fight to reach safety. Meanwhile Cunningham, caught in a strong undertow, was in grave danger. James Barnes, of the Palm Beach Surf Club, dived in with belt and line to help. The line was cut on the rocks by the heavy seas, but Barnes reached and supported him until a line could be thrown from the rocks. They were then both hauled to the shore.HAZARDOUS RESCUES. (1938, January 27). The Argus(Melbourne, Vic. : 1848 - 1956), p. 3. Retrieved from http://nla.gov.au/nla.news-article11143845
As with all our SLSC Whale beach struggled to provide a suitable clubhouse to store equipment or house lifesavers on duty.
WHALE BEACH SURF CLUB.
TO THE EDITOR OF THE HERALD.
Sir,-I wish to make a plea for support of the recently-formed Surf Life-saving Club at Whale Beach. Unlike the National Park Trust, which provided a fine residential club-house for the Garie Club (where there are no permanent residents), and show their appreciation of the voluntary work done by the S.L.S.A. by practical support, the Warringah Council provided the Whale Beach club with an iron frame which, at the expense of £15,the club converted into a shed 6ft x 6ft x 8ft,into which their scant gear Is crammed. It also serves as dressing accommodation for about 20 members. The boat is sheltered in a trench dug beneath the public dressing shed, and covered by canvas donated by the campers.
Members travel 30 miles from Sydney to do their patrols, and the increasing popularity of this beautiful spot is ample evidence of the confidence the public places in the manner in which their lives are safeguarded by the representatives of this great movement. Manly Council has built Queenscliff a new clubhouse. The old clubhouse now in disuse, and situated in Warringah Shire, would be most acceptable to Whale Beach club. The council estimates that It would cost £500 to demolish,- transport, and rebuild this weatherboard structure at Whale Beach. This estimate does not Include cost of land for the site of the building, and therefore the Council deems the proposal not worthy of the expense.
I am, etc., NORTH BONDI Willoughby, July 4. WHALE BEACH SURF CLUB. (1939, July 6). The Sydney Morning Herald (NSW : 1842 - 1954), p. 4. Retrieved from http://nla.gov.au/nla.news-article17602068
Club members of 1938 used an old windmill frame to house a reel. A shark lookout was built on the roof. In 1941, a stone boatshed was built on the sand. Warringah Council designated the boatshed as an Air Raid Shelter. By 1951 two block of land had been purchased on the beach and club members, like Palm Beach SLSC built their own clubhouse. Later on WWII Army veteran George McRobert, Whale Beach SLSC stalwart and Club Captain for seven years, then President for 16 consecutive years, established the Moby Dick Surfers Club. This was in the third or top floor of the clubhouse, officially opened in 1958, and was one of the places to see great live music, including David Bowie during his Tin Machine era in November 1989. The Whale Beach SLSC, like Palm Beach, remains one of the two independnat surf luife saving club's in Australia, owned by members.
The club also had to raise funds for surf boats and equipment;
SURF CLUB'S BOAT NOW USELESS Whale Beach Surf Club's lifeboat was so damaged by heavy seas yesterday that it is now useless. A public appeal for financial aid to purchase a new boat was made last night by the club. During the day club members effected five rescues, one from more than 400 yards out linesmen and patients were completely exhausted when brought in. The boat was rendered during the morning when It was going out through the broiling surf. SURF CLUB'S BOAT NOW USELESS. (1945, March 26). The Sydney Morning Herald (NSW : 1842 - 1954), p. 6. Retrieved from http://nla.gov.au/nla.news-article17941220
SURFBOAT TREBLE Whale Beach, one of the smallest clubs in the metropolitan district, yesterday gained the boat race treble at North Narrabeen's annual surf carnival. It was the second open carnival of the season that Whale Beach had entered. The club has only 28 active members, and 13 of these were in the three successful crews at the carnival. SURFBOAT TREBLE. (1954, December 28). The Sydney Morning Herald (NSW : 1842 - 1954), p. 12. Retrieved from http://nla.gov.au/nla.news-article18442841
Many people associate Whale beach with the glamour attached to people known to frequent holiday homes there. Seeing down to earth actress, director and writer Rachel Ward, or husband Bryan Brown at home in shorts and old sandshoes, or any other the many other artists, musicians, film directors or wordsmiths at home and relaxed is not unusual. Dame Joan Sutherland once had a lovely home here, Villa Rocca Bella. Long before these days though it is the place the visiting English women's cricket team picnicked at in January 1933 and...
Mrs. Warwick Pett, formerly Miss Enid Colin Rodgers, of Sydney, is making her first visit to Australia since her marriage some years ago. Her home is now in London. She and her husband, who are staying at 52 Macleay street, will be the guests of Sir Peter and Lady Horlick at Whale Beach for the New Year holidays. Social & Personal. (1934, December 20). The Sydney Morning Herald(NSW : 1842 - 1954), p. 13 Supplement: Women's Supplement. Retrieved from http://nla.gov.au/nla.news-article17136834
DUKE HAS SWIM AT WHALE BEACH - SYDNEY.-In contrast to Saturday when he chose North Bondi for his first swim in the surf since his arrival in Australia the Duke of Gloucester chose a secluded spot for a dip yesterday. It was Whale Beach, which lies' off the main highway between Newport and Palm Beach. There were only a few swimmers there when the Duke arrived with his police escort, but two of them recognised him. DUKE HAS SWIM AT WHALE BEACH. (1945, March 13).Barrier Miner (Broken Hill, NSW : 1888 - 1954), p. 1. Retrieved from http://nla.gov.au/nla.news-article49996831
CONTINUED FAMILY UNIT activities of Thérèse and Edward Howell and their daughter, Madeleine, who work just as well as a trio off-stage as on, and having got the interior of their cottage overlooking Whale Beach to their liking, are busy every week-end in the garden. They made theatrical history when they played their real-life roles of father, mother,' and daughter in "The Vinegar Tree" last year in Sydney. . . . Sydney's Talking About—. (1947, December 4).The Sydney Morning Herald (NSW : 1842 - 1954), p. 12. Retrieved from http://nla.gov.au/nla.news-article18052292
In Pittwater our surf lifesavers can be as well known to locals as international and Australian icons. They are admired due to their skills in the surf and the qualities we sense as their natures;
Swam To Health. Eighteen months ago when Hal Bailey came back to Australia he faced the prospect of never walking again. A bullet wound received in the Middle East seriously injured his spine. After specialists had given up hope of his recovery, Bailey, defying medical orders, started to swim his way back to health. He joined the Whale Beach Surf Life-saving Club and gradually gained physical fitness. Recently he finished the surf season with a win in the club's senior surf race. Before the war Bailey broke 60 seconds for 100 yards in still water and, as a member of the North Bondi Surf Life-saving Club, excelled in rescue and resuscitation work and in the surf events. TALKING OF SPORT. (1945, May 2). The Sydney Morning Herald (NSW : 1842 - 1954), p. 8. Retrieved fromhttp://nla.gov.au/nla.news-article17939859
Doug Crane spoke of Hal Baily winning everything all the time in numerous competitive swims; "You couldn't beat him." Doug said when interviewed in 2011, "I almost did a few times but always just missed out." Strong swimmers were and are a hallmark of this club:
Whale Beach.-Junior surf race A Wilcox (Whale Beach), 1, R Mason (Mona Vale), 2, O Ramsay (Whale Beach), 3 Senior surf race H Bailey (Whale Beach) I, B Ralph (Palm Beach), 2, J Barnes (Palm Beach), 3Junior belt race M Cooper (Whale Beach), 1, A Dixon (Mona Vale), 2. P Dawson (Newport). 1 Senior belt race H Baily(Whale Beach), 1, D Crane (Avalon), 2, P Hatten (Newport), 3 Surf teams race Whale Beach, I, Palm Beach, 2, North Palm Beach. 3. Senior boat race Mona Vale, 1, Newport, 2,Palm Beach, 3 Surfboard race J Stump(Palm Beach). 1, N Sweetapple (PalmBeach), 2, P Douglas (Newport). 3Junior boat race Mona Vale, 1, New-port, 2 Beach sprint J Harrison (Newport), I; J Marston (Whale Beach), 2R Smith (Whale Beach), 3. Musical flags Avalon, 1 Beach relay Newport,1, Whale Beach, 2, Whale Beach. 3 Surf ski race J Payne and J Harrison (Mona Vale), 1 GENERAL SPORT DETAILS. (1948, December 27). The Sydney Morning Herald (NSW : 1842 - 1954), p. 5. Retrieved from http://nla.gov.au/nla.news-article18092027
An Ancient Fish Was Saved From The Sea By KANANGRA - A.SYDNEY surf lifesaver has rescued from oblivion, and eventual destruction by the sea, a remarkable fish he found embedded in rock at Whale Beach. The surf man is 29-year-old Hal Bailey, vice-captain of Whale Beach Surf Club. The fossil fish, it seems, has no name. It lived in waters, north of Sydney about 200 million years ago and its species may be new to science. The specimen is about 12 inches long, and its scales are plainly visible. It has two dorsal fins and a ventral fin. Mr. Bailey says he first noticed the fish after a storm had lifted a covering slab of stone. It was only a few feet from the local swimming pool's edge, and many people must have walked over it without seeing it. A few days ago, experts from the Australian Museum, Sydney, went to Whale Beach and dug the fish out of its prehistoric rock cradle. The museum palaeontologist, Mr. Harold Fletcher, said the discovery was important because very few fossil fish had ever been found in that particular sandstone, which it of Lower Triassic age. An Ancient Fish Was Saved From The Sea. (1948, May 12).The Sydney Morning Herald (NSW : 1842 - 1954), p. 2. Retrieved from http://nla.gov.au/nla.news-article18071202
Hal Baily continued his dominance in the swim events at competitions, winning the Surf race in 1970's Whale Beach carnival when 52 years young. All 'clubbies' in Pittwater were good mates out of the water, running to each other's aid when rescues of people in peril at sea necessitated surf boats and strong rowers, during local carnivals a bit of home pride as well as comradeship honed skills needed to save lives.
Held Up By Sharks. Three shark alarms delayed events at yesterday's Whale Beach surf carnival. One alarm was given after contestants had started in the senior belt race. The event was held up until the all-clear was signalled. The carnival was restricted to clubs between Mona Vale and Palm Beach, which competed in the first round of the Don McIntyre Memorial Trophy. At the end of the day Whale Beach had a four points lead over its nearest rivals. Young Whale Beach swimmer, A. Ramsay, easily won the junior surf race, and 20 minutes later scored a convincing win in the junior belt race. Another Whale Beach swimmer, H. Bailey, completed a similar double in the senior events. Points gained yesterday were:-Whale Beach, 20; Mona Vale and Newport, 16; Avalon and Palm Beach, 13; North Palm Beach, 4. Held Up By Sharks. (1950, January 2). The Sydney Morning Herald (NSW : 1842 - 1954), p. 6. Retrieved from http://nla.gov.au/nla.news-article18142894
Donald D.Mcintyre, was Hon. Gen. Secretary, Surf Lifesaving Association of Australia and a founding member of Bronte SLSC, founded 1903.
Major surprise at the Avalon carnival was the defeat of Hal Bailey of Whale Beach in the senior belt race by Ross Standford, of Palm Beach. Bailey is generally regarded as the most accomplished beltman north of the harbour, but Standford beat him convincingly, although narrowly. Ian Kearn, Mona Vale, won the senior surf race from afield which had been weakened by the absence of former Empire Games swimming representative, Ron Sharpe, and Ian Curlewis, both of Palm Beach. Watt Shines In Ski Event. (1954, January 25). The Sydney Morning Herald (NSW : 1842 - 1954), p. 10. Retrieved from http://nla.gov.au/nla.news-article18406275
Although this can be one of the more dangerous beaches in Pittwater its surf life saving club members remain champions of those who frequent this lovely stretch of sand and sea. The Whale Beach SLSC is where the first four female bronze medallion holders in NSW came from in members Sarah Peters, Marion Robb, Tina Gowing, and Jill Peters in 1980. The first branch carnival with women's events was held at Whale Beach with the surf race won by Tina Gowing. It is also the place where the Big Swims began.
This year the club celebrates its 75th Anniversary.
Website: www.whalebeachsurfclub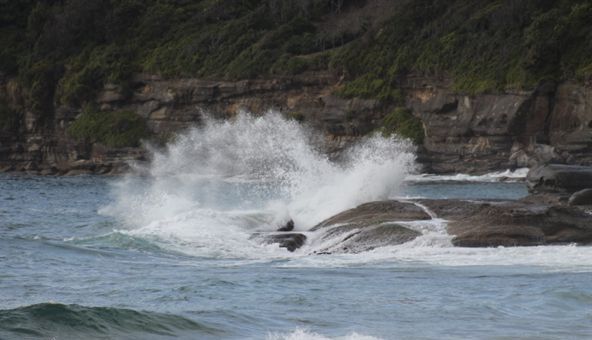 South Whale Beach Rock shelf, 2012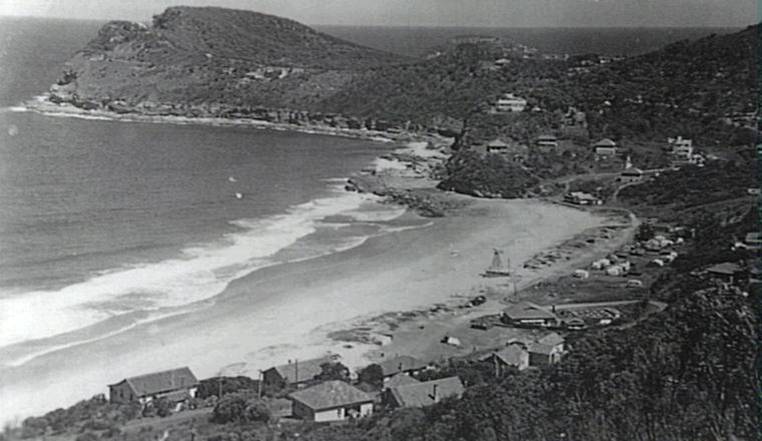 View from Jonah's Whale Beach, 1930; shows Shark Tower with stone boathouse beneath. Reel and line was mid-beach.. Courtesy Avalon Beach Historical Society