April 8 - 14, 2012: Issue 53
Above: Elaine Haxton by Max Dupain OBE, circa 1940's
Above: Left: MRS. RICHARD FOOT, better known as artist MISS ELAINE HAXTON, chats over a sherry to MRS. J. B. SWEENEY. Art, Artists And Parties. (1953, November 5). The Sydney Morning Herald (NSW : 1842 - 1954), p. 12 Section: Women's Section. Retrieved from http://nla.gov.au/nla.news-article18395533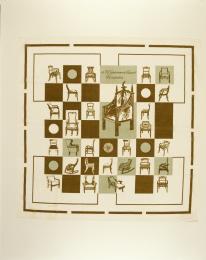 COMPACT NEW SCARF HAS AN OLD AUSTRALIAN LOOK TO IT
The Australian Women's Weekly (1933 - 1982) Wednesday 12 May 1971 p 27 Article Illustrated ... NEW SCARF HAS AN OLD AUSTRALIAN LOOK TO IT AFINE wool scarf, essentially Australian, with a cultural motif of the country's earliest days has been designed by Sydney artist Elaine Haxton for the National Trust of Australia (N.S.W.). Miss Haxton used the collection of beautiful antique chairs from ... 177 words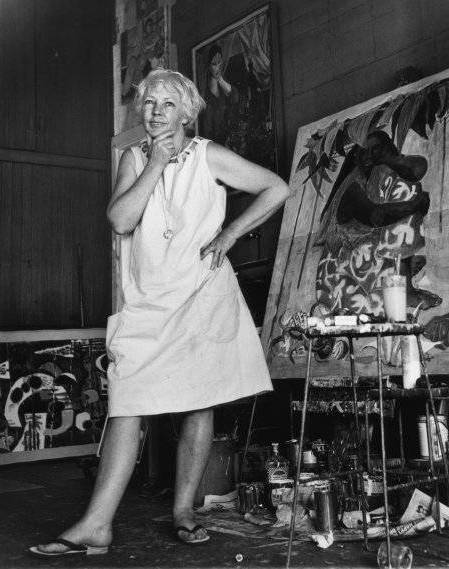 Photograph of Elaine Haxton, ca.1970. Courtesy of National Library of Australia, No. vn3121262.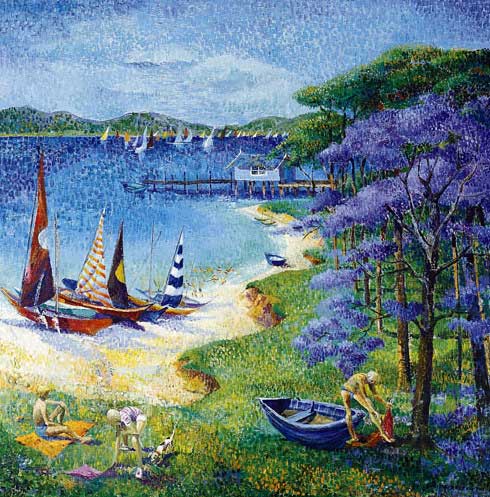 Above: Summer, Pittwater (Summer Bouquet). Below: Pittwater.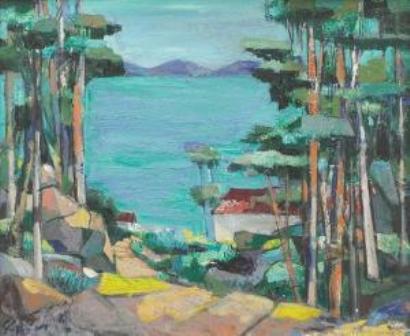 Copyright Pittwater Online News, 2012. All Rights Reserved.
Elaine Alys Haxton
26 September 1909 - 6 July 1999
Born in Newmarket, Melbourne, the youngest child of three to David Haxton, a talented amateur painter of Scottish descent, and Isobel, née Durham, Elaine was moved to Sydney while still an infant and considered herself a NSW's person rather then a Victorian. Determined even as a young child to be an artist, by 14 years of age she couldn't wait to get out of school and studied drawing and sculpture with Rayner Hoff for a year before studying at East Sydney Technical College, home of the National Art School in 1921 (and the former Darlinghurst Gaol)
After supporting her studies by working as a Fashion Artist at David Jones in the city for a few years, and venturing into commercial illustrating, she left for London and studied at the Grosvenor School of Art (1932) and also travelled extensively through Europe and worked for in advertising & design for magazines such as Harpers Bazaar & Vogue (1933-36). By 1939 she was homeward bound and went through America, including Mexico, on her way. Elaine arrived home the day before war was announced 2nd, September 1939.
Elaine settled in Elizabeth Bay, which was considered Bohemian during this era, and worked hard at her craft, associating with other prolific and talented artists such as Drysdale, Friend and Dobell. By 1944 she was working in New Guinea on stage sets and as a theatre manager and set designer. She relates that she 'hitchhiked my way home' as she wasn't officially attached to any of the defence forces she'd been sent to provide respite entertainment for. This experience led her to travel to New York in 1945 and study at the New York School of Theatre Design.
It must have been shortly after, although her recollections miss months, mix up years, that she met Brigadier Richard Cunningham Foot. By 1948 they were ensconced in an Arthur Baldwinson (architect who built a lot of homes for photographers and artists) in Riverview road, Clareville. This was a split level home on a steep block down to Clareville beach and bay. Her studio was in a boathouse on the water's edge.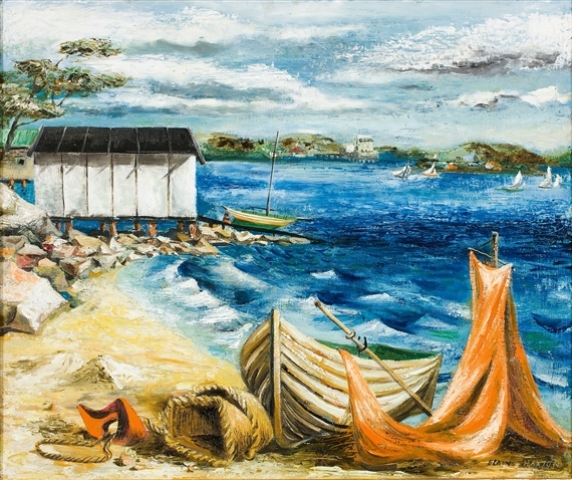 Pittwater, 1949
Elaine's Paintings of Pittwater still communicate her passion for this lovely cove of the estuary, the colours true to the brightness and clarity of air the seasons and flora, just as she seemed to capture the essence of every place she travelled to and recorded in paint, in prints, in illustrations. This home reputedly became was a base for many visiting artists from interstate and overseas as well as being open to many local residents.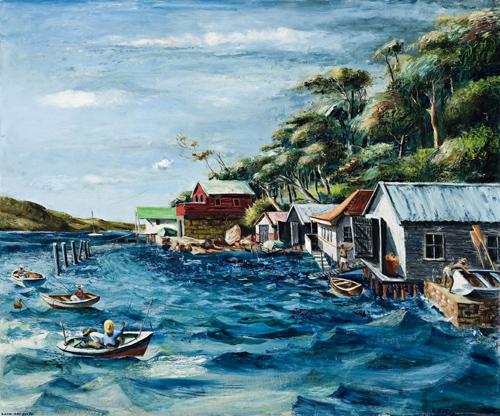 King Tide, Pittwater, 1950
In 1953 the two married. Elaine was Richard or 'Dick's third wife, so perhaps a divorce took longer in post-war England and Australia. Their marriage is registered at Manly district with no seeming pause of any length between both working. By late 1953 and early 1954 she is being called 'Mrs Richard Foot' as well as Elaine Haxton when mentioned in recorded materials.
Elaine was a proflic creator. An Artist (painter) who worked in graphic design, stage design, textile prints, printmaking and illustration (children's books), and also, with husband published in Palm Beach peninsula souvenir guide / designed for residents and visitors by Elaine Haxton and Richard Foot. Footprints Pty. 1960, she was frequently mentioned in social pages or even newspapers interstate when travelling to attend openings of her exhibitions. In 1943 Elaine was awarded the Sulman Prize for her mural at the Coq D'Or Restautant in Kings Cross Sydney and in 1946 was awarded the Crouch Prize, in Ballarat, Victoria for 'Mother and Child' (see Research File). Unfortunately this restaurant closed in 1956 and the mural was painted over.
From 1949 until around 1965 she worked hard in with stage design but also worked providing illustrations for advertising, books, painting, print-making and set and costume design for ballet and opera. Haxton travelled widely, notably as one of the members of the Australian Cultural Delegation visiting China in 1956. She was invited to paint a mural in Parliament House, Canberra. She designed furnishing textiles for Marion Hall Best. In later years she concentrated on painting and printmaking, having wanted to be an etcher from the beginning anyway. In 1986 she was awarded the AM 'particularly for printmaking'.
From 1989 she lived in Adelaide with a niece, increasingly suffering from dementia and being looked after by this girl and her husband. Despite numerous paintings and drawings of children she and Richard did not have any of their own. He died in 1969. Tiny, with bright sparkling blue eyes and blond hair that went grey too early, Elaine Haxton created wonderful works that are still sought after today.
Further:
James Gleeson (ARTIST) Oral History Collection: 1978 Interview Transcript: http://nga.gov.au/Research/Gleeson/pdf/Haxton.pdf
Research File (below).