February 24 - March 2, 2013: Issue 99
Palm Beach Jetty - Gow's Wharf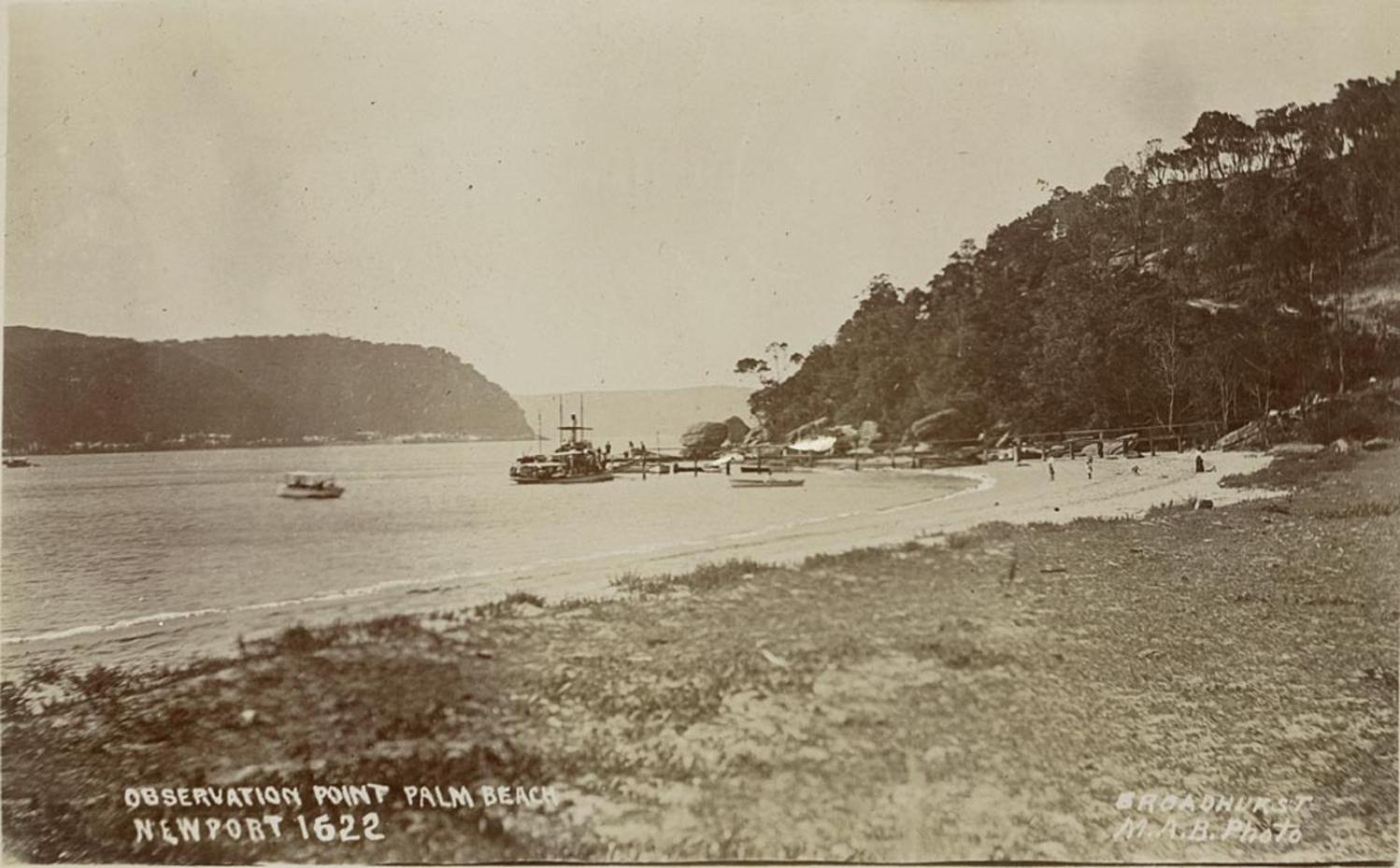 Observation Point, Palm Beach, Newport Digital Order Number: a106120 circa 1912, Broadhurst Image, courtesy State Library of NSW.
The Palm Beach jetty was originally a Government wharf. When talking to Peter Verrills, Brian Friend and Tom of Totally Tom's who all knew Carl they recall the Wharf was built in wrong position; there was a right of way at the end of Waratah street and originally a wharf was going to be built there but storm surges would flood over the wharf so this site was not chosen. Where Lucinda Park is was also gazetted as another Government wharf but this did not go ahead either. Finally a jetty was built below Observation Point as a landing place for launches to begin with, and soon, steamers.
The Barrenjoey Company, soon to be known as the Barrenjoey Land Company, built this jetty for landing people for the first successful sales of property at Palm Beach:
TO LIVERY STABLE PROPRIETORS, MOTOR CARS and TAXI CAR PROP.-TENDERS are invited for the Conveyance of about 100 to 150 people on January 26 next, from Manly Pier to Bayview, Pittwater, and return, leaving at 10 a.m., arriving at Bayview Wharf at 12; return at 5 p.m. Subsidy, 2s per bead each way. Tenders will be received up to December 4.The lowest or any tender not necessarily accepted THE BARRENJOEY CO., Ltd., 1 Moore-street. Advertising. (1911, December 1). The Sydney Morning Herald(NSW : 1842 - 1954), p. 14. Retrieved from http://nla.gov.au/nla.news-article15293434
This jetty was built by Mr. James Booth, and subsequently a store, known as 'Booths store' until it was sold to Carl Gow and Reginald Howlett, WWI Diggers looking for a more peaceful way of living. Carl's brother and father were stationed at Barrenjoey Lighthouse when he came home, and Mr. Howlett's father had had a store at Mona Vale and was known as a Manly resident. So both had connections in the area. It was James Booth who built the original Palm Beach jetty though:
APPLICATIONS FOR LEASES FOR SPECIAL PURPOSES.
The Barrenjoey Company (Limited). S.L. 1911-7, Metropolitan. Pittwater, parish of Narrabeen, county of Cumberland For: Wharf. Objections to be lodged by - 13th December, 1911. APPLICATIONS FOR LEASES FOR SPECIAL PURPOSES. (1911, December 6). Government Gazette of the State of New South Wales (Sydney, NSW : 1901 - 2001), p. 6534. Retrieved from http://nla.gov.au/nla.news-article226918390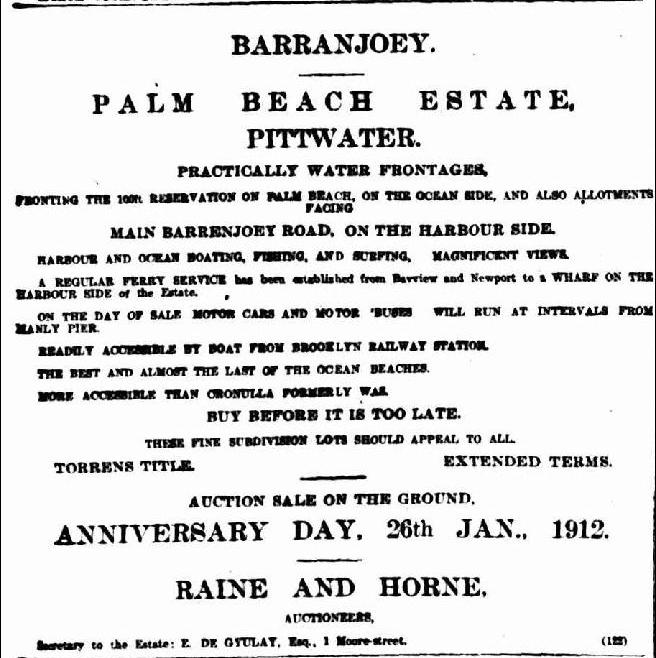 Advertisement for above stating 'harbour side wharf': Advertising. (1912, January 6). The Sydney Morning Herald(NSW : 1842 - 1954), p. 21. Retrieved from http://nla.gov.au/nla.news-article15300293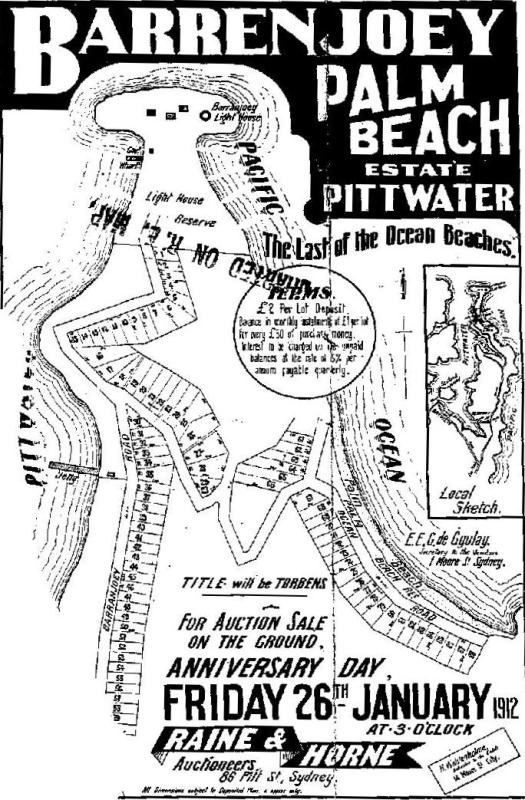 Department of Lands, Sydney; 30th January. 1913 Extension of Term of APPLICATION FOR LEASES FOR .SPECIAL PURPOSE. It is hereby notified for general information that an application by the Barrenjoey Company, Ltd., has been received for a Special Lease for a bathing place, under the provisions of the 89th Section of the Crown Lands Act of 1884,. of 1 rood 20 perches, Parish of Narrabeen, County of Cumberland, at Pittwater, north of, and adjoining the Special Lease for Wharf of the Barrenjoey Company, Limited, on frontage of portion l8 of 400 Acres. Any objections will receive due consideration, if lodged in writing with the Metropolitan District Surveyor, on or, before the 5th March. 1913. (6b-3S9)_J. L. TREFLE. Advertising. (1913, February 15). The Sydney Morning Herald(NSW : 1842 - 1954), p. 14. Retrieved from http://nla.gov.au/nla.news-article15398401
In 1912 Carl Gow's family came to Pittwater from Nobby's Head, Newcastle, to take up duties as lighthouse keepers at Barrenjoey. His father Robert, and eldest brother David R W, were Lighthouse Keepers at Barrenjoey. A letter from Carl's father in 1919 from Barrenjoey Lighthouse inquiring where his son may be, to the War Department, and among his War Records file, points to this being the place Carl Gow came to after being discharged from duties in Gallipoli and France during WWI to work as a relieving lighthouse keeper.
IN THE SUPREME COURT OF NEW SOUTH WALES -Probate Jurisdiction.In the Estate of, SARAH ELLEN ROSE GOW, late of Hawkesbury River, In the State of New South Wales, Married Woman, deceased-Application will be made after fourteen days' from the publication hereof that Letters of Administration of the Estate of the above named deceased may be granted to DAVID GOW, of Barrenjoey, in the said State, Principal Lighthouse Keeper, the Husband of the said deceased. Advertising. (1917, May 1). The Sydney Morning Herald (NSW : 1842 - 1954), p. 5. Retrieved from http://nla.gov.au/nla.news-article15706955
The wharf was a meeting and farewell place for the community...;
At 7.30 on Monday morning a. very enthusiastic crowd of 80 to 100 friends assembled on the wharf at Palm Beach, Barranjoey, to bid farewell to Mr. W. Chorley and Mrs. Chorley and their daughters, of 'Mount Pleasant,' Cheltenham. The family have been staying over the holidays at 'The Rest,' which is their pretty seaside residence facing the ocean, and situated at Palm Beach. At 'The Rest' friends were right royally entertained, and received the Chorley family's usually abundant hospitality. Croquet tournaments were played, surf parties and plenty of music were indulged In, and altogether the holidays were very delightfully'spent. There was great rejoicing when Mr. Chorley's private launch came alongside the wharf, which was overcrowded with sincere friends. The Hon. W. Tyler, of South Australia, made a most humorous speech; and Mr. Chorley responded in his usual happy way, and hoped that they and their friends would all be spared to meet again next Christmas. All joined hands and sang 'Auld lang syne' whilst the launch drew out from the wharf and steamed down the river. PERSONAL PARS. (1915, January 13). The Cumberland Argus and Fruitgrowers Advocate (Parramatta, NSW : 1888 - 1950), p. 3. Retrieved from http://nla.gov.au/nla.news-article86103157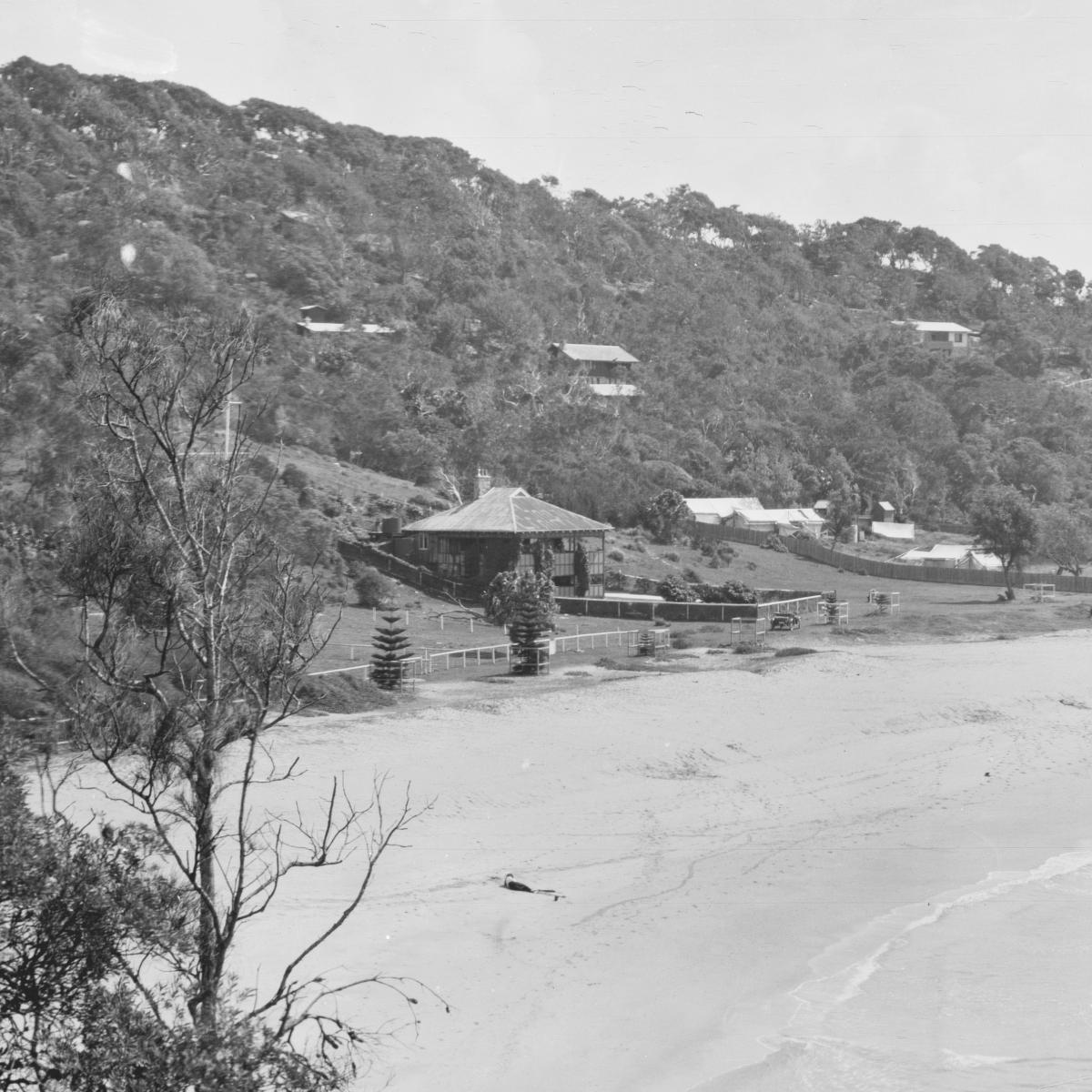 'The Rest' - Chorley's - section from panorama - courtesy National Library of Australia
It almost disappeared prior to its tenth birthday. Older residents have informed us that local urban legends state the area opposite this wharf was once sacred Aboriginal Stomping Ground for ceremonies by male elders of the Broken Bay tribe and that settlers had been warned not to built on this site. It would not be, however, the first time a land slip has been experienced at Palm Beach.
LANDSLIDE.The road from Newport to Palm Beach, at the corner of Barranjoey and Sunrise roads, was blocked on Saturday afternoon by the fall of two large pieces of rock, estimated to weigh several hundreds of tons. The mass is slowly slipping further down, and threatened to demolish either the store or the wharf. LANDSLIDE. (1917, May 23). The Sydney Morning Herald(NSW : 1842 - 1954), p. 8. Retrieved from http://nla.gov.au/nla.news-article15722106
Carl went into the Army in June 1915 and was shipped overseas within a week, serving in the 55th Battalion in France after being wounded at Galipolli, but remaining on duty, in August 1915. He was mentioned in despatches and awarded a Military Cross in 1918. He was discharged May 22nd 1919. By the Summer of 1919 this jetty was called 'Gow's Wharf':
Prior to the first World War transport to the Peninsular and Palm Beach in particular was, to say the least, difficult. Proceeding from Circular Quay one took a ferry to Manly, then a horse-drawn streetcar to Narrabeen where a ferry crossing was made of the lake. A sulky continued the journey to Church Point and finally one took another row-boat ferry to Palm Beach.
At the time we were there, the Summer of 1919/20, transport had improved to the extent that we were able to travel by launch from Newport to Palm Beach where a small wharf had been built at Gow's boat-shed, immediately south of Observation Point. From there we proceeded by row-boat to the old Customs Jetty. At that time Palm Beach Telephone Exchange had only 14 subscribers, and the Barrenjoey Lighthouse was still lit by a kerosene lamp consuming 4 gallons of kerosene each night.Retrieved from; http://rus.shorter.net/a_life_enjoyed.txt
He and fellow veteran took over this property from a man named Ellis who in turn had taken it over from James Booth, Church Point gentleman who was a consummate builder employed by the Barrenjoey Company from the outset. Above this Jetty the first General Stores, known as 'Booth's Store'
The first general store was at Palm Beach, on the Pittwater side near the jetty, as early as 1914, and was known as Booth's store. Later it became Ellis' store, and then after the last war two returned Diggers, Mr. Fred Howlett and his partner, Gowe, took it over. Their general supplies came by ship from Sydney by the Erringhi and the Kallawatta, and meat and bread came by launch from Newport. They made their own ice-cream in those days, and froze it in old fashioned freezers with coarse salt. It was just as popular as the well known brands are to-day. It was not until 1929 that Howlett's store was established on the beachside of Palm Beach. Before that there was no road through from Pittwater, and the top road was used by residents. Palm Beach setting for smartest sea and sun togs. (1946, January 12). The Australian Women's Weekly (1933 - 1982), p. 22. Retrieved from http://nla.gov.au/nla.news-article47245736

David Lyall, who recently helped us out with a recent Ferry Puzzler, identifying the Phoenix coming into this jetty, points out the original jetty was further north then it is today when originally constructed as shown in first photograph, a GPO image from the State Library of NSW, taken June1925 (image No. d1_15938h) and the second photograph of Peter Verrill's, circa 1933, which looks much more like the current Gonsalves boatshed;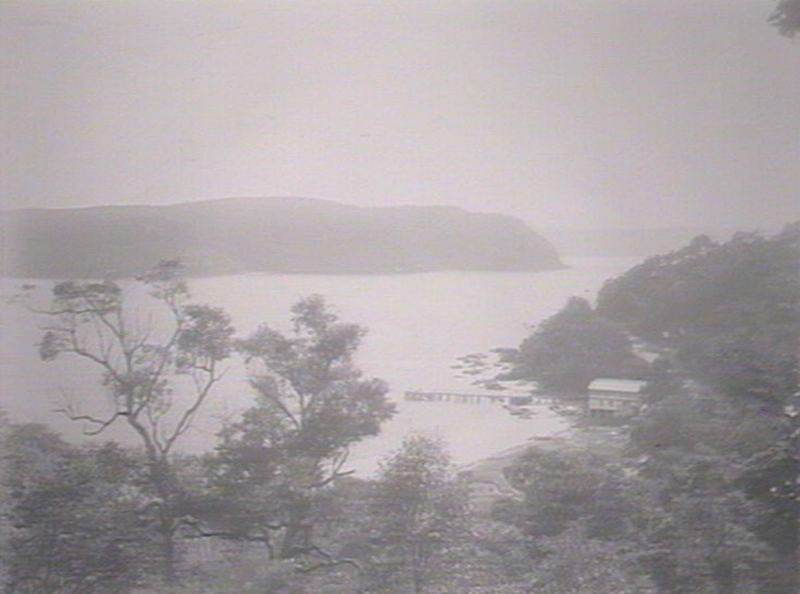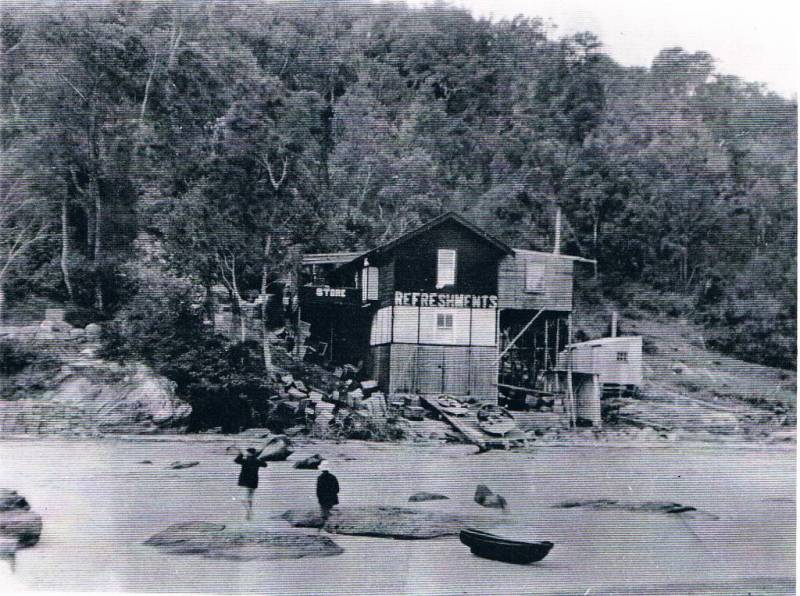 Above and Below: Gow's Store in its early days courtesy Peter Verrills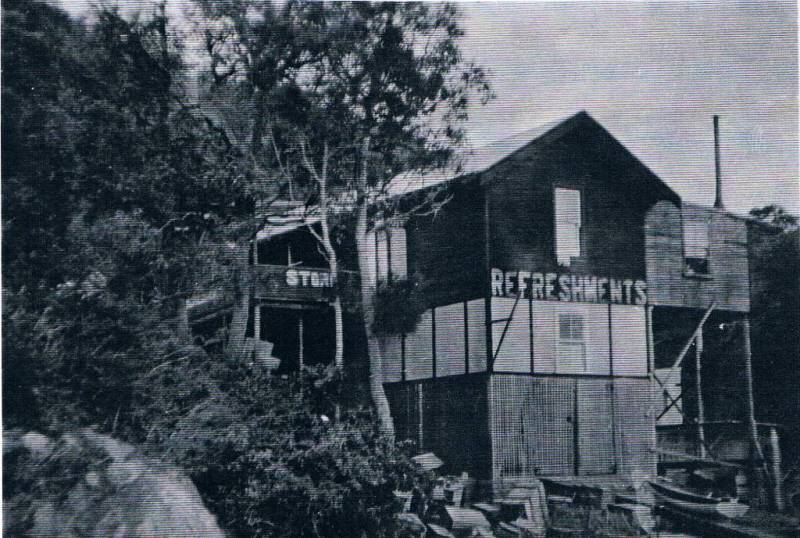 Carl Gow joined the newly fledged Palm Beach SLSC and seemed fearless of going into the open sea in open boats. The photo below, courtesy of Peter Verrills, shows Carl in the blanket with Midge Gonsalves in a Palm Beach SLSC surfboat. A Tale of their exploits:
PALM BEACH TO NEWCASTLE. SURFERS' EXPERIENCES. NEWCASTLE, Friday. The surf boat containing the members of the Palm Beach crew-the three Gonsalves brothers, Goddard, and Gow-who will compete at the surf carnival, arrived at Newcastle shortly after noon to-day, after an exciting trip up the coast. Leaving Palm Beach at 4 a.m. yesterday, they were expected, at Newcastle before dusk last night, but a message arrived later that they bad landed at Terrigal to spend the night. Upon landing, the captain (A. Goddard) said that soon after starting they had to face a strong nor'-'easter, and after a hard row they decided to land at McMaster's Beach. As they turned the boat shorewards he was knocked overboard by a huge wave, and the next wave washed him further from the boat. "I was very glad," he said, "when they turned towards me, and eventually hauled me aboard, as the place has a bad reputation for sharks."
Later, on there appeared to be no chance of reaching Newcastle before dark, they decided to land at Terrigal. A start was again made at 6 o'clock this morning, and after rowing a few miles, they were picked up by the North Coast steamer Urana, and arrived off Newcastle about noon. The visitors wore welcomed by the president of the Newcastle Surf Club (Dr. Idris Morgan),and entertained at lunch In the Surf Club's pavilion. BOAT TRIP. (1926, February 13). The Sydney Morning Herald(NSW : 1842 - 1954), p. 15. Retrieved from http://nla.gov.au/nla.news-article16264350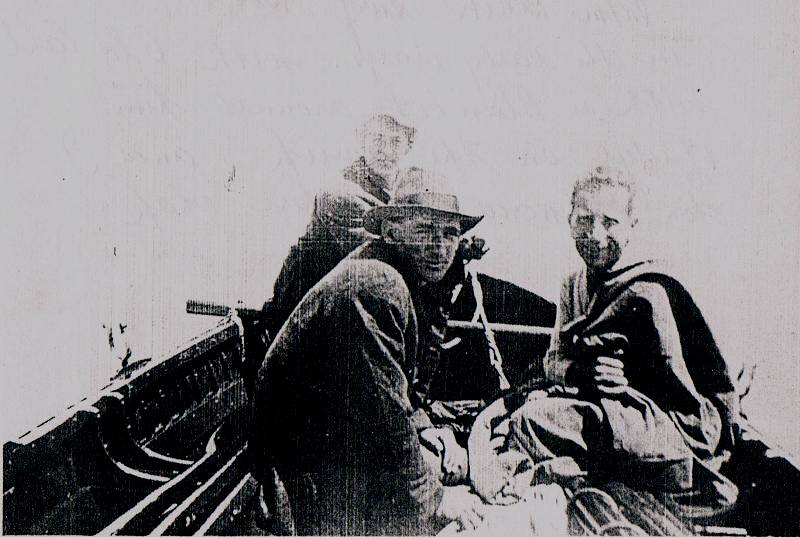 Apart from having a store above this jetty the boatshed also had a slipway and repairs, sales and hiring of boats, amongst fishing, were the mainstays of Mr Gow's business. It wasn't long before a sunstantial vessel required saving:
STEAMER ERRINGHI STRIKES BARRANJOEY ROCKS. On one of her usual trips from the Hawkesbury River to Sydney the coasting steamer Errlnghi struck Warner's Rock, near Barranjoey during the early hours of yesterday morning. Later in the day another river steamer, the Kallawatta, succeeded in dragging the Erringhi off, and towing her to the Jetty at Palm Beach. Captain Jurd, the master of the Erringhi, stated that hazy conditions prevailed when the Erringhi commenced her voyage. This probably accounted for the vessel losing her course and striking the rock. The Barrenjoey lighthouse-keeper discovered the plight of the Erringhi, but in answer to a question Captain Jurd reported that the crew were in no immediate danger. The sea was calm. Between 9 and 10 o'clock the Kallawatta arrived. Some of the Erringhi's cargo was jettisoned, and shortly before 8 o'clock she was towed off into deep water, and afterwards to Palm Beach. An examination revealed the fact that the damage was not extensive. The timbers of the vessel had been strained by contact with the rocks sufficient to cause a leakage. At low tide this morning an attempt will be made to effect temporary repairs, and it is hoped that the vessel will resume her voyage at 7 o'clock or shortly afterwards. The Erringhi is a wooden vessel of 96 tons, built In 1907 at Clarence Town. Her principal dimensions are -Length, 101ft,' breadth 21ft, and depth* 7 6ft She Is owned by a syndicate, who suffered the loss of the coaster Charlotte Fenwick by fire a few weeks ago, 'and replaced that steamer by the Erringhi. STEAMER ERRINGHI. (1920, June 12). The Sydney Morning Herald (NSW : 1842 - 1954), p. 13. Retrieved from http://nla.gov.au/nla.news-article15893744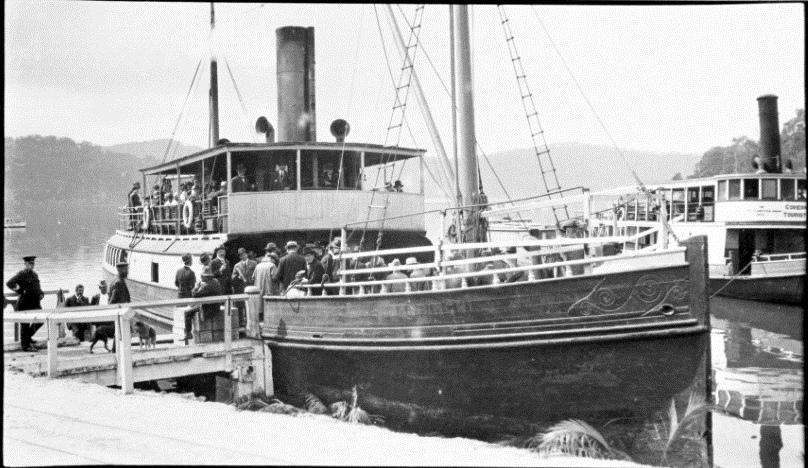 The Erringhi at Brooklyn circa 1912-1920, Courtesy Australian Maritime Museum
The Erringhi was one of several steamers to use the jetty:
HAWKESBURY RIVER. BAYVIEW, PALM BEACH, PITTWATER, NEWPORT, ETC. S.S. CHARLOTTE FENWICK leaves Monday, 6 p.m. Thursday', 5 p.m. From Macleay Shipping Co.'« Wharf, Barker-street, off Bathurst-street Tel.. City 1018. HAWKESBURY S.N. COY.-S.S. ERRINGHI. Every Tuesday and Friday, from Albion Wharf. All Ports, including Bay View, Palm Beach, Pittwater, Newport, etc Cargo received daily. Tel.. City 1838. HAWKESBURY RIVER and PITTWATER, all Wharves and Branches.-Kallawatta, 4 p.m. Today. Cargo received early, Bathurst-st Ph., City 7Q5 Advertising. (1919, September 12). The Sydney Morning Herald (NSW : 1842 - 1954), p. 1. Retrieved from http://nla.gov.au/nla.news-article15853818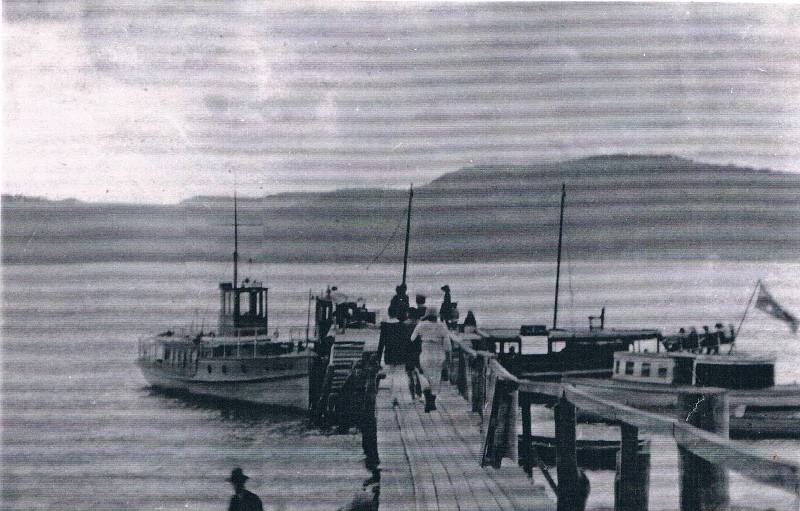 Palm Beach jetty-wharf circa 1920's. Courtesy Peter Verrills.
The boatshed and wharf were improved by Carl Gow. He also became firm friends with Frank Gonsalves Snr. and the two formed a partnership to keep up with all the work that came as Palm Beach became an ever increasingly popular spot even during tough Depression years: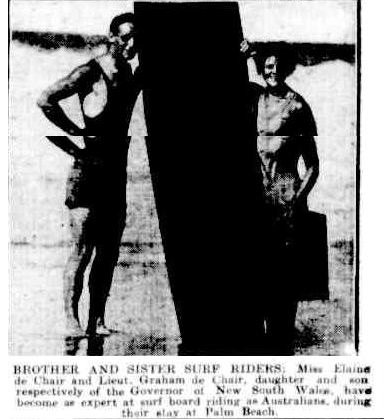 CHAPMAN PUP Drive Yourself Launches may be hired at very modest charges from the following Fleet Owners - Carl Gow Palm Beach, H Holloway Palm Beach, W Goddard and Sons Palm Beach. Advertising. (1936, January 11). The Sydney Morning Herald(NSW : 1842 - 1954), p. 1. Retrieved January 31, 2013, from http://nla.gov.au/nla.news-article17237761
Image to right: Ministers Attend Final Sessions Of Conference: Harvesting Salt: Youths Evade The Heat: Snook Plentiful. (1930, March 7).The Register News-Pictorial (Adelaide, SA : 1929 - 1931), p. 14. Retrieved from http://nla.gov.au/nla.news-article53498531
The Rendezvous, now a French Bistro opposite the golf course at Palm Beach, became another Gow venture and a popular venue for Palm Beach SLSC members:
The Palm Beach Surf Live-Saving Club will hold its annual dance at the Rendezvous Tearooms, Palm Beach, on December 28.The proceeds will go to the club's funds. Among the attractions at the dance will be a competition, the prize for which will be a flight in a seaplane, given by Captain J. Pentland. NEAR AND FAR. (1929, December 17). The Sydney Morning Herald (NSW : 1842 - 1954), p. 4. Retrieved from http://nla.gov.au/nla.news-article16610763
He also attempted to get a licence to sell alcohol, which was later granted to the Goddard's near where the Palm Beach Wine Cellars is today. It's interesting to note that Sunrise Hill lady, Marie Byles was involved in this case:
QUARTER SESSIONS APPEALS. (Before Judge Edwards.) HOTELS AT PALM BEACH. Hearing was continued of the appeals of Carl Beeston Gow and Alfred Edward Cooper respectively against the adjudication of the Metropolitan Licensing Court refusing to grant their respective applications for publican's licenses for premises at Palm Beach. Both appeals were dismissed, and the adjudications of the Licensing Court confirmed, with 20 guineas objectors' and £3/3/ Crown costs in each case. Mr. W. J. Bradley (instructed by Mr. W. H. Drew) appeared for appellant Gow; Mr. Clancy (instructed by Messrs. H. J. Aspinall and Son) for the appellant Cooper; Mr. V. H. Treatt (Instructed by Miss M. B. Byles) for certain objectors; and Mr. C. E. Weigall (Solicitor-General) for the police. QUARTER SESSIONS APPEALS. (1927, February 15). The Sydney Morning Herald (NSW : 1842 - 1954), p. 8. Retrieved from http://nla.gov.au/nla.news-article16354861
Our General Stores, Refreshment Rooms and boat sheds were, as they are now, meeting places for the community. They were also utilised at Palm Beach as Polling Booths:
Palm Beach Gow's Refreshment Room WHERE TO VOTE. (1930, October 24). The Sydney Morning Herald (NSW : 1842 - 1954), p. 15. Retrieved from http://nla.gov.au/nla.news-article16724988
What we now call Pittwater Park, beside the current ferry wharf for Palm Beach, stems from a bet between old Carl Gow and Cr. Hitchcock of Warringah Council (for whom Hitchcock Park at Avalon is now named); the bet being the Councillor could not get it gazetted as a park which he did, Carl having to hand over 100 pounds for losing. This Park was Gazetted 23.9.1927 and 21/1/1927. Those who knew Carl state the bet was a ruse as this land was slated for development prior to then.
A view from Goddard's wharf - a little further south: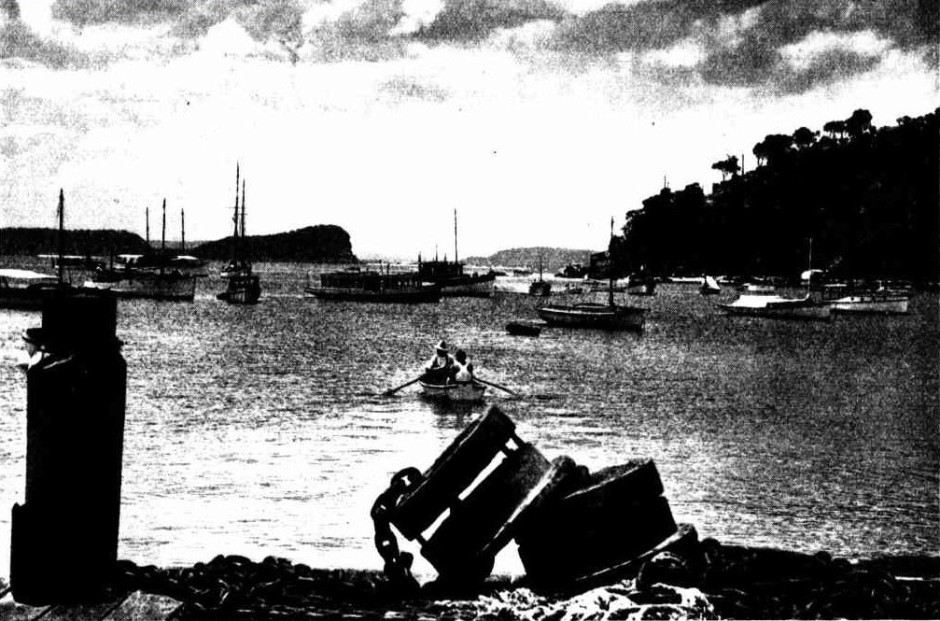 LAUNCHES AT ANCHOR ATPITTWATER, WITH LION ISLAND(BROKEN BAY) IN THE DISTANCE No title. (1935, April 3). Sydney Mail (NSW : 1912 - 1938), p. 42. Retrieved from http://nla.gov.au/nla.news-article166111070
Mr Gow also had other dealings, along with the Gonsalves, over the original Palm Beach Jetty, now a wharf, with Warringah Council which in themselves chart its changes:
C.B.Gow 20/12/29. Asking if Council has any, objection to the granting of a permissive occupancy to C.B. Gow for a business boatshed at Palm Beach. - Referred to Work's Committee (Crs.Parr,Austin.)
'31. C.B. Gow, applying for permission to wall and fill in an area about 30' x 20' between his boat shed and garage on the foreshore at Palm Beach. Referred to Works Committee. 19/11/1934
(b) that the carrying out of the drainage of Barrenjoey Road "between Milton's corner and Gow's Park:be 'proceeded with; 27/3/1933
A. Dangar-Browne & 9 others, 21/9/35, submitting an emphatic protest against the proposal to use Goddard's wharf Palm Beach at Palm Beach in lieu of the public wharf, and setting out reasons for the protest. 18a. C.B.Gow, 23/9/35, regarding condition of wharf, and stating he is prepared to repair and maintain it in a state of good repair for period of 12 months for the sum of £20, the money to be paid at the end of the 12 months. Resolved, - That the offer of Mr. C. B. Gow be accepted, (Crs. Austin, Hewitt) 1/10/1935
C.B. Gow, 25/3/38, requesting permission to take over the old wharf at Palm beach stating he is prepared to reconstruct it to the engineer's satisfaction and take over the lease from the Lands Department. 29a. A .Dangar Burne, suggesting that the old wharf be allowed to remain for the convenience of boating men. Resolved, - That Mr. Gow be informed the Council proposes to terminate the occupancy of the site of the wharf, and will Permit him to take it over provided that the public will have uninterrupted use of the wharf and he complies with whatever conditions the Lands Department may lay dowm. (Crs. Hitchcock, Savage)
"Received" 2. Lands Department, 7/12/38, replying that it offers no objection to the leasing of the old wharf at Palm Beach to Mr. C.B. Gow, provided he undertakes to repair and keep it in good order and allow the public free use of it at all times. Resolved, - That the Council agree to the lease to Mr. Gow, provided he first places the wharf in good order to the Shire Engineer's satisfaction. 20/12/1938
Reporting that the old structure of Palm Beach Wharf Beach should be demolished: Resolved - That Mr. C.B. Gow be given two months in which to complete the restoration work to the Shire engineer's satisfaction. (Crs. Latham, Savage) 24/1/1939
Reporting that Mr. Gow has ceased his improvement operations on the old public wharf at Palm Beach: Resolved, That Mr. Gow be required to finish the whole of the work within two months. (Crs. Butcher, Campbell) 11/7/1949
Gow & Gonsalves, 12/7/52, drawing attention to the state of the Council's wharf adjacent to Gow's boatshed and suggesting that it be repaired or demolished, but if the Council is not prepared to do this, stating that they are prepared to take over the structure. Resolved: that this wharf be demolished (Crs. McKay and Berry).
C. B. Gow, 18/9/52, regarding the old wharf at Palm Beach, contending that it would be more expedient to re-build the old wharf than to demolish it, pointing out that a wharf has been at this site for about 40 years, and is greatly used by local residents; and stating that he would be prepared to build and maintain a new wharf or pull the old one down. 22. Resolved, - That he be informed that Council adheres to its previous decision, and the Engineer be instructed to demolish this wharf at. the earliest possible Opportunity.- (Crs. McKay, Berry)
CARRIED. (b) Cr. Berry moved, Cr. McKay seconding, that the decision of 21/7/52 to demolish Mr. C.B. Gow's wharf at Palm Beach be rescinded, and he be allowed to rebuild the wharf at his own expense and that the Council be relieved of any legal Wharves responsibility as to the management of this wharf. Cr. Horn moved as an amendment, Cr. Quinlan seconding, that this matter be referred to the Finance & General Purposes Committee, with a report by the Shire Engineer and Legal Officer, and in the meantime Mr. Gow be asked to confer with the Engineer and submit a proposal as to what he is prepared to do to reinstate the wharf to good condition., and the terms under which he desires to be allowed to use the wharf. The amendment was carried, and on becoming the motion, was again carried. (c) Cr. McKay moved, Cr. Berry seconding 30/3/1953
Carl Gow was also a fisherman, as were all the main families born or living at Palm Beach during the turn of the century and into its first decades of development:
Fisherman Wins Appeal Against Crown. The Court of Criminal Appeal decided yesterday that it, is not an offence for a professional fisherman to have in his possession fish irrespective of whether he proposed to sell it in the established market or not. The decision arose out of an appeal by Carl Beeston Gow. Gow was convicted by a magistrate under the Fisheries and Oyster Farms Act of having fish for sale which had not been brought to and sold in the district market. The fish was seized and forfeited to the Crown. Gow appealed unsuccessfully to Quarter Sessions. Government inspectors saw Gow's truck in front of a fish shop at Narrabeen. There was a large quantity of fish in the truck, a set of scales, and newspapers.
MEANING OF DECISION. A legal authority said yesterday that the practical effect for fishermen of the Court's decision is that a Fisheries inspector will have to detect a fisherman in the act of disposing of his catch outside the legal market before he can be convicted of an offence. The Chief Justice, in a reserved judgment, said it clearly would be nonsense to suggest that in all cases the mere possession of fish intended to be sold before they had been sold in a market would constitute an offence. Every licensed fisherman obviously intended to earn a livelihood by disposing of his catch by selling it. But as soon as he, took the fish into his boat or' otherwise reduced it into possession then he had it in his possession for sale, not immediately, perhaps, but at some subsequent time. He must then send the fish to the market in order that it might be sold in compliance with the requirements of the Act, and to suggest that the section of the Act was to receive a construction which would make that an offence was clearly absurd. It was clear that no offence was proved against Gow, his Honor said, because, although he announced his intention of selling some of the fish no sale in fact took place. The Chief Justice added: "It may possibly be that there is a gap in the Act, but that must be attributed to the language which the Legislature has used, and the Court cannot remould it." UPHELD The appeal was upheld with costs. Mr. Justice Owen and Mr.Justice Herron, in separate judgments, concurred. [Mr. J. W. Smyth, Q.C.. Mr.G. Carmichael and Mr. A. V. Maxwell (by Bartier, Perry and Purcell) for appellant; Mr. H.A. Henry (by the Crown Solicitor) for the Crown.] Fisherman Wins Appeal Against Crown. (1952, May 3). The Sydney Morning Herald (NSW : 1842 - 1954), p. 4. Retrieved from http://nla.gov.au/nla.news-article18263362
As a remaining original wharf of Pittwater and still a part of Gonsalves at Palm Beach this Observation Point jetty is a reminder of our maritime beginnings. What is now Palm Beach Public Wharf, and the stories of the Gonsalves, Goddards, Verrills and Carl Gow, who all contributed so much to Palm Beach, warrants full investigation in future History pages.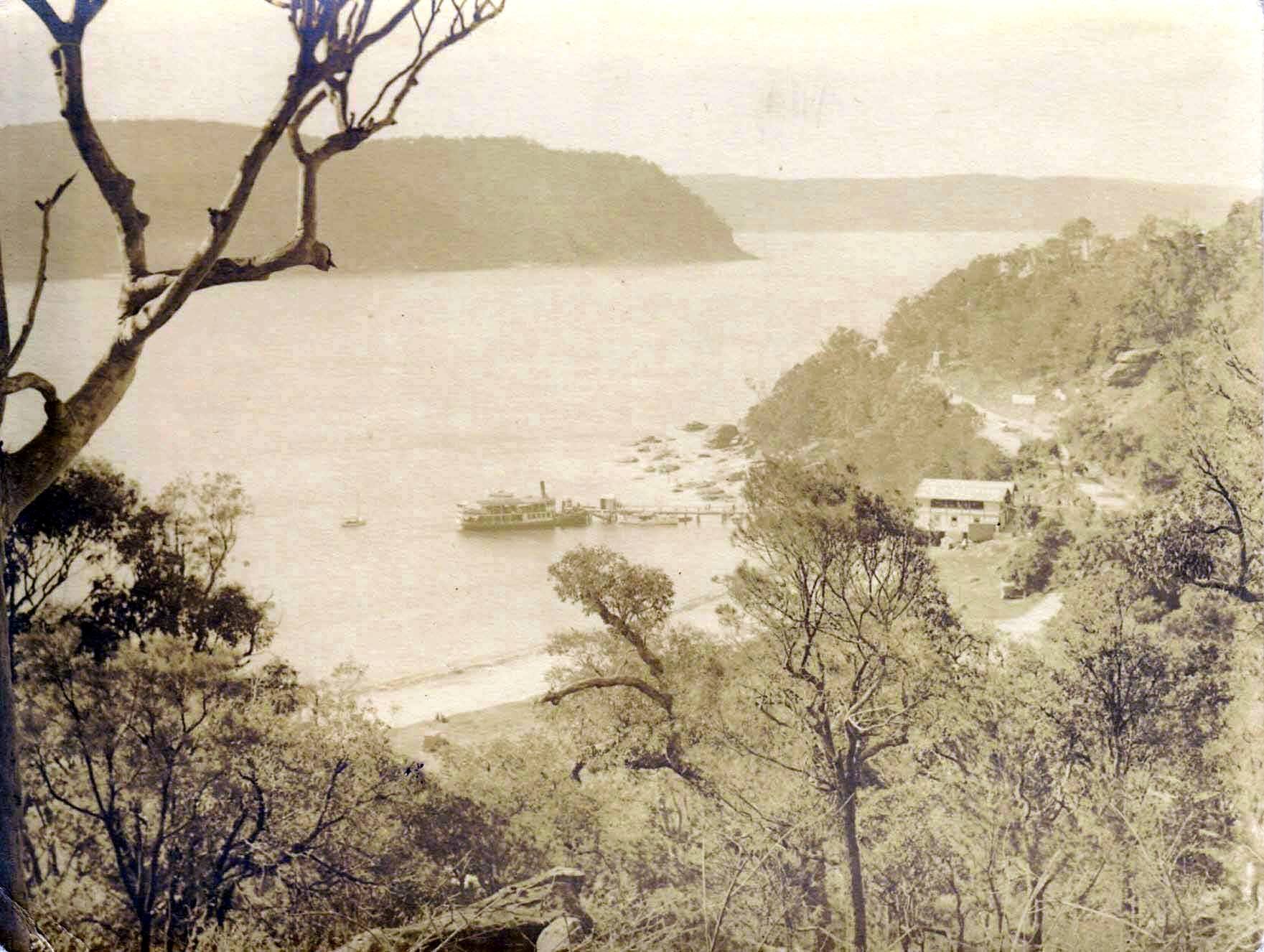 The Phoenix pulling into Palm Beach Jetty, pre 1931, from John Cowper's family albums.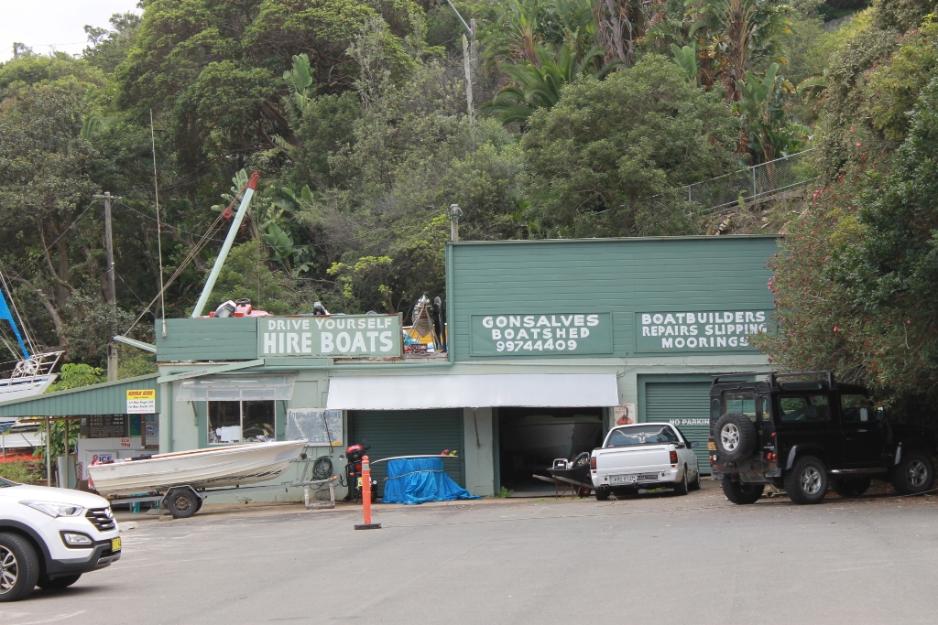 Above and below: Gonsalves Boatshed January 2013 and the Jetty below Obersvation Point.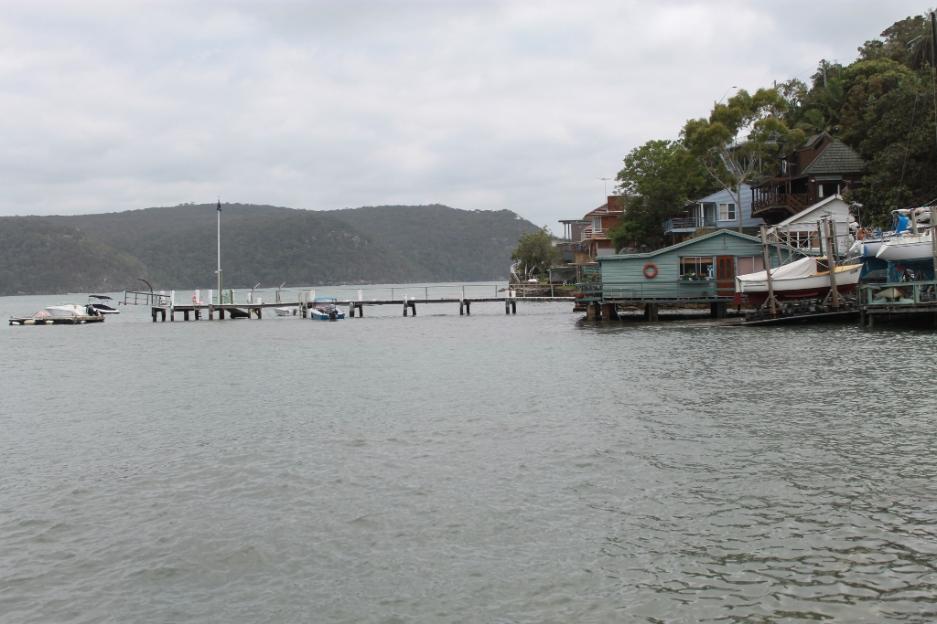 Palm Beach Jetty-Carl Gow's Wharf History Threads Collected and Collated by A J Guesdon, with thanks to Peter Verrills, Brian Friend and David Lyall 2013.