September 29 - October 5, 2013: Issue 130
North Palm Beach Surf Life Saving Club
The Great Depression (1929 to 1939) forced many Australians to move towards the coast where they could set up semi-permanent dwellings and camp while fishing to provide food for their families and also provide themselves with an income from the extra fish sold. The reserve at Palm Beach we today call Governor Phillip Park was one of these places people moved to and stayed.
The camping ground was also popular with families that came to Palm Beach for the summer season. Ian Curlewis, son of 'the father of Australian Surf Life Saving' Adrian Curlewis, related a few years ago how much he enjoyed staying there during summer holidays.
Although the Warringah Shire Council, according to a recent press report, decided to allow camping at Bilgola Beach, the N.R.M.A. has since received advice from the council that its decision to allow camping at this place has been rescinded, and therefore motorists wishing to camp will have to patronise the recognised grounds at Narrabeen, Avalon Beach and Palm Beach. NEWS AND NOTES FROM THE N.R.M.A. (1936, November 13).Albury Banner and Wodonga Express (NSW : 1896 - 1939), p. 28. Retrieved from http://nla.gov.au/nla.news-article112692495
A series of near accidents caused some of these campers and local families to form patrols at this end of Palm Beach. In 1939 the North Palm Beach Surf Life Saving Club was established, originally set up in the Beacon Store (located opposite the current Barrenjoey Boat House).
During WWII the troops of the 18th Battalion were based on Barrenjoey Headland and reported every hour to their Headquarters at St Ives using the telephone from the Beacon Store. Post WWII there was an increased amount of urban development on the Peninsula and the popularity of camping at Governor Phillip Park increased.
VOLUNTEER DEFENCE CORPS. Week-end Parades. Nearly 800 members of the Volunteer Defence Corps, In the 17th Battalion area, which extends from North Sydney to Palm Beach, paraded at French's Forest Showground yesterday afternoon, under Colonel Travers. The men were inspected by Major-General Gordon Bennett, Commandant, of the Training Depot, Eastern Command, who later took the salute in a march-past. He praised the physique and marching of the men.
Major-General Bennett also attended a parade of the Kuring-gai Gai Battalion of the Home Defence Corps, held yesterday morning at Killara. More than 200 men of B Company paraded under Major Pinnock. It was their first combined drill, and General Bennet complimented them on their performance…VOLUNTEER DEFENCE CORPS. (1940, July 15). The Sydney Morning Herald (NSW : 1842 - 1954), p. 11. Retrieved from http://nla.gov.au/nla.news-article17687421
It seems that the North Palm Beach Aussie larrikan spirit was infectious, even during wartime:
"Bomb" Thrown At Minister. SYDNEY. Thursday.-The Minister for the Army (Mr. Spender) was attacked yesterday by military forces with a bomb. The forces were a contingent of the A.l.F. travelling in an army lorry from leave at Palm Beach, north of Sydney, and the bomb was a bag of flour. A direct hit was scored, and Mr. Spsnder's driver was smothered in flour. The occupants of the lorry did not recognise Mr. Spender, and as his car drew alongside the lorry the flour bomb was thrown with precision through the front window, where it burst over the driver. Mr. Spender, who came unscathed through the attack, does not view the incident seriously. Having pacified his driver.- who wanted to pursue and annihilate the occupants of the lorry, he. resumed his Journey to Sydney. "Bomb" Thrown At Minister. (1941, January 23). Barrier Miner(Broken Hill, NSW : 1888 - 1954), p. 5 Edition: HOME EDITION. Retrieved from http://nla.gov.au/nla.news-article48413593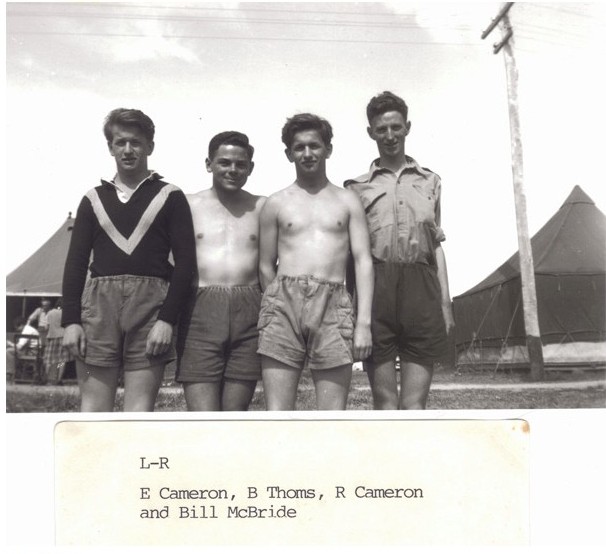 NEWS AND NOTES FROM THE N.R.M.A. Camping Permits. .Following complaints from the N.R.M.A. that genuine holiday campers and picnickers were being prevented from enjoying public reserves at various popular seaside resorts, the Minister for Lands has decided, as a matter of general policy in regard to seaside reserves, that no further sites for cottages or any structure with a semblance of permanency should be made available by the trustees. Warringah Shire Council has been advised of the policy laid down by the Minister, and informed that he desires it to refrain from granting permits for camping on Governor Phillip Park at Palm Beach for other than temporary occupation for holiday purposes, and that no extension of the permits, which have been granted for periods of 12 months, be granted by the Council. Commenting on the decision, the general secretary of the N.R.M.A. (Mr. H I Johnson)said that owing to the granting of permits to about 50 people for permanent residences at Governor Phillip Park, many genuine holiday campers found it impossible last summer to obtain good camp sites. At various reserves on the North Coast permanent structures had been erected, including cottages and even stores. THE MOTOR WORLD. (1940, July 9). The Braidwood Review and District Advocate (NSW : 1915 - 1954), p. 8. Retrieved from http://nla.gov.au/nla.news-article119345081
Warringah Shire records indicate the life savers at this northj end of Palm Beach were originally called 'Barrenjoey Beach' :
Warringah Shire Records:
31. 18/3/1941: Barrenjoey S.L.S. Club, requesting permission to erect a small structure in a central position overlooking Barrenjoey surf beach for the housing of a surf reel, box line and for life - saving gear, the structure to be a temporary one-as-it is the Club's intention to seek the Council's permission to erect a Clubhouse at some future date if circumstances permit the surf club to remain in being, and to supply active patrols Saturdays Sundays and holidays (b) stating the Palm Beach Golf Club-has given the Club its shelter shed at No 4 tee and if the Council approves, the Club will re-erect this building. Resolved: that the Council agree to the proposal provided that the Works Committee of the site after an inspection in company with the club's representatives.
16/12/1941: 4. Re Proposed appointment of Caretaker at Palm Beach wharf, and reporting that Mr. Ward, of Barrenjoey Road, Palm Beach, was prepared to take the position at £1 per week: Resolved, - Palm Beach That an effort be made to catch the offenders who tie up their boats to the wharf, with a view of prosecuting them. (Crs. Hitchcock, Langdale)
66. Barrenjoey S.L.S.Club, 25/11/41, requesting that the front portion of the recently erected surf sheds at Barrenjoey Beach be enclosed for the purpose of protecting the life saving gear, and offering to bear the cost if the Council will carry out the work. Received, - That the request be complied with, and the Council carry out the work at the expense of the Club. (Crs. Bathe Hitchcock)
17/3/1942: By Cr. Hitchcock - The box line outfit at Barrenjoey Peninsula has been damaged by vandals: Could this be attended to The President said the Inspector would attend to the matter.
Clearly our
beaches were not deserted during World War II, despite barricades of reported tank traps excavated and barb wire to detere any potential invaders. Other reports from these years indicate residents and visitors were still around:
MOTOR CAMPING Forced by petrol rationing to stay close to home, motor campers gave extensive patronage to popular grounds near Sydney over the Christmas-New Year period, reports the N.R.M.A. At the four main camps under the control of Warringah Shire Council--at North Curl Curl, Narrabeen, Avalon and Palm Beach there were 542 camps, containing over 3000 people. MOTOR CAMPING. (1943, January 12). The Canberra Times(ACT : 1926 - 1995), p. 4. Retrieved from http://nla.gov.au/nla.news-article2616911
Palm Beach, where the fortunate rough it during the summer months, is without any beach. Apparently it's something to do with the winds moving the sand. The consternation among the locals at this development Is balanced somewhat by their fervent hope that it will knock the 'tripper' traffic on the head. Lister Ifould (ex R.A.A.F., D.S.O..D.F.C.), who has been a Palm Beach surfer for about 17 years, tells me that the sea encroached once before in the twenties. Then the waves lapped right across the road which runs along the foreshore. He thinks that when the north easterlies start again the sand on the beach will build up. Until that happens, however. Palm Beach will have to depend for its popularity on Its 'atmosphere, ''Atmosphere' at thirty guineas a week (which is the rent paid for the larger houses) is expensive. The surf seemed to be sprinkled fairly freely with the Royal Navy. I can only assume that they have more skill when manouvring on top of the water than when actually submerged in it. Admiral Sir Philip Vian. Whose war record proved that he could 'take it' as well as dish it out, took 20 minutes' consistent dumping in bulldog style. Admiral Sir Bruce Fraser, another learner, was enthusiastic, if unskilful. His navigation was faulty, and twice he had to be ordered out of dangerous waters by the beach patrol. Now that Admiral Fraser has a house at Palm Beach (the Coles' above the swimming pool) there is considerable coming and going of naval 'brass.' The other day I met Rear-Admiral Nigel Oliver, on whose ship, H.M.S. Hilary, I had the doubtful pleasure of crossing to Normandy on D-Day. DIARY OF SYDNEY. (1945, November 22). Townsville Daily Bulletin (Qld. : 1885 - 1954), p. 5. Retrieved from http://nla.gov.au/nla.news-article62872198
Thousands Under Canvas More than 10.000 persons, it was officially estimated, spent the Christmas holidays under canvas on the Warringah Council's camping areas. The biggest camps were at Lake Park, Narrabeen, and Governor Phillip Park, Palm Beach, at each of which there were about 700 tents. THOUSANDS LEAVE SYDNEY. (1945, December 27). The Sydney Morning Herald (NSW : 1842 - 1954), p. 1. Retrieved from http://nla.gov.au/nla.news-article17964638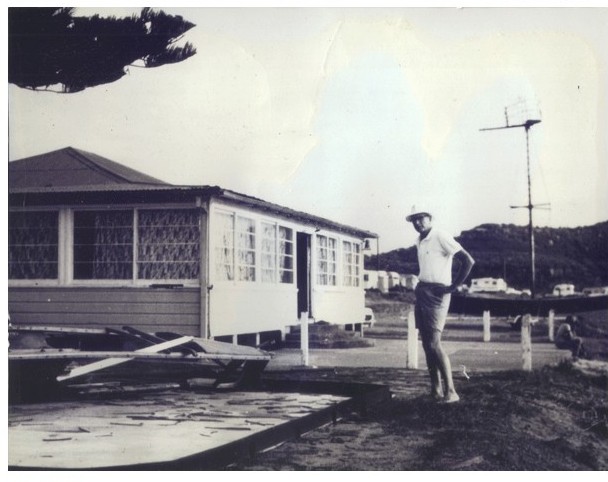 The North Palm Beach Surf Life Saving Club reformed after WWII and by 1946 the Old Avalon Cricket Club Building was moved to a location near the present site of the club (located where the current public toilet facilities are today) and the club added verandahs. In these early days the club shared the facility with the Palm Beach Kindergarten. A little further north in the hollow of the dunes was the boatshed and the bunkhouse. An accidental fire partially destroyed the bunkhouse and led to the club being rebuilt in its present location in 1973.
Remnants of the war kept showing up for a while but in the meantime, permanent residents, permanent campers and summer visitors fulfilled patrols on North Palm Beach. They were unable to save those who swam outside of flagged areas and in the drak though:
SYDNEY.-A depth charge was netted by fishermen north of Palm Beach last night. - This is the second depth charge found in this area in a month. The depth charge weighed 3501b. Father Divine Accused Of Fraud. (1946, December 19). Barrier Miner (Broken Hill, NSW : 1888 - 1954), p. 7. Retrieved from http://nla.gov.au/nla.news-article4848559
Woman Drowned At Palm Beach. SYDNEY.-Hazel Jones, 32, single, of Hunter's Hill, was drowned at Palm Beach Monday night after her male companion had made a courageous effort to save both her and another woman. The man got one woman safely ashore, but when he returned to help Miss Jones he was unable to find her in the pitch darkness. Miss Jones' body has not yet been recovered.
Miss Jones, who was staying with friends at the Governor Phillip camping park, accompanied William McKay and Mrs. Dorothy Sampson to the north end of Palm Beach for a swim. Finding the baths empty they decided to try the surf, but stepped into a channel and were quickly swept 50 yards out. After supporting both women for several minutes McKay, also got into difficulties, but managed to get Mrs. Sampson to the rocks, while Miss Jones trod water. He then went back for Miss Jones, but a five minutes' search failed to find her and he then swam to the beach to summon aid. Woman Drowned At Palm Beach. (1947, February 19). Barrier Miner (Broken Hill, NSW : 1888 - 1954), p. 4. Retrieved from http://nla.gov.au/nla.news-article48490241
HAWAIIAN SURF TEAM COMING. A team of Hawaiian surf-board riders and two or more swimmers will visit Australia in December, 1949, or January, 1950. This was stated at-last night's annual meeting of the Surf Life Saving Association Dates for carnivals this summer are -
Dec 5 Garie Dec 26 Whale Beach Dec 27 Collaroy Jan I South Curl Curl Jan 2 North Palm Beach Jan 3 North Narrabeen Jan 8 Maroubra Jan15 North Steyne Jan 22 North Cronulla-Wanda Jan 29 Manly Jan 31Freshwater, Feb 12 Newcastle Feb 19 Sydney metropolitan elimination carnivals Feb 27, Tamarama March 5 Coogee HAWAIIAN SURF TEAM COMING. (1948, October 20). The Sydney Morning Herald (NSW : 1842 - 1954), p. 7. Retrieved from http://nla.gov.au/nla.news-article18098896
Surfing.-North Palm. Beach carnival, 2 p.m. Sport Fixtures. (1949, January 1). The Sydney Morning Herald(NSW : 1842 - 1954), p. 7. Retrieved from http://nla.gov.au/nla.news-article32152845
North Palm Beach SLSC had a lot of maverick spirit in their first few years after reforming. They were not part of the 'in crowd' so much alluded to during the post-war era, which was really seasonal visitors to beachside holiday houses, and were happy in their tents, caravans or simpler permanent residences if living in Pittwater year round. This did not stop them from doing their utmost to help other surf clubs with a generosity not found elsewhere:
DISCIPLINING SURF MEN .Small Minority. The number of surf club members dealt with by clubs and the Surf Life-Saving Association for breaches of rules was less than one per cent, of the membership of the association. This was stated last night by an association official. He was commenting on recent disciplinary action taken against some club members.
"The association will not tolerate misbehaviour," the official said. "I feel there is a small element which is trying to create some unrest in the clubs. Most of these are young men who know little of the tradition of our movement. They will be made to realise that clubs and the association will not allow themselves to lose the goodwill of the public."
Five members of North Palm Beach Club, not the Palm Beach Club as stated in the "Herald" yesterday, were suspended by the club committee recently. Neglect of duties and general bad conduct were alleged. The suspensions were lifted last Sunday. The secretary of the Surf Life-saving Association, Mr. G Millar, said yesterday there was no question of larrikinism at North Palm Beach. The members had been suspended for not doing patrols and for taking the surf boat away without authority. DISCIPLINING SURF MEN. (1949, March 9). The Sydney Morning Herald (NSW : 1842 - 1954), p. 3. Retrieved from http://nla.gov.au/nla.news-article18106316
Surf Boat For S.A. Lifesavers. By C.W.S. A surf boat presented to the SA State Centre of the Surf Lifesaving Association by the North Palm Beach Surf lifesaving club will be the prize in a ballot to be conducted among affiliated SA clubs at the first annual general meeting of the SLSA of SA at the Tourist Bureau on Tuesday night. The boat is expected to reach Adelaide from NSW in November, at about the same time as the one the Glenelg Club is purchasing from the Bilgola (NSW) Surf Lifesaving Club.The two additions will mean that three surf boats will be available for patrol and rescue work along metropolitan beaches next summer. Henley is the only club with its own boat, which escaped damage when the clubrooms were wrecked in the May storms. Tuesday's meeting will begin at7.30 p.m. Nominations for official positions will close on Monday. Surf Boat For S.A. Lifesavers. (1953, September 11). The Advertiser (Adelaide, SA : 1931 - 1954), p. 9. Retrieved from http://nla.gov.au/nla.news-article48921485
North Palm Beach, although the club had been holding carnivals from its first season, has its 'first' carnival recorded thus:
Club's First Surf Carnival North Palm Beach Surf Club today will stage its first surf carnival. The carnival is restricted to lifesavers from northern metropolitan beaches. One of the club's founders, S.L.S.A. official, Roger Moroney, will act as referee. Club's First Surf Carnival. (1951, January 7). The Sunday Herald (Sydney, NSW : 1949 - 1953), p. 13 Section: Sports Section. Retrieved from http://nla.gov.au/nla.news-article18496916
Despite this:
New Surf President. Mr. Cec Mack was last night elected president of the Sydney branch of the Surf Life Saving Association of Australia. Mr. Mack defeated the Chief Superintendent of Australia, Mr. Ken Watson, in the ballot. Associated with the surf for 30 years, Mr. Mack got his bronze medallion with the North Bondi club. The position of president became vacant when Judge Adrian Curlewis retired. Judge Curlewis will retain his position as president of the New South Wales and National Surf Council. Mr. Alf Loton was elected secretary of the Sydney branch to replace the late Mr. George Millar. Other officers elected were: Deputy president, Mr. W. A. Crain; treasurer, Mr. J. Robinson; assistant treasurer, Mr. George Lindsay; assistant secretary, Mr.H. Spurway, registrar, Mr. G. Davies; assistant registrar, Mr. G. McRobert; superintendent, Mr. D. Lucas; deputy superintendent, Mr. W. Foerster; secretary to Board of Examiners, Mr.A. Castleman; gear inspector, Mr.R. Moroney; publicity officer, Mr. E. Sier. It was decided that the heats of the metropolitan surf championships be held on January 21,with the finals on February 10, beaches to be allotted. The State surf championships would be held on March 3. Carnival dates granted were: December 3, Garie; December10, South Narrabeen; December23, Collaroy; December 24,Whale Beach; December 26,North Narrabeen; December 30,Newport; January 1, South Curl Curl; January "6, Deewhy; January 7, North Palm Beach; January 13, Queenscliff; January 20, North Cronulla-Wanda;January 27, Manly; January 28,Mona Vale; January 29, Fresh-water; February 3, Maroubra; February 17, Coogee. ' New Surf President. (1950, October 4). The Sydney Morning Herald (NSW : 1842 - 1954), p. 11. Retrieved from http://nla.gov.au/nla.news-article18177541
Club members, like all clubbies in Pittwater, soon achieved great results:
Pillow fight: A. Cooke (Bondi), 1;N. Bertram (North Narrabeen), 2;O. Oliver (North Palm Beach), 3. Beach relay: North Narrabeen, 1; Maroubra, 2; North Curl Curl, 3. Senior boat race, A crews:. WhaleBeach, li Cronulla, 2i Tamarama. Senior boat race, B crews: Mala-bar, 1; South Curl Curl B. 2;South Curl Curl C, 3. Junior boat race: Whale Beach,1; Bondi, 2; Cronulla, 3. Surf Star Has Day Out Four Carnival Wins For North Bondi ((at North Narreabeen)). (1953, December 27). The Sun-Herald (Sydney, NSW : 1953 - 1954), p. 36. Retrieved from http://nla.gov.au/nla.news-article28658704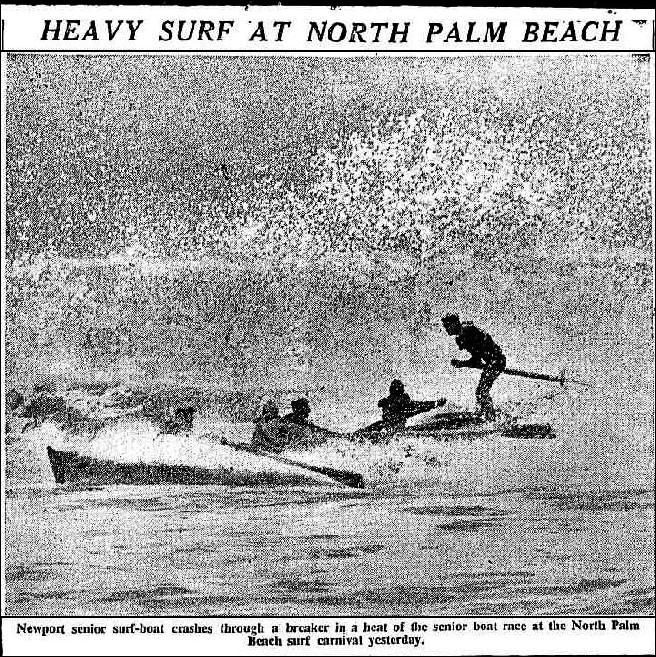 HEAVY SURF AT NORTH PALM BEACH Newport senior surf-boat crashes through a breaker in a heat of the senior boat race at the North Palm Beach surf carnival yesterday. HEAVY SURF AT NORTH PALM BEACH. (1954, January 4).The Sydney Morning Herald (NSW : 1842 - 1954), p. 3. Retrieved from http://nla.gov.au/nla.news-article29608607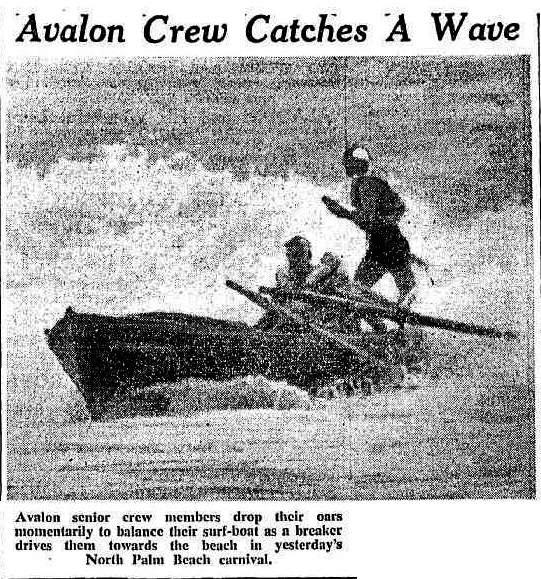 Avalon Crew Catches A Wave Avalon senior crew momentarily to balance drives them towards North Palm members drop their oars their surf-boat as a breaker drives them towards the beach in yesterday's Beach carnival. Avalon Crew Catches A Wave. (1954, January 4). The Sydney Morning Herald (NSW : 1842 - 1954), p. 13. Retrieved from http://nla.gov.au/nla.news-article29608686
Ron Sharpe Defeats Experienced Rivals In Surf De hat. Ron Sharpe, former star junior butterfly swimmer, made a brilliant entry to surf racing yesterday at the Palm Beach restricted carnival. He won the senior surf race impressively from a strong field only a few hours after being awarded his Bronze Medallion. Swimming in heavy surf made extremely difficult by a strong rip, Sharpe came home well in front of many who have won major surf races. His rivals included Ken Murrell and Ian Curlewis, both of Palm Beach, Ian Keames of Mona Vale, and Maurice Unicombe of Avalon. Sharpe, who still holds the Australian junior 100 metres and 110 yards butterfly records he set three years ago, took up surfing seriously only at the start of this season when he returned from America. He joined the Palm Beach club and on his home beach yesterday he showed a fine surf sense and plenty of power and speed. Sharpe quickly drew away from the field after rounding the buoys and, swimming all the way, came in well in front of Murrell and Curlewis.
Coach's Tip
Sharpe will couple surf and still water swimming and on recent time trials, State Swimming Association coach Frank Guthrie tips him to win national and State butterfly titles this season. The success of Palm Beach surfmen in the senior race and overall carnival result emphasised the claim by a section of surfing officials that this club should enter for more open carnivals.
Yesterday's carnival was to have been held at North Palm Beach, but the seas there were too heavy. It was transferred to the southern end of the beach, where there was some shelter provided by the headland. Even so, the rip near the beach was far too strong to hold belt swims, and rain and cold cancelled the march past.
Junior's Double. Geoff Martin, of Whale Beach, won the junior surf race. Martin scored in the junior event at the Whale Beach carnival last Sunday. It was an extremely tough swim for the juniors. Martin, swimming in his first season of competition, finished much stronger than any of the place getters. Patience and restraint by Maxwell Watt, of Avalon, paid off in the surf ski race, in which only two of 16slatters finished with their skis under control. Most of the ski men were tempted by the big boomers which laced towards the beach with great speed, but then broke steeply into a mass of whirling foam at the edge of the rip. They caught the big waves only to disappear in a flurry of water and sand from which most emerged without their skis. Watt said "I waited for the right one heading for the right area "
Some waves were sweeping obliquely to the beach north of the finishing line and at least seven ski riders were carried helplessly along by them. John Haynes of Palm Beach was actually the first to reach the sand but he and his ski rocketed in amid a broken wave a long way from the flags. The board riders mostly suffered the same fate. O Ramsey of Whale Beach, who won the event, and J Cunningham, of Palm Beach, mastered the treacherous rip to reach the finishing line almost together.
Warriewood's senior boat crew came to grief when its craft was picked up by a huge wave, pelted forward and then rolled over to be washed up on the beach 200 yards from the finishing area. All the other senior and junior boat crews kept cannily under the lee of the headland where the surf was treacherous but not violent
Sweep of the Whale Beach junior boat, Frank Gardner, handled his craft with great skill to hold a straight course on a twisting wave which slewed the Newport boat suddenly a few yards from the finish
NORTH PALM BEACH CARNIVAL
Senior Surf -R Sharpe 1 K Murrell 2 I Curlewis 3 (all of Palm Beach) Senior Surf Teams –Palm Beach 1 Mona Vale 2 North Palm Beach 3 Junior Surf -G Martin(Whale Bench) 1 J Rowe (Palm Beach) 2 A Merritt (Newport) 3Junior Surf Teams -Palm Beach I, Newport 2 While Beach 3 Ski race-M Watt (Avalon) 1 D Hove 2 (Bilgola) 2 Only two finished under control. Board -O Ramsay(Whale Bench) I J Cunningham(Palm Bench) 2 K Davidson (AvaIon) 3 Bench Sprint -G Barry(Palm Beach) 1 K Burrow (Newport) and J Donohue (North Palm Beach) dead heat 2 Beach Relay-Warriewood 1 North Palm Beach2 Whale Beach 3 Senior Boat Race -Mona Vale 1 Whale Beach,2 Avalon 3 Palm Bench 4Junior Boat Race -Whale Bench, 1,Newport 2 Avalon 3 Palm Beach, 4 Total points score Palm Bench 31;Whale Beach 17 Avalon 12 Newport and North Palm Beach each 10 ½ . Ron Sharpe Defeats Experienced Rivals In Surf De hat. (1954, January 4). The Sydney Morning Herald (NSW : 1842 - 1954), p. 13. Retrieved from http://nla.gov.au/nla.news-article29608719
PALM BEACH RESTRICTED CARNIVAL Senior Sprint! II . Newport 8 SRPis I Avalon 9 77 2 Palm Beach14 fi 1 Senior belt race H Biile(Whale Beach) 1 R Stanford (Palm Beach), 2 M Unicombe (Avalon) 1Innlnr hell- G Martin (WhaleBeach), 1, J. Rowe (Palm Beach), 2, A Forrest (Newport), 3 Senior surfrace. R Sharpe (Palm Beach), 1:I Curlewis (Palm Beach) 2, R Hoskin (Bilgola), 1 Senior teams' race: Palm Beach 1;Avalon and North Palm Beach (deadheat), 2 Junior surf race: J Davidson (Palm Beach), 1, G Mirlin(Palm Beach), 2, P. Richardson(Newport/, 3 Junior teams' rae«Palm Beach, 1: Newport, 2, Avalon,3. Senior boat race: Whale Beach,1, Bilgola, 2, Mona Vale, 3 Juniorboat race Newport, 1, Warriewood,2, Mona Vale. 3. Junior boat raceiNewport, 1. Warriewood. ">. MonaVale, 3 Board race: O Ramsay(Whale Bench). 1, K Davidson (AvaIon), 2, I Gorrie (Avalon), 3 Skirace: M Watt (Avalon), 1 N Davidson (Avalon), 2, R Watson (North Palm Beach). 3 Beach sprint: C Oai(Bilgola), 1, R Holmes (Warnewood), 2, I Gorrie (Avalon) (.Beach relay North Palm Beach 1., Warriewood. 2 Avalon SPORT DETAILS. (1954, January 11). The Sydney Morning Herald (NSW : 1842 - 1954), p. 10. Retrieved from http://nla.gov.au/nla.news-article18404079
NORTH PALM BEACH –Senior beach sprint K Hardaker 1 J Mann2 N Fairley 3 Musical flags N Fairley 1 D Oliver 2 R Watson 3 Wheelbarrow race R Watson J Mann1 N Fairley K Hardaker 2 B Lappan J Semmens 3 Junior beach sprint B Lappan 1 R Wilson 2, B Savage 3 Relay race K Hardaker's team 1 N Fairley's team 2 Obstacle race R Watson 1 J Mann 2 J Semmens Stick race J Semmens B Savage2 K Hardaker 3 Chariot race J Semmens's team 1 J Mann's team 2 SPORT DETAILS. (1950, November 6). The Sydney Morning Herald (NSW : 1842 - 1954), p. 7. Retrieved from http://nla.gov.au/nla.news-article18184693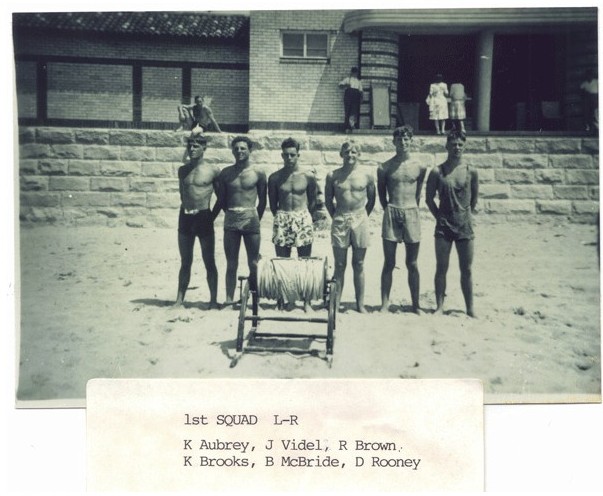 Boats In Tangle At Finish. All four starters North Palm Beach, Palm Beach, Newport, and Mona Vale-were involved in a collision at the finish of the senior surfboat race at Newport carnival yesterday. The four boats caught the same wave to the beach, but the sweeps could not prevent them converging. As the four boats crashed together near the finishing line, oarsmen were tossed into the water. Two later received treatment for injuries. Eric Fryr (Mona Vale) injured an ankle when he tried to push off a boat, and had his foot jammed between the gunwales. Alan Hancock (Newport) hurt his back when an oar struck him between the shoulders. Several planks in the Palm Beach boat were broken, and four oars snapped like match-wood when the boats collided. The race was re-run. Mona Vale narrowly won from Avalon. Australian beach sprint champion John Harrison beat John Marston (Whale Beach) by seven yards over the 75 yards sprint at Newport yesterday. He will relinquish his national title this year, as he leaves for England early in March, to continue his engineering career. The N.S.W. championships will be held at Wollongong on March 25, and the Australian titles at Coolangatta (Q.) on April 9. Boats In Tangle At Finish. (1950, January 9). The Sydney Morning Herald (NSW : 1842 - 1954), p. 5. Retrieved from http://nla.gov.au/nla.news-article18141596
Held Up By Sharks. Three shark alarms delayed events at yesterday's Whale Beach surf carnival. One alarm was given after contestants had started in the senior belt race. The event was held up until the all-clear was signalled. The carnival was restricted to clubs between Mona Vale and Palm Beach, which competed in the first round of the Don McIntyre Memorial Trophy. At the end of the day Whale Beach had a four points lead over its nearest rivals. Young Whale Beach swimmer, A. Ramsay, easily won the junior surf race, and 20 minutes later scored a convincing win in the junior belt race. Another Whale Beach swimmer, H. Bailey, completed a similar double in the senior events. Points gained yesterday were:-Whale Beach, 20; Mona Vale and Newport, 16; Avalon and Palm Beach, 13; North Palm Beach, 4. Held Up By Sharks. (1950, January 2). The Sydney Morning Herald (NSW : 1842 - 1954), p. 6. Retrieved from http://nla.gov.au/nla.news-article18142894
20,000 AT BEACHES. About 20,000 went to Sydney's beaches during yester-day's hot weather. The surf was flat most of the day. A surf boat team from the North Palm Beach Club spent yesterday rowing from Pittwater to Queenscliff. It will compete in to-day's carnival at Manly. The team-Steve Healey, Barry Thomas, Rob Warner, Ronnie Watson, and captain Bruce Bennett-left Pittwater at 2 p.m. and reached Manly at about 5.30 p.m. Two More Saved From Surf. (1952, January 12). The Sydney Morning Herald (NSW : 1842 - 1954), p. 3. Retrieved from http://nla.gov.au/nla.news-article18255356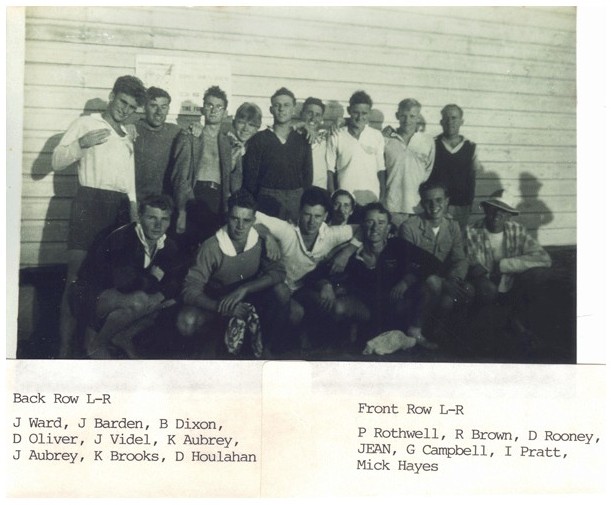 MANY SEE SURF GALA. About 3,000 people saw a gala display of lifesaving at Warriewood Beach yesterday. Competing clubs included North Narrabeen, Avalon, Warriewood Beach, Mona Vale, Bilgola, Palm Beach, Newport, Long Reef, South Narrabeen, Collaroy, North Palm Beach. MANY SEE SURF GALA. (1952, February 4). The Sydney Morning Herald (NSW : 1842 - 1954), p. 5. Retrieved from http://nla.gov.au/nla.news-article18254505
The reason the North Palm Beach Surf Club was formed was never lost sight of then, as it is now, with the northern part of Palm Beach remaining popular and attracting visitors from all over Sydney, saving lives is what this club is all about:
HEAVY SURF RESCUES: Ten were rescued at North Bondi and two more were saved at North Palm Beach after being swept out 300 yards. HEAVY SURF RESCUES. (1951, March 24). Barrier Miner(Broken Hill, NSW : 1888 - 1954), p. 2. Retrieved from http://nla.gov.au/nla.news-article48636129
NORTH PALM BEACH.-Lifesaver George Joyce rescued a New Australian, Baunon Gryebyta, of Sir John Young's Crescent, East Sydney. The man and Joyce were swept out 400 yards. Eventually beltman Don Oliver reached them and brought them back . Carnival Boats In Spills, Smashes. (1952, January 29). The Sydney Morning Herald (NSW : 1842 - 1954), p. 4. Retrieved from http://nla.gov.au/nla.news-article18254151
MASS RESCUE. At Avalon lifesavers made a mass-rescue at about 2.30 p.m. An Avalon beltman, W. Ingram, swam 100 yards through the surf to rescue a man struggling in a strong current. By the time he reached the man the current had caught eight other people and was dragging them out to sea. Two other lines were manned, and two other club-members, A. Hyde and J. Duff, swam out to help Ingram. Each of the three lifesavers brought in three people. Mr. J. Luxford, ot Heath Street, Ryde, who was one of those rescued, was treated for shock at the clubhouse. Avalon lifesavers made 11 rescues in the morning.
JOINT EFFORT At Palm Beach lifesavers from both Palm Beach and North Palm Beach set out with reels to rescue a man in difficulties between the beaches, about 200 yards from shore, yesterday afternoon. The Palm Beach belt team made the rescue, with North Palm Beach assisting. At Bronte a lifesaver rescued two people from a strong rip at the north end of the beach. Two people were rescued at North Bondi, and there were several rescues at Bondi. Mona Vale Beach had a shark alarm during the morning. Ten surf club members were swimming about 200yards from shore and saw two sharks within 20 yards of them. The sharks turned away and moved slowly out to sea. Manly was the only beach which reported crowds smaller than usual for this time of the year. A Manly surf club official said the crowds had been declining since the higher ferry fare was introduced. LIFESAVERS AID 55. (1952, December 15). The Sydney Morning Herald (NSW : 1842 - 1954), p. 1. Retrieved from http://nla.gov.au/nla.news-article18294968
Incidentals:
New post office. A 'non-official' post office will be opened at North Palm Beach on January 4, following representations by the Palm Beach Progress Association. It will be in the premises of Mr. W. A. Hughes, who has been appointed postmaster. It will provide all postal facilities, except money order and savings bank, and will be known as the 'Pacific Beach' Post Office. New post office. (1953, December 23). The Courier-Mail(Brisbane, Qld. : 1933 - 1954), p. 6. Retrieved from http://nla.gov.au/nla.news-article51089637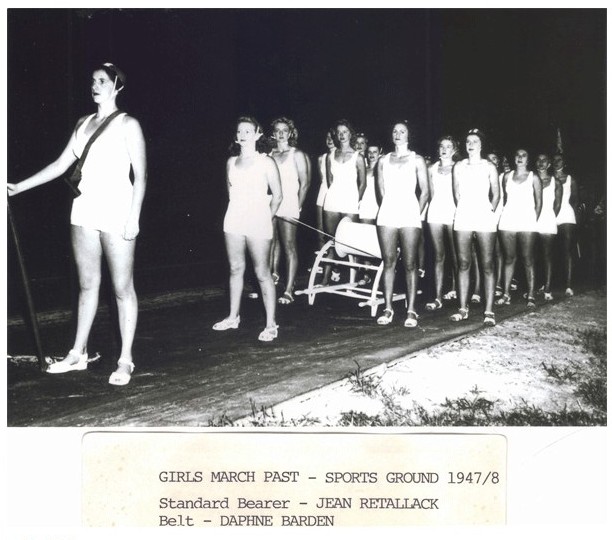 WARNING ON SHARKS- Greatest Menace At Present. A warning that the shark menace on Sydney beaches is greatest at the present time was given last night by the Superintendent of, N.S.W. Fisheries, Mr. T. C. Roughley. "Sharks are sighted more frequently in January and February than at any other time of the year," he said. "Remain with the main crowd in the water, and be particularly careful in overcast weather" – was Mr. Roughley's advice. Four men who travelled from Manly to Palm Beach in a launch yesterday counted 60 sharks on the journey.
One of those aboard was Mr. F. C. Johnson, Inspector of Fisheries in New South Wales, who has been detailed to supervise shark meshing on the northern beaches. Mr. Johnson described the number of sharks seen as "phenomenal."
"Every beach we visited was swarming with sharks," he said, "At Deewhy I counted five, and on the way to Narrabeen 15." Mr. Johnson said he thought the presence of large shoals of small fish was responsible for the swarms of man-eating sharks. "All the sharks we were close enough to see were hammerheads, which are man eaters," he said. "They varied in length from five feet to nine feet."
MANY ALARMS YESTERDAY. There were shark alarms on four Sydney beaches yesterday. Avalon Beach was closed from 10.30 a.m. to 1 p.m. after lifesavers seeing a school of six or seven sharks swimming within 300 yards of the beach. Surfers were signalled to leave the water while the club's surfboat chased the school out to sea. "Sharks have been thick off the coast in the past few days," a club member said. There were two alarms yesterday at North Narrabeen. A man fishing off Sandringham Point, Botany Bay, hooked an 8-foot whaler shark, but the line broke after a long struggle and the shark escaped.
Two small gills, aged about five, were rescued at Freshwater by clubman Henry Walsh, who was on a surf-board. The girls were caught in a very strong undertow. …one in the morning and one about 4.30 p.m. In each case schools of three or four sharks were seen cruising about 75 yards from surfers. Alarms at Palm Beach and Newport are believed to have been caused by the same school of sharks which passed Avalon. Surfers at North Palm Beach stayed out of the water for an hour when four 8-foot sharks cruised 50 yards distant. WARNING ON SHARKS. (1949, December 31). The Sydney Morning Herald (NSW : 1842 - 1954), p. 1. Retrieved from http://nla.gov.au/nla.news-article18143303
Top photo of Palm Beach Camping grounds is by Frank Hurley, circa 1953, Image No 23125315, courtesy National Library of Australia.
Also visit Graham Howard's Profile (North Palm Beach SLSC President in 2014)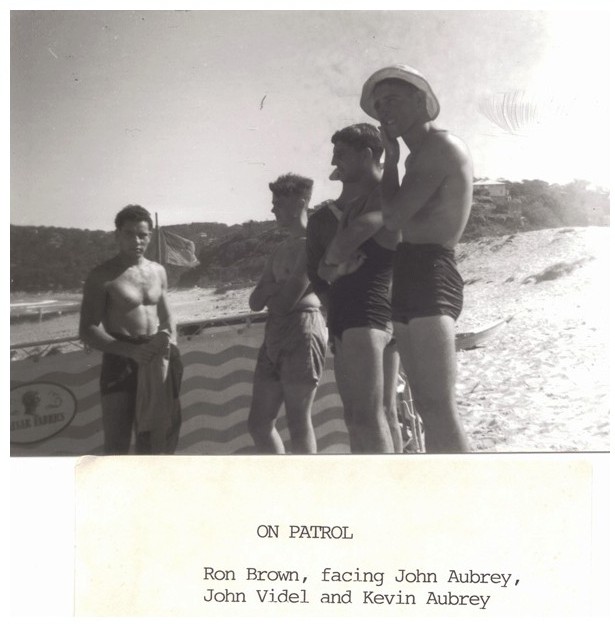 North Palm Beach Surf Life Saving Club - Formative Years: Page 1 - threads collected by A J Guesdon, 2013. Old Photographs courtesy of North Palm Beach SLSC