March 3 - 9, 2013: Issue 100
Maxwell (Max) James Watt
2.10.1929 - 31.07.2012
Max Watt of Avalon Beach passed away on July 31st 2012 aged 82. This gentleman enjoyed being outdoors and went bushwalking, canyoning in the Blue Mountains, loved sailing, playing golf and was a stalwart of Avalon Beach SLSC. He always had time for young people and taught his own children, son John, and daughters Julie and Margaret, as well as hundreds of local children the proper way to swim and the right way to catch waves. He loved his fishing, he loved and excelled at being on a ski and won many races during his youth. He had a knack for anything mechanical. Above all these loves he adored his wife Norma (nee Scharer) and Norma, a true Northern Beaches lady, adored and adores him in return.
Max Watt grew up in Waterloo. He was one of the many young men taught through the then Woolloomooloo Police Boys Club how to be a surf life saver to fill places left vacant by men of serving age during WWII.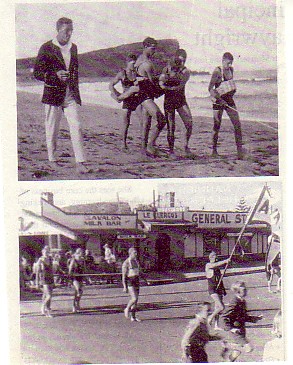 POLICE BOYS PASS Inspired by the remarkable work performed by members of the Woolloomooloo Police Boys' Club in patrolling Avalon Beach, a batch of youngsters from the Leichhardt Police Boys' Club became qualified life-savers during the week-end. They were tutored by Constable Ray Murdoch, a member of the Freshwater Club, and amazed Surf Life Saving Association examiners by their proficiency and confidence. Murdoch gained his instructors' certificate, and M. W. Koller, R. H.Marshall, D. J. Marshall, A. Hensley, and W. P. Drury their bronze medallions. K. Taylor, who is only 15, secured his qualifying certificate. Although these youths are not attached to any club, they are now qualified life-savers, and are eligible for entry to any registered surf life-saving club. In the last two years more than 40 awards have been made to members of police boys' clubs. SURF LIFE-SAVERS AS HUNTERS. (1944, December 19). The Sydney Morning Herald (NSW : 1842 - 1954), p. 8. Retrieved from http://nla.gov.au/nla.news-article17932315
Shark scrapes Avalon Surfer's Board. A 14-foot shark dashed straight at a young surfboard rider at Avalon yesterday, dived under the board at the last second, scraping the board as it passed. The rider, Max Watt, 17, was 400 yards out from the beach. He kept his balance, and was lucky to catch a big wave, immediately after which he rode right in to the shore. Watt, a member of the Avalon Surf Club, first saw the shark when it was about 50 yards from him. He lost sight of it as it apparently dived. A moment later he saw it coming straight towards him at top speed. When Watt got ashore he gave the alarm. The shark cruised around for a time, then swam off to the north. Two big sharks kept 1,000 Coogee surfers on the beach for half an hour. The sharks came close inshore, following a big school of mullet, which was circling in an attempt to escape. - Shark Scrapes Avalon Surfer's Board. (1947, April 7). The Sydney Morning Herald (NSW : 1842 - 1954), p. 1. Retrieved from http://nla.gov.au/nla.news-article27898982
The Scharer family came out to Avalon when Frederick returned from active service during WWII – this was the second world war conflict he served in. The family settled at Avalon Camping grounds initially. Youngest daughter Norma recalls her father returned from WWII with shell shock and they would come out to Paradise Beach, where his mother had a block of land on weekends and camp.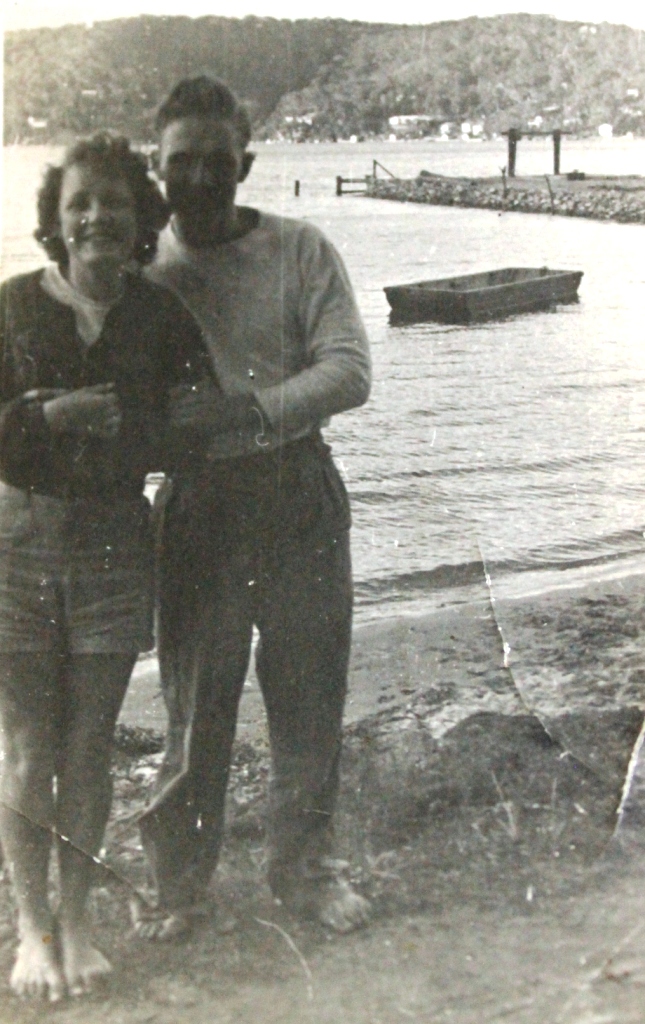 Norma and Max - 1945
"I remember quite clearly how dad and I would climb the hill overlooking Careel Bay and he said to me "I'm going to build a bloody boatshed down there and hire out boats."
Norma: "In 1945-46 mum and dad put up a tent in Avalon Camping Grounds…dad used to go down to Careel Bay every day. He had three boats, built at Balmain, brought up by sea to Careel Bay."
Mr. Scharer helped Henry Robinson with the reconstruction of the causeway and the jetty at the end of it from 1945. Daughter Norma recalls her and her future husband Max Watt used to go help him get dirt and stones from side of road to make causeway and fill in area that shed would built on. The Scharer family were in a tent up on the hill behind the boatshed at this stage. Unfortunately there was an accident:
UNDER A BULLDOZER. As Frederick Scharer, 59, of George Street Careel Bay, was helping to make a road near his home yesterday a bulldozer backed into him and pinned him by the right leg to the road. His leg was – fractured and badly lacerated. Manly Ambulance took him to Manly Hospital. UNDER A BULLDOZER. (1949, August 24). Goulburn Evening Post (NSW : 1940 - 1957), p. 1 Edition: Daily and Evening. Retrieved from http://nla.gov.au/nla.news-article104531921
Mr. Fred Scharer, of Canterbury Street, Casino, drove to Sydney on Wednesday to be at the bedside of his injured son. His son Fred was seriously injured on Tuesday when run over by a bulldozer. Personal. (1949, August 26). Northern Star (Lismore, NSW : 1876 - 1954), p. 4. Retrieved from http://nla.gov.au/nla.news-article99063484
Norma related her father spent his recuperation in a Garage kindly loaned to them by a doctor who had premises there (Dr Schlink?) at the end of the bay. Soon afterwards Max also had a close call: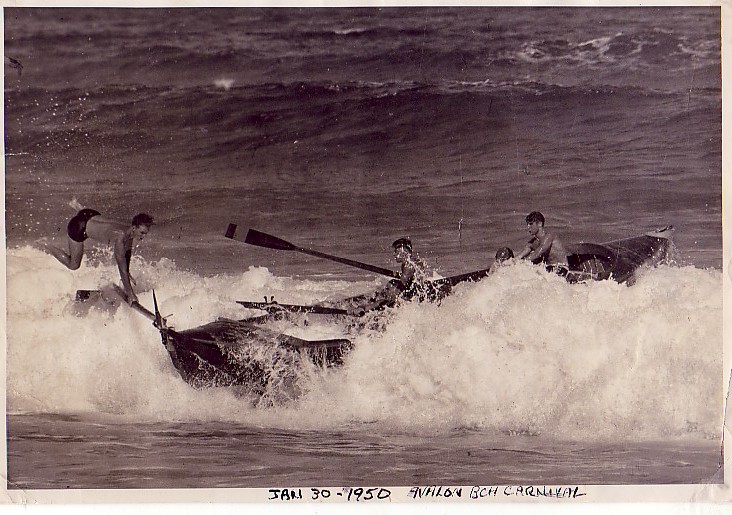 SWEEP-HAND NARROWLY ESCAPES INJURY Crew members of Avalon surf-boat anxiously watch their sweep-hand, Max Watt, as he is flung high into the air by one of the big seas at Avalon yesterday. The sweep-oar was shattered and Watt just missed being impaled by a piece of the oar, which can be seen protruding from the rowlock. SWEEP-HAND NARROWLY ESCAPES INJURY. (1950, January 30). The Sydney Morning Herald (NSW : 1842 - 1954), p. 1. Retrieved from http://nla.gov.au/nla.news-article27582237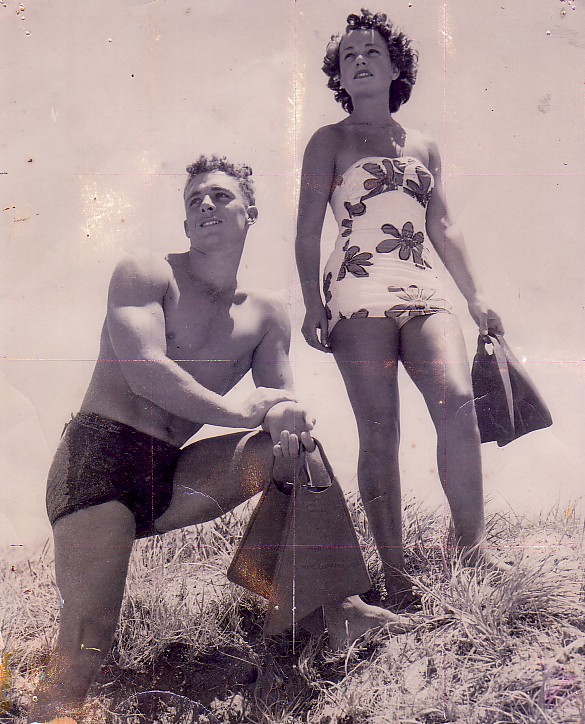 Left: Max and Norma -1949
Max and Norma were used as models when swim flippers were first introduced into Australia, a photo which was to feature on the cover of then Pix Magazine. "That was my California print bathing suit." Norma said when asked about this photo, "He was 19 years old then and I was 17… just look at those lovely arms of his.."

Swim Flippers: "Flip, Flap" Not So Flippant. (1951, February 23). The Mercury(Hobart, Tas. : 1860 - 1954), p. 16. Retrieved from http://nla.gov.au/nla.news-article27012336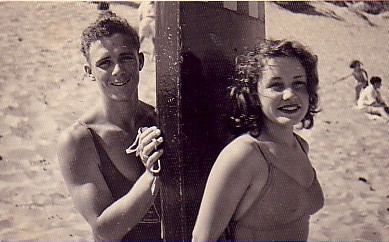 It was love at first sight between these Max and Norma. An engagement announcement in January 1951 was followed later that year by a wedding ceremony and well over sixty years together.

WATT-SCHARER. -The Engagement is announced of Norma Elizabeth, younger, daughter of Mr. and Mrs F. Scharer, Careel Bay. Avalon Beach, to Maxwell James, eldest son of Mr. and Mrs C. Watt, of Waterloo. Family Notices. (1951, January 10). The Sydney Morning Herald (NSW : 1842 - 1954), p. 30. Retrieved from http://nla.gov.au/nla.news-article27569846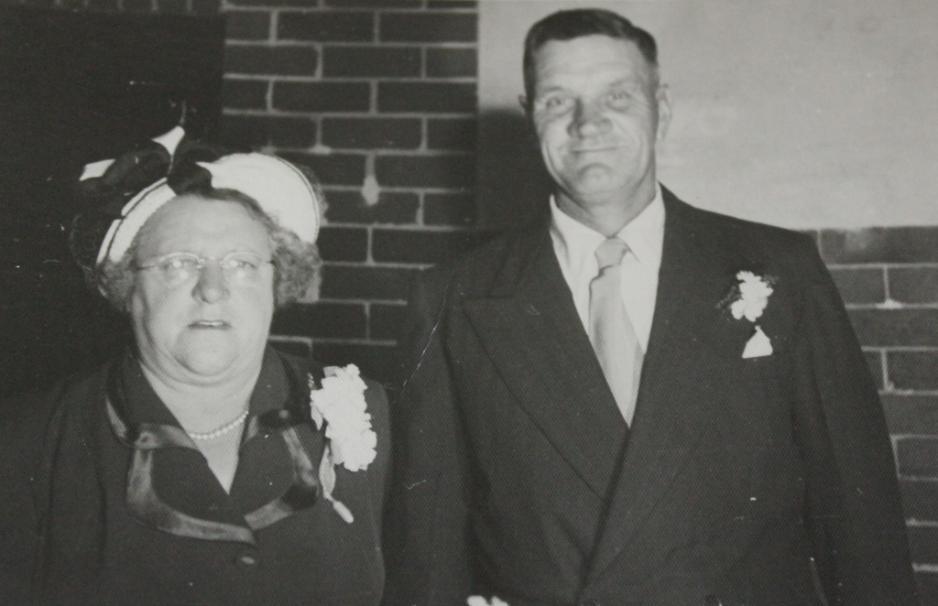 Norma and Maxs's Wedding was on December 7th, 1951 - the above photo of her parents, Frederick Richmond and Adeline M (nee Olsen) Scharer is from her wedding day.
Max was also renowned for his skill on the surf ski and one of these, like those he built with Doug Crane, is displayed on a wall at Avalon Beach SLSC: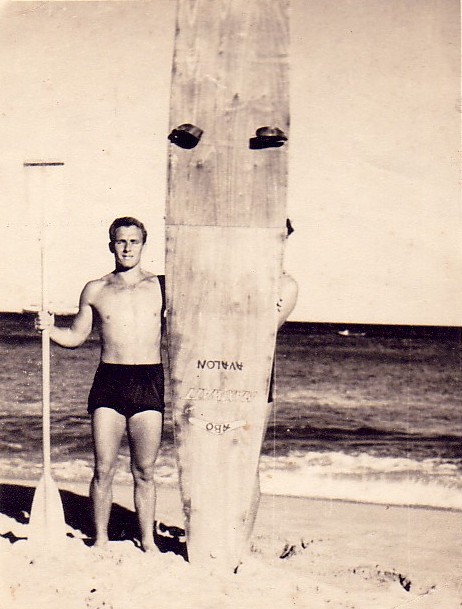 Ron Sharpe Defeats Experienced Rivals In Surf …Patience and restraint by Maxwell Watt, of Avalon, paid off in the surf ski race, in which only two of 16 starters finished with their skis under control. Most of the ski men were tempted by the big boomers which laced towards the beach with great speed, but then broke steeply into a mass of whirling foam at the edge of the rip. They caught the big waves only to disappear in a flurry of water and sand from which most emerged without their skis. Watt said "I waited for the right one heading for the right area " Ron Sharpe Defeats Experienced Rivals In Surf De hat. (1954, January 4). The Sydney Morning Herald (NSW : 1842 - 1954), p. 13. Retrieved from http://nla.gov.au/nla.news-article29608719
Watt Shines In Ski Event.
Max Watt turned in another impressive performance to win the surf-ski race at the Avalon restricted carnival yesterday. North of the harbour surf officials now regard Watt as a strong contender for the ski title in the Australian surf champion-ships in Coolangatta at Easter. Watt, a member of Avalon Club, has won five races out of six starts this season. At Avalon yesterday in a moderate sea he outpaced his rivals from the start, and, with only limited help from a small wave, won by at least 50 yards. Major surprise at the Avalon carnival was the defeat of Hal Bailey of Whale Beach in the senior belt race by Ross Standford, of Palm Beach. Bailey is generally regarded as the most accomplished beltman north of the harbour, but Standford beat him convincingly, although narrowly.

Ian Kearn, Mona Vale, won the senior surf race from a field which had been weakened by the absence of former Empire Games swimming representative, Ron Sharpe, and Ian Curlewis, both of Palm Beach. Watt Shines In Ski Event. (1954, January 25). The Sydney Morning Herald (NSW : 1842 - 1954), p. 10. Retrieved from http://nla.gov.au/nla.news-article18406275
Once grown and providing for his own family Max had a truck which was utilised in moving households for Grace Brothers and then later he worked delivering for breweries. This vehicle was also provided to move people and equipment, including towing boats, to and from the many carnivals Avalon SLSC participated in.
GRACE BROS. AND MAXIE WATT - Summer was all go, we would pack Max the Paddler's removal's truck, hook up the boat and off, Bondi, Maroubra, Coogee, wherever. Manly, Collaroy, you name it. Max had built a tubular rack that fitted neatly into the back of the 6 tonner? We loaded and lashed the skis and paddle boards, made ourselves comfortable on the fridge bags and off. One notable trip was to Mereweather Beach, State Titles? We arrived on the beach to witness the remains of a revolutionary ply surf boat, there were pieces everywhere, it had just caught a wave, strength was sacrificed for weight, Max used to tell us about the double enders and how heavy they were, but you could not kill them. I rowed in the "A" boat for a number of years, we won bugger all but we enjoyed the competition. John Farls. My Surf Club – Avalon . Retrieved from: http://www.johnfarls.com/MY_SURF_CLUB.php
Mr Watt was best known by those who grew tall beside him and those he watched grow tall.
From long time next door neighbour Roger Sayer:
Vale Max Watt of Avalon Beach
Posted by: The Goat on August 1st, 2012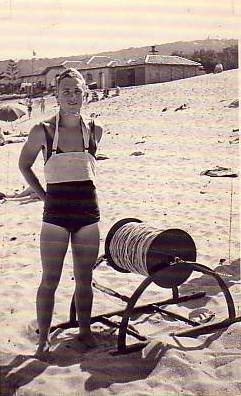 Max Watt, a truly original Aussie Waterman, passed away yesterday aged 82 after a long period of fighting heart problems.
He was well known to anyone, young and old, who's spent anytime in the surf or on the beach at Avalon – surfing, swimming, fishing, skin diving or just having a yarn about all and any of these. His knowledge and expertise was sought after and respected by all.
A Life Member of Avalon Beach SLSC, he hauled out literally hundreds of swimmers who got into trouble in notorious rips at Avalon, Palm Beach and vicinity over the years, both on and off duty. Despite his health problems he was still doing these things into his eighties!
Still doing surf patrols for the club into his seventies he dropped patrolling in recent years, as the annual proficiency run-swim-run became a bit harder to do in the allotted time… Nevertheless, he was still saving lives after that. If someone was calling for help and he was fishing off the rocks he would calmly talk to them and direct them from the rocks, telling them what to do to get back to shore safely.
Max was an inspiration to anyone who knew him. Over the years he won numerous surf competitions, ski, swim and boats, had various Surf Life Saving Australia and community awards, including SLSA's 50 years service award, Pittwater Citizen of the Year, and was one of only 100 Northern Beaches recipients of the Manly Daily Centenary Medal for outstanding service to the community.
A memorial ceremony, scattering of the ashes in his beloved Avalon surf, and wake will be held at the Avalon Beach SLSC at midday Sunday 19 August 2012. A fellow proud Avalon Beach SLSC Life Member, my next door neighbour for over twenty years, and a bloody good mate – I will miss him. Condolences to his wife Norma, son John, daughters Julie and Margaret, and brother Jack.
He would be thrilled to see the size of the surf today!
Catch plenty of great waves up there mate.
Roger (aka The Goat) From: http://www.realsurf.com/2012/08/01/vale-max-watt-of-avalon-beach/
Daughter Julie Miller kindly shares an earliest memory or two;
My earliest memories, perhaps at three or four. Were sitting on top of the Hill's hoist clothes line on a small chair dad had put up there, and going round and round. I was perfectly content on my own merry-go-round. It was the beginning of a magic childhood with a father who saw life as an adventure.
His love of surfing and fishing is legendary – the only thing he liked better was teaching someone to live it as much as him. This beach (Avalon) was our playground. Growing up we surfed, rode boards, dived for crayfish, looked for oysters, sailed on Pittwater and swam in the Avalon-Bilgola swimming club. We fished on the beach and off the rocks for tailor and blackfish and offshore in a tinny for snapper and up at Palm Beach wharf for whiting and bream. Although I was never as crazy about fishing as he was he instilled in us a love for the natural environment, the beauty of a morning sunrise and that the greatest fun in life can be doing the simplest things.
To strive to be the best you can with what you have was the way dad lived his life…
Trevor Fuller's, From Annandale and Avalon to Anarchy…(the sometimes tall tales of a man too old to be a Baby-Boomer and too noisy to qualify for the Silent Generation) also shared some memories of "Super Max':
Max Watt … was a thorough gentleman of the first order and a living legend along the Northern Beaches strip. For many years he was continually fighting cardiac problems, which in no way appeared to keep him out of the surf. …The memorial ceremony held in the Avalon clubhouse was one of the biggest send offs seen at the club for quite a while. Members, former members and many friends and neighbours all attended to say their final goodbyes, as his ashes were taken out the back in the Avalon surfboat and laid to rest in his beloved surf.
Max was a Life Member of the Avalon Beach Surf Life Saving club, but that did not prevent him from continuing to do beach and surf patrols as an Active Reserve member. He joined the Avalon club in 1943 and obtained his Bronze Medallion 2 years later. He had been an active member of the surf club for 69 years and was known by all the youngsters as ''Super Max". There are many more folk who would be able to recall Max's contributions to the club and surf lifesaving movement in much greater detail than this writer, however, throughout the decades I have become aware of what a special individual this great man was and of the debt I and many others owe him.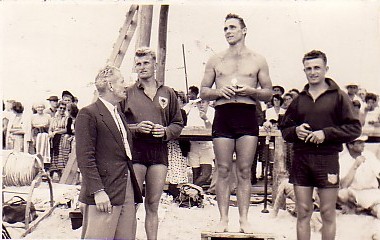 When I joined the Avalon club back in 1959, Max was regarded as one of the best Surf ski riders in the state, if not the country. During the 1950's he was beaten by a whisker into second place at the Nationals and three years later won the NSW open surf ski championship in 1957 to become the Avalon club's first representative medal winner. God only knows how many gold medals he won competing in the district's Restricted surf carnivals for clubs from Warriewood to North Palm Beach.
With his brother Jackie a first rate ski rider as well, the Avalon club was always odds on favourite to win the ski races at those Restricted Carnivals that were so popular during the 50's and 60's. We were lucky to have two great athletes, as they undoubtably were. Providing support for the two Watt brothers were Peter Kelly and Wally Byrnes (the Plumber), who at times were unbeatable on their skis. It was the likes of these dedicated watermen that made Avalon such a strong competitive club in the 50's and early 60's.
During my first season in 1959-60, I was only 16 years old and regarded Max, his brother Jack and others as highly skilled super athletes and as silly as it sounds, when I was asked if I needed a lift into Sydney after QY's on a Sunday arvo by Max, I said yes and regarded it almost as an honour. Several of us would all pile into the back of the old Grace Bros truck and with Max as pilot, it was all ahead Warp Factor One.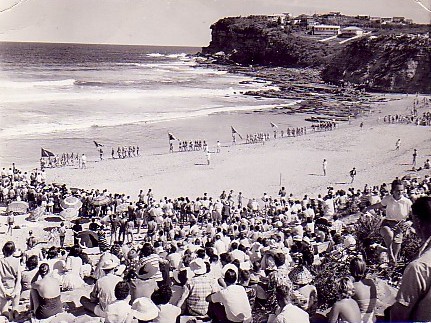 We would always without fail, stop at The Spit and gourmandise ourselves completely with huge battered fillets of flathead and bucketloads of chips and potato scallops. Both Max and Jack used to claim the seafood was the best in Sydney. None of us would have argued with that. When we all resembled pregnant hippos, it was off once again to the city. We would all be dropped off on the corner of George and William Streets and I would catch the old and long gone Lilyfield Tram home to Nelson St. Annandale. My mother could never understand why I never felt like dinner when I arrived home.
When I took up riding a racing surf ski at the start of season '60-'61, it was Max who was full on with what to do and how to do it. He was an inspiration to me and I am sure I can speak for my good mate at the time Tom Schweitzer, who also would have benefited from Max's advice. During 1963 when I was living in Avalon and still an apprentice at the Nestle Co. at Abbotsford, I along with two or three other locals would squeeze into the front of Max's truck and he would drop us off at Wynyard around 8 am.
Many years later during 1991 my son Patrick had obtained his Bronze Medallion and was in the throes of learning the ropes. He was keen to be a good body surfer and one day when Max was entering the water he told Patrick, "Come on son, follow me." I kid you not, 15 minutes later the two of them were mere dots on the horizon and I began to worry that my son and heir may not ever be seen again. Eventually they swam in and joined forces with several others and were able to return to shore riding the wave of the day.
Max was in his 70's and still doing patrols, which meant having to pass the mandatory annual run and surf swim. When I rejoined the club as an active reserve, Max's brother Jack had to pull me out of the savage shore break, as the years were beginning to slow me down and along with the effects of Carpal Tunnel syndrome in both wrists, I was cactus, but compared to Max I was just a pup. I can recall what seemed like only a few weeks after open heart surgery, he was out the back with several of the old timers, which I hasten to add, included me. The surf was running at around 8 to 10 feet and he could be seen flying down the face of many a wave, using his trusty handboard.
I must admit I was more than a trifle concerned a few weeks later, when I noticed Max and what I assumed were his grandkids, slowly floating and swimming up the beach on a flat surf less day, through the middle of millions of small bait fish. All were wearing facemasks and snorkels and were enjoying themselves no end. With so many tiny fish about, I was wondering if anything bigger may have been interested in a feed.
Whenever the Avalon ocean swim was taking place, Max, when he was not competing, would be on his old plywood wave and fishing ski, paddling around the course in case some competitor required assistance, or even rescuing.
Time eventually caught up with him and he reluctantly was forced to retire from active duty. It still did not stop him from performing many preventative actions when on the beach, or on the rocks fishing. Even then he still enjoyed a decent body surf with his many mates and others. Throughout the years he won many SLSA competitions involving swimming, ski paddling and rowing and sweeping surf boats.
Two stories about Max, to surface at his memorial came from his son John. John said he was extremely young at the time and there he was with his dad fishing from the rocks when both of them noticed a much larger than normal swell approaching. Max calmly told his son to pick up the loose gear and walk backwards towards the cliff face. "Now take a firm grip and hang on tight," said Max. The swell broke and became a huge wave that completely enveloped them, almost sweeping them from the rocky platform. No sooner had it receded when Max called out, "Come on, there's at least 5 minutes before the next big one, we can catch a couple of tailor before then."
When young John was around 13 years old he was taken by his dad out the back during a heavier than normal surf that was thumping in. When out the back Max kept on urging John to swim hard and catch a wave. John said he looked over the top of a few and backed off. Max began scolding him and on some occasions even attempted to push him onto a wave. "What's wrong?" asked Max, "It's too hard," answered John. "Of course it's bloody hard," shouted Max, "If it wasn't hard, everyone would be doing it."
Depending on the tides and the surf conditions, Max would be seen at least 500 metres offshore, fishing on his racing surf ski. He would use an 8 foot length of floorboard as an outrigger to stabilise the craft. This was another tip I learnt from him, when I started fishing from my ski. Sitting between his legs was a wooden fruit case with all his fishing paraphernalia. Quite often he would be seen at the water's edge with pippies and a stinky piece of mullet pulling out metre long beach worms for bait. He would only ever use a hand line and every now and then he was known to have caught the odd Mulloway. He always would return to shore with a mixed bag and obviously was a very successful fisherman. He was a cunning bugger though and was not too keen to give away trade secrets, such as where the reef was offshore. I lost count how many times I pleaded with him to let me know what bearings to use, so as to position oneself over the exact spot. Eventually it was brother Jack who let the cat out of the bag.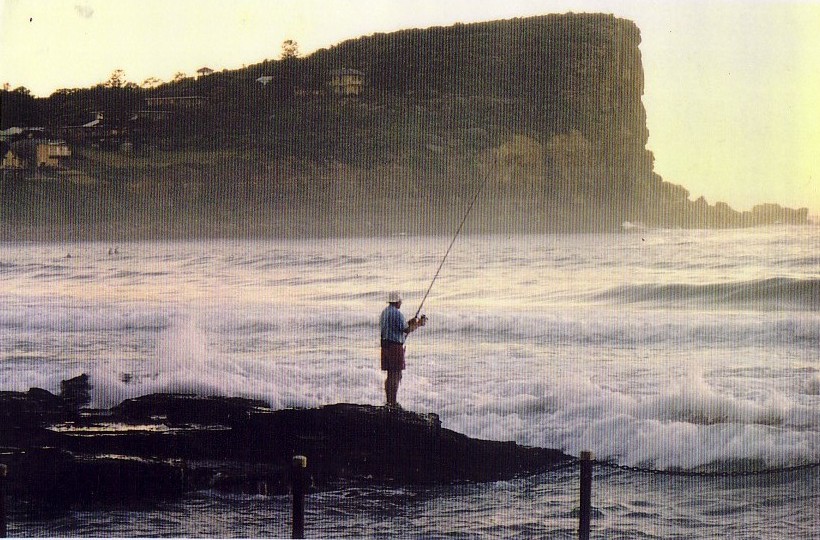 Max Fishing
Sunday mornings all the members would be out off the pool at the southern end body surfing. Max would make a habit of joining us all and always kept us entertained. He would never stop handing out advice in his own exclusive way and got a buzz out of taking the piss out of all and sundry, particularly Kegs, bloody hell they were good times with great people. One of Max's many close friends was his next door neighbour and former club captain Roger Sayers. I feel sure he would have a bucketload of stories to tell about Max and I can categorically state that Roger will miss him heaps, in more ways than one. It seems whenever Roger was too slow at heeding Max's advice to mow his untidy lawn, Max would bite the bullet and mow Roger's lawn himself.
For as long as there is surf rolling in at Avalon, Max will always be with those men, women, boys and girls who volunteer their time to save lives. He leaves behind his loving family, wife Norma, son John, daughters Julie and Margaret, his younger brother Jack and five grandchildren, but although unseen, he hasn't really left them or us. He's simply out the back with Huey, Brian Daniel Sheehan and his best mate Dougie Crane doing what he has always done and loved, his spirit and deeds live on as an inspiration to us all. Rest in peace Max, you were indeed a one off special and a true living legend.
All those who knew Max Watt state he was a very quiet man, a wonderful gentleman. His love for children and his family was clearly evident every single day. Norma recalls youngest daughter Margie taking him out to Palm Beach every day during his last six months, just to sit him in the sun where he could talk to young folk, just to spend precious hours with her dad. Max's daughter Julie chose stanzas from the last verse of Alfred Tennyson's Ulysses from Poems, In Two Volumes, 1842, as the last notes of her eulogy for her father because they reminded her of her dad …
The long day wanes: the slow moon climbs: the deep
Moans round with many voices. Come, my friends,
'T is not too late to seek a newer world.
Push off, and sitting well in order smite
The sounding furrows; for my purpose holds
To sail beyond the sunset, and the baths
Of all the western stars, until I die.
It may be that the gulfs will wash us down:
It may be we shall touch the Happy Isles,
And see the great Achilles, whom we knew.
Tho' much is taken, much abides; and tho'
We are not now that strength which in old days
Moved earth and heaven, that which we are, we are;
One equal temper of heroic hearts,
Made weak by time and fate, but strong in will
To strive, to seek, to find, and not to yield.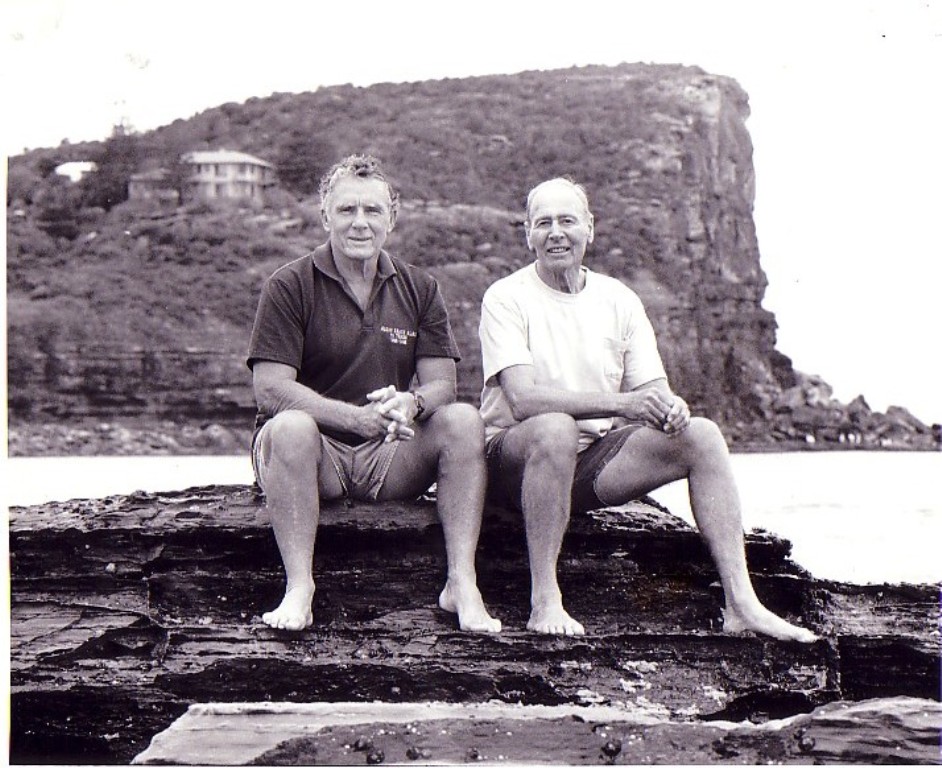 Max Watt and Doug Crane - mates since both were teenagers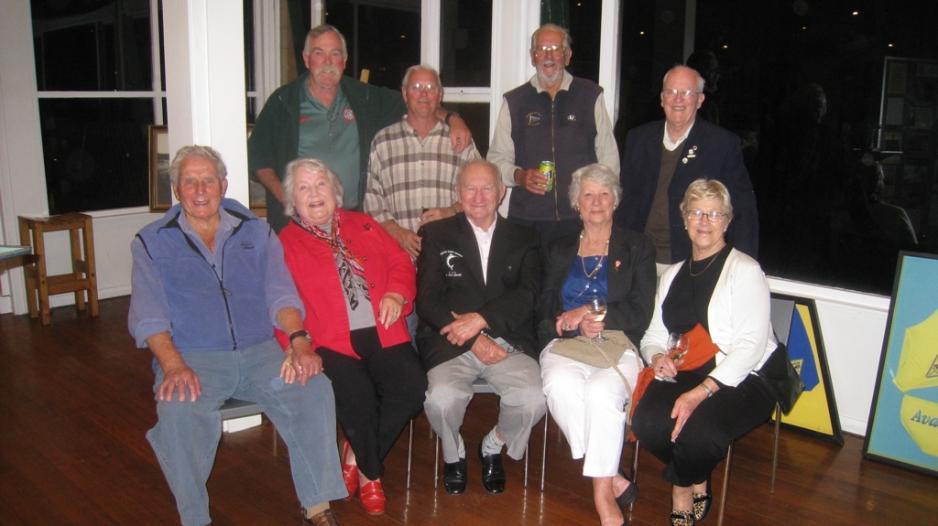 Avalon Beach SLSC's 85th - January 2012, left to right: (front) Max and Norma Watt, Rex and Marj Wood, Beryl Imison, (back); Brian Friend, Keith Feehely
With huge thanks to Norma, Julie, Margie and John Watt, Brian Friend, Trevor Fuller, Roger Sayers, and John Farls. All Images copyright Watt Family, Brian Friend and Crane Family.
Avalon Beach SLSC Incidentals
A J Small built dressing sheds on Avalon Beach in 1921 and in 1925 established the Avalon Beach Surf Life saving Club(1). A few years later a new clubhouse was opened:
Opening a club-house and dressing pavilion at Avalon, the Minister for Labour warmly praised the work of the surf life-savers. SUMMARY. (1934, January 29). The Sydney Morning Herald(NSW : 1842 - 1954), p. 1. Retrieved from http://nla.gov.au/nla.news-article17043719
Doug Crane, great mate of Max Watt's, explained when interviewed that many of those who patrolled our beaches during WWII came from Police Boys Clubs:
POLICE BOYS PASS Inspired by the remarkable work performed by members of the Woolloomooloo Police Boys' Club in patrolling Avalon Beach, a batch of youngsters from the Leichhardt Police Boys' Club became qualified life-savers during the week-end. They were tutored by Constable Ray Murdoch, a member of the Freshwater Club, and amazed Surf Life Saving Association examiners by their proficiency and confidence. Murdoch gained his instructors' certificate, and M. W. Koller, R. H.Marshall, D. J. Marshall, A. Hensley, and W. P. Drury their bronze medallions. K. Taylor, who is only 15, secured his qualifying certificate. Although these youths are not attached to any club, they are now qualified life-savers, and are eligible for entry to any registered surf life-saving club. In the last two years more than 40 awards have been made to members of police boys' clubs. SURF LIFE-SAVERS AS HUNTERS. (1944, December 19). The Sydney Morning Herald (NSW : 1842 - 1954), p. 8. Retrieved from http://nla.gov.au/nla.news-article17932315
The Avalon STOMP - Norma recalls Max taking her under the floor this dance was performed on to show her the boards bouncing up and down. The wood of this floor was scratched the next day after dances and eventually they had to be stopped before the floor, and those on it, collapsed.
The surf and the stomp go together - they're both fun and they're both the craze at the moment in the teenage world. So invite the crowd to a surf-'n-stomp party for a really swinging night. MAYBE you wonder just how the surf and the stomp first met. Well, the story goes in the Sydney surfing world that the young surfers who represented Australia in the Surfing Internationals in Hawaii last year brought the dance home with them. It happened that surf music was becoming really big here when the boys returned about nine months ago, and they introduced the stomp at the Avalon Surf Club, on Sydney's northside, and then the stomp s-p-r-e-a-d to teenagers everywhere. Now is the time for a SURF'N-STOMP PARTY. (1964, January 1). The Australian Women's Weekly (1933 - 1982), p. 26 Supplement: Teenagers' Weekly. Retrieved from http://nla.gov.au/nla.news-article51975168
"SURFIES" Australians saw their chance to start a Malibu-board factory to serve England and the Riviera. (PHOTOS: BOB HEAD, from Newport, N.S.W., works on a surfboard. He set up the factory and shop at Newquay with three English partners and sells Malibu boards in England and on the Continent for well under half the price of the boards imported from America. AT RIGHT: Bob Newton, one of the Australians at Newquay, checks Malibu boards for hire on the beach. Bob, from Balgowlah, N.S.W., has spent the summer as a lifeguard.) The southern end of the beach was roped off with a warning: "For surfboards only." About a thousand yards out a little knot of board enthusiasts waited, their legs dangling lazily over the sides of multi-colored Malibus. They looked every inch the surfer: tanned, glistening young bodies, rainbow-colored Bermuda shorts, longhair bleached by the sun and probably just a dash of sink-cleaner. An everyday sight on Australian beaches. But these slaves of the surf were not within hotdogging distance of Manly or Bronte or Cronulla. THEY were at Newquay, on the coast of Cornwall, a quaint little English holiday town that was once a muted outpost of the deckchair and sunhat brigade, who looked on the surf as something to sit by, not swim in. Their tranquil existence has been disturbed by an enterprising band of young Sydney surfboard riders who have turned Newquay into a surfing centre of Europe. The Australian surfing craze is rolling like a Bondi breaker across the pleasure resorts of Europe and North Africa. On the crowded beaches at Casablanca, Naples, Biarritz, and Marseilles the sleek fibreglass boards that dominate Australian surfing are taking a magical grip, and many of them are made at Newquay. The Aga Khan, the young man with time and money on his hands, has decided to be-come a "gremlin," the surfing faternity's term for an apprentice boardrider. From his luxury villa in Sardinia, where he recently entertained Princess Margaret and Lord Snowdon, he has sent a message to two surfboard champions from Australia that he wants to try his hand at the Malibu madness. His instructors will be Sydney boardriders Rodney Sumpter, 18, of Avalon, and 23-year-old Dennis White, of Collaroy. This surf-mad pair left Australia in January for America, where they tried out their boards on the beaches of Newport, RhodeIsland, after a stint in Hawaii. With money running short, they crossed the Atlantic to the island of Jersey, home of a big contingent of Australian surfies. There they took part in the British national and international championships in July. Rodney Sumpter, a lean, lively English migrant who learned all about surfing in Sydney, took off both the national and international titles. Dennis, Sydney-born and bred, was not far behind, and finished fourth on points in the international contest.
They were waiting for their Australian mate 24 year-old Bob Head, of Newport, N.S.W., to finish two new boards for them. Head, who has lived at Newquay for three years, is the one who has really cashed in on the European surfing boom. He arrived on the Cornwall coast three years ago with a Malibu board and landed a job as a lifeguard. At that stage, Malibu boards were as scarce in England as boomerangs. Nobody at Newquay had ever seen one before. "A lot of people didn't even know that you had to take them into the water," Head told me. "They thought they were something to plonk on the sand and sit on. FULL ARTICLE AND PHOTOS AT: "SURFIES" OF CORNWALL. (1965, October 20). The Australian Women's Weekly (1933 - 1982), p. 22. Retrieved from http://nla.gov.au/nla.news-article57961104
1. Avalon Beach – A Brief History. Avalon Beach Historical Society. At: http://avalonbeachhistory.com.au/index_files/history_of_avalon_beach.htm
NB: Geoff Searl has written an extensive history on the Avalon Beach SLSC a copy of which is in Avalon Library.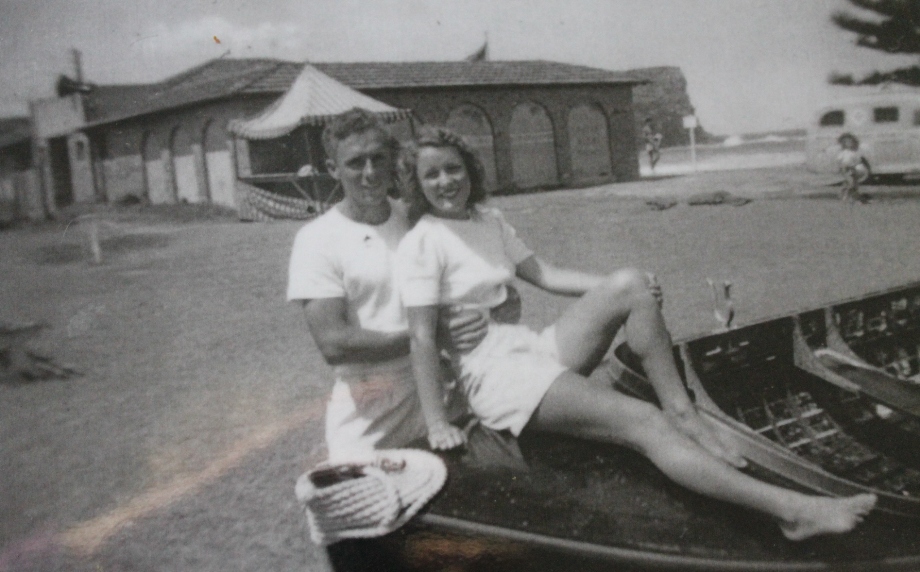 Max and Norma Watt - behind is Southern end of Avalon Beach SLSC in early 1950's - photo courtesy Norma.