May 22 – 28, 2011: Issue 7
May 2011: Men of Note
Our second month of historical articles celebrate men who have lived and worked in Pittwater. From all walks of life, professions and interests, they give us an insight into dynamic characters with limitless horizons. They also let us glimpse what Pittwater was like during their heydays.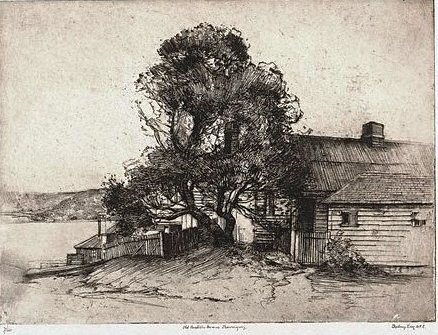 Above: the Customs Shed at Barrenjoey, courtesy National Library of Australia.
Below: A view of Pittwater from 1788 with Lion Island in the distance.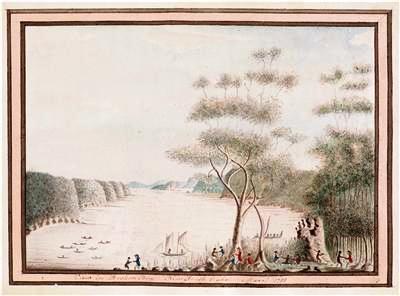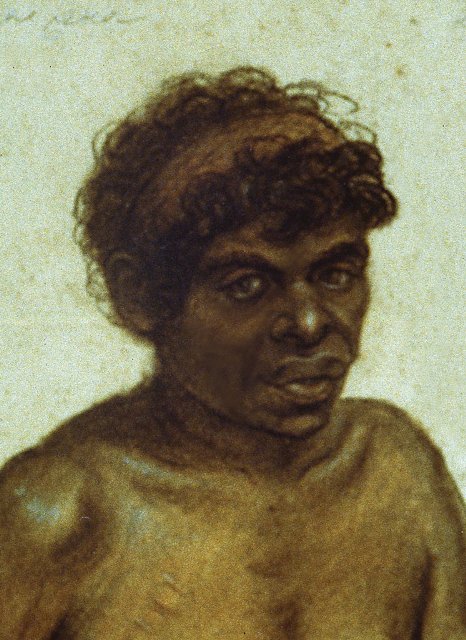 Right (in text): John Farrell ('III'; G&S Champion, 2012) on his farm.
Above: Matora, Bowen's mother.
Copyright PIttwater Online News 2011. All Rights Reserved.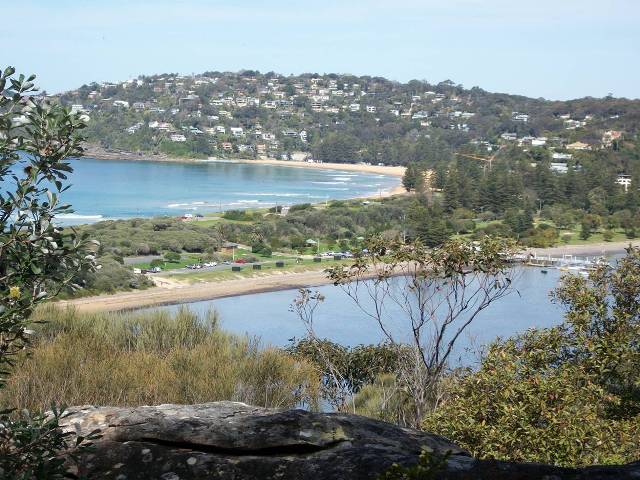 Bowen (or Boin) Bungaree
1797-1853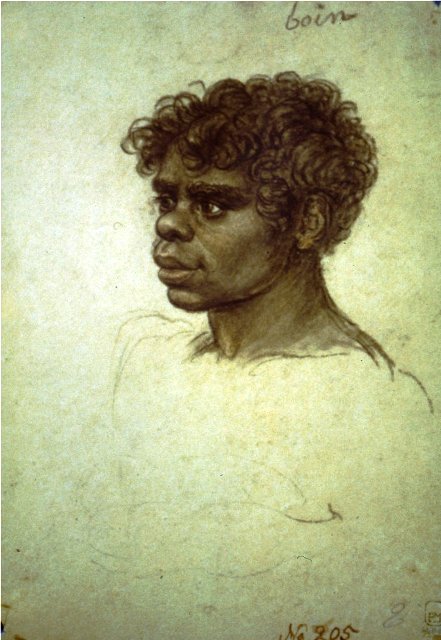 Bowen Bungaree was the eldest son of the Broken Bay leader 'King' Bungaree and his first wife Matora or Madora who took her name from muttaura, meaning 'small snapper' in the Awabagal language of the Hunter River, where she may have been born. Bungaree, possibly born at Patonga, was of the Garigal Clan and Pittwater People.
In 1829 William Govett surveyed the Northern Beaches and wrote of the Koories living a traditional life along the coast. He described, in the Saturday Magazine, large numbers of Aboriginal people at Cowan Creek, Broken Bay and Barrenjoey. Govett's drawings of Garigal people fishing at Bilgola Beach and North Narrabeen are available at the Warringah Library.
Bowen led a varied and adventurous life, mixing comfortably with the new colonial hierarchy. A skilled fisherman and boatman, he became a sailor, interpreter, guide, go-between and tracker of bushrangers and escaped convicts. When aged 21 he was taken as a go-between by John Oxley on the cutter Mermaid during his exploration of the Pacific Ocean coast north of Port Macquarie, seeking a site for a possible new convict settlement.
In 1832, the year his son Mark was born, he moved his family, wife Maria, two daughters, Theela and Theda (Jane), and newborn Mark to Pittwater, settling beside the old Customs shed on Barrenjoey headland (later to become a house). Maria's parents Nan and Jonza came with them. According to correspondence from Customs Officer Howard (dated 1845), Maria and Bowen's children were all baptised at St Mary's Church Sydney. (Retrived from http://www.historyofaboriginalsydney.edu.au/north-coastal/bowens-clan )
Here Bowen and his clan worked as trackers and traded fish with the settlers. He was noted as being particularly good at finding illegal stills in the upper reaches of Mc Carr's Creek, on one occasion a William Farr being detained. He continues to work successfully as a Police Tracker. In 1837 the Sydney Morning Herald reports he has given information that lead to the capture of three bushrangers, "A black fellow named Bowen told Brophy that the other bushrangers were on another island near Mooney Mooney Creek". ( ACCIDENTS, OFFENCES, &c. (1837, April 17). The Sydney Herald (NSW : 1831 - 1842), p. 3. Retrieved from http://nla.gov.au/nla.news-article12860563
Howard recognized Bowen's skills and recommended to the Collector of Customs in Sydney that Bowen should "have a second boat which would cost about four hundred pounds and enable him to get a living for himself and family consisting of two daughters and a son. … as he will be liable to insult and oppression for having aided me". Later Howard writes "I am reluctant to employ (Bowen) … without the protection of a constable as I have reason to believe that violence would be used towards him."
During 1849 he sailed with Richard Hill to the goldfields in California, soon returning because, "That country! No wood for fire, but plenty cold wind … no good for me! No good for blackfellows!" On his return he resumed his duties as a tracker of bushrangers and convicts and finding illegal stills. He was good friends with farmer John Farrell of Newport (Farrell's Beach). Farrell (1853) describes him as a bit of character in his choice of dress, "He was in full rig with dress coat, his hair knotted up behind with three feathers stuck in it".
Bowen was shot by a bushranger, Casey, on Bushrangers Hill, Newport in 1853. Bowen had been supplied with a gun to hunt this man but Casey and three other bushrangers ambushed him as he sat by his fire at night and killed him first. John Farrell seems to have found his body and probably even heard the gunfire ring sharply around Newport's hills. His was then taken to St Lawrence Presbyterian Church cemetery but later was reburied in the Pioneer Park at Botany. He was 56 years old.
Other sources state: According to Farrell, Bowen shot Casey (not the reverse) some years ago but he couldn't remember exactly where or when. A person named Casy was recorded on Govett's 1830 survey map as living on Philip Schaffer's 50 acre grant near present Garden Street, North Narrabeen. Farrell said he was not present when Bowen was alleged to have been murdered in the Pittwater area, nor did he see his body. Farrell did not know who killed Bowen or the location of the supposed murder. He did not say the murder took place on Bushrangers or Casey's Hill. Farrell relied solely on what he said he had been told second-hand by some Aborigines.
If Bowen had been murdered in the Pittwater area and his body discovered by Aborigines, then most likely the Aborigines would have buried him nearby, as was their custom. It is difficult to believe that anyone would have taken his body such a long way from Pittwater, to have it registered and buried in a cemetery in Sydney. The blanket distribution lists indicate that Bowen lived most of his time in Sydney and it is probable that he died there in 1853..