July 23 - 29, 2017: Issue 322

Some Recollections Of
Early
Bayview
Recently the privilege of being able to listen to early summertime visitors to Bayview, Don Taylor, youngest son of W. D. M. Taylor, who was eldest son of P. T. Taylor and brother to P. G. 'Bill' Taylor, and Margaret Tink (nee Andrews, whose mother was a Snow) provided an opportunity to see into a world many of us would not have visited or heard a lot about.
Both families kindly shared some family album photographs to illustrate these places. Our thanks to Barbara Tink for tirelessly working on and contributing to this work.
Our thanks to the wonderful recall of Don Taylor and Margaret Tink for their generosity in taking the time to place these records where the community may access them.
Their recollections open a whole new field of records that must be sought in fuller measure and this first small insight should be considered an opening and a few verses from Summers past to warm the depths of the current Winter.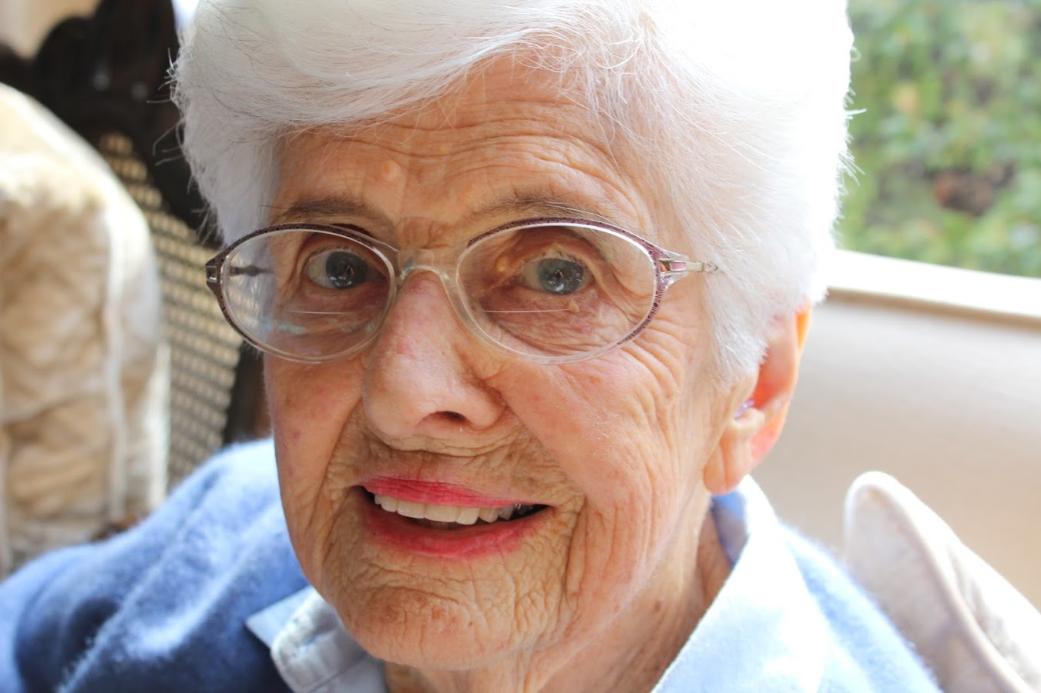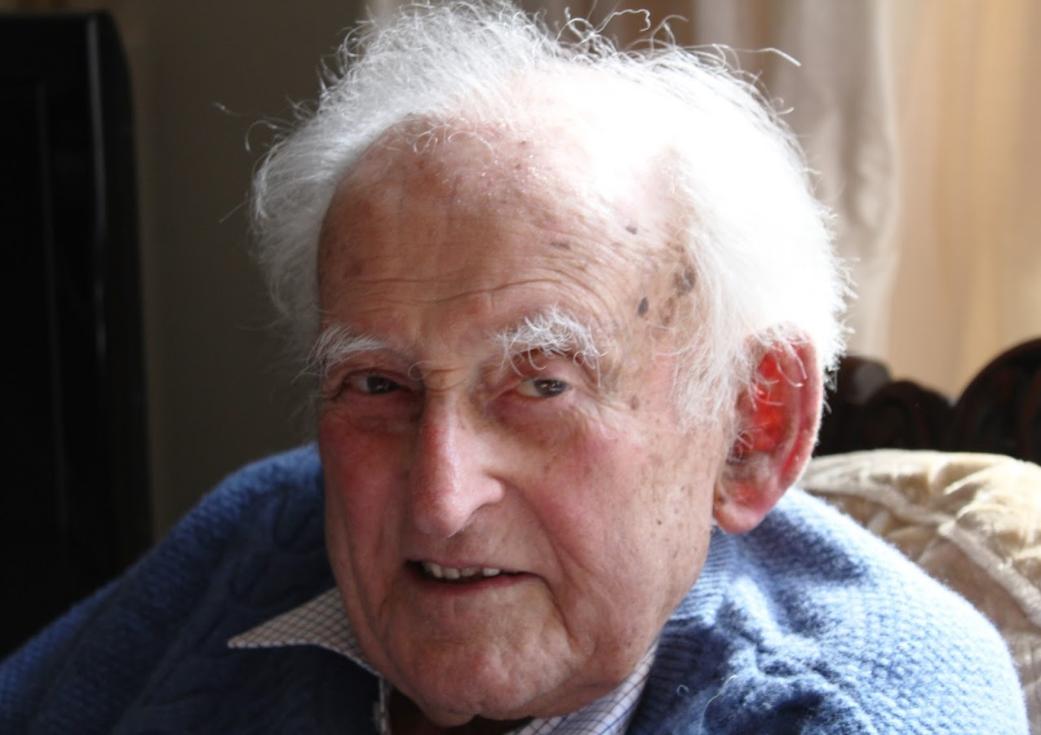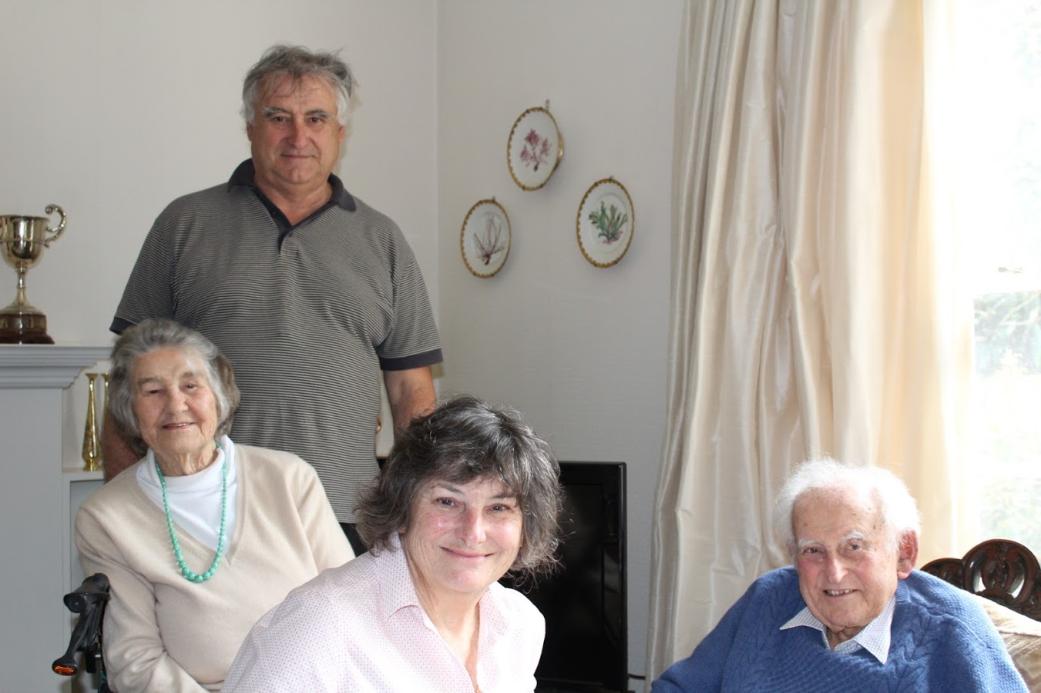 Pamela and Don Taylor and two of their three children
Don is your father the W.D.M. Taylor who was a great sailor here on Pittwater and on the harbour?
Yes. My father was W. D. M. Taylor.
That Corella model we have here is the 21 footer, 25 feet overall, the Governor's yacht. I had a jubilee, which is much smaller, but gave it the same name.
He was a pretty good sailor apparently.
William Donald Mawney Taylor (known as 'Don' – born 1884), was the eldest son of Patrick Thomson Taylor. The 'Mawney' comes from his mother's family:

TAYLOR— SAYERS.— November 29,1883, at Broombee, by the Rev. Roger M'Kinnon, Presbyterian Manse. St. Leonards
Patrick Thomson Taylor, youngest son of William Taylor, of Glenlee, Dalmuir, Dumbartonshire, Scotland, to Alice Maude, fifth daughter of Edwin Mawney Sayers, of Broombee, Kirribilli Point
, St. Leonards. Family Notices (
1883, December 15
).
The Sydney Mail and New South Wales Advertiser
(NSW : 1871 - 1912), p. 1146. Retrieved from
http://nla.gov.au/nla.news-article162027380
What are your memories of your father?
Well, I was only very young when he passed away. I remember him being a competitive sailor and when he was racing everything had to be done right. We lived at Kirribilli, on the waterfront and he had his boat on the water there. On the weekend, a Saturday, he would go out racing. I don't remember a lot about him, he was just there, as fathers are I suppose. He passed away when I was still very young so I don't have the store of memories my older brother had.
I do recall one story related to me where I was out on the boat when it was moored. Apparently I was on the deck, and he below, when he heard a splash. He rushed up on deck where my brother Pat, then about 8 or 9 was, and asked him 'where's the baby?'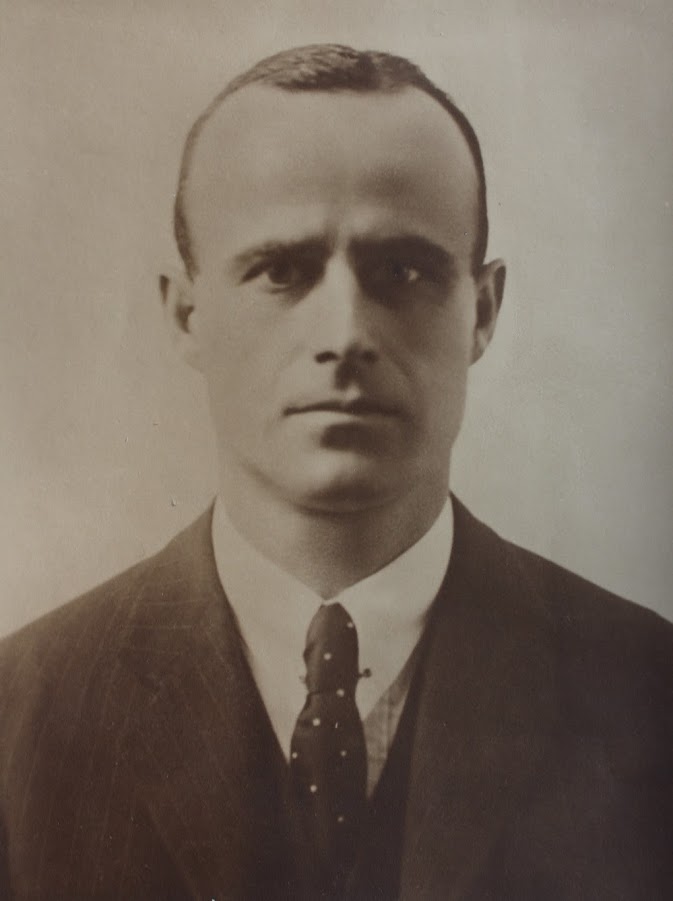 William Donald Mawney Taylor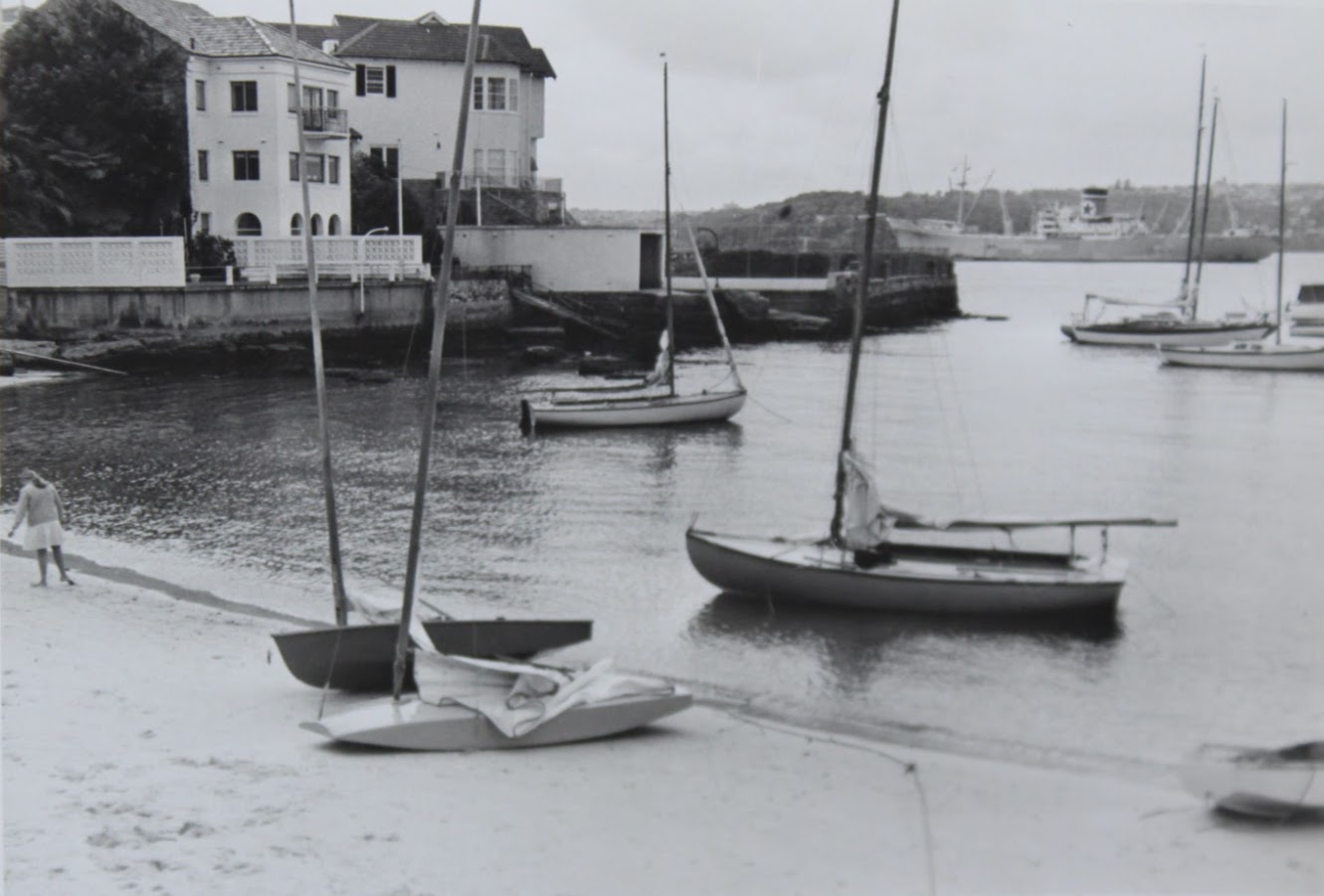 View at Kirribilli - photo by Don, taken with his Box Brownie
Did you ever meet John Roche? They were great mates and started the Pittwater Regattas together… they built a boat together at Bayview which they raced against the Crouch brothers of QLD. in 1906 – they went out around Lion Island and back again, and that became the first instance from which all those Pittwater Regattas began.
They were great mates, yes. I remember Johnny Roche quite well and still have an original photo of him here. I remember Johnny Roche because he taught my brother how to drive. He was a personality down at Bayview that everyone knew. He was working in Real Estate at one stage down there, with John Williams, and they had land opposite the swimming baths and the wharf. His younger brother, Frank Roche, was good friends with P.G. Taylor, uncle Bill – they used to spend time together at Bayview too.
We knew the Williams quite well; John had two sons, Jack and Cedric, and we knew the sons more I would say.
That little bit of a bay there was also where Maybanke was. She married Professor Anderson, and she too was down there, next door to the Roche's. She was before my time though, or I was too young to have memory of her.
There was also the De Burgh family, whom we knew quite well, particularly Patrick De Burgh. His father had married a Wilson. Their house was directly opposite the entrance to the wharf and there was a narrow entrance way all the way up to the house. They had a wonderful view from that house. I remember that house because Jeanie Wilson, whom my mother knew, was the daughter of Professor Wilson, they were all academics.
We always refer to it as the de Burgh house but really it was Professor Wilson who bought it.
There was a great scandal around the place which happened long before I came along – apparently he decided to take off, packed a bag of clothes and left it on Newport Beach and then disappeared, everybody assuming he had drowned. It took them a while to sort it out and eventually it was and they were divorced.
Jeanie had Patrick in the meantime, who would have been a small child at this stage.
Jeanie then married a chap called Allan Clunies Ross, who was a pleasant chap.
Later, when I used to go and visit Patrick at his house, his mother and stepfather were there and his mother would be busy organising everyone and he, Allan, would just sit on the verandah reading books, perfectly polite and easy going and easy to talk to – a contrast between the two I guess.
These families, particularly the Andersons and the de Burgh's were quite significant figures at Bayview.
Patrick had five children of his own, some of whom had little interest in the place and wanted to sell it, and another who wanted to retain it. The house itself, unchanged, was deemed to be of historical significance and listed as a heritage property. It had been built in 1908 and was, apparently, one of Australia's first fibro houses. Called ''Sheoks'' it had had a heritage order placed on it a few days prior to it going to auction.
All of a sudden, when negotiations had reached a stalemate, the place suddenly burnt down one night.
Can you tell us about the Taylor house at Bayview?
I think that property was bought around the turn of the century (1900). I remember a map that showed the actual subdivisions and it used to run right to the waterfront and right to the top of the hill and actually went over the hill a bit. To me that was the best bit of real estate in Bayview.
The employees of Mr. P T Taylor, merchant, of 33 York-street, were entertained by Mr. Taylor on Saturday at his picturesque residence, Bayview, Pittwater.
Mr. Taylor has decided to take a trip to Europe, and will sail by the R.M. S. Austral on the 13th instant. Prior to leaving he invited the members of his staff to spend a day with him at Bayview and enjoy the attractions of the Hawkesbury. The company which numbered about 30, left Sydney by an early boat to Manly, where a drag was in waiting to convey them to their destination. Bay view was reached about 1 o'clock, and the party was received by Mr. and Mrs. Taylor who extended to all a very cordial welcome. At luncheon Mr. P. T. Taylor occupied the chair, and had on his right hand his manager, Mr. G N Nicholls. The health of the host was honoured. MR. P. T. TAYLOR. (
1901, March 4
).
The Sydney Morning Herald
(NSW : 1842 - 1954), p. 9. Retrieved from
http://nla.gov.au/nla.news-article14364525
Where they built the house there was an L shaped verandah and you could see right down to Lion Island and across Pittwater. You couldn't see Church Point, that is tucked over the hill, but it was a spectacular view just the same.
Photos Don took from the Taylor family grounds
I don't remember the house before around 1931. Patrick T Taylor had bought all this land there and he built two houses, one that would be the more recent one, and another one on the other side of the road. They were identical houses apparently. I suppose they put all the young people in one and the elders in the other, in the good one.
Within 5 minutes of Post Office and Bayview Wharf, with EXCELLENT VIEWS,
opposite the property of P. T. Taylor, Esq.
"ROTHESAY," BAYVIEW ROAD, W.B. Cottage; verandahs, dining-room, 4 bedrooms, kitchen, together with FURNITURE contained therein.
Land within fence, about 70ft to Bayview Road, depth of about 130ft. Title Torrens. Advertising (
1916, January 22
).
The Daily Telegraph
(Sydney, NSW : 1883 - 1923), p. 16. Retrieved from
http://nla.gov.au/nla.news-article238782336
The name ''Glen Sannox'', the name for the property at Pittwater – now where on earth would that name have come from?
I do know that there was a Glen Sannox on the island of Arran which is an island in the estuary of the Clyde river. I understand from some reading that it was a bit like going to Manly and when a trip to Aram would be quite an event. I'm sure that is where the name came from. I always think that P. T. Taylor, in his younger days, would have been on that island and in that place.
During one of our trips to the U.K. we ferreted this place out and had a look. What was interesting about this was when you drive to Glen Sannox you drive along the eastern edge of the island of Arran and the approach to this place is so like Bayview. The glen goes up in a westerly direction with a creek in it and it's just like Bayview, too similar for this not to be the place he named the Bayview weekender after.
He was always calling his various pieces of real estate after place where he'd lived when younger – I was staggered at the similarity between these two places. The place at Kirribilli, for example, was called 'Eversfield' for example.
I think he was interested in maintaining his contact with his earlier days. One of P G Taylor's daughters had a property at Moree which they called 'Glen Sannox', so they kept the name as part of their lives, having grown up in the house at Bayview.
The Taylors were all at that place from a very early age, my father and his brother's generation. I have a photograph of the whole family lined up at the front gate of Glen Sannox.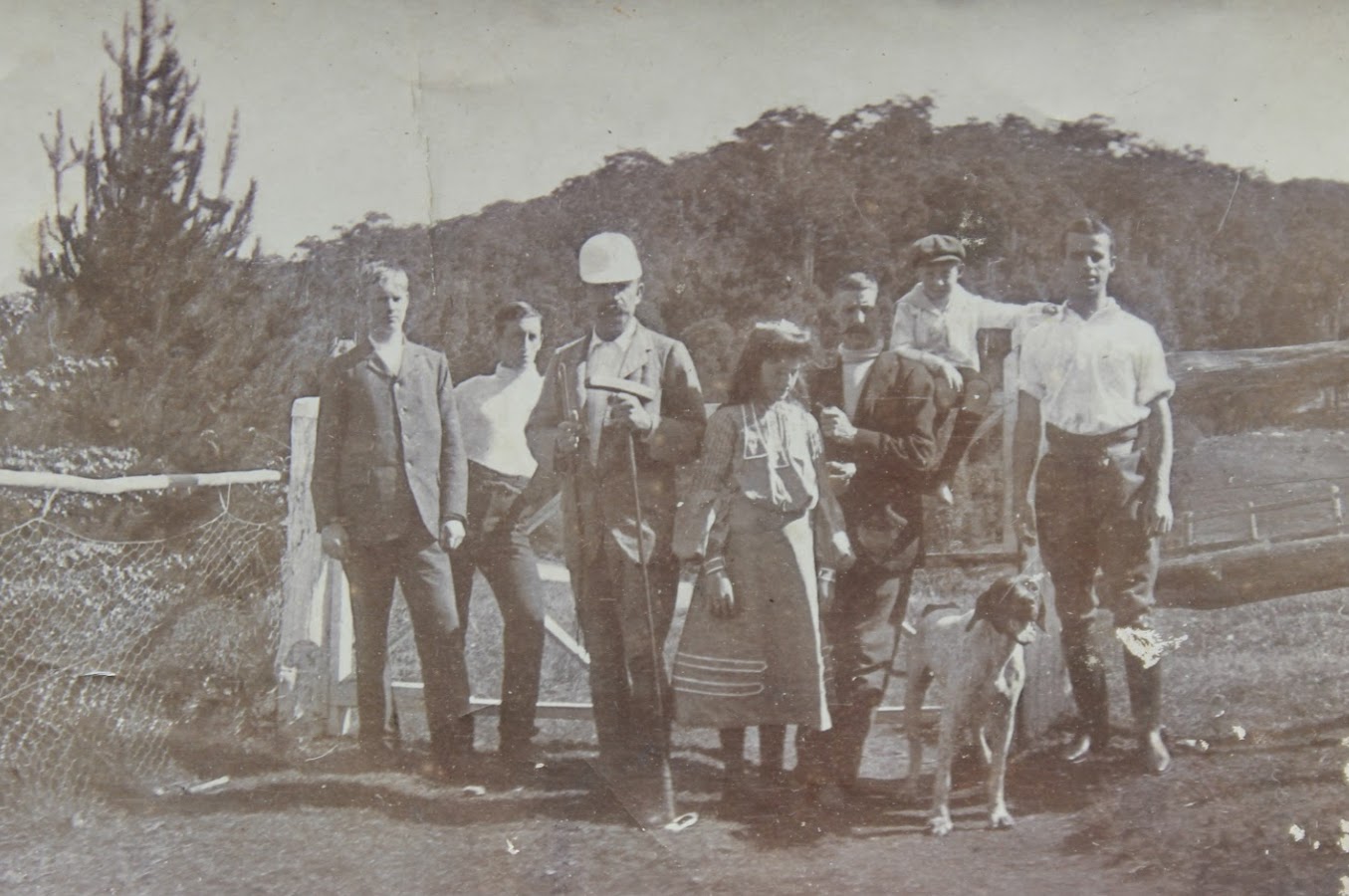 I can tell you who most of them are: it's the Taylor family without their mother. From the right is W. D.M., my father, sitting on the fence is Patrick Gordon, who preferred to be called 'Bill', that's an unknown, the girl is Norah, their sister, who looks like she's about 13 or 14 there, the man in the white cap is P. T. Taylor their father, he was keen on polo, then another unknown and the one on the extreme left is probably Ken.
You can see this is quite early. Those pine trees I remember as being huge trees when I was growing up.
You can also see my grandfather is wearing jodhpurs. He used to play polo
at Brock's mansions
, at the polo field there. He kept some of his ponies at Bayview. There was a building he placed there which we always called 'the stables' which later became a car garage.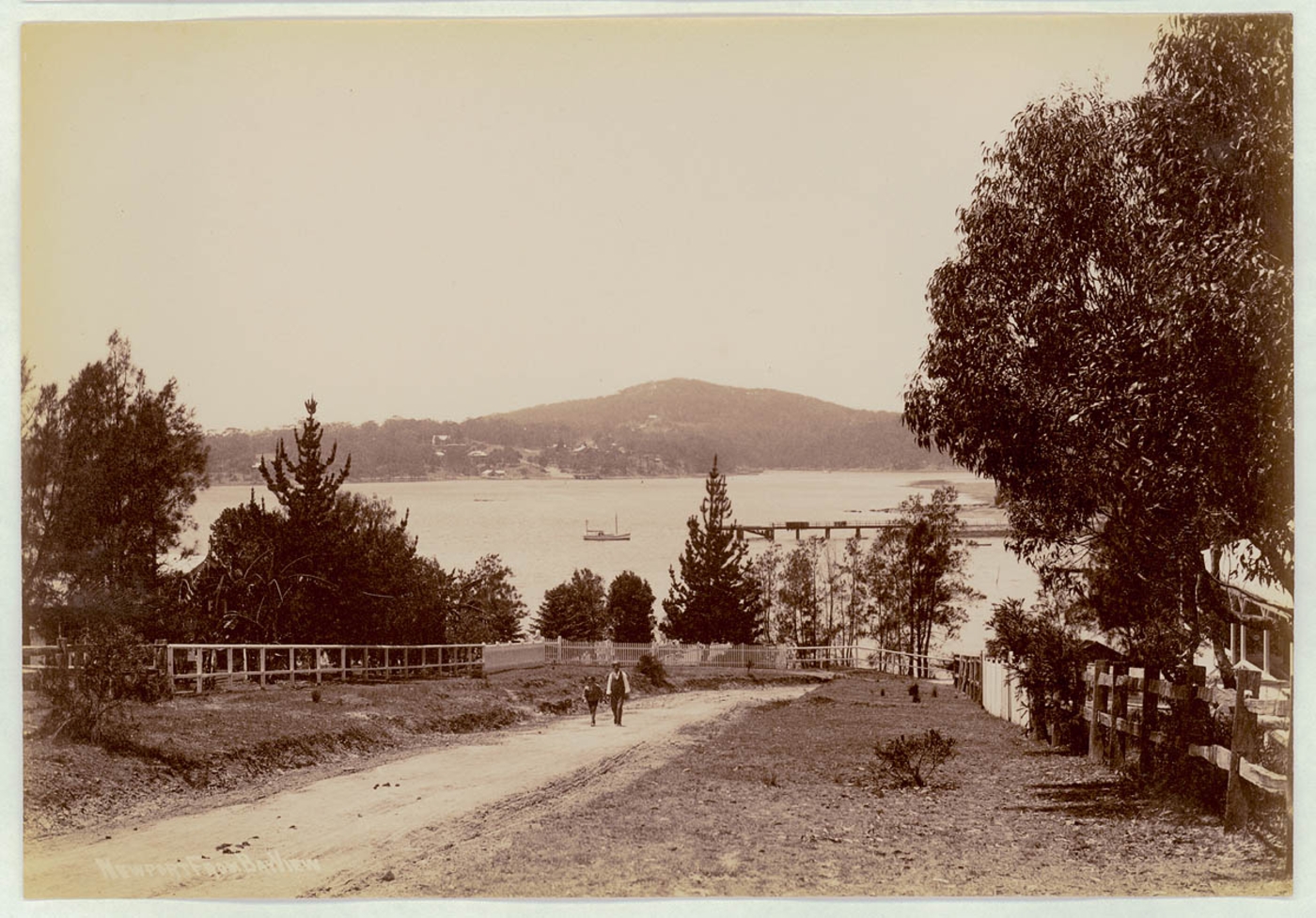 Above: 'Newport from Bayview', ca. 1900-1910, Image No.: a116491, courtesy State Library of NSW.
P T Taylor died in 1922, at the relatively young age of 60. My grandmother actually then owned that property, the whole of that was in her name, including the land.
Mrs. P. T. Taylor is giving an American tea at her home at Bayview, Pittwater, in aid of the Red Cross Appeal on Saturday afternoon. The hostess will entertain her guests on the verandah overlooking the bay. FOR WOMEN (
1926, July 22
).
Evening News
(Sydney, NSW : 1869 - 1931), p. 22. Retrieved from
http://nla.gov.au/nla.news-article114386843
Not long after he died they renovated the place, extending it considerably, adding sections to the back while my grandmother's bedroom overlooked the bay the side and this gave her a bit of privacy and comfort. The rest of the place was given to everybody to have the run of as a weekender.
There were several bedrooms and nooks and crannies where people could have some time alone.
My first recollections of the house is that there was no electricity, it was all tank water, although they'd had the foresight to have a good quantity of these and there was ample water considering how many people used to be there. I recall we ran out of water once.
Gradually the services came along; electricity in the 1930's.
It was then that I begin to remember, and just prior to, living in that house with kerosene lights, an old fuel stove.
Margaret Tink:
the lights in the street they would come along and light with a flame – these were gas lights.
Don:
Everybody immediately changed over from the fuel stoves to electric ones and this made a hue difference to the convenience of the place. I remember in the living area there was a great big kerosene lamp which took about half an hour to get alight here were that many little outlets.
Nothing changed too much though, nobody lived there apart from a handful of tradespeople and a few others. There was no farming going on anymore at Bayview, only at Mona Vale and Warriewood where they had built a lot of tomato glasshouses.
What is the Scotland Island story; did they own the whole of it?
Don: Part of that may be true. First of all I know they ran horses on it. I remember my grandmother telling me about sitting on the verandah there once and John Williams walked up, who ran an estate agency among other things, and said 'I've got somebody who wants to buy Scotland Island'. That determines to me that P T Taylor did own it at one stage, although perhaps not for very long. I know they used to run horses on there, so perhaps he owned a portion of it.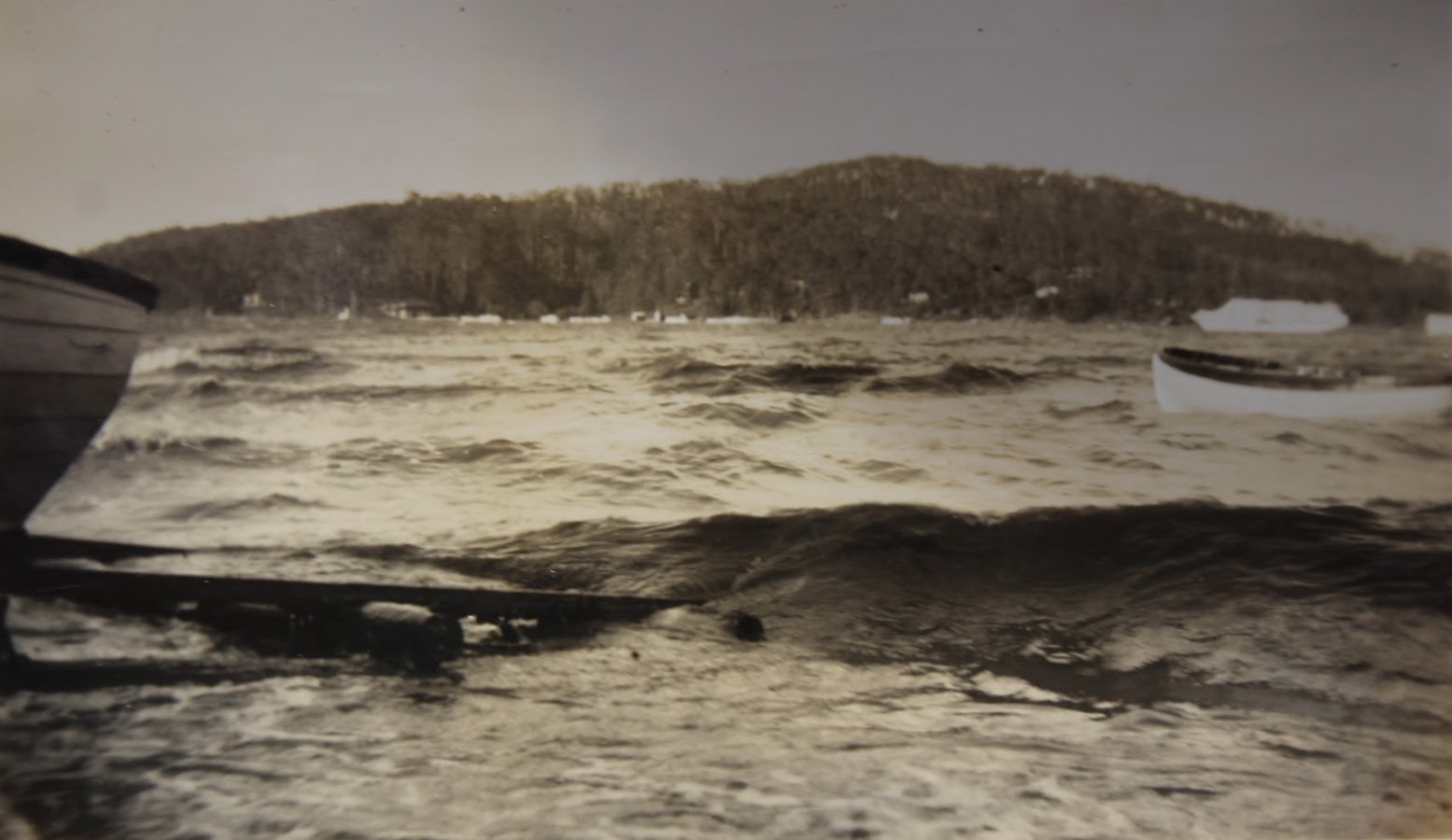 View to Scotland Island taken by Don with his box Brownie - the island could be seen from the Taylor's verandah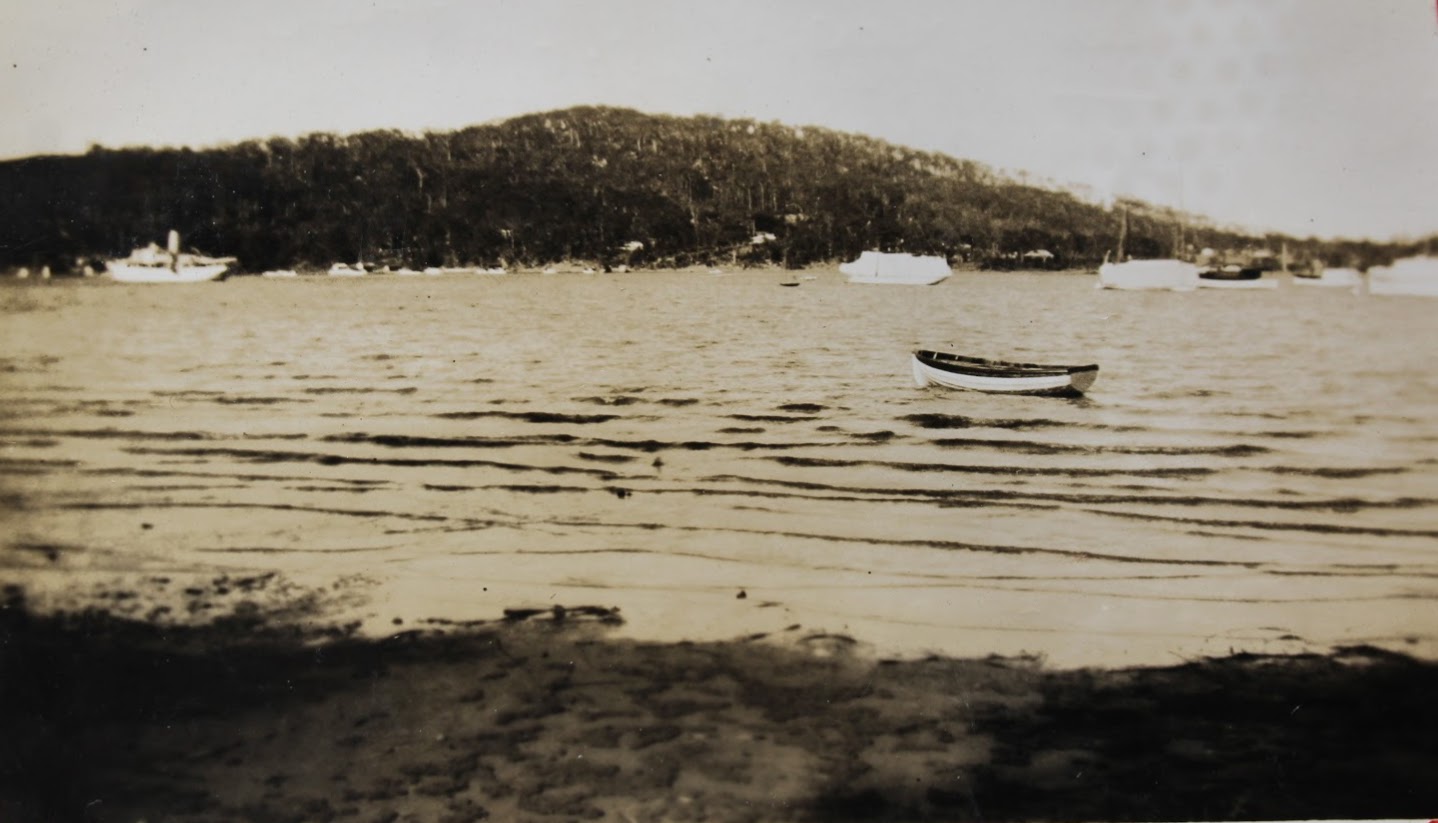 Don, could you please describe a typical Summer at Bayview for you?
When the cycle of the moon came around and you had a nice high tides in the early morning we'd go down and swim, usually before breakfast. Occasionally we used to go across to Avalon or Newport for a surf.
Mainly we'd spend our time just messing about in boats. It was a typical holiday place really – we'd play in the bush sometimes.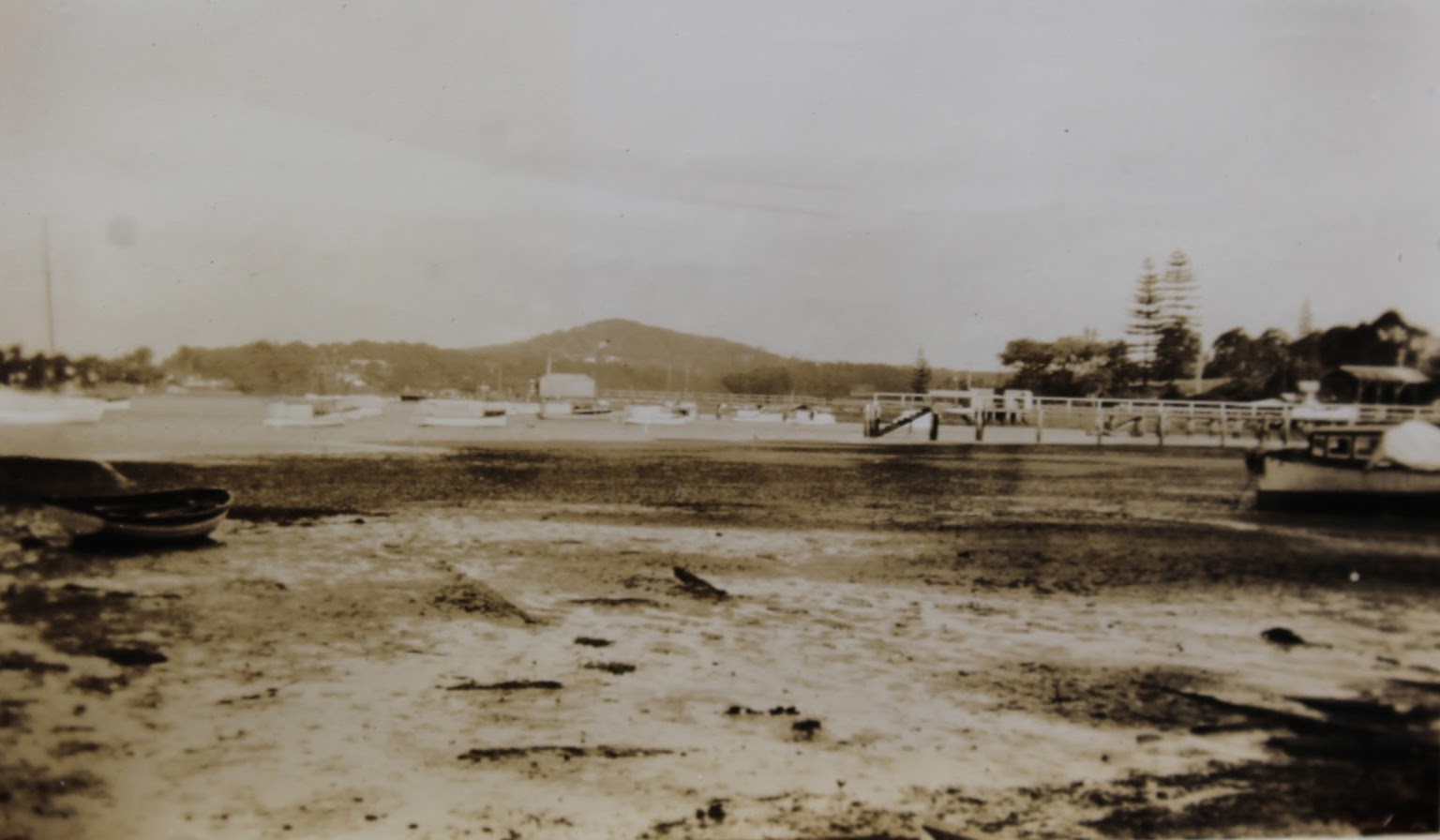 View to Newport
taken by Don with his box Brownie; "'
This is a General view taken from the boatshed site at Bayview looking across to Newport this one was taken just near where the little bridge used to go across the creek."
How did you get to Bayview from Kirribilli?
Well, it could be done by public transport. I remember doing this one time. We caught the ferry from Kirribilli across to the quay, catch the Manly ferry to Manly then the tram to Narrabeen and then a bus from there on – it took us five hours to get there.
My grandmother, who was fairly well-heeled, wouldn't have any of that and although she didn't own a car she did have a car service that would take her down there when she wanted.
Were there lots of loquats?
There were some, not as many as people may think via the name. That was a bit of a concoction of my uncles, he had a fairly vivid imagination. There were loquat trees around, just not an orchard of them. P. T. Taylor, I think, may have been a bit of a frustrated farmer. He had this huge strip of land going up over the hill, that wasn't terribly fertile, but he established things; he had a cow there for a bit and they had a kitchen garden and grew quite a lot of their own produce. When we were down there we'd live off the land. There were plenty of blackberry bushes all around.
Do you recall seeing your uncles seaplanes while there?
Oh yes, there were quite a lot of those coming and going. He bought this thing, a de Havilland Gypsy Moth, which was very similar to the Tiger Moth which they used during war. He flew it from Mascot to Narrabeen Lagoon. Narrabeen Lagoon was not quite what it is today and on this occasion it was during a dry spell when there were quite a lot of exposed flats, and really where the lagoon would normally be.
He landed it there. He had a system where he could fold the wings back to put it in a shed. He had this done, folded them back, and towed it from there on the back of his car all the way to Bayview.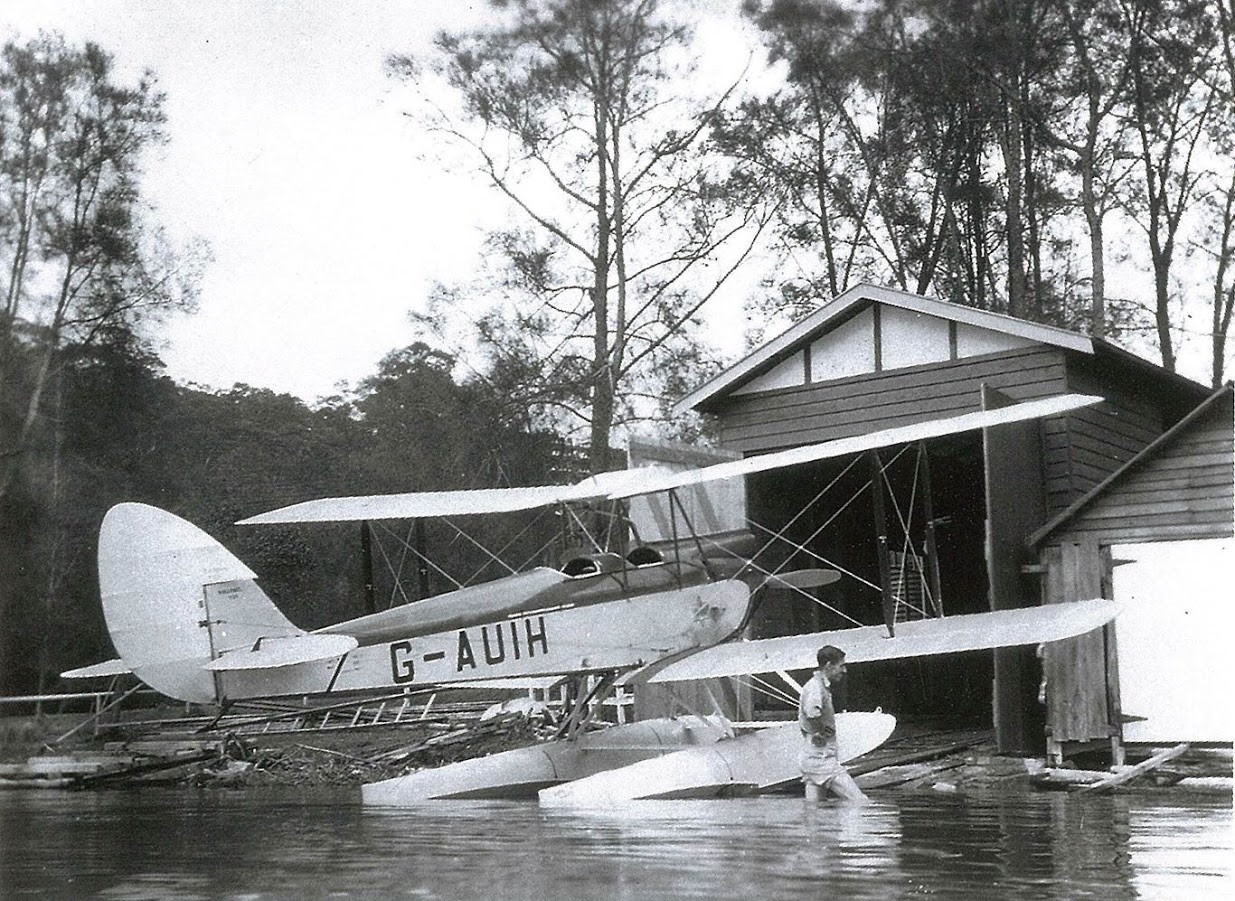 Taylor's de Havilland Moth outside his boatshed at Bayview, 1927. The wings could be folded to enable the aircraft to be winched inside. Image: Taylor family via Sarah Taylor
Above: John Williams (Father of John L and Cedric M Williams) about to go for a flight at Narrabeen - circa 1930's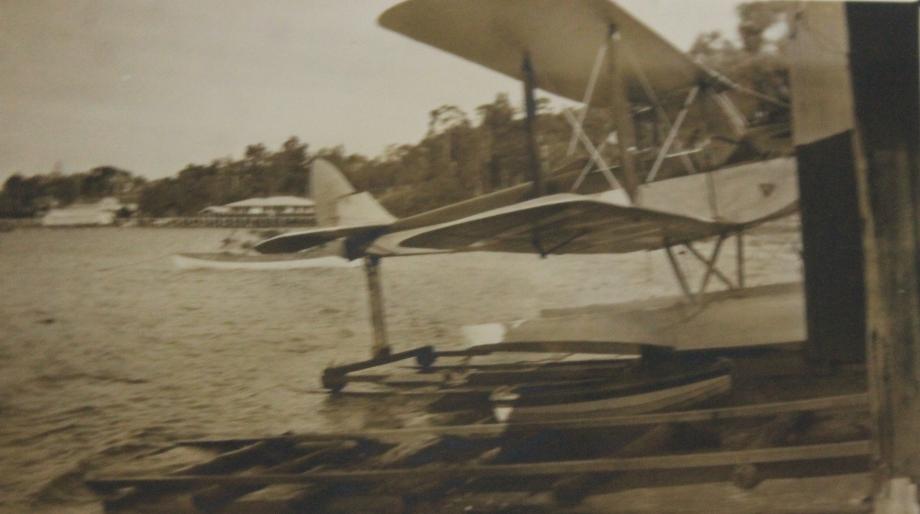 Above: on back of photo 'Plane built by our father" - Cedric M Williams - at Bayview - courtesy Elizabeth Hird/Williams family
A NEW VEHICLE ON THE ROADS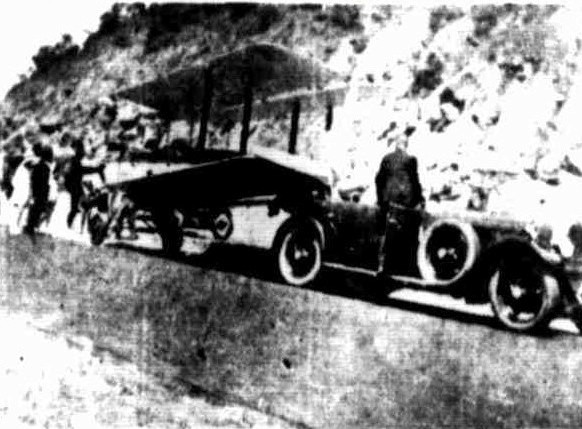 With the increasing popularity of the light aeroplane, this spectacle is likely to be seen more often on the highway: The picture shows Mr. W. Taylor' s plane being towed to Palm Beach after he had landed at Narrabeen, following a flight from Cootamundra. Hitched on to the back of the car, with its wings folded, the plane presented no difficulties in transport. A NEW VEHICLE ON THE ROADS. (1929, January 15).Evening News (Sydney, NSW : 1869 - 1931), p. 1. Retrieved from http://nla.gov.au/nla.news-article115697905
He brought a few of these out and sold a few when he became a contractor himself. One was sold to Dick Casey who at that time was the Treasurer, he got to know him pretty well. these were a bit a diversion at Bayview of course. He had a special shed built at Bayview to accommodate the thing alongside the old boatshed, and this had a little slipway going down into the water.
Cedric Williams was his mechanic, he used to come and service the engine every so often, made sure it had plenty of petrol in it, that sort of thing.
I don't think I ever saw it take off or land as he always did it when we weren't there.
Margaret Tink:
We used to see it, I loved seeing it.
Where was your Bayview house Margaret?
We were just around the corner a little further, towards Church Point. We lived next door to the Saunders, Don's relatives on his mother's side.
My mother and father bought the house prior to my being born in 1924.
The place at Bayview was a big old house of stone and brick called '
Waiwera
'. Mum and dad bought that place and the Snow family bought the place next door. Mum was a Snow.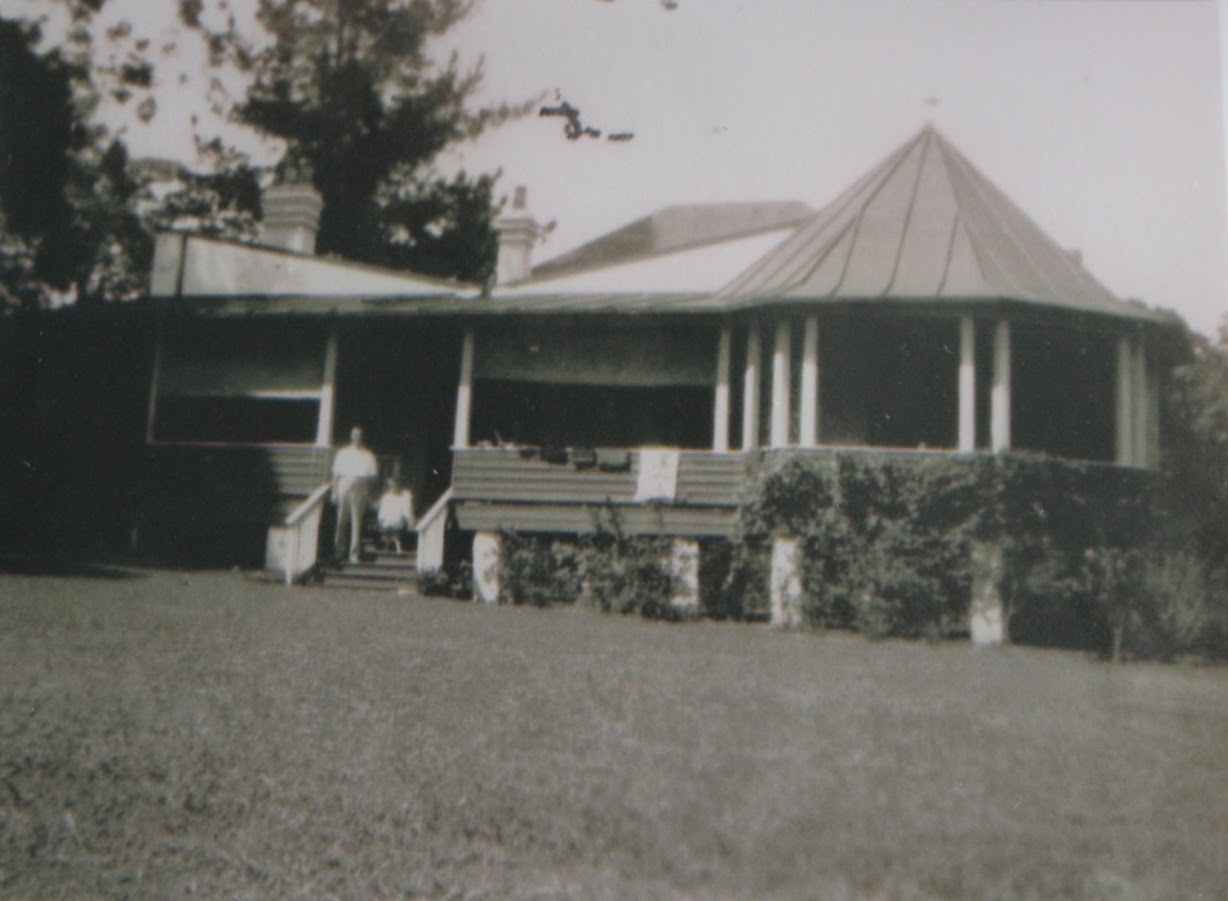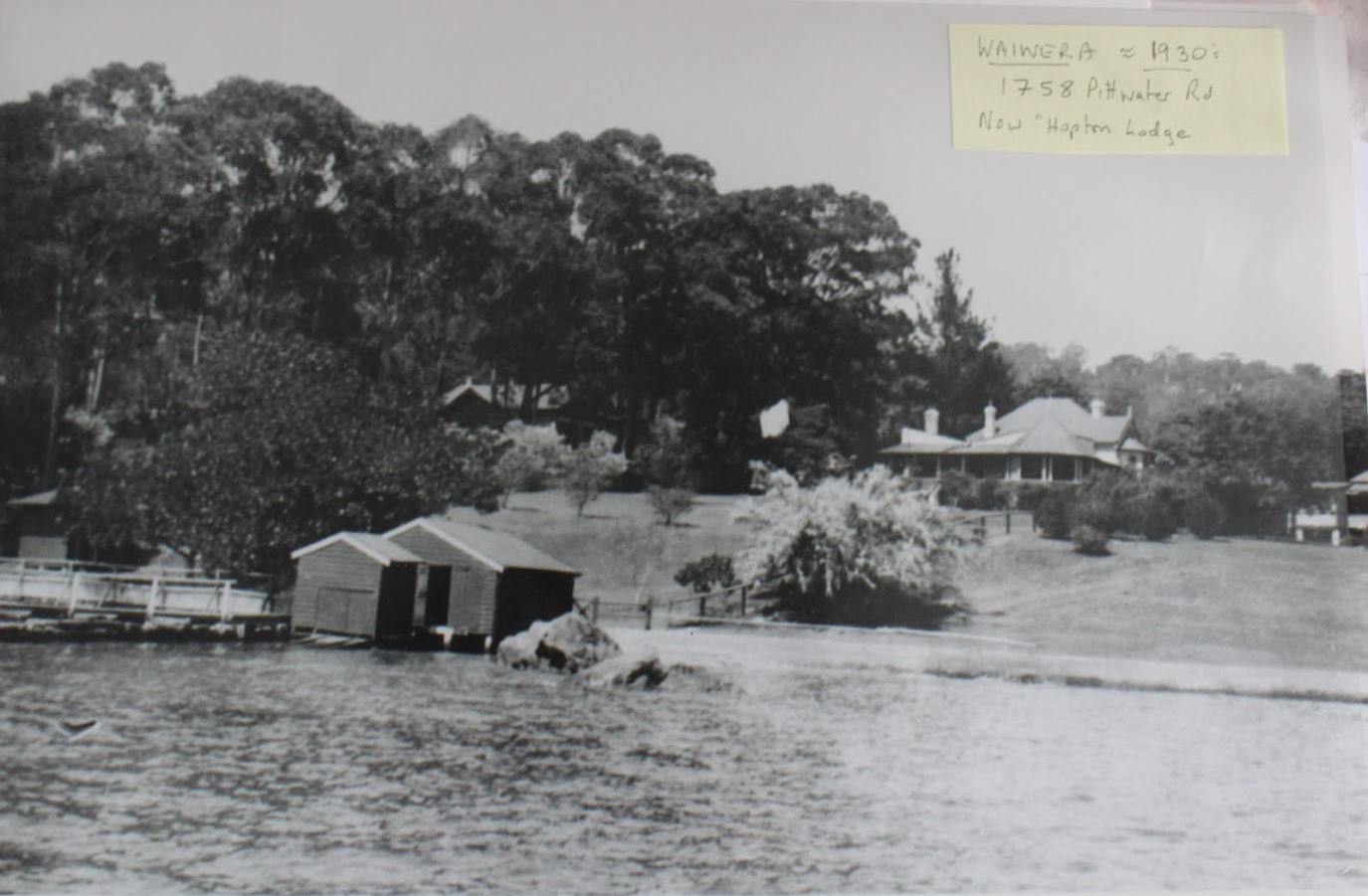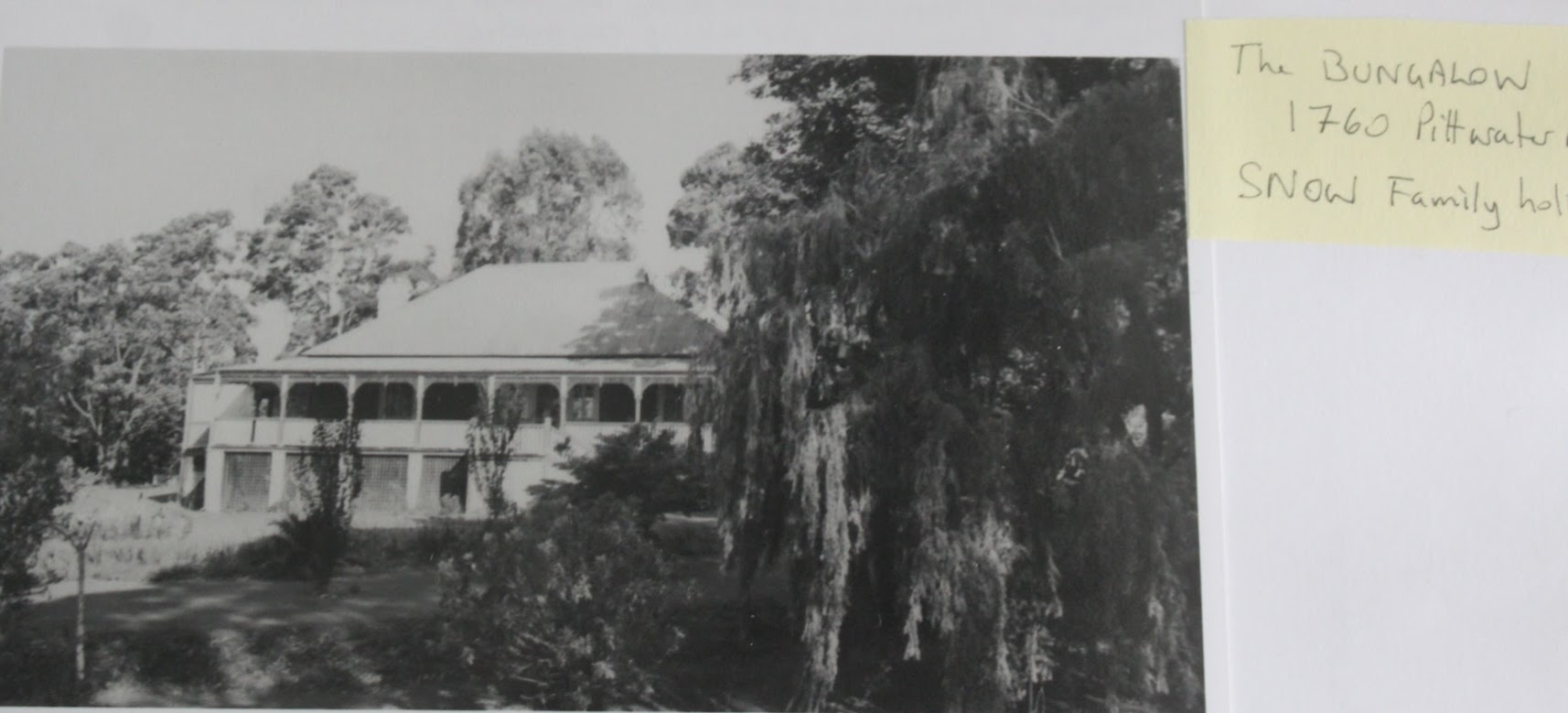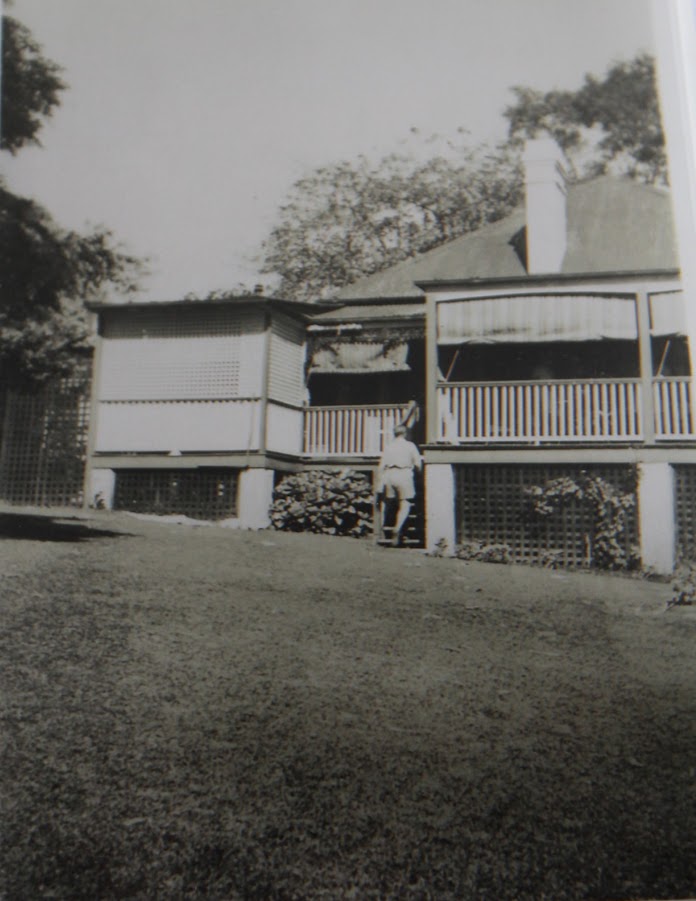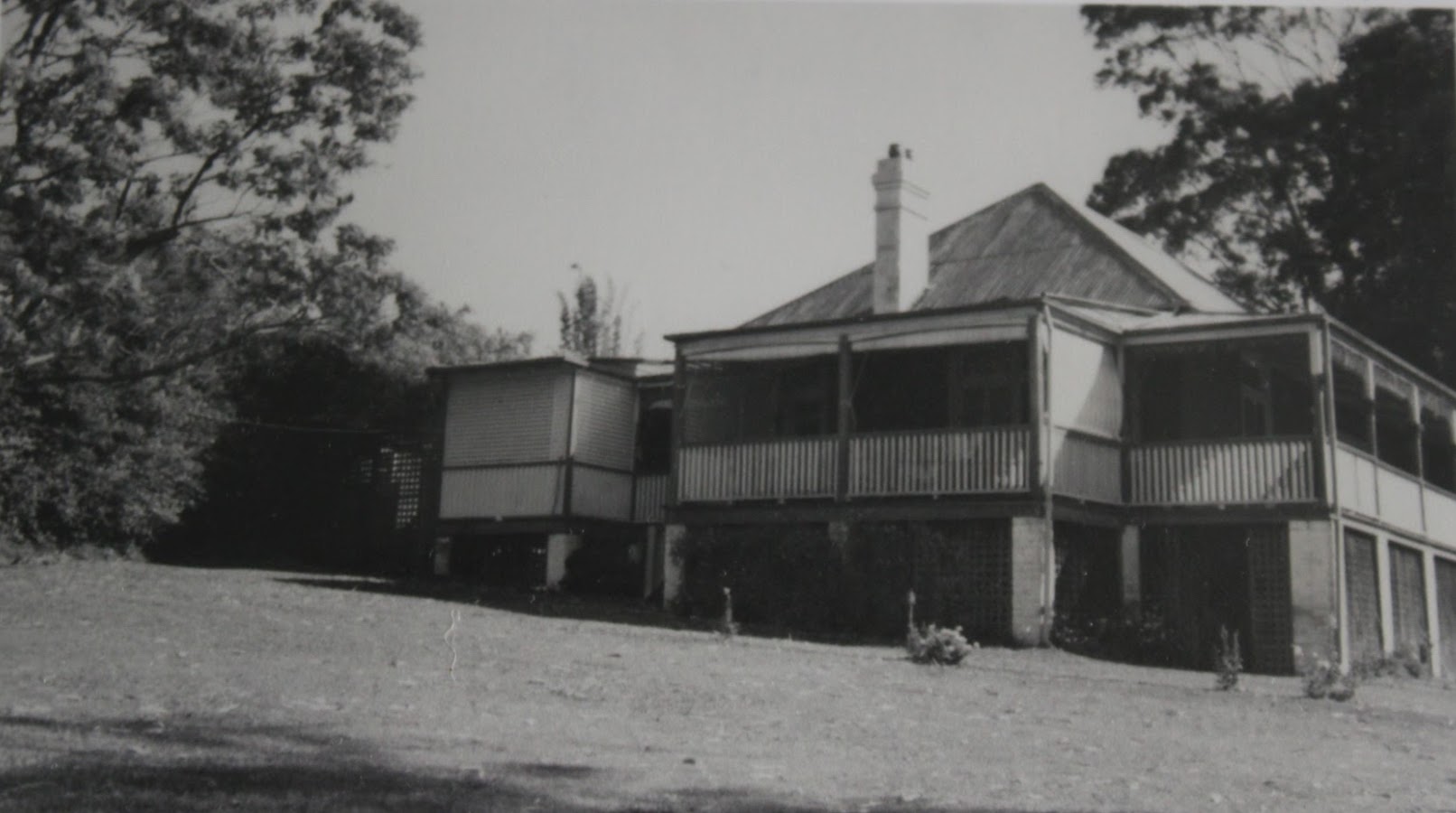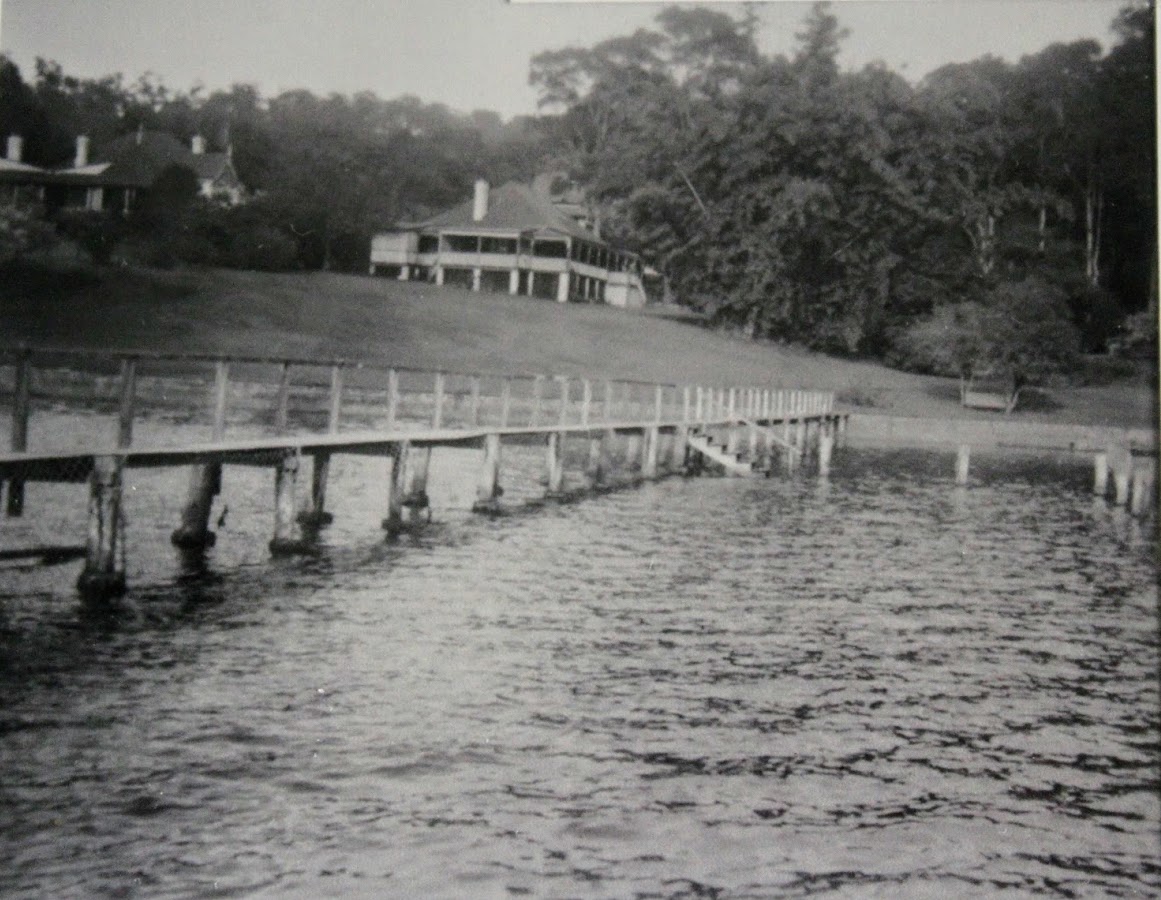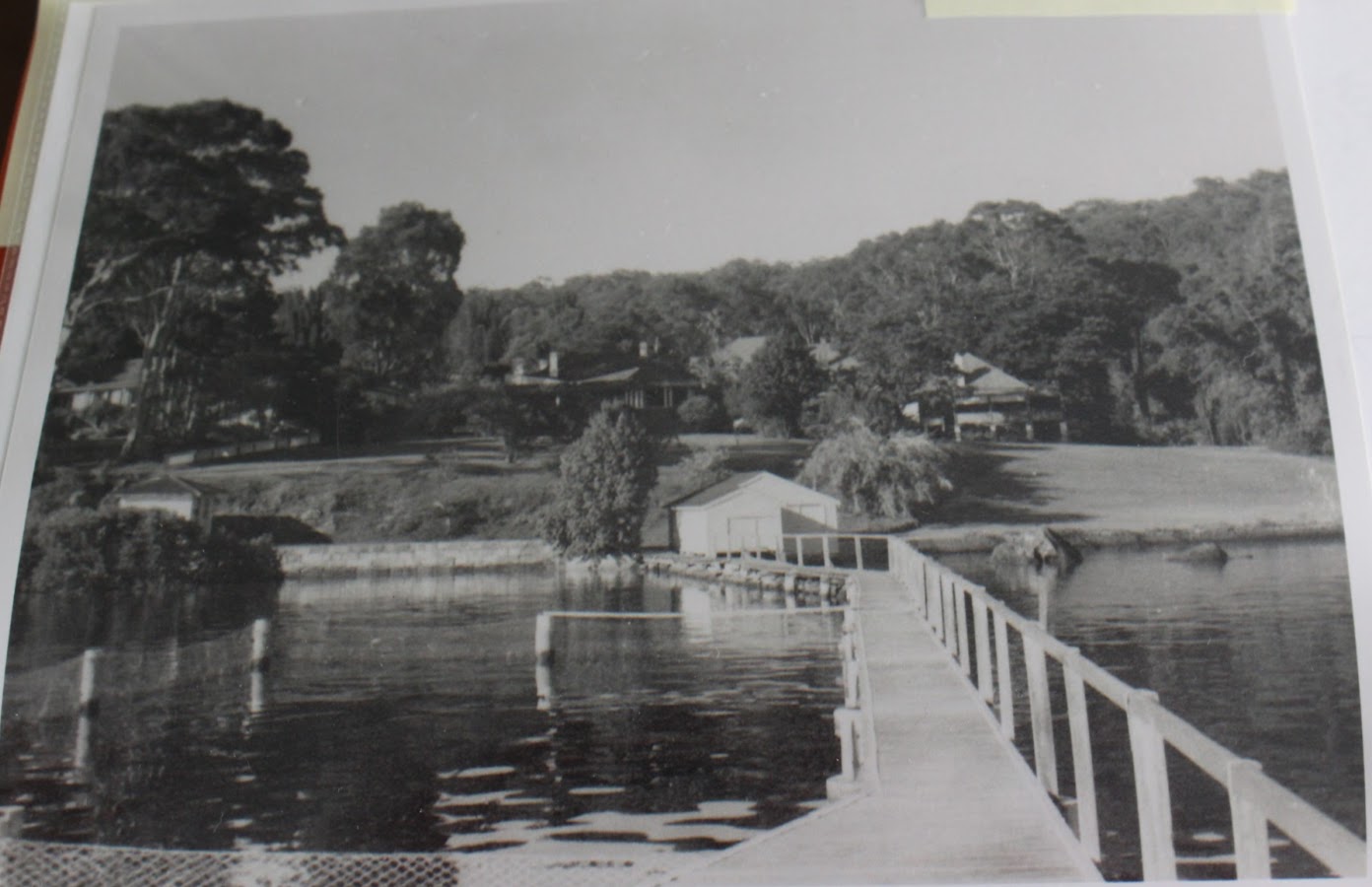 We used to go down there for all our school holidays.
Dad was very worried about sharks and Mona Vale beach as a swimming place as the old man who used to bring the wood, Alex Slater on his horse Creamy, was a lifesaver at Mona Vale and used to say to dad 'don't let the girls go swimming there, it's a dreadful beach, very dangerous.'
Don:
I remember
Alex, he used to do all sorts of things. He was one of the few people who actually lived at Bayview, a bit further around towards Mona Vale.
What was the house like Margaret?
It was a big old house built, I think, by Germans. It had a verandah and has sort of two stories in that you went in on one level and then down three stairs to the second level. There were five or six bedrooms and a big dining room and a big sitting room. The dining room is gone but the sitting room is still there.
We had an ice chest, the ice used to be delivered every day by the NSW Food and Ice Company.
Don:
There was a fair bit of trade there in the summertime. My grandfather had been a Director of that company (the NSW Food and Ice Company), and so we got pretty good service from them. They were there from fairly early on. Water was the name of the butcher
Margaret:
They were very good, you never had any problem with getting food.
We had a big underground tank for water. Usually, because we were allowed to have people staying with us and there would be about 8 people staying in the house all the time, we would have to go home around the end of the Christmas school holidays because we'd run out of water.
Margaret: What was a typical summer's day for you there?
We used to swim and we used to play down on the beach, climb on the rocks. We'd walk one way or the other, either down to Church Point or to Bayview. We had a very big old wooden rowing boat that held about 6 or 7 people which we'd row a lot. As we got a bit older we had canoes. We'd canoe down to Church Point to get the paper.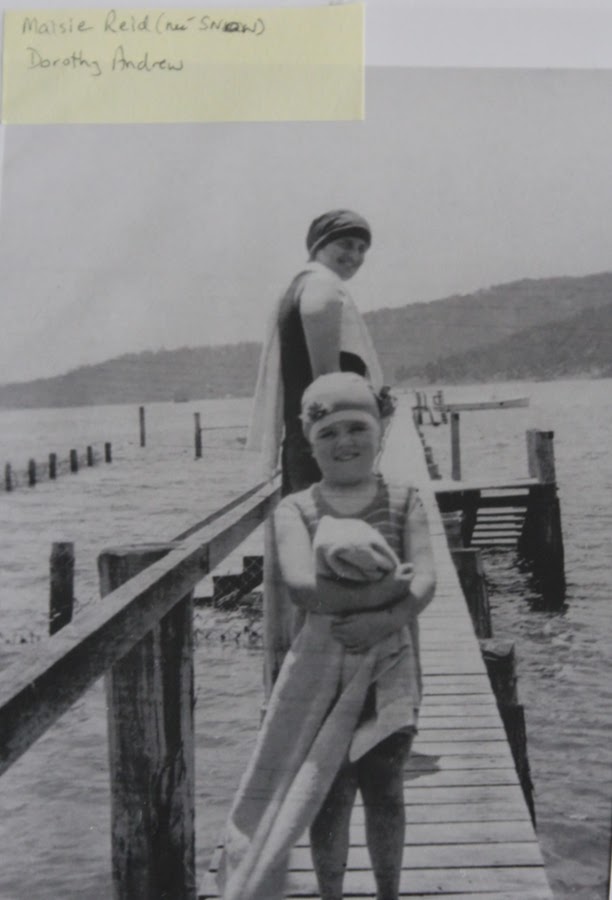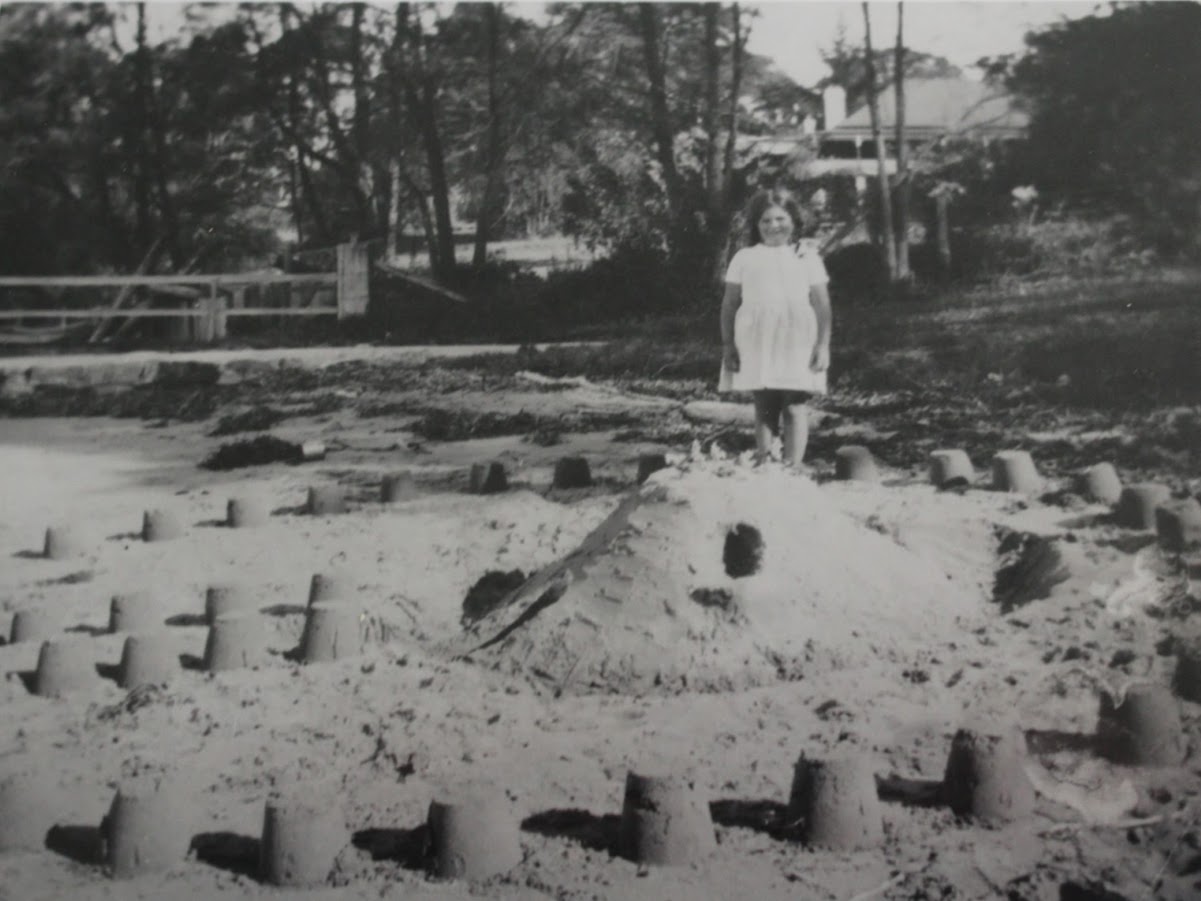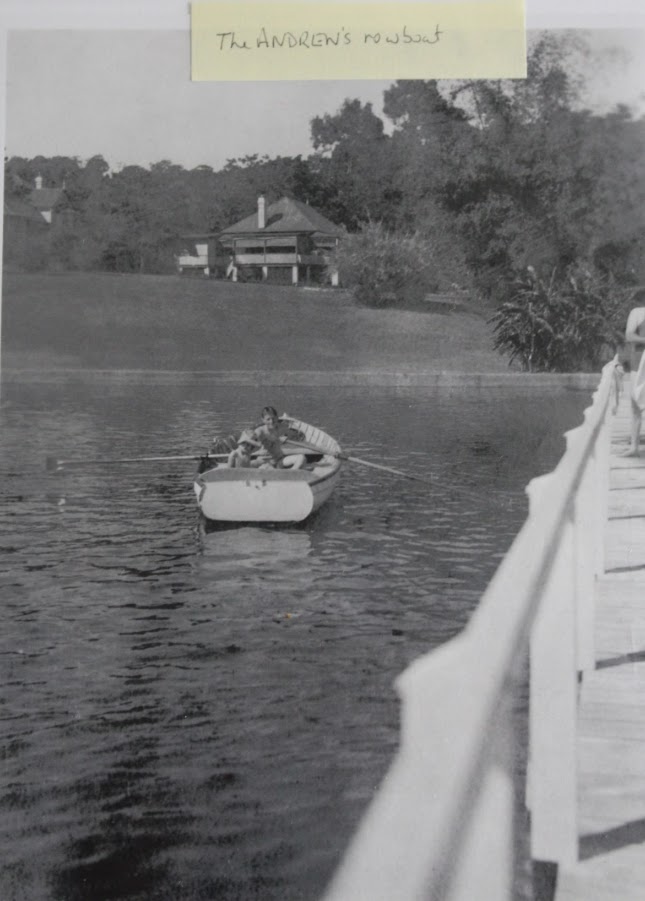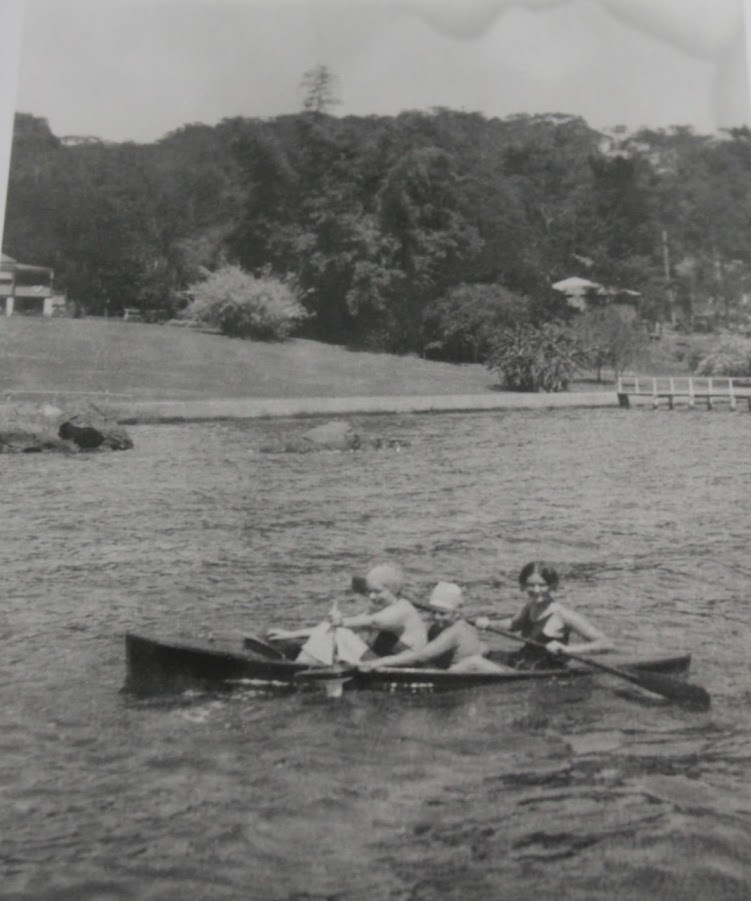 There were three girls in my family. Mum died when I was 11. Dad married again and married a lady with three daughters also.
I remember when they decided to build the
Pasadena
and the dreadful fuss that went on then. Nobody wanted all those cars going up and down and back and forth.
What was Bayview like then?
Don:
It was a dirt road into the place and very few houses until after the Second World War.
I remember they hired a bloke called Jack O'Brien after WWI, a former British army man now on a pension, and he lived there as a caretaker and looked after the place, kept the grass down, that sort of thing.
I think P T Taylor wanted to keep a bit of land there for a rural setting. His father had been a grain merchant and very much involved with landowners and farmers and I think P T got a liking for having land set aside from that. if he had lived another ten years I think he would have done all sorts of things at Bayview.
The whole atmosphere of Bayview in those early days was one of freedom and space and not too many people around – far different from what it is now.
Margaret:
when we were kids we used to be able to walk from Bayview to Mona Vale quite easily. On the way you would be picking mushrooms or blackberries. I remember being chased by a bull, the de Burgh's bull possibly – it was just around the corner from their house. They owned all that land from where the tennis courts are now up until the top of Bayview. That was once a big paddock.
Patrick de Burgh became a bacteriologist.
The Duffy's house was another old one there – Mrs. Duffy lived there. They had been there for a long time too.
Don:
Yes, de Burgh and Jeannie's father, both were brilliant men. My mother had the very unfortunate task of delivering a message to Mrs. Duffy that her husband had just died in a Manly hospital. The Duffy's didn't have a telephone, the Taylors, having everything, had a telephone, and at that tie as the only contact between the Manly hospital and the Duffy family at Bayview. My mother took the message and had to go along the road and up to the Duffy house to tell the poor lady.
Margaret:
The Duffy home as right opposite us.
Don to Margaret – did you know the Love's?
Margaret:
Yes, very well. The Love's were next door to the Duffys. They had one son and two daughters. The Loves had a house there and owned all the land on the other side of the road down to the waterfront. We used to climb up into the bush behind the Love's place.
They had a big wharf, and a boat, which I think was a Halverson, one of the original ones. They used to spend their whole time going up and down the estuary. They may go away for one night and we'd see them going up and down the wharf putting stuff in the boat, go away for a night and then they were back and going up and down the wharf again.
We decided we didn't really want a boat after seeing all that.
Don:
There was a Nigel Love who had one of the big boats in Sydney after the Second World War and his ketch, that boat, used to be down there. He kept this boat on one of the moorings over near the Royal Prince Alfred Yacht Club. This was a spectacular boat (The Cirrus), a very big yacht.
Don: we too thought the small sailing boats we had were more than adequate for sailing around to places on Pittwater too. We would go down to The Basin quite a bit. My grandfather Saunders, my mother's father, he was in the Lands Department at the time when the Ku Ring Gai Chase was being formed. I don't remember this but mum told me they had access to a house at The Basin there and that we'd sometimes go down there for a weekend. That must have been a little like going to the end of the world in those days – it was a fair hike to get to Bayview but then to go beyond that.
Margaret, how long did your family have the home at Bayview?
Until after the Second World War, after dad died, which was 1945. Mum's elder brother, a Snow, had the place next door, the bungalow, and this was not as old as our house. This was a wooden house with a verandah right round.
Mum and dad were married just after the First World War and I think they bought Bayview fairly soon after that.
ANDREW—SNOW.—August 27, at the residence of the brides's parents, Goodwood, Wahroonga, by the Rev. C. E. James, Lieut. William P. C. Andrew, second son of Mr. and Mrs. John Andrew, Boorock, Wahroonga to Ethel Margaret (Evie), second daughter of Mr. and Mrs. John Snow, late of Ballarat. Family Notices (
1919, October 4
).
The Sydney Morning Herald
(NSW : 1842 - 1954), p. 12. Retrieved from
http://nla.gov.au/nla.news-article15850449
The boats you both had there – were they built locally, by the Williams?
Margaret:
no, ours weren't.
Don:
My uncle Bill had a 16 foot boat called the
Query
, which was built by Goddard at Palm Beach. He had that for a very long time. That was specially built for him as his older brothers were doing their own sailing and so there was one built specially for him as well, out of Cedar. He often used to sail to Lion Island in that when younger although he didn't use it much by the time I was at Bayview – it used to sit in a shed.
I have a photo of my father, mother and uncle Bill sitting on what I'm pretty sure is Lion Island.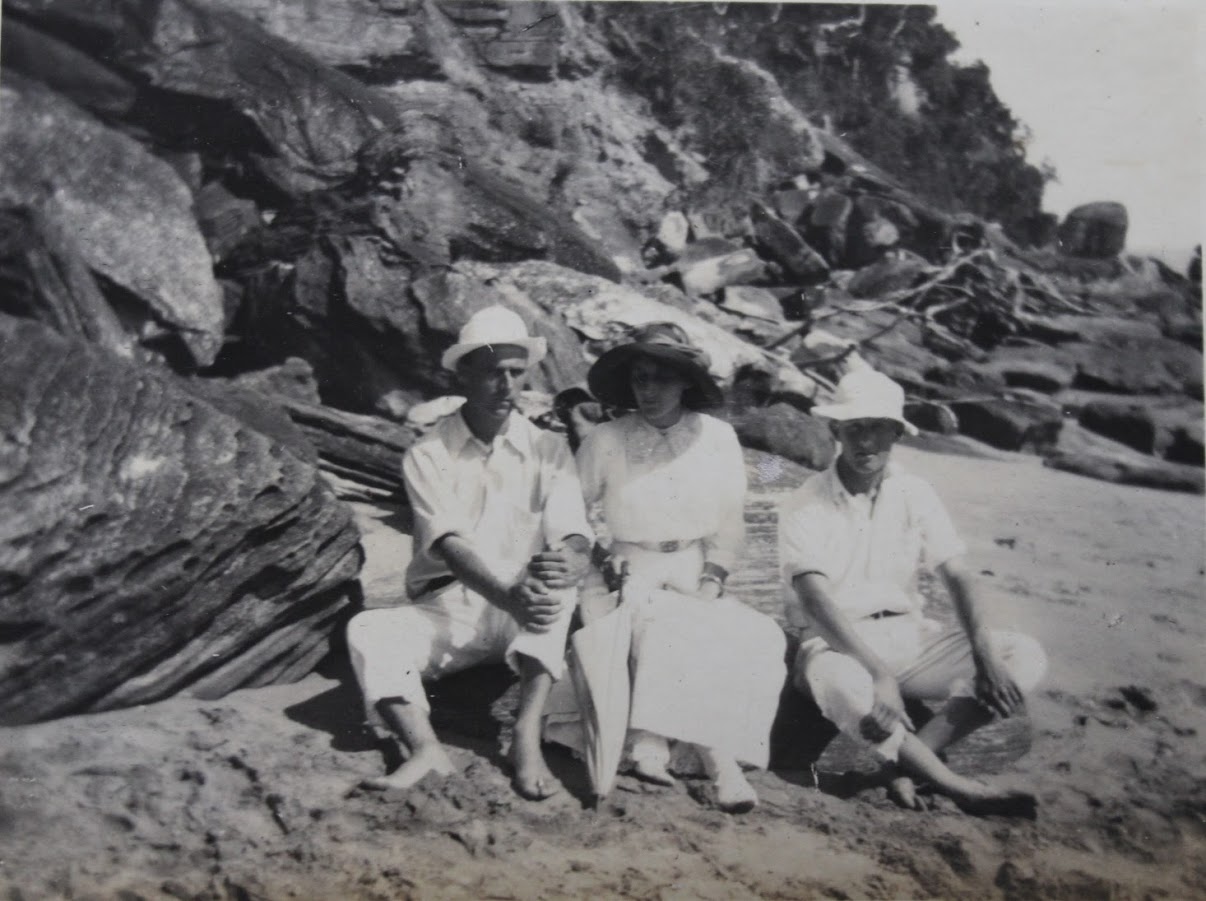 Left to right: W. D. M. Taylor, Ada Taylor (nee Saunders) and P G 'Bill' Taylor on Lion Island - circa 1912
This photo with Scotland Island, is taken from the verandah of Glen Sannox
You can also see the old boatshed down the front there. These old photos were taken with a Box Brownie.
Who are these black and white cats?
Don:
They're the two cats that owned Bayview.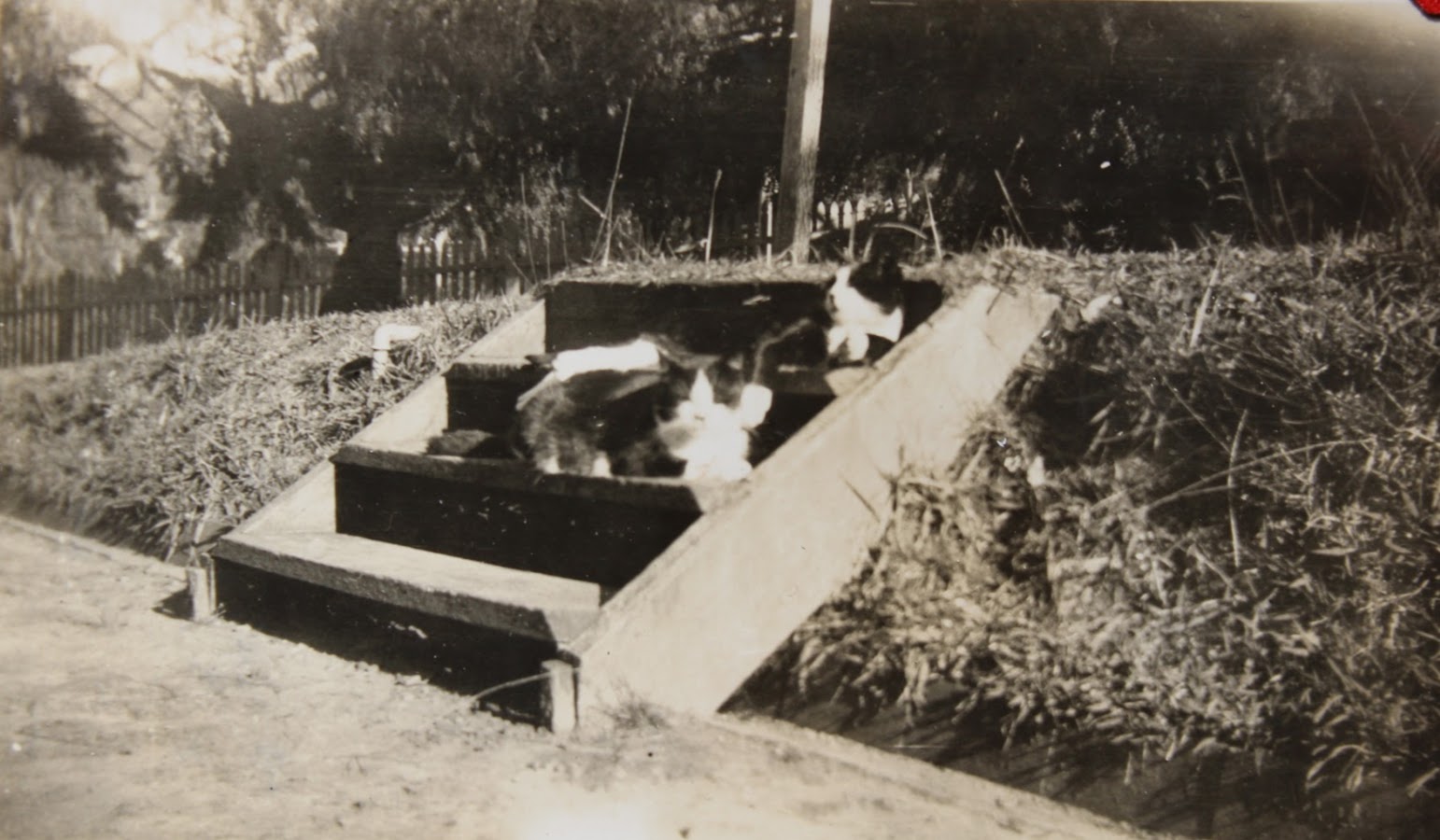 This is The Merlin - that's a fellow called John Moore, that's Don and this is a fellow called Jimmy McCarthy, that's Jimmy on the tiller –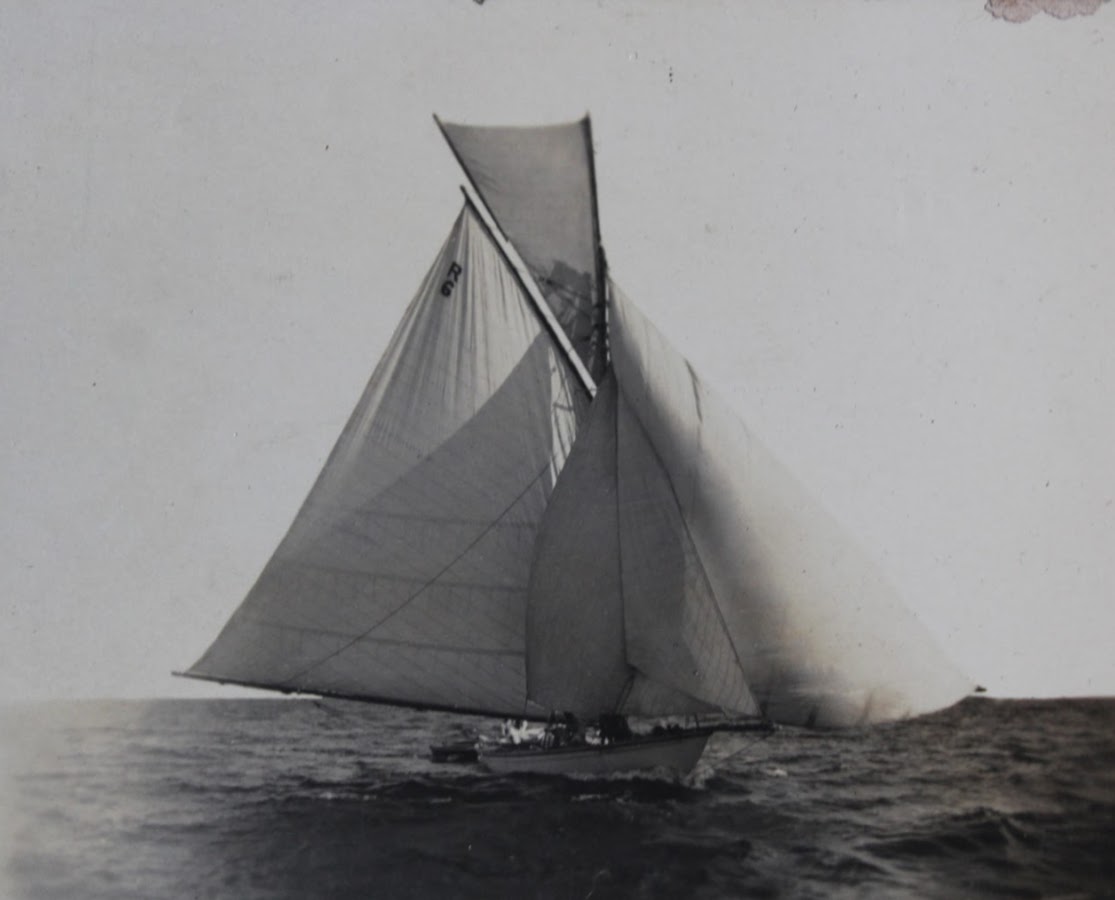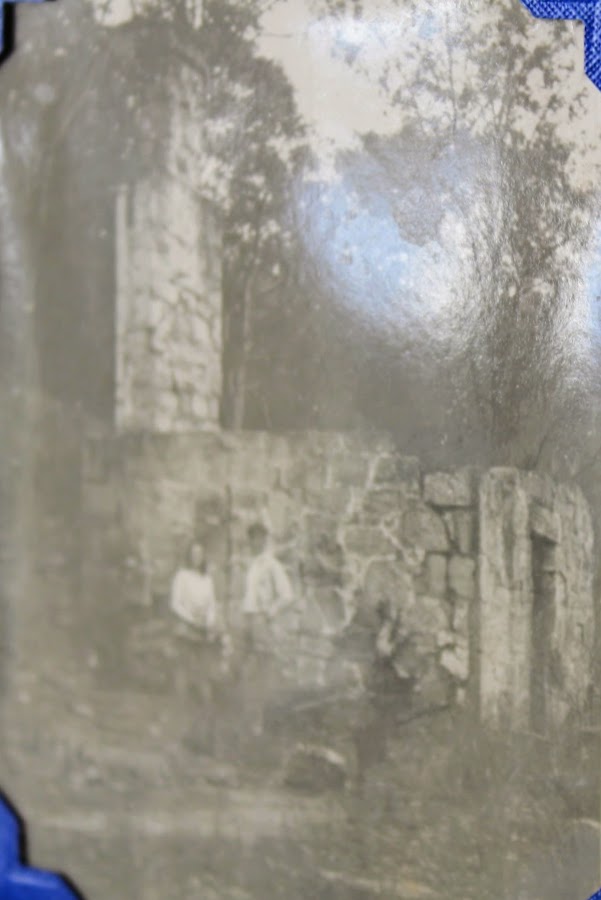 This Stone chimney – I never knew whose house this was that burnt down but just came across this in the bush one day. We were over where this picture was taken -
this was the sweep of the bay between Salt Pan and Taylors Point.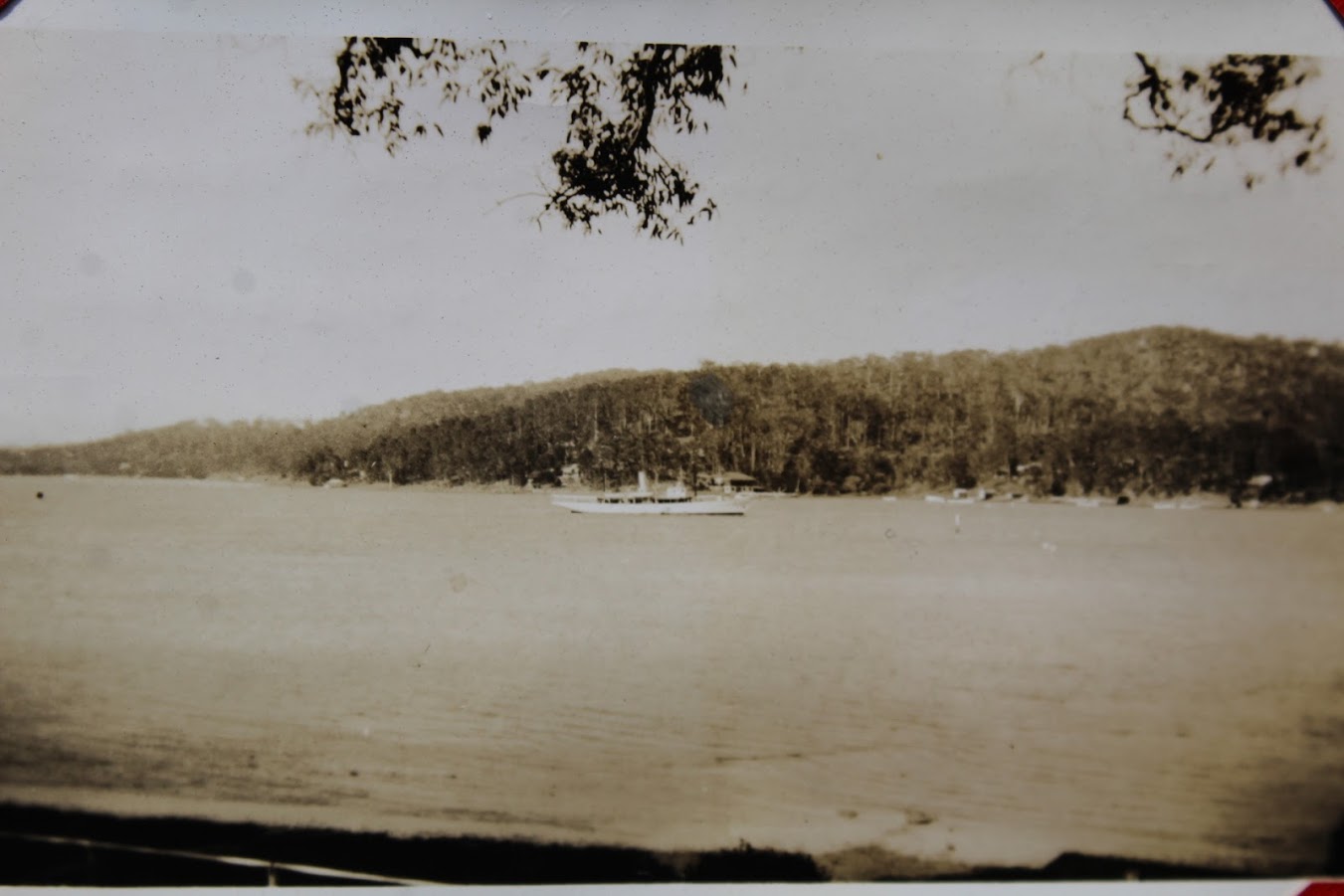 That's a Steam yacht, built, I believe, about 1914, the idea being the Kaiser would use it to tour his newly won possessions in the Pacific but when the war went against them it was owned by various people and then ended up in the Navy in the Second World War and ended up being wrecked down at Port Kembla on the breakwater.

This one is my brother and myself – palm trees were fashionable then, everyone used to have one and as we had a very small area of land we decided to get rid of them.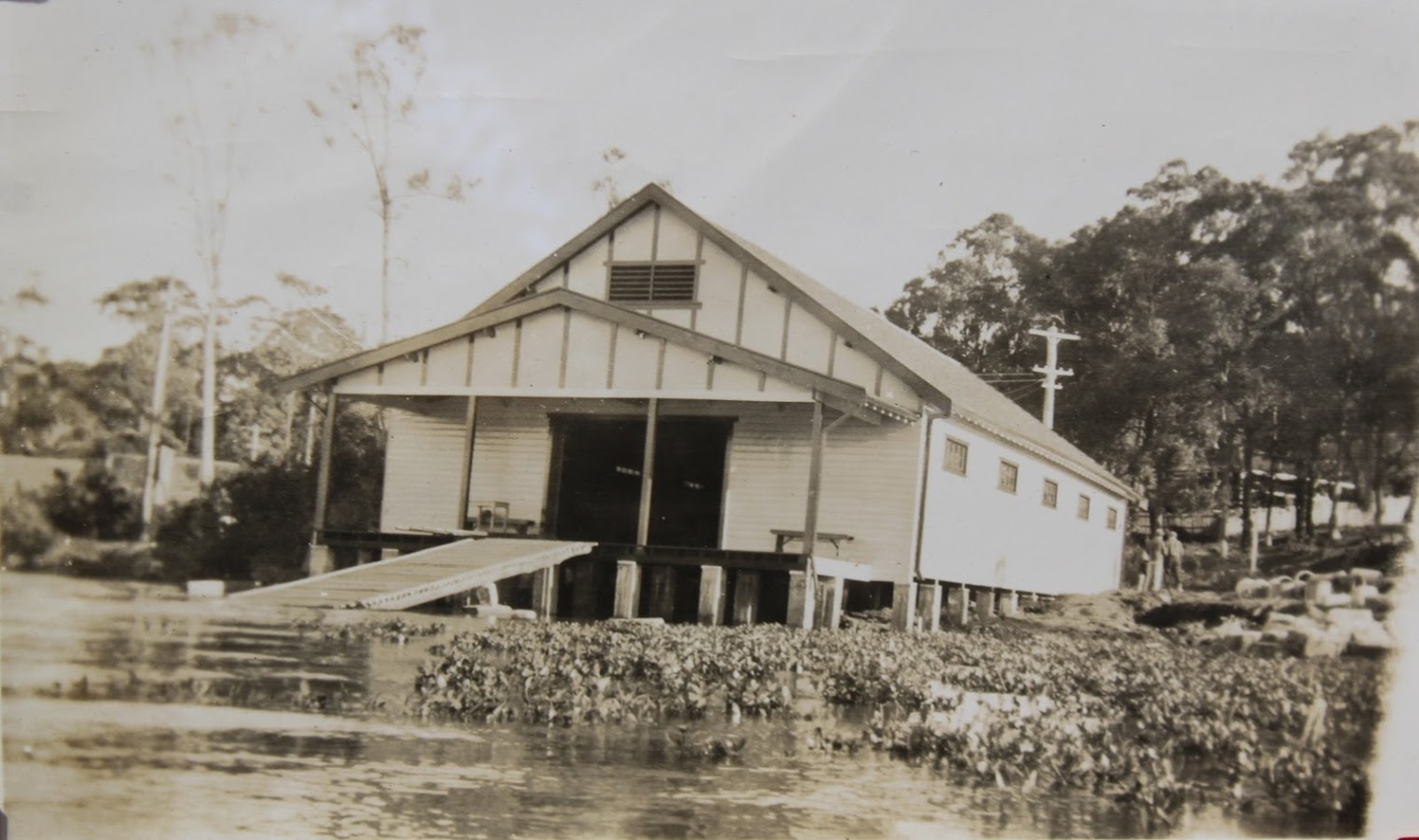 This was the Aquatic club originally, the Williams family were responsible for getting this built. The Sea Scouts are in there now.
See this photo with the white post – I'm aware of three other photographs similar to this, and have a copy of one, think that whole area there, prior to them building the road, was more estuary than what shows now. This is where the stream used to come down from the valley. They put a lot of fill in there for the road and then built a bridge and it changed the whole look of the place.
That bit there on the right-hand side is where the tank trap obstacles were form the war (WWII).
Did you go out to Lion Island too Margaret?
Margaret:
Often. Uncle Bob had a Chris-Craft and he used to take us up, dump us on Lion Island, go and do whatever he wanted to do, and then come back for us. There were penguins there then.
I remember seeing your grandfather Saunders going down to sail Don, and he had Parkinson's pretty badly by then. He used to wobble along the wharf, wobble down, get on the boat, and go sailing with no problem at all – he was absolutely fantastic.
He'd come back and everybody would be watching for him to get back up.
Was there a shop at Bayview wharf?
Don:
Yes, Johnny Oliver had a shop there. That was on the land side of the road and it was burnt down, that was before my time, but I recall he was involved there somehow.
Then they built a new place over the water and alongside the wharf; this was a much bigger shop. He lived there and was there for a long time. Various people leased it from him until a family named Cowell who were real shopkeepers, they knew how to run a shop and they ran it beautifully.
They bought the business just before the war, so when WWII commenced they had it well established. In the Cowell family there were two brothers and a sister. One brother and the sister ran the shop and the other brother spent most of his time fishing. He was a very good fisherman and would go out at night and catch the fish, would come back with a boat full of fish, which I think they probably sold through the shop.
They really made a very good business out of it.
Margaret:
Oh yes, they ran that place very well.
Don:
I remember the brother used to walk all around delivering things in a big basket. He'd do anything to make it do well.
They were the first ones since John Oliver that ran it properly.
Do either of you remember the Green Frog – the boarding house?
Margaret: Yes, I remember that. There was a track with steps leading up to the place. It was quite easy to get to. We often used to have afternoon tea there, I remember the cupcakes. They had a verandah out the front so you had the view while enjoying yourself.
Don:
It was where the marina is today, the one now called The Quays – I think that was just up there as you go around the point towards Church Point.
Was there anywhere else you could go and eat locally?
Don: Fish and chips at Bryce's at Narrabeen – they had a good reputation for fish and chips. I don't know that we ever availed ourselves of it, but it was certainly there, just on the right of the bridge as you're coming down from Manly to Church Point.
Margaret
: there were very good fish and chips there.
Do either of you recall Edward Hallstrom – he had a koala sanctuary on the edge of Bayview, opposite where the golf course is now – do you remember him?
What are your memories of him?
Don:
Not too many – you see he was a bit of an outsider. We'd been there since year dot. P. T. Taylor and Charlie Saunders, my mother's father, they both bought their land down there around 1900.
Do you recall the Aldridge's?
Margaret:
Johnny Oliver used to look after our place and Harry Aldrich used to look after the Snow house next door. They would make sure they were alright, mow the lawn, that sort of thing.
Don:
They came out here after the war. Harry had been a batman in the British army for a Sir Rupert Clarke. This gentleman paid for Harry and his wife to come to Sydney and be a caretaker and look after their property, which was the house on the eastern side of Ironbarks, the Saunders place, which was on the waterfront.
Don:
The Wilkes family bought the original Sunnyridge.
Margaret:
Yes, he was above where the BYRA clubhouse is now, that had been where the Riddle shop was, only it was a little further south.
The Granowski's house
looked towards Lion Island and Mr. Sulman used to rent a place above Mark Foy's.
Mark Foy had a bit of a zoo there with lions and tigers. He didn't have a terribly big lot of land but it ran down to where the BYRA club is now. He also had a tennis court and house on Scotland Island too, a big one. We were actually staying down at Bayview when the ambulance went down to get him after he fell while there. Getting an ambulance down there then was quite something.
How did you get there Margaret?
We used to drive down there, along Mona vale road, through what they called 'Devil's Elbow, down Tumbledown dick hill. We had an old Buick, first of all an open red one and then a very smart green one which was closed in with wind down windows.
Did you ever see any sharks while there Margaret?
Yes we did, because everybody used to put their rubbish into the end of the wharf. We were never allowed to go in the water, except in the baths.
What was the best part about having that childhood time at Bayview for you?
Margaret:
It was just wonderful. We were always allowed to have whatever friends we wanted there and we had cousins next door the same age as me. We just had a great time. We'd row and canoe and walk.
I missed it after it was sold, but the snow family still had their place next door. After I married my mother and father-in-law, who lived at Manly, was where we would go.
Don:
Getting out of Kirribilli and being able to shoot off and do a lot of things – walks in the bush, the water. Jimmy McCarthy used to come and stay with us during the holidays, he was the same year as me at school and I knew him well at school. He was a sailing fanatic and all his time would be spent sailing.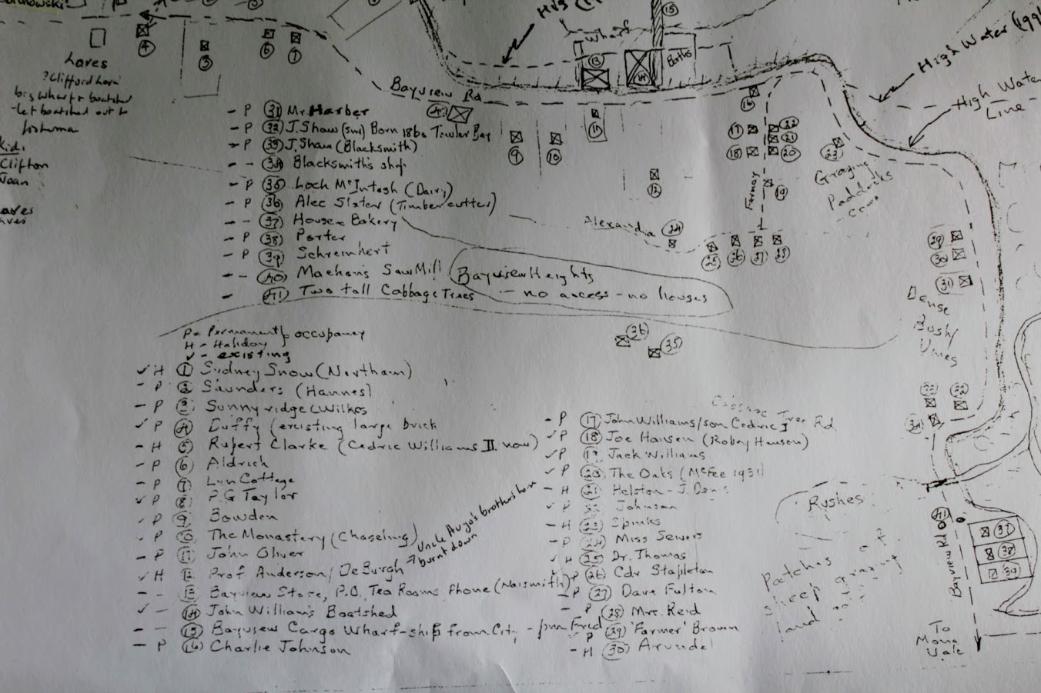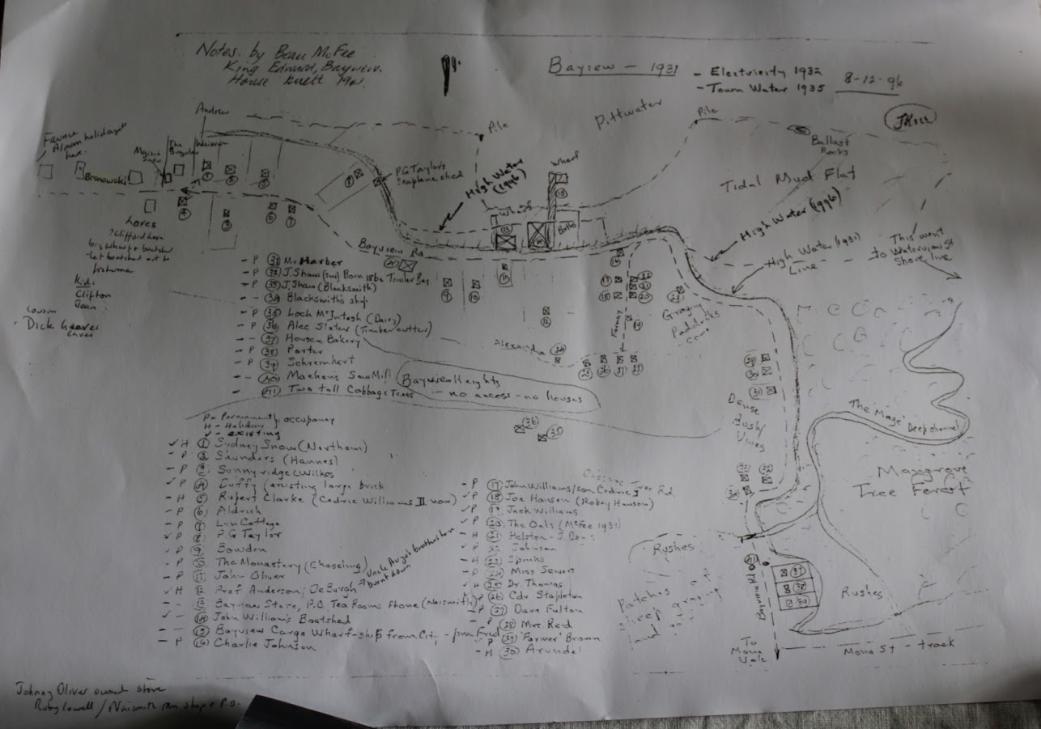 Notes And Extras
The little ships of Bayview they are bravely slim and small,
They go out by Barrenjoey, where they shouldn't go at all;
You may watch their bowsprits tossing, where the coastal steamers go
These little ships of Bayview, with their sails as white as snow.
The little ships of Bayview, they come sailing In at night,
With a silver path behind them, and the moon to mark their flight;
There are shaky lights at Newport, and an arch of stars that know
The little ships of Bayview, with their sails as white as snow.
There are songs across the water, as the little ships go by,
To their anchor-buoys at Bayview, where the sleepy houses lie;
Faint and drowsy nod their anchors, and the stars lean very low,
On the little ships of Bayview, with their sails as white as snow.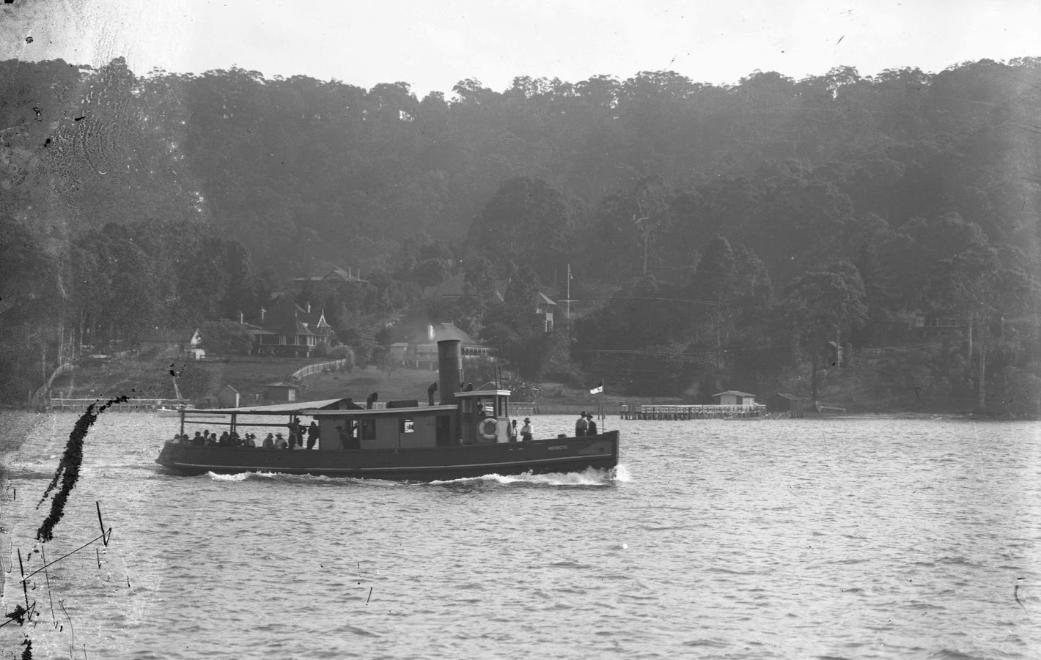 Tugboat ANTARCTIC during the 1924 Pittwater Regatta, courtesy Australian National Maritime Museum, Image no.: 10670, photo taken by William J Hall or his father William Frederick Hall - Andrews and Snow Families houses can be seen in background.
Some Recollections Of Early Bayview - with Don Taylor and Margaret Tink (nee Andrews) - Oral Histories - interview by A J Guesdon, July 2017