September 15 - 21, 2013: Issue 128
Bilgola Beach SLSC
The Bilgola Surf Life Saving Club was formed in the summer of 1949 when a small band of locals commenced patrols on Bilgola Beach. This Club has now served the local community and our visitors for over 60 years. Also called Dalley's Beach originally as well as Belgoula (Surveyor James Meehan, the word 'Belgoula' was noted in his records of 1814) and other variations as well as Palm Grove Beach, Valley and Vale, the original name recorded by Mr Meehan is said to mean 'swirling waters' by some, definitely a beach in need of surf life savers.
Other names this green and blue echo chamber has known;
…it is a region with smiling, long names, one supposes, with a Cockney twist: Barrenjoey, which used to written "Barenja" and Barrenjuee; the estuary headland called Flint and Steel, the creek called Coal and Candle, the hill called Tumble Down Dick. Two names that aren't heard now are Cranky Alice's Beach and Mad Mick's Hollow. They distinguished a gully and beach off Barrenjoey Road (now Dalley's Beach) and the names commemorated picturesque old residents. LAUGHTER AND TEARS IN THE WILDERNESS. BY Peter Harding.(1968, February 14). The Australian Women's Weekly (1933 - 1982), p. 15. Retrieved from http://nla.gov.au/nla.news-article51973069
According to the BeachSafe website Bilgola is even today considered moderately hazardrous. There are permamnet rips like most of our beaches against the rocks at south and north ends and a central sandbar is typically cut in tow by shifting rips. It is the rip at the south end that is the most dangerous though. Known locally as the 'Newport Express' it flows out over the rocks, speedily carrying the unwary towards Newport Beach. An average of 83 people per season are rescued at Bilgola from this rip.
Last May, during our focus on Pittwater aviators, many would have read of the drowning of Colonel Walter Oswald Watt at this beach and in this undertow. He is not this beach's only victim, the young man sent as surveyor to measure his property for selling, also drowned:
Caught in the Undertow. COLONEL OSWALD WATT DROWNED.SYDNEY, Sunday. Colonel Oswald Watt, late of the Australian Flying Corps, and of the firm of Gilchrist, Watt, and Sanderson, lost his life in the surf at Bilgola Beach (a little beach a mile north of Newport) on Saturday morning, through being caught in the undertow. Caught in the Undertow. (1921, May 23). Examiner(Launceston, Tas. : 1900 - 1954), p. 6 Edition: DAILY. Retrieved from http://nla.gov.au/nla.news-article51126044
The sale of Bilgola, at Pittwater, formerly the residence of the late Colonel Oswald Watt, which will take place on December 8, ought to attract much attention. The land, which comprises some very attractive week-end sites, issituated beyond Newport, and before reaching Palm Beach. ' HAPPENINGS OF IMPORTANCE IN REAL ESTATE WORLD. H. (1921, November 27). Sunday Times (Sydney, NSW : 1895 - 1930), p. 10. Retrieved from http://nla.gov.au/nla.news-article123244094
Next Saturday Messrs. Raine and Horne will submit to auction the well-known Bilgola Estate, just beyond Pittwater. This is one of the choice spots of this popular district, and was for many years the residence of the late Colonel Oswald Watt. There are ocean beach frontages and palm groves. In all 28 fine lots, with excellent views. There has been a big demand for plans and booklets. REAL ESTATE. (1922, February 11). The Sydney Morning Herald (NSW : 1842 - 1954), p. 9. Retrieved from http://nla.gov.au/nla.news-article15970823
THE MISSING BATHER. EVIDENCE OF HAVING BEEN KILLED BY SHARKS. SYDNEY. February 8. On the beach at Bilgola late this afternoon were found a torn bathing costume and several bones The discovery was made by the Mona Vale police, and it is said that the bathing costume has been identified as that of Norman Whitley, the young surveyor who disappeared from the beach on Monday morning after expressing his intention of a going for a swim. It is believed the bones are human. When an extensive search for the missing man was being made by the police on Monday evening, three sharks were seen cruising close into the surf. The belief is held that Whitley has been taken by sharks. THE MISSING BATHER. (1922, February 9). The Mercury(Hobart, Tas. : 1860 - 1954), p. 5. Retrieved from http://nla.gov.au/nla.news-article23545709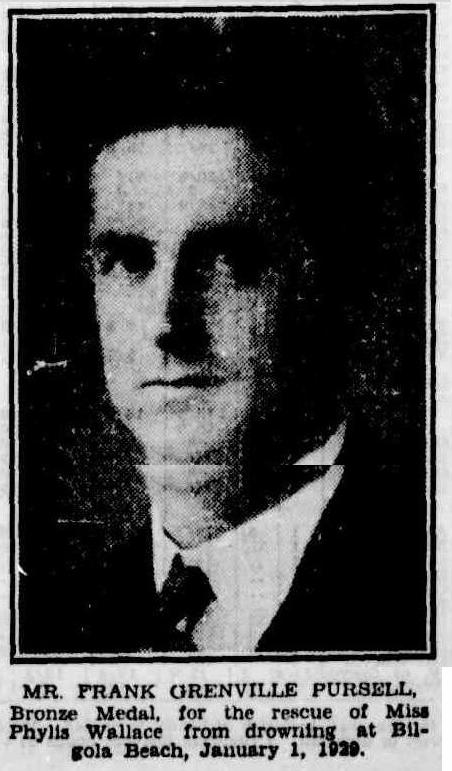 MR. STANLEY EDWARD WALLACE, who was drowned through his efforts to save his young daughter at Bilgola beach, N.S.W., last week, was nephew of Mr. and Mrs. H. C. Clayton of East Devonport, and was the third son of the late Jas. and Mrs. Wallace of Middle Park, Victoria, and formerely of Devonport. He saw active service during the war, being ii member of the 10th Battalion Band. The "Sun" give the following account of the tragedy: "Never mind me, take thc child," sahMr. Stanley Edward Wallace, ;10, oil''ullcrs road, Chatswood, while .struggling' in the surf of Bilgola Beach today, attempting to save his young daughter. He was drowned, but the girl was saved. Three men who went to their assistance reached the beach only after a long fight. When Mr. Wallace and his daughter went swimming, Mrs. Wallace, watched them from the beach. Suddenly they were caught in an undertow, and a man named Pursell, of Spit road, Mosman, went to their assistance. "Never mind me, take the child," Mr. Wallace gasped, pushing the girl to him. A man named Jacobs, of Norton street, Leichhardt, then swam out and held the father afloat, but both were almost exhausted when a third rescuer, Jacobs' brother, reached them. An intense struggle for safety followed, while Mrs. Wallace, helpless, watched front tho beach. The three men were almost thrown on some rocks, eventually reached the beach, but Mr. Wallace was dead." MEN AND WOMEN. (1929, January 7). Advocate (Burnie, Tas. : 1890 - 1954), p. 2. Retrieved from http://nla.gov.au/nla.news-article67791103
PICTURE: MR FRANK GRENVILLE PURSELL, Bronze Medal, for the rescue of Miss Phylls Wallace from drowning at Bilgola Beach, January 1, 1929. SOME OF THE RECIPIENTS OF AWARDS OF THE ROYAL SHIPWRECK RELIEF AND HUMANE SOCIETY OF N.S.W. (1929, October 1). The Sydney Morning Herald (NSW : 1842 - 1954), p. 14. Retrieved from http://nla.gov.au/nla.news-article16588739
2 NEARLY DROWNED AT BILGOLA. A.I.F. Man's Rescue Swim. Two surfers were nearly drowned at Bilgola yesterday. An A.I.F. man rescued one and a wave washed the other on to a rock. There are no life-savers at Bilgola, but a belt and line are kept on the beach. Norman Leslie Mobbs, 27, of Midson Road, Epping, and John Archer, 22, of Meadow-bank, were swimming on the southern end of the beach when they were caught in the undertow. Mobbs lost consciousness and Archer supported him. Lance-corporal Brian Lloyd Badgery, of the A.I.F., who was one of a picnic party on the beach, saw the plight, donned the belt and, after a swim of nearly 200 yards, brought Mobbs in. Mobbs appeared to be dead, but two doctors on the beach applied artificial resuscitation while the Newport Surf Club's boat brought round a gas cylinder. Later Mobbs revived and was taken by Manly Ambulance to the Manly Hospital. After Mobbs had been rescued, Archer got into difficulties while trying to reach the beach and Mr. John Hillier, of Bilgola, donned the belt and went to his aid. Before he reached him, however, Archer was carried on to a rock. 2 NEARLY DROWNED AT BILGOLA. (1941, March 3). The Sydney Morning Herald (NSW : 1842 - 1954), p. 9. Retrieved from http://nla.gov.au/nla.news-article17728633
At Bilgola a migrant got into difficulties 300 yards out, and was brought in on a surf ski. SHARKS SIGHTED. (1950, October 16). The Sydney Morning Herald (NSW : 1842 - 1954), p. 1. Retrieved from http://nla.gov.au/nla.news-article27571282
Bilgola has always been a popular beach. Tucked away from all but the strongest onshore winds, with pristine creeks that wound down to the beach from the plateau, it has been a favourite for campers and excursionists since tracks were first made towards Barrenjoey.
The first structure of any kind was what we call Bilgola Cottage, built by the Hon. W. B. Dalley as his family's 'Pittwater Farm' and named 'Tallamalla' by those who advertised it for sale just prior to his passing. Some called Bilgola 'Dalley's beach' over 20 years later, setting a 'seal of approval' on the beach by association with this gentleman, his character and life works:
Yet, despite the liberal dower of honour and the general desire of Australian people to have him constantly prominent, Mr. Dalley 's life, from the date of his retirement from political life, was very simple. His house, a quaintly decorated, roomy chateau on the tongue of the North Shore hills of Sydney Harbour, immediately above the Isthmus of Manly, was always open to his friends — and every man of culture 'or genius was Mr. Dalley's friend. But the utmost simplicity reigned within. Governesses and housekeeper sat down with the privy councillor and all his children at the breakfast-table, and frequently on hot summer days the whole family might be seen migrating shortly after daybreak to a farm by the banks of Broken Bay at Pittwater, near the mouth of the Hawkesbury River. Often, also, by eight o'clock in the evening, the chateau would be in absolute darkness, for Mr. Dalley, following the simple teaching of nature, had a habit of retiring with the close of day whenever it was practicable, and rising al- .ways before the sun. He might be seen by mo3tvisitors to Sydney of late taking his afternoon ride about the little watering place above which he lived, jogging along on a full fed, well - groomed charger in very stately style, but with a pleasant word, nod, or smile for all whom he might encounter, and always the quiet self-assurance of one who had no enemies, and was ignorant alike of jealousy or tear. The death of Sir James Martin, late Chief Justice of the colony, saddened his last year of life, for the two were brother's-in-law, and had been fast friends, and moreover so many old comrades had passed away from him that, though scarcely at;the threshold of ripe old age, he was sadly alone. Morning found him always with his children or his books. And once a week, perhaps, he might entertain a little party of friends. He loved a feast with perfect appointments and accompaniments of all sorts, but through all his later years his feast days were few and his fast almost continuous. It was much more of toast and weak tea than truffles and champagne. ' I am trying by extreme abstemiousness,' he would say, ' to last out a few more years.' And thus in a placid, self denying, painful way he finished out his last few months of life. A PEN PICTURE CF THE LATE MR. DALLEY. (1888, November 10). Freeman's Journal (Sydney, NSW : 1850 - 1932), p. 8. Retrieved from http://nla.gov.au/nla.news-article115458480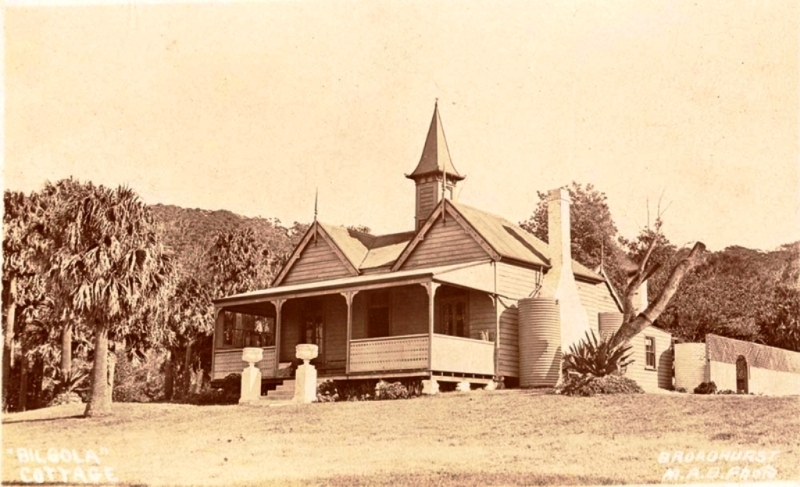 Bilgola Cottage, 1900, image no: a105043r, courtesy state Library of NSW
AROUND PITTWATER AND BARRENJOEY. Sydney is often envied by other centres for the profligacy of beautiful scenery found almost at its doors. One of the most charming of its beauty spots, though perhaps not so 'well known as the Blue Mountains and Hawkesbury River, is Barrenjoey, the bold headland at the southern entrance to Broken Bay. Two pages of pictures are devoted to this charming spot. They delineate many of its attractive phases, including a beautiful panorama showing the lighthouse and the ocean on the left, with Pittwater on the right; Dalley's Beach, near Newport, and a beautiful beach in Pittwater between Newport and Barrenjoey. Advertising. (1910, September 1). Town and Country Journal Advertising. Evening News (Sydney, NSW : 1869 - 1931), p. 9. Retrieved from http://nla.gov.au/nla.news-article115258245
SYDNEY. .The Right Hon. W. B. Dalley is now sufficiently well to lead to the expectation that he may he able to deliver one or two of his eloquent orations during the centennial celebrations. The sea-air does not agree with him, and hence his well -known castellated residence at Manly, as well as a smaller country house at Pittwater, is now in the hands of the auctioneers for sale. As he is recommended to live on the high lands of the colony, could not one of the large houses recently for sale in Goulburn be specially brought under his notice?. SYDNEY. (1888, January 24). Goulburn Herald (NSW : 1881 - 1907), p. 3. Retrieved from http://nla.gov.au/nla.news-article100230026
PITTWATER— Talamalla, a choice Marine Villa Residence, formerly owned by the late W. B.Dalley, situate on about 18 acres of land, having extensive frontage to Bilgola Bay. Advertising. (1890, August 9). Freeman's Journal (Sydney, NSW : 1850 - 1932), p. 11. Retrieved from http://nla.gov.au/nla.news-article111116846
PITTWATER— TALLAMALLA. The Marine Villa owned by the Right Honourable W. B. DALLEY. This Property has about 18 Acres Land, and is divided into two portions by the main Pitt Water road. It is the pick of Spots along the northern coast, and has a large frontage to Bilgola Bay, with the best fishing grounds the most enthusiastic disciple of Izaac Walton could desire. There are two residences, one for the caretaker and the other for the owner's use.The Palm Groves and Ferns on this property are a marvel of semi-tropical growth. The soil is equal to any of the richest Illawarra land. MILLS and PILE have been instructed by the proprietor to sell by auction, at the Rooms,130 Pitt-street, on Thursday, February 2, at half past eleven o'clock, Tallamalla, the most charming Marine Villa site in the Colony. Plans and Particulars at the Rooms. TITLE, FREEHOLD. TERMS AT SALE. Advertising. (1888, January 28). Freeman's Journal (Sydney, NSW : 1850 - 1932), p. 11. Retrieved from http://nla.gov.au/nla.news-article115461366
Messrs. Mills and Pile report the sale of Yarinella, the residence of the Right Hon. W. B. Dalley, at Manly Beach; and Tallamalla, Pittwater-Messrs. M'Eachern, M'Ilwraith, and Taylor, purchasers. MONETARY AND COMMERCIAL. (1888, April 2). The Sydney Morning Herald (NSW : 1842 - 1954), p. 6. Retrieved from http://nla.gov.au/nla.news-article28346738
Bilgola's sheltering landscape also attracted its use as a venue for fundraising picnics and parties, all encouraging 'surf bathing' on this unpatrolled beach: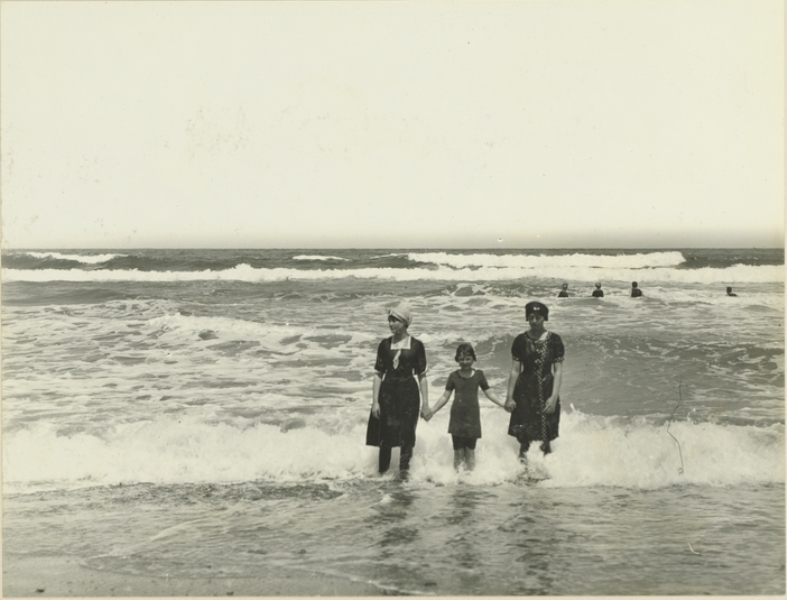 Members of the Allen Family surf bathing at Bilgola, Sunday 30th of November, 1913, Pic a3292030h courtesy State Library of NSW. The Allen Family were frequent visitors to Bilgola Beach and Cottage - bringing Dame Melba there for afternoon tea in August, 1914
MOTOR CYCLING. MOTOR CYCLE CLUB OF N.S.W. A contingent spent the day at the club camp, Bilgola beach; The Sydney Morning Herald (NSW : 1842 - 1954) Wednesday 4 June 1913 p 4 Article
Visitors and campers alike and growing number of holiday 'shacks' and further roads with sell off of land – necessitates community development of infrastructure which, as everywhere, where it's rural or coastal needs, comes from the community for gratis originally, and is still carried on in this large measure alongside hired lifeguards. It is proposed by Dr. Arthur to organise a visit of members of the Country Women's Association today, at 3 o' clock, to a site where it is suggested that the first seaside camp of the season be established. The site is on the road to Palm Beach, between the Newport Beach and the house known as Dalley's Cottage, which belonged to the late Captain Watt. If the site is considered suitable, the Government will be approached with the object of obtaining a lease of the land in question at a nominal rental. Dame Alice Chisholm, Mr. and Mrs. Ashton, Mr. and Mrs. H. C. McIntyre, Dr. Arthur, Mr. Weaver, Mr. de Putron(president of the Voluntary Workers' Association), have promised to be present, and invitations have been sent to Mr. Wearne (Minister for Lands), Captain Chaffcy (Minister for Agriculture),Colonels Bruxner and Rutledge, and Messrs. Loughlin and Dunn, as country representatives. TEA-TABLE GOSSIP. (1923, September 23). Sunday Times(Sydney, NSW : 1895 - 1930), p. 16. Retrieved from http://nla.gov.au/nla.news-article120531575
SEASIDE CAMP FOR WESTERNERS. TO THE EDITOR OF THE HERALD. Sir,-In your Issue of Thursday last, the 12th Instant, I notice that a seaside camp is proposed to be built at Bilgola for the Western boys. As one who is very intersted in the excellent Idea, which I hope will now soon take some practical form when in such good hands as Dr. Arthur and Mr. Hunt. I, however, suggest that some safer and more convenient beach than Bilgola will be selected. The sand on this beach is exceptionally coarse and loose, and experienced surfers are unanimously of opinion that this beach should be classed as generally unsafe. I have surfed for 25 years almost continuously, and know practically every beach from Victoria to Queensland, and have particularly noticed on scores of occasions that Bilgola beach is very dangerous when other beaches are quite safe. It only needs a few accidents, and the camp will immediately get a bad name, and the whole project be a failure.
Country boys who are to be sent to this camp would naturally prefer a less expensive and more get-at-able place than Bilgola. People from outback want for a change not only surfing but other amusements, which can be provided in or near the more closely settled areas, such as Narrabeen, Deewhy, or Cronulla. Another great disadvantage of Bilgola is that country boys would need, in addition to the surf, smooth water to learn to swim. Now this is readily obtainable at either of the three above mentoned places. In which I might say I have no interest whatsoever.
I am, etc. H RUSKIN ROWE. March 18. SEASIDE CAMP FOR WESTERNERS. (1925, March 19). The Sydney Morning Herald (NSW : 1842 - 1954), p. 8. Retrieved from http://nla.gov.au/nla.news-article16205460
FOR WOMEN. ORGANISING BEACH PICNIC. MISS VALERIE HORNE. MISS LESLEY TURNER. SECRETARY and PRESIDENT of the Younger Set Appeal Committee of the Sydney Industrial Blind Institution, which is arranging a Hawaiian Beach Day to be held at the home of Mrs. M. Thornell, at Bilgola Beach, on November 21. There will be a picnic lunch, surfing, and deck tennis, and a camp fire concert in the evening. FOR WOMEN. (1937, November 3). The Sydney Morning Herald (NSW : 1842 - 1954), p. 8. Retrieved from http://nla.gov.au/nla.news-article17402057
HAWAIIAN BEACH SCENE. Party at Bilgola. CONCERT AT NIGHT. A grove of glorious palm trees with sloping lawns underneath and a shelter built of palm tree branches was a perfect setting for the Hawaiian Beach party, held at Bilgola Beach yesterday, and it looked most picturesque at night when the party ended with a camp-fire and Hawaiian concert. The party was In aid of the Sydney Industrial Blind Institution, and was held at the home of Mrs. M. Thornell, and the adjoining property, belonging to Mr. L. Marks. To increase the Hawaiian atmosphere strolling players wandered through the grounds all day, members of the committee which organised the party wore hula skirts, and nearly all the girls and many of the men wore gaily coloured leis, which were distributed by Mrs. M. Perray. Playsuits, slacks, Hawaiian beach coults, beach coats, and shorts all vied for first place as the choice of the girls who were among the 300 guests at the party. There was a beauty parlour for them to have their faces made up and hair dressed after their surf if they wished. The joint honorary secretaries, Mrs. G. Simpson Millar, who wore a black playsuit with white stripes, and Miss Valeria Horne, wore a beige pink mesh shirt with brown shorts, were busy with the organising, and one of their jobs before the party had been to send out 1000 invitations. For swimming Miss Horne wore an American swim suit of burgundy rubber. Miss Lesley Turner, who is president of the Younger Set appeal committee, which arranged the party, wore a navy blue and white figured playsuit and wide-brimmed matching hat and added a knee-length navy blue cape. Glare glasses were popular, and Miss Jean Gibson wore a pair of green glasses with a white sports frock, at the neck of which she knotted a green scarf.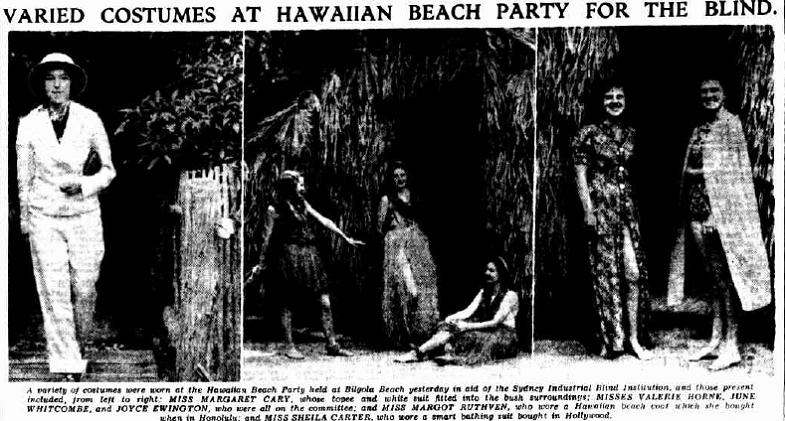 FROM HAWAII. Miss Joan Hodgson wore a beach suit which she brought with her from Hawaii. The slacks were of cream flannel and the navy. "MRS." M. THORNELL in a cool, shady corner of the garden of her home at Bilgola Beach, which she lent for the Hawaiian Beach Party, held yesterday in aid of the Sydney Industrial Blind Institution, whose blue coat had the Hawaiian coat of arms on the pocket. Miss Pamela Roberts, who was with Miss Lorna Hagon, chose a mustard yellow playsuit. Miss Nancy Holland wore a black and white beach hat with a black and White ensemble and added a carved scarlet bracelet. With Mr. Eric Luscombe Newman, was Mrs. Newman, who wore a brown and white playsuit. S.O.S. PATTERN. Miss Patricia Godson's white playsuit was patterned all over with the letters "S.O.S.," and her sister. Miss Babette Godson, chose an Alice blue and white rleured playsuit. Navy blue shorts and a navy blue shirt were chosen by Miss Ruth Wells and about her neck she tied a lipstick red scarf. Navy blue was the choice, too, of Miss Rhoda Clarke, who wore shorts and a shirt, and with grey slacks Miss Shirley Poynter wore an Alice blue shirt. Miss Marie Cohen chose a sky blue and white figured playsuit, and Miss Gwen Sheridan wore a backless linen frock. Miss Gloria Moore Gosgrave wore a yellow top with blue pyjamas, and Miss Audrey Wilkinson wore a navy blue and white Hawaiian beach coat. Miss Nildra Leonard wore a yellow rubber swim suit. HAWAIIAN BEACH SCENE. (1937, November 22). The Sydney Morning Herald (NSW : 1842 - 1954), p. 5. Retrieved from http://nla.gov.au/nla.news-article17413360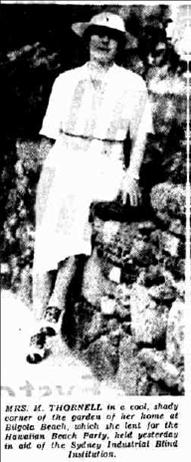 FOR WOMEN VARIED COSTUMES AT HAWAIIAN BEACH PARTY FOR THE BLIND. A variety of costumes were worn at the Hawaiian Beach Party held at Bilgola Beach yesterday in aid of the Sydney Industrial Blind Institution, and those presentincluded, from left to right MISS MARGARET CARY, whose tome and white suit fitted into the bush surroundings, MISSES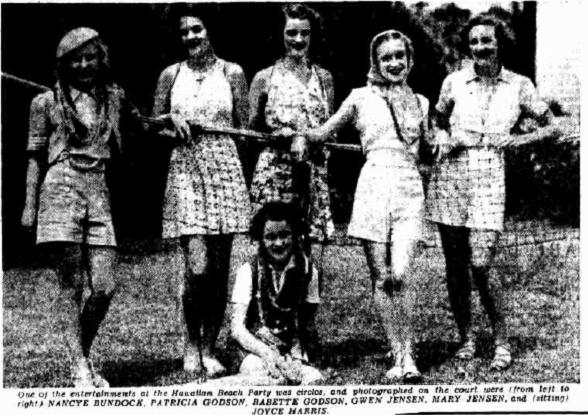 VALERIE HORNE, JUNEWHITCOMBE, and JOYCE EWINGTON who were all on Hie committee, and MISS MARGOT RUTHVEN, who wore a Hananan beach coat which she bought while in Honolulu, and MISS SHEILA CARTER, who wore a smart bathing suit bought in Hollywood. One of the entertainments at the Hawaiian Beach Party was tírelos, and photographed on the court were (from left to |right) NANCYE BUNDOCK, PATRICIA GODSON, BABETTE GODSON, GWEN JENSEN, MARY JENSEN, and (sitting) JOYCE HARRIS. FOR WOMEN. (1937, November 22). The Sydney Morning Herald (NSW : 1842 - 1954), p. 5. Retrieved from http://nla.gov.au/nla.news-article17413362
Planning Beach Barbecue. MEMBERS of the Anti T.B. Association Younger Set: MISS MONICAMYERS (co-secretary),MR. JOHN STEINWADE(treasurer), MISS BARBARA TUIT (president)and MISS ELIZABETHMANNERS (secretary), are arranging a barbecue to be held at Bilgola Beach on February 28. THEY ROSE AT THE DAWN TO BE MARRIED BY SEVEN. (1953, February 15). The Sunday Herald (Sydney, NSW : 1949 - 1953), p. 28. Retrieved from http://nla.gov.au/nla.news-article18513390
Although it was acknowledged that Bilgola was a popular bay, that it was frequented by those unfamiliar with its hazards and hints that lifeguards and trained life-savers were needed became more frequent, it was still the community that began volunteer patrols and the community again that raised funds to begin a swimming pool in which to train youngsters to swim. There was a pool of sorts, cut into the rocks at the south end prior to this undertaking:
HOUSES AND LAND FOR SALE. BILGOLA, BEAUTIFUL BILGOLA. Between Newport and Palm Beach. Under Instructions from the Executors of the Estate of the late Mrs. H. Maclurcan-Lee. CHOICE LAND FOR SALE, AND TWO DISTINCTIVE RESIDENCESON THE BILGOLA BEACH ESTATE.ON THE BILGOLA BEACH ESTATE. THE LOVELIEST SPOT ON THE COAST. WITHIN ONE HOUR'S DRIVE FROM THE CITY. BILGOLA is favoured with a glorious Beach, in a most beautiful setting. Blocks with clean sandy ocean beach frontage. UNSURPASSED FOR SEASIDE HOMES. are now available. SWIMMING POOL, south end of Beach, cut in rocks. PERFECT ROAD APPROACH. Environment and general atmosphere of this unique property are beyond compare. The beauty of this Estate is enhanced by DUE EASTERLY ASPECT. AN INSPECTION WILL CONVINCE. 'Phone or call Agents for plans and prices of land and full particulars of residences. Cars leave city office daily and Sunday. Sole Selling Agents: RICHARD STANTON & SON, LIMITED. and J. T. STAPLETON and CO., LIMITED. Stanton House. 133 Pitt-street, SYDNEY. Or inquire at LOCAL OFFICE, AVALON. Advertising. (1937, January 2). The Sydney Morning Herald(NSW : 1842 - 1954), p. 17. Retrieved from http://nla.gov.au/nla.news-article17306579
Right: Bilgola 1930, courtesy National Library of Australia, Picture an24768552-v. Tents can be seen where the clubhouse now stands.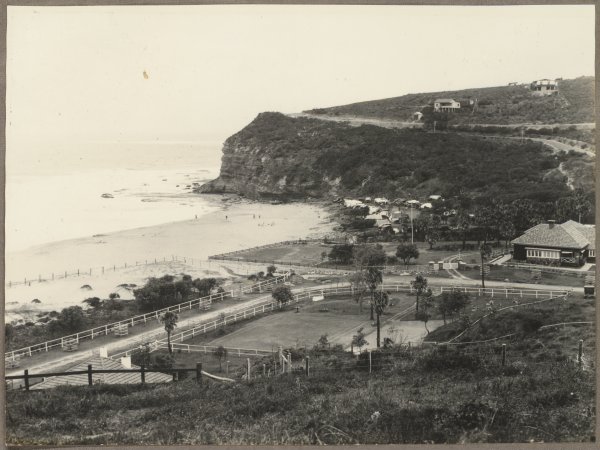 BILGOLA. A MAGNIFICENT SEASIDE RESIDENCE SURROUNDED BY BEAUTIFUL GROUNDS WITH PRIVATE SURFING BEACH. BILGOLA HOUSE the home of the late Mrs. H. Maclurcan Lee is now offered for sale with Instructions from the Executors at a price considerably below its original cost. It is a most attractively designed Residence faithfully built very well planned with all modern equipment and appliances. The accommodation consists of a spacious lounge room with open brick fire-place, five bedrooms, the principal bedrooms are connected with hot and cold water, maid's room, three bathrooms, two sleeping-out verandahs, a well fitted kitchen, pantry, ample cupboard space, hot water service, electric light private supply of soft water connected, and now city water Is also available. THE GROUNDS, which have an extensive frontage of about 303 frontage to Bilgola Avenue with a glorious outlook. They are very imposing and are an important feature of this property, being arranged in gardens, lawns, shrubs, rockeries, large aviaries, a shady palm plantation with its own golden beach in front. "Bilgola House" is undoubtedly in the picturesqueness of its outstanding its surroundings. Inspection by arrangement with Sole selling Agents RICHARD STANTON A. SONS PTY LTD, J.T. STAPLETON PTY LTD Stanton House 133 Pitt St Sydney Or over week end enquire at LOCAL OFFICE AVALON ph y9155. Advertising. (1938, January 1). The Sydney Morning Herald(NSW : 1842 - 1954), p. 20. Retrieved from http://nla.gov.au/nla.news-article17426157
After WWII Pittwater provided an affordable means for newly married couples, kept apart for so long by this conflict, to purchase a block of land, construct a dwelling of some kind from hard won materials in post-war scarcity, and begin to have the families they had dreamed of. This generation, after having served for so long, then began serving Australia anew by building the infrastructure of community. Part of this building, in this case of Bilgola, was to construct a life saving team that began its first official patrol in the summer of 1949.
This was definitely a case of 'hit the ground running' and like all Pittwater SLSC's the lack of gear with which to save people, the lack of facilities in which to store them or to offer for a much needed paid fulltime lifeguard a place to lay his head, a clubhouse, may have seemed a bit like rubbing salt into a wound when the, by then, instituted 'fee' to belong to a club as a volunteer qualified bronze medal life-saver for the first season fell due:
SURF CLUBS FACE BAN; FEES UNPAID. Lifesavers from 20 Sydney clubs will be barred from competing in surf carnivals this season unless their clubs pay capitation fees to the S.L.S.A. before December 20.
This was decided at last night's council meeting of the Sydney branch of the association. The capitation fee of a shilling per head for each active member and £.2/2/ for affiliation were payable in early October. Unless the clubs forward the money owing by December 20their members will be barred from open competition and the clubs prevented from holding carnivals. The ban would prevent members of unfinancial clubs from qualifying for the tour of New Zealand. Assistant registrar of the branch, Mr. Gordon Davies, said the clubs concerned were:
Avalon, Bilgola, Bronte, Burning Palms, Clovelly, Collaroy, Coogee, Era, Freshwater, Garie, Manly, Maroubra, Mona Vale, North Bondi, North Cronulla, North Curl Curl, North Palm Beach, Palm Beach, Tamarama, and Whale Beach. SURF CLUBS FACE BAN; FEES UNPAID. (1949, December 7).The Sydney Morning Herald (NSW : 1842 - 1954), p. 16. Retrieved from http://nla.gov.au/nla.news-article18139520
This season each club will have one or more safety belts, but most will have to use old-type belts because they cannot afford to re-equip with safety belts. S.L.S.A. officials say it is the same with all types of gear. The clubs-which have always had to battle for funds-are up against inflation. A reel and line, which cost about £20 before the last war, now costs £38. A surf boat that could be put on the water for £100 now costs £300. Last year the Commonwealth Government for the first time granted £5,000 to be shared between about 180 surf clubs in Australia. But even this with State grants could not make up the leeway, and small clubs that have just started, like Warriewood, Bilgola and Long Reef, will be desperate for gear, according to S.L.S.A. officials. A fast-growing population and increasing popularity of the surf have increased the problems of the clubs. More patrols are needed, more gear and more "social work" to raise funds. New Australians have swelled the ranks of the surfers and banked up more problems and anxiety for the lifesavers. Many of them don't understand, or ignore, the "Bathe between the flags" signs and seem unconscious of the patrolman's whistles and signals when they drift towards a treacherous rip or undertow. Like so many of the old Australians, the migrants just take it for granted when the lifesavers drag them from death in the surging waves. "I'm sure that most of the New Australians think we are paid to do the job," said Mr. A. R. Loton, Sydney Branch secretary of the S.L.S.A. Club membership is not what it used to be in the pre-war days, when most big clubs had closed memberships and waiting lists. In some clubs the membership is falling off and the old hands are working hard to maintain efficiency. Since it started its voluntary work in 1907 the Association has saved about 80,000 lives. It is ready for another 3,500-odd rescues this season. Safer Beaches—At A Cost. (1951, September 30). The Sunday Herald (Sydney, NSW : 1949 - 1953), p. 8. Retrieved from http://nla.gov.au/nla.news-article28670997
That didn't stop this club from winning at carnivals or for running their own, one of the few means available in these early years, for any club to raise funds to purchase what they needed to look after visitors and residents alike:
SURFING - COLLARO Y CARNIVAL-Boardrace W McGrigor (Collaroy) 1 B Bartlett (Collaroy) 2 R Ryan (Newport) 3 R and R Deewhy 73points 1 Collaroy 2 Soith Nurrabeen 3 Senior boat Mona Vale 1 Newport 2 Junior boat Newport 1 North Narrabeen 2 Deewhy3 Single ski race G Collis (Bilgola) 1 S Howe (Bilgola) 2 M Watt (Avalon) 3 Senior surf raceA Beard (Deewhy) 1 R Twight(Collaroy) 2 H Maccallum (Decwhy) 3 Senior surf teams Deewhy 1 North Narrabeen 2 Coilaroy 3 Junior surf J Clarke (SouthNarrabeen) 1 K West (North Narrabeen) 2 N Bcrtrind (North Narrabeen) 3 Junior teams North Narnbeen 1 Newport 2 Collaroy3 Senior belt race M Whitehead(South Narrabeen) 1 R Twight(Collaroy) 2 T Dalton (Deewhy) 3Junior belt J Clarke (South Narrabeen) 1 B Pitt (Deewhy) 2 RGallagher (Collaroy) 3 Beach relayCollarov 1 North Narrabeen 2South Narrabeen 3 Beach sprint J Harrison (Newport) 1 J Bliss(North Narrabeen) 2 R Langbein(Collaroy) 3 SPORT IN DETAIL. (1951, November 19). The Sydney Morning Herald (NSW : 1842 - 1954), p. 7. Retrieved from http://nla.gov.au/nla.news-article18240036
Open surf race: B Hutchings(Bondi), 1, B Barry (Manly), 2.B Lumsdaine (freshwater). 3, R Heming (North Steyne). 4, M Riddington (Manly), 5, B Bourke(North Cronulla), 6 March past: Maroubra (4 pts ), 1,Freshwater (7), 2, North Curl Curl (10 6), 3 Senior bell: R Mathieson (Freshwater), 1, B Browne (Coogee), 2.F Jordan (Cronulla), 3 Senior R. and R.: Freshwater(6 19 pts ), 1. Bondi (7 2), 2,Manly (8 27), 3 Junior R. and R.: North Bondi(9 4 pts), 1, Deewhy (10 22), 2,Bondi (10 34), 3 Junior surf: B Mortenson (Clojelly), 1, J. Rodgers (Maroubra),2. G Winram (North Bondi), 3,B Darke (North Steyne), 4, R Boswartha (Bronte), 5, E Abbott(North Bondi), 6 Single ski: K Howell (North Bondi), 1, W Green (Maroubra).2, P Coles (North Bondi), 3 Pillow Fight: A Cooke (Bondi),1, J Bradshaw (Bondi). 2, R Motherall (Bilgola), 3 Senior boat final: Whale Beach.1, Bronte, 2, Bilgola, 3. TAKES METROPOLITAN TITLE. (1954, February 28). The Sun-Herald (Sydney, NSW : 1953 - 1954), p. 40. Retrieved from http://nla.gov.au/nla.news-article12641343
Senior surf race. R Sharpe (Palm Beach), 1, I Curlewis (Palm Beach) 2,
R Hosking (Bilgola), 3
SPORT DETAILS. (
1954, January 11
).
The Sydney Morning Herald
(NSW : 1842 - 1954), p. 10. Retrieved from
http://nla.gov.au/nla.news-article18404079
SURFING. South Narrabeen Carnival March past.: Freshswater, 1; North Narrabeen, 2: North Curl Curl, 3.Board: G. Nichols (Queenscliff), 1, O. Ramsey (Whale Beach), 2, D. Mears (Palm Beach), 3. Senior Boat: North Steyne, 1, North Curl Curl,2, North Narrabeen, 3. Single ski: T. Bristow (Bilgola), 1; N. Davidson(Avalon), 2. G. Collis (Collaroy), 3 SPORT IN DETAIL. (1953, December 14). The Sydney Morning Herald (NSW : 1842 - 1954), p. 11. Retrieved from http://nla.gov.au/nla.news-article18401198
MR. AND MRS. RAYMOND KEENE will entertain more than 60 guests at a cocktail party at their home in Roseville tomorrow night to celebrate the engagement of their second daughter, Miss Robin Keene, to Mr. Noel Hosking. Mr. Hosking is the only son of Mr. and Mrs. Leslie Hosking, of Lindfield, and a great-great nephew of John Hosking, the first Mayor of Sydney, after whom Hosking place is named. He is also a member of Bilgola Surf Club and was one of the six finalists in the senior belt race at the Bondi surf carnival last Saturday. Social News Gossip. (1954, February 11). The Sydney Morning Herald (NSW : 1842 - 1954), p. 6 Section: Women's Section. Retrieved from http://nla.gov.au/nla.news-article18409170
The first clubhouse's construction began in 1950. It was 1954 before it was officially opened: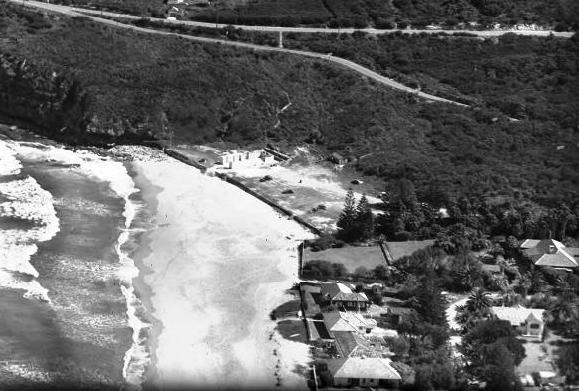 Frank Hurley photo, circa 1950 and section from showing clubhouse under construction courtesy National Library of Australia
HIGHLAND PIPERS. More than 300 people will go to the New Year's Eve's dance held in the Newport, clubhouse of the Broken Bay R.M.Y.C, where Highland pipers will usher in the New Year and dancing will continue until dawn. Dancing and a barbecue are on the programme for the 300-odd people who will tonight "christen" the clubhouse (to be opened officially on January 30) of the Bilgola Surf Life Saving Club. "Come in disguise" are the instructions which Mr. and, Mrs. Bruce McWilliam have given all who will attend their New Year's Eve party at their Palm Beach home, Pebbles. More than 350 members and their guests will attend the New Year's Eve dance at Elanora Country Club, and another 150 will be present at the formal dance at Killara Golf Club. At Davis Cup. (1953, December 31). The Sydney Morning Herald (NSW : 1842 - 1954), p. 6. Retrieved from http://nla.gov.au/nla.news-article18402896
New Clubhouse. Bilgola surf club will open its new £7,000 clubhouse during its carnival next Sunday. Officials say the clubhouse is one of the most modern in Australia. Bilgola will conduct its annual restricted carnival on Sunday. New Clubhouse. (1954, February 16). The Sydney Morning Herald (NSW : 1842 - 1954), p. 15. Retrieved from http://nla.gov.au/nla.news-article18410172
Surf Clubhouse Opening Sunday. Bilgola Surf Club will open its new clubhouse next Sunday. Heavy seas last month prevented the club from staging the carnival, and the opening function had to be postponed. Surf Clubhouse Opening Sunday. (1954, March 17). The Sydney Morning Herald (NSW : 1842 - 1954), p. 15. Retrieved from http://nla.gov.au/nla.news-article18414852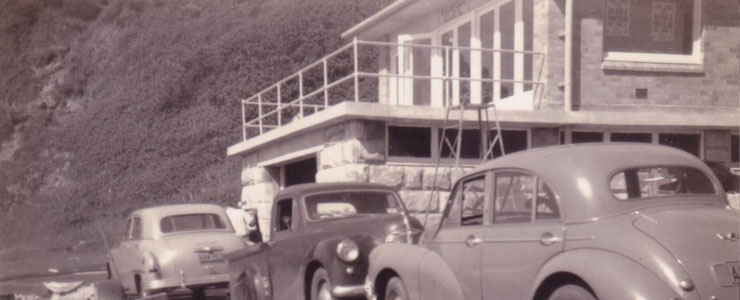 Once the clubhouse was open it was utilised by the community, as it still is now, for community events:
A BARBECUE on Bilgola Beach and an informal dance at the surf clubhouse were features of the "Tropical Grove Party" held last night in aid of the Newport and Avalon Beach kindergartens. Social News, Gossip. (1954, June 27). The Sun-Herald(Sydney, NSW : 1953 - 1954), p. 25. Retrieved from http://nla.gov.au/nla.news-article28662617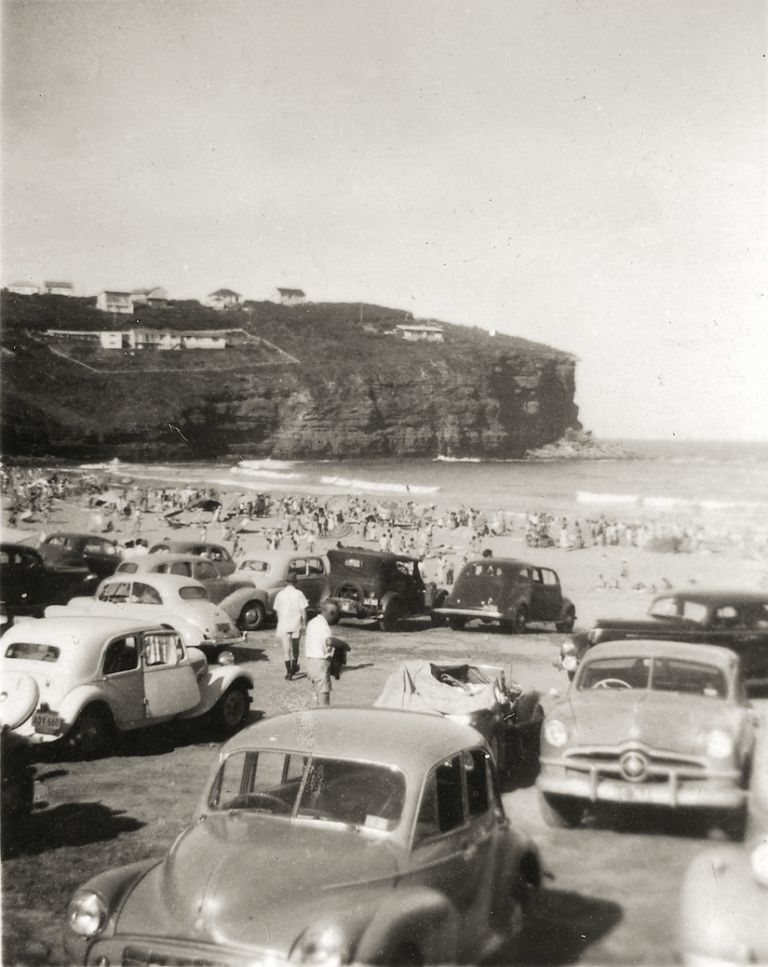 Bilgola, well aware of how hard it is to raise funds to buy equipment, has a clear 'waste not, want not' policy:
Surf Boat For S.A. Lifesavers. By C.W.S. A surf boat presented to the SA State Centre of the3urf Lifesaving Association by the North Palm Beach Surf. The boat is expected to reach Adelaide from NSW in November, at about the same time as the one the Glenelg Club is purchasing from the Bilgola (NSW) Surf Lifesaving Club. The two additions will mean that three surf boats will be available for patrol and rescue work along metropolitan beaches next summer. Henley is the only club with its own boat, which escaped damage when the clubrooms were wrecked in the May storms. Tuesday's meeting will begin at 7.30 p.m. Nominations for official positions will close on Monday. Surf Boat For S.A. Lifesavers. (1953, September 11). The Advertiser (Adelaide, SA : 1931 - 1954), p. 9. Retrieved from http://nla.gov.au/nla.news-article48921485
An idyll since its earliest days, there is something very special about this tucked away beach and the palm groves that surround it. Today, as yesterday, it attracts people to Pittwater who then return or stay, in spirit, in the bay below the bends;
SUNTANNED, bearded Ross Renwick, of Roseville, N.S.W., who contributed the article opposite on the current hot-doggin' craze, can be found most summer weekends with his balsa board at Bilgola Beach, one of Sydney's northern beaches. Twenty-three-year-old Ross has been riding surfboards himself for seven years; he is looking forward to competing in the first hot-dog meet of this summer's surf carnival. The Weekly Round. (1958, December 3). The Australian Women's Weekly (1933 - 1982), p. 2. Retrieved from http://nla.gov.au/nla.news-article48077083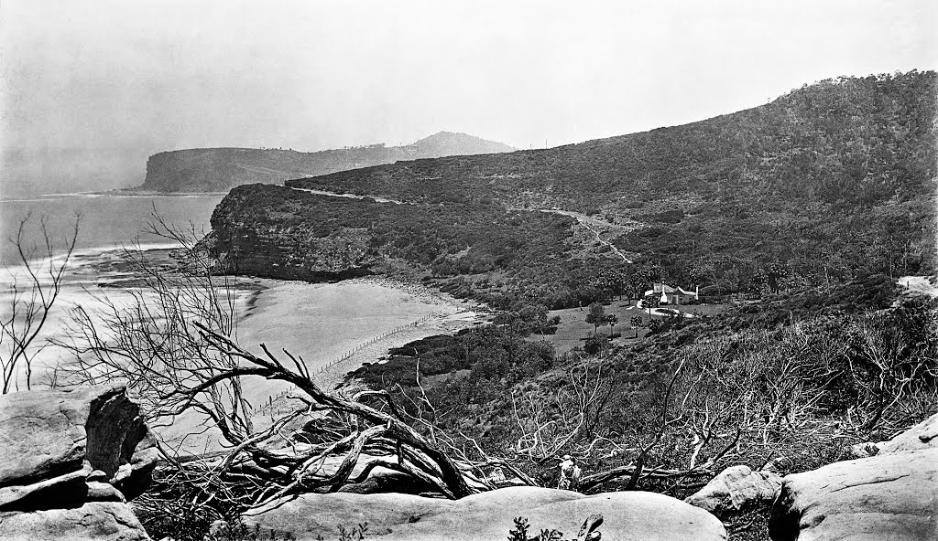 Bilgola beach, circa 1913 - Scanned from an original photographic album of views photographed and assembled by Arthur Ernest Hezlet (c1861 - 1929) of Burwood, New South Wales.
Bilgola Beach Surf Life Saving Club - Formative Years: Page 1 - threads collected by A J Guesdon, 2013.